—
Colorado Daily – Spring Practices
—
April 24th
… CU in a few minutes … 
Competitive spirit a plus for Buffs: "They just want to compete and get better and win games"
From Dan Rooney at the Daily Camera … It would be easy to dismiss the big revelation Karl Dorrell says he discovered this spring about his Colorado Buffaloes football team as a Captain Obvious sort of moment.
After all, competitiveness should be part of the base expectations within any big-time college football program. Being wowed by a competitive spirit usually is part of the price of admission.
Yet there was Dorrell on Saturday afternoon, holding court at Folsom Field while raving about his team's competitiveness. With a 2022 season unlikely to arrive with a wealth of outside expectations for the Buffs, CU fans should at least be encouraged by the grit.
Following an overhaul of the roster as well as the coaching staff, that competitive spirit is a good place to start when hitting the reset button.
"Their love for the game is really being apparent now. The love of the game," Dorrell said when asked what he learned about his team over the entirety of spring workouts. "I think they really thoroughly enjoy competing. I think that whole process built itself from what they did this offseason in their strength and conditioning program. I love that they like to compete about the game.
"There's no issues about how long practices are or how much physical work we're doing. Those are the last things that they're even thinking about. They just want to compete and get better and win games. Right now, the attitude is about getting better to win games."
… Continue reading story here …
–
—
CU Spring missions accomplished: "I like how our team has matured at this point"
From the Daily Camera … Walking off the field Saturday, Colorado head coach Karl Dorrell breathed a sigh of relief.
"Whew, we got through it," he said after the Buffaloes' annual spring showcase in front of about 1,950 fans at Folsom Field.
With about a third of the scholarship players nursing injuries and not participating Saturday, Dorrell was happy CU didn't add to the list. The Buffs were nowhere near a complete product this spring because of the injuries, but Dorrell still felt good about the work his team accomplished during the 15 practices.
"I like how our team has matured at this point," Dorrell said. "They're learning how to be a team. They're learning how to compete against each other and encourage each other. So those steps of progress are really important to me. I think we can build off those things in the summer."
CU purposely didn't put much of its offensive or defensive schemes on display Saturday, but still had some good moments.
"I thought it was pretty good," said sophomore quarterback Brendon Lewis, who completed 12-of-18 passes for 81 yards and a touchdown. "We had a few hiccups, a few holding calls, but I felt like when we got settled in it was pretty good. We were doing vanilla stuff, day one stuff. We probably executed good enough, moved the ball a couple times. It was nice seeing some completions out there to multiple guys, so that was fun just getting out there playing ball with the guys."
As is often the case with a spring game, many of the highlights were produced by unheralded players.
Walk-on running back Charlie Offerdahl ran for a team-high 55 yards and a touchdown and also caught a 6-yard touchdown pass from backup quarterback Maddox Kopp. Walk-on receiver Jack Hestera caught three passes for a team-high 50 yards.
… Continue reading story here …
–
—–
April 23rd – Game Day!
… CU in a few minutes … 
Defense shines in Showcase: "We have good depth and good experience, some young talent that's really going to help us play at a high level"
From CUBuffs.com … Colorado's defense capped the Buffaloes' spring practice session with a strong showing Saturday in CU's annual Spring Showcase at Folsom Field.
The offense did produce some big moments, including a 20-yard touchdown run from Deion Smith in red zone drills and 55 yards rushing from walkon Charlie Offerdahl. Quarterback Brendon Lewis finished with 81 yards passing and a touchdown and wide receiver R.J. Sneed had four catches for 29 yards. Also having a good day in the passing game was walkon wideout Jack Hestera, who had three catches for 50 yards, including the longest play of the day, a 34-yard reception off a trick play throw from fellow WR Montana Lemonious-Craig.
But overall, the Buffs defense — particularly the No. 1 unit — emerged with the edge. The No. 1s kept their offensive counterparts out of the end zone until late in the scrimmage, when the No. 1 group finally tallied a pair of scores in red zone drills.
"I'm encouraged with where our defense is," head coach Karl Dorrell said. "We have good depth and good experience, some young talent that's really going to help us play at a high level and sustain a high level throughout games."
Indeed, while the Buffs must replace a number of quality starters from a year ago, the defense appears ready to be a better overall unit next fall. Players producing consistent contributions on Saturday included safeties Anthony Lyle and Trevor Woods; edge rushers Alvin Williams, Guy Thomas and Jamar Montgomery; linebackers Robert Barnes, Quinn Perry and Mister Williams; and corners Kaylin Moore, Joshua Wiggins and Nikko Reed.
Woods had three tackles, including one for loss Saturday, and has clearly made the step from a key reserve last year to a starting spot for 2022.
"He looks confident," Dorrell said. "He's making plays, making good decisions. There's no question he's about what we need him to be right now."
Saturday's only interception came by safety Jordan Woolverton, a converted quarterback who came up with a big pick in the end zone in red zone drills.
This is the Buffs' second year in coordinator Chris Wilson's scheme. While CU did make some tweaks to the system this year, the overall approach is the same, and Colorado defenders are playing a little faster and with more confidence as they become more and more comfortable and familiar with the system.
"I think it's also the addition of having more depth up front," Dorrell said.
… Continue reading story here …
–
—
… Spring Showcase Statistics … 
CUFB22–Spring Showcase Statistics
—
What to Watch for During Spring Showcase
From CUBuffs.com … Colorado's second spring ball session under head coach Karl Dorrell has been a good one for the Buffaloes.
After an offseason of significant transition — both from a player and coaching staff standpoint — the Buffs have had a productive, consistent spring session. They will wrap up the session Saturday with the annual Spring Showcase at Folsom Field, set to begin at 1 p.m. The Pac-12 Network will televise the showcase and KHOW (630 AM) will carry the radio broadcast.
Dorrell's Buffs entered the spring with a long list of objectives and they made significant progress in just about every priority area.
One of the critical pieces was the installation of new offensive coordinator Mike Sanford's scheme, and the results were promising. The Buffs got a rapid-fire introduction to the playbook and a healthy amount of repetitions in a system that should maximize each players' skill sets.
Meanwhile, CU's defense also showed signs of taking a solid step forward, despite losing a number of starters from last year. Now in their second year of coordinator Chris Wilson's system, CU defenders appear to be comfortable and showing the ability to communicate and react quickly.
Five things to watch in the Spring Showcase:
1. Quarterback play. CU's coaches have liked the progress of incumbent starter Brendon Lewis this spring in the new offensive scheme. Watch Lewis' ability to react, make quick decisions and progress through his reads, as well as his ability to spread the ball around to a variety of receivers. Sanford's offense makes good use of the tight end and also utilizes running backs as primary receivers in certain situations.
Meanwhile, keep an eye on the QBs vying for the backup spot. The No. 1 challenger, J.T. Shrout, won't be participating, but sophomore Drew Carter and transfer Maddox Kopp have both had nice moments thus far this spring.
2. Newcomers on defense. The Buffs lost several quality starters on the defensive side — but the players stepping into their shoes have not only performed well, but are showing signs of making this year's defense a better overall unit than the 2021 version.
Keep an eye on CU's linebackers, where returnees Robert Barnes, Quinn Perry, Marvin Ham II and Mister Williams have had solid springs. Also be on the lookout for true freshman Eoghan Kerry, who has made a big impression quickly with his instincts, nose for the ball and physical play.
In the secondary, where the Buffs must also find some new starters, a number of youngsters have shown playmaking ability. Watch for returning corners Nikko Reed, Kaylin Moore and Jason Oliver, as well as incoming freshman Joshua Wiggins.
On the back end, sophomore Trevor Woods has had a very solid spring, picking up where he left off last fall. Also "popping" have been Anthony Lyle, Tyrin Taylor and Jaylen Striker, and walkons Jordan Woolverton (former quarterback) and Ben Finneseth (former wide receiver) have quickly established themselves as two who could contribute next fall.
… Continue reading story here …
–
—–
April 22nd
… CU in a few minutes … 
Dorrell: "There's so much gain and growth that happened over these (spring) practices. It'll show on Saturday when fans get a chance to see it"
From the Daily Camera … Injuries have impacted the Buffs at several positions, including the offensive line, so it won't be a full-bore scrimmage. But, the showcase will allow fans to see the growth of players like Williams, tight end Erik Olsen, linebacker Eoghan Kerry, cornerback Joshua Wiggins and more.
"We need to just continue to keep building on some of the success of these guys," Dorrell said. "I asked them all before we started spring about having a short little checklist of things that they need to personally do for themselves to improve on. They've been staying true to that, really trying to fix their game from a fundamental standpoint by their positions. They're doing really a pretty fabulous job with that.
"I think collectively as a group, offensively and defensively, there's so much gain and growth that happened over these (spring) practices. It'll show on Saturday when fans get a chance to see it."
In addition to developing the youth, CU's spring has been about installing new wrinkles on defense and a new scheme on offense. Saturday's showcase isn't likely to give much of a preview of the new offense, though.
"We'll be pretty vanilla," offensive coordinator Mike Sanford said.
A year ago, Sanford was the coordinator at Minnesota, which faced CU in Week 3. Sanford said he knew CU was putting in a new defense a year ago and last summer, "We watched every single angle that was available in the Pac-12 Network of the spring showcase to be able to get ready for that game. We spent eight hours trying to figure out what it was."
… Continue reading story here …
–
—
Maurice Bell back in the mix on kickoffs: "He's that extra piece in the return game"
From the Daily Camera … Nikko Reed returned his first kickoff 100 yards for a touchdown in the season finale at Utah last year. Chase Penry flashed his skill in averaging 17.7 yards on three punt returns.
Both will be in the mix as returns this year, but Dorrell is excited about another returner who is back in action. Senior Maurice Bell ranked fifth in the Pac-12 in kickoff return average (23.0) in 2020, but missed last year with an injured Achilles' tendon and has recently returned to practice.
"Maurice is a factor in the kickoff return game," Dorrell said. "He's healthier now. He's actually getting some live reps and he'll get some live reps this Saturday, too. He's recovered from his injury. It was good to get him back. He's that extra piece in the return game."
True freshman cornerback Jason Oliver has also been working at punt and kickoff return.
–
—–
April 21st 
… CU in a few minutes …
OT Frank Fillip rejuvenated: "It's nice to be able to just get better"
From the Daily Camera … It seems like long ago that Frank Fillip was being thrown into the fire as a true freshman starting on Colorado's offensive line for a couple of games in 2018.
After going through numerous coaches, adversity and changes to his body, Fillip is now a fifth-year junior and anchor of the CU line.
"I don't feel that old," he said with a smile after a recent spring practice.
Perhaps that's because Fillip is somewhat rejuvenated this spring. He's healthy after battling a shoulder injury throughout 2021 and, like the rest of his line mates, is enjoying new position coach Kyle DeVan.
"I think (spring) is going pretty well," Fillip said. "I feel a lot better than I did last season as far as my shoulder goes, so it's nice to be able to just get better."
The 6-foot-7, 295-pound Fillip was in line to take over at left tackle when he suffered a torn labrum in his left shoulder midway through last spring. The injury required surgery and he didn't return until the third game of the season, coming off the bench. He started the last nine games at right tackle, but his shoulder was never fully healthy.
"I mean, it can be tough, but you've just got to push through," he said. "You can't just press pause on the season. You've just got to keep going. So it doesn't really matter how I feel; the season matters."
… Continue reading story here …
–
—
**Video: Karl Dorrell's last post-practice talk before Spring Showcase**
From YouTube, courtesy of ColoradoFootball …
–
—
Dorrell: "We're going to have some fun Saturday. My goal is to try to get 60-65 plays"
From the Daily Camera … A lack of depth won't allow the Colorado Buffaloes to have a full spring game on Saturday, but it won't stop them from trying to finish spring on a high note.
On Wednesday, the Buffs held their 13th of 15 practices, and it was their final full-contact session before Saturday's spring showcase, to be held at 1 p.m. at Folsom Field (TV: Pac-12 Mountain).
CU will practice on Friday before getting on the field in front of fans Saturday.
"We're gonna have some fun (Saturday)," CU head coach Karl Dorrell said. "It was really a good spring. We've got two more practices to go. I want to finish strong and show our fans really what to look for in the fall. It's definitely some promising stuff that we're doing and we need to showcase a little bit of that Saturday and then continue to work this summer."
The Buffs will go through team drills during the first hour and then conducted an offense vs. defense scrimmage in the second hour. Dorrell said it will likely be similar to the open practice on April 9, when the Buffs had a situational scrimmage.
"My goal is to try to get 60-65 plays," he said. "We only have ones and twos. Offense really has ones and … their twos are short a lineman or two.
"We've just got to be careful with the number of reps they get and we are trying to hopefully get out of this thing without having (injuries) on Saturday."
… Continue reading story here …
–
—–
April 20th
… CU in a few minutes … 
**Video: Defensive coordinator Chris Wilson post-practice talk with media**
From YouTube, courtesy of CUFootball …
–
—–
April 19th
… CU in a few minutes … 
Folsom Field To Host TopGolf Live Event This Summer
Press Release from CUBuffs.com …  The University of Colorado's Folsom Field will host one of the more unique events in its 98-year history, as it will be home to the Topgolf Live Stadium Tour for four days this summer, school officials announced Tuesday.
The immersive Topgolf Live experience will come to Folsom for four days, June 29 through July 2.  The stadium tour allows players to enjoy a one-of-a-kind opportunity to tee it up inside some of the country's most iconic stadiums, hitting golf balls at on-field targets placed between 60 and 140 yards from the tee box.  Toptracer technology accurately traces the flight path of the golf balls, instantly scoring every shot in an interactive, in-stadium game, designed for all skill levels.
"We're extremely excited to be able to host this unique event in Folsom Field," CU athletic director Rick George said.  "Folsom has hosted games, concerts, graduations and even beach volleyball in its history, but this will definitely be a new experience, one I think our fans of all ages can enjoy."
Tickets go on sale on Monday, April 25 on http://topgolflive.com/. Tee times are reserved in one-hour increments.  Prices start at $80 for player tickets and $40 for students.  With the initial on sale date, only full bay reservations will be made available.
Experience tickets, which are available for $175, include a locker room tour, Folsom Field sideline picture opportunity, access to drink tickets, a limited-edition Topgolf Live hat provided by Black Clover, a complimentary Topgolf Lifetime Membership and a game play voucher, redeemable at any U.S. Topgolf location, excluding Topgolf Las Vegas.
Other venues currently scheduled to host a stop on the Topgolf Live Stadium Tour in 2022 lineup include Jordan-Hare Stadium (Auburn University) and Beaver Stadium (Penn State).  Twelve stadiums hosted a Topgolf Live event in 2021.
For more information regarding the Topgolf Live Stadium Tour, please visit https://topgolflive.com/.
–
—
**Video: Offensive coordinator Mike Sanford post-practice talk with media**
From YouTube, courtesy of BuffStampede.com …
–
—
DC Chris Wilson on 2021 defense: "The things that broke down were glaring. If we can just eliminate a few of those explosives, we become a better football team"
From the Daily Camera … In evaluating himself after last season, Colorado defensive coordinator Chris Wilson determined he needed to be more involved in all areas of the defense.
Heading into the final week of spring practices — the Buffs completed their 12th of 15 sessions on Monday — Wilson is pleased with how his own shift in duties has played out, as well as the growth of the defense as a whole. A long-time defensive line coach, Wilson is now coaching the Buffaloes' outside linebackers in addition to his coordinator duties.
"It has given me a little bit more position flexibility and a chance to be able to walk around and work with every position to an extent," he said. "So it really has been a benefit. I think that's the benefit of obviously the new staff and the new roles."
… The scheme has changed a bit since last year, too, as the Buffs are now utilizing a 4-3 base defense, as opposed to the 3-4 from years past (although they will use multiple alignments).
"Last year … we had a couple of linebackers (Wells and inside linebacker Nate Landman), obviously, that had played a lot of football and have the ability to hopefully play in the next level," Wilson said. "So it was structured around them.
"Every year is a new team and then you just try to complement your best guys right now. We've got a good group of guys up front, a veteran group of guys up front, so that was the best move for us moving forward."
All of the changes will be geared toward the same goal of trying to be better than last year, when the Buffs ranked seventh in the Pac-12 in scoring defense (26.7 points per game) and 11th in yards allowed (420.8). No team in the Pac-12 gave up more plays of 20-plus yards than the Buffs (59).
"The thing that you notice is there are a lot of positive things but the things that broke down were glaring," Wilson said. "If we can just eliminate a few of those explosives, we become a better football team expeditiously. I mean, it really goes quick, but again, eliminating those things that we did last year in regards to mental errors, those are the things that will make us a better football team."
… Continue reading story here …
–
—–
April 18th
… CU in a few minutes … 
K Cole Becker: "I've gotten better at dealing with pressure"
From the Daily Camera … Coming into Colorado as a freshman and the only place kicker on scholarship, Cole Becker felt a measure of pressure last fall.
When head coach Karl Dorrell called him the "Iceman" one day after practice, before Becker had ever played a game with the Buffs, that heaped another load of pressure on him.
Struggling to live up to that nickname with a 0-for-3 start to his career put even more pressure on him.
Despite the pressure-packed start, Becker settled in, put together an impressive freshman season and now enters his sophomore year with confidence.
"I've gotten better at dealing with pressure, but the pressure is always there and it's mostly because of me," he said. "I want to be perfect. I don't want to let my team down. You never want to miss that kick and it's like, 'Oh, that one was the reason we just lost.' It's definitely always in the back of my mind, but you just try and push that to the back and then let the confidence (take over) in knowing that you take practice reps and you've done it before and you can do it."
… Continue reading story here …
–
—
**Must read: Stewart Mandel: "How did the Colorado Buffaloes decline from NFL pipeline to Pac-12 cellar-dweller?"**
… Related … (Part of The Athletic series on the topic) … "Despite 20 years of frustration, Nebraska faithful believe that the 'N' will rise again" …
So what happened? It's a debate that never ends. The bottom began to fall out, of course, long before the Huskers faltered five years ago under former coach Mike Riley.
Nebraska agreed to concessions that led to the erosion of its talent base in recruiting when the Big Eight expanded to include four teams from Texas more than a quarter-century ago. Osborne retired prematurely in 1997, at the age of 60 after winning three national championships in five years, because of a promise made to Frank Solich, the loyal Nebraska lieutenant.
Solich thrived by the measure of nearly any other program over his six seasons in charge, winning 58 of 77 games, but it fell short in Lincoln. A devastating 2001 loss at rival Colorado stripped Nebraska's aura of invincibility built over 50 years.
–
—
From The Athletic … Midway through the 1998 football season, the list of college programs with the most active players in the NFL looked like this:
Notre Dame
Florida State
Colorado
The list of ex-Buffaloes in the NFL at the time included quarterback Kordell Stewart, running back Eric Bieniemy, 1994 Heisman winner Rashaan Salaam, first-round receiver Michael Westbrook and linebackers Chad Brown, Alfred Williams and Matt Russell. All were cornerstones of a remarkable run from 1989-96 in which Colorado finished in the top 20 every year and the top 10 in five of those eight seasons, also winning a share of the 1990 national championship.
But in the 25 seasons since, Colorado has finished in the Top 25 three times. It has reached only three bowl games in the past 15 seasons while cycling through five head coaches. That once-flourishing NFL pipeline has gone almost completely dry. There were just 11 former Colorado players on opening day rosters last season, one fewer than Rutgers.
"It's been heartbreaking," said Alfred Williams, now a Denver-area sports radio host. "You want those guys who are there to experience the kind of success we had, and it feels like it should have been easy. For some reason, we just kept screwing it up."
Colorado is a respected academic institution. Fans at 50,000-seat Folsom Field can look out at the scenic Rocky Mountain foothills. In one of college football's great traditions, enormous live mascot Ralphie storms across the field before the team. But nearly all who have worked and coached there say Colorado is an incredibly challenging place to win due to a lack of in-state recruiting talent, a transient local population, modest donor support and the effects of conference realignment.
"I knew what a struggle Colorado is," said Gary Barnett, the last head coach to win a conference championship (2001) and now its radio color analyst. "When new coaches have come in — and there have been a lot of them — they did not have an appreciation of the complexity of the job. It has probably looked like something that it isn't really."
…
Colorado will soon wrap its second spring practice under Karl Dorrell, the former UCLA head coach and longtime NFL assistant who George hired in February 2020. A former Buffs assistant under Neuheisel, Dorrell took over the program just weeks before COVID-19 shut down sports in March 2020. Colorado finished that season 4-2 and was one of just two Pac-12 teams to play in a bowl game. The Buffs slipped to 4-8 last season, after which several notable players hit the transfer portal: running back Jarek Broussard is now at Michigan State, and receiver Brenden Rice and cornerback Mekhi Blackmon are at USC.
ESPN's preseason FPI rankings project Dorrell's third team to win three games.
"As a player, every time I stepped on the field I expected to win," said Brown. "I've had to remove that expectation from my rooting interest in the Buffaloes. I'd be disappointed all the time if I held that mindset still."
George remains confident in Dorrell, who signed the Pac-12's No. 5 recruiting class last year (No. 47 nationally) and whose early 2023 commits have Colorado in the top 25.
But some wonder whether Colorado did itself a disservice in leaving the Big 12 and its Texas foothold. The Buffaloes have yet to develop a natural rival out West. The program is still in the early stages of determining its place in college football's new world order of transfers and NIL. Dorrell this cycle has lost a staggering 23 transfers while adding just five.
"Like Oklahoma State found Boone Pickens, like Phil Knight became the guy Oregon, (Dorrell) has got to find a (mega-donor) that really wants to become the pseudo-owner of the Colorado Buffaloes," said Neuheisel. "Because they're out there."
Mostly, Colorado needs Dorrell to stick. He is the program's fifth head coach since 2010, a cycle of hiring-and-firing that has sapped a once-proud program of its identity.
"Karl Dorrell has a hell of a coaching staff," said Williams. "They're gonna have a handful trying to find the right guy at quarterback, but when they do, it's gonna be one of the prettiest things to see.
"There's nothing prettier than going up to Folsom Field on a Saturday afternoon when the Buffs are good. There's nothing better in the world."
… Read full story here (subscription required – If you are not a subscriber to The Athletic, now would be a good time to join) …
–
—
DL Jalen Sami looking for a big season: "Everything starts up front"
From the Colorado Springs Gazette … This spring, the defensive line is rolling with the mindset that everything starts with them on defense. Their ability to stop the run and put pressure on the quarterback has an impact on a back seven that's going into the 2022 season with many players stepping into starting roles for the first time.
"Everything starts up front. If we mess up and get out of a gap, that could be a big play," Jalen Sami said. "If we're not rushing or getting after the quarterback, it could be a big play. We like to take pride in anything positive or negative, we like to own up to that. If our defensive line is getting going, the whole defense likes to feed off that energy."
For this veteran group up front, it's not just about raising their play on the field. They're now tasked with raising their voices in the locker room as CU has to replace one of its vocal leaders from recent years — linebacker Nate Landman. There will likely be multiple players to try and fill that leadership void left by Landman. Sami and the other older d-linemen like Na'im Rodman and Terrence Lang know they have to play some part in being leaders on this team.
"You can't replace Nate Landman — he's one of a kind," Sami said. "I'm going to miss playing with him. Ever since I've been here, he's been behind me making plays. That leadership role, we've taken it on ourselves, especially as the older class. That doesn't phase us."
Sami describes himself as a player who likes to lead by example, but those around him know exactly how valuable he is as a veteran presence in the locker room.
"Jalen's my boy. He's been looking out for me since I've been here," Rodman said. "When I used to live in the dorms, I used to be at [Sami and Lang's] house all the time. I love them like my family and that helps on the field because we've got that good communication and that understanding with each other. We're always on the same page and I think that's going to carry over into the season."
… Continue reading story here …
–
—–
April 17th
… CU in a few minutes … 
Three weeks in, Karl Dorrell pleased with progress: "We've accomplished quite a bit"
From the Daily Camera … Three weeks into spring football, and with one week to go, Karl Dorrell is pleased with the work being done by the Colorado Buffaloes.
It hasn't been perfect, of course, but CU's third-year head coach walked away from Saturday's scrimmage at Folsom Field – the 11th of 15 spring practices – satisfied with the body of work.
"We've accomplished quite a bit," he said.
Injuries continue to plague the Buffs, as key players missed Saturday's session, which was closed to the public and media. Yet, on both sides of the ball, Dorrell was encouraged.
"I think offensively, for a new offense, there's a lot of confidence in it with the players, which is always encouraging when they feel good about it," Dorrell said. "It means that they're going to really work hard at being a really dynamic offense."
CU's offense sputtered at times in an open scrimmage on April 9 but had a better day on Saturday as the Buffs continue to learn the scheme installed by new coordinator Mike Sanford.
"I think offensively it looks a little bit better, their operation," Dorrell said. "We ran the ball, I think, much better. I thought we threw the ball and made some good plays in the passing game."
… Continue reading story here …
–
—–
April 16th
… CU in a few minutes … 
**Video: Karl Dorrell talks with media after Saturday scrimmage**
From YouTube, courtesy of BuffStampede.com …
–
—
Is it RB's Deion Smith time: "I have yet to really just show everyone what I have"
From the Daily Camera … As a senior at Second Baptist High School in Houston in 2017, Deion Smith rushed for a whopping 362 yards and four touchdowns in one game.
Four years into his college career at Colorado, Smith has yet to gain as many yards, combined, as he did that night. Yet, as the 6-foot, 190-pound running back prepares for his fifth year at CU, he believes he shouldn't be forgotten as a potential weapon in the Buffaloes' offense.
"I'm ready to show the world because honestly I feel like in my time here I have yet to really just show everyone what I have," he said this week. "My coaches know; (running backs coach Darian) Hagan knows; my fellow teammates and running backs know, but from the outside looking in nobody really knows Deion Smith."
Since arriving in Boulder in the summer of 2018, Smith has patiently waited his turn while dealing with some ups and downs.
Healthy again last year, Smith was behind Jarek Broussard and Fontenot on the depth chart, but still posted 192 yards and two touchdowns on 53 carries in his most extensive playing time in four years. Although his role was limited, Smith said last year was big for him mentally to get into a groove again.
… Continue reading story here …
–
—
Safety Trevor Woods stepping up: "He has a natural feel for the game"
From the Daily Camera … Last year, safety Trevor Woods made some big plays as a true freshman. He's taking the next step in his game this spring, however.
"I think the biggest jump that he's made is his eye discipline and his man-to-man cover skills," CU safeties coach Brett Maxie said. "He spent a lot of time this offseason working on that. … He has a natural feel for the game. He has probably the best hands that I've ever seen for a safety. The communication piece of it has really been good for him."
Woods played 139 snaps last year and is in line for a bigger role this year.
"With him having some planning experience, he feels a little bit more comfortable than most of them," Maxie said. "So he's going to look a little bit different in terms of movement and communication and getting guys lined up."
–
—–
April 15th
… CU in a few minutes … 
CB Coach Rod Chance not talking about defections: "We don't talk about the people that are not here"
From the Daily Camera … The opportunity to reunite with Karl Dorrell and Brett Maxie enticed Rod Chance to move to Boulder and work with the Colorado Buffaloes.
Chance, 37, worked with Dorrell, the Buffs' head coach, and Maxie, CU's safeties coach, at Vanderbilt in 2014.
Chance was also motivated to take on the challenge of mentoring a young, unproven group of cornerbacks.
… CU's 2021 starters, Mekhi Blackmon and Christian Gonzalez, are now playing at Southern California and Oregon, respectively, leaving the competition wide open this spring.
"To be honest we don't talk about the people that are not here," Chance said. "A wise man once told me you don't speak on things that don't come to your front table, that don't affect how you eat."
Instead, he's focusing on the group that is here and getting them better in a hurry.
"They're in that process of really putting in the work, tightening up the details of where they need to go," Chance said. "I think it's more so them trying to establish themselves, seeing it as equal opportunity for everybody around. I think they take it as a challenge. They see there's not many older guys around. Hey, why not me? Right now it's time to step up and be able to contribute for winning plays."
… Continue reading story here …
–
—
LT Jake Wiley hoping last year's experience will help this fall: "It was really just trial by fire"
From the Daily Camera … A year ago, Jake Wiley went into spring football practices hoping to earn playing time with the Colorado Buffaloes.
Injuries to a couple of teammates and Wiley's development led to him not only getting playing time but to getting thrown into the most important spot on the offensive line.
Wiley went through plenty of growing pains in starting at left tackle during the 2021 season but feels he's better now because of the experience.
"I think it was really just trial by fire," said Wiley, who played only seven career snaps before last year. "Going in there and learning from my mistakes, to be honest. The first game against (Northern Colorado) was really my first snaps playing collegiately, so going in there kind of just seeing what I did wrong and how I can fix that.
"I feel like every game I just got better, from UNC to (the finale at) Utah. I feel like my game, I would pick up on little things that would happen."
Wiley, who is 6-foot-6, 310 pounds, started 10 games at left tackle and two at right tackle last year. He gave up eight sacks and 17 quarterbacks pressures and led the Buffs' line with five penalties.
… Continue reading story here …
–
—–
April 14th
… CU in a few minutes … 
RB Jayle Stacks continues to make a name for himself this spring
From the Daily Camera … Spring football is often a time for young players to take a step forward and impress their coaches.
As the Colorado Buffaloes go through spring, running back Jayle Stacks continues to turn some heads.
On Wednesday, the ninth of 15 practices this spring, head coach Karl Dorrell said Stacks, a 5-foot-11, 235-pound third-year sophomore, was the star of the day on offense.
"He did some really, really positive things," Dorrell said. "Deion (Smith) had a touchdown towards the end in the last series, too, but I would say Jayle's been a guy that has been a little bit more consistent. Whenever he's out there, he's made plays happen. It's been very surprising to all of us, but we're excited in the same sentence."
Stacks, a graduate of Cherry Creek High School, has often flashed his talent in practice but hasn't had a lot of playing time on game days. He has one career carry, for four yards.
Last week, running backs coach Darian Hagan said Stacks will have a role in the Buffs' offense. Stacks, who can play fullback and tailback, continues to play well.
… Continue reading story here …
–
—
**Video: Karl Dorrell discusses program after nine of 15 spring practices**
From YouTube, courtesy of BuffsTV:
–
—–
April 13th
… CU in a few minutes … 
Brett Maxie making do with three safeties this spring: "I just want to see guys that have some ability to contribute"
From the Daily Camera … Safeties coach Brett Maxie said he isn't worried about building a depth chart at his position this spring because it could change in the fall with new players coming in.
CU has only three scholarship safeties this spring — senior Isaiah Lewis and sophomores Tyrin Taylor and Trevor Woods. This summer, junior college transfer Jeremy Mack Jr. and true freshmen Dylan Dixson and Xavier Smith will join the group.
"(This spring) I just want to see guys that have some ability to contribute," Maxie said.
Lewis is a two-year starter, while Taylor and Woods both got some experience as true freshmen last year. Dixson, from Pearland, Texas, is the highest-rated recruit in CU's 2022 class, according to 247Sports.com.
Maxie said Smith recently had surgery and will miss at least the first part of the season.
–
—
Wide receiver Montana Lemonious-Craig "taking on a leadership role"
… Related … "CUATG Podcast Interview with Montana Lemonious-Craig"
From the Daily Camera … Montana Lemonious-Craig doesn't have a lot of experience in college football, but he's been around long enough that he feels like a veteran.
A third-year sophomore, Lemonious-Craig is one of the top players and leaders for a receiver group that has gone through some changes this offseason.
"I have taken on a leadership role within the room, in terms of wide receivers," he said. "I feel like it's a responsibility for me going on my third year here. Even though I am a young guy, I feel like with the team expanding my role, I need to be able to step up to the plate, just be more of a guy that some of the young guys can lean on."
Several receivers, including starters Brenden Rice and Dimitri Stanley, transferred this offseason. Although there is a good mix of veterans and youth still in the room, Lemonious-Craig is one of the receivers CU could count on the most.
"Oh yeah, most definitely," quarterback Brendon Lewis said when asked if Lemonious-Craig is somewhat of a security blanket for him on the field. "Montana is getting better every day. He's one of the hardest workers I've seen, so he's getting better each and every day. He's one of those guys: possession catches, a big-time third-down guy. So for sure he could be one of those guys."
… Continue reading story here …
–
—
**Video: Mark Johnson talks with Phillip Lindsay**
From BuffsTV …
–
—–
April 12th
… CU in a few minutes … 
New defensive line coach Gerald Chatman: "I'm excited about the guys"
From the Daily Camera … Gerald Chatman is still going through the unpacking stage after moving to Boulder last month.
Colorado's new defensive line coach hasn't wasted any time in getting to know his players and immersing himself into the job, however.
CU has completed eight of 15 practices this spring and Chatman, hired in March, is impressed with the group he has and the progress being made.
"I'm excited about the guys," he said. "(They are) just working on the details and technique. I think the guys needed that, just really honing in on their craft, but they're tough and I believe that. I saw that day one, just coming out to practice. But … the attention to detail and just a sense of urgency about how they work, those are the things that I feel that they needed the most. But, they're tough and they enjoy football and that's a good thing."
CU head coach Karl Dorrell originally hired Vic So'oto as the defensive line coach in December. In late February, So'oto decided to leave the Buffs and take a job at California. Chatman was just a few weeks into his job as the defensive line coach at Tulane when CU called. His top priority was to get to know his group off the field.
"It shouldn't take a year to connect with them," he said. "I think you've just got to dive into that right away. Before I started talking football with those guys, I just started talking to them and acknowledging the situation. We've had some turnover here at (defensive line coach) and so I wanted to acknowledge that. It's not a secret. I just talked to them about life and who I am and try to get to learn to understand who they are. I'm still doing that every day. It doesn't stop. Now that I'm here and I'm their coach, I'm still diving in."
… Continue reading story here …
–
—
Are CU's transfers/young players "upgrades" from what was lost? Karl Dorrell believes so
From CUBuffs.com …  Back in February, after the transfer portal dust had settled and Colorado had wrapped up its 2022 recruiting class, Buffaloes head coach Karl Dorrell expressed optimism about the overall improvement of CU's roster.
"The additions we made in this program are in a lot of ways a little bit more of an upgrade in terms of things we've had in terms of an attrition standpoint," Dorrell said. "We feel good about moving forward."
Of course, along with roster changes, Dorrell was also talking about an offseason coaching staff shuffle that saw him bring in six new assistants, moves seen as healthy upgrades in just about every regard.
But now, roughly halfway through spring ball (seven practices down, eight to go), Dorrell's roster assessment appears to be on target. While the Buffs did lose a number of key players — to the portal and to graduation — CU's additions seem ready to fill the gaps in some places and make the Buffs better in others.
Two of the most notable transfer additions this year were offensive lineman Tommy Brown (Alabama) and wide receiver R.J. Sneed II (Baylor).
Both addressed "need" positions on the roster.
The Buffs lost two key O-linemen to graduation and two more potential starters to transfers. But Brown has quickly settled into the No. 1 unit rotation, and he brings maturity, experience and the invaluable background of a championship program. Add in the improvement of Noah Fenske (a transfer from Iowa a year ago), the continued development of veterans Casey Roddick, Jake Wiley and Frank Fillip, and the addition of highly regarded O-line coach Kyle DeVan, and Colorado's performance in the trenches should be considerably better than last season.
As for wide receiver, Sneed steps into a spot where the Buffs saw several key players hit the portal. But Sneed brings the same attributes as Brown — proven production, experience and leadership. Sneed is having a solid spring by all accounts, and should be a significant contributor next fall.
There are also some other positive developments at wide receiver this spring, beginning with the improvement of sophomore Montana Lemonious-Craig and senior Daniel Arias. Lemonious-Craig, who showed flashes last fall, appears ready to become more of an every-down player. Arias, meanwhile, is also trending his game toward more consistency.
Overall, the position could very well be more productive than it was a year ago.
… Continue reading story here …
–
—
*Finalist named for new CU President*
From the CU Board of Regents …
Input requested from CU community; open forums to take place over next two weeks
The University of Colorado Board of Regents today voted to advance Todd Saliman as finalist for president of the university system.
The nine-member board's vote was unanimous.
Saliman, a CU Boulder alumnus, has served as CU's interim president since July 2021 following his appointment by the Board of Regents. With 30 years of experience in public policy and higher education in the state – including serving in the state legislature, working for two Colorado governors and overseeing CU's budget operations for more than a decade – Saliman has devoted his career to advancing the state and CU.
Regent Sue Sharkey, vice chair of the search committee, said Saliman stood out among the candidates considered because of his "tremendous experience and proven leadership. I look forward to hearing input from our community over the next two weeks."
Over the next two weeks, board members will receive input from the CU community at open forums with Saliman at CU's four campuses and the system administration office. The event schedule will be announced soon.
Regents also will meet with leadership teams, governance groups and community stakeholders. The board will consider all feedback from the CU community before meeting again the last week in April to elect a president.
"The importance of this stage of the process cannot be overstated," said Board Chair Jack Kroll. "The board will not vote on the next CU president until considering all public input, which the board welcomes. We encourage everyone in the community to take part."
The inclusive search process for CU's next president launched in September, when the board began holding listening sessions with more than 40 stakeholder groups and soliciting written comments.
The next step was building a search committee that represents the diversity of the university and the state. The board requested that CU community members nominate their peers to serve on the search committee. Many of the members selected came from this group. Every university stakeholder group had a seat or seats on the committee, including students, faculty, staff, deans, alumni and donors, and community groups, and the committee represented Colorado's diversity.
The board insisted on having a highly qualified and diverse candidate pool. To achieve that, the board hired Storbeck Search, a national recruiting firm with a reputation for building diverse search pools. Hundreds of people expressed interest in the job, and Storbeck presented the search committee with a highly qualified and diverse pool of 39 candidates: 13 women and 26 men – 13 candidates from Black, Indigenous and People of Color (BIPOC) groups – from 20 U.S. states, the District of Columbia and international candidates.
The search committee spent many hours reviewing the candidates and discussing their credentials. They interviewed 10 candidates: seven women and three men – two BIPOC candidates – from seven states.
Per Regent policy, the committee narrowed the field to five highly qualified unranked candidates, who were forwarded to the Board of Regents for interviews. Those candidates included three women and two men – one BIPOC candidate – from five states.
–
CU's transition to a 4-3 defense going well: "Our personnel lends itself to that"
From the Daily Camera … Colorado doesn't have a lot of depth at inside linebacker this spring, but those who are on the field are adapting to a new defensive alignment.
This offseason, CU is shifting its defense from a 3-4 base to a 4-3 because the staff believes it suits the personnel — particularly at linebacker.
"It's been really good," inside linebackers coach Mark Smith said. "I think our personnel lends itself to that. It's a natural fit for the guys that we have on our team. It fits our strengths of what we do. That's one thing that (defensive coordinator Chris) Wilson has always kind of said to our defense is that we want to be custom tailors and not say, 'Hey, here's our system,' and then try to just fit you to our system.
"Want to find what are the guys we have and what do they do the best and then go and put them in that position to do that. … The 4-3 has really has lent itself to that. Not that we won't do anything (else); we still have our odd package and things that we'll get into, but it's been a good transition so far."
In addition to some new wrinkles on defense, the Buffs are trying to replace star linebacker Nate Landman, who has graduated.
To fill Landman's shoes and get better as a group, Smith challenged each of his linebackers to focus on three areas of improvement for the spring. The common theme among them was communication.
"We've got to be better communicators and I want to hear a bunch of chatter out on the field," Smith said. "A lot of our mental errors that we had back during the season stem from alignment issues, so the more that we communicate, the more we can all be on the same page, the better we are."
… Continue reading story here …
–
—–
April 11th
… CU in a few minutes … 
Rooney: It's not Year One of the Karl Dorrell Era – but it feels like it
From the Daily Camera … It obviously is not Year One for Karl Dorrell. But it certainly feels like it.
On Saturday, Dorrell's Buffaloes gave their fans and the public the first glimpse of the new-look 2022 team, as CU hosted an open spring scrimmage at Folsom Field. Thanks to the transfer portal and an overhauled coaching staff, the squad on display Saturday, like the one that will take the field on Sept. 2 to kick off the season against TCU, will bear little resemblance to the team that exited Utah's Rice-Eccles Stadium on Nov. 28 with a 4-8 record.
And that dynamic reveals a conundrum for Dorrell. It is Year Three for Dorrell. Typically, when a new coach takes over a struggling program, Year Three is when fans should expect a tangible measure of progress from the new regime. Thanks to that overhauled coaching staff, the new regime is an even newer regime now, and it's difficult to escape the Year One vibe surrounding the program.
Some of that, like the world falling into pandemic chaos just after Dorrell was hired, was beyond his control. The staff personnel decisions, however, fall squarely upon Dorrell's shoulders. And so for a fan base starved to back a winner, the harsh truth is that patience probably will not soon be rewarded.
That's not to say the new mix on the coaching staff is incapable of getting things turned around. On offense in particular, with a new coordinator on the job in Mike Sanford and just a lone staff holdover in running backs coach Darian Hagan, there really is nowhere to go but up after the Buffs sported one of the worst attacks in the nation last fall. If ever a unit needed a complete excavation, it was the Buffs' offense of 2021.
… Continue reading story here …
–
—
Offensive line coach Kyle DeVan making inroads: "It's all progression based"
From the Daily Camera … CU head coach Karl Dorrell fired line coach Mitch Rodrigue seven games into the 2021 season. The group spent the rest of the time learning from interim coach William Vlachos. Then, Kyle DeVan was hired.
"We've had so much stuff happen to us and this is my fifth coach, sixth coach, something like that," center Austin Johnson said. "Coaches matter, but to a point, we have really just been able to stick together as a group and come together and that's all that matters. I love the boys. I love the boys in the group."
It all starts with DeVan, though, as he was hired to help a group that struggled throughout 2021. Knowing the task in front of him, DeVan didn't spent time watching everything the Buffs did in 2021.
"When I got hired I sat down with coach (Dorrell) and kind of went through everybody, went through our personnel," said DeVan, who was the line coach at Arizona from 2019-20 and an offensive analyst at Michigan last season. "To be honest with you, there's a lot of people that come in here and tell you they watch every play from every game here before. I don't believe in that because now you have a vision of a player that was being coached and being taught by somebody else. So I watched it and I had an idea and then I wanted those guys to show me who they are and who they want to become."
From there, DeVan has started with fundamentals. His approach, he said, was to first teach the Buffs' linemen to block a man standing in front of them. Then, they began to work on blocking the defender as he moves.
"It's all progression based," he said.
CU has talent on the line, but it will take time to come together. On Saturday, the Buffs held an open scrimmage and the line was OK, but struggled at times. It's still very early in the process with DeVan, but right guard Casey Roddick believes it has been a solid start.
"I think if I were to grade it out, it would be an 80," he said of scrimmage. "I think it was a really good day, though.
"The continuity between all of us has grown exponentially ever since last season, so it's gonna be really nice."
… Continue reading story here …
–
—–
April 10th
… CU in a few minutes … 
Two reports from the open scrimmage
From CU at the Gamer Robert OByrne
Offense
Everyone needs to realize that this was officially practice 7 in a new offense with a lot of new coaches.  We need to temper our expectations about what can be accomplished in that time frame.  It was awesome for CU to bring fans in today for the scrimmage.  It was a lot of fun and I think CU should continue to bring fans in like this.  The attendance today proves it doesn't need to be every practice.  But it was nice to see a few things:
We did not run the ball 75% of the time.  I didn't keep track but it was a good mix.
We ran a lot of "check with me".  You saw this at Minnesota during our game.  They would line up, see the defense line up and then check with the sideline.  I like this for a lot of reasons personally.  I felt that last year we ran a lot of plays into a defense the play had little or no chance against.  It also allows someone outside of the game to identify a potential gap in alignment on the defense which happens more than you would think
While bland there were a couple of things I liked about the new offense:

They ran 1 wide receiver screen early in the scrimmage.  It is infinitely better in design that DC's.  It created space for the receiver to catch, gave Brendon Lewis an easy path to throw the ball was out quick enough that the defense did not have a chance to read screen until the ball was in the air.
The quarterback read is real.  Lewis is going to keep the ball and run.  I think on roll outs Blew has also been taught to identify when he is not going to make the throw and go get some yards with his feet instead of looking downfield.
We attack the edges so much better.  Last year our outlet receiver was almost always 5 years behind the line of scrimmage.  The flat route is real and effective in this offense.
The base RPO play has a lot going on.  It makes the defense respect the edges a lot more which should give some room for the runners inside.

Blew is still a beat behind getting the ball out.  Not as bad and not as consistently slow as last year but the ball is not coming out as quick at it can.  I saw a drill where they were focused on footwork and the ball coming out quick.  I am hopeful that spring and fall practices will continue to emphasize this and he will get better.  I did see turn in routes where he is making the throw right as the receiver turns.  This is significantly better than last year and after 7 practices….  I did see a couple of throws where it came out right on time.  So he is improving.
The offensive line still needs work.  I think I am seeing signs of them getting better, Jake Wiley is definitely stronger and has cleaner foot work.  Both Casey Roddick and Frank Fillip are holding up better against the push.  Noah Fenske is really good in space, Tommy Brown will be an anchor at guard.  They will be better than last year.  I have no doubt.  But will they be better enough to take control of a game? Knock someone in the mouth.  I am hopeful.  7 real practices and I see improvement so I am hopeful.  One thing I really liked was on one play Roddick did not have anyone to block, he pulled away and went and doubled up on the end.  I can't tell you how often last year I watched our offensive lineman watch while one of the others got beat backward.
Defense
We ran a lot of 4-3.  Not every play but we ran it a lot.  Quinn Perry in the middle flanked by Robert Barnes and Marvin Ham.  I thought they looked real good in this defense.  Both Ham and Barnes looked very capable of covering and going sideline to sideline and Perry was cleaning up in the middle.
Nikko Reed will be better than Gonzalez……  I am going to be the first person to say this and I might be going out a little bit on a limb here but if he stays healthy, he reads so well, can go step with step with a receiver and unlike Gonzalez when the ball is in the air he turns finds the ball and attacks it naturally.
Robert Barnes is going to do well this year.  Especially in the 4-3.  He is playing downfield, with natural instincts.  The 4-3 is keeping lineman off of him and he is shooting gaps and disrupting plays in the backfield.
Trevor Woods has good instincts.  He needs 20 pounds
Terrance Lang made some disruptive plays.  Na'im Rodman has a rip down move and he threw Tommy Brown down one time.  I didn't see a whole lot from Jalen Sami but we know he will be just fine.
We got pressure from outside linebackers a few times.  Jamar Montgomery, I believe, caught my eye a couple of times.
—
From CU at the Game podcaster Neil Langland
Notes:
QB: Brendon Lewis looked the same in some ways (frequent flush-and-go to the right, no step up into pocket), better in others (some good progressions, some standing in the pocket, some accurate throws, short and deep); JT Shrout threw after scrimmage, has very nice mechanics and arm strength; Drew Carter and Maddox Kopp are projects.
OL:  not much on run blocking, passpro was inconsistent but show some improvement; starters are the same with transfer Tommy Brown at left tackle, center rotating Noah Fenske and Austin Johnson between which I could not detect a leader; overall, too early to tell except that Brown could be the best of the bunch (has good punch and extension, controls his assignee)
RB: Didn't use Alex Fontenot or Deion Smith much, Jayle Stacks showed potential;
TE: Brady Russell in a blue shirt, didn't play; Erik Olsen played both in-line and H, he will contribute, willing to block; AustinSmith is more of an H or slot guy, built more like a WR and plays that way – good hands & speed, essentially a large WR;
WR: Montana Lemonious-Craig had nice routes and catches, can easily replace some of the lost production; Daniel Arias remains an enigma – good routes both short and deep, touch catch in double coverage, drops an easy curl route with nobody around him …?
O, overall:  high variance, inconsistent; showed bright spots, will need backfield help in passpro; new system growing pains evident, much work to do;  didn't show much in terms of blocking schemes, simple man-stuff, some zone, not much gap/power; nice mix of TEs and RBs in pass game; some designed QB runs;
DL:  mainly in 3-down but some 4-down also;  strong showing vs run and pass (ones vs ones);  good depth on twos;
ILB:  Robert Barnes (especially) and Quinn Perry showed energy and confidence; good run stoppage;
OLB: Jamar Montgomery played with ones, very active, not Carson Wells as yet but could be productive if used properly; didn't get a good luck at others (my fault);
CB: a good looking crew, Nikko Reed now wearing #6 and looked the part;  didn't see much of the others (next time);
S: Trevor Woods was with ones, seemed comfortable in both as a single-high and in lower positions (robber or invert); I worry about him with slot receivers …
D overall: clearly ahead of the O; there is talent in the replacements at CB, S, OLB, could be as good as last year's D.
ST: placekicking is fine; Punter Ashton Logan: a one-stepper, good size, not quite as powerful as predecessor but should be adequate; depth?… I thought I saw Logan do an extra point/FG?
Coaching:  true, there is energy from new guys; I'd like to think that O is better-led and organized; insufficient data on O; D is an early strength, as is to be expected, could be good if not abused as in previous years.
Crowd:  sparse but attentive, many recruits with family members observing.
Other:  I forgot my mental note to watch Oakie Salave'a, will do next time.
–
—
Young cornerbacks making names for themselves: "We have to prove something"
From the Daily Camera … In the first practice of spring open to the public and media, there were highlights on both sides of the ball, but CU's young defensive backs stood out.
"A lot of people, since our starters left, they don't think there's any corners still in the room," Reed said. "So we all come in with like a chip on our shoulder because we have to prove something."
Last year's starters, Mekhi Blackmon and Christian Gonzalez, are now playing for Pac-12 rivals Southern California and Oregon, respectively. That has left with the Buffs with two major holes to fill.
Junior Nigel Bethel Jr. has been limited in practice this spring as he recovers from an injury, so the opportunity is there for Reed and other young corners to shine. On Saturday, they did.
"It was just next man up," Reed said of Blackmon and Gonzalez leaving, "so I was ready for it."
Last year, Reed played 199 snaps, recording eight tackles and two pass breakups.
"Fall camp I was like kind of questioning my ability," he said. "But as the season came by, I took the coaching and I got better. This year, I feel like I'm more confident in my ability. I'm still working, so I'm good. I'm still getting better, so I'm better with my technique."
… Continue reading story here …
–
—
Dorrell on Brendon Lewis: "He looked good. I thought he made good decisions today"
From CUBuffs.com … Quarterback Brendon Lewis had an efficient day, completing roughly 60 percent of his passes, including a touchdown toss, and no interceptions.
"B-Lew looked good," Dorrell said. "He looked like he was in control of what was going on. I thought he made good decisions today."
Lewis said he felt much more comfortable than last year, even though he's operating a new scheme.
"I felt good going out there with the guys, completing some balls, just actually playing football without the coaches being behind us," Lewis said. "It felt good to move the ball a little bit, doing it by ourselves and trying to execute the offense the way our standard needs to be."
Defensively, the Buffs are looking to replace several key starters from last season. Saturday, linebackers Robert Barnes, Quinn Perry and Mister Williams showed they are ready to stake a claim to inside spots while sophomore Nikko Reed and true freshman Joshua Wiggins made plays at the corner. Both DBs came up with some nice pass breakups, as did safety Jordan Woolverton, a converted quarterback.
Also having a solid showing was safety Trevor Woods, who showed his big-play capability at the end of last season, along with defensive lineman Na'im Rodman and edge rushers Terrance Lang, Guy Thomas and Alvin Williams. CU showed a penchant for getting to the quarterback — a big focus this spring — while also keeping the offense's run game in check for most of the day.
"Defensively, they got the stops when they needed to," Dorrell said. "We had a couple scores offensively but I think for the most part they kept the relatively out of sustaining drives."
–
—–
April 9th
… CU in a few minutes … 
Karl Dorrell on scrimmage: "We did what we wanted to do today … with good competitiveness on both sides"
From CUBuffs.com … Colorado's new offense made some plays Saturday but the defense was perhaps more consistent as the Buffaloes conducted their first scrimmage of spring ball at Folsom Field.
Granted, as head coach Karl Dorrell noted, the offense kept its play calling on the vanilla side of things.
"We didn't want to show too much given it was a public scrimmage," Dorrell said. "But we did what we wanted to do today in terms of seeing our base-level schemes and how well we can execute those on both sides of the ball. I thought we did a good job of give and take with good competitiveness on both sides."
CU's offense has also been hindered this spring by a lack of depth, particularly at the skill positions. Running back Alex Fontenot, a strong candidate for the starting spot next fall, did not participate because of a sore hamstring; and the wide receiver spot was limited to just a handful of players, including walk-ons.
"When you're thin in a lot of spots it's really strategic in terms of play count how long you want them out there, how long you want to sustain a drive, things like that," Dorrell said. "I tried to do the best thing I could to get out of this scrimmage."
The Buffs did come up with some big plays, getting a long pass from Brendon Lewis to Daniel Arias early, and Arias also had a touchdown catch late in the workout. His big catch early was a particularly pleasing moment for the offensive staff, as he went up and high-pointed the ball to come down with the catch.
The 6-4, 210-pound Arias has had some outstanding moments the past several seasons, but consistency has not been a strong point. This spring, he is showing that he may be ready to add that quality to his arsenal.
"When he gets a chance to get one-on-one coverage, we're expecting him to win those battles and he had a great battle down here with a jump ball," Dorrell said. "He's doing the things that we expect him to do."
Wide receiver Montana Lemonious-Craig — another player the Buffs need to take his game up a notch this year — also had a couple of nice catches, as did walkon Jack Hestera.
Tight ends, expected to play a much bigger role in offensive coordinator Mike Sanford's new scheme, had multiple catches, led by Erik Olsen and Austin Smith.
"Erik had a nice little flat pass and made a big play down the sideline and got it close to the red zone," Dorrell noted. "I thought that was a big play, breaking a tackle and going down the sideline. So it was good progress."
CU's running game didn't produce any big gainers, but did get a short-yardage score from Deion Smith to complete the offense's longest scoring drive of the day while Jayle Stacks had the longest run.
Colorado's No. 1 offensive line continued to consist mainly of tackles Jake Wiley and Frank Fillip, guards Tommy Brown and Casey Roddick, and Noah Fenske and Austin Johnson rotating at center.
… Continue reading story here …
–
—
New offensive coaches making a difference: "We built (CU's offense) together and it was a lot of fun, to be honest with you"
From the Daily Camera … Head coach Karl Dorrell dismissed four of the five offensive assistants (from last season). He then hired Mike Sanford as coordinator and quarterbacks coach and Kyle DeVan to coach the offensive line, as well as McGeoghan and Patterson. Running backs coach Darian Hagan was the lone holdover.
"I'm relieved to know and feel good about the level of experience in that room right now," Dorrell said. "They've done a great job of really melding all the ideas into our system. They're good listeners. I think that's another thing that's really important, but they all have input in what we're doing and that's what makes it such a great investment on their side. They actually feel like they have some skin in the game. They have some thoughts that are being instituted and they're really doing a great job of putting those things together."
Sanford and Patterson worked together at Minnesota for the past two years, but the rest of the group is working together for the first time. By all accounts, it's been a process that has energized the group and the Buffs.
"We get in the room and we have a base and we have a start," Patterson said. "Mike has a vision of what he wants and then we collaborate together to make that. We've all been in a ton of systems with different signals, different huddles, different calls, different ways to do it. We built (CU's offense) together and it was a lot of fun, to be honest with you."
… Continue reading story here …
–
—
Could this be the year for RB Jayle Stacks? – "My focus is to get on the field as much as I can"
From the Daily Camera … Playing behind talented running backs such as Jarek Broussard and Alex Fontenot the past two years, Jayle Stacks knew his opportunities would be limited.
Now in his third year with the Colorado football team, the 5-foot-11, 235-pound running back from Cherry Creek High School is hoping to change that.
"It's something you just have to push through and then just keep grinding," Stacks said of his first two seasons at CU. "This year, my focus is to get on the field as much as I can, more than I was getting last year. I love the game of football, so I'm just going to grind every time I'm out here."
After rushing for 2,997 yards during his career at Cherry Creek, Stacks has played in 10 games at CU, but mostly on special teams. He had one rushing attempt for four yards last season.
Broussard (Michigan State) and two other running backs transferred this offseason, while Stacks is hoping CU's new offense, led by first-year coordinator Mike Sanford, can be a better fit for his bruising style.
"From what I've seen, it's more power back," Stacks said. "There is elusive back stuff, but I feel like I can get more power back stuff (in this offense). I'm still playing fullback, so you'll see me there still."
… Continue reading story here …
–
—–
April 8th
… CU in a few minutes … 
Saturday scrimmage information
From CUBuffs.com … If you plan on attending Colorado's football practice tomorrow, please see the below:
Practice is 11:15-1:30, scrimmage will start around 30 minutes in or so…
Folsom Field will be open to the public, while no media will be allowed on the field as the team will be spread all over both sidelines, you can do photography/videography from anywhere in the stadium.
–
—
Offensive lineman Carson Lee enters the Transfer Portal
Tweet from Carson Lee … After many thoughts and prayers with my family I have entered my name into the transfer portal with 3 years of eligibility left. Thank you to my teammates, coaching staff and to Buff nation for many great memories at the University of Colorado
The timing is a little strange, but keeping Carson Lee on the team has been in question for months. Lee was charged with felony assault in October, and, while not dismissed from the team, hasn't been playing either.
From a Daily Camera story in October … "He is still on our team," Dorrell said. "Obviously his situation is pending, given how this investigation is going to go. He's obviously dealing with legal matters and we're going to have to let this situation kind of resolve itself in going through the process.
"He will not be playing or being in the fashion to play right now until this investigation gets more clarity as to where we're going with a decision. But, he is still on our team. His situation is pending and we're just going to work through the process and go with the facts of the matter that get resolved, whenever that timeframe is."
–
—–
April 7th
… CU in a few minutes … 
Turnovers a point of emphasis for Buff defense
From CUBuffs.com … Colorado coach Karl Dorrell saw his defense produce a pair of interceptions in Wednesday's practice, something he considered a solid step forward.
Producing takeaways has been a focus for the defense this spring, along with creating more pressure on the quarterback — and for good reason.
When the Buffs were proficient in those areas last season, they were a competitive football team.
In 2021, Colorado's defense produced just 13 takeaways — nine interceptions and four fumble recoveries. That's the fewest in a full season since the 2014 Buffs had just 11 takeaways.
Still, when the Buffaloes won the turnover battle last year, they were a respectable 4-2 — meaning they did not win a game when they didn't force more turnovers than they committed.
It was a similar story when it came to the pass rush. The Buffs finished with just 15 quarterback sacks for the season — the lowest total by any CU team in a full season since the 1980 Buffs had only 11.
But again, when the Buffs did get to the quarterback with anything resembling regularity, they usually produced a successful outcome. Last season, when Colorado recorded at least two sacks in a game, the Buffs were 3-1. In games when they had one or no sacks, they were 1-7.
"Defensively, our pass rush is really improving from where it was a year ago," Dorrell said after Wednesday's workout, CU's second in full pads this spring. "We have a few guys that are part of that. Justin Jackson has been a guy that has been flashing since we started spring practice, really getting in the backfield and creating a lot of pressure on the quarterback."
Also showing a knack for coming off the edge have been Devin Grant, Terrance Lang, Jamar Montgomery, Alvin Williams and Guy Thomas.
"One thing we didn't do on defense (last season) that is a point of emphasis is creating more turnovers," Dorrell said. "We didn't have a lot last year. We didn't give up a lot (the Buffs gave the ball away just seven times), but that's something we want our defense to be better at, is generating more turnovers and getting more pressure on the quarterback. Those are two high priorities for us this spring and I think we're making good progress there."
The Buffs will conduct their first scrimmage of the spring Saturday at Folsom Field. The workout, set to begin at 11:15 a.m., is open to the public.
Dorrell has some simple goals for his team.
"I want to see the quarterback under pressure," he said. "I want to see those guys in the backfield creating some havoc. I'd like to see some plays on the football in the back end with creating some turnovers and making some plays. I would like to see those two things really start to show up for us. Those are glaring things that didn't show up a year ago."
… Continue reading story here …
–
—
CU defensive line building much needed depth: "There's not really a drop off"
From the Daily Camera … Despite losing a key player to graduation, the defensive line is one of Colorado's most experienced groups, so it's no surprise that the unit has turned some heads this spring.
It's not just the experienced players that are making some noise, however.
CU has completed five of 15 spring practices and the developing depth of the defensive line has been highlighted multiple times.
"I tell you what, whether you're first group or second, the guys we've blocked, there's not really a drop off," offensive line coach Kyle DeVan said of the Buffs' defensive front. "Our second group of D-line is (darn) good and it may be just as good as the first group. I've really been impressed with those guys and Gerald (Chatman) has done a great job of developing them and getting them to play hard."
CU lost Mustafa Johnson and his 35 career starts, but returns four important veterans. Terrance Lang (40 games, 27 starts), Jalen Sami (28 games, 24 starts), Na'im Rodman (30 games, nine starts) and Janaz Jordan (27 games, six starts) have all been key rotational players the past two years or more.
Behind them there are a lot of inexperienced players who are quickly growing.
Senior Justin Jackson is entering his third season at CU since transferring from Northwest Mississippi Community College. He's played just 149 snaps with the Buffs, but head coach Karl Dorrell said Wednesday that Jackson has "been flashing since we started spring practice" by getting into the backfield.
… Continue reading story here …
–
—–
April 6th
… CU in a few minutes … 
247 Sports – CU's win projection for the 2022 season: Two
From 247 Sports … It's Utah, Oregon and everybody else out West in the Pac-12 ahead of the 2022 season, at least according to most preseason prognosticators who do not appear to be sold just yet on Lincoln Riley's first go-around at USC. However, with the acquisition of Caleb Williams in the transfer portal and a large pool of teams with projected win totals hovering around six, the Trojans have a golden opportunity to not only turn heads, but potentially reach the New Year's Six as the conference champions.
Can Kyle Whittingham and the Utes build on last season's run to a Rose Bowl berth or will their veteran-laden team be stopped short of a title? You can check out team-by-team predictions for every ACC, Big Ten, Big 12 and SEC program as well.
Partnering with fellow 247Sports national analyst Bud Elliott for this project, we've projected every Pac-12 team's win total this season and have given a lean for each program based on various factors including schedule favorability, roster expectations and coaching edge.
Bud's win total projection: 2
Brad's best bet: Over; Colorado has a long way to go under Karl Dorrell, whose Buffaloes may record the Pac-12's worst record this season after finishing 4-8 last fall. The season-opening home game against TCU is vital for this team's confidence level considering the two contests after that are both away from Boulder — at Air Force and at Minnesota. Colorado may be able to beat California coming off its open week in October and that's one of those 50-50 games you're going to need if you're taking the over here. Getting to three wins is a possibility. Calling it an official play is a stretch, though.
–
—
CU low on receivers this spring: "We're gonna rep who've we've got"
From the Daily Camera … Phil McGeoghan has coached so long in the NFL that working with a small group of receivers isn't too big of a deal.
The injury bug has left the Colorado Buffaloes with a shortage of weapons as they go through spring practices, however.
On Tuesday, the fourth of CU's 15 spring practices, McGeoghan, CU's first-year receivers coach said the Buffs were down to "4.5 receivers," meaning four fully healthy and one in a non-contact jersey.
Senior Daniel Arias missed practice because of an academic conflict, but sophomores Chase Penry and Ty Robinson are among the wounded. McGeoghan said "we're hopeful" about Penry and Robinson returning this spring.
"You have to learn how to rehab and you have to learn how to be mentally tough when you have setbacks, so that's kind of where we are with those two players," he said. "It's just kind of them learning the offense and them managing the disappointment of not being out there with their brothers playing."
CU has 10 receivers on the roster this spring, but McGeoghan, who coached eight of his previous nine seasons in the NFL, said the Buffs will carry on with what they've got.
"The reality is we've got practice to get through and if you want to play in the National Football League, we only have five guys in the roster anyway, so it's a good introduction if they want to play in the National Football League," he said.
"Honestly, we're gonna rep who we've got and there's gonna be more reps to go around for guys that are reserve players. It's just an opportunity to get better and we try to do a good job of limiting the reps."
… Continue reading story here …
–
—–
April 5th
… CU in a few minutes … 
OL Austin Johnson: "This is the first time in my career at CU that I feel comfortable and ready to go"
From the Daily Camera … Like many of his Colorado teammates, Austin Johnson's journey through college has included numerous coaching changes.
The head coach and position coach he committed to out of high school had already been fired by the time Johnson got to CU in January of 2019. In the three years, he's been in Boulder, he's had two head coaches and is now on his third position coach.
That wouldn't be so bad if that was the most challenging part of Johnson's journey.
A 6-foot-4, 300-pound offensive lineman from Highlands Ranch High School, Johnson has also dealt with a ruptured Achilles' tendon and other injuries that have prevented him from reaching his potential.
Now a fourth-year sophomore, Johnson, nicknamed "Big Salsa," is feeling good and competing at center as the Buffaloes go through spring drills.
"I would say this is the first time in my career at CU that I feel comfortable and ready to go," Johnson said. "It changes my mindset, kind of just reaching for the goal. The goal is one step closer and me being an older guy now, I kinda have to be the leader. We have Casey (Roddick) and Frank (Fillip), but other than that I'm next up. So I've got to set an example. I've got to help the younger guys under me go through college because it's not easy."
… Continue reading story here …
–
—
**Video – Mark Johnson interviews OL Casey Roddick**
–
—–
April 4th
… CU in a few minutes … 
DL Terrance Lang: "Tackles are cool, but I want to make game-changing plays this year"
… Related … "CU at the Game Podcast interview with Terrance Lang" …
From the Daily Camera … Terrance Lang wasn't originally supposed to be a part of the Colorado football team in 2022.
"It was never part of my plan at all," he said with a laugh after a spring practice last week. "I never thought I'd be here for six seasons, but at the end of the day, I feel like everything happens for a reason. I just look at it as a chance to grow and learn that much more."
When the NCAA announced that the 2020 season wouldn't count toward eligibility because of the COVID-19 pandemic, all players were granted an extra year. Now one of CU's oldest players, Lang, 23, is taking advantage of the opportunity as the Buffs look to rebound from a 4-8 season.
"I feel like I'm a lot more mature with the game of football, just learning different positions, different techniques, different styles of play," said Lang, a 6-foot-7, 290-pound defensive end. "I've had a lot of different insight from different coaches."
Lang's had more coaches than he ever imagined.
Since joining CU in 2017, he's played for three head coaches: Mike MacIntyre, Mel Tucker and now Karl Dorrell.
Lang had four different defensive line coaches in his first five years: Jim Jeffcoat, Kwahn Drake, Jimmy Brumbaugh and Chris Wilson. Now, the Buffs have a new coach, Gerald Chatman. Add in Vic So'oto, who was on staff for about two months this winter before leaving for California and Lang has had six position coaches.
"From the aspect of learning from a lot of different guys, that can be a good thing," he said. "I've got the perspective of so many different good coaches and I can take all of that and apply it in one. There's always going to be some adversity you've got to face and at the end of day, you've got to be able to adjust to change. So that's what we're doing."
… Continue reading story here …
–
—
Athlon's CU Spring Practice Preview: Five Storylines to Watch 
From Athlon Sports …
The Buffaloes will look to rebound after a 4-8 finish in Karl Dorrell's second season in Boulder, and there are changes aplenty amongst both the staff and the players entering 2022. Here are a few things to watch for during Colorado's spring drills.
5 Storylines to Watch During Colorado's Spring Practice
1. Quarterbacks
Brendon Lewis did what was asked of him as a redshirt freshman, as he protected the ball well and didn't make huge mistakes. But he also only completed 58 percent of his throws with an average of just six yards per attempt, a number that tied for last among eligible Pac-12 quarterbacks. Tennessee transfer J.T. Shrout is an intriguing option who could battle Lewis for the starting spot, but he is recovering from a knee injury and may not be full-go the next few weeks.
2. Receivers
Brendon Rice and Dimitri Stanley both have transferred out of Colorado. Combined, the two only had 36 receptions, but they were two of the top three wide receiver targets, and Daniel Arias, the leading returning wide receiver, had just 19 catches. Chase Penry and Ty Robinson, two members of the 2021 recruiting class, will be counted on for more production, though the Buffs landed an impactful transfer of their own in R.J. Sneed from Baylor. Those three will get plenty of reps with Lewis this spring.
3. Finding a running back
Or two. The transfer portal also slapped the Buffaloes at the running back position, as leading ground-gainer Jarek Broussard decided to go to Michigan State. Deion Smith and Jayle Stacks are the two returnees who will compete for carries in 2022. Sam Houston transfer Ramon Jefferson is a player who had 1,155 yards and 13 touchdowns at the FCS level and could be the eventual Broussard replacement.
4. Plugging the secondary holes
The defensive backfield is another area where Colorado was ravaged by transfers. Mark Perry, Christian Gonzalez, and Mekhi Blackmon combined for 160 tackles and 12 pass breakups, and all three will be playing elsewhere in 2022. That leaves a bunch of inexperienced players in line for significant playing time bumps. Kaylin Moore, Nikko Reed, Toren Pittman, and Tyrin Taylor are four defensive backs who played a bit last year and will be a bigger part of the rotation this coming year.
5. Rush defense
The front seven is the most proven part of the defense, but that's not saying much, and holding up against the run is something that has to improve this season. In 2021, opponents ran for an average of 178 yards per game on Colorado, and with youth in the secondary, the Buffs have to at least have a formidable rush defense. Despite returning veterans like Quinn Perry, Terrance Lang, and Jalen Sami, there are several pieces that need to be replaced, and new playmakers must emerge during the upcoming practices.
–
—
**Video: Mark Johnson interviews tight end Brady Russell**
… Related … "CU at the Game Podcast interview with Brady Russell" …
From BuffsTV …
–
—–
April 3rd
… CU in a few minutes … 
Trevor Woods hoping blocked punt last fall a sign of things to come: "I'm doing my best to try to propel myself to a starting role"
From the Daily Camera … This spring, Trevor Woods feels a bit more like himself as he wears his No. 43 jersey on the practice field with the Colorado Buffaloes.
"It's what I've worn my entire life," the sophomore safety said. "My dad wore it, so it's just what I wore when I was little."
As a true freshman last year, Woods wore No. 42, but smiled when asked if No. 43 makes him more comfortable.
"Yeah it does," he said. "I love it."
While the new number might play a small role in Woods' comfort, he's carrying confidence into this spring because of what he did as a freshman last year.
As a backup, Woods played only 139 snaps on defense but recorded 23 tackles. He also had a key pass breakup in a win against Oregon State and made one of the biggest plays of the season for the Buffs, blocking a punt against Arizona, scooping up the ball and taking it in for a touchdown.
"It really gives you confidence," he said of what last year did for him going into this spring. "It kind of lets you know that you can play at this level. It's a different kind of level from coming from high school and just coming from a lower level like that. It just kind of establishes yourself."
Now, he's got a chance to win a starting job. Lewis is back for his senior year, but Perry has transferred to TCU, leaving competition wide open for a starting spot.
"I'm doing my best to try to propel myself to a starting role and try to be a leader of the team," Woods said.
… Continue reading story here …
–
—
Depth issues forcing CU coaches to focus on "getting quality reps instead of quantity"
From CUBuffs.com …  As is the case with programs across the country, the Colorado Buffaloes are dealing with depth issues at several positions this spring.
The reasons vary. Injuries, players still recovering from offseason surgeries, and attrition via graduation and the transfer portal all have an impact. Programs are also waiting for the majority of their newest recruits to arrive on campus over the summer, meaning virtually nobody has a full complement of players.
But no matter the reason, the result is coaching staffs must adjust for thin positions during spring ball — and do their best to make sure the players who are available stay that way throughout the spring session.
Colorado is no different, as head coach Karl Dorrell noted Saturday after the Buffs wrapped up their third spring practice. CU has just six healthy wide receivers for the spring, with running back and the secondary also areas that are not at full strength in terms of sheer numbers.
"In drills we have to slow down the pace so we're getting quality reps instead of quantity," Dorrell said. "I have to do a great job with that … (But) our depth is what it is. I think every team in spring ball across the country doesn't have full depth right now. Some positions have more depth than others. It's just kind of the nature we have right now. We just have to find the right pace so we can have some sustainability."
But the lack of depth in those areas isn't slowing down Colorado's overall progress this spring. Dorrell has been pleased with the advancement the Buffs have made thus far on both sides of the ball — in particular the communication aspect on defense, where Dorrell heard adjustments being called out by the line, linebackers and secondary.
"That's something that's going to be really important for our defense to be a really good defense — if we can get all 11 guys to really understand their role and have great discussion and communication in their adjustments," he said. "I felt for the first time since I've been here, that was as good as I've ever seen and heard. Even the second team did a really good job."
… Continue reading story here …
–
—–
April 2nd
… CU in a few minutes … 
**Video: Karl Dorrell after Saturday's practice**
From YouTube, courtesy of CUSportsNation … "Great communication on defense … best I've ever seen and heard … defensive coaches doing a good job of getting them to understand the package … You can see the development … Offensively, I'm very pleased with the way they are dealing with the new offense … Our cornerbacks are doing a great job … those young corners are really stepping up. It's good to see a new generation of young corners stepping up … They're young, but they are very competitive and they are making plays … On offense, the tight ends continue to make plays. Erik Olsen … Austin Smith had a good day … Quarterbacks had some good throws … O-Line is doing pretty well. Casey Roddick is a different athlete … Tommy Brown is doing well … I am pleased where we are after three days … The challenge is maintaining the performances into next week … You have to have a level of consistency … Only six wide receivers practicing … I'm concerned about our depth … We have a number of guys coming off of surgeries … Running backs is another area where we are thin … Noah Fenske and Austin Johnson taking the reps at center … Carson Lee playing more at guard … " 
–
—
Alex Fontenot ready to resume primary running back role: "Nobody is going to help me but myself"
From the Daily Camera … With half of the scholarship running backs from the 2021 season transferring, the attention this offseason has been on those who won't be running the ball for the Colorado Buffaloes.
Meanwhile, the man who leads the group has kept his head down and worked.
"Just day by day getting it done," Alex Fontenot said of his offseason.
Jarek Broussard, who led the Buffs in rushing the past two seasons, transferred to Michigan State. Ashaad Clayton, the four-star recruit from the 2020 class, transferred to Tulane. And, Joe Davis, a talented backup from Valor Christian High School, also transferred.
CU is now going through spring practices with only three backs on scholarship. At the top of the list is Fontenot, a sixth-year senior who has rushed for 1,243 yards and 11 touchdowns in his career.
As the Buffs wrapped up the second of 15 practices on Friday, Fontenot said he's not concerning himself with those who left.
"At this point, (transferring) is a part of the game," he said. "You can't think about it. All that matters is that I'm here; I've got to get the work done. Nobody is going to help me but myself, but I can't think about (the others who left)."
Fontenot's main focus is to re-establish himself as a starter with the Buffs.
In 2019, he started 11 games and led the Buffs with 874 yards and five touchdowns, averaging 4.7 yards per carry. He also caught 27 passes for 122 yards.
… Continue reading story here …
–
—–
April 1st
… CU in a few minutes … 
Oklahoma transfer linebacker Robert Barnes settling in: "I'm more comfortable in our defense"
… Related … CU at the Game Podcast interview with Robert Barnes …
From CUBuffs.com … Colorado graduate transfer linebacker Robert Barnes spent much of 2021 learning on the fly.
Now he's ready to fly full-time.
A safety for most of his career, Barnes arrived as a graduate transfer from Oklahoma last season and made the move to linebacker. While he played in 11 games last season, including three starts, he still admits to enduring some "growing pains" as he became accustomed to his new role.
But near the end of the season, he began to feel comfortable — and the results showed.
In Colorado's 20-17 win over Washington in Week 11, Barnes played 62 snaps and produced maybe the best game of his career. He stopped a UW drive in the third quarter with an interception, set up a CU field goal in the fourth quarter with a fumble recovery and finished with a season-high 10 tackles.
Now, expected to settle into a full-time starter's role inside, he wants to make that late-season performance a regular occurrence in 2022.
"I want everyone to know that people should expect every game next year to be like that," Barnes said Friday, after the Buffs wrapped up their second practice of the spring. "I set those standards for myself and want to be held to them — and I think every one of us on defense is setting that standard. We want to be active, physical and create turnovers."
No doubt, CU fans have come to expect that kind of production in recent years from Colorado's inside linebacker spot, where Nate Landman roamed for four seasons.
Barnes appears ready to continue that dominant style of play. At 6-foot-2, 230 pounds, he now has the size to play inside, and still has a safety's speed that allows him to play sideline-to-sideline.
"I'm ready to be that every-down linebacker," said Barnes. "It's going to get physical in the box and I believe I'm ready this year to take on that role."
Even with the hole created by Landman's graduation, inside linebackers coach Mark Smith won't have a shortage of quality players this year. Senior Quinn Perry, who finished with 79 tackles last season while putting 11 starts under his belt, returns and will no doubt be a big part of the equation. Meanwhile, youngsters such as Mister Williams and Marvin Ham II should compete for time, and true freshman Eoghan Kerry is already turning heads in spring ball.
Barnes should also find himself stepping into an even more important leadership role this year. While he quickly earned the respect of his teammates last season through his work ethic and knowledge of the game — as well as his background of coming from a perennial title contender at Oklahoma — that role will become an even bigger emphasis this year.
"It's definitely enhanced this year," Barnes said. "I'm more comfortable in our defense, I know the scheme and I like to lead by example. But what I really like about this year is that the whole team has taken over the leadership. You can already see it this spring. We've all taken the responsibility and accountability of setting the tone."
… Continue reading story here …
–
—–
March 31st 
… CU in a few minutes … 
New assistant coaches making an impression: "They have invested a lot of time with their position groups"
From the Daily Camera … Wednesday evening was the first of 15 spring practices and Dorrell spent some time observing the new assistants he hired this winter.
"Today was the longest period of individual (drills), so we had 35 minutes of individual and I got a chance to go up and down the field watching all the different segments do their thing," Dorrell said. "Very focused training and learning and (the coaches are) doing what I thought they would do."
Four of the five assistants on offense are new, including Mike Sanford (coordinator/quarterbacks), Kyle DeVan (offensive line), Phil McGeoghan (receivers) and Clay Patterson (tight ends). On defense, the Buffs have a new defensive line coach (Gerald Chatman) and cornerbacks coach (Rod Chance).
"They have invested a lot of time with their with their position groups," Dorrell said. "The practice to me just flew by where we went through all the plays, and there weren't any shortage of plays. We went through all the different segments really with time to spare at the end of the period. So, I would say the efficiency of the practice has been the best that it's been since I've been here and a lot of is because of the coaching style and really the expectations and the demands of these guys performing. They're doing what's expected, so it's a really good start."
–
—
Dorrell on practice No. 1: "The efficiency of practice was the best it's been since I've been here"
From CUBuffs.com … New offense, new faces and a renewed determination set the tone for Colorado's opening spring football practice Wednesday.
Buffaloes coach Karl Dorrell called the workout "seamless" in some respects, noting that "the efficiency of practice was the best it's been since I've been here."
But what may have been most impressive in Dorrell's eyes was his players' attitude, the result of seeds that began sprouting in early January, when the Buffs' roster underwent a significant transition via the transfer portal.
Wednesday's practice, he said, showed that the 2022 Buffs are ready to move forward.
"They came together as a team given the transition in the offseason," Dorrell said. "I felt this team really decided to dig in and invest in each other. It shows in the progress they made in practice today."
The roughly two-hour workout in shorts and helmets included some 7-on-7 work, a healthy dose of individual position-group drills and some 11-on-11 team sessions.
One top priority of spring will be the continued installation of new offensive coordinator Mark Sanford's scheme. What was quickly apparent is that the Buffs hope to reinstate some offensive balance, be more efficient in the passing game from multiple sets and utilize the tight end on a more regular basis than in past years.
One big focus will be more efficient quarterback play. Dorrell was effusive with his praise of quarterback Brendon Lewis' first spring practice. Lewis, who endured a difficult 2021 season as a starting freshman in CU's 4-8 season, appeared comfortable in the new offensive scheme reading defenses and finding open receivers.
"He's not anything from what you saw in 2021," Dorrell said. "I saw a completely different player. All that experience he gained over the course of last season has really paid off for his composure. His confidence, how he exudes himself in the huddle, how he's commanding everything in terms of the information he's given. He's definitely a much different player."
… Continue reading story here …
–
—–
March 30th
… CU in a few minutes … 
— Practice No. 1 – (meetings, walk-through, practice) shorts/helmets – 
**Video: Karl Dorrell recaps first day of spring practices**
From YouTube, courtesy of CUSportsNation:
–
—
Quarterback JT Shrout "is ahead of schedule", and will participate in spring drills
From the Daily Camera … Junior quarterback JT Shrout will not be a full participant during spring, but he will return to the practice field for the first time since injuring his knee in August.
"JT is ahead of schedule," Dorrell said. "You saw him at the pro day (on March 16) taking drops and throwing and things like that. He looks like he's in pretty good health. We definitely feel he's ahead of the curve right now, but we want to be cautious as to how much work we give him this spring."
Shrout, who transferred from Tennessee last year, was in the mix to start before his injury and should be a part of the competition this year, as well.
"We want to make sure he comes out of spring feeling that he's made some great progress not only from an offensive standpoint but physically that he feels that he's on the right track to being a full fledge competitive player," Dorrell said.
Dorrell said Shrout will do individual work and throw with receivers, but won't be cleared for live scrimmages.
–
—–
March 29th 
… CU in a few minutes … 
Spring Practices Open Wednesday – Karl Dorrell: "We have a lot to prove"
From CUBuffs.com … After months of strength and conditioning, classroom work and walkthroughs, Karl Dorrell's Colorado Buffaloes are finally ready to hit the field for spring ball.
The Buffs will conduct their first of 15 spring practices Wednesday, the beginning of a somewhat condensed spring session that will wrap up with the annual Spring Showcase on April 23.
The No. 1 priority, Dorrell said, is simple: compete.
"We want this spring practice to be a very competitive spring for all positions," said Dorrell, who is entering his third year at CU. "A lot of people are competing to move up the depth chart, and new players are getting involved with what we're doing in terms of showcasing what they can do … We want to develop our systems on offense, defense and special teams —going back to square one and teaching the basic fundamentals and principles of all three of those areas."
Indeed, there may not be a position group on the roster where the depth chart is even close to being settled. While the Buffs do have a number of returning starters at multiple positions, nearly all of those starting spots will be up for grabs as Colorado tries to rebound from last year's disappointing 4-8 finish.
The winter months produced a significant amount of turnover on the Colorado roster, a situation that will make every practice critical in establishing continuity and consistency moving forward.
From a player standpoint, the Buffs lost a number of key players to graduation and the transfer portal — but they also added some key newcomers, a number of whom could become contributors immediately.
From a coaching standpoint, Dorrell did not stand pat after last season's finish. Colorado added six new assistants over the winter, including a new offensive coordinator (Mike Sanford) and three others on the offensive side of the ball.
Most of the new coaches have had ample time to familiarize themselves with their position groups. They have conducted classroom work in "football school" and have utilized permissible walkthroughs to begin implementation of new schemes and techniques.
Now, they will have 15 practices to continue the process and set the table for summer workout sessions and fall camp.
"For our veteran players, we want to refine their development, whether they're returning starters or guys that were key players for us last year," Dorrell said. "We want to also close the gap with some of these first year players that got here in January, getting them comfortable in our systems … The bottom line is the finishing goal of spring is to make sure we come away feeling like we have a really strong foundation set with our offense, defense and special teams — kind of a snapshot of what we think we can continue to build from going into summer and fall camp."
… Continue reading story here …
–
—
CU spring roster released (a few surprises, including a medical retirement)
With spring practices set to begin Wednesday (see calendar, below), the CU Spring roster has been released, and can be found here.
Some notes (with kudos to Brian Howell of the Daily Camera for doing a deeper dive):
There are 84 scholarship players currently on the roster (roster must be at 85 or less by August 1st);
Of the 84, a total of 66 players will be on campus for spring practices, including some early enrollees from the Class of 2022;
The position of Oakie Salave'a remains in question. Listed as an "athlete", Salave'a may get his chance at quarterback, but, with 3/4th's of last year's secondary leaving by way of the Transfer Portal, he may be needed at safety sooner rather than later;
 Linebacker Jack Lamb, transfer from Notre Dame, has medically retired. He will remain on scholarship at CU, but will no longer count against the 85-man limit;
True freshman Eoghan Kerry, signed as an outside linebacker as part of the Class of '22, enrolled early, and is now listed as an inside linebacker;
Walk-on kicker Mac Willis, who handled the majority of kickoffs in 2020, is now listed as a potential cornerback;
–
—–
March 28th
… CU in a few minutes … 
Spring calendar released – Two scrimmages (April 9th open to the public) – Spring scrimmage April 23rd
From CUBuffs.com … Schools are allowed 15 practices over 34 days per NCAA rules (not including spring break); sessions break down as follows, tentatively
listed below on the column on the right: three in shorts (no contact), four in pads (no tackling, or pads-NT below), five in pads (tackling allowed 50 percent or less of the time), three in pads (tackling allowed throughout, as in extended scrimmages). The primary location at this time will be the practice field south of the Indoor Practice Facility (where sessions will be during inclement weather).
Calendar 
Wed., March 30— Practice # 1 (meetings, walk-through, practice) shorts/helmets
Fri., April 1— Practice # 2 (meetings, walk-through, practice) shorts/helmets
Sat., April 2— Practice # 3 (meetings, walk-through, practice) pads-NT (uppers)
Tues., April 5— Practice # 4 (meetings, walk-through, practice) full pads
Wed., April 6— Practice # 5 (meetings, walk-through, practice) full pads
Fri., April 8— Practice # 6 (meetings, walk-through, practice) pads-NT (uppers)
Sat., April 9— Practice # 7 (meetings, walk-through, scrimmage) full pads – Update: Open to the Public
Tues., April 12— Practice # 8 (meetings, walk-through, practice) full pads
Wed., April 13— Practice # 9 (meetings, walk-through, practice) full pads
Fri., April 15— Practice #10 (meetings, walk-through, practice) pads-NT (uppers)
Sat., April 16— Practice #11 (meetings, walk-through, scrimmage) full pads
Tues., April 19— Practice #12 (meetings, walk-through, practice) full pads
Wed., April 20— Practice #13 (meetings, walk-through, practice) pads-NT (uppers)
Fri., April 22— Practice #14 (meetings, walk-through, practice) shorts/helmets
Sat., April 23— SPRING SHOWCASE/SCRIMMAGE (Practice #15; 1:00 p.m. Folsom Field / Pac 12 Network) full pads
 PRACTICES: At this time, two practices are open to the media and public, April 9 scrimmage and the April 23 spring showcase. Weekday practices are in the afternoon, Saturday sessions will be midday. Practice is closed to the public; former players, high school coaches, player parents and donors are permitted (need to register with the football office); the Spring Showcase is open to all.
 SCRIMMAGES: The first scrimmage (April 9) will be open to the media (press box) and photographers (field/stands). Parking will be available in the Folsom Street Garage (register your plate with sports information if not already in the system).
–
—–
March 27th
… CU in a few minutes … 
Neill Woelk: Priorities for spring? Just about everything
From CUBuffs.com … As Colorado coach Karl Dorrell enters his third season with the Buffaloes, he is preparing for a spring that will require a sense of urgency from all involved.
After a 4-8 finish in 2021 and an offseason steeped in roster changes, the Buffs' aim will be to utilize every minute available over the next month to turn the program's trajectory back in a positive direction.
Colorado's offseason changes were significant, from both a coaching and player personnel standpoint.
For starters, Dorrell conducted a staff shakeup that resulted in the addition of six new assistants, with four on the offensive side — no surprise given the Buffaloes' struggles on offense in 2021.
Meanwhile, the "new normal" of the transfer portal world produced a long list of subtractions and additions that will affect nearly every position. CU added 22 high school recruits, three junior college transfers and five players from the NCAA transfer portal.
So what will be the priorities in spring ball?
In short, just about everything. There's not a position group on the field that won't have some heated battles. The Buffs must replace a substantial list of departed impact players while beginning to determine how quickly some of the newcomers can become significant contributors.
At the same time, CU must begin the process of installing a new offense under new coordinator Mike Sanford while also retooling a defense that lost at least five of its most productive players.
Colorado did have some success down the stretch last season that should provide some building blocks for 2022. The Buffs won two of their last four games, including a victory over bowl-bound Oregon State.
"We did feel like we got better in a lot of respects," Dorrell said in February. "We're going to build off those things … There is definitely a different feeling in the building about moving forward and having a sense of urgency and having some success. It is being manifested in all areas in and around our program. It's a great feeling."
While Dorrell is officially entering his third year as CU's head coach, this will be just his second "full" season at the helm. His first year, a Covid-impacted shortened season that produced just six games, proved to be more of a placeholder than a chance to build the program.
Now, he will have more of "his" players, as well as a coaching staff built with the luxury of time and analysis, rather than a group cobbled together at the last minute following a February hiring.
Again, it would be difficult to find an area that won't be a priority for Dorrell and his staff as they conduct 15 spring practices. The first workout is scheduled for Wednesday, with the Spring Game set April 23.
… Continue reading story here …
–
—–
March 26th
… CU in a few minutes … 
Brian Howell's Daily Camera CU Spring Preview
From the Daily Camera … After a busy offseason filled with players leaving, players joining the herd and numerous coaching changes, the Colorado football team is ready to hit the practice field.
Head coach Karl Dorrell is preparing for his third season with the Buffaloes and he'll get it started with the first practice of spring on Wednesday. That will kick off 15 workouts, capped by the spring game on April 23.
Coming off a 4-8 season, Dorrell and the Buffs have some pressure to turn things around in the fall and that makes this an important spring. Many starting positions won't be settled until August, but several areas of the team need to make some significant progress this spring. It's also a big month for several individuals. So, with that, here's a spring football preview:
1. Offensive changes — Six of Dorrell's 10 full-time assistants are new to the program, including four of the five coaches on offense. The Buffs had one of the worst offenses in the country last year, so CU is banking on offensive coordinator Mike Sanford and offensive line coach Kyle DeVan to make a significant difference. Sanford and the Buffs have to make a lot of progress as an offensive group. DeVan is already building a good rapport with his linemen and now must translate that to the practice field.
2. Who's out? — It's unclear how many players won't participate as they recover from injuries. CU is already shorthanded in some areas, but there are a few players to watch, in terms of their health. That starts with quarterback JT Shrout, who flashed his strong arm at CU's pro day, but he may not be a full participant coming off a knee injury. Receivers Maurice Bell, Jaylon Jackson and Grant Page; defensive lineman Jeremiah Doss; outside linebacker Joshka Gustav; inside linebacker Jack Lamb; and cornerbacks Nigel Bethel Jr. and Jaylen Striker are also among the group coming off of significant injuries from 2021.
3. Newcomers — Between high school recruits, junior college and four-year transfers, CU has added 30 players, 12 of which are on campus this spring. Transfers that could make an immediate impact are tackle Tommy Brown (from Alabama), defensive end Chance Main (Incarnate Word) and receiver RJ Sneed (Baylor). Maddox Kopp (Houston) could also make some noise in the competition at quarterback.
… Continue reading story here …
–
—
Recruiting 101: "It's not the players you fail to land who beat you, but the ones you do sign who can't play"
From The Athletic … Coaches have a saying in recruiting: "It's not the players you fail to land who beat you, but the ones you do sign who can't play." In other words: Evaluation is the key to success. And that's especially true at the Group of 5 level, where coaches are searching for specific traits in overlooked prospects.
"Each coach has their profile fit — ideal height, speed, size — for their position," said UTSA receivers coach Joe Price III, who served as the Roadrunners director of player personnel last year. "I let that profile lead me to the athlete."
For example, UTSA mines track and field times when scouting receivers. If a receiver runs the 100-meter dash in 11.1 seconds or better, that's a starting point. Price scours leaderboards on MileSplit, a track and field site that posts meet results, then looks up film for receivers who meet that benchmark to evaluate their football skills.
Once a prospect is deemed offer-worthy, that's where timing and strategy comes in. But coaches have differing philosophies. Some offer simply so they can say they were first. And there can be value in that down the line. Others might throw offers around with little regard for their significance, the idea being that if you throw enough chum in the water, you're bound to catch something big. That method doesn't necessarily require a shrewd eye for talent, but it can be effective.
Then there's another way, the one in which you're more calculated with your offers but don't hesitate to be first because you truly believe in your evaluation of that particular player. That one is a little trickier, but over time you can build up the skill set to become comfortable in those situations.
"You can go off of experience," said Perry Eliano, the safeties coach at Ohio State who's spent time at Cincinnati, New Mexico, Bowling Green, UTSA, Central Arkansas and Sam Houston. "You look for similarities: 'This guy looks like a guy I recruited, offered or coached before.'"
Yet there still can be a trepidation with offering first.
SMU scouting director Alex Brown, who has also worked at Rice and Houston, has witnessed different approaches.
"There's some coaches that are like, 'All right, since he's local and nobody is on him, let's recruit him like he's offered, let's get him on campus a ton, basically get him to the point that, the minute we offer, this kid is going to jump in the boat. But don't offer yet because nobody knows about him,'" Brown said.
"Then there's other coaches who are like, 'Screw it, we know this kid's gonna blow up, let's just chunk it out there.' And lay out the narrative that, 'Hey, everybody's going to follow us, they've just been waiting (to see) if someone else will offer them.'"
No matter what stage of his recruitment a prospect is in when you encounter him for the first time, you're at least partially reliant on the viewpoints of others in formulating your own evaluation. High school coaches, teachers, guidance counselors, trainers — you can't talk to too many people when trying to find out what a kid is made of.
"You don't want to be the first to offer if you're not ready to take a commitment and if you haven't done the surrounding homework on him," Brown said. "You can't take (first offers) lightly."
… Continue reading story here …
–
—–
March 25th
… CU in a few minutes … 
If Super Leagues are created, would promotion/relegation help keep interest in second tier programs?
From Jon Wilner of the San Jose Mercury News …
Like many writers, you predict the inevitability of the 30-something team model for the top tier of college football — a mini-NFL, so to speak. Can you put on your Nostradamus hat and guess how that will play out? What percentage of fans permanently tune out because their team didn't make the cut? — @keithdennis
I believe that's the next step for the sport, but it could take a decade or more to get there. It's far more likely that the top 30 or 32 football programs break off than we see four 16-team super-conferences.
The drivers will be media money — the networks will pay through the roof and halfway to the Moon for the broadcast rights — and athlete compensation.
Each month, college sports moves closer to players becoming full-time employees (even though that existence would be detrimental to 99 percent of the athletes across all Division I sports).
With football, everything is more, bigger, faster and greater. At some point, the economic pressure on the schools will force a cash grab for the ages, with ESPN, Fox and other networks clearing the path.
What becomes of the other 90-something teams in major college football? They would start to resemble FCS programs in appearance and resources. The level of interest among fans could suffer, which makes the competitive stakes an existential piece.
If the sport is structured like the English Premier League, with advancement and relegation, the stakes would bolster interest at the secondary level.
The aspect of the sport that would change the least is the distribution of talent. The top programs already get the best players. As long as the NFL exists, so will a pipeline for hundreds of draft hopefuls each year. Scholarship limitations would ensure those 90-something teams are able to stock their rosters.
–
—-
March 24th 
… CU in a few minutes …
**Video: Mark Johnson interviews Tad Boyle and Rick George**
Interviews with WBB assistant coach Alex Earl (at 1:24), with MBB coach Tad Boyle (7:00), with assistant ski coach Chad Wolk (12:58), and athletic director Rick George (18:25) …
–
—
Another pundit heard from: CU offensive line biggest concern
From the San Jose Mercury News … The Hotline's coverage of spring football across the Pac-12 continues with a deep dive into areas of intrigue for each team, with one massive caveat: We're ignoring the quarterback position.
That's right, this is a QB-free space.
Rest assured, plenty of words … thousands of words … will be devoted to an assessment of Pac-12 quarterback depth at the conclusion of spring.
Here and now, the spotlight is on other position groups.
Colorado
Our eye is one: The offensive line
Comment: Our options are plentiful after a somewhat tumultuous winter for the Buffaloes, who lost several of their best players to the transfer portal (and have a murky quarterback situation). But we selected the offensive line because without tangible improvement up front, fixes elsewhere will have limited impact. In the conference, only Arizona allowed more sacks last year than the Buffs (32). In addition to losing two starters, CU has a new offensive coordinator (Mike Sanford) and a new line coach (Kyle DeVan). That's significant turnover for the unit that wasn't elite to begin with and requires better communication than any other.
Player to watch: offensive tackle Tommy Brown
Spring game: April 23
–
—–
March 18th
… CU in a few minutes … 
Survey of 1,000 high school football players: CU's brand ranking one of the lowest in the Power Five
From OfficialVisit Brand Score …
The Pac-12 rankings …
9. Oregon
19. USC
20. UCLA
35. Washington
37. Stanford
48. Arizona State
48. Utah
52. Oregon State
54. Arizona
57. Colorado
59. Cal
64. Washington State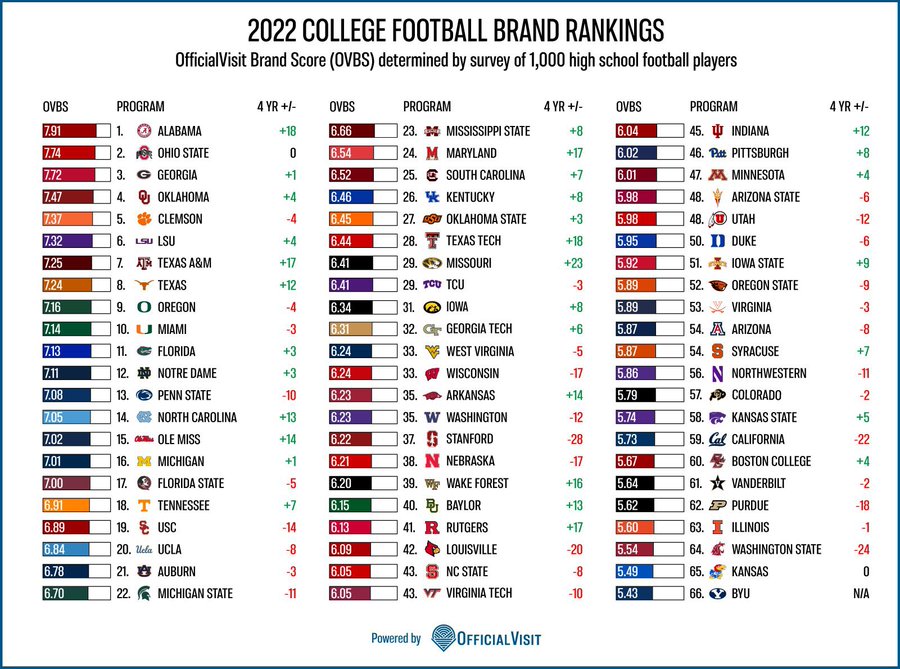 –
—–
March 17th
… CU in a few minutes … 
Carson Wells on his 4.56 40: "At the end of the day, 40 is the money maker"
From the Daily Camera … As an outside linebacker/edge rusher, Carson Wells knows the value of speed.
When he came to Colorado for a camp as a high school player, he won the fastest man competition. During his five years with the Buffaloes, he used his speed to rack up 15.5 sacks and 38 tackles for loss.
On Wednesday, Wells flashed his speed during CU's annual pro day. The 6-foot-2, 241-pounder ran the 40-yard sprint in 4.56 seconds.
"At the end of the day, 40 is the money maker," he said. "I feel like I came in and killed that, so I feel like overall I had a good day."
Wells was one of six former Buffs and 10 players overall to work out for the 22 scouts representing 20 NFL teams.
Defensive lineman Mustafa Johnson, offensive lineman Kary Kutsch, inside linebacker Nate Landman and tight end Matt Lynch also worked out, as did linebacker Akil Jones, who played five years at CU before transferring to Incarnate Word last season.
Northern Colorado's Xander Gagnon, Komotay Koffie and Tru Wilson, along with Ikenna Onwuasoanya of CSU-Pueblo, also worked out for scouts.
Wells was one of the most dominant edge players in the Pac-12 the past two seasons and he's had a good offseason so far. In addition to pro day, he played well during the East-West Shrine game in January.
On Wednesday, Wells had just 16 reps on the 225-pound bench press, but made up for it with his speed and vertical leap (35 inches).
… Continue reading story here …
–
—–
March 16th
… CU in a few minutes … 
CU Pro Timing Day stats – Nate Landman: "I came out here and improved on when I needed to"
Press release from the CUBuffs.com … The Colorado Buffaloes hosted their 30th annual NFL Pro Day at the Champions Center Wednesday. Six CU players participated, as well as three athletes from Northern Colorado and one athlete from CSU Pueblo, respectively.
In front of 22 NFL scouts, three agents and two recruiting services personnel, CU's Mustafa Johnson, Akil Jones, Kary Kutsch, Nate Landman, Matt Lynch, and Carson Wells took part in several drills alongisde the four athletes from other schools.
Landman recorded a time of 4.32 seconds in the 20-yard shuttle as well as 6.88 seconds in the 3-cone drill, which bested every NFL Combine score in the event. His 20-yard shuttle time would have been good for fourth at the NFL Combine. He totaled 20 reps at 225 pounds.
"I thought I came out here and improved on when I needed to and it showed scouts what they needed to see from me in the position drills and the short shuttles," Landman said.
Landman did not participate in the vertical or broad jumps, as well as the 40-yard dash. He completed those drills at the NFL Combine on March 5. Landman said he was not healthy when he ran the 40 at the combine, and he decided against participating in the drill today.
"I want to be healthy for minicamp," Landman said. "I don't care what I run in the 40. At the end of the day, I get to the ball faster than anyone can. I'm not a track runner. I didn't want to run it just to prove that I'm faster than that time dictates because I know I am."
Wells participated in every Pro Day drill. He recorded 16 reps at 225 pounds as well as running a 4.56 40-yard dash.
"They clocked me anywhere from 4.55-4.62," Wells said. "That was my goal, coming in here to hit the high 4.5s (in the 40-yard dash)."
Wells said he wants his play on the field do the talking when teams look at him.
"I have my resume, and I feel like I've put in the work the last five years," Wells said. "For a majority of people, they've seen that."
Wells said he will watch the NFL Draft at home in Florida with his family.
Johnson received an NFL tryout with the New York Jets last summer. However, he did not make an NFL roster after declaring for the 2021 NFL Draft and signing with an agent. He was granted a waiver by the NCAA to return to Colorado for the final eight games of the 2021 season. In the 225-pound drill today, he totaled 29 reps after getting 27 at last year's pro day.
"It was definitely big, considering I came in a little more anxious and nervous than last (year's pro day)," Johnson said. "I never stopped training, so it was time to show up. That's all there was to it."
… Continue reading story here …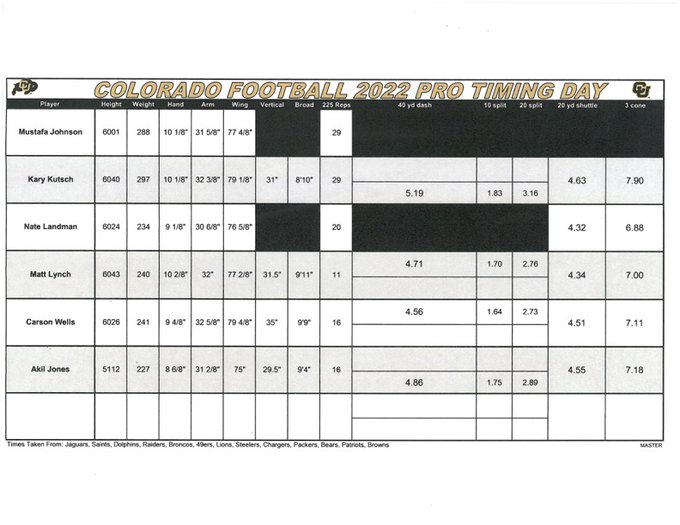 –
—
New defensive line coach Gerald Chatman: "I coach with passion and I want my guys to play with passion"
From the Daily Camera … Earlier this month, Gerald Chatman was in New Orleans, enjoying his new job as the defensive line coach at Tulane.
"I had my head down, working at Tulane, wasn't looking for a job and I got a call," he said.
Colorado had a sudden and unexpected opening on its coaching staff, called Chatman, interviewed him and offered him the job.
"I believe I'm called to coach, so wherever I am is where I'm supposed to be," he said Monday at a CU coaches' event held at Blake Street Tavern in Denver. "I believe that I'm called to be here."
The 33-year-old spent last season as an analyst at LSU and new Tigers head coach Brian Kelly decided to retain Chatman for his staff this year. Then, Tulane called in  January and he jumped at the chance to be an on-field coach again.
… Chatman didn't waste any time in reaching out to CU's defensive linemen.
"The first thing I did was I immediately got in contact with the players here," he said. "I acknowledged the situation, acknowledged that, hey, there's a coaching change, that I get it and really tried to recruit in-house first. I let the guys know that I acknowledge their situation, and that I'm eager to get to work with them and help them climb and reach that ceiling."
Before his time at LSU, Chatman spent two seasons (2019-20) as a defensive assistant with the NFL's Cincinnati Bengals, working with the defensive ends and outside linebackers. He's also been at various stops in college since starting his career in 2010.
Throughout his career, he's learned from several respected defensive line coaches, including Ed Orgeron, Pete Jenkins, Terrell Williams and Nick Eason. At CU, he will work with defensive coordinator and long-time defensive line coach Chris Wilson.
"I think it will be great to work with him," Chatman said. "There's a lot of things that I could pick up from Chris, but also take it and turn it into my own style and merge it with the experiences that I have, from my planning experience and from working with different coaches."
… Continue reading story here …
–
—–
March 15th 
… CU in a few minutes … 
Report from the CU coaches meet-and-greet
This report was posted in the comments section by CU at the Gamer Rob O, but it was so informative and detailed I am posting it here:
So I went to the coach meet and greet and the player autograph session. I highly encourage everyone to attend one. If you are posting on this board and reading on it then you are a fan as much as I am and the access this provided into the program was unprecedented. I spent 4 1/2 hours at the event talking to players and coaches who were amazingly open and from what I can tell really honest. I didn't get to talk to every coach but I got to talk to a lot of them. I was able to talk with a lot of the players that were there in detail as well. I walked away from the event really positive about the year coming up. There is a ton of detail under this but I thought I would give some highlights.
1. This team is very close. Only lineman and recievers were there for this event but they all said this team is really close. The guys that moved on were losses but the guys who stayed are bought into the program and more importantly bought into each other.
2. The coaches appear to have very good chemistry. No one came out and said it but I get that the chemistry on offense was not really there last year. Understandable in a losing season but you could tell the coaches across the board seemed to get along with each other and when you spoke to them you got the same message out of all of them. Not so much talking points but all of their philosophies seemed to align.
3. Turley is making a difference. I spoke to a couple of guys and they gave me specific numbers about gains and general information about health. The gains were impressive, really, really impressive. I asked them if their results were standing out and the feedback was no, the whole team is seeing gains like that.
4. Attitude. I got a little bit of a mixed message here. From the players I spoke to, it seems like everyone is fully bought in, doing the extra things it takes to turn a program around. They gave specific examples like player run practices and the high attendance, the gains they are seeing in the weight room, etc. spoke to one of the coaches and he said the core guys are definitely doing everything they need to, but he implied/hinted that he would like to see everyone doing that. He was one of the coaches with a big pro background so maybe his expectation is a 100% participation….. he was happy with the core guys though.
5. Doing things right. I have long held that CU has the Jimmy and Joes to compete in the PAC-12, not win championships but compete. And the problem was we were not doing things right. Or at least not enough things right. I am not an expert on doing things right in a college football program but I heard things tonight that made me believe we are at least on the right foot. You have to have coaches that know how to coach and motivate young men. You have to have coaches that know how to call games and design offensive and defensive philosophies. You have to have young men willing to put in the extra work instead of just showing up to practice and expecting great things to happen. Everyone has to be bought in to the same vision. There are many many more comments I heard throughout the night but I think that as of right now this team is doing a lot of the things right. Can they sustain it through the off-season and into the new season? I think so but the onus is on them.
6. Most of the guys really liked talking to fans. Everyone of them were open and engaging. It was a blast talking to them all. I really really recommend showing up and learning about these young men in person. Giving up 30 bucks, this is something I will talk about all season long….
7. The players that left made a personal decision. Everyone in the team accepted it, but….they are looking forward to seeing the, in a game. Let's just say that Perry may regret his decision to transfer to TCU on a screen play….I have a feeling someone is going to get de-cleated. The guys that are left are bought in and the team is closer for it.
8. The o line really likes Devan. Across the board. The two transfers spoke highly of him. The guys that had Kap spoke highly of him. They haven't practiced for him yet but they really like his style and to a man they all said they are excited to learn from him and think he really can help them out.
9. On the o line side, both Filip and Roddick did not really have an off-season last year. Both feel they have recovered and are fully ready to go this season and some of those gains I talked about from Turley above came from these guys. Like stupid gains….I think they are going to return to the maulers they were in 2020. I was also impressed with others. If the 5 guys I talked to are the starting 5 I think we will be in good shape. I think Roddick was the smallest of all of them and he is not a small man.
10. I think Sanford is going to have a good offense. I don't think we are going to throw up crazy numbers, that is not Dorrell's way and I think Sanford is on board with that. But in talking to the guys that have been going through the new scheme they all seemed excited about it. Sanford was excited to come here and build his offense. Not run someone else's. He made a point that I had not checked on but he said something to the effect that at each of his last stops he was inheriting an existing system from an OC that just had the best year of their career so he was basically tasked with running their offense. We all know how futile our offense was last year and so he is excited to build his offense. I will also say that a couple players talked about his energy and excitement and that they have enjoyed it. I think Devan brings that energy as well.
11. The d line coach says the talent is there. It is not a physical thing. He is not as physically imposing as So'oto but I liked talking to him. He has seen the best there is and I think he knows what it takes. He seems hungry and I think he is going to be driven to get the best out of his players.
12. Family atmosphere. Most of the players that I talked to talked about the atmosphere on the team. And that it was a family atmosphere. They are bonded. This is going to be a young team, it I think they are going to battle hard for each other. This is also going to be our recruiting pitch I think. Dorrell is going to establish this type of culture. Kids who want this type of culture will come here to become men.
13. The defense is going to take a hit with its best players leaving but the coaches like the young guys. They are not going to be perfect replacements but we won 4 games without an offense. There is room for the defense to step back a bit if the offense can step forward. The coach was very complimentary about some of the young guys.
I think it all comes down to can Sanford get more out of his qb than Chev got out of Lewis. Sanford has won at virtually every place he has ever went as an OC. The offense at Minn was very efficient, one of the most efficient offenses in the NCAA. Lewis has had another off-season, Shrout should be able to play and we have Kopp coming in and Carter returning. One of these guys will be better than Lewis was last year and I have to think Sanford will be a better OC than Chev. The o line is going to be better. Much better (expect a return to 2020, you heard it from me first….so please quote me :). The defense is of course going to take a step backward in some sense. Gonzalez, Blackmon, Landman, Wells are all. It losses. But I think people are going to like the d line. Another year, Wilson held that group together and the new d line coach is going to be focused on getting them better. I expect Barnes and Lamb to continue ti grow and Perry became a serviceable lb, another year will see him continue to get better. The coach was very complimentary about the young DB's.
–
—–
March 13th
… CU in a few minutes … 
Meet and greet with CU coaching staff at Blake Street Tavern on Monday night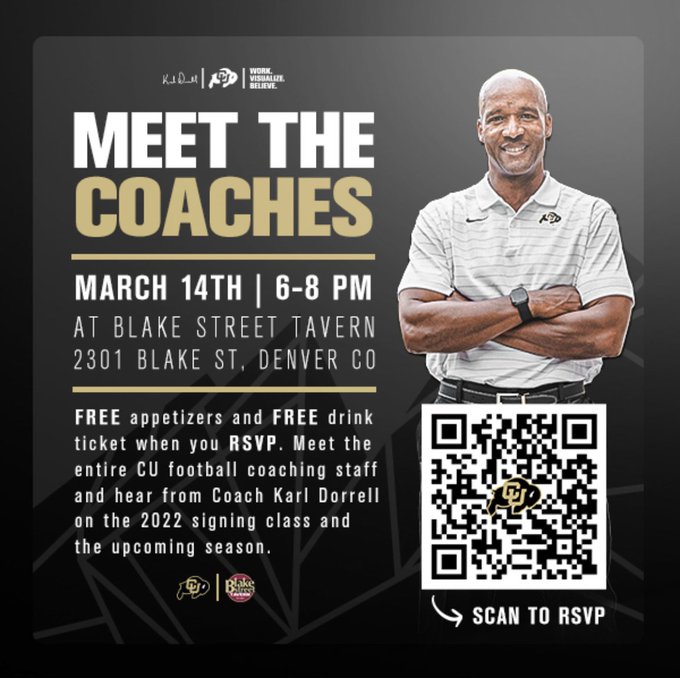 –
—–
March 11th
… CU in a few minutes …
Pac-12 Spring Practice Burning Questions: For CU, it's the offensive line
From 247 Sports … We've reached the second week of March on the college athletics calendar. For many fans, that means brackets. For the college football diehards, it means spring practice, new-look depth charts and plenty of hope for every FBS program.
Spring ball is well underway for some schools and is soon to start for everyone else, so this week 247Sports is previewing every Power Five conference with a burning question for each team. From QB battles to new coaches, this is the outlook for the Pac-12 this spring.
Colorado: What's the Offensive Line look like? 
There's an argument to be made Colorado had the worst offensive line in the Power Five last year. The Buffaloes ranked 118th nationally in PFF's pass block metric and 95th in run blocking. That led, in large part, to the Buffaloes ranking 125th nationally in yards per play despite having playmakers like wide receiver Brenden Rice and running back Jarek Broussard. Perhaps unsurprisingly, those two no longer play for Colorado. They're at USC and Michigan State respectively. It also made it difficult to judge freshman starter Brendon Lewis, who had promising moments despite constantly being under fire.
There will be some new faces along the o-line with both Colby Pursell and Kary Kutsch, arguably unit's strength, moving on. Colorado is hopeful Alabama transfer Tommy Brown can help address a need at tackle. The Buffaloes return both of their starters at the position from last year (Jake Wiley, Frank Fillip) but struggled mightily. Brown, who did play some guard at Alabama, could slide inside if those returners step up. Center is wide open this spring and there's a guard spot open as well. The o-line has to be fixed for Colorado or the offense promises to be a mess once again.
–
—-
March 7th
… CU in a few minutes … 
CU makes it official: Gerald Chatman introduced as CU's new defensive line coach
Press release from CUBuffs.com … University of Colorado head football coach Karl Dorrell filled the last vacancy on his coaching staff Monday afternoon, as he announced the hiring of Gerald Chatman has the Buffaloes' new defensive line coach.
Chatman, 33, joins the Colorado staff from Tulane University, where he was named the Green Waves' defensive line coach in January.   He had moved southeast some 50 miles from Louisiana State University, where he served as the defensive line analyst for the 2021 season and would have been retained by the Tigers' new head coach, Brian Kelly, had it not been for an opportunity to coach on the field.
"Gerald is a young, passionate coach that is excited about joining our staff," Dorrell said.  "He will bring energy, skill development, interpersonal and leadership skills to mentor our young men.  He has experience on the both the college and NFL levels, and I believe has a very bright future in our profession."
"My family and I are excited to be a part of the CU and the football program under the leadership of coach Dorrell and athletic director Rick George," Chatman said.  "It is clear that a great foundation has been built under their leadership and I look forward to getting to work, leading and maximizing the potential of those I get to work with daily.  I am excited to get to work!"
Chatman spent the 2019 and 2020 seasons with the National Football League's Cincinnati Bengals as a defensive assistant, where he worked primarily with the team's defensive ends and outside linebackers.  He helped the defensive line improve significantly in quarterback sacks and rushing yards allowed those two seasons that set up Cincinnati's run to the Super Bowl last fall, and while with the Bengals, coached former Buff defensive tackle Josh Tupou among a group that included Geno Atkins, Sam Hubbard, Carlos Dunlap, Mike Daniels and Carl Lawson.
He has worked with three NFL teams as a defensive coaching intern through the Bill Walsh NFL Minority Coaching Fellowship program, which takes place during summer camps.  He spent the summer of 2015 as a defensive coaching intern with the Green Bay Packers, where he assisted with both the defensive line and linebacker units.  He was also selected to participate in the NFL-NCAA Coaches Academy that season.  He spent a portion of the 2016 NFL preseason as a defensive coaching intern with the Super Bowl Champion Denver Broncos, and then in 2018, he had his first position with  the Bengals, working OTA's (organized team activities) and camp.
Before his time with the Bengals, Chatman rose through the college coaching ranks.  He spent 2017-18 at Tennessee State University, where he worked as the defensive ends and linebackers coach in 2017, and then had special teams coordinator duties added to his chores for the 2018 season.  That year, he coached three special teams players to All-Ohio Valley Conference honors, including Chris Rowland, the OVC special teams player of the year  (he averaged 13.0 yards per punt return).  He also coached end Mekhi Brown to second-team All-OVC honors, after posting 6.5 tackles for losses and four sacks.
In 2017, his first at Tennessee State, he helped guide the Tigers' defense to average yields of just 19.6 points and 278.5 yards per game, good for a No. 7 FCS ranking in total defense.  He had moved on to TSU from Elon University, where he was the defensive line coach for the 2016 campaign.
In 2015, Chatman was a graduate assistant at Texas A&M University, where he worked primarily with the defensive line.  The Aggies posted an 8-5 record and played in the Music City Bowl, with his coaching assisted defensive end Myles Garrett to All-SEC and All-America honors.  That year, he was also selected to participate in the NFL-NCAA Coaches Academy.
Chatman spent the 2014 campaign as the defensive line coach and assistant recruiting coordinator at Butler University.  The D-Line played a key role in the Bulldogs leading the Pioneer Football League in rushing defense and being second in sacks in posting a 4-7 record, but with three one-score losses.
He was a defensive graduate assistant at Ball State University for the 2012 and 2013 seasons, with the Cardinals going 19-7 over those two years (13-3 in Mid-American Conference games).  BSU earned bowl invitations both seasons (versus UCF in the 2012 Beef O'Brady's and against Arkansas in the 2013 GoDaddy.com; the Cardinal gave the Razorbacks a run for their money in the latter, falling in the final minute, 23-20).  He helped oversee the development of Cardinals DE Jonathan Newsome, who earned first-team All-MAC honors and later was selected in the fifth round of the 2014 NFL draft.
Chatman graduated from the University of Wisconsin-Oshkosh in 2011 with a bachelor's degree in Educational Leadership and Human Service, and earned his master's degree in Adult and Community Education from Ball State in 2013.  He earned four letters playing both defensive end and tackle for the Titans from 2006-10, and got his start in coaching at his alma mater, as the defensive line coach for the 2010 and 2011 seasons before moving on to Ball State.
A native of Milwaukee, Wis., he is married to the former Lauren Hoffmann and the couple has three daughters, Kinley,  Amelia and Maya.
–
—–