—
Camp Rick
For his part, Rick Neuheisel, who at 34 was the second youngest head coach in Division 1-A college football (Louisville's Ron Cooper was all of four days younger), entered Fall Camp, 1995, with optimism and confidence.
"I'm prepared for whatever comes along," said Neuheisel in a pre-season interview with Sports Illustrated. "But I'm not going to over prepare for failure."
The safe road would have been to maintain as much continuity in the program as possible. After all, the players in Boulder were talented; the program in high gear. There was no reason to rock the boat.
But the status quo was not Neuheisel.
McCartney had been old-school – a God-fearing, intense, conservative coach. The only trait Neuheisel shared with his predecessor was that of intensity. "I don't think it's any less intense around here," noted running backs coach Ben Gregory, "but it just comes out a little differently."
During freshman practices, Neuheisel demonstrated his willingness to be his own man. He took the incoming class inner-tubing in Boulder Creek. He canceled practices. He had the Boulder police called to his home when a pre-season party for staff went too long and became too loud. Camp Rick was not a McCartney camp (by contrast, when Nebraska head coach Tom Osborne stepped down after the 1997 season, all the pre-season articles concerning the upcoming 1998 campaign remarked on the lack of change by incoming head coach Frank Solich).
The players seemed to respond well to the changes.
"He's fun, he's personable and he's played the game not too long ago," said quarterback Koy Detmer. "Obviously they're different," noted safety Steve Rosga, comparing McCartney and Neuheisel. "But as far as what we're doing, I don't know that there is that much difference than last year."
Matt Lepsis, who would be trying to fill the shoes of record-setter Christian Fauria at tight end, concluded: "He's been working us really hard getting us ready for Wisconsin like coach Mac would have. Neuheisel is a little more hands-on, getting involved."
—
Baptism by Fire
On September 2, 1995, some of the questions about Rick Neuheisel, head coach, would begin to be answered.
Colorado, which opened the season as the 14th-ranked team in the nation, would go on the road to face the Wisconsin Badgers. Wisconsin players had plenty to prove themselves. The Badgers had been embarrassed by Colorado, 55-17, in Boulder in 1994, and wanted to let their Big 10 brethren know that they would be a force to reckon with in 1995. What better way to accomplish this by defeating the Buffs in a night game regionally televised by ABC?
The Badgers came into the season opener ranked 21st in the nation.
Over 79,000 fanatical Badger fans poured into Camp Randall Stadium to witness the debut of Colorado head coach Rick Neuheisel. Although schedules are made years in advance, commentators could not help but note that Neuheisel would coach his first game as head coach of the Colorado Buffaloes in his hometown of Madison, Wisconsin.
Pressure?
Nah.
—
September 2nd – at Wisconsin           No. 14 Colorado 43, No. 21 Wisconsin 7
—
In the kickoff to the "Neu Era" in Colorado football, the Buffs served notice to the college football world that Colorado could not be taken lightly. Despite losing 10 starters to the NFL, the Buffs dominated the Badgers throughout, taking a 26-7 halftime lead before cruising to a 43-7 romp.
Not a bad entrance, Rick.
Quarterback Koy Detmer showed there was reason to believe he would ably succeed Kordell Stewart at the helm, completing 17-of-24 passes for 267 yards and three touchdowns. Rae Carruth hauled in only four of Detmer's passes, but covered 100 yards in doing so, converting half of his receptions into two first-half scores.
Detmer, for his part, credited the offensive line for his success. "I didn't have much pressure on me all night", said the Buffs' quarterback.
"The offensive line did a great job of keeping those guys out, picking up twists and stunts all night." Three Buff rushers, dubbed by some in the media as the "Thoroughbred Trio", combined for 157 yards and one touchdown on 32 carries. Sharing the offensive wealth were sophomore Herchell Troutman (15 carries for 76 yards), junior Marlon Barnes (10-for-48 yards, one touchdown), and junior Lendon Henry (7-33).
On defense, the questions concerning a shaky secondary were also answered. Wisconsin quarterback Darrell Bevell, victimized for four first half interceptions by the Buffs in the 1994 game, fared little better in 1995. Bevell was picked off only once by the Buffs, but could muster only 175 total yards passing, and was sacked five times.
Leading the defensive charge for the Buffs was safety Steve Rosga, who not only sacked Bevell twice, but also stole the ball out of tailback Carl McCullogh's hands in the fourth quarter. After swiping the ball from his former high school teammate, Rosga rumbled 75 yards for the game's final score.
After the game, Neuheisel was understandably excited. His enthusiasm, though, was not for himself. "A lot has been said about the changeover from coach Mac to me," said Neuheisel, who with the win became the first Colorado head coach to win their debut game since Jim Yeager in 1946. "But unfortunately, that took the focus away from our eight seniors and I made a point to those guys that this game has nothing to do with Rick Neuheisel, although I'm a part of it. It really is a tribute to these seniors and to the Colorado tradition which was instilled long ago."
—
Dave Plati on Rick Neuheisel … 
I'll tell you a story which puts Rick Neuheisel in a different light.
My mom died in June of 1995. She would always leave a message on my home answering machine, after every game. So that fall, we kicked Wisconsin's butt in the season opener, and I'm off to the side after the game, and it occurred to me that, for the first time, I'm not going to get that call from my mom.
I wasn't crying, but I was kind of … you know, it just kind of hit me. My dad was totally lost after my mom died, and it was hard on us. When you are in this business, sometimes you have to grieve at a later time, and it was at that moment that it hit me that my mom was gone.
Rick sees me, and he says, 'Do you have your cell phone? Let's call your dad". I said, 'What? You haven't even spoke to your dad yet (to celebrate a victory in his first game as a head coach)'. So, we called my dad.
People want to rip Rick, but they really don't know him.
Rick wasn't a coordinator before he became head coach, and that bothered most people. The media got on him for the rides in the creek. That wasn't a problem when we opened 20-4 under him. But it became a problem in '97 (when CU went 5-7). Then they blamed him for CU having to forfeit games. No. That was Darren Fisk, who came in under McCartney, and it wasn't even him. It wasn't a football problem. It was a compliance office thing. He didn't write down that he was at a second JUCO for a week before he went to another, and they tagged us for that. I can guarantee that there are other schools where that happens, and it gets swept under the rug.
… Continue reading story here …
—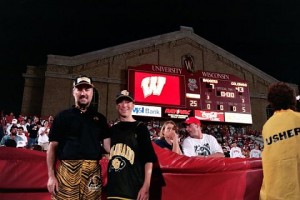 Game Notes –
– For his 11 tackle, interception, and fumble recovery returned for a touchdown effort, Steve Rosga was named the Big Eight Defensive Player of the Week.
– Rosga's 75-yard fumble return for a touchdown was the first score by the Buffs off of a fumble recovery in 11 seasons.
– Colorado head coaches, post World War II – 1995, and their debuts:
– Jim Yeager, 1946, Won, Iowa State, 13-7
– Dal Ward, 1948, Lost, New Mexico, 9-6
– Sonny Grandelius, 1959, Lost, Washington, 21-12
– Bud Davis, 1962, Lost, Utah, 37-21
– Eddie Crowder, 1963, Lost, USC, 14-0
– Bill Mallory, 1974, Lost, LSU, 42-14
– Chuck Fairbanks, 1979, Lost, Oregon, 33-19
– Bill McCartney, 1982, Lost, Cal, 31-17
– Rick Neuheisel, 1995, Won, Wisconsin, 43-7
–
—–