—
Colorado Daily
—
August 5th
… CU in a few minutes … 
Betty Hoover, one of CU's "twins", passes away
… Related … "Buff Nation Mourns Passing Of Superfan Betty Hoover" … from CUBuffs.com
From CU Athletic director Rick George …  
"It is a sad day for Buff Nation with the passing of Betty Hoover, one of our beloved twins. Betty and Peggy Coppom have been attending CU Athletics contests for over 70 years and have been season ticket holders since 1958.  While we have many great fans, none have been more visible and loved than Betty and Peggy.  If you know CU Athletics you know Betty and Peggy.
Our hearts go out to Peggy and Betty's extended family today.  Betty is a great Buff and she will be missed."
–
From the Daily Camera … When McKinley Wright wraps up his basketball career with the Colorado Buffaloes next year, he'll have plenty of memories of coaches, teammates, wins, and even some losses.
He'll also have memories of two of the brightest smiles he's seen.
For 80 years, Betty Hoover and her twin sister, Peggy Coppom, have been iconic fans at CU sporting events. Always in matching outfits – often a gold sweatshirt or CU jacket – and carrying black and gold pom poms, the "CU Twins" are beloved by players, coaches and fans and that led to an outpouring of emotion from Wright and CU fans everywhere on Wednesday.
After a battle with pancreatic cancer, Hoover, 95, died Wednesday morning.
"It's very sad," Wright said during a Zoom call with reporters on Wednesday afternoon. "I'm praying for the Hoover family. I've never met anyone as loving and supporting and caring as those two. It's like two peas in a pod. … They hold a special place in my heart."
… Continue reading story here …
–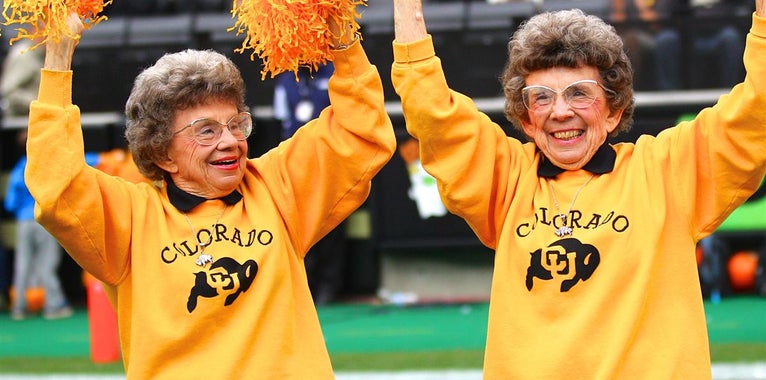 –
—
CU provides four options to season ticket holders for upcoming season
… If you are a season ticket holder, you received the following email this morning (and, to be honest, I haven't decided yet which option I will take) …
We are pleased to share that we are actively planning to welcome fans to games at Folsom Field this season should local public health conditions allow. CU Athletics continues to stay in close contact with campus, state and local health officials for guidance on capacity for the upcoming 2020 football season. We are developing plans to adhere to physical distancing and reduced capacity guidelines inside the stadium. The health, safety and wellness of our student-athletes, coaches, staff and fans remains our number one priority; as new information becomes available, our plans will be adjusted as necessary.
Below are some game day protocols we are preparing for the 2020 season if fans are able to attend:
Face Masks: We expect that all fans will be required to wear a mask for the duration of the football game.
Game Day Traditions: Tailgating, the Buff Walk, Ralphie's Corral and Franklin Field will be significantly limited and potentially removed altogether as a result of physical distancing guidelines.
Folsom Field Amenities/Public Spaces: Concession stands, restrooms, elevators and other public gathering spaces throughout the stadium and surrounding area will adapt to follow physical distancing guidelines and capacity will be limited.
Seating: Reduced capacity and physical distancing will be implemented. We will inform you of the capacity that will be allowed, contingent upon the public health guidance we receive, in the coming days.
We are asking season ticket holders to indicate whether you will attend games during the 2020 season if fans are permitted in Folsom Field. The following options are currently available to all season ticket holders for the 2020 season. These flexible options are being offered to all season ticket holders who have renewed to address any possible concerns and unknowns related to COVID-19. Your decision will not affect your ability to maintain your seat location for the 2021 season and your season ticket tenure and Buff Club Priority Points will remain intact. Season ticket holders must complete the 2020 INTENT FORM, no later than Friday, Aug. 14 at 4 p.m. MDT.
Option 1 – Opt-In for the 2020 season
Option 2 – Opt-Out of the 2020 season and convert payments to the Buff Club's Student-Athlete Excellence Fund (tax-deductible)
Option 3 – Opt-Out of the 2020 season and rollover to the 2021 season
Option 4 – Opt-Out of the 2020 season and receive full refund
The deadline to make your selection is Friday, Aug. 14, and you can expect that we will follow-up with you shortly thereafter once we have received all responses. We understand this is a lot of information to review. Please contact the CU Ticket Office at 303-492-8337 or email cutix@colorado.edu should you have any questions. Our hours are 8:30 a.m. to 4:30 p.m., Monday through Friday.
–
—
Pat Rooney: Playing football this fall would be prioritizing "profits over people"
From the Daily Camera … At what point will enough finally be enough? With the coronavirus pandemic still largely uncontained and player revolt, particularly in the Pac-12 Conference, gaining steam, at what point does a viable 2020 college football season become an impossible dream?
We're already there. And given all the time, effort, finances, and planning that has gone into resuming football workouts and mapping out revamped schedules, we're into the first week of August with the threat of a Pac-12 player boycott and a schedule resting on a wing and a prayer. Perhaps it's time to rethink the great COVID-19 football experiment.
Just look around. In the Pac-12, the list of demands published via The Player's Tribune by a group of Pac-12 football players under the mantle of #WeAreUnited threatened a looming player boycott if those demands — not the least of which concerns the idea of young men, largely minorities, putting their individual health at risk to keep other peoples' giant economic wheel spinning — are not met. On Tuesday, the Fort Collins Coloradoan published a story alleging COVID-19 cover-ups by the CSU coaching staff, citing several anonymously-sourced players and athletic department staffers (though several CSU players quickly took to Twitter to refute the claims).
Still, the list goes on. A report Tuesday by The Stadium said 73% of the football players at the University of Idaho don't want to play this fall. Locally, the St. Vrain Valley School District announced on Tuesday the start of its academic year would be held online-only, with the Boulder Valley School District also announcing its plan to alter its previous online/in-person hybrid to online only. More pertinently, CHSAA announced that this fall's football season (along with volleyball and boys soccer) will be moved to a March 4 start date.
If it's not yet safe for 15- to 18-year olds to hit the gridiron, it isn't for 18- to 22-year olds either, regardless of the economic fallout. At this point, there is no way college football games can kick off Sept. 26 without it being a blatant ode to profits over people.
… Continue reading story here …
–
—–
August 4th
… CU in a few minutes … 
Ralphie not likely to run with the Buffs this fall
From the Daily Camera … If the Colorado football team does play games this season, it's unlikely that one of the program's great traditions will take place.
During a CU athletics webinar on Tuesday, athletic director Rick George was asked about the chances of having Ralphie, the school's live mascot, leading the team onto the field this season.
"Right now, I wouldn't anticipate that there will be much going on on the field, other than the football players, the officials and those that are required to be there," he said. "We want to make sure that we do this right, and so we're going through those protocols, but right now I would say the chances (of Ralphie running) aren't great, just because of the social distancing and the coronavirus and all those kind of things. We're going to be very careful about how we lay that out this fall."
At this point, CU doesn't officially have a Ralphie in place. Last year, Ralphie V, a buffalo named "Blackout" retired after nearly 12 years of leading the team onto the field.
For the past several months, CU's Ralphie handlers been working with a buffalo it believes can become Ralphie VI, but that animal has not officially been announced as Ralphie V's successor.
–
—
Colorado high school football moved to spring
… Football will start practicing February 22nd, with the first games March 4th … Championships will be held no later than May 8th, with teams playing a seven game schedule … 
From CHSAAnow.com … The Colorado High School Activities Association has announced its 2020-2021 interscholastic athletics and activities calendar, following months of collaboration with Gov. Jared Polis, the CHSAA Resocialization Task Force, the Sports Medicine Advisory Committee, the state's COVID-19 Response team, the Colorado Department of Public Health and Environment, and the CHSAA Board of Directors and administrative staff.
"The health and safety of our student participants, coaches, officials and essential personnel, including volunteers is a primary concern for the return of interscholastic athletics and activities," said CHSAA Commissioner Rhonda Blanford-Green. "We are very grateful for the state, health and educational leaders for their shared commitment of a return to these highly beneficial education programs when it is deemed safe for all school communities."
Note that the resumption of all activities and athletics are subject to change based upon any changes to national, state or local guidelines.
The 2020-21 season will be played with a modified sport schedule due to the on-going global pandemic, creating four separate sports seasons during the school year.
Following a phone call with Gov. Jared Polis on Tuesday, Blanford-Green and CHSAA received a final response on the plan it submitted to the state's COVID response team. This includes the clearance for cross country to begin this fall.
–
—
Flipping of Oregon home-and-home could (potentially) give CU eight home games in 2021
From Tweets from Brian Howell at the Daily Camera …
Football schedule update for the #cubuffs, per Rick George: In 2021, Oregon will come to Boulder. When the Pac-12 shifted this year's game from Boulder to Eugene, that would have put CU at Eugene 3 years in a row (2019, 2020 and 2021), but the 2021 game will be at Folsom Field
With the Oregon game moving to Boulder next year, the #cubuffs currently have 8 of 12 games scheduled for Folsom Field in 2021. However, there has been discussions of moving the Texas A&M game to Denver. Last time CU had as many as 7 games at Folsom was 1982.
From the Daily Camera … Overall, George said he likes the schedule CU has lined up for this season.
"I think it's a good schedule," he said. "It was one of those that the conference has done a really good job of working with our teams to make sure that we got a schedule that we think is fair and consistent across the board."
Looking ahead to 2021, the Buffs already had seven home games lined up, not counting Oregon's visit. In Folsom Field history, the Buffs have had as many as seven home games just twice: in 1978 (eight) and 1982 (seven).
Asked if there could be more changes to the 2021 slate, George told BuffZone: "We are uncertain what the conference schedule will look like."
Last week, George and Texas A&M athletic director Ross Bjork confirmed that the two schools have discussed moving their Sept. 11, 2021, game from Folsom Field to Empower Field at Mile High in Denver. That has not been finalized, however.
–
—
Pac-12 commissioner Larry Scott responds to #WeAreUnited email: "Happy to discuss" issues
Related … Larry Scott's email
From Sports Illustrated … Pac-12 commissioner Larry Scott is open to holding dialogue with a group of league football players who are threatening to boycott the 2020 football season, according to a letter that Scott sent the group Monday.
Pac-12 officials are reviewing #WeAreUnited's list of demands and documents, Scott says in the 1,400-word response, sent at 7 p.m. ET Monday. "We are eager to hear more about your concerns and very happy to discuss," Scott writes. "I will come back to you in the coming days following discussion with our members and student-athlete leaders to schedule a call for this week to discuss the matters that you have raised."
A Pac-12 spokesman declined comment Monday evening when contacted about the letter.
Sports Illustrated also obtained a copy of the email that #WeAreUnited sent to Scott on Sunday, detailing its demands and requesting "daily" Zoom meetings with Scott, Pac-12 athletic directors and the #WeAreUnited player representative team. The group requested the Zoom meetings begin Monday evening. "We believe a football season under these conditions would be reckless and put us at needless risk," their email to Scott reads. "The lack of regard for our health and safety is central to the systemic racial injustices imposed by NCAA sports that disproportionately exploits Black athletes physically, academically, and financially."
The letter was signed by 11 players, each from a different league school. The only program not represented was the University of Colorado. Scott addressed his response to the 11 players: Dallas Hobbs, Washington State; Cody Shear, Arizona State; Jaydon Grant, Oregon State; Valentino Daltoso, Cal; Chase Williams, USC; Elijah Higgins, Stanford; Jevon Holland, Oregon; Joe Tryon, Washington; Malik Hausman, Arizona; Nick Ford, Utah; and Otito Ogbonnia, UCLA.
–
—–
August 3rd
… CU in a few minutes … 
K.D. Nixon building chemistry with freshman quarterback Brendon Lewis
From the Daily Camera … It's been a long time since the Colorado Buffaloes had a true competition at quarterback.
"Whoever is going to be the quarterback is the main man," K.D. Nixon said. "Whoever wins the battle it's going to be a blessing because now we for sure can work on timing. I just feel like we're kind of slow right now by not just knowing, because of no spring ball and no fall camp right now."
The last time CU went into a season with such uncertainly at quarterback was 2013. That year, Connor Wood won the job coming out of camp, but Liufau, then a true freshman, took over the starting role in Week 5.
… While Nixon has more history with Tyler Lytle and Sam Noyer, he's quickly built a rapport with Brendon Lewis, as the two Dallas-area natives have bonded.
"He's catching on so fast and so beautiful," Nixon said. "I never had a chance to teach a quarterback. … Just being able to be in practice and see those guys (at quarterback) compete, you notice they have the hardest job, so why not help them?"
With preseason camp around the corner, Nixon is eager to find out who will start.
"Just like y'all I'm ready to see who will start because once we know, the work is getting turned up another notch because now I can work on chemistry, chemistry, chemistry, instead of just working with three quarterbacks," he said.
… Continue reading story here …
–
—–
August 2nd
… CU in a few minutes …
Daily Camera previews the CU season (not for the faint of heart)
From the Daily Camera … No Rocky Mountain Showdown, no trip to College Station and no welcome mat at Folsom Field for the Oregon Ducks.
Colorado's football schedule isn't the same slate of the games that the Buffaloes had been preparing to play, but at this point, that doesn't seem to matter. As the coronavirus pandemic continues to impact the world, the fate of the college football season is unknown.
Last month, the Pac-12 announced a conference-only schedule for football, which scrapped CU's annual showdown with Colorado State, a visit from Fresno State and the Buffs' first trip to Texas A&M since 2008. On Friday, the Pac-12 unveiled its revised schedule, a 10-game model with built-in byes for possible rescheduled games.
While the coronavirus could cause more changes, the Buffs, for now, are targeting an Aug. 17 start date for fall camp and a season opener on Sept. 26 at Oregon. Here's a quick glance at the Buffs' schedule for the upcoming season (kickoff times will be announced at a later date).
Sept. 26 – at Oregon
The Buffs were originally supposed to host the Ducks on this date for the conference opener. Instead, they'll return to Eugene, Oregon, for a second consecutive season. The change was made in an effort to give each team five home games. This won't be an easy trip for the Buffs, who were thumped in Eugene last year, 45-3. The defending Pac-12 champion Ducks (12-2, 8-1 Pac-12 in 2019) lost star quarterback Justin Herbert, but they're the overwhelming favorite to win the conference again and many national publications have the Ducks in the preseason Top 10. The defense is loaded and Oregon has the most talented, deepest roster in the conference.
Oct. 3 – vs. Utah
After facing the defending league champ, the Buffs have to deal with the two-time defending South division champs. This is somewhat of a rebuild year for the Utes (11-3, 8-1), who lost their quarterback, running back and almost the entire defense. Seven Utes – more than any other team in the conference – were taken in the NFL Draft this spring. Coach Kyle Whittingham has done this before, though. He's coming into his 17th year with the Utes and he's led them to nine-plus wins in five of the past six years. Utah has dominated this series the past three years by a combined 109-35 and will still be very good.
… Continue reading preview here …
–
—
Pac-12 "trying to set up the best possible scenario" to get games played
From the Daily Camera … Asked how confident he is that the season will be played, Pac-12 commissioner Larry Scott admitted, "I don't know."
Just a few weeks ago, the conference, and the entire college sports world, was hoping for a full-fledged fall sports season. Plan A was scrapped for Plan B, which is a conference-only model being adopted by many leagues around the country.
As the Pac-12 monitors the trends of the coronavirus, Scott said, "We intend to start on September 26, but we will be ready, as we've been all along, like we've already moved from Plan A to Plan B, to move to C, D and E, if necessary. We felt that we owe that to our student-athletes."
There's no question that playing a football season is vital to the survival of many college athletic programs.
"It is important to the revenues, there's no question about that," Arizona State athletic director Ray Anderson said.
Anderson, Scott and others on Friday's conference call, however, made it clear that throughout the whole process of preparing for a potential season, they are making decisions with the health and safety of the students and staff as the top priority.
"Difficult situations bring out the worst in people and sometimes the best in people and a lot of what I've seen (in the Pac-12) has been the best of people," Stanford head football coach David Shaw said. "On that (Pac-12 working) group, this has been: How can we return to sport in a way that makes it the best for the student-athletes to participate safely?
"Coming from different places and different situations on different campuses in different areas has been difficult, to a certain degree, but the mentality has been the same: How can we do what's best for our student-athletes?"
In determining what is best, the Pac-12 discussions have involved school presidents and chancellors, athletic directors, coaches and even student-athletes. Most importantly, however, the discussions have included medical experts.
… Continue reading story here …
–
—–
August 1st
… CU in a few minutes … 
Rick George letter to Buff Nation: Fan attendance to be addressed
From CUBuffs.com …
I hope that this message finds you and your loved ones healthy and safe. With the Pac-12's announcement of the football schedule today, I am writing to you to share an update on our efforts during the last four months to prepare for what the 2020-21 year could look like.
This time has been challenging. Our Athletic Department, the University of Colorado Boulder, the Pac-12 and the NCAA have been collaborating to find solutions for student-athlete, staff and fan safety.  We have been working closely with state and local officials on what is possible while being mindful of the safety and welfare of our student-athletes, their fellow students, faculty, staff and our community.
In the coming weeks, if not days, we will know how fan attendance will be impacted at fall sports events. We continue to work with the State of Colorado, the City of Boulder and the Boulder County Health Department to find the safest solution for everyone in the Boulder community. We ask for your patience until those decisions are announced to consider what the impacts are for you and our program.
We know this fall will look different than anything we've experienced before. Once the decision is made on how many fans we can safely host in Folsom Field, if any, we will share that information as soon as possible. We have multiple contingency plans prepared and will communicate our direction with you when it is appropriate.
We all have been affected by the COVID-19 pandemic in both our daily lives and with regard to our future plans. CU Athletics is no different, particularly when it comes to forecasting our financial position. While the uncertainly surrounding fall sports and the number of fans we can have in our venues prevents us from knowing the full extent of the fiscal challenge we'll face in 2020-21, we know it will be significant.
To manage the financial impact of COVID-19, we are evaluating every expense while seeking to preserve and enhance the world-class experience we strive to achieve for every CU Boulder student-athlete. Every year, generous contributions from our donors as well as ticket purchases from our fans help provide the resources for the initiatives we have in place. Specifically, our recently launched WHOLE Athlete program, which we believe will take CU Athletics to the next level in achieving this world-class experience. While your support has always been vital to Colorado's success, it's never been more critical than it is right now.
I feel we have worked hard to provide the safest possible environment for our student-athletes throughout the pandemic. Similarly, our efforts with our trusted partners at the city, state and county level will ensure the safest possible solution for our fans. Thank you for your continued support of the Buffs. It is truly appreciated and vital during these times. I'm confident that we will get through this together and be better on the other side. Go Buffs!
Respectfully,
Rick George
–
—–
July 31st
… CU in a few minutes … 
CU Press release announcing revised schedule
Colorado opens with the top division champions from 2019, Oregon and Utah, adding Oregon State …
Old schedule … Oregon … bye … at Arizona … UCLA … ASU … at USC … WSU … at Stanford … at UW … Utah
New schedule … at Oregon … Utah … at Arizona … at USC … bye … ASU … at UW … UCLA … at Stanford … Oregon State … WSU
So … gaining Oregon State as a home game, losing Oregon as a home game
—
From CUBuffs.com … The Pac-12 Conference released its revised 2020 schedules Friday, with the season now set to commence on Sept. 26 with the University of Colorado to travel to the University of Oregon in the new season opener.
The Pac-12 announced on July 10 that it would only play a conference-games schedule this season, thus canceling all non-league contests due to the Coronavirus pandemic.  Colorado was set to open the season on Sept. 5 at Colorado State, then host Fresno State (Sept. 12) before reuniting with former Big 12 Conference rival Texas A&M in College Station on Sept. 19.
The revised schedule differs a bit from what was released in January: the nine Pac-12 opponents announced then remain the same, but CU will travel to Oregon instead of the Ducks coming to Boulder for the first time since 2015.  Oregon State, which had not been on the slate, will now visit Folsom Field on Nov. 28, with the regular season finale set for Dec. 5 against Washington State.  That will be the latest game to end the regular schedule since Dec. 7, 1963, when a game against Air Force was delayed two weeks due to the assassination of President John F. Kennedy.
Traditional league rivalries now appear all throughout the schedule instead of toward the end of the season, with Utah now coming to Colorado in week two on Oct. 3.
Bye weeks are built in if the pandemic forces the postponement of games to allow for make-up dates.  All teams have a bye at some point in weeks four-through-six (Oct. 17-31), with Saturday, Dec. 12 available as well.  The conference's championship game, originally set for Dec. 4, is now penciled in for Dec. 19.
The Buffs will now open Pac-12 league play on the road for just the second time in the last six years in traveling to Eugene, as the Ducks are the defending conference champion.  Oregon was originally set to be CU's league lid-lifter on the same date, except in Boulder.  And with three of the first four games on the road, it will mark the first time the Buffs open away from home three times out of four to open a season since 2016.  But one of those games was in Denver: you have to go back to the 1973 and 1974 campaigns to find three road affairs among the first four contests.
This will be Colorado's latest season opener in 59 years, or since Sept. 30 in 1961; that year, CU defeated Oklahoma State in Boulder, 24-0.  That is also the last time that a conference opponent was the foe in a season opener for the Buffs.  The last times Colorado opened a season with a true road game came in 2011 and 2015, when CU played at the University of Hawai'i.
The last 10-game regular season occurred in 1970, as the NCAA Division I approved an expansion to 11 games for 1971; it okayed a permanent 12th game beginning in 2006.
At this time, selections for most television broadcasts have not been determined, thus no game times have been established.  CU will have one night game, as the Buffaloes will travel to Seattle to face Washington on Friday, Nov. 6, in a game set to be televised by ESPN.
Colorado was 5-7 last year, with a 3-6 record in Pac-12 play for fifth place in the South Division.  Karl Dorrell was named head coach on Feb. 23, and his first Buffalo team returns 58 lettermen from that squad, including 15 starters.
When all athletic competition and practices ceased last March 12 due to the pandemic, the Buffaloes were four days away from opening their spring football drills.  With the season opener now set for Sept. 26, CU's fall camp will begin on Monday, Aug. 17, with the first day of classes is on Monday, Aug. 24.
As for CU's other fall sports (women's soccer, women's volleyball, men's and women's cross country, men's and women's golf and women's tennis), the conference is expected to release those schedules in early August.  As is the case with football, soccer and volleyball will play conference-only schedules and their seasons will commence the last weekend in September.  Both programs can begin their fall practice sessions on Aug. 15.
In addition, the Pac-12 Championship game in football will now revert to a home-hosted model instead of being played in Las Vegas.
Sept.    26          *at Oregon                                           Eugene
OCT.       3          *UTAH                                             BOULDER
Oct.      10          *at Arizona                                          Tucson
Oct.      17          *at Southern California                     Los Angeles
Oct.      24          —BYE—
OCT.     31          *ARIZONA STATE                      BOULDER
Nov.       6          (Fri.) *at Washington (ESPN)      Seattle
NOV.    14          *UCLA                                               BOULDER
Nov.     21          *at Stanford                                        Palo Alto
NOV.    28          *OREGON STATE                        BOULDER
DEC.       5          *WASHINGTON STATE           BOULDER
Dec.     19          Pac-12 Championship Game           Campus Site
–
—
Texas A&M game in 2021 likely to be played in Mile High Stadium (with CU looking benevolent)
… If you regularly follow the Buffs, you know that this is not really news. Moving the A&M home game to Mile High has been in the rumor mill for months (pre-COVID). CU has seven home games on the 2021 schedule, including non-conference home games against Northern Colorado and Minnesota, making the move to Mile High a natural.
… I was opposed to the move if the back half of a "home-and-home" would be played before 35,000 Texas A&M fans, but, if the 2020 game in College Station isn't happening (and isn't going to be re-scheduled), then I am all in on having the "one-off" game between the two schools being played 30 miles from Boulder … 
From Gig'em.com … After the SEC announced on Thursday afternoon that the league would be playing a conference-only schedule for football this season while also pushing back the start date three weeks to Sep. 26, a lot of questions were still left unanswered.
While most of the focus was obviously on the 2020 schedule, Bjork did share a bit of new information about next season's tilt.
In 2020 and 2021, Texas A&M and former Big 12 foe Colorado have a home-and-home series scheduled. When the Pac-12 went to a conference-only schedule earlier this month, this year's game at Kyle Field was officially canceled. However, the Aggies are still set to head on the road to play the Buffaloes next year as the calendar has long been set with the two teams playing on Sat., Sep. 11.
Colorado plays most of its games on campus in Boulder but, for the A&M game in 2021, it very likely will be moved to nearby Denver instead, playing at the Broncos home, Empower Field at Mile High.
"We have an obligation to play a Power 5 nonconference game and so we need that game," Bjork said of next season. "There's no other available opportunities out there. Colorado has approached us about playing at…Mile High Stadium. I know it is Mile High Stadium.
"So they have approached us about playing there and and we would we would accept that playing there and in Denver. So that's, that's where we're headed right now."
Texas A&M and Colorado have not played since the 2009 season when the Aggies went to Boulder and fell, 35-34.
–
—
Nate Landman focusing on leadership: "I want to create more leaders on the team"
From the Daily Camera … It's no surprise that Colorado linebacker Nate Landman is on the preseason watch list for all three awards, which honor the nation's top linebacker (Butkus Award) and defensive player of the year (Bednarik Award and Nagurski Award).
"Just being more consistent with my game (is a focus)," he said. "Towards the beginning of the (2019) season, I struggled with some missed tackles and pass coverage. It was never the mental game that affected me; sometimes it was the physical game, whether it was sore shoulders or anything like that."
Landman has recorded 260 tackles, 21 tackles for loss, six sacks and three interceptions over the past two seasons. He's a big hitter with a nose for the ball, which was evident during his brief appearance late in the 2017 season.
Where Landman has taken perhaps the biggest strides is in leadership. He embraced a leadership role last season and is intent on becoming even better in that regard this year.
"(I'm working on) being more accessible to the team and being that kind of leader to where I can lead by example and if guys are hurting they can come to me, and being a guy that someone can lean on," he said. "I want to help create more leaders on the team. I don't think leaders always have to be seniors. Helping create a freshman leader that can lead that freshman class and someone they can look to for advice."
… Continue reading story here …
–
—–
July 30th
… CU in a few minutes … 
K.D. Nixon: "My team is ready and I know for sure I'm ready"
From CUBuffs.com …  The Colorado Buffaloes are still planning on playing football this fall.
As for the when and where, the Buffs will leave that up to the decision makers.
"I control the controllables," CU senior wide receiver K.D. Nixon said Wednesday in a conference call with reporters. "I think my team is ready and I know for sure I'm ready."
A meeting of Pac-12 presidents and chancellors is set for Friday, when they are expected to settle on what reports have suggested will be a 10-game schedule that could start in mid-September. Pac-12 officials earlier in July announced that the league would definitely play a conference-only schedule.
A number of different schedule possibilities will be on the table at Friday's meeting, but a mid-September start would mean a mid-August date for the opening of fall camp.
The Buffs, meanwhile, will continue to do what they have been doing all summer — participate in voluntary workouts, work with coaches in position and team meetings and do their best to prepare to hit the field for fall camp — whenever that might be.
"Being back in the weight room setting and the workout setting has kind of refueled everybody's fire," linebacker Nate Landman said in Wednesday's call. "Hearing hopeful things from Coach (Karl) Dorrell … He's pretty positive that there will be a season. (He has been) keeping the guys rallied on the main goal and winning games and in the back of our minds that we will have a season and we're working toward something."
Dorrell has found himself in a unique position. Not only was he the final Division I hiring last winter — he was named to the spot on Feb. 23 — he was then hit with the Covid-19 pandemic whammy, which canceled spring football and all spring workouts. Thus, he has yet to see his new team practice.
But according to the players, Dorrell has been the glue that has held the team together during the pandemic circumstances that turned the college football world on its ear. He has maintained a positive attitude and has made sure that communication lines have always been open.
… Continue reading story here …
–
—
Karl Dorrell earning trust of players: "You can see that coach Dorrell is really with us"
From the Daily Camera … When Karl Dorrell was hired as the head coach of the Colorado football team in February, he didn't demand respect from his players.
He has earned it, however.
On Wednesday, two of the Buffs' senior leaders said Dorrell has impressed them in the five months he's been on the job, despite the fact that the coronavirus pandemic has prevented Dorrell from conducting any practices.
"He didn't just say, 'I need you to trust me,'" senior receiver KD Nixon said. "He said, 'I'm going to earn it.' That's just more respectful because you can see that coach Dorrell is really with us."
Previous head coach Mel Tucker, who was on the job for 15 months, suddenly left the program in February for a bigger paycheck at Michigan State. On Feb. 23, CU hired Dorrell, who knew the players would have some initial reservations.
"Especially the way we were left without a head coach and the way it happened, he knew it was going to be tough for us to trust somebody again," senior linebacker Nate Landman said. "He kind of just has reassured everything and been there for us whenever we have concerns with open honesty. He's just been transparent. That goes a long way with a lot of the guys.
"He's pretty committed to having team meetings and keeping the team together and he checks in with us and we're able to voice our concerns with him."
… Continue reading story here …
–
—–
July 29th
… CU in a few minutes … 
NFL Buff news: Solder to sit out season; Thompson moves on to Chiefs; Hambright signs rookie contract
From CBS Sports … The New York Giants are counting on growth from young quarterback Daniel Jones in 2020 under new coach Joe Judge, but Jones will now have to do so without his blind-side protector. Left tackle Nate Solder, who was arguably entering a make-or-break year on a big contract, announced via social media Wednesday that he's decided to opt out of the upcoming NFL season over family health concerns.
"My family and I have been praying, wrestling and listening to God about our current circumstances and whether it is best that I play football this season," Solder wrote. "Our family has health concerns, most notably our son's ongoing battle with cancer, as well as my own bout with cancer. We also welcomed a new addition to our family this spring, a baby boy … (Our) children's health and the health of our neighbors comes before football … I will deeply miss my teammates, coaches and everyone in the Giants organization."
A prized free agent signing in 2018, when he landed a four-year, $62 million deal from New York, the former New England Patriots starter and two-time Super Bowl champion wasn't necessarily a lock to hold down LT duties through or beyond 2020. His absence, however, figures to put added pressure on first-round draft pick Andrew Thomas.
—
From Arrowhead Addict … The Kansas City Chiefs have signed safety Tedric Thompson to a one-year deal as training camp is set to begin.
Thompson first entered the league with the Seattle Seahawks when general manager John Schneider made him the team's fourth round pick in the 2017 NFL Draft. Thompson was part of an exciting secondary in Colorado, one that also saw Chidobe Awuzie (Dallas Cowboys) and Ahkello Witherspoon (San Francisco 49ers) drafted in front of him.
When a trade failed to surface, Seattle set Thompson free after three full seasons. Thompson would play in 29 total games for the Seahawks in those three seasons, but he became a starter at free safety into his second year. He finished his tenure in Seattle with 80 tackles, 5 pass breakups, and 3 interceptions.
The free safety unfortunately ended his tenure with a season-ending shoulder injury, so any comeback with the Chiefs will largely come down to how he's recovered from labrum surgery. Thompson's inconsistency in coverage isn't going to earn him a spot starting with the Chiefs, but he's a potentially valuable addition in case anything is wrong with Juan Thornhill as he also returns from injury.
–
From Spotrac.com … Arlington Hambright signed a 4 year, $3,394,108 contract with the Chicago Bears, including a $99,108 signing bonus, $99,108 guaranteed, and an average annual salary of $848,527. In 2020, Hambright will earn a base salary of $610,000 and a signing bonus of $99,108, while carrying a cap hit of $634,777 and a dead cap value of $99,108.
–
—
Will CU's revamped schedule have the Buffs opening against Utah?
… The Pac-12 has said that it will be announcing its fall schedule by this Friday. As we have discussed, adding a road game against Oregon State or Cal would balance out CU's schedule, but it would give either the Beavers or the Bears six home games. The logic behind the story below is that the conference may schedule proximity games early, as they would be the easiest to makeup at a later date. If this logic holds true, then CU may open its schedule on September 19th against Utah or one of the Arizona schools … 
From the Bruin Report … We had heard the Pac-12 could revamp its established fall football schedule to optimize match-ups and dates due to the coronavirus, and that seems to be the case, according to sources.
In a reshuffled fall football schedule, UCLA will kick off the season against California in Berkeley on Sept. 19th.
A week later on Saturday, Sept. 26th, instead of playing Stanford at the Rose Bowl, the new schedule pits UCLA against crosstown rival USC in Pasadena.
At this time we don't know the dates or the order of the remaining eight games, but they would be scheduled over the next 10 weeks between Oct. 3 and Dec. 5th, with two weeks of byes built in.
The Pac-12 should reveal its complete conference schedule for the proposed fall football season by the end of this week.
In many ways, playing Cal and USC in the first two weeks makes quite a bit of sense.  Cal and USC are two of the three closest opponents geographically to UCLA, so it reduces coronavirus travel risks.  It increases the chances of playing the games against its two traditional rivals in the conference — two match-ups that could potentially generate the biggest television audience — before any potential mounting risk that the season could be shut down prematurely.
The USC game, too, is the most flexible on UCLA's schedule, capable of being moved to another date and mounted the quickest because of minimal travel complications, since the campuses are only about 14 miles away from each other. That makes it prudent to schedule it early, since it most easily could be postponed to a later date.
… Continue reading story here …
–
—–
July 28th
… CU in a few minutes … 
NCAA President Mark Emmert: A shortened schedule might "make sense"
From ESPN … As the start of college football season continues to inch closer, NCAA president Mark Emmert said Tuesday he remains "very concerned" about the status of fall sports and thinks a delayed start and shortened schedule might "make sense."
"We do get to see what happens when people return to campus," he told ESPN during an interview that focused on the continued impact of the coronavirus pandemic on college sports. "You get to learn a lot from what's going on with professional sports. We get to see how the testing protocols emerge and how that can be more effective, especially if we can get antigen testing going, for keeping track of the virus on campuses. The fact a delay could provide us with time to do all that could be very, very useful.
"Also, the move to a smaller number of games can be really helpful because you've got bigger breaks between games then, and you could provide flexibility around schedules," he said. " … If you have to quarantine a team or a big chunk of a team, you've got time to do that and you've got time to adjust. … I think having fewer contests and doing them over a delayed period of time could be very, very helpful."
Emmert's comments come during a pivotal week in which the 15 ACC presidents and chancellors are expected to make a decision on the league's scheduling model — a move on Wednesday that could have a significant impact on the SEC, Big 12 and Notre Dame. Officials from the Big 12 and SEC have expressed a desire to continue with a 12-game schedule if possible, while Notre Dame's contractual agreement with the ACC opens up even more options for expanding that partnership this fall.
There's also the lingering worst-case scenario of no season at all. In order to feel it's safe for fall sports to continue, Emmert said, "We need to clearly see the indicators of viral spread be moving in a much better direction than they are right now."
… Continue reading story here …
–
…
Are "pods" an option for college football? (Pac-12 in Salt Lake City?)
From Stewart Mandel at The Athletic … Here we are, the last week of July, in what was long assumed to be Judgment Day for major college football. Unfortunately, the pandemic shows no signs of abating, reaching new milestones nearly every day. Meanwhile, in the sports world, Major League Baseball's season is already in question after an outbreak among the Miami Marlins caused multiple game cancellations. And the Big Ten late last week had two entire teams, Michigan State and Rutgers, go into 14-day quarantines.
Given all of that, surely college officials would be contemplating drastic measures to salvage the 2020 season, right? … Not exactly.
ACC presidents will meet Wednesday to consider a revised schedule that pushes the start date back by a whopping seven days. Pac-12 coaches are trying to hammer out an essential detail to playing sports amidst a global pandemic: Making sure some teams don't get more practice time than others.
And then there's the Big 12, whose strategy appears to be to just accept that all hell's going to break loose and play through it. Two of its schools, Oklahoma and Kansas, recently moved their openers a week earlier, to Aug. 29. We haven't even made it to training camp without teams having to shut down for two weeks, and these guys think they're going to play an official, full-contact football game a little more than 30 days from now? Sure.
Let me make one thing clear, before the "you're rooting for the virus" crowd takes my comments section hostage: Nobody needs to be canceling their seasons yet. There's still time to save it. But it's like we're down to the last half hour of an SAT test and the commissioners are still trying to decide which color pencil to use. Their boldest ideas to this point — conference-only opponents, testing 72 hours before kickoff — are not going to do a whole lot against a highly contagious virus that can shut down an entire team.
The sports leagues that have had the most success returning so far are the ones that got creative. It would have sounded patently absurd six months ago to suggest the NBA would sequester 22 of its teams at Disney World for three months in order to hold its playoffs. But the league is doing it, and it's off to a great start. There were zero positive tests among 346 players last week. The games look great on TV, and nobody seems to mind that the spectators are virtual.
Meanwhile, the NHL chose two hub cities in Canada, and it also reported zero positives Monday. MLS and the now-completed NWSL have had successful tourneys as well.
All of which is to say, it's time to start talking how to play college football in a bubble.
Seriously.
… Continue reading story here (subscription required) …
–
—–
July 27th 
… CU in a few minutes … 
DL commit Ryan Williams: "The main thing was they treated me like family"
From the Daily Camera … The thought of playing college football never crossed the mind of Ryan Williams two years ago.
In fact, the Shadow Creek (Texas) High School senior hadn't given much attention at all to his post-graduation plans.
"I didn't know what I was really going to do," he said.
An encouraging father and motivating coaches helped Williams mature physically and mentally, however, and now he's eager to become a Colorado Buffalo. Last Friday, the 6-foot-5, 260-pound defensive lineman, who has a 3-star rating from 247Sports.com, became the latest prep prospect to verbally commit to CU for the 2021 recruiting class.
… Williams got his first Division I scholarship offer from Texas Southern on May 27 and then got an offer from CU two days later. Several other schools have expressed interest.
"I'm amazed and all my coaches are amazed at how much I've grown since freshman year.
Williams is still growing and could potentially play several spots on the Buffs' defensive line.
"(CU defensive line coach Chris Wilson) thinks I can play all over," Williams said. "But it really don't matter. Whenever he wants to put me, I'll do my best."
Although he hasn't been to CU, Williams said he and his family loved the virtual visit he had with the Buffs. They were impressed with the athletic and academic aspects of CU, as well as the relationships he's developing with the Buffs.
"The main thing was they treated me like family," Williams said.
… Continue reading story here …
–
—
Power-Five schools may not be able to use "force majerre" ("act of God") argument to get out of G-5 contracts
From Sports Illustrated … In the long-ago spring, when time was an ally, some college athletic leaders targeted June 1 as a deadline for declaring the fate of the football season. Then that became June 15 … then July 1 … then July 15. The worse the outlook got, the longer everyone wanted to put off potentially cataclysmic decisions.
And so the can has been kicked so far down the road that it has crossed state lines. Now, here in the final week of July, just over a month from the scheduled start to the season, the battered can has come to rest at a fork in said road. Decisions finally must be made.
College football this fall, or not? If so, when? And how much?
This week should provide some answers. Maybe not the final answers, but some plans must be agreed upon—or abandoned.
"When this (pandemic) started, we said, 'O.K., we've got four months to figure it out,'" one FBS commissioner told Sports Illustrated. "Now we've got no months to figure out it. It's all circular. We just go back and revisit and re-think it. Everyone is doing their part, but the answers are not easy.
"We've got 50 governors. We've got state and local health officials. We've got boards of trustees and university presidents. Below them we have athletic directors, who are between a rock and a hard spot. We are all trying to assess risk tolerance and his twin, liability."
… The Mid-American Conference and Mountain West were hard hit by the Big Ten and Pac-12 curtailing their schedules. The American Athletic, Conference USA and the Sun Belt are twisting in the wind, waiting to see what the damage will be to them if the ACC, SEC and Big 12 jettison games against their members.
If this ends badly for them in turns of losing games that are supposed to pay up to seven figures in guarantee money, legal challenges are likely to follow. Prominent sports attorney Tom Mars says he's been contacted by several Group of Five schools recently, but declined to name them.
"Based on my review of several contracts for non-conference games, the Power 5 schools will have a tough row to hoe if they try to escape liability for liquidated damages to the G5 school they agreed to host this year," Mars told SI. "None of the contracts I've seen have a force majeure clause that specifically covers an epidemic or a pandemic. While every force majeure clause I've reviewed refers to an 'act of God,' Power 5 schools will find little support in the case law if they attempt to avoid liability in reliance on those three words. Aside from the difficulties the Power 5 programs will face in dealing with the deficiencies in their contracts, they'll also have to convince a court that 'we decided not to play' means the same thing as 'we can't play.' Much like football, that kind of 'Hail Mary' legal argument is rarely successful."
… Continue reading story here …
–
—–
July 26th
… CU in a few minutes … 
Sports Illustrated ranks CU's Top Ten draftable players (Nate Landman tops the list)From Sports Illustrated …Colorado … 2020 NFL Draft Picks: Laviska Shenault, Jr., WR, Jacksonville Jaguars – 2nd Round, No. 42 overall
Davion Taylor, OLB, Philadelphia Eagles – 3rd Round, No. 103 overall
Arlington Hambright, OL, Chicago Bears – 7th Round, No. 226 overall (who just signed a four-year, $3.3 million contract this weekend)Overview: Any team facing a switch at head coach is facing a great deal of change – especially in these unprecedented times – but Karl Dorrell and the Colorado Buffaloes are getting a later start on this process than any other staff in the country, as he only agreed to rejoin the team as head coach February 23 – a little less than two weeks after Mel Tucker abruptly left town for Michigan State.While the timing has certainly complicated matters, make no mistake, Dorrell is well qualified for the position, spending five years at his alma mater UCLA as head coach from 2003-2007 and nearly all of his time since in the NFL, coaching receivers (his college position), quarterbacks or both.And, of course, this is a homecoming of sorts for Dorrell, who first jumped into the coaching profession by serving as the receiver coach at Colorado under Bill McCartney back in 1992. And, after spending a year coaching this position at Arizona State, Dorrell returned to Boulder in 1995, teaming up with his former quarterback Rick Neuheisel at UCLA to serve as offensive coordinator and receivers coach again for the next three years, before taking on quarterback tutoring duties as well in 1998.–Featured 2021 NFL Draft Prospect: Nate Landman, ILB, 6-2, 230, 4.75, SRRecruited out of the talent-rich state of California by then-Colorado head coach Mike MacIntyre, Landman has proven one of the few sources of consistency for the Buffs since, standing out on special teams and defense, alike, as a true freshman in 2017 before emerging as an All-Pac-12 performer each of the past two years.Though Landman only finished his first season on campus with a total of 17 tackles, four of them came behind the line of scrimmage – just two behind team leaders with hundreds more opportunities.As such, there were high hopes for Landman's game taking off in 2018. He lived up to those hopes and more, exploding for a team-high 123 tackles while also leading the Buffs in tackles for loss (13) and sacks (four), earning Second Team All-Pac-12 honors from the AP and Phil Steele, as well as honorable mention by the conference's coaches.A year ago, scouts fell in love with the raw athleticism demonstrated by outside linebacker Davion Taylor (a third round pick by Philadelphia), but Landman was again, easily, Colorado's most productive and reliable defender, registering 137 stops – the most here since 2007 – and jumping up to First Team all-conference honors by the AP, Phil Steele and the league's coaches.Voted the best defensive player on the team by two different coaching staffs at the conclusion of his sophomore and junior campaigns, Landman enters his senior season a little bit like Cal cornerback Camryn Bynum – a well-known difference-maker to Pac-12 fans and NFL scouts – but relatively unknown and certainly underrated by many outside of the west.NFL Player Comparison: Ben Gedeon, Minnesota Vikings – At 6-2, 244 pounds, Gedeon is slightly larger than Landman and certainly was not as accomplished at the collegiate level, starting just one year at Michigan before earning a fourth round pick by the Vikings. Like Gedeon, however Landman is a traditional run-stuffing linebacker who compensates for his lack of elite athleticism with smarts, toughness and reliability.Current NFL Draft Projection: Fourth Round-The Top 10 NFL Prospects at Colorado:1. Nate Landman, ILB, 6-2, 230, 4.75, SR2. Mustafa Johnson, DT, 6-2, 290, 4.95, SR3. William Sherman, OT, 6-4, 305, 5.20, JR4. Terrance Lang, DE, 6-6, 275, 4.90, JR5. K.D. Nixon, WR, 5-08, 190, 4.45, SR6. Dimitri Stanley, WR, 5-11, 185, 4.45, rSoph7. Alex Fontenot, RB, 5-11, 195, 4.50, rJR8. Chris Miller, CB, 6-0, 190, 4.50, rJR9. Akil Jones, ILB, 6-0, 230, 4.85, SR10. Kary Kutsch, OG, 6-4, 310, 5.10, SR-
—–
July 25th
… CU in a few minutes … 
Pat Rooney: Fall Sports waiting game continues (but time is running out)
From the Daily Camera … This past week, the Pac-12 Hotline produced by Jon Wilner of the San Jose Mercury News reported the league is on the verge — possibly as soon as this upcoming week — of announcing its plan for a 10-game, conference-only football schedule. It is a bold plan, and one that can will remain fluid until the day the Colorado Buffaloes finally line up for the opening kickoff of the 2020 season. (According to a report Friday by The Stadium, CU's extra date would be a road game at Oregon State).
Unless the NCAA Board of Governors steps in with a unified plan for college football, each league will be on its own to develop a plan to play. It's almost like the adage of not retiring from the playing field until someone takes the jersey off and forces you to the sideline. The Pac-12 is going to plan for the fall until someone tells the league not to. A spring schedule won't be discussed until its necessary.
On Friday, the Board of Governors opted to kick the can down the road two weeks before making any decision regarding fall sports. That group, comprised largely of university presidents from across the NCAA's three divisions, has the authority to pull the plug on all fall championships at all levels. The lone, and glaring, exception is FBS football, which has a postseason run by the bowls and the College Football Playoff.
Caught in the middle of this waiting game, as usual, are thousands of student-athletes left to wonder about seasons that remain in indefinite limbo. At Colorado, the official preseason workouts for football, volleyball, and soccer would be getting underway in the very near future under normal circumstances. In the Pac-12, the nonconference schedules for all those sports already have been canceled. What happens with the football season in the coming weeks ultimately will decide the rest.
… Continue reading story here …
–
—–
July 24th
… CU in a few minutes … 
What the Pac-12 ten-game schedule proposal would mean to CU's schedule
Update … Brett McMurphy tweet … Sources told @Stadium, Pac-12's proposed 10th league game matchups:
Arizona vs. Cal

Arizona State vs. Stanford

Colorado vs. Oregon State

Oregon vs. Utah

UCLA vs. Washington

USC vs. Washington State
… Since both CU and Oregon State already have five conference home games (with four road games), it will be interesting to see which team gets the home game (assuming no other games are changed from the existing schedule) … 
—
Jon Wilner at the San Jose Mercury News has reported that the Pac-12 conference will be the first Power Five conference to announce its fall schedule, with each team playing ten conference games.
Season openers have been scheduled for Sept. 19, or what would have been Week Three on the original 2020 calendar.
The start date gives the conference time to ride out the current coronavirus surges; teams would not start formal training camp until the middle of August.
At least two bye weeks are built into the lineup, creating windows for games that cannot be played as scheduled.
The Pac-12 championship at Allegiant Stadium in Las Vegas could be played on any of three weekends.
It was originally scheduled for Friday, Dec. 4, and that remains an option under a best-case scenario.
But if that weekend is needed for makeup games — for example: if the teams cannot play the openers on Sept. 19 — the conference has secured the option to stage the championship on the weekend of Dec. 11-12.
And if that weekend is also needed for makeups, the title game could get pushed back to the weekend of Dec. 18-19.
What does that mean for CU's schedule?
The current CU schedule is as follows:
September 5th – at Colorado State – canceled
September 12th – Fresno State – canceled
September 19th – at Texas A&M – canceled
September 26th – Oregon
October 2nd – Bye
October 9th – at Arizona
October 17th – UCLA
October 24th – Arizona State
October 31st – at USC
November 7th – Washington State
November 14th – at Stanford
November 21st – at Washington
November 28th – Utah
As it stands, CU has five home conference games and four road conference games. The two teams from the North Division not on CU's schedule are Cal and Oregon State. With the season set to begin September 19th – the week CU was to be taking on Texas A&M – it would seem to be an easy fix to have CU travel to Corvallis or Berkeley to take on Oregon State or Cal as its tenth game of the season (and fifth road game).
The problem is … Oregon State and Cal also are currently sitting with five Pac-12 home games and four Pac-12 road games. If CU were to travel to either of those venues, the home team would now have six home games to their four road games … which defeats the process of adding the tenth game in the first place.
The solution will cause some juggling of the schedules, and not only for the Buffs. CU could find itself playing both Cal and Oregon State in the new schedule, with perhaps one of those games at home. The Buffs might also lose a home game against Oregon or Washington State in the process.
What doesn't seem likely is CU picking up a "plus one" game, as is being discussed for other conferences. It makes sense for conferences like the ACC and SEC (which only have eight conference games) to pick up a non-conference game, especially if that non-conference game were a rivalry game that would otherwise not be played, like Florida/Florida State; Clemson/South Carolina or Georgia/Georgia Tech. But it doesn't sound like a Colorado/Colorado State matchup is in the offing. Yes, it makes sense from a traveling standpoint for the Buffs to take a bus to Ft. Collins, instead of a plane to San Francisco, but it doesn't work out as easily for USC or Stanford, who might want to play Notre Dame.
It will be interesting to see how this plays out. All other things being equal, it wouldn't bother me if CU didn't have to play conference favorite Oregon for Karl Dorrell's opener …
–
—–
July 22nd
… CU in a few minutes … 
Pac-12 commissioner Larry Scott receives praise from an unlikely source
From Jon Wilner at the San Jose Mercury News … Since the early days of the shutdown, numerous officials from every athletic department in the conference have worked closely (i.e., daily) with conference executives to navigate the pandemic and its impact on Pac-12 sports.
The reaction from campus sources has been overwhelmingly positive to the work done by Scott and Co. with regard to facilitating communication, offering resources, answering questions, relaying information to/from the NCAA and other conferences, and providing expert advice via the coronavirus advisory board.
(That board, so vital to the decisions made by the presidents and athletic directors during the crisis, is the work of football supervisor Woodie Dixon.)
On several vital matters, including the construction of safety guidelines for the athletes to return to campus, the Pac-12 has been out ahead.
In fact, Hotline sources critical of conference operations in the past have offered unsolicited praise for the work done at HQ since the middle of March.
We're not making predictions about Scott's contract (it expires in two years).
We're not making assumptions that the campus/conference alignment will continue unabated or that the Pac-12 will get every decision right over this tumultuous stretch prior to a readily-available vaccine.
We're simply commenting on the facts of the moment as we understand them.
The Hotline endeavors to hold HQ accountable for missteps. But successes should be acknowledged, as well.
… Continue reading story here …
–
—–
July 21st
… CU in a few minutes … 
Survey: Vast majority of fans want sports – even without fans
From ESPN … An overwhelming majority of sports fans polled by ESPN say they support the return of professional and collegiate sports even if fans will not be in attendance due to the ongoing COVID-19 pandemic.
A second wave of ESPN's Coronavirus Lockdown Fan Study surveyed 1,003 sports fans age 18 and older and found 78% were in favor of sports resuming play despite restrictions on fan attendance, a double-digit increase from the previous poll, conducted in mid-April.
With MLS, the NWSL and UFC already underway and MLB, the NBA, the WNBA and the NHL set to resume play in the next couple of weeks, fans are clearly ready for the return of sports — with 59% saying they can't wait to see sports back on television and are planning to watch as much as they can (up from 56% in April). Meanwhile, the prolonged suspension of live sporting events has left 64% of fans with a greater appreciation for them, with 84% of avid fans expressing the same sentiment.
The second wave of the ESPN Coronavirus Lockdown Fan Study was conducted nationwide June 23-26.
–
—–