—
NIL News and Notes
—
April 29th
Travis Hunter signs NIL deal with Phil Long Ford
From On3Sports … Much of the focus around Boulder this week has been spent on Deion Sanders and the transfer portal, but Travis Hunter appears to have landed a new set of wheels.
The Colorado defensive back has inked an NIL deal with Phil Long Ford of Chapel Hills, he announced on his Instagram page. The freshman appears to be sitting on top of a new Ford truck.
"I want to give a special thanks to Phil Long Ford of Chapel Hills for always going above and beyond with the car," he wrote on Instagram.
A former On3 five-star plus+ prospect in the 2022 recruiting class, he stunned the recruiting world when he flipped from Florida State to Jackson State on National Signing Day. He's now followed Coach Prime from the HBCU to the Pac-12.
In his first season of college football this past fall, he tallied 19 tackles with two interceptions and eight pass breakups. He had a touchdown catch and played cornerback in Saturday's spring game, showing that Sanders plans to play him on both sides of the ball at Colorado.
The former No. 2 recruit in the country hasn't wasted any time monetizing his name, image and likeness since arriving in college. He signed a multi-year deal with digital banking platform Greenwood back in July. Since then he has aligned with brands like Celsius Drink, the Michael Strahan Brand, Actively Black and SoHoodie.
Hunter used his commitment to Colorado as a moment to leverage his YouTube following, too. Back on February 1, he said he would make his commitment known when he reached 100,000 YouTube followers. He now has 148,000 subscribers, showing the test obviously worked.
The Colorado cornerback has a $1.7 million On3 NIL Valuation, which ranks No. 3 in college football. It also sits at No. 5 in the On3 NIL 100, which is the first of its kind and defacto NIL ranking of the top 100 high school and college athletes ranked by their On3 NIL Valuation.
… Continue reading story here …
–
—–
March 7th
Buffs4Life to provide $2,000 NIL deals to football non-scholarship student-athletes 
Tweet from Buffs4Life … We are providing $2000 NIL deals to each @cubuffsfootball nonscholarship student-athlete, matching the Alston benefits their full-scholarship teammates receive! #Buffs4Life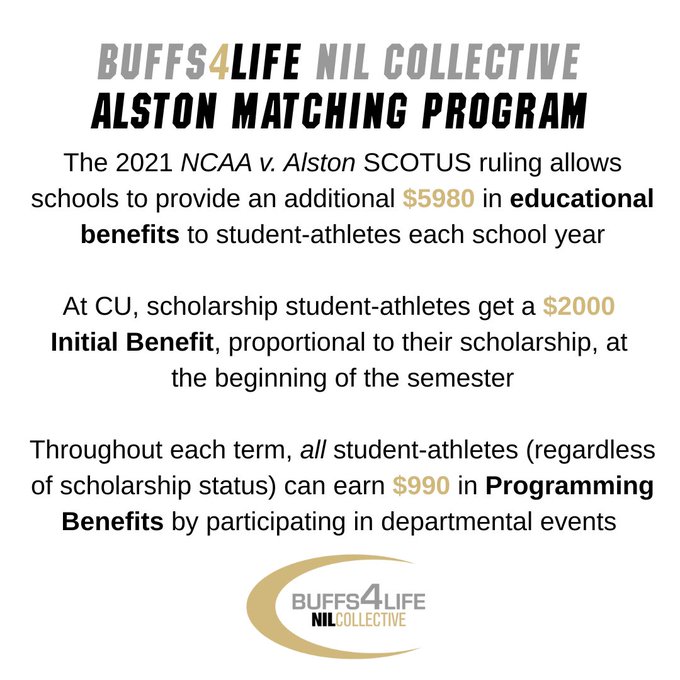 –
—–
March 1st
NCAA making a stand? Memo goes out to cut off Texas A&M NIL Initiative running through its foundation
… Program Note … I just did an interview this morning with Tim Shannon, an attorney with Hutchinson, Black and Cook in Boulder, a law firm specializing in sports law. In addition to discussing all things NIL, we talked about the Texas A&M foundation initiative. The podcast interview will be up here on the website, and at your favorite podcast sites, on Friday … 
From Sports Illustrated … Two weeks after Texas A&M announced a first-of-its-kind name, image and likeness initiative through its fundraising foundation, the NCAA sent a memo to member schools Monday that appears to be directed at the Aggies' new model.
In the short email obtained by Sports Illustrated, NCAA executive vice president of regulatory affairs Stan Wilcox reminded administrators that the association's current rules prohibit a school from compensating athletes for NIL, including "entities acting on behalf of the institution." The memo also expressly stated that schools are prohibited from providing assets to "entities engaged in NIL," such as priority points to stadium seating and access.
Though the email does not mention a specific school, Texas A&M appears to be in the crosshairs.
On Feb. 15, Texas A&M's fundraising arm, the 12th Man Foundation, announced the creation of the 12th Man+ Fund, an NIL initiative allowing donors to contribute to a fund that distributes payments to athletes. While the 12th Man+ Fund does not describe itself as an NIL "collective," it operates as such while under the university—believed to be a first in the country that a school's booster organization is so heavily involved in the NIL space.
Donations to the 12th Man+ Fund, like those to the 12th Man Foundation, are tax-deductible and earn benefits such as priority points, the foundation's announcement said. In satisfying the NCAA's policy for a quid pro quo, athletes are paid by 12th Man+ to promote the foundation itself through social media posts and appearances.
In an interview with SI on Wednesday, Texas A&M athletic director Ross Bjork acknowledged the memo and said the university cleared the initiative through its compliance department.
… Continue reading story here …
–
—–
February 16th
USC NIL in flux after NIL Collective Shuts Down
From On3.com … When USC announced its relationship with Stay Doubted in June, the move was heralded as the next iteration of the NIL collective. In a crowded, undeveloped marketplace, the Trojans looked to have figured it out after slow-playing the first year of NIL.
The media house would provide athletes with a third-party option in searching for NIL opportunities through BLVD LLC. At least seven Stay Doubted employees would be dedicated to activities surrounding BLVD. USC appeared to have been able to carefully craft a sustainable model.
But a bit more than eight months after the initial announcement was posted on USC athletics' website, the web page is dead. BLVD, which defined itself as a "collective+", has closed down day-to-day operations. The organization turned heads, signing Fletcher Jones Motorcars as the official luxury car dealer of the collective and providing more than 100 football players with a Ridel electric scooter. The organization also had plans to secure official partnerships for the Trojans student-athletes, with a goal of raising $75 million in five years.
Two sources with direct knowledge of the situation indicated to On3 the root cause of BLVD's fall was a disconnect between USC and leaders of Stay Doubted.
When the collective initially hit the market, it came after months of backroom planning. Michael Calvin Jones, Stay Doubted's founder and leader of BLVD, worked closely with Brandon Sosna, the right-hand man to athletic director Mike Bohn, to create the framework. They consulted with numerous NIL experts across the country, too. But days before the announcement, Sosna was linked to a job in the Detroit Lions' front office. He eventually left for Lions at the end of June. A key figure was gone after helping hammer out a plan.
With Sosna out of the picture, USC's athletic department advocate for its relationship with BLVD was not at the table. Sources said Riley fully backed the intiative but Bohn was not comfortable pointing key donors toward the collective. BLVD still dished out roughly $2.5 million to USC athletes, a source told On3.
A request for comment from USC on its relationship with Jones and BLVD was not return
… Continue reading story here …
–
—
Opening the floodgates: Florida legislation allows schools to facilitate NIL deals
From ESPN … The state of Florida updated its NIL legislation on Thursday, pulling back on restrictions while allowing universities to provide additional entrepreneurial workshops to their players.
Florida Gov. Ron DeSantis signed HB 7B: Intercollegiate Athlete Compensation and Rights into law with Florida State football coach Mike Norvell, Florida football coach Billy Napier and players from both schools in attendance.
"This is an important and necessary step in the NIL process to bring us more in line with what is happening around the country," Florida State athletics director Michael Alford said. "… We will always make what is best for the student-athlete our top priority."
Among the biggest changes: Schools, teams and coaches will be allowed to help facilitate deals for players. Under current NCAA rules, schools cannot pay players directly or use name, image and likeness deals as inducements for recruiting or retention.
"In 2020, we took a commonsense approach to ensure that student athletes could control their name, image and likeness and be paid fairly for it," DeSantis said. "Now that the NCAA has taken necessary steps to ensure fairness for student athletes, we can focus on making sure that those athletes are supported and protected under the law."
… Continue reading story here …
–
—–
January 3rd
Elite recruits anonymously discuss NIL proposals: "Somebody tried to throw $1 million at me on signing day"
From The Athletic … We caught up with more than a dozen of the best high school football players in the country last week at the Under Armour All-America Game's media day event to tackle a variety of recruiting topics.
We granted them anonymity to gather their insights on NIL deals that were floated their way, the coaches who recruited them the hardest but didn't sign them, and what advice they'd give the Class of 2024 as the next crop of top prospects sets out on their own journeys in the months ahead.
Some elite high school seniors said they passed on big paydays to sign with the program that could develop them the best.
A few already have transfer schools picked out.
What was the largest amount of NIL money discussed with you by a coach or NIL representative?
Player 1: $400K a year. It was surprising, for sure, playing defensive back.
Player 2: I never had money tossed my way in any conversations.
Player 3: Somebody tried to throw $1 million at me on signing day. Somebody called my parents and coaches. My loyalty to the program I signed with isn't worth a million dollars. I'll make that in no time.
Player 4: I don't want to answer that one. It was more than $1 million.
Player 5: (One) school mentioned $3.2 million over four years.
Player 8: Nobody talked NIL with me or threw money at me.
Player 10: Over seven figures. It wasn't the coaches. It was a guy who did NIL stuff. The closer I got to the commitment, the more and more things went up.
Player 11: You're going to look at me like I'm dumb. It was $75,000, a car and my own apartment. But I know you are not getting money if you're bad. The school introduces you to the people who are going to pay you.
Player 12: Numbers didn't come up, but (a few schools) talked about what I could get. Schools knew that wasn't going to attract me, though, so they didn't talk about it much.
Player 13: The biggest amount of money was $3 million over four years. You want to get paid for your results. It played a factor, but not as big as some people think.
Player 14: There were some big numbers, but nothing specific. It was like between $50K and $75K. With the game nowadays, it's normal. Those prices can range depending on how much of an impact you make with the program.
Player 15: I didn't have any numbers float my way. I had a bond with the coach and made my decision based off that.
… Continue reading story here …
–
—–
December 29th
Buffs4Life NIL Collective raises over $100,000 in first month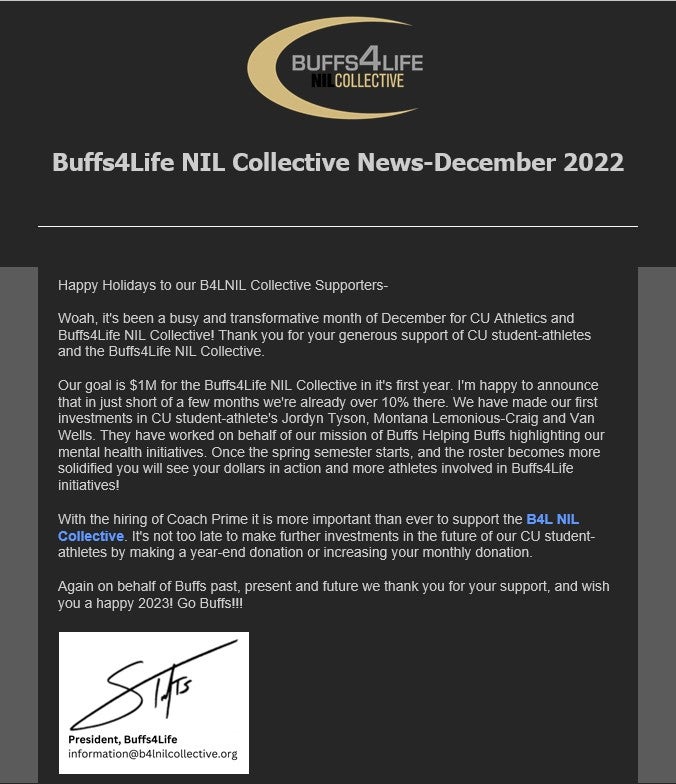 –
—–
December 2nd
Long-awaited NIL from Jeremy Dougherty launched – Goal for Reimagine Athletes, Inc. to raise $150 million for CU athletes
… Related … Reimagine Athletes website …
From the Daily Camera … Jeremy Dougherty has high hopes for the University of Colorado football and basketball teams.
The long-time CU fan hasn't been shy on social media the past few months in expressing his belief that the Buffaloes will win another national title soon in football.
He doesn't just want the Buffs to win on the field, however. He wants to help the student-athletes build successful futures after their time at CU.
On Friday, Dougherty launched Reimagine Athletes, Inc., a 501(c)(3) non-profit corporation with the purpose of giving education grants to CU student-athletes in football, men's basketball and women's basketball.
It is the latest endeavor in the NIL (name, image and likeness) space that has changed college athletics dramatically in the past 18 months.
Dougherty is a fourth-generation Coloradoan who, despite being a graduate of Colorado State, is an avid Buffs' fan.
The founder of the Maroon Bell Outdoor apparel line, Dougherty is hoping Reimagine Athletes will be a game-changer for CU and its student-athletes.
Dougherty's goal is to raise $150 million for the endowment and to distribute grants to the football and basketball student-athletes at CU. The ultimate goal is to cap the annual grants at $100,000 per athlete. Reimagine Athletes would use the name, image and likeness of the student-athletes to promote the project.
In addition to the student-athletes receiving grants, Dougherty plans to connect them with a network of financial, tax and legal professionals so they can get valuable education in financial management and wealth generation.
"We believe by connecting athletes with the community through monetary and non-monetary means will empower and humanize the athletes," Dougherty said.
Dougherty said Reimagine Athletes won't compete with other NIL collectives. In fact, he hopes the student-athletes can get involved with as many NIL deals as possible to help their futures.
… Continue reading story here …
–
—–
November 2nd
Mike Sanford makes a pitch for Buffs4Life Collective: "This is not something that's just going to happen organically"
From the Daily Camera … Mike Sanford spent much of his 24-minute press conference Tuesday talking less about this week's opponent – No. 8 Oregon (7-1, 5-0 Pac-12) visits the Buffs (1-7, 1-4) on Saturday – and more about the Buffs4Life NIL Collective that launched last week with hopes of being able to financially support student-athletes.
For years, Buffs4Life has been a non-profit organization that provides support for former Buffs in need. The group is now extending its support to current student-athletes. From every donation, 15 percent will go to the Buffs4Life Foundation and the rest will go to the student-athletes. Donations can be made to specific teams, groups or athletes.
"I really do believe that this is a game-changing narrative for our program," Sanford said.
… Numerous schools around the country have had NIL collectives for months, but CU has not up to this point. CU did, however, launch the Buffs NIL Exchange in January that allows businesses to partner with CU student-athletes.
This season, CU has had several young players emerge as playmakers, such as receiver Jordyn Tyson, quarterback Owen McCown and more. The Buffs4Life NIL Collective could help CU in retaining some of its best young players – and Sanford used his platform Tuesday to speak to potential donors.
"I'm calling on former Buff players; I'm calling on people in this CU community that support football and want us to have a great product on the field," Sanford said. "This is where we have to go. This is not something that's just going to happen organically. And it doesn't matter if it's a small gift or a major gift. Everything is going to help get us to where we want to get."
NIL has impacted recruiting and the transfer portal around the country. Sanford said that in the past two years, including his roughly 11 months at CU, he's seen that impact.
"There's been several stories … where we're in deep with a recruit, or a transfer, even sometimes a personal connection to that transfer," Sanford said. "And we're on the phone, everything's good, there's going to be an official visit and then all of a sudden it goes completely silent. You can't get any text back, you can't get any phone calls back.
"We find out hey, that particular student athlete went from essentially having no NIL on the table in general, from any school, and then all of a sudden, literally a $300,000 or $400,000 deal is on the table. So this is real, and this is where we're stepping into this space as a football program."
… Continue reading story here …
–
——
October 28th
Buffs4Life launches CU NIL Collective
From Buffs4Life …
The Buffs4Life Foundation, a 501(c)(3) organization, is a support system that provides financial assistance, mental health resources, and community to former CU Boulder student-athletes in need. We have created the Buffs4Life NIL Collective to extend this support to current student-athletes, to strengthen the bond between generations of Buffs, and to continue to elevate mental health awareness.
A tax-deductible financial contribution to the Buffs4Life NIL Collective can be made to the general fund that supports all CU student-athletes or to a specific team, group of student-athletes, or an individual student-athlete. 15% of every donation goes to the Buffs4Life Foundation while the rest goes directly towards compensating student-athletes for their name, image and likeness.
–
—–
October 26th
NCAA updates NIL guidelines: Coaches can be involved in endorsement and sponsorship deals
… Except at the University of Colorado, of course … 
From ESPN … The NCAA's Division I Board of Directors approved on Wednesday new guidance to members on name, image and likeness activities, clarifying how schools, coaches and staffers can be involved with athletes' endorsement and sponsorship deals.
The latest clarifications to the NCAA's interim NIL policy create no new rules, but are intended to give athletic departments a better idea of what types of support fall outside existing bylaws.
"The NIL landscape is constantly evolving, and the Board of Directors decided it was important to offer further guidance with respect to a number of key questions that have arisen recently," said Georgia president Jere Morehead, chairman of the D-I board. "As we continue to reinforce current NCAA rules, we expect to offer further guidance in the future on what should and should not be done when engaged in these activities."
The NCAA spelled out numerous activities that were permissible and impermissible.
Broadly, the NCAA said schools cannot be involved in sourcing, negotiating or facilitating NIL deals for their athletes. Services related to NIL deals, such as legal review of contracts, can only be provided if those same services are available to the entire student body.
"The only services that schools are really allowed to provide for athletes under this new guidance are educational services: How to build your brand. How to handle finances, taxes and stuff like that," sports law attorney Mit Winter said. "But [schools] can't be providing any service that's going out and helping the athletes actually find deals unless that service is available to all students."
The NCAA's interim NIL policy falls back on existing rules and makes it impermissible for NIL deals to be used as recruiting inducements or pay-for-play or performance-based compensation.
Schools also must adhere to state laws regarding NIL compensation for athletes. Dozens of states have NIL laws, some that already prohibit schools from facilitating deals for athletes.
"But a lot of the state laws allow facilitation of deals and some were even amended to take out prohibitions on facilitation," Winter said.
The last time the NCAA provided guidance to members it was to clarify rules related to booster-funded collectives, their roles in providing NIL deals to athletes and recruiting.
The latest guidance said school personnel, including coaches, can be part of fundraising for collectives, booster-funded organizations that provide opportunities for athletes to profit from their names, images and likenesses. But coaches and school staff members cannot donate directly to collectives.
"School staff members also cannot be employed by or have an ownership stake in an NIL entity," the NCAA said.
"Schools also can request donors provide funds to collectives and other NIL entities, provided the schools do not request that those funds be directed to a specific sport or student-athlete."
–
—–
October 12th
CU Hosting an NIL "Happy Hour" on Tuesday October 18th
… Read it twice, but still not sure what CU is hoping to get out of this. At least CU is trying something, which is more than its been doing up until now … 
From CUBuffs.com …
CU Athletics is hosting Meta (formerly Facebook), and INFLCR (a TeamWorks company) on Monday, October 17, and Tuesday, October 18 for two days of departmental and campus events focusing on the student-athlete name, image, and likeness and the role of social media in the NIL landscape.
Our guests are Dev Sethi, Global Head of Sports for Instagram, Nick Marquez, Student-Athletes & Emerging Sports Creators for Meta, Alena Casey, Public Policy & Community Engagement Manager for Meta as well as the Senior Director of Marketing for TeamWorks' Collegiate Division and two TeamWorks/INFLCR product success managers, Sean Kelly and Shan Lee.
The culminating event of the campus visit is a happy hour networking event on Tuesday the 18th at 4 pm in the Dal Ward Touchdown Club. We will begin with a brief foundational overview of NCAA and CU Athletics NIL protocols, then we will hear from Buffs coaches and staff members about the important role that NIL plays in the well-being of the athletic department, followed by the unique perspectives of the NIL industry from our Meta and INFLCR guests. This event is free and open to community members, beverages and hors d'oeuvres will be provided. Click here to RSVP.
If you have any questions at all, please reach out to Sadie.baker@colorado.edu.
–
—–
August 23rd
Boulder NIL Club formed 
An NIL Club has been put together online, and can be found here. The Boulder NIL Club is not the group which Jeremy Dougherty has been promising on Twitter (he has specifically said on Twitter that the Boulder NIL Club is not of his doing. Much bigger things are coming. When? … Who knows?).
The set up for the website is not overly impressive, but it is the exact same set up that Oregon players have for their Eugene NIL Club. That being said, the Boulder NIL Club is hoping to raise $5,000/month, while the Eugene NIL Club is looking to have $50,000 coming in monthly. Oh, and that also doesn't include Phil Knight's Division Street Collective, which has been raising (and spending) money for over a year now …
… See what you think … Below is the "Player Statement" issued by the Boulder NIL Club …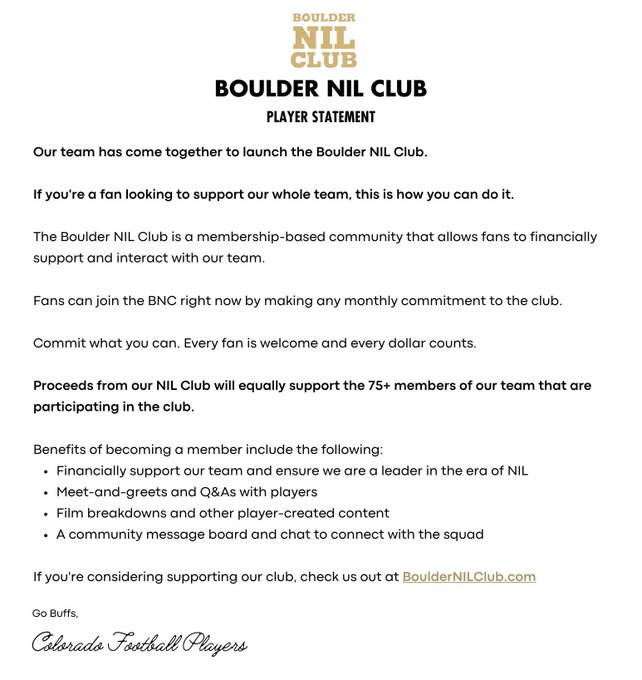 –
—–
August 5th
(Some positive Pac-12 news) Pac-12 initiative to allow football players to make NIL money from tweeted highlights
From ESPN … Pac-12 football players now will be able to get something more than retweets for their highlights.
On Thursday, the conference announced an initiative alongside Twitter, NIL marketplace Opendorse and sports technology startup Tempus Ex Machina that will allow football players to monetize videos of their top moments on the field.
During the 2022-23 season, Tempus Ex Machina, which has a partnership with the Pac-12, will provide athletes with a custom digital video after each game that includes their best plays and camera shots from various angles.
Once players tweet their highlight reel out, Twitter's Amplify platform will populate the video with pre-roll advertising. According to the Pac-12 and Twitter, the athlete will be paid based on the advertisement that was sold.
In exchange for posting two highlights per week after a win or a loss, football players who are approved for the program will receive a total of $1,250 as well as a potential percentage of the program's overall revenue, a source familiar with the deal told ESPN.
"The Pac-12 is committed to providing our student-athletes with best-in-class technology, tools and promotional platforms that support their individual brands," Pac-12 commissioner George Kliavkoff said in a statement. "Our partnership with Tempus Ex is focused on enhancing our student-athlete and fan experiences, and today's announcement is another important step in positioning the Pac-12 as a leader when it comes to student-athlete promotion and brand building."
According to the release, the Pac-12 is the first conference to provide athletes with the ability to monetize their highlights.
… Continue reading story here …
–
—–
June 29th
Ohio State AD Gene Smith: Schools need to be involved in NIL deals
From CBS Sports … With the one-year anniversary of name, image and likeness coming Friday, one of its key influencers has a key suggestion: It might be time to allow schools to become involved with helping athletes arrange NIL deals.
"NIL is working largely in a whole lot of places," Ohio State athletic director Gene Smith told CBS Sports. "Of course, no one writes about those. Everybody's reporting on the plane crashing. I understand that, but the reality is we need to come up with a strategy to deal with inducements.
"One of those [solutions] might be institutions having more involvement. That's being discussed, and it needs to be continued to be discussed."
Even though the NCAA's bare-bones interim policy, adopted at the onset of NIL, didn't provide much guidance, it stated "the expectation" is that schools and athletes will not use NIL to compensate for athletic participation. The NCAA also warned about the dangers of an "improper inducement" if the two parties worked together.
Some of that language seems laughable now that NIL has evolved. The combination of NIL and the one-time transfer policy has turned some players into athletic mercenaries auctioning themselves off to the highest bidder.
One high-profile coach told CBS Sports during the NCAA Tournament that recruits routinely begin conversations with, "How much can I get [in NIL benefits]?"
Several states now allow coaches and athletic administration officials to assist in NIL deals. State NIL laws largely supersede NCAA policy, which has led to what some call a competitive advantage as some state laws don't allow school involvement on NIL deals.
Criticizing the unregulated marketplace, Smith and Ohio State football coach Ryan Day recently told Columbus, Ohio, business leaders it would take $13 million to keep the Buckeyes roster intact in this NIL era.
"That's another reason why it should be beneficial for schools to have engagement," Smith told CBS Sports.
Schools are allowed to inform prospects of financial possibilities, but they aren't allowed to use them as inducements. That's where the finest of lines is drawn. Before and during the NIL era, inducements — a fancy way of saying tampering — are hard to prove.
… Continue reading story here …
–
—–
June 27th
Miami quarterback recruit agrees to $9.5 million NIL deal: "He did not pick the highest offer"
From BleacherReport.com … Quarterback recruit Jaden Rashada is apparently going to get paid quite handsomely as he joins the Miami Hurricanes football program.
Jeremy Crabtree of On3 reported the 4-star prospect and No. 7 quarterback in the class of 2023, per 247Sports' composite rankings, agreed to a $9.5 million name, image and likeness deal with Miami booster John Ruiz and also turned down an $11 million offer from Florida's Gator Collective.
"Jaden left millions on the table," Michael W. Caspino, who is known as an NIL lawyer, said. "Millions. He did not pick the highest offer. He went there because he loves Miami, the coaches and the opportunity."
Caspino also said Florida's NIL collective needs some work in this new era of college football.
"Florida is the most dysfunctional collective in all of college football," he said. "I plan on steering my clients away from them. From my standpoint, I never ever want to deal with them again. If it weren't for the collective that's completely dysfunctional at Florida, he probably would have been there."
… Continue reading story here …
–
—–
June 22nd
NCAA NIL Summit: "Schools aren't offering nearly enough help"
From ESPN … It has not yet been a full year since legislation first took effect allowing college athletes to profit from their name, image and likeness (NIL), and we've already seen a public spat between national title-winning coaches accusing each other of illicit payments to players, reports of a recruit landing an $8 million NIL deal before playing a single college snap and message-board furor over possible NIL inducements used to lure the reigning Biletnikoff Award winner into the transfer portal.
At Miami, the NCAA is curious about NIL deals offered by a big-name booster. Ohio State coach Ryan Day suggested the school needed $13 million in NIL funding to maintain its roster. On and on, the ripple effects of last year's landmark shift on NIL has created chaos around college athletics.
But inside the College Football Hall of Fame this week, hundreds of college athletes met with corporate executives, influencers and startups for an NIL Summit, hosted by NIL content platform INFLCR, that felt like a respite from the controversies. Here, Meta talked about investing in college athletes as the next generation of content creators, former WWE star Paul Levesque — aka Triple H — announced partnerships with current college athletes across myriad sports who might one day be the next breakout pro wrestlers, and SEC football stars, like Will Levis, exchanged NIL advice with Division III women's basketball players.
Indeed, the three days of the NIL Summit offered a different window into what's happening on college campuses now immersed in the world of name, image and likeness, and much of the feedback garnered from ESPN's conversations with more than a dozen athletes, lawyers, agents and entrepreneurs stood in stark contrast to the bulk of the recent headlines.
Here's some of what we learned.
The schools aren't offering nearly enough help.
The past year has brought its fair share of impressive-sounding news releases touting new NIL departments at schools across the country, but the reality is, few of these programs are providing the help athletes need.
Nearly every athlete who spoke with ESPN at this week's summit said the bulk of their NIL deals came from cold-calling businesses or old-fashioned hustling. Many were either unaware of the tools their schools might have available or found those facilities failed to offer fundamental tools like advice on contract law, financial planning, networking opportunities or basic life skills. Several attendees said they'd heard from athletes who didn't even know how to open a checking account to deposit NIL checks.
While some schools have clearly made NIL a priority, others are handicapped by state laws restricting their ability to assist athletes while still more simply lack the appropriate resources to help, often staffing NIL departments with unqualified labor or adding NIL duties to the job responsibilities of already overworked sports information or compliance department staff.
This seems like an area ripe for change, however. Competition in the NIL space will force schools to adapt — whether they want to or not. In an ideal world, that process will include athletes as partners in developing support systems.
In the interim, many of the athletes ESPN spoke with at the summit were interested in supporting teammates and players at other schools, including setting up their own businesses for NIL training and education.
Collectives aren't all bad — but some are.
While the NIL Summit largely focused on traditional branding and marketing, it was impossible to ignore the emergence of collectives — groups of boosters and fans who contribute to a fund aimed at providing NIL opportunities to athletes. Collectives have come under scrutiny due to a lack of regulation and near-constant rumors of inducements to recruits and transfers or pay-for-play deals offered to incumbent players.
While no one seemed eager to deny the potential hazards that come with collectives, several agents and attorneys involved in the NIL space said collectives run the gamut from well-run, athlete-focused and financially stable to essentially shell corporations with dubious interest in supporting players.
For the most part, however, they suggested collectives are well-intentioned, if not always particularly helpful. Collectives hoping to serve as a one-stop shop for all things NIL might struggle to provide adequate expertise, making it possible athletes ink bad deals, sign away long-term likeness rights or get bad legal advice simply because they trusted the collective to do a job its employees weren't qualified to do.
–
—–
June 20th 
Pac-12 commissioner George Kliavkoff on NIL: "It's unfortunate that we're not enforcing the rules we've all agreed on"
From The Athletic …
Your tenure has overlapped fully with the NIL era. What are your biggest takeaways a year into NIL?
That it's unfortunate that we're not enforcing the rules that we've all agreed on, the rules that are already in place. I am 100 percent in favor of name, image and likeness and our student-athletes being able to benefit from their own work the same way that a music student who's on scholarship or a student on an academic scholarship can benefit from their name, image and likeness without losing their scholarship. I never understood why there was a distinction for athletes. I'm in favor of NIL, but I do think that it's important that we started enforcing the three rules that everyone's agreed to, which is that it should not be used for inducements. It should not be used for pay-for-play. The amount paid should be commensurate with the work, which is often referred to as quid pro quo. If we enforce those three rules, I think it would be a great system. I think our student-athletes would benefit, and it wouldn't be causing the chaos that it's currently causing in recruiting.
What we're really talking about is about boosters and collectives of boosters having no contact to student-athletes who are still prospective. Once a student-athlete has committed to a school, they should be allowed to talk to anyone about name, image and likeness. The school should even be able to make those introductions. But before a student commits, if you're talking to that student about NIL, that is inducement. That is tampering.
What are your biggest priorities as you head into that round of media rights negotiations?
We have three priorities. The first priority is revenue. We want to make sure that on a per school basis, we are distributing enough dollars to keep us competitive with conferences that we regularly compete with. The second is broad distribution. I think we're actually harmed by the fact that our current distribution on the Pac-12 Network is limited. My goal in distribution is to be able to allow fans, alumni and parents to be able to watch all of our games on any piece of glass connected to the internet. The third priority is some flexibility in the way that we schedule to be able to allow us to not be in a competitively disadvantaged position on scheduling.
The most obvious example of that is we are the only Power 5 conference that is in the Mountain and Pacific time zones, so we can schedule games in prime time Pacific that no other Power 5 conference can schedule, and that fills a very important timeslot for our media partners. The tradeoff there is that the Mountain and Pacific time zones only hold 25 percent of the population of the United States. So if you're playing a game in prime time Pacific, 75 percent of the US — and I would argue a larger percentage of older AP and CFP voters and Heisman voters — don't necessarily see all of your game. That puts us at a competitive disadvantage. We're committed to continuing to play in games at night on the West Coast, but we want to have flexibility so that our teams that have put themselves in a position for a NCAA Tournament bid or a CFP invitation or a student-athlete who's lined up for the Heisman or other similar accolades is not competitively disadvantaged by having to play all of their meaningful games at night on the West Coast.
–
—–
June 16th
USC Athletics announces NIL Agreement with media agency 
From usctrojans.com … Any USC student-athlete who wants a professional service provider to support their pursuit of NIL opportunities will soon have that service available to them through a third-party agency.
USC Athletics has reached an agreement with Stay Doubted, a modern-day media agency empowering the next generation of student-athletes and fans, to provide enhanced NIL services to its student-athletes, USC Director of Athletics Mike Bohn announced Wednesday.
Stay Doubted has managed over $63 million in sports partnerships, including more than $1 million in collegiate athlete partnerships in the first year of the NIL era. It also has an impressive client roster in the brand partnerships space, having worked with companies such as Amazon, Microsoft, State Farm, Verizon, lululemon, and many others.
Stay Doubted has established a subsidiary, BLVD LLC., which will operate as an agency and media company that will exclusively serve USC student-athletes to assist with the development of NIL opportunities. Stay Doubted will have at least seven full-time employees dedicated to BLVD activities.
"From the moment the NCAA revised its rules regarding the use of NIL, President Carol L. Folt encouraged me to develop the best NIL support program in the nation for our student-athletes consistent with our vision to be the most student-athlete centered program in the country," said Bohn. "We offer dozens of services to support all aspects of the student-athlete experience: coaching, medical, academic, nutrition, strength training, sports psychology, career planning, and so many more. NIL is a new dimension of the student-athlete experience, and we want to provide best-in-class services to our student-athletes in this area as we do all others."
"I am grateful to President Folt for her leadership and guidance as we developed this program. We have patiently studied the NIL environment both within our program and nationally to inform our decision-making. We believe every student-athlete should have access to NIL support resources and currently only about 3% of our student-athletes have engaged professional service providers. We strive to support our student-athletes in all ways, including in the NIL space. We are thrilled to be able to meet this need and make these resources available through a qualified and reputable third party for our student-athletes should they wish to take advantage."
All USC student-athletes will have the opportunity to voluntarily opt-in to non-exclusive NIL representation through BLVD. The student-athletes will sign their own industry-standard representation agreements with BLVD. The university will not be a party to those agreements, nor will it receive any share of revenue from student-athlete NIL endeavors. While BLVD will provide its services exclusively to USC student-athletes, those student-athletes may also supplement their BLVD representation with other professional service providers. All BLVD activities will be conducted in a manner consistent with California state laws, NCAA rules, and the USC Athletics Student-Athlete Name, Image, and Likeness (NIL) Policy.
"Since the inception of NIL, the focus has been on establishing long-term sustainable structures that place student-athletes at the forefront of opportunities and industry-leading resources," said Michael Jones, CEO of Stay Doubted. "This arrangement achieves that and more. The economic power of Los Angeles is a differentiator that is hard to match. We are prepared to use the Stay Doubted network of brand partners and in-house capabilities to establish BLVD as a leader in the NIL era."
Through its services, BLVD will assist with the development of NIL opportunities for USC student-athletes, including sponsorships, group licensing, promotions and events, and merchandising. All USC student-athletes who voluntarily opt-in to BLVD representation will be equipped with digital "media kits," which will be available online and showcase the student-athlete's brand, social media accounts, and key social media metrics.
–
—–
June 15th
Outspoken Miami NIL mega-booster under NCAA scrutiny: "Nothing to be alarmed about at all"
From CBS Sports … After spearheading one of the most significant and well-publicized name, image and likeness campaigns in college sports over the past several months, Miami mega-booster John Ruiz is part of an NCAA inquiry into NIL practices, the prominent attorney confirmed to CBS Sports' Dennis Dodd. NCAA enforcement staff visited Ruiz last week as the beleaguered organization tries to gain a foothold in policing NIL deals as a means of "pay for play" in the college landscape. Ruiz said he voluntarily said down with the NCAA.
"It was very forward, clean cut," Ruiz told Dodd. "Nothing to be alarmed about at all. Very professional, very positive."
The probe into the Hurricanes comes after the NCAA Division I Board of Directors issued broadened guidance last month that can define "collectives" that facilitate NIL deals for prospects as "boosters." NCAA rules prohibit boosters from recruiting athletes or providing prospects with benefits. Ruiz told CBS Sports he would like to see schools approve "entities" involved in NIL deals. He also said the NCAA should require approval of agents or lawyers involved in NIL deals. The NCAA currently doesn't allow schools to arrange deals; however, several states have enacted legislation allowing just that.
One of Ruiz's business ventures, a health company called LifeWallet, made major waves in April by facilitating a two-year, $800,00 deal for Kansas State basketball player Nijel Pack, who ranks as the No. 2 transfer of the offseason. LifeWallet also reportedly helped arrange a deal for Arkansas State transfer Norchad Omier, who ranks No. 14 in the transfer rankings.
The NCAA's May guidance on NIL and clarification that collectives can be classified as boosters also carried a warning. The NCAA said it could review prior cases "to pursue only those actions that clearly are contrary to the published interim policy, including the most severe violations of recruiting rules or payment for athletics performance."
–
—–
June 10th
The cost for a New Mexico booster to buy a national title in four years? $644 million (For CU? A mere $500 million or so)
From Andy Staples mailbag at The Athletic … A foreign entity is trying to buy up the talent in a particular sport, and you're wondering if that can happen in college football …
Let's say a Saudi prince decided he's a huge UMass fan. How much would he have to invest and how long would it take for them to get to the College Football Playoff? — Josh
Fun fact: Jeff Bezos was born in Albuquerque, where his father attended the University of New Mexico. Let's say that, in honor of his dad, Mr. Bezos decided to pour a large portion of his nigh-unlimited resources into a NIL group whose only goal would be recruiting elite players to his father's alma mater. In this very hypothetical scenario, how long would it take for the Lobos to win the CFP? — Jason
Ari Wasserman posed a question on the podcast recently that was similar to those asked by Josh and Jason. Basically, could someone rich enough come in and buy a national title? The answer is probably yes, but it would take a lot more money than most would think, the money wouldn't all necessarily be going to the players and it still would require a few breaks along the way.
This concept of using a giant, seemingly bottomless pot of money to influence a sport is in the news because of LIV Golf. This is a new series of tournaments sponsored by the Saudi Arabian government's Public Investment Fund, a massive trove of money earmarked to clean up the country's image on the world stage. The league is guaranteeing reported nine-figure annual sums to golfers such as Dustin Johnson, Bryson DeChambeau, Patrick Reed and Phil Mickelson to play in small-field, no-cut tournaments and hoping their star power will produce favorable coverage.
Spoiler alert: So far, it has not.
The questions from Josh and Jason also have parallels in English Premier League soccer. The league formed in 1992, and three years later Blackburn Rovers — which had finished 19th in the second division in 1991 — were celebrating a title. That title was bankrolled by local steel magnate Jack Walker, who improved the stadium, paid to lure manager Kenny Dalglish out of retirement and paid then-record transfer fees to secure stars such as Alan Shearer and Chris Sutton. Walker, a Blackburn native who grew up cheering for the club, couldn't sustain the level of investment required to compete year-in and year-out with the likes of Manchester United and Arsenal.
Who could? A Russian oligarch or an Emirati billionaire.
Roman Abramovich bought Chelsea in 2003, and the club won the league five times between 2005-17 — despite an atmosphere that made firing managers as normal as breathing. Abramovich was recently forced by the British government to sell the team following the Russian invasion of Ukraine, but he spent more than $2.5 billion in transfer fees — the amount paid to other clubs to sign their players — during his time as Chelsea's owner. In 2008, Sheikh Mansour bin Zayed Al Nahyan bought Manchester City. Man City has won six titles since 2012, including the most recent one.
So yes, it's possible to buy dominance in a league that doesn't have an effective salary cap. That certainly describes college football in 2022. But what would it take to fund the ascension of a UMass or a New Mexico to the top of the sport?
A lot, but definitely not as much as it would cost to buy Premier League titles.
Let's start with infrastructure. A fancy stadium isn't a top priority. Fans won't come until the teams start winning. But having day-to-day facilities that rival the programs you're trying to match is necessary if only to convince recruits that you're serious. And that will cost serious coin. A state-of-the-art football operations center with an attached indoor practice facility probably will cost at least $150 million. Our hypothetical prince probably will want that done within the next two years, so he's going to have to pay a premium. So that pushes the price closer to $225 million.
Next, these teams will need coaches. Thanks to Nick Saban, Jimbo Fisher, Mel Tucker and Brian Kelly, we know the top of the market at the moment is about $10 million a year, guaranteed for seven to 10 years. Because neither of these teams are established college football powers, they'll have to drastically overpay. Like LIV Golf, they need to offer so much money that the targets can't help but say yes. To guarantee they do, let's double the going rate for an elite coach. They'll need to guarantee $20 million a year for 10 years. So that's another $200 million.
That head coach is going to demand elite assistants. The top programs have an assistant salary pool of about $8 million. Let's double that to guarantee the targets say yes. So each year, the coaching and support staff will cost $16 million.
Now, let's get some players. As you noticed above, Chelsea and Man City didn't win the Premier League every year. Manchester United remained a powerhouse. Arsenal routinely finished in the top three through 2016. Liverpool, which is owned by Boston Red Sox owner John Henry's Fenway Sports Group, has become a power. This is a long way of saying Alabama, Georgia and Ohio State aren't simply going to cede dominance to the Minutemen and the Lobos just because they started throwing around cash. Ditto for Texas A&M, Tennessee, Nebraska and the other programs that have shown they have no trouble spending money even if it doesn't bring them championships.
Once again, our upstarts will have to pay a premium for players. Recently, Ohio State coach Ryan Day estimated that it would cost $13 million a year in the new world of Name, Image and Likeness deals to keep a championship-level roster together. That's probably true if you're Ohio State or Alabama and you can show players a proven track record of alums going high in the NFL Draft. UMass and New Mexico won't be able to reasonably promise that — at first — so once again they'll have to embrace the LIV Golf model and offer so much that the targeted players simply can't say no. So we'll channel our inner sliced bread and set the payroll at $30 million a year.
This still guarantees nothing. The coaching staff will have to choose the correct mix of players who fit the schemes the coaches choose to run — not simply the highest-rated collection of recruits who will take the money. This probably can be accomplished faster on the transfer market. Older players will have shown how effective they are while playing in specific schemes. They would be easier to target, but probably more expensive to lure away. So maybe we bump the payroll figure to $35 million a year. Again, these programs need to make sure the players can't even think about saying no. Also, these teams are going to have to tamper like crazy. Good thing the NCAA will never do anything about tampering because, as The Athletic's Max Olson so astutely pointed out, "Coaches like to reserve the right to tamper."
Do all that, and I think it's possible to get a team in the CFP by the end of the fourth season. So how much would that cost?
Facility: $200 million
Head coach: $200 million (Remember, the contract is fully guaranteed. You're paying regardless of what happens.)
Staff costs: $64 million ($16 million times four years)
Player payroll: $140 million ($35 million times four years)
And let's tack on another $10 million a year in various logistical costs.
All in, that's $644 million to turn UMass or New Mexico into a national title contender within four years.
If any billionaires feel like becoming the most popular person in Amherst or Albuquerque, step right up. I, for one, can't wait for the upcoming UMass-New Mexico national title game.
–
—–
June 8th
Ohio State quarterback C.J. Stroud gets a leased Bentley in NIL deal
From CBS Sports … Ohio State quarterback C.J. Stroud followed up a Heisman finalist-caliber season by signing a Heisman-caliber NIL deal. Stroud will drive a leased Bentley Bentayga around campus after signing an endorsement contract with Sarchione Auto Gallery in Canton, Ohio, according to the Columbus Dispatch.
A new 2022 Bentley Bentayga starts at $160,000, but can easily clear $200,000 with additional features. Stroud will receive a lease in exchange for promoting Sarchione Auto Gallery on social media and making promotional appearances in the showroom. Stroud will be eligible to trade in his sweet ride for another luxury car in 45 days, if he chooses.
"When you talk to people, whether it's in the community or at the game, our brand awareness is what we're building," Sarchione general manager Ryan Burton told the Dispatch. "When you have the best-of-the-best promoting your brand, it only does good things.
Stroud completed 71.9% of his passes for 4,435 yards and 44 touchdowns during a breakout 2021 season, culminating in a Rose Bowl victory in which he threw for 573 yards and six touchdowns in a 48-45 win over Utah. Stroud is projected to go No. 1 in the 2023 NFL Draft by CBS Sports' Josh Edwards.
Stroud's deal comes a week after Ohio State coach Ryan Day told Columbus-based donors that he believed it would take $13 million in NIL contracts to keep the Buckeyes' roster together.
"One phone call and they're out the door," Day said. "We cannot let that happen at Ohio State. I'm not trying to sound the alarm, I'm just trying to be transparent about what we're dealing with."
The Buckeyes announced following a June 2 panel that more than 900 NIL contracts have been signed involving all 36 Ohio State sports. The university has tracked endorsement deals totaling more than $3.5 million, which it claims ranks No. 1 among all universities.
Sarchione Auto Gallery previously provided former Ohio State star Chris Olave with a BMW X7 in the lead-up to the NFL Draft. The gallery also has endorsement deals with several members of the Cleveland Browns. Burton said that the auto dealer plans to execute more deals with Ohio State players down the line.
–
—–
June 2nd
Ohio State figuring it will need around $13 million/year in NIL money to keep roster intact 
From cleveland.com … Speaking to about 100 members of the Columbus business community on Thursday morning, Ohio State football coach Ryan Day put a Name, Image and Likeness price tag on what he believes it will take to keep the Ohio State football roster together.
That rate? $13 million.
To some schools engaged in NIL payments at the highest level right now, that number might sound small and quaint. To many other schools in the Big Ten, it may sound gigantic and impossible. As usual, it's a number that puts Ohio State in the thick of the latest changes to college sports, as the Buckeyes always say they seek to straddle the line of keeping up without going too far.
And while it might be tempting to look at $13 million for an 85-man scholarship football team as $150,000 per player, I think the better calculation is something closer to $500,000 each for the 26 guys you can't live without.
Ohio State hosted the event at the Covelli Center on campus to unveil an NIL Corporate Ambassador Program to encourage businesses to hire OSU athletes through the athletic department. Businesses get the athletes as endorsers and can provide internship and educational opportunities. And the athletes get paid.
But the event was also a clear signal that Ohio State is making the moves it believes it needs to make to keep up in an unregulated NIL world, where the NCAA is sitting on the sidelines as states and athletic departments implement different rules and hand out millions of dollars in different ways to keep players on their teams, or get players to their teams.
Ohio State, as it often does, is trying to occupy a middle ground. On a 30-minute panel featuring Day, athletic director Gene Smith, and Carey Hoyt, the senior associate AD overseeing the NIL efforts, Smith referenced schools that are basically directly paying recruits through NIL right now, which isn't technically allowed by NCAA rules but isn't currently being enforced at all.
"Unscrupulous characters are good at what they do, and it's always been that way," Smith said.
… Continue reading story here …
–
—–
May 12th
Proposal: Eliminate one-time transfer rule to curtail NIL transfers 
From CBS Sports … Former College Football Playoff chair Gary Barta believes he has a solution for the quickly ballooning name, image and likeness market, which has the NCAA and its member institutions scrambling for guardrails nearly a year after its inception. Barta, Iowa's athletic director, suggested on the "Fight for Iowa" podcast Thursday that repealing the NCAA's one-time transfer policy would slow a feverish transfer market fueled by booster collectives disguising pay-for-play deals as NIL.
Enacted a year ago, the policy allows undergraduates to transfer one time while maintaining immediate eligibility.
"The transfers — again, allowing a student transfer without having to sit a year — if it wasn't for NIL, it's a good move … a good idea," said Barta. "Now, when you combine it with NIL, it has just become what many have called it: the 'Wild, Wild, West.' One idea … and I'm pursuing this and throwing it out [there] is, if we can't totally control NIL, then let's go back and put a one-year [sit]. If you transfer, you don't have to lose your scholarship, but you must sit out a year. Because we can control that. And that I think [it] would slow down the NIL deals because a booster isn't going to offer a student-athlete a big sum of money if they know they come to their university and have to sit out a year."
Unlike others in his position, Barta called NIL "a good thing … but what has happened is it is now being used for recruiting inducements. That was never intended. It still is against the rules, but it's blatantly being abused."
The NCAA agrees. The Board of Directors released new guidance on Monday in an effort to dissuade boosters and collectives from promising high school prospects and potential transfers NIL deals.
It's possible reverting back to a previous rule forcing athletes to sit out a year of competition after transferring could curtail the massive influx of portal entrants hoping to cash in on more lucrative NIL deals elsewhere. Booster collectives that have popped up to support their school's NIL endeavors have a target squarely on their back now.
The NCAA's blanket year of eligibility in the wake of COVID-19 has also contributed to roster management difficulty, however, and putting the toothpaste back in the tube by restricting freedom of mobility for players just one year after they gained it could prove difficult.
–
—–
May 10th 
NCAA Board of Directors issues NIL guidelines (but will they – can they – be enforced?)
From CBS Sports … The NCAA Division I Board of Directors announced new guidelines in regards to name, image and likeness on Monday with emphasis on recruiting —  specifically targeting inducements and new NIL collectives that have formed across the country. CBS Sports' Dennis Dodd previously reported the guidelines would be presented to member schools on Monday.
The guidance clarifies existing rules that explicitly disallow boosters from recruiting through either interaction or providing direct aid to recruits. The new clarification takes specific aim at so-called "collectives" created by booster factions to sign prospective student-athletes from either high school or the transfer portal to contracts.
"Today, the Division I Board of Directors took a significant first step to address some of the challenges and improper behaviors that exist in the name, image and likeness environment that may violate our long-established recruiting rules," said Jere Morehead, chair of the board and president at Georgia. "While the NCAA may pursue the most outrageous violations that were clearly contrary to the interim policy adopted last summer, our focus is on the future."
Definitionally, a booster is referred to as "any third-party entity that promotes an athletics program, assists with recruiting or assists with providing benefits to recruits, enrolled student-athletes or their family members." A significant number of these collectives have popped up at major universities since the birth of the NIL era. Some have estimated the total at more than 100.
Perhaps the most notable collectives have shown up in the Southeast. Miami has publicly signed prospects to NIL deals, including a two-year, $800,000 deal with digital health app Life Wallet. The company is owned by noted Miami booster and attorney John Ruiz. Texas also started what they deemed a charity — Horns with Heart — which provides at least $50,000 to every scholarship offensive lineman on the roster. Right after the announcement of the initiative, the Longhorns landed a wave of blue-chip linemen to close out the 2022 recruiting class.
The new guidelines on Monday asked NCAA enforcement to review violations to these new rules prior to May 9 on a case-by-case basis. However, retroactive NCAA enforcement would only be expected to pursue egregious violations of the interim guidelines.
Previously, the NCAA had only issued an interim NIL policy on June 30, 2021, just one day before numerous state NIL laws went into effect after a crushing NCAA loss in the Supreme Court to clear the way. The interim rules noted that players would only be bound by state laws, that they could be repped by agents for NIL endeavors and that athletes were mandated to report NIL deals.
… Continue reading story here …
–
—–
May 9th 
Quotable NIL Quotes (Oklahoma and Texas coaches comments laughable)
From CBS Sports … CBS Sports offered college sports leaders the opportunity to share their thoughts on the record or anonymously. A handful of Power Five administrators, plus coaches spanning football and basketball, chose the latter option.
Good idea gone bad
"Certainly, the idea of NIL was not to recruit guys from other teams, induce them to come to their schools and pay them money or pay recruits on the front end, that's not what this is about. But that's what this has become."I'm all for players making money off their name, image and likeness. But right now, it's created a lot of unrest because we all feel like there's no rules — or the rules that are there are not being enforced. It creates a lot of jealousy. If you do nothing, you're going to fall behind. If you go extreme, you may put yourself out there to be vulnerable to sanctions down the road." — Ohio State football coach Ryan Day
"I still think the original concept of NIL is a good one. We have completely screwed it up by not being out front and not having parameters. … Nobody is on the same page. We've created this system now where we're out of it. We're completely on the outside."Donors cutting deals with student-athletes. Probably in some instances you don't even know about it until after it's been cut. None of that, in my opinion, is good." — Power Five AD
"Six years ago, when the cost of attendance [stipend] first started, we were taken aback when a kid asked, 'What's my monthly check?' Now, we [have that] on steroids." — Power Five football coach
"What about the development? What about the recruits? What about all the families that you're selling [in recruiting prospects] that you bring in and develop? You're throwing those [transfer] kids first in line after [players you recruited] put a lot of work in your program. That would not fly at our place." — Power Five football coach
Wild, Wild West
"Mid-major coach had an agent call him. [He wanted] $200,000. '48 hours or my guy is in the portal.' This is a mid-major school." — Power Five basketball coach
"Right now, it really is the Wild, Wild West. If you're [Miami coach] Jim Larranaga, how are you trying to coach that team? With Isaiah Wong [whose NIL agent requested a new deal after Nigel Pack was paid more in NIL], you are really an NBA coach. You haven't heard from Coach Larranaga. You haven't from [AD Dan Radakovich], and you haven't heard from the sport program administrator for men's basketball. The only person you've heard from is [Miami booster and collective chief] John Ruiz and his agent." — Power Five AD
"If you put together a reasonable package for a kid when he gets there, right now, most people would say the speed limit is 30 and you're going 40. But to call someone else and pay $2 million for a kid to leave that campus, that's like going 150 miles an hour. Until they start enforcing the speed limit, there's no cops on the road." — Power Five football coach
"They're boosters. Where did it go off the tracks? The collectives are boosters. The guidance is you're in violation of the rules." — West Virginia AD Shane Lyons, chairman of the NCAA Council
Best of a bad situation
"First of all, I think it's [NIL] wonderful. I took out all the [student] loans, I didn't have any income coming from home. I paid those back until I was 38 years old. I know the value of [players] having money in their pocket. Players deserve that." — Oklahoma football coach Brent Venables
"I'm a fan of NIL. What's going on with players being able to use NIL to their benefit, I understand it. Xavier Worthy was a heck of a player. … Of course people are going to try to use NIL to entice him to go to those schools. Xavier and I have a great relationship. I was recruiting him for eight years prior to him even going to college. We've got a really special bond. …"Everyone thinks it's all about money right now. Relationships still matter. I pride myself on being a relationship-based coach. I know dollars matter, too. I'm not naïve to that. But player development, connection to the players, knowing you're supporting them in every aspect of their lives still matters." — Texas football coach Steve Sarkisian
–
—
The Athletic: For some Pac-12 members, NIL has come to mean "Now, it's legal!"
From The Athletic … The three-hour meeting of Pac-12 football coaches and athletic directors Tuesday morning inside the Hyatt Regency Scottsdale felt different than any previous similar meeting. The coaches and ADs had gathered together, along with commissioner George Kliavkoff, at the annual Fiesta Summit. The elephant in the room was the increasingly thorny issue of name, image and likeness (NIL) and its unintended consequences and the presumption that the college sports world has quickly gone over the edge.
In some coaching circles, NIL has come to mean "Now, it's legal!" — as in schools, and more specifically their boosters, have an umbrella rule where they can pay recruits for play or to commit to their programs. What was happening under the table and behind the scenes for decades — reeling in prized recruits and transfers — is now happening above board, tasked to these newly formed, deep-pocketed collectives. Agents, seeing the money grab, had been sending their new clients, 16- and 17-year-old high school prospects, on recruiting tours to spur bidding wars as egos and, in some cases, desperation to revive powerhouse college football programs that had sunk to irrelevance, have become the biggest front-burner topic here where the majority of the college sports power brokers convened.
"We all know what is going on at some places, and it's now the wild, Wild West," one Power 5 head coach told The Athletic. "It's out of control, and it's been getting dramatically worse by the week, by the day, it seems."
In March, The Athletic reported that a five-star 2023 recruit signed an NIL deal with a school collective that could pay him in excess of $8 million; he was to be paid $350,000 almost immediately, followed by monthly payouts escalating to more than $2 million per year once he begins his college career. Word of that deal ripped through the college sports world, kicking off a feeding frenzy.
"Do we really want to get into this world where we're gonna induce kids that are 16 or 17 or 19 to choose their program and leave their high school or their college for what turns out to be a donor's dollar?" another Power 5 head coach said Tuesday. "What time of message are we sending and what happens next? The coolest part of having NIL pass is being able to help kids in a scenario that they weren't able to be helped before. Not in order to get into unrestricted free agency. There's just that fine line between the two where hopefully there's some form of regulation that we don't look into this world and turn around where it's just whoever wants to pay the most get its, and it's now legal. Crazy times, man."
At the Pac-12 meeting Tuesday, several coaches told The Athletic that they were pleased to hear how Colorado AD Rick George addressed the biggest issue head on and told the league's coaches and his fellow athletic directors his suggestion to the NCAA: that the conference would search coaches' phone records to investigate whether there were inducements to players being discussed with the threat of the schools and the coaches being fined and punished. If Pac-12 leadership finds out a coach has a burner phone, he's already guilty.
Several coaches in the room have had frustrations with what they see as egregious violations they hear are taking place with the collectives that have been springing up. "You can't provide inducements — that's pay for play," said one coach. "The (NCAA's) booster rule is that once you're defined as a booster, you're a booster for the rest of your life, and if you are a booster, you're not allowed to give inducements. That's 100 percent illegal. That's not a gray area. Boosters aren't supposed to be having contact with players. That rule hasn't changed. (George) also went off about how if you have a tiered (NIL) system, that's pay for play, and I looked around the room and a few people were squirming."
… Continue reading story here …
–
—–
May 5th 
SEC/Pac-12 Commissioners meeting with U.S. Senators – Looking for national NIL legislation
From ESPN … SEC commissioner Greg Sankey and Pac-12 commissioner George Kliavkoff will meet with United States senators in Washington, D.C., on Thursday to ask for legislative help surrounding name, image and likeness policies.
"I have been invited to meetings with several senators tomorrow to discuss the issues we're seeing with name, image and likeness, and with the existential threat of our student-athletes being deemed to be employees," Kliavkoff told ESPN on Wednesday.
NCAA president Mark Emmert and other leaders in college athletics have been asking for federal lawmakers to step in and regulate NIL policies. There are currently no federal regulations around NIL, and state laws vary considerably.
Kliavkoff contacted Democratic Washington Sen. Maria Cantwell, whom he knows from their time working together at RealNetworks. He and Sankey will be meeting with Cantwell and Republican Tennessee Sen. Marsha Blackburn, and are hoping to meet with other senators from both parties.
"The goal is to discuss a few of the issues facing college athletics with influential senators," Kliavkoff said. "I think it's more likely that we eventually get federal legislation on name, image and likeness, but we're also interested in discussing all of the harm that will come to student-athletes if they are deemed to be employees."
The meetings come on the heels of Pac-12 spring meetings during which athletic directors and coaches sought solutions to better control the NIL landscape.
Kliavkoff told ESPN it's imperative to enforce rules prohibiting the use of NIL as a recruiting inducement or pay-for-play.
"Either the NCAA is going to get its act together in enforcing this," he said, "or I'm going to be pushing for a smaller group to figure out how to create and enforce the NIL rules that we all agree on related to inducement and pay-for-play. The amount of an NIL payment should be commensurate with the work done as a backstop to make sure we're not using it related to inducement and pay-for-play."
… Continue reading story here …
–
—–
April 30th
Arizona State boosters set to launch collective with seven-figure bankroll
… Meanwhile … In Boulder … 
From SunDevilSource.com … A group of affluent Arizona State boosters is set to launch a name, image and likeness (NIL) collective with an expected seven-figure bankroll to help the athletic department's marquee sports remain competitive in the rapidly-changing world of college athletics.
The new entity, which will have at least six founding members and allow for up to 15 board seats, is anticipated to apply to the IRS for non-profit 501(3)(c) status in May. The board's current composition includes expertise in marketing, sports law, financial and tax advisory and non-profit operations. It has already received commitments totaling several hundred thousand dollars, with a goal of at least a million dollars pledged by launch and multiple millions of dollars derived from benefactors on an annual basis, two people working on the endeavor told Sun Devil Source.
The money will primarily be earmarked for the most prominent ASU football and men's basketball players as part of marketing deals designed to help the programs keep their best players in Tempe. Unsigned recruits could also be targeted depending on the amount of purchasing power the group has, among other variables.
There are expected to be two advisory panels that inform the entity and who it targets: one made up of former professional athletes who played at ASU and the other a group of local business leaders and top boosters.
Several founding members of the group are on the Sun Devil Club board and plan to remain in place there. ASU athletic department officials have been in communication with members of the collective and expressed support, generally, for their agenda. It's an important detail, as such an understanding should eliminate any perceived turf dispute over fundraising and potentially allow for the collective to use ASU's branding marks.
Collectives like the one these Sun Devil boosters are starting have become commonplace across the country since last summer, when changing NCAA legislation and new laws designed to enable such NLI entities went into effect.
… Continue reading story here …
–
—–
April 18th 
John Canzano: NIL Going rate for a Pac-12 quarterback? $90,000
From BaldFacedTruth.com … When five-star offensive lineman Josh Conerly Jr. picked Oregon over USC, Michigan, Miami and Washington it caused a stir in the Pac-12 Conference booster world. The Division Street Collective — established to help UO athletes maximize their endorsement power — became an important player in the recruiting equation.
Six figures for Conerly Jr.?
Seven?
And what else is happening on the endorsement front in the Pac-12?
I reached out to a member of Washington State's "Cougar Collective" on Thursday who confirmed that the entity put together a lucrative package for transfer quarterback Cameron Ward.
Ward jumped in the portal in January and transferred from University of the Incarnate Word to WSU. He figures to be an integral part of the Air Raid 2.0 offense that new offensive coordinator Eric Morris is implementing in spring football.
Ward's total haul: $90,000.
His deal includes a contract with a housing firm for the school year that provides an apartment in Pullman. Also, Ward gets the use of a new pick-up truck for the year from a booster-owned car dealership. Also, he collects $50,000 in cash in exchange for promotional appearances he'll make in the next year.
Said one member of the WSU collective: "For smaller schools to compete, it's going to be very important. Our donor base is strong but nowhere near some of the big hitters."
The "Cougar Collective" doesn't have a required minimum contribution from donors. It also doesn't collect fees or turn a profit. It's solely there for the benefit of athletes. The group formed and put out the call for "like-minded business owners" and then placed an emphasis on the connections that the current and future athletes could form with business owners and leaders.
Said the donor: "We would love to be able to show any athlete, no matter what sport, that we can offer them some financial support to make college life a little easier."
Ward won't have to worry about transportation and housing and has $50,000 in walking-around money. Also, it's above board. The early foray into this new world was all over the place but we're starting to get a feel for the market rate for players.
… Continue reading story here …
–
—–
April 11th
How do we properly evaluate a head coach as a recruiter if third-party entities are dropping legal bags?
By Ari Wasserman at The Athletic … If the NIL collectives continue to grow and have an impact on recruiting, will that lower your percentage on the pie chart about recruiting for a head coach? Obviously being a good recruiter will still be extremely important, but just curious if maybe now a school can get away with hiring a "good" recruiter instead of a "great" recruiter if they have a strong collective? — Jordon S.
This is something I've already been struggling with, even before collectives took center stage. Whenever a program gets a top-end commitment, the comments from opposing fans have always been, "Well, they are cheating." Now it's not cheating and the comments will be, "They just paid the most." If that turns out to be the No. 1 indicator of which schools are getting the top players in recruiting, then that strips away the fun of following it. I love writing about recruiting because of the strategy, competition and the lengths people will go (presumably within the rules) in order to get a prospect.
But if the recruiting winner is always just the highest bidder, then that takes away a lot of the analysis of the sport. Frankly, that sucks.
How do we properly evaluate a head coach as a recruiter if third-party entities are dropping legal bags?
As things currently exist, we track the comings and goings of prospects and try to bring context to how well a coach does his job in that regard. And anyone who has read a word that I've written knows that I believe the vast majority of a head coach's job is being a proficient recruiter. If we break that up into a pie chart, 80 percent of a coach's responsibility is recruiting, with the remaining 20 percent being X's and O's, development, program infrastructure, etc.
The answer to your question is yes. The recruiting portion of the pie chart will decrease because acquiring top talent will be less about the coach (and his ability to lure top players) and more about the people handling the money. If third-party collectives are going to turn recruiting into a bidding war — let's say for the top 100 players — then you absolutely could get away with having a Dan Mullen-type as your head coach. Mullen didn't fail at Florida because he was a bad coach. He failed because he couldn't get players who were able to compete week-in and week-out with the Alabamas of the world. Imagine Mullen with Alabama's roster. I think it's a safe bet that his team would be pretty good.
It's an interesting juxtaposition to be in if you're me. On one hand, I love that high school athletes are earning money. I believe that if you're a five-star prospect, you have already reached the apex of your sport and should be compensated for your talent. On the other hand, I don't love that schools will be paying for recruits — even though that is still technically against the rules. We all know that's what is going to happen/is already happening, even if there is no way to prove the real motivation a prospect has when committing.
To me, these coaches make too much money to get off the hook in recruiting. The talent accumulation phase is the heavy lifting of the job, and if there is going to be a pseudo-front office handling the recruiting phase, then how do we properly evaluate state employees (in most cases) who could be making upward of $12 million a year? I guess we'll just have to go back to wins and losses, right?
… Continue reading story here …
–
—–
March 28th
Brave new world of college football: Florida State DB enters Transfer Portal after not getting paid in NIL dispute
From outkick.com … After reportedly expressing displeasure that his NIL deal had been temporarily suspended, Florida State starting defensive back Jarvis Brownlee entered the transfer portal. We've officially reached peak college football free agency.
Brownlee, a redshirt junior, ultimately decided to pack his bags after he sat out the start of spring ball because he had allegedly not been compensated for an NIL deal, even though he did not actually meet the necessary requirements for the deal.
In other words – show me the money, no matter what!
Earlier this month Ingram Smith of The Nolecast, alluded to an NIL issue as the reason Brownlee was opting out of spring ball: "The Jarvis Brownlee situation is an interesting one & I am sure there are 2 sides to every story. As I understand it, the frustration is not about the lack of an NIL deal. IMO, there was one present."
Smith continued: "From what I have heard Brownlee did not meet the (minimum) requirement of the agreement and as such compensation has either been delayed or will not be occurring."
If true, such terms were apparently unacceptable for Brownlee.
On Thursday morning Brownlee announced his intentions via Twitter: "I decided to enter the transfer portal. I feel that this is what is best for me and the goals and aspirations that I would like to accomplish. Lastly, I want to thank my family for supporting me throughout this tough decision. I am looking forward to this new journey, but I will always appreciate my time here at Florida State University."
–
—–
March 23rd
More to the Penn State collective (no reason CU fans can't do the same)
From The Athletic … James Franklin pointed out in February that Penn State was falling behind on the newest frontier of college athletics. The head coach mentioned several times that Penn State needed to be "bold and aggressive" and to react quickly to rule changes — especially as it relates to name, image and likeness.
"I'd love to see us being on the front end and being the leader nationally in these areas, but we're not there yet," he said. "That's clear and that's obvious. We have some work to do."
Franklin's challenge resonated beyond the walls of the football building to a group of Penn State alumni and power brokers who thought about how they could help athletes in all of the university's 31 varsity sports. Ira Lubert, investor and Penn State alum, had the wheels in motion and capital for such an endeavor. Trustees Jay Paterno and Anthony Lubrano were working on a project they hoped would help streamline NIL opportunities for Penn State athletes.
"We said let's do it together," Paterno said. "We all wanted the same thing for Penn State."
Lubert's team joined forces with Paterno's this winter. Now, they're among a group of alumni launching the Penn State-focused Success With Honor collective, which was made public Wednesday. With monthly subscriptions ranging from $10 to $500, members of the collective can gain access to autographed items, exclusive apparel, athlete meet and greets, raffles and events. At higher price points, there will be athlete NFTs and the chance to pay for one-on-one training sessions with Penn State athletes.
"As the largest living alumni (association), we have no excuse not to have one of the best NILs in the country," said Ben Bouma, a sports TV producer and statistician who played hockey at Penn State.
… Continue reading story here …
–
—
Penn State latest to have a fan base launching an NIL "collective"
… Named "Success with Honor" (insert your own joke here) … 
From CBS Sports … Penn State announced the launch of its name, image and likeness collective on Wednesday. "Success With Honor", named after the phrase made famous by former football coach Joe Paterno, was established by five Penn State alumni from the business world.
The advisory board includes former football greats Lavar Arrington, Todd Blackledge and Michael Robinson. The platform is dedicated to all 850 Nittany Lions athletes and will have an office in State College, Pennsylvania.
"Ninety-five percent of the market is a thinly-veiled pay for play," said Jason Belzer, CEO of Student Athlete NIL, the company managing Penn State's collective. "That's not what this is. We are creating off-the-field access for athletes. Very robust internships. The collective will pay athletes to work at those internships."
Other opportunities include influencer marketing, brand partnerships, camps, clinics and education in financial literacy. According to the collective's press release, "the vast majority of Penn State student-athletes receive partial or no scholarship money while competing for the Nittany Lions. Recognizing that reality the goal of Success with Honor is to create opportunities for student-athletes in all 31 sports."
"If you are a pizza shop and you want to sign five student-athletes who want to do an appearance … come to us online or the brick and mortar office. We have the deliverables," Belzer said.
Since the beginning the NIL era on July 1, 2021, collectives have emerged as a third-party organizations formed to develop NIL opportunities for athletes at specific schools. There are 36 "university-specific" collectives nationwide spread between 29 schools, Business of College Sports reported last week.
Penn State's collective is one of eight run by Student Athlete NIL.
–
—–
March 21st
"Comical" to think schools aren't informed of NIL collectives inducement payments
From CBS Sports … It has been less than two weeks since The Athletic reported that a five-star high school football player has signed a name, image and likeness contract with a collective that could pay him $8 million by the end of his junior year. That's a clear indication the limits for NIL deals — $8 million for a high school athlete! — are still tough to define.
"If there is ever a time for the NCAA to go after a recruiting inducement, this would be the one," said Mit Winter, a high-profile collegiate sports attorney based in Kansas City, Missouri.
The I-word, inducement, has been the biggest concern of college coaches and administrators everywhere since the NIL era started last July 1. Since then, what is and isn't an inducement — defined as a cash offer to play at a school — has been the main talking point in the NIL space.
Inducements are hard to delineate. What used to be under-the-table illicit payments are now, well, above the table and almost completely allowed. Stymied by the courts and its own inaction, the NCAA last summer issued an interim one-page NIL policy that was the equivalent of a toothpick house in the face of a hurricane.
Enter the Wild, Wild West of that NIL era, which turns nine months old on April 1.
"[NIL deals are] really blowing up the interim policy, brick-by-brick," said Tom McMillen, CEO of Lead1 Association, the professional organization of FBS athletic directors.
He called the interim policy a "dead letter law", a rule that doesn't exist unless it is applied.
"If you try to enforce a law that hasn't been enforced and is routinely violated … it becomes harder and harder to put the genie back in the bottle," McMillen added.
What skeptics are finding hard to believe is that the $8 million contract, the collective and the school where the five-star prospect eventually lands are three distinct entities.
"Do you really believe that XYZ collective — at a particular institution that is choosing to pay dollars to a particular student-athlete — they're not doing that in an informed way [for] somebody the coaches told them they wanted to recruit?" a former Power Five AD told CBS Sports. "It's almost comical to think that wouldn't be a reality."
… Continue reading story here …
–
—–
March 19th
Urban Meyer joins Ohio State organization looking "to become the largest NIL fund in the country"
From The Columbus Dispatch … Former Ohio State coach Urban Meyer is joining the board of a nonprofit that will pay Buckeyes football and basketball players to work with charities.
Meyer will serve on the board of THE Foundation, an organization co-founded by Brian Schottenstein, a Columbus real estate developer and Ohio State booster, and Cardale Jones, the former national championship-winning quarterback for the Buckeyes. It launches at the end of this month.
"There isn't a better person to have on the board than Coach Urban Meyer," Schottenstein said. "It goes without saying that he's one of the greatest recruiters of student-athletes and coaches of all time. I appreciate his support and friendship."
Under NCAA rules passed last summer, college athletes are permitted to profit off the use of their name, image and likeness.
The opportunities for compensation from third parties have in recent months led to boosters at a series of schools setting up groups that pool money and resources from fervent fans to fund NIL deals for players. Experts see these efforts as part of a burgeoning arms race across the college sports landscape.
Schottenstein aims for THE Foundation, which will also rely on donations from Ohio State fans, to become the largest NIL fund in the country.
THE Foundation's board is to include more than a dozen members and will help select which players and charitable organizations to partner with.
"Hopefully it will help current and future athletes," Schottenstein said.
In an announcement of Meyer's addition to the board on Wednesday, the group touted Meyer's success in college, which included winning a pair of BCS national championships at Florida before leading the Buckeyes to the first College Football Playoff national championship in 2014.
… Continue reading story here …
–
—–
March 14th
Report: 2023 USC quarterback recruit to receive $8 million in NIL money ($350,000 up front)
… Note … The article does not mention names, but other reporters have put together other pieces of the puzzle. Chris Hummer of 247 Sports tweeted: "Only a handful of states allow HS players to profit off their NIL & stay eligible. If this player plays HS in 2022, pretty good chance he's from Cali. And given only one position would command that type of money … well, I'll just leave the rankings here" (which provides a link to the five-star quarterback recruits for the 2023 Class, including USC commit Malachi Nelson) … 
From Stewart Mandel at The Athletic … On Friday, a five-star recruit in the Class of 2023 signed an agreement with a school's NIL collective that could pay him more than $8 million by the end of his junior year of college, The Athletic has learned. He'll be paid $350,000 almost immediately, followed by monthly payouts escalating to more than $2 million per year once he begins his college career, in exchange for making public appearances and taking part in social media promotions and other NIL activities "on behalf of (the collective) or a third party."
While there's no centralized database to reference other contracts, two NIL experts believe it's the largest individual NIL deal signed by a non-professional athlete.
Blake Lawrence, the founder of the NIL marketing platform Opendorse, said a deal that high seems like an outlier but added, "Whatever casual sports fans or coaches think student-athletes are earning from collectives, they're (undershooting) by 10X. While $2 million (a year) is wild, $200,000 isn't, but most people are thinking they're getting $20,000."
Lawyer Mike Caspino, who drafted the contract, allowed The Athletic to review and verify the contract in exchange for keeping the player and collectives' identities anonymous. It provides a window into how donor-driven third parties tied to specific schools operate.
As per NCAA rules, the contract explicitly states, "nothing in this Agreement constitutes any form of inducement for (the athlete) to enroll at any school and/or join any athletic team." There is no mention of any specific university, only that he be "enrolled at an NCAA member institution and a member of the football team at such institution," ostensibly to avoid violating the NCAA's pay-for-play rule. The only specific circumstances by which the collective could terminate the contract early is if the player violates a confidentiality clause or a clause about conducting himself with "the utmost character and integrity."
"There's an element of trust there," Caspino said in regards to a collective offering that much money with no written assurance the athlete will sign with the donors' school come December.
But in exchange for receiving his lucrative advances, the player hands over to the collective exclusive rights to use of his NIL, which would then negotiate outside opportunities on his behalf. In theory, that could dissuade him from entering the transfer portal, as he would not be able to make paid appearances promoting his next school.
… Continue reading story here …
–
—
The NCAA "is very, very, very careful about implementing any further NIL rules" (translation: So there are none)
From The Athletic … The gray area wasn't supposed to be this gray.
When the NCAA announced its interim name, image and likeness (NIL) policy on June 30, 2021, the day before various state NIL laws were set to take effect, it stated specifically that "the policy in all three divisions preserves the commitment to avoid pay-for-play and improper inducements tied to choosing to attend a particular school."
What that meant in practice was uncertain. Compliance officers nationwide weren't exactly sure what was allowable and what wasn't. Guardrails, as NCAA president Mark Emmert long promised and earlier proposed NCAA legislation had included, weren't there.
Then, a Miami booster who owns a chain of gyms offered every scholarship Hurricanes football player $500 a month for promoting the gym. A Utah-based protein bar company offered money to every scholarship BYU football player and paid the  tuition for every walk-on. A group of Oregon boosters and alumni, including Nike co-founder Phil Knight, formed to provide branding and marketing assistance to athletes. And in early January when quarterback Caleb Williams announced his intent to transfer from Oklahoma, former Eastern Michigan and NFL quarterback Charlie Batch tweeted that his company would pay Williams $1 million to play one season at his alma mater.
Were these offers within the rules? It is not black and white. And if such a gray area exists, could athletes live in it while maintaining eligibility? No one really knew the answers until schools tested the boundaries.
"It certainly appears that (NIL deals) may have influenced some student-athletes to attend certain institutions," said MAC commissioner Jon Steinbrecher, a member of the Division I Council. "But I don't know that for a fact."
The question now is whether anyone can get the toothpaste back in the tube — without attracting more lawsuits. That may or may not be possible, administrators say.
The NCAA has reportedly asked Miami, BYU and Oregon for additional information related to these team-wide NIL offers. As long as there is quid pro quo, any service rendered ranging from promotional event appearances to social media posts in return for payment, it'd be hard to characterize a deal as in violation of the NCAA rules prohibiting pay-for-play.
No one has been penalized, and in an era of increased rights for athletes, very few prominent voices have called for it. And in the wake of the Supreme Court's landmark ruling against the NCAA in the Alston case last June, the NCAA has been hesitant to add restrictions in this area because of potential legal exposure.
"It's made the NCAA very, very, very careful about implementing any further rules that restrict athlete compensation, whether that is from schools or from outside parties, like collectives," said Mit Winter, an attorney for Kennyhertz Perry and former Division I college basketball player. "They are going to be very gun-shy about putting any more restrictions in place around NIL. … They had more detailed NIL rules drafted. They've been talking about them for a long time. Then, Alston comes out, and they just really abandon those and put in place what they have now, which are very bare-bones.
"It's possible that, after some more consideration and thinking and more legal analysis, the NCAA could try to put some more restrictions in place. But I think they're going to exhaust every other option before they do that, including holding out hope for a federal law that would include some sort of limited antitrust immunity."
… Continue reading story here …
–
—–
March 12th
Miami businessman spending millions in NIL money to make Hurricanes relevant again
… Records provided by LifeWallet show 55 athletes currently signed to NIL deals, but Ruiz said the number is closer to 80 …
From The Athletic … Tyler Van Dyke is standing in the pocket — only this time he's not on the field holding a football.
The ACC's Rookie of the Year is on the 10th floor of a pristine office building with a silver suitcase in his right hand.
Five University of Miami offensive linemen outfitted in black shirts, black pants and black aviator sunglasses are surrounding the Canes' star quarterback as they walk down a hallway with a camera crew in front of them.
"We all have makeup on. It's not my favorite thing to wear, I guess," Van Dyke tells The Athletic with a grin.
He and his teammates spend four hours on a Friday afternoon — three days before the start of spring practice — taking direction from former Hurricanes shortstop Johnny Ruiz to film a 60- to 90-second commercial for LifeWallet, a company owned by locally based lawyer-turned-billionaire John H. Ruiz.
"I think we're doing the Ole Miss video from five years ago," Van Dyke continued. "The linemen follow the quarterback around to make sure he's safe or whatever. It'll be cool to replicate that video."
All six college athletes in the commercial are getting paid good money to work for Ruiz, a Miami-born son of Cuban immigrants who attended classes at UM with Melvin Bratton, Alonzo Highsmith, Vinny Testaverde and other Canes greats in the mid-1980s.
Since December, Ruiz said he's signed dozens of college athletes in different sports (swimming, baseball and golf) from Miami and FIU to name, image and likeness deals totaling more than $2 million.
Ruiz's ex-wife is related to Mario Cristobal, but he keeps his distance from Miami's coach and school administrators so as not to break any NCAA rules. Florida's NIL laws – more stringent than other states – prohibit school employees at Miami from arranging NIL deals for athletes.
Ruiz, who filed a class-action lawsuit in January against the Florida High School Athletic Association to allow high school athletes to sign NIL deals, wants to help his alma mater get back to winning championships. He has plans to build the Hurricanes a 65,000-seat stadium at Tropical Park if voters and county commissioners allow him. But right now, with regard to NIL deals, he's at the forefront of getting Miami's football players paid.
Ruiz said he isn't cutting corners, either. He makes the athletes he signs to NIL deals work for their pay — mostly by being actors in videos and using their social media accounts to promote his businesses. Not everyone makes the same amount. Ruiz staggers the contracts based on each player's endorsement value.
The NCAA, which adopted bare-bone NIL laws on June 30, 2021, has yet to come down on any program for its NIL dealings but did ask Miami, BYU and Oregon for additional information related to previous team-wide NIL offers.
"My background is being an attorney and introducing evidence in court," Ruiz said. "So I'm already thinking of what the evidence is that we're putting together in case somebody asks a question as it relates to the rules. I'm not criticizing any other program, but I've not seen any other program in the country that can (compare to) how we do it. We provide everything that's going on behind the scenes. I invite anybody and everybody that wants to come see what we do because I think they leave here learning, 'Hey, this is the real deal. This is not something that they're not putting resources into.' We as a company are putting a ton of resources in it.
"In addition to the actual money being paid to the players, we're spending millions behind the scenes to make it work with the commercials, the dissemination and the staff. I mean, we have probably about 25 to 30 people working in production, just for the NIL aspect of it. So there's a lot that goes into it."
… Continue reading story here …
–
—–
March 1st
USC Quarterback Caleb Williams sharing his NIL wealth – gives headphones to women's basketball team
From on3.com … Caleb Williams was in the giving spirit this week. He used one of his NIL deal to surprise some of his fellow student-athletes.
The new USC quarterback recently signed a deal with Beats by Dre and personally surprised everyone on the Trojans women's basketball team with new headphones after a practice, according to the Los Angeles Times' Ryan Kartje. They were good luck gifts as they get ready for the Pac-12 tournament.
Kartje also reported Williams plans to "share the wealth" with his NIL deals. So this might not be a one-time thing.
Williams committed to Lincoln Riley and USC last month after the two spent 2021 together at Oklahoma. Last year with the Sooners, he threw for 1,912 yards and 21 touchdowns in the air. He also rushed for 442 yards and six touchdowns on the ground.
Williams has signed multiple NIL deals since arriving at USC, including his most recent partnership with Hawkins Way Capital, a Beverly Hills-based real estate private equity fund. The partners of the fund intend to introduce Williams to the real estate world with the possibility of partnering on future investment opportunities, according to a Los Angeles Times report.
"I'm excited about the opportunity to get some experiential learning in a valuable component of business," Williams said in a statement.
This isn't Williams first go-around with a major NIL deal. He currently holds partnerships with with Beats by Dre, a licensing agreement with Fanatics, he helped launch an Alkaline water brand, and even became a part-owner of a modern men's grooming company.
The terms of that investment were not disclosed, according to the report. What was revealed, however, is that Williams will receive annual compensation for the partnership.
… Continue reading story here …
–
—–
February 25th
ASU's AD on NIL: "We are not going to be able to get in an arms race" considered a huge mistake
From The Athletic … College football's middle class has a decision to make. But if a program elects to lean toward the direction fans (and more importantly, future players) don't want to hear, it's probably best not to broadcast it.
On Wednesday, Arizona State athletic director Ray Anderson participated in a radio interview that served as his first public comments regarding the Sun Devils' recruiting scandal that resulted in five changes to Herm Edwards' coaching staff.
"We're not going to be able to get in an arms race with the new free agency and the new pay-for-play (NIL) structure that is now very prevalent," Anderson said. "We're going to have to differentiate ourselves by training and developing at a superior level for those who aspire to go to the professional ranks. We're going to have to adjust our model because the college model has changed."
The natural follow-up question, of course, is why can't Arizona State get into a race? Why can't Arizona State compete in the "new free agency" in college football? Whether both things are true, Anderson's peculiar tone of resignation may make both a self-fulfilling prophecy.
The simplest answer is ASU lacks the funds, but it seems very early in the new era of college sports to decide whether that is the case. And the Sun Devils aren't exactly in the poor house, even if they're not keeping up with the Joneses in SEC country. Competing in the new world of college football doesn't necessarily have to mean growing a budget. It may just mean finding a creative way to efficiently reallocate existing funds.
Star quarterback Jayden Daniels, the No. 2 dual-threat quarterback in the class of 2019, entered the transfer portal this month. But there's no reason, in more normal times when an NCAA investigation isn't looming over campus, Arizona State can't be an attractive destination for players in the portal or for high school prospects considering their futures.
Any message about the new world of college football that isn't, "We want everyone who comes here to maximize their value and have the best experience possible" probably doesn't help a program.
Imagine a coach or athletic director saying a program wasn't going to be able to compete for a conference title. Whether it's true on any campus, saying it out loud isn't helping. Saying the same about the transfer portal or NIL is no different.
And it threatens to make a real problem worse.
The Pac-12 already has an apathy problem. In 2019, the last normal season before the pandemic, Washington and USC were the only Pac-12 teams in the FBS top 30 in home attendance. The conference ranked last among the Power 5 in attendance, too. In 2021, UCLA and Oregon were the only Pac-12 teams in the top 30 in average weekly television viewership.
Anderson is right that the college football model has changed dramatically in the last year, but upheaval also can be an opportunity for upward mobility. Fearlessness, ingenuity and enterprising thought traditionally fuel those who take advantage of unrest in any environment.
But ASU president Michael Crow's comments on the same issue sound like just the opposite.
"I'm not a big fan of those things. I'm kind of an old school, college students playing sports, going to college, getting scholarships, becoming college graduates," he said. "We've made a lot of progress at ASU at overcoming some of our longer-term history where we didn't have people graduating, we didn't have people successful academically. We fixed all that. And now we get to this mode where there's so much focus on the resources and so much focus on this and that. I do support better scholarships for athletes, what we call full-cost of attendance scholarships for athletes. We've been under-investing in those.
"But I'm not a big fan of all this other stuff. And I'm not a big fan of a lot of the changes that are being made. but there's a huge wave moving in this direction, so whatever happens, we're just going to try to make it work where we're going to focus on the success of the student-athlete and really care about those individuals and focusing our energy on them."
The new world of college sports won't care if administrators are fans of the changes that already have arrived and are already making an acute impact on a program's circumstances. Everyone in charge of college athletics should get "adapt or die" tattooed on their forehead so they can see it every time they look in the mirror.
… Continue reading story here …
–
—–
February 23rd
Mack Brown: "There's so much cheating with NIL. It's really sad"
From on3.com … UNC head coach Mack Brown strongly believes that the NIL space needs change.
Brown, 70, is currently in his second stint as UNC's head football coach, a position he re-accepted in 2019, and he believes that student-athletes' newfound ability to profit off their name, image and likeness (NIL) is beginning to change the recruiting landscape — despite UNC having an NIL collective to its own benefit.
An NIL "collective," as On3's Eric Prisbell writes, is "independent of a university" but "can serve a variety of purposes. Most often, they pool funds from boosters and businesses, help facilitate NIL deals for athletes and also create their own ways for athletes to monetize their brands." UNC is one of many schools that has its own NIL collective called "Heels4Life," started by former Tar Heels linebacker Shakeel Rashad. In theory, this should help Brown's recruiting efforts at UNC; at least on paper, that seems to be the case. The Tar Heels, who boast the 10th-best recruiting class in the nation, highlighted by five-star offensive tackle Zach Rice, showing that Brown has had no trouble recruiting to UNC in the first year of legal NIL activities.
Still, Brown couldn't help but call out those that appear to be using NIL to cheat their way to a top recruiting class.
"Somebody — a national committee — said it the other day. There's so much cheating with NIL. It's really sad. And it's got to be cleaned up. Tampering is bad, but the cheating is bad," Brown said in his pre-spring practice press conference. "The way I've been told is that coaches cannot get involved with the opportunities for the kids. That has to be an outside source. And we've got Heels4Life that does that for us. But what I've been told is that the only thing we can tell a player or a parent is that we can explain to them what opportunities the players on our team are currently getting, and how that works. That's it. We can't promise anybody any money for play. Just about every transfer I've talked to was being offered money (from other schools), so it was a little ridiculous. But I think that's where we've got to find an answer here to put some guidelines on this, or we'll never see college sports again the way we've seen it."
Evidently, it's concerning the NCAA, too, which Brown referenced in the beginning of his answer. Though the governing body had previously kept itself removed from any NIL activity, the NCAA announced on Friday that the DI Council would conduct a review on the impact of NIL on student-athletes. The NCAA, like Brown, said in its press release that it is "concerned that some activity in the name, image and likeness space may not only be violating NCAA recruiting rules, particularly those prohibiting booster involvement, but also may be impacting the student-athlete experience negatively in some ways."
… Continue reading story here …
–
—–
February 20th
Eye roll – NCAA to review NIL policies (or lack thereof) to see "whether anything can be done to mitigate negative aspects"
From ESPN … After one season of college athletes being allowed to profit off their name, image and likeness, the NCAA announced Friday afternoon that it will begin a review of NIL policies.
The Division I Board of Directors met virtually Friday and agreed to task the Division I Council with a review of how NIL policies, or lack thereof, have affected athletes' school choice, transfer opportunities, academics and their mental health.
"We want to preserve the positive aspects of the new policy while reviewing whether anything can be done to mitigate the negative ones," said board chair and University of Georgia president Jere Morehead.
In a news release, the board cited concerns about potential violation of NCAA recruiting rules, the representation for athletes as they broker these deals, booster involvement, as well schools being involved in potentially arranging deals for incoming players.
"We look forward to conducting this review and hope to be able to provide the membership with additional clarity," said West Virginia athletic director and council chair Shane Lyons. "Any recommendations we provide will help members as they support their student-athletes moving forward."
According to the board, the NCAA's national office enforcement staff have continued to investigate violations of NCAA rules, including pay-for-play and recruiting inducements.
In June of last year, the Supreme Court ruled in NCAA v. Alston et al. that the NCAA was violating antitrust laws by restricting athlete compensation. That ruling prompted the NCAA to vote to allow and institute NIL policies.
The decision brought about a slew of sponsorship deals and opportunities for athletes beyond football and basketball, but the lack of structure within those two sports, especially football, has resulted in different avenues for compensating players such as financial collectives by school alumni. The lack of oversight from the NCAA also meant that different states had different rules for NIL legislation.
"We expect that all members and their representatives are abiding by current NCAA rules regarding recruiting and pay-for-play, which are in place to support student-athletes," NCAA president Mark Emmert said. "We encourage school compliance staff to continue their diligence, and NCAA enforcement has and will continue to undertake investigations and actions against potential rules violations."
The NCAA board asked for a preliminary report from the council by April, with a final report with recommendations for possible action due in June.
–
—–
February 15th
NIL Wars: "We're prepared to invest a substantial amount – well into the seven-figure category"
From The Athletic … In just more than seven months since being introduced to college sports, name, image and likeness has morphed into a recruiting superweapon.
And in the never-ending arms race of college football, those who outfit themselves best are bound to prosper.
"If you would have asked us four to five months ago, we might have said we want to try and raise $3 (million), $4 (million), $5 million annually. Now, the goal is $25 million annually. Or more. And we think that goal is absolutely attainable," said Hunter Baddour, president and co-founder of Spyre Sports, a Tennessee-centric college sports collective. "We'll have to work hard, which we will. If this is how the game is played, then game on."
Late in the 2022 recruiting season, it became clear that this was precisely how the game was being played, and as coaches turn the page to the Class of 2023, the money and impact collectives such as Spyre Sports can have are only growing.
"We're prepared to invest a substantial amount of resources into the 2023 recruiting class," Baddour said. "When you add all that together, it's well into the seven-figure category."
Baddour and CEO James Clawson co-founded Spyre Sports in 2020 and quickly found fertile ground in name, image and likeness. It has become one of the sport's most organized and advanced collectives, a new catch-all term in college sports for groups of fans with varying budgets set aside to help aid players in monetizing their name, image and likeness. Money is pooled from a variety of sources and distributed to players according to their value, while players are responsible for providing deliverables such as event appearances, social media posts or autographs.
The money is staggering, and so is the influence, especially for those with the means to show recruits their market value can outpace what it might be on a campus elsewhere.
"Neyland Stadium being packed, passion of the fans, being in the SEC, all those things are still major factors," Baddour said, "but what NIL opportunities a player will have is right up there at the top now."
On July 1, 2021, the NCAA removed the restrictor plates on athletes' rights to monetize their name, image and likeness. The initial flood of deals was small, sometimes just for free gear or products from local businesses.
While it's impossible to quantify the precise impact of money from an NIL package in a recruit's mind, Tennessee signed seven of the nine Class of 2022 prospects Spyre Sports had significant conversations with during the recruiting process, according to Spyre.
"We realized being involved in recruiting was going to be a priority. Then we realized how much money we were going to need to be elite," Baddour said. "And we're shooting to be No. 1."
But so is everyone else, and in college football especially, a brand new game is afoot, as that influence — and the money that provides it — only figures to increase in the Class of 2023.
… Continue reading story here …
–
—–
February 12th
**Video: Rick George talks CU NIL: "We're going to do it right"**
–
Meanwhile, other schools have embraced collectives: "Everyone is finally going all-in"
From On3.com … As donor-led collectives — and their perceived importance in winning ultra-competitive recruiting battles — continue to dominate the NIL conversation, boosters, athletic directors and coaches who had taken a wait-and-see approach now are suddenly adopting a new mindset as they witness success at rival schools.
One prominent industry source told On3, "Let me put it this way: Everyone is finally going all-in. All the ADs, all the coaches are going, 'Holy crap, this is it. This is the game-changer. This is bigger than I had thought.' "
Collectives now are launching by the week. These are companies, independent of the university, that most often pool funds from supporters and/or help facilitate NIL deals in the community with athletes. On3's up-to-the-minute snapshot of collectives nationwide and background on each can be found here.
The "Fear the Wave" crowd-sourcing collective at Tulane launched this week. And two collectives launched to assist the University of Arizona athletes: "Friends of Wilbur & Wilma" will initially help football players with NIL deals, and "Arizona Assist" will benefit men's basketball players.
There also are so-called "silent" collectives that have been in operation for some time but have chosen to keep a low profile, avoiding the limelight others have sought. One example is Nebraska-centric Athlete Branding & Marketing, which has existed under the radar since the summer. It has been spearheaded by Jon Bruning, the former Nebraska attorney general and a longtime friend of football coach Scott Frost, and Gerrod Lambrecht, Frost's former chief of staff.
Some Pac-12 schools … 
Arizona (Friends of Wilbur & Wilma)
Founders: Cole Davis and Humberto S. Lopez, longtime Arizona supporters
The buzz: The collective initially will assist football players. The collective will be powered by Blueprint Sports, which is led by co-founder and partner Francisco Aguilar, a former Arizona student body president. BPS' key investor is the Andre Agassi Foundation for Education. The BPS platform will facilitate monthly community engagements for football players.
Arizona (Arizona Assist)
Founders: Michael Saffer, Thomas Conran and Adam Lazarus
The buzz: The focus is on assisting men's basketball players. Supporters, alumni, and local businesses will receive benefits and exclusive opportunities to purchase products and engage with players through VIP events and experiences, various raffles and a variety of merchandise and memorabilia that isn't available to the general public.
Oregon (Division Street)
Founder: Nike co-founder Phil Knight and several other former Nike executives
The buzz: Division Street includes a strong list of industry luminaries who will assist athletes in creating opportunities to monetize their brands. Among those involved include company CEO Rosemary St. Clair, former GM of Nike women; Rudy Chapa, former VP of sports marketing at Nike; Rich Paul, Klutch Sports Group founder; and Nike and Jordan executives Josh Moore, Nicole Graham and David Creech. And Oregon alumnus Sabrina Ionescu is chief athlete officer.
Washington (Montlake Futures)
Founders: Washington donors
The buzz: Montlake Futures will develop and facilitate NIL opportunities for athletes in cooperation with local businesses and sponsors. Local companies that have endorsed the collective include Alaska Airlines, Amazon, Costco, Nordstrom and Precept Wines. It includes an "Athletes Council" of prominent Huskies athletes. And former football coach Chris Petersen will serve as the company's ambassador and "Lifetime Transformation Leader."
–
—–
February 7th 
QB Brendon Lewis signs NIL deal with The Sink
From coloradobuffaloeswire.com … Colorado Buffaloes quarterback Brendon Lewis announced on Feb. 2 via social media that he is partnering with a well-known Boulder restaurant, The Sink.
The Sink is a favorite among Boulder locals and has a nearly century-long history featuring visits from notable figures and celebrities such as former U.S. President Barack Obama and the late Anthony Bourdain.
Lewis' partnership was announced less than two weeks after the University of Colorado Athletics department announced the Buffs NIL Exchange, an online portal that helps CU student-athletes connect with local businesses in order to create partnerships.
–
—–
February 4th
Coming soon: Player-specific jerseys with proceeds to players
From CBS Sports … Several schools have announced plans to offer wide release of player-specific jerseys through a partnership between Fanatics and OneTeam Partners that was announced on Thursday. So far, LSU, Oklahoma, Washington and Penn State are among the programs that have publicly announced participation.
The enrollment means that every player who opts into the program will have their jersey available to purchase prior to the 2022 football season. All jersey sales will result in player compensation as a part of the newly-allowed name, image and likeness (NIL) legislation that has taken college athletics by storm since July 1.
"For the first time ever, fans will be able to purchase authentic jerseys of their favorite LSU Tigers, and student-athletes will directly benefit from every sale," LSU athletic director Scott Woodward said. "We cannot wait to see our jerseys on the sidelines and in the stands inside Tiger Stadium next season, and we eagerly anticipate additional player co-branded products for our student-athletes across all sports."
Player jerseys have long been a source of controversy in relation to athletic merchandising. For decades, official university jersey sales have not featured a name on the back — even as jerseys like LSU No. 9 (Joe Burrow) or Oklahoma No. 6 (Baker Mayfield) not-so-subtly ranked as top sellers. The partnership between merchandiser Fanatics and group licensing specialist OneTeam tries to connect those dots.
"Broad-scale group rights for college athletes is the only pathway to bring this program forward," said Derek Eiler, executive vice president of Fanatics College. "Aligning with OneTeam was a critical step to develop a scalable and efficient college jersey program."
A release notes that the co-branded jersey program was offered to "dozens" of schools on Thursday. LSU is the first to offer the jersey releases at a nearly unanimous level, but more schools could announce in the coming days.
–
—–
February 3rd
Column: Get comfortable with college players being paid
From Ralph Russo of the Associated Press … Jimbo Fisher should have leaned into it.
Instead of going off about rumors that a multimillion-dollar, booster-funded NIL program is behind Texas A&M's monster recruiting class, the Aggies' coach could have injected some sanity into the current panic sweeping college football.
Throughout the history of college sports paying players equaled cheating.
Not anymore.
College athletes can now be compensated for use of their names, images and likenesses. The NCAA surrendered in this fight last year, bringing down the barriers between two groups that always seem to connect through capitalism: People with talent and people with money.
Everyone involved needs to come to grips with this new reality for college football to transition into its next iteration.
Until then, we'll get what we had this week in the Southeastern Conference, which was wildly entertaining, though not terribly productive.
Fisher went flame on at his signing day media availability, taking aim at those who have perpetuated unfounded rumors that he and his staff were recruiting with a $30 million NIL war chest behind them. He defended his program and took to task those perpetuating internet misinformation, without calling out Mississippi coach Lane Kiffin by name.
Totally understandable. No one wants to be called a cheater, even when it's not clear that what you have been accused of is against the rules.
One particular part of Fisher's diatribe stood out.
"To me, it's insulting to the players that we recruited that that's why they would come here," he said. "You ever been to a game here? You ever come to school here and see the education? You ever talk about the 12th Man and the Aggie network when you're done? There ain't a better university in this country."
This is the outdated culture of college sports. Even as schools race to publicly embrace NIL, it is still somehow "insulting" to accuse an elite football player of considering how much money he could make when he decides where to ply his trade.
… Continue reading story here …
–
—–
January 26th
"Collectives" funneling millions to collegiate athletes in the name of NIL
From CBS Sports … They've given themselves names that inspire the confidence large financial institutions use to pitch investors: trust … valiant … guardians. They are run by billionaires, entrepreneurs and accomplished financial advisors.
In the not-yet 7-month-old history college athletes being granted their full name, image and likeness rights, these groups have become the biggest influencers. Their cottage-industry businesses are called NIL "collectives" — stand-alone start-up companies established to create financial opportunities for athletes.
In some cases, collectives look a lot like major corporations with large staffs and budgets. Mostly unshackled by NCAA regulations, they have put their minds and resources together to funnel funds to athletes.
If that sounds crass, get over it. Collectives have become the opening number of a hit Broadway musical. The difference? The actors in this production are also fans.
"I'm about the confetti," said Eddie Rojas, CEO of The Gator Collective and an unabashed Florida honk who went 10-1 as a pitcher for the Gators from 1999 to 2001. "I want to create an environment where Florida becomes NIL-U."
Rojas, 44, is also CEO of his own company, 401K Generation. He has 16 years experience in portfolio management and pension consulting with his company currently managing $3.28 billion in assets. That confetti he's talking about? He's referring to the post-game stuff shot out of cannons celebrating national championships, a level of success he wants to help bring back to Florida.
To do his part in the NIL race, The Gator Collective has been established as a sort-of subscription service. Starting at $5.99 (up to $999.99) a month, Gators fans get exclusive autographs, interviews and even personal appearances.
"Players will visit [fans] on their birthday," said Rojas proudly.
That's only scratching the surface. The Clark Field Collective at Texas is paying Longhorns offensive linemen $50,000 each … basically just for being Texas offensive linemen. To date, it has not been ruled to be an NCAA violation, but such boundary-straddling conduct by collectives are the talk of college athletics at the moment.
"Collectives," Texas A&M athletic director Ross Bjork said, "that's all I've heard for the last two weeks."
The brazenness of some offers is increasing. Former Eastern Michigan quarterback Charlie Batch tweeted earlier this month that a $1 million NIL deal awaits Oklahoma transfer quarterback Caleb Williams.
… Continue reading story here …
–
—–
January 25th
CU hosting an event  for letter winners to try and spur NIL involvement
Email sent out to C-Club members …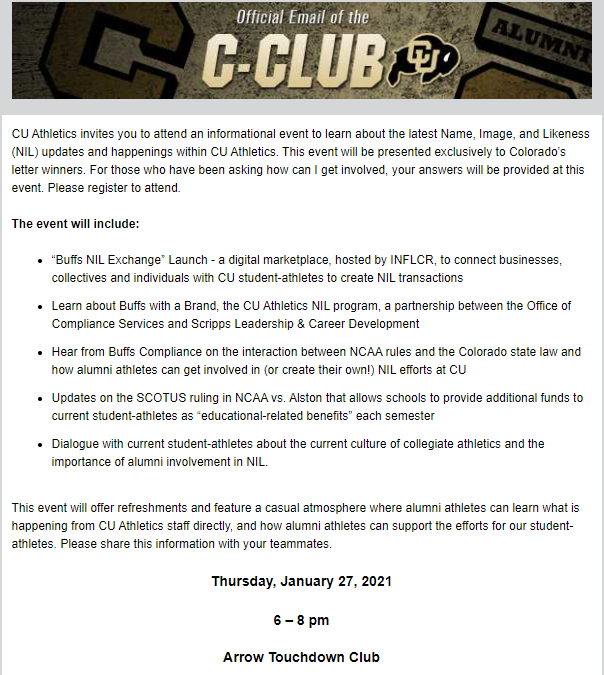 –
——
January 24th 
… CU in a few minutes … 
**Video: Mark Johnson talks NIL with CU AD Rick George**
From BuffsTV … (Plus: Bill Walton learns lacrosse from the CU lacrosse team) …
–
—–
January 21st 
… CU in a few minutes … 
What it takes to become an NIL sponsor at CU
From the CU NIL page … No "Pay for Play" in Boulder (just in Eugene, Miami, College Station, Lincoln, etc., etc. … )
Please verify the following attestation provided by the institution for third parties.
–
—
"Buffs NIL Exchange" has some catching up to do: 58 Oregon players have NIL deals
From The Oregonian … The NCAA is poking around the University of Oregon, asking questions about its relationship with the newly formed third-party entity called Division Street, Inc.
UO says it's cooperating with the NCAA. The probe was first reported by Sportico over the weekend and it appears at this point that the governing body of college athletics is trying to grasp Oregon's policies and procedures as it pertains to athletes monetizing their name, image and likeness.
The Division Street venture was organized last September by a group of prominent UO boosters who wildly excelled in their respective industries. Sneaker czar Phil Knight joined forces with Pat Kilkenny (insurance), Ed Maletis (beverages), Jim Morse (lumber) and the Papé Family (machinery) to form an entity that aims to assist Ducks athletes in this NIL world.
So how's it going?
Internal university communications obtained by The Oregonian/OregonLive give us a glimpse at the early returns on the business of NIL at both Oregon and Oregon State.
Oregon logged 273 deals for student-athletes after the floodgates were opened in July of 2021, clearing the way for athletes to sign endorsement deals. Of those, 156 were for female athletes and 215 were for non-football players.
Average deal: $1,087.
Biggest deal: $100,000 (Kayvon Thibodeaux, football).
Meanwhile, Oregon State logged 48 NIL deals for athletes in the same time frame. Of those, 18 were for female athletes and 35 were for non-football players.
Average deal: $5,340.
Biggest deal: $200,000 (Jade Carey, gymnastics).
It's a small sample size — and it's still way early — but the NIL trend between the two in-state universities is an interesting study. The Ducks are outscoring the Beavers on the total number of deals made (273-48), but I'm told a pile of those UO arrangements included a trade of free Nike apparel and merchandise and no cash exchanged, which drove down the value of the average deal.
Also, if you remove the six-figure deals for Thibodeaux and Carey you get a better idea of how the average athlete who received an NIL deal actually did. The average deal at Oregon without Thibodeaux's biggest endorsement would be $723, while the average at OSU without Carey's big contract included is $1,198.
Oregon has had 58 football players benefit from NIL deals so far. OSU has had 13. Keep an eye on that tally as this progresses because I suspect the NCAA's NIL questions will focus on football and men's basketball even as it appears female athletes appear to be participating proportionally in our state.
… Continue reading story here …
–
—–
January 20th
… CU in a few minutes … 
CU announces "Buffs NIL Exchange" 
Email from CU Athletic Director Rick George …
Thank you for your investment in the lives of our 350+ CU student-athletes. Your recent support has ranged from the Sustainable Excellence Initiative (SEI) Drive for $105M, which resulted in the building of the UCHealth Champions Center, our Crawford Family WHOLE Student-Athlete Program, scholarship endowments, planned gifts, and season ticket purchases. This proves if we stand shoulder to shoulder, we can accomplish anything.
College athletics is in a very delicate place right now. The landscape is changing at a rapid pace and the issues that are prevalent today weren't even topics a few years ago. The intersection of the transfer portal with name, image and likeness has created an unstable dynamic. While I'm disappointed to see the number of football student-athletes we've seen enter the transfer portal in the past few weeks, we are not unique to many teams around the country. As it stands today, there are over 1,700 FBS student-athletes in the transfer portal (average of 13+ per institution). One can speculate as to why this is occurring, but rest assured, our #1 priority is the student-athletes at CU, and we will continue to stand committed to educating, investing in, and providing them a world-class experience.
I am, and will always be, proud of what we do for our student-athletes at the University of Colorado. What we provide in student-athlete support is unmatched around the country. We want student-athletes that want to be at the University of Colorado as this is an incredible institution. We have the best coaches and staff in place across all our sports in my tenure and I'm excited about what the future holds for CU Athletics.
Thanks to your generosity, investments into the AD Excellence Fund have allowed us to recently act upon the NCAA vs. Alston et al decision. This means we will now provide up to $2,000 to all academically eligible scholarship student-athletes each semester. In addition, we will provide up to $990 to all student-athletes who participate in five or more advanced educational courses per semester (i.e. career development, diversity, equity & inclusion, mental health, etc.). In total, we expect to provide $1.7 million in new educational support directly to our student-athletes annually.
Moreover, I am excited to announce our approach to further assisting CU student-athletes with their name, image and likeness (NIL). I am pleased to share details on our new program called the Buffs NIL Exchange. This exchange will serve as the official marketplace for all businesses, individuals, and collectives to engage with our student-athletes on their NIL opportunities.
Should you consider partnering with our student-athletes on their NIL, please register your information using the link below. The passion of our Buffs Family is unmatched, and I am excited to bring this opportunity for you to support our student-athletes in this new world of college athletics.
Go Buffs!
Rick George
–
—
NIL FAQ from CU NIL Exchange Page
WHAT IS THE BUFFS NIL EXCHANGE?
The Buffs NIL Exchange is a student-athlete NIL business registry that is designed for businesses, donors, alumni, and any other interested NIL dollars wishing to connect with CU student-athletes. Registered businesses can search, filter and initiate conversations with ~y~our student-athletes to discuss potential NIL activities. Once an NIL deal between a registrant and a student-athlete is complete, the Buffs NIL Exchange automatically produces a no-fee direct payment to the student-athlete as well as a transaction report to the INFLCR Verified Compliance Ledger, as required by Colorado state law. At the end of the year, all transactions within the Buffs NIL Exchange are consolidated into one 1099 Form for tax-reporting purposes for both registrants and student-athletes.
FAQS:
What is Name, Image & Likeness?
"Name, Image, and Likeness" or "NIL" is a common phrase used to refer to an individual's rights of publicity – the ability to control and use one's own unique identity for commercial promotion.
As of July 1, 2021, NCAA student-athletes are permitted to earn compensation from the use of their NIL by themselves or a noninstitutional third party without harming their intercollegiate eligibility or athletics scholarship.
What is an NIL deal?
A permissible NIL agreement is like a job: a quid pro quo agreement in which value is exchanged between the student-athlete and a noninstitutional third party. The student-athlete earns the compensation by performing a service or otherwise providing value to a third party (a business, a collective or a person). It is up to the third party to determine fair market value of the transaction.
This exchange of value may include, but is not limited to, transactional activities like endorsements and sponsorships, publicity activities such as appearances, autograph sessions or monetizing a YouTube channel as well as entrepreneurial ventures like selling merchandise, conducting sports camps, or operating their own product or service-based business.
Does Colorado have an NIL state law?
Yes. Instead of legislation, the NCAA issued an Interim Policy directing schools located in a state with an active NIL law to follow those regulations in place of NCAA rules when governing student-athletes' rights of publicity. Schools without a state law were able to create institutional rules. CO Senate Bill 20-123 went into effect on July 1, 2021.
Who can register with the Buffs NIL Exchange?
The Exchange is open to all businesses, groups of people, and individuals seeking to enter an NIL agreement or participate in NIL activities with CU student-athletes so long as value is exchanged between both parties.
How is the University involved in NIL deals?
Neither the University of Colorado, the CU Athletics Department, sport programs nor individual CU coaches/staff members are parties to NIL contracts. The student-athlete engages in their NIL activities as an individual. University employees, including coaches and Athletics Department staff, may not compensate student-athletes for NIL activities.
A student-athlete granting a noninstitutional third party the right to use their NIL does not extend or include the ability to use the marks and logos of CU Boulder, the Pac-12 Conference, the NCAA or other protected marks incidental to their intercollegiate athletic participation (i.e., the Nike Swoosh on a CU jersey) unless the commercial entity is a licensee who secures approval through Co-Branding or Group Licensing processes. For licensing-related inquiries, please contact licensing@colorado.edu.
Does the school or INFLCR take any revenue from NIL transactions from the Buffs NIL Exchange?
No
Who approves the request to register & how will I know when this occurs?
CU Athletics approves each registration request. You will receive an initial email upon receipt of your registration. You will then receive an email confirming your approval and that is when you may begin contacting student-athletes through the Buffs NIL Exchange.
Can I register as an individual?
Yes! When you complete the Business Information, you will be required to fill out all of the sections except the EIN. You can include your LinkedIn or social media page for the website, and a headshot for the company logo.
Does the Buffs NIL Exchange make me an official licensee of the University?
Using the Buffs NIL Exchange does not make the company a licensee of CU Athletics, and any business must follow the appropriate procedures to become a licensee and follow all intellectually property rules.  Information on how to become a licensee with CU Athletics can be found here.
Additional Resources
State Law – Senate Bill 20-123
–
—–