—
Colorado Daily – Postseason
—
March 15th 
… CU in a few minutes … 
Report from the CU coaches meet-and-greet
This report was posted in the comments section by CU at the Gamer Rob O, but it was so informative and detailed I am posting it here:
So I went to the coach meet and greet and the player autograph session. I highly encourage everyone to attend one. If you are posting on this board and reading on it then you are a fan as much as I am and the access this provided into the program was unprecedented. I spent 4 1/2 hours at the event talking to players and coaches who were amazingly open and from what I can tell really honest. I didn't get to talk to every coach but I got to talk to a lot of them. I was able to talk with a lot of the players that were there in detail as well. I walked away from the event really positive about the year coming up. There is a ton of detail under this but I thought I would give some highlights.
1. This team is very close. Only lineman and recievers were there for this event but they all said this team is really close. The guys that moved on were losses but the guys who stayed are bought into the program and more importantly bought into each other.
2. The coaches appear to have very good chemistry. No one came out and said it but I get that the chemistry on offense was not really there last year. Understandable in a losing season but you could tell the coaches across the board seemed to get along with each other and when you spoke to them you got the same message out of all of them. Not so much talking points but all of their philosophies seemed to align.
3. Turley is making a difference. I spoke to a couple of guys and they gave me specific numbers about gains and general information about health. The gains were impressive, really, really impressive. I asked them if their results were standing out and the feedback was no, the whole team is seeing gains like that.
4. Attitude. I got a little bit of a mixed message here. From the players I spoke to, it seems like everyone is fully bought in, doing the extra things it takes to turn a program around. They gave specific examples like player run practices and the high attendance, the gains they are seeing in the weight room, etc. spoke to one of the coaches and he said the core guys are definitely doing everything they need to, but he implied/hinted that he would like to see everyone doing that. He was one of the coaches with a big pro background so maybe his expectation is a 100% participation….. he was happy with the core guys though.
5. Doing things right. I have long held that CU has the Jimmy and Joes to compete in the PAC-12, not win championships but compete. And the problem was we were not doing things right. Or at least not enough things right. I am not an expert on doing things right in a college football program but I heard things tonight that made me believe we are at least on the right foot. You have to have coaches that know how to coach and motivate young men. You have to have coaches that know how to call games and design offensive and defensive philosophies. You have to have young men willing to put in the extra work instead of just showing up to practice and expecting great things to happen. Everyone has to be bought in to the same vision. There are many many more comments I heard throughout the night but I think that as of right now this team is doing a lot of the things right. Can they sustain it through the off-season and into the new season? I think so but the onus is on them.
6. Most of the guys really liked talking to fans. Everyone of them were open and engaging. It was a blast talking to them all. I really really recommend showing up and learning about these young men in person. Giving up 30 bucks, this is something I will talk about all season long….
7. The players that left made a personal decision. Everyone in the team accepted it, but….they are looking forward to seeing the, in a game. Let's just say that Perry may regret his decision to transfer to TCU on a screen play….I have a feeling someone is going to get de-cleated. The guys that are left are bought in and the team is closer for it.
8. The o line really likes Devan. Across the board. The two transfers spoke highly of him. The guys that had Kap spoke highly of him. They haven't practiced for him yet but they really like his style and to a man they all said they are excited to learn from him and think he really can help them out.
9. On the o line side, both Filip and Roddick did not really have an off-season last year. Both feel they have recovered and are fully ready to go this season and some of those gains I talked about from Turley above came from these guys. Like stupid gains….I think they are going to return to the maulers they were in 2020. I was also impressed with others. If the 5 guys I talked to are the starting 5 I think we will be in good shape. I think Roddick was the smallest of all of them and he is not a small man.
10. I think Sanford is going to have a good offense. I don't think we are going to throw up crazy numbers, that is not Dorrell's way and I think Sanford is on board with that. But in talking to the guys that have been going through the new scheme they all seemed excited about it. Sanford was excited to come here and build his offense. Not run someone else's. He made a point that I had not checked on but he said something to the effect that at each of his last stops he was inheriting an existing system from an OC that just had the best year of their career so he was basically tasked with running their offense. We all know how futile our offense was last year and so he is excited to build his offense. I will also say that a couple players talked about his energy and excitement and that they have enjoyed it. I think Devan brings that energy as well.
11. The d line coach says the talent is there. It is not a physical thing. He is not as physically imposing as So'oto but I liked talking to him. He has seen the best there is and I think he knows what it takes. He seems hungry and I think he is going to be driven to get the best out of his players.
12. Family atmosphere. Most of the players that I talked to talked about the atmosphere on the team. And that it was a family atmosphere. They are bonded. This is going to be a young team, it I think they are going to battle hard for each other. This is also going to be our recruiting pitch I think. Dorrell is going to establish this type of culture. Kids who want this type of culture will come here to become men.
13. The defense is going to take a hit with its best players leaving but the coaches like the young guys. They are not going to be perfect replacements but we won 4 games without an offense. There is room for the defense to step back a bit if the offense can step forward. The coach was very complimentary about some of the young guys.
I think it all comes down to can Sanford get more out of his qb than Chev got out of Lewis. Sanford has won at virtually every place he has ever went as an OC. The offense at Minn was very efficient, one of the most efficient offenses in the NCAA. Lewis has had another off-season, Shrout should be able to play and we have Kopp coming in and Carter returning. One of these guys will be better than Lewis was last year and I have to think Sanford will be a better OC than Chev. The o line is going to be better. Much better (expect a return to 2020, you heard it from me first….so please quote me :). The defense is of course going to take a step backward in some sense. Gonzalez, Blackmon, Landman, Wells are all. It losses. But I think people are going to like the d line. Another year, Wilson held that group together and the new d line coach is going to be focused on getting them better. I expect Barnes and Lamb to continue ti grow and Perry became a serviceable lb, another year will see him continue to get better. The coach was very complimentary about the young DB's.
–
—–
March 13th
… CU in a few minutes … 
Meet and greet with CU coaching staff at Blake Street Tavern on Monday night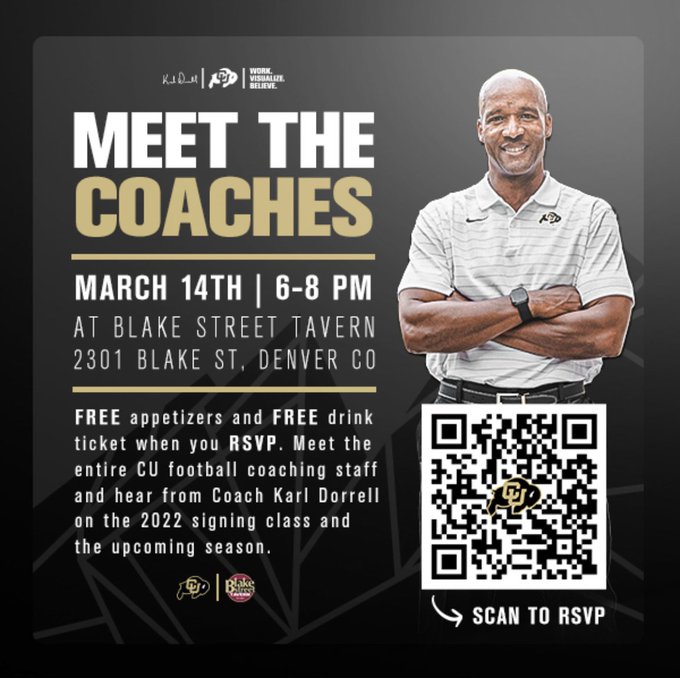 –
—–
March 11th
… CU in a few minutes …
Pac-12 Spring Practice Burning Questions: For CU, it's the offensive line
From 247 Sports … We've reached the second week of March on the college athletics calendar. For many fans, that means brackets. For the college football diehards, it means spring practice, new-look depth charts and plenty of hope for every FBS program.
Spring ball is well underway for some schools and is soon to start for everyone else, so this week 247Sports is previewing every Power Five conference with a burning question for each team. From QB battles to new coaches, this is the outlook for the Pac-12 this spring.
Colorado: What's the Offensive Line look like? 
There's an argument to be made Colorado had the worst offensive line in the Power Five last year. The Buffaloes ranked 118th nationally in PFF's pass block metric and 95th in run blocking. That led, in large part, to the Buffaloes ranking 125th nationally in yards per play despite having playmakers like wide receiver Brenden Rice and running back Jarek Broussard. Perhaps unsurprisingly, those two no longer play for Colorado. They're at USC and Michigan State respectively. It also made it difficult to judge freshman starter Brendon Lewis, who had promising moments despite constantly being under fire.
There will be some new faces along the o-line with both Colby Pursell and Kary Kutsch, arguably unit's strength, moving on. Colorado is hopeful Alabama transfer Tommy Brown can help address a need at tackle. The Buffaloes return both of their starters at the position from last year (Jake Wiley, Frank Fillip) but struggled mightily. Brown, who did play some guard at Alabama, could slide inside if those returners step up. Center is wide open this spring and there's a guard spot open as well. The o-line has to be fixed for Colorado or the offense promises to be a mess once again.
–
—-
March 7th
… CU in a few minutes … 
CU makes it official: Gerald Chatman introduced as CU's new defensive line coach
Press release from CUBuffs.com … University of Colorado head football coach Karl Dorrell filled the last vacancy on his coaching staff Monday afternoon, as he announced the hiring of Gerald Chatman has the Buffaloes' new defensive line coach.
Chatman, 33, joins the Colorado staff from Tulane University, where he was named the Green Waves' defensive line coach in January.   He had moved southeast some 50 miles from Louisiana State University, where he served as the defensive line analyst for the 2021 season and would have been retained by the Tigers' new head coach, Brian Kelly, had it not been for an opportunity to coach on the field.
"Gerald is a young, passionate coach that is excited about joining our staff," Dorrell said.  "He will bring energy, skill development, interpersonal and leadership skills to mentor our young men.  He has experience on the both the college and NFL levels, and I believe has a very bright future in our profession."
"My family and I are excited to be a part of the CU and the football program under the leadership of coach Dorrell and athletic director Rick George," Chatman said.  "It is clear that a great foundation has been built under their leadership and I look forward to getting to work, leading and maximizing the potential of those I get to work with daily.  I am excited to get to work!"
Chatman spent the 2019 and 2020 seasons with the National Football League's Cincinnati Bengals as a defensive assistant, where he worked primarily with the team's defensive ends and outside linebackers.  He helped the defensive line improve significantly in quarterback sacks and rushing yards allowed those two seasons that set up Cincinnati's run to the Super Bowl last fall, and while with the Bengals, coached former Buff defensive tackle Josh Tupou among a group that included Geno Atkins, Sam Hubbard, Carlos Dunlap, Mike Daniels and Carl Lawson.
He has worked with three NFL teams as a defensive coaching intern through the Bill Walsh NFL Minority Coaching Fellowship program, which takes place during summer camps.  He spent the summer of 2015 as a defensive coaching intern with the Green Bay Packers, where he assisted with both the defensive line and linebacker units.  He was also selected to participate in the NFL-NCAA Coaches Academy that season.  He spent a portion of the 2016 NFL preseason as a defensive coaching intern with the Super Bowl Champion Denver Broncos, and then in 2018, he had his first position with  the Bengals, working OTA's (organized team activities) and camp.
Before his time with the Bengals, Chatman rose through the college coaching ranks.  He spent 2017-18 at Tennessee State University, where he worked as the defensive ends and linebackers coach in 2017, and then had special teams coordinator duties added to his chores for the 2018 season.  That year, he coached three special teams players to All-Ohio Valley Conference honors, including Chris Rowland, the OVC special teams player of the year  (he averaged 13.0 yards per punt return).  He also coached end Mekhi Brown to second-team All-OVC honors, after posting 6.5 tackles for losses and four sacks.
In 2017, his first at Tennessee State, he helped guide the Tigers' defense to average yields of just 19.6 points and 278.5 yards per game, good for a No. 7 FCS ranking in total defense.  He had moved on to TSU from Elon University, where he was the defensive line coach for the 2016 campaign.
In 2015, Chatman was a graduate assistant at Texas A&M University, where he worked primarily with the defensive line.  The Aggies posted an 8-5 record and played in the Music City Bowl, with his coaching assisted defensive end Myles Garrett to All-SEC and All-America honors.  That year, he was also selected to participate in the NFL-NCAA Coaches Academy.
Chatman spent the 2014 campaign as the defensive line coach and assistant recruiting coordinator at Butler University.  The D-Line played a key role in the Bulldogs leading the Pioneer Football League in rushing defense and being second in sacks in posting a 4-7 record, but with three one-score losses.
He was a defensive graduate assistant at Ball State University for the 2012 and 2013 seasons, with the Cardinals going 19-7 over those two years (13-3 in Mid-American Conference games).  BSU earned bowl invitations both seasons (versus UCF in the 2012 Beef O'Brady's and against Arkansas in the 2013 GoDaddy.com; the Cardinal gave the Razorbacks a run for their money in the latter, falling in the final minute, 23-20).  He helped oversee the development of Cardinals DE Jonathan Newsome, who earned first-team All-MAC honors and later was selected in the fifth round of the 2014 NFL draft.
Chatman graduated from the University of Wisconsin-Oshkosh in 2011 with a bachelor's degree in Educational Leadership and Human Service, and earned his master's degree in Adult and Community Education from Ball State in 2013.  He earned four letters playing both defensive end and tackle for the Titans from 2006-10, and got his start in coaching at his alma mater, as the defensive line coach for the 2010 and 2011 seasons before moving on to Ball State.
A native of Milwaukee, Wis., he is married to the former Lauren Hoffmann and the couple has three daughters, Kinley,  Amelia and Maya.
–
—–
March 4th
… CU in a few minutes … 
Nate Landman NFL Combine stats: "Good instincts and awareness"
From NFLDraftBuzz.com …
40 TIME: 

4.75 SECONDS
HEIGHT: 

6-3 

WEIGHT: 

236
HANDS: 

9 

ARMS: 

30 7/8 

SPAN: 

76 2/8
DATE OF BIRTH:

 11/19/1998 

AGE: 

23.3
Strengths
A bit stiff but makes the clean open-field tackle. Good effort in pursuit.
Has a filled-out frame with good thickness. Plays at full speed at all times with an active motor and determined quickness in pursuit.
Good key and diagnosis skills. Quickly locates the ball and shows no wasted motion in getting there. At least adequate lateral agility to avoid blockers and shows good vision and anticipation.
Flashes strength to punch or stiff-arm to get off blocks. Stays with plays downfield, often making tackles even after being hit by multiple linemen.
Plays fast, flows with the action, showing smooth lateral agility and short-area burst. Has good instincts and awareness to quickly find the ball.
Weaknesses
He'll add quality depth but must earn more than a backup/special teams role.
Can be too hesitant when he doesn't find the ball immediately.
Has inconsistent read/react skills with streaky awareness when asked to drop in coverage. Is like a bull in a China shop with his aggressive style of play, causing him to play undisciplined and overpursue.
Lacks elite quickness and change-of-direction ability to handle NFL slot receivers after initial contact.
Hits up high and misses more tackles than he should.
–
—–
March 1st
… CU in a few minutes … 
Vic So'oto refutes Dorrell "family reasons" statement as So'oto's reason for leaving
… Related …"Vic So'oto Hired to Coach Cal OLBs After Stops at USC and (Briefly) Colorado" … from Sports Illustrated
From the Daily Camera … So'oto is from Southern California and spent the past two seasons coaching the defensive line at USC. Prior to that, he spent four years at Virginia. He played collegiately at BYU before a four-year NFL career.
"I'll address this once since I now have family and close friends reaching out to check on us," So'oto wrote on Twitter on Tuesday. "Proximity to 'support' was not on the list of my reasons to leave CU. This next opportunity was purely one I couldn't pass up. I'll go anywhere to coach if the opportunity is right.
"Coached across the country and will continue to do so. I'm thankful for (CU athletic director Rick George), Karl and the gang and wish them nothing but the best. My decision was based on a lot of reasons and thankfully we aren't in dire need of support at this moment, like the statement sounds. All love."
Through a CU spokesperson, Dorrell said he stands by his comment in Monday's release and reiterated that family was the main reason he was given for So'oto's departure.
–
—–
February 28th
… CU in a few minutes … 
Buffs lose defensive line coach Vic So'oto
Press release from CUBuffs.com … University of Colorado defensive line coach Vic So'oto informed CU head coach Karl Dorrell on Monday that he has decided to return to his home state of California and take a coaching position there for family reasons.
"It is disappointing we're losing Vic after just two months, but this is purely family related.," Dorrell said.  "He has five young children and with most of both sides of his family living in California, they can use the additional support.  So we understand why he wants to take advantage of an opportunity to move back and be closer to them."  The So'otos have three sons and two daughters.
So'oto was one of six new assistant coaches hired this offseason by Dorrell; he had coached the previous two seasons at USC and grew up in California, prepping at Carlsbad High School.  A search to fill the staff vacancy is already underway; spring football practices at CU begin on Wednesday, March 30, with the spring game on Saturday, April 23.
–
—
Phil Steele's Projected Preseason Top Ten includes two Pac-12 teams
From PhilSteele.com … Spring football has already begun for some teams and every year in late February, I put out my Projected AP Top 10 basically six months ahead of the AP Top Ten release.
It is important to make the point that this is NOT my preseason Top 10 for next season, rather what I am projecting the Preseason AP Top 10 will look like to start the season.
My predicted AP Top 10 has been a PERFECT 10 for 10 each of the last FOUR years! When I predict the AP Top 10 in February (about a HALF YEAR ahead of the actual AP poll), I have now hit on 125 out of 130 over the last 13 years! That means hitting all 10 teams in eight of the thirteen years and missing by just one team in the other five years. Once again, predicting the top ten teams in the AP poll SIX MONTHS in advance, the record is now 125 out of 130 or 96.2%!
My 2022 Projected AP Preseason Top 10.
1. Alabama
2. Georgia
3. Ohio State
4. Clemson
5. Texas A&M
6. Notre Dame
7. Michigan
8. Utah
9. Oklahoma
10. Oregon
–
—–
February 27th
… CU in a few minutes … 
Recruit Edward Schultz "very, very excited" to get to Boulder early
From the Daily Camera … Playing for a young team in one of the toughest leagues in California high school football, Edward Schultz didn't realize college recruiters had their eye on him, despite a stellar junior season.
Three months after his junior year came to an end, however, Schultz has not only received multiple scholarship offers, but now has his sights set on a career in the Pac-12. Earlier this month, the 6-foot-1 receiver from JSerra Catholic (Calif.) High School gave his verbal commitment to Colorado for the 2023 class.
"I'm very, very excited," he said. "I want it to come now, instead of having to wait another year.
"Committing this early to Colorado, it's very stress relieving because I didn't know at all where I was at (compared to other recruits) in the Trinity League. Our team is probably the youngest of them all, so we're not really the top dogs and it's hard to get film out to (colleges). So, it's really nice being able to have that spot there."
Although JSerra went just 3-8 in 2021 (0-5 in the Trinity League), Schultz stood out. He was the special teams player of the year in the league, breaking school records for single-season kickoff return yards (812) and kickoff return touchdowns (four). He also caught 21 passes for 335 yards and three touchdowns, averaging 16.0 yards per catch.
… Continue reading story here …
–
—–
February 24th
… CU in a few minutes …
CU hires three Quality Control Analysts
According to a tweet posted by Michael Downing (see below), the University of Colorado has a new Defensive Quality Control Analyst. Michael Downing comes to CU from TC. According to Downing's TCU bio … "After concluding his TCU playing career, Michael Downing Jr. joined the coaching staff in January 2018 as a graduate assistant".
Cordale Grundy joins the Buffs after spending the past two years working for the Miami Dolphins. Grundy is from Tulsa, Oklahoma, and played quarterback for UT-San Antonio in 2018-19.
Another new analyst, for the wide receivers, is Brandon Gibson, also coming to CU from the Miami Dolphins (wide receivers coach Phil McGeoghan, who also coached for the Miami Dolphins, is the connection here). Gibson, who played collegiately for Washington State (and finished his his career as the Cougars all-time leading receiver, with 2,756 yards and 182 receptions), played eight seasons in the NFL.
The Downing tweet …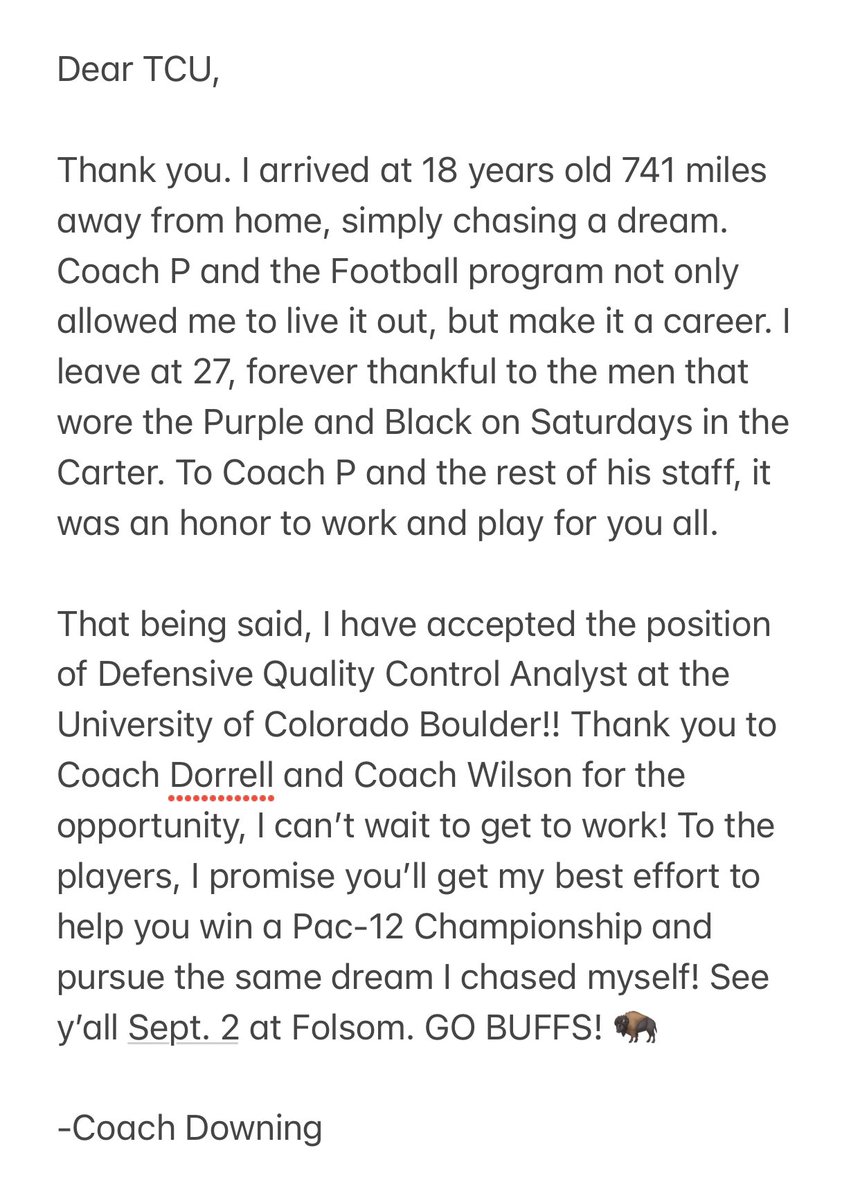 –
—–
February 23rd
… CU in a few minutes … 
Two former Buffs taken in USFL Draft
From the Daily Camera … Two former Colorado football players were selected in the inaugural draft of the United States Football League.
Cornerback Delrick Abrams Jr. and linebacker Drew Lewis were chosen during the two-day, 35-round draft.
The eight teams in the newly formed league selected from a group of 450-500 players who had already signed contracts to play in the USFL. Each round was limited to a particular position group, beginning with quarterbacks in the first round.
Abrams was the first cornerback selected, going to the Tampa Bay Bandits with the first pick of the eighth round.
Abrams played in 20 games, with 18 starts, for the Buffs from 2018-19, recording 89 tackles and 15 pass breakups. After going undrafted in 2020, he played that season with the NFL's Atlanta Falcons. Abrams was waived by the Falcons on Aug. 31, 2021, and spent three days on the Los Angeles Rams' practice squad in December.
Lewis, an outside linebacker, was taken with the third pick in the 31st round by the Houston Gamblers.
From 2016-18, Lewis played for the Buffs. After playing special teams in 2016, he was a full-time starter at inside linebacker in 2017 and shifted to outside linebacker in 2018. Overall, he played in 37 games at CU, with 18 starts, racking up 193 tackles.
… Continue reading story here …
–
—–
February 21st 
… CU in a few minutes … 
WR Coach Phil McGeoghan: "I've only done this job. I've been a player and I've been a coach. So this is what I love"
From the Daily Camera … Phil McGeoghan (in taking a year off from football to be with his family) found some balance, spending more time with family while staying sharp as a coach. He visited Alabama, LSU, Louisville and Louisiana Tech, he said, adding, "I did a lot of Zooms and clinics and coached my son's flag football team."
Ultimately, not being a part of a team for a year was good for McGeoghan.
"I surrounded myself with some really good mentors and my wife, Tori, was so strong," he said. "She deserved the husband that I was this year and my kids deserve the father that I was this past year. And, CU is going to get the best version of myself because of the decision I made in 2021."
The opportunity to work with Dorrell is what drove him to Boulder.
As a player, McGeoghan spent parts of two seasons (2001-02) with the Denver Broncos and Dorrell was his position coach.
"Playing for coach Dorrell was a real pleasure, a real blessing for me to get a chance to see how he cared for his players, his individualized approach to the development of each individual player," McGeoghan said. "When we watched him, what he did for his family while he was our position coach, it really impacted a lot of the guys in that room.
"I was able to model a lot of my philosophical beliefs around (then Broncos head coach Mike) Shanahan and that staff. … Dorrell is a very patient teacher. He has a lot of integrity and personal character."
For several years, Dorrell and McGeoghan were both receivers coaches in the NFL and kept in touch.
"I believe the first thing that's very important in this profession is trust and loyalty," McGeoghan said. "I trust coach and he trusts me. I'm loyal to him and he's loyal to me. That's always been that way for 20 years."
During his career, McGeoghan has coached several 1,000-yard receivers in the NFL, including Keenan Allen, Brian Hartline, Jarvis Landry and Mike Williams. At East Carolina in 2016, Zay Jones (now with the Las Vegas Raiders) was a first-team All-American with 158 catches for 1,746 yards.
"I've had a lot of guys catch a lot of passes," he said. "But I think the guys that you would reach out to that have been successful … would say I've cared more about them as people than I did about those big numbers that they put up. We are proud of those numbers, but there's also more that goes in behind the scenes and that's really what I'm looking forward to bringing to this program."
… Continue reading story here …
–
—–
February 20th
… CU in a few minutes … 
Three CU 2022 signees earn All-State award honors in Texas
From coloradobuffaloeswire.com … The Texas Sports Writers Association released its Class 6A All-State football teams on Feb. 12 and three of the players selected are members of Colorado's 2022 class. Van Wells and Jordyn Tyson received first-team honors while Chase Sowell made the second team.
Wells is a center from C.E. King High School in Houston and is listed at 6-foot-2, 290 pounds. He is the only center in the Buffs' 2022 class and had also received an offer from another Colorado school in the form of Air Force.
Tyson is a 6-foot, 170-pound wide receiver out of Allen High School and is the No. 129 player at his position nationwide for 2022. He averaged over 18 yards per catch during his senior season and reeled in 12 touchdowns.
–
—–
February 19th
… CU in a few minutes … 
TE Coach Clay Patterson insists CU will use tight ends this fall: "It's a very unique position"
From the Daily Camera … Players such as Rob Gronkowski, Travis Kelce and George Kittle have played a significant role in the evolution of the tight end position in recent years.
More than ever, the tight end is a major weapon as a receiver.
Colorado tight ends coach Clay Patterson always reminds his players, however, that even the stars do the dirty work.
"All you see on SportsCenter is those guys catching balls, but they're very physical guys and they play the game the right way all the time," said Patterson, who was hired last month to coach the Buffs' tight ends. "They don't just wait until the ball is coming their way. We use that (as a teaching tool) a ton, to be honest with you, because I love watching (Kittle) play and watching how Kittle blocks and the things he does and his athleticism is unbelievable.
"A guy like him, they're the best players at their position but they have to pass protect and we use that to show our guys, 'Hey man, you've got to be able to do it all if you want to be the best.'"
Patterson has the goal of making the Buffs' tight ends versatile weapons that can do it all for the offense.
"Tight ends are a matchup problem if they have the right skill set," Patterson said. "It's fun to watch because as a tight end, you're really a unique person and unique player because you have to be on O-lineman and you have to pass protect. You have to be able to run block and then you have to be able to go beat man coverage, zone coverage and go make plays. So it's a very unique position."
… Continue reading story here …
–
—–
February 18th
… CU in a few minutes … 
CB Coach Rod Chance: "I'm going to focus on the men that are in the room more so than the guys that are not"
From the Daily Camera … First, coach Demetrice Martin left the Colorado Buffaloes in mid-December.
Shortly after that, star Christian Gonzalez put his name in the transfer portal. In January, senior Mekhi Blackmon jumped on the train out of Boulder.
CU's cornerback room has undergone a massive change this offseason, but Rod Chance doesn't concern himself with those who left.
"I'm going to focus on the men that are in the room more so than the guys that are not," said Chance, hired as CU's new cornerbacks coach on Dec. 31. "Those are the guys who we're gonna go to battle with. Those are the guys we're gonna win football games with."
Chance welcomed the opportunity to come to Boulder and work with head coach Karl Dorrell. For Chance and his players, the 2022 season will be somewhat of a clean slate at corner.
"I think anytime you enter a room, regardless of who's in that room, as a new coach, you kind of have to provide that opportunity," Chance said. "If not, you lose credibility as a coach. Everybody wants to believe they have a fair shot, and one year to the next year doesn't guarantee that you're gonna have an opportunity to start. Regardless of who was in the room, that was gonna be my approach either way."
… Continue reading story here …
–
—
No deal on expansion: College Football Playoff to remain at four teams for four more years
From the Associated Press … The College Football Playoff is set to remain a four-team format through the 2025 season after the administrators who manage the postseason failed to agree on a plan to expand before the current contracts run out.
The CFP management committee, comprised of 10 conference commissioners and Notre Dame's athletic director, met by video conference earlier this week, Executive Director Bill Hancock said Friday in a statement.
Unable to break an impasse, the commissioners decided to abandon efforts to implement a new 12-team format for the 2024 season and recommended staying with the current model to the presidents who oversee the playoff.
The Board of Managers accepted the recommendation and directed the commissioners to continue discussions on a new format to go into effect for the 2026 season.
"Even though the outcome did not lead to a recommendation for an early expansion before the end of the current 12-year contract, the discussions have been helpful and informative," Hancock said. "I am sure they will serve as a useful guide for the Board of Managers and for the Management Committee as we determine what the playoff will look like beginning in the 2026-2027 season."
–
—–
February 16th 
… CU in a few minutes … 
Pac-12 Quarterback Comfort Rankings: CU facing "extreme uncertainty"
From the San Jose Mercury News … The Hotline has published biannual Quarterback Comfort Quotient (QBCQ) rankings for years. Never has there been a better example of the process than what we witnessed in Salt Lake City in the fall of 2021.
Utah was No. 1 in our QBCQ rankings prior to the season because the Utes possessed not only a proven starter but also a capable backup.
Admittedly, we didn't expect the starter, Charlie Brewer, to stumble and the backup, Cameron Rising, to lead the Utes to the conference title. But the situation proved exactly why having two capable quarterbacks is critical.
Whether it's because of injury or substandard play, the starter is unlikely to take every meaningful snap. Teams with quality Plan Bs are best equipped to navigate the season.
1. UCLA
Projected starter: Dorian Thompson-Robinson
Projected backups: Ethan Garbers, Chase Griffin
Comment: No team is better positioned to navigate QB potholes than the Bruins, who possess one of the best starters in the conference and a more-than-capable backup. Garbers will assuredly ride the bench as long as Thompson-Robinson remains healthy, but he's a starting-caliber talent who performed admirably in the crucible of Rice-Eccles Stadium during his lone start last season. In fact, UCLA goes three deep with competence: Griffin nearly won in Autzen Stadium in 2020.
…
12. Colorado
Projected starter: Brendon Lewis
Projected backups: J.T. Shrout, Maddox Kopp (from Houston), Owen McCown
Comment: The number of options listed reflects the extreme uncertainty CU faces. Lewis was erratic in 2021, his first year as a starter. Shrout might have been an able replacement but missed the year with a knee injury. Kopp arrives from Houston with no experience, while McCown, the son of NFL quarterback Josh McCown, was a three-star recruit. No depth chart in the conference has greater potential for substantive change over the next six months. The state of the Buffaloes' QB room on Sept. 1 is anyone's guess.
… Continue reading story here …
–
—
Defensive line coach Vic So'oto: "You need a defensive line that's violent and physical"
From the Daily Camera … After spending the past two years coaching the defensive line at Southern California, Vic So'oto is one of six new coaches on the CU staff and one of the key acquisitions for a defense that is looking to crank its game up a notch or two.
… So'oto said he was drawn to the opportunity at CU not only because of (defensive coordinator Chris) Wilson but also the Buffs' defensive philosophy.
"I've had to play between three- and four-down fronts and for a defensive lineman that makes it pretty difficult to even play and practice; what are we planning on? Are we doing more three-down or four-down?" So'oto said. "But being able to be in this system where it's primarily four-down, where we're getting vertical and getting to the quarterback and getting in the backfield is something that really excited me."
In addition, So'oto said he likes the talent in the room. CU is led by seniors Terrance Lang and Janaz Jordan and juniors Na'im Rodman and Jalen Sami.
"We have some really good players here that I think can achieve whatever they want to achieve in this league," So'oto said.
To achieve success, So'oto said he will teach a "core philosophy of being violent" on the defensive line.
"You need a defensive line that's violent and physical," he said. "If you have a physical, violent defensive line, then everything else can kind of take care of itself. … My experience, one playing in the NFL as an outside linebacker for six different teams and then being in the ACC and now the Pac-12 with two different teams in the Pac-12, it's the same thing. We're going to be built on a violent, physical nature. We're gonna establish the violent, physical nature of football, and we're gonna have a violent mindset. From there it gets really simple when you start knocking the guy back that's in front of you."
–
—–
February 15th
… CU in a few minutes … 
JC defensive back transfer Jeremy Mack: "I'm looking forward to getting there and making plays"
From BuffStampede.com … Little less than two weeks after signing a national letter of intent with Colorado, it is finally starting to sink in for defensive back Jeremy Mack. And he is excited for what the future holds.
A native of Mississippi, Mack went from under-the-radar Junior College prospect to Pac-12 signee in a short period of time. He picked up an offer from the Buffaloes on Jan. 24 and was on a plane to Colorado a few days later for an official visit.
"I was hosted by Montana (Lemonious-Craig) and that is another important thing: I wanted to see if there were guys on the team that are similar to me. I honestly didn't know what to expect. But Montana and I connected just like he was a friend from back home. That also makes me feel comfortable going out there. I feel like I can become a better football player there, but I feel like I can become a better man in the state of Colorado, too."
… Mack plans to be finished with his schoolwork at East Mississippi C.C. by May, giving him two months in Boulder to get ready for his first preseason camp with the Buffs.
"I will be coming in playing more free safety and nickel (back)," he said. "So I will be playing out in the slot and I'll be playing some in the middle of the field; doing different things like that. It has been feeling good to know I am signed with Colorado and now I have to learn the terminology, learn the plays, and we started football school."
–
—
Offensive line coach Kyle DeVan: "There's a good foundation; everybody's gonna start over with a clean slate"
From the Daily Camera … On Saturday, the Colorado offensive line racked up a large bill at Torchy's Tacos, but for Kyle DeVan those outings are less about the food than they are about building camaraderie.
Hired in December to coach the Buffaloes' offensive line, DeVan knows the importance of getting to know his players as young men during his first offseason with the group.
CU lost two of its five starters — center Colby Pursell and left guard Kary Kutsch — to graduation and a pair of key backups (Chance Lytle and Kanan Ray) to the transfer portal.
Three starters — left tackle Jake Wiley, right guard Casey Roddick and right tackle Frank Fillip — and seven backups are back. The Buffs have also added five linemen this offseason.
DeVan said he isn't too concerned about the 2021 results or depth chart, however. It's about him and the players starting over and trusting each other.
"Everybody's gonna start over with a clean slate," he said. "The guys in my room have been through a lot with the two offensive line coaches this past season. I think trust was a big deal.
"There's a good foundation, so I wanted to let those guys know I'm here to gain their trust, just like they're currently here to gain my trust. I've seen that and I experienced it as a player, so I'm very understanding of the change coach (Karl) Dorrell made during the season. I think talking to them all, they're all eager just to continue their process and that's something I really appreciate. I know they've been through a lot. I'm understanding of that and want all those guys to understand that they're going to get a fresh start."
… Continue reading story here …
–
—–
February 14th
… CU in a few minutes … 
Gray-shirt running back Anthony Hankerson could still enroll this season: "I can get a phone call at any time"
From CUSportsNation.com … St. Thomas Aquinas (Ft. Lauderdale, Fla.) tailback Anthony Hankerson is set to delay his enrollment at Colorado until the spring of 2023 via grayshirting. However, he has been told by Karl Dorrell and Co. to essentially stay ready. If the Buffs find themselves in a bind post-spring, with respect to losing a tailback(s) to the portal or injuries, Hankerson said he could "get the call" to enroll at Colorado this upcoming summer.
But for now, he'll grayshirt. CU's running backs room looks pretty good right now heading into spring, with Ramon Jefferson, Alex Fontenot and Deion Smith looking like they'll split handoff duties.
Class of 2020 signee Allan Baugh, the first player to commit to Colorado after Dorrell was named head coach at CU, is also a St. Thomas Aquinas graduate.
"When I went up on the visit, it was just everything that I wanted, all in one visit," Hankerson said. "The facilities were amazing, (Boulder) was amazing — it's a nice college town — all the fans are in it. That's something that I'd love to be a part of and I love that around me."
… "As of right now, it's a grayshirt," he said. "But how the process works, if somebody on scholarship enters the transfer portal and transfers out, I can get a phone call at any time."
… Continue reading story here …
–
—–
February 12th
… CU in a few minutes … 
OC Mike Sanford on running backs: "We're gonna utilize our personnel, that's the bottom line"
From the Daily Camera … During his career as a coach, CU offensive coordinator Mike Sanford has worked with a variety of running backs. Some fit the prototypical mold and some didn't, but Sanford said he's not worried about a particular height or weight or speed for that position.
"We're gonna utilize our personnel, that's bottom line," he said. "It's not going to be a cookie cutter offensive system that we just say, 'Hey, you've got to be in this position, we're going to run the same plays over and over and if you fit in, great; if you don't, you don't.' We're gonna customize and tailor it as we get to know our personnel better to be able to put the right running backs in the right position to go be successful based off of what runs that they execute at a higher level and what they can do in the pass game."
CU's running back room includes senior Alex Fontenot, who led the Buffs in rushing in 2019 and had 326 yards and five touchdowns last season; and junior Deion Smith, who had 192 yards and two touchdowns in a limited backup role last season.
CU also recently added Ramon Jefferson, a graduate transfer from Sam Houston who was an FCS All-American in 2021. Sophomore Jayle Stacks and true freshman Victor Venn will also be in the mix.
"We've got guys that have shown production at this level, and I'm excited to watch those guys compete because there's not going to be one running back," Sanford said. "It's going to always be by committee. … You've got to have a deep group there because they're all going to touch the football."
–
—–
February 11th 
… CU in a few minutes … 
S&C Coach Shannon Turley seeing leaders emerge in CU's offseason workout program
From the Daily Camera … CU is about a month into the offseason workout program. Shannon Turley, the director of football sports performance, is entering his second season with the Buffs and that comfort is making a difference. So is the comfort of the players as they are now familiar with Turley's program.
"You get to see new leaders emerge and have those guys drive the process," Turley said. "You can enlist players on the rise that maybe proved themselves in a developmental role during the fall, where they didn't get a chance to shine on Saturdays on the field, but they were working in the shadows in the weight room. Now they're here to compete and they want to prove themselves in the offseason and in preparation for spring ball. So it's really exciting and we've laid a great foundation so far."
Hired in late January of 2021, Turley spent a large chunk of last year teaching his program. Now, many returning players are not only familiar with the program but leading it.
"It's paramount to our success," Turley said of players stepping up as leaders. "It's one thing when coach Turley says it. It's received differently when Terrence Lang says it."
Asked about the players stepping up, Turley said, "It's too many guys to name right now, which is really exciting." But, he did mention several who are leading, including Lang, a senior defensive end; tight end Brady Russell; quarterback Brendon Lewis; receivers Daniel Arias, Montana Lemonious-Craig and Chase Penry; linebacker Robert Barnes; cornerback Nikko Reed; and offensive lineman Casey Roddick.
Turley added that newcomers Tommy Brown and RJ Sneed are leading, as well. Brown is an offensive line transfer from Alabama and Sneed is a receiver transfer from Baylor.
… Continue reading story here …
–
—–
February 10th
… CU in a few minutes … 
It's Official: Cliff Branch elected to the Pro Football Hall of Fame
Press release from CUBuffs.com … The long wait is over.
University of Colorado Athletic Hall of Famer Cliff Branch, who passed away in 2019, finally had his dream come true Thursday as he was selected for induction into the Pro Football Hall of Fame in its 2022 class.  The induction will take place in Canton, Ohio, in August.
The NFL announced the full class and Branch was selected by the veteran's committee along with former Super Bowl-winning head coach Dick Vermeil.  Last August, Branch was selected as the Senior finalist and Vermeil the Coach finalist by a five-person panel of selectors for the Hall of Fame.
While there will be 10 Buffaloes in the College Football Hall of Fame with the induction of the late Rashaan Salaam this December, Branch, a three-time All-Pro, is the first with a CU connection who will be enshrined in the Pro Hall.
Branch, who many say changed the game after he was selected by the Oakland Raiders in the fourth round of the 1972 NFL Draft, as he was deemed a "football player with speed and not a speedster who played football."  And he would become one of the most dynamic receivers of his era as the speedy deep threat who stretched opposing defenses.  He caught 501 passes for 8,685 yards and 67 touchdowns in 14 seasons (1972 to '85) for the franchise, and added 73 receptions for 1,289 yards and five touchdowns in the postseason (only Jerry Rice, Julian Edelman and Michael Irvin have more postseason receiving yards than Branch).  He averaged 17.3 yards per reception over his career (17.7 in the postseason).
He was a part of three Super Bowl championship teams with the Raiders (two in Oakland, one in L.A.), and led the NFL in touchdown receptions twice, with 13 in 1974 and 12 in 1976.  He was a first-team All-Pro in 1974, '75 and '76.
He will forever be etched into the NFL record book: on Oct. 2, 1983, he co-owns the NFL record for longest pass reception, 99 yards from Jim Plunkett in a 37-35 loss at Washington.  The Raiders, which had relocated to Los Angeles the year before, revenged that loss by beating the Redskins later that season in the Super Bowl, 38-9.  Branch caught six passes for 94 yards with a TD in that game (he had 14 receptions for 181 yards and three TDs in the three Super Bowls).
He was a rookie in 1971, the same year Hall of Fame Coach Tom Flores began his first assistant coaching job with the Silver and Black.  Flores was quoted on raiders.com Thursday on Branch's selection.
"I had him from his first day ever as a Raider.  I watched him grow up, watched him make big plays and just watched him grow as a person," Flores said. "I was so proud of him and what he became. He was a game-changer.  He not only had incredible speed, he changed the game.  I'm very happy for him.  I loved him. My kids loved him.  I hope our busts are close by, so we can talk," Flores said with a laugh.
At Colorado, in two seasons, he caught 36 passes for 665 yards and three touchdowns (averaging 18.5 yards per), while rushing 31 times for 354 yards and five scores (11.4 per carry).  He returned eight kicks for touchdowns (six punts, two kickoffs); he averaged 25.2 yards per kickoff runback and 16.7 per punt try.  He amassed 2,507 all-purpose yards in just 22 games, seventh-most in school history at the time (the six ahead of him all played three years).  A member of CU's All-Century team, he helped the Buffaloes to a 10-2 record and No. 3 final ranking as a senior in 1971 – the school's first 10-win season and highest ranking at the time.
Branch is not eligible for the College Hall; he was not recognized as a first-team All-American by one of the five organizations that the National Football Foundation requires for minimum eligibility.  Though he was a first-team pick in 1971 by the Football News, it has never been among the five.  He was inducted into CU's  Athletic Hall in its eighth class in 2010.
He died at the age of 71; his sister, Elaine Anderson, said in a call with Hall of Fame president David Baker that her brother "dreamed of this" and "wanted this so bad, he could taste it."
–
Pro Football Hall of Fame Press Release 
From ProFootballHallofFame.com … Eight "Heroes of the Game" have been elected to the Pro Football Hall of Fame's Class of 2022. The Hall's 49-person Selection Committee met virtually Jan. 18 for its annual meeting.
The new class of Enshrinees was just announced during "NFL Honors," a two-hour primetime awards special that aired nationally tonight on ABC with simulcasts on ESPN+ and NFL Network. The newest members of the Pro Football Hall of Fame are tackle TONY BOSELLI, wide receiver CLIFF BRANCH, safety LeROY BUTLER, official ART McNALLY, linebacker SAM MILLS, defensive end/defensive tackle RICHARD SEYMOUR, coach DICK VERMEIL and defensive tackle/defensive end BRYANT YOUNG.
Boselli, Butler, McNally, Seymour, Vermeil and Young learned of their election when a Hall of Famer knocked on their door in late January. Those encounters can be seen Saturday when NFL Network airs a one-hour special, beginning at 9 p.m. ET. The families of Branch and Mills received the news in a phone call from Hall of Fame President Jim Porter.
"Each member of this great class represents the values of the Pro Football Hall of Fame," Porter said. "We look forward to honoring them in August."
The annual selection meeting capped a year-round selection process. The newly elected Hall of Famers were chosen from a list of 18 Finalists who had been determined earlier by the Pro Football Hall of Fame's Selection Committee. Representatives of the accounting firm EY tabulated all votes during the virtual meeting.
The Class of 2022 will be enshrined into the Pro Football Hall of Fame on Saturday, Aug. 6 at Tom Benson Hall of Fame Stadium in Canton.
CLIFF BRANCH
HOF Finalist: 2 | Year of Eligibility: 32
Position: Wide Receiver
Ht: 5-11, Wt: 170
NFL Career: 1972-1985 Oakland/Los Angeles Raiders
Seasons: 14, Games: 182
College: Warton County (TX) Junior College; Colorado
Drafted: 4th round (98th player overall), 1972
Born: August 1, 1948 in Houston, Texas
Died: August 3, 2019
A world-class sprinter who set an NCAA championship meet record with a 10-second 100-meter dash out of Colorado … Fourth-round draft pick (98th overall) by the Oakland Raiders … 14-year NFL career, his career stats include 501 catches for 8,685 yards and 67 touchdowns in 182 regular-season games … Branch helped lead the team to three Super Bowl appearances – XI, XV and XVIII – with a victory in each … Led the NFL with 1,092 receiving yards and 13 touchdowns in 1974 … In 22 playoff games, he caught 73 passes for 1,289 yards (17.7 average) – both NFL records at the time of his retirement … Branch received first-team All-Pro nods three times (1974-76) and was voted to four Pro Bowls (1975-77, 1978).
–
—
CU Board of Regents approve new contracts for assistant coaches
From the Daily Camera … New offensive coordinator Mike Sanford has signed one of the most lucrative deals for an assistant coach in Colorado football history, and the entire salary pool for assistants will be higher than ever this season.
On Thursday, the CU Board of Regents approved the contracts of Sanford and three other new assistant coaches, as well as new deals for two returning assistants.
The contracts were among several items in a consent agenda that passed by a vote of 8-0. One regent, Heidi Ganahl, was not present.
In addition to Sanford, regents approved contracts for new assistants Kyle DeVan (offensive line), Phil McGeoghan (receivers) and Clay Patterson (tight ends). Returning coaches Brett Maxie (safeties) and Mark Smith (inside linebackers) both got new contracts and those were approved, as well.
The contracts for new assistants Rod Chance (cornerbacks) and Vic So'oto (defensive line) are still being finalized and were not presented to the regents for approval on Thursday.
… Overall, CU's salary pool for its 10 full-time football assistants will top $3.5 million for the first time.
Although the contract terms for Chance and So'oto are not known, the other eight coaches are slated to make a combined $3,320,000. The contracts for Chance and So'oto could bring the total salary pool to around $4 million for the 2022 season.
The previous high was $3.455 million in 2021.
… Continue reading story here …
–
—
Advocacy group sues USC, UCLA and the Pac-12 to classify college athletes as employees
From The Athletic … In the latest attempt to classify college athletes as employees, the National College Players Association filed unfair labor practice charges with the National Labor Relations Board against the NCAA, Pac-12, UCLA and USC as joint employers of FBS football players and men's and women's college basketball players on Tuesday.
"College athletes meet the definition of employee under labor law," NCPA executive director Ramogi Huma, a former UCLA football player, said in a release. "They are highly skilled in their sport, paid scholarships and stipends to perform athletic services, and they perform their work under extensive control of their employer. These athletes deserve every right afforded to them under labor laws – just like other hard-working Americans."
The complaint comes after Jennifer Abruzzo, general counsel for the NLRB, published a September memo sharing a belief that some college athletes should be classified as employees. That opened the door for advocacy groups to push their case in hopes of getting in front of the five-member board. A similar complaint was made by another group to the NLRB's Indianapolis regional office in November.
The National Labor Relations Act only covers the private sector. That includes private schools, not public schools, but a footnote in Abruzzo's memo hinted the NLRB could try to assert jurisdiction over the NCAA and conferences. Any resolution on this is months away, if not years.
In 2015, Huma helped Northwestern football players petition to form a union, a move that was eventually dismissed by the NLRB panel. Huma's group also helped push for name, image and likeness laws that went into place last year and now impact all of college sports.
This move is the latest of several legal attempts by many to reshape how college athletes can earn compensation for the billions of dollars college sports bring in.
"The NCAA invented the term 'student-athlete' to deny us college athletes protections under labor laws," Iowa men's basketball player Jordan Bohannon said in the NCPA release. "That deception harms us physically, academically, and economically. I love playing for Iowa. In fact, I love it so much I'm back finishing my sixth year. But the truth is that like all FBS football and Division I basketball players, I am an employee of my school, conference, and the NCAA. My school treats my teammates and I very well, the University of Iowa is a good employer."
… Continue reading story here …
–
—–
February 9th
… CU in a few minutes … 
DC Chris Wilson on changes in coaching staff: "We got better"
From the Daily Camera … Following a 2021 season in which the Colorado football team struggled at times on both sides of the ball, change has been a theme this offseason.
Much of the changes, at least with the staff, have come on offense, but the defensive staff has had some tweaks, as well.
Going into his second season as defensive coordinator, Chris Wilson is eager to turn changes into positive results for the Buffaloes (4-8, 3-6 Pac-12).
"We got better," Wilson said of the Buffs' staff changes. "Not taking anything away from our previous staff because they did a wonderful job but, we had a chance to get some guys that we thought added talent. They're a talented group of young guys."
In addition to Wilson, safeties coach Brett Maxie and inside linebackers coach Mark Smith will return. But, the Buffs lost cornerbacks coach Demetrice Martin to Oregon and replaced him with the Ducks' former cornerbacks coach, Rod Chance. CU also let outside linebackers coach Brian Michalowski go and replaced him with defensive line coach Vic So'oto, who spent the previous two years at Southern California.
"Both of these men are up and rising coaches," Wilson said of Chance and So'oto.
With the staff changes, Wilson will coach outside linebackers rather than the defensive line – a position he has coached throughout his career.
… Continue reading story here …
–
—–
February 8th
… CU in a few minutes … 
CU tied for second-most Pac-12 Super Bowl participants
From CBS Sports … Super Bowl LVI between the Cincinnati Bengals and Los Angeles Rams will take place on Sunday evening at SoFi Stadium in Los Angeles, and there will be plenty of former college stars on the biggest stage in football. The Bengals are in the Super Bowl for the first time since the 1988 season, while the Rams are in search of their second Super Bowl victory and first since the 1999 campaign.
It's an intriguing game at the quarterback position. Former LSU quarterback Joe Burrow led the Tigers to the national championship and won the Heisman Trophy in 2019 and is looking to win a Super Bowl with the Bengals in just his second season in the league. Veteran Matthew Stafford, who starred at Georgia from 2006-08, is finally in the Super Bowl in his first year with the Rams after starting his career with the lowly Detroit Lions.
LSU and Florida are tied for the most players on active rosters for this season's Super Bowl teams with five. The SEC and Big Ten lead the way among conferences with 25 players and 21 players in the big game, respectively.
| | |
| --- | --- |
| SEC | 25 |
| Big Ten | 21 |
| ACC | 14 |
| Pac-12 | 12 |
| Big 12 | 11 |
| FCS or lower | 7 |
| AAC | 5 |
| Conference USA | 5 |
| Mountain West | 5 |
| Independent | 2 |
From the Pac-12 … 
Washington … 4
Colorado … 2 … DB Chidobe Awuzie; DL Josh Tupou
Stanford … 2
Utah … 2
Oregon … 1
Oregon State … 1
USC … 0
UCLA … 0
Arizona State … 0
Arizona … 0
Washington State … 0
California … 0
–
—
Year Two with Strength and Conditioning Coach Shannon Turley underway: "The players know where the standard is"
From the Daily Camera … Videos posted by the Colorado football program over the past couple of weeks have shown a group of players energized by the start of the offseason strength and conditioning program.
"The offseason is going really well," head coach Karl Dorrell said last week. "They're working hard. There's some great camaraderie that's going on."
Generating energy in the weight room this time of year is common, but what gets Shannon Turley excited is the quality of work being done as he goes into his second season as the Buffaloes' director of football sports performance.
"It's really an exciting time for us with the new offseason starting because we don't have to teach as much," said Turley, who was hired by the Buffs about a year ago. "The players know where the standard is. They understand the expectations, and more importantly, our priorities and the work that we're trying to get done. There's less installation, and there's more competition for us the second time around."
Turley came to CU as a highly regarded strength coach. He was twice named national strength coach of the year during his tenure at Stanford, from 2007-19.
… Continue reading story here …
–
—–
February 7th
… CU in a few minutes … 
Chidobe Awuzie and Josh Tupou to represent the 64th and 65th Buffs to play in a Super Bowl 
From CUBuffs.com … Following an exciting divisional round of the playoffs, both conference championship games brought a similar level of exhilaration. Five former Colorado Buffaloes were a part of the teams involved.
The Cincinnati Bengals opened up the action again, as they faced the heavily favored Kansas City Chiefs. Former Buffs All-American running back and assistant coach Eric Bieniemy called the Chiefs offense, who put up 20+ points for the third weekend in a row. His offense went head-to-head with a Bengals defense that featured former Buffs cornerback Chidobe Awuzie.
Awuzie played in every defensive snap and tied for the team lead with eight total tackles in the game. This Bengals defense had an answer for the Chiefs high-powered offense when it mattered most, as they kept them out of the end zone in the second half. This gave their offense a chance to mount an unprecedented comeback from an 18-point deficit, which sent the team to the Super Bowl for the first time since 1989. They won the game in overtime by the score of 27-24. Defensive lineman Josh Tupou has been a part of the Bengals defense for most of the season but did not play in this game. The AFC Champions also have former Buff Duke Tobin as their director of player personnel.
The NFC Championship also came down to the wire, as the Los Angeles Rams beat the San Francisco 49ers  20-17. On the 49ers sideline as the tight ends coach and assistant head coach was former CU player, assistant head coach and head coach Jon Embree.
Super Bowl LVI will feature three former Buffs, all members of the AFC Champion Cincinnati Bengals.
Awuzie and Tupou will be the 64th and 65th CU players to play in the Super Bowl and the 94th and 95th appearance by CU players in the game.
–
Buffs with Super Bowl rings … 52 rings in 53 Super Bowls … 
1966 Green Bay Boyd Dowler, E
1967 Green Bay Boyd Dowler, E
1972 Miami Dick Anderson, DB
1973 Miami Dick Anderson, DB
1976 Oakland Cliff Branch, WR; Terry Kunz, RB
1980 Oakland Cliff Branch, WR; Mike L. Davis, DB; Odis McKinney, DB; Greg Westbrooks, LB
1982 San Francisco George Visger, DT
1983 L.A. Raiders Cliff Branch, WR; Mike L. Davis, DB; Don Hasselbeck, TE; Odis McKinney, DB
1985 Chicago Brian Cabral, LB; Emery Moorehead,WR
1986 N.Y. Giants Lee Rouson, RB
1987 Washington Eric Coyle, C; Richard Johnson, WR
1988 San Francisco Barry Helton, P
1989 San Francisco Barry Helton, P
1992 Dallas Mickey Pruitt, LB
1996 Green Bay Shannon Clavelle, DT; Darius Holland, DT
1997 Denver Matt Lepsis, OT; Tom Rouen, P; Alfred Williams, DE
1998 Denver Matt Lepsis, OT; Viliami Maumau, DT; Tom Rouen, P; Alfred Williams, DE
2001 New England Tom Ashworth, OT; Charles E. Johnson,WR; Ted Johnson, ILB; Ben Kelly, CB/KR
2003 New England Tom Ashworth, OT; Christian Fauria, TE; Daniel Graham, TE; Ted Johnson, ILB
2004 New England Tom Ashworth, OT; Christian Fauria, TE; Daniel Graham, TE; Ted Johnson, ILB
2008 Pittsburgh Mitch Berger, P
2010 Green Bay Mason Crosby, PK; Brad Jones, OLB
2012 Baltimore Jimmy Smith, CB
2014 New England Nate Solder, OT
2015 Denver Nick Kasa, TE; Tyler Polumbus, OT
2016 New England Nate Solder, OT
–
—–
February 6th
… CU in a few minutes … 
56 Buffs named to Pac-12's Fall Academic Honor Roll
Press release from CUBuffs.com … A total of 56 Colorado Buffaloes were named to the Pac-12 Conference's 2021 Fall Academic Honor Roll from men's and women's cross country, football, soccer and volleyball.
This honor is given to any student-athlete with a cumulative grade-point average of 3.3-or-above and who has served at least one year in residence at the institution.
In all, 909 athletes were honored league wide.  Here are the CU Athletes who made the 2021 Fall All-Academic Honor Roll:
Men's Cross Country: Hunter Appleton, Jace Aschbrenner, Jake Derouin, Noah Hibbard, Alec Hornecker, Ethan Powell, Charles Robertson, Paxton Smith, Josh Torres.
Women's Cross Country: Kaitlyn Barthell, Carley Bennett, Madie Boreman, Tiya Chamberlin, Kyla Christopher-Moody, Elizabeth Constien, Micaela DeGenero, Annie Hill, Alisa Meraz-Fishbein, Abby Nichols, Bailey Nock, Anna Shults, Whitney Valenti.
Football: Daniel Arias, Caleb Fauria, Joshka Gustav, Matt Lynch, Geno Macias, Nico Magri, Charlie Offerdahl, Erik Olsen, Louis Passarello, Evan Price, Colby Pursell, Jonathan Van Diest, Josh Watts, Carson Wells.
Women's Soccer: Jade Babcock-Chi, Hannah Cardenas, Gabbi Chapa, Alyssa Duke, Jayden Newkirk, Rachel Rosen, Hannah Sharts, Hailey Stodden, Sofia Weiner.
Women's Volleyball: Brynna Deluzio, Taylor deProsse, Jenna Ewert, Meegan Hart, Kelley Levaggi, Katie Lougeay, Sterling Parker, Savannah Perry, Morgan Riddle, Jill Schneggenburger, Maya Tabron.
–
—–
February 5th
… CU in a few minutes … 
OC Mike Sanford on quarterback room: "There's enough clay in that room to be able to build this offense"
From the Daily Camera … In reviewing film of Colorado's 2021 football season, Mike Sanford was impressed with quarterback Brendon Lewis.
Certainly, Lewis could have played better during his freshman season, but Sanford, CU's new offensive coordinator/quarterbacks coach, saw intangibles that he liked.
"What I was so impressed with last year when watching the film was his toughness," Sanford said. "I mean, that is the No. 1 characteristic that I'm looking for in a quarterback. The traits that we're going to play with here at CU is going to be all about the toughness of that position.
"As challenging as the season was mentally and, frankly, as challenging as the season was physically for Brendon, he never batted an eye. He continued to come back.  He's a fighter."
Whether or not those traits help Lewis keep the starting job in 2022 remains to be seen, but Sanford goes into his first offseason with the Buffs believing they have the tools to be better at the most important position on the field.
"We have enough in that room," Sanford said. "There's enough clay in that room to be able to build this offense around their skill sets."
… Continue reading story here …
–
—
CU's top-rated recruits of the 21st century: More misses than hits
From the San Jose Mercury News … With the 2021-22 recruiting cycle drawing to a close and Pac-12 fans elated by, or fretting over the rankings assigned to their team, the Hotline would like to offer a morsel of perspective.
So consider …
The Pac-12's only Heisman Trophy winner of the past 16 years, Oregon quarterback Marcus Mariota, was assigned a three-star rating by both major recruiting services.
Aaron Rodgers was also a three-star prospect when he signed with Cal out of Butte Community College.
Neither of the major services, 247Sports and Rivals, listed Christian McCaffrey as a five-star recruit.
Reggie Bush? Not ranked as one of the top two tailbacks in the prep class of 2003. Those honors went to Demetris Summers and Kregg Lumpkin.
All of which is to say: The system has improved over time and often correlates to team success when the sample size is large enough: Add enough four- and five-star players in a multi-year cycle, and wins will likely follow.
But with individual players, the accuracy of the ratings naturally wanes.
To illustrate the flaws and settle nerves, the Hotline combed through the stellar 247Sports database to identify the five highest-rated recruits for each Pac-12 program over the past two decades.
We also listed a few players who didn't make the top five for their school but went on to have stellar careers.
Colorado
1. RB Darrell Scott: five stars/0.9980 rating/class of 2008
2. RB Marcus Houston: five stars/0.9980 rating/class of 2000
3. OT Ryan Miller: five stars/0.9859 rating/class of 2007
4. ATH Russell Lovett: four stars/0.9751 rating/class of 2001
5. QB Craig Ochs: four stars/0.9739 rating/class of 2000
Others: No. 21 WR Paul Richardson (four stars), No. 63 WR Laviska Shenault (three stars), No. 113 LB Nate Landman (three stars), No. 210 CB Isaiah Oliver (three stars)
… Read full story here ….
–
—–
February 4th
… CU in a few minutes … 
OC Mike Sanford: "On the field, we want to be a bully"
From the Daily Camera … In the roughly seven weeks that he's been on the job as Colorado's offensive coordinator, Mike Sanford has apparently heard the curiosity of the fans.
"I think a lot of CU fans want to know if we're going to run the ball 70% of the time or not," Sanford said when he met with media this week. "And, here's the answer: That's not going to be the case."
Sanford spent the previous two seasons as the offensive coordinator at Minnesota, which ran the ball on 70 percent of its offensive snaps in 2021 and 61.8 percent in 2020. That run-heavy approach has been the philosophy of Gophers head coach PJ Fleck, but not Sanford.
While Sanford believes in having a strong run game, he said his main goal is for CU to be a bully.
"There is going to be an identity of physicality," he said. "That doesn't mean that we are only going to run the football. Physicality exists in the throwing game as well. We're going to make sure that we have an identity as a program that we want to build a bully here; a bully on the field, a bully in the weight room. When we're off the field, we're gonna be gentlemen, obviously, but on the field we want to be a bully."
It's been a long time since CU bullied anyone offensively and the job in front of Sanford is a big one. Last season, the Buffs ranked 121st nationally, out of 130 schools, in scoring (18.8 points per game) and 129th in total yards (257.6 per game). It was the worst total yardage average for a CU offense since 1964 and the worst for any Power 5 team since 2014.
… Continue reading story here …
–
—
JC offensive lineman transfer Alex Harkey excited about CU: "I'm ready. I'm pumped"
From the Daily Camera … By the time Alex Harkey got serious about a future in football, it was too late to grab the attention of Division I colleges.
Two seasons at the junior college level was all it took to change that.
A 6-foot-6, 300-pound offensive lineman from Tyler (Texas) Junior College, Harkey was one of several players added to Colorado's 2022 recruiting class this week.
"I'm ready. I'm pumped," said Harkey, who will arrive in the summer with four years to play three seasons. "I'm a little bummed I've gotta wait to graduate to get over there."
A 2020 graduate of Hays High School in Buda, Texas, Harkey said he never got serious about football until his senior year.
"By then I found out it was too late because my grades were so bad," he said.
Tyler head coach Thomas Rocco offered him a chance to play for the Apaches, though, and Harkey said, "From there it was just a wrap. I committed, signed and started going there."
… Continue reading story here …
–
—
CU announces Andrew Popchuck has been appointed lead Buffalo Sports Properties team for Learfield
Press release from CUBuffs.com … LEARFIELD, the multimedia rightsholder for University of Colorado Athletics, has appointed Andrew Popchock as the new general manager to lead its dedicated Buffalo Sports Properties team, the company and university announced jointly on Friday.
Popchock has been with LEARFIELD for nearly 11 years, most recently as general manager for Washington State Sports Properties, the Pullman-based LEARFIELD team representing the Cougars.  He also is the former associate general manager for LEARFIELD's Michigan Sports Properties team in Ann Arbor.  Popchock's previous related experience also includes serving with the multimedia rights team for U.S. Air Force Academy.
At Buffalo Sports Properties, Popchock will serve as the primary LEARFIELD liaison with CU Athletic Director Rick George.  The team works in complete collaboration with the athletics administration and oversees CU Athletics' corporate partner platform.
"Andrew is a proven professional in our business and brings exceptional experience to CU," said George. "We're excited to have him in Boulder and know he will represent our university and sponsors with dignity and be a terrific leader for the LEARFIELD team."
"We continue to see Andrew succeed and be a respected leader within our multimedia rights division," said Spencer Christiansen, LEARFIELD's regional senior vice president, multi-media rights.  "The combination of experience he brings from the Big Ten, as well as his three years serving as GM for another Pac-12 member make him a valuable fit in Boulder, and we're pleased to have him leading Buffalo Sports Properties."
Popchock is a 2007 graduate of Hope College, where he earned his bachelor's degree in management and communications.  After working as an event resources executive in the Detroit area for two-and-a-half years, he relocated to Colorado Springs where he spent the better part of two years working for CBS Collegiate Sports Properties as an account executive for the Air Force Academy Falcons.  He moved on to Michigan Sports Properties, where he held three different positions over seven-plus years for the Wolverines; he then was named general manager of Washington State Sports Properties in August 2018.
LEARFIELD and the University of Colorado have been partners for a quarter century; the Buffaloes are one of 50 Power 5 programs that the company represents in the multimedia rights arena, a number that includes 10 Pac-12 Conference schools.
–
—–
February 3rd
… CU in a few minutes …
Karl Dorrell: Recruiting right after the end of the season "hindsight-wise, might not have been the most appropriate thing to do"
From the Daily Camera … CU has had 22 scholarship players go to the NCAA transfer portal. Some of them were expected and even encouraged. Some were not, though, as the Buffs lost several starters. Some of those decisions were made in early December, when Dorrell and his staff were on the road.
"All of their explanations or reasons are different; they're never the same," Dorrell said. "But I know that it's going to be important that we have great communication and great feedback from coaches and players alike, to make sure that we understand the progress of a young player, that we give him great instruction about what he needs to do in the near future to continue to improve."
CU's season finale, at Utah, was on Nov. 26. The early period for signing recruits to national letters of intent was Dec. 15-17. That quick turnaround creates a sense of urgency for all coaches to get on the road and make sure they sign the best class possible.
In doing so, however, the players on the 2021 team didn't get a chance to sit down with Dorrell to review their season or figure out their futures.
"I went out recruiting right after the season and probably I look back at it, hindsight-wise, it might not have been the most appropriate thing to do," he said. "I probably should have had some interviewing process right after the season just to kind of check-in with all of our players and get some discussions about how their experience has been, where they need to go from here, things of that nature."
… Continue reading story here …
–
—–
February 2nd
… CU in a few minutes … 
Karl Dorrell: "There's a lot of anticipation and excitement within the team"
From the Daily Camera … It wasn't just victories that the Colorado football team was missing last season.
From the staff to the players and even the fans, the program was lacking energy.
Through the first two months of the offseason, head coach Karl Dorrell has done his best to give the program a jolt of energy after a disappointing 4-8 season in 2021.
"Oh, we all needed it," Dorrell said Wednesday as he met with media on the first day of the regular signing period. "It wasn't a great season last year. We all know that. I did like how our team finished the year by playing hard and being competitive, but obviously the body of work was substandard to what we're looking for.
"Thank goodness 2022 is a new season, a new year, a new outlook. There's new faces in the coaching staff, new faces on this football team. The (returning players) have a renewed sense of energy about the additions that are coming on board. There is kind of a wiping of the slate, so to speak, and starting fresh. … There's a lot of anticipation and excitement within the team and the coaches about getting started in '22."
… The additions have helped ease the sting of losing several players to the NCAA transfer portal this offseason.
"Anytime you lose players that leave your program, you're not excited about why those decisions have been made, but that's part of the world that we're in now in terms of recruiting and (name, image and likeness) and the transfer portal," Dorrell said. "That's just a new process that we're all dealing with across the country at every program and so there's always the initial shock of disappointment when that happens, but I do feel like it did give us a chance to regroup and reorganize ourselves and decide on who's really excited about being here and believing the process of what we're doing here. So things like that really, I say, outweigh the negatives."
… Continue reading story here …
–
—–
Former CU standout Billy Waddy dies
From the Daily Camera … Former Colorado Buffaloes standout Billy Waddy died on Jan. 21 in Minnesota.
Waddy, 67, played football at CU from 1973-76 and earned All-Big 8 honorable mention three times in his career.
A second-round draft choice of the Los Angeles Rams in 1977, Waddy played six seasons with the Rams one with the Minnesota Vikings.
Waddy was recruited to CU by Eddie Crowder and played his last three seasons for Bill Mallory. With the Buffs, Waddy played wingback before moving to split end. During his career, he rushed for 1,554 yards and 12 touchdowns and caught 31 passes for 475 yards and two touchdowns.
In addition, Waddy had 32 kickoff returns for 849 yards and two touchdowns, punted three times for an average of 50.0 yards per punt and, as a freshman, completed 4-of-6 passes for 169 yards and three touchdowns.
… Continue reading story here …
–
—–