—
Evan Battey: "Mayor of Boulder"
—
… Related … CU at the Game Podcast interview with Evan Battey … (recorded the week after CU's upset win over No. 2 Arizona on Senior Night) …
—
Battey:"I've had a wonderful time here … I wouldn't trade it for the world"
From 9News.com … Evan Battey went out like few seniors have in college basketball.
How about upsetting No. 2 ranked Arizona on your home floor on Senior Day? No too shabby. A couple days after that historic night, Battey talked about what it's been like to walk around campus.
"It's kind of funny, walking around seeing people say hi to you and congratulating you on the good game the other night," he said in an interview with 9NEWS.
When walking around campus with Battey, he reflected on what he loves most about his daily walks.
"The Flatirons, looking at the Flatirons from any part of the campus," he said. "It's a beautiful view. And really, the people. That's one of the reasons why I committed here — it was the people."
After CU's big win over arch-rival Arizona, every senior got to address the crowd.
Before it was Battey's turn, head coach Tad Boyle told the fans in attendance to look up at the jumbotron for a special tribute video. It was a compilation of comments from the three other seniors of Boyle's special 2017 recruiting class: McKinley Wright, Tyler Bey and D'Shawn Schwartz.
"It was kind of emotional because it's more than just basketball with those guys," he said. "It's like life or death. I was struggling from battling back from my recovery from my stroke during those times we were in the dorms. They are really held close to my heart and what they allowed me to do in terms of like speaking and in terms of laughing with them in terms of them not making me feel bad about my speech impediment. It meant the world to me."
… Continue reading story here …
–
—
CU at the Game Interview with CU senior forward Evan Battey …
—
Neill Woelk: Evan Battey Embodies all that is good in collegiate athletics 
From CUBuffs.com … It would be tempting to say that Colorado senior Evan Battey stole the hearts of Buffaloes fans.
But that would imply Battey somehow tiptoed in and took something that did not belong to him.
Nothing could be further from the truth (beginning with the use of "Battey" and "tiptoed" in the same sentence).
From the day he first took the court in Boulder — after an NCAA-mandated redshirt season and after a life-threatening stroke — Colorado fans freely gave their hearts to Battey.
In return, the big bear of a man has given CU fans an endless supply of energy, passion and enthusiasm, paired with a mile-wide smile and a love of the Buffaloes that has earned him the affection of anyone and everyone who has any connection to Colorado basketball.
It has been a mutual love affair rivaled by only a very few in CU annals.
Last weekend, after a stunning Colorado victory over No. 2 Arizona at the CU Events Center, Battey gave CU fans a gift they will always cherish. As the Buffaloes and fans celebrated after the game, Battey hopped onto the scorer's table and delivered a heartfelt, passionate "thank you" to everyone who supported him, helped him and cheered him on during his five years in Boulder.
A capacity crowd responded in kind.
Battey's career has been a testament to all that is good about college athletics. A young man who overcame crushing obstacles became the heart and soul of a program while earning a degree and the unconditional love of a fan base that appreciated everything he had to offer.
Battey's numbers are solid. When he finally plays his last game as a Buff, he will be in the program's all-time top 25 in scoring, rebounding, games played and minutes played. He will also leave CU having played in more Colorado victories — 86 and counting — than any other player in Buffs history.
But his impact has been far more than statistics. In a season when he has ended up as the only scholarship senior still playing, Battey has set a standard for CU's youngsters. They have seen first-hand what it means to play every night with unbridled joy and practice every day with a focused passion.
They have also seen what it means to truly embrace a program, a school and a community by giving everything possible.
Emphasis on giving.
… Continue reading story here …
–
—
**Video: "The Mayor" Evan Battey addresses his constituents**
From BuffsTV …
—
Video: Highlights – CU v. No. 2 Arizona 
From BuffsTV …
–
Video: CU lockerroom after win over No. 2 Arizona 
… Tad Boyle: "When you play like that, you can beat anybody"
From BuffsTV …
–
—–
February 26th
… CU in the Arena … 
Statement Win: Balanced Buff Attack Dominates No. 2 Arizona, 79-63
… Related … "Stunner: CU Buffs knock off No. 2 Arizona" … from the Daily Camera
… Related … "CU Buffs men's basketball notes: Lineup shakeup pays off in upset of No. 2 Arizona" … from the Daily Camera
… Related … "Colorado upsets No. 2 Arizona 79-63 with strong second half" … from ESPN
… Related … "Colorado turns painful for second-ranked Wildcats again in 79-63 loss to Buffaloes" … from the Arizona Daily Star (Tucson)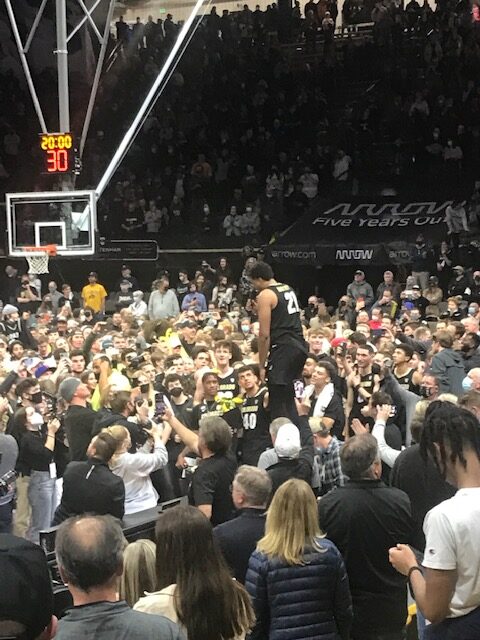 From CUBuffs.com … Colorado followed its worst performance of the season with its best Saturday, as the Buffaloes carved out a 79-63 win over No. 2 Arizona before a sellout crowd of 11,079 at the CU Events Center.
The win, which matched the highest-ranked opponent Colorado has beaten in its history, improved the Buffs to 19-10 overall and 11-8 in Pac-12 play. The Wildcats fell to 25-3 and 15-2.
The victory also came against the highest-ranked opponent in the Tad Boyle era and the fourth against an AP top five team.
CU's only other win against a No. 2 team came in 1992, when Colorado knocked off No. 2 Oklahoma State.
The Buffs put five players in double figures, with Jabari Walker scoring 15 points and grabbing 14 rebounds for his 15th double-double of the season. Tristan da Silva led CU in scoring with 19 points, Keeshawn Barthelemy added 15, K.J. Simpson chipped in 13 and Evan Battey celebrated his senior night with 11.
Azuolas Tubelis led Arizona with 13 while the Buffs held Wildcats leading scorer Benedict Mathurin to just 12 points on 3-for-11 shooting.
The victory came on the heels of Thursday's lethargic 82-65 loss to Arizona State, but the Buffs were a completely different team Saturday. CU overcame a five-point halftime deficit to dominate the Wildcats on both ends of the floor, holding the Wildcats to 39 percent shooting for the game and collecting a 35-33 rebounding edge.
CU shot 48 percent (31-for-64), hit 13 of 15 free throws and had a 54-26 edge on points in the paint, but the big difference came on the defensive end and in the intangibles that are Boyle's foundational cornerstones.
"That was a players victory," Boyle said. "I'm so proud of the way they bounced back. I challenged them and they responded. Toughness and effort. … Our energy level tonight on offense and on defense was off the charts good. We beat a good Arizona team. I've got great respect for Tommy Lloyd and, and the players that they have. They're a legit top-five team in the country. So kudos to our guys on a senior night. It's hard to write a script that's better than this. It's a step in the right direction for us."
… Continue reading story here …
–
—
The Battey File
From the Daily Camera … Where Evan Battey ranks among CU's career lists heading into the Arizona game.
Points: 1,226 (24th; Next: Scott Wedman 1,251, Blair Wilson 1,253)
Rebounds: 639 (22nd; Next: Donnie Boyce and McKinley Wright IV 644).
Games: 128 (10th; Barring an unexpected setback, Battey will finish with at least 131, which will tie Wright and Wesley Gordon for fifth all-time).
Starts: 103 (T-9th; Barring an unexpected setback, Battey will finish with at least 106, which will rank eighth all-time).
Minutes: 3,118 (18th; Next: D'Shawn Schwartz 3,169).
–Battey shot .220 on 3-pointers (11-for-50) through his first three seasons at CU. He goes into his final regular season home game with a .508 mark this season (30-for-59). It's a good season from the arc when you go 3-for-6, as Battey did during Thursday's loss against Arizona State, and your season percentage actually drops a few decimals.
–Battey won't have enough attempts to qualify for CU's all-time single-season 3-point list — those leaders are required to have at least 100 attempts in a season — but if the season ended this week he would be well ahead of all-time leader Levi Knutson (.474 in 2010-11).
–Battey owns a career free throw percentage of .747 (going into Arizona game).
–In two games at the 2021 NCAA Tournament, Battey averaged 8.5 points and 3.0 rebounds, going a combined 6-for-10 from the field. He scored six points in CU's first-round rout of Georgetown and went 5-for-7 at the free throw line with 11 points when the Buffs were eliminated by Florida State in the second round.
–One of just 14 CU players to record at least 1,200 points alongside at least 600 rebounds. His former teammate and 2017 recruiting classmate McKinley Wright IV also is in that club.
–
—