—
Colorado Basketball
—
April 15th 
… CU in the Arena … 
USC basketball assistant accepts bribes – Trojans get a slap on the wrist
From the NCAA.com … A former Southern California men's basketball associate head coach violated NCAA ethical conduct rules when he accepted a $4,100 bribe from a business management company to influence student-athletes, according to a decision released by the Division I Committee on Infractions.
The conduct at issue in this case was related to a broader scheme that involved money and influence at the intersection of college and professional basketball. The scheme resulted in the arrest and prosecution of multiple individuals — including college basketball coaches — on conspiracy and bribery charges, and it led to significant NCAA reforms.
This case originated Sept. 26, 2017, when FBI agents arrested the men's basketball associate head coach in connection with an indictment and federal criminal complaint filed in the U.S. District Court for the Southern District of New York. The complaint alleged that the associate head coach accepted cash bribes from a professional sports agent in exchange for influencing student-athletes to retain the services of the agent's management company when the student-athletes entered the NBA.
As part of his plea deal for federal proceedings, the former associate head coach acknowledged that he had accepted a bribe during a July 2017 meeting with financial advisors and business managers in exchange for directing basketball players to retain their services.
Government recordings from that meeting and a second meeting in August 2017 — which were evidence in federal court — revealed the associate head coach had touted his ability to connect the company with current or prospective student-athletes, noting that he had heavy influence over players' decisions.
… The committee classified the case as Level I-mitigated for the school and Level I-standard for the former associate head coach. The committee used the Division I membership-approved infractions penalty guidelines to prescribe the following measures:
Two years of probation.
A $5,000 fine plus 1% of the men's basketball program budget.
A reduction of men's basketball scholarships by a total of two during the 2018-19 academic year (self-imposed by the university).
A reduction of men's basketball official visits to 20 during the 2018-19/2019-20 rolling two-year period (self-imposed by the university).
A reduction in the number of men's basketball recruiting person days by 20 during the 2018-19 academic year (self-imposed by the university).
A three-year show-cause order for the former associate head coach. During that period, any NCAA member school employing him must restrict him from any athletically related duties unless it shows cause why the restrictions should not apply.
… Continue reading story here …
–
—–
April 14th
… CU in the Arena … 
CU planning an international exhibition trip in August
From the Daily Camera … Barring complications, of which certainly there could be many between April and August, the Colorado men's basketball team finally will get a welcome reprieve from quarantine life.
Not only are the Buffaloes planning to roam off campus, but if all goes well the Buffs are expecting to get out of the country on a business trip.
CU head coach Tad Boyle confirmed to BuffZone his program is expecting to take an exhibition tour abroad in August. Boyle said the Buffs are planning to travel to either Costa Rica or Canada for four exhibition games.
The NCAA allows basketball programs to take international exhibition trip every four years, but the Buffs' eligibility for an international trip this summer was in doubt due to coronavirus restrictions. Yet Boyle said the Buffs are proceeding as if they will have a competitive August.
Boyle said he hopes to have the destination and itinerary set by June 1.
"We're planning on it," Boyle said. "We're down to the two possible locations. A lot of it will depend on where are with COVID and all the travel restrictions. There's all kinds of things that need to happen between now and August that hopefully will happen. But we're planning on it and moving forward with it."
Two weeks ago, athletic director Rick George said COVID-19 vaccinations would not be required of CU athletes but would be encouraged. Asked if an international trip will mean his team and traveling party will have to be vaccinated, Boyle said he wasn't certain.
… Continue reading story here …
–
—–
April 7th
… CU in the Arena … 
CU non-conference schedule (Kansas & Tennessee at home) already taking shape
From the Daily Camera … As the page turns toward the 2021-22 season for the Colorado men's basketball team, head coach Tad Boyle and his staff already are piecing together next season's schedule.
It could turn out to be one of the more entertaining non-conference schedules in recent memory.
Assuming the 2021-22 season marks a return to college basketball normalcy, the Buffs will play a 31-game regular-season schedule, with 11 non-conference games in addition to the second season of the Pac-12 Conference's 20-game slate.
The Buffs already have at least five of those non-conference dates settled. Most prominently will be the home date with Kansas as the finale of a home-and-home agreement between the schools. CU visited the Jayhawks early in the 2019-20 season, but the schools agreed to postpone this past season's visit to CU by Kansas after schedules were shortened to 27 games due to the coronavirus pandemic.
CU also will host Tennessee, an NCAA Tournament team that finished 13th in the final NET rankings. The Buffs and Volunteers entered into a three-game agreement on the fly last season, with the Buffs suffering a 56-47 loss in Knoxville on Dec. 8. Tennessee is set to visit the CU Events Center next season, with the teams scheduled to meet again in Nashville during the 2022-23 season.
For the second time in five seasons, the Buffs are scheduled to play at the Paradise Jam in the U.S. Virgin Islands (CU won the tournament in 2017, though it was moved to Liberty University after extensive hurricane damage in the Virgin Islands). The Buffs are guaranteed three games against a field that also includes Colorado State, Creighton, Bradley, Brown, Duquesne, Northeastern, and Southern Illinois.
… Continue reading story here …
–
—–
April 6th
... CU in the Arena …
CU finishes as a ranked team in the final USA Today/Coaches' poll
… The 2020-21 season marks CU's highest-ever finish in the USA Today poll (the only other season in which the Buffs finished ranked was at the end of the 1996-97 season – when the Buffs also finished with a win in the tournament – with the Buffs finished 25th in the poll) … CU did finished ranked in the UPI poll (the forerunner to the USA Today poll) four times, most recently in 1968-69 … 
From
USA Today
… The Ferris Mowers Men's Basketball Coaches Poll, powered by USA TODAY Sports, is conducted weekly throughout the regular season using a panel of head coaches at Division I schools. The panel is chosen in consultation with the National Association of Basketball Coaches. The voters represent each of the 32 Division I conferences that receive an automatic bid to the NCAA tournament. Each coach submits a Top 25 with a first-place vote worth 25 points, second place 24, and so on down to one point for 25th.
Rank
Team
Record
PTS
1st
Prev
Chg
Hi/Lo
1

Baylor

28-2
800
32
3
2
1/3
2

Gonzaga

31-1
768
0
1
-1
1/2
3

Houston

28-4
714
0
6
3
3/18
4

Michig

a

n

23-5
655
0
4
—
2/NR
5

Alabama

26-7
623
0
5
—
5/NR
6

Arkansas

25-7
599
0
10
4
6/NR
7

UCLA

22-10
590
0
NR
33
7/NR
8

Illinois

24-7
527
0
2
-6
2/24
9

Southern California

25-8
467
0
23
14
9/NR
10

Florida State

18-7
451
0
14
4
9/NR
11

Villanova

18-7
409
0
17
6
3/17
12

Loyola-Chicago

26-5
407
0
16
4
12/NR
13

Iowa

22-9
404
0
8
-5
3/16
14

Creighton

22-9
340
0
19
5
5/19
15

Ohio St.

21-10
303
0
7
-8
4/NR
16

Kansas

21-9
295
0
11
-5
4/NR
17

Oregon

22-7
280
0
25
8
15/NR
18

West Virginia

19-10
277
0
13
-5
5/18
19

Oklahoma State

21-9
250
0
12
-7
12/NR
20

Oregon St.

20-13
229
0
NR
—
20/NR
21

Texas

19-8
151
0
9
-12
4/22
22

Texas Tech

18-11
148
0
21
-1
8/22
23

Colorado

23-9
136
0
22
-1
22/NR
24

Virginia

18-7
131
0
15
-9
4/24
25

Syracuse

18-10
112
0
NR
—
25/NR
San Diego St. 63; Oral Roberts 57; Purdue 54; Oklahoma 48; Wisconsin 27; Virginia Tech 16; Brigham Young 12; Drake 9; Winthrop 8; Florida 8; Maryland 7; Connecticut 6; Rutgers 5; Louisiana State 5; Clemson 5; Memphis 2; Tennessee 1; Georgia Tech 1.
The Ferris Mowers Board of Coaches is made up of 32 head coaches at Division I institutions. All are members of the National Association of Basketball Coaches. The board for the 2020-21 season: Randy Bennett, Saint Mary's; Jim Boeheim, Syracuse; Glenn Braica, St. Francis (N.Y.); Scott Drew, Baylor; Matt Driscoll, North Florida; Baker Dunleavy, Quinnipiac; John Gallagher, Hartford; Michael Huger, Bowling Green; Ron Hunter, Tulane; George Ivory, Arkansas-Pine Bluff; Ben Jacobson, Northern Iowa; Chris Jans, New Mexico State; Rob Jeter, Western Illinois; James Jones, Yale; Greg Kampe, Oakland; Shantay Legans, Eastern Washington; Grant McCasland, North Texas; Mike McConathy, Northwestern State; Robert McCullum, Florida A&M; Greg McDermott, Creighton; Matt McMahon, Murray State; Wes Miller, UNC-Greensboro; Dan Monson, Long Beach State; Chris Mooney, Richmond; Nate Oats, Alabama; T.J. Otzelberger, UNLV; Matt Painter, Purdue; Brett Reed, Lehigh; Tubby Smith, High Point; Zach Spiker, Drexel; Wayne Tinkle, Oregon State; Darrell Walker, Arkansas-Little Rock
–
—
CBS and ESPN Way-Too-Early Top 25's – UCLA a Final Four Favorite
From ESPN … After a college basketball season unlike any we've ever seen, we're about to enter a college basketball offseason unlike any we've ever seen. In addition to the usual NBA draft decisions, the transfer portal is filling up at an unprecedented rate, and every player in the country has been granted another year of eligibility, if they so choose. Throw in a likely one-time transfer waiver and rosters today will look drastically different three months from now.
But that isn't enough to stop the Way-Too-Early Top 25!
Some ground rules before moving forward. For the most part, we're using ESPN's NBA draft rankings as a guideline. If a player is ranked inside the top 60, we're projecting him to leave. There are some exceptions. As for the extra year of eligibility, we're still projecting the vast majority of seniors to leave; again, with a couple of exceptions. These rankings will shift and change throughout the offseason, but here's our first guess at the 2021-22 landscape.
Hurry up and dive in — there are only about 220 days until the 2021 Champions Classic.
No. 2 … UCLA … A bang-bang charge call or 40-footer shy of potentially playing for the national championship, I'm banking on UCLA's March momentum carrying over to next season. That expectation hinges heavily on what Johnny Juzang decides to do, however. March's breakout star raised his stock as much as any player in college basketball over the past three weeks and could head to the NBA. But if Juzang comes back, Mick Cronin should have back every notable player from the Final Four team. Jaime Jaquez established himself as a go-to scorer and Tyger Campbell is the perfect point guard for Cronin. The Bruins should also get a boost from the potential healthy return of Chris Smith and the addition of five-star wing Peyton Watson. The question will be whether UCLA is more like the team that won five games in 12 days to get to the Final Four or the team that lost four in a row to finish 17-9 before Selection Sunday.
No. 16 … Arizona … A mostly forgotten team this past season, Arizona was a likely NCAA tournament team for most of the campaign despite having nothing to play for due to a self-imposed ban. It's not clear the Wildcats will be able to play in next season's NCAA tournament either (or if Sean Miller will still be the coach), but until a punishment is handed down, I'm rolling with them as a potential second-weekend team. Miller's teams in the past have been known for defense, but this version was terrific offensively. James Akinjo is an excellent playmaker at the point of attack, and the Wildcats have an assortment of versatile frontcourt players to give teams problems. Benedict Mathurin, Kerr Kriisa, Dalen Terry, Azuolas Tubelis and Jordan Brown all made impacts during their first year in Tucson, and Miller also brings in a solid recruiting class led by top-100 prospect Shane Nowell. Expect Arizona to hit the portal, too.
No. 20 … Oregon … Like Arkansas and a couple of other programs, Oregon is another situation where I just assume it will find players in the spring to fill out the roster. Dana Altman does it every year, and he gets the team humming during the second half of the season. And he'll probably do it again in 2021-22. Eugene Omoruyi, Chris Duarte, L.J. Figueroa and Amauri Hardy are all seniors, while Chandler Lawson is transferring. But Will Richardson leads the returnees, which also includes double-figure scorer Eric Williams. N'Faly Dante only played six games last season before tearing an ACL, while Franck Kepnang had impressive moments in the NCAA tournament. The Ducks also bring in top-10 prospect Nate Bittle, who will bring versatility to the frontcourt. Given all the production potentially leaving, Oregon could use an upgrade in its wing scoring. Whether that's via returnee Aaron Estrada or on the transfer market, it should be priority No. 1 in Eugene.
—
Meanwhile, at CBS Sports … 
From CBS Sports … It's literally never been more difficult than it is right now to try to project how college basketball will look next season because of the expected addition of a one-time transfer waiver that'll allow players to leave one school and play at another immediately.
The transfer portal is on fire.
Many relevant names will be on new teams soon enough — and most of the biggest decisions haven't been made yet. In other words, countless rosters remain very much a work in progress. But the 2020-21 college basketball season is over, which means the first CBS Sports Preseason Top 25 And 1 for the 2021-22 season must publish.
So here we are.
UCLA will start at No. 1 based on the assumption that every meaningful piece that helped the Bruins make the Final Four, and finish 13th at KenPom, will return to campus. Obviously, Johnny Juzang has a decision to make about the NBA Draft. But if he comes back, and picks up right where he left off, UCLA — which is adding five-star prospect Peyton Watson — should have a real chance to return to the Final Four.
Please note that I'm operating under the assumption most meaningful seniors will not return for another season even though the NCAA is allowing it, and that most projected first-round and second-round NBA Draft picks will enter (and remain in) the NBA Draft. As always, some players will make decisions in the coming weeks and months that run counter to that assumption. As always, when that happens, I'll adjust the Top 25 And 1 accordingly.
No. 1 … UCLA … Every meaningful player who helped the Bruins make the Final Four is currently projected back on campus – among them NCAA Tournament star Johnny Juzang. UCLA will add five-star prospect Peyton Watson and should have all of the pieces necessary to win a national title.
No. 21 … Arizona … Most of the pieces that helped Arizona finish in the top 30 at KenPom are expected back. As long as James Akinjo withdraws from the NBA Draft, the Wildcats should return to the NCAA Tournament (provided they're eligible for the NCAA Tournament).
No. 22 … USC … Andy Enfield should have the Trojans back in the NCAA Tournament – as long as Isaiah Mobley doesn't join his brother, Evan Mobley, in the NBA Draft. A top-15 recruiting class highlighted by Reese Dixon-Waters will help offset the departures.
No. 24 … Oregon … Dana Altman is among the best at reloading his roster each offseason via the transfer market. So it's safe to assume he'll find enough good pieces to supplement a core of Will Richardson and Eric Williams, both of whom averaged double-figures this season
–
—–
April 5th
… CU in the Arena … 
First Way-Too-Early Top 25 Includes Five Pac-12 Teams
… CU not included, despite the numbers below … 
From Jon Wilner at the San Jose Mercury News …  The Hotline has published early top-25 rankings for many, many years; it has never been more difficult to assess rosters than it is this spring.
Combine the free year of eligibility for seniors with the insanity of the transfer portal and the ever-present lure of the NBA Draft, and the projections below are a Jalen Suggs buzzer-beater away from even reaching crap-shoot territory.
And yet, we plow forward.
Note: The NBA Draft is July 29. Our rankings will be updated following the mid-July deadline for players to remove themselves from consideration.
From the Pac-12 … 
4. UCLA: Key questions involve the return (or not) of Chris Smith, the departure (or not) of Johnny Juzang and the immediate impact (or not) of five-star recruit Peyton Watson. Our guess is that Juzang returns — he's not projected to be a first-round pick, although his stock is rising and it only take one of 30 teams to determine he's worth the investment. But the Bruins have the system, the mentality and the momentum to start the season in the top five … and stay there.
16. Arizona: We're assuming a suspension for coach Sean Miller but not a postseason ban, meaning plenty of motivation for what should be a stout roster led by point guard James Akinjo, wing Bennedict Mathurin and big man Azoulas Tubelis. (We believe Akinjo will return after testing the waters.) The Wildcats aren't back, to their pre-scandal status, but they are inching forward.
19. Oregon: As usual for April, the state of the roster is highly uncertain. We're assuming Chris Duarte moves on. But what about Eugene Omoruyi, LJ Figueroa and Will Richardson? The other puzzle piece is the health of big man N'Faly Dante. We know the Ducks are welcoming five-star big man Nathan Little, and that Dana Altman will construct a rotation worthy of the NCAAs, even if it takes months to coalesce.
22. USC: Evan Mobley is assuredly off to the NBA, where he's expected to be one of the top-three selections; we believe invaluable guard Tahj Eaddy will depart, as well. But if Isaiah Mobley returns, the Trojans have a big man to build around. Enough other pieces could join him (Drew Peterson, Ethan Anderson) to keep USC relevant. The recruiting class is solid but thus far lacks more Mobleys.
25. Oregon State: We beavlieve, for now
Also considered (no particular order): Iowa, Virginia Tech, LSU, Oklahoma, BYU, Georgetown, Winthrop, Georgia Tech, Colorado State, Belmont, Purdue, Drake, Loyola, Colorado, Florida, Louisville, St. Bonaventure, Tennessee, San Diego State, VCU, Wichita State and Syracuse.
–
In case you were wondering … 
Final Pac-12 Standings (and 247 2021 Recruiting Class Rank)
Oregon … 14-4 … 21-7 … Recruiting Class rank: No. 37 … Wilner's 2021-22 preseason rank: No. 19
USC … 15-5 … 25-8 … Recruiting Class rank: No. 12 … Wilner's 2021-22 preseason rank: No. 22
Colorado … 14-6 … 23-9 … Recruiting Class rank: No. 13 … Wilner's 2021-22 preseason rank: Unranked
UCLA … 13-6 … 22-10 … Recruiting Class rank: No. 30 … Wilner's 2021-22 preseason rank: No. 4
Arizona … 11-9 … 17-9 … Recruiting Class rank: No. 23 … Wilner's 2021-22 preseason rank: No. 16
Oregon State … 10-10 … 20-13 … Recruiting Class rank: No. 115 … Wilner's 2021-22 preseason rank: No. 25
… Just sayin' … 
–
—–
April 4th
… CU in the Arena … 
What UCLA's showing means to the future of Pac-12 basketball
From the San Jose Mercury News … A victory by UCLA against Gonzaga, followed by a national title on Monday, would have been the ideal outcome for the conference. But this wasn't a half-bad finish, either.
The Bruins, a mammoth, 14-point underdog, went basket-for-basketball with the undefeated, top-seeded tournament favorite.
They did it for 40 breathtaking minutes, and then for another breathless five.
They were so good, even USC's Twitter account offered words of respect.
Gonzaga's 93-90 overtime escape was an instant classic in the same way that North Carolina-Georgetown (Michael Jordan's shot) and Duke-Kentucky (Christian Laettner's shot) were instant classics.
In other words: The best of the best.
It's not like Gonzaga played poorly, or UCLA caught a lucky break with fouls or injury.
The Zags were terrific, and UCLA matched the level of play.
There were 19 lead changes.
Neither team led by more than seven.
The defense was fabulous, the shotmaking even better.
Goodness, gracious.
But what does UCLA's incredible performance mean for the Pac-12?
It means the conference's big brand owns more momentum right now than it has possessed in years — since the first Final Four appearance under Ben Howland, back in 2006. Then and now, the visceral reactions were comparable: UCLA has a chance to be UCLA for years on end.
If the roster moves break right, the Bruins will enter next season as a top-five team. Under a worst-case scenario with NBA attrition, they're still top-10. Either way, that's rocket fuel for the conference.
And the Bruins won't be the only team in the preseason top 25, not after the collective's march through March.
But the hype must be backed up with victories early in the season against marquee opponents. Those frame everything that follows, all the way through Selection Sunday.
So March was good for Pac-12 basketball, and April 3 was even better — especially if the conference applies lessons learned to its struggling football product.
… Continue reading story here …
–
—–
April 3rd
… CU in the Arena … 
Departures of seniors not a sign of issues in the CU locker room
From Pat Rooney at the Daily Camera … D'Shawn Schwartz put together the best CU Buffs careers this side of Josh Scott among the many native Coloradoans recruited during the 11-season tenure of head coach Tad Boyle.
Jeriah Horne made the program's long wait for a graduate transfer extremely beneficial, ingratiating himself immediately with a veteran Buffs team while hitting countless big shots during an NCAA Tournament season.
And it was impossible not to root for Dallas Walton, the 7-footer from Arvada who overcame a world of injury adversity to provide a consistent post presence for the Buffs.
Schwartz was a 1,000-point scorer and one of the top 3-point shooters in program history. It will be difficult for fans to see him launching threes for one final season at George Mason. Same with Horne, who posted the seventh-best single-season 3-point mark in team history but will finish his nomadic career back at Tulsa, and Walton, who also is seeking a new home for his sixth and final season.
It's tough to say farewell, but I'll be honest. Some of the feedback I've received has been puzzling. A faction of Buffs fans seemingly believe this is a sign of some sort of inner turmoil within a program that reached the second round of the NCAA Tournament. Nothing could be further from the truth. It's been stated in this corner before: The future is bright for the program, and the recent emotional departures simply are matters of the unique circumstances swirling around college basketball in 2021.
First of all, bear in mind the only reason Schwartz, Horne and Walton even have an opportunity to play another season is because the NCAA offered eligibility relief (essentially, a free year) for the pandemic season of 2020-21. Walton had hinted in previous years he might appeal for a sixth season of eligibility given his injury history, but the eligibility relief rendered that process unnecessary. In other years, Schwartz and Horne would be prepping for whatever pro opportunities awaited.
No one but Boyle and the players involved know exactly how the year-end meetings unfolded with CU's leader, but having covered the program for six seasons it's not difficult to surmise the gist of those conversations. Boyle certainly didn't push anyone out of the program. But it's unlikely Schwartz, Horne, and Walton would have been guaranteed the same roles if they opted to return.
… Continue reading story here …
–
—–
April 2nd
… CU in the Arena … 
Virtual recruiting hasn't hurt Boyle's efforts – Rick George: "I told Tad to keep playing golf"
From the Daily Camera … During his department update with the media on Thursday, Colorado athletic director Rick George drew a few laughs at the expense of men's basketball coach Tad Boyle.
George was discussing the ongoing dead period for in-person recruiting, hoping that soon might transform into a sort of "silent period" that would at least allow recruits to visit campuses. While making a point that in the post-pandemic world of collegiate athletics some endeavors that were handled with unprecedented alterations, like recruiting, might not necessarily return in full to the previous norms.
Case in point: Boyle and his staff. While certainly CU's brain trust would prefer to be on the road, evaluating and eventually meeting new prospects, the handcuffs of pandemic recruiting haven't hindered the Buffs.
The 2020-21 Buffs were a veteran group, yet they also featured an intriguing freshman class led by players like forwards Jabari Walker and Tristan da Silva, who were unable to take visits to CU. Same with the incoming 2021 class, which is ranked 13th in the nation by 247Sports.com (as of the latest update Friday) despite the final steps of that group's recruitment getting handled entirely virtually. The Buffs got off to a good start with assembling the 2022 class this week, netting a verbal commitment from four-star forward Joe Hurlburt.
"I think that (silent period) is kind of a start getting back to some sense of normalcy," George said. "But I also think that we've learned a lot from this. I told Tad go play golf every day and recruit like you have. You had the best class in your history so (heck), you don't need to be on the road."
… Continue reading story here …
–
—
First-team All-Pac-12 star Mya Hollingshed to return for second senior season
Press release from CUBuffs.com … Unfinished business.
That's what Colorado senior Mya Hollingshed wrote in a statement on Friday, announcing her return to the Buffaloes for the 2021-22 season.
"First off, I want to thank my family, my teammates, and my coaches for their enduring support through this decision-making process. I came to the University of Colorado four years ago with dreams that were as big as the Flatirons. Over my time here, I have grown in every way imaginable. While I'm honored to be considered for the 2021 WNBA Draft, my teammates and I are excited to continue our hunt for a PAC-12 Championship and a deep run into the NCAA Tournament! We have unfinished business!

 Houston will always be my home, but the community of Boulder has embraced me as one of their own. I hope Buffalo fans are just as excited as I am for the 21-22 season…LET'S RUN IT BACK!"
Hollingshed, a Houston, Texas, native, concluded the 2020-21 season averaging the best numbers of her four-year career. She led the Buffs in both points (15.4 ppg) and rebounds (7.8 rpg). Hollingshed scored double figures in 20 of CU's 23 games this season. She recorded 10 or more points in 18 straight games, from Dec. 6 to Mar. 19.
"I am beyond excited about Mya's decision to return for her fifth year," head coach JR Payne exclaimed. "Mya has developed into one of the premier post players in the country and I know that she is motivated and excited to see how much more she can accomplish with an extra year of eligibility."
The senior became the 32nd player in program history to surpass 1,000 career points. She finished the season with 1,244 points, good for 22nd on CU's all-time scoring list. She snagged 179 rebounds this season, giving her 681 for her career (15th all-time).
Hollingshed scored a career-high 32 points in CU's 77-72 overtime win over then-No. 1 Stanford. She also notched a career-high 17 rebounds at Arizona State. Hollingshed leads the Pac-12 with eight double-doubles this season, giving her 16 on her career. She also scored 20 or more points in four games this season, giving her 13 career 20-point games.
"I know Mya has big goals for herself as well as our program," Payne added. "She has the work ethic and leadership to match all those goals. Big things are in store for the Buffs. As she said, 'Let's run it back!'"
A fifth season will help Hollingshed continue to climb up the CU record books. She has a chance to become the 13th player to score more than 1,500 career points and chase down Rachel Hargis's record for games played (134). Hollingshed has appeared in 110 games in her career, starting 79. She is averaging 11.3 points, 6.2 rebounds and a 44.3 field goal percentage.
The NCAA granted student-athletes who competed in the 2020-21 season an additional year of eligibility due to the impact of the COVID-19 pandemic.
–
—–
March 30th
… CU in the Arena … 
Jeriah Horne bids CU a fond farewell 
From Horne's tweet, joining all of the other seniors who have decided not to return for the 2021-22 season …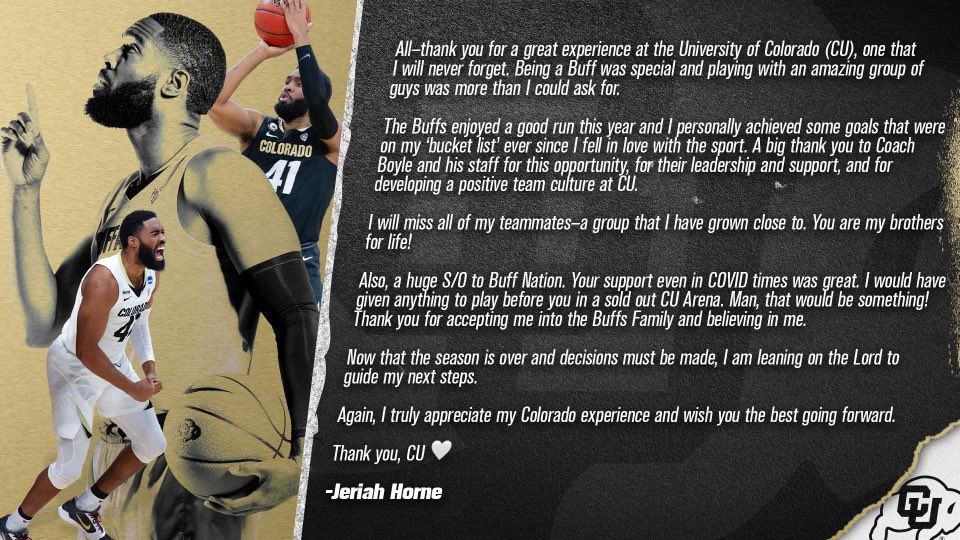 –
—
CU picks up first commit from the Class of 2022; 6'10", 225-pound four-star 220-pound center Joe Hurlburt
… Rivals bio … 247 Sports bio … Hurlburt is considered to be a four-star prospect by both recruiting services. Rivals has Hurlburt rated as the No. 15 center in the nation, and the No. 101 overall player in the nation, while 247 Sports has Hurlburt as the No. 11 center, and the No. 86 overall prospect …
From 247 Sports … Joe Hurlburt, the No. 86 overall prospect in the 2022 Top150, has committed to Colorado, he tells 247Sports.
"I will be going to the University of Colorado," Hurlburt told 247Sports.
The 6-foot-10, 220-pound center prospect out of Enderlin (N.D.) Area committed to the Buffaloes over offers from Minnesota, Nebraska, Ohio State, Oregon State and Wisconsin among others.
"I have had a really good relationship with all of the coaches for quite some time now," he said of why he chose Colorado. "I went out there for an elite camp my freshman year and I wasn't being heavily recruited, I had like no offers and coach [Tad] Boyle sat me down in his office and explained everything in depth to me for like well over an hour and that gave me a really good impression of coach Boyle and the whole coaching staff."
"Coach [Mike] Rohn then flew to see me workout and that also played a factor that he knows where I am from and he's put in that effort," he added. "A lot of people don't know this but I have always been drawn to the Pac 12. I told people when I was in the sixth grade that I wanted to play in the Pac 12 and it ended up becoming a reality for me."
… Continue reading story here …
–
—–
March 29th 
… CU in the Arena … 
Seniors D'Shawn Schwartz and Dallas Walton enter transfer portal
From the Daily Camera … Native Coloradoans D'Shawn Schwartz and Dallas Walton have suited up for their home state Buffaloes for the final time.
Yet that doesn't mean the duo is quite done with college basketball just yet.
On Monday, Schwartz and Walton entered the NCAA transfer portal, intending to take advantage of the eligibility relief granted for the 2020-21 pandemic season to play an extra season elsewhere.
One potential landing spot for both players is George Mason University, which named well-liked former CU assistant Kim English as its head coach last week. According to gmuhoops.com, English expects to hire as an assistant former Buffs player and CU's Director of Player Development, Nate Tomlinson.
The turn of events doesn't change the spring plans for CU head coach Tad Boyle. Even if any of the 2020-21 seniors had opted to stay, the extra year does not count against the scholarship limit in 2021-22. The Buffs have two open scholarships to use this spring to bolster a 2021 recruiting class ranked 12th in the nation by 247Sports.com.
… UPDATE … Alexander Strating and Isaac Jessup both entered the portal Monday, as well. Jessup was a walk-on but Strating's departure will open up another scholarship for CU.
Jeriah Horne and Maddox Daniels are the two remaining scholarship seniors whose intentions ahead of this upcoming season are unknown.
If neither of them opt to return, Colorado has two open scholarships to use on the transfer market in competing a 13-man roster for the 2021-2022 campaign. The Buffs currently have 11 players on scholarship for next year.
–
—–
March 27th
… CU in the Arena …
Larry Scott: Pac-12's performance "will have a multiplier effect … people will have a deeper respect for the conference"
From 247 Sports … Prior to the start of the 2021 NCAA Tournament, the Pac-12 was not the conference people thought would have the most success in March. Now, with the Sweet 16 beginning on Saturday, the league still has four teams remaining in the field.
Now, Pac-12 Commissioner Larry Scott hopes that the conference will get some more respect going forward. Speaking with ESPN, Scott admitted that he thinks a slight East Coast bias exists in the college basketball media. That might have been why so many people overlooked the depth that the Pac-12 boasted in college basketball this year.
"It will help for sure. I think there is subtle bias for West Coast teams because of the time zone and given the concentration of media on the East Coast," Scott said. "But the performance this year will have a multiplier effect in future years. I think our teams will get the benefit of the doubt and more people will have a deeper respect for the depth and competitiveness in the conference."
–
—-