—
August 28th
USC head coach won't name starting quarterback
From the LATimes.com … Coach Lane Kiffin apparently is ahead of schedule.
Kiffin had said he would wait until the Trojans arrived in Hawaii before determining in what order quarterbacks Max Wittek and Cody Kessler might be used in Thursday's opener.
But on Tuesday, with buses waiting on campus to transport the Trojans to the airport, Kiffin acknowledged that he had already made up his mind.
Not that he is sharing his plan.
"I can't tell you," he told reporters. "I'm not going to tell the end of a movie before you go to the movie, right?
"Now you're going to have to watch."
All eyes will be on the embattled Kiffin to see how he manages the situation.
He has said that "we anticipate" both Wittek and Kessler will play, that they will not alternate series and that they probably won't alternate quarters.
Asked if he had addressed the quarterback situation with receivers, Kiffin said he "mentioned it" to All-American Marqise Lee.
"The receivers' job is to line up and do their job and not worry about who the quarterback is," Kiffin said, adding, "Just like we don't make big announcements in the team room about what we're doing at right corner, it's no different."
—
August 27th
Utah State offense poses problems for Utah's defense
In one of the more intriguing Pac-12 games of Week One is Utah State at Utah. Last season, the Aggies beat the Utes, 27-20, in overtime. Utah State quarterback Chuckie Keeton went 22-of-32 for 216 yards and two touchdowns (and no interceptions), while also rushing for 86 yards on 17 carries. Such production last fall has the Utes worried about Thursday night's game in Salt Lake City.
From the Salt Lake City Tribune … One good thing about Utah facing a quarterback like Utah State Chuckie Keeton in the first game of the year? We'll know right away if Utah's inexperience on the defensive side of the ball is going to equate with a lot of mistakes.
Keeton, a guy whose dual-threat capabilities are every defensive coordinator's nightmare, in the words of Utah coach Kyle Whittingham, is going to view Utah's inexperienced secondary as a weak point he can exploit.
To prevent such from happening, Whittingham said on Monday the Utes have been practicing a lot of scramble drills where the coverage must remain for six to eight seconds.
"We've done our best to duplicate what our chief strengths are so we'll have to see what happens," Whittingham said.
Being disciplined in a drill in practice is one thing, can Utah's defenders do it under fire? What may help the Utes is the maturity of the players.
Junior safety Eric Rowe, who has 23 starts to his name, is the only veteran player among the safeties and corners with experience.
But senior corner Keith McGill has been with the program two years and junior corner Wykie Freeman has been with the Utes for three seasons. Safeties Michael Walker and Tyron Morris-Edwards have been with the program for three seasons as well.
Have they absorbed enough to help some of the youngsters/newcomers such as redshirt freshman Justin Thomas, freshman Hipolito Corporan and junior college transfer Davion Orphey?
They'd better, otherwise it could be a long night for the Utes.
Pac-12 games this weekend …
— Thursday (all times MT)
Utah State at Utah, 6:00 p.m. – FoxSports
USC at Hawai'i, 9:00 p.m. – CBS Sports
— Friday
Northern Arizona at Arizona, 8:00 p.m. – Pac-12 Network
— Saturday
Nicholls State at Oregon, 2:00 p.m. – Fox Sports
Eastern Washington at Oregon State, 4:00 p.m. – Pac-12 Network
Washington State at Auburn, 5:00 p.m. – ESPNU
Nevada at UCLA, 8:00 p.m. – Pac-12 Network
Boise State at Washington, 8:00 p.m. – Fox Sports
Northwestern at Cal, 8:30 p.m. – ESPN2
— Sunday
Colorado v. Colorado State, 4:00 p.m. – CBS Sports
—
Idle … Stanford; Arizona State
August 26th
Oregon State names Mannion starter
From ESPN … Oregon State coach Mike Riley has named Sean Mannion the starting quarterback for the No. 25 Beavers ahead of their season opener Saturday against Eastern Washington.
The announcement Monday was the culmination of the fall camp competition between Mannion and Cody Vaz, who both played at quarterback last season. Both players shared first-team reps for the past several weeks.
Mannion started Oregon State's first four games last season but injured his left knee and required arthroscopic surgery. Vaz stepped in and won the next two games, giving the Beavers their best start since they also went 6-0 in 1907. Oregon State finished a better-than-expected 9-4 and earned a trip to the Alamo Bowl, where it lost to Texas 31-27.
"Sean's attributes are obviously his ability to get the ball just about wherever you want on the field," Riley told reporters gathered after practice on Monday. "Along with his knowledge about where we're going and what he should do with the ball."
Mannion threw for 2,446 yards and 15 touchdowns with eight starts in 10 appearances, while Vaz, hampered late in the season by a left ankle injury, threw for 1,480 yards and 11 touchdowns in seven games with five starts.
—
Cal fans up in arms over potential move of Cal/Stanford game to 49ers new stadium
Sound familiar, Buff fans?
From the San Jose Mercury News … A proposal to move the 2014 Big Game to the 49ers' new stadium in Santa Clara has Cal fans and alums angry that school officials seems to be willing to sell off cherished traditions.
"Pretty soon the value of tradition is lost and gone," former Cal quarterback and coach Joe Kapp said Saturday. "The changes more and more recognize the money. There won't be traditions anymore if money rules." (Side note … A little CU trivia. Joe Kapp coached his first game as the Bears head coach in 1982. His opponent? Colorado – which also had a coach manning the sidelines for the first time, Bill McCartney. Kapp won the battle of first time coaches, 31-17, with the game being played on September 11, 1982, in Boulder. Here is the recap of that game).
Jeffrey Warren, who went public with the story Friday through his blog, "A Cal Fan's Notes," was told the one-time switch would earn each school perhaps an additional $100,000 over the gate receipts of a typical Big Game.
"What they really want is to get that high-tech world involved in Cal," said Warren, a 1970 Cal grad. "It's a chance to showcase our product in that neighborhood. It makes sense if everything you're about is money."
Cal athletic director Sandy Barbour remains out of the country with the women's basketball team. An athletic department spokesman said there would be no comment from the school because the proposal is still being discussed.
The 49ers and the Santa Clara Stadium Authority approached Cal and Stanford about bringing the Big Game to Levi's Stadium in its inaugural year. The Big Game, scheduled for Berkeley in 2014, would then return to Memorial Stadium in 2015.
A decision on the move is expected this week.
—
August 25th
USC to play two quarterbacks in opener
This is almost becoming trendy …
From ESPN … Quarterbacks Max Wittek and Cody Kessler both will play for No. 24 Southern California in its season opener next week.
Coach Lane Kiffin said Saturday that he couldn't pick a starting quarterback after a full offseason of evaluation, so both sophomores will get snaps Thursday at Hawaii.
"That really is how well both guys did," Kiffin told reporters after practice. "For us, we look at it as a great thing. We've got two guys that we feel great about. We don't feel like we have to limit our offense with either one of them in there."
USC's coaches won't even decide on a nominal starter until they arrive in Honolulu on Tuesday.
Kiffin thinks Wittek and Kessler are even in their competition to succeed Matt Barkley, the Trojans' four-year starter. Wittek started the final two games last season for USC while Barkley was injured, but Kessler had a strong training camp this month.
Wittek has a stronger arm and more experience, but Kessler proved to be more mobile while showing off his resourcefulness during camp workouts. They both beat out touted freshman Max Browne, who also was in contention for the starting spot until midway through camp.
"They've both done so well, made so many plays," Kiffin said. "It didn't show itself that one guy was above the other guy, so we do it all the time with other positions. We're not going to be stubborn and name a starter just because we're supposed to, or that's what we've done for 100 years, or whatever that is. We've got to do with all of our decisions what's best for our team."
Yet Kiffin has spent training camp saying he hoped a starter would emerge, acknowledging that using two quarterbacks isn't an ideal way to build a team with question marks at several offensive positions. Biletnikoff Award-winning receiver Marqise Lee also hoped Kiffin would pick a starter so he could develop his timing with one passer.
—
August 22nd
Oregon State to use both quarterbacks in opener
Seems like CU is not alone in not picking (or at least not announcing) a starting quarterback. The team CU faces in the opener, CSU, reportedly can't pick amongst three candidates (story below). Meanwhile, CU's opponent the end of September, Oregon State, can't seem to choose between its two quarterbacks, both of whom had successful runs in 2012 ….
From ESPN … Oregon State Beavers coach Mike Riley's recent history with quarterbacks is interesting to say the least.
He's presently presiding over "The Great Sean Mannion versus Cody Vaz Competition," one that features two players with successful starting experience and few hints about whom Riley favors. Riley's most recent statement on the competition is both will play in the opener against Eastern Washington on Aug. 31. And then a new chapter will be written in this twisting drama.
This QB quandary was preceded by the surprising Ryan Katz to Mannion switcharoo in 2011, and everybody remembers the back-and-forth between Sean Canfield and Lyle Moevao previous to that.
Yet if Beavers fans are worried Mannion vs. Vaz has the potential to get truly weird, well, maybe they should be. Riley was ringmaster for one of the all-time odd QB carousels in Pac-10 history: USC in 1995.
Riley, then the Trojans offensive coordinator, was sitting in his office during the preseason when John Robinson stopped by to say he wanted to resolve their QB competition between Brad Otton and Kyle Wachholtz. His idea was to play both. Otten would start, Wachholtz would play the second quarter. The idea was to alternate by quarter.
That makes for an interesting dynamic in the QB room," Riley said.
USC was 8-2-1 that year. Successful season? The Trojans lost to both of their major rivals, Notre Dame and UCLA, so not really. On the plus side, in a game with major Rose Bowl implications, they came back from a 21-0 fourth-quarter deficit to tie Washington. The Huskies then lost the following week to Oregon, essentially giving the Trojans the conference title, even with the crushing 24-20 loss to the Bruins in the regular-season finale in Terry Donahue's final battle for the Victory Bell.
—
August 21st
Oregon State to take on Coach Mac's old team
Oregon State press release … Oregon State University and San Jose State University have agreed to a home-and-home football series, which will begin Sept. 19, 2015 at Reser Stadium in Corvallis. The Beavers will travel to Spartan Stadium in San Jose, Calif., Sept. 9, 2020.
The meeting will be the first for the two programs since Oct. 4, 1997 when the Beavers, under first-year head coach Mike Riley, defeated the Spartans at then Parker Stadium 26-12. The victory marked the third consecutive in the series for OSU that also includes a 1987 win at home 36-34 and a 1988 victory at San Jose 41-27. Overall, the Beavers have a 3-2 advantage against the Spartans, with San Jose State winning games in 1979 and 1982.
The 2015 non-conference schedule is tentatively complete with games also scheduled Sept. 5 at home vs. Weber State and Sept. 12 at Michigan.
—
UCLA All-American linebacker injured
From the Los Angeles Times … Anthony Barr, UCLA's All-American linebacker, was led off the field during practice Tuesday with an undisclosed injury.
UCLA Coach Jim Mora, who had not been scheduled to meet with the media, declined to comment.
Barr was injured during an 11-on-11 team drill. The Bruins were in a full contact, but Barr was injured during a running play, in which he appeared to take a hit from an offensive lineman.
A trainer examined Barr on the sideline. Barr was not limping, but he did double over as if he were sick.
The trainer took Barr's helmet, which is a precaution if a player has concussion-like symptoms. Barr was led out a back gate at Spaulding Field. UCLA officials were having a fundraising event and several donors were at the front entrance.
"We were all trying to figure out what happened," linebacker Jordan Zumwalt said. "We don't know."
Losing Barr for any significant time would be a severe blow to the Bruins. He is the cornerstone of a defensive front that is a team strength.
Barr moved from Y-back to linebacker last season and had a breakout season. He finished with 13.5 sacks and was named second-team All-American by the Associated Press.
Barr nearly declared for the NFL draft, and one NFL team scout said he would have been a first-round pick. Barr decided to return to UCLA and is considered a top-10 pick the NFL draft this spring.
"Anthony is a big part of our defense," Zumwalt said. "We got guys, we got backups, yes. We have a lot of talented backers. But Anthony is a key part of this defense. Hopefully, he's OK."
—
Colorado State: Quarterback issues … or head coach sandbagging?
From the Coloradoan … The young freshman quarterback and receivers who were so impressive in the first scrimmage of fall camp weren't quite as sharp Tuesday, CSU football coach Jim McElwain said.
They looked, he said, like players going through the 17th of the 29 practices they're allowed to have leading up to the Sept. 1 season opener.
Quarterback Nick Stevens completed just 6 of 17 passes for 46 yards and one touchdown with one interception, which true freshman safety Jake Schlager returned 26 yards for a touchdown in the closed session at Hughes Stadium.
And receivers Elroy Masters and Rashard Higgins had just two catches apiece, for 28 and 17 yards, respectively, while Xavier Williams had just one for 3 yards.
Statistics were kept by the school's sports information staff and provided later to reporters, who were not allowed to watch. Players were not available for interviews.
"I thought some guys played slow,'' McElwain said. "I thought some guys played with the poor-me's and not realizing this is the way it is. But that's part of the maturation process with every young guy, so they've got to be able to see it on video."
… Junior Garrett Grayson, redshirt freshman Craig "C.J.'' Leonard and Stevens all threw touchdown passes, but sophomore Conner Smith had the best day statistically of the four quarterbacks who played, completing 9 of 13 passes for 78 yards with no interceptions. Grayson, still the likely starter, was 5 of 14 for 76 yards and one touchdown on a 25-yard pass to redshirt freshman Jordon Vaden to cap a four-play, 56-yard drive.
… McElwain said he generally was pleased with the play of all of the quarterbacks but had hoped one of them would have stepped up and separated himself from the pack by now.
"We're going to do what's best for this team, and you know they all do some good things,'' he said, suggesting he might play as many as three of them in the season opener.
—
August 20th
Lack of a decision on a starting quarterback has Oregon State fans uneasy
From the Oregonian … The conclave that will elect the starting quarterback at Oregon State dragged on without resolution again on Monday. And while it's understandable that coach Mike Riley wants to foster competition and put the right guy in the robe under center this season, this is beginning to feel a wee bit ridiculous, isn't it?
Riley said last Thursday, "I'm very, very close to a decision." And he indicated he might make a decision by the end of the week. On Friday, he announced that his "end of the week" was Sunday, not Friday. He works seven, not five. But Sunday came and went, and so did Monday, with Riley still unwilling to let Sean Mannion and Cody Vaz get a restful night of sleep. And should the Beavers get off to a sputtering start this season behind whoever starts, it's Riley, not his quarterback, who will have some explaining to do.
He's not fostering a competition at this point. He's fostering doubt in the minds of both contestants. No matter how good Mannion and Vaz feel about camp, the eventual starter at OSU is losing valuable repetitions. And while we all know the quarterbacks are spending more time with coordinator Danny Langsdorf than Riley, it's the head coach's approval they're both seeking with futility right now.
Vaz is a senior. But Mannion is a junior with two seasons of eligibility, and he could presumably defect or mentally check out if he's not selected and feels jilted. There's been some speculation that if Riley is leaning Vaz or considers it a dead heat, he might strategically drag this out to try and hold Mannion in place as long as possible. Maybe even take this into the first two weeks of the season, past the point of no return. But that's a dangerous game for the Beavers coach.
Mannion is due to graduate in December, under NCAA rules a graduate student is granted a one-time transfer exception that doesn't require the athlete to sit out (See: Russell Wilson). If Mannion feels jilted enough by the program he could transfer to another program in 2014, be eligible right away, and play his senior season with Bruce Willis "Die Hard" vengeance in his heart.
It's why I'm thinking more and more that Riley has to be careful with how he handles Mannion. The NCAA rules mostly handcuff players and let coaches do as they please. But this graduate exception ends up a Golden Ticket. The hunch here is that no matter how he's leaning he'll play both quarterbacks against Eastern Washington and Hawaii to start the year, then choose. Feels like that's where this is headed.
—
Cal loses one linebacker to injury, another to transfer
From Bear Talk … Suddenly, the Bears have personnel issues at linebacker.
On Sunday, the Bears lost backup Nathan Broussard to a season-ending knee injury and backup David Wilkerson was given his release to transfer.
Coach Sonny Dykes said Broussard tore the ACL in his left knee during Saturday's scrimmage and will undergo surgery within two weeks.
After redshirting as a true freshman in 2011, Broussard played in 11 games in 2012, starting four of those contests.  He was credited with 3.5 tackles for loss.  Broussard was a three-star member of Cal's 2011 recruiting class.
Wilkerson, originally a four-star recruit from Monte Vista High in Danville, has been plagued by injuries during his Cal career. He has seen limited action in fall camp after missing all of last season after having ankle surgery. Wilkerson also served a medical redshirt in 2010.
"He just came in and said it wasn't working out. We agreed," Dykes said of Wilkerson. "It's just kind of time to move on."
—
August 19th
Utah opens new football facility
Only about half of the cost of Oregon's new $65 million, but pretty nice for a team which is supposed to be looking up at the Buffs:
YouTube highlights of a video tour of Utah's new facility:
—
August 18th
Defensive line injury issues for Colorado State
One of the key battles of the 2013 Rocky Mountain Showdown will be the CU offensive line against the CSU defensive line.
For the Buffs, the offensive tackles – Jack Harris and Stephane Nembot – appear to be set, with the interior of the line and backups for each position still in flux.
Up in Ft. Collins, the defensive line is being rebuilt around junior college transfers, and has issues of its own …
From the Coloradoan … Another day, another defensive lineman down.
Defensive end Austin Berk became the fourth CSU defensive linemen to miss practice time because of an injury in the past week Saturday, when he sat out with a leg injury.
Defensive tackles Calvin Tonga (knee), LaRyan King (hamstring) and Terry Jackson (calf) also have missed practices with injuries, leaving the Rams with a front of senior Eli Edwards and sophomores Justin Hansen and Joe Kawulok on the No. 1 defense for full-team drills.
None of the injuries are serious, though, and coach Jim McElwain didn't seem overly concerned about the Rams' depth at a spot that was dangerously thin at times last fall.
Tonga and Jackson have already begun working their way back into the practice rotation.
"The one good thing is I think we've got some people to choose from there, and the guys that are sitting out kind of see some guys maybe stepping up and that might help their rehab," McElwain said.
The Rams had five defensive linemen among the 24 players they signed last winter.
—
August 17th
Associated Press Preseason poll out
As was the case with the USA Today Coaches poll (see August 1st story, below), the Pac-12 has five teams in the preseason Top 25 … with all five teams in the exact same spots … 3. Oregon; 4. Stanford; 21. UCLA; 24. USC; and 25. Oregon State.
In case you were wondering … the last time CU was in the polls was November, 2005, dropping out after a road loss to Iowa State. The last time Colorado was ranked in a preseason poll was in 2002.
Colorado has been ranked 293 times in its history, 26th on the all-time list. The Buffs are right behind Iowa (297), and just ahead of Pittsburgh (292).
The others receiving votes (CU opponents in bold): Michigan State 95, Baylor 92, Virginia Tech 86, Miami (FL) 85, Arizona State 53, Kansas State 43, Fresno State 36, Vanderbilt 19, Washington 17, Northern Illinois 16, Mississippi 11, Utah State 8, Georgia Tech 6, North Carolina 3, Arizona 3, Cincinnati 3, Penn State 2, Brigham Young 1
—
August 16th
Cal names true freshman as starter
From ESPN … New California coach Sonny Dykes announced Friday morning that true freshman Jared Goff will be his starting quarterback.
Goff had been locked in a three-way competition with redshirt freshman Zach Kline and junior Austin Hinder since the start of spring ball in February. Since the start of fall camp, however, Goff and Kline had emerged as the top two candidates.
We have had a fiercely contested competition for our starting quarterback position," Dykes said in a statement. "It's important to name a starter and give them the reps they need to be prepared to play. We feel that right now Jared Goff gives us the best chance to be successful as a team, but we are very fortunate to have three outstanding quarterbacks we feel we can be successful with."
Note … Buff fans will recall that Austin Hinder, from Steamboat Springs, was a sought after recruit from the Class of 2010 (Rivals bio). Hinder was the No. 23 pro-style quarterback from that Class, and the No. 6 player out of the state of Colorado.
August 15th
Utah loses three players for the season
From Salt Lake City Tribune … Utah coach Kyle Whittingham said Wednesday he wasn't going to discuss Utah's injuries anymore, probably because the news is too depressing.
Whittingham announced Wednesday that backup running back Jarrell Oliver and defensive tackle Stevie Tu'ikolovatu have been lost for the season with foot injuries.
… But the biggest blow involved a player who wasn't even here. Tevin Carter, a 6-foot-1, 2130-pound JC transfer who was expected to earn a starting role at safety couldn't get his academics in order and won't join the team this year, Whittingham said.
"We were counting on him big time, so it's a void for us," he said.
—
August 14th
Colorado has sold over 11,000 more tickets to the Rocky Mountain Showdown, but …
The writers for the Coloradoan should work for a political campaign. Their ability to spin a story is pretty amazing.
If you have read the story about how much better CSU practices are than CU practices (see today's Colorado Daily), then you will love, "CSU outselling CU in single game ticket sales to Showdown, but Buffs still have overall edge".
The facts: As of noon Wednesday, Colorado had sold 24,390 tickets to the annual rivalry football game against CSU at Sports Authority Field in Denver. Colorado State University had sold "around 13,000," senior associate athletic director Jason Layton said.
The spin: Season ticket sales for both schools also count toward Rocky Mountain Showdown numbers. According to respective athletic departments, CU has sold around 17,500 season tickets and CSU 5,000, which means when it comes to buying an individual seat for the rivalry game alone, Rams fans have purchased around 1,000 more than the Buffaloes.
So … Colorado has sold 11,000 more tickets than has Colorado State to this year's game, but the Rams are "outselling" the Buffs … Colorado has 3 1/2 times as many season ticket holders than does Colorado State, but we'll ignore that little fact (along with the fact, noted in the story, that CU has another 7,500 in student ticket sales anticipated).
Then there is this … last season, the attendance for the Rocky Mountain Showdown was 58,607, with Colorado State selling 18,000 of its 30,000 allotment
Washington's star tight end out indefinitely
From the Seattle Times … Less than three weeks before the season opener, the Washington Huskie lost Austin Seferian-Jenkins for an indefinite amount of time.
The embattled tight end, who was suspended from spring practices and team-oriented functions following a March 9 drunken driving arrest, will need surgery to repair a broken right pinkie finger.
"Austin's going to be out for quite awhile," coach Steve Sarkisian said. "He actually has a small fracture in his pinkie there that's going to require surgery, so he's going to be out for an amount of time."
… "I don't know, quite honestly," Sarkisian said. "I'm hopeful it's days, but I really don't know. … I'll know more at the end of the week."
Seferian-Jenkins enters his junior season holding virtually every significant record for a UW tight end. He's the career leader in catches (110), yards (1,388) and touchdowns (13) at his position.
—
August 13th
Texas wide receiver transferring to Arizona
From ESPN … Former Texas wide receiver Cayleb Jones is transferring to Arizona.
Jones chose Arizona over finalists East Carolina and Oklahoma and received serious interest from several schools, including North Carolina, Auburn, Clemson and Colorado.
The 6-foot-3, 210-pound sophomore wideout is joining a fellow former Longhorn at Arizona, one he became good friends with last year. Redshirt freshman quarterback Connor Brewer announced he was transferring to Arizona on July 30 and is currently practicing with the team.
According to his father, Jones flew to Tucson, Ariz., on Tuesday and is hoping to begin practicing with Arizona on Wednesday. He did not visit Arizona or any other school this summer before reaching his decision.
Jones, an Austin native, appeared in 11 games for the Longhorns as a true freshman and recorded two catches for 25 yards. He was an Under Armour All-American and ESPN 150 recruit coming out of Austin High School, and Jones and Brewer were considered two of the leaders of Texas' No. 3 ranked 2012 recruiting class.
Jones and Brewer will both sit out the 2013 season and have three seasons of eligibility at Arizona.
—
Colorado in at No. 86 in CBS rankings
CBSSports.com has put out its rankings of all of the teams in college football. Alabama is first out of the 126 Division-1 teams, with Colorado in at No. 86.
The full rankings can be found here, but here are some rankings of interest to the Buff Nation:
3. Stanford
4. Oregon
22. UCLA
24. USC
26. Fresno State
28. Oregon State
29. Arizona State
36. Washington
42. Arizona
54. San Jose State
60. California
62. Washington State
66. Utah
84. Air Force
86. Colorado
88. Wyoming
93. Colorado State
—
Pac-12 launches anti-DirecTV campaign
From the Pac-12 … Pac-12 Networks today launched a new advertising campaign titled "Compare" that contrasts the exciting Pac-12 football action a fan will see on Pac-12 Networks with what they won't see on DirecTV. The campaign will be featured on digital, print, outdoor, and radio outlets and across all Pac-12 member university platforms.
Entering its second season of covering Pac-12 football, Pac-12 Networks is distributed on more than 50 video providers across the country, including three of the four largest. Despite being offered the same deal that all of the other providers have agreed to, DirecTV remains unwilling to reach an agreement, and the "Compare" campaign is the latest step by Pac-12 Networks to urge fans to drop DirecTV and switch to another provider.
"We realize this is affecting many of our fans, and we share their frustration," said Pac-12 Networks President Lydia Murphy-Stephans. "We built Pac-12 Networks for them and they have been patient, but they stand to lose too much this season."
The campaign includes a series of university-specific 30-second TV and digital spots as well as print and outdoor executions to rally Pac-12 fans and be upfront with DirecTV subscribers. Unless they switch, DirecTV subscribers will miss 750 live Pac-12 sporting events, up from 550 a year ago, including 35 football games and nearly half of all league games. The creation of new shows like The Drive, a 14-part docu-series offering an exclusive look inside the 2013 football season, Pac-12 Sports Report, the flagship studio show providing fans a complete weekly dose of all Pac-12 sports, and Pac-12 Football Weekly, guarantee fans the most in-depth highlights, analysis, and behind-the-scenes original programming of all Pac-12 teams on television.
Pac-12 universities will be implementing the campaign across their platforms as part of a comprehensive grassroots effort. The campaign's switch page already houses video testimonials from Pac-12 athletic directors and will feature more testimonials from coaches in the coming weeks.
The Pac-12 Networks marketing team and San Francisco-based ad agency BarrettSF led the creative development of the campaign. The end result was a classic compare campaign that shows consumers what they have versus what they could have.
"The fact that DirecTV seems intent on depriving Pac-12 fans is inexplicable," said Murphy-Stephans. "We wanted to find a clear and simple way to show those fans what they are missing without the Pac-12 Networks and rally them to get it."
—
Quarterback races around the Pac-12
While the starting quarterback position at Colorado appears to be Connor Wood's to lose, there are other Pac-12 schools which are still trying to settle their starting quarterback issues …
USC quarterback race down from three to two
From the LATimes.com … Though it was obvious to most observers since the start of training camp, USC's quarterback competition officially became a two-man race when Coach Lane Kiffin announced Sunday that freshman Max Browne was behind Max Wittek and Cody Kessler.
"It's going from three to two," Kiffin said.
The 6-foot-5 Browne, who enrolled in January and participated in spring practice, gained strength during the summer and has demonstrated uncommon maturity and poise since arriving on campus.
But Wittek and Kessler, both third-year sophomores, took the vast majority of first-team reps through nine days of camp. Their competition will become more focused as the Aug. 29 opener at Hawaii looms.
Matt Barkley started for the Trojans as a true freshman in 2009. Barkley, however, had the advantage of an enamored coach — Pete Carroll — and a training-camp injury suffered by Aaron Corp that opened the door for Carroll to install Barkley as the starter.
Cal quarterback race also down to two – Austin Hinder (former Buff recruit) eliminated
From SFGate.com … Throughout Sunday's practice, two things were clear: 1) Jared Goff was receiving an awful lot of reps, and 2) Zach Kline was receiving the second-most reps.
Following practice, Dykes confirmed that the observations were correct, and that the staff has decided to eliminate Austin Hinder from the competition.
"Zach and Jared will get majority of the first team reps, and Austin won't get as many," Dykes said following practice. "We'll let those two guys (Kline and Goff) compete, and we'll see what happens between the two of them."
Arizona offense has six candidates for quarterback, and no clear front-runner
From tucsoncitizen.com … There have been no standouts among the six eligible quarterbacks, and it hasn't helped that junior college transfer Jesse Scroggins has missed about half of camp, including Saturday, because of concussion problems.
"Whoever is out there is supposed to execute," Rodriguez said. "That ain't happening either."
Senior quarterback B.J. Denker, who had a case for No. 1 heading into camp, hasn't separated himself from the field. Anu Solomon … well, he's a freshman. Rodriguez said last week that one of the guys you can't rule out of the mix is Louisiana Tech walk-on transfer Nick Isham, perhaps generously listed at 6-0.
A year after his first Wildcats team set a school record for total offense (526.15 yards per game), Rodriguez is looking for firepower in a post-Matt Scott world.
—
August 10th
Colorado to face six first-team All-Americans in 2013
From Sports Illustrated has put out its pre-season All-American team. The full list can be found here.
Colorado will face six first-team All-Americans this fall, and two second-team All-Americans (with thanks to Ron W. at buffstampede.com for sifting through the lists):
First team:
RB – Ka'Deem Carey – Arizona
WR – Marqise Leee – USC
TE – Austin Seferian-Jenkins – Washington
DT – Will Sutton – ASU
LB – Anthony Barr – UCLA
AP – De' Anthony Thomas – Oregon
Second Team:
OL – Hroniss Grasu – Oregon
CB – Ifo Ekpre-Olomu – Oregon
—
Top USC wide receiver injured in practice
From ESPN … USC's Marqise Lee, the 2012 Biletnikoff Award winner as the nation's top receiver, left the Trojans' practice early on Friday after suffering an apparent injury.
Lee was in obvious pain after catching a long pass from Cody Kessler, and the USC trainers and doctors were looking at his right shoulder area. He was carted off the field for evaluation and did not return. USC coach Lane Kiffin had no further word on Lee's status during his post-practice session with the media.
"I didn't see him come down," Kiffin said. "It was a really deep ball, and I was getting ready for the next play. Somebody has to step up. Darreus Rogers has looked good, next guy up."
Lee, a junior, is one of the most explosive players in college football and currently owns or shares 22 USC records. He has 191 career catches for 2,864 yards and 25 touchdowns, along with 40 kickoff returns for 1,141 yards and two touchdowns.
From the LATimes … Trainers attended to Lee on the field and then escorted him from the facility through a gate to the adjoining baseball stadium.
Lee was shirtless and had his right arm in a sling, according to witnesses near the baseball field, when he was transported by golf cart from the area.
UPDATE … From ESPN … Southern California coach Lane Kiffin says wide receiver Marqise Lee has a bone bruise in the area around his right shoulder and is considered day to day.
"We expect him back soon," Kiffin said after practice Saturday night. "It was definitely great news to hear."
—
August 9th
Rick Neuheisel, Pac-12 Networks visit CU practice
From cubuffs.com … Former head coach Rick Neuheisel returned to Boulder on Thursday as part of the Pac-12 network's coverage of fall practice. He spoke extensively to the media at the beginning of the session then gave a passionate speech to the team at the end, using the 1994 team's miracle comeback win at Michigan as a metaphor for achieving the extraordinary.
Neuheisel was the head coach at CU from 1995-1998 and served as an assistant under Bill McCartney in 1994. He won 33 games and was a perfect 3-0 in bowl games during his tenure here.
In a pre-practice media session, Neuheisel said one of the benefits of the pistol offense, which Neuheisel used at UCLA and MacIntyre has installed at CU, is masking some of the talent deficiencies a team might have in the offensive line.
I think our kids were excited about the cameras being here," said coach Mike MacIntyre. "Rick Neuheisel was here and he did a great job talking to them (at the end of practice). He's been here and knows what it takes. It was good. I think any time you have the Pac-12 network and cameras around and the mics, I think kids get more excited."
The network was at practice to film a half-hour preview show on the team as a part of its month-long tour of the conference in preparation for the upcoming season. This was their third stop on the tour. They broadcast from the University of Utah's facilities on Wednesday and will head to Corvallis to highlight Oregon State University's program next.
The players see the opportunity of being showcased on national TV as a chance to demonstrate to viewers how far they have come in the last year instead of looking at it as any kind of burden or inconvenience for the team.
"It's always great to get exposure," said linebacker Paul Vigo. "But to us it doesn't matter who's here. We're trying to go out with an incredible amount of energy and excitement each and every day, but we definitely like to be able to show to everyone how hard we're working."
The network was given exclusive access to everything that went on during the near three-hour practice session. Defensive line coach Jim Jeffcoat was mic'd up throughout practice and will give viewers the unique opportunity to eavesdrop on the fiery first-year coach.
—
August 8th
Ringo / Wilner post their AP preseason poll votes
The preseason AP poll won't be out for another ten days or so (the coaches poll came out August 1st, see poll and story below), but writers are now starting to post their individual votes.
Compare and contrast … Kyle Ringo at the Daily Camera with Jon Wilner of the San Jose Mercury News (Pac-12 teams in bold)
Ringo's poll:
1. Alabama
2. Ohio State
3. Georgia
4. Stanford
5. Oregon
6.  Texas A&M
7. South Carolina
8. Louisville
9. Notre Dame
10. Clemson
11. Florida State
12. Oklahoma State
13. Florida
14. UCLA
15. Texas
16. Wisconsin
17. LSU
18. Virginia Tech
19. Nebraska
20. Oklahoma
21.  Oregon State
22. Michigan State
23. TCU
24. Michigan
25. Miami
And Wilner's
1. Alabama: Best coach in the land + superb QB (senior AJ McCarron) + NFL talent up and down the roster + favorable schedule (LSU at home, no Georgia or Florida) = Team To Beat.
2. Ohio State: Not sure I'd like the Buckeyes to reach the finals in a four/eight-team playoff, but a soft nonconference schedule and the mediocre Big Ten means they could run the table … until they get run off the field in the national championship game.
3. Stanford: With a rugged defense, dominant offensive line and savvy quarterback, the Cardinal looks like a powerhouse SEC team … and powerhouse SEC teams are title contenders.
4. Louisville: To name just one potential controversy in the final year of the BCS: If the Cardinals blast through the weak American Athletic (ex-Big East) and finish the regular-season undefeated, would they nudge a 1-loss SEC/B12/B1G/P12 team out of the title game?
5. Oregon: Dropped the Ducks three spots from their January placement, largely due to the departure of Chip Kelly. Then again, Oregon misses USC and Arizona State and gets UCLA at home.
6. Georgia: If the Dawgs survive a brutal opening month (Clemson, South Carolina and LSU), then the regular season comes down to one game: Florida.
7. Clemson: Tajh Boyd and the Tigers are the team to beat in the ACC, but bookenders vs. Georgia and South Carolina could put the BCS title game out of reach.
8. South Carolina: With Jadeveon Clowney and Co. obliterating opponents, the Gamecocks will have plenty of margin for error on the other side of the ball.
9. Nebraska: The Huskers don't leave home until mid-October and play just four road games. Two of them are Purdue and Minnesota.
10. LSU: From the can't-get-any-worse department: Tigers' ranking based on presumption that offense will improve under senior QB Zach Mettenberger and new playcaller Cam Cameron.
11. Oklahoma State: Best in the Big 12 might not mean as much this season. The league will be, at best, No. 3 in the conference pecking order (behind SEC and Pac-12).
12. Texas A&M: Difficult team to place because of potential suspension for Johnny Autograph. At this point, assumption is that he'll play. If that changes, so will the ranking. (And yes, there is precedent for the AP allowing voters to change preseason ballots: Honey Badger.)
13. UCLA: Moved the Bruins up five spots from January position. Brett Hundley, Brett Hundley, Brett Hundley … and a little Anthony Barr.
14. Florida: Defensive-minded Gators will be more than capable of winning games 17-10 … and they'll probably have to.
15. Northwestern: More than capable of winning games 45-40 … and will probably have to.
16. Texas: Tough to make the case for Longhorns as a preseason top-10 team. But as a BCS dark horse, they're intriguing.
17. Fresno State: Difference between FSU and Boise State: The schedule. Boise State has Washington, Fresno, Utah State and BYU on the road.
18. Texas Christian: Casey Pachall is back from suspension, which means the Frogs have the potential to challenge for the Big 12 title.
19. Florida State: Suffered heavy personnel losses and far more likely to underachieve than overachieve.
20. Michigan: Impressed by what I saw of QB Devin Gardner last season. His style suits the strengths of playcaller Al Borges far better than Denard Robinson's ever did.
21. Notre Dame: The Irish would have been several spots higher with Everett Golson in uniform, but I expect Tommy Rees to be more than satisfactory due the confidence that comes from knowing the job is his.
22. USC: If the QB situation gets settled in training camp and remains settled, the Trojans could win eight or nine games — they're plenty talented at the other 21 positions.
23. Oklahoma: Combination of new quarterback and difficult schedule — it includes a trip to South Bend — will make this a challenging season in Norman.
24. Georgia Tech: Paul (Triple Option) Johnson has won at least seven games in nine of the past 10 seasons. Look for the Jackets to make it 10 out of 11 for their underappreciated coach.
25. Washington: Now or never for the Huskies. The call here: Now.
—
August 7th
Colorado State puts stadium contract up for bid
While Colorado continues in its "silent" phase of fund-raising, little brother Colorado State continues to press on with its plans to build a $125 million on-campus stadium.
According to the Request for Proposals, which can be found here, construction on the new stadium (to seat 40,000 to 45,000, or more than twice CSU's average attendance last season) would start October 2014 and conclude July, 2016. The construction company that wins the bid will be announced on September 23rd.
If the dates hold, the new stadium would be ready in time for the 2016 season. In an odd bit of irony, Colorado State is not the "home" team for the Rocky Mountain Showdown in 2016, or 2017 for that matter. Colorado is the designated home team for both of those seasons, so, unless the contract between the two schools is modified, the earliest CU could play in the new CSU stadium would be 2018.
Still, it's not much fun to read about Colorado State moving forward with gusto in its facilities upgrade projects, while CU is, well, nowhere.
(Program note: More on this topic will be up on the website this Sunday, when I will post my open letter to CU's incoming athletic director, Rick George).
—
The Eight Major Rule Changes for the 2013 Season
Below is a brief description of the rules changes going into effect this fall. Likely no one will pay much attention to them … until one of their star defensive players is ejected under the new subjective targeting rules. A more in-depth look at the new rules can be found at the National Football Foundation website.
The new rules for 2013:
1. Targeting Fouls: Automatic Ejection, Part I:
Players will automatically be disqualified from the game for targeting fouls, including (Rule 9-1-3) targeting and initiating contact with the crown of the helmet, and (Rule 9-1-4) targeting and initiating contact to the head or neck area of a defenseless opponent with the helmet, forearm, elbow or shoulder. The foul itself has not changed. These plays have been illegal for a number of years, but the penalty has been stiffened to include automatic ejection plus the 15-yard penalty.
2. Targeting Fouls: Automatic Ejection, Part II:
A player is at great risk of being ejected from the game for a launch (leaving his feet to attack an opponent by an upward and forward thrust of the body to make contact in the head or neck area); a crouch (followed by an upward and forward thrust to attack with contact at the head or neck area); leading (with helmet, forearm, fist, hand or elbow to attack with contact at the head or neck area); or lowering (the head before attacking by initiating contact with the crown of the helmet).
3. Offensive Blocking Below the Waist Rule:
The rule establishes a zone for the offense that extends seven yards from the snapper toward each sideline and goes five yards into the defensive secondary and in the other direction all the way back to the offensive team's end line. Within this zone, an offensive back who is stationary inside the tackle box and an offensive lineman inside the seven-yard zone may legally block below the waist until the ball has left the zone. Everyone else on the offensive team may legally block below the waist only if the block is clearly to the front of the opponent. This only-from-the-front rule also holds true for everyone on the offensive team once the ball has left the zone. In addition, no one on the offense is allowed to block below the waist if the block is directed toward his own end line.
4. Expansion of the 10-Second Runoff Rule:
In 2013, if a player is injured within the last minute of a half, and this is the only reason for stopping the clock, the opponent may choose to have 10 seconds subtracted from the game clock. The injured player's team can preserve the 10 seconds by using a timeout.
5. Player May Remain in the Game Via a Timeout After Helmet Comes Off:
The rule requiring a player to leave the game for one down if his helmet comes off has been modified to allow a player to remain in the game if his team is granted a charged timeout to adjust the player's helmet.
6. Minimum Time to Spike the Ball for Another Play Set at 3 Seconds:
Teams will need a minimum of three seconds from the referee's signal to "spike" the ball to allow for another play at the end of a half. Teams must still execute the spike, but they will have a reasonable opportunity for another play. If the clock shows one or two seconds, they will only have enough time to run a play without first spiking the ball.
7. Procedures for Changing Jersey Numbers During a Game:
If a team wants to use a player at two different positions during the game, and they need to change jersey numbers, the player must report to the referee who will in turn announce the change. In addition, two players who play the same position at different times in the game may not wear the same number during the game. For example, two quarterbacks may not both wear number 12.
8. Player Uniform Numerals Must Contrast With the Color of the Jersey:
The color of the jersey number itself must be clearly and obviously in contrast with the jersey, regardless of any border around the number. For example, teams will not be allowed to wear black numbers on black jerseys with a border of a bright color around the numeral; it must clearly contrast with the jersey in and of itself.
—
Stanford to retire John Elway's jersey
Oregon at Stanford … No. 3 at No. 4 (preseason) …. Thursday night game on ESPN on November 7th.
Think the Cardinal will have trouble selling out that game?
Well, just to make sure that every seat is filled, Stanford will be retiring John Elway's jersey that night.
From ESPN … Thirty years after he left school, Stanford football is retiring John Elway's No. 7 jersey.
The former Cardinal quarterback and No. 1 overall pick of the 1983 NFL draft will have his jersey retired during halftime of Stanford's home game against Oregon on Nov. 7. Elway, now the executive vice president of the Denver Broncos, will be only the third player to have his jersey enshrined by the school, joining Ernie Nevers ( No. 1) and Jim Plunkett (No. 16).
"I am extremely humbled that Stanford has chosen to recognize me in this very special way," Elway said in a statement released by the university. "It's a tremendous honor to join Cardinal legends Ernie Nevers and Jim Plunkett with this distinction. Being a student-athlete at Stanford and earning my degree from the school are two things I take the utmost pride in accomplishing.
"Without question, my four years at Stanford played an integral role in who I am and any success I've had. In particular, my teammates and coaches deserve so much credit for making me better, both on and off the field. I will always cherish my time on campus as well as the friendships from Stanford that have lasted more than 30 years. I look forward to returning for this occasion and celebrating with the great Cardinal fans."
Wide receiver Ty Montgomery and defensive end Aziz Shittu both wear No. 7 currently. They will be the last to wear that jersey at Stanford.
Elway threw for 9,349 yards and 77 touchdowns while completing 62 percent of his passes at Stanford. He held nearly every major passing record — most of them since shattered by Andrew Luck — when he left school. Elway still owns the single-game record with six touchdown passes in a 54-13 win against Oregon State on Nov. 1, 1980.
Elway was the Pac-10 Conference Player of the Year in 1980 and 1982, when he also was a consensus All-American. After the Cardinal lost at rival California on the infamous lateral play in his final collegiate game, Elway finished second to Herschel Walker in the 1982 Heisman Trophy voting.
—
August 5th
Colorado State – "One Town, One Team, One Dream"
Colorado State went 3-3 at home last season, but did so before an average crowd of 19,250.
Colorado went 0-6 at home last season, but still managed an average crowd of 46,893.
Yet Colorado State is talking about (and doing something about) a new stadium.
Colorado, meanwhile, is still in the "quiet" phase of its fund-raising.
Colorado State has a long ways to go to generate the fan base CU enjoys, but it at least sounds like they are trying to do something about it:
From the Coloradoan … One town. One team. One dream.
Never has a hashtag been such a giant point of discussion at a press conference.
You've probably seen it if you follow any CSU football player or department account on Twitter, "#1TTD." It's the mantra the Rams adopted this summer as they get ready to embark on the 2013 season.
The one town and team meaning is pretty straightforward; the Rams want Fort Collins to be synonymous with Colorado State University football and vice versa. The dream, on the other hand, isn't so obvious and no one within the program wanted to shed light on it during Thursday's press conference at the McGraw Center.
"That is an affirmation that our family is going to hold in-house right now," coach Jim McElwain said.
Does that dream mean winning the Mountain West, the Mountain Division, a bowl game? No one is willing to say, not until it's accomplished, that is.
…There's been a disconnect between CSU athletics and the community for years. People in Fort Collins can say they support the Rams all they want, but until attendance numbers rise at Hughes Stadium (or whatever the eventual new facility is called), they're empty words.
There are approximately 147,000 people in Fort Collilns, but Hughes hasn't seen that many people walk through its gates in a single season since 2005, and there were only five home games that year.
Argue the Rams don't win all you want, but 2008 sure was an exciting year that included a bowl victory, and CSU only averaged 21,000 (61 percent of capacity) that season.
… Don't take this as me putting words in anyone's mouth — no one blatantly complained Thursday about attendance numbers — but they did answer honestly when asked.
Hedstrom grew up here and is a Fort Collins High graduate. Hughes isn't rocking like it was during the Sonny Lubick heyday of his childhood. Cartwright added he'd love to see Saturdays become an event, even for folks who aren't die-hard football fans.
Ram Town, tailgating and a game six Saturdays in the fall can't help but make that sound enticing to a casual observer.
I don't know what the dream in #1TTD is. I'm simply taking a crack at what it could be. Even if I'm wrong, I'm still right.
One town, one team?
I hear that used to be the case, but in the seven years I've been here, it sure sounds like a dream to me, but who knows?
Maybe this is the season we as a city finally wake up.
August 4th
Hawai'i (CU opponent in 2014 and 2015) fires offensive coordinator on the eve of Fall Camp
From ESPN … Hawaii coach Norm Chow says offensive coordinator Aaron Price has been dismissed from the football program.
Chow announced the decision Friday at the start of fall practice, but did not give details or a reason for Price's departure.
Chow says the decision was difficult, with unfortunate timing at the start of fall camp. Chow says "some issues have arisen" and the team is choosing to move forward without Price.
Price had been with the Rainbow Warriors since February. He served as offensive coordinator and wide receivers coach.
Team officials say Chow likely won't fill the position this year. Chow will oversee the positions and two graduate assistants will expand their roles with the quarterbacks and wide receivers.
Chow was an offensive coordinator before joining Hawaii as head coach.
—
August 2nd
Congress debating reform which would require honoring scholarships for multiple years
From ESPN … Lawmakers from Pennsylvania and Ohio introduced legislation in the House of Representatives that would require NCAA schools to guarantee four-year scholarships to athletes who play collision sports and due process for schools accused of breaking rules.
Rep. Charlie Dent (Pa.-R) and Rep. Joyce Beatty (Ohio-D) say the National Collegiate Athletics Accountability Act will help improve health and education of student-athletes and require more transparency from the NCAA.
The legislation would require athletes to have annual baseline concussion testing and ensure that an athlete in good academic standing would not be in danger of losing an athletic scholarship because of injury or performance.
Most NCAA member schools already perform baseline tests to athletes. Multiyear scholarships are allowed under NCAA rules, and according to The Chronicle of Higher Education, about two-thirds of the 56 most powerful Division I public universities now offer them.
The legislation also would require members and athletes accused of breaking NCAA rules be given a formal hearing.
Universities that did not comply with these rules would have federal Title IV funds cut off.
Dent has been critical of the NCAA treatment of Penn State, which was given harsh sanctions for the Jerry Sandusky child-abuse scandal.
"Our member-created rules and processes are in place to provide a fair competition environment and protect the safety and well-being of student-athletes, a responsibility we take very seriously," NCAA spokeswoman Stacey Osburn said in a statement.
—
August 1st
USA Today / Coaches' poll released
"Aces and spaces" would be a good way to describe the Pac-12, if the USA Today / Coaches' poll is to be believed.
As the coaches see it, the Pac-12 has two premier teams, Oregon (ranked No. 3) and Stanford (ranked No. 4). After that, there are no Pac-12 teams worthy of a national ranking until you get down into the 20's, where UCLA (No. 21), USC (No. 24) and Oregon State (No. 25) can be found.
Just outside the poll, there are Pac-12 teams Arizona State (No. 32); Arizona (No. 42); and Washington (No. 47).
Also of interest to CU fans … Game three opponent Fresno State checks in at No. 31, while coach MacIntyre's former team, San Jose State, received enough votes to come in at a tie for the No. 40 slot.
The USA Today Coaches' preseason poll:
Others receiving votes: Kansas State (11-2) 113; Miami (Fla.) 101; Michigan State 89; Baylor 80; Virginia Tech 65; Fresno State 62; Arizona State 51; Mississippi 32; Vanderbilt (9-4) 29; Utah State (11-2) 23; Brigham Young 20; North Carolina 19; Northern Illinois (12-2) 19; Tulsa (11-3) 9; Ohio 8; San Jose State (11-2) 8; Arizona 5; Cincinnati (10-3) 3; East Carolina 3; Kent State 3; Mississippi State 3; Washington 3; Central Florida 2; Arkansas 1; Arkansas State 1; Rutgers 1; Tennessee 1; Toledo 1.
—
Notre Dame transfer wins appeal to play this season for UCLA
From ESPN … Freshman defensive tackle Eddie Vanderdoes will be immediately eligible to play for the UCLA Bruins this fall.
Vanderdoes, widely regarded as one of the nation's top prep defensive tackles last year, originally signed with Notre Dame in February but changed his mind in June for family reasons, he said. He decided to play for UCLA, which is closer to his Auburn, Calif., home.
Notre Dame refused to release him, so Vanderdoes brought his appeal to the National Letter of Intent Steering Committee on Monday.
"While I disagree with yesterday's decision by the NCAA National Letter of Intent Appeals Committee to reverse its original ruling and grant Eddie Vanderdoes a complete release from his NLI, I understand and respect the entire appeal process," Notre Dame coach Brian Kelly said Tuesday in a statement. "However, this result does not change my opinion concerning the importance of protecting the integrity of the NLI program, nor will it change our approach to the process going forward."
If the committee had ruled against Vanderdoes, he would have been forced to sit out a year and lose a season of eligibility.
—
July 31st
A slideshow of the new Oregon athletic facilities
WARNING: Do not view if you suffer from delusions of holding out the slightest hope of CU ever being able to compete on a level playing field …
The slideshow, put together by the Oregon Register-Guard, can be found here …
—
Washington dismisses defensive linemen from team
From the Seattle Times … Pio Vatuvei, a sophomore defensive end, has been dismissed from the Washington football program for a violation of team rules, coach Steve Sarkisian announced Tuesday.
Vauvei, 6 feet 2, 281 pounds from Patterson, Calif., played in nine games last season as a true freshman.
"We hold our student-athletes to a high standard on and off the field, and our players are made aware of that from the moment we begin recruiting them," Sarkisian said. "The University of Washington is about the team, and is bigger than one individual player. Pio had numerous opportunities to display behavior consistent with the values of our program, and unfortunately he fell short of our standards. We wish him the best of luck moving forward."
The statement said that Sarkisian and other department officials would have no further comment on the matter at this time.
—
July 30th
Lane Kiffin closes USC practices
From the LATimes.com … Paranoia, or putting his team on par with the rest in college football?
USC Coach Lane Kiffin, who is coming off a 7-6 season in 2012, said Monday that Trojans practices would be closed to the media during the season.
"We've decided to finally follow the majority of all teams in college football and close our practices to the media during the season," Kiffin said.
Practices will be open to media during training camp, which begins Saturday in preparation for the Trojans' Aug. 29 opener at Hawaii. Workouts also will be open during spring practice.
Players and coaches will be made available to the media after regular-season practices, Kiffin said.
Most major college programs conduct closed practices. But USC has a long tradition of workouts open to the media. Former coach Pete Carroll allowed media and fans to attend practice. An athletic department spokesman could not recall the last USC coach to close practices to the media.
Kiffin said that leaving practices open would be in his best interests, "but it's my job to do what's best for our team."
That could become Kiffin's mantra this season …
—
Three-star defensive lineman recruit dies in New Mexico car accident
From the Salt Lake City Tribune … Utah freshman defensive lineman Gaius Vaenuku, 18, died in a triple fatal rollover accident near Cuba, N.M.
The University of Utah confirmed in a news release that Vaenuku was among three killed in the accident. Incoming Utah offensive lineman Salesi Uhatafe survived the crash, as did his father, Salesi Sr., but his brother Lolo Uhatafe, 13, and stepbrother, Texas A&M redshirt freshman Polo Manukainiu, 19, also were killed.
"Everyone who knew Gaius is heartbroken today," said Utah football coach Kyle Whittingham in the release. "He was the kind of young man who lit up a room and his future in football and life had no boundaries. Words cannot express our devastation over the loss of Gaius."
Sandoval County sheriff's dispatch said a white SUV rolled Monday night on U.S. 550 north of Cuba. Two were ejected from the vehicle. New Mexico State Police information spokesman Emmanuel Gutierrez was in court Tuesday morning and could not provide further updates.
Vaenuku, Manukainiu and Uhatafe all went to Trinity High School in Euless, Texas.
… Vaenuku was considered by Rivals to be the No. 36 defensive end from the Class of 2013. He did hold an offer from Colorado … Rivals bio.
—
Texas quarterback to transfer to Arizona
Well, if the Buffs can get Connor Wood from Texas …
From ESPN … Former Texas quarterback Connor Brewer is headed to Arizona.
Brewer announced on Twitter Monday night that he is transferring from Texas to Arizona. He will be eligible in 2014.
Brewer was one of the nation's highest-rated quarterbacks in 2012 after leading Chaparral High School in Scottsdale, Ariz., to three straight state titles and tossing a state-record 100 touchdown passes.
He had offers from numerous programs, including Alabama, USC and Notre Dame, before deciding to play at Texas.
Brewer was a redshirt freshman for the Longhorns last season before deciding to transfer.
—
July 28th
Neuheisel: "Patience and perseverance" will turn Buffs around (along with 10-15 rich donors)
While not always a favorite of the Buff Nation, former CU coach Rick Neuheisel, now of the Pac-12 Networks, does have a unique perspective on the Buffs.
He gave some telling quotes, and some candid advice, to CU fans in an interview with B.G. Brooks of cubuffs.com. The full article can be found here.
Some quotes:
Neuheisel called MacIntyre "a guy who's proven he has the patience to go into a place that is down – at least by a win-loss record standpoint – and create a culture where there's incremental improvement and people continue to believe . . . they don't have to wonder if it's going to happen, it has happened in his career (at San Jose State)."
But in Neuheisel's view, CU football is crying out for continuity and stability.
"I think what's pivotal in my mind is that (new athletic director Rick George) be that voice of not necessarily patience, but perseverance," he said. "There's going to be some tough times; it's not necessarily going to happen overnight. But they'll get there and they'll get there with the help and patience and perseverance of the fan base as well. To me that's what's critical."
… Neuheisel hopes George can "articulate that and get boosters to believe in it . . . I've been there when Folsom Field is rocking. It can happen. There are enough players in the country that want to go to Colorado. Colorado still has that mystique about being one of the romantic destinations in the country."
CU's overall administration and its athletic hierarchy have flipped a couple of times since Neuheisel left Boulder, but I asked him anyway if he has sensed that things have turned for the better.
"I think there is certainly the desire for things to turn," he said. "Whether that meant heads needed to roll, I have no idea. But I do know that the leadership has shown by virtue of their actions that they want change, they want to build a plan that people can believe in and see incremental improvement and enjoy for a long-term fix, not just something quickly."
… Neuheisel mentioned T. Boone Pickens at Oklahoma State and Phil Knight at Oregon. "Those places almost went overnight to national prominence," he said. "I don't know that that person exists in the Buff family – but there doesn't have to be one. It can be combination of five, ten, fifteen people that get together and say, 'Hey, this is important to us. The (CU) program has traditionally been a strong one; we've got some great memories but let's create some new ones. Here's how we'll do it."
If CU expects to "compete at the highest level," said Neuheisel, "you have to finance those expectations. And that money's not coming from the state; it has to come privately. Those people have to get behind whoever the leaders are – coach MacIntyre, Rick George . . . if they can build it and be part of it, there's no more rewarding experience than that."
—
July 27th
Colorado favored over Colorado State
Enjoy September, Buff fans, for it may be the only month in which CU is favored before kickoff.
Earlier this summer, Colorado State was favored to beat the Buffs on September 1st. Then it was even.
Now the line has moved in CU's favor.
According to Las Vegas Insider, Colorado is favored by 1.5 points over Colorado State at their neutral site game in Denver.
The over/under for the game is 54 points.
Place your bets …
July 26th
Pac-12 commissioner Larry Scott – NCAA at a "crossroads" … Urges DirecTV customers to change providers
From ESPN … Commissioner Larry Scott came out swinging at Pac-12 media day, giving the NCAA a couple of stiff jabs and DirectTV a haymaker.
Scott showed there was general unity among the commissioners in the big five conferences — along with the Pac-12, the SEC, Big Ten, Big 12 and ACC — that there is widespread impatience with the NCAA, its administration, rules and inefficiency.
"It's clear right now [the NCAA] is at a crossroads," Scott said. "It's time for a new vision."
As for DirectTV, it's all about it not picking up the Pac-12 Network for a second consecutive football season, meaning millions of West Coast subscribers have a choice to make: How important is the Pac-12 Network to them? "I urge our fans that are intent on not missing their team's games this fall to drop DirecTV and switch to one of the many providers that have it all," Scott said.
Scott and the Pac-12 Network don't seem to be hitting at DirecTV from a position of weakness. The new network turned a profit in its first year of existence and will increase the number of live events this year from 550 to 750. The Pac-12 set up a website to explain how to drop DirecTV.
As for the NCAA, Scott outlined four "high-priority items":
-Student-athlete welfare, including health and safety as well as full cost-of-attendance scholarships.
– On NCAA governance, Scott said, "… it's time to acknowledge that one size does not fit all." Along this line, Scott believes that the the NCAA should lean more on athletic directors and commissioners when administrating college sports and less on college presidents.
– Scott holds a dim view of NCAA enforcement: "It's fair to say confidence in the enforcement process is at an all-time low."
– Finally, Scott believes one-and-done in college basketball should be ended.
…
Oregon/UCLA picked in media poll
From the Pac-12 … OREGON is the favorite to win the 2013 Pac-12 Conference football title in a preseason poll of media members who cover the league. The Ducks were listed in the top spot in the North Division by 15 of the 26 voters participating in the poll, collecting 145 points. Fourteen of those pollsters tabbed the Ducks to come out on top in the Pac-12 Championship Game. STANFORD was picked to finish second in the North Division, collecting 11 first-place votes in the balloting for the division race.
UCLA was picked to win the South Division, garnering 135 points and 12 first-place votes, while ARIZONA STATE, which tallied 10 first-place votes, and collected 130 points, was pegged a close second in this year's poll. USC was predicted by the voters to finish third in the South Division, claiming the remaining four first place votes.
The media poll has correctly selected the Conference Champion in 28 of 52 previous polls, including 11 of the last 13. Following are the results of the preseason media poll (points 6-5-4-3-2-1, first-place votes in parentheses):
NORTH DIVISION
1. Oregon (15) 145
2. Stanford (11) 139
3. Oregon State 95
4. Washington 84
5. California 47
6. Washington State 33
SOUTH DIVISION
1. UCLA (12) 135
2. Arizona State (10) 130
3. USC (4) 117
4. Arizona 76
5. Utah 60
6. Colorado 28
PAC-12 TITLE GAME CHAMPION: Oregon (14 votes)
Others receiving votes: Stanford (8), UCLA (3)
—
Jeremy Bloom will be on hand to announce CU's first three home games
The Pac-12 Network released its announcing teams for the first three weeks of the season; they will be broadcasting CU's first three games from Folsom Field: JB Long and former Buff Jeremy Bloom will call the action for the Central Arkansas game on September 7 (6 p.m. MDT); Kevin Calabro and Yogi Roth will be behind the mikes for the Fresno State game on September 14 (Noon MDT); and Ted Robinson and Glenn Parker will handle the chores for the Oregon game on October 5 (time TBA). The announcers for the CU-CSU season opener on CBS Sports Network have yet to be announced.
—
Q&A with Pac-12 commissioner Larry Scott
The full transcript of ESPN's interview with Scott can be found here.
Some highlights:
It sounds like NCAA reform is a huge topic with all the conference commissioners. What are the chief areas where you think the NCAA needs to change?
Larry Scott: The first thing I would say is it's really not limited to the five big conferences. I know that's what's gotten the most exposure. Honestly, it's been a topic of conversation across most divisions. We all met in early June, 31 commissioners of different conferences, and everyone is talking about NCAA governance and the reform movement under Mark [Emmert] — what people like about it and what people don't like about it. I think it's fair to say there is a collective sense that everyone would like to see a different governance structure that was not exclusively presidents, who are not involved in athletic day-to-day, making the final decisions on things. People would like to see more flexibility for the high resource schools. Let's say the five big conferences but it might not be limited to them. To have more flexibility to do the things we want to do. We're the ones playing against each other most often. We're the ones bringing in the most resources. Taking care of student-athletes better is something we all want to do. I think there is a collective sense we want to see more aggressive restructuring of enforcement. There are a lot of black eyes for the NCAA in college sports. Those are three things that are concrete that I think we'd all like to see some change on.
Everyone used to want to ask you about expansion. Now it's the potential breakaway from the NCAA of the major conferences. Is there any momentum behind the idea if the NCAA doesn't get it together in a way that works for you guys, the Pac-12, SEC, Big 12, Big Ten and ACC?
LS: No. I think that conversation this past week was way overcooked. I don't think there's any of us approaching this from the perspective of breaking away. I think people are focused on what the end result is that they think we will need, which is about governance reform, more flexibility on policies, improved enforcement scenarios and some other things. I believe from evolution that can still happen as part of the NCAA. Part of the big tent. I don't think it's that complicated.
Ivan Maisel told me you said on his podcast that if the Pac-12 championship game, with the No. 1 seed being the host model, if that has attendance issues like it did at Stanford — and let's face it, that was a confluence of negative events, with Bay Area rush hour traffic on a Friday that had featured torrential rain — but if it continues to struggle with attendance, you'd entertain going to a neutral sight game. What's your thinking there?
LS: We knew we were creating something new with the conference championship game. And our conference is not like any other conference. We're not a driving conference. We're not the SEC, we're not the Big 12, where you can plunk this game down in a central, neutral sight where people can drive to it. Even the Big Ten's got that, though less so now since their recent expansion. I really believe our unique model of the home-hosted championship is the right one for us in terms of getting the best crowds and rewarding the team and their fan base for having the best record. And not having those fans buy another airline ticket and create a choice between going to the championship game or a bowl game. I really believe in my bones this is the right thing for us long term. The first year it felt like a good choice. It was not a great matchup but it was sold out. But last year's game caused me to pause. I still believe we have the best model, but I'd be the first to say that if it's not working over a period of time — if we have more years like Stanford last year — I'll be the first to say let's look at a different model. Because we've got people knocking down our door wanting to host a neutral-site championship game, up and down the conference. We've got plenty of options. It's been us resisting, even though there are some advantages — knowing where it's going to be, being able to plan — but we're going to give this model some more time before we draw a conclusion.
—
Pat Haden: USC's Lane Kiffin not on the hot seat
From ESPN … USC athletic director Pat Haden made that abundantly clear Thursday in an online video the school posted on the eve of Pac-12 media day in Los Angeles.
"I anticipate the media will ask me if our football coach is on the hot seat this year," Haden said. "Here is my answer and will be my answer whenever I'm asked: He is not. I'm behind Lane Kiffin 100 percent. I have great confidence in him. He's a very hard-working, detail-oriented coach. He's a dynamic playcaller, in my estimation, and he's an exceptional recruiter. He knows USC and he knows what it takes to be successful here."
… "We all know the second half of last year was disappointing but I firmly believe we will bounce back strong this season," Haden said. "We have a lot of good players. We have made positive additions to our coaching staff as well. I understand that many people judge a coach by the win-loss record, but as the athletic director, I must look not only at that but at a lot of other things that are important to us at USC. There are many factors, including academics, NCAA compliance, community engagement, the character of his players and off-field issues. Lane Kiffin gets very high marks in all of those areas. All of these things, including winning, are important to us."
—
July 25th
Larry Scott: Change can be "evolutionary and not revolutionary"
From ESPN … Larry Scott of the Pac-12 joined the chorus of commissioners calling for sweeping change in the NCAA, and said it can happen without confrontation and with the five most powerful football conferences still competing on the field with the other five.
Scott was the last of the leaders of the big five conferences to make a public push for NCAA reforms that will allow the schools with the most resources to have more freedom to determine how they use them.
"I don't think of it as much of an us vs. them situation as maybe is the impression out there," Scott said Thursday as the Pac-12 wrapped up a mini-media days on the East Coast that included their football coaches appearing on ESPN. "I'm certainly aligned with what you heard from my colleagues this week in terms of the need for transformative change, but I think it can be evolutionary and not revolutionary.
"I don't think it will be as confrontational and controversial a process as some of the reports I have heard this week."
NCAA President Mark Emmert told The Indianapolis Star on Thursday that he agrees with Scott and his fellow commissioners, and vowed significant changes to the way rules and policies are made.
"There's one thing that virtually everybody in Division I has in common right now, and that is they don't like the governance model," Emmert told the Star. "Now, there's not agreement on what the new model should be. But there's very little support for continuing things in the governing process the way they are today."
…
"Schools that have resources and want to be able to do more for student-athletes are frustrated, concerned that we're being held back from doing more for the student-athletes in terms of the stipend," Scott said.
The stipend was shot down by some of the less wealthy NCAA Division I schools that might not be able to afford it. There are 349 schools in Division I, 125 at the highest level of college football called FBS.
"The idea that there is an even playing field in terms for resources is a fanciful and quaint notion," Scott said.
Scott compared the stipend being stymied to the delays in bringing instant replay to college football in 2000s.
—
Washington – I'm shocked! – will handle punishments of arrested players internally
From ESPN … Washington coach Steve Sarkisian says tight end Austin Seferian-Jenkins and wide receiver Kasen Willliams, both of whom had run-ins with the law during the offseason, will be allowed to participate when preseason practice starts next month.
Seferian-Jenkins pleaded guilty earlier this month to a charge of driving under the influence and is schedule to serve a day in jail on July 31. Washington begins practicing Aug. 5.
A third-team All-American, Seferian-Jenkins was arrested in March after crashing his car.
Williams was fined and received a misdemeanor citation after he was pulled over for speeding and investigation of driving under the influence in May. He led the team with 77 catches for 878 yards and six touchdowns.
Sarkisian says any discipline handed out will be kept internal.
—
July 24th
Jeremy Bloom part of Pac-12 announcer tandems
From the Pac-12 … The 2013 season of college football coverage on Pac-12 Networks will once again feature a host of veteran broadcasters and Pac-12 standouts anchoring the networks' live game and pre, half and postgame studio coverage. Pac-12 standouts Rick Neuheisel (UCLA), Ronnie Lott (USC), Jeremy Bloom (Colorado), Glenn Parker (Arizona) and Curtis Conway (USC), along with former USC assistant coach Yogi Roth return for their second season as part of Pac-12 Networks football analyst team. New this season, former NFL and University of Iowa defensive lineman Anthony Herron also joins the Networks' corps of game analysts.
The play-by-play/analyst teams for 2013 are as follows:
· Ted Robinson and Glenn Parker
· Kevin Calabro and Yogi Roth
· Roxy Bernstein and Anthony Herron
· JB Long and Jeremy Bloom
—
Stanford sells out season ticket allotment
From ESPN … Stanford football has sold out of season tickets for the first time in school history.
Riding momentum from winning the Pac-12 Conference and Rose Bowl last season, Stanford announced Tuesday that it capped season tickets at a record 33,000 sold. The number of tickets taken rises to 38,000 when including the student section at 50,000-seat Stanford Stadium.
The school says a limited number of individual game tickets will go on sale Aug. 1.
The Cardinal beat Wisconsin 20-14 on Jan. 1 for the school's first Rose Bowl victory since 1972. Stanford is 24-2 at home over the last four seasons.
—
July 23rd
Arizona safety dismissed from team
From ESPN … Arizona sophomore safety Patrick Onwuasor has been cut from the team after being arrested and accused of drug dealing and having a weapon.
Wildcats coach Rich Rodriguez announced Tuesday that Onwuasor "has been removed from the program."
Tucson police say the 20-year-old Onwuasor was taken into custody Monday on suspicion of four felony counts after a search warrant was served at his apartment. Police say the warrant was obtained through a separate investigation into an April 29 home invasion in California in which Onwuasor wasn't implicated as being present. Officers reported finding narcotics, drug paraphernalia, marijuana and a weapon during the search of Onwuasor's apartment.
Last season, Onwuasor played in ten games last season, posting 35 tackles (including four against Colorado).
—
Colorado sixth in the Pac-12 conference in Award Watch list candidates
A total of 71 players from Pac-12 schools were named to 17 different watch lists. The complete list of players can be found here, but the Arizona State sports information department was nice enough to break down the list by schools. Surprisingly, CU did not fare that poorly, coming in sixth in the conference in players named:
Number of award watch lists per school (out of 17 total lists)
Oregon – 15
Arizona State – 14
USC -14
UCLA – 12
Oregon State – 10
Stanford – 10
Colorado – 6*
Washington – 6
Arizona -5
California- 3
Washington State – 3
Utah – 2
* – CU has put out an article listing seven players on award watch lists, but that list includes the "College Football Performance Awards" watch list, which was not included in the Pac-12 or Arizona State compilations.
In all, seven Buffs are on a list for nine awards:
Sophomore Christian Powell is one of 59 running backs on the watch list for the Doak Walker Award.  Powell rushed for 691 yards and seven touchdowns on 158 rushes as a true freshman last season.  Rashaan Salaam won the Doak Walker award in 1994, the same season he also won the Walter Camp Award and Heisman Trophy, given to the nation's best player.
Senior Derrick Webb has been named to the Butkus Award watch list. Last season, he made nine starts at the will linebacker spot and led the team in both tackles and third down stops. In addition to his stellar play at linebacker, Webb has made a big impact on special teams throughout this career. His 74 points in three seasons are the fourth most in school history.
Junior Paul Richardson is one of 75 players on the watch list for the Biletnikoff Award despite not playing last season.  Richardson two years ago had 39 catches for 555 yards and seven touchdowns, including a monster game against Cal where he caught 11 passes for a school record 284 yards.
Senior Chidera Uzo-Diribe is one of 76 players on the watch list for the Bednarik Award, given to the nation's top defensive player.  Uzo-Diribe will be looked upon to better his numbers of 5-and-a-half sacks and three forced fumbles in 2013.
Junior Darragh O'Neill is one of 25 players on the watch list for the Ray Guy Award.  O'Neill averaged 42.6 yards per punt and had a net average of 38.8 yards a season ago. John Torp won the second ever Ray Guy Award in 2005, although the Buffs have a long history of All-Americans at the position dating back before the award was handed out.
Senior Gus Handler is one of 44 on the watch list for the Rimington Award, giving to the nation's top center.  He graded out over 80 percent for the season and had a season best of 90.1 against Arizona.
Sophomore Marques Mosley (special teams), O'Neill (punter) and Richardson (wide receiver) are all on the initial watch lists for the College Football Performance Awards, a computer-based system that gives out a performer of the week throughout the season and then awards players of the year at each position.
—
July 22nd
Big 12 commissioner eyeing a move to a "Division 4"
From CBSSports.com … Big 12 Commissioner Bob Bowlsby delivered a scathing attack of the NCAA legislative process Monday at the conference's media days, stopping just short of suggesting secession by BCS schools from the organization is possible.
Bowlsby told media in his state-of-the-union address that it is virtually impossible to pass meaningful legislation, and he hinted a separate division — a so-called Division 4 — is possible for the top football-playing schools. He added there is "unanimity" among his fellow FBS commissioners, saying leaving the NCAA and setting up a new organization is not likely "except as a last resort."
"I think we all have a sense that transformative change has to happen," Bowlsby said.
He went as far to agree with Alabama coach Nick Saban's belief that the top five BCS conferences (Pac-12, Big 12, SEC, ACC, Big Ten) could play games among themselves in the future. Saban reiterated that belief last week at SEC media days.
"If you do that it's a zero-sum game," Bowlsby said. "There are going to be winners and losers in there … If you have only those five conferences playing each other there's going to be half those people who are traditional losers."
That comment could mean that the non-BCS conferences (Conference USA, Mountain West, MAC, Sun Belt and American beginning in 2014) could essentially be cut out of major-college football. Some would argue they already are.
"We've made it too easy to get into Division I and too easy to stay there," Bowlsby said, later adding. "Northern Iowa and Texas aren't much alike."
BCS leagues' frustration has crystallized lately around the stipend issue. The BCS schools favor paying players, but the legislation has been slowed by the concerns of smaller schools that can't afford such an expenditure.
—
Colorado takes down Oregon! Well, at least a former Buff is taking over for a former Duck
From SBNation … While much has been made of how Fox Sports 1 will take on ESPN in terms of nightly studio programming, little focus has been placed on how it will go after the Worldwide Leader in one key area: college football Saturdays. It looks like we have part of our answer.
FS1 will launch a college football pregame show this season that will air head-to-head (Saturdays from 10 a.m. to noon ET) with ESPN's College GameDay. Fox will supplement the show with day-long lie game coverage from the Big 12, Pac-12, and Conference USA on both FS1 and Fox. While CBS, NBC, and other cable networks air select college football games, this is the first real attempt made to compete with ESPN on a day-long basis.
Host Erin Andrews and analyst Eddie George will return to Fox's college football coverage for a second consecutive season; they hosted the network's primetime pregame show last year. Dropped from the show is analyst Joey Harrington.
Sources tell SB Nation that the entire FS1 studio lineup will feature Andrews hosting, with analysts George, Petros Papadakis, and Joel Klatt. Outkick the Coverage editor Clay Travis and NFL on Fox rules analyst Mike Pereira will also contribute to the show.
… Congrats to this former Buff. Between Klatt and Chris Fowler, CU has the college football mornings covered.
Now if the Buffs could just do something about those college football afternoons …
Pac-12 Network Profile of Mike MacIntyre
Here is a link to a profile of CU head coach Mike MacIntyre put together by the Pac-12 Networks.
Mac: "I can't tell you how passionate the people are here about football … They love football here, they love the history of football, the game of football – they understand it. That's a really neat feeling".
It's short, but anything this time of year showing the black-and-gold and Ralphie is worth the time.
—
July 21st
2014 NFL Draft … Buffs have seven prospects
CBS Sports NFLDraftScouts.com has listed seven Buffs as potential picks for the 2014 NFL draft.
Three of the Buffs top the list –
Wide receiver Paul Richardson … Richardson's big play ability should make him a game-changer in MacIntyre's wide-open offense. It was clear that the coaching staff wanted to feature him during the spring game, calling for several long bombs to the athletic pass-catcher. Richardson appeared every bit as explosive as he did prior to the injuries but did drop two catchable passes in the game. The season opener against rival Colorado State on Sept. 1 will mark 17 months since his last action. As such, expect Richardson to be as scrutinized this fall as any player in the country.
Defensive end Chidera Uzo-Diribe … Athletic and possessing the frame to add more positive weight, Uzo-Diribe offers intriguing upside as a pass rusher. He can be explosive out of the three-point stance and possesses long arms and quick hands. If Colorado led more often last year, he may have produced more. He does not, however, possess the strength or technique to hold up as a traditional 4-3 defensive end and is a bit stiff changing direction. So the conversion to outside linebacker isn't a guarantee. On a positive note, according to the university, Uzo-Diribe registered a 36-inch vertical jump, benched the standard 225 pounds 22 times and was clocked in the 4.5s in the 40-yard dash during spring testing.
Center Gus Handler … Handler emerged as a starter for the Buffaloes in 2011 and appeared on his way toward potential all-conference consideration last year before ankle and knee injuries ruined his campaign. Handler allowed just two QB pressures and one sack in the five games he played in 2012. His highest grade of the year (86.4 percent) came against Arizona State and its terrific defensive tackle, Will Sutton. Named to the Rimington Award watch list each of the past two seasons, Handler is a feisty, attentive interior lineman who could stick on the right team.
With four others worth watching:
– Offensive lineman Jack Harris
– Linebacker Derrick Webb
– Offensive lineman Daniel Munyer
– Safety Parker Orms
—
July 19th
Two Arizona players join O'Bannon lawsuit
From ESPN … Led by a pair of Arizona Wildcats, six current college football players from major programs on Thursday joined a federal anti-trust lawsuit against the NCAA, significantly raising the stakes in a court battle that challenges the economic model of big-time college sports.
The players are: Arizona linebacker Jake Fischer and kicker Jake Smith, Vanderbilt linebacker Chase Garnham, Clemson cornerback Darius Robinson, and Minnesota tight end Moses Alipate and wide receiver Victor Keise.
By adding their names to a highly contentious lawsuit originally filed in 2009 by former UCLA basketball player Ed O'Bannon, the players — all from college football's largest conferences — enhance the chances that damages in the suit could reach into the billions of dollars.
The O'Bannon complaint alleges the NCAA, EA Sports and Collegiate Licensing Co., the nation's leading trademark and licensing firm, violated antitrust laws.
It accuses the NCAA of fixing at zero the amount that players can receive from video games and other products that use players' names, likenesses and images. Last year, the plaintiffs amended their lawsuit, asking that current players be included and arguing that players deserve a share of the billions of dollars in television revenues that flow to the NCAA, conferences and member schools.
In June, Judge Claudia Wilken asked plaintiffs in the O'Bannon suit to add a current player to the lawsuit, setting up Thursday's court filing. Later this summer, she will rule on whether the class of current and former players will be certified, allowing it to pursue its claims as a group instead of as individuals.
—
Oregon's new Glow-Stick uniforms
What can you say … ?
Oregon players will don uniforms this fall that may just blind people with sensitive eyes.
Defensive back Dior Mathis took to Twitter to unveil jerseys that should have Ducks fans squinting with pride.
July 18th
Utah interested in looking into contests in China
From the Salt Lake City Tribune … When Pac-12 commissioner Larry Scott recently mentioned the possibility of Pac-12 football teams playing in China as part of his globalization efforts, chances are most thought West Coast schools such as UCLA, Washington and Oregon might be the most logical candidates for such a journey.
However, Utah athletic director Chris Hill said he'd be interested in such a venture for the Utes.
"I'd like to learn more about it," he said. "We're only an hour, hour and a half away from the coast ourselves and if it is something that could help us, we'd definitely look at it."
Scott sees expanding the league's international reach as one of his top priorities and sees Asia, particularly China, as a fertile recruiting ground for Pac-12 schools.
Earlier this summer a Pac-12 women's volleyball all-star team which included Utah's Shelby Dalton, played in China and basketball teams from Cal and ASU are scheduled to tour the country in August.
In addition, a group of current and past Pac-12 men's basketball coaches will hold coaching clinics for more than 150 coaches from China.
While the Utes might be known more for their mascot ties to Native Americans or for recruiting athletes from the Pacific Islands, Asians actually make up one of the largest ethnic groups at the university.
—
July 17th
Playoff selection committee to include athletic directors
From The Sporting News … After months of relative inactivity in the development of the College Football Playoff selection committee, the men who have reshaped the college football postseason have taken a critical first step.
Current athletic directors will be used on the committee, an industry source told Sporting News Wednesday – a direct reversal from public statements made in May by CFP executive director Bill Hancock.
It now appears as the though the selection committee will consist of one athletic director from each of the five power conferences, former coaches and players and possibly former media members.
The CFP still hasn't worked out metrics the committee will use, or the total number of members. There likely will be an equal number of current athletic directors, former coaches and a third group of voters.
If an athletic director's school is part of the playoff process, he or she will leave the room during voting for that team. The athletic director would stay in the room if a member from his or her conference is being debated.
Another significant problem still being addressed: promotion. While SEC commissioner Mike Slive reiterated Tuesday that the process will be "transparent," there are concerns about how often the committee meets and releases a poll or ranks the top teams.
Hancock said in May that the initial thinking was "two or three" polls or rankings through the regular season before the final ranking. But that leaves the process open for criticism –- and more important, prevents the CFP from taking complete ownership of the poll process.
—
Colorado running backs "in good shape"
ESPN is running a position-by-position analysis for each Pac-12 team. The options are "Great Shape", "Good Shape" and "We'll See". The quarterback position for Colorado, not surprisingly, was rated as "We'll See". The Buffs, though, did rate a "Good Shape" for running backs.
The full league rundown can be found here, but below is what Ted Miller had to say about Colorado:
Colorado: Everybody of note is back, led by 235-pound sophomore Christian Powell, who rushed for 691 yards and seven TDs, averaging a solid 4.4 yards per carry. There's also Tony Jones and Donta Abron to compliment Powell's power with some breakaway ability. Of the Buffs worries, running back is way down the list.
—
July 15th
Twenty year old Washington star tight end blows a .18 … gets one day in jail
The latest chapter in the very thick book known as "You'd never see this happen to a CU athlete in Boulder" …
From ESPN … Washington tight end Austin Seferian-Jenkins pleaded guilty Monday to a charge of driving under the influence stemming from his arrest after crashing his car in March.
Seferian-Jenkins made the guilty plea in Seattle Municipal Court during what was supposed to be a pre-trial hearing on his case. Seferian-Jenkins was sentenced to 364 days in jail with 363 suspended. Court records indicate Serferian-Jenkins is scheduled to serve his one day in jail on July 31. Washington begins fall camp on Aug. 5.
Whether Seferian-Jenkins will be on the practice field for the start of camp remains a question. He was suspended from team activities following his March arrest and coach Steve Sarkisian has not given indications of when Seferian-Jenkins will rejoin team activities or any punishment he might face.
A Washington athletic department spokesman said Monday no statement was expected from the school or Sarkisian about Seferian-Jenkins' guilty plea. Washington opens the season on Aug. 31, hosting Boise State.
"I want everyone to know how sorry I am for the disappointment and embarrassment I have caused. I especially want to apologize to my teammates, my coaches and particularly my family," Seferian-Jenkins said in a statement released by his attorney. "I also want to apologize to the entire University of Washington family for not living up to my expectations. I hope that everyone can learn from my mistake so that they do not commit the same lapse in judgment that I committed this part March."
Last season, Seferian-Jenkins caught 69 passes for 850 yards — both single-season records for Washington tight ends — and seven touchdowns. He was one of three finalists for the Mackey Award given to the top tight end in the country and was named a third-team all-American by the AP.
He was arrested on March 9 following a late-night car accident. His blood-alcohol level was 0.18 percent, more than twice the state limit. A police report stated Seferian-Jenkins' vehicle was found at the bottom of a catch basin at a park near the University of Washington. The driver objected to medical care, but was eventually placed on a backboard and transported to Harborview Medical Center. He objected to a blood test at the hospital before police obtained a search warrant to draw his blood.
—
July 13th
Pac-12 domination in NCAA hard to ignore
If want to call yourself the "Conference of Champions", you had better be prepared to back that up.
And the Pac-12 can.
The Pac-12 has issued its 2012-13 Year in Review, with the 92-page digital edition available here.
A few stats that jump out …
– In 2012-13, for the eighth-consecutive year, the Pac-12 (with eight titles) had the most NCAA titles or tied for the most of any conference in the country, winning at least six every year since 2000-01.
– No other conference has won double-digit NCAA crowns in a single year, the Pac-12 doing so six times, including a record 14 in 1996-97
– The Conference's eight national titles came in the form of five women's and three men's crowns, including Colorado's national championship in skiing.
– Five different league schools claimed NCAA titles and, of the six NCAA institutions to have won multiples titles, two were from the Pac-12. No other conference in the country had more than one team win multiple NCAA titles.
– The 2012-13 season kicked off with an impressive contingent of nearly 240 athletes competing at the 2012 London Olympic Games where 45 medals were won by Pac-12 affiliates.
– All-time NCAA titles won: Pac-12 – 459 … in second is the Big Ten, with 262.
– All-time NCAA individual titles won: Pac-12 – 2,123 … in second is the Big Ten, with 1,628.
– Colorado is fifth in the Pac-12 in terms of men's team titles, with 21. Not bad, but consider that all four of the teams ahead of Colorado on the list – USC, 82; UCLA, 72; Stanford, 61; and Cal, 26 – are all in the top ten on the all-time list, with USC, UCLA and Stanford Nos. 1, 2, and 3 (So, CU is only five men's team titles from being in the top ten nationally … not too shabby!).
– Colorado is also fifth in terms of men's individual team titles won, with 109. Again, USC (309), Stanford (269), UCLA (163), and Cal (145) are all in the top ten nationally in this category.
—
July 12th
Experts: Hurry-up offenses do in fact contribute to additional injuries
From SportsIllustrated.com … Nick Saban and Bret Bielema are stubborn, curmudgeonly traditionalists. Or they're just wusses. Those were the typical reactions to comments made by Alabama's coach last fall and Arkansas' coach last month, in which they suggested that college football's increasingly ubiquitous hurry-up offenses are becoming a health hazard for players.
Both coaches said they're concerned for athlete safety because of the inability to make defensive substitutions for extended periods of time when facing breakneck offenses, such as the ones run by Oregon and Texas A&M. "There's times where you can't get a defensive substitution in for eight, 10, 12-play drives," said Bielema, who proposed a 15-second "substitution period" following first downs. "That has an effect on safety of that student-athlete, especially the bigger defensive linemen, that is really real."
… What if Saban and Bielema are right? Given the increased awareness surrounding the long-term health of football players, shouldn't people at least look into the possible injury risks of no-huddle offenses?
The experts have an answer: Yes, very much so.
"We don't have quantifiable data to support Bret's claim, but conceptually, it makes sense and lines up with what we observed," said Thomas Talavage, a Purdue University biomedical engineering professor who, along with colleague Eric Nauman, spent two years studying brain trauma among players on an Indiana high school team.
"I think it is a very legitimate concern to the extent that there truly is an added fatigue factor," said Dr. Randall Benson, a professor of neurology at Wayne State University who testified before Congress about traumatic brain injuries in football. "When guys are fatigued they tend to use poorer technique, which can lead to having one's head in the wrong place, putting them at risk for concussions and subconcussive hits."
At the most basic level, a team with an up-tempo offense runs more plays over the course of a game than one with a more traditional scheme, thus creating more opportunities for injuries. Louisiana Tech, then coached by early hurry-up adopters Sonny Dykes and Tony Franklin (both now at Cal), ran 87.8 plays per game last season, compared with 64.1 by Alabama and 66.1 by Bielema's Wisconsin team, respectively. That discrepancy is troubling to researchers like Talavage and Nauman, whose findings show that the cumulative effect of hits from practices and games on players — particularly those most prone to contact, such as offensive and defensive linemen — can be dangerous.
"For us the main thing is, 10 percent of kids will get concussions, but 50 percent will show changes in the way their brain behaves that is almost equivalent," said Nauman. "I'm not worried just about the defense, I'm worried about the linemen on both sides that might take 70 hits in a game. We're looking at somewhere between 60 to 90 hits to the head per week is all you want to take."
… Perhaps Saban was genuinely concerned with more than just how to defend Ole Miss' no-huddle attack when he made his comments last October. "… At some point in time, we should look at how fast we allow the game to go in terms of player safety," Saban said. "… They're snapping the ball as fast as you can go and you look out there and all your players are walking around and can't even get lined up. That's when guys have a much greater chance of getting hurt, when they're not ready to play."
The people who study this stuff for a living believe Saban and Bielema make a valid point. But before pushing for any changes, they need more data to prove it.
Arizona safety leaves program
From the Arizona Star … Safety Vince Miles, who played in all 13 games last season and had 28 tackles, has voluntarily left the program because of an undisclosed medical issue UA officials confirmed today.
His name has been removed from the team's online roster. Miles, a native of Mountain View, Calif., was a walk-on; he joined the UA in January 2012.
Miles recovered a fumble in the UA's 39-36 win over USC and also had a 1/2 tackle for a loss for the Wildcats on the season. His best performance was in the UA's 34-24 win at Utah, where he had five solo tackles and four assists.
He also had five tackles (three solo, two assists) in the team's New Mexico Bowl win over Nevada.
Miles was expected to compete for playing time in the secondary again this season.
—
July 11th
Pac-12 football in China? Someday … but not anytime soon
From the Pac-12 Networks … RE: Pac-12 expanding into China … Pac-12 commissioner Larry Scott has taken the position that it is better to go about things in a more "systematic and strategic way" with the conference office playing the role of middleman to facilitate things. The goal in China remains the same for the Pac-12 as it is in Los Angeles, New York or Miami: grow the brand, connect with fans, and give student-athletes new opportunities.
"I don't think our initiative will be limited to China or the Asia-Pacific region but I do think it's important to focus," he said. "We've really just tried to put some strategy behind what the schools are doing to create a multiplier effect and have a bigger impact."
Ultimately this means more Pac-12 teams will take the long plane ride for a chance to play games in China. Last year it was UCLA men's basketball. Arizona State's men's basketball and Cal's women's basketball teams will tour China later this summer, in addition to the all-star women's volleyball team that just returned. The initiative won't be a one-way street either.
"I just keep seeing it expanding. More sports, more schools participating," Scott said. "In addition, we're developing relationships with FUSC — the Chinese NCAA equivalent — the Ministry of Education, pro leagues, promoters, sponsors and others. We're also doing work back here, as evidenced by the 50 Chinese administrators we hosted at the men's basketball tournament.
"I just see the depth and breath of the tour activity continuing to expand and that will lead to some regular season competition over there."
Conference staff already is exploring the possibility of having a regular season men's basketball game (or games) in China. Several schools have even been proactive by volunteering to go. Women's basketball also figures to be in the mix.
It's also possible Pac-12 Networks programming could be distributed overseas with Chinese sponsors underwriting some of the costs.
The most popular sport in America also could get in on the action.
"I think we will have football [in China] at some stage," Scott remarked. "I think it's more of a longer-term thing. I've done due diligence on it during my trips… It's very expensive to bring teams over there and I just don't know if it's practically very viable right now. The NFL has been over there for years trying to develop fans and end up doing a lot of grassroots activity. It's just hard when it's not an endemic sport and that's the beauty of basketball and the Olympic sports."
You may see a Pac-12 football team playing in Europe sooner than Asia as a result. First and foremost though, the conference is trying to do what many of its member schools do on a daily basis: educate.
"People outside the U.S., not just China but generally, are not that familiar with U.S. college sports," Scott said. "There's a lot of education that needs to be done about college sports in general and the Pac-12 specifically. In China, I would like the Pac-12 to be seen as the elite athletic conference in the United States with some of the best-known brands."
—
July 10th
Utah to renew rivalry with BYU … with 2018 game to be played after CU/Utah rivalry game
And here we thought Colorado was going to be Utah's season-ending rivalry game …
From the Deseret News … While the Utes and Cougars are scheduled to play on Sept. 21 in Provo and on Sept. 10, 2016 in Salt Lake City, the future of the series has been in question for a while.
Hill created another stir Tuesday when he announced, via YouTube, that Utah is in the process of scheduling a new series with BYU, starting in 2017, that includes a November game in 2018 — pending Pac-12 approval.
"It looks like in 2017 we'll be playing in the early part of September, and in an unusual situation in 2018, we'll be playing the last game of the year" said Utah athletic director Chris Hill. "This is an opportunity for us to help the league by making sure that nobody has to play 12 games in a row. … That gives us an opportunity to play BYU at the end of the year. We'll get a final approval from the league in early August, and then we'll make a formal announcement, if not sooner."
Hill later told the Deseret News that "we haven't signed (a contract with BYU) yet, but we will sign it, hopefully soon. It still has to be approved by the Pac-12, but that's not going to be an issue.''
Meanwhile, USC will also be playing BYU … During BYU's media day, BYU athletic director Tom Holmoe announced that the Cougars will play a three-game series with USC — also a member of the Pac-12 — in 2019, 2021 and 2023, which features two contests in November.
—
Washington's leading receiver punishment to be "handled internally"
From the Seattle Times  … Kasen Williams, Washington's leading receiver in 2012, paid a fine of $695.50 on Monday for a misdemeanor citation related to a May 26 incident in which he was pulled over in Chelan County for suspicion of driving under the influence of alcohol or marijuana.
Williams, 20, a junior from Sammamish, took a voluntary breath test at the scene, according to court records. He blew a .059 and .056, both under the legal limit of .08.
UPDATE: Williams was arrested, but he was ultimately not charged with DUI. He was cited for being under 21 and operating a vehicle after consuming alcohol or marijuana. As part of his citation, he was also placed on two years' probation.
Williams was pulled over for driving 45 mph in a 30 mph zone. The Washington State Patrol officer noted a smell of alcohol and marijuana, and Willliams told the officer he had had one drink.
UW released a statement from coach Steve Sarkisian on Tuesday afternoon: "We are aware of an incident involving Kasen Williams in Chelan County on May 26. As a matter of policy, any disciplinary measures taken as a result of this incident will remain internal to the team."
As a sophomore last season, Williams had a team-high 77 catches for 878 yards and six touchdowns.
UW's other standout pass-catcher, tight end Austin Seferian-Jenkins, is scheduled to appear in court on Monday for a pretrial hearing related to his March arrest on a DUI charge.
—
July 9th
Mountain West has six bowl tie-ins … only one with Pac-12 (the only tie-in with a BCS conference)
From ESPN … The Mountain West Conference has agreed to tie-ins with six bowl games starting in 2014, sources said.
The Mountain West's six bowl tie-ins are expected to be six-year deals from 2014-19.
The Las Vegas Bowl will get the first selection from the Mountain West, while the Poinsettia Bowl in San Diego will get the second selection, sources said. The Hawaii, Armed Forces in Fort Worth, Texas, and New Mexico bowls will share the third, fourth and fifth selections. The Famous Idaho Potato Bowl in Boise, Idaho, will get the league's sixth selection, sources said.
Despite a number of bowls changing conference affiliations after this season, the final year of the current four-year bowl cycle, the Mountain West retained all of its previous six tie-ins. The league also is considering adding a seventh bowl in 2014, sources said.
The expected conferences the Mountain West will face in its new bowl lineup: Las Vegas (Pac-12), San Diego County Credit Union Poinsettia (Navy in 2014, BYU and Army from 2015 on), Sheraton Hawaii (American/Conference USA), Bell Helicopter Armed Forces (C-USA), Gildan New Mexico (C-USA) and Famous Idaho Potato (Mid-American).
While Las Vegas has the first selection from the Mountain West, it will not be required to take the MWC champion, sources said. If the University of Hawaii is bowl-eligible, the Warriors would represent the MWC in the Hawaii Bowl.
Pac-12 offers new twitter accounts
From the Pac-12 Network … The Pac-12 Conference has re-launched its Twitter handle, @pac12, the Conference office announced on Tuesday. The @pac12 handle will primarily focus on Conference-produced content, including pertinent releases and announcements, awards, Championship coverage, and updates on Pac-12 teams and student-athletes. The league's handle had been used to promote Pac-12 Conference and Pac-12 Networks content, simultaneously, since the Networks launched in August 2012. With the growth of content on Pac-12 Networks, including more live events, enhanced original programming and exclusive video features, the Conference and Networks both determined it was time to create two Twitter handles to distribute distinct content.
Starting today, Pac-12 Networks will have its own handle @Pac12Networks that is focused on events and content produced by the conference-owned media company. The two accounts will work with each other to promote Pac-12 sports as well as news from our 12 member institutions by re-tweeting or linking to each other when appropriate. Fans and media interested in content from the Pac-12 Conference are encouraged to follow @pac12 to get league news and information as soon as it is released.
… and don't forget you can also follow CU at the Game @cuatthegame1 … I don't post that often – just when it's really good stuff!
July 8th
Pac-12 announces the launch of a unified network of digital properties
From the Pac-12 … Pac-12 Digital, in partnership with its member institutions and NeuLion, announces today the launch of a unified network of digital properties that will initially include 10 of the 12 official athletic sites (OAS) from the Pac-12 Conference. The re-launching of the new school websites, operating under the NeuLion College Platform, is part of a larger effort by Pac-12 Digital to create the ultimate integrated digital network to better connect fans to their favorite Pac-12 teams, student-athletes, coaches and schools.    The OAS re-launch focuses on providing fans with a more streamlined experience across each site, with a singular platform that delivers a variety of features for a more user-friendly experience, while also incorporating the Pac-12 universal event schedule providing accurate game times, dates and scores across all school sites.
Colorado has been a partner with NeuLion and its predecessors since 2003, joining Oregon as the two Pac-12 schools that did not have to change web platforms. Due to logistical issues, the new CUBuffs.com will re-launch on Aug. 15, while Arizona, Arizona State, California, Oregon, Oregon State, Stanford, UCLA, Washington and Washington State were part of today's re-launch under the NeuLion singular platform. USC and Utah will follow with redesigns in the future.
"Pac-12 fans have made it clear to us that they want to connect with their schools and engage with each other around games and compelling content and we made it our mission to deliver that to them," Pac-12 Digital Vice President/General Manager David Aufhauser said. "By creating a fully integrated digital network, our fans can now engage around Pac-12 events like never before and they can do it seamlessly across any device no matter where they are."
As a leader in creating dynamic solutions for colleges, universities, conferences and sports networks across the United States, NeuLion leads the way in providing  digital experiences that allow fans to connect with their favorite schools, teams and student-athletes like never before across multiple devices.
"We are excited for the launch of the Pac-12 member schools new official athletic websites," said Chris Wagner, EVP and Co-Founder of NeuLion.  "The NeuLion College Platform creates a second-to-none experience for the fan while also providing athletic department staff with a single point of integration to seamlessly and efficiently publish, update and control content."
Across the network of digital properties, mobile access regardless of device, social integration and great video content were primary objectives in the re-launch efforts. Each OAS will feature 'Responsive Design,' allowing automatic detection of screen size that adjust for desktop, tablet or mobile use for easier viewing and navigation.
Each OAS will also allow for embedded Twitter, Facebook and other social media feeds from both the school's official accounts, as well as accessibility of specific team social accounts directly on their pages.
A strong emphasis was also placed on video. Using a unified video platform powered by Ooyala and integrated with the NeuLion College Platform, each site will feature a video centric main article rotator, allowing schools to put their choice of video, as well as photos on prominent display. Additionally, fans who receive Pac-12 Networks through their cable or satellite provider will have access to all seven networks via 'TV Everywhere' authentication with fewer clicks. Live streaming events over and above those shown on the Networks will also be showcased, as will video features, highlights and other essential stories for fans.
July 7th
Utah coaches have five options at quarterback … and are happy with that
Glass half full … Glass half empty.
A month from the start of fall camp, both Colorado and Utah still looking for a starting quarterback.
A month from the  start of fall camp, both Colorado and Utah have as many as five potential starters on their roster.
While the Buff Nation is wringing its collective hands, hoping that one player on the roster will emerge as a Pac-12 caliber starter, Utah doesn't seem to have that worry.
Here is a link to a story in the Deseret News, outlining the five options for quarterback at Utah.
Nice to have that many options … isn't it??
—
July 6th
Plaintiffs allowed to add a current player in O'Bannon case
From the USAToday … Lawyers representing the plaintiffs in an antitrust suit concerning college athletes' names, images and likenesses will be allowed to amend their complaint against the NCAA and two co-defendants and to add a new named plaintiff who is a current college athlete, U.S. District Judge Claudia Wilken ruled Friday.
Wilken discussed granting permission for these moves during a hearing June 20 on whether to certify the suit as a class action.
Today's order officially gives the plaintiffs' lawyers two weeks to make the adjustments to their documents and their lineup of plaintiffs.
… Wilken's decision to allow the plaintiffs to make these modifications could be viewed as indication she is leaning toward certifying the case as a class action in some form.
"I wouldn't say for sure this means it will be certified, but the odds are better now than they were before," said Steve Williams, an attorney who handles anti-trust and complex civil litigation for the Bay Area-based firm Cotchett, Pitre and McCarthy and has appeared before Wilken but is not involved in this case. "She could have said it's too late to fix the complaint or the set of named plaintiffs."
Her order expressly lets lawyers for the plaintiffs address some of the arguments made by lawyers for the NCAA and video game manufacturer Electronic Arts and the nation's leading collegiate trademark licensing and marketing firm, Collegiate Licensing Co. The order also somewhat limited what the defendants' lawyers will be able to say immediately in response to the plaintiffs' change.
In addition, it also likely will result in the plaintiffs' formally clarifying a point that Hausfeld made during and after the hearing: that the plaintiffs aren't concerning themselves with the use of athletes' names, images and likenesses in regard to jersey and other apparel sales. That puts the case on the areas of: TV broadcast and re-broadcast, video games and other digital and electronic media.
—
July 5th
Washington to wear gold "chrome" helmets this fall
I don't particularly care for them, but a readers' poll in the Seattle Times has the "love it" category with a majority of votes (59%), well ahead of "leave the fashion statements in Eugene" (22%), "indifferent" (15%) and "hate 'em" (4%).
Take a look for yourselves …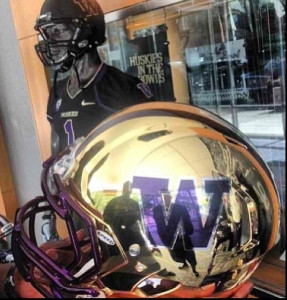 July  4th
Kyle Field wedding cake … wow!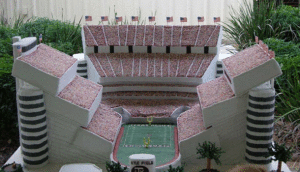 July 3rd
Just for fun … a look at the new Kansas helmets … (yeesh!)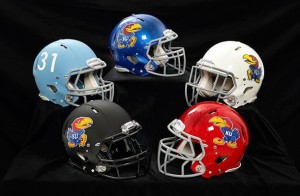 Bobby Bowden reaches marketing deal with Florida State
Think the new CU Athletic Director would be well served to make a similar deal with Bill McCartney ….?
From Seminoles.com … Former Florida State University head coach Bobby Bowden and Seminole Boosters, Inc. have agreed to a marketing and promotions agreement to raise money for Florida State Athletics.
"When Coach Bowden accepted FSU President Eric Barron's invitation to come back for two home games this fall, we saw an opportunity to formulate an agreement that will allow the Boosters to take Coach Bowden to fans across the country to promote Seminole Athletics," said Andy Miller, President of Seminole Boosters, Inc., the fundraising arm of Florida State Athletics. "Coach Bowden has always been a great ambassador for the University and will be invaluable in our efforts to fund a highly successful Athletics program."
The multi-year agreement will begin in January, 2014, and calls for Bowden to make public appearances during the year to promote, market and raise funds for FSU Athletics in 2014 and 2015. In addition to a Personal Services Agreement, Bowden granted Seminole Boosters the right to use his name and likeness under an exclusive licensing agreement. The Boosters portion of this partnership will support Athletics.
Bowden is no stranger to personal speaking agreements with Seminole Boosters. For more than 35 years as head coach, Bowden was the featured speaker on the Spring Seminole Booster tour, which raised funds and promoted Seminole Athletics.
"I am delighted," said FSU President Eric Barron. "Coach has always been a great friend-raiser, and it will be an emotional time for his legions of fans to see him back on Bobby Bowden Field this fall. This new agreement will allow us to bring Coach Bowden to our supporters around the country and allow them to share in this positive spirit."
"I can't think of a better ambassador than Bobby Bowden to serve in this very important roll," says Allan Bense, Chairman of the Board of Trustees. "I applaud Seminole Boosters for seizing the opportunity."
Bowden will receive compensation of $250,000 per year and half of the net royalty income from licensing.
… So, would this work for CU and Bill McCartney? Are there enough Mac supporters out there who would be willing to donate more if Mac were making the call? Has Mac alienated too much of the Buff Nation, so that he would hurt more than he would help?
Send me an email at cuatthegame@gmail.com, and let us know your thoughts …
—
Arizona State receives a commitment … from a 14-year old freshman
From ASUDevils.com … A Texas 14-year-old became the youngest known football prospect to ever make a commitment to Arizona State this week during a visit to the school.
Loren Mondy, a 6-foot-1, 233-pounder who will be a freshman at Mansfield Lake Ridge High in the fall, said he gave his pledge to Sun Devil coach Todd Graham on Sunday in Tempe.
Mondy, whose father Michael Mondy played for Graham both in high school and at NAIA East Central University, where Graham was defensive coordinator from 1991-93, is a hybrid defensive end/linebacker prospect being recruited to play devil backer by the Sun Devils.
"I went to the Arizona State (satellite) camp at Sam Houston (State) and coach (Todd) Graham saw me and loved me and asked me if we could come down there so we did last weekend," Mondy said. "I was hoping to get offered and it happened the first day we were there. Coach was like, 'if you want to play with me I'm all with it. But if you commit with me you're going to have to talk to your family and really think about it and you can't be going to everyone else's school and camps and things.'
"So I talked with my parents and my dad's girlfriend and decided to commit to him because he's a man of his word. I'm really excited. Coach was talking about me going to that school I was getting goose bumps. I was so excited. I'm really happy about it. My dad is really happy about it too."
ASU was Mondy's first offer and the only one that he says will really matter.
"I only need one school that I really like really," he said. "If I find one school that is a good fit that's all I need and that's what I found (with ASU)".
—
July 2nd
Colorado State adds two junior college players
The right move? … or … is CSU's Coach "Mac" already concerned about his roster in year two?
Colorado State has added a wide receiver and a cornerback to its 2013 over the past few days …
From GoldandGreenNews.com … With one additional scholarship remaining for the 2013 class, CSU added depth to its receiving unit last week when East Los Angeles College receiver Willie Udofia signed a financial aid agreement with the Rams, giving CSU five new pass catching targets for the fall.
Udofia, who spent his first year at the Air Force Academy Prep School after signing with the service academy out of Suwanee (Ga.) Peachtree Ridge, played his redshirt season at ELAC, accounting for eight touchdowns and 501 yards receiving.
CSU was his only FBS offer, but Udofia had other offers from Morgan State, Hampton and Western Illinois. Mojarro said his receiver also got serious looks from USC and Illinois before the Rams came forward with an offer. (Rivals bio).
From the GoldandGreenNews.com … Colorado State got deeper at cornerback last week when Arizona Western Community College cornerback Saladin McCulloch signed a letter of intent with the Rams. The late signee finished the prerequisite coursework this summer to enroll at CSU and will arrive on campus on Saturday.
McCullough, a 5-foot-10, 180-pound cornerback who played one season of JUCO ball last fall at Moorpark College in California, will have four seasons to play three after grayshirting in 2011. He transferred to Arizona Western this past winter but won't play a down for the Matadors. (Rivals bio)
McCullough will step in immediately and provide depth for the Rams at a position where depth was becoming an issue. CSU wasn't overly deep this spring at cornerback and it became more pressing with a hernia injury to sophomore nickel Jasen Oden. Oden will likely miss the first few weeks of the season after undergoing surgery.
—
July 1st
Utah picks up … then loses … star quarterback recruit
From the Salt Lake City Tribune … Apparently, a day can make a big difference with a recruit.
On Friday, Utah was euphoric over Aaron Sharp's commitment, a quarterback out of Houston Texas and one of the best dual threat prospects in the country.
By Saturday, Sharp was no longer a Ute. In what was a hasty switch, Sharp de-committed to Utah and pledged his services to Kansas State. (Rivals bio)
What happened to bring along the change in decision? Not many knows at this juncture. All that most are sure about is the fact that the Utes had their top quarterback target committed and now he's gone.
… Does it hurt Utah? Marginally. While the Utes no doubt would've loved having Sharp in the fold, they aren't without talent – young talent – at the position. Travis Wilson is a projected starter and he's a sophomore. Adam Schulz had a wonderful spring and has the look of a more than capable back-up. Connor Manning is a classic big armed pocket passer as a true freshman. Brandon Cox has plenty of talent as a freshman dual threat.
—
June 30th
Arizona loses a third wide receiver
From the Arizona Star … Tyler Slavin, the wide receiver who caught the game-winning touchdown pass against Nevada in the New Mexico Bowl, is no longer a member of the Arizona football team. Slavin voluntarily left the program Friday, UA spokeswoman Molly O'Mara said.
Slavin said on Twitter, "I announce that I will be leaving the University of Arizona!" His name has since been removed from the Wildcats' online roster.
Saturday, Slavin tweeted that he was unhappy with the way he was treated by the Arizona coaching staff, writing, among other things, "It's crazy how they treat you here."
Slavin is still listed in the UA's student database; the junior carries a double major in public management and policy, and psychology. It's unclear whether Slavin intends to transfer.
The 6-foot-2-inch, 205-pound Slavin caught 22 passes for 224 yards and one touchdown last year. In three seasons at the UA, Slavin appeared in 31 games.
His departure marks the latest blow to the Cats' receiving corps.
Arizona lost Dan Buckner to graduation after last season, and leading receiver Austin Hill suffered a torn ACL in the spring and might miss the 2013 season. Richard Morrison has switched positions, to cornerback.
… If the name sounds familiar, it might be: 1) the last name. Slavin was a member of the Class of 2010, as was CU tight end signee Kyle Slavin (no relation), and was a teammate in high school with CU signee Harold Mobley; or 2) Slavin was recruited hard by CU. Slavin took an official visit to Boulder his senior year, and the three-star prospect had CU in his final five, along with Arizona, Stanford, Nebraska, and Washington.
We'll see if CU might be back on Slavin's radar …
—
Oregon's lime green helmets
With Oregon off the hook from NCAA sanctions – despite admitting to major violations – all bets are off for what the folks in Eugene might do.
The latest from Phil Knight University … lime green helmets. Enjoy: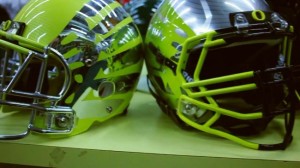 June 29th
Pac-12 Networks close out successful first season
From the Daily Camera … Even without one of the largest television providers in the country (DirecTV) on board, the Pac-12 Networks considers its first year a success and looks ahead to a bright future.
"We're very proud of our inaugural year," president Lydia Murphy-Stephans said in a recent phone interview. "Honestly, I think what happened this year was downright remarkable. To launch seven networks and digital platforms and build a building and produce that many events and generate revenue, that's a remarkable story."
Pac-12 commissioner Larry Scott recently announced that the Networks were projected to make a profit in the first fiscal year, which ends Sunday. What actually happens to that money will be determined by the Pac-12 Board of Directors, which consists of the 12 university presidents and Scott.
Regardless of what happens to that money, Murphy-Stephans believes the Networks — which include a national network and six regional networks — have been a great boost to every athletic department in the conference.
"I think that the schools got a benefit from the Pac-12 Networks on Aug. 15, as soon as we launched," said Murphy-Stephans, who was originally hired as executive vice president and general manager before taking over as president in April. "The exposure that our 12 universities are receiving from the Pac-12 Networks is probably the greatest benefit that they can have. It's an amazing recruiting tool."
… CU's BuffVision, which built a state-of-the-art HD control center at the Coors Events Center, was one of the conference leaders in producing content for the Pac-12 Networks, Murphy-Stephans said.
Thanks to BuffVision and other groups around the conference, the Pac-12 was able to broadcast nearly 1,200 live events last school year — 550 on the television networks and more than 600 that were streamed on Pac-12 Digital. Live streams were done completely by the schools, but the Pac-12 provided the platform for those streams.
For the 2013-14 school year, Murphy-Stephans said that number could skyrocket to 2,000 total events — 750 on the TV networks and 1,200 live streams.
… The Networks hired more than 1,800 Pac-12 students last year to help produce events — training them and paying them at the same time. This year, Murphy-Stephans said that number will exceed 2,500 students, including more formalized training for them. … Former CU football player Jeremy Bloom was part of the on-air talent roster last year and Murphy-Stephans said she expects him to return this next year. … The Pac-12 Networks are 100-percent owned by the conference schools. By comparison, the Big Ten Network is 51-percent owned by Fox.
—
Pac-12 non-conference schedule rated fourth best of Big Six Conferences (and CU 9th of 12)
From The Sporting News … Why play nine games if others (see: SEC, ACC) aren't? Why play nine games when the original idea of playing a round-robin schedule (everyone plays everyone in the old Pac-10) was better games = bigger future television deals?
Now that the league has a big television deal with ESPN and Fox; now that it has its own network, why not move back to eight games and increase the ability to play better non-conference games?
Scott's answer: keep nine games and play better non-conference games. So much for that idea.
A breakdown of the Pac-12's non-conference schedules:
First to worst
1. Arizona State: Sacramento State, Wisconsin, Notre Dame (Arlington, Texas)
2. California: Northwestern, Portland State, Ohio State
3. UCLA: Nevada, at Nebraska, New Mexico State
4. Stanford: San Jose State, Army, Notre Dame
5. USC: at Hawaii, Boston College, Utah State, at Notre Dame
6. Oregon: Nicholls State, at Virginia, Tennessee
7. Washington: Boise State, at Illinois, Idaho State
8. Utah: Utah State, Weber State, at BYU
9. Colorado: Colorado State (Denver), Central Arkansas, at Fresno State
10. Oregon State: Eastern Washington, Hawaii, at San Diego State
11. Washington State: at Auburn, Southern Utah, Idaho
12. Arizona: Northern Arizona, at UNLV, at Texas-San Antonio
—
June 28th
Stanford picks up No. 1 pocket passer from the Class of 2014
From ESPN … One day before the prestigious Elite 11 quarterback camp is set to begin, Keller Chryst (Palo Alto, Calif./Palo Alto), the No. 1-ranked pocket-passer in the ESPN 300, verbally committed to Stanford. (Rivals bio)
The 6-foot-4, 220-pounder chose Stanford over offers from Alabama, Arizona, USC and Pittsburgh, where his uncle, Paul Chryst, is the head coach.
Chryst said he believed his hometown school was the best fit for him.
"I just felt like it was the best decision for me overall," Chryst said. "Every school had their own strong points, and I just felt like I fit in best at Stanford."
Chryst, the No. 21-ranked player in the country, took over the No. 1 pocket-passer ranking from David Cornwell in the new ESPN rankings released last week.
—
June 27th
USC to take over management of the Coliseum
From ESPN … After a public hearing on Tuesday morning, the California Science Center Board of Directors voted unanimously to approve lease agreement terms that should pave the way for USC to oversee management of the Los Angeles Memorial Coliseum.
The current USC lease agreement with the Coliseum Commission allows USC to utilize all the parking spaces in Exposition Park on football game days, minus roughly 1,000 spots saved for museum visitors. USC can also use those parking spots for three university-related events per year, other than football games.
A compromise was reached Tuesday with the museums receiving more parking and revenue than had been originally proposed. The approved terms will now be added to the Coliseum lease contract and a final approval vote will be needed.
The stewardship of the stadium, the only venue to host two Olympic Games, will transfer from the Coliseum Commission to USC based on several contract items that were not met by the Commission in recent years. USC has been playing in the Coliseum since 1923 and will look to refurbish and make improvements to the storied venue.
Here are the key points of the proposed lease contract for USC:
• USC will sign a 99-year lease to manage the Coliseum and will pay $1 million per year in rent to the state of California.
• USC will put approximately $100 million into improvements over the first half of the contract, with $70 million coming in the first 10 years.
• USC has the right to develop the Sports Arena property.
—
June 26th
Oregon penalties … if you can call them that
Here is a link to the report from the NCAA.
In pertinent part, the NCAA found … This case involved major infractions of NCAA legislation committed by the recruiting service provider, who became an athletics representative, in addition to violations committed by institutional staff members, most notably, the former head coach. As detailed in Section VI-Penalties, the committee concludes that the following principal penalties are appropriate: three years of probation, a reduction in the maximum number of football grants-in-aid and official recruiting visits, an 18-month show-cause restriction for the former head coach, a one-year show-cause restriction for the former assistant director of operations, a prohibition on the use of recruiting services (to run concurrently with the period of probation) and the disassociation from the institution of the recruiting service provider who was at the center of this case.
Ouch. The sound you hear in the distance is laughter coming from deep within the bowels of Autzen Stadium. Chip Kelly, who took off for the NFL in January, receives a penalty which will have no actual repercussions. In Kelly's four seasons as the Ducks head coach, Oregon went 46-7 and went to BCS bowls every year. Under Kelly, Oregon finished the past three seasons in the top four.
Not a bad tradeoff – cheat, apologize, and get away with it.
CU is not only bad at fund-raising … it's lousy at cheating.
The loss of exactly one scholarship is roughly the same penalty CU received for feeding walkon players who were allowed to eat with the scholarship players because their dorm cafeterias closed before practices were concluded.
Really, NCAA?
This just in … Tail wags dog … Film at 11 …
BoulderDevil weighs in … NCAA to Oregon Football: "Stop that! or we might say 'stop that' again!"
What a joke. The NCAA probably spent more to investigate and do nothing than Oregon spends on all those stupid looking uniforms. And that's a lot of money. After all, the Ducks are the "First Lady" to Presidential Sports King Phil Knight, and as such it would be undignified to wear something more than once.
As Knight knows, money talks and the NCAA is really little more than a pole dancer waiting to have bills shoved into their G-strings.
—
JWBlue likes BoulderDevil's analogy … Couldn't have described the Oregon "penalties" better Stuart. The G string thing was priceless and appropriate.
UCLA loses No. 1 JUCO recruit to Alabama
From AL.com … The Alabama Crimson Tide picked up a commitment on Tuesday night from one of the nation's biggest offensive line prospects who was already committed to another major program.
Junior college offensive tackle Dominick Jackson, a 6-foot-7, 304-pound prospect out of California's College of San Mateo, changed his commitment to the Tide on Tuesday after previously being committed to UCLA since June 5.
"The SEC is where you want to play D-1 ball," Jackson told BamaOnline. "If you can compete there, you can play at the next level for sure. It's where everyone wants to be. They've been the national champions for two consecutive years and they have Coach Nick Saban."
Jackson is rated the No. 1 junior college offensive tackle by the 247Composite rankings and the No. 2 overall junior college prospect in the nation. He also held offers from Arizona State, Arkansas, Florida, Oregon, USC and Texas A&M, among others. He plans to graduate in December and enroll at Alabama in January.
—
June 25th
Former Buff Zach Grossnickle lands at Washington
From the Daily Camera … When the Colorado football team travels to Seattle in early November to play the Washington Huskies, there will be another familiar face on the other side of the field.
Former Buff punter and placekicker Zach Grossnickle has enrolled in graduate school at Washington and has received approval to spend his final season of eligibility playing for coach Steve Sarkisian and the Huskies. He is scheduled to move to Seattle in late-July.
"It will be a change to wear new colors, but I am looking forward to making the most of my last season of eligibility with a new team," Grossnickle said in an email. "When we play Colorado, it will be good to see some of my buddies from the Buffs, but when it's game day, it's game day, and I'll focus on what I have to do."
Grossnickle doesn't know yet whether he will be punting or placekicking or both for the Huskies. He plans to be prepared to compete for both jobs when practices begin in early August. He said he will pursue a degree in public policy and public affairs with an emphasis on clean water issues.
"As always, nothing is certain until I get to Seattle and show them what I can do," he said.
More at the Daily Camera
—
Oregon penalties to be announced Wednesday
The sky is falling! The sky is falling!
No, really, this time its for real …
From the Oregonian … Oregon will learn its fate with the NCAA Committee on Infractions on Wednesday morning.
The report will be released to the media at 7:30 a.m., followed by a conference call at 8 a.m.
"We have been informed by the NCAA that the Committee on Infractions report on the University of Oregon will be released tomorrow," Oregon athletic department officials said in a statement. "Until we have received and reviewed the report we will not comment."
The outcome into the more than 2-year-old NCAA investigation into the Ducks' use of football scouting services – largely under the tenure of former head coach Chip Kelly – will conclude one of the most scrutinized subjects in recent state sports history.
Oregon's troubles began just two months after appearing in its first national championship game in January 2011.
Reports surfaced in March 2011 that the football program had paid $25,000 for a national recruiting package from Houston-based recruiting consultant Willie Lyles and Complete Scouting Services. The payment came one month after highly recruited running back Lache Seastrunk signed a letter of intent with Oregon in February 2010.
Lyles served as a mentor to Seastrunk, out of Temple, Texas.
Later it surfaced that Lyles had a similar relationship with several other Oregon players from Texas, including LaMichael James, Tra Carson, Dontae Williams and Marcus Davis.
Many programs use recruiting services to help save time by providing information on recruits out of a team's region. Using such services is within NCAA guidelines.
However, a review of the national recruiting package Lyles provided Oregon in 2011 consisted of names of players who had graduated from high school in 2010, thus making the package worthless. Included was a defensive lineman who had played for Auburn against Oregon in the BCS National Championship game.
—
June 24th
Pac-12 bowl lineup taking shape … Sun Bowl to pit Pac-12 v. ACC
The Pac-12 bowl lineup is starting to firm up:
1. Rose – v. Big Ten – or playoff
2. Alamo – v. Big 12 No. 2
3. Holiday – v. Big Ten
4. Kraft Fight Hunger – v. Big Ten
5. Sun Bowl – v. ACC
Still to be announced … Las Vegas Bowl and Buffalo Wild Wings Bowl (replacing the New Mexico Bowl)
The Alamo Bowl is the primary non-College Football Playoff Bowl, and they will have the first selection of a Pac-12 team not involved in the Playoff or that doesn't get selected by the Rose Bowl in years the Rose Bowl isn't involved in the Playoff. The Alamo will have a similar arrangement with the Big 12, making it one of the marquee non-Playoff Bowls in college football.
The Holiday Bowl goes next, and they will face off with a Big Ten selected team (somewhere between second and fourth overall in the selection process).
Then comes the Fight Hunger Bowl, which takes a huge leap up the pecking order. The Pac-12 will battle a Big Ten team, likely fifth or sixth overall selection-wise.
Press release from the Sun Bowl … "The Pac 12 has been an invaluable partner for the Sun Bowl for many years and we are looking forward to our continued partnership with them," said Walker Crowson, President of the Sun Bowl Association. "The Pac 12 Conference has helped the Sun Bowl deliver quality and exciting match-ups to El Paso in the past and will continue into the future."
The Hyundai Sun Bowl Football Selection Committee will have the fourth selection from the Pac-12 following the newly-formed College Football Playoff subject to selection guidelines established by the conference. With the new contract, the 2014 game will begin a six-year appearance at Sun Bowl Stadium through 2019.
"The Pac-12 looks forward to continuing our relationship with the Sun Bowl, that outside of the Rose Bowl, has stretched longer than any other bowl game," said Pac-12 Commissioner Larry Scott. "Our teams thoroughly enjoy the hospitality and overall experience provided by the Sun Bowl and El Paso community. Maintaining our partnership with the Sun Bowl provides another quality postseason matchup for the Conference, and adds to an already strong lineup of bowl games for years to come."
—
Report: Pac-12 ditching bowl in Albuquerque (New Mexico Bowl) for one in Tempe (Buffalo Wild Wings)
From CBSSports.com … Looks like the New Mexico Bowl has only one more chance for a rematch of last year's wild Nevada-Arizona game.
The Pac-12 is not expected to renew its contract with the New Mexico Bowl when it runs out after this season, according to two sources. Conference USA will likely replace the Pac-12 and play the Mountain West Conference representative for the 2014-19 cycle, according to a source.
The Gildan New Mexico Bowl launched in 2006. The Pac-12 is jumping on the Buffalo Wild Wings Bowl, so maybe that affected the New Mexico Bowl's chances to keep the league.
—
June 23rd
Pac-12 to face Big Ten in two bowl games in addition to the Rose Bowl
Adding to the chances for Colorado and Nebraska might have the opportunity to renew their rivalry in future years …
From ESPN … The Big Ten is adding the Holiday Bowl and the Kraft Fight Hunger Bowl to its future postseason lineup and will face Pac-12 teams in both games, sources have told ESPN.com.
Big Ten commissioner Jim Delany will announce the moves during a conference call Monday afternoon with bowl officials and Pac-12 commissioner Larry Scott, according to sources. The Pac-12 is continuing its agreements with both bowls for the next cycle, which begins in the 2014 season.
The Fight Hunger Bowl has had tie-ins with the Atlantic Coast Conference, the service academies and BYU over the years. This season BYU will play a Pac-12 team in the final Fight Hunger Bowl played at AT&T Park, home of the San Francisco Giants, if the Cougars are bowl eligible. If not an ACC team is next in line. The Big Ten will now take that spot, giving the bowl far more stability.
The Big Ten will send teams to both the Holiday and Kraft Fight Hunger bowls every year during the next cycle. The Big Ten had a tie-in with the Holiday Bowl from 1986-94. In 2011, Illinois appeared in the Kraft Fight Hunger Bowl.
—
Pitt running back not transferring to UCLA after all
From the LA Times … Running back Rushel Shell has decided not to transfer to UCLA because he wants to remain close to his Pennsylvania home, according to a person familiar with the situation who was not authorized to speak on the subject.
Shell announced in April that he intended to come to UCLA. He had spent one season at Pittsburgh, where he gained 614 yards rushing.
But Shell, who has twin daughters living in Pennsylvania, decided the distance was too great. He hopes to rejoin the Pittsburgh team.
Shell was one of the top running backs in the nation as a senior at Aliquippa (Pa.) Hopewell High, where he gained a state-record 9,078 yards in his career.
—
June 22nd
Should the rules be amended to allow defenses time to make substitutions?
Arkansas' Bret Bielema has added his name to the list of coaches who want the NCAA to change the rulebook on the no-huddle offense. Bielema proposed a rules change that would allow a 15-second substitution period after every first down to allow defenses to make changes.
"Not to get on the coattails of some of the other coaches, there is a lot of truth that the way offensive philosophies are driven now, there's times where you can't get a defensive substitution in for eight, 10, 12-play drives," Bielema said, via AL.com. "That has an effect on safety of that student-athlete, especially the bigger defensive linemen, that is really real."
Arizona head coach Rich Rodriguez, however, disagrees.
"Well, Bret is a terrific coach and a great friend" Rodriguez told ESPN. "I don't know if those comments are maybe self-serving a little bit from a standpoint that those guys don't want to face that. But he's had success against it. It's still eleven on eleven. I mean, certainly the rules favor the offense as far as substitution goes."
"But fair? It's still eleven on eleven. I didn't hear people talking about it being fair or unfair when the Buffalo Bills were using (tempo) with the old K-Gun offense and going to a Super Bowl."
As to the issue of whether no-huddle offenses raised concern about player safety, Rodriguez stated, "Not at all. If you're in shape, you still have time to substitute. With all these timeouts and stoppages for play. You have three-minute timeouts in every quarter for TV. I don't see that at all. Some basketball teams play up-tempo and fast break all the time, they don't talk about that being an issue."
… Plenty of debate – but likely no changes coming anytime soon.
—
Utah "at a massive disadvantage, and you can't catch up overnight"
From the Salt Lake City Tribune … Two years into the Pac-12, the Utes are still languishing behind the majority of their foes in conference races. The closest the Utes have come to claiming a league title was when the gymnastics team finished second in 2012.
For the most recent season, gymnastics led the way again with a third-place finish at the Pac-12 Championships and women's basketball had the second-best effort with a sixth-place finish in the regular-season standings.
The remaining teams were below .500 and finished near the bottom of the standings in the sports that keep official league standings.
While a few struggling seasons were to be expected as the Utes moved to a BCS conference, the impetus is on Utah's coaches to start producing results sooner rather than later.
"There is no question everyone is feeling more pressure to win now than we used to," Hill said. "Everybody knows our challenges when we moved to the Pac-12, and they are great challenges, but we aren't afraid of high expectations."
That said, what is realistic for the Utes? If longtime Pac-12 members such as Cal, Washington State and Washington have trouble competing against mighty programs like USC and Stanford, how long will it take for the Utes to get on a level playing field?
A.J. Maestas, president of Navigate Research, a sports marketing research firm, projects it could take almost 30 years for Utah to even the playing field in the Pac-12 — not only in competitive results, but also financially.
The Utes will receive a 75 percent share of Pac-12 monies for the 2013-14 year, which is projected to be about $15 million. While those funds are a significant increase from what the Utes received in the MWC, Utah still lags behind its league competitors.
"They aren't sitting on their laurels, but it's like they started the race half the distance behind everyone else," Maestas said. "They are at a massive disadvantage, and you can't catch up overnight."
—
June 21st
NCAA announcement on Oregon penalties expected any day
From the Eugene Register-Guard … Here's how this process is going to play out:
At some point soon, the NCAA will notify Oregon that the Committee on Infractions report will be released the next day. The Ducks still won't have much clue on the report's findings, simply that it's coming. Independently, media will be notified of a teleconference with the committee chair scheduled for the next day.
That notification won't come on Friday, because the report won't be released Saturday. Similarly, the report won't come out on a Monday, because notification won't be made Sunday.
The next morning, once the Ducks have had a chance to review the final Committee on Infractions report, it will be released to the media, and posted on the NCAA's website. Shortly thereafter, the teleconference with the committee chair will be held, and that will be that.
The Ducks, by the way, will have 15 days to appeal the report's findings, should they so chose. The appeal would then be heard by a separate NCAA committee.
—
June 20th
Utah loses top receiver / kick returner
From the Salt Lake City Tribune … Two months remain until Utah makes its football season debut against Utah State. But the Utes are already thinner at wide receiver.
Receiver Quinton Pedroza was dismissed from Utah for a violation of team rules, university officials told The Salt Lake Tribune. The 6-foot-2 California native had been poised to have a big junior season in Dennis Erickson's new pass-oriented offense.
Instead, this could turn out to be a big loss. Pedroza played sparingly in his first two years in the program, mostly on special teams. However, by running better routes and maturing physically, he emerged from spring practice as a starter, along with Dres Anderson and Kenneth Scott.
Pedroza entered the program two years ago and immediately turned heads with his physical ability. He seemed to be on the cusp of turning his potential into actual production. Not only was he a projected starter heading into preseason camp, but he was also the leading candidate to replace Reggie Dunn as Utah's primary kickoff returner.
—
June 19th
Washington State trades out Wisconsin for Rutgers
From ESPN … WSU athletic director Bill Moos announced Wednesday that the Washington State and Rutgers will meet twice beginning next year.
Rutgers will travel to Seattle's CenturyLink Field on Aug. 29, 2014 (not the home of Washington State). The Cougars will make the return trip Sept. 12, 2015 at Rutgers.
The move forces Washington State and Wisconsin to reschedule their series — which was originally scheduled for 2014 and 2015.
Both schools agreed to push that series back. Washington State will travel to Madison in 2022 and Wisconsin will come to WSU's Martin Stadium in Pullman in 2023.
Washington State and Rutgers have never met, while Wisconsin is 2-0 all-time against the Cougars. The last meeting was in 2007 in Madison, with Wisconsin winning 42-21.
"Adding two BCS opponents to those already on future nonconference schedules benefits our program and is sure to be appealing to our fans," Moos said in a statement. "Our 2014 schedule also allows us to bring five quality Pac-12 games (Arizona, USC, Cal, Oregon and Washington) to Pullman to showcase our newly completed facilities."
—
June 18th
Cal facing serious financial issues in paying for renovated stadium
The San Francisco Chronicle has published a story about the difficulties Cal is having in figuring out to pay for its $445 million renovation, which included $321 million for its new stadium, and $153 million for its new student athletic center.
The story is worthy of reading in its entirety, but here are a few key paragraphs …
(Professor Brian) Barsky and other skeptics call this debt burden a "noose around the campus' neck" that could prevent Cal from pursuing other worthy projects requiring it to borrow money, like retrofitting buildings that don't meet seismic standards. They also fear it will lead the campus to raid academic funds, and that the University of California regents could raise tuition to pay off debt. Such concerns are fueled by UC's practice of pledging all forms of revenue – "including tuition," according to Cal's fact sheet on Memorial Stadium – when it obtains debt financing.
At the same time, the regents have said debt repayment should come from the intercollegiate athletics budget. That department already uses campus funds, however, relying on yearly contributions from a discretionary account to pay its bills. This year, the campus contributed $4.5 million.
Stadium debt already absorbs 20 percent of intercollegiate athletics' annual income, or roughly $18 million of its $89 million budget. And that pays only the interest.
Cal won't start paying down the principal until 2032, when its yearly payments rise to $26 million, then $37 million, before tapering off in 2051. After a brief respite, Cal will owe a lump sum of $82 million in 2053 alone. Then it will have six decades to pay off the final 17 percent, or $75 million. (Note: read this paragraph again … damn).
…
It was time for plan B.
The idea was to find new ways to raise money – and hire sales professionals to figure out how.
Until last fall, seating and ticket sales had been managed by Cal's development office – the people who solicit charitable donations from alumni and others.
Cal agreed to pay about $300,000 a year to "professionalize" the efforts, and it's been worth it, Wilton said. (Note: CU certainly needs held in this area).
"We were selling tickets in an amateurish way, part time," he said, noting that sales are up and tickets easier to buy. "So you'd have to be an idiot not to hire them."
The professionals are also expanding the sales pitch for endowment seating beyond alumni, to corporations. Campus officials also asked advice from their own Haas School of Business, and from the owners of endowment seats.
Here's what they came up with:
— "Corporate Bundles." These are short-term, discounted seats in the University Club section where the price is normally $175,000 – the cheapest tier in the priciest area. Now, corporations can pay $10,000 a seat for a two-year contract, but they have to buy six-seat bundles. Buyers can also write off about two-thirds of the price because it's considered a philanthropic donation, spokesman Dan Mogulof said.
— "Perk Pricing." Available only to friends of endowment seat owners, this program is meant to entice new long-term buyers with single-season, discounted seats. These cost $2,500 in the University Club, $1,400 in the mid-level Stadium Club, and $700 in the Field Club.
— Playoff payoff: Beginning in 2014, Cal will get additional TV revenue from college football's new playoff system, and will earmark a portion for stadium debt. It expects another bump-up in 2017 after renegotiating its media contract, and it will use some of that for the same purpose.
… It looks like Cal will be using its extra Pac-12 revenue to help pay for its stadium for the foreseeable future. Colorado will also be enjoying a significant bump in revenue over the next dozen or so years, as the ESPN/Fox contracts increase over time (see story on the payouts, below).
Hopefully, CU won't be forced into the same scenario – committing all of its new found wealth to pay for improvements. If the "silent" campaign remains silent, and the "public" campaign, whenever it starts and however much it raises, doesn't foot the bill for improvements, Colorado could well join Cal in falling behind in other athletic improvements while it services considerable long term debt.
Of course, we'll never know until we try …
—
June 17th
Payouts from ESPN & Fox disclosed
The issue of the graduated payments from ESPN and Fox has been subject to some speculation since the contracts were signed.
Jon Wilner, though, of the San Jose Mercury News, has obtained what he described as a confidential email from Pac-12 commissioner Larry Scott to the presidents and chancellors of the conference.
The full article can be found here, but here are the payouts:
2013: $185,000,000 million
2014: $194,250,000 million
2015: $204,540,000 million
2016: $215,060,000 million
2017: $226,140,000 million
2018: $237,780,000 million
2019: $250,020,000 million
2020: $262,900,000 million
2021: $276,420,000 million
2022: $290,660,000 million
2023: $305,620,000 million
2024: $321,340,000 million
What does that mean on a per school/per year basis? It's not quite as simple as dividing the numbers by 12. For one thing, Utah doesn't get a full share for a few more years. For another, the Pac-12 doesn't distribute the TV money directly to the schools. The ESPN/Fox paychecks get pooled with other revenue (BCS, March Madness, etc.) … and the conference retains a portion for expenses … and then it gets distributed.
But five years from now, for example, we can assume that each school will receive $30 million (give or take) from the combination of the ESPN/Fox windfall, the football playoff/bowl money and the March Madness payouts.
There's also the possibility of seven-figure distributions from the Pac-12 Networks.
A nice income projection for CU's new athletic director, who will not have to face deficits as the Buffs have generated the past few seasons.
June 16th
Stanford wins Directors' Cup for the 19th consecutive season
From Palo Alto online … With the final standings set to be released after the 2013 baseball College World Series, the winner of the 2012-13 Division I Learfield Sports Directors' Cup Standings has been determined with Stanford claiming its unprecedented 19th consecutive award as the top intercollegiate athletic department in the nation.
In the closest race of the 20-year old program, Stanford collected 1261.25 total points, just 41.50 points ahead of second place Florida. Stanford football's Rose Bowl Game victory bolstered the department's finish in a title chase that ultimately came down to the final weeks of the spring season. Strong showings in women's tennis and women's track & field ensured that the Cup will remain on The Farm for another year.
The top ten nationally (with the College World Series still to be added in):
1. Stanford
2. Florida
3. Michigan
4. UCLA
5. Penn State
6. Texas A&M
7. Notre Dame
8. Oklahoma
9. Georgia
10. Duke
The rest of the Pac-12:
13. USC
15. Oregon
17. Cal
19. Arizona State
20. Arizona
26. Washington
54. Colorado
74. Utah
78. Oregon State (will move ahead of Utah when points from College World Series are added)
186. Washington State
So, seven teams from the Pac-12 in the top 20 nationally. The Big Ten had four, the SEC three, ACC three, the Big 12 two and the Big East one. Stanford, which competes in well over the 20 team scores which are allowed, is annually in position to exclude some of its teams which do not fare as well, counting its top 20 teams overall (for example, the women's lacrosse and rowing teams each finished ninth nationally, but the Cardinal still threw out their points).
Colorado adds women's lacrosse next spring, bringing CU's total number of sports up to 14 … so it will be awhile before CU is competitive in the Directors' Cup.
Meanwhile … Colorado State came in tied with Louisiana-Lafayette for 138th. Washington State, meanwhile, coming in at 186th … ouch. The Cougars ended up in a tie for that position with Fresno State and Buffalo, and one place behind East Tennessee State, and two places behind schools tied for 178th, a list of teams which include Colgate, Northwestern State, Santa Clara, Winthrop, and Indiana/Purdue Fort Wayne.
So, it could be worse, Buff fans.
—
June 14th
Charges dropped against Arizona All-American
Like this would ever happen in Boulder …
From ESPN … City prosecutors say all charges have been dropped against Arizona's All-America running back Ka'Deem Carey in a domestic violence case.
Carey was facing misdemeanor assault and disorderly conduct charges stemming from an alleged domestic violence incident in December involving his former girlfriend.
The Tucson City Prosecutor's Office issued a statement Friday saying it was dismissing all charges against Carey.
The statement said that "a key witness for the prosecution is unavailable and even if the witness were available, there is no substantial likelihood that a judge would convict Mr. Carey."
As a sophomore for the Wildcats last season, Carey led the nation in yards rushing with 1,929 and set a school record with 23 touchdowns.
He nearly became the 16th running back in NCAA history to reach 2,000 yards in a season.
—
June 13th
Fresno State pushing quarterback as Heisman trophy candidate
Fresno State believes it has a Heisman trophy candidate in quarterback Derek Carr. The senior certainly looked like a Heisman trophy candidate against Colorado last season, going 17-for-22 for 300 yards and five touchdowns in the 69-14 rout. The Bulldogs will be in Boulder for a rematch on September 14th.
From the Fresno Bee … The Athletic Department will start its campaign by sending national media members and Heisman voters a highlight video as well as a feature story produced in-house. There are plans to ramp up the campaign if the Bulldogs and their quarterback can make an impact in early season high-profile games, including the Aug. 29 opener against Rutgers and Sept. 20 against Boise State.
"We are prepared," said Ryan Reggiani, the assistant athletic director/external relations at Fresno State. "We're continuing to build documents and portfolios and build videos. We're getting the word out to national media all throughout the summer.
"We need to win games and put up good numbers and get that momentum, and we'll be prepared when that happens to launch something for Derek. Overall, it's going to help Derek, it's going to help Fresno State, it's going to help the city, and we know we need to be prepared."
Bottom line, the Bulldogs need to win games for Carr to have a chance to join the Heisman discussion. A player from a non-BCS automatic-qualifying conference hasn't won since 1990, when Brigham Young QB Ty Detmer beat out Notre Dame receiver Raghib Ismail.
Since then, there have been only 10 non-BCS AQ conference players to finish in the top five — the highest San Diego State running back Marshall Faulk, who in 1992 finished second to Miami quarterback Gino Torretta.
And the Heisman field that Fresno State and Carr are wading into includes 2012 winner Johnny Manziel of Texas A&M, as well as USC receiver Marqise Lee, Ohio State quarterback Braxton Miller and South Carolina defensive end Jadeveon Clowney. They finished fourth, fifth and sixth last year.
—
June 12th
Notre Dame backs down, will play Arizona State in 2014
From azcentral.com … Arizona State reached agreement Tuesday to retain its 2014 home football game against Notre Dame.
The game will be played Nov. 8, two weeks later than originally scheduled.
The schools agreed to drop their scheduled 2017 meeting in South Bend, Ind., under new contract terms. A separately arranged game this season between the Sun Devils and Fighting Irish on Oct.5 at Cowboys Stadium in Arlington, Texas, is unaffected.
"The key for us was given the proximity of time to the date next year, we wanted to be able to maintain playing Notre Dame at home for our fans and student-athletes," ASU Vice President for Athletics Steve Patterson said. "The Pac-12 was willing to work with us (on the date change). We appreciate their help.
"Any time you go into a new conference like Notre Dame, it poses problems. If we're going to represent certain standards, we've got to abide by contracts. It's a good thing we were able to work it out for both parties."
Patterson said there is "plenty of time to work on something that would fill the bill nicely" for an opponent to replace Notre Dame in 2017.
ASU fought to retain its 2014 game against the Irish as its featured non-conference home opponent. Next season the Sun Devils face Weber State and travel to New Mexico in other non-conference home games.
"It's an important part of growing the brand and the ticket base," Patterson said. "There are other things we're working on for future years. Fans can be excited where ASU football is headed."
Notre Dame first notified ASU on April 5 that it did not want to travel to Tempe in 2014 because of schedule changes required with the school's move to the Atlantic Coast Conference in sports other than football.
The Irish, although still independent, must play in five ACC football games starting in 2014. Later, the Sun Devils learned that Notre D
June 11th
Colorado 5th in the Pac-12 in football APR
PAC-12 APR SCORES
Arizona … 980
UCLA … 978
Stanford … 977
Washington … 974
Colorado … 969
Utah … 964
Oregon … 963
Washington State … 960
Oregon State … 958
USC … 944
Arizona State … 935
Cal … 933
… Isn't Cal supposed to be an academic institution? … Jon Wilner's take – Cal football posted a 923 single-year score and a 935 multi-year figure – the lowest multi-year in the Pac-12 … one of the 10 lowest in all of major college football … and an embarrassment to one of the finest academic institutions in the world. There's no other way to describe it and no way to spin it. Then again, those numbers shouldn't come as a surprise to anyone who followed the downturn of Cal's academic performance in the final years of the Jeff Tedford era. The abominable graduation numbers were, after all, one reason Teford got fired.
… And, in case you were wondering about San Jose State …  The Spartans recorded a 963 score. The football team has improved 75 points in the last five reporting periods – one of the top three gains nationally by a Football Bowl Subdivision (FBS) member. The 963 score for football also ranks favorably among the seven Football Bowl Subdivision (FBS) schools in California, the three California State University (CSU) system members that compete at the FBS level, and the 2013 Mountain West Conference football-playing institutions. San José State has the highest score among the CSU schools (San Diego State, 956; and Fresno State, 950) and third highest among the FBS programs in the state (Stanford, 978; UCLA, 966; University of Southern California, 945; and California, 935).
—
Colorado 2nd in basketball APR
PAC-12 APR SCORES
Washington … 985
Colorado … 984
Stanford … 984
Utah … 979
Arizona State … 973
Arizona … 969
Oregon State … 965
USC … 957
Washington State … 957
California … 955
UCLA … 951
Oregon … 918
— Next year the benchmark for postseason competition will rise from 900 to 930, threatening several major schools like Oregon. Last year, the Ducks' APR was 926.
Colorado gets a "C" in realignment review
Sports Illustrated has published its review of realignment, as many teams are now entering year three since realignment really took off.
Colorado received a grade of "C", which is probably generous considering how has sunk to the bottom of its new league (after never having finished last alone in conference play as a member of the Big Seven, the Big Eight, or the Big 12). Sports Illustrated's review:
The move that changed virtually nothing gets the most average grade available. Colorado would likely be in the same boat whether it had stayed in the Big 12 or moved to the Pac-12. The athletic department still would be facing a financial crisis but on the verge of receiving some relief thanks to a recent megabucks conference media rights deal. Mike Bohn still would have hired Jon Embree to coach the football team, not given him the resources he needed to succeed and then acted surprised when he didn't succeed. Bohn, like Embree, still would have gotten fired.
The Buffaloes now get stomped in football by Oregon instead of getting stomped by Oklahoma, and their main conference recruiting ground (formerly the populated parts of Texas, now California) remains roughly 1,000 miles away. The good news is that first-year football coach Mike MacIntyre worked wonders at San Jose State, and the new influx of Pac-12 cash should allow him to upgrade his resources. The Buffs would have gotten a similar jolt of cash had they remained in the Big 12, but they also would have had to endure a second near collapse of the league. They probably made the best move for them, even if — in the long run — they wound up in a similar situation.
Grades of other schools of note:
Utah – B-
Missouri – C
Texas A&M – A
Nebraska – B+
—
June 10th
USC offers 8th-grader a scholarship
From ESPN … Class of 2017 receiver Nathan Tilford (Upland, Calif./Upland) has yet to play a down of high school football, but the spotlight already is shining brightly on him.
Tilford built on that buzz Sunday by landing a scholarship offer from USC at the Trojans' skills camp, according to a source at the event.
Projected as one of the top incoming high school freshmen in Southern California, Tilford opened eyes this spring with strong performances against older athletes in the local 7-on-7 circuit.
The 6-foot-2, 190-pounder attended USC practices this spring as he garnered interest from the Trojans. And although Tilford is still four years away from graduating high school, the early offer doesn't come as a huge surprise. USC has been more aggressive in recruiting underclassmen this spring, extending offers to seven local 2015 prospects, including elite defensive back Iman Marshall (Long Beach, Calif./Poly) and 2016 receiver Brandon Burton (Gardena, Calif./Serra).
June 9th
Judging the Pac-12 … by the point spreads over CU
It's no secret that Colorado will be the underdog in almost every game in 2013.
One way to judge the relative power of the Buffs' competition, though, would be to look at how badly Las Vegas feels CU's opponents will beat the Buffs.
The Golden Nugget casino has posted its point spreads for over 200 games this fall. Taking into account that the oddsmakers usually assign a three-point bump to the home team, teams playing CU at Folsom Field would probably be given six points more in games played at home.
So, how does Las Vegas currently rate some of CU's games for 2013?
– v. Colorado State (Denver) – +3.5 points (of course, the Golden Nugget still has the game being played on August 31st, so what do they know?)
– at Oregon State – +22
– v. Oregon – +37
– at Arizona State – +27
– Arizona – +20
– at UCLA – +22
– USC – +24.5
The Buffs' games against Central Arkansas, Fresno State, Washington, Cal, and Utah have yet to be posted, but you get the idea.
According to Vegas, it is going to be another long season for the Buff Nation.
Other Golden Nugget Pac-12 non-conference picks of note (odds are for the road team):
– Washington State at Auburn – +11.5
– Northwestern at Cal – -10.5
– Nevada at UCLA – +15
– Boise State at Washington – +2
– Oregon at Virginia – -21
– Wisconsin at Arizona State – pick
– Ohio State at Cal – -21
– UCLA at Nebraska – +6
– Washington at Illinois – -11
– Tennessee at Oregon – +25
– Oregon State at San Diego State – -6.5
– Utah at BYU – +7.5
and
– Colorado State at Alabama – +41
—
June 8th
Alamo Bowl moves up in stature
From ESPN … The Alamo Bowl will get the first pick from the Big 12 under a new six-year deal with the Pac-12 announced Friday.
It makes the Alamo Bowl the marquee game for the Big 12 outside the new four-team College Football Playoff that begins next year. The Cotton Bowl had previously been the signature game for Big 12 teams that didn't make the Bowl Championship Series.
The Alamo Bowl will also continue to get first dibs from the Pac-12 outside the playoff.
—
USC loses second wide receiver to season-ending injury
From ESPN … USC freshman wide receiver Steven Mitchell will miss the 2013 season after suffering torn ligaments in his right knee during a voluntary workout on Friday morning.
Mitchell was taking part in a throwing session with several of his USC teammates at the Loker Track Stadium when he began running a route, made a cut and instantly went down clutching his right knee in obvious pain. He was taken off the field on a cart by the USC medical staff and underwent an MRI exam.
An explosive playmaker, Mitchell was hoping to earn playing time as a true freshman in the fall after a stellar career at Mission Hills (Calif.) Alemany, where he was ranked as the No. 90 player in the ESPN 150. Mitchell had been a regular attendee at USC spring ball sessions in an effort to get a head start on learning the offense.
Mitchell is the second USC receiver to have a season-ending knee surgery as George Farmer suffered a torn ACL and MCL in spring ball.
June 6th
UCLA picks up four-star junior college guard
From BruinSportsReport.com … Alabama was Dominick Jackson's dream school, more or less. But Jackson met Klemm one day this past spring, picked up an offer from UCLA's OL coach, and was immediately hooked.
Forget Alabama, Jackson said, he wanted to play for Klemm and UCLA.
And it's a big get for UCLA. First, consider Jackson's offer sheet: Alabama, USC, Arkansas, Florida, Oregon, Missouri and oh-so-many more.
Second, consider this: The consensus among scouts and coaches in the recruiting world is Jackson may be the best JUCO prospect in the nation, regardless of position.
Jackson wants to be a December grad, but he admits he'll probably end up graduating in the spring of 2014. Either way, he'll be on campus for the '14 season, and will have three years to play two
—
June 5th
USC picks up five-star transfer
From CBSSports.com … Delvon Simmons announced he was transferring from Texas Tech in late May. He also visited Miami and had been connected to both Pittsburgh and Penn State — he's from Pennsylvania — before choosing USC.
Simmons was a five-star recruit in the 2011 class who originally signed with North Carolina before being granted a release and moving on to Texas Tech (Rivals bio). He started all 13 games for the Red Raiders in 2012, finishing the year with 27 tackles, six tackles for loss and two sacks.
As per NCAA rules, Simmons will have to sit out the 2013 season and will have two years of eligibility remaining starting in the 2014 season.
—
Pac-12 distribution for 2012-13 estimated to be $21 million per team
There has been news this week about how many millions are being distributed amongst the SEC, Big 12 and Big Ten schools.
The SEC will send $289.4 million to its campuses, an average of $20.7 million per school. (That figure doesn't include bowl money retained by participants or income generated by third tier TV rights.)
Meanwhile, the Big 12 is distributing $198 million to its schools. The eight continuing B12 members will each receive $22 million while the newcomers, TCU and West Virginia, get half shares of $11 million.
Big Ten schools can expect a record $25.7 million payout from the conference this year, including another big payday from the Big Ten Network, according to figures obtained from the University of Illinois.
And the Pac-12?
The Pac-12 doesn't release information in the same manner as the other leagues, with documentation concerning the 2011-12 school year only recently being released (and reprinted, below).
But Jon Wilner at the San Jose Mercury News has pieced together a best guess.
The full story can be found here. Wilner started with assuming that the bowl payouts (around $40 million) and the championship payouts (around $28 million) would be about the same as in 2011-12. Best guess as to television revenue: $185 million (the contracts with ESPN and Fox are on a sliding scale, increasing each season).
Grand total: Around $253 million. Divided by 12, that works out to an average of around $21.1 million per school.
The actual number distributed will be different for each school. The payout will be a bit higher for every school except Utah, which doesn't receive a full share until 2015 (CU was only required to take a partial share in 2011-12, and should receive a full share for 2012-13). Colorado, as it does not participate in some of sports for which there is a championship payout (such as men's baseball and women's softball), will not receive as great a share as some of the other schools in the conference.
Still, a payday of $20 – $22 million is much better than the $7 – $11 million Colorado averaged as a member of the Big 12 (and a far cry better than the $3.4 million received as a partial member last year).
Colorado remains behind schedule, still paying for the move from the Big 12 to the Pac-12, as well as buyout for former coaches (and a former athletic director).
The new athletic director will have considerable work to do to balance all of the books, but brighter days are ahead for the University of Colorado – at least financially.
—
Here are the distribution numbers for 2011-12 for the Pac-12:
TV rights: $85,630,000
Bowl payouts: $40,140,262
Championships: $27,685,925 (includes March Madness payouts)
Other: $22,053,188
And payouts by school:
Stanford: $15,651,602
Oregon: $15,200,450
Washington: $13,520,128
USC: $13,464,426
UCLA: $12,753,358
Arizona State: $12,029,443
Cal: $11,595,746
Washington State: $10,564,842
Arizona: $10,562,878
Oregon State: $10,043,205
Utah: $4,079,028 (new member, partial cut)
Colorado: $3,413,697 (new member, partial cut)
—
June 4th
Top defensive tackle from Class of 2013 ditches Notre Dame; enrolls at UCLA
From ESPN … Incoming Notre Dame freshman defensive lineman and five-star recruit Eddie Vanderdoes will enroll at UCLA instead, he said in a statement Tuesday.
Vanderdoes' decision is the latest blow to Irish and coach Brian Kelly as Vanderdoes was one of the nation's top recruits.
Vanderdoes was the top-ranked defensive lineman in the ESPN 150 for the Class of 2013 and the No. 10-ranked recruit overall. (At Rivals, Vanderdoes was rated as the No. 2 defensive tackle, and the No. 21 player overall from the Class of 2013. Rivals bio).
"Over the past four months, circumstances have changed for me and my family, Vanderdoes said in the statement. "For very personal reasons, I feel a strong need to remain close to home and near those who are most important in my life."
Vanderdoes' father, also Eddie, said Notre Dame did not release Vanderdoes from his binding National Letter of Intent.
Because of this, Vanderdoes' father said his son will be penalized one year of playing eligibility. He can take a scholarship and practice this season, but he must redshirt and will be eligible to play only three years of college football in a four-year period.
—
Utah and BYU in discussions about renewing rivalry
From the Deseret News … As for the series with Utah, which will take a two-year hiatus after the two teams meet on Sept. 21, (BYU athletic director Tom) Holmoe said that he and Utah athletic director Chris Hill "are in discussions" and he's optimistic that the series will resume on a long-term basis.
"It's going to happen. I don't think there's a question it will happen," Holmoe said. "It is possible that on an odd year we have to take a year off. I want to play, Bronco wants to play. I know Chris wants to play. We wouldn't be having discussions if they didn't want to get it done."
The two teams are scheduled to meet in 2016, but, for now, nothing beyond that.
June 3rd
Larry Scott meets with the media by teleconference
Pac-12 commissioner Larry Scott met with members of the media by teleconference Monday. In addition to discussing the Pac-12's health and safety initiatives (see story, below), Scott discussed a number of topics.
Some highlights, as summarized by Jon Wilner of the San Jose Mercury News and by Ted Miller at ESPN.com:
– Scott is not optimistic that an agreement between the Pac-12 and DirecTV will be reached. Said Scott: "They've said they don't want to do a deal on the same terms that everyone else has. At this point in time, we're as frustrated as our fans are. We hope DirectTV will listen to their customers. Listen to our fans."
– The Pac-12 Networks were profitable in Year One, but Scott declined to state whether the profit will be returned to the schools or plowed back into Pac12Nets operations.
– Scott wouldn't confirm new bowl contracts for 2014, the first year of the new College Football Playoff, but he did strongly intimate that the Alamo Bowl going forward will match the No. 1 non-playoff/non-Rose Bowl Pac-12 team vs. the No. 1 non-playoff/non-Sugar Bowl Big 12 team. That means the quality of the Pac-12 foe will be better. Previously, the No. 1 non-BCS bowl Big 12 team played in the Cotton Bowl.
– He said he was "not surprised" that it appears the SEC will adopt a nine-game conference schedule in the future. "There is going to be a higher priority on strength of schedule," he said. "That's the strength of your conference schedule, which is affected by the number of conference games you play, as well as the strength of the nonconference schedule. I think it's fair to say every conference has been looking in the mirror and asking how they stack up against that criteria."
—
Pac-12 policy to codify limitations on contact in football practices
From the Pac-12 … The Pac-12 and its CEO Group made up of university Presidents and Chancellors have agreed to a comprehensive "Student-Athlete Health and Well-Being Initiative" to start in the 2013-2014 academic year, the Conference announced today.
Following this past weekend's summer meetings and unanimous approval from the Pac-12 CEO Group, the initiative will build upon current efforts to improve the health and safety of Pac-12 student-athletes while establishing new activities.
The group acknowledges that it is impossible to eliminate all injuries, but has developed the initiative to find ways to reduce injuries today, share current best practices and latest studies, and conduct research to uncover new ways to keep student-athletes as safe as possible.
"The health and well-being of our more than 7,000 student-athletes competing within the Pac-12 each year is of paramount importance," said Pac-12 CEO Group Chair Ed Ray. "This new initiative is a great step towards taking advantage of the full resources of our research institutions for the benefit of our student-athletes."
Football Contact Reduction: The Pac-12 will codify into a formal policy the existing practices across the Conference as they relate to limiting contact in football practice. The final policy will be released at Pac-12 Football Media Day on July 26. Going forward, the Pac-12 will look at guidelines around contact in practice to ensure that student-athlete well-being is being closely monitored, both in the amount of contact and in providing our student-athletes and coaches with ample opportunity to teach and learn the correct tackling methods during the spring and preseason.
"Pac-12 institutions house the leading medical trainers, doctors, and scientists working to enhance student-athlete health and well being," said Pac-12 Commissioner Larry Scott. "Our athletic departments and coaches have been very progressive in this area and are deeply committed to advancing these efforts," he added. "This initiative seizes on our opportunity to embrace, support, and coordinate all these efforts and build a framework to advance them with new resources, expertise and funding."
—