Colorado Daily
August 25th
Team Captain Video – Paul Richardson
The latest from CU Video. The previously released videos can be found below, and here.
http://vimeo.com/73054024
August 23rd
"No excuses, no regrets"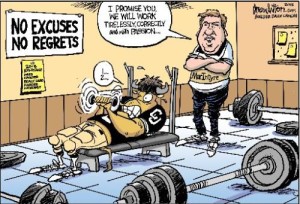 —
Team captain video – Jack Harris
The latest from CU Video. The previously released videos can be found below, and here.
http://vimeo.com/72999368
Freshman orientation at Folsom
What a great idea! The freshmen were invited to Folsom for an orientation, getting to see Ralphie run and have the team captains introduce themselves to the newest members of the Buff Nation.
Kudos to CU for coming up with this. It can't help but get the incoming class – who understandably might be less than enthused about the state of the football program – excited about coming to games and supporting the team.
Some photos:
Picture from SD Buff at BuffStampede.com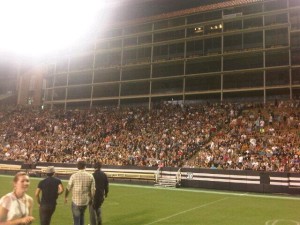 Picture posted by CU assistant coach Troy Walters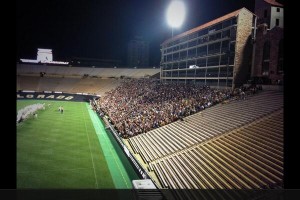 Photo of team captains (posted on Twitter by a student):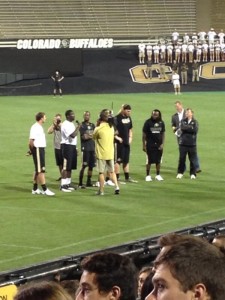 August 22nd
Rocky Mountain Showdown ticket sales dragging
From the Daily Camera …The 2013 Rocky Mountain Showdown is shaping up to be the least attended game in the history of the series when played in Denver, continuing a trend in recent years of steeply declining attendance at the game at Sports Authority Field.
CU sports information director Dave Plati reported the school has sold slightly under 25,000 tickets for the season opener Sept. 1 against Colorado State in Denver. Plati said CU has sold 3,356 tickets to students.
Meanwhile, Plati said CSU has sold approximately 16,000 tickets for the game. Plati said he does not know if CSU students receive free tickets to the game or if CSU requires students to purchase tickets.
Last season the game drew the smallest crowd to date for games played in the home of the Denver Broncos. Only 58,607 saw the Rams beat the Buffs (NOTE: That's actually not true. The 2011 RMS attendance was 57,186) . CU sales accounted for 35,406 of those tickets. CSU sold 18,169 and the Broncos sold 5,032.
—
August 21st
Team Captain Video – Chidera Uzo-Diribe
The latest from CU Video. The previously released videos can be found below, and here.
http://vimeo.com/72528557
Mac on offense v. defense this fall: "I think it's been pretty balanced"
From CUBuffs.com … History suggests that defenses usually progress faster than offenses early in training camp, with offenses generally struggling to develop cohesion. Defenses often use that lack of coordination to their advantage.
At Colorado, however, it might be a good sign that neither side has been able to consistently gain the upper hand through the first 14 days of fall camp.
"I think it's been pretty balanced," coach Mike MacIntyre said. "I think the defense has been playing well and I think the offense has been doing some good things, too. Of course there's days when one is ahead of the other or one looks better than the other. Usually with offense the timing of it is usually why they're not but the kids worked this summer so I thought it kept the timing pretty good on offense."
Players on both sides of the ball worked diligently in the spring and over the summer to create and maintain stability through endless drills and repetitions.
"I feel like both sides of the ball are looking real good," defensive end Chidera Uzo-Diribe said. "We're getting a lot of reps out here so it's only going to help our conditioning and that will help us get more prepared for game time."
—
August 20th
Two Buffs make Senior Bowl watch list
Center Gus Handler and safety Parker Orms were named to the Senior Bowl watch list Wednesday. The pair were two of 38 players named from the Pac-12, and two of the 400 or so players vying for one of the 110 invitations to be given out in December.
The entire list can be found here, with the list from the Pac-12 here.
From the Pac-12, Arizona State was the leader, with seven players, followed by UCLA and Stanford with six apiece.
At the other end of the scale, Colorado was tied with Washington and Utah with two players mentioned. Cal, Washington State and Oregon State had one player listed, while Arizona was the only Pac-12 school shut out of the watch list.
—
Dogs Days of Fall Camp
From CUBuffs.com … The dog days of August can be more apparent in a preseason football camp than almost anywhere else.
But with only 12 camp practices remaining, the Colorado Buffaloes are committed to keeping the intensity of every session up and pushing through mid-camp fatigue.
"It comes down to these kind of days," said senior defensive lineman Nate Bonsu. "It's not necessarily about skill or anything else, it's about coming out here and really working hard.
"As a team, we've got to continue to work hard. We've got to push through the injuries and all the things in our heads. Everyone is tired and sore but we've got to realize that every college team is doing this right now."
During his "coaching point" break in Monday's morning practice, head coach Mike MacIntyre spoke to the team about persevering, pushing through and staying true to individual and team goals. He encouraged the Buffs to find the strength to maintain their intensity during up-tempo practices that have become the norm during preseason camp.
For CU's offense, keeping the energy of practice up has been assisted by 11-on-11, offense vs. defense drills.
"We've been doing a lot of competition periods in practice against the defense," said offensive coordinator/quarterbacks coach Brian Lindgren. "I think any time that you are competing with consequences, guys get their juices flowing and step up the energy. I think that is how coach MacIntyre has been organizing things this camp and it keeps the pace up."
With the help of the coaching staff, the players are determined to finish camp with the same intensity they exhibited when practices began on Aug. 6.
"Everyone is pushing through and is practicing really hard," sophomore quarterback Stevie Joe Dorman said. "I feel like we're really becoming men."
—
August 19th
Former Buff Davien Payne arrested
From the Daily Camera … A former University of Colorado running back who was kicked off the team this summer was arrested over the weekend in Boulder after witnesses say he stole a car, punched the vehicle owner's friend repeatedly and then hurt an officer trying to arrest him, according to a police report.
Davien Albert Payne, 20, was arrested on suspicion of two counts of second-degree assault, aggravated motor vehicle theft, resisting arrest, obstructing a police officer and third-degree trespassing early Saturday morning.
According to the report, a woman called police after she returned with her friend to find her car — a black Volkswagen Jetta which she had parked near 16th Street and Euclid Avenue — was missing, and several possessions she had in the car were found in the street.
… Payne was part of CU's 2012 recruiting class but never saw the field. He was suspended from the team as a redshirt freshman in March for violating team rules, and the team announced in June he was ruled academically ineligible for the fall semester and was no longer part of the program.
SuperPrep ranked the 5-foot-11, 220-pound Payne the No. 6 running back in California two years ago after rushing for 3,806 yards and 57 touchdowns in his career for Citrus Hill High in Perris, Calif.
—
Stephane Nembot – Gentle Giant
A great story has been posted at the Daily Camera about the Buffs' starting right tackle, Stephane Nembot.
The full story can be found here, but here is the opening:
At first glance, Stephane Nembot is an intimidating young man.
The starting right tackle for the Colorado football team, Nembot stands 6 feet, 7 inches tall and he tips the scales at about 305 pounds.
When he's not smiling, he looks like he could break another man with little problem. And, with monstrous hands and exceptional strength, he probably could.
"He is a strong, big man," said Gary Bernardi, CU's offensive line coach.
It doesn't take long, however, to realize that Nembot might be the most kind-hearted and gentle person in a CU uniform.
"He's violent on the field, he's smart on the field, but off the field, he's smart and he's very spiritual," Bernardi said. "The guy is a wonderful person."
Entering his third season at CU, Nembot is a redshirt sophomore who could wind up with a lucrative career in the National Football League. The NFL is a distant thought for Nembot, however.
A native of Douala, Cameroon, located in central Africa, Nembot's mind is often turned to those around him, rather than to himself ….
—
August 18th
Central Arkansas concludes fall camp with 90-play scrimmage
Colorado's second opponent of the season, Central Arkansas, concluded its fall camp Saturday with a full scrimmage. The Bears, ranked 7th in the 1-AA preseason poll, have a different schedule from the Buffs, opening with Incarnate Word (Tex.) on Thursday, August 29th. After that laugher of an opener, the Bears will have an extra three days to prepare for Colorado, which opens on Sunday, September 1st, against Colorado State.
(BTW – Incarnate Word is transitioning from NCAA Division II and the Lone Star Conference to NCAA Division I and the Southland Conference starting this season. The Cardinals, who have been playing football for all of four seasons, recently hired former Texas great Ricky Williams as an assistant coach).
From the Log Cabin Democrat … The afternoon began with the University of Central Arkansas offense's second unit being nailed for two safeties in a coming-out session on the goal line.
But the second scrimmage of preseason Saturday got better and coach Clint Conque saw more of the mix he is looking for.
"It was a much better scrimmage than last week because we had big plays on both sides of the ball," Conque said. "I didn't think our first offensive line played well early but they established a little bit of rhythm late and we got some big plays after intermission. Our defense is playing fast with a lot of confidence and running to football. We missed a couple of tackles. The offense gave them a more difficult time when we changed tempo.
"I feel good about our punt returns, kickoff returns and punt coverage but we are a work in progress on our punt units and blocking. We had one block so we are going to have to take a look at that unit.
"But all our mistakes are correctable and we have eight more practices to clean things up."
Quarterback Wynrick Smothers threw three touchdown passes to Dezmin Lewis, Jatavious Wilson and Clay Murphy. Blake Gardner made a leaping catch of a Smothers pass to set up Willie Matthews' 1-yard touchdown run. In third-team work, Hayden Hildebrand passed to Roman Gordon for another score.
"Smothers was much sharper today, especially when he got into a rhythm and we picked up the tempo," Conque said.
Nine players on the two-deep were held out of the scrimmage because of injury, which puts more a sense of urgency for some of them at Wednesday night's final scrimmage, which will be primarily for newcomers.
"Some frontline players may get a few reps just to give them work coming off injury," Conque said.
—
August 17th
Colorado Healthy Kids day declared a success
From CUBuffs.com … The Colorado Healthy Kids Day event featured the entire football team as well as members of the spirit team and Ralphie and her handlers. About 600 kids eighth grade and younger were invited onto the field and participated in a variety of drills from tackling, blocking, catching, and special teams work such as place kicking.
Players' duties included teaching some technique, but primarily high-fives and smiles were all that was being asked of the players.
"We're out here throwing the balls around and just having fun," CU running back Malcolm Creer said. "These fans show us so much love, and we're just trying to give it right back.
CU offensive lineman Daniel Munyer echoed the comments made by Creer.
"Today has been great," Munyer said. "It's fun to see the kids come out here and just enjoy the game of football and we'll do anything we can to help that cause."
Giving back to the community is one of the teaching points continually stressed by Colorado coaches and the team embraces those opportunities.
"All these kids are out here at every game and coming to our practices," Munyer said. "They are behind us all the way, and whenever we get the chance we want to show them how much we care."
—
August 16th
ESPN Season preview – Colorado
Kevin Gemmell of ESPN has posted a season preview for the Buffs. The full article can be found here, but the first part of the "Forecast" will be familiar to the Buff Nation:
The media doesn't have much faith in the Buffs, picking the team that went 1-11 last season to finish last again in the Pac-12 South. This might be one of those situations in which the team shows improvement — just not in the win department. Remember, San Jose State appeared to take a step back in MacIntyre's first season, going 1-12, but it was during that time that he was establishing his schemes and philosophies, and in Year 2 they went 5-7. By the third season, the Spartans were 11-2 (10-2 under MacIntyre) and ranked in the top 25. No one is saying the Buffs will be ranked in three seasons, and most people probably aren't expecting it. The Pac-12 is a different animal than the now football-less WAC, but it's not wrong to hope for a postseason berth in the next 3-5 seasons.
—
August 15th
CU Video interview with captain Derrick Webb
(Interviews with Paul Vigo and Connor Wood posted under August 13th headline, below)
http://vimeo.com/72422753
August 14th
Interesting insights into CU's new head coach
Last season, San Jose State, a week after defeating Colorado State, went on the road to take on San Diego State. The Spartans were 2-1, but were still an unknown quantity. To this point, San Jose State was 8-20 under third-year head coach Mike MacIntyre. Meanwhile the Aztecs were also 2-1, with their only loss a close 21-12 loss to Washington in a game played in Seattle.
The YouTube video below contains highlights from the game. Included in the video are halftime (around 2:17) and post-game speeches given by MacIntyre. The Spartans came from behind time and time again, prevailing 38-34.
It's worth about seven minutes of your time to see what Colorado might start to look like, as early as this season, as well as how Coach MacIntyre interacts with his team. (Credit to BuffPredictor at BuffStampede.com for finding this video):
http://www.youtube.com/watch?v=fK_fHLRj1pY&feature=youtu.be
—
Coloradoan article either funny … or infuriating
Columnist Kelly Lyell of the Ft. Collins Coloradoan has penned an article entitled, " 'Coach Macs' at Colorado, Colorado State take different approaches on practice field".
According the Lyell, Colorado practices are party-time, a "picnic", compared to CSU practices:
The Buffs practice to the sound of music blaring from loudspeakers, with Saturday's offerings ranging from rap to alternative and classic rock to country and western. Coaches are quick to step in and stop play when they see an error that needs to be corrected before it becomes a habit. There's even a built-in teaching moment about three-quarters of the way through each practice. That's where MacIntyre gathers the team together for a couple minutes to emphasize a specific point while his players catch a quick breather before moving on. The practices are a lot more organized and run at a much faster pace than they did under Embree, players said.
Meanwhile, in Ft. Collins, it's all business:
CSU's players run from one drill to the next and rarely get a break. They've always got two fields at a time going when they do 7-on-7 or full-team drills. They don't need to do conditioning after practice, the entire session is one long conditioning drill. Instead of stopping a drill to correct an error, that player is pulled aside by an assistant and replaced with another player who knows what to do without skipping a beat. The primary teaching is done in meeting rooms, from video clips, to avoid wasting any of the practice time.
While MacIntyre boasted of getting off 42 plays during a 20-minute stretch of a recent practice, McElwain talked of getting in 284 plays in a single session — a pace that impressed even 13-year NFL veteran Joey Porter, now an undergraduate assistant with the Rams.
Finishing with:
But I'm guessing the Rams are getting a lot more accomplished right now in their practices than the Buffs are. And I'm guessing that will come across clearly when the two teams meet Sept. 1 in the season-opener in Denver.
… First reaction: This guy has no idea what he's talking about … Second reaction: This guy really shouldn't talk about that which he doesn't know … Third reaction: What would it be like to have a "homer" for the Buffs?
—
August 13th
Great CU Video interviews with captains Paul Vigo and Connor Wood
Paul Vigo
http://vimeo.com/72214732
Connor Wood
http://vimeo.com/72041518
August 12th
Colorado men's basketball non-conference slate set
From CUBuffs.com … The CU non-conference slate is perhaps the most competitive seen where nine of the 13 opponents won 18 or more games a year ago, and eight of them making one of the four post-season tournaments, including four to the NCAA Tournament. Overall, CU's opponent's record a year ago achieved a 248-176 mark (.585).
The 2013-2014 schedule begins on a neutral court for the first time in 17 years (1996-97).  CU will take on Baylor (Friday, Nov. 8) at the American Airlines Arena in Dallas. The former Big 12 Conference opponents will be playing each other for the third straight year on a neutral court.
Last year, CU defeated Baylor in the semifinals at the Charleston Classic, 60-58 en route the tournament title. In 2011-12, the Bears upended the Buffs in the NCAA Tournament third round (80-63) in Albuquerque.
The three other games away from Boulder will see CU taking on another former Big 12 Conference foe Oklahoma State (Saturday, Dec. 21) at the MGM Grand Arena in Las Vegas on ESPN2 (9:30 p.m. MT).
Road games are schools from the Front Range at Air Force (Sat., Nov. 30) and Colorado State (Tue., Dec. 3).
Nine home games will be featured at the Coors Events Center during the November and December months, the most home games to open the non-conference season since 2008-09 when the Buffs also played nine home games.
DATE    OPPONENT
Fri. Nov. 8 – v. Baylor (at American Airlines Arena, Dallas)
Sun. Nov. 10 – TENNESSEE MARTIN
Wed. Nov. 13 – WYOMING
Sat. Nov. 16 – JACKSON STATE
Mon. Nov. 18 – ARKANSAS STATE
Thu. Nov. 21 – SANTA BARBARA
Sun. Nov. 24 – HARVARD
Sat. Nov. 30 – at Air Force
Tue. Dec. 3 – at Colorado State
Sat. Dec. 7 – KANSAS
Fri. Dec. 13 – ELON
Sat. Dec. 21 – v. Oklahoma State ESPN2 9:30 p.m. (MGM Grand, Las Vegas)
Sat. Dec. 28 – GEORGIA
—
CU 2013 schedule posters out
The 2013 posters with the Buffs' 2013 schedule feature the six team captains for the season.
Pick your favorite:
Paul Vigo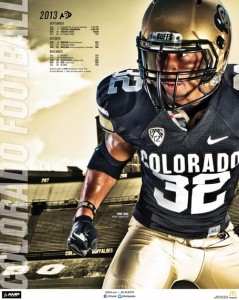 Connor Wood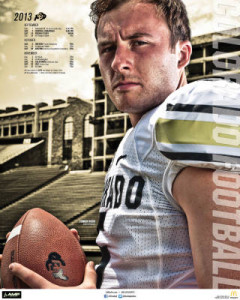 Chidera Uzo-Diribe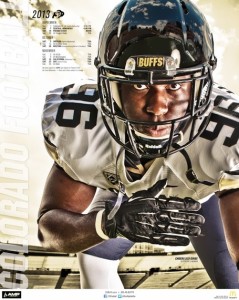 Derrick Webb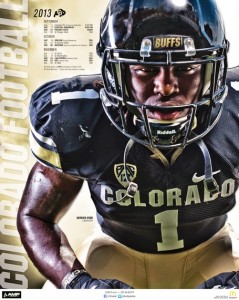 Jack Harris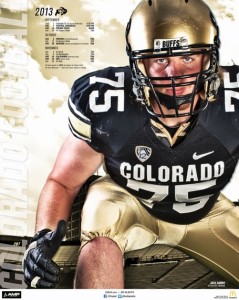 Paul Richardson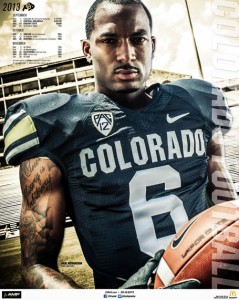 —
August 11th
The "History of Ralphie"
BuffVision has put together a "History of Ralphie", which is "must-see" TV for every Buff fan:
Rick George on Mike MacIntyre: "I'm very glad that he is our head football coach"
On being back in Boulder … "It feels great. I've got fond memories of the work we did here in preparation for the national championship 23 years ago. It's great to be out here with these young people. I really like what Coach Mac and his staff are doing."
On his impressions from watching practice … "They got a lot of work done in a short period of time. They had a lot of things going on, which I really like. They got a lot of reps in, the contact was good, speed was good, and the coaches were really encouraging and motivating the players. I like everything I saw out here".
On work he's been doing, in advancing of his official starting day (Monday) … "I've been doing a lot. Ever since I was named, I've been reading, trying to get educated on a lot of different things. I did want to start, though, being out here at practice. I wanted that to be the first thing that I did. I feel like I've still got a lot to learn, but I've learned a lot in the last three weeks."
On his first activities on Monday … "My first act will be out of the office. I'll be meeting with one of the coaches, starting to meet with our staff and different people on campus, getting to know the environment".
On being back at Colorado … "It feels great (yes, he gave the same answer to the same question). It's exciting to be here. Being here with my daughter is great. Couldn't be in a better place than where I am today."
On relating to players as a former coach … "Yes, and I'm a former player, too. I've gone through the sweat and the tears, the bruises and the surgeries, the different things which come along with college athletics. So I feel like we have that in common. I've recruited, I've coached, so I've run the gambit. So I think that all helps in my relationship with the players."
On a timetable to evaluate staff … "There is really no timetable. It's not something that I will do immediately. Probably by 60 to 90 days I'll have a good feel of where everybody is at, and are we sitting in the right seats, and everything structured the right way. We'll look at all of that, beginning tomorrow."
On the priority of facility upgrades … "Well, it's a priority for us for sure. We'll actually start tomorrow with lunch with donors, and we'll start that process. We know what our goal is, our goal is to generate enough revenue in fund-raising dollars to support new facilities, and we'll start that process tomorrow. We're going to work at it until we get it done".
On tracking recruiting … "I'm pretty much 'hands off'. We have people in place who will focus on that on a day-to-day basis. Certainly, I'll get my head into it here and there and get updates. They know what their job is, and they are good at what they do. I'll just support them, and that is my role".
On his thoughts of Mike MacIntyre … "He gets after it. He works hard, he pushes his players. But at the same time he pushes them he loves them. There has got to be a good balance of that. He's good at what he does … and I think that is what it takes to be a great head coach. He brings them all together, he talks to them. He takes time, spends time with them. My first impressions of him is that I am very glad that he is our head football coach".
Note: The audio for this interview can be located at buffstampede.com and BuffPlaybook.com.
—
August 10th
Buffs adopt Josiah Speer
The Colorado football team has adopted Josiah Speer, an 11-year old with a brain tumor. Josiah was introduced to the team by the Friends of Jaclyn Foundation.
A great video story on the Buffs and Josiah has bee put together by the Pac-12 Network, and can be viewed here.
—
August 9th
CBS picks Arizona State to win Pac-12 South
The experts at CBS Sports are picking Oregon and Arizona State to meet in the Pac-12 title game in December. Predictably, Colorado is picked to finish last in the Pac-12 South. But they did at least have some colorful language about the Buffs:
From cbssports.com … 6. Colorado: Hey, if Mike MacIntyre can turn San Jose Bleeping State into a 10-win, top-25 team, reviving Colorado should be a snap. Or at least, a snap over the course of, say, three seasons. This year, we're talking about the same program that went a miserable 1-11 in 2012 — the only win a one-point miracle comeback at three-win Washington State — and lost by 25 or more points eight times. If quarterback Connor Wood can stay upright and complete a few passes, there's enough experience elsewhere on the roster (especially at wideout, where Paul Richardson returns from an ACL injury as the team's most talented athlete) to make some real headway. If not, well, MacIntyre went 1-12 his first season at SJSU, too.
—
August 7th
Rick George contract approved by Board of Regents
CU athletic director Rick George takes office on August 12th, and will now do so with a signed contract.
From the Daily Camera … The University of Colorado's Board of Regents today approved a $700,000-a-year base contract for new Boulder campus athletic director Rick George, making him the highest paid administrator in the history of the CU system.
The five-year contract also promises several bonuses if George hits performance goals that include fundraising, growing licensing revenue and having a strong showing of fans in the stands at football and basketball games — as well as the more typical bonuses that come with athletes performing well in both the classroom and on game days.
After CU forced Mike Bohn out in late May, Chancellor Phil DiStefano said the university needed to hire an athletic director with a strong business background. Bohn received a $918,000 buy-out package.
According to the contract made public today, George can earn up to $50,000 if he raises a total of $15 million before June 30, 2014. That incentive scale slides up annually. For example, if he raises $100 million by 2018, he can earn a bonus of $250,000
Last year, under Bohn's leadership, the Athletic Department raised $11.8 million. CU officials have said they want athletics to at least double the amount of money the department raises within the next five years, pushing it past the $20-million-a-year mark.
George also is eligible for a $50,000 bonus for generating licensing and sponsorship revenue in the first contract year of at least 1.5 times the amount that it was in fiscal year 2013.
He also can earn $50,000 if the average attendance at Folsom Stadium for regular season football games in the first contract year is at least 50,000 people. If the average attendance of men's basketball games at the Coors Events Center is at least 10,750 during regular season, he earns $50,000. And if he increases average attendance at women's home basketball games, he earns $50,000.
George — who previously worked at the school from 1987 to 1991 as director of football operations under former coach Bill McCartney — will leave his post as president of business operations for the Texas Rangers in Major League Baseball to take the job at CU.
—
Tyler McCulloch going "Wild Thing"
CU wide receiver Tyler McCulloch posted a tweet, showing off his new haircut …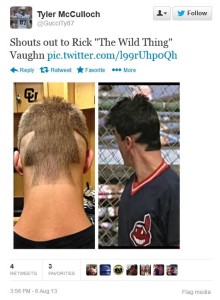 August 6th
Alex Wood, Scott Fernandez and Josh Ford pick up scholarships for senior seasons
Coach MacIntyre announced after Tuesday's practice that Alex Wood, Scott Fernandez, and Josh Ford would each be placed on scholarship for the 2013 season. All three seniors had been awarded one-year scholarships by former head coach Jon Embree last season. With one scholarship still available, MacIntyre and the coaches are working to determine how it will be used . .
The issuance of these scholarships, of course, do not hurt the numbers for the 2014 recruiting class, as the three players are seniors. All it means – other than being good news for the three players – is that CU currently has 84 scholarship players for the 2013 season, instead of 81.
—
Colorado defense: "Nothing really scares you there"
Athlon was able to get Pac-12 coaches to honestly assess their competition by promising anonymity. The full article, including interesting quotes on every team, can be found here.
The honest – if hard to take – assessment of Colorado:
"They have a lot of needs that they have to fix. They hired a good football coach in Mike MacIntyre. I really believe that. He can really coach. He's a good offensive mind and will put players in the best position to succeed. But they have a long ways to go, that's for sure. Let's not sugarcoat it. Unless the young players they had grow up in a hurry, this could be a project. They haven't been significant there in awhile."
… "Defensively, nothing really scares you there. They are big and strong at a few positions, but overall they will need more team speed to keep up with the offenses in the Pac-12."
…"When we played them, it was pretty ugly all around. That's how it was for them a lot of games last year … When Colorado was great, they were winning in the California recruiting scene. That's just hard to do now with so many competitive teams around there, but it can be done."
…"The recruiting just hasn't panned out for them in recent years. They aren't winning the best players in Colorado, either. They need players."
—
August 5th
Uzo-Diribe picks up watch list nomination No. 2
From cubuffs.com … Defensive end Chidera Uzo-Diribe will go into his senior season as one of the most recognized and acclaimed defensive players in all of college football.
On Monday, he was named to the Hendricks Award Preseason Watch List, handed out annually to the nation's top defensive end, joining 21 other players from around the country that have been recognized as the top preseason candidates to win the prize.
"It really means a lot to me," said Uzo-Diribe. "It just shows how hard I've worked over the past four years and that I've played well."
Earlier this summer, he was one of 76 players added to the preseason watch list for the Bednarik Award, awarded annually to the nation's top defensive player. Each accolade is a testament to the talent and commitment of a player who has become one of the Pac-12's most consistent pass rushers over the past three years. His seven sacks last season are among the most of all returning players in the conference.
"I think I did a good job of getting to the passer last year," said Uzo-Diribe. "I got to be more consistent. I played the run a lot better. I think I have gotten to the point where I could consistently play both the run and the pass well."
—
August 4th
Q&A with incoming CU athletic director Rick George
The Colorado Springs Gazette got a sit down with incoming CU athletic director Rick George (who takes office August 12th).
The full interview can be found here.
Some excerpts:
Q: Your career path is unusual – from nonprofit work to the PGA Tour to Major League Baseball to college athletics. What is the common thread there?
A: "I think sport, just like it is with business, is about relationships. It's about how you treat people and having a plan and setting up goals and objectives and achieving those. It's about getting everybody to pull the rope in the same direction. That's been my philosophy from job-to-job. I've had to learn different nuances when you're working with a not-for-profit and how that works. And then going to the Champions Tour and the PGA Tour, it's much different.
"I didn't know anything about the different entities of golf. Then going to Major League Baseball, that's very different. But one thing that doesn't change is how you treat people and your business principles and setting up a strategic vision and having a game plan. In that way, it's very similar."
Q: What did you learn from (Bill McCartney)?
A: "You've got to have the right coaches with the right passion and the right energy. And I think we have that. I like Mike MacIntyre in the short time that I've met him. And I think he's the right guy. Now what we've got to do is support him. It's not going to be easy every week. There may be peaks and valleys as we go forward in the next year or so. But I think, having confidence in Mike, we've got the right guy and the right staff. Let's face it. We've got to have the right student-athletes for that to work. And I have confidence that Mike will have the right student-athletes to accomplish the goals we'll have."
Q: Why do you think it has it been so difficult to raise money at CU?
A: "You know, I don't know. It's something I'll have to look at. At the end of the day, I think there's a commonality among potential donors, the donors, the alumni and the staff and me. That's the love for the student-athlete and the love for CU. It's a love for the athletic department. That's the common denominator that we all have. We have to remember that. The reason we're doing that is the compassion we have for the student-athlete and what they do for the university and what they do for the athletic department.
"When we sit down to identify our goals, those goals are going to be based around the fact that we want to create a whole experience for the student-athletes. We want to graduate our student-athletes. We want to have a successful department that wins championships. And we want to do it in the fabric of the university in a very inclusive group. That's what we're going to do. Once a Buff, always a Buff, and we want people involved and moving in the same direction."
—
August 2nd
David Bakhtiari performing well in Green Bay
From PackerNews.com … In a week of training camp, rookie David Bakhtiari has worked his way into the running for the starting job at right tackle. The fourth-round draft pick has been one of the young standouts in training camp working as a backup at left and right tackle. Until Thursday, he'd been the left tackle with the No. 2 offensive line and right tackle with the No. 3s. But that flip-flopped Thursday, and Bakhtiari even took one snap at right tackle with the No. 1 offense on a goal-line play near the end of practice. "He's clearly one of the guys that has made a step in the padded work," coach Mike McCarthy said this week.
And from the Milwaukee Journal-Sentinel … Tackle David Bakhtiari fully expects to be a player for the Green Bay Packers, and four days into training camp his coaches and teammates can see why. Whether it has been blocking for run or pass, or just the general way the Colorado rookie carries himself, Bakhtiari has been impressive early. "He's off to a real good start," coach Mike McCarthy said. "You could see it in the spring. Very bright kid. Like his feet."
Bakhtiari, a fourth-round draft choice, is working as the No. 2 left tackle behind Bryan Bulaga and the No. 3 right tackle behind Marshall Newhouse and Don Barclay. In the one-on-one pass-protection drill, Bakhtiari has a 4-0-1 record on the left side and a 3-1 mark on the right. Two of his seven victories came against Clay Matthews, the litmus test for tackles at Nitschke Field.
Nick Kasa also doing well in his first training camp
From SportsWorldReport.com … The Oakland Raiders are filled with youth on both sides of the ball, but that is of no concern for general manager Reggie McKenzie or head coach Dennis Allen. The Raiders mentality going into the season is "next man up" meaning a rookie status is no excuse to not help the team in some way. After the Raiders said goodbye to tight end Brandon Myers in the offseason, Allen will be looking at a couple of rookies to replace him.
While two veterans, David Ausberry and Richard Gordon, are on the roster, Allen is keeping his eye on Mychal Rivera and Nick Kasa to play a big role this upcoming season.
"We're looking for someone to step up," Allen said. "We want someone to say, 'I'm the man, and this is my job.' We're going to let the competition dictate that and give everyone an opportunity."
Kasa and Rivera were both sixth-round draft picks that offer a variety of different skills. Kasa converted from a defensive lineman to tight end his senior season. His pass catching abilities still need some work, but he offers great blocking for the quarterback. Rivera on the other hand was a stand out on Tennessee with excellent receiving skills.
—
Jordan Webb hearing postponed
From the Daily Camera … An arraignment for University of Colorado quarterback Jordan Webb — who, along with former CU lineman Alexander Lewis, is accused of assaulting a man on University Hill in May — was postponed Friday morning.
Webb, 22, faces one count of second-degree assault, a Class 4 felony.
He is now scheduled for an arraignment Sept. 6, at which point he can either enter a plea of not guilty and have a trial date set or take a plea deal.
… Webb started the first nine games of the 2012 season for the Buffs, and was a contender for the starting job this fall. He suffered a torn ACL in practice on April 9th in a non-contact injury. Webb underwent surgery on April 18th, and the initial diagnosis was that he would be lost for the season. His recovery has gone better than expected, though, with revised estimates that he could be available by mid-season … if he is still a member of the team.
—
August 1st
Dan Hawkins fired as coach of the Montreal Alouettes
Former CU head coach Dan Hawkins has been fired as the head coach of the Montreal Alouettes. Hawkins was 2-3 in his first season in the CFL, but it was last weekend's game against the Calgary Stampeders which turned heads.
Here are some excerpts from a story about the game from the Montreal Gazette … As this Montreal Alouettes' season goes from the sublime to the ridiculous – a 24-point first quarter lead squandered, combined with a production of three points over the final 45 minutes – and as the mass hysteria and apoplectic feelings continue spreading over a city and its fan base, there are some things to consider: This clearly isn't working. Changes have to be made and there must be some consequences. For everyone screaming for the head of head coach Dan Hawkins, who continues getting seemingly panned by virtually every football writer in Canada, remember this – the Als haven't stopped playing for him. They might have tuned him out long ago, but they haven't stopped trying.
… The coaches feel like what we're doing is working," tailback Brandon Whitaker said. "If that's what they want to go with, that's what we're going to go with.
"For it to work in the first quarter and not to work anymore, honestly, I don't know."
Give the Als credit for this much, this tragedy is entertaining to watch. If nothing else, this team is finding new ways to implode from week-to-week.
In erasing a 24-point deficit to defeat Montreal, 38-27, the Stamps established a CFL record, overcoming the biggest first-quarter deficit in league history.
… This isn't rocket science, yet Hawkins and his offensive staff seem determined to make it such. This was nothing short of an irresponsible gamble by a staff that lacks CFL knowledge.
—
July 30th
Best/Worst case scenarios for Colorado
Ted Miller, the ESPN blogger, annually does a tongue-in-cheek "best case / worst case" scenario for each team in the Pac-12. This season, he is starting with the worst team in the conference, going to great lengths to find a best-case scenario which has CU going bowling in 2013.
The worst case? Pretty much a repeat of last season.
In the article, which can be viewed in its entirety here, Miller even reverts back to his now three-year old running "story" about Utah stealing the bicycle of Jon Embree's daughter (Miller's nod to the creation of a "rivalry" between the Buffs and the Utes which doesn't exist.