May 31st
Washington drops five players from its roster
From Huskies.com … Washington wide receiver James Johnson has retired from football due to a lingering wrist injury suffered last fall, head coach Steve Sarkisian announced.
Johnson, who would have been a fifth-year senior this fall, will remain on athletic scholarship until he completes his degree.
Additionally, Sarkisian announced that the following four student-athletes have requested and been granted their release from the Husky football team: WR Jamaal Jones, DB Darien Washington, TB Erich Wilson II and LB Evan Zeger.
—
Texas A&M drops USC, Oregon from its future schedules
As the SEC votes to keep its conference schedule at eight games instead of going to nine (see story, below), the conference's programs are not exactly stepping up to make sure its four non-conference games are fan friendly.
From the Houston Chronicle … Those games (A&M v. USC in 2015-16; Oregon in 2018-19) are no longer part of A&M's plans, [A&M AD Eric] Hyman said, because "having switched from the Big 12 to the SEC, we've had to scrub our whole schedule – throw it almost out. Going forward, we've had conversations with people, but we really can't be contractually (obligated) until the conference says you've got the green light."
SEC Commissioner Mike Slive said this week, moving forward, he intends for SEC schools to first receive their league game dates and then schedule non-conference contests around those. "When we know what we've got and we know where the holes are and what we have to work with," Hyman said in regard to when scheduling can be tackled.
May 30th
SEC votes 13-1 to stay at eight conference games … but will "eventually" go to nine
Someday, the playing field will be level …
From ESPN … The head coaches voted 13-1 to stay at eight conference games. The only coach voting for nine conference games was Alabama's Nick Saban.
Larry Templeton, who has headed up scheduling during the SEC's transition to 14 schools, said a rotation has been approved through 2026 that would include eight conference games with six divisional opponents, one permanent cross-divisional opponent and one rotating cross-divisional opponent.
That rotation will begin in 2014, but the question becomes: How long will that format remain in place?
—
May 26th
Waaay too early first weekend picks for the Pac-12
Betonline.com has published its line for the first weekend of games. Colorado is currently rated as a 2-1/2 point favorite over Colorado State. The Buffs opened as a 3 1/2-point favorite, so the very early money is against the Buffs. (Side note: Who would be betting on this game in May?)
Anyway, for the record …
Here is how Betonline.com is seeing the rest of the Pac-12 in Week One:
Utah State at Utah … The Utes are a 4 1/2-point favorite over the Aggies in what should be a good game.
USC at Hawai'i … On the road, the Trojans are a 23-point favorite over the Rainbow Warriors.
Northern Arizona at Arizona … There is no line for the Wildcats romp over the Lumberjacks.
Nevada at UCLA … The Bruins are a 13-point favorite over the Wolfpack.
Nicholls State at Oregon … No line for this scrimmage for the Ducks.
Eastern Washington at Oregon State … The game will not be played on the red field in Cheney … so no line on this rout.
Boise State at Washington … The Huskies are a three-point favorite in the first game to be played in the renovated Husky Stadium.
Washington State at Auburn … The Cougars are 14-point underdogs to the Tigers, the Pac-12 team rated most likely to lose in Week One.
Northwestern at Cal … The Bears are at home, but are currently six-point underdogs to the Wildcats.
Sacramento State at Arizona State … The Hornets beat a Pac-12 team last year … but not this year. No line.
Stanford v. Bye … The Cardinal is the only Pac-12 team (other than maybe Oregon) guaranteed not to lose in Week One.
—
May 25th
Pac-12 Recruiting updates – From 24/7 Sports
On CU's picking up of Isaac Miller … An all-important piece of the puzzle was added on Friday morning when the Buffaloes secured a commitment from Isaac Miller, the first pledge from a recruit in the Class of 2014. Make no mistake, the 6-7 and 255-pound offensive tackle from Longmont (Colo.) Silver Creek will be a welcomed addition.
Miller is the nation's No. 86 player at his particular position in the 247Sports Composite Rankings. Moreover, he figures to provide some much-needed muscle up front, a perceived trouble spot along the interior line in the not so distant past. Help is on the way, though, thanks in large part to Miller.
In terms of Pac-12 Conference options, he did not have many. Washington State was the only other school to put a scholarship on the table Northern Colorado, New Mexico State and Wyoming offered Miller and programs from the Big 10 Conference reached out. In the end, Boulder was the best fit.
May 24th
Pac-12 Networks nominated for national award … but DirecTV talks still in limbo
From the Seattle Times … Caught up Wednesday morning with Lydia Murphy-Stephans, newly named president of Pac-12 Networks, who was in New York to attend Sports Business Journal's sports business awards ceremony. Pac-12 Networks was nominated by the publication in the best-in-sports-television category, which, as Murphy-Stephans says, is "in itself a huge accomplishment for us. Just to be named among the other candidates is a big win for us."
Also in the running are CBS Sports, ESPN, NBC Sports Group and Time-Warner Cable Sports. Indeed, it's a coup for Pac-12 Networks, which, a year ago at this time, was still 2 1/2 months from its launch.
… Meanwhile, as to the talks with DirecTV …
To DirecTV subscribers, Murphy-Stephans has a forceful message:
"We're on schedule, and right on plan, in terms of distribution for the Pac-12 Networks," she said. "I feel good about that. There's an obligation as fans, that if they want Pac-12 Networks and DirecTV is not carrying the Pac-12 Networks, the fan has to be willing to drop DirecTV and pick up a carrier that is.
"It's a very difficult and complicated business and I am in the trenches with it. Fans just can't hang onto DirecTV and put all the onus on the Pac-12. We can offer it and provide DirecTV with a very fair business offer, the same one (other carriers have contracted for), but we can't force DirecTV to take it. This is where I'm going to ask fans to step up."
—
May 23rd
Facilities envy? Arizona unveils its improvements to its stadium and locker rooms
The University of Arizona will have facilities upgrades in place by July 1st. Below is a YouTube video featuring head coach Rich Rodriguez, as he gives you a tour of the new entrance to the Wildcat stadium, new locker rooms, weight rooms, and medical facilities.
While at CU, the "silent phase" of facilities fund-raising goes on … and on … and on …
NCAA penalties against Oregon may hinge on "repeat offender" status
From the Eugene Register-Guard … Today we got a look at the NCAA notice of allegations that was sent to Oregon on Dec. 5, and released in response to a public records request.
The allegations closely follow — nearly to the word — those the Ducks were trying to cop to in the failed summary disposition process last fall. However, all of the violations are considered major in the notice of allegations; Oregon tried to argue in the summary disposition agreement that one, relating to the use of scouting services, was not.
There are no penalties listed here; those are to be handed down by the Committee on Infractions following Oregon's hearing with them, which reportedly took place last month.
The key to all of this could come down to just how seriously the NCAA considers the Ducks' repeat violator status, which is in play according to the notice of allegations. Viewed in isolation, the most recent violations don't look like they merit anything like a postseason ban, based on other recent cases around the nation. The only way I could see that changing is if the NCAA really takes that repeat violator thing and runs with it.
We should know by late this month or in early June, when the COI should have its final report ready to make public.
May 22nd
Washington State starting offensive lineman to transfer
A projected starting offensive lineman, who was out for the spring with an injury, has decided to transfer rather than come back to his team.
Sound familiar? It's just what happened to the Buffs with Alexander Lewis, only this time its happening to Washington State.
From the Spokane Spokesman Review … An offensive lineman has left Washington State's football team.
The school confirmed that Jake Rodgers, a fourth-year junior who attended Shadle Park High School in Spokane, has chosen not to play for the Cougars next season.
His transfer destination has yet to be confirmed.
May 21st
One last year of bad revenue numbers
Colorado suffered through the worst year in program history in 2012. There is hope that 2013 will be better.
Colorado also suffered through one of its worst years financially in 2011-12, but at least Buff fans know that it most certainly will be better in 2012-13.
Jon Wilner at the San Jose Mercury News has compiled the payout for last year's income for Pac-12 members. As it was a transition year, with Colorado not yet a full partner, the numbers are awful – CU came in dead last in payouts.
That, however, will change when the 2012-13 fiscal year numbers are compiled.
Here are the numbers for 2011-12 for the Pac-12:
TV rights: $85,630,000
Bowl payouts: $40,140,262
Championships: $27,685,925 (includes March Madness payouts)
Other: $22,053,188
And payouts by school:
Stanford: $15,651,602
Oregon: $15,200,450
Washington: $13,520,128
USC: $13,464,426
UCLA: $12,753,358
Arizona State: $12,029,443
Cal: $11,595,746
Washington State: $10,564,842
Arizona: $10,562,878
Oregon State: $10,043,205
Utah: $4,079,028 (new member, partial cut)
Colorado: $3,413,697 (new member, partial cut)
Why were CU and Utah so far behind? Because they were, as noted, only entitled to a partial cut (basically all the two schools received were their share of the added revenue from the additional conference games which were televised, and their cut of the Pac-12 championship game rights, which didn't exist before CU and Utah joined the league).
Why was CU behind even Utah in revenue? Because the Utes went to a bowl game in 2011, and CU did not. Also, Utah participated in other revenue generating sports (like baseball), in which CU does not participate.
The good news? CU is now a full partner in the Pac-12, and the $3 billion ESPN/Fox contract kicked in for the 2012-13 fiscal year, so each team will be looking at a minimun of $16 million in television revenue alone, with the television revenue ($85.6 million for 2011-12) more than doubling.
The difficult "transition" years for Colorado have now come to an end. The CU athletic department will now be in position to start paying off the debts incurred in dealing with leaving the Big 12 (and paying off two coaching staffs), and start building for the future.
Just like the football program …
—
May 20th
Pac-12's Larry Scott the highest-paid commissioner … ever
From the Wall Street Journal … In his four years as commissioner, Larry Scott has transformed the stately, sleepy Pacific-10 Conference into the big-business Pac-12, expanding the conference and quadrupling its annual television-rights revenue. Scott cashed in on his aggressive moves in 2011-12, earning more than $3 million, according to tax documents released by the conference Sunday. That appears to be the highest compensation ever for a sitting college commissioner.
Scott took home a $1,376,000 bonus in addition to a base salary of $1,575,000 and other compensation of $71,462. His total compensation surpassed that of Big Ten commissioner Jim Delany, who made $2.8 million in salary, bonuses and benefits that year. It also is nearly double the $1.6 million listed for commissioner Mike Slive of the Southeastern Conference, which has won the past seven major-college football national titles and recently announced it will launch a network with ESPN in 2014.
In the span of 2011-12, Scott added the Universities of Colorado and Utah as members after initially exploring the possibility of a 16-team conference. He brokered a broadcast-rights deal with ESPN and Fox worth $3 billion over 12 years, elevating the Pac-12 from a distant fifth place nationally with $58 million in primary media-rights revenue to the leader, with the new deal worth an average of $250 million annually. He led the launch of the Pac-12 Networks, the only such venture to be wholly owned by a conference.
"I think we're in a very enviable position, having 100% ownership and a lot of flexibility and optionality going forward and that we've only had to license our rights for 12 years, compared to others that have now gone near 20-plus years," Scott said. The SEC's deal with ESPN runs through 2034.
… more at wsj.com
Washington State linebacker third Cougar arrested this month
From SportsIllustrated.com … Washington State Cougars linebacker Logan Mayes was arrested on his birthday, the 16th of May, for a hit and run in Pullman, Washington, according to the Pullman police log.
Mayes is a projected starter next year as a junior, and he has the task of replacing Travis Long as the team's Buck LB. Those are certainly tough shoes to fill, and Mayes might not be able to fill them depending on the details of the accident. We know nothing at this point, other than Mayes was arrested in the city for a hit and run that occurred on Thursday and was filed at 6:32.
Last season, the 6'3″, 241 pound pass rusher recorded 26 tackles with 3.5 tackles for loss and 2.5 sacks, and Mayes also forced a fumble.
Washington State has had a rough month thus far with regards to behavior issues, as defensive tackle Toni Pole was arrested for lying to the police last week. Running back Teondray Cardwell had 256 rushing yards and an average of 4.8 yards per carry as a key freshman for the Cougs, but he is facing assault and burglary charges.
May 18th
Arizona running back Daniel Jenkins transferring … back to Arizona.
From CBSSports.com … Sometimes people just change their mind.
After graduating from Arizona in December running back Daniel Jenkins announced he would transfer to Washington State for his final season of eligibility. Now, after being at Washington State since January, Jenkins has decided to transfer again.
He's now returning to Arizona.
Jenkins would not have had to sit out a year at Washington State since he already graduated, and he will be eligible to play immediately this fall for the Wildcats.
Jenkins rushed for 293 yards and two touchdowns for the Wildcats last season while serving as a backup to the nation's leading rusher, Ka'Deem Carey. It's a role he will resume in 2013.
May 16th
Arizona State still fighting to bring Notre Dame to Tempe
From AZCentral.com … Arizona State continues to fight Notre Dame's decision to pull out of a scheduled 2014 football game at Sun Devil Stadium.
In a Tuesday interview on Arizona Sports 620, Vice President of Athletics Steve Patterson said both sides still are discussing the Fighting Irish's recent decision.
"I'm hopeful we'll reach an accommodation that works for both schools that winds up having Notre Dame play here," Patterson said.
This has turned into a legal matter. According to the contract, Notre Dame doesn't have much, if any, wiggle room to opt out of the 2014 game. The home-and-home series consisted of Notre Dame visiting Tempe in 2014, and the Sun Devils visiting Notre Dame in 2017. A penalty for breaking the contract was not included, but some sort of financial settlement is possible.
The two universities agreed to play a home-and-home football series in 2007. The agreement was signed in February 2008.
May 15th
Buffalo Wild Wings Bowl in CU's future?
Buffalo Wild Wings and the CU Buffaloes?
Sounds like a good fit.
From CBSSports.com … It appears the Big Ten will not be a part of the Buffalo Wild Wings Bowl starting in 2014.
The bowl in Tempe, Ariz., is negotiating with the Big 12 and Pac-12 as yearly tie-ins, according to a source with direct knowledge of the situation. A deal is not done but appears probable.
The bowl, which is run by the Fiesta Bowl folks and has been heavily subsidized in recent years, won't garner a large payout compared to other bowls but still has several interested parties, including the Big Ten.
And the Holiday Bowl may be ditching the Big 12 for the Big Ten
From the Iowa Gazette … The Jell-O mold of the Big Ten's future football lineup is taking formation by the minute.
An industry source said the Holiday Bowl and Big Ten are close to finishing a six-year agreement. The bowl will pick second in the Pac-12 and third in the Big Ten after the playoff and access bowls make their selections starting with the 2014 season. Officials cautioned that no deals are final, but they are optimistic.
"I think when the dust settles, you can speculate that the Big Ten is coming (to the Holiday Bowl), and you'll be OK," said the source with direct knowledge of discussions.
Pac-12 Bowl tie-ins for the 2013 season …
Gildan New Mexico MWC vs. Pac-12 Albuquerque, NM University Stadium Sat., Dec. 21 12:00 p.m. MT ESPN
MAACO Bowl Las Vegas MWC vs. Pac-12 Las Vegas, NV Sam Boyd Stadium Sat., Dec. 21 1:30 p.m. MT ABC
Kraft Fight Hunger BYU vs. Pac-12 San Francisco, CA AT&T Park Fri., Dec. 27 7:30 p.m. MT ESPN
Valero Alamo Big 12 vs. Pac-12 San Antonio, TX Alamodome Mon., Dec. 30 4:45 p.m. MT ESPN
Bridgepoint Education Holiday Big 12 vs. Pac-12 San Diego, CA Qualcomm Stadium Mon., Dec. 30 8:15 p.m. MT ESPN
Hyundai Sun ACC vs. Pac-12 El Paso, TX Sun Bowl Tue., Dec. 31 12:00 p.m. MT CBS
Rose Bowl Game BCS/Pac-12 #1 vs. BCS/Big Ten #1 Pasadena, CA Rose Bowl Wed., Jan. 1 3:00 p.m. MT ESPN
—
May 14th
Pac-12 recruiting heating up
The Pac-12 is up to 31 verbal commitments from the Recruiting Class of 2014.
Only Colorado is without a verbal commitment to date, though Oregon State and UCLA have only one apiece. The school with the most commitments is USC, with five, followed by Utah, with four.
Surprisingly, of the 31 commitments, only one is from the ESPN Top 150, and that belongs to Arizona, which has a commitment from hometown athlete Cameron Denson.
The full list of current Pac-12 commits can be found at ESPN's website.
—
UCLA loses defensive lineman
From the LA Times … UCLA defensive end Owamagbe Odighizuwa could sit out the 2013 season after surgery on his right hip Tuesday.
UCLA Coach Jim Mora feared he had lost the sophomore defensive lineman for the season, but doctors found that the damage wasn't as extensive as previously believed. Owamagbe had a frayed rotator cuff in his hip, and Mora was unsure of the timetable for his return.
Odighizuwa, who will be a junior this fall, underwent surgery on his left hip during the off-season and did not participate in spring practice. He started experiencing pain in his right hip before spring practice began.
The loss would be significant, as Odighizuwa was ticketed to replace Datone Jones at defensive end. Jones was a first-round draft by the Green Bay Packers last month. Odighizuwa saw considerable time last season, finishing with 44 tackles. He had 3.5 sacks and recovered two fumbles.
—
College Football News: "Success at Colorado will not be measured in the standings"
The CollegeFootballNews has put out its preview for the University of Colorado. It's fair … but that doesn't mean it's flattering.
The full article can be found here. Some highlights:
New head coach Mike MacIntyre made a winner out of San Jose State. Anything is possible.
MacIntyre took command of one of the nation's worst programs in 2010, a team so bad that it was struggling to compete at the FBS level out of the WAC. Sound familiar, Buffs fans? Two years after arriving at a sure-fire dead end job, though, he'd guided the Spartans to their best season ever and a hard-to-fathom ranking in the final Top 25 poll. It was a textbook defying of the odds, which MacIntyre will now attempt to duplicate at Colorado.
The Buffaloes are bad—like worst team from a major conference bad. They haven't been over .500 since 2005, and last season's 1-11 mark represented a low-point in the annals of Colorado football. This school currently resides at rock bottom. And a new staff, with all of its new energy and fresh ideas, has been tasked with gradually getting the team back to a more competitive level. It'll be neither easy nor expeditious.
Success at Colorado will not be measured in the standings, at least not for a while. This is a team that was outscored by an average of four touchdowns a game last year. No, this summer and fall is all about installing new systems, learning personnel and changing approaches to the game. True freshmen started 57 games in 2012, tops in the FBS, so at least the new staff will be preaching to a young squad, much of which hasn't been spoiled by a decade's worth of futility.
The team will be much better if … the Buffs become a (much) better first-down team. A school is not going to win many games in the Pac-12 if it's constantly operating on its heels. And that's been the case at Colorado for the past few seasons. The offense averaged 4.2 yards to start a series, which is not awful. But the D yielded an average of eight yards on first down, an impossible hurdle to overcome. It's no wonder the unit couldn't stop anyone. Who could when the other team was constantly facing second-and-short situations?
The season will be a success if … Colorado is more competitive than in the last two years, and captures momentum that can be taken into 2014. Forget the record. Wins and losses cannot define this Buffaloes team, especially with a new regime in charge. This is a two or three-year process, meaning 2013 is all about adopting new systems, improving conditioning and changing a dysfunctional culture. Win or lose, it'll qualify as a good sign in Boulder if the team is playing better in November than in September.
Key game: Sept. 1 vs. Colorado State. Of all the games on the perennial schedule, this one is by far the most important to Buffaloes fans. The Buffs lost to the Rams in Denver a year ago, setting the tone for what wound up being a miserable campaign. Colorado has no rivals in the Pac-12 yet, and might not for a long time. This is an intense rivalry game, one that Mike MacIntyre would love to bag in his debut as the Buffs' head coach.
2012 Fun Stats: – Average first down gain: Colorado 4.2 – Opponents 7.9 – Third down efficiency: Colorado 29.9% – Opponents 44.0% – Interceptions: Colorado 3 – Opponents 19
—
May 9th
Pac-12 Spring wrap up
ESPN Pac-12 blog writers Ted Miller and Kevin Gemmell have put together an excellent review of spring practices for all of the Pac-12. From "What we Learned this Spring" to the "Best of the Pac-12", there is good information on the Buffs' competition this fall.
The Pac-12 spring write-up can be found here.
CU wide receiver Paul Richardson made the best of list:
Best chance to join Pac-12 blog's All-Interview team: Some quotes from Colorado WR Paul Richardson from a 15-minute interview:
• "I expect nothing less than for people to sell us short or pick us to finish last. I even joked before in another interview that if there was a spot below last they'd pick us there as well. But you never know what will happen in the Pac-12."
• "I don't think Coach MacIntyre is in a bad position at all. I think he was given an opportunity to move up to this coaching job at a really good time. We're going to have some key players back and our young guys are going to have experience. To me, he came at a perfect time."
• "I was very upset to say the least [at coach Jon Embree's firing]. It was very surprising. I had a really good relationship with Coach Embree. It caught us all off guard. Some of us were pretty bitter."
• "I think we'll be .500 or above. The best thing I can say is don't sleep on Colorado football. We're a work in progress, but it is progressing over here."
— Colorado was also (not surprisingly) listed last in the conference in the ESPN Pac-12 Power Rankings.
Here is what ESPN had to say about the Buffs:
12. Colorado: Colorado will be better in coach Mike MacIntyre's first season than it was in 2012, mostly because it can't get any worse. The Buffs were one of the nation's youngest teams last season, and it showed. They figure to be bigger, stronger and smarter this fall. But probably not so much as to escape the basement here
Arizona State changes mascot look … again
From Fox Sports Arizona  … In the latest chapter of the Sparky redesign saga, Arizona State on Wednesday revealed the latest update to the Sun Devil mascot, this version the result of an online fan vote.
The new Sparky is an update to the version revealed to much criticism in a March 1 news conference. That version, designed in conjunction with Disney, was criticized most for the mascot head, which featured black horns and very large eyes. The backlash was so great that ASU leaders decided to scrap the design and let fans decide on a new one.
The latest Sparky is the result of the online vote that allowed select fans — ASU students, faculty, staff, alumni, season ticket holders and Sun Devil Club members and donors — to choose between four new versions of the mascot head. It will debut at the start of the 2013 academic and athletic year.
The Sparky redesign also included a new Sparky logo, though it will not replace the old Sparky logo. The new logo will be used in comic books, children's books, animated films and on select merchandise. The original logo was drawn in 1946 by Disney artist Berk Anthony and remains unchanged. The mascot, however, has changed more than a dozen times.
The "Old" Sparky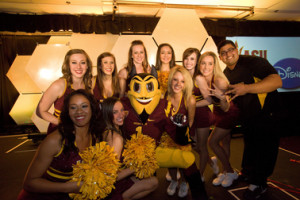 —
And the new Sparky …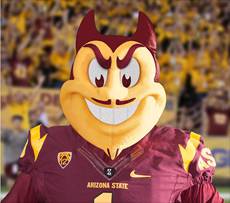 May 8th
Two Fresno State players dismissed from team
From NBCSports.com … Early last September, wide receiver Victor Dean and defensive back Davon Dunn were two of six Fresno State players suspended for various lengths of time for various issues.
While both returned during the 2012 season, the same can't be said for 2013.
In a very brief press release sent out Tuesday evening night, the Bulldogs announced that both players have been dismissed from the football program for what's described as "violations of Athletic Department policy." Suffice to say, the specific nature of the issue or issues weren't revealed.
The release stated that each player was informed of their dismissals Monday morning, and that there would be no further comment from the team.
—
May 7th
Arizona only other Pac-12 school with a Hall of Fame Honoree
Joining Bill McCartney from the Pac-12 in the Hall of Fame Class of 2013 is Arizona defensive tackle Tedy Bruschi. A lightly recruited player from Northern California, Bruschi went on to become a two-time All-American. Bruschi went on to win three Super Bowl rings with the New England Patriots and now works for ESPN.
Other familiar names in McCartney's Class … Three legendary Heisman Trophy winners — stretching from Miami's Vinny Testaverde in 1986 through Florida's Danny Wuerffel in 1996 to Wisconsin's Ron Dayne in 1999.
The class also includes Nebraska quarterback Tommie Frazier, who didn't win a Heisman but was 34-3 as a starter and led the Huskers to consecutive national championships in 1994 and '95.
May 6th
Athlon writers pick Arizona State to win the Pac-12 South
Athlon had four of its writer state their choice for which team will win the Pac-12 South this fall.
While there were rumblings for UCLA, USC, and Arizona, the unanimous pick was Arizona State.
Here is a link to the article at Athlonsports.com … and some of the highlights:
"Arizona State is primed for a run to the South division crown, and a Pac-12 championship appearance. The Sun Devils became the odds-on favorite for me when tackle Will Sutton eschewed the NFL draft … ASU put up a surprising 38.4 points per game — only Oregon was more prolific among Pac-12 teams. Perhaps most importantly, the Sun Devils look like the only South team without glaring questions marks: USC is still paper thin, UCLA must replace its record-setting running back, and Arizona is replacing star quarterback Matt Scott while trying to solve its defensive woes".
—
USC has yet to produce a Super Bowl quarterback … Why?
From CBSSports.com … One of the great mysteries of both college and the NFL is that while other Pac-12 schools have historically generated Pro Bowlers and NFL Hall of Famers at quarterback — make that other schools, period — USC quarterbacks have mostly failed in the pros. Trojan quarterbacks have won 11 national titles, six during the Super Bowl era, but no USC quarterback has played in a Super Bowl.
Numerous schools have produced Super Bowl quarterbacks. Ten have produced multiple Supor Bowl quarterbacks — Delaware, California, Maryland, UCLA, Alabama, Notre Dame, BYU, Stanford, Purdue and Washington State.
USC? None.
… This statistic is one of the more damning for the Trojans. At least 15 times that group of USC quarterbacks (Paul McDonald, Todd Marinovich, Rob Johnson, John David Booty, Carson Palmer, Mark Sanchez, Matt Leinhart, Sean Salisbury, Rodney Peete, Pat Haden, Vince Evans, Bill Nelsen, Matt Cassel and Pete Beathard) won either a national championship (outright or share), a Heisman or made a Rose Bowl appearance. None won a Super Bowl and only a handful made the playoffs. There may be no other programs in history that had such dominance on the collegiate level only to watch those players get atomized in the pros.
—
May 2nd
Playoff selection committee will not be made up of conference representatives
From CBSSports.com … The creeping fog surrounding that first playoff selection committee seems to have become a bit clearer.
Four of the 10 commissioners who will decide the matter told CBSSports.com on Wednesday that the current committee model being discussed does not include a separate and distinct representative from each of the 10 FBS conferences.
"We don't want people on the committee representing a particular constituency," Pac-12 commissioner Larry Scott said during his conference's spring meetings here. "Then people are in there with a narrow interest. We want people in there who can take a broad view and do what's right."
What's right at this point seems to be — to coin a draft phrase — the 14-20 best available names on the board. We're talking folks with big resumes and even bigger knowledge. The list could include retired coaches, current or retired administrators, even a retired media member, which continues to be a possibility.
But not the Noah's Ark approach, one from each conference.
"My perception is there won't be a representative [from each conference]," Big 12 commissioner Bob Bowlsby said. For example, "because then you'll feel like you represent the Big 12."
—
SEC Network agreement with ESPN good for 20 years
From ESPN … Southeastern Conference sports — including football and basketball — will have a 24-hour-a-day home when the SEC Network launches in August 2014.
The SEC and ESPN announced a 20-year agreement and rights extension on Thursday. The deal includes a new television network and digital platform that will show SEC sports 24/7, including more than 1,000 events in the first year.
Included in the programming will be 45 football games, more than 100 men's and more than 60 women's basketball games, 75 baseball games and selected events from the other 17 SEC sports. The network will also feature studio shows and coverage of special events such as signing day and football pro days.
The digital network, which will launch nationally with AT&T U-verse, will show hundreds of additional events. Each SEC school will have the opportunity to produce and develop content for various platforms. The network will be based in ESPN's offices in Charlotte, N.C.
The extension means the SEC will have its games on ESPN's family of networks, plus the SEC Network, through 2034.
May 1st
Texas A&M to add 20,000 seats to Kyle Field
Hard to imagine the new stadium … Driving across the plains of southeast Texas, there is little to prepare you for the site of Kyle Field. All is relatively flat, then, allo of the sudden, you hit College Station. Other than the water tower, there is nothing in College Station which stands out more than Kyle Field.
And it's about to get bigger – much bigger.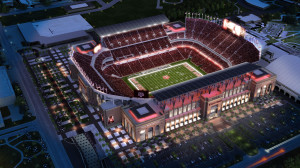 From ESPN … Texas A&M football stormed into the national consciousness during the 2012 season with a new conference, a new coach and a new Heisman Trophy-winning quarterback. Soon, the Aggies will have a bigger, better, newer Kyle Field to call home.
The Texas A&M board of regents announced approval of the redevelopment of the Aggies' longtime home with plans to expand capacity to 102,500, making it the largest stadium in the SEC and the third-largest stadium in college football.
Only Michigan and Penn State have greater capacity, and A&M's construction will just surpass Tennessee's 102,455 capacity at Neyland Stadium.
The project, which will cost $450 million, will begin after the 2013 football season concludes and is scheduled for completion in 2015.
The Aggies will continue to play their home games at Kyle Field throughout the construction process, which will take place in two phases during the 2013-14 and 2014-15 offseasons.
Kyle Field's current capacity is 82,589.
—
…. Current stadia which hold over 100,000:
Michigan          109,901
Penn State       106,572
Tennessee       102,455
Ohio State        102,329
Alabama          101,821
Texas               100,119
—
SEC to debate nine-game conference schedule
From The Sporting News … While the Big Ten last weekend announced plans to expand to a nine-game schedule in 2016; while the ACC was committed to nine games beginning in 2014 but backed away only after partnering with Notre Dame; while the Pac-12 and Big 12 currently play nine league games, the last holdout of the five major conferences is still debating semantics of the eight-game schedule.
"Needless to say," says Florida athletic director Jeremy Foley, "there are a lot of moving parts."
The move to a nine-game schedule was initially an issue this time last year at the SEC's annual spring meetings. But like most things in the uber-successful, tradition-first conference, change is slow.
Last year's meetings got bogged down in the same spot this year's meetings – later this month in Destin, Fla. – likely will: the schedule format, not the number of games. Currently, the SEC uses a 6-1-1 format (six division games, one permanent crossover, one rotating crossover), with six years needed to rotate through the opposite division once.
That means—and here's where Alabama coach Nick Saban has a problem—some players will go a career without playing another team from the opposite division. So instead of expanding the rotation of the schedule when the league went to 14 teams, the SEC decided that longstanding rivalries (Alabama vs. Tennessee, Georgia vs. Auburn) and television-friendly games (Florida vs. LSU) were more important as the goliath of a league gets bigger and stronger year after year.
In other words, why fix what clearly hasn't even sniffed broken? Now throw that nine-game schedule idea into that meeting room later this month and ask Slive to mediate.