Rick George – CU Athletic Director
July 18th
Rick George the point man on the recruitment of Darian Hagan
From cubuffs.com … Rick George had prepared remarks to deliver to the athletic department staff but instead chose to "speak from the heart." He called Wednesday "a great day for me . . . it's great to be back home."
In a career built on athletics, CU was George's second stop, with Illinois – his alma mater – being the first. His last college stop was Vanderbilt, his career path then taking him into golf and baseball at the executive levels from 1998 until he begins his new job at CU next month.
But all the while, his and wife Nancy's eyes were on returning to Boulder and CU, which he called his "dream job." There were other dreams as well: Topping the list was to be a general manager in the NFL, with an athletic directorship – preferably at CU – not far behind. An all-star resume probably would have made George a prime NFL GM candidate had he pursued an opening in that sport.
Had that happened CU's search for an AD might have turned in another direction. But those who knew George when he was in Boulder and have stayed in touch with him since the first go-around knew his passion rested at the foot of the Flatirons.
"It's great to be back," he told the press conference. "There's no place I'd rather be . . . my wife and I have been working for this for 30 years."
In the late '80s, George left a lasting impression on Darian Hagan, then an option quarterback in Los Angeles that McCartney believed could be a program-changer for the Buffaloes. Turns out he was right, and George was the point man in CU's recruitment of Hagan.
"He was the natural sales person who made the first phone call and introduced the University of Colorado to you," Hagan recalled. "He sold Coach Mac's vision, then it was up to the coaches to close the deal.
"The first thing that attracted me to this place was (George's) passion and his energy. He was a guy who didn't take 'no' for an answer. He was persistent and energetic in everything about the university."
In that respect, George hasn't changed even if the university and the college landscape have. What's more, the changes haven't been subtle, more like a tire iron to the temple. Since George left Boulder, Buffs football has bobbed three times under four coaches and finally gone under. Basketball has flourished of late; skiing and cross country are still winning national championships, but the athletic department is hobbling along at a significant deficit.
I asked George how his perception of how things might have changed at CU since his departure in 1991 and this was part of his answer: "That would probably be a good question for 60 days from now, when I've been here and been spending 24 hours a day trying to get us better . . . it's Colorado as I remember it – a great institution with great student-athletes and a great future. I firmly believe our best days are ahead."
Still, when he officially begins work next month, he'll find the job description of that AD job he once dreamed about is very different. Athletic directors now are nine parts businessmen and one part of whatever else the position requires, with fund-raising abilities bold faced on their resumes.
CU needs an efficient, high-powered and tireless fund raiser to make good on a facilities improvement project initiated by George's predecessor, Mike Bohn. George & Co. need to hit a $50 million target by early December, and George calls that "doable. Heck, yeah. We'll hit the ground running and hit that goal . . . I know what I'm capable of doing with great people around me."
Pay attention to that; team work and unity are two ingredients that George values greatly. "I want everybody on the same rope, tugging in the same direction," he said at his press conference. "I don't have all the answers, but the people around me do."
An hour before, he told the athletic department staffers: "What I've heard and seen is that it's kind of splintered here . . . I've heard it's a splintered Buffs Nation. We've got people who are pointing fingers."
And later at his press conference when asked about divisions: "I've got a pretty good sense of what's going on . . . change is sometimes very difficult, but good when you look back at it historically. I think Mike Bohn did a good job; I've got a lot of respect for Mike. Now it's my responsibility to take this athletic department to another level. I've heard about the division . . . it's all about team, working together, getting everybody on the same page. I'm a firm believer in that."
Those who know George best say his passion and energy haven't dwindled through his nearly three decades in athletics. Winning is as vital to him now as then:  "I've never played a game – even with my daughters, who are now 24 (Christi) and 28 (Jenni) – to finish second."
As expected, George speaks highly of Mac The First, noting that McCartney's attention to family and detail have stuck with him since he left Boulder. "I learned a lot from Mac, but I'm my own person," George said. His introduction to Mac II (MacIntyre) came Wednesday morning, although both men say they might have unknowingly crossed paths when they and their families lived in Nashville and Dallas at the same time.
George spoke with men's basketball coach Tad Boyle by phone Wednesday and met women's coach Linda Lappe before her team began practice for next month's European tour. George also visited with other CU coaches who were in town and on campus.
After wrapping up his duties with the Rangers, George will return to Boulder on Aug. 11 to attend a football practice, then will officially begin work the next day. He says CU staffers will find "a leadership style that is personal . . . I'll get to know everybody (and) everybody will know their roles and everybody will be accountable."
Hagan believes him: "He's very open, very honest. He won't hide behind closed doors . . . he's well-deserving and I'm really glad he's here."
Things have changed in Boulder, but so has Rick George in the two-plus decades he's been away. The CU athletics department is poised to reap the benefits.
—
July 17th
Rick George Press Conference Quotes
The press conference introducing Rick George as the new CU athletic director can be watched here.
Quotes from Rick George's introductory press conference …
– "It's great to be back. I can't tell you how excited I am to be back in Boulder and look at the Flatirons and be back in this magnificent place that my wife and I have so many fond memories of".
– "There's no place that I'd rather be than CU, in the CU athletic department to work with the student athletes, the faculty and staff and coaches. I can't tell you how excited I am to be here today".
– "I'm here today because I'm convinced that this is the best job, at the best University, in the best conference in the nation. CU-Boulder is a special place. All of you in the room know that. From the moment that I stepped on this campus 26 years ago, I felt it then. There is this energy, there is an excitement and a sense of possibilities that this University produces in everything it does. At the time, CU had just beaten Nebraska (the 20-10 win in 1986) here in Boulder, and there was that excitement in the air about what was to come. And four years later, we win a national championship. The excitement was in the air, and it was one heck of a time to be a Buffalo. I firmly believe today that the excitement is still in the air, and it's more than about football alone. We're deservedly a proud member of the 'Conference of Champions', the Pac-12. We earned a Nobel Prize in Physics this past year; we've been No. 1 in the Peace Corps two years in a row, and we've been recognized as the top environmental university in the nation. In athletics we've already won two Pac-12 titles in cross-country, and another tournament championship in men's basketball. I spoke with Tad (Boyle) earlier today, and I can't tell you how excited I am to work with him. I believe those championships are just the start of many to come."
– "We've got a great, dynamic new football coach in Mike MacIntyre. I met Mike today for the first time. He's got the pedigree; he's got the character we want to lead this program, and he's got the experience that's going to bring CU-Boulder back to winning championships each and every year".
– "We've seen the excitement around Tad Boyle and Linda Lappe, who have done an outstanding job as they have put CU basketball back on the national map … and the country has taken note of it, as we have invested in people, we've invested in facilities … I think this is something which is important that we will continue to do moving forward, and we will get everybody around the same cause. We're also maintaining the long legacies of excellence in track and cross-country, and skiing. Thanks to our coaches Mark Wetmore and Richard Rokos who was here when I was here a while ago, and I know you are all aware that we won our 19th national championship this past winter in skiing. That's a tremendous feat and one heck of an accomplishment. I met Liz Kritza a little bit ago and she's building our success in volleyball. Roy Edwards and Anne Kelly are building a great golf programs. No, Tiger Woods is not coming in here to be a consultant, or anybody else. They've done a great job, and I know the men qualified for the NCAA regionals this past year, and I'm excited about their success. We also have an improving women's soccer program under Danny Sanchez, and an improving women's tennis team under Nicole Kenneally. We have a brand new lacrosse program, and I met Ann Elliot earlier, and I'm excited about the possibilities that we have in women's lacrosse. And of course, as we all know, we have the best live mascot in the nation in Ralphie. Love Ralphie. I've seen Ralphie sling a lot of people around. When I was here it was Ralphie II, today it's Ralphie V, so I've been gone a while. As you can imagine I've lost a little of my hair, I've gained a little weight, but one thing I haven't lost is my passion for CU, and CU athletics. I am just thrilled to be here."
– "We want to ensure that the community is with us all the while, not just our fans and our alumni, but the whole. You know it's important that we're all on the same page, and that we're all working together. I know that there are some factions out there, and I know that today this is kind of a divided Buff Nation. Well it's time that we get everybody together. It's time that all of our constituents, all of our alumni, all of our fans, the city of Boulder, Denver, the Front Range, the state of Colorado, all get together and we all support each other. We don't point fingers anymore, and we don't worry about decisions that have been made. I've been taught to look forward, not to look backward. And that's what I intend to do; I intend to lead this athletics department at one of the best, great, universities in America".
– "We're going to do it the right way. We're going to do it with passion, we're going do it with the goals in mind that we're going to be successful and we're going to be the very best in all of college athletics. And trust me I know that this is not an easy challenge. I know there are a lot of things out there. We mentioned the debt that we have. It's my job to figure out how we're going to get that back to where we want it to be. It's my job to lead our student athletes, our coaches, and our fundraising efforts to build these facilities that we want to build, and to have the kind of success that we need to grow our fundraising efforts. And so, I'm here today committed to working with our chancellor, our president, our coaches, student athletes, faculty and staff, and alumni; but we've all got to stay on the same page. We all have to start pulling together instead of pulling apart. Because it's time that we all come together because this is one of the great institutions in all of America, and in the world. And we're going to have great success here in our athletic department. But the only way we're going to do it is if we all rally together, and get behind the direction that we all believe this university, and this athletic department needs to go. So I'm honored to be here as the new athletic director at Colorado. I'm privileged. I can't tell you how excited that I am that this day finally arrived. My wife and I have been working on this for 30 years to be able to lead a great athletic department at the best institution in America, in the world, and I can tell you that we're ready to charge just like Ralphie does every Saturday when (s)he runs out. We're ready to go, we're fired up, and we're excited to be here. Thank you for being here."
—
Rick George to earn $700,000 per year as Athletic Director
From the Daily Camera … It has been 22 years since Rick George last worked in Boulder, and he admits that he's lost a little hair since then.
"But one thing I haven't lost is my passion for CU athletics," he said.
Colorado today announced George as the school's new director of athletics, effective Aug. 12.
George will make a base salary of $700,000 a year with incentives for fundraising and athletes' academic performance that could bump his pay up to $1.3 million a year. His predecessor, Mike Bohn, was paid a base salary of $306,000.
The 53-year-old George resigned from his position as president of business operations for the Texas Rangers of Major League Baseball to accept the challenge of leading the CU athletic department into the future.
George said he would not have left the Rangers for just any job, but said, after being introduced at Folsom Field, "I'm here today because I'm convinced this is the best job at the best university in the best conference in the nation.
"There's no place than I'd rather be than CU and the CU athletic department."
George worked as the assistant athletic director for football operations at CU from 1987 to 1991.
"When I was here (before), it was Ralphie II," he said, referring to CU's buffalo mascot. "Today it's Ralphie V, so I've been gone a while."
Although he's been gone a while, CU felt he was the right man for the job. George takes over a department that faces financial challenges, but CU Chancellor Philip DiStefano said, "He told me relishes those challenges. He just said, 'Keep them coming.'"
—
Rick George named new CU Athletic Director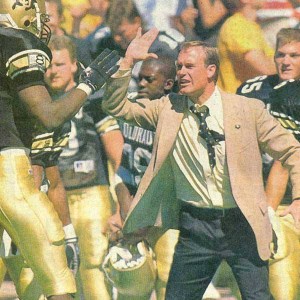 CU Press Release … University of Colorado Boulder Chancellor Philip P. DiStefano today named Rick George as director of intercollegiate athletics at CU-Boulder, effective Aug. 12, 2013.
George currently serves as president of business operations for the Texas Rangers major league baseball team and has spent more than three decades as a sports executive in the collegiate and professional ranks, including a stint as assistant athletic director for football operations for CU from 1987-91.
"I am delighted that Rick has accepted our offer to lead our athletic department," said DiStefano. "Rick's financial and management acumen, his networking and relationship development skills, and his enthusiasm, work ethic and principled leadership all make him the ideal leader for CU athletics at this important and challenging moment in our history."
George said he was delighted to be returning to the campus that played a key role in shaping his career.
"I am honored to be selected as director of intercollegiate athletics at CU-Boulder," said George. "CU is a special place for my family and me, and this is a marvelous opportunity at a great university in the best collegiate athletic conference in the country. I am looking forward to getting back to CU to begin working at this great institution."
George has served as COO of the Rangers since 2010 and recently as the president of business operations, and was a member of the front office staff for the team's first-ever American League championship that year and its second in 2011. Prior to that, he served as executive vice president and chief of operations for the PGA TOUR from June 2008 until joining the Rangers. While with the TOUR, he worked with the corporate marketing department in renewing sponsorships and creating new events. He also oversaw the Tournament Business Affairs division that worked with Tournaments to increase tournament revenue.
He also worked for the PGA TOUR as president of the Champions Tour from 2003-2008, where he increased revenues and sponsorships. From 1998-2003, George served as President and CEO of the Fore!Kids Foundation, a 501c3 organization that raised money for children's charities via golf-related events, where he led re-branding and organizational efforts that resulted in increases in charitable giving to the Foundation.
At the collegiate level, George has worked in three major conferences (Big Ten, Big Eight, Southeastern) in football operations, beginning with the University of Illinois (where he was a four-year starter in football and a 1982 graduate) as football recruiting coordinator (1983-87).
At CU (1987-91) he served as assistant athletic director for football operations and is credited with building the talent base that made the Buffaloes one of the most successful college programs in America throughout the 1990s. At Vanderbilt University (1991-98), he also served as associate athletic director for external operations.
CU Interim Athletic Director Ceal Barry, who chaired the athletic director search committee, said George's wide experience in managing finances, overseeing revenue growth and leading fundraising, capped off by his personal reputation and past record of success at CU-Boulder and at two other major universities, all combined to make him the clear frontrunner in the search.
"Rick is the complete package," said Barry. "He brings the kind of broad-based experience in athletics financial and operational management that CU needs at present, but also the vision we need to attract new donors, fans and partners. I'm looking forward to working with him again, and I am as excited as I've been in a long time about the future of intercollegiate athletics at CU-Boulder."
George and the chancellor agreed to a five-year contract, pending approval of the Board of Regents, which is expected to convene on the matter early next month. George will report to DiStefano through the offices of Senior Vice Chancellor and Chief Financial Officer Kelly Fox. As athletic director, he will also serve on the Chancellor's Executive Committee, the consulting body that advises the chancellor and his administration on key internal and external matters, and that reviews and provides input on CU-Boulder's programs, procedures and plans.
George will start work on Aug. 12.
More or Rick George ….
– Daily Camera article on hire
– Bio from Texas Rangers website
– A Daily Camera article on George from six weeks ago – (Bill McCartney: "I know him and I can tell you he's a delight. He's the real deal. And I want Colorado to do well. I want the new coach Mac to be successful. So I hope they can get Rick George. I think he's a piece to the puzzle.").
– CBSSports.com article on hire – "George's financial background should pay immediate dividends".
– ESPN article … "While this seems like an out-of-the-box hire …".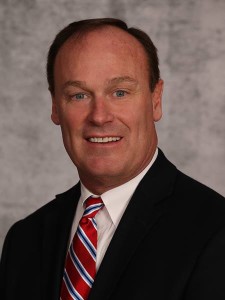 —
Mike Bohn – CU Athletic Director – 2005-2013
July 1st
Rick George the front-runner to replace Mike Bohn?
From the Daily Camera … The search for the next athletic director at Colorado is only in its early stages but already there is buzz around one man who has been mentioned as a possible candidate.
Rick George, president of business operations for the Texas Rangers, hasn't acknowledged whether he is even interested in the position and hasn't responded to multiple interview requests from the Daily Camera. However, there is a growing contingent of people who bleed black and gold — including a former regent, former CU coach Bill McCartney, former CU football players and fans — who would like to see him hired later this summer.
"He's a dynamo," McCartney said. "He's a star. He's got a spirit about him. He doesn't have a bad day."
McCartney first recognized those traits in George 26 years ago when he hired him to serve as director of football operations for the Colorado football program. It was a job George did well for the better part of five years. McCartney and others credit George for helping to recruit some of the key members of the 1990 national championship team and other star players of the early 1990s.
… "I know him and I can tell you he's a delight," McCartney said. "He's the real deal. And I want Colorado to do well. I want the new coach Mac to be successful. So I hope they can get Rick George. I think he's a piece to the puzzle."
… "I think Rick George would be awesome," (former CU Regent Jerry) Rutledge said. "He's a proven fundraiser. He's a people person. He's high energy. He's talented. He and his wife both love Colorado. He knows the layout. He truly is the most dynamic guy I've ever seen."
More at the Daily Camera …
—
June 27th
CU athletic director search committee meets for the first time
From the Daily Camera … Colorado Chancellor Phil DiStefano met with the entire athletic director search committee for the first time Thursday afternoon on campus and emphasized how important hiring the right person to be the sixth full-time AD in school history is to the school.
Interim athletic director Ceal Barry, the committee chair, said DiStefano gave the committee some basic marching orders. He wants the committee to cast a wide net, be thorough, prepared and confidential throughout the process.
"We can't protect what a candidate might do, but we can certainly protect what we might do and have integrity in what we're going to do," Barry said. "It's important that we remain confidential, focused and patient if necessary.
"He stressed how important a hire this is for the university, that this is the most important that we have going on right now."
Barry said the time line for hiring a replacement for Mike Bohn, who was forced out in late-May after eight years on the job and the department deeply in debt, remains late-summer. The committee did not make a decision Thursday about whether to use a consulting firm to help with the search. Barry said CU could hire a firm at some point but it is not ready to do so yet.
… Barry said identifying candidates who can succeed in significantly raising the bar with donors isn't just about looking at what they have done elsewhere.
"I think you have to look at their record for sure, but I don't think you can base everything on their track record," Barry said. "I certainly think we'd be foolish not to look at the track record of candidates on fundraising or just revenue generation in general.
"You have to look at where was the organization prior to their arrival and what was the progression throughout their tenure? I think it's very similar to looking at a coach. What was the record when they got there and what was the record three years later, five years later, seven years later, nine years later? Yes, you have to look at that, but there is the human side of things, too. What's not in black and white? When you meet someone face to face, your general feel. We're all in the people business. And how do you feel when you meet that person? Do you feel good about it? Because at the end of the day, it's a relationship business."
—
June 2nd
Solich to Buff Nation: "If it was my decision, Mike would still be AD"
In an open letter to the Buff Nation, CU booster George Solich stated that he is not a candidate to replace Mike Bohn as athletic director at Colorado, that he would have kept Mike Bohn as AD, and that he remains "fully committed" to his alma mater.
The letter was printed in the Denver Post, and can be found in its entirety here.
One telling paragraph:  "Although I question the timing and execution of this move, I respect the President's and Chancellor's prerogative to make a change that gives CU's athletic program a chance at sustainable success – as long as there is a PLAN. If the sum total of the plan is to hire a replacement for Mike to 'run it like a business', then I think we missed the boat…again! If on the other hand the plan is for the entire athletic enterprise to have the organization, tools, resources and support to compete at the highest level, then we should all stand Shoulder to Shoulder ready to do our part".
… Interpretation is in the eyes of the beholder. Solich stated that he remains fully committed to the Buffs, and very much liked Mike Bohn. By the same token, an announcement of a $50 million donation to facilities upgrades, if made by Solich anytime in the past six months, would have almost certainly kept Mike Bohn employed.
Solich stated that he is not a candidate for the athletic director's job, and that may or may not be a good thing. Solich pointed out that the next AD should not only have business savvy, but also a sports background. True enough, but as Solich points out, there needs to be a change in the "culture" in Boulder, and that culture emanates from the top … "the very top".
Does that mean that Solich won't be writing any checks as long as President Benson and Chancellor DiStefano are still in charge?
—
May 30th
Mike Bohn: "I don't know why"
From the Daily Camera … Mike Bohn realizes and respects that the leadership team at the University of Colorado has a right to pick whomever they want as athletic director.
As for why he's no longer their choice, Bohn said, "I don't know why."
Earlier this week, Bohn was forced to resign after eight years as the leader of the CU Athletic Department.
This morning, Bohn addressed the media at the Omni Interlocken Hotel in Broomfield. He said he was "troubled" and "shocked" about CU's decision to go in a different direction.
"I never had a negative evaluation," he said. "I met virtually every expectation and all my incentives for eight years straight."
…
Bohn also spoke with pride about the success of the basketball programs. The women's team went to the NCAA Tournament last year for the first time in nine years, and the men's team has had a three-year run of success unmatched in program history.
"Our national reputation is now one of a basketball school," he said.
…
"Obviously I'm disappointed we weren't able to turn the corner (in football)," Bohn said. "The stain on the football program associated with the challenge is one that has been a bearcat to put together."
In the end, though, Bohn, who grew up in Boulder, said he leaves his post proud of the job he did for his hometown school.
"I am extremely proud of what we accomplished," he said.
—
Ceal Barry: Summer "an important preparation time"
From cubuffs.com … Interim Athletics Director Ceal Barry on Wednesday emphasized how critical the summer months are for University of Colorado athletics and pledged that she and her senior staff will stay focused as the school searches for a permanent AD.
Speaking at an on-campus news conference alongside Chancellor Phil DiStefano, Barry said, "Our purpose as a senior staff and the rest of the staff is to do our jobs with a sense of urgency, without distraction and to stay focused.
"We have competitors in the Pac-12 that we really don't want to allow to get a leg up on (CU). We're a proud university, a proud athletic department. I've accepted this interim position to help the university move on."
"I believe Ceal's long experience and credibility will provide us with strong leadership as we search for a new athletic director," said DiStefano, who named Barry interim athletics director in the wake of Mike Bohn's resignation on Tuesday.
Bohn held CU's AD post for eight years and, said DiStefano, "served the university in an important time of transition and challenge. He made strong contributions . . ."
Barry, CU's winningest women's basketball coach, emphasized that June, July and August represent "an important preparation time" for incoming student-athletes. She said 100 freshmen are scheduled to report this summer – 79 of them scholarship student-athletes. Summer classes begin next Monday.
By early next week, DiStefano plans to begin assembling a search committee and make a decision about hiring a search firm to assist CU. He said he would "love" to have Barry apply, but added, "That's certainly her choice."
Asked if she would be interested, Barry laughed and answered, "I've been doing this for about 22 hours . . . I want to keep my focus on the next three months."
DiStefano said he met with men's basketball coach Tad Boyle on Tuesday and newly hired football coach Mike MacIntyre on Wednesday. "I've asked them to work with Ceal and me during this interim period and make sure we're moving forward, not only in their sports but in all sports," DiStefano said.
The Buffs' search for Bohn's replacement, said DiStefano, will focus on someone qualified to manage a $50 million-$60 million budget that likely will grow annually. "What's really key is that athletics is a big business," he said. "I want to make sure we have an AD who will run the athletic department like a business but also have as a No. 1 priority fund-raising not just for the facilities we need for football but for other issues as well."
Barry said she equated fund-raising to recruiting and trying to land a high-profile prospect: "I compare fund-raising in the same vein. We have to show trust, build relationships with potential donors and show them that this is a wise investment. They may have other options."
CU's new AD, noted DiStefano, will be "an individual who has been in charge of an operation. I'm not saying a business person vs. someone who comes from a university in athletics . . . but business and fund raising perspectives are crucial."
DiStefano said Bohn will paid his annual base salary of $306,000 for the three years remaining on his contract. The payments, said DiStefano, will come from athletic department revenue over time – "and not from any taxpayer dollars or tuition."
—
May 29th
Bohn buyout $918,000 … plus lifetime season tickets
What's another million, when you are already $22 million in debt?
From the Daily Camera … The University of Colorado will spend $918,000 to buy out the remainder of athletic director Mike Bohn's contract, according to a copy of the separation agreement provided to the Daily Camera.
In exchange, Bohn — who had three years left on his contract — promises not to sue the university, according to the separation agreement.
Athletic department revenue will pay for the buy-out. No tuition or taxpayer money will be used, CU-Boulder spokesman Bronson Hilliard said today.
The money will be paid out in three even installments of $306,000 on July 1, Jan. 1, 2014, and Jan. 1, 2015, according to the agreement. The university will not make retirement contributions on behalf of Bohn, according to the document.
Under the contract, Bohn will get a lifetime of season tickets to CU football, men's basketball and women's basketball games. The settlement requires that Bohn return his university-owned vehicle by June 3 and his cell phone and iPad by June 15, according to the documents.
Chancellor Phil DiStefano accepted Bohn's resignation Tuesday afternoon and named Ceal Barry the interim athletic director beginning on June 3.
"The parties mutually agree, under the circumstances, that is is in the best interests of Bohn and the university to sever the employment relationship," the contract says. "Bohn agrees to resign his employment and the university wishes to accept his resignation."
—
Tad Boyle's reaction … "I was shocked, I think like a lot of people were, and surprised," Boyle said Tuesday night of hearing the news of Bohn's departure. "The thing I love about Mike Bohn is his passion for the university and the job he had for eight years. It came through loud and clear every day. He's the guy that hired me and for that I am forever grateful. I'm obviously very loyal to him."
Boyle also made it clear that he believes there is plenty of blame to go around when it comes to the level of support CU's athletic programs receive.
"All constituents of the University of Colorado have to get over their trust or distrust of certain employees," Boyle said. "It shouldn't be as important as their love for the university.
"I think there is a lot of people who like to point to a coach they like or don't like or an athletic director or an administrator as a reason for not being more involved. For us to be successful, that has to go away and the love for the university has to be the most important thing. I've been at other universities where it's like that and that's where we need to go."
—
May 28th
Ceal Barry named as interim Athletic Director
From cubuffs.com … University of Colorado Boulder Chancellor Philip P. DiStefano has named Adele Cecilia "Ceal" Barry interim director of intercollegiate athletics for the university, effective Monday, June 3.
Barry currently serves as associate athletic director for student services and senior woman administrator (an NCAA designation) in the department.  She replaces Mike Bohn, who submitted his resignation earlier Tuesday.
Hired as the women's head basketball coach in 1983 by then-athletic director Eddie Crowder, she has a 30-year history of involvement in CU athletics.  She retired from coaching in 2005 as CU's winningest coach ever in all sports (427 victories), leading her teams to 12 NCAA tournament appearances, including six Sweet 16 and three Elite Eight appearances.  Over 95 percent of her student-athletes graduated and 85 of her players earned Academic All-Conference honors.
"Ceal's experience, leadership and credibility with our athletic staff and stakeholders make her an ideal person to assume this important role as we search for new leadership," said DiStefano.
—
Possible suspects for Bohn's Replacement
With the timing of Mike Bohn's firing still at issue, all that is known for sure right now is that no one saw this coming. As a result, there was no discussion as to a potential replacement for Bohn as the CU Athletic Director.
But that doesn't mean that there hasn't been instant speculation. Some potential candidates:
Rick George – President of Business Operations, Texas Rangers, since 2010 – George was an assistant athletic director at CU between 1987-91 (not exactly a bad point of reference). From his Texas Rangers bio: His experience on the collegiate level includes positions as Associate Athletic Director for External Operations at Vanderbilt University from 1991-98; Assistant Athletic Director, Football Operations at the University of Colorado from 1987-91; and Football Recruiting Coordinator at the University of Illinois from 1983-87 … A four-year starter in football and a 1982 graduate at the University of Illinois.
Tom Bowen … Memphis Athletic Director for the past year. Prior to that, he was the athletic director at San Jose State … where he hired Mike MacIntyre. From his Memphis bio: While at San Jose State, the core of Bowen's mission was building a "Culture of Champions" academically, athletically and in the community. To reach that end, Bowen instilled a greater sense of purpose, commitment and execution from student-athletes, coaches, staff, alumni and friends.
An integral member of the SJSU's presidential staff, Bowen created and implemented short and long-term revenue streams for intercollegiate athletics. He led the Spartan Foundation — the department's fund-raising component — through consistently challenging and uncertain economic conditions to unprecedented fiscal heights at the university. The Spartans produced annual budget surpluses four straight years under his direction and re-invested their gains back into their student-athletes and teams. (Recall the recent story about the San Jose stadium improvements being approved)
In his first four football seasons (2005-08), San Jose State produced more wins than any at the school since 1990-93. Last year, the Spartans were one of the most improved teams in the FBS with road wins at Colorado State and Fresno State and a home triumph in their first meeting with Navy. The 2006 through 2008 Spartans were the first three SJSU teams to post consecutive .500 or better records in the Western Athletic Conference football standings. The 2006 Spartans capped their finest season in many years, posting a 9-4 overall record and capturing the New Mexico Bowl championship.
George Solich … Hey, it worked for Colorado State, didn't it? (Hire a prominent donor as your athletic director). Twenty-five years of oil and gas industry experience in E&P and acquisitions and divestitures. Received a B.S. degree from University of Colorado in May of 1983 and M.S. degree from University of Colorado-Denver in December of 1991. His most notable connections to the sports world are his passion for golf, his position on the board of directors of the Western Golf Association, and his reputation as a long time supporter and donor to the CU athletics program. If he does not lobby for the position himself, he will no doubt have a say in the school's ultimate choice.
Ian McCaw … Baylor Athletic Director since 2003. While Buff fans will recall the bitter feud between the schools when Baylor openly lobbied to be included in the Pac-12 expansion (even to the exclusion of CU), it's hard to deny the rise of Baylor's athletic programs during McCaw's tenure. From McCaw's Baylor bio: Since 2003, Baylor has enjoyed the most competitively successful period in the history of its intercollegiate athletics program. During that span, Baylor has captured three NCAA team championships, 36 Big 12 Conference championships and its first bowl victory in 20 years. This period also includes Baylor's six highest finishes in the NACDA Directors' Cup standings, highlighted by its best finish ever in 2011-12 with a 25th-place ranking. In addition, all 19 sports advanced to postseason competition for the first time in school history … McCaw recently completed a $95 million dollar fundraising campaign that helped improve all sorts of facilities at Baylor.
—
Mike Bohn's letter to CU athletes
Dear treasured Buff,
I am very disappointed to not be able to share this with you in person as you know how much I respect the hard work and dedication you demonstrate daily. I adore our student-athletes and you have and will continue to inspire me big-time!!
Regrettably, I am resigning as Athletic Director effective immediately. I believe it is best given the current circumstances. Campus leaders want to go in a different direction and that is their prerogative. This is a shocking development as we have made so much progress together.
I want to ensure you know,  as my official separation agreement states, that I have not engaged in any impropriety, NCAA rule violations, university policy violation or any immoral, dishonest, or other sort of misconduct.
Our Guiding Principles are a wonderful tool for all of us to stand on during challenging times like this. We have distinguished ourselves on the national level with our integrity and commitment to our Student-Athletes and you and your teammates uphold an impressively high standard for the city of Boulder, State of Colorado and alumni nationwide.
I am so grateful of what you and your team represent. I want you to know that I am proud and honored to have had you as a member of our program.  I CARE deeply about each and every one of  our Student-Athletes. We have made great progress together and I urge you to continue to stand Shoulder to Shoulder in representing our institution with class and distinction.
My family and I have given all of our hearts and soul to the program and I urge you to continue to do the same. We will be in the front row cheering you on this upcoming season and for the rest of your career wherever that takes you. Best of luck and Go Buffs!
Mike
—
CU Press Release on Resignation of Mike Bohn as athletic director
CU press release … University of Colorado Boulder Chancellor Philip P. DiStefano today announced he has accepted the resignation of CU-Boulder Athletic Director Mike Bohn, effective June 3.
"Mike Bohn led CU-Boulder athletics in a time of great transition and change," said DiStefano. "We are grateful to him for his vision, passion and commitment, and for his key role in revitalizing men's and women's basketball, helping us to join the Pac-12 Conference, and in taking important steps to upgrade athletic facilities at CU-Boulder. We wish him well."
DiStefano said he will in the coming days appoint a search committee to conduct a national search for Bohn's successor.
DiStefano said the university will be seeking "a dynamic leader" as athletic director – someone who, he said, "can focus on our key goals of fundraising, building a dynamic organization, and creating long-term sustainability in the athletics mission."
The university in February announced a $50 million facilities fundraising campaign as the anchor of a $170 million multiphase, multiyear upgrade of CU athletics facilities at Folsom Field and the Dal Ward Center, and the development of an indoor practice facility.
"We are seeking a talented leader who can build on Mike's vision and make it a reality," said DiStefano.
Bohn was named the university's sixth athletic director on April 13, 2005, five months after CU Athletic Director Dick Tharp stepped down.
—
Bohn's bio … Bohn grew up in Boulder and graduated from Boulder High in 1979, and was named the CU athletic director in April 2005 after working as AD at San Diego State for 18 months.
In August 2011, Bohn received a five-year extension from the Board of Regents and the Chancellor that secured him into 2017.
In addition to moving Colorado from the Big 12 to the Pac-12 in June 2010, Bohn has overseen the hiring of nine head coaches: Mike MacIntyre, Jon Embree and Dan Hawkins (football); Tad Boyle and Jeff Bzdelik (men's basketball); Linda Lappe and Kathy McConnell-Miller (women's basketball); Roy Edwards (men's golf); and Liz Kritza (volleyball).
Before San Diego State, Bohn was athletic director at Idaho for five years (1999-2003). During his career, Bohn has worked on the athletic department staffs at the Air Force Academy (1984-92) as well as Colorado State (1996-98). He also worked for the College Football Association.
Bohn left Boulder out of high school and played baseball at the University of Kansas, graduating in 1983.