—
CU's Prime Time Spring Game
—
The CU Spring Game was a spectacle unlike anything the Colorado football program has ever seen before, the natural extension of an off-season unlike anything the Colorado football program has ever seen before.
Notes and quotes from CU's Spring Game …
— The Spring Game was sold out, with 45,000 $10 tickets purchased for a contest which had never before attracted more than 17,800. In the end, despite weather more suited for a November home game, CU first Spring Game under the tutelage of Coach Prime had an announced attendance of 47,277 (so you don't have to look it up: CU averaged 42,487 for its six home games last season, with a high of 50,471 for the Homecoming overtime win over Cal, and a low of 33,474 in the season finale against Utah);
"I was amazed," Coach Prime said of CU's "Spring Gameday" atmosphere. "I didn't know that it would be like that. It was unbelievable. It was a moment. It was one of those moments that you will never forget. It was one of those moments to behold like you had to be there. You had to be there. So just lining up in the tunnel, getting ready, and feeling it, our song comes on. And here we go. And we're running out there. It was unbelievable";
— CU has sold out its 2023 season tickets, with CU being able to make such a claim for only the ninth time in school history, the first time since 1996, and for the first-time ever as early as April (for the record, the other eight seasons were 1972, and then a seven-year stretch from 1990-96).
"Selling out of season tickets for the first time in almost 30 years shows how strong our fan base is," CU athletic director Rick George said in a press release. "Selling out at the earliest point before a season in our history is a testament to our fans' thirst to see a championship caliber product on the field.  The 100th season of Folsom Field will be a special one with Coach Prime's first team and a tremendous home schedule on tap.  We expect a full house every game and believe we will accomplish that goal shortly after single game tickets go on sale."
CU finished with a program record season ticket renewal rate of 98 percent, while collecting more than 20,000 interest forms from fans.
Not bad for a 1-11 team, the worst Power Five team in the nation.
— National television coverage, the only Spring Game in 2023 deemed worthy of ESPN coverage, with CU alumnus Chris Fowler and lead mothership football announcer, calling the game.
"The kids don't understand the history of this", said Coach Prime. "Chris Fowler and RG III (and the ESPN) crew I mean, come on … Those guys are legends, and it was significant to me. I mean, seeing Chris Fowler in the weight room working out and doing pull-ups. I mean, that was unbelievable. And just RG III, what they represent and what that crew represents, and I'm good we had the opportunity to perform in front of it."
— Some 310 media credentials handed out. No where near the CU record (over 600 for the 1989 CU/Nebraska game), but a ridiculous number for the Spring Game;
— A quantum leap in CU football coverage for spring practices. Curtis Snyder, in charge of football communications at Colorado, noted Buff football practices have seen "seven to 10 times more media" than last season;
— Over two dozen former Buffs, a Who's Who of CU royalty, making the pilgrimage back to Folsom for the event: Current NFL Buffs Chidobe Awuzie, David Bakhtiari, Mason Crosby, Nate Landman, Isaiah Oliver, Laviska Shenault Jr., Juwann Winfree and Ahkello Witherspoon, together with former NFL Buffs including Tony Berti, Chad Brown, Deon Figures, J.J. Flannigan, Daniel Graham, Darian Hagan, Chris Hudson, Greg Jones, Mike Pritchard, Mickey Pruitt, Tom Rouen, Matt Russell, Nate Solder, Kordell Stewart, Derek West, Michael Westbrook and Alfred Williams.
"I don't know if it was mistreatment or just dissatisfaction for them not coming back for years, but I'm thankful, I'm happy," said Coach Prime. "I just want to rekindle the fire and the passion that they have for the university and let's keep it going because the more those are guys around, I'm happy. I'm enthused and they just bring something to the table when they come, especially when they're allowed to speak to the team in some capacity. That's a plus for us. That's a win-win for us and it's a win-win for them too because they have so much inside of them".
— An eye-popping list of recruits on hand for the game, including four five-star recruits (with one of whom, Class of 2025 wide receiver Winston Watkins, Jr., already being a CU commit). Coach Prime and his staff are not going to land all of the prospects on the list below. Fact is, he's not even going to get half of these recruits.
What is amazing, however, is that CU is attracting this caliber of talent to Boulder …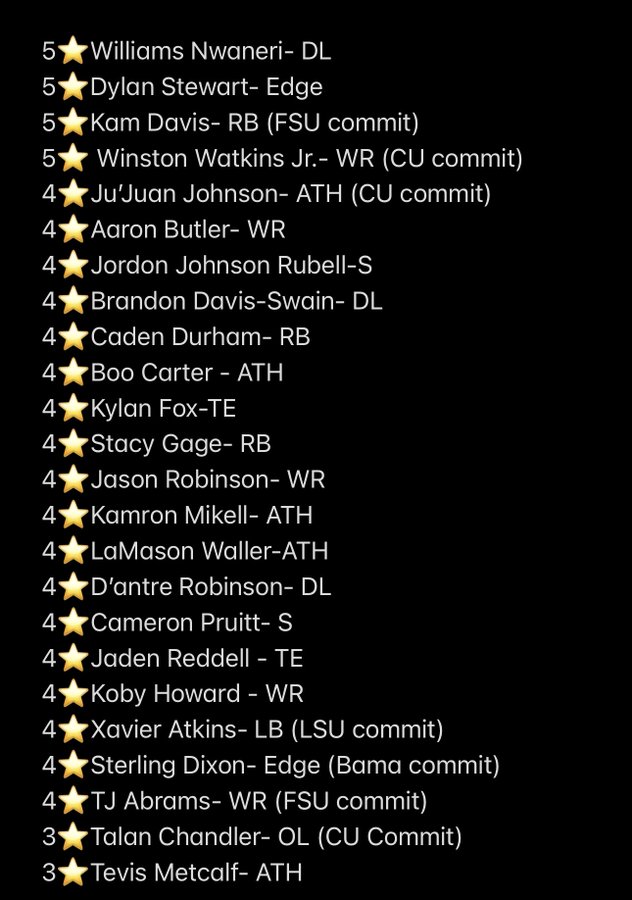 For comparison purposes, here is a list of four-star recruits signed by Colorado in the past decade:
Recruiting Class of 2013 – none
Recruiting Class of 2014 – 1 – WR Shay Fields
Recruiting Class of 2015 – none
Recruiting Class of 2016 – 2 – Ath Beau Bisharat; WR Juwann Winfree
Recruiting Class of 2017 – 2 – WR K.D. Nixon; OL Jake Moretti
Recruiting Class of 2018 – none
Recruiting Class of 2019 – 2 – RB Jaren Mangham; WR La'Vontae Shenault
Recruiting Class of 2020 – 3 – WR Brenden Rice; CB Christian Gonzalez; RB Ashaad Clayton
Recruiting Class of 2021 – 1 – TE Erik Olsen
Recruiting Class of 2022 – none
Coach Prime, with his first recruiting Class, the Class of 2023, welcomed five-star cornerback Cormani McClain, together with three four-star prospects: running back Dylan Edwards and wide receivers Adam Hopkins and Omarion Miller.
Of the four top players signed from the Recruiting Class of 2023, only Dylan Edwards was on the field for the 2023 Spring Game, yet another indication that the product on the field for the Spring Game is not representative of the team which will take the field in Fort Worth for the season opener.
"I don't want them to get misguided because what you see (Saturday) is not what you're gonna see (during the season)," Sanders said earlier this week. Who stays and who goes is unclear. Earlier this month, Sanders said, "We already know who's who, but we're still giving a multitude of opportunities for guys to show that they can play at a certain level and reach a certain expectation that we have. Those guys that we feel like can, we want to make sure they could do it in front of company."
After the game, Coach Prime advised the press in room and the Buff Nation at large to stay tuned … this is going to be a busy month or two for the CU roster.
"You all know that we're going to move on from some of the team members and we're going to reload and get some kids that we really identify with", Coach Prime said in his post-game press conference. "This process is going to be quick, it's going to be fast, but we're going to get it done. I don't know how many parents, kids, and families I've got to meet after this but they waited for me to get up there and we're going to roll but I love it, I love every darn minute of it. I love it. I told you I sat in three seats. That's what you all don't get. I sat in all three seats. What do you mean by that Coach Prime, I'm glad you asked. I was the kid that was recruited, I was the parent sitting by the kid when my sons were recruiting, and now I'm the coach, recruiting the kid and talking to the parent and telling them the God-honest truth no game. No game whatsoever. Straight up."
—
Coach Prime's first set of Spring practices are now in the books. The roster, with over a dozen players opting to join the Transfer Portal in the past week, is now hovering around the permissible number of 85. With Coach Prime expecting to add another 10-12 players to the 2023 roster, the next week to ten days will be a busy one for the outward side of the Portal. "We've got to make some decisions", said Coach Prime. "That's gonna be on me now, that was on them now it's on me".
At the same time, the inward part of the Portal will also be busy. It won't all take place in the next week or two, but Buff fans should not be surprised if there are a few announcements as a result of this weekend's visits. (CU on Saturday picked up a commitment from Kentucky senior cornerback Vito Tisdale, who was not in attendance at the Spring Game).
All we know for sure … there is no off-season for Coach Prime's Buffs. The Spring Game was just the most recent highlight …
–
—–