—
CU in the Spotlight
—
Read any interesting stories on Brent Key lately?
How about Troy Taylor? Zach Arnett? Kenny Dillingham?
All four are taking over as head coaches at Power Five college football programs. All four are taking over as head coaches at programs which had much better seasons in 2022 than bottom-feeder Colorado.
But none of them (for the record, Brent Key is the new head coach at Georgia Tech; Troy Taylor is at Stanford; Zach Arnett at Mississippi State; and Kenny Dillingham at Arizona State) are matching the buzz – and continued national media attention – generated by the hire of Deion Sanders at Colorado.
Hell, even more familiar names who are taking over at Power Five schools … Ryan Walters at Purdue (familiar at least to CU fans); Jeff Brohm at Louisville; Scott Satterfield at Cincinnati; Hugh Freeze at Auburn; Luke Fickell at Wisconsin; and even Matt Rhule at Nebraska (sorry, Cornhusker fans) … are taking a back seat to Prime Time.
And it's not even close.
It was a busy week for Coach Prime … 
The week started off with Coach Sanders making a guest appearance on ESPN's GameDay, the pregame show leading up to the national championship game on Monday night. While the rest of the crew, including Alabama head coach Nick Saban (who was there as an analyst for the game) were wearing blue blazers, there was Coach Prime, decked out in CU gear. Coach Sanders got the opportunity to talk about the Buffs before a national television audience. ESPN didn't ask Matt Rhule to come and talk about the Cornhuskers, or Hugh Freeze to talk about Auburn. Nope. ESPN brought on Deion Sanders to talk about a program CU which went 1-11 in 2022 … and looked bad in doing so.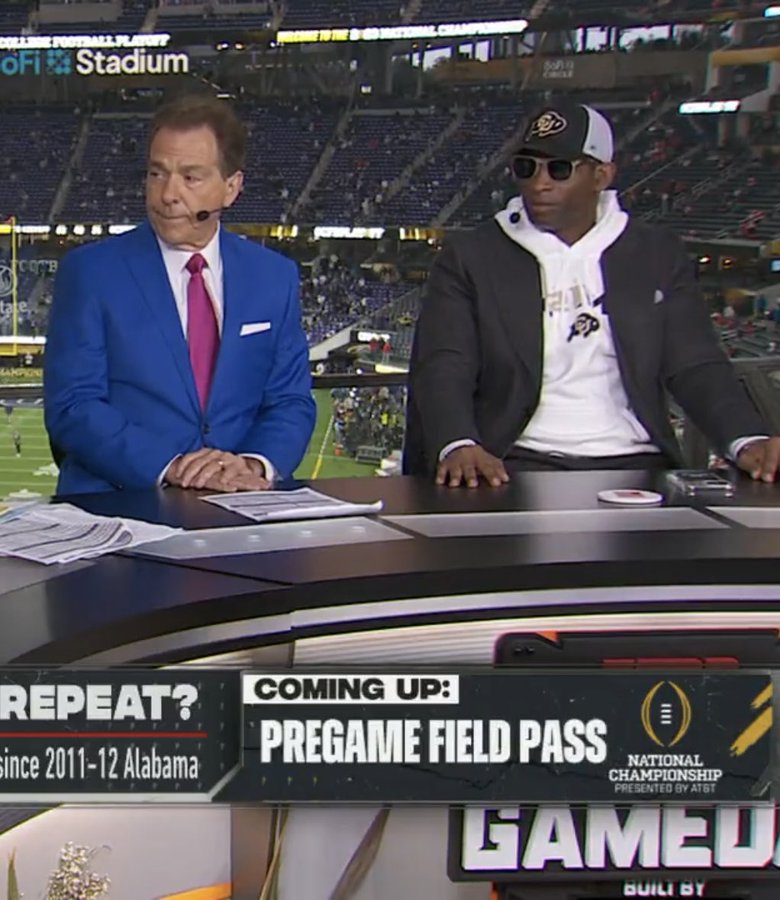 Having the CU head coach on national television would have been quite a coup, but Sanders was far from done. The next morning, Sanders appeared on national television again, this time on CBS This Morning. While the interviewers did not ask Coach Prime much about CU (Sanders deftly deflected questions about leaving an HBCU for a Power Five program and about football injuries like the one sustained by Damar Hamlin of the Buffalo Bills), the CU logo was once again front and center on the national stage.
There were other national media appearances as well. The clip below from the Rich Eisen show brought a smile to the face of many a Buff fan, as Sanders spoke in glowing terms about CU athletic director Rick George, and how it was George's passion which convinced Coach Prime to come to Colorado (plus: how 30-degrees in Boulder isn't as cold as he expected!).
Coach Prime was even making headlines outside the insular world of college football, earning the cover of Gentlemen's Quarterly magazine, with Sanders, along with Allen Iverson and Derek Jeter, being named to the "GQ Sports Style Hall of Fame".
While most Buff fans won't be checking out the GQ article for fashion tips, Coach Prime nonetheless gave the Buff fans a present. In the interview for the GQ article, Sanders was asked about coaching in the NFL.
"I just have no desire to coach rich men," Sanders said. "I'd rather have an impact on a younger man that needs direction."
This is good news for Buff fans, as Dallas Cowboys owner Jerry Jones, whose team Sanders played for from 1995-99, said last month that he believes Sanders would fare well at the professional level.
"Deion is very capable of being a head coach in the National Football League," Jones said in December, according to Clarence E. Hill Jr. of the Fort Worth Star-Telegram. "You couldn't be talking to anybody that knows him any better than I do."
While Buff fans will be hoping that Coach Prime won't be bolting for an SEC team (or a few select teams in the ACC) in the next few years, the Buff Nation can apparently be at ease that their coach won't be leaving to take an NFL head coaching position.
And there was this …
There was a Washington Post article this week entitled, "New admission rules could spark 'Prime Time' at Colorado", which was actually an AP story picked up from YahooSports.
The only reason I mention it here is that the article contains the following:
The website cuatthegame.com posted a letter that said the collective at Colorado, the "Buffs4Life Foundation," had raised about $100,000 — 10% of its goal for its first year — as of Dec. 29, about four weeks after Sanders' hiring was announced.
Not actually quoting anything I said, but it did at least mention the website, which is nice.
So … CU at the Game mentioned in an article posted in the Washington Post (it was also picked up the Oregonian, amongst others), which gave my 85-year old mother something to brag about …
—
And all this, of course, does not include Coach Prime's self promotion … 
We all knew when Coach Sanders was hired that he was his own walking reality show … but I don't think we had any real idea as to how much reality there would be.
The Coach Prime four part series on Prime Video, chronicling the Jackson State 2022 season, is must see TV for Buff fans, as it gives an insight to how Sanders treats his players, deals with coaches and the media, and how he interacts with friends and family.
And, well, if you want to know what Coach Sanders is doing on a given day, from celebrities he is interacting with, to what a day-in-the-life is like, to which restaurants in Boulder he has visited (and graded), there is plenty of daily content available on YouTube.
But the spotlight also brings with it added detractors … 
"There is no such thing as bad publicity" is a quote often associated with Phineas T. Barnum, the 19th century American showman and self-promoter. That may be true to an extent, but, with the added focus on the University of Colorado football program and its new head coach, there has also been some negative stories.
The day his hire was announced, Coach Prime met with the returning members on the Buff roster. As is his way, the meeting was recorded, with Coach Sanders bluntly telling the team that he was coming, and bringing some luggage with him, and that those who might not measure up should be planning on hitting the Transfer Portal.
The speech likely wasn't much different than what other new coaches gave to their new teams. It's not only common for a new coach to clean out out the roster … it's expected. There's actually an NCAA rule which specifically allows a new coach to reject the scholarship players on his new roster. The same goes for commitments for the incoming Class of freshmen. Just like at every other school, the new coaching staff told some of the committed recruits that it would be in their best interests to start looking elsewhere.
The difference for CU and its new coach … everything Coach Prime does and says is recorded.
A few weeks after Sanders was hired, The Athletic ran an article entitled, "Deion Sanders' unwanted Colorado commits searching for a new home".
The Athletic didn't write the articles about the Nebraska commits being asked to look elsewhere, or the commits to Arizona State, Wisconsin, or Auburn.
Nope, the article was about Colorado and its "unwanted" commits.
And then there is the story this week, "Deion Sanders Already Being Called Out By Opposing Coach For Shady Recruiting Tactics", with the head coach at Marshall, Charles Huff, claiming Sanders reached out to a transfer player who was already on campus at Marshall. Now, tampering with players is against NCAA rules, and the accusation is not to be taken lightly, but in light of the current world of buying players with NIL deals (and the recent past of Arizona State still going unpunished for admitted recruiting violations during the 2020 COVID season), this is minor violation at worst.
But again, it's a story because it's Coach Prime.
The negative spotlight has even gotten comical, with a USC fan posting this on Twitter: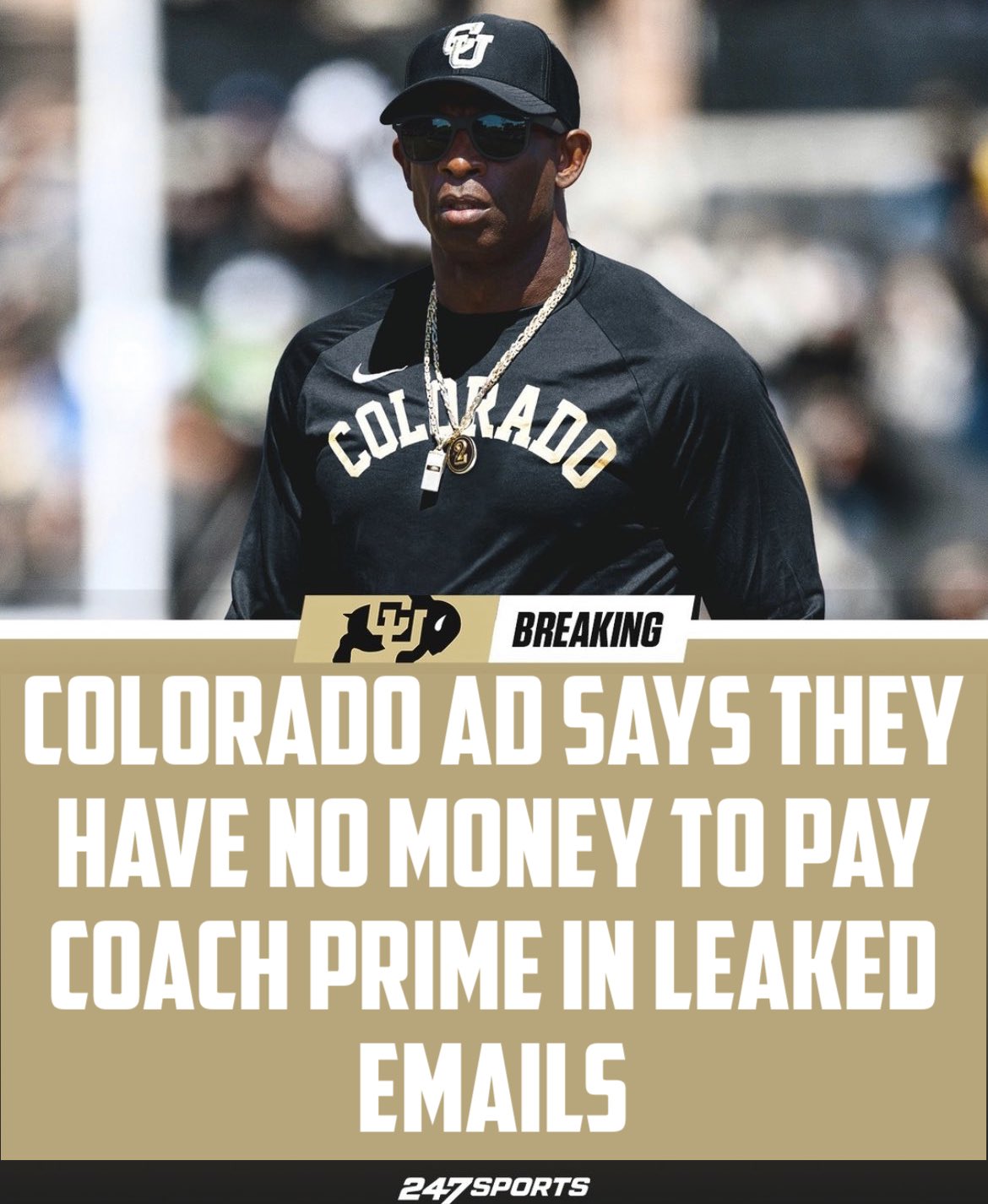 Sigh.
I guess it's some consolation that a fan of a team which has a 16-0 all-time against Colorado feels the need to spread false news about Coach Prime and Colorado. I guess we should be flattered.
Until December 4, 2022, and for years before that, such attacks would have been seen as a low blow, if they would have been posted at all. CU was so irrelevant that the Buffs weren't even the butt of jokes anymore.
Welcome to the spotlight.
—
CU has come a long way in a short time.
Before December 4 2022, the Colorado football program was in disarray. The Buffs had just completed a 1-11 season, with statistically one of the worst offenses in school history, coupled with one of the worst defenses in school history. There was a dearth of talent on the roster, and plenty of empty seats in the stands.
There was even the very valid concern that, when the next round of realignment hit the college football world, that CU would be on the outside looking in, left behind because the once Top 25 national program was no longer relevant in the sport … and no longer a desired commodity for the power brokers of the college football world, the television networks.
Now, is just over a month, the CU brand is everywhere. It's everywhere because Coach Prime is everywhere. He's on national television; he's in national magazines; he's a topic of conversation on every national college football website.
The Buffs spent the month of November being beaten by scores of 49-10, 55-17, 54-7 and 63-21 … and we don't care. It was if the 2022 season was a decade ago. What happened in 2022 will stay in 2022. The Buff Nation is moving on to 2023.
CU is once again in the national spotlight … and Buff fans are enjoying the warmth of its glow.
–
—–