—
CU Coaching Search
—
December 5th 
Neill Woelk: Sanders already 1-0, having won the Press Conference 
From CUBuffs.com … Less than 24 hours after his arrival, Deion "Coach Prime" Sanders is already 1-0 in Boulder.
But Colorado's newly hired football coach didn't just win his introductory press conference Sunday afternoon. Sanders slayed it. He seized the moment, made it his — and took all who watched or listened along for the ride and left them yearning for more.
It was, quite simply, a press conference the likes of which Buffaloes faithful have seldom — if ever — seen in CU history.
Sanders delighted and dazzled a packed house and no doubt did the same to the thousands of folks who tuned in online. He vowed to win, he promised to produce a program that would yield quality young men, he pledged to make education important — and he charmed everyone by deftly mixing moments of swagger with a self-deprecating humility that fairly screamed of success.
But perhaps most importantly, he brought about a renewed sense of hope and confidence to a program that has experienced precious little of either commodity for too many years.
"All you want is the opportunity to win, to compete, to dominate, to be among the elite, to be among the best," Sanders told a crowd that consisted of far more CU supporters than media members. "Darn it, I'm gonna give you that. We're going to outwork 'em. We're going to out-recruit 'em. We're going to develop. We're going to get our education. We're going to graduate these young men … I just want you to know we are on the way. Not to compete but to win, not to show up but to show out, not to be among the rest but to be the absolute best."
Sanders' hiring completed a two-month search by CU Athletic Director Rick George, who spent countless hours researching and vetting potential candidates. His first contact with Sanders came via a short telephone call — and the two quickly struck a connection.
From that point, George began enlisting the support of CU's administration, beginning with president Todd Saliman and chancellor Phillip DiStefano. Both were on board from the early stages and it then became George's task to seal the deal.
… Continue reading story here …
–
—–
December 4th
*Must see TV: Deion Sanders Introductory Press Conference*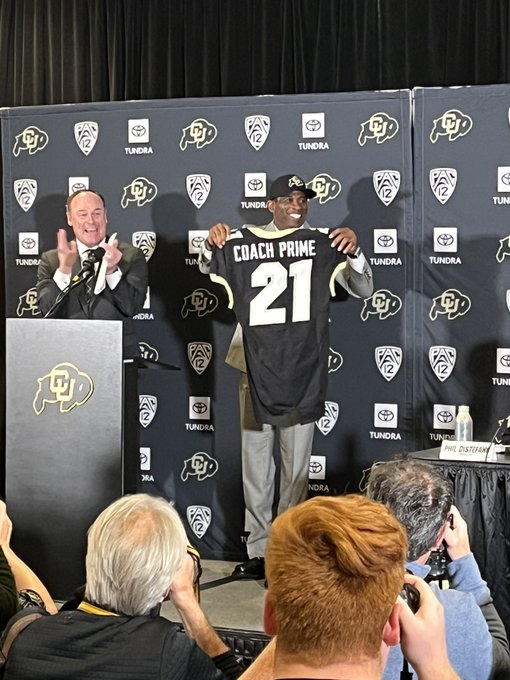 –
—
*Video: Coach Sanders introduced to the team*
… You're gonna love this … "I'm coming. Not to compete, but to win. Not to show up, but to show out" … 
–
—
*Video: Coach Sanders tours the Champions Center for the first time*
… Well worth your time, but if you are looking for great reactions, don't be too disappointed. The tour was at 1:00 a.m. Sunday morning (basically 3:00 a.m. for Sanders and his family … after a pretty long day) …
–
—
Neill Woelk: Home run? Nah. Bigger than that
From CUBuffs.com … Home run?
Nah. Bigger than that.
Colorado's hiring of Deion "Coach Prime" Sanders isn't just one swing of the bat. Sanders' arrival is a program-changing, 180-degree tectonic shift that will immediately turn the focus of college football squarely on Boulder once again.
The analogy that fits?
With Colorado's struggling football program facing a fourth-and-10 from the Buffaloes own 20, Athletic Director Rick George didn't just try to extend the drive.
To heck with simply moving the chains.
George wanted to change the scoreboard, one that has seen Colorado on the short end of a long stick for too many years.
So George threw deep. He surveyed the field, studied the defense, considered the odds, and then ignored the conventional wisdom that suggested the Buffaloes should play it safe.
George went for the win — and if you listen closely today, you can hear Voice of the Buffs Mark Johnson …
"Touchdown! Touchdown Colorado!!"
Indeed.
Colorado's hiring of Coach Prime is in every respect a game-changing moment. His arrival signifies a renewed commitment from everyone involved, from the very top of the CU administration on down.
The message is clear: The flagship program of CU Athletics is important. Its success is integral to the overall health of every program in the department — and it is incumbent upon every stakeholder involved to ensure the program is provided every opportunity to succeed.
Only time will tell what kind of results such a commitment will produce. But no crystal ball is needed to know this much:
Colorado football is relevant again.
Overnight.
… Continue reading story here …
–
—
Strike up the Band!
Members of the CU marching band – and Ralphie – on hand in Boulder this morning to greet Coach Prime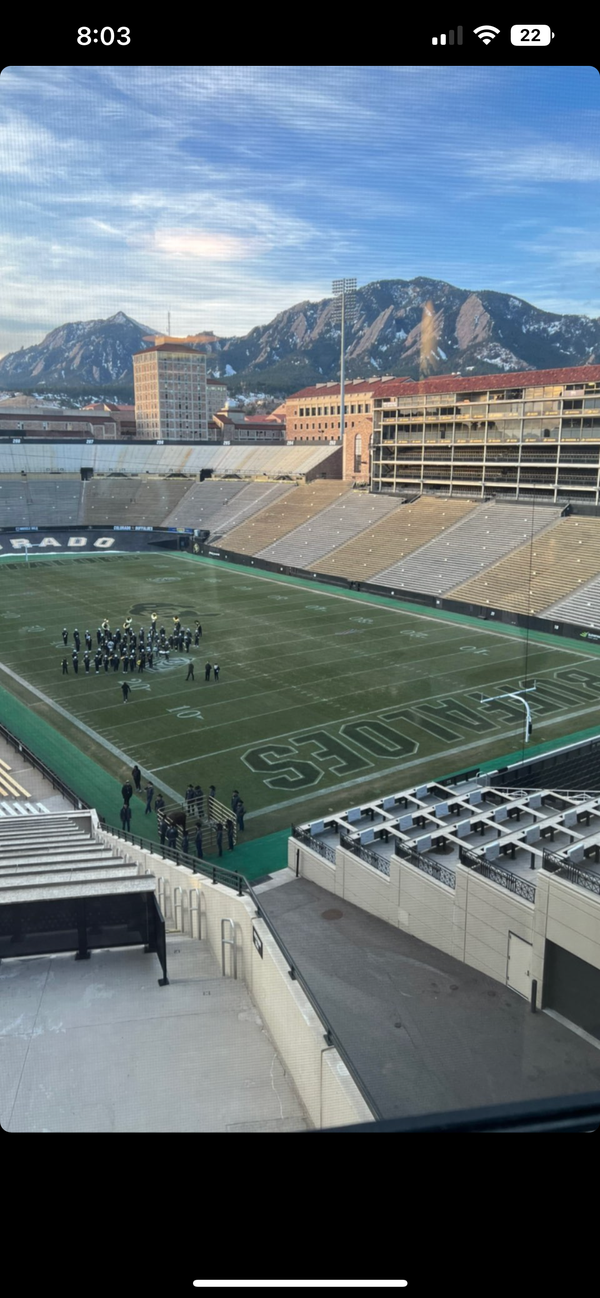 –
—
A Note from CU athletic Director Rick George to the Buff Nation
I'm excited to announce that we have hired Deion "Coach Prime" Sanders as the 28th full-time head football coach at the University of Colorado.
Coach Prime is a nationally prominent figure who will provide an unprecedented lift to our football program and our university and will instantly make the Colorado Buffaloes a force to be reckoned with on the national stage.
Coach comes to CU Boulder after an incredibly successful three years as head coach at Jackson State, where he went 27-5, won back-to-back Southwestern Athletic Conference titles earning him back-to-back SWAC Coach of the Year honors, and in 2021 he won the Eddie Robinson Award as the season's Football Championship Subdivision coach of the year. He is also a member of the Pro Football Hall of Fame after a 14-year career in the NFL, the College Football Hall of Fame, and spent nine years playing Major League Baseball.
Beyond those impressive accomplishments, Coach is a charismatic motivator whose passion and enthusiasm for his student-athletes will make him a great fit for CU Boulder.
We will officially introduce Coach at a press conference on Sunday, December 4 at 1:30 p.m. You can watch the press conference live on CUBuffs.com or via social media.
I greatly appreciate your continued support of Colorado Athletics and hope you will join me in welcoming Coach Prime to the CU family. Go Buffs!
–
—–
December 3rd
… Today … Is … This … The … Day!! … 
Coach Prime informs his team that he is leaving for CU
–
—
CU Press Release: Deion Sanders named head coach 
CU Press Release … Deion Sanders, known as "Prime Time" during his Hall of Fame playing career and has since transitioned into "Coach Prime," has been named the 28th full-time head football coach at the University of Colorado, athletic director Rick George announced Saturday evening.
            Sanders, 55, joins the CU program from Jackson State University (Jackson, Miss.), where in three seasons the Tigers compiled a 27-5 record and won back-to-back Southwestern Athletic Conference championships competing on the Football Championship Subdivision (FCS) level; that mark includes a 12-0 record this season.  Jackson State defeated Southern, 43-24, in the SWAC title game on Saturday.
"There were a number of highly qualified and impressive candidates interested in becoming the next head football coach at Colorado, but none of them had the pedigree, the knowledge and the ability to connect with student-athletes like Deion Sanders," George said.  "Not only will Coach Prime energize our fanbase, I'm confident that he will lead our program back to national prominence while leading a team of high quality and high character."
At Jackson State, Sanders achieved tremendous success on and off the field as a fierce advocate for additional exposure and a level playing field for all Historically Black Colleges and Universities (HBCUs). Sanders brought national attention to HBCUs, pushing for opportunities to highlight its talent and the culture.  In March 2022, Sanders held a Pro Day featuring athletes from four other schools in the state of Mississippi to provide a platform in front of 22 NFL teams and the Canadian Football League.  In April 2022, Jackson State became the first HBCU to have its spring football game televised live nationally on ESPNU.
"Deion Sanders' stature transcends sports, and his hiring elevates not only the football program but the university as a whole," said CU Boulder Chancellor Philip DiStefano.  "I'm thankful Deion has chosen to join our Buffalo family and I applaud Rick George for a truly inspired choice.  This is an exciting new chapter in the long, storied history of Colorado football and I look forward to standing shoulder-to-shoulder with our students, supporters and fans to cheer on "Coach Prime" and our student-athletes next fall."
Sanders first game as head coach for the Buffaloes will be next Sept. 2 at TCU, currently ranked third in the College Football Playoff standings.  His first home games follow on Sept. 9 against long-time rival Nebraska, with in-state rival Colorado State on tap the following Saturday.  Those two foes open the 100th season of CU's historic Folsom Field.
            The "Coach Prime" docuseries from SMAC Productions will premiere later this month on Prime Video and cover Jackson State's undefeated season and Coach Prime's arrival in Colorado.
–
—
CONFIRMED! Sanders informs team he is accepting position as Head Football Coach at the University of Colorado
From BuffStampede.com … The long wait is over. Nine weeks after Karl Dorrell was fired as the Buffaloes' head football coach, Deion Sanders has accepted Colorado athletic director Rick George's offer to lead the herd going forward.
"Coach Deion Sanders has just informed his team that he is accepting the position as Head Football Coach at the University Of Colorado," reported 247Sports college football analyst Carl Reed, who was with Sanders in Jackson on Saturday.
Sanders comes to Colorado after three seasons as the head coach at Jackson State, where he went 27-5 and won back-to-back Southwestern Athletic Conference Championships. The Tigers are undefeated in 2022, following a 43-24 victory over Southern in the SWAC title game on Saturday.
Reed reported South Florida was also in contact with Sanders for its head coaching vacancy. Sanders said there other suitors for his coaching services while trying to deflect questions about the future leading up to Saturday's SWAC title game.
The 55-year old Sanders becomes the 28th full-time head coach in Colorado football history. Including three interim head coaches, Sanders becomes the ninth head coach in Boulder in the last 13 years.
The CU Board of Regents is scheduled to meet on Sunday at 10 am (MST) to approve Sanders' contract, which is expected to be for more than $5 per year with a large salary pool for his staff.
—
From the Daily Camera … It's now Prime time in Boulder.
Pro Football Hall of Famer and current Jackson State head coach Deion Sanders has agreed to become the next head coach of the Colorado Buffaloes, according to a BuffZone source.
Sanders, 55, will be the 28th full-time head football coach in CU history, replacing Karl Dorrell, who was fired on Oct. 2. Mike Sanford had been serving as interim head coach since Dorrell's dismissal.
Nicknamed "Prime Time" during his stellar NFL career as one of the greatest cornerbacks to play the game, Sanders now goes by "Coach Prime," and he comes to CU after a transformational three-year run at Jackson State, an historically Black college/university (HBCU) in Jackson, Mississippi.
… According to reports, Sanders and his associates have already starting the leg work in assembling a coaching staff and they've already talked to recruits about potentially coming to CU.
There is speculation that Sanders will bring his son, Shedeur, to play quarterback for the Buffs. A sophomore, Sanders threw four touchdown passes in Saturday's win against Southern. This season, Shedeur completed 70.3% of his passes for 3,063 yards, 32 touchdowns and only six interceptions.
Even with his son playing quarterback, coach Sanders will take on a major rebuilding project at CU. He will be CU's fourth full-time head coach since 2018.
… Continue reading story here …
–
—
Reading the Tea Leaves – Sanders' flight to Boulder; Special Meeting of Regents set for Sunday morning
CU Athletic director Rick George is presently in Dallas, meeting with the College Football Playoff selection committee.
As sourced out by some enterprising Buff fans, there is a private plane leaving Dallas tonight, heading for Jackson, Mississippi. Later tonight, that same plane heads for the Boulder airport. It's not a stretch to believe that Rick George is picking up CU's next head coach tonight, then escorting him back to Boulder.
Oh, and there is a special Board meeting of the Board of Regents set for Sunday morning at 10:00. The topic? Personnel matter at CU Boulder – Athletics …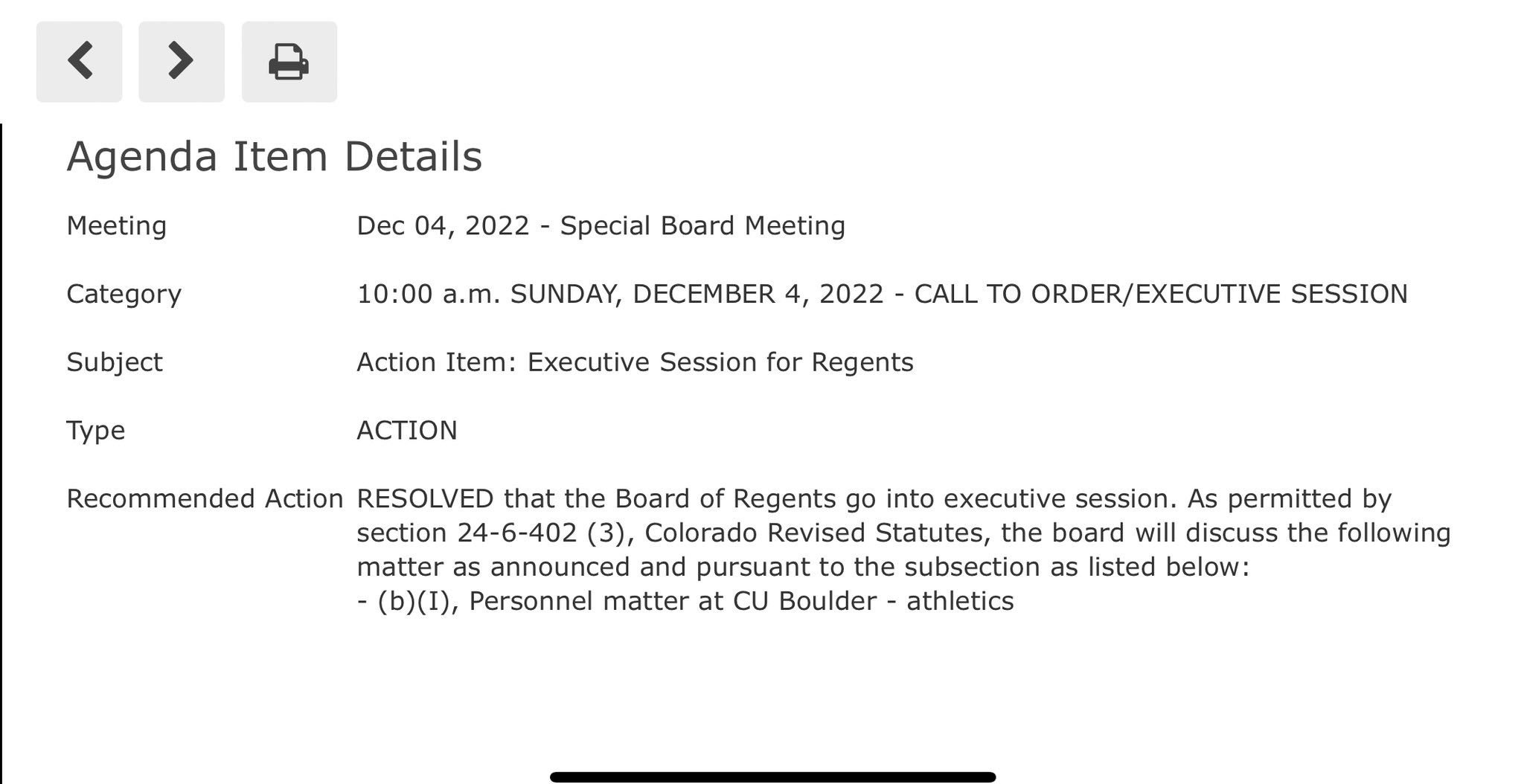 –
—
ESPN – Sanders preparing to take CU job: "They weren't exactly hiding anything"
… Meanwhile … From Brian Howell at the Daily Camera … "No deal yet, but hype growing around Deion Sanders leading CU Buffs" …
From ESPN … Jackson State coach Deion Sanders has been preparing to make an exit in order to take the head coaching job at Colorado, sources told ESPN on Friday.
With Jackson State on the cusp of the SWAC title game Saturday, Sanders and his associates have spent the week making inquiries to both potential members of his on-field staff and support staff at Colorado, pitching them to join him in Boulder, sources said.
A source told ESPN on Friday night that Sanders' outreach included a call to a prominent player in the NCAA transfer portal, encouraging him to not make a decision because Sanders was heading to Colorado and wanted to recruit him there.
A different source close to a player committed to play at Colorado said that earlier this week a current Jackson State staff member called to check in on the player's Colorado commitment. He also asked him for some film of the player to evaluate him.
"They weren't exactly hiding anything," said the source. "It seemed like it was a done deal."
Internally at Colorado, according to sources, the support staff has been seen preparing material for Sanders' hire. There's a widespread expectation in the building that Sanders will arrive there this weekend, although the staff has not been told formally.
"They're not doing a great job of hiding this," said a staff source. "If he backs out of this deal, it would be a huge problem for Colorado."
Sanders has said publicly that he's been offered the Colorado job. All signs point to him accepting it in the next 48 hours, as all the other candidates Colorado has engaged have been stalled after interviewing weeks ago.
… Continue reading story here …
–
—–
December 2nd
Hopefully … Just … One … More … Day … 
Report: CU offering Deion Sanders $5 million/year (plus incentives)
From CBS Colorado … CBS News Colorado has learned the University of Colorado planned to offer Jackson State Head Football Coach Deion Sanders a starting salary of more than $5 million per year to become the next head coach of the Colorado Buffaloes.
Three sources familiar with the negotiations say CU is also offering Sanders a bevy of incentives that if reached, could significantly elevate his annual salary. All three sources spoke on the condition of anonymity as they were not authorized by CU to release details of the tentative offer.
Those sources told CBS News Colorado's Justin Adams the University Board of Regents approved making a multi-year offer to Sanders. Earlier this week, Sanders confirmed he had received an offer from CU, but he did not disclose the details.
According to the CBS News Colorado sources, if Sanders achieved nearly a dozen contractual benchmarks, his annual pay would increase by roughly 40%.
… Continue reading story here …
–
—–
December 1st
… Two Days and Counting … 
The Athletic on Cincinnati opening: "I have no substantial evidence that Cincinnati is in the Deion Sanders sweepstakes"
From Justin Williams of The Athletic … It's why time is of the essence for Cunningham and the Bearcats, as is making the best hire for the future of a program set to enter the Big 12. I released an initial list of potential candidates this week, as did The Athletic's Chris Vannini and Bruce Feldman.
Below is an updated list of candidates based on coaches I've heard have received some degree of buzz or interest for the Cincinnati job. That should not suggest this list is definitive or all-encompassing, because as we saw during the Wes Miller search with basketball, Cunningham keeps a tight lid on these proceedings. It admittedly doesn't look too different from my initial list. There are only a couple of new additions, but it's not a wish list, either. I've also trimmed off a few names that I haven't been able to substantiate in the days since.
One name that Vannini, Feldman and I all had on our initial lists was Iowa State head coach Matt Campbell, with the caveat that he might not be willing to leave the Cyclones. Multiple sources familiar with the search have confirmed that Cincinnati did reach out to express interest in Campbell for the job, but that Campbell declined to pursue it.
Are there any other sitting P5 head coaches the Bearcats could reasonably make a run at, who might be looking for a change of scenery? Jeff Hafley at Boston College? Scott Satterfield from Louisville (who happened to be a candidate in 2016)? None have emerged thus far, dividing the current options into three categories: G5 head coaches, P5 assistants and internal candidates.
G5 head coaches
Jason Candle, Toledo
Sean Lewis, Kent State (new addition)
Mo Linguist, Buffalo
Power 5 assistants
Jim Leonhard, Wisconsin defensive coordinator
Brian Hartline, Ohio State wide receivers coach/passing game coordinator (new addition)
Alex Golesh, Tennessee offensive coordinator
Al Golden, Notre Dame defensive coordinator
Cunningham's search seems to be concentrating on candidates with Ohio/midwest roots and a similar profile to coaches who have succeeded at Cincinnati in the past. The most obvious questions are a) How willing is Cunningham to go with an internal candidate? and b) How much of a premium does Cunningham place on head-coaching experience?
It's not necessarily a flashy batch of names overall. (Sorry folks, I have no substantial evidence that Cincinnati is in the Deion Sanders sweepstakes, aside from this industrious attendee at the UC men's basketball game Wednesday night.) But despite what some revisionists might suggest, there weren't many who were overly giddy about the Fickell hire at the time it was made, either.
… Continue reading story here …
–
—–
November 30th 
… Three Days and Counting …
*Video – Deion Sanders Jokes about CU Offer (Good)*
… The reaction to a question from Jackson State play-by-play announcer Rob Jay – I think – is very positive. Sanders could have taken the opportunity to say he was staying, or that he was still making up his mind. The announcer seems to think Sanders is coming to Boulder, and he probably knows more than we do … 
–
—–
November 29th 
… Four Days and Counting … 
One competitor out of the way? Georgia Tech may have found its new head coach
From ESPN … Georgia Tech has targeted interim coach Brent Key as the school's next head coach, sources told ESPN on Tuesday.
The deal is expected to be finalized in the next 24 hours, sources told ESPN.
Georgia Tech went 4-4 with Key as the interim coach as he took over a program that started the season 1-3 under Geoff Collins, who went 10-28 with the Yellow Jackets before being fired Sept. 26.
Key led the Yellow Jackets to wins over Pitt, Duke, Virginia Tech and North Carolina as they finished 5-7, showing dramatic upticks in energy, performance and fundamentals.
Key is a former team captain and All-ACC offensive lineman at Tech, starting 44 games from 1997 to 2000. He returned to his alma mater as an assistant coach in 2019 and has served as the assistant head coach, run game coordinator and offensive line coach before becoming the interim head coach.
The sides were expected to meet Tuesday afternoon, and an agreement is expected to come together soon after. Key will be the first hire for new athletic director J Batt, who came from Alabama to help revive Tech's athletic department, which has struggled financially and athletically in recent seasons.
The school interviewed 10 to 12 candidates, including Tulane coach Willie Fritz, sources told ESPN.
Tech struggled to lure a big outside name because of the school's reluctance to guarantee large portions of the contract, with the amount of guaranteed money a nonstarter for some candidates.
The school owes Collins more than $11 million, and financial concerns are significant.
–
—
Pro Football Focus Predictions: Deion Sanders to Georgia Tech; Ryan Walters to Colorado
From Pro Football Focus … The end of the college football regular season means the beginning of two of the most entertaining periods of the sport: bowl games and "silly season," better known as the coaching carousel.
There are now eight Power Five openings. Here's who we predict to fill each job.
STANFORD CARDINAL: CHRIS PETERSEN (FORMER WASHINGTON HUSKIES HC)
David Shaw resigned after leading the Cardinal for 12 seasons, becoming the program's all-time winningest coach along the way. However, it hasn't been pretty for Stanford over the past few seasons. The Cardinal have gone 3-9 in back-to-back campaigns and have a 14-28 record over the past four years.
Chris Petersen hasn't coached since 2019, but he could be the man to revive this program. The current FOX analyst has had plenty of success on the West Coast. He led Boise State to four top-10 finishes in the AP poll during his eight years with the Broncos. Then at Washington, he guided the Huskies to two Pac-12 championships and even made the College Football Playoff in 2016. That's still the most recent Pac-12 appearance in the final four.
Plus, Petersen was reportedly interested in the Stanford job back in 2011, when the Cardinal ended up hiring Shaw to replace Jim Harbaugh. If there's any job to persuade Petersen to pick up the clipboard again, it could be Stanford.
GEORGIA TECH YELLOW JACKETS: DEION SANDERS (HC, JACKSON STATE TIGERS)
Georgia Tech needs to make a splash hire, having gone without a bowl game appearance in the past four seasons. Who better to turn things around than Coach Prime?
His Tigers are currently 11-0 and sitting at No. 5 in the FCS in just his third year as head coach. Last year, Jackson State went 11-3, including a conference championship.
Sanders has also dominated on the recruiting trail. Last year, the Tigers landed one of the nation's top overall recruits in Travis Hunter and a top-75 recruit in Kevin Coleman Jr. despite not playing in the FBS. The program finished with the 78th-best overall class in 2022, higher than four Power Five schools. At Georgia Tech, he can potentially compete with Kirby Smart and Georgia for some of the state's best players.
Not to mention, he has ties to the Atlanta area, as well. He not only played for the Atlanta Falcons during his Hall of Fame football career, but he also spent a few years with the Atlanta Braves during his baseball career.
The Yellow Jackets can afford to take a swing of the bat on Deion Sanders. It'd at least provide increased exposure to a program that needs it.
COLORADO BUFFALOES: RYAN WALTERS (DC, ILLINOIS FIGHTING ILLINI)
Like fellow Pac-12 school Arizona State, the best candidate to take over at Colorado could be a former alum. Ryan Walters spent five years as a safety for the Buffaloes before serving as a student assistant there in 2009.
Now the defensive coordinator at Illinois, Walters has overseen one of the nation's stingiest defenses. The Fighting Illini rank fifth in the country in both defensive grade (93.1) and EPA allowed per play (-0.258).
Colorado is in desperate need of a defensive rebuild. The Buffaloes have a putrid 37.3 defensive grade this season, 16 points lower than the next-worst school in college football.
–
—
Special Board of Regents Meeting set for December 7th
… It doesn't necessarily mean that the new coach will be Deion Sanders, but it does seem to indicate that there will be a meeting to approve the contract for the new head coach … And the fact that the meeting is set for next week instead of this week seems to indicate that the announcement will be made this weekend or early next week … 
From the CU Board of Regents website …
Special Board Meeting (Hold)
Contact Email
CUBoardofRegents@cu.edu
–
—–
November 28th
… Five Days and Counting … 
CU Players react to Sanders rumors
From the Daily Camera … Following Saturday's game a few players were asked about the Sanders rumors.
Guard Casey Roddick said the players haven't talked much about the rumors. Quarterback Maddox Kopp said he works out with Shadeur Sanders, Deion's son and JSU's starting quarterback, during the offseason in Houston.
"We work out with the same QB coach," Kopp said. "I'm sure I may see him when I'm back (in Houston) over Christmas break. But, I have no idea (about the coaching rumors). If it happens, it happens and we just kind of go from there. Just kind of playing it by ear and kind of react when the ball comes flying."
Freshman running back Anthony Hankerson smiled when asked about Sanders and said, "Whoever comes in here, I know they're gonna have great leadership. And whoever comes here, I hope they know that they've got a locker room full of men that's willing to fight in the toughest battle because that's all we faced this year."
Senior outside linebacker Guy Thomas won't be at CU for the next coaching regime, but said he feels the Buffs simply need a great leader, regardless of who gets hired.
"That's pretty much what I would like to see out of the new staff – a coaching staff that will bring the guys together as one unit," Thomas said.
–
—
Deion Sanders confirms CU offer, but focus remains on Saturday's SWAC Championship game
From YouTube … "Yeah, definitely, the report is true," said Sanders "They're not the only ones. The report is true. I'm not going to sit up here and tell you all of the business, but they're not the only ones. And I'd be a liar if I said they didn't (offer). You know, they did. I know they did. Everybody knows they did. So it is what it is.
"That's not my focus right now. My focus is to win and to be dominant and then to even go on to the Celebration Bowl, my focus is right here in this beloved stadium, to be dominant Saturday. That's my focus. I keep the main thing, the main thing. Everybody that knows me, knows that about me. I have an innate ability to focus to keep the main thing the main thing."
–
—
Grading New Hires: Wisconsin; Nebraska; and Arizona State get high marks from ESPN
From ESPN …
Kenny Dillingham to Arizona State
Is this a good fit?
Adam Rittenberg: After the Herm Edwards experiment failed, Arizona State needed a coach who understands its advantages and challenges, but someone who also brings perspective from other programs. Dillingham checks the boxes as an alum who has worked in the SEC, ACC and now the Pac-12 as an offensive coordinator. He's incredibly well-connected in the state recruiting scene, where Arizona State hasn't done nearly as well as it could, especially with quarterbacks. Dillingham will hire a staff with similar roots and connections, and ASU soon should keep more of the best prospects at home. His age and lack of head-coaching experience are understandable concerns, but he's a "young old guy" in a sense, given how many prominent places he has coached. Plus, ASU has a history of hiring older coaches and not getting enough out of them. Why not try a different approach?
What will be his biggest challenge?
Rittenberg: Uncertainty surrounding the NCAA investigation and Arizona State's administrative leadership. Dillingham takes over a program unsure of what awaits with potential NCAA penalties. Athletic director Ray Anderson's future also remains in doubt. The circumstances are less than ideal for a first-time head coach who will have an inevitable learning curve. Dillingham will provide excitement, but it's more important he brings stability to a program that hasn't had much in the past year and a half. Things may get worse before they get better, and Dillingham's ability to navigate what's ahead could shape his tenure in Tempe.
Grade: B+
Dillingham will inject energy into the program and fan base. He looks at ASU as a dream job and understands the environment he's entering. But young coaches often struggle under the best of circumstances, and Arizona State's situation is far from ideal right now. Dillingham's staff and support hires will be incredibly important, especially during what could be a rocky first few seasons.
–
Is this a good fit?
Rittenberg: Nebraska needed to reclaim its identity after the messy Scott Frost era, and Rhule has the ingredients to provide what the Huskers need. Athletic director Trev Alberts has been clear that Nebraska must improve significantly along the line of scrimmage and return to its roots as a tough, run-oriented program.
Rhule's teams at Temple and Baylor reflected that approach, and his ability to change the style of play at Baylor (and, to a lesser extent, the Big 12) undoubtedly jumped out to Alberts and the Huskers brass. Nebraska needed a coach who understands some of the realities in the Big Ten, and who can build a team more like Wisconsin and Iowa than Ohio State. Rhule played in the Big Ten at Penn State and embraces the traits that work in the league and that Nebraska has never fully adopted.
Rhule didn't pan out in the NFL, and some Nebraska fans may be concerned about a Bill Callahan redux (Callahan, after all, also arrived with a strong reputation for line play). But Rhule's successful college head-coaching experience makes him different. He also has worked in different regions and should help Nebraska recapture the types of players needed.
What will be Rhule's biggest challenge?
Wilson: The burden of history. Nebraska has lost the mystique that it earned as a powerhouse for decades. He'll be facing blueblood expectations in the face of a changing college football landscape in which Nebraska's reputation has fallen. The Cornhuskers have become an also-ran in the Big Ten, winning three or fewer conference games for six straight years. That won't impact his coaching style, but when you're at a program that has won 43 conference championships, there are still factions that expect you to restore the program to glory quickly.
Low: This is not your grandfather's, or even your father's, Nebraska. The game has changed. The landscape has changed and living up to the incredible standard that Tom Osborne set is unrealistic. But once fans get a taste of that kind of success, even if it was more than two decades ago, they never lose that taste. Rhule needs time to build his program the way he wants to, and it's not going to happen overnight.
Grade: A-
Nebraska landed a proven college head coach who will immediately upgrade the team's line-of-scrimmage play and reflect the right style of play for the Big Ten. Rhule might not be in Lincoln forever but he can stabilize Nebraska's program and restore some of the values the Huskers lost along the way and need to finally compete regularly in the Big Ten.
… Continue reading story here …
–
—–
November 27th
Arizona State hires Oregon offensive coordinator Kenny Dillingham as its next head coach
From ESPN … Arizona State has hired Oregon offensive coordinator Kenny Dillingham as the school's next coach.
Arizona State officially named Dillingham as head coach Sunday but said the hire is pending approval by the Arizona board of regents.
Dillingham is a 2012 graduate of Arizona State and a native of Arizona. He's a former high school coach in the state and started his college career at Arizona State as an offensive assistant in 2014.
"We are proud to announce Kenny Dillingham as our new head football coach. He brings the energy, knowledge and appreciation of our state and university that is valued by all of us," athletic director Ray Anderson said in a statement released by the school. "His knowledge of the current college football landscape, learned by coaching across the nation, is needed and wanted at ASU. He will care at the highest level about our state, our alumni, our former players and every single group that is important to help us win. We look forward to working with him and all Sun Devils in making his staff successful and helping our program reach our goals."
Dillingham, 32, will become the youngest coach in the Power 5. He replaces Herm Edwards, who was fired in September after a loss to Eastern Michigan. The Sun Devils went 3-9 after massive losses in the transfer portal and are in the throes of a major NCAA investigation.
"It is an honor and a privilege to be named the head coach at Arizona State University," Dillingham said in a statement. "This is a special place to myself and my wife who is also a graduate. I truly believe the team we will build here is one that the state of Arizona and all Sun Devils can rally behind and be proud of as it will take everyone in the valley to help this program achieve the level of success it is due. I am excited to get to work and promise no one will work harder than the staff we will put together."
Dillingham has worked as the offensive coordinator at Memphis, Auburn and Florida State, working for Mike Norvell and Gus Malzahn. He's done his best work this year under the Ducks' first-year coach Dan Lanning, who came from the defensive side of the ball.
… Continue reading story here …
–
—
David Shaw resigns after 12 seasons at Stanford: "It's time"
From ESPN … Stanford head coach David Shaw has resigned after 12 seasons at his alma mater.
Shaw announced his decision to step down, effective immediately, after Saturday night's 36-25 loss to BYU in Stanford's season finale.
"I prayed about it, I thought about it," Shaw said. "With every hour it seemed, it was more cemented in my head. The phrase that kept coming to me is: 'It's time.'"
Shaw, 50, said he had not considered resigning until earlier this past week and said he has no desire to coach another team at this point.
"I am not burnt out," he said. "I'm healthy; I feel good. But 16 years is a long time. … 16 years of running a program, 16 years of being responsible for everything and everybody catches up to you."
Shaw steps down as the winningest head coach in Stanford history with 96 career victories. His resignation comes after back-to-back 3-9 seasons and a stretch since 2019 where the Cardinal have gone 14-28.
Stanford is 3-16 in Pac-12 play the past two seasons, including consecutive losses to rival California.
"There are a lot of people that think this program is down. That's what our record says," said Shaw, who finished with a 96-54 record at Stanford. "But I look at the components. I look at the people here, the support that I'm hearing coming from our athletic director, from our university president, the people that are behind the scenes. We're not that far away."
… Continue reading story here …
–
—–
November 26th
The Athletic on CU's offer to Deion Sanders
… Note … Nothing really new in this article, but posting on the offer has become all the rage, so here you go … My sentiment is the same as one poster on the message board for BuffStampede.com: I've been silent and staying that way until ink is dry. Too many scars … Totally agree … 
From The Athletic … Colorado has offered Deion Sanders the head coaching job, sources with knowledge of the situation tell The Athletic's Bruce Feldman. Here's what you should know:
Through three seasons at the helm of Jackson State, Sanders has compiled a 26-5 record. He finished the 2022 regular season 11-0, recording the first undefeated season in program history.
Colorado had been seeking a replacement for Karl Dorrell, who was fired in October after the Buffaloes started the season 0-5.
Backstory
Sanders brought a national spotlight to Jackson State and HBCU football during his three seasons leading the Tigers. In December, he won the recruiting battle for five-star cornerback Travis Hunter, the No. 1 overall prospect in the Class of 2022 who had previously committed to Florida State. Sanders also has family ties to Jackson State, as two of his sons play for the Tigers. Shedeur Sanders is the team's starting quarterback while defensive back Shilo Sanders transferred from South Carolina to play for his dad.
As an athlete, Sanders played 14 seasons in the NFL, recording 53 interceptions and 22 total touchdowns. "Prime Time" was an eight-time Pro Bowler, six-time Associated Press First-Team All-Pro, 1994 Defensive Player of the Year, two-time Super Bowl champion and first-ballot Pro Football Hall of Famer.
Colorado parted ways with Dorrell on Oct. 2 after the team suffered a 43-20 loss to Arizona in which the Buffaloes allowed 673 total yards and six passing touchdowns. The program has surpassed five wins in a single season only once over the last 10 years (10-4 in 2016).
–
—
Nebraska (CU opponent in '23 and '24) hiring Matt Rhule
From ESPN … Nebraska has zeroed in on Matt Rhule as the Cornhuskers' next head coach and the two sides are working on finalizing a deal in the coming days, sources told ESPN on Friday.
Rhule, who was fired by the NFL's Carolina Panthers in October, previously had successful stints in college at Baylor and Temple.
If hired by Nebraska, Rhule would replace Scott Frost, who was fired from his alma mater earlier this season.
The Cornhuskers (4-8) finished their 2022 campaign with a 24-17 win against Iowa on Friday, and an official announcement on the hire could come in the next few days, sources told ESPN.
Rhule, 47, was less than three seasons into his seven-year, $62 million deal with the Panthers when he was fired after a 1-4 start to this season. Overall, he was 11-27 with Carolina, and the team went 1-27 when allowing 17 or more points.
He was still owed more than $40 million when he was fired by the Panthers.
Rhule had a reputation for turning programs around. In his third season at Temple, the Owls went 10-2 in the regular season. A year later, he led the program to its first conference championship since 1967.
At Baylor, just two years after going 1-11 in Rhule's first season for the Big 12 program, the Bears went 11-3 in 2020.
The Cornhuskers fired Frost on Sept. 11 after a 1-2 start to the season and promoted Mickey Joseph to interim head coach.
… Continue reading story here …
–
—–
November 24th – Happy Thanksgiving!
DNVR Speculation on Deion Sanders coming to CU
… And no, they don't know any more than you or I do …
–
—–
November 23rd 
ESPN: "Momentum cooled" on Bronco Mendenhall and Tom Herman? 
From ESPN … Hiring season is here.
For more than two months, the college coaching carousel has included firings, impacting four of the five power conferences (only the Big 12 has been spared). But the time has come for schools to hire replacements, or at least close in on their top two or three targets. Charlotte kicked off the hires last week with a surprising and intriguing choice in Michigan associate head coach Biff Poggi, an accomplished high school coach who has never led a college team. The school interviewed Power 5 coordinators and others with college head-coaching experience but went outside of the box with Poggi.
There's an increased urgency to the hiring decisions, as the transfer portal will open Dec. 5 and the early signing period for high school recruiting begins Dec. 21. Assistants with teams still looking for head coaches have emphasized the need for hires to be made soon.
"We're going to lose all our good players to the portal," a Power 5 assistant said last week.
Wisconsin interim coach Jim Leonhard, who many think is the top candidate for the permanent job, has repeatedly stressed the need to make decisions soon.
"Teams are tampering with other teams' players," Leonhard said last week after a loss to Iowa, in the wake of rumors about Badgers running back Braelon Allen considering a transfer to Michigan.
Leonhard recently told ESPN: "The sooner decisions are made around here, I think a lot of people will feel more comfortable with the direction of the program."
Decisions are coming soon, so here's the latest we're hearing about the open jobs around college football.
Colorado
Athletic director Rick George has been very active the past few weeks, talking to candidates with many different profiles. Until recently, two former FBS coaches not currently working — Bronco Mendenhall (BYU, Virginia) and Tom Herman (Texas, Houston) — had generated the most attention for the Colorado job. But sources told ESPN earlier this week that momentum has cooled considerably with both.
Illinois defensive coordinator Ryan Walters, a former team captain at Colorado with deep roots at the program, remains a strong candidate to watch. But Colorado has leaned more toward candidates with head-coaching experience, including Texas co-defensive coordinator Jeff Choate, the former Montana State coach. Current FCS coaches such as North Dakota State's Matt Entz and Sacramento State's Troy Taylor, a graduate assistant at Colorado in 1995, could get closer looks. Jackson State coach Deion Sanders, the Pro Football Hall of Famer, also is increasingly a name to watch. Colorado sources stress that it's imperative the school makes a hire soon, as the roster damage could be significant if the search continues much past Saturday's season finale.
Arizona State
ASU's search has gone at a slower pace than others, but things seem to be getting organized for a late November push. Along with athletic director Ray Anderson, executive vice president/COO Chris Howard is expected to have a key role in the search. Former Texas and Houston coach Tom Herman certainly is an option, as he has connections to the two states (Texas and California) that ASU must mine for players.
Oregon offensive coordinator Kenny Dillingham should gain consideration despite his age (32). Dillingham, an ASU alum with deep roots in the Phoenix area, has had an excellent season with quarterback Bo Nix and the Ducks' offense.
… Now that we've reviewed the ongoing searches, here's a look at other potential hot spots that could open up in the next week or so …
Stanford
The David Shaw era, which began with such incredible progress, has reached a junction. He almost certainly won't be fired, but changes are needed for a program that is 14-27 since the start of the 2019 season. Will Shaw make the necessary adjustments, or consider stepping aside, perhaps into an administrative role at the university? Both are viable options, according to industry sources.
–
—–
November 22nd
CBS Sports: Ryan Walters "largely considered the favorite"
From CBS Sports … Sunday has all the indications of being a coaching free for all. There are currently eight openings now that the first has been filled with Charlotte hiring Michigan assistant Biff Poggi, but more changes are ahead.
Though pink slips have been limited over the last few weeks, teams looking to make changes are likely waiting until the regular season concludes. That means a handful firings are likely ahead this Sunday — and there may even be some programs ready to make hires now that their top candidates have moved on to postseason play.
Our final Hot Seat Rankings update earlier this month covered many of the jobs that could still come open this cycle. As such, it's time to take one last look at some of those programs before asking who might fill the positions already vacant.
Potential future openings
West Virginia: In Year 4, Neal Brown is headed for his worst season with the Mountaineers — 4-8 if they lose to Oklahoma State. Does the administration even wait to hire a new athletic director?
Navy: It will seemingly be Ken Niumatalolo's call after 16 seasons. The Midshipmen haven't had a winning campaign since 2019.
New Mexico: Danny Gonzales is in the middle of his worst season with the Lobos (2-9, 7-23 overall).
Texas State: Jake Spavital, Johnny Manziel's former offensive coordinator, is 13-34 in Year 4.
Texas A&M: No, not Jimbo Fisher. But he'll most likely be convinced to hire a play-calling offensive coordinator.
Last year, there was record 31 job changes. It won't be anywhere near that this carousel. Maybe ADs are becoming more patient. Maybe there aren't that many jobs to fill. Going into this season, there had been 72 job changes across the last three years.
What we're hearing
Arizona State
Watch for Oregon offensive coordinator Kenny Dillingham to get a good look. ASU may fall into one of the best hires of the cycle. The talented Dillingham seems to be the leader in the clubhouse, but you never know with an administration that got rid of Herm Edwards then retained the AD who hired him (Ray Anderson). Dillingham, 32, is a proven commodity despite his relative youth. His quarterback, Bo Nix, may get a Heisman Trophy invite. Dillingham would be given all kinds of resources to turn around the Sun Devils. In the new Pac-12 (without USC and UCLA), why can't ASU compete for a playoff spot every year?
Los Angeles Rams running backs coach Thomas Brown is said to be interested. Jackson State's Deion Sanders has already taken his name out of the running saying he'd never go "West."
Colorado
Northwestern defensive coordinator Ryan Walters is largely considered the favorite. Walters played safety for the Buffaloes from 2004-08. If he somehow doesn't get the job, there is a long line of worthy contenders. Departed Auburn coach Bryan Harsin is interested, as is former Texas coach Tom Herman, former Virginia coach Bronco Mendenhall and Sacramento State coach Troy Taylor. Texas analyst and former TCU coach Gary Patterson is also interested in getting back in somewhere.
… Note … Ryan Walters is the defensive coordinator at Illinois … which shows you how much CBS (or anyone else) is paying to the CU Coaching search … 
… Note II … Check out the Deion Sanders "quote" with regard to Arizona State opening. Message boards seem to think Sanders is choosing between Colorado and South Florida … Goes to show no one really knows what is going on behind the scenes … 
–
—–
October 19th 
Thinking Outside The box: Trading Coaching Salaries for NIL Enhancements
From ESPN … Perhaps this is the year we stop being numb to the waste, to the GNP of small countries being spent on coaches not coaching. The year when buyout numbers north of $10 million are no longer merely eye-popping and instead become an impetus for rethinking the spending structure.
So far, through five full weeks of the college football season, jobs are opening at a never-before-seen rate. Power 5 schools Nebraska, Arizona State, Georgia Tech, Colorado and Wisconsin have already made changes. There's a chance both Auburn and Louisville end up joining them before Halloween.
Per terms of those contracts, the five jobs would have required paying out more than $60 million in dead money. Some of that will be lessened through negotiated buyouts, including at Wisconsin.
… Can schools find creative ways to spend on players as opposed to burning millions for guys to sip Coronas in beach chairs? While blue bloods such as Alabama and USC aren't changing course, could there be a Moneyball formula that emerges to help downtrodden programs such as Georgia Tech, Arizona State, Nebraska or Colorado bounce back?
Some college football power brokers think so.
"I think there's a healthy reallocation of resources toward the players and less toward guaranteed contracts," a Power 5 athletic director told ESPN. "I don't know if that can happen overnight, but we could see it initially with assistant coaches and staffing."
Head-coaching salaries at established powers aren't going to go down significantly. There's such a thin marketplace for strong candidates that the guarantees on deals aren't likely to dip much, either. The big buyouts are an acknowledgement the coaches are in demand enough that they require long deals with big guarantees.
And the rise in early-season firings isn't going to change, either. Schools can gain a strategic advantage with a quick hook because it allows a new coach to come in and evaluate the roster. Being prepared to attack the transfer portal and December signing day is crucial, but perhaps even more important is a new coach recruiting his own roster to avoid a postseason exodus.
While poaching a current head coach would occur on the same end-of-season timeline, hiring an assistant or someone out of the game could provide a head start. Last year, Texas Tech (Joey McGuire), UConn (Jim Mora Jr.) and Georgia Southern (Clay Helton) made their head-coaching hires in November. All three schools are currently outperforming preseason expectations.
What change can be made? A reprioritization of where schools are asking their boosters to allocate money.
Instead of asking donors to pony up for the biggest-name coach on a big-money deal, they could look for them to spend that money on NIL deals. Mid-level Power 5 schools could look to find the next Sam Pittman, the Arkansas coach who wasn't atop anyone's list of hot candidates when he came to the Hogs at a reasonable cost and turned the program around.
An athletic director could bring in a high-energy young coach or a proven winner at the FCS level, and with the savings on salary, offer them assurances they'll have the resources to have flush rosters. High-end talent is required to win anywhere, and offering a coach better access to it would seemingly be the best possible recruiting technique.
"That would be a rational approach," said another Power 5 athletic director. "It may not win the press conference, but it would make a lot of sense. I'm skeptical that athletic directors would have that kind of discipline."
With rules changes opening the door for schools — via collectives, of course — to indirectly compensate players, it will be interesting to see if schools begin marshaling their resources differently. A school could look to divert a few million dollars that had previously been earmarked for staff salaries and put it toward players.
Schools can't do this directly. But if the money from the local car dealership or big donors is moved to the player recruitment and retention side via the collective, it could represent a paradigm shift. For example, could the extra money Nebraska used to get rid of Frost in September have been used to get NIL deals for a top junior quarterback or a few highly regarded defensive linemen?
Coaches are the biggest stars with the biggest salaries in college football. That's not going to change. But the infrastructure around them could. Instead of $300 million facilities — which resonated more as a recruiting tactic in the pre-NIL days — some of that money could be redirected to roster maintenance and management. Instead of $1 million defensive line coaches, could we see $400,000 defensive line coaches, with that extra cash being used on recruiting and retaining defensive linemen?
… Continue reading story here …
–
—–
October 18th
CU hires search firm of Eastman & Beaudine to assist in coaching hire
From the Daily Camera …
Colorado has retained the search firm of Eastman & Beaudine to help with the process of hiring a full-time head football coach. According to a BuffZone source, CU has had a "high level of interest" in the job, leading to the decision to hire a search firm.
CU fired head coach Karl Dorrell on Oct. 2, with Mike Sanford taking over as interim head coach for the remainder of the season.
Athletic director Rick George employed Eastman & Beaudine in 2018 and the firm helped CU in the process that brought Mel Tucker to Boulder as head football coach that winter.
–
—–
October 12th
Jon Wilner weighs in with his CU candidates
From the San Jose Mercury News … By dismissing Karl Dorrell last week, the administration gained two months of preparation time. So long as a successor is in place by early December, the Buffaloes will have a chance to salvage a 2022-23 recruiting class that's better than you might think given the on-field product.
In fact, we began our research into Colorado's hiring process right there — with recruiting.
Absent a head coach who can maximize the talent pipeline, the Buffaloes will be right back in this position in three or four years, mired at the bottom of the standings, looking for a head coach and hoping to recapture the glory years.
CU is a tough job, one of the toughest in the Pac-12. A chief reason for that existence is the lack of in-state talent. Colorado not only compares poorly to California but also to Utah and Arizona.
… If the local talent leans big, perhaps the Buffaloes should consider hiring a coach with that background: Someone who was an offensive lineman, has coached and developed offensive linemen or, at the very least, favors a run-heavy scheme.
The list below, grouped into three categories, is more comprehensive — we selected coaches with backgrounds in other facets of the game.
But CU should consider reverse engineering its search strategy, first determining what style of play is most likely to succeed given the talent pipeline, then finding a coach who can maximize that pool of players.
Candidates we dismissed for various reasons but might reconsider later in the search: Utah State coach Blake Anderson, UNLV coach Marcus Arroyo, former CU player/Chiefs coordinator Eric Bieniemy, Rice coach Mike Bloomgren, Air Force coach Troy Calhoun, Oregon offensive coordinator Kenny Dillingham, former Texas coach Tom Herman, Oregon State offensive coordinator Brian Lindgren, BYU coach Kalani Sitake, Sacramento State coach Troy Taylor
*** Up-and-comers
Head coaches at the Group of Five level or coordinators in the Power Five who could be desirable options come December.
San Jose State coach Brent Brennan: The Bay Area native and UCLA graduate rates an 11 when it comes to recruiting energy and community engagement, and his Spartans are on their way to a second MW division title in three years. In every regard except alma maters, Brennan is the anti-Dorrell.
Coastal Carolina coach Jamey Chadwell: One of the hottest coaches in the Group of Five is 28-3 since the start of the 2020 season. He has no experience coaching in the western half of the country and might have his pick of Power Five opportunities. In that regard, he's both an up-and-comer and a reach candidate.
USC defensive coordinator Alex Grinch: If the Trojans keep winning and the defense isn't a hindrance, Grinch will be the top coordinator candidate within the Pac-12. He spent a few years on the Wyoming staff, then ran Mike Leach's defense in Pullman for three successful seasons before moving to Ohio State and Oklahoma. Put him on the short list.
–
—–
October 7th
Athlon Sports adds some new names to the prospect list
From Athlon Sports … Karl Dorrell was fired as the head coach at Colorado on Sunday. The Buffaloes were just 8-15 under Dorrell and were off to an 0-5 start in the 2022 college football season. Colorado ranks last in the Pac-12 in scoring offense and defense and lost all five of its games by 23 or more points. Defensive coordinator Chris Wilson also was dismissed on Sunday. Offensive coordinator Mike Sanford is expected to work as the interim coach for the remainder of the year. The Buffaloes are off in Week 6 before returning to play on Oct. 15 versus California.
Who could replace Dorrell at Colorado? Here are some names to watch:
Blake Anderson, Head Coach, Utah State
Utah State is off to a slow start in 2022 (1-4), but Anderson is 63-44 overall as a head coach and has previous experience working at a Power 5 program from a stint at North Carolina (2012-13). Anderson went 51-37 and had just one losing season at Arkansas State from 2014-20. He inherited a Utah State team that went 1-5 in '20 but guided the program to an 11-3 mark with a Mountain West title in '21.
Brent Brennan, Head Coach, San Jose State
Brennan's name could pop up in the search at Arizona State, so it wouldn't be a surprise to see him mentioned at Colorado. The California native has Pac-12 experience from stints as a graduate assistant at Washington and Arizona, along with a six-year run as the receivers coach at Oregon State (2011-16). San Jose State is not an easy job but Brennan has brought steady progress to the program. After a 3-22 start, the Spartans are 20-16 over the last four years and won the Mountain West title in '20.
Willie Fritz, Head Coach, Tulane
Fritz has won at every stop in his coaching career and should get a look for Power 5 openings this offseason. The Kansas native went 97-47 at Central Missouri from 1997-09 and guided Sam Houston State to a 40-15 mark over four years (2010-13). He departed the Bearkats for a two-year stint at Georgia Southern (2014-15) and guided the Eagles to a 17-7 mark. Fritz took over at Tulane in '16 and is 35-44 at one of the AAC's toughest jobs. The Green Wave are 4-1 through five games this season and posted at least six wins in three consecutive years (2018-20).
Alex Grinch, Defensive Coordinator, USC
Grinch's name is likely to pop up in searches this offseason, as the Ohio native has helped USC's defense take a big step forward in his first year with the program. The former Mount Union player has no head-coaching experience but has built a solid resume from other stints as an assistant at Missouri, Washington State, Ohio State and Oklahoma.
Jay Hill, Head Coach, Weber State
If you are looking for an under-the-radar coach to watch in Colorado's search, Hill could be a name to remember. The Utah native worked with the Utes as an on-field assistant from 2005-13 and took over at Weber State prior to '14. The Wildcats went 2-10 in his debut but hasn't posted a losing record in each of the last seven years. Weber State is 62-36 under Hill and has earned five trips to the FCS Playoffs.
Jeff Lebby, Offensive Coordinator, Oklahoma
Lebby doesn't have any experience as a head coach, but he's one of the rising stars in the assistant ranks and a wide-open style of play would certainly work in the Pac-12. The Texas native had stops as an assistant at Baylor, Southeastern, UCF and Ole Miss before landing at Oklahoma prior to '22.
Sean Lewis, Head Coach, Kent State
Lewis runs a wide-open offense and has an entertaining style of play that would be a good fit in the Pac-12. Also, the Wisconsin native is one of the youngest head coaches (36) in the nation and a rising star in the MAC. Dino Babers' protege went 2-10 in his debut (2018). However, the Golden Flashes – one of the MAC's toughest jobs – are 19-17 over the last three years and won the East Division in '21. Lewis is a native of Wisconsin and has no Pac-12 coaching experience.
Todd Monken, Offensive Coordinator, Georgia
Monken is among college football's top play-callers and has experience as a head coach from a three-year stint at Southern Miss (2013-15). The Golden Eagles showed marked improvement over his tenure, as the program went 1-11 in '13 but finished 9-5 two years later. Since the stint at Southern Miss, Monken has worked in the NFL (Buccaneers and Browns) and has called the plays at Georgia since '20. Monken has no Pac-12 experience but has a wealth of experience from stops at Eastern Michigan, Louisiana Tech, Oklahoma State and LSU.
–
—–
October 6th
The Athletic: Head coaches CU "should at least ask"
From The Athletic … Paul Chryst's ouster from Wisconsin Sunday was a surprise. But Karl Dorrell? Not at all.
Colorado is 0-5 and 4-13 in the past two seasons. The roster is dreadful by Power 5 standards. This is going to be a really tough job. It doesn't have a great recruiting base, and it's got a pretty shaky positioning regarding conference stability. Colorado also hasn't had back-to-back winning seasons in almost 20 years, dating back to 2004-05. There's been just one Top 25 season in the past 20 years, a No. 17 finish in 2016 under Mike MacIntyre.
How can Colorado fix this? Who wants to try? The latter is just as important a question.
Candidates with head coaching experience
Bronco Mendenhall: Former BYU and Virginia coach Bronco Mendenhall is available. He's a defensive-minded coach who had a solid run at Virginia after going 99-43 at BYU. He knows this region well and would feel like a pretty safe hire. Would he fire up the fan base? Probably not, but could he develop the Buffaloes into a bowl team? Probably.
Kalani Sitake: The guy who followed Mendenhall at BYU, Sitake would also make some sense. His teams are always very physical and play hard. Sitake has a strong recruiting reputation on the West Coast and in Hawaii, which is a big bonus. He also has a lot of Pac-12 experience and is doing an excellent job at his alma mater. He is 25-5 the past three years. BYU is headed to the Big 12 and that likely means more stability, or at least certainty, in Provo than Boulder. Would he be tempted to leave what he has for Colorado? We're skeptical, but the Buffaloes should at least ask.
Troy Calhoun: The Air Force coach, 56, knows the area very well from his time at the Academy and as a Denver Broncos assistant. He's a creative offensive mind and a consistent winner. In the past four seasons, he's 28-9.
Justin Wilcox: An Oregon native, Wilcox is only 29-30 at Cal but that is a very challenging Pac-12 job for all sorts of reasons. Because of that, we think he might be open to making this move if CU makes a real push for him.
Bryan Harsin: Another former Petersen assistant, Auburn head coach Harsin might merit a look. It seems like a long shot he's going to be in the SEC much longer. He's 9-9 in a year and a half at a place where most of the key Auburn folks never wanted him in the first place. If and when Harsin gets pushed out, he might be worth a look in Boulder. He led Boise State to four Top 25 seasons in seven years there.
Ricky Rahne: Old Dominion's head coach, a Colorado native, doesn't have a ton of head coaching experience. He also doesn't have a winning record at the Sun Belt school, going 8-10 so far, but he led the school to a bowl in his first year and then to a win over Virginia Tech in the opener this season. The former Penn State OC is expected to at least get some consideration, but obviously it'd help his cause a lot if the Monarchs, 2-3, can start piling up some wins. Knocking off Sun Belt power Coastal Carolina on the road in their next game would be a nice start.
–
—–
October 5th 
Another list: Three current FBS coaches would be good fits for Colorado
From YouTube … 365 Sports weighs in …
–
—–
October 3rd 
Daily Camera adds more names to the list
From the Daily Camera … But, here's BuffZone's initial list of candidates to keep an eye on as the Buffs go through their hiring process.
Blake Anderson, Utah State head coach: Aggies are off to a rough start (1-4), but Anderson led them to the Mountain West title last year, his first in Logan, Utah. He also won two Sun Belt titles during his time at Arkansas State. In eight-plus seasons as a head coach, he has a 63-44 record with three bowl appearances. Also has extensive experience as an offensive coordinator.
Marcus Arroyo, UNLV head coach: After going 2-18 in his first two years at UNLV, Arroyo is 4-1 with the Rebels this year (including a win over Anderson's Aggies). Has more to prove as a head coach, but built a great reputation as an assistant, most recently as the offensive coordinator at Oregon from 2017-19. A California native and former San Jose State quarterback, he has deep roots in the Pac-12 footprint.
Jeff Grimes, Baylor offensive coordinator: Has never been a head coach, but he's had very prolific offenses as a coordinator, both at Baylor the last two seasons and at BYU (2018-20). A long-time offensive line coach, he knows Boulder. He was the Buffs' line coach/assistant head coach from 2007-08. Has spent the past 22 seasons coaching at either BYU or Power 5 schools.
Alex Grinch, USC defensive coordinator: Another highly respected assistant who has yet to be a head coach. He transformed the Washington State defense as the Cougars' coordinator from 2015-17. After spending 2018 at Ohio State, he was hired as the defensive coordinator at Oklahoma in 2019. This year, he followed head coach Lincoln Riley from Norman to Los Angeles.
Tom Herman, CBS Sports: He was fired by Texas on Jan. 2, 2021, four days after his depleted roster routed CU, 55-23, in the Alamo Bowl. He went 32-18 with four bowl wins and three consecutive top-25 finishes in four seasons at Texas, but that wasn't good enough for Texas. It's more than good enough in Boulder. Herman also went 22-4 in two seasons as Houston's head coach (2015-16). Prior to being a head coach, he spent 10 years as an offensive coordinator at four stops (Texas State, Rice, Iowa State, Ohio State).
Jay Hill, Weber State head coach: A Utah lifer, he may not have interest in CU – and he's clearly a lower profile name than most on the list – but it's worth a look. The Wildcats are 4-0 this year (including beating Utah State) and Hill is 62-36 with four Big Sky titles and five FCS playoff appearances in nine years. Prior to that, the Lehi, Utah, native and former Utah cornerback was a long-time assistant with the Utes (2001-13).
Troy Taylor, Sacramento State head coach: The engineer of high-powered offenses, Taylor finally got a head coaching opportunity in 2019 at Sac State. In his two full seasons (the 2020 season was canceled), he led the Hornets to two conference titles and he was Big Sky coach of the year both times. This year, his team is 4-0 (for the first time since 1982) and ranked No. 5 in the FCS. He was Utah's offensive coordinator from 2017-18 and spent one year (1995) as a graduate assistant at CU.
Jeff Traylor, UTSA head coach: Now in his third season at UTSA, Traylor is the reigning Conference USA coach of the year. He led the Roadrunners to a 12-2 record and C-USA title last year. He is 22-9 overall (3-2 this year). The Texas native has previously worked as an assistant at Texas, SMU and Arkansas.
–
—
CBS Sports lists its potential candidates
From CBS Sports …
Troy Calhoun, Air Force coach: If you want a Rocky Mountain version of Lance Leipold, Calhoun is your man. The Falcons continue to lead FBS in rushing. Four times since 2017, Air Force has won 10 games; it defeated CU again this season by 31 points. Calhoun is a former NFL offensive coordinator. Don't worry about the triple option thing. He runs that because he's at service academy. Calhoun would run a conventional offense at Colorado.
Ryan Walters, Illinois defensive coordinator: Rick George is going to have to take a long, hard look at this rising star. Walters played safety for Gary Barnett and Dan Hawkins from 2004-06. In 2009, he was a student assistant before embarking on a career that took him to Arizona, Oklahoma, Missouri and Illinois. Bret Bielema thought enough of the 36-year-old Walters to go get him from Mizzou. The Illini currently have the No. 3 total defense. Because of the complexities at CU, Walters probably needs a starter job elsewhere.
Bryan Harsin, Auburn coach: We provide this as a public service announcement, but it makes total sense. Harsin is a trout out of water in the SEC. He is much more comfortable in the cool, native streams of the West. OK, enough of the analogies. Call it a bounce back after the inevitable. But that would be the problem with the hire. Harsin would come to CU on the rebound.
Eric Bieniemy, Kansas City Chiefs offensive coordinator: This another name that must be on the list … just because. Bieniemy is an all-time hero with the Buffaloes. His accomplishments in the NFL as a Super Bowl assistant shouldn't have to be recited. But there is the concern that no NFL team has hired him.  What might kill this candidacy is obvious: Bieniemy was Jon Embree's offensive coordinator. Embree lasted two years.
Dan Mullen, ESPN analyst: Mullen is interested in getting back into the game after a year on the sideline following a collapse at Florida. Don't know how his personality would mesh with Colorado, but the Buffaloes absolutely have to consider one of the best coaches not presently leading a team. Mullen has a career record of 103-61 with seven bowl wins. He remains a quarterback whisperer, and as we've found out time after time, if you've got a quarterback, you've got a chance.
Willie Fritz, Tulane coach: One of the most respected names in the game. Fritz showed his ability eight days ago in an upset at Kansas State, then followed it up with a win at Houston. He has coached at every level — high school, community college, Division II, FCS, FBS. A Power Five opportunity awaits. Fritz is off to one of his best starts at 4-1 this season. One drawback: Fritz is 62.
Barry Odom, Arkansas defensive coordinator: Odom is ready to put himself out there three years removed from his firing at Missouri. Arkansas went to another level defensively went Sam Pittman hired him in December 2019. Odom shaved 85 yards per game off the Hogs average from 2020-21. He also brings head coaching experience having gone 25-25 at Missouri.
–
—–
October 2nd
CU has more competition: Wisconsin fires head coach Paul Chryst
… Figures … CU can't even keep the nation's attention for an afternoon. There are now five open FBS coaching spots … Nebraska, Arizona State, Georgia Tech, Wisconsin and Colorado … CU definitely to be looked upon as the worst of the five … 
From ESPN … Wisconsin has fired coach Paul Chryst after the team's 2-3 start, sources told ESPN.
Defensive coordinator Jim Leonhard will serve as interim coach for the remainder of the season, sources said. The decision came Sunday, a day after Wisconsin lost 34-10 to Illinois, coached by former Badgers coach Bret Bielema. Wisconsin fell 52-21 to Ohio State on Sept. 24, one of its worst losses in recent memory, and fell at home against Washington State as a heavy favorite.
Chryst, 56, finishes 67-26 in seven-plus seasons at Wisconsin, his alma mater. He won 10 games or more in four of his first five seasons with the Badgers, winning a Cotton Bowl and and Orange Bowl, and three Big Ten West Division titles. But the program fell off beginning in 2020, going 4-3, before a slow start to the 2021 season.
According to Chryst's contract, Wisconsin will owe him $16.4 million if he's fired without cause, although a different settlement could be negotiated.
Leonhard, a three-time All-America defensive back at the school, returned to Wisconsin as an assistant in 2016 and took over as defensive coordinator the following year. He has long been viewed as a potential successor to Chryst and is expected to be a candidate for the permanent job.
–
—
The Athletic: What Names Could be in the Mix?
Note … The author of the piece, Chris Vannini, opened with the names of Kansas City offensive coordinator Eric Bieniemy and Air Force head coach Troy Calhoun. Easy names to put on the list, but neither are realistic candidates. Hopefully, the other names on the list involved more homework … 
From The Athletic …
Baylor offensive coordinator Jeff Grimes was a Colorado assistant from 2007 to 2008 and has done a good job producing a physically tough Baylor offense. The Bears improved from 100th in scoring in 2020 to 40th in Grimes' first season, and that's up to 28th this season. Last year's Baylor offense finished ninth nationally in rushing yards per carry. The Texas-native Grimes has coached all over the country, and he's been a Broyles Award finalist at BYU and Baylor in each of the past two years.
Auburn head coach Bryan Harsin is not quite on the market yet, but he seems destined to be fired given the struggles this season, the loss of his athletic director and the upcoming schedule. He's never been a natural fit in the Southeast. If he's let go during the season, Colorado could take a look. Harsin went 69-19 as Boise State's head coach, and the program has fallen off since he left. He's a Boise native who knows how to recruit the West Coast and in Texas, where CU needs to find players.
Oregon State offensive coordinator Brian Lindgren was Colorado's OC from 2013 to 2017. He's familiar with the program and one of the few times it had success in that 2016 season. Lindgren's creative and shift-heavy OSU offense led the Pac-12 in yards per play last year.
Old Dominion head coach Ricky Rahne is a Colorado native. He's 8-10 in his second season at ODU, including 7-4 in his past 11 games. The Monarchs sat out the 2020 season due to the pandemic and reached a bowl game last year. This season, ODU beat Virginia Tech and nearly beat Virginia as well.
Central Michigan head coach Jim McElwain had a successful run as Colorado State's head coach, going 22-15 from 2012 to 2014, including a 10-2 season. He won two SEC East titles in three years at Florida, and he's 21-17 at CMU after taking over a 1-11 program. He's a Montana native with lots of familiarity with the region, but his CMU team is off to a 1-4 start this season.
Former Oregon head coach Mark Helfrich was Colorado's offensive coordinator from 2006 to 2008 and has received interest for this job before. Helfrich went 37-16 as a head coach in his four seasons at Oregon from 2013 to 2016. Marcus Mariota won the Heisman Trophy and Oregon reached the national title game in 2014, but the Ducks fell off quickly, going 4-8 two years later. Helfrich last coached in 2019 as the Chicago Bears offensive coordinator, and he's spent the past few years as an analyst for Fox.
Washington offensive coordinator Ryan Grubb has been on the West Coast since 2017, at Fresno State and now Washington, as Kalen DeBoer brought him to Seattle. The Huskies are now 4-1, with Michael Penix Jr. leading the nation in passing.
Former USF head coach Jim Leavitt would be a long shot, but he was a candidate when the job opened in 2018. Leavitt did a remarkable job turning around the CU defense as its defensive coordinator from 2015 to 2016, before leaving for the same job at Oregon. He last coached in 2021 as SMU's defensive coordinator, and Sonny Dykes didn't bring him to TCU.
North Dakota State head coach Matt Entz has continued the ridiculous level of success at NDSU, with a 41-5 record and two national championships in three-plus seasons. Chris Klieman's success at Kansas State has shown that an NDSU coach can win at the Power 5 level, and Craig Bohl continues to do a solid job at Wyoming.
Weber State head coach Jay Hill is 62-36 in nine years and has turned the Wildcats into one of the top programs in the FCS. Weber State already beat defending Mountain West champion Utah State 35-7 this season as part of a 4-0 start. Hill was a Utah assistant from 2001 to 2013, so he has a deep understanding of how that program was built.
Arkansas defensive coordinator Barry Odom went 25-25 in four seasons as Missouri's head coach from 2016 to 2019, with just one losing season. The 45-year-old inherited an Arkansas defense ranked 124th in scoring in 2019 and improved that to 39th last year.
Former Virginia and BYU coach Bronco Mendenhall has plenty of experience in the mountains and out west. He's 135-81 as a head coach, including 99-43 at BYU and 34-28 in his final five years at UVA. The 56-year-old is a defensive coach, but Virginia had one of the most explosive passing offenses in the country in his final years. He stepped away from Virginia on his own last year but made sure to say it wasn't a retirement.
Illinois defensive coordinator Ryan Walters was a Colorado safety in the mid-2000s and grew up in the state. The Illini defense leads the nation in scoring this year, most recently holding Wisconsin to two rushing yards in Camp Randall Stadium. In Walters' first season last year, the Illini improved from 97th in scoring to 29th.
–
—–