—
Colorado Daily
—
May 27th
… CU in a few minutes … 
CU Assistant coach salary pool largest in school history
From the Daily Camera … The Colorado football program will have the largest assistant coach salary pool in its history this season, topping the $4.5 million mark for the first time.
Per contract information provided by CU, the 10 full-time football assistants will make a combined $4.59 million this year. Each of the assistants will have a higher salary in 2024, pushing the total to $4.95 million.
When CU hired new head coach Deion Sanders in December, it included in his contract that the university would guarantee $5 million annually for Sanders to use for assistant coaches.
The previous high was the $4.02 million for the assistants in 2022. Prior to that, CU's salary pool had never topped $3.5 million.
Offensive coordinator Sean Lewis and defensive coordinator Charles Kelly will be the highest-paid assistants in CU history. Both received three-year contracts worth $2.7 million. Both will earn $850,000 in base and supplemental salary this year, with increases to $900,000 in 2024 and $950,000 in 2025. Prior to this year, no assistant in CU history has had a salary higher than $700,000.
Each of the other eight assistants signed two-year contracts.
–
—
CU facilities upgrades coming sooner rather than later
From the Daily Camera … CU Athletic Director Rick George has a long list of upgrades to facilities that he'd like to get done at CU, but it will take some time. Upgrading the west side of Folsom Field is one of the top long-term priorities, but that's not at the top of the list for now.
"It's not just the rebuilding of that side (that's needed), even though that's something that's important for us and something that I'd like to do before my last days here at Colorado," he said. "The first priority is we've got to get our scoreboard fixed and we've got to do that sooner rather than later. It's old and we want to get a much larger board with a ribbon board around it for our fans. It'll help the in-game experience.
"Certainly we need to fix the west side. We've got a plan for that. When we do that, we haven't determined that yet. Then we've got to look over to the Events Center and see what needs to be done there to upgrade that. All these (are) things that I'd like to get done in my time that I'll be here at Colorado."
This summer, CU is upgrading the facilities on the east side of campus, including a new lacrosse field, upgrading the outdoor track in preparation for hosting the 2024 Pac-12 championships, lights at Prentup Field for soccer and new buildings for skiing, soccer and track and field.
"We're doing a lot and we expect all of our sports to have really good years next year," George said.
–
—–
May 26th
… CU in a few minutes … 
Rick George on realignment: "We have to do what's right for Colorado at the end of the day"
From the Daily Camera … Conference realignment in college athletics continues to be a hot topic and Colorado has been at the center of some recent reports.
Earlier this week, Berry Tramel of The Oklahoman reported that CU could commit to rejoining the Big 12 "soon," according to one of his sources.
CU may or may not be ready to make the jump, but athletic director Rick George said the Buffs are going to do what's best for the school.
"You've got to believe about a third of what you see out there," George told BuffZone. "We're members of the Pac-12, we're proud members of the Pac-12 and we've got to see where our media rights deal lands and where our conference goes. In a perfect world, we'd love to be in the Pac-12, but we also have to do what's right for Colorado at the end of the day. We'll evaluate things as we move forward."
It certainly hasn't been a perfect world for the Pac-12.
About 11 months ago, UCLA and USC announced they would be leaving the Pac-12 for the Big Ten in 2024, taking the second-largest largest TV market in the country away from the Pac-12.
… Continue reading story here …
–
—–
May 25th
… CU in a few minutes … 
CU sets one-day single-game ticket sales record (11,273 on Wednesday)
From ESPN … There's a high demand for seats to watch the turnaround at the University of Colorado under Deion "Coach Prime" Sanders. Or so the soaring ticket sales indicate.
The Buffaloes sold 11,273 single-game tickets Wednesday, the largest one-day total for individual games in team history. The school already sold out of its season-ticket allotment, marking the first time that's happened since 1996.
The demand has been through the roof since Sanders took over the downtrodden program in early December. Even the spring game – featuring snowy and cold conditions – sold out.
Sanders and his veteran coaching staff have their work cut out for them turning around a program that went 1-11 last season. They've seen many players exit through the transfer portal, only to replaced by a new batch of highly touted recruits. Fall camp figures to be just as much about learning names and faces as new plays and systems.
Colorado opens the season on the road at TCU on Sept. 2 before hosting Nebraska the next weekend. The Buffaloes also will host Colorado State (Sept. 16), Southern California (Sept. 30), Stanford (Oct. 13), Oregon State (for homecoming on Nov. 4) and Arizona (Nov. 11).
–
—
Maine DE transfer Khairi Manns: "I play defense … But I love to rush the passer"
From the Daily Camera … During a recent recruiting visit to Colorado, Khairi Manns knew right away that the program now led by head coach Deion Sanders would be about discipline and work.
"When I met Coach Prime, you could tell he was strictly about business," said Manns, an edge defender transferring to CU from Maine. "The first thing he said to me before we said hello or what's up, I was chewing gum and I was walking into his office and he was like, 'Stop smacking that gum.' You can just see it's about business. It's a time to play, but it's also a time to work. And when we're working, put your head down and go to work. I've just got nothing but respect for that."
After four seasons at Maine, the 6-foot-3, 230-pound Manns is eager to join the new-look Buffaloes and play for Sanders and the staff Sanders has assembled.
"One, you've got Prime Time as your head coach," Manns said for why he chose CU. "You've got Charles Kelly as a (defensive coordinator), coach Nick Williams as my position coach and coach (Sal) Sunseri. The knowledge of the game that they have, I'm a student of the game, so I'm really fond of that. I just want to soak up all of the knowledge and I know that coach Kelly's gonna put his players in the best position to succeed."
Manns, who committed to CU on Monday and has two seasons to play, redshirted in 2019 at Maine and played in each of the Black Bears' 26 games over the past three seasons, with 15 starts. In his collegiate career, he's had 108 tackles, 15 tackles for loss and 8.5 sacks. In 2022, he had 43 tackles, 6.5 tackles for loss and four sacks.
… Continue reading story here …
–
—–
May 24th
… CU in a few minutes … 
OT transfer Reggie Young: "I have one season left, so I definitely see the opportunity (at CU)"
From the Daily Camera … Shortly after putting his name into the transfer portal last month, Reggie Young began hearing from the staff at Colorado.
It didn't take long for him to decide he wanted to be a part of the new-look Buffs led by first-year head coach Deion Sanders.
"My inner child was screaming, 'Go to Colorado,'" Young said. "It's just the most unique situation, and you can only be excited for what Colorado has going on right now.
"I think it is the most unique opportunity in the country this year, as far as everybody wants to see what's going to happen and all eyes are on Colorado football. So I think this is the college football dream."
Young, a 6-foot-4, 295-pound offensive tackle from Liberty, is one of 48 transfers added by Sanders this offseason, and he is an intriguing prospect.
One of nine offensive line transfers, Young comes to CU with huge potential but only one season to play. CU's coaches believe Young can make an impact or else he wouldn't be here.
"I have one season left, it's no secret, so if you don't see me being a guy that can impact your team immediately, let us go our separate ways right now," Young said of his messages to coaches during the recruiting process. "So I definitely see the opportunity (at CU)."
… Continue reading story here …
–
—–
May 22nd
… CU in a few minutes … 
Predicting CU's non-conference telecasts: The Athletic has the Buffs on national TV on Fox each week
From The Athletic … On May 31, the major TV networks will announce their selections and kickoff times for the first three weeks of the 2023 college football season. It's always a fun way for fans to whet their appetites for the start of a season that's still several months away.
But this year's announcements should be particularly illuminating because it's the first since the Big Ten's new agreements with Fox, CBS and NBC. With that conference no longer part of ABC/ESPN's Saturday lineup, other leagues like the Big 12 — which now includes BYU, Cincinnati, Houston and UCF — may find themselves with more attractive time slots.
The networks and their conference partners recently held fantasy football-style drafts to determine their picks for the first three weeks, plus a handful of big games later in the year. By looking back at previous seasons' schedules — and with insight gleaned from a handful of announcements they've already made (like NBC showing West Virginia–Penn State in Week 1) — we took an educated guess at what Weeks 1, 2 and 3 will look like for ABC, CBS, NBC, Fox/FS1 and ESPN/ESPN2.
Week One … CU at TCU … Big Noon Saturday game on Fox (previously announced)
Week Two … Nebraska at CU … There are screams, themes and potential memes popping up everywhere throughout Week 2. The screams are two-tiered. One was of joy from Bristol, Conn., which has the earth-shaking collision between Texas and Alabama in Tuscaloosa. It was early enough in the season to avoid CBS' clutches. Considering the Longhorns head to the SEC next year and all of the league's rights then will belong to the Worldwide Leader, this game will provide infomercial-like overtones for 2024 and beyond.
ESPN has announced Texas at Alabama for 7 p.m., and the rest of the week builds off that game. For Big Noon, Fox's options come down to a Big 12 selection or somehow nudging a Pac-12 game into the early window. Like manna from Heaven, Deion Sanders comes to the rescue yet again. Sanders' Colorado squad faces old Big Eight/12 rival Nebraska for his home opener. Sure, it's early (10 a.m. local), but it's better than 9 a.m. on the West Coast. This is an easy pick for Fox. As for its two other windows, Utah at Baylor (3:30 p.m.) and Wisconsin at Washington State (7:30 p.m.) are sneaky good games. The Big Ten-controlled schedule is weak, but Fox should come out decently well.
Week Three … Colorado State at CU … The final season of the SEC on CBS package begins with Week 3, and Tennessee-Florida is a near-annual fixture in that 3:30 p.m. time slot. That leaves Georgia's SEC opener against South Carolina for ESPN's prime-time window. For ABC's prime-time game, we debated between the Pitt-West Virginia Backyard Brawl or Florida State at Boston College, ultimately going with the latter because of the Seminoles' brand power and potential to be a CFP contender this year.
All times ET
ESPN, 7 p.m. –
South Carolina at Georgia (SEC)
FS1, 7 p.m. – 
Wyoming at Texas (Big 12 No. 3)
ABC, 7:30 p.m. – Florida State at Boston College (ACC)
NBC, 7:30 p.m. – Washington at Michigan State (Big Ten No. 2)
Fox, 7:30 p.m. – Colorado State at Colorado (Pac-12 No. 1)
ESPN2, 7:30 p.m. – Kansas State at Missouri (SEC)
ESPN, 10:30 p.m. – San Diego State at Oregon State (Pac-12 No. 2)
FS1, 10:30 p.m. – Fresno State at Arizona State (Pac-12 No. 3)
–
—–
May 20th
… CU in a few minutes … 
Dan Patrick: "What if [Deion] goes 0-5? And he might. But that doesn't mean that he won't be successful"
From Athlon Sports … Despite having been on the college football scene for multiple seasons already, the college football universe was simply unprepared for the amount of attention and buzz Deion Sanders would bring to Colorado.
The obvious belief is that he obviously was going to generate buzz, but no one could have foreseen the magnitude of attention he has created in just a few months on the job. Starting with telling last year's 1-11 roster "We got a few positions already taken care of because I'm bringing my own luggage with me," Sanders told the Buffaloes in a meeting with players released on social media Sunday. "And it's Louis, OK?".
However, one sports personality believes that some people in the media are 'wishful reporting' about the Buffs and Coach Prime. Fox Sports Radio's Dan Patrick recently discussed the notion that people are essentially hoping Sanders does well for the content it will provide, even going as far to compare the pumping up of the Buffs to NFL receiver Odell Beckham Jr.'s free agency.
"They were terrible last year. They're not going to be good this year," said Patrick, drawing parallels to the media frenzy that surrounded Odell Beckham's free agency last year, conveniently forgetting the ACL injury he suffered months earlier. "Nobody wants to be a buzzkill going, 'Yeah, they're probably going to win two games.'"
Patrick explained he is well aware that he seems to be shooting the Buffs down, but it is just a song he has seen sung before.
"I've made these mistakes before. You get caught up in the hype," said Patrick, acknowledging his own tendency to think with his heart. "What if [Deion] goes 0-5? And he might. But that doesn't mean that he won't be successful."
–
—-
May 19th
… CU in a few minutes … 
Pac-12 announces record revenue (2021-22): $37 million/school
A record for the Pac-12, but still last among the Power Five:
Big Ten $58.8 million
SEC $49.9 million
Big 12 $42-$44.9 million A
CC $37.9-$41.3 million
Pac-12 $37 million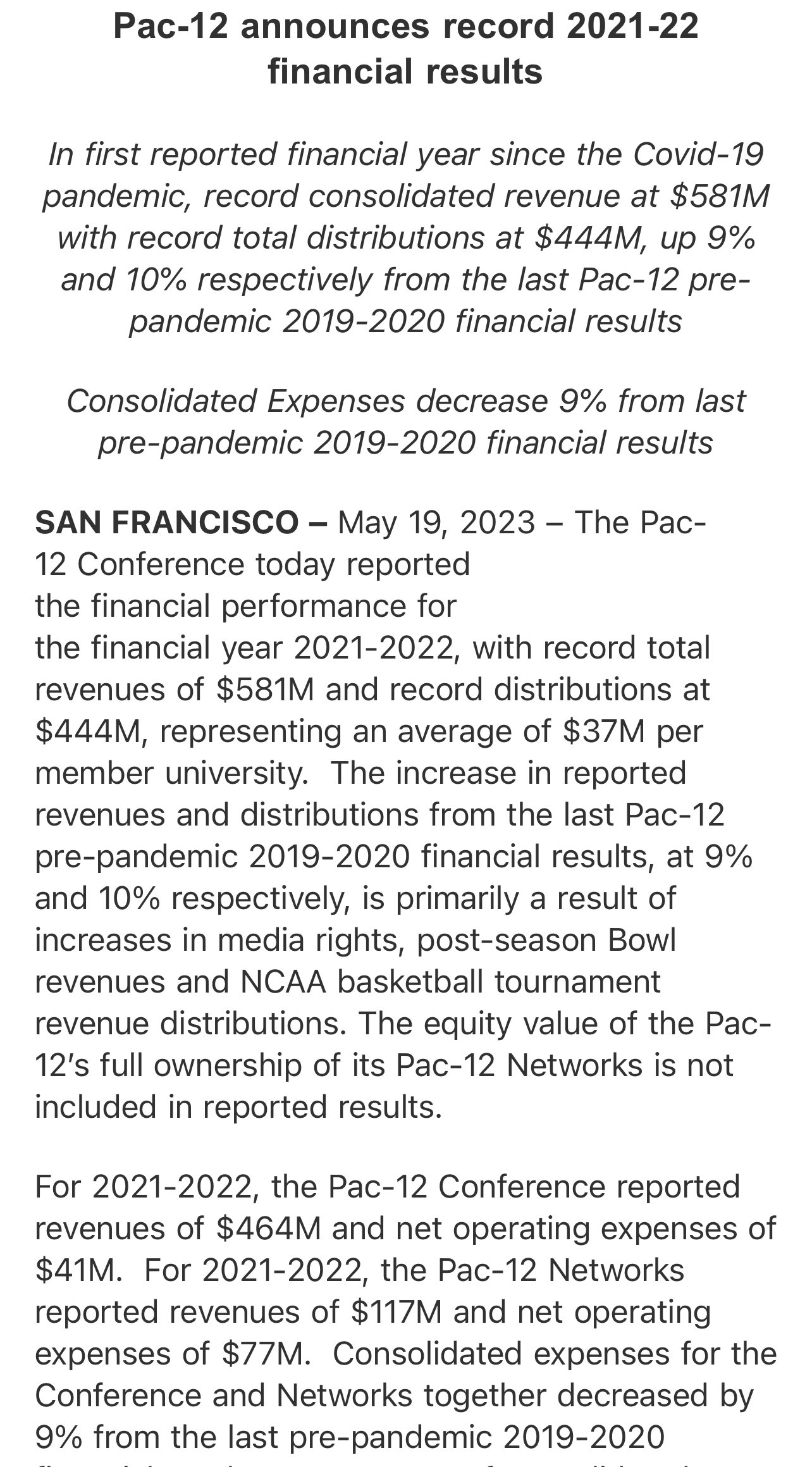 –
—–
May 17th
… CU in a few minutes …
Offensive line coach Bill O'Boyle: "We'll be fine. We got enough kids on our list right now"
From The Athletic … While the rest of the college football world is anticipating a possible disaster at Colorado, offensive line coach Bill O'Boyle didn't sound concerned while talking with me from his rented home near campus.
He wasn't pounding the pavement of every local high school or hopping from plane to plane, desperately scrambling to make up for the more than 50 players who have departed Colorado's roster since Deion Sanders took over. Instead, he was fielding phone calls — and not from this year's incoming class. He's already looking at recruits for the 2025 cycle.
"We'll be fine. We got enough kids on our list right now," he said. "We might come down to the wire on a couple of guys this summer, but the way it's been going right now I'm not worried. The media conveniently doesn't bring it up, but we've placed a lot of guys already. And those players are a lot better than what we've had."
His perspective offers a stark contradiction from the feelings of much of the college football world, including the assumption that Colorado doesn't have a prayer at filling an 85-man roster by the time camp rolls around in August. And even if the Buffaloes get the roster filled, there is no way they will be able to install a new offense with 10 new receivers, given an eight-hour work week in summer months (the max coaches can spend with their players), right?
"I get it. Everybody wants to see us fall on our faces. No doubt," O'Boyle said. "We're getting pounded by all the other schools asking players, 'Why are you going to Colorado? They are not established, etc.' We know we have five million eyes on us, so we are not going to do anything out of line. But at the end of the day, when you play with that chip on your shoulder, you are a different cat. And those are the cats we want. We are going to get this thing done right."
… And while Sanders is in a race to fill the roster before preseason camp, Lewis will be engulfed in a race of his own to find a measure of offensive efficiency by Week 1 vs. TCU. Lewis has proven that if anyone can do it, he can. His system is fast, including his teaching methodology. The entire system gets installed in four days.
"By Day 4, we're already game-planning for our opponent," O'Boyle said. "It's all in place."
… Continue reading story here …
–
—–
May 15th
… CU in a few minutes … 
CU at TCU season opener selected for Fox Sports "Big Noon" (10:00 a.m., MT) Saturday 
Press release from CUBuffs.com … The Colorado Football season opener at TCU will be televised by FOX as part of the network's Big Noon Saturday telecast, it was announced Monday as part of the Upfront, a presentation showcasing the network's concentrated portfolio of Sports, Entertainment, News and Streaming platforms to advertisers.
As part of the presentations at the Upfront, FOX announced two games for its Big Noon Saturday window, the CU-TCU game on September 2, the opening of the Deion "Coach Prime" Sanders era at Colorado, and the Ohio State at Michigan game on Nov. 25.
One of the flagship broadcast windows of college football, Big Noon Saturday was introduced by FOX in 2019 and the game is shown after Big Noon Kickoff, the network's weekly college football preview show seen on FOX and FS1.
"We are thrilled to be a part of the Big Noon Saturday broadcast window for our season opener at TCU," CU Athletic Director Rick George said. "To be one of two games showcased and announced by FOX at the Upfronts shows how much excitement there is for the Coach Prime Era to begin on a National scale."
This will be the Buffs second appearance in Big Noon Saturday and the Buffs are the first Pac-12 team to appear for a second time in the broadcast window, also having hosted Utah on Dec. 12, 2020, during the COVID-19 shortened season.
The other Pac-12 games on Big Noon Saturday were the Arizona State at USC game on Nov. 7, 2002, and the Oregon at Ohio State game on Sept. 11, 2021.
Season tickets for the 2023 season are sold out.  Single game tickets will be available to the public on May 24 after a presale opportunity for VIP's and season ticket holders.
–
—–
May 14th
… CU in a few minutes … 
Daily Camera: Re-capping spring transfer additions
From the Daily Camera … Just three weeks ago, the Colorado football team was in the national spotlight with a sold-out spring football game at Folsom Field that was broadcast on ESPN.
The event, in front of 47,277 fans, was the culmination of 15 practices over the spring period for new CU head coach Deion Sanders and his staff. But, it certainly didn't signal a break for Sanders.
Colorado has been busy reconstructing its team, as 34 of the 98 players on the roster three weeks ago are no longer with the team. The Buffs have added 24 new scholarship players to their 2023 recruiting class in the past month, however, and more are on the way.
As of Saturday afternoon, CU had 76 players projected for scholarships this fall, leaving nine open spots.
Here's a recap of the players who have been added this spring, all as transfers.
Receivers
Tar'Varish Dawson Jr., 5-foot-11, 165 pounds, So. (Auburn): A four-star recruit out of high school, Dawson redshirted in 2021 and appeared in one game that season. He played in four games last season, with two starts, catching two passes for 30 yards. He's been clocked at 10.58 seconds in the 100-meter dash.
Jaylen Ellis, 6-3, 184, Jr. (Baylor): In four seasons at Baylor, he battled some injuries and played in 16 games, one as a starter. He caught six passes for 198 yards and a touchdown during his time with the Bears. Last season, Ellis caught three passes for 154 yards.
Willie Gaines, 5-9, 170, Jr. (Jackson State): The seventh transfer to follow Sanders from JSU, Gaines caught 27 passes for 446 yards and five touchdowns last year. His 16.52 yards per catch average led the Tigers.
EJ Horton, 6-0, 180, Jr. (Marshall): During his three seasons at Marshall, he caught only 16 passes for 245 yards and two touchdowns, but most of that production came late in the 2022 season. Has been clocked at 4.3 seconds in the 40-yard dash and ran a 6.95-second 60-meter dash for the Marshall track team this spring.
… Continue reading story here …
–
—–
May 12th 
… CU in a few minutes … 
DL Arden Walker: "I'm just very blessed to be in the situation. I'm so happy and excited to come home"
From the Daily Camera … About a year and a half ago, Arden Walker returned to his Denver home after his first semester at the University of Missouri and spent some time looking through the basement.
He found an old CU hat that belonged to his father and decided to take it with him.
This week, he proudly wore that hat as he talked to BuffZone about his decision to transfer to Colorado and play football for the Buffaloes.
"This is a vintage hat," he said. "It actually says, 'CU LATER' on the back. That's funny. I love vintage."
Walker and CU fans are hoping he can find the same type of success his father had as a Buff years ago.
Arthur Walker was a defensive tackle for CU from 1986-89, earning Associated Press third-team All-American honors in 1989. He was second team All-Big Eight in 1988 and first team in 1989.
Walker then chose to play at Missouri. In two years, he played in 16 games, finishing with 11 tackles and 1.5 tackles for loss. He started the Tigers' last two games of the 2022 season.
The 6-foot-2, 252-pound edge defender was ready for a change, however, and he's eager to play for the revamped Buffaloes, who went 1-11 a year ago, but are now led by first-year head coach Deion Sanders.
"I know the history and how (CU) has been in these recent couple of years," Walker said. "I think it's kind of good that they're moving to a new light, a little fresh start, a new slate."
… Continue reading story here …
–
—–
May 11th
… CU in a few minutes … 
High school coaches on CU recruiting: "His way of doing it is unique, but it's provoking change"
From The Athletic … Deion Sanders' roster clean-out at Colorado has inspired strong reactions throughout college football — including on the recruiting trail. Most of the takes from supporters or detractors of Sanders' style ultimately matter little. But the opinions of high school coaches and the players they coach can be among the most valuable in the sport.
Seventy-one of Colorado's 84 scholarship players from last year's roster are gone (17 graduated), and Sanders bluntly booted many after the Buffaloes' spring game showcase on national TV.
The Athletic spoke with nine coaches of top prospects in Colorado, Texas and Florida — three key recruiting territories for a Buffaloes program that has also spent significant time recruiting the transfer portal and in high schools from coast to coast — to gauge their opinions on what Sanders' aggressive moves in the past four months will mean for his recruiting efforts.
"Deion is going to be able to do things that most coaches are not able to do and get away with saying things that most coaches may not be able to say and survive because he's Prime," said Marcus Shavers, the coach at McKinney High in Texas. "His way of doing it is unique, but it's provoking change. They've done a good job of making Colorado a sought-after place."
Sanders has long-established relationships in Texas, where he has a permanent home and lived before his detour into college coaching, and Florida, where he grew up and played college football before blossoming into one of the game's all-time great cornerbacks. The coaches who spoke to The Athletic there were largely understanding of Sanders' approach.
In Colorado, where he's been a resident for only five months, his method has received a more complicated welcome.
"Colorado has been down so long you knew something drastic had to happen, but I don't think anyone envisioned this would happen," said Mike Vrana, coach at Vista Ridge in Colorado Springs, Colo. "We're going to wait and see. If it works, he'll be a genius. If it doesn't work, he's probably not going to be there long."
Vrana's former player Jalen Sami was a three-year starter on Colorado's defensive line who entered the transfer portal April 25 after Colorado's spring game. He has yet to commit to a new school. Last year, Vista Ridge had a quarterback (four-star Brayden Dorman) and receiver (three-star Brandon Hills) who were among the 10 best prospects in the state and signed with Arizona and Washington State, respectively. Vrana hasn't heard from Colorado's staff since they've taken over.
Jeff Fulton was the coach at Fossil Ridge in Fort Collins, Colo., before parting ways in April. He coached offensive lineman Gage Ginther, a three-star prospect and the top prospect in Colorado, whom the Buffaloes recruited heavily this spring. Fulton was complimentary of Colorado and offensive line coach Bill O'Boyle's efforts to recruit Ginther, but the prospect's desire to play in the SEC won out. Ginther committed to Tennessee last month.
… Continue reading story here …
–
—–
May 10th
... CU in a few minutes … 
Southern Utah DB transfer Rodrick Ward: "I know I have the top tier skills to play on a bigger stage"
From the Daily Camera … "I finally get to finish my last year right and play for Coach Prime," Ward said. "I wouldn't want to play for nobody else or be nowhere else. It's the perfect place. I feel like this is the best way to go out with a bang."
The 5-foot-11, 180-pound senior has one year to play and he's hoping to make the most of it after a long road that took him from junior college to Southern Utah.
Ward missed half of his senior year at Beaumont (Calif.) High School after transferring schools, so he wound up playing at Mt. San Jacinto (Calif.) College in 2018, posting 35 tackles, an interception and nine pass breakups in only nine games.
"I kind of treated it like my final year of high school because I did have to sit out five games (as a senior)," he said.
He turned that into an opportunity from SUU, where he spent the past four years. He played off the bench in 2019 and started during the Thunderbirds' six-game spring season in 2021, delayed from fall of 2020 because of COVID. Ward elected to redshirt in the fall of 2021.
"I let my body develop more and I came back the year after that and had a breakout season," he said. "Had my best season yet of college football and it helped me get to where I am today."
Last fall, Ward earned second-team All-WAC honors after posting 52 tackles, four interceptions and 11 pass breakups. In the FCS, he was top-10 in the nation for interceptions and passes defended (15).
"It definitely gave me more of a hunger, playing for Southern Utah," he said. "It humbled me a little bit, but it also made me real hungry to keep fighting and keep trying to fight just to get to that next level, because I knew I had the top tier skills to play on a bigger stage."
… Continue reading story here …
–
—–
May 9th
… CU in a few minutes … 
Joel Klatt on Coach Prime overhaul: "What was he supposed to do?"
From On3Sports.com … Joel Klatt is firmly in the Deion Sanders camp at Colorado and fully supported the coach's moves in the transfer portal for a total roster makeover.
In fact, if Sanders kept it status quo, Klatt called that hypothetical move "coaching suicide." Using the team's history and performance in 2022, the Fox Sports analyst explained why Sanders had to instantly makeover the roster and do it quite dramatically.
Realistically, Sanders had no other choice at Colorado but to attack the portal in aggressive fashion.
"What was he supposed to do?," Klatt said on his podcast. "I actually think that that would be coaching suicide for Deion Sanders. Let's just go through the data. Deion Sanders gets hired in Colorado, and just like every new head coach, he's gonna go in there and evaluate what's on the team. Whether it's prior to spring ball or during spring ball, you have to evaluate what's on the team. Guess what he evaluated? Guess what he saw? Guess what he looked at when he turned on the film?
"He saw a 1-11 team but it wasn't just a 1-11 team because we've seen teams go winless and, you know, be a one win team before. He saw a team that lost 10 games by at least 23 points. 23 points in 10 games. Not five, not four, 10. 10 of the 11 losses by 23."
Klatt doubled down on his point how Colorado was pretty much non-competitive in 2022 based on the team's losses.
"One of the 11 was a single digit margin," Klatt said. "Arizona State. They lost by eight. Did you know that in the Arizona State game, Colorado trailed by 22 going into the fourth quarter? That means that their point differential was the worst in the FBS and certainly the power five worst in the FBS, but just in the Power Five. that doubled the next closest team; their point differential was 29.
"They lost by an average of 29 points. The next closest team was Northwestern, they lost by an average of 14.6. That's basically double. That's crazy. Basically double. So again, like I'll just go back to this what was he supposed to do?"
–
—–
May 6th
… CU in a few minutes … 
"The pressure is going to be on" at "Second Chance U"
From the Daily Camera … If Sanders is looking for desire and want, he's got it. Newcomers interviewed by BuffZone have all talked about getting fresh starts with the Buffs.
"I feel like grabbing guys who have something to prove and everybody on a mission, I feel like we'll all mesh well because we all have something to prove," Robinson said. "I feel like all of us on a mission are going to be dangerous."
This isn't the Netflix documentary "Last Chance U," but Colorado is certainly "Second Chance U" for a lot of the newcomers and Harris believes that's going to fuel the competition for playing time.
"The pressure is going to be on," he said. "Everybody's gonna be coming in and trying to get a spot. (It's) not comfortable but I'm definitely excited and ready for it."
So is Sanders, who wants nothing more than a team ready to compete. Overhauling the roster at an unprecedented rate might produce the competitive spirit CU lacked before his arrival.
"I'm a change agent," he said after the Buffs' spring game two weeks ago, "and I'll be darned, anything that I touch, it has no other possibility but to change because that's what we do."
… Continue reading story here …
–
—
CU's transfer numbers unprecedented (but other teams have significant number of transfers as well)
From ESPN … How does this compare to other teams' turnovers?
Sanders and Colorado have had more players enter the transfer portal in a year's span than any other program since the transfer portal was implemented in 2018, according to ESPN Stats & Information. The 71 players are 21 more than the next program, Arkansas State, which saw 50 players enter the portal during the 2021-22 cycle.
Ole Miss' 2022-23 cycle is third on the list, as 48 players have left the program in this current transfer cycle. Tennessee's 2020-21 class is just behind the Rebels with 46. Oregon and South Florida have each had 44 players enter the portal this cycle.
In fairness to Sanders and his staff, it is difficult to compare numbers from past years because this is the first year with transfer windows, which allow players to enter the portal at specific dates.
–
From The Athletic … A total of 53 scholarship players have left the program since Sanders was hired in December. Only three other FBS programs have lost more than 30 in 2022-23: Ole Miss (32), Oregon (32) and Louisiana Monroe (31). Arizona State has pursued its own aggressive roster shake-up in Year 1 under coach Kenny Dillingham and will end up bringing in more than 50 new scholarship players. The Sun Devils have lost 29 to the portal to do so. College coaches and staffers recognize that losing 20-plus players in one offseason is becoming common.
–
—–
May 5th
… CU in a few minutes … 
Alabama transfer Jahquez Robinson happy to be reunited with DC Charles Kelly: "The No. 1 deciding factor was coach Kelly"
From the Daily Camera … Charles Kelly saw something special in Jahquez Robinson when Robinson was a junior in high school.
Even as Robinson adjusted to college football and didn't see the field much during his three years at Alabama, Kelly saw potential in Robinson.
Now the defensive coordinator at Colorado, Kelly still sees something special in Robinson, a 6-foot-2, 199-pound defensive back who is one of the newest Buffaloes.
"If you have a coach that believes in you, it gives you confidence for sure," said Robinson, who recently committed to CU as a transfer. "I'm gonna go out there to play for my coach. I think that's a big part of how my confidence is even more boosted coming to Colorado because I know coach Kelly is gonna be on my side."
Kelly spent the past four seasons at Alabama, where he worked closely with Robinson.
A four-star recruit coming out of Sandalwood (Fla.) High School in 2020, Robinson played in only seven games during his three seasons at Alabama, mostly on special teams. But, Kelly played a big role in keeping Robinson motivated, which is why Robinson is now headed to Boulder.
"I would say the No. 1 deciding factor was coach Kelly," Robinson said. "As soon as I hopped in the portal, coach Kelly immediately set up a visit to Colorado."
Robinson already knows the defense and said, "I know he knows me as a player, so I know he'll help me with certain things that I struggle with and certain things that I'm good at and help me become the best player I could be."
… Continue reading story here …
–
—–
May 4th 
… CU in a few minutes … 
Rick George: Four cut players opted to stay at CU for their education (won't count against 85-man roster)
From ESPN … Following a dizzying April during which dozens of players entered the transfer portal, Colorado athletic director Rick George remained staunch in his support for first-year coach Deion Sanders' plan to rebuild the roster.
"I have confidence in him and his staff and they know what they're doing," George told ESPN on Thursday following the Pac-12's spring meetings. "… He's been very honest and forthright. He's been very open about it publicly and privately. He's trying to build a winner at Colorado, and this is his way to do it."
Sanders made it abundantly clear when he was hired from Jackson State in December that players should be prepared to transfer. Since then, 57 have entered the transfer portal, according to a school spokesman. It's an unprecedented amount in a new era of transfer rules.
The exodus began even before Sanders' arrival. According to ESPN's Stats & Information, 71 players have entered the portal since August, which includes those who left following an abysmal 1-11 season.
Since the portal's inception in 2018, Colorado by far has had the most players enter, as Arkansas State had the second-most with 50. No other school has had more than 48.
George pointed to an NCAA rule that allows first-year head coaches to cut scholarship players, but he also said there are some players who wanted to leave following spring practices.
"When [Sanders] first came in, he said, 'There's a lot of people here who may not be here,' because he evaluated and looked at the talent on our team," George said. "He's just publicly stated it, where a lot of people don't. We're not the first to do this. The NCAA rule says you can have those discussions. If a student-athlete wants to stay, they can stay. The university has to pay for them, they don't count on your scholarship limits and they're not on the team."
According to a school spokesman, there are four players who decided to stay at Colorado on scholarship but aren't with the team, and George confirmed the university will pay for their education. The specific NCAA rule, "Aid After Departure of Head Coach," states that those students won't count against Colorado's scholarship limitation as long as they're not participating with the team.
George said all of the players visit with the staff in the compliance office so they know the rules before they make their decisions. In a separate, wide-ranging interview earlier in the week, Todd Berry, the executive director of the American Football Coaches Association, said the buzz from coaches about what's happening at Colorado is that the whole intent "was never for anybody to change over a roster."
… Continue reading story here …
–
—
CBS Sports: Portal targets who may soon commit to CU
From CBS Sports … Crunching the numbers, including the 19-player freshman class Colorado signed in the 2023 cycle, the Buffaloes still have 19 scholarships available moving forward. Though the Buffs could use depth all over the place, there are some glaring needs that need to be addressed immediately. Here's where the Buffs may turn in the portal:
Alton McCaskill IV, RB, Houston: Colorado is already deep in this one as the Buffaloes received a 247Sports Crystal Ball prediction to land the talented third-year player. He had 18 total touchdowns as a true freshman in 2021 but missed all of 2022 with a knee injury.
Var'Keyes Gumms, TE, North Texas: The top tight end transfer available in 247Sports' rankings, Gumms decommitted from Arkansas Tuesday and already has an official visit set up to Cal, so there is Pac-12 interest. Losing Traore means the Buffaloes have a big void to fill at the tight end position.
Cam'Ron Johnson, OL, Houston: Johnson, a product of Pearland (Texas) Shadow Creek High School, was at one point committed to Colorado before signing with Houston in 2019. He allowed just one sack last year while earning first-team All-AAC honors.
Isaac Ukwu, EDGE, James Madison: Getting a guy like Jordan Domineck (7.5 sacks in 2022 with Arkansas) is a major step toward improving Colorado's pass rush, but the need still stands. The 260-pound Ukwu had 16.5 sacks over the last two seasons.
Shon Stephens, CB, West Liberty: Stephens reported an offer from Colorado on April 26, via his Twitter. He was a Division II All-American in 2022 after logging eight interceptions, and he would give the Buffaloes the type of ball-hawking defensive back the secondary desperately needs.
–
——
May 3rd
… CU in a few minutes … 
Granted a medical redshirt year, DL Chance Main weighing a return to CU
From the Daily Camera … As recently as mid-March, Chance Main didn't know whether his college football career was over or not.
Granted an extra year of eligibility because of a medical hardship, however, Main is hoping to find the right spot for his final season – and it could be in Boulder.
"I'm really looking into it because it's somewhere … Boulder, I enjoy, Colorado, I love," Main said. "It's definitely something I'm taking seriously, so I'm looking to go meet with those guys."
Main, a 6-foot-4, 270-pound defensive end, played last season at Colorado, recording 28 tackles and two tackles for loss in 12 games.
… "I got an email in January that said your scholarship's expired," he said. "I've got this medical hardship form and it was never filled out."
… As he explores his options, Main hopes to have a decision made by next week.
"I've had a lot more time to talk with other teams to look further into their programs and have some really good situations for me and what I want to do for this final year," he said. "This next season could really make a big impact on what I end up doing in the future."
–
—
Tennessee DL transfer Amari McNeill: "They obviously need some help so that's why I'm on the way"
From the Daily Camera … The atmosphere at Folsom Field for the spring game on April 22 was impressive to Amari McNeill, and he was surprised at how the temperature wasn't too bad considering the snow that fell throughout the day.
What impressed McNeill the most, however, was the Colorado football program and the role he could play in the Buffaloes' potential resurgence.
"They obviously need some help so that's why I'm on the way," said McNeill, a defensive tackle who is transferring to CU from Tennessee. "It was a good experience. I like the progression they made, I like the coaches there. I like the city and just all the relationships I've built since I've been up there and since I've been talking to the school."
Listed by Tennessee at 6-foot-4, 285 pounds, McNeill played two seasons for the Volunteers. After playing one game and redshirting in 2021, McNeill played in six games for Tennessee last year, recording three tackles and a pass breakup as a reserve.
He felt he had a good spring with the Vols, but after their spring game on April 15, he decided to transfer.
"I've been thinking about it since after the season last year, just not playing as much as I wanted to," he said. "I felt like after (the spring) game, I just felt like why not take the risk on myself? I knew I could play, so I said why not?"
… Continue reading story here …
–
—
CU APR score hits an all-time high (991)
From CUBuffs.com … The University of Colorado Academic Progress Rate (APR) report based on information for the four-year period from 2018-19 through 2021-22 released Tuesday by the NCAA has CU scoring an impressive 991 APR for the 2021-22 season, the highest rate for the Colorado Buffaloes in the history of the APR.
CU also set a program best with 11 of 15 sports (73.3 percent) earning a perfect score of 1,000 for the 2021-22 season.  The previous high was 10 sports in both 2016-17 and 2018-19 and it marks the eighth-straight year the Buffs have had more than half (eight or more) teams with a perfect score of 1,000.
CU's four-year API stands at 986, tied for the second-best multiyear APR for the Buffaloes, just one point behind the high mark of 987 in 2015-16.  Additionally, four of CU's 15 sports have a perfect score of 1,000 for the four-year period, the fourth-straight year at least four teams have a perfect multiyear APR.
CU's 991 APR for 2021-22 exceeds the necessary score of 985 for Colorado to receive the "Values-Based Revenue Distribution" designed to reward institutions for their accomplishments in the classroom.  To obtain a VRBD, schools must meet requirements in one of three areas, APR, the graduation success rate (GSR) or the federal graduation rate (FGR).
To obtain the funds, the school's GSR must be over 90 percent, the APR over 985 or the FGR for the athletic department to equal to 13 percentage points higher than the school average.  CU met the standard in both APR and GSR, coming in with a 96 percent graduation rate for all student-athletes.
CU Boulder Chancellor Philip P. DiStefano was on the committee that created the concept of new academic money to be awarded to schools out of the funds generated from the NCAA Basketball Tournament.  Funds are distributed to conferences and allocated to institutions in accordance with conference policies.
In terms of four-year APR rates, CU's women's golf program recorded a perfect score of 1,000 for the seventh straight report, while the women's skiing program scored a perfect 1,000 for the fifth straight time, women's cross country and men's skiing for the fourth straight time each.  Additionally, women's lacrosse (998), women's soccer (997), women's basketball (995), and women's tennis (990) each scored at 990 or higher for the four-year period.
For the 2021-22 season, men's and women's basketball, men's and women's cross country, women's golf, women's lacrosse, men's and women's skiing, women's tennis, men's track and women's volleyball all scored a perfect 1,000 APR.
CU has now had 37 teams register a perfect 1,000 multiyear APR in its history with 21 of those coming in the past four years, and 120 teams have recorded a perfect 1,000 for a season, and average of 6.7 teams per year over the span of the APR system.
–
—–
May 2nd
… CU in a few minutes … 
Kent State transfer OL Jack Bailey happy to finish his career with the same coaches: "I think it'll really elevate the competition"
From the Daily Camera … Jack Bailey was disappointed in December when he heard the news of his coaches leaving Kent State.
After four seasons with the Golden Flashes, the only head coach (Sean Lewis) and offensive line coach (Bill O'Boyle) that Bailey has known were heading to Colorado.
"For sure bummed," said Bailey, a 6-foot-3, 280-pound guard. "But, I knew I had to get my degree and I had one semester left. I'm just glad it all ended up working itself out in the end."
Last month, Bailey made the decision to transfer to CU and reunite with Lewis and O'Boyle. New CU head coach Deion Sanders hired Lewis to be the Buffaloes' offensive coordinator and O'Boyle to coach the offensive line.
"Honestly that was the final deciding factor (in transferring)," said Bailey, who will graduate from Kent State this month. "I've never really been out west or anything so I didn't know much about it out here but as soon as I got a call from coach OB, it was something I knew I had to do. The relationship that I've had within the past four years is something that's built on blood, sweat and tears."
Bailey grew up in Willoughby, Ohio, starring for Kirtland High School. After redshirting at Kent State in 2019, he was in the line rotation during the pandemic-shortened 2020 season. He became a starter in 2021 and then started all 12 games for the Flashes last season.
… Continue reading story here …
–
—–
May 1st
… CU in a few minutes … 
With the Transfer Portal closed, a breakdown of CU's roster (65 scholarship players)
From the Daily Camera …
Coach Prime and his staff have three months to acquire 20 more scholarship players, getting CU to 85 scholarship players by August 1st
*indicates players still has a redshirt season available
Pos.
Sch
Seniors
Juniors
Sophomores
R-Freshmen
T-Freshmen
QB
3
Shedeur Sanders
Ryan Staub
Kasen Weisman
RB
3
Kavosiey Smoke*
Anthony Hankerson
Dylan Edwards
TE
3
Caleb Fauria*
Erik Olsen*
Louis Passarello*
WR
10
Xavier Weaver
Willie Gaines
Jimmy Horn Jr.
Tar'Varish Dawson Jr.*
Isaiah Hardge
Adam Hopkins
Omarion Miller
Jordan Onovughe
Jacob Page
Asaad Waseem
OL
12
Landon Bebee*
Jack Bailey*
Tyler Brown*
Gerad Chr.-Lichtenhan
Isaiah Jatta
Kareem Harden*
Savion Washington*
Van Wells
Jack Wilty*
David Conner*
Carter Edwards*
Hank Zalinskas
DT
5
Taijh Alston*
Leonard Payne Jr.*
Shane Cokes*
Chazz Wallace
Amari McNeill*
Edge
6
Jordan Domineck*
Jeremiah Brown
Joshka Gustav*
Deeve Harris*
Derrick McLendon II*
Taje McCoy
ILB
9
Brendan Gant*
LaVonta Bentley*
Marvin Ham II*
Isaac Hurtado*
Demouy Kennedy*
Eoghan Kerry
Victory Johnson
Morgan Pearson
Kofi Taylor-Barrocks
CB
6
Omarion Cooper
Kyndrich Breedlove*
Jahquez Robinson*
Travis Hunter
Cormani McClain
Carter Stoutmire
S
5
Cam'Ron Silmon-Craig
Myles Slusher
Trevor Woods
Vito Tisdale*
Jaden Milliner-Jones
K/P
3
Mark Vassett
Jace Feely*
Alejandro Mata
Sch.
65
7
22
17
2
17
–
—
Brady Russell dumps 49ers for better deal from the Eagles
From the Daily Camera … Any disappointment that came from not hearing his name called during the NFL Draft went away quickly for Brady Russell.
The former Colorado tight end got a call from the San Francisco 49ers as soon as the draft ended on Saturday. A deal was in place for Russell to head to the Bay Area.
"It was to where I told my family, 'Go 'Niners!,'" Russell said.
About five minutes later, the Philadelphia Eagles called.
"It was the kind of deal, enough money where you're like, 'I can't say no to this. That'd be just stupid to say no to this,'" Russell said.
With that, Russell agreed to join the Eagles as an undrafted free agent on Saturday, kick-starting his professional career.
For the second consecutive year, no Buffs were selected in the NFL Draft, but Russell was one of four signed as an undrafted free agent. Receiver/special teams player Daniel Arias (Arizona Cardinals), defensive end Terrance Lang (Los Angeles Chargers) and outside linebacker Guy Thomas (Indianapolis Colts) also got free agent deals. Linebackers Robert Barnes (Seattle Seahawks) and Quinn Perry (New York Giants) were invited to rookie minicamps.
"That fires me up," Russell said of the opportunities provided to his former teammates. "I love that opportunity for them. There were individuals (on last year's CU team) that definitely have ability and I'm glad they at least have a chance to show it and it didn't just get cut off because of how poorly we performed as a team. They have an opportunity to prove themselves, so that's pretty dang cool."
… Continue reading story here …
–
—–
April 30th
… CU in a few minutes … 
Edge rusher Deeve Harris: "I'm 100% more ready for Power Five football this time"
From the Daily Camera … Coming out of high school, Deeve Harris had the talent to play Power 5 football.
Two years away from the Power 5 has made him more mentally ready for the challenge, however.
Earlier this month, Harris, a 6-foot-2, 233-pound edge defender, committed to Colorado after two seasons at Old Dominion. Prior to that, he played two seasons at Minnesota.
"Oh, yeah. 100% (more ready for Power 5 this time)," Harris said. "I'm also very grateful for the opportunity because it's like, you're coming out of high school and the game's gonna be fast; you've got a lot to learn. But once you've got experience under your belt and the actual why, I'm extremely excited to be able to get another shot at that and be able to show the world what I can do and glorify God's name through the game."
An all-state player at Lutheran North (Mo.) High School, Harris racked up 263 tackles, 67 tackles for loss and 20 sacks during his prep career. A three-star recruit, he signed with Minnesota and played two seasons with the Golden Gophers. He saw action in only one game, however, before transferring.
During his two seasons at ODU, Harris played in 23 games, posting 56 tackles, 8.5 tackles for loss and five sacks. He also returned two interceptions and a fumble for touchdowns.
… Continue reading story here …
–
—–
April 29th
… CU in a few minutes … 
Four Buffs pick up free agent contracts after conclusion of the NFL Draft
From the Daily Camera … No Buffs were selected in the NFL Draft, but three former Buffs were reportedly signed as undrafted free agents Saturday: tight end Brady Russell (Philadelphia Eagles), outside linebacker Guy Thomas (Indianapolis Colts), defensive end Terrance Lang (Los Angeles Chargers), and wide receiver Daniel Arias (Arizona Cardinals).
Former CU linebacker Robert Barnes was invited to participate in rookie minicamp with the Seattle Seahawks.
NFL Draft Picks for Pac-12 Programs in 2023:
1. Oregon – 6
2. Stanford – 5
3. USC – 4
3. UCLA – 4
5. Utah – 3
6. OSU – 2
7. WSU – 1
7. Cal – 1
7. ASU – 1
10. Colorado – 0
10. UW – 0
10. Arizona – 0
NFL Draft Picks in Pac-12 Era (since 2012)
48—Stanford
47—USC
46—UCLA
42—Oregon
39—Washington
35—Utah
28—Cal
25—ASU
21—Oregon State
15—Colorado
14—WSU
12—Arizona
–
—
ODU transfer DL Chazz Wallace: "I'm very excited and I'm ready to get to work"
From the Daily Camera … Chazz Wallace has watched a lot of the YouTube videos showing the work Colorado football players have put in this spring. Then, he got a chance to see some of that work first-hand during a visit to Boulder last week.
That was enough to convince the former Old Dominion defensive tackle that he wants to be a Buffalo.
"I'm a hard-nosed worker and I like to get gritty and dirty and I'm willing to do whatever it takes to get better," said Wallace, who committed to CU earlier this week. "That type of environment is what I actually needed for myself to get to the next level."
A 6-foot-2, 295-pound defensive tackle, Wallace got a chance to see how CU line coach Sal Sunseri coaches his players and he enjoyed the "big-time atmosphere" at the Buffs' sold-out spring game last Saturday.
The opportunity to play in a Power 5 conference and be a part of head coach Deion Sanders' rebuild at CU is what attracted him the most, however.
"I'm very excited and I'm ready to get to work," he said. "Just the belief that coach Prime has in the program and the city of Boulder is beautiful. It's something I've never seen before and it caught my eye. The belief around the whole program (is exciting) and just starting something new, a fresh start."
… Continue reading story here …
–
—–
April 28th
… CU in a few minutes … 
JSU transfer WR Willie Gaines: "I know with my type of play, I can play in the Pac-12″
From the Daily Camera … Although he grew up in Florida, Willie Gaines always had his eye on the Pac-12 Conference.
"My favorite team was actually Oregon, but I also liked the conference, the Pac-12, in general," Gaines said.
It took an unconventional route to get there, but Gaines will get an opportunity to play in the Pac-12 after committing to Colorado last week. The 5-foot-9, 170-pound slot receiver played last season at Jackson State and he will be reunited with first-year CU head coach Deion Sanders in Boulder.
"To (play in the Pac-12) with coach Prime at Colorado, I'm very excited to get started," Gaines said.
Gaines is one of seven new Buffs who played for Sanders at JSU last year and he's excited to get an opportunity to continue to learn from Sanders.
"My favorite thing about coach Prime, he plays to your true potential," Gaines said. "Every game and in practice, he pushes you hard and he tells you go out there and play and be you."
… "I'm very excited for the new opportunity because it was a dream (to play at this level) since I was younger, when I was about four years old," he said. "I know with my type of play, I can play in the Pac-12.
"I'm ready to get started. I'm looking forward to this year, doing something special and starting a trend that Colorado didn't have in a long time; bring excitement back to the city."
… Continue reading story here …
–
—
CU NFL Draftees – It's been pretty quiet decade for Buffs
CU had no NFL draft selections in 2022, and that might hold true for 2023 as well (wide receiver Daniel Arias and safety Isaiah Lewis declared for the Draft … we'll see) CU finished the 2021 NFL draft with one selection, with Will Sherman going to New England in the sixth round. With an empty 2022 draft, there have now been eight drafts in the past 13 years in which Colorado had fewer than two players selected, including four seasons (2010, 2015, 2016 and 2022) in which no Buffs were taken.
The past decade-plus of CU players selected in the NFL draft:
2010 (0)
2011 (4)
17. Nate Solder, OT, New England (1)
27. Jimmy Smith, CB, Baltimore (1)
118. Jalil Brown, CB, Kansas City (4)
227. Scotty McKnight, WR, N.Y. Jets (7)
2012 (2)
160. Ryan Miller, OG, Cleveland (5)
231. Tony Clemons, WR, Pittsburgh (7)
2013 (2)
109. David Bakhtiari, OT, Green Bay (4)
172. Nick Kasa, TE, Oakland (6)
2014 (1)
45. Paul Richardson, WR, Seattle (2)
2015 (0)
2016 (0)
2017 (4)
60. Chidobe Awuzie, CB, Dallas (2)
66. Ahkello Witherspoon, CB, San Francisco (3)
111. Tedric Thompson, SS, Seattle (4)
246. Jordan Carrell, DT, Dallas (7)
2018 (1)
58. Isaiah Oliver, CB, Atlanta (2)
2019 (1)
187. Juwann Winfree, WR, Denver (6)
2020 (3)
42. Laviska Shenault, WR, Jacksonville (2)
103. Davion Taylor, LB, Philadelphia (3)
226. Arlington Hambright, OL, Chicago (7)
2021 (1)
197. Will Sherman, OL, New England (6)
2022 (0)
–
—–
April 26th
… CU in a few minutes … 
Nothing to see here: Transfers to be granted access to practice video
From ESPN … Colorado players who have entered the transfer portal will have access to practice film from 2022 and earlier, the team said Wednesday, in response to players who had been denied access to the footage.
Tight end Zachary Courtney and outside linebacker Kaden Ludwick both told ESPN that, when asked, the team would not provide film from fall 2022 practices. The film had been requested by prospective coaches after the players entered the portal earlier this month.
Courtney, a freshman who missed spring practice while recovering from surgery — and entered the portal April 19 — tweeted about his situation Tuesday, writing, "this is not a shot at [coach Deion Sanders] I just wanted coaches to know I have no film for them!!"
Courtney told ESPN that he had contacted Colorado's video staff, who informed him that only game footage would be released.
"I didn't expect to get so much attention to my post, and I wish I didn't post now, because it put a bad look on both me and Deion, and I didn't want Deion to have any bad rap," said Courtney, who received scholarship offers from Miami (Ohio) and Coastal Carolina even without providing film. "I just wanted my film. I got hurt midway through the season, so I didn't have enough game film to show. It would have been really nice to show, because I went against the first-team defense [in practice]."
Ludwick said that players normally accessed film through an iPad app but that film from 2022, including scrimmages at practice, had been "wiped." It is typical for transferring players to have access to practice film, and some will record it on their phones to make sure they have it before entering the portal.
"Colorado is happy to provide all game film and any practice film prior to spring 2023 to any student-athlete and institution upon request," the team said in a statement Wednesday afternoon.
… Continue reading story here …
–
—
The Athletic – OL Coach Bill O'Boyle to Travis Gray: "I didn't want to cut you, but we had to cut five offensive linemen"
… I know I've said it before, but I'll say it again. If you don't already have a subscription to The Athletic – get one … 
From The Athletic … Travis Gray thought he had Sunday off. The day after Colorado football's nationally televised, snowy spring game showcase, the offensive lineman was eating lunch at Olive Garden. He had a meeting with coach Deion Sanders scheduled for 3 p.m. Monday — until his phone buzzed with a text message from offensive line coach Bill O'Boyle.
That meeting had been moved up. It started in 30 minutes. An apologetic O'Boyle was waiting in the lobby of the team facility. As they made their way toward Sanders' office, O'Boyle told him what was happening.
"He's walking with me and said, 'Hey buddy, you're going to get cut today. I'm sorry to tell you this. I didn't want you to hear it from Coach Prime. I wanted you to hear it from my mouth. I didn't want to cut you, but we had to cut five offensive linemen, and you were the last one,'" Gray told The Athletic on Tuesday evening.
When Gray walked into Sanders' office, his head was down. Then he looked up.
"I was like, 'Oh, God.' I saw the mean mug in his face," Gray said. "He told me, 'You're 6-foot-8, 320 pounds. I know in my heart of hearts a school is going to pick you up in the portal when you enter. Make your weaknesses your strengths and keep progressing. I hope you have a great future, it just won't be here at the University of Colorado.'"
Gray was disappointed. The Aurora, Colo. native's father, Lamarr Gray, was an outside linebacker on Colorado's 1990 national championship team. His dream of following in his father's footsteps was over after just a year on campus.
Most of the 23 Colorado players who entered the transfer portal or announced plans to on Monday and Tuesday were told to do so, players say.
Defensive coordinator Charles Kelly called safety Jeremy Mack Jr., who made 48 tackles last year and worked with the first-team defense for much of the spring, into a meeting with Sanders, too.
"Coach Prime just told me up front, 'We have plans to go another way. You competed. You did everything we wanted you to this spring, and you fought,'" Mack told The Athletic on Monday. "That was my first meeting with Coach Prime since I've been here."
Mack may have been caught off guard, but for other players, it was clear where Sanders and his staff were investing their efforts. A line emerged, players said, between the returning players and newcomers.
"None of the new coaches would talk to the old players and treat us the same as the people they brought in," said tight end Zach Courtney, who entered the transfer portal April 19. "The new guys wouldn't be picked on as much in film. Coaches would tell them to just do better, but if it was an old player, they'd keep going off on what you did wrong and keep yelling about it."
… The five players The Athletic spoke with relayed one consistent reality for players Sanders inherited: He spent little to no time coaching or speaking with them.
"I felt like he was more of a motivational speaker. He gives good advice, but he didn't really talk to me once," Courtney said. "I never really got to experience his coaching."
"No relationship with him at all. I said what's up to him a few times," said Gray, who practiced with the second team before an injury during a scrimmage forced him to miss two days of spring practice. "I'm not sure he knew the names of half the kids he got rid of. He was worried about who he brought in. If you were on the 1-11 team, it seemed like he didn't really care about us at all. He already said he was going to get rid of 25-30 of us, and that's exactly what he did."
–
—–
April 25th 
… CU in a few minutes … 
Spring Game a ratings hit, with over 500,000 tuning in
From the Daily Camera … Colorado's spring game on Saturday drew 551,000 viewers on ESPN, an increase of 92% over last year when the network broadcast USC's spring game (287,000 viewers).
CU's spring game was the second-most watched spring game on the ESPN networks since 2016. The only one to draw more viewers in that time was Alabama's spring game in 2021, with 556,000 viewers.
Lincoln Riley's first USC spring game aired on ESPN last year: 287,000 viewers.
–
—
Mass exodus from CU roster makes national news
Tweet from ESPN stats guru Bill Connelly: By my count, Colorado's now lost all 4 QBs who threw >20 passes, 3 of 5 RBs, all 9 players targeted >8 times, 5 of 8 OLs and 7 of 8 DLs with >100 snaps, all 4 LBs with >200 snaps, and 12 of 17 DBs with ANY snaps. Obviously added like one jillion transfers, too, but GOOD GOD.
From CBS Sports … "Wave of Buffaloes exploring exit after Deion Sanders' spring game debut" … Colorado wrapped up its first spring practice session under coach Deion Sanders on Saturday, but the roster is going to look much different when toe meets leather this fall. Fifteen players have entered the transfer portal since Sunday, signifying that Sanders has major work to do in order to reconfigure his roster during the summer.
From ESPN … "18 players on Deion Sanders-coached Buffaloes in transfer portal" … Eighteen Colorado players entered the transfer portal Monday as part of a post-spring practice exodus, as new coach Deion Sanders continues to reshape the Buffaloes' roster. Sanders, who told players to "hop in that portal" at his first team meeting after being hired in early December, has been open about his plans to upgrade the team's talent level following a 1-11 season in 2022. Although Colorado lost several players to the portal before spring practice, Monday saw a significant group depart, including wide receivers Jordyn Tyson and Montana Lemonious-Craig, who led the team in receptions and receiving yards, respectively, in 2022.
From The Athletic … "The numbers behind Deion Sanders' extreme roster purge" … Deion Sanders is pursuing the most dramatic Year 1 roster flip we've ever seen in the transfer portal era, and he made that perfectly clear on Monday. Since his hiring in December, Sanders has never been shy about his plans to radically overhaul his roster. After a 1-11 season, the program needs all the help it can get. The new staff has imported more than 40 newcomers from Jackson State, Sanders' previous school, and from all over the country. And they're far from finished.
No school has put more players in the portal than Colorado. After Monday's departures, Colorado has now seen 46 scholarship football players enter the transfer portal in 2022-23, with 41 exiting since Sanders took over. No other Power 5 program has lost more than 29 in this cycle.
Colorado had 83 scholarship players at the start of the 2022 season. Only 20 are still on the roster as of Monday night.
–
—–
April 23rd
… CU in a few minutes … 
Daily Camera: "This may have been the first time – ever – that the CU spring game was the place to be"
From the Daily Camera … This may have been the first time – ever – that the CU spring game was the place to be.
Saturday's attendance was more than the previous nine CU spring games combined (47,044). A year ago, an estimated 1,950 showed up for the spring game. The previous record was 17,800 in 2008.
Coach Prime is ringing in a new era, however, and Buff Nation didn't care about the cold and snow. Fans came to see Coach Prime and CU's new batch of stars, led by quarterback Shedeur Sanders and cornerback/receiver Travis Hunter.
It wasn't a flawless performance, by any means, but the fans got what they wanted from the stars.
Unofficially, Shedeur Sanders completed 16-of-19 passes for 225 yards and two touchdowns, while also rushing for a 7-yard score. He was 5-for-5 on the first possession, capping it with a 14-yard touchdown pass to Hunter. Later, he threw a 98-yard touchdown pass to Montana Lemonious-Craig, who unofficially finished with six catches for 169 yards.
"We're playing against us, so it's kind of hard to measure," coach Sanders said of his impression of the performance. "I was looking for certain people to do certain things and the people I was looking for to do certain things did those things really, really well."
Shedeur Sanders, a junior, was a breath of fresh air for CU fans who have watched miserable offenses the past two seasons. He was sharp all afternoon, zipping the ball to Hunter, Lemonious-Craig, Kaleb Mathis and others.
He even briefly conducted the band as he celebrated a touchdown run.
"The band was there and I'm like, 'OK;' I started doing that," he said. "Then they actually started playing and I'm like, 'Dang, first time controlling a band, for real.'"
It may have been his first time controlling a band, but he was in control of the offense, looking like the veteran that he is after starring at Jackson State the past two years.
"I'm just really proud of just the whole receiver corps stepping up, even when we didn't have (Jimmy Horn Jr., who was nursing an injury)," Shedeur Sanders said.
… Continue reading story here …
–
—
The Athletic: "It's clear CU fans are buying what Sanders is selling"
From The Athletic … Deion Sanders led his team onto the field, walked to midfield and removed his white cowboy hat, then took a bow in front of the filled home stands.
Then the first showcase for his program began, which was the lone college football spring game broadcast on ESPN this year.
Sanders coached in an all-black outfit underneath the cowboy hat, with his signature Nike "I Ain't Hard To Find" shirt and a puffy black coat with "Prime" across the lapel as he roamed the field. And of course, dark sunglasses.
"I was amazed. I didn't know it would be like that," Sanders said. "The energy, walking out of the locker room with the team it was unbelievable. It was one of those moments you'll never forget. It was something to behold, like you had to be there."
… Colorado's roster is still very much in flux. The Buffaloes have been very active in the transfer portal, adding former Kentucky starting safety Vito Tisdale to the roster on Saturday via the transfer portal.
Colorado has dealt with more than a dozen defections since the portal opened a week ago and had just four defensive linemen available for Saturday's game. It was, like most spring games, simply an exhibition. With the talent influx — Colorado has already added 28 players and ranks No. 1 in the 247Sports Transfer Portal Team rankings — it's hard to imagine the Buffaloes not seeing significant improvement from last year's 1-11 campaign, but all the change and a difficult schedule make it hard to know how much better the Buffs will be in Sanders' first season.
The story of Saturday's game, though, is the first tangible evidence of the excitement Sanders has brought to the program. The scene at Folsom Field was something the program hasn't seen in years and one that's rare across the sport for a spring game. It's clear Colorado fans are buying what Sanders is selling.
–
—
ESPN: "New Colorado coach Deion Sanders 'amazed' at spring atmosphere"
From ESPN … A year after having fewer than 2,000 people in attendance for the annual Colorado spring game, the Deion Sanders era began in earnest Saturday as over 45,000 people packed into Folsom Field in Boulder for this year's version of the black and gold game.
Near-freezing temperatures and snow did not stop the sellout crowd from filing in to get a glimpse of the new-look Buffs led by their superstar head coach, who was hired in December away from Jackson State.
Sanders, donning a cowboy hat and wearing a T-shirt that said, "I AIN'T HARD TO FIND" and a jacket with "PRIME" on it, was himself much more part of the show than the actual football that happened on the field. The head coach was more hype man and emcee than playcaller — Sanders was mic'd up during the broadcast, took part in in-game interviews, conducted the band and seemed to control the volume of the crowd by merely raising his hands.
"I was amazed," Sanders said postgame of the Colorado crowd. "It was a moment you'll never forget."
The former Florida State and NFL star kicked things off by allowing 98-year-old Colorado superfan Peggy Coppom to take the opening kickoff. Sanders escorted her up to the ball, which she kicked to a giant cheer. After the game, Sanders called Coppom the MVP.
"She was quick, her first step was unbelievable," Sanders said. "She was very physical when she grabbed me and made sure I held her arm."
If there was another MVP, it was likely the offense led by Sanders' son Shedeur, who followed his father and transferred from Jackson State. Shedeur threw for several touchdowns in the spring game format, including a 98-yard score to returning wide receiver Montana Lemonious-Craig.
Lemonious-Craig and Shedeur combined for 154 yards and two touchdowns, while Shedeur also had a rushing touchdown.
"What did you expect? He's a Sanders!" Deion said during his in-game interview when asked about his son's performance.
Among many recruiting victories, Sanders has already scored in his short Buffs tenure, being able to bring former top overall recruit Travis Hunter from Jackson State to Boulder looks to already be paying dividends.
… Continue reading story here …
–
—–
April 22nd – Game Day! 
… CU in a few minutes … 
Neill Woelk: Buffs deliver a Prime Performance in Spring Game
From CUBuffs.com …  Colorado football fans wanted an "event" Saturday.
Deion "Coach Prime" Sanders and his Buffaloes delivered exactly that, putting on a Black and Gold spring game display that left a sold-out crowd with a taste of what they hope becomes a regular item on the CU menu.
The primary focus of the day was football, and the Buffs no doubt delivered in that aspect, giving an ESPN national audience a glimpse of how much has already changed within the CU program under Sanders' direction.
Clearly, the Buffs are bigger, faster — MUCH faster — and stronger than recent squads.
But the peripherals — from the appearance of a long list of Buffs greats from past years to what Coach Prime called an "MVP" performance from CU icon Peggy Coppom — provided a flair to the day that far surpassed any other spring game in anyone's memory.
"Phenomenal," Sanders said at his post-game press conference. "I'm amazed and stoked, if that's the proper word, about the attendance, the energy and electricity  … Walking out of the locker room with the team was unbelievable. It was one of those moments that you will never forget."
Even Mother Nature cooperated after threatening to throw a kink into the operations. While a Friday night spring snowstorm provided some anxious moments early Saturday, CU's grounds crew had the Folsom Field surface clear and ready to roll at game time.
By kickoff, temperatures were brisk but comfortable and the announced crowd of 47,277 (larger than all but two of CU's home games last fall) settled in for the show.
The fans got what they came for — an afternoon of big plays and a tantalizing peek at the potential of next fall.
Sean Lewis' newly installed offense produced a rapid — almost dizzying — pace. Lewis has promised an up-tempo attack and the Buffs made good on that promise Saturday.
Quarterback Shedeur Sanders guided the No. 1 offense up and down the field to three touchdowns, two through the air and one courtesy of his legs. Sanders opened the game with a 75-yard scoring drive, wrapping it up with a 14-yard scoring toss to Travis Hunter, who will no doubt be one of his favorite targets. Sanders then  added a 98-yard scoring strike to Montana Lemonious-Craig before finishing the No. 1 unit's day with a 7-yard scamper into the end zone.
"I was looking for certain people to do certain things," Coach Prime said. "And the people I was looking to do certain things did those things well."
While there were no "official" statistics, unofficial numbers had Shedeur Sanders finishing 16-for-19 for 230 yards and two touchdowns. Lemonious-Craig gathered in six catches for 168 yards, Hunter had four for 26 and Kaleb Mathis caught four balls for 31 yards.
… Continue reading story here …
–
—
Can't tell the players without a program! Here's the Spring Game roster … 
… Including the lucky 13 players who have already "earned" their numbers … 
… With offense vs. defense for the Spring game, Buff fans don't have to worry as much about the current dearth of defensive linemen, as the coaches don't have to try and field two full squads …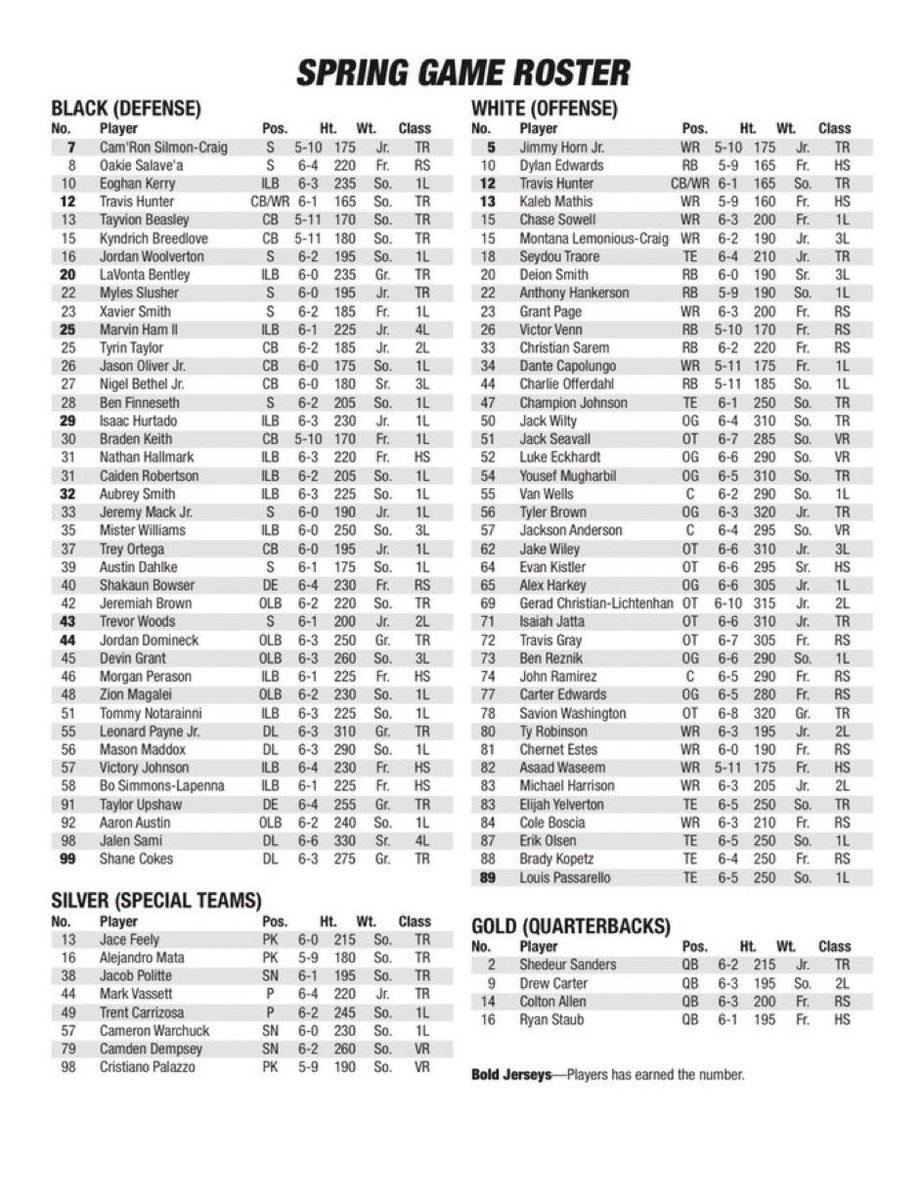 April 21st
… CU in a few minutes … 
Canzano: CU has credentialed 310 media members for the Spring Game
From John Canzano … "The Sink" is located on University Hill, less than a mile from Folsom Field. The eatery has been open for 100 years and is a popular hangout for University of Colorado students looking for a burger, pizza, beer, sandwich or a salad.
Robert Redford worked at "The Sink" when he was a student in Boulder. President Obama dined there once. So did ex-Secretary of State Madeline Albright and actor Dan Aykroyd. And Guy Fieri featured the place on his Food Network show "Diners Drive-Ins and Dives."
It's seen some stuff over the years.
On Saturday, Colorado will host 45,000 fans for the spring football game. The athletic department announced this week that season tickets are sold out for the first time in 27 years. The Buffaloes have never sold out season tickets before August.
It's mid-April, folks.
On Tuesday morning, I dialed "The Sink" and reached managing partner Tell Jones. He was working on the restaurant's kitchen order for the week. He instructed me to email him a list of questions about Saturday and he'd get back to me.
A few minutes earlier, I called a nearby Starbucks coffee shop. The employee who answered explained that the company prohibits staff from talking with media members. He referred me to a corporate hotline. Before hanging up, the employee couldn't help himself.
"I'll tell you this," he whispered, "we're staffing double for Saturday. Nobody knows what to expect."
ESPN will broadcast Colorado's spring game on Saturday. It's the only game in the nation getting that kind of exposure. Curtis Snyder, in charge of football communications at Colorado, told me that the university has credentialed 260 media members for the spring game (now up to 310).
Snyder is in his first year in charge. He took over for long-time sports information director David Plati, who semi-retired at the end of last season. Per Snyder, Colorado football practices have seen "seven to 10 times more media" than last season.
Brian Howell, a long-time beat reporter for The Boulder Daily Camera, told me: "Colorado's last road game last year was at Washington. I was the only reporter in the (visiting) post-game news conference. To go from that to 15 to 20 people at every practice right now is insane."
Can we all just take a moment to appreciate the hire made by Colorado athletic director Rick George?
After parting ways with Karl Dorrell after a 0-5 start, George contracted a search firm — Eastman & Beaudine — to run interference. He talked with several key boosters and ex-players to get feedback. When the AD heard there was interest from Deion Sanders he started watching video clips.
Said George, in a podcast interview with me and Jon Wilner: "I think most ADs have a short list of people when they think they may make a change. I started developing that. I saw the 60 Minutes interview and some of the other interviews. I started looking at YouTube and doing my research on him and others, but on him there was a lot of material out there."
Colorado's first five regular-season games look as fun as a grease fire. The schedule features a non-conference opener at TCU, followed by home games vs. Nebraska and Colorado State. Then, Pac-12 play opens at Oregon and then home vs. USC.
The tenure of Coach Prime will be measured by wins and losses but it's difficult to view the elevated profile of Colorado football this spring and not think the hire has already paid off.
… Continue reading story here …
–
—
ESPN crew to call the game from the field, not the broadcast booth: "We're going to have fun with it"
From the Daily Camera … Like Sanders, this broadcast will be unique.
Fowler said CU has the "most fluid roster I've ever seen in the sport," and the fact that most of the Buffs haven't had uniform numbers adds to the difficulty. Fowler finally got a chart with numbers on Thursday morning, making it impossible to memorize the roster.
Fowler prides himself on being precise and clean with his preparation and calls, but said, "I'll just roll with it. We're gonna have fun with it."
The ESPN crew will also be calling the game from the field, rather than from a broadcast booth. Fowler, Griffin and Kessenich will be standing behind the offense on the field, often near Sanders. That means there won't be any way to watch monitors for replays.
"Buckle up. It's gonna be an interesting freeform broadcast – more talk show than documenting a game, but I think it's called for (in this case)," Fowler said. "This is going to be the craziest, wackiest, two hours of football I've ever done, hands down … But I'm super excited."
–
—–
April 20th
… CU in a few minutes … 
Chris Fowler: "CU has the biggest rebuilding job I've seen, possibly, in my years of covering this sport"
From the Daily Camera … A CU alum, Fowler will be the play-by-play announcer for ESPN's broadcast of the Buffs' spring game on Saturday at Folsom Field at 1 p.m. Robert Griffin III and Quint Kessenich will join Fowler on the broadcast.
CU is the only team in the country to have its spring game broadcast live on the main ESPN network and Fowler, ESPN's lead analyst and one of the most respected sports broadcasters in the country, still can't believe it.
"If you had told me a year ago I'd be doing this, zero percent chance and a sanity check would have been my response," he said with a laugh. "I can tell you how I imagine it when I walk out there Saturday, it'll be truly surreal. Even being on campus Friday and watching a practice and being around Prime and just seeing lovely Folsom Field will be cool, too."
The main reason Fowler and ESPN are doing this game, of course, is Sanders.
CU went 1-11 last season and was, remarkably, worse than that record indicates.
"I'll be honest with you, I was shocked how bad they were until I went back and looked at the tape and looked at the analytics," Fowler said. "I knew they struggled. As an alum, I keep an eye on it, but they were so far off the national radar.
"I was shocked … (at) how bad they were; historically bad. I had no idea. Didn't do anything well. They kicked field goals well, but not one thing you could say offensively or defensively they did well."
When CU athletic director Rick George swung for the fences in December and hired Sanders, who led Jackson State to two consecutive SWAC titles, Fowler was excited. Sanders has just three seasons of college coaching experience, and none at the FBS level, but he's a Pro Football Hall of Famer with major confidence, swagger and mass appeal who pumped life in the JSU program.
"It's an unusual hire. Some would say a desperation move, but Colorado is in a desperate situation," Fowler said. "Is it a geographic fit and an historic fit? No, but what does that mean anymore? Everything is more fluid and Colorado has the biggest rebuilding job I've seen, possibly, in my years of covering this sport."
… Continue reading story here …
–
—
CU Flatirons Society receives a $1 million donation
Tweet from CU Buff Club … We are incredibly grateful for Elaine & Jeffrey Lovell for their multi-year commitment. This gift begins our journey back to national prominence! For more information on the Flatirons Society, click here: https://cubuffclub.com/sports/2022/7/25/flatirons-society.aspx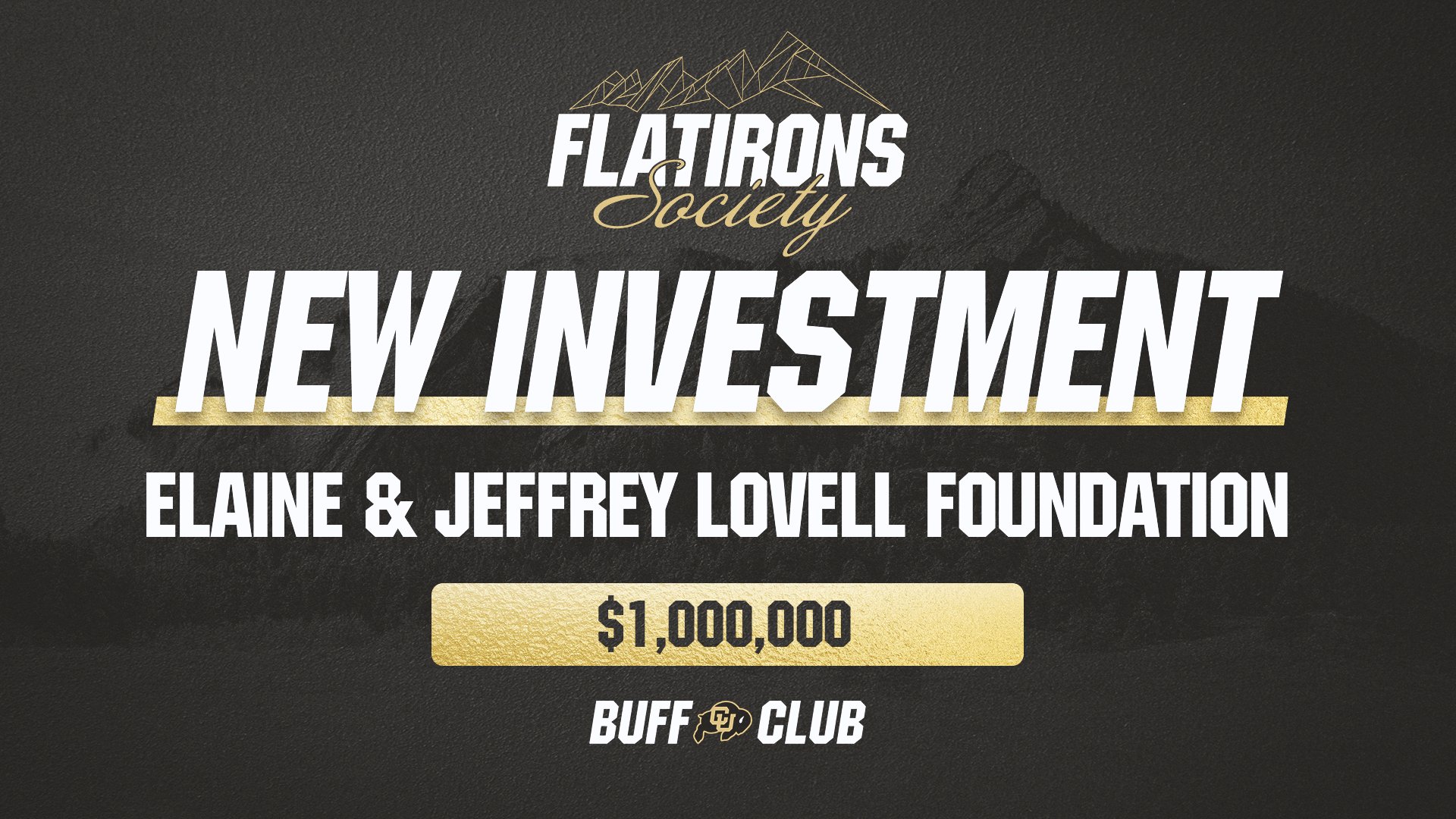 –
—–