—
Colorado Daily
—
March 27th
… CU in a few minutes … 
CU Spring Game approaching sellout status, with over 40,000 tickets sold
Tweet from Brian Howell at the Daily Camera … Colorado has about 40,300 tickets distributed for the April 22 spring football game (8K students, about 32K sold at $10 each). About 700 tickets remain for the general public (plus some student tickets still available)
Note … In a move which CU probably regrets in hindsight, they are not selling tickets to any of the luxury boxes, so a "sellout" would be around 41,000 tickets sold …
–
—
Coach Prime ready to seek more transfers: "We're about to really get starter, as soon as we're allowed to"
From the Daily Camera … On Monday, Thee Pregame Show posted an interview on YouTube with Sanders and he once again said the Buffs will be active after the spring. Players around the country will have the opportunity to put their names in the transfer portal from May 1-15.
"We ain't no joke in this portal," Sanders said in the interview. "I think we're No. 1 and we haven't got started in the portal yet. We're about to really get started, as soon as we're allowed to."
CU has the No. 1-rated transfer class in the country, according to 247Sports.com. The Buffs have already added 25 transfers, second only to Arizona State (27). No other team in the country has added more than 19.
As of now, CU is projected for 95 scholarship players in the fall, which is 10 more than the NCAA maximum of 85. With the Buffs planning to add more players through the portal, there could be 20 or more current players not on the team by August.
CU finished the first week of spring football on Friday, and Sanders and his staff are using these practices, in part, to figure out which players will still be Buffs in the fall.
"We win together in this building and we lose together in this building and we plan on winning," he said. "So, the mindsets of those individuals got to change or they've got to go."
For now, Sanders and the staff are focusing their efforts on getting every player better by the end of spring.
"Everybody has to develop," Sanders said. "I don't care if it's the last kid on the totem pole; we have to put forth the effort to develop him, to make sure he's better at the conclusion of the spring than when he came for the first day of the spring. Whether that kid is here or not, we've got to make sure that kid is better. That's our objective. We've got to enhance him."
… Continue reading story here …
–
—–
March 25th
… CU in a few minutes … 
RB Coach Gary Harrell giving returning backs a fair shot: "I don't think that their results in the past is going to be indicative of their future"
From the Daily Camera … New Colorado offensive coordinator Sean Lewis spoke at length earlier this month about how he was refraining from watching game film of his new players, explaining he preferred to keep an unfiltered, objective viewpoint once he got the Buffaloes on the field.
One of Lewis' new work mates, assistant head coach and running backs coach Gary Harrell, had a different approach. He took a few video peeks at CU's returning running backs. But his gaze didn't linger.
Following the fourth and final first-week spring practice for the Buffaloes on Friday, Harrell met the media before the Buffaloes went into a one-week spring break pause on their workouts.
"I watched a little just to see what type of guy they are, but I didn't watch much," Harrell said. "I didn't judge them based on their past experience. I just don't think that their results in the past is going to be indicative of their future. I want to make sure I give them a fair play. We want to make sure we don't jump the gun and see what they cannot do. Just go through the process and it will take care of itself.
"And I think today showed once that the pads come on, the energy level goes up, and the competition rises also. I think the guys did a great job as far as stepping up to the challenge."
While new quarterback Shedeur Sanders, potential two-way star Travis Hunter and speedy South Florida transfer Jimmy Horn Jr. are taking the spotlight in the up-tempo attack being instilled by Lewis, Harrell's running backs room might ultimately prove to be the most talented and versatile position group on the offense.
… Continue reading story here …
–
—–
March 24th
… CU in a few minutes … 
The Athletic on CU QB commit Danny O'Neil: "They're valuing his intangibles. They're valuing the locker room product"
From The Athletic … Danny O'Neil is a three-star quarterback who plays at Indianapolis Cathedral. He is rated the No. 572 player and No. 33 QB in the 2024 class in the 247Sports Composite. He was hand-picked by Sanders — known as Coach Prime — and offensive coordinator Sean Lewis to be the program's quarterback of the future.
O'Neil had no intention of committing to Colorado heading into the weekend, but he knew that once he found the right fit he would be willing to make a decision. Lewis joked that he wasn't going to let O'Neil leave Boulder without his commitment. O'Neil laughed it off.
Lewis won the battle. O'Neil announced his commitment Tuesday.
"It all happened naturally," he said. "Just the way everyone was treating my mom and me, it really felt like home, and it's just a great place to be. Boulder is a beautiful city. I got to hang out with Coach Prime a lot, more than any other coach on any visit. Just being around him and knowing his connections were great, but he has a need to win. That's the big sell for me. It's a need to win, not a want to."
Who is this kid? O'Neil has offers from Cincinnati, Houston, Illinois, Kentucky, Louisville, Northwestern, Purdue, Wake Forest, West Virginia and others. Allen Trieu, a recruiting analyst specializing in the Midwest for 247Sports, has been evaluating O'Neil and understands why Colorado went all in.
"Danny is a fairly cut-and-dried evaluation. There isn't a lot of mystery to it," Trieu said. "I remember him as a freshman really being able to throw the ball. He plays at a really good high school program, has won a bunch of games, has great stats, an awesome touchdown-to-turnover ratio, leader, all of those things. He's just not quite as big as some of the other guys on the national recruiting board. I do think it's interesting to note that Deion and Sean Lewis are taking him as their first quarterback. I think it tells you that they're valuing the intangibles. They're valuing the locker room product and the kind of pedigree that he comes from with that high school program and, of course, the production."
This is a solid position for a prospect like O'Neil. He may not have the size — he's listed at 6-feet, 185 pounds — to eventually earn an offer from Alabama or Georgia, but he's getting in on the ground floor of what could eventually be a monster of a program. Why mess around with a random middle-tier Power 5 school when you can be the quarterback of the future for Coach Prime? That's an attractive sales pitch.
O'Neil, though, isn't going to shy away from the work. He saw the videos of Sanders addressing his Colorado team for the first time. He understands, without question, that anything that happens for him at Colorado is going to be earned. But what he sees is a meritocracy at a program that's center stage in the college football world right now. He also sees a former head coach in Lewis who left Kent State to coordinate Colorado's offense. He also saw the statistics Lewis' quarterbacks have put up, going back to Jimmy Garoppolo at Eastern Illinois.
… Continue reading story here …
–
—
Travis Hunter working on the offensive side of the ball: "I think he's gonna be able to add some value, again, in all phases of the game"
From the Daily Camera … For some players, the jump from the lower levels of college football to a Power 5 conference might be a challenge.
Colorado isn't expecting Travis Hunter to have much of an issue.
A 6-foot-1, 175-pound receiver and cornerback, Hunter transferred to CU this winter after playing his true freshman season at Jackson State. But, he wasn't the typical Jackson State recruit.
Rated the No. 1 overall recruit in the country for the 2022 class, Hunter was recruited by the top teams in the country but went to JSU to play for then-Tigers head coach Deion Sanders. Once Sanders took the head coaching job in Boulder in December, Hunter followed him.
Although rated as the No. 1 cornerback in the country in the 2022 class, Hunter is an exceptional receiver and he's been working with the offense in the early going of spring practices, which began on Sunday.
"He's gonna be able to help us on both sides of the ball," offensive coordinator Sean Lewis said. "He has a very unique skill set that's going to help the team in a lot of different phases.
"Offensively, he needs to do a great job just refining his route running because he's one of the freakiest athletes on any field he's ever stepped on."
Lewis is aiming to pair Hunter's athleticism with strong technique.
"We're gonna get on the field in a very competitive league with really elite (defensive backs) and when he comes across a DB as a wide receiver, particularly, where talent is equal, well, how are you going to win?" Lewis said. "That's where it comes down to techniques and fundamentals in your approach and your work that you do. So, as he continues to trend the right way, I think he's gonna be able to add some value, again, in all phases of the game."
… Continue reading story here …
–
—–
March 23rd
… CU in a few minutes … 
Offensive coordinator Sean Lewis: "I want to go fast. I like the intensity, the energy and the pace of play"
From the Daily Camera … Quarterback Shedeur Sanders threw precision passes. Receivers Jimmy Horn Jr. and Travis Hunter flashed their speed and athleticism.
And, throughout a nearly two-hour practice at Colorado's indoor facility on Wednesday morning, the Buffaloes were flying from drill to drill and maximizing their time on the field.
It's the type of tempo that first-year offensive coordinator Sean Lewis loves.
"Yeah, I like going fast. Me and Ricky Bobby got that in common," Lewis said. "I want to go fast. I've been playing this way for over a decade now. I like the intensity, the energy and the pace of play. We can get a lot done, our kids can work really efficient and we get a lot of volume, which is good."
… Continue reading story here …
–
—–
March 22nd
… CU in a few minutes … 
**Media given access to Practice No. 3 – Video Analysis**
–
—
*Video: Offensive coordinator Sean Lewis meets with the media*
From YouTube, courtesy of CUSportsReport …
–
—
Dartmouth DL Transfer Shane Cokes talks about adjusting to Power Five football
From YouTube, courtesy of BuffStampede.com …
–
—
Quarterback commit Danny O'Neil: "They're gonna win and they're gonna win now. I believe it"
From Athlon Sports … What a difference a week makes.
Before a second unofficial visit to Boulder, to get a fresh look at Coach Prime's program during its first spring practice, Danny O'Neil was in the middle of a busy recruitment. Several trips had just been taken and multiple additional visits were in the works.
But the trip to Colorado to get more time with Deion Sanders, Sean Lewis and the rest of the staff just put a pause on all other plans.
O'Neil announced his commitment to Colorado on Tuesday, not long after returning home from campus.
"I want to go to college, go through the regular season undefeated, win a national championship, win a Heisman, all that stuff — what everyone dreams of as a kid," O'Neil said last week. "I want to see if the coaches at Colorado can push me to do those things, to win together, to bring in a great 2024 class and be one of the next great dynasties in college football."
O'Neil was one of the first scholarship offers Lewis sent out among new quarterback targets when he took the Colorado offensive coordinator job. Two unofficial visits later and the state-champion arm, responsible for nearly 100 total touchdowns over the last two varsity high school seasons, is the newest Colorado football commitment.
O'Neil is 23-3 as a varsity high school starter with plenty of experience and intangibles on a 6-foot-1, 190-pound frame. He believes his makeup is that of a future winning college quarterback, similar belief to what Sanders has brought over to CU during his short time at the helm.
"Coach Prime has told me, as he's told the world on social media, that they're gonna win and they're gonna win now," he said. "I believe it. I think a lot of people do, a lot of people don't but the people that are in the building there — they believe it. That's all that matters."
O'Neil was being courted by plenty of programs, including Kentucky, Louisville, Miami, Illinois, Northwestern and others before making the public pick of Colorado to kick off the week.
… Continue reading story here …
–
—–
March 21st 
… CU in a few minutes … 
Defensive coordinator Charles Kelly: "We've got to see not only how people play, but how they can learn and process"
From the Daily Camera … "People think it's just spring practice", said defensive coordinator Charles Kelly. "We've been in these meeting rooms since a couple days after signing day in February," Kelly said. "We've been together for a long time. It's not just starting this week. I really like our staff. I really like the camaraderie that we have. They have great work ethic. They want to be here. They want to be successful. And we want to give them the resources to be successful.
"It's been really fun working with these guys. I think we have good relationships. We have fun in the meetings but we get a lot done. I'm looking forward to working with these guys a long time."
First-year head coach Deion Sanders plucked Kelly from Alabama, where he was the associate defensive coordinator the past four years. Yet like most in his profession, Kelly has made plenty of stops, including stints at Tennessee, Florida State and Georgia Tech. So while the Buffs are integrating new faces with new schemes, the routine of implementing those sorts of massive changes is nothing new to Kelly.
"We're moving some guys around to different positions, especially in the secondary, to see what they can do, what they can handle, how much they can process," Kelly said. "And then some of the guys up front, we're moving them. That's more probably the experiment part. But right now, we're just implementing. Every day we're adding new things. Because we've got to see also not only how people play, but how they can learn and process.
"You're going to play (opponents) that do different things every week. So your scheme has to be a little bit different based off what you see. So we have to be able to find people that can adapt to those situations."
… Continue reading story here …
–
—
Shedeur Sanders settling in: "Working with Coach Lewis is amazing"
From the Daily Camera … The biggest adjustment for Shedeur Sanders in moving to Colorado was the snow.
"I got used to it. Now I just go outside with a sweatshirt and shorts," said Sanders, who grew up in Texas before playing the last two years in Mississippi. "I'm cool now. I'm a Colorado boy now."
Colorado's new quarterback is also settling into a new offense and with his new weapons. On Sunday, CU opened spring drills, as Sanders got his first chance to get on the field in an official practice with the Buffs and his new offensive coordinator, Sean Lewis.
"Working with coach Lewis is amazing," Sanders said after Sunday's practice. "He's someone I never had before. Each and every day, each and every period, he pushes me to grow in different areas. … It's the little things that matter to him. I'm extremely grateful that he's the OC and he's here to run the show."
There are high hopes for a quick turnaround by CU under the direction of first-year coach Deion Sanders, who has brought in more than two dozen transfers. The key to Sanders' first season in Boulder, however, is his son.
In two seasons at Jackson State, Shedeur threw for 6,963 yards, 70 touchdowns and only 14 interceptions. He has completed 68.4% of his passes. Now a junior, Shedeur is transitioning not only to a new school, but to a new offense.
"It's his third offense in three years," coach Sanders said. "(This spring is about) understanding the nuances of the offense, getting to know the receivers.
"I know what he's gonna do throwing the darn football and he's very accurate. He's a very accurate quarterback, but just understanding all the nuances of the offense and then incorporating what he does well (is key). You just can't come and scrap what he just did. You've got to involve some of the things that he did well and that's why Bret Bartolone, our receivers coach, is here that was our OC last year, to incorporate that as well."
… Continue reading story here …
–
—–
March 20th
… CU in a few minutes … 
*Video: Inside CU's Practice*
From Well Off Media
–
—
*Video: Defensive coordinator Charles Kelly meets with the press after Practice No. 2*
From CUSportsReport.com …
South Florida wide receiver transfer Jimmy Horn, Jr. … 
–
—
Coach Prime: "Change has to be provoked and that's why we're here. If it was great, I wouldn't be here"
From the Daily Camera … With Sanders and his entire coaching staff being new to the program and 29 of the 80 scholarship players in their first few months as Buffs, it's going to take some time to get in a rhythm. Sanders and the staff are establishing the pace and expectation right away, however.
"That was a fast-paced practice," Sanders said. "We got a lot of work done. Got a lot of reps. I'm excited. I really am excited about what I saw today and they competed tremendously."
Asked what boxes he would like to check during the 15 practices this spring, Sanders said, "Every box."
"It's a lot of empty boxes," said Sanders, who is taking over a team that went 1-11 last year. "I want to see every box checked. Coaching boxes, everything. I gotta see how the coaches communicate with the players; I gotta see how the players communicate with the coaches; strength and conditioning; the training staff; the equipment staff.
"We're checking everything because this is a total commitment and effort of unification to win. It's not just us on the field. Everybody in this building has got to understand that we are winners. Change has to be provoked and that's why we're here. But we're trying to check every darn box. If it was great, I wouldn't be here."
Part of the process is making players earn their numbers. Practice jerseys on Sunday had the players' last names on the back, but no numbers.
"I'm old school," Sanders said. "I come from the place you've got to earn it."
Sanders went through the full, detailed script of the practice, placing the emphasis on the tempo of how CU will operate.
… Continue reading story here …
–
—–
March 19th
… CU in a few minutes … 
Coach Prime press conference after first practice: "It's time"
From CUBuffs.com … "It's time."
Colorado coach Deion "Coach Prime" Sanders opened the first workout of the Prime Era on Sunday by making it clear that the time has come for the Buffaloes to rewrite their destiny.
No wasted effort, no shortcuts — and everything is earned. Invest your time, don't waste it. Seize the opportunity and make every moment count.
Once the message was delivered, Sanders and his staff put the Buffaloes through a fast-paced, spirited workout, a tempo Sanders believes will soon become second-nature to his squad — and a tempo he believes will serve the Buffs well when they hit the field next fall.
"We don't take breaks," Sanders said. "It's no idle feet and you can't walk between the lines. Everything is running. Everything is station to station, drill to drill … By the time we hit the field in game time, we'll have a tempo that is out of this world because that's the expectation of practice."
Sanders allowed the team to give themselves a grade after their opening workout.
"The kids gave themselves a 'C'," Sanders said. "They gave themselves a C because they felt like they could do better understanding the tempo, the the thought process, the commitment to excellence, the consistency just staying involved. That was a fast-paced practice. We got a lot of work done. Got a lot of reps. I'm excited. I really am excited about what I saw today. And they competed tremendously."
Sanders is instilling a sense of urgency because the Buffs have a long list of boxes to check. Offensive coordinator Sean Lewis and defensive coordinator Charles Kelly are installing new schemes and every position coach is new — meaning new techniques, new practice regimens and new terminologies.
Kelly's new offense is also the third system in as many years in college for quarterback Shedeur Sanders, who accompanied his father to Boulder when Coach Prime made the move from Jackson State.
But the younger Sanders appears to be quickly grasping the new concepts and is quickly developing a chemistry with his teammates — many of whom are new, but a few who made the move with him from JSU.
"We're going to focus in on every play," Sanders said. "One play at a time, go through my rules that coach taught me, go through my checklist. Know who the key reads are, go through progressions, everything like that. So that's what I was focusing on, every play today."
One receiver with whom Sanders is quite familiar is Travis Hunter, a two-way player who was one of the nation's top-rated prep defensive backs two years ago. While it's likely that Hunter will be lining up as a starting cornerback for the Buffs next fall, he's starting the spring by taking snaps on the offensive side of the ball.
"Travis could fall out of bed and cover," Coach Prime said. "He's a freak athlete. But he needs to learn everything about being a receiver because he's a natural DB and we play a lot of man. He has to learn to signals, he has to understand the route movement, the arms stand in tight to his body, shoulders over his knees. He has to learn everything about being a receiver so he's focusing a lot on receiver right now. And we're happy with his progress. He was phenomenal today."
–
—
From CUSportsReport …
Quarterback Shedeur Sanders … 
–
—
Coach Prime: Players to Wear Blank Jerseys until they earn a number
… Running between drills … Always running … If a quarterback throws an incomplete pass in a route v. air, they have to go and get the ball back … If you want a number, you have to earn it … A lineman is not going to wear a single digit … No one is wearing zero, because that means your nothing, but you can earn a single digit number … Everything you do around here will be earned. We ain't giving you nothing … 95% of this room is not going pro, so getting a degree is important … It's not a game to me … Academics are real … You're going to be somebody … If problems outweigh performance, you've got to go … 
–
—–
March 18th
… CU in a few minutes … 
Neill Woelk: Emphasizing a sense of urgency a top spring priority
From CUBuffs.com … When the Colorado Buffaloes open their first spring session Sunday under the direction of Deion "Coach Prime" Sanders, the to-do list for Sanders and his staff will no doubt be a long one.
In the span of just a few months, the Buffs have undergone a roster change the likes of which has never been seen before in CU history — but one that is emblematic of today's college football world, where the transfer portal has changed the entire concept of rebuilding.
More than half of Colorado's roster has yet to play a game in a Colorado uniform. Virtually the entire coaching staff — from Sanders on down through the graduate assistants — is new, including the coordinators, who will have 15 spring practices to begin the on-field process of installing their new schemes.
But Sanders has vowed that CU fans won't have to endure a long, painful rebuilding process. He wants to win immediately — and to get there, the Buffs will have to improve in every facet of the game.
The top priorities of the spring:
1. Install new schemes on both sides of the ball. New offense, new defense, new terminology and new players means a tall order. Defensive coordinator Charles Kelly and offensive counterpart Sean Lewis have had the opportunity to begin the install process in the classroom, but nothing takes the place of on-field work.
Every practice, every film session, every drill will be important. There will be no room for wasted time or effort. Which brings us to …
2. Emphasize a sense of urgency. Granted, no matter what happens in the spring, the Buffs will still have an entire summer and fall camp to catch up if necessary.
But playing catch-up is not Coach Prime's style — and you can bet that every minute the Buffs spend on the field will be one with a purpose.
Sanders and his staff all have winning backgrounds. They all are familiar with what it takes to create the edge now that will make a difference next fall.
Expect that sense of urgency to be evident from Day One. The pace will be fast, the learning curve steep and the margin for error slim. Players who adjust quickly will make their mark and there's no doubt coaches will be noting who those players are.
… Continue reading story here …
–
—–
March 17th
… CU in a few minutes …
Coach Prime kicks a player out of the weight room for wearing the wrong socks
Colorado head coach Deion Sanders instantly made headlines when he decided to leave Jackson State this offseason and take one of the most difficult jobs in college football, becoming the head man of the Colorado Buffaloes. The flamboyant head coach has not been shy at all in the first few months since he took the head job in Boulder. He's shown that he's not afraid to say some things that might have ruffled some feathers, but the Hall-of-Famer also showed on Wednesday that he's not afraid to discipline his players, even if they don't follow the very smallest of rules.
Check out the video below, where Sanders kicks one of his players out of the weight room for wearing the wrong color of socks. He instructed his players to wear black socks, and one of them wore white socks. He instantly drew the ire of his head coach and Sanders wasn't afraid to let him know about it.
If there's one thing we've learned about Deion Sanders a few months into his tenure with the Buffaloes, it's that it's his ship and he's going to do things exactly the way he wants them done. Anything less is unacceptable.
–
—–
March 16th
… CU in a few minutes … 
Brady Russell's bench press reps would have been tied for second-most at NFL Combine
From CUBuffs.com …  The Colorado Buffaloes football team held its 31st annual pro day on Wednesday with a few dozen representatives from the NFL present.
Participants consisted of wide receiver Daniel Arias, tight end Brady Russell, defensive lineman Terrance Lang, edge rushers Jamar Montgomery and Guy Thomas, linebackers Robert Barnes, Josh Chandler Semedo, and Quinn Perry, and defensive back Isaiah Lewis.
The day began with each player getting their height, weight, hand size and wingspan measured.
Next was the bench press which saw Buffs showcase their strength, most notably Brady Russell put up 21 reps, a number which would have been tied for second most at the 2023 NFL Combine amongst tight ends.
Soon after came the vertical and broad jump where Daniel Arias led the group with a 38″ vertical and 10′ 7″ broad jump. Guy Thomas was the only other Buff to have a broad greater than 9'11" jumping 10'0″.
The athletes then moved to the field for the 40-yard dash before participating in the shuttle and 3-cone-drill. Daniel Arias again led the participants with a 4.50 40-yard dash. Isaiah Lewis showed he has recovered from his torn labrum leading the group with a 4.12 shuttle time and a 7.07 3-cone drill.
The 2023 NFL draft will take place on Thursday, April 27 through Sunday, April 29 in Kansas City, Mo.
–
—–
March 15th
… CU in a few minutes … 
Stats from CU's Pro Timing Day 

–
—
The Athletic: Recruitment of four-star safety Jordan Johnson-Rubell a true test of Coach Prime's recruiting ceiling
From Ari Wasserman at The Athletic … Back home from Florida for spring break, four-star safety Jordon Johnson-Rubell stood on the track at Arlington Martin High School on Sunday to watch his friends work out at the Under Armour Next Football Camp Series. He wore a black sweater that simply read "Los Angeles" across the chest.
Is that some sort of hidden message?
"No, no," Johnson-Rubell laughed.
The truth is, any major American city could be perceived as a clue to which direction his recruitment is headed. Los Angeles, Dallas, Austin, Houston, Columbus, Birmingham, Miami, Detroit, Orlando …  and, now, Denver?
Rated the No. 87 overall player and the No. 7 safety in the 2024 class in the 247Sports Composite, Johnson-Rubell is a recruit who truly has it all. It doesn't matter what conference or city he wants to choose, there's an option for him. A Fort Worth native who plays at Bradenton (Fla.) IMG Academy, Rubell is being pursued by everyone.
If he wants to go off to the West Coast, USC is an option. If he wants to return home, TCU, Texas and Texas A&M would love to have him. If he wants to join an NFL factory, Alabama and Ohio State have both promised him a spot. If he likes the vibes in Florida, he can choose between any of the Big 3 in the Sunshine State. If he wants to help a Midwestern program that has recently broken through reach new heights, Michigan would roll out the red carpet.
There's one school we haven't mentioned. It's located in Boulder, Colo.
This is 2023, and Colorado is now a viable option for elite recruits.
Six months ago, Colorado would have never been part of Rubell-Johnson's journey. That's what hiring Deion Sanders — er, Coach Prime — will do for a program. And Rubell-Johnson has a visit locked in to check out Colorado's spring game on April 22. That's the power of Coach Prime. He'll get prospects on campus.
There's a deeper connection with Johnson-Rubell, though. Like with four-star running back Dylan Edwards in the 2023 class, Sanders and cornerbacks coach Kevin Mathis coached Johnson-Rubell's youth football team, appropriately called Texas Truth, in Dallas. Sanders was the offensive play caller for Johnson-Rubell when he was 12 years old. There's a built-in familiarity with him and his mother, something that helps make a deeper connection.
"I was big on Jackson State when he was there," Johnson-Rubell said of Sanders. "It's funny, but Colorado was my first offer from the old coaching staff, but I never thought I'd be considering them for real. They definitely could be a real contender when I go there for the spring game and see how everything is."
Recruitments like this are critical for Sanders.
Yes, Sanders managed to pry five-star cornerback Cormani McClain of Lakeland (Fla.) High away from Miami at the end of the 2023 cycle. He also got Travis Hunter, the former No. 1 overall player in the 2022 class who he signed at Jackson State, to transfer to Colorado. This cycle — Coach Prime's first full class as a Power 5 head coach — was always going to be the true test of Colorado's ceiling.
Sanders has already proven capable of closing a groundbreaking recruitment. But can he do it over and over and over again in the same class with top-100 players from across the country?
Johnson-Rubell could be the perfect test for that.
… Continue reading story here …
–
——
March 14th
… CU in a few minutes … 
Coach Prime: "We're winners. You've got to start thinking that. I see about a quarter y'all thinking that"
From Football Scoop.com … Testimonials are fine and welcome, but most of all, Deion Sanders wants an authentic response as he peppers coaches and players alike inside Colorado's team room with one simply question:
"What would make today lovely?" Sanders asks.
Responses range from "Knowing I got better" to "Getting another opportunity" to "Praising the Lord."
Then, from Sanders, "Do you have the propensity to make the day better?
"You're waiting on today, and today is waiting on you. You're waiting on us, and we're waiting on you."
Sanders then continues his offseason rebuild of his first-ever Power 5 program, the Buffaloes, with more motivational tenets for his program and a glimpse inside the all-out competitions pitting the Colorado offensive players versus their defensive counterparts in pre-spring drills.
"I don't have bad days," Sanders says. "I can have a bad moment, I can have a bad minute or a bad hour, but I would never allow it to get to a point where I'm having a bad day. You do not have the remote control to my life to turn me off and on, high and low.
"We're winners. You've got to start thinking that. I see about a quarter y'all thinking that.
"We're winners, and we start winning by when we wake up. Thank the Lord for this day. Let's win today. Let's not walk on the field, period. We're running and hustling, encouraging one another, pushing one another."
"Quit saving it," Sanders demands of his players. "What are you saving it for? Give every dern thing you got. How long is a play? Five seconds. Give every dern thing you got for that 5!"
–
—–
March 13th
… CU in a few minutes … 
Ten Buffs to participate in CU Pro Timing Day Wednesday
From CUBuffs.com …
Colorado Football's Pro Day is this Wednesday, March 15, from 10:30 a.m. to approximately 1:30 p.m. at CU's Indoor Practice Facility.
Expected to participate are Daniel Arias, Josh Chandler-Semedo, Guy Thomas, Jamar Montgomery, Anthony Lyle, Isaiah Lewis, Terrance Lang, Robert Barnes, Quinn Perry and Brady Russell.
The event is NOT open to the public.
–
—
CU Spring Game will be aired nationally on ESPN; tickets sales top 35,000
Press release from CUBuffs.com … Colorado Football's spring football game as part of Black & Gold Day will air live on ESPN, the network announced Monday afternoon in conjunction with its plans for its Spring College Football Programming.
Deion "Coach Prime" Sanders first spring game will take place April 22 at 1 p.m. MT.  The Buffs have already sold 35,000 tickets for the game and it will be the highest attended spring game in CU history.  Tickets are still available but moving fast. Parking will be $10 and will be available to be purchased in advance soon.
Colorado's will be the only spring game that will air on the main ESPN network and one of only two along with National Champion Georgia (which will air on ESPN2) not on either ESPN+ or conference networks.
Also part of Black & Gold Day will be a Field Day presented by Children's Hospital of Colorado where there will be inflatables and other games for kids along with field day activities with student-athletes from other sports and an autograph session with current and former Buffs that played in the NFL.  That will take place on Franklin Field from 10:30 a.m.-12:30 p.m.
The CU volleyball and soccer programs will also have spring games on April 22, both at 11 a.m. with the soccer game taking place at Kittredge Field and the volleyball match at the CU Events Center.
CU's annual Pro Day will take place Wednesday, March 15, and Coach Prime's first spring practice will take place Sunday, March 19.
–
—–
March 12th
… CU in a few minutes … 
Coach Prime being counted on to assist diversity, equity and inclusion (DEI) strategies at CU
From the Daily Camera … At the start of his national signing day press conference on Feb. 1, Colorado head football coach Deion Sanders once again expressed his feelings for the city of Boulder.
"Let me start by saying I absolutely love Boulder, Colorado. I really do," Sanders said. "It was a hidden gem for me because I had no idea. … I absolutely love it.
"I can't wait to get into a home so I can lay down and chill, have a dog run around the yard and call the place home. … And I thank you for welcoming me. You're making me feel pleasant, welcome – my family, my kids, everybody. Our new signees, the whole football team staff, coaches, everyone that we brought, you have made them feel impeccably good."
It wasn't the first time Sanders has praised Boulder since he was hired on Dec. 3. Mainly through social media, Sanders and members of his family – including three children who are or will soon be CU students – have routinely expressed how much they enjoy being in Boulder. Every time they do, it makes DaWon Baker happy.
Baker is in his second year as CU's associate athletic director for diversity, equity and inclusion (DEI), striving to make sure DEI is impactful in all areas, including the experience of the student-athletes.
"I help that strategy and I help make sure that all the decisions we make at CU Athletics, there's an element of DEI that is embedded into it," Baker said.
Baker said CU athletics has one of the largest DEI staffs in the country and that the investment in that area positions the school to be a leader in that regard. Baker said he also feels full support from athletic director Rick George, adding that George "has done a really good job of identifying that (DEI) matters for our athletes."
Sanders, the third consecutive Black head football coach hired at CU, could have the ability to dramatically enhance CU's efforts with DEI.
"Deion Sanders, he's a microphone," Baker said. "Good, bad or indifferent, no matter how you feel about it, that's part of who he is, so he amplifies. I think by having him here, he can bring a lot of awareness and attention to things that we've done historically, to continue to kind of build on the momentum and the success that we want to have in the future."
… Continue reading story here …
–
—–
March 11th 
… CU in a few minutes … 
R.I.P. – All-Time Great Wide Receiver Otis Taylor dies at the age of 80
… A point of personal privilege … Every boy has his heroes, and mine was Otis Taylor. I know many of you are Denver Bronco fans, and I know this is a college football site, but on the passing of one of the great wide receivers in the history of the NFL, allow me a digression … 
Some of you are aware that I have been a lifelong fan of the Kansas City Chiefs. When I was very young, Montana State's own Jan Stenerud was drafted by the Chiefs, and my loyalty was won. Star wide receiver Otis Taylor quickly became my favorite player, and 89 my favorite number.
My connection to Otis Taylor and his number has been lifelong. I remember the day before Christmas break when I was in fifth grade, our teacher, Mrs. Bowles, decided to give away all of the candy canes she had used to decorate a bulletin board. She asked the class to pick a number between 1-100, with the student getting closest to her chosen winning the candy canes. I chose 89 – and won (yes, I shared the candy canes with my classmates). When I played football, and was given the choice of number for my uniform, I chose 89. When we were asked in law school to pick a three-digit number to use on our blue books (to ensure the finals were graded anonymously), I chose 389, a tribute to Stenerud and Taylor.
The Chiefs have been on a great run of late (again, my apologies to Bronco fans who haven't watched their team beat mine since the Obama administration), but there were also the 50 years of unrewarded loyalty between Super Bowl wins. In many of those lame years, I only had my memories of better years to fall back on, years when the graceful Otis Taylor dominated opponents with his rare mix of size and speed. 
R.I.P., Mr. Taylor … and thank you.
From ESPN …  Otis Taylor, the longtime Chiefs wide receiver who along with quarterback Len Dawson formed one of the NFL's dynamic duos, died Thursday after more than a decade of health problems. He was 80.
Taylor's family, who had been caring for him as he dealt with Parkinson's disease and dementia, confirmed that he had died a mere seven months after Dawson, his close friend and teammate.
Taylor spent all 10-plus years of his career in Kansas City, where he was a fourth-round pick out of Prairie View A&M in the 1965 AFL draft. He went on to have two 1,000-yard seasons during an era in which the passing game was still evolving, and he finished his career with 7,306 receiving yards and 57 touchdown catches.
"Otis made my job easy," Dawson once said. "If you got the pass to Otis, you knew he'd catch it."
Taylor is perhaps best remembered for his 46-yard touchdown catch in Super Bowl IV that clinched the Chiefs' victory over the Minnesota Vikings. He was part of two AFL championship teams, was voted to the Pro Bowl after the AFL-NFL merger in 1971 and 1972 and was inducted into the Chiefs' ring of honor in 1982.
… Taylor's most famous catch, a 46-yard touchdown against the Vikings in Super Bowl IV …
–
—
Linebackers coach Andre Hart: "You have to have the confidence that you can turn things around and I think that's where we're at"
From the Daily Camera … Some might look at the Colorado football team as a program filled with problems.
After all, the Buffaloes are coming off a 1-11 season, have played in only two bowl games in the last 15 seasons and have had more coaches than winning seasons in the past two decades.
Andre Hart has a different view of the CU program, however.
"We're excited to conquer this problem that most people say we have," said Hart, the Buffaloes' first-year linebackers coach. "I don't think it's a problem here at all. I think what it is is just a change of energy that needs to happen, just a focus on what Colorado football was and has been for a very long time, back in the '90s when I was growing up."
Hart, who has worked with new CU head coach Deion Sanders for the past few years, isn't short on energy or confidence. And, he knows a bit about CU after having played against the Buffs during his time as a player at Kansas State.
"I just remember that they were a very disciplined team," he said. "I remember the fans and I remember a hard-nosed physical game. That's what I remember the most."
That's what Hart aims to bring back to Colorado, especially on defense.
"That's about winning hard-nosed games, coming down and hitting you in the mouth and making sure you love it when we do it," he said. "I don't see anything that's going to be challenging about here or anywhere I've been in the past because you have to have the confidence that you can turn things around and I think that's where we're at."
… Continue reading story here …
–
—–
March 9th 
… CU in a few minutes … 
CU kicker Jace Feely undergoing heart surgery
… UPDATE … Tweet from Jace Feely … Thank you for all the prayers surgery was a success, the doctors found the part that required the ablation and I'm all good now back in a couple weeks for spring ball!!
Tweet from Jay Feely, father of CU kicker Jace Feely … Please keep my son @jace_feely  in your prayers as he undergoes heart surgery today. Love you bud
–
—–
March 8th
… CU in a few minutes …
Preferred walk-on wide receiver Deuce Roberson "away" from the program amid investigation
From The Bold … On Jan. 14, a University of Colorado Boulder student emailed the Office of the Dean of Students about sexual assault allegations against a newly enrolled football player.
In the email, the student alleged Anthony "Deuce" Roberson II, a wide receiver who committed to the university in December 2022, raped another student during their time at Palmer Ridge High School in Monument, Colo.
"I have reason to believe he could be a potential threat to the safety of other Boulder students, especially regarding women," she wrote.
Roberson's history of alleged sexual misconduct goes back almost half a decade, and he is under active investigation by law enforcement in El Paso County for the sexual exploitation of a child, according to a spokesperson for the county sheriff's office. He has been accused of sexual harassment as recently as September 2022, and at least 14 women allege that he sexually assaulted, raped or harassed them during his high school years.
Roberson declined an initial request for comment and did not respond to further inquiries.
A source familiar with the university's football team said Roberson met with officials from the athletic department's compliance office days after a CU Boulder freshman published a petition calling for his expulsion. The office is responsible for ensuring student-athletes adhere to NCAA, Pac-12 and university rules.
In an email statement, Steve Hurlbert, the director of communications for the university, said Roberson has been "away" from the team since Feb. 23.
"While we cannot discuss specific cases due to privacy laws, we take all allegations of sexual misconduct seriously, and those found responsible are held accountable," Hurlbert said.
… Continue reading story here …
–
—
Coach Prime doubles down on recruiting stereotypes: "Everybody does it, it's just nobody talks about it"
From Athlon Sports … As Deion Sanders' new Colorado recruiting slogan, 'I ain't hard to find,' reads — news surrounding the Buffs head coach isn't slow to come by.
Even secondary instances of initial news, like the recruiting stereotype conversation from late February — when Sanders talked about different standards relative to each position.
On Tuesday, he doubled-down on the notion.
"We stereotype everything," Sanders said via The Pivot Podcast. "I just got in trouble for being honest about stereotypes — but it's the truth. Like if you go on a job interview…they're asking you questions about your job.
"Everybody does (stereotypes), it's just nobody talks about it."
The news, however digested, hasn't hurt CU's recruiting efforts on the high school or transfer portal front. Just Monday, a coveted wide receiver recruit in the transfer portal — former Jackson State star Shane Hooks — placed the Buffs in his top group alongside SEC programs like Texas A&M and Ole Miss.
Don't expect Sanders to go the other way any time soon, either.
"If you look over the history of our game, and you look at the quarterbacks, the linemen, the defensive backs — we're dead serious about it," he said. "It matters a lot to me."
Sanders reiterated examples of position-specific ideals beyond the home, of course, like two-sport players or two-way players at other positions.
Colorado is set to conduct spring football practices ahead of its sold-out Black and Gold game on April 22.
–
—–
March 7th
… CU in a few minutes … 
NIKE language in Coach Prime's contract: No Cover-ups or alterations
From The Athletic … The first major battle of Deion Sanders' college head coaching career wasn't a game or a recruit. It was about Nike.
Jackson State was a Nike-sponsored school when Sanders arrived in late 2020, but Sanders, who has a personal deal and a close relationship with Under Armour, helped convince the school to switch to Under Armour. He never wore the swoosh with Jackson State.
But at Colorado, he is contractually required to wear Nike gear in his official capacity. That itself is not unusual for a head coach. But his contract with the Buffaloes goes so far as to specifically say he cannot cover up the Nike logo.
"The Parties acknowledge their commitment not to permit such 'spatting' or taping, and to ensure that all other products of the University's Sponsorship Contractor worn or used by Football team members remain unaltered, so as to allow the University's Sponsorship Contractor's logo on the products of the University's Sponsorship Contractor to remain visible," the contract reads. Sanders also can't wear sunglasses with the logo of a brand other than Nike.
In 2021, Colorado referred to its first Nike deal in 1995 as one of the most consequential moments in school history and said the partnership has "stood the test of time." Every major school has an apparel deal that coaches and players must follow. But Sanders is "Coach Prime," a universe unto himself, and his official contract recognizes that, with scores of quirks and perks.
That includes acknowledging that Sanders still has his own Under Armour deal (his son Shedeur does, too). Deion Sanders was once a Nike star in the 1990s, but the sides had a falling out; in the past, Sanders has cited issues such as signature cleats and support for youth leagues as reasons for the split. Sanders and Under Armour have had a relationship since 2009, and Sanders has said many times he would never go back to Nike. At Colorado, Sanders can keep his UA deal on the side.
"(T)he University is aware of all of Coach's existing sponsorship/endorsement deals, and to the extent any of those deals may have been a conflict hereunder, their existence is not deemed a conflict," the contract reads. "During the term of this Agreement, as long as the above-described existing sponsorship and endorsement deals are deemed not to conflict with University sponsorship/endorsement deals, Coach shall have the right to renew or extend the existing deals without restriction."
Sanders hasn't been seen in Nike gear very much at Colorado. There have been a few hats, including at his introductory press conference, but Sanders has typically worn apparel displaying his "Coach P21ME" logo and the Colorado logo. The behind-the-scenes YouTube videos produced by his son Deion Jr. are not university-sanctioned, and at least one clip showed Sanders wearing a Nike hat with an Under Armour jacket.
… Continue reading story here …
–
—
Cornerbacks coach Kevin Mathis on charges: "It's going to be my job to make sure that those guys are playing at the top"
From the Daily Camera … Getting two of the best young cornerbacks in the country to come to Boulder was the first step.
Now, the Colorado coaches have to get them ready to play.
"Those guys are young and they've got a lot of technique work that they need to work on, but that's what I'm here for," CU cornerbacks coach Kevin Mathis said during a press conference last week.
"Those guys" could include the Buffaloes' entire cornerback group in general, but more specifically, it will be Travis Hunter and Cormani McClain in the spotlight.
Hunter was rated the No. 1 prospect in the nation for the class of 2022 before signing with Jackson State to play for head coach Deion Sanders and Mathis. After a year at JSU, Hunter is now at CU after Sanders took over as the Buffaloes' head coach in December.
McClain is ranked as the No. 1 cornerback in the class of 2023 and had been committed to Miami before Sanders took the job at CU. He flipped to the Buffs last month and will arrive in Boulder this summer.
A lot of football coaches talk about building a defense from the inside (defensive line and linebackers) out. But, not at CU.
"We're probably the only place in America that's gonna start from the outside-in with our corners, because that's who (Sanders) is, that's what we want to build our brand on," Mathis said. "We want to make sure our guys on the outside are locked down and we've got two good ones.
"Now, they need work and they're going to get work, but we've got two good ones on the outside that's gonna allow us do what we need to do on the inside of the defense to make plays."
… Mathis not only learned from Sanders, but in watching him play and practice he got to understand the high level of competitiveness Sanders demands out of his players today.
"Him and (Cowboys star receiver) Michael Irvin would go at it every play, so the competition that he's expecting, I know what he's talking about," Mathis said. "And I know that's why he's successful and that's why he's the best corner to ever play the game because he practiced like that every day."
Mathis will aim to bring that same type of practice mentality to the Buffs.
CU's cornerback group including returning starter Nikko Reed and talented young returners in Keyshon Mills, Jason Oliver and Joshua Wiggins. But, it's Hunter and McClain who will be counted on the most to lock down opposing receivers.
"It's going to be my job to make sure that those guys are playing at the top and being two of the best corners in the league," Mathis said. "I'm gonna push them every day. I don't care if they're five stars, six stars or no stars. We're gonna work them hard, train them up right to make sure that they're doing the best thing to make this Colorado defense great."
… Continue reading story here …
–
—–
Assistant director for high school relations, Armond Hawkins, Jr. leaving CU
… Hawkins was a key player in bringing in many of the California blue-chip prospects for CU's Junior Day. In his tweet announcing he was leaving CU, Hawkins didn't state where he was going from here … 
Bio from CUBuffs.com …Armond Hawkins Jr. joined the CU football program as the assistant director of high school relations on August 1, 2022.
Hawkins, 27, came to CU from the University of Southern California, where was the director of high school relations for the Trojans' football team for a little over two years (for the 2020 and 2021 seasons).
He graduated from the University of Idaho in 2017 with a bachelor's degree in Organizational Science.  He was a four-year letterman for the Vandals at defensive back, appearing in 44 games (18 starts), with 129 career tackles (eight for losses), with two interceptions, nine passes broken up, five fumble recoveries and three forced fumbles.
He was born December 6, 1994 in Rancho Cucamonga, Calif., and graduated from Rancho Cucamonga High School, where he lettered in football.  Hobbies include video games, bowling and watching movies (all-time favorite is The Wood).  A brother, Chris, was a defensive back at USC (2014-17) and a graduate assistant coach (2019) who now is coaching in the high school ranks.
–
—–
March 6th
… CU in a few minutes … 
*Video: Coach Prime's Offense Put to the Test: Can You Focus When Tired?*
From Thee Pregame Show …
–
—–
March 5th
… CU in a few minutes … 
Defensive ends coach Nick Williams: "I'm extremely passionate about coaching the edge rushing guys"
From CUSportsReport … Long before Deion Sanders placed a fateful call to him, Nick Williams held on to a dream that he might one day be able to work for a man he, like many his age, grew up idolizing.
While on the Georgia staff several years ago, he recruited two of Sanders' sons, Shilo and Shedeur, and got to speak several times with the man now commonly known as Coach Prime. Those interactions left an impression on Williams.
"I can't lie to you – it was on my mind for years," Williams said last week. "I hoped that I would have the opportunity to come here. God answered those prayers."
What was once a hope is now a reality.
Shortly after Sanders was hired by Colorado last December, he brought along Williams, at the time a defensive analyst at Texas A&M, to be his defensive ends coach. The 33-year-old Williams, a former linebacker at Georgia who went on to play in the Canadian Football League, arrives in Boulder with an impressive resume at this early stage in his career.
At both Texas A&M and Georgia, he was widely regarded as an elite on-campus recruiter. At Texas A&M, he played an integral role in landing Deyon "Smoke" Bouie, a four-star athlete who was the No. 120 player nationally in the 2022 class, and Marquis Groves-Killebrew, a four-star cornerback who was the No. 138 player nationally in the 2022 class. Both Bouie and Groves-Killebew are from Williams' home state of Georgia, but his recruiting reach extended to other parts of the southeast, most notably with five-star defensive tackle Walter Nolen, the No. 2 overall player in the 2022 class. With Williams' contributions, Texas A&M landed the No. 1 recruiting class in 2022.
"You have to build good relationships with people, but I always wanted people to know that I recruit hard because I work with guys that recruit hard and I learned from them," Williams said.
… Continue reading story here …
–
—–
March 2nd
… CU in a few minutes … 
Defensive coordinator Charles Kelly: "I've always been fascinated with the tradition of Colorado"
From YouTube, courtesy of CU Sports Report
… Alignment-wise, you have to be multiple … We want to be able to adjust week-to-week … Our identity: We're going to build our defense off of Coach Prime's expectations … We want to be big, physical, disciplined, fast … We want to be an aggressive style defense … You can't copy anybody. You have to have your own personality … This is going to be Colorado's defense. It's going to be our defense … There is no "magic dust". There's a lot of work that goes into it. We have a teaching progression that we go through … Position-wise, scheme-wise, there's a progression you've got to go through … I think it's a great staff. I've known these guys for many years … One of the blessings of being a coach is the relationships that you make … You try and take what everybody does the best, and you try to incorporate that … You can't just care about football, because if that is all you care about, you are not going to keep the attention of your team. We have a bunch of guys who are relationship oriented … Heading into spring practices … We're assuming that nobody knows anything. Our job as coaches is to teach … We're going to teach our players what to do, how to do it, and why it's important to do it that way … We'll start basic, and then we'll build … It's about playing situations … There's a lot to do to teach our players, and that's what we are going to do this spring … There's somebody out there that wants my job, so I have to compete … People, by nature, are competitive or they are not … Being competitive is the No. 1 thing, as they will take it with them the rest of their life … ". 
–
—
CBS Sports "23 Things For Spring" has CU at No. 2
From CBS Sports … We've hardly had time to catch our breath from the 2022 college football season. It seems like only yesterday when Georgia was taking over the world. It seems like every day when the Pac-12 continues to do, well, nothing.
But there is more to life. Start with spring practice '23: actual football complete with position battles, scrimmages and transfers. (There will be lots of those, by the way.) All the things that make life worth living.
Get used to change. Lots of it. BYU, Cincinnati, Houston and UCF will be playing in the same league as Texas and Oklahoma, even if only for one season. Archie Manning's grandson makes his debut with the Longhorns as perhaps the most famous recruit of all time. Nick Saban and Alabama try to bounce back from the depths of a two-loss season. TCU and Tulane try to prove their 2022 performances weren't a fluke. Northwestern will continue to try  as it enters 2023 sporting the nation's longest losing streak (11 games).
Grab a cooler and a lawn chair and get yourself to the second week of April. Over a three-day span (April 13-15), spring games will be played at Florida, Miami, USC, North Carolina, Clemson, Florida State, Clemson, Texas, Ohio State, Arkansas, Georgia, South Carolina, Penn State, Tennessee and Texas A&M.
That enough of an appetizer for you? 
1. Georgia's three-peat: The possibility is real, and it's spectacular. One day after the Bulldogs went back-to-back, it became evident they could win three in a row. That would be a first in the AP Top 25 era (since 1936). We have proof it can happen. Georgia actually got better last season after losing a record 15 players to the 2022 NFL Draft. If coach Kirby Smart can do that, he can reboot again instead of rebuild. There are 15 starters back despite the loss what projects to be about 13 draft-eligible players. (That could make 28 in two years!) The deck is finally cleared for prospects Carson Beck and Brock Vandagriff to battle it out at quarterback. Todd Monken is gone to the pros, but Mike Bobo is a known commodity as the replacement at offensive coordinator. You know the defense will rock even with the Philadelphia Eagles reportedly targeting co-defensive coordinator Glenn Schumann. More proof: The schedule is Charmin soft. The nation's longest current winning streak (17 games) could be extended to 32 this season.
2. Coach Prime: The biggest story of the offseason is just getting started at Colorado. Deion Sanders is making his Power Five debut unexpectedly in the Mountain Time Zone. Try to think of a Hall of Fame media icon who would put himself in this position not need the money nor the fame. There isn't one. CU lowered its standards to welcome in more transfers. A previously uninterested administration stepped up with a $6 annual salary. Sanders brought his "Louie" and enough swag to fill Folsom Field. Will he success? The Buffaloes ended 2022 as the worst Power Five program. they can only go up from 1-11. The venerable Bill McCartney proved you can win a national championship at Colorado (a quarter century ago) if you work hard enough at recruiting. Sanders will. There is a surprisingly good staff in place. Coach Prime's son, Shedeur, is the quarterback. Don't be surprised if the Buffs get to a bowl game in 2023.
3. Realignment: By the time spring practice ends — maybe by the time you finish reading this column — college football may rearrange itself. The Pac-12 is in danger of falling apart. The Big 12 is ready to pounce on the remains. That would leave Oregon and Washington with a decision to make: try to make a go of it in the remnants of the Pac-12 or knock on the Big Ten's door. That's a prelude to where the game is headed: three or four major conferences. Fourteen teams will be playing in different conferences than they did in 2022. That's before Texas, Oklahoma, USC and UCLA move in 2024.
14. Rashada reboot: Perhaps Jaden Rashada was destined for the desert all along. His dad played at Arizona State. The Pittsburg, California, quarterback became available after one of the biggest NIL poop shows of the age. By all accounts, Rashada had a big-money deal in place at Florida that fell apart. So the prospect would could have still likely gotten in the seven figures at an SEC school went ASU for … (reportedly) nothing. There is no NIL money at the moment for Rashada. If he is even three quarters of what was projected, new Sun Devils coach Kenny Dillingham has a quarterback to wake up the biggest sleeping giant in the game.
16. Pac-12 off the field: It looks like we'll enter March with the Pac-12 still without a media rights deal for 2024. That chase in itself has become a source of angst and embarrassment within the conference. The league will eventually (probably?) land a deal, but as of now, it has become obvious the Pac-12 waited too long to do a deal after the loss of USC and UCLA. It is now also evident there is no rightsholder that needs the Pac-12 on its air. Not ESPN, not Fox, not Apple, not Amazon. That's a damn shame for the Conference of Champions. Here's hoping what remains of the league stays together. By the weekend of the Final Four (April 1), we'll know for sure.
17. Pac-12 on the field: The moment USC and UCLA announced their intentions, it distracted from the actual Pac-12 football in 2022. Six teams finished in the AP Top 25 (as many as the SEC, by the way). USC was one game away from a playoff berth. Washington won 11 games and finished in the top 10 for only the second time since 2000. Dan Lanning had a fabulous debut at Oregon. Utah and Oregon are arguably the league's best programs, which bodes well after the loss of the two flagships. At least five teams should be ranked heading into 2023.
–
—–
February 28th
… CU in a few minutes … 
DC Charles Kelly: "Every little thing counts. Every little thing is important"
… "This is our defense. This is not Alabama's defense. This is the University of Colorado's defense. The trademark of Colorado defense is aggressive and physical play … we will hustle and we will pursue relentlessly". 
"Our results as a unit will always be about us." – @CoachKellyBuffs #GoBuffs 🦬 pic.twitter.com/1u9HfhTBwX

— Colorado Buffaloes Football (@CUBuffsFootball) February 15, 2023
–
—
Pro Football Focus: CU transfer Seydou Traore one of the top ten tight ends in college football
From Pro Football Focus … It's officially time to hit the reset button.
The 2022 college football season has come and gone, and so has the deadline to enter the 2023 NFL Draft. Now that we know who will continue playing on Saturdays next fall, let's take an early look at the top returning players at every position.
Here are the top 10 tight ends returning to college football next season.
10. SEYDOU TRAORE, COLORADO BUFFALOES
Traore was a standout goalie in London before moving to the U.S. for his senior year of high school with dreams of playing football.
As a sophomore at Arkansas State, his 89.6 receiving grade ranked fourth among all tight ends in the country, and his 340 yards after the catch tied for the fourth most. Reminder: This was only his third year of playing football.
Traore will play for Coach Prime, Deion Sanders, at Colorado next season.
–
—–
February 27th
… CU in a few minutes … 
Pac-12 assistant coaches weigh in on CU Recruiting under Coach Prime: "He's killin' it" 
From The Athletic … To gain a grasp on where things stand recruiting-wise within the Pac-12, The Athletic spoke to seven coaches or staffers who are familiar with the league — and each one works (or worked) at a different school — about the most recent recruiting cycle, realignment, Sanders' arrival at Colorado, who's impressed, who's flying under the radar and more.
They were granted anonymity in exchange for their candor.
Coach 1: Assistant coach in the Pac-12
Coach 2: Assistant coach in the Pac-12
Coach 3: Assistant coach who spent the 2023 recruiting cycle in the Pac-12
Staffer 1: Analyst in the Pac-12
Staffer 2: Recruiting staffer in the Pac-12
Staffer 3: Recruiting staffer in the Pac-12
Staffer 4: Recruiting staffer in the Pac-12
What have you made of Deion's recruiting so far?
Coach 1: I think he's doing a helluva job. Social media, he's doing a great job with that. They're getting better players than they've had. I think he's put Colorado on the map.
Coach 2: Deion's getting who he's supposed to get. He's going to get the kids who love the hype, the status, the clout, the fame, the fortune. He's going to get those kids. I'm not worried about Deion. Until I start seeing big ol' 290-pound defensive linemen committing to Deion, then I'll be worried. You can have all those skill guys all you want, but if you don't have anyone to block for them, what's that going to do for you?
Staffer 1: I think (Deion) knows himself and goes about it in a way where he feels comfortable and confident. That's his wheelhouse. That's Prime. There's always been some flash. He's unique in his approach and attracting kids and attracting the kids and the personalities that are going to fit with him. He's got a plan, so I'm not critical of it at all. He's a sharp individual and he's got sharp people around him. You've got to do something to flip that roster. It wasn't a good team. It wasn't a good roster.
Staffer 3: We'll see. It's a lot of hype right now.
Coach 3: I think he has a plan. He's an interesting guy. He understands social media, but then when you hear him talk to the team, it's old school. I think the combination of both is dangerous in a positive way.
Staffer 4: He's killin' it. It'll be about if he can get everybody to buy in and be on the same page when issues come up because he's going to have the talent. He could have the smallest support staff in the country and still have all these dudes because of his name and what he's done.
–
—–
WR Coach Brett Bartolone happy to be at CU: "It's been incredible so far" 
From the Daily Camera … As a player at Washington State, Brett Bartolone faced the Colorado Buffaloes once, but not at Folsom Field. He had his eye on Boulder even back then, however.
"I always told myself, 'Man, I would absolutely love if I somehow landed back here at the University of Colorado,'" he said last week. "And it's kind of funny how life plays out sometimes."
In December, new CU head coach Deion Sanders hired Bartolone to coach the Buffaloes' receivers.
"Being here with coach Prime and getting started here these first few weeks, it's been unbelievable," he said. "It's just truly a blessing. I looked out my window today and I see the mountains and the snow and all that and I've got to pinch myself just being here. So it's been incredible so far."
Bartolone's quick rise in coaching might be even more impressive than the view from his office window.
As a true freshman receiver at Washington State in 2012, he started nine games and led the Cougars with 53 catches – including three catches for 40 yards in CU's 35-34 win in Pullman, Wash. – but played just five games the rest of his career.
Injuries cut his playing career short, but by the time he was a senior, Bartolone was a student assistant at WSU, learning from one of the great offensive minds in college football, the late Mike Leach.
"Most of what I took from him I took as a player and a lot of it was caught other than taught, if that makes sense," Bartolone said. "Just by the way he interacted, by the way he coached, the simplicity of which he coached."
… Continue reading story here …
–
—–
February 25th
… CU in a few minutes … 
CU opens a as a 17.5-point underdog to TCU; a touchdown underdog to Nebraska
From Athlon Sports … All college football fans will have their eyes on Colorado this next season thanks to the man roaming the sidelines, and of course all of the talented players he has brought with him.
Deion Sanders is now the face of Colorado's football program, which has gone swimmingly for the Buffs in the couple months he's been on the job. Not only have they been able to attract top talent from the high school and transfer ranks, but they also have rejuvenated the fanbase and also brought in some more fans along the way.
However, unlike the past couple months which have really felt like the honeymoon phase of the Sanders hiring, as he has been all over social media and receiving compliments from names like Urban Meyer and Joel Klaltt, we are starting to see the doubters pour in.
It started with SEC analyst Paul Finebaum saying he doesn't believe Sanders has a high ceiling at Colorado, and now we are seeing that same sentiment being revealed by the oddsmakers.
FanDuel released their lines for some notable games ahead of the 2023 season, and unfortunately for Colorado fans they ended up on the wrong side of the line against TCU.
The Buffs opened as 17.5 underdogs against TCU in what will be the first game of the Sanders era, and while we don't know what either team will look following some key losses to the TCU roster from a year ago, and the complete roster overhaul by Sanders, it should be a great one!
Not only did FanDuel open with Colorado as 17.5 point underdogs against TCU in what will be Deion Sanders' first game as the head coach, but they also currently have them as a seven point underdog against their rival Nebraska.
Something that will make Colorado fans sick to their stomach due to the fact that Nebraska is one of their biggest rivals, and it also means that the Buffs would lose their first two games of the season if the people in Las Vegas are correct.
That means they would go on to face Colorado State at 0-2 before embarking on their toughest three game stretch of the season, as they travel to Oregon, host USC, and take a trip to Arizona State.
In terms of recent history against Nebraska, Colorado has won the last two meetings, but the Corn Huskers have won six out of the last 10. The programs last met in 2019 and the year before that as well, but you have to go all the way back to 2010 for the meeting prior to those two.
Similar to Colorado, Nebraska will be sporting a new head coach in Matt Rhule who is heavily relying on a strong recruiting and transfer class to turn things around quickly. The last meeting saw them go to overtime and the Buffs win 34-31.
–
—–
February 24th
… CU in a few minutes … 
FSU head coach Mike Norvell trying not to view the competition for recruits as "Florida State vs. a legend"
From CBS Sports … Deion Sanders isn't a stranger to the state of Florida. The first-year Colorado Buffaloes coach starred at Florida State from 1985-88, and then went on to a stellar career as a defensive back and kick returner in the NFL. Now a high-profile head coach at the Power Five level, Sanders is recruiting against his alma mater in the Sunshine State for some of the best athletes in the country.
Sanders, a native of Fort Myers, Florida, signed three high school prospects and four transfer players during the 2023 recruiting cycle. Most notably, at Jackson State last year, he signed 2022 No. 1 overall prospect Travis Hunter over the Seminoles. Hunter has since followed Sanders to Boulder after Sanders accepted the position at Colorado.
Simply put, current Florida State coach Mike Norvell is directly competing with a Florida State legend to land local players despite the fact that "Coach Prime" is recruiting from way outside of the Rocky Mountain region. He hauled in 11 high school prospects during the 2023 recruiting cycle, and another transfer from the University of Miami.
"We know that is one school with one coach who is trying to get into Florida and get the best that we have," Norvell said.
Norvell doesn't view the competition as "Florida State vs. a legend." He is confident that he can sign the players he wants by simply being himself.
"We are going to be who we are," Norvell said.
The two coaches are rivals on the recruiting trail, but Norvell is very happy that Sanders — a member of the Pro Football Hall of Fame and College Football Hall of Fame — has paved his own path to become a coach at a Power Five program.
"Prime has obviously had a great career and is doing great things in the coaching profession," Norvell said. "As a Florida State Seminole, we are happy for him and the track of his career and where that's going in the coaching world."
Buckle up. The rivalry between Florida State and "Coach Prime" is already a hot one, and it looks like it will continue for a long time.
… Continue reading story here …
–
—–
February 23rd 
… CU in a few minutes …
Ceal Barry to be inducted into the Pac-12 Hall of Fame 
Press Release from CUBuffs.com … The Pac-12 Conference announced the 2023 class to be inducted into the Pac-12 Hall of Honor, the Conference's most prestigious recognition of the greatest on and off-field contributors to Pac-12 athletics.
Legendary women's basketball coach and administrator, Ceal Barry, was chosen as Colorado's inductee for the class of 2023. The '23 class will be the first-ever all-female class inducted into the Hall of Honor in recognition of the 50th anniversary of the passage of Title IX.
"The Pac-12 is honored to induct this class of legendary athletes, coaches and administrators into the Hall of Honor," said Pac-12 Commissioner George Kliavkoff. "The 12 inductees represented their respective universities at the highest levels of athletic excellence, and we are especially proud to recognize this first-ever all-female class as we continue to honor the historic legacy of Title IX."
Barry boasts the title of the winningest coach in Colorado history with 427 victories. After taking the reins in 1983, she guided the program for 22 years and picked up four regular-season Big Eight titles, four Big Eight Tournament titles and one Big 12 tournament championship. Barry was a four-time Big Eight Coach of the Year and guided the Buffs to 12 NCAA Tournament appearances in her tenure, reaching the Sweet 16 six times and the Elite Eight three times.
Barry's success at CU took to the national spotlight, earning the 1994 U.S. Basketball Writers Association National Coach of the Year along with Basketball Times Magazine Coach of the Year. In 1995 she was named the WBCA Carol Eckman Integrity in Coaching Award recipient.
Internationally, Barry was an assistant coach on the 1996 gold-medal-winning U.S. Olympic team in Atlanta and was the 2004 head coach of the U.S. Junior World Championship qualifying team that captured the gold medal.
After her coaching career, she turned her leadership skills to administration, serving as an associate athletic director and senior women's administrator (SWA) for 13 years, then the department's deputy athletic director for two years. Her guidance and steady hand helped the department navigate some of the most difficult waters in CU history.
Barry, the first woman ever to earn a basketball scholarship at the University of Kentucky, started her head coaching career at Cincinnati in 1979, an era when women's sports were just beginning to feel the impact of Title IX. After four seasons there, she accepted a job offer from then-CU athletic director Eddie Crowder at Colorado, where she found a department still in the throes of a financial crisis.
Barry was inducted into the Colorado Sports Hall of Fame in 2006, the University of Colorado Athletic Hall of Fame in 2010 and the Women's Basketball Hall of Fame in 2018.
Formal induction will take place on Friday, March 3 during a private ceremony, as part of the week-long Pac-12 Women's Basketball Tournament celebrations in Las Vegas, prior to that day's semifinal matchups. The class will also be celebrated during a special recognition at halftime of the day's first semifinal matchup at Michelob Ultra Arena inside the Mandalay Bay Events Center.
Since Colorado joined the Pac-12 Conference, the following former Buffs have been added to the Pac-12 Hall of Honor:
Jenny Simpson, 2021 (cross country/track & field)
Burdette Haldorson, 2012 (basketball) Cliff Meely, 2013 (basketball) Ken Charlton, 2014 (basketball) Jim Davis, 2015 (basketball) Scott Wedman, 2016 (basketball) Chauncey Billups, 2017 (basketball) Bill Toomey, 2018 (track & field) Lisa Van Goor, 2019 (basketball) Bill Marolt, 2020 (skiing; administrator)
–
—–
February 22nd
… CU in a few minutes … 
USA Today: Coach Prime's secret weapon may be non-playing son, Deion Jr. 
From the USA Today … The three sons of Deion Sanders are expected to play big roles this year for the football team at Colorado, including one who is expected to be the starting quarterback and another who plays defensive back.
But it's the other son, the oldest, who may have had the biggest impact so far on the program his father is trying to build with the Buffaloes in Boulder.
His name is Deion Sanders Jr. Though he doesn't play football anymore, Sanders Jr. instead is using a video camera and various social media channels to do something that no other college football program is doing quite like this. He's building an audience for Colorado football, one video at a time, with daily behind-the-scenes access to players, coaches and the celebrity life of his dad, CU's new head coach.
"We try to flood the market," Sanders Sr. said about the strategy on one of his son's videos from January.
It's worked. This content – along with Sanders' big personality – have helped dramatically increase the size of the Buffs' audience since their arrival in early December. Count the eyeballs:
► Subscriptions to Sanders Jr.'s YouTube channel, Well Off Media, have rocketed to about 250,000, up from about 80,000 in late November, when Sanders Sr. was head coach at Jackson State in Mississippi. One video of their first team meeting at Colorado in December has been viewed 4.2 million times.
► The total aggregate following for the Colorado football program's individual and team social media accounts also has increased by 500% since Sanders' hiring at CU in early December, said Jim Cavale, founder of INFLCR, a content software platform used by athletes to build their social media presence.
Why does this matter?
More eyeballs lead to more interest from fans, businesses and recruits.
Colorado finished 1-11 last year – its 15th losing season in the past 17 years. But the number of businesses and other registrants that are looking to pay Colorado football players for the use of their names, images and likenesses (NIL) has increased 258% since Sanders' arrival, according to Cavale, whose company helped launch the Buffs NIL Exchange last year.
Colorado also just landed a Top 25 class of newcomers for 2023. Next year's recruiting class is ranked 13th in the nation, according to 247Sports.
Those recruits have been watching, along with their parents.
Sanders Jr. knows this because they told him when they visited campus recently with their sons.
–
—–
February 21st
… CU in a few minutes … 
Video: A Day in the Life of Travis Hunter
–
—
Ticket sales for Spring Game tops 30,000; season ticket renewals at 97%
From the Daily Camera … Two months before the spring football game, Colorado has already shattered its attendance record.
As of Tuesday morning, CU had sold 30,013 tickets for the April 22 spring game, the first under new head coach Deion Sanders.
For the first time, CU is charging admission for the spring game at Folsom Field, with general admission tickets going for $10. Students get in free and they have accounted for roughly 6,000 of the 30K tickets distributed to this point.
CU has records back to 1953 and the previous high mark for attendance for a spring game was 17,800 in 2008. CU counted 1,950 fans at the 2022 spring showcase and 1,000 in 2021.
"The response for spring game sales has been very exciting," said Alexis Williams, CU's senior associate athletic director for external operations. "I think it exceeded anything we thought it would, so we're excited to have thousands of fans be here for a spring game. I think it also is allowing fans who won't be able to attend in the fall a chance to have a sneak peek and come to the game."
Despite the spring game always being free of charge, it has not attracted many fans to Folsom Field over the years. This year's attendance is on pace to surpass the combined number of fans at the last seven spring games, with a total of 30,450 showing up from 2015-22.
Nearly 22% of the tickets for this year's spring game have been purchased by new customers who have never bought tickets from CU.
"Looking at our data, we have so many new people, brand new people in our system buying spring game tickets from other states," Williams said. "That excitement alone is great that they'll come out."
CU has also reached new heights for season ticket renewals. Roughly 97% of last year's season ticket holders have already decided to renew their seats for this year, believed to be the highest rate for the Buffs in the last 20 years.
… Continue reading story here …
–
—
Video: Team Workouts and Meeting: "1-11 Actions Get You 1-11 Results"
… First ten minutes definitely worth your time … "We ain't here for a bowl game. We're here for championships" … 
–
—–
February 20th
… CU in a few minutes …
Rule change proposals include clock running even after first downs are gained
From Sports Illustrated … A years-long effort in exploring ways to shorten college football games is entering the fourth quarter.
Executives of the sport are moving closer to recommending several clock rule changes meant to reduce plays for both safety and game length reasons, multiple officials tell Sports Illustrated. They include proposals that call for the clock to continue to run after first downs and incomplete passes.
High-ranking college football leaders have been reviewing four specific changes to clock rules, two of which are considered non-controversial, one that has garnered wide support and a fourth that has left some divided. The non-controversial proposals include (1) prohibiting consecutive timeouts (ie, icing kickers) and (2) no longer extending a first or third quarter for an untimed down if the quarter ends on a defensive penalty (the down would be clocked starting the next quarter).
While those are considered to be incremental changes that will save only a fraction of time, the other two proposals are more significant.
In a third proposal that is garnering wide support, the clock will continue to run after an offense gains a first down except inside of two minutes in a half. In a more controversial fourth proposal, the clock will continue to run after an incomplete pass once the ball is spotted for play.
While the changes would be implemented this fall, they are several weeks away from final approval. Several athletic administrators spoke to Sports Illustrated for this story under condition of anonymity because the changes have not yet been recommended, approved or even widely socialized with member schools. However, many officials involved in the process expect at least a portion of the proposals to pass—something that did not happen last year during a similar exercise.
… Continue reading story here …
–
—–
February 17th
… CU in a few minutes … 
Eric Bieniemy named Offensive Coordinator/Assistant Head Coach of Washington Commanders
From ESPN … The Washington Commanders have finalized a deal to make Eric Bieniemy the team's new offensive coordinator and assistant head coach, sources told ESPN on Friday, confirming multiple reports.
The sides agreed on a two-year deal that includes a "promotion in title, contractual structure" and a pay raise, a source told ESPN's Adam Schefter.
Bieniemy spent Friday talking to Washington's current assistants and will speak with the rest Saturday, according to sources. He's expected to be in Washington for an introductory news conference next week.
Bieniemy spent the past five seasons as the Kansas City Chiefs' offensive coordinator, helping oversee an offense that powered two Super Bowl championships — including one last weekend.
But he was not the primary playcaller on coach Andy Reid's staff. In Washington, Bieniemy will be in complete charge of the offense and call plays.
Bieniemy replaces Scott Turner, who was fired Jan. 10 after three seasons. During those three years combined, Washington ranked 27th in yards per game and 28th in points per game. Last season, the Commanders were 20th in yards and 26th in points.
Washington will enter a crucial fourth season under head coach Ron Rivera. The Commanders have gone a combined 22-27-1 in his first three seasons, winning the NFC East title with a 7-9 record in 2020. With the franchise up for sale, it's likely that the Commanders would need a strong season for the staff to continue.
… Continue reading story here …
–
—-
Coach Prime ESPN Interview: "We plan on winning and we don't have time to procrastinate"
From ESPN article entitled, "Colorado's Deion Sanders says he won't settle for mediocrity" …
Deion Sanders strived for greatness throughout a Hall of Fame playing career, and he set similar goals as coach of the Colorado Buffaloes, despite the team's 1-11 season in 2022.
Sanders told ESPN on Friday that he doesn't cater his message to the team he inherited. Instead, he requires players to adjust to his expectations and demands.
"It's a whole different level of expectation around here, and you got to be able to play the game," Sanders told ESPN. "So a certain level that might have been welcome, that level is no longer welcomed here. It's a whole different game now."
… The 55-year-old Sanders has been very visible around town during his first two plus months on the job, visiting local restaurants and making appearances around campus, which is nestled beneath the Flatiron rock formations.
"This place is beautiful," Sanders said. "And I'm pretty sure, with the lack of success, is people get complacent around here. They don't understand the beauty and the diamond you have, and they just walk around fulfilling obligations for a job, instead of being happy, enthusiastic and just proud to be in this position."
At his first team meeting, Sanders said change would be coming to the Buffaloes. He said he'd bring his "luggage" — several key transfers from Jackson State — and that players who didn't want to adjust should "jump in the [transfer] portal."
"It's not a hard message, because here's the thing: A lot of people are used to being lied to," Shedeur Sanders, who is projected as Colorado's starting quarterback, told ESPN. "The players coming in, they're coming to play, they're not coming to sit. So if you've been here, you're chilling, you're thinking your spot's good, that's not the case. You've got guys wanting to play with top talent, each and every position.
"Nowadays, a lot of people aren't scared of the truth, and they don't like hearing that."
–
—-
February 16th
… CU in a few minutes … 
Getting to Know Cornerbacks Coach Kevin Mathis
From Thee Pregame Show …
–
—–
February 15th 
… CU in a few minutes … 
CU Spring Game ticket sales surpass 27,000
From CBS Colorado … The Primetime effect continues to amaze in Boulder. Since the hiring of Deion Sanders in early December, the school has seen unprecedented engagement on social media, a whirlwind of interest in season tickets and the largest single day of sales in the team store's history.
Now the school is reporting an all-time high in interest for this year's spring football game. A source at CU told CBS News Colorado that the school has already sold 27,000 tickets to the annual spring game which will be held on April 22.
Tickets went on sale for $10 a piece on Monday. The 27,000 already sets a CU spring game record. The previous high was in 2008 with approximately 17,800 fans attending. The university is hopeful they'll have over 30,000 fans in attendance.
Sanders has indicated the spring game will be picked up by ESPN or another national sports channel.
–
—
Coach Prime: "We recruit character; we don't recruit idiots. Our coaches do a great job of discerning character"
From Thee Pregame Show … "I'm a blessed, happy, thankful person" … "Two things in life which don't have a price tag: Love and Peace" …
–
—
Tyreek Hill can't believe former Buff Eric Bieniemy has once again been passed over for an NFL head coaching position
From Sports Illustrated … As the five vacant NFL coaching positions are officially all filled, Chiefs offensive coordinator Eric Bieniemy once again did not get hired for a head coaching position.
Out of the five open roles, Bieniemy was only interviewed by the Colts, who ended up hiring Eagles OC Shane Steichen on Tuesday. Bieniemy's Chiefs beat the Eagles 38–35 in Sunday's Super Bowl LVII.
Bieniemy admitted last week that in his five years as the Chiefs OC, in which he's taken the team to the AFC championship every year, he's interviewed for more than a dozen head coaching positions. Despite his success in Kansas City while working with quarterback Patrick Mahomes, he still hasn't been promoted to a top role in the league.
Former Chiefs wide receiver Tyreek Hill was in shock, much like most of the NFL world, when Bieniemy didn't earn a head role.
"EB still no job is crazy to me , another great coach slept on," Hill tweeted with a sleeping emoji.
A similar sentiment was felt around the NFL, especially as Bieniemy is one of the most successful offensive coordinators in recent years. The Chiefs have appeared in three Super Bowls in the last four years, winning two of them.
Bieniemy's future is now completely uncertain as his contract with the Chiefs is up this offseason. NFL Network's Ian Rapoport reported back on Jan. 29 that the Commanders, Ravens, Titans and Jets all requested permission to interview Bieniemy for their offensive coordinator vacancies. The Commanders are the only team that hasn't filled their OC spot since.
–
—–
February 14th
… CU in a few minutes … 
Getting to Know Strength and Conditioning Coach Mo Sims
From Colorado Football …
–
—–
February 13th
… CU in a few minutes … 
The Athletic: Recruiting Class of 2024 – Could Coach Prime land a Top 5 Class? 
From The Athletic … Some of you got mad at my 2024 recruiting thoughts that ran on Friday because I wrote about the same schools that receive all of the coverage. Some of you read that it was only Part 1.
Either way, here are more thoughts on the 2024 recruiting cycle, featuring plenty of programs that don't get as much ink as the ones in Friday's story …
Colorado … Deion Sanders made some noise at the end of the 2023 cycle, but what can he do with a full year ahead of him to work with? Colorado already has two big-time commitments from four-star prospects in defensive lineman Omar White of Valdosta (Ga.) and athlete Ju'Juan Johnson of Lafayette (La.) Christian Academy. Yes, the transfer portal is always going to be important to Sanders, but this will be the class that helps us determine what Colorado's actual ceiling is in the high school recruiting department. Could it sign a top-five recruiting class?
Arizona State capped off its 2023 class by signing four-star quarterback Jaden Rashada of Pittsburg (Calif.) High. You may have heard of him. Kenny Dillingham is the first Arizona State coach who gets it in my adult life. The state of Arizona has two five-star prospects in the 2024 class, one of whom is quarterback Dylan Raiola of Phoenix (Ariz.) Pinnacle. While I don't anticipate the Sun Devils landing either Raiola or edge Elijah Rushing of Tucson Salpointe Catholic, I am tracking whether Dillingham can get ASU a more realistic look with the top players in the state than previous coaching regimes.
… Continue reading story here …
–
—
Coach Prime certainly made the rounds during Super Bowl week
From the Daily Camera … Shortly after dining among CU student-athletes at the Champions Center for lunch on Wednesday, Sanders headed to Glendale, Ariz., site of Sunday's Super Bowl LVII, where he not only attended the NFL Honors ceremony, but numerous appearances along radio row.
A Pro Football Hall of Famer who also spent many years as an analyst for CBS, ESPN and the NFL Network, Sanders is a big personality who has the credentials to speak on a number of topics. While he was representing Oikos Greek yogurt, a popular topic for Sanders in his appearances this week was his new job with the Buffaloes.
Sitting at microphones broadcast to various audiences around the country, Sanders repeatedly expressed his love of Boulder, the Buffs and coaching.
"Boulder's unbelievable, man. I absolutely love it," he said on the Rich Eisen Show.
Eisen, who worked with Sanders on the NFL Network, then asked Sanders how quickly he can build at Colorado.
Referencing his transformational three seasons at Jackson State, Sanders said, "We have the blueprint. We just did it. We plan on doing it again."
Long-time NFL writer Peter King hosted Sanders on his podcast and asked Sanders if he dreams of facing Alabama and Nick Saban in a national title game.
"Nah, I don't pick the opponent," Sanders said. "I don't give a darn who's on the other side of the field. I just know where I'm gonna be. Not where I want to be; where I'm gonna be in due time. We're gonna make it there, I'm assure of that. That's not a fantasy, that's a reality."
Sanders, of course, is confident he can win. He's expressed that confidence since Day 1 with the Buffs. But, he also continues to shine light on Boulder and the Buffs and the love he has for his job as a coach.
"It's not a job. It's not a path. It's real," he told King. "It's genuine and it's something I love.
"I absolutely adore these young men. I adore sitting down with the families and understanding the dynamics of the family and then understanding how can I assist that kid in getting to his destination."
–
—
Super Bowl champion OC Eric Bieniemy excited about Coach Prime at CU: "He can motivate young men"
From College Football Weekly … "He's an intelligent football coach," Bieniemy said. "On top of that he can motivate young men. He's a great example for these guys. That's the thing I love about what he's going to bring to the program."
"Obviously, he's a tremendous player, " Bieniemy said about Sanders. "He's a Hall of Famer for a reason. But on top of that, he has developed a brand and that has carried on and he has shown how successful he can be."
–
—
Spring game tickets go on sale to the general public Monday morning at 10:00 a.m.
… Tickets were made available to season ticket holders on Friday, but go on sale to the general public this morning at 10:00 a.m., MT. Tickets are general admission, and are $10.00. There was a limit of six placed on season ticketholders, which may hold true for season ticket holders as well.
Here is the link to purchase Spring Game tickets 
–
—–
February 12th
… CU in a few minutes … 
Coach Prime continues Boulder weather sales pitch: "It's really not that cold"
From CBS Sports … High-level success in college football starts with high-caliber players, and first-year Colorado coach Deion Sanders is already winning in that all-important category. Sanders delivered for the Buffaloes in his first recruiting cycle despite a short turnaround, hauling in the nation's fifth-best transfer class and No. 21 overall class, according to 247Sports.
Seven of those players hail from the talent-rich state of Florida — somewhere Sanders, who went to Florida State from North Fort Myers High School, is quite familiar with. Colorado is a long way from the Sunshine State, and Sanders explained his approach to recruiting the state with Patrick Peterson and Bryant McFadden on the All Things Covered podcast.
"I'm trying to introduce these young men to the other side of the country that they never thought about," said Sanders. "When you get out there, they say 'You got mountains with snow on it and it's not even cold?' Because when it's really snowing, it can't be so cold. It's really not that cold. Like, 30 [degrees] in Boulder is like hoodie weather.
"Once I get these Florida guys over that hump and they see it," he continued, "and the summers are unbelievable in Boulder."
Sanders' sales pitch to high school and transfer prospects generates from a mindset that he developed from his own time as a coveted recruit.
"Guys from the South like us, we didn't have the financial means to travel. We never traveled. So the furthest we went was Georgia. We aren't seasoned on the other side of the country. We never fathomed it. It wasn't our thing. We always thought it was too cold. I didn't own a jacket in high school. I remember going to visit the University of Georgia with no socks, no jacket."
… Continue reading story here …
–
—–
February 10th
… CU in a few minutes … 
CU at the Super Bowl: Buffs will win a ring Sunday (just not on the field)
Last season, three former Buffs were associated with AFC Champion Cincinnati. Former Buff Duke Tobin was the director of player personnel for the Bengals, with cornerback Chidobe Awuzie and defensive lineman Josh Tupou on the active roster.
Awuzie and Tupou will be the 64th and 65th CU players to play in the Super Bowl and the 94th and 95th appearance by CU players in the game.
This season, the Kansas City Chiefs have supplanted the Bengals as AFC Champions, with offensive coordinator Eric Bieniemy being the lone former CU player representing the black-and-gold on Super Sunday for the AFC (Kansas City wide receivers coach Joe Bleymaier worked at CU from 2013-2015 in the office of quality control).
On the NFC side of the ball, there is one player on the Philadelphia roster who played his home games at Folsom Field. Linebacker Davion Taylor was a third-round pick for the Eagles in 2020, but was waived this past fall. He was, however, resigned to the practice squad, so he remains with the Eagles. Two former star linebackers at CU, Jordon Dizon and Matt Russell, are also employed by Philadelphia, with Dizon a scout and Russell the Senior Personnel Executive.
So, some former Buffs will be celebrating Sunday night, but as far as CU players earning rings … the drought will continue. No Buff wearing pads has won a ring since 2016, when Nate Solder won his second ring as a member of the New England Patriots. The ringless streak, now at seven years, is the longest in CU history …
–
Buffs with Super Bowl rings … 52 rings in 57 Super Bowls … 
1966 Green Bay Boyd Dowler, E
1967 Green Bay Boyd Dowler, E
1972 Miami Dick Anderson, DB
1973 Miami Dick Anderson, DB
1976 Oakland Cliff Branch, WR; Terry Kunz, RB
1980 Oakland Cliff Branch, WR; Mike L. Davis, DB; Odis McKinney, DB; Greg Westbrooks, LB
1982 San Francisco George Visger, DT
1983 L.A. Raiders Cliff Branch, WR; Mike L. Davis, DB; Don Hasselbeck, TE; Odis McKinney, DB
1985 Chicago Brian Cabral, LB; Emery Moorehead,WR
1986 N.Y. Giants Lee Rouson, RB
1987 Washington Eric Coyle, C; Richard Johnson, WR
1988 San Francisco Barry Helton, P
1989 San Francisco Barry Helton, P
1992 Dallas Mickey Pruitt, LB
1996 Green Bay Shannon Clavelle, DT; Darius Holland, DT
1997 Denver Matt Lepsis, OT; Tom Rouen, P; Alfred Williams, DE
1998 Denver Matt Lepsis, OT; Viliami Maumau, DT; Tom Rouen, P; Alfred Williams, DE
2001 New England Tom Ashworth, OT; Charles E. Johnson,WR; Ted Johnson, ILB; Ben Kelly, CB/KR
2003 New England Tom Ashworth, OT; Christian Fauria, TE; Daniel Graham, TE; Ted Johnson, ILB
2004 New England Tom Ashworth, OT; Christian Fauria, TE; Daniel Graham, TE; Ted Johnson, ILB
2008 Pittsburgh Mitch Berger, P
2010 Green Bay Mason Crosby, PK; Brad Jones, OLB
2012 Baltimore Jimmy Smith, CB
2014 New England Nate Solder, OT
2015 Denver Nick Kasa, TE; Tyler Polumbus, OT
2016 New England Nate Solder, OT
–
—–
February 9th
… CU in a few minutes … 
Coach Prime on Rich Eisen: 100% Loving Living in Colorado
From the Rich Eisen show …
–
—
Spring Game Ticket Sales Start Friday
From CUBuffs.com …
Dear Stuart,

Thanks for your loyal support as a Colorado Football season ticket holder. Our Black & Gold Day, featuring the new look Buffs and Coach Prime's first football spring game will be held on Saturday, April 22. For the first time, our spring game will be a ticketed event.

As a season ticket holder who renewed by the deadline, you will have access to an exclusive presale this Friday, February 10 at 10 a.m. Tickets will be $10, each account will be able to purchase a maximum of six tickets, and Folsom Field will have entirely general admission seating in the stadium bowl.

Club and Loge seating areas will not be available. Current suite holders can reserve their suite by emailing 

buffclub@colorado.edu

. Parking information will be coming soon.

Tickets will go on sale to the general public on Monday, February 13 at 10 a.m.
–
—–
February 8th 
… CU in a few minutes … 
Daily Camera: Spring Roster Overview
From the Daily Camera … Colorado still has nearly six weeks before first-year head coach Deion Sanders conducts his first practice with the Buffaloes.
CU has finalized its spring roster, however, with 80 scholarship players and 32 walk-ons set to compete. The Buffs are scheduled to open spring practices on March 19, with the spring game set for April 22.
With a new coaching staff and 35 new players, the spring is just the start of what will be an ongoing process to get the Buffs ready for next season.
"Well, it's not easy. It's not that simplistic," Sanders said of integrating the new systems with a revamped roster. "But we have a great staff. I really feel like we have a tremendous staff. I'm not the coach that dictates everything. I want to hear all my coaches speak because they have so much (experience). … I'm making sure my defensive coordinator, my offensive coordinator are satisfied, along with my special teams guy when it comes to compiling the practice."
Sanders said the practices will be fast-paced, but also "100% effort."
"That starts in the weight room in and started (in January) in the weight room," he said. "Those guys are working their butts off. I'm happy with what I'm seeing from these young men, as well as coaches."
As the Buffs work out and prepare for the spring, here's a look at the roster they will carry into practices next month:
Quarterbacks
Scholarship (3): Shedeur Sanders, Jr.; Drew Carter, So.; Ryan Staub, T-Fr.
Walk-on (1): Colton Allen, Fr.
Note: Sanders, a transfer from Jackson State, is the clear starter. Spring will be important for him to get comfortable with his new offense, teammates and surroundings. The Buffs need a No. 2 to emerge. Now in his third year, Carter will hope to take that step in his development.
… Continue reading story here …
–
—
*Video: Class of '24 No. 1 Offensive tackle prospect Brandon Baker tours the Champions Center*
From YouTube …
–
—–
February 7th
… CU in a few minutes … 
AD Rick George: "It's great to be talked about in a positive way"
From the Daily Camera … CU athletic director Rick George initially didn't fully comprehend the immediate impact Sanders could have on the program and the fan base, but he knew the hire would flip that switch of hope.
"I certainly knew that he was going to be a transformational hire, no question about it," George told BuffZone. "Just what he brings in this element of celebrity, great coach, awesome guy – all those things combined, I knew it would be transformational. Plus, he understands the landscape of college athletics and college football."
In addition to believing Sanders was a great coach who could hire a great staff, George was confident Sanders could recruit, because he made a big splash in that regard during his short time at Jackson State.
… Since Sanders was hired, interest in season tickets and merchandise has been record-breaking for CU and the program has received unprecedented national attention because of Sanders' celebrity status and appeal. A Pro Football Hall of Famer, Sanders has made numerous appearances – in CU gear – on national TV since being hired.
"(The immediate impact) certainly exceeded my expectations, but I'm not surprised by it," George said. "It's been great for not only our football program and our athletic department, but I think for the university and the community and the state."
Within the Champions Center, there has been a physical makeover.
Previous head coaches Mike MacIntyre, Mel Tucker and Karl Dorrell occupied the same office as Sanders. The furniture and décor changed with each coach, but the room was essentially the same. None of them would recognize it today, though.
There is new black and white carpet, fresh paint and Sanders' favorite phrases on the wall, plus a different vibe of furniture. A room adjacent to the office that used to be a conference room is now a lounge and dressing room for Sanders.
"His office is certainly different (from the past), but that's his style and that's how he likes to do things," George said. "He's got to be comfortable in his environment and if that makes him comfortable, and his staff and recruits and all that, you've got to support those things."
… Continue reading story here …
–
—
Best college town … 
As if it were ever in doubt …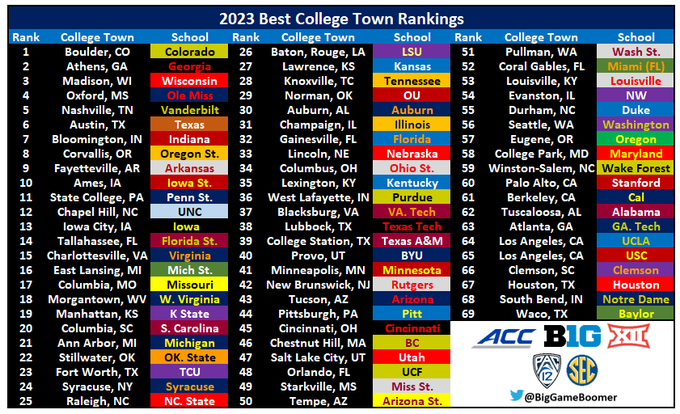 –
—
Why wait until Sunday? Here's Coach Prime's Super Bowl commercial
From Athlon Sports … Deion Sanders has long been in the public eye, and him taking the job at Colorado has only magnified his presence in the college football world.
Now his name having as much cache as it does is thanks to the fact that he is one of the best ever to play the sport, but it is also because of his vibrant personality. Sanders and his family will be putting their personalities on display during Super Bowl Sunday next weekend when the Philadelphia Eagles take on the Kansas City Chiefs, as for the second straight year they will be in an Oikos Yogurt commercial. Aside from coach Prime, it also includes Buffs quarterback Shedeur Sanders, Shilo, Coach Prime's daughter, Shelomi, Deion Sanders' sister, Tracie, and their mother Connie.
–
—-
February 6th
… CU in a few minutes … 
Athlon: New CU commit Ju'Juan Johnson "has a strong case to make to play on both sides of the ball"
Related … New Colorado commit Ju'Juan Johnson speaks in depth on recruitment, Buffs choice over LSU, Florida
From Athlon Sports … The latest to commit to the CU program was Ju'Juan Johnson of Lafayette (La.) Christian Academy, who plays all over the field for the Knights on Friday nights. Listed at 6-foot, 180 pounds, he made the biggest on-field impression at quarterback, putting together a gaudy 2022 10-win season in which he totaled 60 offensive touchdowns.
While also working on defense within the secondary, Johnson threw for 3,976 yards and 43 touchdowns, while also rushing for 1,284 yards and 17 scores. A true play-maker who makes an impact wherever he lines up, the junior is currently ranked as an athlete by the major recruiting outlets, checking in as the No. 225 player in the country, No. 28 athlete, and as the No. 4 player in the state of Louisiana.
The Louisianan's progress as a high school quarterback has only improved potentially his strongest asset beyond the pure athleticism — his control. Whether in space trying to break the angle of those in pursuit or in the pocket dodging defenders while keeping his eyes down the field, Johnson has that "it" factor about his game and always seems to play under control regardless of circumstance. This is where his strengths are so easy to see relative to slapping four stars next to his name no matter if he ends up on offense or defense in college.
Projection
While the experience all over the field makes for a "my side of the ball" debate ahead for the CU coaches, there is so much production and prowess to ignore a potential fit on offense. Sure, countless cases like Johnson's have made for great secondary projections — and Cincinnati Bengals rookie DB Cam Taylor-Britt comes to mind as a similarly built high school quarterback that shined in his transition to the secondary thereafter — but overthinking the room when such an offensive foundation should at least get us to a starting point.
To make the projection that much more complicated, though, Johnson has some grit and physicality to his game. This makes the matter that much more interesting. Time is on the side of the Buff staff, but the more we dig into this tape the more it is apparent Johnson has a strong case to make moves on either side of the ball once he's in Boulder for good.
–
—–
February 5th
… CU in a few minutes … 
Rooney: College football is little more than a talent arms race … and the Buffs no longer are going into battles armed with mere clubs
From the Daily Camera … Colorado football fans might still be getting accustomed to the wonders of once again being in the spotlight.
It still causes a moment's pause to see your coach, long a fixture in the limelight, representing the Buffaloes during national football broadcasts. Or beckoning the best of the best to Boulder via social media. Or even having the heartstrings toyed with while looking in on the first meeting between Coach Prime and beloved superfan Peggy Coppom.
All of the above and more have contributed to a surreal makeover that has changed Colorado from a dormant afterthought to one of the most exciting stories in college football, all without actually playing a game. That's quite a feat, even for Deion Sanders.
Yet it was this past week that Sanders finally brought a touch of that hoopla home, while at the same time serving notice yet again it no longer is business as usual with Buffaloes football. From his arrival to the signing day press conference on Wednesday via bicycle to the expected and refreshing candor to the call he had to take before getting down to the task at hand, Sanders stoked the "We comin'" vibe by securing the sort of recruiting class that not long ago would've felt like a fantasy in Boulder.
"We have a commitment to excellence and it's working and we're winning. We're ecstatic about the potential," Sanders said during his signing day press conference, reminding those long-starved Buffs fans, "we're just getting started."
–
—
*Video: Coach Prime's interview with CBS Colorado*
From CBS Colorado …
–
—–
February 4th
… CU in a few minutes … 
Coach Prime intends to continue (and expand) Florida recruiting pipeline
From the Daily Camera … The list of standout football players at Colorado who grew up in Florida is short.
All-American punter Mark Mariscal (2000-02) came from Tallahassee and running back Herchell Troutman (1994-97) came to CU from Naples.
There were a handful of Floridians in starting roles in the early 1980s and in the past few years, Guy Thomas (Miami) and Carson Wells (Bushnell) have been the Buffs' best edge rushers. And, running back Anthony Hankerson (Boynton Beach) showed some promise as a freshman last season.
With a few exceptions, however, Florida certainly hasn't been a recruiting hotbed for CU. But, that's changing in a hurry with new head coach Deion Sanders.
"I love my Florida boys," said Sanders, who grew up in Fort Myers and starred at Florida State before his Hall of Fame NFL career. "I know what they're gonna give me, I know who they are, I know how they were raised, and we have tremendous relationships bringing those kids from Florida.
"Once they realize it ain't that cold (in Boulder), it's gonna be all good for my Florida boys."
CU's 2023 recruiting class includes seven players who grew up in Florida, which is by far the Buffs' largest group from the Sunshine State in 45 years. That list doesn't include tight end transfer Seydou Traore, who grew up in England but played one season at Clearwater (Fla.) Academy before going to Arkansas State in 2021.
"I plan on doubling that," Sanders said of the number of Floridians in this class.
… Continue reading story here …
–
—–
February 2nd
… CU in a few minutes … 
CBS Sports: As promised, Coach Prime delivers on Signing Day
From CBS Sports … Colorado first-year coach Deion Sanders was hired to bring visibility back to the once-proud program, and he succeeded on National Signing Day 2023 when he finalized a star-studded recruiting class. That class, made up of 19 high school recruits and 24 transfer players, ranks 21st in the country overall and No. 5 among transfer classes. It's Colorado's best class since 2008 when it finished 15th overall and signed the nation's No. 4 player (running back Darrell Scott).
Sanders wasn't surprised with the surge of energy that materialized on signing day. Fans shouldn't be, either. After all, this was the primary reason Sanders was brought to Boulder.
"How would we be surprised about success? That means we really didn't expect success if we are surprised about success," Sanders said. "We expect success. We expect to go get that kid. You see how I got back and was on the phone? The only thing that can keep that kid from coming and signing with us is a bag"
The class got a huge bump on Wednesday when Cormani McClain, a five-star cornerback and the No. 13 overall player in the nation, inked his National Letter of Intent. His decision came two months after cornerback Travis Hunter, the No. 1 recruit from the Class of 2022, followed Sanders from Jackson State. The addition of those two stud athletes might open a new door to the caliber of recruit Colorado wants to get under "Coach Prime," and beefing up the defensive talent was a must after the Buffs ranked dead last nationally with 44.5 points per game allowed.
"You need elite corners and elite pass rushers from anywhere," said Sanders . "A lot of coaches build inside-out. I build both ways. I build outside-in when I'm thinking defensively."
Sanders stated that he can build a program from "the outside-in," but one of the most high-profile linebackers in the country is also headed his way. Former four-star linebacker Demouy Kennedy — the No. 35 overall player in the Class of 2020 — also joined the Buffaloes.
Colorado's 2023 class isn't just Hunter, McClain and everybody else, however. Four-star running back Dylan Edwards and former Kentucky starting running back Kavosiey Smoke are also headed to Boulder. Considering the demands of college football's new era, fewer running backs are bell cows who tote the rock 30 times per game. Backfields that feature multiple players are designed, in part, to keep up-tempo offenses operating at a consistent pace. Edwards had 4,436 career yards and 63 touchdowns in two seasons in high school, and Smoke had 1,583 career yards and 13 touchdowns with the Wildcats. That's a formidable one-two punch.
… Continue reading story here …
–
—
ESPN: Coach Prime letting the nation know that "Hope is in the house" at CU
From ESPN … Deion "Coach Prime" Sanders proudly recited the numbers from his first recruiting class at Colorado.
Two five-star recruits. A No. 23 overall class ranking, which was the highest in 15 years, he pointed out, while starting to reshape his team in the transfer portal.
Then a quick reminder: He isn't done gathering talent. Not by a long shot. This is just a brief pause, he teased, with the possibility of more skilled players arriving sometime after the spring.
It has taken Sanders less than two months in Boulder to not only revamp a downtrodden program but to give a starved fan base something else: hope.
"We're not recruiting just no ordinary Tom, Dick and Harry," Sanders said Wednesday on signing day. "We recruited some guys that can light up the scoreboard and prevent touchdowns from occurring. We're coming. We're serious about that.
"Hope is in the house. Hope is in the air. Hope is in the city. Hope is in the community."
Sanders and his veteran staff have been busy scouring the nation for talent. The Hall of Fame NFL player known then as "Prime Time" has posted on social media for recruits to reach out to him, as well: "I ain't hard to find."
The Buffaloes signed players from 16 states and two from England. Not only that, they brought in a pair of five-star recruits in high school cornerback Cormani McClain and transfer cornerback/receiver Travis Hunter, who followed Sanders from Jackson State.
… Continue reading story here …
–
—
CU Recruiting Class: By the Numbers
… Related … Colorado Buffs, Deion Sanders land top-25 recruiting class … From the Daily Camera
— CU Recruiting Class of 2023, by the numbers … 
42 … the total number of overall recruits, the largest Class in CU history (old record: 32; 2022);
21 … Most offensive recruits (old record: 19; 1982);
19 … Most defensive recruits (old record: 17; 2002);
3 … Most specialists (old record: 2; 2003);
14 … Most undergraduate transfers (old record: 5; 2021);
9 … Most graduate transfers (old record: 4; 2022);
8 … Most wide receiver recruits in a Class (old record: 5; 2016);
8 … Most defensive back recruits in a Class (old record: 7; 1996, 2002)
Other numbers of note …
There are recruits from 16 different states, the most in CU history (old record: 13; 1973);
There are three recruits from out of the country, with freshman linebacker Kofi Taylor-Barrocks and junior transfer tight end Seydou Traore hailing from London, with junior transfer punter Mark Vassett being a native of Melbourne, Australia
This Class has two five-star recruits, freshman cornerback Cormani McClain and sophomore transfer cornerback Travis Hunter. This marks the first time CU has had two five-star recruits in the same Recruiting Class, and, oh, by the way, equals the total number of five-star recruits CU has had over the past 25 years. Marcus Houston (2000) and Darrell Scott (2008) were CU's other five-star recruits this century (some services had offensive lineman Ryan Miller – Class of 2007 – also rated as a five-star recruit);
This Class has a total of nine four- and five-star recruits, the most "blue-chip" prospects CU has ever had in a Class (old record: 7; 2002; 2008);
The Class rank of No. 21 in the nation (247 Sports) is the fifth-highest in school history. The Class of 2000 was ranked 13th; the Class of 2008 was ranked 15th; the Classes of 2002 and 2003 were both ranked 19th;
This Class is easily the highest in the Transfer Portal era. CU transfer Class is ranked 4th nationally. Other rankings … 2019: 42nd; 2020: 18th; 2021: 51st; 2022: 78th
Class Breakdown, by Position: 
Offense (21):
Quarterbacks: 3
Running backs: 2
Wide receivers: 8 (new record)
Tight ends: 1
Offensive linemen: 7
Defense (19):
Defensive tackles: 4
Defensive ends: 3
Linebackers: 4
Defensive backs: 8 (new record)
Specialists (3)
Total recruits: 42 … 17 from high school; 2 junior college transfers; 14 undergraduate transfers; 9 graduate transfers …
–
—–