—
Random Thoughts – Volume V
—
Karl Dorrell Quotable Quotes 
CU head coach Karl Dorrell conducted a press conference on Friday, introducing the final two members of his 2021 coaching staff.
While the promotion of Bryan Cook from offensive quality control coach to tight ends coach, and the hiring of Mark Smith as the new tight ends coach were not unexpected, there were some morsels in the press conference worth noting …
— In the first sentence describing each of his new coaches, Dorrell used the word "experience" … "Bryan has a wealth of experience" … and "Mark is an experienced coach as well". And yet, neither of his new assistants has coached the position that they are now going to coach. When asked about his new coaches having no "experience" at their new positions, Dorrell had an answer:
" … The biggest thing I look at as a head coach is how good they can communicate and explain the schematic concepts that we do so that our players can understand it. I feel strongly about the communication skills with these two. You don't have to play the position to coach the position. I have coached quarterbacks, never played. These guys have such a broad knowledge base with (great) communication (skills). I thought these two did a tremendous job on their interviews."
— The Buff Nation was up in arms this past week when CU came up empty on Signing Day II. Buff fans were expecting a new defensive lineman, a new linebacker, and a new quarterback … and got none of them. A day later, however, the Buffs received a commitment from Jack Lamb, a former four-star linebacker recruit from Notre Dame, who will enroll this summer with three years of eligibility remaining.
Karl Dorrell was asked about both ends of those transactions, and gave some interesting insights as to his philosophy:
"The second signing date, there was an option that we might be able to sign one or two more of the freshmen in the 2021 class. We felt the bulk of our class had already been completed. Those would have been bonus pieces for us, if we had any signees this past Wednesday.
"In my mind, I have already completed the 2021 class in the December signing period. So even though those bonus pieces could have been pieces for us, my mindset was more finding those extra pieces in the portal to fill some of those scholarship numbers.
"We were working on a balancing act of if we did add one of those (freshman) pieces, then it would take away one of the numbers that we could have gotten from the portal. We were playing that game with best available. We feel the best available for us were in the portal.
"Jack (Lamb) is a linebacker we're excited to have in our program (as a transfer from Notre Dame) because it was a need position for us. And he can be a player to help us right away in 2021. That's with everybody we've added from the portal, we're hoping they are all impact players for us this fall.
"Again, it is a delicate balancing act with your scholarship numbers. You still have to work under a certain number, and whether you are filling it with freshmen that could potentially have signed on Wednesday, we weren't high on that happening. We were higher on the other side of it, trying to find those pieces with experience that we can plug and play. That is how we looked at it going into this week. (We) didn't put a strong effort of putting pressure on trying to get two more freshmen to sign".
So, while Buff fans were all over the message boards, worried about the ability of Karl Dorrell and his coaching staff to recruit … there was calm in the Champions Center.
The proof, as they say, is in the pudding. Can Karl Dorrell get enough out of the Transfer Portal to offset a Recruiting Class ranked in the 60's nationally? (and either 9th or 10th in Pac-12 rankings?).
Well, no one among the doubters thought the Buffs would finish the 2020 season with a winning record or with a bowl bid, either.
So, we'll just have to wait and see …
–
—
Cut and Paste – and give to the CU Regent of your choice
On Thursday, Oregon State University announced a $50 million gift by an anonymous donor that is earmarked for the Reser Stadium project.
As a result, Reser Stadium's $153 million west side renovation project has picked up considerable steam.
The financial breakout to pay for the project is $85 million in donor gifts and $68 million in bonds. Including the $50 million anonymous donation, the school has raised $64.5 million toward the $85 million. Among that $64.5 million is a $10.5 million gift from another anonymous donor.
Regarding the $50 million gift, Oregon State athletic director Scott Barnes said it's anonymous because "that's a donor's prerogative. They have their reasons for that. We'll respect that."
Oregon State's $50 million gift will cover approximately one-third of the cost of the Reser Stadium renovation, which is expected to generate $4.4 million in annual debt service.
What's significant to me about the announcement was the way Oregon State president F. King Alexander talked about the gift and its use. Alexander has been the president of Oregon State for a little over seven months … but he gets it.
Asked about the optics of promoting the gift and the project during a pandemic, Alexander offered the best explanation for athletic facility investment from a university president … perhaps ever.
The 257-word, 84-second answer could have been about an major project, at any time, on any campus. But with COVID as the backdrop, Alexander's response carried exponentially more impact.
Alexander's answer:
"This is not a time to stop looking forward and moving forward. We've been planning this (project) for three years. 
"This is an important time to make sure our student enrollments are going to be coming and showing up. And this isn't simply a football issue. 
"This about recruitment of students all over the country and keeping our Oregonian students here. 
"This is about giving them a comprehensive student experience.
"This about giving 350 marching band members an opportunity to participate in a complete college experience. 
"This about re-engaging and engaging our alumni in sporting events that bring them back to campus that lead to gifts like this. Many of our academic gifts wouldn't happen if we were succeeding in both. 
"So I don't see this as a bifurcated or dichotomous enterprise. If we're going to do it, we're going to do it well. 
"And football, just like our laboratories — we compete with UCLA in our laboratories and our research for our faculty for research dollars in Washington, D.C. as well as on the playing fields and the courts. So I don't see this as being an either or. 
"And yes, we're in COVID, but we want to come out of this stronger, with great momentum as a university. 
"And we certainly, with 75 percent of our funding coming from our students, we want to give our students the best possible experience they can have, which includes having an intercollegiate program that competes with the best. 
"And that's in the classroom and on the courts."
… If you have a direct line to the CU's President's office, or, better yet, to those members of the Board of Regents who consistently talk down athletics, cut and paste this quote and send it to them. You know the ones were talking about – the Regents who cannot seem to grasp the value that investment in athletics has to the overall University experience.
… Congratulations, Oregon State, you have found a President who "gets it" …
—
Luke Horne's Dad … 
You can be forgiven for not remembering Luke Horne.
A 6'2″, 215-pound outside linebacker from Cedar Park, Texas, Horne was an unrated member of the Recruiting Class of 2020, Horne did not generate any FBS scholarship offers after his senior season. Horne took official visits to SMU, Houston, and North Texas, but only received offers from the likes of Grove City College and St. Anselm.
Rather than accept a scholarship at a smaller school or a junior college, last April Horne decided to attend CU as a preferred walk on. Horne connected with CU outside linebackers coach Brian Michalowski, and became a Buff.
"He doesn't B.S.," Horne told CUSportsNation when referring to his new position coach. "He's (told me) the path we're going to take, how we're going to do it and that we're going to go and be great and (he) wants (me) to be along with us. I love his coaching style and the way he handles practices. I just know that if I go there, I'll be successful."
Horne enrolled at Colorado, and practiced with the team this fall. He did not get into any games, and, this past week, entered his name into the Transfer Portal.
Nothing out of the ordinary here. Players with scholarships to play at CU have decided to leave the school, so losing a preferred walk on wasn't exactly news.
The story?
Read what Luke Horne's father, Aaron Horne, posted on Twitter: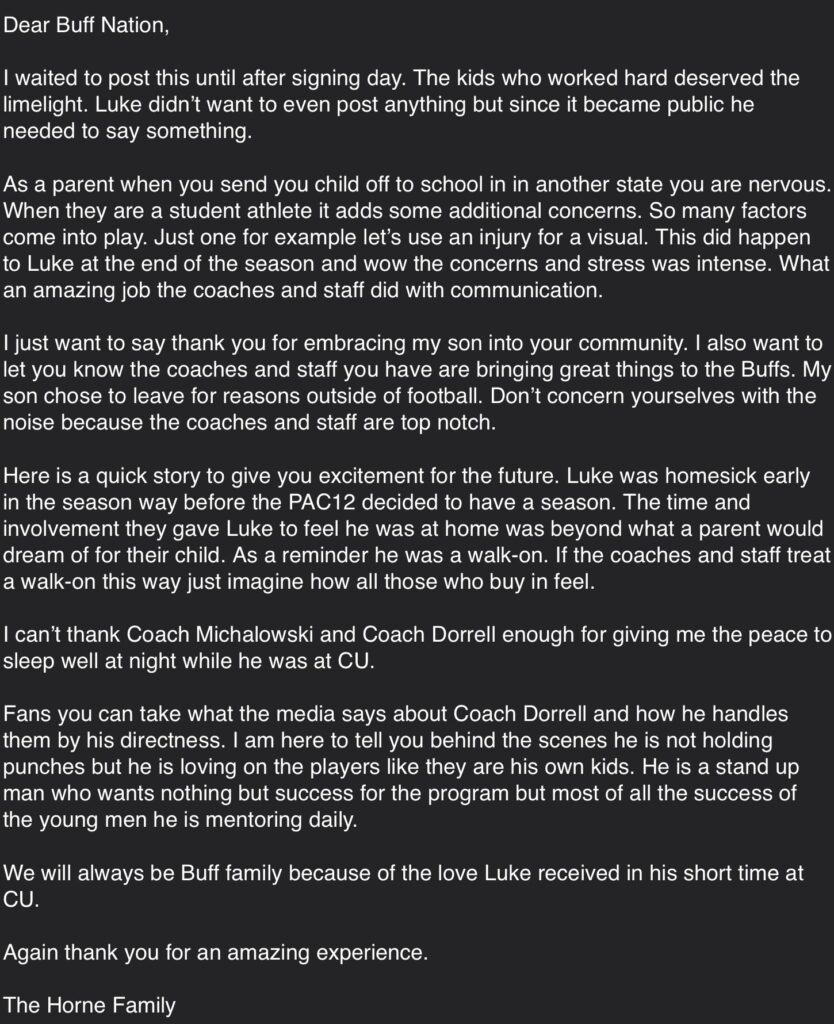 If this doesn't get you excited about the future of Colorado football under Karl Dorrell, I'm not sure what it will take.
A foundation is being laid by Dorrell and his staff. With the most difficult schedule in the Pac-12 next fall, the evidence might not be readily apparent to the outside world.
But the bricks are being put in place for a successful run.
Oh, and I'll be cheering for Luke Horne, no matter where he ends up playing …
–
—–