—
Pac-12 Notes
—
March 4th
… Foe Pause … 
NCAA v. Alston (to be heard by Supreme Court) could reshape amateurism forever
From CBS Sports … The appellee in the landmark NCAA v. Alston case filed its Supreme Court brief this week with the Alston lawyers laying out their game plan for a case that could reshape amateurism. The case is scheduled to be heard on March 30.
To recap, the Supreme Court has decided to hear an appeal from the NCAA and 11 conferences arguing against a district court ruling in favor of Alston that allows unlimited education-based benefits for athletes.
The NCAA is understandably concerned because of the implications that ruling has on its version of amateurism. The association continues to argue those unlimited benefits could lead to what would essentially be a bidding war for athletes. You can see a breakdown of their brief.
Here's a summary of how the Alston lawyers plan to argue their case later this month. A decision is projected for late June.
At the core of the NCAA's argument is that paying players will turn off fans, thus depressing the demand for the "product," in this case, major-college sports as a whole.
Alston lawyers argue that players already get financial rewards, including for academic achievement, and that has not affected fan interest to this point. There's bowl gifts (capped at $550 per player) given out "simply for being on a team." In addition, the cost of attendance stipend that has been around since 2015 is awarded only to athletes.
We've already told you about former LSU long snapper Blake Ferguson who "made" $12,000 per year while in school from scholarship checks and cost of attendance. Heisman Trophy winner Jameis Winston reportedly received $80,000 to purchase insurance as he headed to the NFL Draft through an NCAA Student Assistance Fund at Florida State.
And you might have noticed, the NCAA is fully on board with name, image and likeness compensation as it "modernizes" its rules. That compensation could reach into the high six figures for social media accounts alone.
"A parade of NCAA, conference and university witnesses admitted that they had never even attempted to study any relationship between the compensation restraints and consumer demand," the Alston brief said.
… Continue reading story here …
–
—–
March 3rd
… Foe Pause … 
Arizona's season is over (post-season ban): What will Arizona do with Sean Miller?
From the San Jose Mercury News … The Arizona basketball program just completed a pandemic season with an overhauled roster and no hope of playing in the NCAA tournament.
Now, it gets tough.
What in the world should the Wildcats do with Sean Miller?
The longtime coach has one year left on his contract and three Level I violations facing his program.
The university must decide a course of action with Miller while awaiting clarity on an NCAA scandal that will take many months to resolve … on top of the three-and-a-half years it has already swallowed.
It's a messy, unprecedented, deeply complicated situation, with arguments on both sides and consequences both good and bad for the Wildcats and the Pac-12.
This much we know:
Arizona president Robert Robbins, athletic director Dave Heeke and their advising attorneys never in a quadrillion years expected the process to last as long as the term of a United States president.
Book Richardson was arrested Sept. 26, 2017 — that's 1,253 days ago.
In a different sport on the same campus, the Wildcats were 2-2 under Rich Rodriguez at that time, about to reel off four consecutive wins and enter the AP top-25 poll.
(That's how long ago it was.)
As we see it, the university has three options with Miller:
* Double down (extend his contract)
* Part ways (agree to a buyout)
* Hold tight (no buyout, no extension)
The decision is made more complicated by the situation on the court:
The Wildcats have struggled the past three years, and Miller has not won an NCAA tournament game in four — he's not winning enough to justify unrelenting support.
At the same time, there are subjective factors in his favor:
Does Miller have the support of the fans and community? It appears so.
Are the players buying in and playing hard? Clearly.
Is Miller engaged and energized? Seems to be.
Are better times visible through the NCAA murk? One could make that case.
Robbins and Heeke must decide — with approval from the Board of Regents, we presume — what course of action best serves the program.
It must be about the program, not about affinity for Miller or disdain for the NCAA.
… Continue reading story here …
–
—–
March 2nd
… Foe Pause … 
Pac-12 announces apparel partnership with Jockey
Press Release from Pac-12.com … The Pac-12 announced today that Jockey, a 145-year-old brand recognized around the world for its premium underwear and apparel, will become the official apparel partner of the Pac-12 under a new multi-year partnership.  The partnership will showcase Jockey's premium activewear and casualwear, while highlighting its commitment to comfort and quality.
"We are excited to welcome Jockey to the Pac-12 family," said Steve Tseng, Pac-12 Networks executive vice president of integrated sales.  "Jockey is an iconic American brand and we look forward to working with them in support of our Pac-12 student-athletes and athletics programs."
"The opportunity to become the official apparel partner of the Pac-12 Conference and Networks is a very unique opportunity to showcase Jockey as an innovative, premium apparel brand," said Mark Fedyk, president and COO, Jockey. "The Pac-12 Conference and Networks is a great fit for Jockey, from the highly engaged alumni and student base to the prestigious schools and institutional values. The 'Conference of Champions' is in for a whole lot of comfort!"
As part of the new partnership, Jockey will serve as an official partner of all Pac-12 championship events, beginning with this year's Women's and Men's Basketball Tournaments.  The multi-year agreement makes Jockey the exclusive apparel partner for the Pac-12 broadcast team and analysts, creates a robust digital and social media partnership, provides arena and in-stadium exposure, includes linear media integrations, and offers fan engagement opportunities.
Pac-12 Networks' coverage of the 2021 Pac-12 Women's Basketball Tournament, March 3-7, and Men's Basketball Tournament, March 10-13, will be live, on-site in Las Vegas as well as from the San Francisco studio. Talent covering the Pac-12 Women's Basketball Tournament on Pac-12 Networks will include host Ashley Adamson, studio analysts Ros Gold-Onwude and Elise Woodward, and game broadcasters Tammy Blackburn, Krista Blunk, Mary Murphy and Ann Schatz. Pac-12 Networks newcomer Alyssa Charlston will enjoy her tournament debut as she serves as sideline reporter and analyst from Las Vegas.
For the Pac-12 Men's Basketball Tournament, host Adamson will be joined by studio analysts Richard Jefferson, Earl Watson and Don MacLean, who will also serve as a game analyst, as well as game broadcasters Bill Walton, Ted Robinson and Roxy Bernstein. Additionally, former Pac-12 basketball standout and current Pac-12 Networks favorite Matt Muehlebach will provide analysis and insight, live from Las Vegas.
Jockey joins a number of leading brands that partner with the Pac-12, including Nextiva, 76, Dr. Pepper, Gatorade, New York Life, GEICO, Pacific Premier Bank, Pacific Seafood, PrimeSport, Redbox, TicketSmarterand Unifi.
–
—
Athletic Department Power Index: CU comes in ninth in the Pac-12
From The AthleticDirectorU … Athletic Department Power Index, powered by Athlete Viewpoint, continues with a look at the Pac-12 Conference. The Athletic Department Power Index will evaluate the desirability of Athletic Director jobs in every Division I conference across the country.
It's imperative to note the Athletic Department Power Index is not intended to analyze the performance or potential of the current Athletic Director at the respective institutions. Rather it is an assessment of the opportunity itself through the eyes of both peers and aspirants in the event it were to become available.
Over 100 sitting Athletic Directors and executive-level administrators who currently are or could soon be a Pac-12 AD were invited to share feedback on each AD job in the league.  The data was used to provide detailed insights about the potential for success at each school.
The nine variables utilized to determine the rankings include:
Athletics facilities relative to Pac-12 peers
Perceptions about the ability to generate donor & corporate support for the athletics program
Perceptions about institutional leadership (e.g. President, Trustees, C-Suite) in support of the athletic program
Perceptions about the quality of the institution's brand
Perceptions about the potential for serious compliance & NCAA rules violations
Potential for Football success relative to Pac-12 peers
Potential for Men's Basketball success relative to Pac-12 peers
Potential for success in non-revenue sports relative to Pac-12 peers
Quality of Life (cost of living, schools, culture, geography) if all other factors were equal
Here are the overall rankings, with a rating of seven constituting a much better likelihood for success than other league AD jobs and one as a much worse likelihood for success: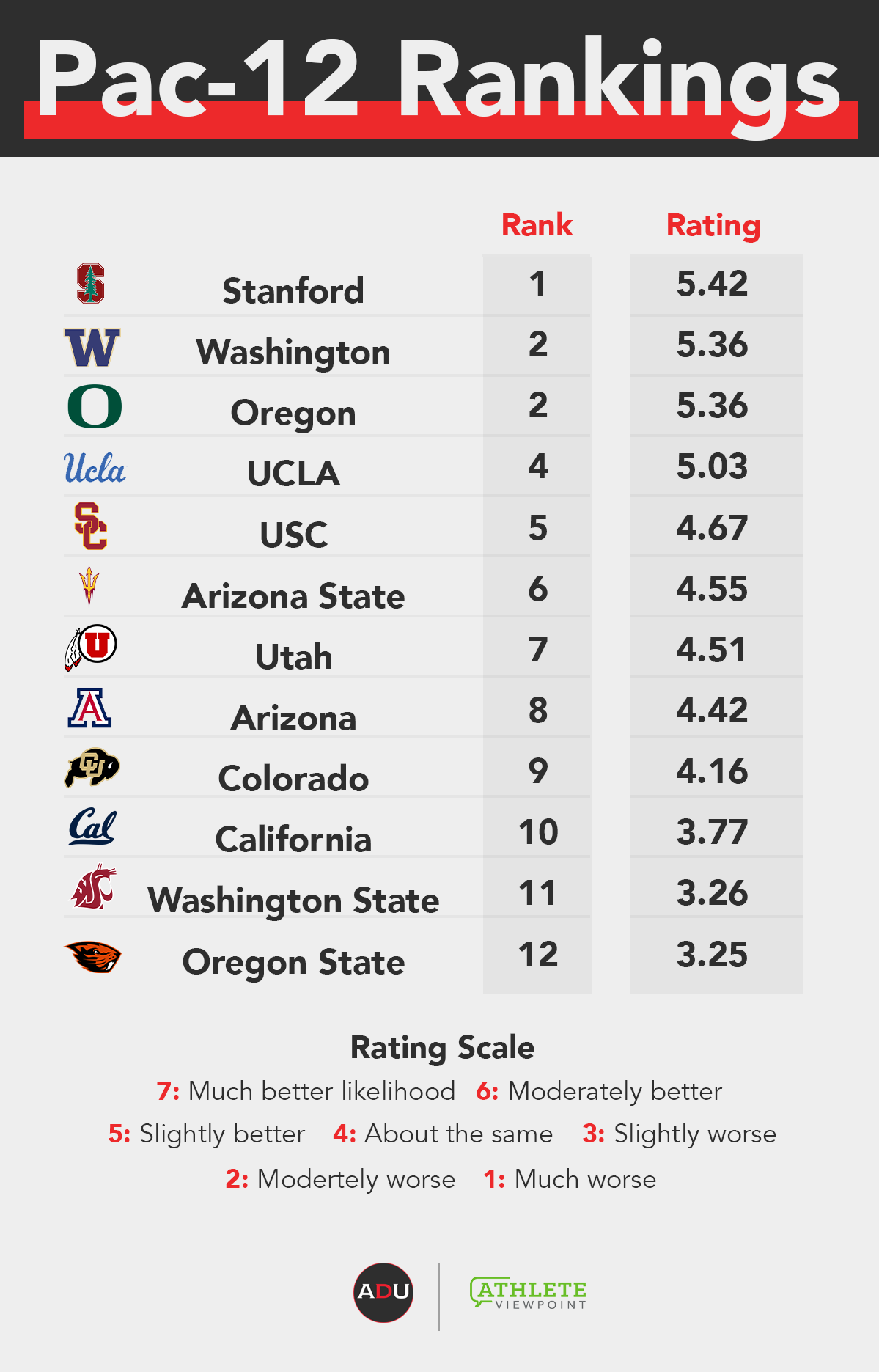 Here are the full category by category ranking results: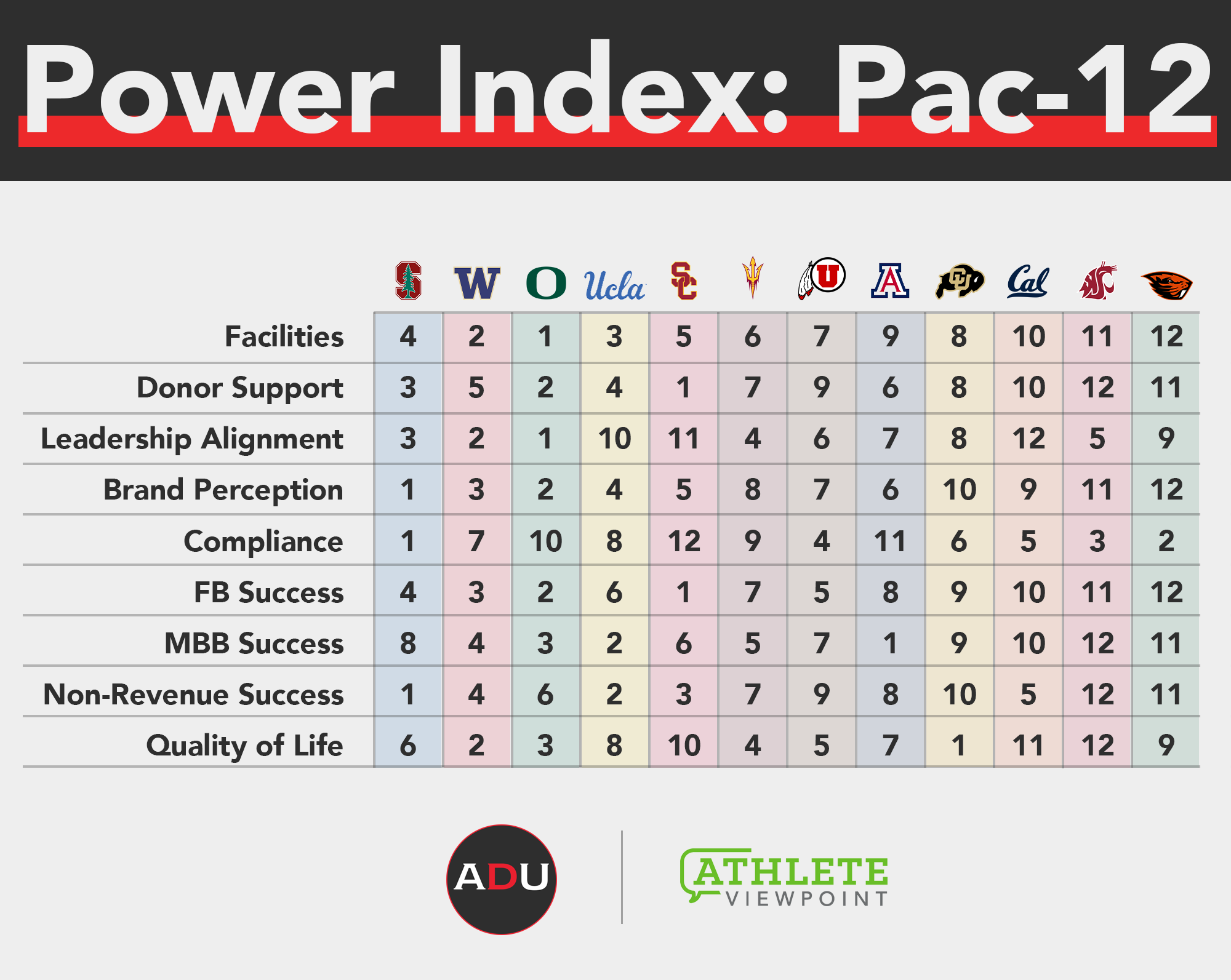 The Pac-12's football profile is the source of regular debate among national and regional media members with just two programs (Oregon in 2014-15 and Washington in 2016-17) making the College Football Playoff field since its inception.
… Continue reading story here …
–
—–
March 1st
… Foe Pause … 
Arizona State game v. Washington State canceled
… Was a makeup game which was re-scheduled for Monday. Now ASU will have a full five days rest before heading to Boulder … 
From azcentral.com … The men's basketball game between Arizona State and Washington State was canceled 90 minutes before the scheduled 1 p.m. tipoff on Monday due to coronavirus issues in the Washington State program.
The Cougars (14-12, 7-12) and the Sun Devils (10-11, 7-8) played on Saturday night at Desert Financial Arena with ASU prevailing 77-74 in overtime on a 3-pointer by senior point guard Remy Martin. It marked the first time this season the Sun Devils have won three straight games, with ASU beating Washington twice earlier in the week.
Contact tracing will be conducted to determine the impact on the Sun Devils.
It was the eighth game ASU has had postponed or canceled — half of those virus issues on the part of the opponent. This game was already to be a makeup game of one that was canceled when the Sun Devils were supposed to travel to Pullman in January.
It was to be the last home game of the season with Arizona State scheduled to play at Colorado (19-7, 13-6) on Thursday and at Utah (10-11, 7-10) Saturday to conclude the regular season. Those two games are also makeups of earlier cancellations.
The Pac-12 conference tournament is slated to begin at T-Mobile Arena in Las Vegas March 10.
The cancellation might not necessarily be a bad thing for ASU. Monday's game was to have been the fourth of a stretch in which coach Bobby Hurley's team was playing six games in 12 days while short-handed.
–
—
Pac-12 schedule to (finally) be released: Tuesday, 9:00 a.m., MT
Tweets from Brian Howell at the Daily Camera … The Pac-12 football schedule will be revealed tomorrow on the Pac-12 Networks with a 3-hour special starting at 9 a.m. MT. #cubuffs …. 8 head coaches are scheduled be a part of the schedule reveal show tomorrow, but Colorado's Karl Dorrell is not one of them. In addition to the Pac-12 Network, the show will be on SiriusXM Pac-12 Radio (channel 373).
Press release from the Pac-12 … This Tuesday, March 2, Pac-12 Networks analyst Yogi Roth and host Guy Haberman give fans the very first look at the upcoming 2021 Pac-12 football schedule on "Pac-12 This Morning," a three-hour special airing on Pac-12 Network and SiriusXM Pac-12 Radio starting at 8 a.m. PT / 9 a.m. MT.
Roth and Haberman will break down the top matchups for the upcoming season and will also be joined by Pac-12 Senior Associate Commissioner for Football Operations Merton Hanks, Arizona State head coach Herm Edwards, California head coach Justin Wilcox, Oregon State head coach Jonathan Smith, Stanford head coach David Shaw, UCLA head coach Chip Kelly, USC head coach Clay Helton, Utah head coach Kyle Whittingham, Washington head coach Jimmy Lake and Washington State head coach Nick Rolovich, among other coaches and guests.
"Pac-12 This Morning" schedule (all times PT and subject to change):
8:30 a.m – Pac-12 Senior Associate Commissioner for Football Operations Merton Hanks
8:45 a.m. – Arizona State head coach Herm Edwards
9 a.m. – Stanford head coach David Shaw
9:15 a.m. – California head coach Justin Wilcox
9:30 a.m. – Washington State head coach Nick Rolovich
9:45 a.m. – UCLA head coach Chip Kelly
10 a.m. – USC head coach Clay Helton
10:15 a.m. – Oregon State head coach Jonathan Smith
10:30 a.m. – Washington head coach Jimmy Lake
10:45 a.m. – Utah head coach Kyle Whittingham
HOW TO WATCH AND LISTEN (all broadcasts also available in HD via the Pac-12 Now app)
"Pac-12 This Morning" 2021 Football Schedule Reveal Special (subject to change):
Tuesday, March 2

8 a.m. PT / 9 a.m. MT on Pac-12 Network and SiriusXM Pac-12 Radio (channel 373)
SiriusXM Pac-12 Radio is available to listeners nationwide on SiriusXM radios, on the SiriusXM app, and on connected devices and speakers in the home.
The 
Pac-12 Now app
 is now available to Pac-12 Networks subscribers on
 Amazon Fire TV
. With the Pac-12 Now app, fans can select their favorite Pac-12 teams to stay up to date and ready for the return to play. The Pac-12 Now app is also available to subscribers via
 Android
,
 iOS
 and
 Apple TV
. For more information on the Pac-12 Now app for Amazon Fire TV, see
 here
.
–
—–
February 28th
… Foe Pause … 
Stanford Olympic Sports not going down without a fight: "36 Sports Strong" 
From The Athletic … There are smiling faces purposefully placed all around Maples Pavilion. They are cardboard cutouts of fans, faculty and administration. They are put there to make the athletes feel something. To see something other than vacant seats or tarps that make a barren arena seem less empty. That's as close to real fandom as it gets right now in Palo Alto, Calif., due to the coronavirus pandemic. But when the Stanford men's volleyball team started warming up for its last-minute doubleheader against No. 6 Pepperdine last week, the players noticed some cutouts that they couldn't seem to shake.
Between the blocks at the net and the spikes driven into the hardwood prior to the match start, they'd look over at a trio of cardboard cutouts, all of whom have played a direct role in the discontinuation of one of the most-decorated volleyball programs in collegiate athletics. Hunter Dickey, a junior from Huntington Beach, Calif., said seeing the smiling faces of Stanford president Marc Tessier-Lavigne, provost Persis Drell and athletic director Bernard Muir left him "emotionally drained" after the matches.
"To play in front of people who are cutting you, it just breaks my heart," said Dickey, a recent junior college transfer, who was accepted into Stanford last spring. "It's like … the people who don't want you here. It's the weirdest dichotomy to have."
Yet they play. There is a season to win. But for now, it's going to be the last. Not only for men's volleyball, but for 10 other varsity Stanford sports that were abruptly cut last July. The other sports include field hockey, men's and women's fencing, squash, lightweight rowing, men's rowing, co-ed and women's sailing, synchronized swimming and wrestling. The Stanford athletic department cited severe financial strains due to the COVID-19 pandemic when the cuts were announced last summer.
Cardinal athletics are renowned not just nationwide but internationally; the school continuously produces Olympic athletes and future medalists. Since 1912, Stanford athletes have earned 270 Olympic medals, 139 of them golds. Slicing off 11 varsity sports might've helped ease tensions internally at the university, but eight months later, the decibel levels from the outside noise have only increased.
When reached for comment by The Athletic, Stanford provided this statement: "As stated in the FAQ published at the time of the announcement, the decisions to reduce our sport offerings are final. The decision to discontinue this particular set of sports programs was based on a thorough analysis that contemplated many factors, including non-financial factors such as the national and regional profile of each sport and the impact on gender equity and Title IX compliance. The reasons this set of sports programs was selected are the same reasons one or a subset of these programs will not be reinstated."
Powerful alumni want answers. Parents of student-athletes want more transparency. And the estimated 240 athletes who will see their Stanford careers come to an end — if they haven't already — have no choice but to lean into the fight. Organizations of alumni and parents have spent the past eight months crunching the numbers and say that cutting these sports doesn't add up. The school said the athletic department was already operating on a budget that featured a $12 million deficit, and it estimated that, if not for the cuts, it would balloon to somewhere near $70 million in the next three years.
Getting rid of these 11 sports would save the school an estimated $8 million each year. Those working toward reinstating the sports that were cut vehemently disagree. They want to hear more than the canned answers they say they've been getting from the powers-that-be for the past eight months.
"We feel just totally brushed aside and just totally ignored and just totally dismissed in a way that is so unlike the reputation that Stanford is known for," said Kathy Levinson, a former star athlete at Stanford in the 1970s. "It's known for being inclusive, it's known for being transparent, it's known for wanting to come up with unique solutions to complex and difficult problems."
… Continue reading story here …
–
—
Paths to the Pac-12 title: CU's chances unlikely, but door not closed
From the San Jose Mercury News … The Pac-12 would rather have more teams in contention for NCAA bids and for the top-four seeds, but it couldn't have asked for a better final week of the regular season.
First, the top of the standings:
UCLA: 13-4
Oregon: 11-4
USC: 13-5
Colorado: 13-6
Next, the remaining games:
UCLA: at Oregon (Wednesday), vs. USC (Saturday)
Oregon: vs. Arizona (Monday), vs. UCLA (Wednesday), at OSU (Sunday)
USC: vs. Stanford (Wednesday), at UCLA (Saturday)
Colorado: vs. Arizona State (Thursday)
The seeding for the conference tournament is based on winning percentage, in order to account for the unequal number of games played.
Which means …
— If the Bruins win out, they're the top seed.
— If the Ducks win out, they're the No. 1 seed based on a half-game (or more) advantage over UCLA.
— If USC wins out and Oregon loses once, the Trojans are the No. 1.
— Colorado can win it, too: The Buffaloes must beat ASU for a 14-6 finish and get immense help in the form of two losses by UCLA, two by Oregon and one by USC.
Should be a riveting week.
–
—–
February 27th 
… Foe Pause … 
UCLA fans not pleased by Pac-12's adjustment of the Bruins' final week schedule
From the BruinReportOnline.com … Earlier this week, the Pac-12 made two key moves that have served to complicate UCLA's Tournament seeding while potentially benefiting other Pac-12 teams:
First, the league rescheduled the UCLA vs. Oregon game, putting the Bruins in a position to have to go on the road for the third time in six days to take on Oregon in the same week that UCLA will have to prepare for arguably the best team in the Pac-12, USC.
Second, the league, along with the NCAA, designated Stanford's home games in Santa Cruz as neutral-site games in an absurd bit of logic that significantly punishes teams that have played at Stanford this year (because neutral games are weighted as easier than away games, the Stanford loss becomes a Quad 2 loss rather than a Quad 1 loss for UCLA) in a bid to make Stanford's resume a bit better (since neutral games are weighted as harder than home games). It's nonsensical because they obviously have at least a significant travel advantage over all teams but California, in that they can travel by bus to the games, and they have the other advantages of a home team, including familiarity with the arena and piped in crowd noise.
At an absolute maximum, the games should be classified as some sort of semi-home/semi-away arrangement, the way Ken Pomeroy has designated them, but the NET doesn't have that sort of nuance. So, very obviously, the games should remain Stanford home games. They have all the advantages that any team is getting from home games this year, except the very small fact that Stanford has to take a short bus ride to the game.
But the main bit of screwery is the Oregon game. This game was initially scheduled for December when, through really poor management and judgment on behalf of the officials involved in the game, it was unable to be played. One of the officials had COVID-19 exposure, which ruled out the rest of the crew due to some poor travel management, and the Pac-12 did not yet have contingencies in place for sick crews, with no backup crew on standby. UCLA had already traveled to Oregon, and had to get back on the plane to come home.
Then, the game was rescheduled twice for Pauley Pavilion, with Oregon opting out each time for COVID-19 issues. At that point, UCLA had made every effort to play the game, traveling to Eugene, and then fitting Oregon into a tight schedule twice, and at every juncture, through no fault of its own, the game was canceled or moved.
Then, with just two weeks left in the regular season, UCLA suddenly has its schedule upended and is being asked to play a third consecutive road game in six days, with the game coming just three days before the USC game, which might very well be for the conference title.
Now, win or lose, the game itself will likely benefit UCLA's resume. Oregon on the road will be a Quad-1 opponent, with Oregon comfortably within the top 75 (assuming the NCAA doesn't decide, suddenly, that Matthew Knight arena isn't enough of a homecourt advantage and designates it a neutral site). In isolation, a loss won't kill UCLA, and a win would significantly benefit the Bruins' rankings.
But asking UCLA to play three road games in a row, two against top-flight opponents in Colorado and Oregon, followed by USC on the following weekend, is a huge ask from the Pac-12, especially at this point in the season, with the injuries UCLA has suffered and the obvious mental toll this entire season is taking on players across the conference. It's not a stretch to think that UCLA will be much more worn down for what is potentially going to be a marquee matchup against USC than the Bruins otherwise would have been. A loss against Oregon doesn't sink UCLA, but fitting another road game in before USC and after Colorado, which makes three straight games that UCLA could lose pretty easily, could tank the Bruins' resume quite a bit.
We understand how critical the financial picture is for the members school and the league, and that finagling one more marquee matchup between contenders might be worth some actual dollar figure for the league. But it could also come with some very real costs for UCLA's players, their end-of-season potential for a Pac-12 championship, and their tournament hopes.
–
—–
February 26th
… Foe Pause … 
NCAA sets parameters for March Madness: No replacement teams once tournament begins
From ESPN … The NCAA on Thursday announced policies for how it will handle potential coronavirus-related withdrawals from the Division I men's basketball tournament, saying it will not allow replacement teams after the tournament begins.
There will be no reseedings or bracket changes once the bracket is released on Selection Sunday, and replacement teams will only be introduced within 48 hours of the field's release. Potential at-large teams unable to meet the medical protocols by the first game of the NCAA tournament must notify the selection committee on the Saturday night before the field is announced.
Replacement teams will be determined in one of two ways, depending on whether the team withdrawing is a one-bid conference's automatic qualifier or from a multibid league.
One-bid leagues are able to designate a replacement team if their automatic qualifier is forced to withdraw. If a team from a multibid league, whether it's an at-large team or an automatic qualifier, is forced to withdraw, the last four teams not selected as at-large teams in the original field will be ranked 1-4 and designated as the replacement teams. Replacement teams will be placed in the same bracket position vacated by the withdrawing team.
Once the NCAA tournament begins on Thursday, March 18, there will be no replacement teams. As a result, forfeits could come into play.
"Once the tournament has begun, no team will replace a team that has a COVID-19 issue and can no longer participate in the championship," the NCAA's replacement policy states. "Its opponent would advance to the next round via the no-contest rule."
The NCAA tournament field will be announced on Sunday, March 14.
–
—
Chip Kelly retains defensive coordinator Jerry Azzinario (good news for the rest of the Pac-12)
From BruinReportonline.com … UCLA head coach Chip Kelly will retain defensive coordinator Jerry Azzinaro, according to sources.
Azzinaro's current contract is a one-year deal that expires February 28th. The terms or compensation of a potential new contract are unknown.
Azzinaro, 62, has been UCLA's defensive coordinator since Kelly was hired as UCLA's head coach in late 2017.  He has been a figure of some controversy, being the architect of two poor defenses in Chip Kelly's first two seasons. In the 2018 season, UCLA's defense ranked 94th in the country for yards allowed per play, and then 115th in 2019.  Last season, it improved considerably, coming in at 42nd nationally, but the improvement is thought in large part to be a result of the contributions from new secondary coach Brian Norwood.
–
—–
February 25th
… Foe Pause … 
Cal athletics turns a FY "profit" after $25.1 million bailout from central campus
… Imagine this sort of bailout – $84.7 million bailout over the past five years – at CU? … Me neither … 
From the San Jose Mercury News … Cal's latest financial report includes two jaw-dropping but interconnected numbers: The Bears finished the 2020 fiscal year with a $3.2 million surplus (in a pandemic) but received $25.1 million in university support — support that was booked as revenue.
Both numbers run counter to established norms in Berkeley, where huge year-end shortfalls and steep faculty resistance to athletics are as commonplace as gluten-free options.
The $25.1 million in direct institutional aid represents a six-fold increase over the average from the previous five years.
And there's more coming. Loads more.
The enormous assist from central campus is part of a long-term strategy crafted by chancellor Carol Christ and athletic director Jim Knowlton to eventually corral the Bears' unbalanced budget. (The plan was discussed with the Academic Senate, in the interest of cross-campus transparency.)
… According to their NCAA statement of revenues and expenses, the Bears generated $110.5 million in revenue in the 2020 fiscal year, including the campus support, against $97.9 in operating expenses.
The football program was in the black by $4.9 million, while men's basketball posted a low-six-figure surplus.
(The pandemic didn't adversely impact Cal's overall revenue because the money-generating events were completed before the COVID shutdown in mid-March.)
Meanwhile, all other sports — the Olympic sports, including women's basketball — combined to lose $17.9 million.
Remove that $25.1 million in campus support, and Cal would have been deeply in the red, just as it was in previous years.
In fact, from FY15 through FY19, the Bears experienced budget shortfalls totaling $84.7 million, according to financial documents reviewed by the Hotline.
That figure includes approximately $4.5 million annually in university support (booked as revenue) and about $5 million that was sent back to central campus (book as an expense) to comply with Cal's internal taxation system.
The athletic department used reserves to cover the budget shortfall in FY15. But for the next four years, the university stepped in to absorb the losses and wipe the Bears' books clean.
… Continue reading story here …
–
—
Sarkisian contract with Texas raises the bar (again)
From ESPN … University of Texas System regents on Thursday approved a six-year, $34.2 million guaranteed contract for new Longhorns football coach Steve Sarkisian.
The regents also approved more than $21 million in guaranteed contracts for Sarkisian's staff. Three of his top assistants got three-year guaranteed contracts worth more than $1 million annually. The highest-paid in that group will be defensive coordinator Pete Kwiatkowski at $1.7 million per year.
Sarkisian was hired in early January to replace Tom Herman, who was fired with three seasons and more than $15 million left on his guaranteed contract. Herman went 32-18 in four seasons but had failed to win a Big 12 championship and was embroiled in a campus controversy over some players' refusal to sing the school song "The Eyes of Texas."
Sarkisian, who has the strong backing of board of regents chairman Kevin Eltife, has said his players will sing the song "proudly."
Sarkisian, 46, is a former head coach at Washington and Southern California, and was the offensive coordinator the last two seasons at Alabama, which won the 2020 national championship.
His starting salary at Texas will be $5.2 million, escalating to $6.2 million in the final year.
Sarkisian's contract also includes 20 hours' use of a private plane annually, $250,000 in relocation expenses, an a one-time payment of $1.2 million on Dec. 31, 2024, if he is still the Texas coach. The contract also includes non-guaranteed annual performance incentives worth nearly $1 million.
Sarkisian is Texas' fourth head coach since the program's most recent Big 12 championship in 2009. Since then, Texas has fired Mack Brown — the only coach to lead the program to a national championship (2005) in 50 years — Charlie Strong and Herman.
–
—–
February 24th 
… Foe Pause … 
UCLA trades out games v. Michigan for first-ever FCS games
From UCLABruins.com … UCLA has added home games against Alabama State University and North Carolina Central University to its future football schedule, marking the first time the Bruins will face a historically black college or university (HBCU).
UCLA will host Alabama State on September 10, 2022 and North Carolina Central on September 16, 2023 at the Rose Bowl. Each team's world-renowned band, Alabama State's "The Mighty Marching Hornets" and North Carolina Central's "The Sound Machine Marching Band", will perform at the game.
"Adding two HBCUs to our football schedule is special," said the Alice and Nahum Lainer Family Director of Athletics Martin Jarmond. "It's exciting to give our student-athletes and fans a new experience and to bring a little bit of the South to Southern California."
Alabama State's acclaimed marching band, officially known as "The Mighty Marching Hornets", was featured in Beyonce's Netflix concert film Homecoming, has been invited several times to the Honda Battle of the Bands and performed at the Rose Parade. Additionally, Alabama State's dance team, the Honey Beez, has performed on America's Got Talent.
North Carolina Central was established in Durham in 1910 and was the nation's first state-supported liberal arts college for Black students. Today, it is consistently ranked as a top historically black college or university and remains committed to diversity in and access to higher education. North Carolina Central's renowned marching band, officially known as "The Sound Machine Marching Band", has been invited several times to perform at the Honda Battle of the Bands Showcase in Atlanta, as well as in the Rose Parade.
The 2022 game with Alabama State and 2023 game with North Carolina Central replace the previously-scheduled series with Michigan, who terminated its home-and-home contract with UCLA in 2019.
–
—
Release of Pac-12 football calendar delayed (again) 
From the San Jose Mercury News … Yes, it's coming, but (more) patience is required.
This week, the conference informed athletic department officials via email that the 2021 schedule could be released next week, according to multiple sources with knowledge of the internal communication.
However, the week of March 8 — the week of the Pac-12 basketball tournament — is viewed as perhaps the more likely window, the sources indicated.
Why the additional delay?
As of Tuesday afternoon, the conference had yet to distribute schedule models to the athletic directors and coaches for review and voting.
That process can take at least a week and sometimes longer if consensus is elusive and revisions are required.
"We haven't seen anything," a source said.
This is the latest the Pac-12 has released its football schedule in recent memory (if not ever), in part because of circumstances beyond its control:
The network partners, ESPN and Fox, had to solve COVID-related schedule issues for several pro leagues in 2021 before they could focus on college football, sources told the Hotline last month.
And because ESPN and Fox typically schedule in order of the time zones, the Pac-12 often is forced to wait for the other conferences.
But that issues was cleared weeks ago.
Schedule release dates for the Power Five:
Jan. 27: SEC
Jan. 28: ACC
Feb. 5: Big Ten
Feb. 11: Big 12
Yet the Pac-12 remains a week or more away from its schedule reveal.
That's just six months from the season openers — hardly ideal for fans hoping to make travel arrangements or athletic department trying to sell tickets and re-engage their constituents.
–
—–
February 23rd 
… Foe Pause … 
Pac-12 fills up open week with nine makeup games – CU still in the Pac-12 race
From The Pac-12 … The Pac-12 has made the below adjustments to its remaining men's basketball regular-season schedule.
The below adjustments are in addition to originally scheduled Conference games for Feb. 25 (six games), Feb. 27 (six games) and March 6 (one game).
The adjustments were made in an effort to reschedule as many games relevant to the Conference regular-season championship and NCAA Tournament selections as possible.
Tuesday,  Feb. 24
Washington at Arizona State – 6:00 p.m. PT – PAC12 (originally scheduled as Arizona State at Washington on Saturday, Jan. 2; was postponed)
Thursday, Feb. 25
Washington at Arizona State – 4:00 p.m. PT – FS1 (originally scheduled)
UCLA at Utah – 5:00 p.m. PT – PAC12 (originally scheduled)
Oregon at Stanford – 6:00 p.m. PT – ESPN/2/U (originally scheduled)
USC at Colorado – 6:00 p.m. PT – ESPN/2/U (originally scheduled)
Oregon State at California – 7:00 p.m. PT – PAC12 (originally scheduled)
Washington State at Arizona – 8:00 p.m. PT – FS1 (originally scheduled)
Saturday, Feb. 27
Washington at Arizona – 11:00 a.m. PT – CBS (originally scheduled)
Washington State at Arizona State – 1:30 p.m. PT – PAC12 (originally scheduled)
Oregon State at Stanford – 4:00 p.m. PT – PAC12 (originally scheduled)
USC at Utah – 5:00 p.m. PT – ESPN2/U (originally scheduled)
Oregon at California – 7:00 p.m. PT – FS1 (originally scheduled)
UCLA at Colorado – 7:00 p.m. PT – ESPN/2/U (originally scheduled)
Monday, March 1
Arizona at Oregon – TBD – ESPN/2 (originally scheduled for Saturday, Jan. 16; was postponed)
Washington State at Arizona State – 12:00 p.m. PT – PAC12 (originally scheduled as Arizona State at Washington State on Thursday, Dec. 31; was postponed)
Wednesday, March 3
UCLA at Oregon – TBD – ESPN2 (originally scheduled for Wednesday, Dec. 23; was postponed)
Oregon State at Utah – 4:00 p.m. PT – ESPN2/U (originally scheduled for Wednesday, Jan. 6; was postponed)
Stanford at USC – 7:30 p.m. PT – FS1 (originally scheduled for Sunday, Dec. 13; was postponed)
Thursday, March 4
Arizona State at Colorado – TBD – ESPN2/U (originally scheduled for Thursday, Feb. 4; was postponed)
Saturday, March 6
Arizona State at Utah – TBD – TBD (originally scheduled for Sunday, Feb. 7; was postponed)
USC at UCLA – 1:00 p.m. PT – CBS (originally scheduled)
Sunday, March 7
Oregon at Oregon State – TBD – TBD (originally scheduled for Saturday, March 6)
–
—–
February 22nd
… Foe Pause … 
Oregon quarterback transfers to Texas Tech
From ESPN … Former Oregon starting quarterback Tyler Shough is joining Texas Tech as a graduate transfer, he announced Monday.
Shough, who started all seven games in 2020 as Oregon won its second consecutive Pac-12 championship, will have three years of eligibility remaining with the Red Raiders.
He completed 63.5 percent of his passes for 1,559 yards with 13 touchdowns and six interceptions last season, but lost playing time to Anthony Brown in both the Pac-12 championship game and the Fiesta Bowl. The 6-foot-5, 221-pound Shough said after the bowl game that he intended to remain at Oregon but entered the NCAA's transfer portal Feb. 12.
Texas Tech retains Henry Colombi, who passed for 1,065 yards and eight touchdowns last season, and welcomes in Behren Morton, ESPN's No. 20 pocket passer and No. 156 overall player in the 2021 recruiting class.
Texas Tech replaced offensive coordinator David Yost with Sonny Cumbie, a former quarterback at the school. The Red Raiders finished 4-6 last season.
–
—
USC website projects K.D. Nixon as a starter this fall
From ReignofTroy.com … After falling short of the Pac-12 crown in 2020, USC football brings back an offense capable of righting that wrong in 2021. To do it, they'll need to sort out the depth chart at key positions.
The Trojans return nine regular starters, including quarterback Kedon Slovis. They lose star left tackle Alijah Vera-Tucker, veteran receivers Amon-Ra St. Brown and Tyler Vaughns and fan-favorite running back Markese Stepp.
How will the lineup shake out in 2021? It's time for Reign of Troy to make some predictions:
Inside receiver A
Projected starter: K.D. Nixon
Nixon comes to USC as a transfer from Colorado with one year to improve his draft stock. He's a luxury addition in a Trojan offense already full of playmaking potential. Fortunately, he's had experience sharing an offense with elite players like Laviska Shenault and has the personality of a natural leader. He should fit right in as a veteran presence who is proven against Pac-12 defenses.
Rotation player: Gary Bryant Jr.
The downside of adding Nixon is likely seeing that much less of Bryant Jr. The speedster got a little bit of run in 2020 and he'll have to fight for every snap he gets in 2021. Ultimately, competition should bring out the best in athletes. He has the talent to push for playing time.
–
—
Nebraska quarterback Luke McCaffrey transferring to Louisville
… Not to be confused with former Michigan quarterback Dylan McCaffrey, who is transferring to Northern Colorado, and who is the odds on favorite to get his first start in Folsom Field on September 2nd or 3rd v. CU in the 2021 season opener … 
From CBS Sports … Former Nebraska quarterback Luke McCaffrey announced on Monday that he will join Scott Satterfield and the Louisville Cardinals program. McCaffrey, who made the announcement on his Twitter account, started two games and played in seven last season for coach Scott Frost's Cornhuskers.
McCaffrey split time with Adrian Martinez during his redshirt freshman campaign in 2020. He threw for 466 yards and one touchdown, rushed for 364 yards and added three more scores on the ground. He got his first career start on Nov. 14 against Penn State, where he threw for 152 yards in the 30-23 win over the Nittany Lions. The win earned him another start the following weekend vs. Illinois, but McCaffrey threw three interceptions in a 41-23 loss.
"After struggling with this decision for weeks, I have decided to enter the transfer portal and explore my options," he said. "I am thankful for the support Nebraska fans have shown me. I have so much love for my coaches and teammates from my time here. I am excited for the future."
McCaffrey will be stepping into a crowded quarterback room at Louisville. Veteran Malik Cunningham will return under center, and will likely be the starting quarterback in 2021. Evan Conley saw sporadic time last season and ex-Georgia Southern quarterback Shai Werts — who's more of a running threat than a pure passer — also transferred to the program this offseason.
–
—–
February 21st
… Foe Pause … 
Proposed California legislation would end collegiate athletics as we know it 
From the San Jose Mercury News … Almost two years to the day after the groundbreaking 'Fair Pay To Play Act' was introduced into the California state assembly, another bill focused on the rights of college athletes has entered the legislative pipeline in Sacramento.
Say hello to AB-609 — "The College Athlete Race and Gender Equity Act."
It's not merely groundbreaking. It prevents breaking ground, literally.
The bill requires California universities to pay football and men's basketball players tens of millions of dollars in royalties for the use of their name, image and likeness.
One of the stipulations in AB-609 would bar universities from building athletic facilities (locker rooms, weight rooms, arenas, etc.) just to keep up with their peers.
Another stipulation would force universities to suspend athletic directors for three years if their departments fall out of compliance with Title IX.
Overall, AB-609 is a whopper — progressive to the point of radical, punitive to the point of debilitating and, in sections, deeply confusing.
And yes: It requires name, image and likeness payments from schools to athletes even though the NCAA has already approved NIL compensation for athletes from the private sector. (Implementation is awaiting oversight from Congress.)
"The bill is saying that NIL isn't enough just going through the private industry," said a source who has read AB-609, "so the schools that exceed the benchmarks cited in there would have to give that money back."
According to the bill, a so-called Royalty Fund would be established by Jan. 1, 2022:
"From the Royalty Fee Distribution Fund established … an institution of higher education shall distribute a name, image, and likeness royalty fee to each qualifying college athlete in the amount determined."
… Continue reading story here …
–
—–
February 20th
… Foe Pause … 
Pac-12 scheduling Oregon at USC for Monday night helps the Pac-12 as a whole
From the San Jose Mercury News … Well, the Pac-12 did it again.
Exactly two months after the conference put USC's division-winning football team at a competitive disadvantage in the championship game, it jammed the Trojans' first-place basketball team into a difficult spot with the postseason approaching.
Only this time, the Pac-12 did the right thing by doing USC wrong.
The decision to cram a matchup against Oregon into the Trojans' late-season schedule, creating a five-games-in-10-days gauntlet in advance of the Pac-12 tournament, was the prudent move for the collective.
It creates a high-quality duel Monday evening in the Galen Center between the hottest teams in the conference — their late January game was postponed — while giving the Ducks an opportunity to bolster their NCAA resume.
Each tournament bid is worth millions of dollars to the Pac-12 over a six-year window.
The shrewd move stands in contrast to the decision in December, when the conference treated its championship game like an AAU tournament and subbed in a replacement team (Oregon) to face the Trojans after the North champion (Washington) was unable to participate.
How can one move be wrong and the other right when the result of each is to make things more difficult for USC?
In basketball, it's about NCAA units: Each game played by a conference member is worth about $1.8 million to the Pac-12 over the course of six years.
Get Oregon in the field, and maybe the Ducks win two or three games — suddenly, that pot grows to $5.4 million.
Oh, and there's one more element to consider: USC's basketball team isn't being placed at a competitive disadvantage relative to the Ducks.
In football, the Trojans were asked to play for the conference title on back-to-back short weeks: They played on a Sunday (Washington State), then a Saturday (UCLA), then a Friday (Oregon).
Meanwhile, the Ducks showed up for the championship fresh from two weeks of rest.
This time, the teams are in similar positions:
— The Trojans play Arizona at home on Saturday at 3 p.m. and will have 49 hours to prep for the Ducks (6 p.m. Monday).
— Oregon plays Utah at home on Saturday at 6 p.m. and then has 46 hours (including travel) to prep for the Trojans.
Just as the schedule change forces USC to play five games in 10 days, so, too, are the Ducks being asked to play five in 10.
… Continue reading story here …
–
—–
February 19th
… Foe Pause … 
Pac-12 announces tournament schedule; top five teams to receive a bye
From the Pac-12 …The Pac-12 has adjusted the format and updated the bracket for the upcoming 2021 Pac-12 Men's Basketball Tournament presented by New York Life set to be held at T-Mobile Arena in Las Vegas from March 10-13.
With 11 teams eligible to participate in the 2021 tournament, the event format has been adjusted to 10 total games featuring three First Round contests on Wednesday, March 10 followed by four Quarterfinal games on Thursday, March 11, a pair of Semifinals on Friday, March 12, and the Championship on Saturday, March 13.
The top five seeds will receive First Round byes in the updated bracket, with the No. 4 and No. 5 seeds slated to meet in Thursday's second Quarterfinal.
Additionally, tip-off times have been adjusted to allow for improved testing protocols and adequate sanitization between games.
2021 Pac-12 Men's Basketball Tournament presented by New York Life
T-Mobile Arena, Las Vegas, Nev.
Wednesday, March 10
Game 1: No. 8 seed vs. No. 9 seed, 1:00 p.m. PT – PAC12
Game 2: No. 7 seed vs. No. 10 seed, 4:00 p.m. PT* – PAC12
Game 3: No. 6 seed vs. No. 11 seed, 7:00 p.m. PT* – PAC12
Thursday, March 11
Game 4: No. 1 seed vs. Game 1 winner, 11:30 a.m. PT – PAC12
Game 5: No. 4 seed vs. No. 5 seed, 2:30 p.m. PT* – PAC12
Game 6: No. 2 seed vs. Game 3 winner, 5:30 p.m. PT* – PAC12
Game 7: No. 3 seed vs. Game 4 winner, 8:30 p.m. PT* – ESPN
Friday, March 12
Game 8: Semifinal 1, 5:30 p.m. PT – PAC12
Game 9: Semifinal 2, 8:30 p.m. PT* – ESPN
Saturday, March 13
Game 10: Championship, 7:30 p.m. PT – ESPN
Game times are local to site; * – approximate tip time
–
—–
February 18th
… Foe Pause … 
Will Arizona pick up Oregon's starting QB Tyler Shough? 
From zonazealots.com … Following the dreadful, 0-5 abbreviated college football season, the Wildcats lost quarterback Grant Gunnell due to transfer. So naturally, Fisch went out and got Jordan McCloud (transfer from USF), Gunner Cruz (transfer from Wazzu), and multiple talented walk-on's, in addition to retaining Kevin Doyle and Will Plummer.
Certainly, a huge turnaround when you truly analyze it, but based on recent events, it sounds like the Wildcats may not be done either.
Making news via Social Media on Wednesday afternoon, Wildcat Country announced that there is apparently mutual interest between former Oregon quarterback Tyler Shough and Arizona.
A previous starter and standout for the Ducks, Shough announced that he would be transferring from the program just days ago, and given that he was once a standout quarterback at Chandler Hamilton High School from just up the road, this recruitment makes a lot of sense.
Tyler was a four-star quarterback coming out of high school in 2018, with offers from just about all the major programs. In 2021, I would expect to likely be the case again
… Continue reading story here …
–
—
Situation normal: Oregon poaches assistant from another Pac-12 rival
From ScoopDuck.com … Mario Cristobal has found his man. After a long and thorough search, Oregon will reportedly hire Cal defensive back coach Marcel Yates. The move was first reported by footballscoop.com.
Yates also worked with new Oregon defensive coordinator Tim DeRuyter while at Cal.
Rod Chance remains at Oregon coaching the cornerback group. Yates will have the chance to come in and hold down the safety room. He might also add a co-DC/pass game coordinator title.
Yates has extensive knowledge of the Pac-12. He's been at Arizona and now at Cal. He also has defensive coordinator experience under his belt.
With this move, Oregon has now rounded out its coaching staff as we enter the 2021 season.
–
—
Jon Wilner names six potential candidates for Pac-12 commissioner's position
From the San Jose Mercury News … The Pac-12 is one month into a search that likely will last into April, if not May.
In recent weeks, the Hotline has interviewed the Pac-12 presidents on the executive committee leading the process: Oregon's Michael Schill (chair), Washington's Ana Mari Cauce and WSU's Kirk Schulz.
We have listened to and read their comments in other media outlets.
We have communicated with sources inside and outside the conference.
And it's increasingly clear the presidents are interested in pursuing candidates who 1) value the conference's educational mission, 2) reflect the diversity of the Pac-12's campuses and athletes, 3) have experience with major college football and 4) understand the campus culture and challenges.
The question is whether the presidents can find someone who meets all the criteria at the desired levels, or if compromising on some issues will be necessary. (And if so, which ones?)
With that in mind, the Hotline presents our list of six potential candidates.
(If two or three reach the interview stage, we'll consider this a win.)
— Listed alphabetically …
Bob Bowlsby, Big 12 commissioner.
Greg Byrne, Alabama athletic director.
Randy Freer, former Fox Sports president/Hulu CEO.
Gloria Nevarez, West Coast Conference commissioner.
Gene Smith, Ohio State athletic director.
Andrea Williams, COO of the College Football Playoff.
–
—–
February 17th
… Foe Pause … 
Nebraska/Illinois season opener in Dublin scrapped
From ESPN … The Nebraska-Illinois football game scheduled for August in Ireland has been called off because of the coronavirus pandemic.
The Big Ten Conference game will be played Aug. 28 in Champaign, Illinois, instead.
Officials said the decision was made after consultations with the Irish government, medical experts and the administrative staffs at the schools.
The teams had been set to play in the Aer Lingus College Football Classic at Aviva Stadium in Dublin. Game organizers said they hope Illinois and Nebraska can play in Ireland in the future.
The Illini defeated the Cornhuskers 41-23 last season in a disappointing year for both programs. Nebraska finished 3-5, and Illinois went 2-6.
–
—
Questions every Pac-12 commissioner candidate should be able to answer
From the San Jose Mercury News … College football is entering the most chaotic — and quite possibly the most transformative — period of time in its history.
At stake: Nothing less than the future economic and competitive structures of the sport.
Now, the Pac-12 presidents haven't asked the Hotline for advice. If they did, our response would be fairly simple:
If a candidate cannot communicate a strategic vision to ensure the Pac-12's relevance a decade from now, then he/she has no business being commissioner.
Everything else matters, and we aren't suggesting otherwise. But nothing matters as much as football, because of where the Pac-12 is and where the sport's headed.
Here's what else the Hotline would ask a candidate:
— What's your plan for driving College Football Playoff expansion?
— What's your plan for helping Pac-12 campuses maximize their NIL opportunities?
— What's your plan for improving media coverage?
— What's your plan for the media rights negotiations?
— What's your plan for improving officiating and scheduling?
— What's your plan for retaining coaches and recruits?
Hire a commissioner who lacks a plan for the future, and there won't be a future — at least, not the version the conference wants and the athletes deserve.
At least one president appears to understand.
During an interview with KJR radio in Seattle last month, Washington State's Kirk Schulz offered a few words that Pac-12 fans should find heartening:
"One of the things we're concerned about is our competitiveness nationally in football … We're a Power Five league, and we need to play like that. And we need to have facilities like that and coaches and student-athletes like that."
… Continue reading story here …
–
—–
February 16th
… Foe Pause … 
Stewart Mandel not a fan of the Jedd Fisch hire, either 
From The Athletic … In all my years writing this annual column, it never took until February for me to publish it (apparently he forgot last year, or had already published his rankings by the time Michigan State and CU had filled their vacancies). For that, we can thank Tennessee for not only waiting until Jan. 18 to fire Jeremy Pruitt but also for raiding UCF athletic director Danny White and coach Josh Heupel, extending the last domino for several weeks.
The 2020-21 carousel was unique for another reason: The hires collectively were so darn underwhelming. Over the past five years, I've given out an average of four A+, A or A- grades among the Power 5 hires. This year … (one A among Power Five hires; four B's; and two C's, including) …
Arizona (C+): Patriots assistant Jedd Fisch
Arizona didn't have a lot of takers for the job, but it's not entirely clear what the case was for Fisch, a relentless climber who has changed jobs 10 times in the past 13 years. But he's an up-and-comer whom Arizona got on the cheap ($2.6 million a year) by Power 5 standards, and he's made a couple of impressive staff moves already, landing renowned DC Don Brown and bringing back Wildcats star Tedy Bruschi as a senior advisor.
… Read full list here …
–
—
CBS rates the new hires: Arizona's Jedd Fisch No. 14 out of 15
From CBS Sports … Remember when COVID-19 was supposed to be a mulligan year for embattled coaches? Not exactly. While the pandemic probably lessened the volume of departures — only 15 this offseason — it didn't keep some big time programs from swallowing some big-time cash. Texas, South Carolina and Auburn paid a combined $42 million to buy out departed coaches.
The total buyout figure for the nine coaches fired on the list below is more than $53 million. (Vanderbilt's Derek Mason was a 10th fired coach, but buyout figures are not available because it is a private institution.) That's an average of $5.89 million. That's one consideration in making a change. The 15 changes now make it 86 schools that have switched coaches at least once in the last four seasons (66%). Patience is not a virtue among athletic directors.
Here's how we grade the rest of the hires as we enter the 2021 college football season …
A's … Gus Malzahn, UCF, A+ … Steve Sarkisian, Texas, A … Bryan Harsin, Auburn, A- … Bret Bielema, Illinois, A- …
B's … Andy Avalos, Boise State, B+ … Blake Anderson, Utah State, B+ … Clark Lea, Vanderbilt, B … Butch Jones, Arkansas State, B … Terry Bowden, Western Kentucky, B … Kane Womack, South Alabama, B … Will Hall, Southern Mississippi, B … Charles Huff, Marshall, B- …
C's … Josh Heupel, Tennessee, C … Jedd Fisch, Arizona, C … Shane Beamer, South Carolina, C- …
Jedd Fisch … There are those that say Arizona deserved a head coach. Fisch is only the second Wildcats coach hired since 1977 not to have head coaching experience. The school apparently ignored interest for the second time from Navy coach Ken Niumatalolo. This is Fisch's 12th stop in the NFL or college since 2002. He'll have to win over skeptics who wanted a coach with ties to the school.
–
——
February 15th
… Foe Pause … 
Projected Pac-12 media revenue increase: Up to $55.9 million per year per school
From the San Jose Mercury News … Two years ago, Major League Baseball agreed to a contract extension with Fox that runs through the 2028 season. The previous deal reportedly paid $525 million annually, while the extension is worth $728 million per year, according to the New York Times.
That's a 39 percent bump.
Pandemic or no pandemic, the market dynamics won't be exactly the same in two years — when the Pac-12 negotiates its next agreement — as they were in late 2018, when the MLB/Fox deal was sealed.
But if we use 39 percent as a rough estimate, here's our back-of-the-envelope math …
The Pac-12's current Tier One deal with Fox and ESPN for the premium football and men's basketball games is worth $250 million annually.
Meanwhile, all the inventory on the Pac-12 Networks generates about $125 million in revenue. (The football and basketball games account for most of it. The media rights for hundreds of Olympic sports events are negligible — hence the flaw in the business model.)
So that's $375 million total for football and hoops.
Apply the 39 percent bump, and the conference would be in line for average annual payments of $521 million — or $43.4 million per school per year.
But there's more to the calculation.
The annual distributions from the conference office to the athletic departments include not only the ESPN/Fox deal and the Pac-12 Networks but also the College Football Playoff and March Madness revenue.
So the campus payouts would be greater than the $43.4 million from a new media rights deal.
In a typical year, the Pac-12 receives approximately $150 million from those postseason events.
Add that to the $521 million from a hypothetical new Tier One deal, and we land on $671 million annually in conference distributions.
Or $55.9 million per school per year.
Which is about what the Big Ten schools receive now … before their renegotiated Tier One deal.
Is that enough to compete for titles? Impossible to say.
To a certain extent, the schools have enough now to compete for the CFP and NCAA titles, but the resource limitations (relative to the best programs elsewhere) narrow the path.
The additional revenue from a new media deal will help, but it won't solve all problems.
–
—
Buffs slip to fourth (behind Oregon) in Pac-12 Power Rankings 
From the San Jose Mercury News …
1. USC (17-3/11-2)
Last week: 1
Results: won at Washington 69-54 and WSU 76-65
Next up: vs. ASU (Wednesday)
NET ranking: 15
Comment: No secret to the success: Trojans are No. 9 nationally in adjusted defensive efficiency — two spots better than even Virginia.
2. UCLA (14-5/10-3)
Last week: 2
Results: lost at WSU 81-73, won at Washington 64-61
Next up: vs. Arizona (Thursday)
NET ranking: 49
Comment: Johnny Juzang's 32-point performance to beat UW reminded us of the time Toby Bailey scored 32 in Seattle, except the Bruins lost that game — and Bailey scored all 32 in the second half.
3. Oregon (12-4/7-3)
Last week: 5
Results: won at ASU 75-64 and Arizona 63-61
Next up: vs. Colorado (Thursday)
NET ranking: 48
Comment: It's February, it's Dana Altman, it's inevitable: Here come the Ducks.
4. Colorado (16-6/10-5)
Last week: 3
Results: won at Stanford 69-51, lost at Cal 71-62
Next up: at Oregon (Thursday)
NET ranking: 19
Comment: Buffs are either a good team with several inexplicable losses (UW, Utah, Cal), or a mediocre team with several inexplicable wins (USC, Oregon, Stanford). Honestly, we aren't sure which.
–
—–
February 14th
… Foe Pause … 
UCLA's deal with Nike to pay less than half of defunct Under Armour deal
… Note … UCLA's deal was $280 million over 15 years. Also nixed by Armour were deals with Cal ($86 million for ten years) and Utah ($59.4 million for ten years) … 
From Sportico … UCLA's new Nike deal will pay the university less than half of what the school was owed per year under its prior agreement with Under Armour, further evidence of a wider market correction for NCAA apparel contracts.
The total value of the Nike deal, not including incentives, is $46.45 million over six years, an average of $7.7 million per year, according to the contract. The deal kicks in July 1 and will replace UCLA's 15-year, $280 million contract with Under Armour (average annual value of $18.67 million), which is now the subject of a legal battle between the two sides
Under the Nike deal, UCLA will receive $43.45 million in product and $3 million in cash. The school will be allowed to transfer some of that product allowance to cash at a reduced rate. The contract also describes a separate retail licensing agreement that will be made with a student-centered non-profit related to the school.
The Under Armor contract included a $15 million signing bonus, $135 million in rights fees and nearly $113 million in product.
… Continue reading story here …
–
… Jon Wilner's take on the UCLA dilemma … The details of UCLA's new apparel contract, with Nike's Jordan Brand, have seeped into the public realm.
Everyone assumed the total value would be a fraction of the $280 million deal that Under Armour terminated last summer, and it is: $46.5 million over six years, according to Sportico.
The Bruins were desperate for a new partner, leaving them with little leverage in the marketplace.
Add the plodding performance of the football and basketball teams in recent years, plus the pandemic, and the negotiating climate couldn't have been worse.
The deal reportedly will pay $500,000 annually in cash — or $10.5 million less than Under Armour paid the Bruins each year.
Good thing UCLA's athletic department doesn't need the cash. Err …
Sarcasm aside, the Bruins were never going to strike a lucrative deal (again: no leverage) and instead focused on the partnership they felt could best help them recruit.
That's Nike, that's Jordan Brand, and that's a reasonable calculation to make.
Without realizing their potential on the recruiting trail, the Bruins won't win at the level necessary to sell the tickets needed to permanently eliminate their structural debt.
We can't declare UCLA a winner here, or a loser. Too much nuance is involved, and too little time has elapsed.
–
—–
February 13th
… Foe Pause … 
Arizona schedules guaranteed wins: extends contract with Northern Arizona through 2036
From azdesertswarm.com … The Arizona Wildcats announced Friday that they have agreed to a new 10-year scheduling series with Northern Arizona that will begin in 2021-22 and includes "all sports that are sponsored by both athletics departments."
Per the UA release, the scheduling series will feature competitions in both Tucson and Flagstaff in a home-and-home format when possible. Except for football and men's basketball as "the two schools' men's basketball programs will look to open each season with a head-to-head meeting in McKale Center to create an exciting annual tip-off event for fans."
Arizona football was already scheduled to host NAU in 2021, 2023, 2024, 2026 and 2027 but will now add four more dates between 2030 to 2036. There will be a gap from 2027 to 2030 due to prior scheduling commitments.
… Arizona is 15-1 all-time v. Northern Arizona, with the lone win by the Lumberjacks coming in 1932 … 
–
—–
February 12th
… Foe Pause …
Oregon's starting quarterback enters transfer portal 
From The Oregonian … Oregon will have a new starting quarterback in 2021.
Tyler Shough, who started all seven games for the Ducks and led the Pac-12 in passer efficiency in 2020, announced he's entering the transfer portal.
"I would like to thank my coaches at Oregon for the opportunity and many lessons learned these past three years," Shough wrote via Twitter. "Huge thank you to the fans and Eugene community for welcoming me here and making this place special. Thank you to Coach Feld and the entire strength staff for your support and countless hours spent in the weight room. Thank you thank you to Chief, Travis, Steph, Rachel, Cody, and all athletic trainers at Oregon for your sacrifice, care, and work. I will always love and appreciate you guys. I appreciate the academic staff for your constant help in guidance that is allowed me to graduate with two degrees in three years. Thank you to my teammates and brothers for making this place a home. I will forever cherish the bonds we have built together. Once a Duck, always a Duck. I am trusting in the Lord, and excited to announce that I will be entering the transfer portal as a grad transfer with three more years of eligibility."
Shough went 106 for 167 (63.5%) for 1,559 yards with 13 touchdowns and six interceptions and had 66 carries for 271 yards and two scores in 2020, his first season as a starter after serving as Justin Herbert's backup in 2019, and led the Pac-12 in passer efficiency (160.38).
The redshirt-sophomore's play regressed from November to December though. He went from completing 65.8% of his passes with 10 touchdowns and four interceptions for 289.5 yards per game with a 170.31 efficiency rating (16th nationally) in Oregon's first four games against Stanford, Washington State, UCLA and Oregon State to 58% with three touchdowns and two interceptions for 133.7 yards per game and a 137.17 efficiency rating (46th nationally) in the final three games against Cal, USC in the Pac-12 Championship game and Iowa State in the Fiesta Bowl.
Shough was just 7 of 9 for 79 yards with a late interception in the Fiesta Bowl, when he started the game by going 3 for 3 for 41 yards but was benched in favor of Anthony Brown and didn't reappear until late in the third quarter, more than two hours of real time.
After the Fiesta Bowl, Shough said he was "not sure how to interpret" being benched after his opening drive and a one-play drive that resulted in a fumble, but that he was "hungrier than ever" and maintained that he would return to UO to compete for the starting job during the winter and spring practice.
… Continue reading story here …
–
—
List of Top 25 college stadiums includes five from the Pac-12 (including Folsom)
From YardBarker.com … As much as college football fans love the players on the field, the stadium experience is what keeps people coming back. Whether it is the smell of freshly grilled hot dogs or being a part of the tens of thousands of fans screaming their heads off, there is something special about being in a stadium and rooting for your favorite college team.
Stadiums have rich histories that speak to fans, reminding them of great teams and players who have reached incredible heights. The best venues honor those histories while giving fans new experiences to make lifelong memories.
Here are 25 of the best college football stadiums in the country.
Colorado: Folsom Field … 
Colorado's recent resurgence has reintroduced the country to the beautiful Folsom Field. Boulder is located at the base of the Rocky Mountains, and the famed mountain range is featured as a backdrop to the stadium. Folsom Field seats just over 53,000 fans, and if you want to enjoy one of the most beautiful venues in all of college football, head to where the Buffaloes roam.
Oregon: Autzen Stadium … 
Nestled in the quiet trees of the Pacific Northwest is one of the loudest stadiums in the country. Autzen holds only around 54,000 thousand fans, but the unique potato chip design bounces sound off the walls of the stadium and back down to the field. This small venue packs a big punch in the talented Pac-12 Conference.
UCLA: Rose Bowl … 
Washington: Husky Stadium … 
—–
February 11th
… Foe Pause … 
Criteria for new Pac-12 Commissioner: Start with "somebody who has been on a campus"
From the San Jose Mercury News … Former Utah athletic director Chris Hill has seen the Pac-12's fortunes rise and fall from multiple observation points.
As an outsider who wanted in during the Pac-10 era.
As an insider during the early, exuberant years of the Larry Scott tenure.
As a veteran voice of concern during the late-decade downturn.
And now, finally, as a happily retired septuagenarian watching from a slight distance as the conference embarks on a search for a new commissioner.
The Hotline reached out to the man who ran Utah athletics for 30+ years, who hired Urban Meyer and Kyle Whittingham, who was viewed by his peers as one of the sharpest administrative minds in the conference footprint.
Before the university presidents and the search firm of record, TurnkeyZRG, begin targeting candidates, they must settle on a character sketch and skill set.
So we asked Hill: What does the conference need?
"On the big line," Hill said, "you need somebody who has experience in college athletics or somebody who has been on a campus in another position and understands the role the conference should play."
In other words, the presidents shouldn't look outside the industry the way they did 12 years ago in hiring Scott from the Women's Tennis Association.
More specifically, Hill said, the Pac-12 should ignore the temptation to hire a sports media expert even though the momentous media rights negotiations are expected to begin in late 2022.
"You don't want the TV piece to be so overwhelming that they don't do the first one,'' Hill said, referring to the campus experience.
"(Former Big Ten commissioner) Jim Delany didn't do TV by himself. You do (a media rights deal), and then there are eight more years of just managing the TV situation.
"You have to understand it, but you don't want to get carried away because there's that whole other thing you have to do. And that's help the campuses, because the league is better if everybody wins."
… Continue reading story here …
–
—–
February 10th
… Foe Pause … 
Schools divided on whether there should be a Pac-12 tournament in Las Vegas
From the San Jose Mercury News … The Pac-12 basketball tournaments are on schedule for Las Vegas next month, for better or worse.
We believe it's for the better, but there is a case either way — as we've seen recently from within the Pac-12 itself:
• Last week, Utah athletic director Mark Harlan confirmed to ESPN700 that the conference is moving forward with plans to host the events on schedule, with the women's tournament at the Mandalay Bay Events Center from March 4-7 and the men's version at T Mobile Arena from March 10-13.
"We're moving forward," Harlan said. "We've got great partners in Las Vegas. They've got a great plan to bubble both the men and women when they're there … We're pretty confident that we can run a really good tournament."
• On Monday, UCLA coach Mick Cronin expressed concern about the tournament setting during an appearance on the 'College Hoops Today' podcast.
Specifically, Cronin referenced the NCAA requirement that teams register seven consecutive days of negative tests before traveling to Indianapolis for the multi-week March Madness bubble.
"I'm very uncomfortable," he said of the conference tournament. "Once the NCAA protocols came out … it's very scary."
… Continue reading story here …
–
—
UCLA FY 2020 second straight with over $20 million in losses (will be even worse for FY 2021)
… For comparison's sake … For the two fiscal years discussed in this story, CU basically broke even, showing a small loss in FY 2019 (MacIntyre buyout) and a small profit in FY 2020. Projections are that CU will be report about $20 million in losses for FY 2021 … 
From 247 Sports … It should come as no surprise that the COVID-19 pandemic has significantly hurt many college athletics departments across the country. However, the staggering amount of losses could damage college athletics for years to come.
One such school that has been hit particularly hard has been UCLA. According to Steve Berkowitz of USA Today, UCLA has recorded a massive annual operating deficit of just over $21.7 million for its 2020 fiscal year.
This marks the second straight year that UCLA has been $20 million in the deficit, bringing their two year total to $40.6 million in operating debt. The 2021 fiscal year should be even grimmer, with UCLA facing the brunt of the COVID-19 pandemic over that span.
"This past year was a challenging one financially in all of collegiate athletics, with UCLA athletics being no exception," UCLA's athletics department said in a statement provided by spokeswoman Liza David. "The pandemic's impact will be felt throughout the coming years, but we are committed to reaching long-term fiscal stability for our athletic program. We will continue to provide our student-athletes a championship experience on and off the field and build on our rich history of developing them for success in sports and in life."
UCLA's revenues fell to $97.7 million in 2020 from $108.4 million in 2019. Their operating costs barely went down, from $119.4 million to $127.3 million.
The most recent span has been an unprofitable one due to shouldering the financial burden of head coach hirings, and thus new coaching contracts in both football and basketball. That process, of course, includes firings and, thus, contract buyouts. UCLA was beset by poor ticket sales during the last years of former basketball head coach Steve Alford and former football coach Jim Mora, and in the first two years of the Chip Kelly era in football. Under Armour also backed out of its apparel deal in June, which shut off a source of revenue. Then, of course, UCLA has been deeply financially impacted, as all college athletic departments have, by the pandemic.
–
—–
February 9th
… Foe Pause … 
Selection of TurnKey for Pac-12 commissioner search seen as a positive move
From the San Jose Mercury News … If you're curious about the likely direction and possible outcome of the Pac-12's commissioner search, the university presidents dropped a major clue late last week.
Clearly, they aren't messing around.
The conference has revealed that TurnkeyZRG will assist with the process.
From the pool of executive placement firms the presidents could have chosen to handle outreach, background checks and initial vetting, Turnkey was, by far, the best equipped to help get this right.
And the Pac-12 must get this right.
"They are the most capable of conducting a thorough, quick search,'' said an industry source familiar with the Pac-12's challenges.
Turnkey is one of the top names in the college sports search space, having assisted Michigan, Alabama and USC on their athletic director searches over the years.
It has done football and basketball coaching searches.
It has worked with teams from all the top domestic pro leagues.
It has worked with media, technology and entertainment companies.
But the search with greatest relevance to the Pac-12's endeavor came just a few months ago, when Turnkey helped the ACC presidents with their commissioner search.
That process was a resounding success, as the ACC selected Northwestern's Jim Phillips, one of the top athletic directors in the country.
"Turnkey just delivered arguably the most highly regarded athletics administrator in college sports for the ACC,'' another industry source said.
"(The Pac-12 presidents) recognize the importance of this moment for the league, and they want the best candidates. They're not going to be influenced by politics or conference nepotism. It's encouraging."
… Continue reading story here …
–
—–
February 8th
… Foe Pause … 
Washington State starting quarterback arrested for DUI
From ESPN … Washington State starting quarterback Jayden de Laura has been suspended from the team after his arrest in Pullman on suspicion of driving under the influence.
The freshman started all four games for Washington State last fall.
The Spokesman-Review reports that the 19-year-old de Laura was arrested on a misdemeanor DUI charge early Saturday.
According to police, de Laura was pulled over at 2:13 a.m. after driving through a stop sign and subsequently driving the wrong way. De Laura failed a field sobriety test, but police weren't able to register his blood-alcohol level after he refused to take a Breathalyzer test.
De Laura was released from the police station shortly afterward.
Football players returned to Pullman last month for the start of the new semester and are currently going through their winter conditioning regimen.
De Laura, who is from Honolulu, won the starting quarterback job as a freshman last fall. He faces competition this year from holdover Cammon Cooper and Tennessee graduate transfer Jarrett Guarantano.
–
—–
February 5th
… Foe Pause … 
New bill introduced pushes for unlimited endorsement deals for athletes 
... R.E.M.: "It's the end of the world as we know it … It's the end of the world as we know it … and I feel fine … "
From ESPN … A new federal bill introduced Thursday would make it illegal for the NCAA or other college sports associations to place any restrictions on the type or size of endorsements deals that college athletes could sign in the future.
The bill, co-authored by Sen. Chris Murphy (D-Connecticut) and Rep. Lori Trahan (D-Massachusetts), is the latest in a series of proposed national laws that aim to help college athletes make money and reform a multi-billion-dollar college sports industry that several members of Congress believe is fundamentally unfair. This proposal is the only option to date that doesn't provide any means for Congress, the NCAA or any other governing body to regulate what products athletes can endorse.
"Big-time college athletics look no different than professional leagues, and it's time for us to stop denying the right of college athletes to make money off their talents," said Murphy, who said he sees the NCAA's current rules as a civil rights issue. "If predominantly white coaches and NCAA executives can have unfettered endorsement deals, why shouldn't predominantly black athletes be afforded the same opportunity?"
The new bill also specifically prohibits the NCAA or conferences from doing anything that would prevent athletes from organizing under collective representation to sell their licensing rights as a group. This type of group licensing is typically needed to bargain for media rights, jersey sales and items like video games, such as the college football video game that EA Sports announced its plan to revive earlier this week.
The NCAA has so far been opposed to the possibility that athletes could organize for any type of group licensing activity.
NCAA president Mark Emmert and other college sports leaders have asked Congress for help in creating national uniform rules that dictate how athletes can profit from their names, images and likenesses (NIL). Those leaders want the ability to create "guardrails" that they say would keep NIL payments from becoming thinly veiled salaries that cross the line between amateurism and professional sports.
… Continue reading story here …
–
—
Oregon State's Reser Stadium to get a rebuild after anonymous $50 million donation
From The Oregonian … It takes big money to raise big buildings. Oregon State is expected to announce a $50 million "anonymous" donation in a news conference today that will help with costs on a long-needed football stadium construction project.
The west side of Reser Stadium is going to get a full rebuild.
Yes, amid a pandemic.
Yes, with the athletic department already staring down a $50 million net deficit.
It's happening. This is glowing news for the Beavers and they should celebrate it. Reser Stadium — built originally in 1953, renamed and renovated several times — is finally going to get a new west side. The project is expected to cost more than $150 million, and more than half of that, an OSU source tells me, will come from gifts.
… OSU had a nice recruiting class, but didn't win college football's signing day. The Beavers have some momentum. But football coach Jonathan Smith just got a massive bit of recruiting help because let's face it that old west side was an eyesore.
Remember the broken elevator game vs. Oklahoma State? The Cowboys' assistants got delayed for the second half. It made national news. Also, for the last couple of years, the recruits who attended games must have felt like they were looking at a HGTV before-after makeover episode, pivoting from the west side to the east as if they were in two different stadiums.
This is a big announcement for OSU. The Beavers appear to be trying like mad to be relevant in college football and make full use of the space by adding office space and classrooms to it.
… Continue reading story here …
–
—–