—
Colorado Daily
—
March 2nd
… CU in a few minutes … 
Karl Dorrell's comments on CU's schedule: "It is an impressive schedule … It is a good, competitive league"
From CUSportsNation.com …  Shortly after the release of the 2021 Pac-12 football schedule on Tuesday, Buffaloes head coach Karl Dorrell joined Yogi Roth and Guy Haberman to discuss their upcoming slate…
ON COLORADO'S 2021 SCHEDULE
Karl Dorrell: "I am excited that we're getting a normal 12 game schedule. That is telling us this year we are shooting for normalcy. We're Jedi mind tricking ourselves about that is the process and we're sticking to it. We were supposed to play (Texas) A&M last year and obviously that got (canceled). That is one of those really impressive games to hopefully play well at the beginning of the season. If we do well, that might shed some light on our conference to get some recognition across the country. I do like this non-conference slate. We're playing Minnesota, who has been a good program as of late. It is an impressive schedule. I was in the SEC one year and we only played seven or eight conference games. We play an aggressive nine game conference schedule. But we like it that way. It is a good, competitive league."
ON HOW THE SCHEDULE PROVIDES OFF-SEASON MOTIVATION
"Even though we're getting ready for spring practice, we are talking about our vision for how the season is going to play out. Winning that first game is important, and showing the process we've made as a program from last year to this year. And that second game is a big measuring stick. The last measuring stick we had was Texas and we fell way, way short there. There is a lot that is driving us this off-season. The bowl loss is really driving our momentum right now as we move forward as a program. But I think that line-up of playing some teams, in particular a really good A&M team that finished the (2020) season fifth in the College Playoff rankings… they are coming off a great season. That is going to draw our attention right away. We understand we have to play well early in the season. So, we are talking about those things."
ON PREPARING FOR FIRST SET OF SPRING PRACTICES AT CU
"We're excited about getting back on the field. We have a young team that needs a lot of work. We had about eight guys that came in mid-year, in January, that are anxious to have some spring practice and get some experience under their belt. We're counting on a lot of those guys that came in mid-year to be a factor. So, it is an important spring.
"Sam Noyer had a post-season surgery and is out until the summer so it is a big spring for Brendon Lewis and the other guys that are going to compete at the quarterback position. There are a number of soap opera scenarios of how it is going to play out. It is competition… that is the fun part. We get to compete hard against each other even though there aren't any games on the line. But there is first and second and third on the depth chart that is on the line. And there are definitely some things we need to work on."
ON LINEBACKER NATE LANDMAN'S RECOVERY FROM ACHILLES SURGERY
"He is doing really well. He is excited. He's ahead of schedule, which you wouldn't be surprised knowing Nate Landman and the kind of kid he is. He has worked really hard. He had the surgery really quick, about a week after the injury occurred, so he is well on his way. He won't be participating in spring practice doing any team oriented drills, but he'll be doing some stuff on the side. He'll try to keep pushing the envelope as much as he can without driving the doctors crazy. He is definitely chomping at the bit.
–
—
CU releases 2021 schedule – Buffs to open and finish with Friday games
Press Release from CUBuffs.com … The Pac-12 Conference released its schedule Tuesday morning for conference football games for the 2021 season, with the University of Colorado's final slate having four league home games along with seven games in the state of Colorado for the ninth time in 10 seasons.
The regular season also opens and closes with Friday games, marking the 26th straight year that the Buffaloes will have at least one non-Saturday contest.
The non-conference schedule has been set for years.  The Buffs will open the season at home at Folsom Field on Friday night, Sept. 3 against Northern Colorado, which will mark the debut of UNC head coach and former Denver Bronco Ed McCaffrey.  The Buffaloes lead the series 10-2, with the only meeting in the last 87 years coming in 2017, when CU defeated the Bears in Boulder, 41-21.  It will be only Colorado's second season opener at home since 2009, coupled with last year's 48-42 thriller over UCLA.
Colorado will then host Texas A & M in Denver at Empower Field at Mile High on Saturday, Sept. 11.  The two last met when both were members of the Big 12 Conference in 2009, though the series was scheduled to resume last year in College Station but the game was canceled due to the pandemic.  The Buffaloes leads the series by a 6-3 count, though the schools have split the last four in defending their home fields.  CU is 54-35-3 overall in games played in Denver, 26-11-1 against teams from other cities or states and 28-24-2 versus schools or teams based in the city.
Non-league play concludes the next Saturday (Sept. 18), when the Buffaloes host the University of Minnesota at Folsom.  It will be the fourth-ever meeting with the Gophers, as CU leads the series, 3-0.  The last time they played was in 1992 in Minneapolis at the now demolished Hubert H. Humphrey Metrodome; Koy Detmer saw his first career action and came off the bench in the second half to rally CU to a 21-20 win after trailing 17-0 midway through the third quarter.  That game was also the third as a CU assistant for current head coach Karl Dorrell, who was the receivers coach on the '92 staff.  Minnesota's only trip to Boulder came the year before, a 58-0 CU victory.  The Gophers were 3-4 last fall, with two of the setbacks coming in overtime.
The Buffs will open Pac-12 league play on the road for just the third time in the last eight years in traveling to Tempe to take on Arizona State on Saturday, Sept. 25; all ASU home games in the month of September are mandatory night contests.  The Sun Devils leads the series, 8-3, but CU has won three of the last four; the 2020 game in Boulder was canceled due to the pandemic.  CU will then host defending South Division champion Southern California on Saturday, Oct. 2, another opponent that had last fall's match-up wiped out.  The Buffs will be searching for their first-ever win against USC, trailing 14-0 in the series, though the last five games have been nip-and-tuck affairs with the Trojans outscoring CU by 36 total points.
CU's lone bye week of the season falls on Oct. 9, and the Buffs remain at home for the annual Family Weekend affair against Arizona on Saturday, Oct. 16.  Colorado's 24-13 win last December snapped a three-game losing streak to the Wildcats.  It's then off on the Pac-12 road for the next two Saturdays with games at California (Oct. 23) and the defending league champ, Oregon (Oct. 30).  CU and Cal have split the last four games, while the Buffs and Ducks have met just twice over the last five seasons (splitting those games); last December's match-up as divisional runner-ups was canceled when Oregon was bumped up into the Pac-12 title game.
The Buffaloes open November at home against Oregon State (Saturday, Nov. 6) in what will serve as CU's annual Homecoming contest, and will be out to avenge a 41-34 overtime loss to the Beavers in 2018 after leading, 31-3.  The next Saturday, Colorado travels to Pasadena to take on UCLA in the Rose Bowl; CU has won three of the last five against Dorrell's alma mater and former team that he once coached.  The home finale is set for Saturday, Nov. 20, against defending North Division champion Washington, as the Buffs will be going for two in a row over the Huskies after dropping nine straight in the series, including seven after joining the Pac-12 in 2011.
Colorado will close the regular season with a Friday after Thanksgiving game at Utah (Nov. 26; time of day to be determined).  It will be the first regular season to end on a Friday for CU since 2012, as the Buffs and Utes ended their first two seasons in the Pac-12 on that Friday.  Utah has won eight of the 10 games since both joined the conference, which has tied the series a 32 wins apiece with three ties.
The Pac-12 Championship game is scheduled for Friday, Dec. 3, at Allegiant Stadium in Las Vegas.
California and Oregon State reappear on the schedule for the first time since 2018; the opponent "misses" in conference play for the next two seasons are Stanford and Washington State.
Season ticket renewals will go out in mid-March; those who renew will have the first opportunity to purchase tickets for the Texas A&M game in Denver before they go on sale to the general public (and at a season ticket holder discount).  All single game tickets will be available for purchase in July.  Anyone interested in purchasing season tickets, please call 303-492-8282, and to donate to Buffs Football, visit www.cubuffclub.com/FBGive.
(At present, CU is preparing several scenarios related to fan attendance this fall, which will be dependent on the course of the COVID-19 pandemic and public health guidelines entering the season.)
NOTES:  Colorado is one of two teams in the conference playing two Power 5 opponents in Texas A&M and Minnesota; Stanford is playing three (Kansas State, Vanderbilt and Notre Dame) … CU was 4-2 last year, with a 3-1 record in Pac-12 play, under Dorrell is his first year as CU's head coach, who was named the conference's Coach of the Year and the Football Writer's First-Year Coach of the Year.   The Buffaloes are set to return 72 lettermen from that squad, including 20 starters (14 players on offense started half the games) … Television game selections and start times for the first three weeks of the season will be known by June 1, with all remaining games from Sept. 25 through the final week of the regular season to be made 12- or on occasion six-days in advance per contractual agreements with the Pac-12's television partners, ESPN, FOX and the Pac-12 Networks.
 2021 COLORADO FOOTBALL SCHEDULE
| | | |
| --- | --- | --- |
|  Date |  Opponent |  Site |
|  SEPT.   3 |  (Fri.)  NORTHERN COLORADO (N) |  BOULDER |
|  Sept.   11 |  Texas A &M |  Denver |
|  SEPT.  18 |  MINNESOTA |  BOULDER |
|  Sept.   25 |  *at Arizona State (N) |  Tempe |
|  OCT.     2 |  *SOUTHERN CALIFORNIA |  BOULDER |
|  Oct.      9 |  —BYE— | |
|  OCT.   16 |  *ARIZONA (FW) |  BOULDER |
|  Oct.    23 |  *at California |  Berkeley |
|  Oct.    30 |  *at Oregon |  Eugene |
|  NOV.     6 |  *OREGON STATE (HC) |  BOULDER |
|  Nov.    13 |  *at UCLA |  Pasadena |
|  NOV.   20 |  *WASHINGTON |  BOULDER |
|  Nov.    26 |  (Fri.)  *at Utah |  Salt Lake City |
|  Dec.      3 |  (Fri.)  Pac-12 Championship Game |  Las Vegas |
*—Pac-12 Conference game.
N—Night game.
FW—Family Weekend.
HC—Homecoming.
–
—–
March 1st
… CU in a few minutes … 
CU Recruiting Class of 2021: Top Five Recruits Listed 
From OvertimeHeroics.com … The 2021 Colorado Buffaloes recruiting class ranking went down nationally and in the Pac-12 from the previous year. With 17 singed recruits and one hard commit, the class ranks 64th nationally and tenth in the conference. That is a decrease from 36th nationally, and 7th in the Pac 12 last year. Overall, there is one QB, two WRs, two OL, 3 DL, 2 LBs, 3 DBs, and 5 special team players. Let's take a look at the five best.
All of Colorado's recruits are three stars, but out of all the 18 recruits, there are five that separate themselves. Remember, not all three-star recruits are on the same level. K.D. Nixon, Liviska Shenault Jr, and Nate Landman were all three-star recruits who turned out to be CU studs.
#1 | Trustin Oliver | 6-4 | 215 | S | Iowa Western C.C
Oliver is the best recruit to come to CU this Fall. He is a Community College recruit but he is ranked first in his position and fourth in the state of Iowa. Since he is a JUCO, he will be the recruit that is the readiest to make an impact immediately. He is quick and very agile and also does a lot of punt returns which make him more valuable. Even though it says that he is a safety, he has also played corner and breaks on the ball well. The last thing I saw in his highlights is that he likes to attack the ball at its highest point. This kid can help the Colorado Buffaloes defense right away.
#2 | Erik Olsen | 6-5 | 230 | TE | Littleton, CO
Olsen is a big kid that if you get the ball to, he will be hard to take down. He is ranked 420th nationally, 17th for all tight ends, and fourth in the state of CO. Olsen is the real deal coming out of high school. He has good size and can win the matchup battle with smaller linebackers. He shows good hands and quickness after the catch. Olsen also isn't afraid to lower his shoulder and get a couple more yards after contact, either. This may end up as the best recruit of the Colorado Buffaloes entire 2021 class if he can live up to his potential.
… Continue reading story here …
–
—–
February 27th
… CU in a few minutes … 
CU to honor incentive bonuses to coaches
From the Daily Camera … The entire athletics coaching staff at the University of Colorado endured pay cuts last spring for the 2020-21 academic year as part of CU's response to the budgetary concerns created by the COVID-19 pandemic.
The Buffaloes' coaches still will have an opportunity to earn their incentives.
Athletic director Rick George confirmed to BuffZone.com the performance incentives written into the contracts of CU's coaches will be honored this year. Despite the projected $20 million deficit the CU athletic department is facing for the 2021 fiscal year, for George the decision to honor the incentives was pragmatic — CU is obligated to fulfill its end of bargain with the contracts.
"The incentives that we are contractually obligated to, we will honor those," George said. "We're contractually obligated to the coaches and we're going to honor our commitment. They can do what they want with it."
… Continue reading story here …
–
—–
February 26th
… CU in a few minutes … 
New defensive coordinator Chris Wilson's vision "to be the most physical defense in the Pac-12" 
From the Daily Camera … Last year, Chris Wilson focused on helping the Colorado defensive linemen get better.
Now, he's looking forward to a bigger role.
Earlier this month, Wilson was promoted to defensive coordinator, replacing Tyson Summers, who was fired in January. CU isn't making coaches available to the media this winter, but during an interview on the athletic department-produced Buffalo Stampede show this week, Wilson talked about his new role.
"I think it was just a thing that you interview all year long," Wilson said of earning the promotion. "Obviously, I had it in my background that I had been a coordinator. I think the biggest thing that (head coach Karl) Dorrell does well, he really puts guys in position to grow and he wants to do it in house, if he has the right people. Through the process of being here a year, we got a chance to work with each other on the development of our guys; it made the transition (easier)."
Dorrell was hired as CU's head coach a year ago, introduced on Feb. 23, 2020. Shortly after that, he hired Wilson to coach the defensive line.
Spending the past year working with the Buffs' players, Wilson is eager to help them take another step forward.
"(Being at CU last season) definitely helps, because now you have a gauge of where guys are at, and you've seen them under pressure, you've seen them in their comfort zone," he said. "Now it's about how do we improve the developmental piece? How can we make this as player-friendly as we possibly can?"
… Continue reading story here …
–
—–
February 25th
… CU in a few minutes … 
CU hiring an Athletics Director of Digital Content
From CUBuffs.com … The Athletics Department at CU Boulder now encourages applications for an Athletics Director of Digital Content. The primary responsibility is to serve as the Director of Digital Content for the University of Colorado Athletics department which includes management and direction of the primary social media channels of CU Athletics, as well as the channels associated with football and men's basketball. Your job will be to facilitate a positive social media presence for the CU Athletic Department through a variety of digital media platforms. You will also assist with strategy, execution, and analytics for all other CU Athletics social media properties.
In collaboration with Buffvision, Marketing, SID and other departments build and maintain a social media calendar for short-term initiatives and long-term campaigns:
Lead all aspects of and execute day-to-day operations, including management of the digital content team.
Create engaging content and storytelling (both written and video) in support of University of Colorado athletic events, coaches, staff and athletes.
Work closely with other departments for partner promotions across all platforms. Perform duties as vital including photography, graphics/audio/video editing, website content management.
Monitor relevant social media conversations, including identification of hot topics and fan sentiment, communicating with administration as vital.
Responsible for promoting the philosophy and objectives of the intercollegiate athletics program. This shall include adhering to the principles of the Athletic Department's Mission Statement, Diversity and Inclusion Mission Statement, Core Values, Policies and Procedures, as well as the rules and regulations of the University, the Pac-12 Conference and the NCAA.
–
—
The Daily Camera posts its pre-spring roster analysis
From the Daily Camera … On Tuesday, Karl Dorrell marked the one-year anniversary of the day he was introduced as the head football coach at Colorado.
In a little over a month, Dorrell and the Buffaloes will return to the practice field. CU is scheduled to start spring practices on March 29, with a spring game slated for April 30.
At this point, the Buffs, coming off a 4-2 season, have their spring roster set. With the 2021 recruiting class complete and movement in and out of the transfer portal slowing down, the fall roster is taking shape, as well. CU currently has 91 scholarship players projected for the fall and can have 88 in the fall, so some post-spring attrition is expected.
Although there could be some players leave or others brought in between now and the fall, here's a look at the projected scholarship roster for the 2021 season.
Quarterbacks
Players (4): Sam Noyer, Sr.; JT Shrout, So.; Brendon Lewis, Fr.; Drew Carter, Fr.
Analysis: Noyer, who started all six games last year, had shoulder surgery and isn't likely to participate in spring drills. Shrout, a transfer from Tennessee, will look to compete with Lewis and Carter – an incoming freshman who enrolled in January – this spring. Although Noyer is the returning starter, the job is up for grabs this offseason.
Running backs
Players (6): Alex Fontenot, Jr.; Jarek Broussard, So.; Joe Davis, So.; Deion Smith, So.; Ashaad Clayton, Fr.; Jayle Stacks, Fr.
Analysis: Broussard is coming off a great season in which he was named Pac-12 offensive player of the year, while the Buffs are expecting Fontenot to be ready to go. The 2019 leading rusher missed this past season with an injury. Clayton, a 4-star recruit last year, is aiming for a bigger role, as well. Davis and Stacks played backup roles last year and will compete for more playing time. Smith missed the season with a knee injury and it's unknown if he'll participate in spring.
… Continue reading story here …
–
—–
February 24th
… CU in a few minutes … 
LaVontae Shenault picks up another traffic citation (going 93 mph on the Turnpike)
From the Daily Camera … University of Colorado Boulder football player La'Vontae Shenault was ticketed for speeding and driving with a revoked license in Boulder County this month, the third traffic case the Buffs' wide receiver has picked up less than a year.
Shenault, 19, was ticketed for driving 25 to 39 mph over the limit and driving with a restrained license on Feb. 1 by Colorado State Patrol in Boulder County, according to online court records.
Online court records show Shenault was reportedly driving 93 mph in a 65 mph area on U.S. 36 between Boulder and Denver.
Because his license was restrained for an alcohol-related case, Shenault could be facing up to a year in jail and a fine of up to $1,000 on the driving with a restrained license charge, a misdemeanor.
CU Boulder released a statement saying Coach Karl Dorrell "is aware of the circumstances" surrounding Shenault's case.
"We hold all of our student-athletes to high standards of conduct, and the university and athletic department will address follow-up steps related to the matter internally as more details become clear," the statement read.
… Continue reading story here …
–
—
CU Spirit Squad sets its sights on a national title
Press Release from CUBuffs.com … You can't begin to describe a gameday of Colorado Athletics without mention of the spirit squad. Comprising the cheer, dance and mascot teams, the spirit squad's invaluable Buffs are at the heart of bringing the passion and enthusiasm that is so often thought of when imagining being at a Colorado game.
One of the things that makes college athletics so unique is the pageantry and the energy at Folsom Field and the CU Event Center on gameday is a perfect example. The spirit squad is largely responsible for dazzling and creating an experience that is hard to mimic and like many things during Covid-19, has been greatly missed.
Everyone, especially the spirit squad themselves, will be more than ready to return to their posts on game days to continue the great tradition of Colorado Athletics, whenever that time may be, but they have their sights on something much closer. The UCA National Championships usually take place in January but have been pushed back to the end of April this year because of the pandemic. The Buffs have become a perennial competitor at the event that takes place at Walt Disney World Resort and have high expectations for this year's competition.
After a long layoff, the spirit squad resumed official practice last week for the first time since the Covid-19 pandemic began last March, but the teams have been putting in the work independently. Encouraged and guided by the coaching staff along the way, the student-athletes took pride in staying in proper shape. They sent updates to coaches of individual workout regimes but were largely on their own for how they chose to go about their business. After having no team activity for such a long period, this was key so when it was finally time to get back to practice, the teams could hit the ground running.
Practices today look like how you would expect them to look amid the pandemic, masks on from start to finish and extensive surveillance screening, but the Buffs are determined to not have this interfere with their nationals quest.
Things will certainly look different at nationals this year and, like most things in current day, will take place virtually for the dance and cheer teams. Neither the dance or cheer teams will be headed to Florida for the event but will rather be doing their routines via camera. The dance team will take part in the Jazz division, with the All-Girl cheer team competing for the Buffs.
Chip will be making the physical trip to nationals this year and will be doing so to defend his crown of National Champion. Chip took home the top prize in the mascot division in 2020 and will be looking to bring it back to Boulder again.
The repeat quest will begin this week when a qualification video is submitted to be considered for the main event. The qualification is typically a highlight reel of Chip at games and CU events, but this year it will be a skit showcasing qualities like energy, entertainment, and other staples of mascoting.
Many, especially the spirit squad themselves, will be anxiously awaiting the return of fans at CU games so they can get back to doing what they do. However, right now the cheer, dance and mascot teams have their eyes on the national championships with the full intention of taking advantage of the great opportunity to dazzle once again.
–
—–
February 23rd
… CU in a few minutes … 
One year ago today: Karl Dorrell hired – "The Inside Story" (a must read!)
From Jon Wilner at the San Jose Mercury News … One year later, the relationship seems preordained.
Karl Dorrell has instilled his brand of calm and cool into a Colorado football program that was in dire need of both — a program that had been ditched by its head coach, a program that was forever one win short, that had a fragile roster and lacked momentum and was consumed by uncertainty as the pandemic descended and society lurched to the edge.
One year later, the skeptics have been silenced.
Unflappable as the Flatirons, Dorrell provided instant stability, kept the roster intact, managed his staff, navigated the local health restrictions, demanded accountability, identified a quarterback, guided the Buffaloes to unexpected success and was named the 2020 Pac-12 Coach of the Year.
"He has done everything I thought he would do, and he has been exactly who I thought he was,'' Colorado athletic director Rick George said recently as he reflected on the process that led to Dorrell being named head coach on Feb. 23, 2020.
"We wanted somebody who could stabilize the program, who cared about young men and shared the same aspirations for this program that I did and could bring back the success we had in the 1990s and early 2000s."
Those shared aspirations formed the bond between George and Dorrell that sealed the deal on a pleasant Friday afternoon in an immaculate home in Lafayette, Colo., a few miles from the CU campus.
George extended the job offer while standing in Dorrell's living room, near a giant container of Hershey's Kisses, following a five-hour conversation, lunch from Jersey Mike's and a timely interruption by Federal Express.
That conversation — the conversation that changed CU football — came approximately 12 hours after Dorrell's name first appeared on George's radar.
The 27th head coach in Colorado history went from zero-to-hired in one day.
… Continue reading story here (a must read!) …
–
—
Neill Woelk: How CU Bowl teams struck a blow against segregation
Press release from CUBuffs.com … Editor's note: This story was originally posted on CUBuffs.com several years ago. We are reposting the story again to serve a reminder that CU Athletic Department programs actively engaged in the civil rights movement by taking a stand against segregation when such stands were not popular in much of America.
BOULDER — They came as moments of team solidarity, statements during a critical time in America, situations when brothers in arms simply refused to allow their teams to be divided.
In an era when racial segregation was still the norm in the United States, teams from the the University of Colorado delivered their message. While not celebrated on a major scale, the CU Athletic Department nevertheless played a significant role in the turbulent times of the 1950s and '60s, making it clear that civil rights would not be denied to young men who had eaten, trained, sweated and bled together.
Put another way, "shoulder to shoulder" has been much more than just a snappy fight song phrase in the annals of CU history. Colorado's history is peppered with key moments involving African-American athletes.
CU's first All-American — in any sport — was discus thrower Claude Walton, who earned the honor in 1936, followed quickly by high jumper Gil Cruter in 1937.
Colorado's first Olympian was track star David Bolen, who competed for the USA in the 1948 Olympics in London.
CU was also among the first teams in the Big Seven (later the Big Eight) to integrate its basketball and football teams, with black athletes joining the rosters of both sports by the mid-1950s.
And it is in that era the Buffs made statements that reverberated throughout the landscape of college athletics — and as a result, helped move the integration needle throughout the country.
Three of those moments came via the football team.
Following the 1956 regular season, the Buffs were invited to play Clemson in the Jan. 1 Orange Bowl. At the time, the Buffs had two African-American players, Franke Clarke and John Wooten. Clemson — as was the case with many schools in the Deep South at the time — said it would not play a team with black athletes.
The Buffs refused to relent, however.
Wooten, who later went on to a long career in the NFL, recounted the the situation several years ago for KOA radio legend Larry Zimmer for an article now available on "Classic CU," part of the CUBuffs.com network.
"Miami Beach was still segregated and the hotel personnel plainly stated they didn't want any Negroes coming down there," Wooten told Zimmer. "When it became apparent that Colorado wasn't going to back down, the Bal Harbor Hotel tried to reach a compromise. They said that Frank and I would have to stay in the same room and it would be on the top floor of the hotel. Frank and I had never roomed together. We roomed by position. My roommate was Bobby Salerno, and I didn't want to change it. I can't remember who Frank's roommate was, but I know he felt the same way.
"We stood strong. When we went to Miami Beach, we had our usual roommates and it was business as usual. And Clemson did show up at the game and we beat them."
Five years later, a similar situation arose again — and again, it involved the Orange Bowl.
At the end of a 9-1 regular season that included victories over Oklahoma and Nebraska, the Buffs were officially invited to the Orange Bowl after their last game, a victory over Air Force.
Bill Harris, one of five black players on the team, remembers oranges raining down on the field and a similar scene in the locker room as the bowl representative showed up to officially extend the invitation to head coach Sonny Grandelius and the players.
"It was unbelievable," Harris said. "I can still see us in that locker room, throwing oranges everywhere and everybody going crazy."
But just as the celebration was ready to reach its zenith, team captain Joe Romig and Charlie McBride, another team leader, called the team together.
"They stood up and said, 'We're not going to the Orange Bowl,'" Harris said. "It was quite the shock. The school administration was there, all the coaches, everyone — and you could tell they were stunned. Nobody really knew what to say. They didn't think we knew what we were doing."
The players, however, knew exactly what they were doing.
Earlier that season, the Buffs had traveled to Florida to play the Miami Hurricanes. When they arrived in Miami for the game, a separate bus showed up to take the black players to a separate hotel.
On that trip, the Buffs didn't have time to react.
But presented with more time to prepare, they were ready the second time around. When it became apparent the Buffs were going to earn an Orange Bowl bid, they met in the last week of the season and reached a simple conclusion: the Buffs were not going to go to Miami unless all the players were allowed to stay in the same Miami Beach hotel.
… Continue reading story here …
–
—–
February 22nd
… CU in a few minutes … 
Former Buff Chidera Uzo-Diribe moving up the coaching ladder, joins Jim Leavitt at SMU
From KansasCity.com … Kansas football has lost its second assistant coach in the last month to a similar position at a non-Power Five school.
Chidera Uzo-Diribe, who was KU's outside linebackers coach in 2020, will become the defensive line coach at SMU, ESPN and Football Scoop reported. The Jayhawks announced his replacement Monday, hiring Jake Schoonover as outside linebackers coach and special teams coordinator.
Uzo-Diribe was named a 247Sports 30 under 30 "Rising Star" last year, with writer Chris Hummer labeling him as an "impact recruiter." Uzo-Diribe will reunite at SMU with defensive coordinator Jim Leavitt, whom he worked with on Colorado's staff in 2016.
–
—–
February 20th
… CU in a few minutes … 
Pac-12 schedule release coming: CU breakfast game (10:00 a.m., MT) a possibility
From the San Jose Mercury News … Our best guess: The schedule will be released in the next two or three weeks.
Future of Pac-12 network. Next tv deal, 9 am kickoffs
That is yet to be determined by the presidents and the next commissioner, not prior to his/her appointment, and it undoubtedly will require time:
Larry Scott's successor will be in place this summer, approximately 18 months before the start of the next media rights negotiations.
The window will be used to plot strategy, which itself will be based partly on the course of the Big Ten's negotiations next winter.
Back in the 2010-11 contract cycle, the Pac-12 was the first conference to the table. This time, the Big Ten is the first to feed and will gobble up dollars and broadcast windows the Pac-12 would love.
From our vantage point, there are three options for the Pac-12 Networks:
— Fold 'em and offer the football and men's basketball inventory to potential Tier One partners.
— Sell to ESPN, Fox, CBS, etc., which could then strong-arm distributors into carriage agreements the Pac-12 has been unable to secure on its own.
— Keep them as is: Fully owned, operated and distributed by the conference.
(That would be a fatal move, as we've seen over the past decade.)
While 9 a.m. (Pacific Time) kickoffs could be part of the media negotiations, they double as an immediate issue.
The USC-Arizona State game on 'Big Noon Kickoff' was a success, especially given the circumstances, and several schools seemingly are willing to play at 9 a.m. next season.
Our best guess is that three or four games will start early in the fall, although that includes the likelihood for home games in the Mountain Time Zone (i.e., 10 a.m. local).
–
—–
February 17th
… CU in a few minutes … 
No Champions Center visits: Dead period extended to May 31st
From CBS Sports … The NCAA on Wednesday extended the recruiting dead period for all sports through at least May 31, keeping in place a ban on in-person recruiting activities that was enacted last spring at the onset of the coronavirus pandemic. The move ensures that any in-person recruiting activities will have been off-limits for over a year, extending through the 2021 spring semester as concerns related to face-to-face contact because of the pandemic continue.
The vote by the Division I Council on Wednesday in a virtual meeting also included a commitment from the members to imminently provide clarity on plans for the transition back to recruiting calendars no later than April 15. Those plans could include the return to in-person recruiting activities with potential modifications to the calendar.
"After careful consideration of all available information, the Council agreed that an extension of the dead period through May 31 was necessary," said Council chair M. Grace Calhoun, athletics director at Pennsylvania, in a statement. "However, there is a strong commitment to use the next several weeks to outline the transition plan back to recruiting activities post June 1 and to provide those plans to prospective student-athletes, their families and the NCAA membership no later than April 15."
The Division I Student-Athlete Advisory Committee also supported the extension of the dead period, but added that prospective student-athletes and their families need guidance, and the safety of current student-athletes remains of the utmost importance.
"While we support the dead period extension, we also note the importance of providing prospective student-athletes immediate guidance on the future of the dead period," SAAC co-chair Justice Littrell said.
The Council also voted to approve a blanket waiver for athletes that would increase the number of hours football teams can spend on countable, athletic-related, out-of-season activities this spring to 10 hours per week from eight. Among the activities eligible for that include only non-contact functions like weight training, film review and walk-throughs. The waiver goes into place Feb. 22.
In the absence of in-person interactions, college coaches have adjusted by hosting recruits on virtual tours and managed to weave communication through FaceTime and Zoom into regular interactions as part of recruiting pitches.
"Everyone has become efficient at Zoom," Florida coach Dan Mullen told Dennis Dodd last fall. "I'm great talking to the kids and all that. The coaches leaving campus, maybe you don't even go on the road recruiting anymore [in the future]. You can do it on Zoom. You can talk and have these conversations.
"[But] it's hard for me in a Zoom presentation to show what standing in the middle of The Swamp is like," he added. "You're down here in Florida, November, December, January, February, it's palm trees. The actual beauty of our campus. You don't get that in a Zoom call."
–
—
Two Buffs make the Pro Football Focus Top 300 Draft Board
From Pro Football Focus … The 2020 college football season is not one that will soon be forgotten. In fact, it will easily go down as one of the most unusual on record. But now it's NFL draft season.
With the 2021 NFL Scouting Combine and pro days once again threatened, there will be more uncertainty than any recent year. Let's let the tape remain king as we unveil PFF's postseason top 300.
Pac-12 Players by Program in the 2021 PFF Top 300 Big Board:
1. Oregon – 7
1. USC – 7
3. Washington – 4
3. Stanford – 4
5. Oregon State – 3
5. Arizona State – 3
7. Colorado – 2
7. UCLA – 2
9. Cal – 1
9. Arizona – 1
11. WSU – 0
11. Utah – 0
Buffs listed … 
No. 228 – Mustafa Johnson, DL
No. 268 – Will Sherman, OL
–
—–
February 16th
… CU in a few minutes … 
AFCA asks NCAA Rules Committee to take up penalties for faking injuries
From ESPN … The American Football Coaches Association has asked the NCAA rules committee to take up the issue of players faking injuries when it meets next month.
The AFCA Ethics Committee voted in January to recommend that the committee address the practice, which has caused tension within the sport for years. Rather than use a timeout, defensive players often will fake an injury in order to stop the clock and slow the momentum of the opposing offense.
"Our ethics committee, which suggests rules changes to the NCAA, said by unanimous consent that this has got to stop," said AFCA executive director Todd Berry. "So they asked the rules committee to do something about it. It's bad for football."
The current rule, which doesn't directly address the practice of faking injuries, says that anytime the clock is stopped for an injury, the injured player is required to go to the sideline and sit out only one snap before he's eligible to return.
"Rules need to have teeth," Berry said. "And if there's no teeth, there's no impact."
Last year, the NCAA rules committee met in person and spent multiple days discussing the topic of faking injuries. Steve Shaw, who serves as the secretary-rules editor of the NCAA football rules committee in addition to his role as national coordinator of officials, described the debate as vigorous at the time.
Hoping to avoid a rule that would inevitably punish legitimate injuries as well as fake ones, the rules committee decided to let it be known among coaches and administrators that it was prepared to act if those in the sport didn't move to stop the practice of faking injuries immediately. A tape of questionable injuries was sent to all FBS programs as a quasi warning.
"We did not eliminate the feigning injuries," Shaw said. "Even if you just watched the bowl season, you saw some peculiar actions."
… Continue reading story here …
–
—–
February 15th 
… CU in a few minutes … 
1970's "Team of Champions" endows a football scholarship 
From CUBuffs.com … The idea came to Emery Moorehead and Jeff Austin at a reunion of players from the 1970s Colorado Buffaloes teams.
The two couldn't help but notice how much their fellow Buffs were not only enjoying the reunion, but also how much their time at Colorado had molded them for the future.
Decades later, they were still a "team."
"When you have those reunions, it's amazing the stories and memories that come back," Moorehead said recently. "Guys that come back realize how important an era it was to their lives. When you are 18 to 22, you're changing from a kid to a man and you have those experiences that mold you for life. You realize we all had ups and downs, good and bad experiences, and you remember how much of an impact that time as a young football player had on your life from that point forward."
Those reunion events sparked a discussion. Why not, the players asked themselves, help more young men have that same experience?
Simply, why not pay it forward?
"Jeff and I started talking and we thought we should be able to give back to something that was important to all of us," Moorehead said. "So we decided we'd try to raise some money for a scholarship. Maybe we can help another young man get that true feeling of being a Buff."
Thus was born the Team of Champions Scholarship Endowment, funded by players from the 1970s. The goal is to help fund a scholarship with a preference for a player who arrived at CU as a walk-on and earned a scholarship through his hard work and dedication to the program.
"We just wanted to put something back into the program," Moorehead said. "All of us who were on scholarship got so much out of it — we wanted to reach back and pay it forward. It's a chance to give another young man that experience that will help shape his future."
Other Buffs who played a key role with Austin and Moorehead in establishing the Team of Champions endowment were Marty Erzinger and Jim Kelleher. All played for Colorado in the 1970s, an era that produced the No. 3 team in the nation (1971), a Big Eight champion and Orange Bowl team (1976), and approximately 70 NFL Draft picks.
"It was a special time in our lives," Austin said. "When we started talking about it, we wanted to give back to the university that gave us so much fun, such a great adventure and so many memorable moments. We've all stayed together. Just about everybody on the team has invested in (the endowment). The friendships that we made were for a lifetime. Everybody was close… the first team, second team, third team. This endowment is really a team concept."
The reunion that now brings together players from the entire 1970s era — teams coached by Eddie Crowder, Bill Mallory and Chuck Fairbanks — was born at a meeting of the 1976 team several years ago.
"When we were at that 1976 reunion, we talked about how that 1971 team that finished No. 3 in the country really kind of set the table for us," Moorehead said. "That's when I said we needed to have a 1970s reunion for everybody from that era. What we remembered was those guys from the early 1970s would come back after making the pros and tell us, 'You're next. You're going to be there, don't worry. Just keep working.'"
Moorehead was one of those players. After a standout career as a wide receiver at Colorado, he was a sixth-round draft choice of the New York Giants. He played 12 years as a wide receiver and tight end in the NFL, including eight years in Chicago, where he won a Super Bowl ring with the 1985 Bears.
But he is just one of literally dozens of players from the era who went on to successful careers, both in football and the business world.
For many of them, their time at CU and in Boulder proved to be the springboard to that success.
"Boulder was a thousand miles from my Chicago home," Moorehead said. "But it's where I met my wife, where I became an adult, where I met so many good people."
… Continue reading story here …
–
—–
February 13th
… CU in a few minutes … 
Former Buff Jimmy Smith and family robbed at gunpoint
From BuffStampede.com … Baltimore Ravens cornerback Jimmy Smith and his family were robbed at gunpoint at a hotel in Los Angeles, according to multiple reports. Nobody was hurt in the robbery, according to the reports.
According to the reports, Smith and his family flew into Los Angeles International Airport and were followed to the hotel by the individual. The Ravens have been made aware of the situation and released a statement regarding the matter on Friday.
"We are aware of the situation involving Jimmy Smith," the Ravens said in their statement, according to Ravens reporter Jeff Zrebiec. "We have spoken with Jimmy and he and his family are safe."
Smith just finished his 10th season with the team after being its first-round draft pick in the 2011 NFL Draft. Smith was the 27th overall pick by Baltimore in 2011 after a strong final season at the University of Colorado. His time with the Ravens started off with quite a bang, both individually and team-wise.
Smith was a rookie in Baltimore in 2011, a year that he played 12 games and started three of them. That year, Smith had 20 tackles, two interceptions and eight pass deflections. That year, Baltimore went 12-4 and won the division before losing in the conference championship game. The next year, Baltimore went on to win the Super Bowl in a 34-31 win over the San Francisco 49ers, the team's second Super Bowl victory in history.
On January 1 this year, Smith signed a one-year contract extension that was worth up to $5 million, with a signing bonus of $500,000 and a $2 million base salary, according to the Baltimore Sun. Smith declined an extension the previous season, a move that did not go well for him and he ended up back in Baltimore anyway.
… Continue reading story here …
–
—–
February 12th
Buffs pick up preferred walk-ons at linebacker and wide receiver
… CU in a few minutes … 
Colorado has received a preferred walk-on commitment from Austin Dahlke, a 6-foot-1, 190-pound linebacker out of Edgar, Wisconsin. Rivals bio
Dahlke has been named all-state multiple times by the Associated Press and last December, was one of seven nominated players up to win state player of the year honors.
Dahlke only had scholarship offers from Bucknell and Illinois State, he had interest from schools such as Iowa, Iowa State, Colorado State and Wyoming.
Here is a link to Dahlke's Hudl.com highlights.
The other preferred walk-on is Jack Hestera, a 6'1″, 185-pound wide receiver from Cedar Park, Texas.
Here is a link to Hestera's Hudl.com highlights.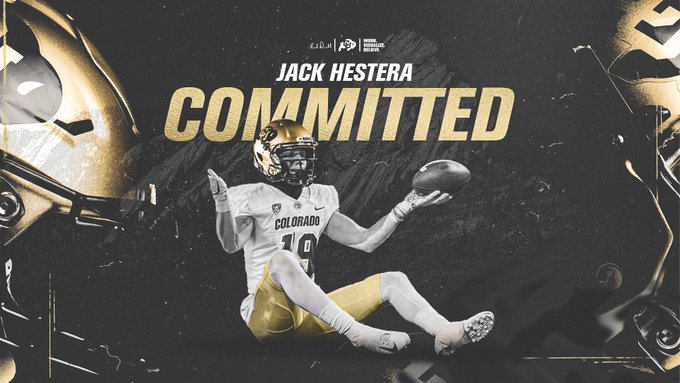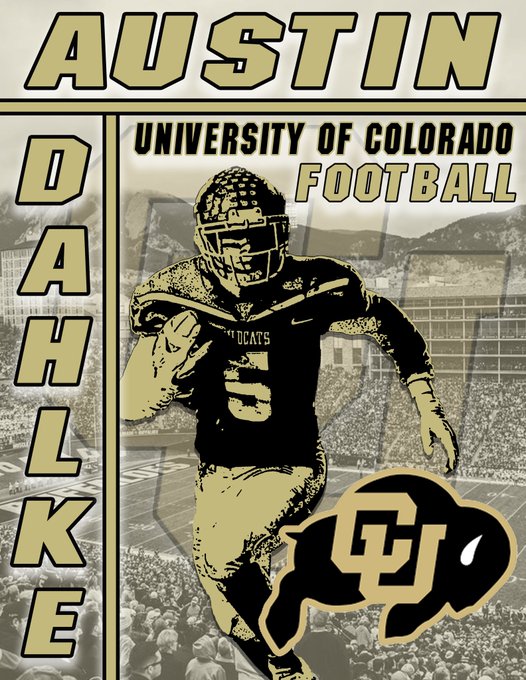 –
—–
February 11th 
… CU in a few minutes … 
CU Coaching staff busy: 206 offers made to Class of 2022 recruits (18th nationally)
From Rivals.com …
From the Pac-12 … 
No. 1 – Arizona State (357)
No. 18 – Colorado (206)
No. 21 – Oregon (192)
No. 26 – USC (184)
No. 37 – Arizona 152)
No. 42 – Utah (130)
No. 47 – Oregon State (107)
No. 49 – Washington State (100)
No. 52 – California (86)
No. 60 – Washington (62)
No. 62 – Stanford (57)
No. 65 – UCLA (44)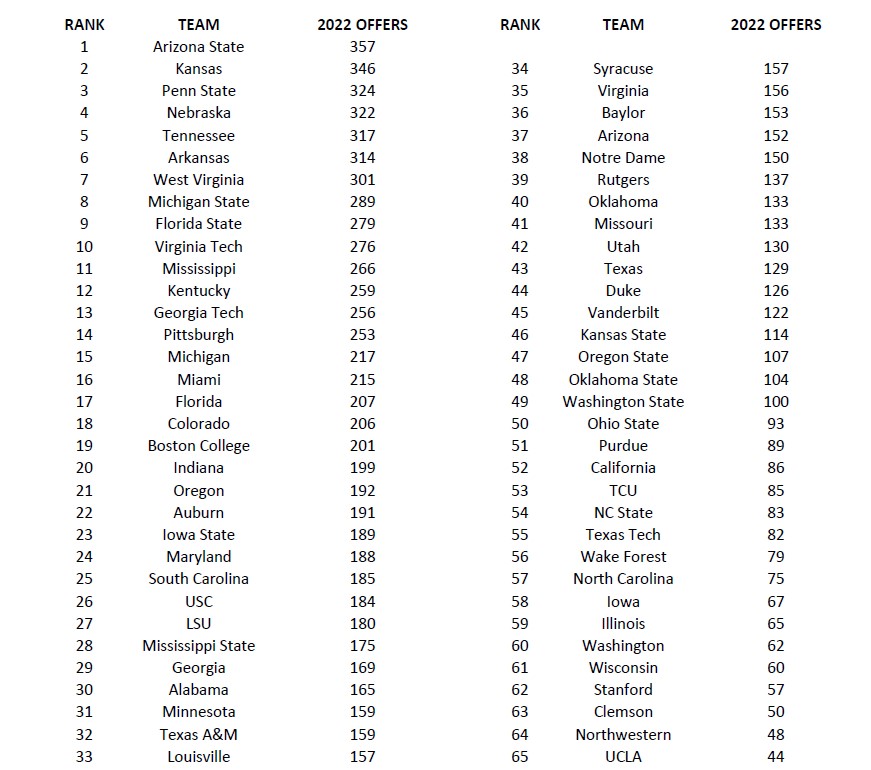 –
—–
February 10th
… CU in a few minutes … 
Neill Woelk: Stability allowing Dorrell to mold CU's culture
From CUBuffs.com … Technically, Colorado's Karl Dorrell will soon be entering his second year as the Buffaloes' head coach.
But in reality, Dorrell is finally approaching what will hopefully be his first "normal" year at the Buffs' helm.
We know all too well what Dorrell's initial season in Boulder entailed. Hired incredibly late in the cycle, he walked into an unprecedented situation that became only more bizarre and unpredictable as the Covid-19 pandemic unfolded.
Simply keeping the program from tumbling off a cliff would have been a success.
But as we also know, Dorrell did far more than that. He wrung more out of 2020 than maybe any other coach in the Pac-12. Handed a fistful of lemons from the beginning, and seemingly more at every juncture, Dorrell squeezed lemonade from every corner possible. He finished with a winning record (4-2), took the Buffs to a bowl game and had them in contention for a conference title.
Those are no small accomplishments given the obstacles thrown his way.
But now — finally — Dorrell has the chance to truly put his stamp on the program. That means his recruits, his coaches and his philosophy, from the playbook to the classroom to the community. It means an honest-to-goodness spring ball session (fingers crossed), an offseason when he can meet regularly with his players and coaches — in person — and an opportunity to instill the culture he wants to build on a daily basis.
Construction is moving ahead quickly.
Already, Dorrell has tweaked his coaching staff. He promoted D-line coach Chris Wilson to defensive coordinator, added Mark Smith as inside linebackers coach, promoted analyst Bryan Cook to tight ends coach, added the duties of defensive passing game coordinator to safeties coach Brett Maxie, and brought in highly regarded Shannon Turley as the new strength and conditioning coordinator.
Each of the new hires meets Dorrell's all-important standards as a teacher and communicator. Those are qualities Dorrell has stressed as being integral to the process since the day he was hired and he made sure each new staffer will be a good fit in that regard.
… Continue reading story here …
–
—–
February 9th
… CU in a few minutes …
Nate Landman named Colorado Male College Athlete of the Year
From CUBuffs.com … The Colorado Sports Hall of Fame announced Monday that University of Colorado student-athletes Nate Landman and Dani Jones were named the 2020 Colorado College Athletes of the Year.
Landman was a defensive force with which to be reckoned as a CU linebacker, though he played in just four full games before suffering a season-ending ruptured right Achilles tendon in the first half against Utah. He was a semifinalist for the Butkus Award — given to the nation's top college linebacker — as well as being a first-team All-Pac-12 selection for the second straight year and a second-team All-American according the football writers. Twice he earned national player of the week awards. Landman, CU's tackles leaders for three straight seasons, sits at No. 10 on the program's career tackles list and 12th in tackles for loss. He posted five sacks in five games in 2020.
Jones earns the Colorado Sports Hall of Fame's College Female Athlete of the Year honor for the second time in three years. She won four national titles during her CU track & field and cross country career (outdoor 5,000 meters, individual cross country, indoor 3,000 and the distance medley relay). She also led the Buffs to a 2018 women's cross country championship as a team. Jones twice was named the female runner of the year by the U.S. Track & Field and Cross Country Coaches Association, including for the 2020 indoor track season. Last year, she broke Mary Decker's 42-year-old school record for the indoor 800 and became the only NCAA woman to have top-10 times in NCAA history in the mile and 5,000. Jones was an All-American a dozen times while at CU.
Both will be honored alongside Colorado Sports Hall of Fame 2020 Athlete of the Year, Denver Nugget center Nikola Jokic, along with the two high school honorees and Greg Mark, the recipient of the Hall of Fame's Athlete with Disabilities Award. The Colorado Sports Hall of Fame & Museum, which is located at Gate 1 on the west side of Empower Field at Mile High, will also add six inductees to their Hall of Fame; Lindsey Vonn, Bob Gebhard, Alonzo Babers, George Gwozdecky, Terry Miller and Erin Popovich.
–
—
With Alex Fontenot healthy, Buffs expecting competition in the running backs room this spring
From the Daily Camera … In each of the last two years, the Colorado football team has gone into a season without much previous experience at running back.
Next fall, the Buffaloes could be loaded with experience at the position.
Last week, head coach Karl Dorrell said junior Alex Fontenot has "a clean bill of health" after missing last season with a hip injury.
A 6-foot, 205-pound back from Richmond, Texas, Fontenot led the Buffs in rushing in 2019 with 874 yards and five touchdowns on 185 carries. He also caught 27 passes for 122 yards.
Without him last year, the Buffs discovered a star in sophomore Jarek Broussard, who ran for 895 yards and five touchdowns on 156 carries in only six games. He also had nine catches for 65 yards and was named the Pac-12 offensive player of the year.
Looking ahead to the 2021 season, the Buffs could have both of them as weapons on offense.
"I think we have a good backfield, a really good backfield," Dorrell said last month. "I'm pretty confident that we have good enough depth in that position that somewhere down the line, someone's going to emerge and going to be a really good player for us, just like Jarek did this year. We're hopeful Jarek does it again next year, but Jarek knows that he's gonna have to come and earn that job again this year because last year has nothing to do with this year. It's gonna be really competitive."
… Continue reading story here …
–
—-
CU embracing college football's new "free agency" system
From the Daily Camera … For years, Karl Dorrell had become accustomed to the NFL way of building a roster.
NFL teams find young players through the draft and plug holes with experienced veterans in free agency, and Dorrell was a part of the process for 11 of 12 seasons from 2008-19.
Hired as Colorado's head coach a year ago, Dorrell had to adjust to a new way of roster building – but it's not as different as it used to be.
For decades, college football teams have been built through recruiting high school players and developing them over a four- or five-year period. A few junior college transfers might be sprinkled in, with a rare transfer from a four-year school thrown into the mix. That transfer typically had to sit for a season, though, per NCAA rules.
Suddenly, the college model is looking more like what Dorrell grew familiar with in the NFL.
The recruiting of high school players is, essentially, like the NFL Draft, while the NCAA transfer portal is becoming a form of free agency.
"That's really the perspective I'm looking at this really being for us," Dorrell said. "We're going to recruit the freshmen to come in … and I think the portal has to be utilized for those, I say special pieces that can enhance your program."
… Dorrell reiterated he wants to build the CU program with high school recruits, but in trying to win in 2021, CU is interested in "trying to find those pieces that have experience that can plug-and-play, so to speak."
… Continue reading story here …
–
—–
February 8th
…. CU in a few minutes … 
CU second in the Pac-12 in all-time Super Bowl rings
USC: 67 … CU: 49 … UCLA … 49 … Cal: 45 … Washington:42 … Stanford: 41 … Oregon: 38 …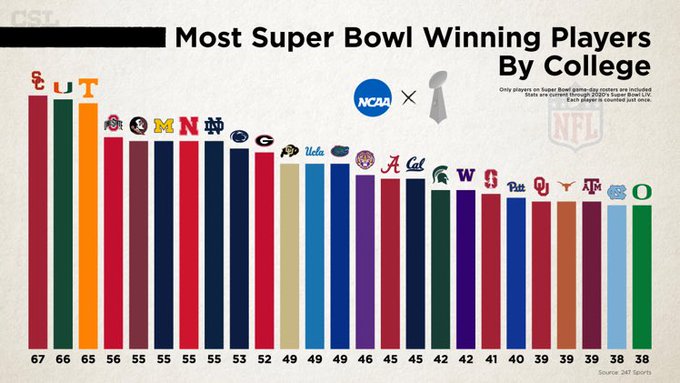 –
—–
February 7th
… CU in a few minutes … 
ND transfer Jack Lamb: "What made me choose Colorado was they're a program headed in the right direction" 
From (Notre Dame publisher at) 247Sports … As Jack Lamb finishes up his undergraduate degree from Notre Dame this spring, the future has brightened considerably for the 6-foot-3¾ 230-pound linebacker from Temecula, Calif. It didn't turn out the way he had hoped. He envisioned becoming the starting Buck linebacker in 2020 after playing a significant role in Notre Dame's dime-coverage package as a red-shirt freshman.
But all things considered, Lamb has parlayed his college football experience into an advantageous one with a clean bill of health – and that Notre Dame degree — in his back pocket.
"Looking at it in hindsight, it didn't go the way I wanted it to for my three years here," said Lamb, who will report to the Colorado campus in Boulder the first week of June and try to earn a prominent spot with Karl Dorrell's 4-1 Buffaloes squad of 2020.
"Looking forward, I still have three years left and it's not like I'm a high school kid coming in and unsure how everything works. I'm pretty familiar with the college setting in general. To go in as essentially a senior in college and still have plenty of time left, it is relieving for sure.
"I want to play significant time and really show what I can do."
… Lamb's role was compromised this past fall when defensive coordinator Clark Lea chose an alternate route in Notre Dame's nickel and dime packages.
"Going into fall camp, Coach Lea pretty much told me they wanted to try a different approach, at least in the third-down package as far as getting more of a pass rush with less emphasis on coverage for linebackers and more pressuring (the quarterback)," Lamb said.
"I respected that and I can't complain about that. It was a strategic thing and not necessarily a personal thing. I realized that my role would be special teams and that's kind of what it turned into."
… Lamb entered his name in the transfer portal a few days after Notre Dame's loss to Alabama in the Rose Bowl. Colorado was one of the first schools to express an interest. Cal, which recruited Lamb out of Great Oak High School in Temecula, and Duke also inquired.
But after an unofficial visit to Boulder on his own – the pandemic is still preventing face-to-face contact on campus – Lamb was sold by Dorrell via Zoom on his opportunity to compete for a starting spot in 2021.
"A pretty good amount of schools contacted me after I put that out on social media, just to see where I was at and where I was thinking about going," Lamb said. "A lot of times, dudes have already figured out where they're going. But I hadn't talked to anybody yet and was just fishing around to see where I had options to go."
Although it was the second recruiting process in college for Lamb, this one was different from coming out of Great Oak High School.
… "What made me choose Colorado and what put them over the top was they're a program headed in the right direction," Lamb said. "They're on the rise. They had a need for me and they said they thought I could add value to their team and make an impact and have the potential to be a starter immediately.
"So we had a mutual interest because I want to showcase my ability at the next level. I want to show I can go to the NFL, and they were willing to give me the opportunity to prove that."
… Continue reading story here …
–
—–
February 6th
… CU in a few minutes … 
Transcript of Karl Dorrell's press conference
From BuffStampede.com …
ON BRYAN COOK MOVING FROM A QUALITY CONTROL ROLE TO TIGHT ENDS COACH
"Bryan has a wealth of experience. He has been on both sides of the ball. He is an excellent football coach, excellent teacher. I watched him quite often this past season working with the linebackers and his coaching style and how he communicates. I think he is a great communicator, very good knowledge on both sides of the ball. He has been on offense most of his career, and I know recently he has been on defense. We think he is going to be a tremendous asset for our offensive staff. Being on defense recently, he can help with the game-planning of really understanding what defenses are trying to do to stop us defensively."
ON HIRING OF MARK SMITH AS NEW INSIDE LINEBACKERS
"Mark is an experienced coach as well. He started his career coaching the inside linebacker position at Oklahoma. He has been a high school coach. He was recently the defensive coordinator at Long Island University. Before there, he was at Arkansas helping with the defensive backs and also being the recruiting coordinator. What Mark brings is great knowledge in some different areas on defense. Our back seven – linebackers, safeties and corners – that whole coverage group has to be pretty much on the same page. I think his experience both on the back-end and at the linebacker position, it will be a good chance for that information to be seamless as we put things in. Mark started his career with Chris Wilson at OU, so he has some background there."
ON IF THE REPUTATION OF BRYAN COOK AND MARK SMITH BEING STRONG TEACHERS MADE THEM ATTRACTIVE OPTIONS
"Absolutely. In your year of time knowing me, you are starting to get a feel for what I am all about. When I did a bunch of interviews for the different openings, the biggest thing I look at as a head coach is how good they can communicate and explain the schematic concepts that we do so that our players can understand it. I feel strongly about the communication skills with these two. You don't have to play the position to coach the position. I have coached quarterbacks, never played. These guys have such a broad knowledge base with (great) communication (skills). I thought these two did a tremendous job on their interviews."
ON IF KARL DORRELL FEELS, FOLLOWING RECENT MOVES AND ADDITIONS, HE IS STARTING TO PUT HIS STAMP ON THE CU FOOTBALL
"That has come along really nicely. I feel I am putting more of my imprint on the program now. I am putting the pieces in place, with the right guys that I want that are strong communicators, mentors, guys that are going to be personally invested in our players. So, I do feel like the guys on the staff right now are really going to be engaging in that way.
"The biggest asset of what I'm trying to do in this program right now is to create that the coaches have many roles. They are not just their coaches. We're going to be other support mechanisms for our student-athletes. Some of these recruits come from different backgrounds and different family dynamics and dysfunctions. We all have those things. So I believe that these guys will adapt and be able to do those things very well.
"The players we've added, from the portal, those are key players for us that I think are going to help impact our play this year. We thoroughly looked through with our due diligence and we vetted every situation in and around these kids. We feel they are the type of player we need, not only for us to play better but also they will be great fits in our program because their core beliefs are consistent to who we are as a football program.
"I am making those imprints and I am adding the right people and the right mindset going into what the expectations are. And they are really, really good people that I think our players will gravitate to. And we'll continue to get better as a program as we move forward."
ON SHANNON TURLEY'S FIRST WEEK AS CU'S HEAD STRENGTH AND CONDITIONING COACH
"It is coming along nicely. It is a learning curve for the players because his core style of training is different than it has been the last five years with Drew Wilson. Now it is a different philosophy. The players have embraced it. They are doing quite well. They have been actually very complimentary of the things we're doing. They understand why we're doing it. I think that is key to anything we do, that they know the why.
"He has hit the ground running. We just hired him late last week, he got here over the weekend. We had some administrative things where we couldn't start our program on Monday in terms of working out. We had to wait for Boulder County to help us on that. They gave us the go-ahead to do that on Tuesday. Now it is Friday, so they've had a few days under their belt and I think things are going really well.
"Shannon is very driven. He knows what he wants to get accomplished. He knows we're not at that point. He knows we're starting from scratch. There is a process to it. We've talked about it extensively. It is a patient process at the start because you want to teach the fundamentals and lifts in a proper fashion early so that when we are getting going and we're getting into it hot and heavy that these guys can do it properly and do it with the right technique. He is doing really well."
ON IF THERE WILL BE SCHEME CHANGES FOLLOWING THE COACHING MOVES
"Hopefully they are going to add some pieces to what we do, from their backgrounds and experience. That is part of the process. And I would say right now there is going to be schematic changes on everything that we do as we look to 2021.
"We're always going to have football studies about certain teams, whether it is NFL or college, about doing schematics that are more conducive to fit our personnel. We're going to have those types of studies. We've studied ourselves already and really digested and dissected the things we did this last season. There is a lot of really good things that we've done, but there are things that need to be corrected, shored up.
"There will be additional things we add. There will be changes. Our defense will look different times. Offensively we're going to incorporate more concepts and schemes to help us on that side. You're definitely going to see a difference in the team and what we look like from last year going into this year."
ON IF THE NCAA TRANSFER PORTAL REMINDS OF HIM OF NFL FREE AGENCY
"You're right. I am drawing those similar conclusions as we build our roster. We're going to really recruit the freshman to come in from our normal standpoint of signing days. And I think the portal has to be utilized on those special pieces that can enhance your program. It might be an area of need because of graduation or it could be just a piece that we're missing that can help us.
"My mindset of how to build the roster each and every year is going to be first and foremost recruiting those freshmen and then we supplement those classes with hopefully some key pieces coming from the portal."
ON NOT HAVING ANY SIGNEES DURING THE REGULAR SIGNING PERIOD, AND MORE ON THE TRANSFER PORTAL
"The second signing date, there was an option that we might be able to sign one or two more of the freshmen in the 2021 class. We felt the bulk of our class had already been completed. Those would have been bonus pieces for us, if we had any signees this past Wednesday.
"In my mind, I have already completed the 2021 class in the December signing period. So even though those bonus pieces could have been pieces for us, my mindset was more finding those extra pieces in the portal to fill some of those scholarship numbers.
"We were working on a balancing act of if we did add one of those (freshman) pieces, then it would take away one of the numbers that we could have gotten from the portal. We were playing that game with best available. We feel the best available for us were in the portal.
"Jack (Lamb) is a linebacker we're excited to have in our program (as a transfer from Notre Dame) because it was a need position for us. And he can be a player to help us right away in 2021. That's with everybody we've added from the portal, we're hoping they are all impact players for us this fall.
"Again, it is a delicate balancing act with your scholarship numbers. You still have to work under a certain number, and whether you are filling it with freshmen that could potentially have signed on Wednesday, we weren't high on that happening. We were higher on the other side of it, trying to find those pieces with experience that we can plug and play. That is how we looked at it going into this week. (We) didn't put a strong effort of putting pressure on trying to get two more freshmen to sign.
"In a perfect world, I won't have anybody transfer out or anybody that wants to leave and we just keep building it with our young freshmen coming in. We would love to live under those circumstances. It just seems to me that college football is changing."
ON ALEX FONTENOT
"Right now, he's got a clean bill of health. He's full go. He was laid off of his injury the whole fall — we knew it was going to be a three or four-month process of just healing on its own and now he's cleared to go. He started the offseason just like everybody else in the program this week, but we want to make sure we monitor him and bring him along slowly. We feel that he should be ready to go by the time we start spring practice in March and April…He's a hard-working kid, there's no question in my mind that he missed playing (last) fall. So, there's a burning desire from him to get back in and showcase all the great things he did in 2019. There's a lot on his plate that he wants to get himself to be but to answer your question, from a health perspective, he's full go and we expect him to be involved in everything we're doing in spring practices."
–
—–
February 5th
… CU in the few minutes … 
**Video – Karl Dorrell's Friday press conference**
From YouTube, courtesy of CUSportsNation:
–
—
CU makes it official: Mark Smith named inside linebackers coach; Bryan Cook promoted to tight ends coach
Press release from CUBuffs.com … University of Colorado head coach Karl Dorrell completed his coaching staff, filling two remaining vacancies with one being promoted from within, he announced Friday.
Dorrell promoted Bryan Cook to tight ends coach and named Mark Smith as the inside linebackers coach.  Cook is beginning his third year on the Colorado staff, originally joining as the director of quality control for the defense on March 1, 2019 under then-head coach Mel Tucker.  Smith comes to Boulder from Long Island University (Brooklyn, N.Y.), where he was named the school's defensive coordinator last summer.
Cook replaces Taylor Embree, who was hired by the New York Jets in January, while Smith takes over for Tyson Summers, who was not retained for the final year of his contract.  A capsule look at the duo:
Bryan Cook

Cook is a veteran coach of 21 seasons in the collegiate ranks and came to Colorado from Georgia Tech.  He was on the Yellow Jackets' staff as a quality control specialist for the defense in 2018, his third stint with the school, assisting and focusing in particular with the play of outside linebackers.  He previously had served as Georgia Tech's quarterbacks and "B-backs" coach (2013-16) and as a graduate assistant with the Yellow Jackets (2001-03).
For the 2017 season, he was the offensive coordinator at Georgia Southern under Summers, who was head coach of the Eagles at the time.  During his four seasons on Paul Johnson's offensive staff at Georgia Tech, he helped game plan one of the most dangerous offenses in college football.  In 2016, the Yellow Jackets had over 5,000 yards of total offense en route to an 8-win season, one that included wins over Virginia Tech and Georgia in earning a TaxSlayer Bowl bid.  Tech featured a top-10 rushing attack nationally and also led the country in yards per completion under Cook's tutelage.
In 2014, Georgia Tech was 11-3 and finished as the No. 8 team in the country, claiming the Coastal Division title in the Atlantic Coast Conference and narrowly missing winning the league title, falling 37-25 to Florida State in the championship game.  The Yellow Jackets defeated Mississippi State, 49-34, to win the Orange Bowl.  That Tech squad led the nation in rushing offense (342.1 yards per game), both marks shattering the previous school records.  The Jackets also led the nation in third down conversion percentage (57.9) and yards per completion (17.8), leading the ACC in 11 offensive categories.
In 2013, Cook saw the Georgia Tech offense put up huge numbers, ranking sixth nationally in rushing yards (299.3 per game), tied for fourth in third down percentage (51.4) and led the nation in yards per completion (18.4).  Overall at GT, he coached five student-athletes that received all-Atlantic Coast Conference recognition.
Prior to his second time in Atlanta, he spent four seasons (2009-12) as the co-offensive coordinator at Cal Poly (San Luis Obispo, Calif.).  He coached the quarterbacks and fullbacks for the Mustangs.  Cook spent four years (2005-08) as head coach at West Point Prep in Monmouth, N.J.; he was the defensive coordinator at WPP in 2004 before being promoted to head coach.
His first "tour" at Georgia Tech came over the 2001-03 seasons, when he worked as a graduate assistant coach (under two different head coaches).  In 2001, when Tech went 8-5 and played in the Seattle Bowl, Cook helped coach the Yellow Jacket defensive backs and special teams under George O'Leary; in 2002, he coached tight ends under Chan Gailey and helped Tech produce a 7-6 record and a Silicon Valley Classic appearance. In 2003, Cook worked with the safeties for a team that earned a berth in the Humanitarian Bowl.
Cook lettered in both football and lacrosse at Ithaca College, where he earned two degrees, his bachelor's in Health and Physical Education in 1998, master's in Exercise Science in 2000.
Mark Smith
Smith joined the Long Island University staff as its defensive coordinator last summer, but the Sharks did not play any games last fall due to the COVID-19 pandemic (an FCS member, the Northeast Conference is tentatively set to play an abbreviated 4-game schedule later this winter).
He joined LIU from the University of Arkansas, where he was the defensive backs coach and the Razorbacks' recruiting coordinator for the 2018 and 2019 seasons under head coach Chad Morris.  He coached players that who matriculated into the National Football League, including Kamren Curl, a seventh round selection in the 2020 NFL Draft by Washington.  He also tutored two freshmen backs, Montaric Brown and Jacques McClellion, who would emerge as standout players in the SEC.
As a recruiter, Smith helped land three 4-star defensive backs, corners Greg Brooks and Devin Bush and safety Jalen Catalon. In his first full recruiting cycle as the coordinator, Smith and the Arkansas staff achieved the highest ranked recruiting class (23rd) in program history.
Prior to Arkansas, Smith spent three seasons at Southern Methodist University, where he was an offensive assistant in 2015 and 2016 and a defensive analyst in 2017, all while serving as the Mustang's director of recruiting.  He was a part of the staff at SMU that was finally able to overhaul the program from years of frustration and going from a 1-11 squad in 2014 to a bowl-eligible team in three seasons.
He joined SMU from the Texas state high school ranks, as he spent six years at L.D. Bell in the Fort Worth suburb of Hurst (2009-14), the last four seasons as its head coach, in which it earned playoff berths for three straight years.  Smith also served as an assistant at Irving MacArthur and Colleyville Heritage high schools in Texas.   Smith was a member of the Board of Directors for the Texas High School Coaches Association and served as the President of the North Texas Football Coaches Association.
He was also a defensive quality control coach for the University of Oklahoma for the 2008-09 academic year, working particularly with the linebackers.  It was at OU where he first worked alongside Wilson.
Smith, a native of Abilene, Texas, earned his bachelor's degree in Behavioral Science from Hardin-Simmons University in 2000, where he lettered three years (1997-99) as a placekicker for the Cowboys in football, earning first-team All-American honors as a senior in addition to being named first-team All-American Southwest Conference honors three times.  He scored 206 points, at the time ending his career as the Cowboys all-time leading scorer (143-152 PAT, 21-30 FG).  He earned his master's degree in Educational Leadership and Policy Studies from the University of Texas at Arlington in 2004.
Colorado was 4-2 in Dorrell's first season as head coach, finishing second in the Pac-12 South Division, its second-best since the Buffaloes joined the conference in 2011.  CU earned its first bowl appearance in four seasons, and Dorrell earned Pac-12 Coach of the Year honors and the Football Writers Association of America's "First First-Year Coach of the Year" accolades.
–
—–
February 4th
… CU in a few minutes … 
Former four-star linebacker from Notre Dame, Jack Lamb, to transfer to CU
From the Daily Camera … Coming out of Great Oak High School in Temecula, Calif., in 2018, Jack Lamb was rated a four-star recruit by 247Sports.com and listed as the No. 7 inside linebacker prospect in the country. He was selected for the 2018 Under Armour All-American game.
Lamb had 23 scholarship offers out of high school, according to 247Sports.com, including from eight Pac-12 schools. CU did not offer him out of high school.
Lamb immediately becomes one of the most experienced inside linebackers on the CU roster.
The Buffs are returning senior All-American candidate Nate Landman, but he is recovering from a ruptured Achilles' tendon. Senior Akil Jones, who started four games this past season, has entered the NCAA transfer portal.
CU also returns junior Jonathan Van Diest, who started two games in 2020 and has made seven career starts. Van Diest recorded 16 tackles this season.
Junior Quinn Perry also returns after playing in five games and registering seven tackles.
Also slated to return at inside linebacker is junior Chase Newman, sophomore Ray Robinson, redshirt freshman Marvin Ham II and true freshman Mister Williams. CU signed incoming freshman Zephaniah Maea in December.
–
From BuffStampede.com … After three years with the Fighting Irish, linebacker Jack Lamb plans to join the herd. The former four-star prospect announced his intention to transfer to Colorado via social media on Thursday.
Excited to announce that I will be continuing my football career and pursuing a master's degree at the University of Colorado Boulder!
"Lamb was the top performer on Notre Dame's special teams this past season," 247Sports recruiting analyst Greg Biggins wrote on Jan. 11, shortly after Colorado extended an offer to Lamb. "A hip injury suffered late in the season in 2019 hurt his chances to win a starting linebacker job this year but his positional versatility and the fact he has three years of eligibility left should make him one of the more coveted 'backer targets in the portal."
Lamb was a national recruit three years ago coming out of Temecula (Calif.) Great Oak. He chose Notre Dame over 16 other Power 5 programs, including Oklahoma, Oregon, Penn State and Washington. Lamb was rated the No. 99 player nationally in the 247Sports Composite and was selected to The Opening Finals and the Under Armour All-American Game.
"The way I look at it, I have three years left and I have a lot of experience already. I've played against schools like Clemson and Bama and I think I'm more developed then an incoming freshman."
–
–
—
Kordell Stewart tells his story of being falsely accused
From  The Players' Tribune … "Look, man … are you sitting down?"
You never want to hear those words coming from the other end of the telephone. Especially when they hit you on the landline. It's never good news, right?
It's November, 1998. I'm down in the basement with my girlfriend watching a movie. Matter of fact, it was a LaserDisc. Yes, the LASERDISC, buddy. Welcome to 1998. Get comfortable because we're taking a trip now. Starter jackets and backwards snapbacks and the six-CD-changers and all that.
How '90s are we talking? O.K., let me put it to you like this. I'd just been in my first Nike commercial. The whole concept was that Vince Lombardi had his team preparing to play against me, and he's going crazy trying to figure out how to stop me. They got the old-school projector showing my highlights, and he's ranting and raving like, "Kordell Stewart!!! This kid can do it all — from SHOUP tuh NUTS!!!!!!!!"
Guess who they had playing Vince Lombardi? The crazy dude from Seinfield. You know who I'm talking about — George Costanza's dad. Mr. Costanza was a wild boy.
He's like, "We couldn't slow this kid down if we ran the film BACKWUHDS!!!!!!!!"
That's how nineties we're talking, bro.
Back then, I'm at the top of the mountain. I'm 26 years old. I'm the quarterback of the greatest franchise in the NFL. I just played against John Elway in the AFC Championship game the previous season. I'm not just "Slash" anymore. I'm not just a gimmick. I'm the quarterback. 
We're 5–3, and everything's in the right place.
What could go wrong, right?
–
—–
February 3rd
… CU in a few minutes … 
Clay Millen on picking Nevada over CU: "They throw it 40 times a game and they put up big numbers"
From 247Sports.com … Snoqualmie (Wash.) Mount Si quarterback Clay Millen has found his home.
Millen announced on Wednesday that he would be signing with Nevada.
Originally Pac-12 bound, Millen committed to Arizona in the summer, but after Kevin Sumlin was fired in December, he opted to not sign with the Wildcats.
Last month, he decommitted from Arizona.
And on Wednesday, he found his home.
"Nevada runs the air raid and they throw it 40 times a game and they put up big numbers," said Millen. "Their system can produce NFL guys like Carson Strong. I think being in that system will be a lot of fun and I've always wanted to go somewhere where they throw the ball a lot and Nevada definitely does that."
Millen said the Pack got involved in mid-December when it became apparent that he was going to hold off from signing with Arizona.
"After I didn't sign with Arizona, they came in and we started communicating more and more from there," said Millen.
Head coach Jay Norvell and offensive coordinator Matt Mumme then went to work.
"The main coached that recruited me were coach Mumme and coach Norvell and I'm excited to play for them," said Millen. "Coach Norvell is great. I think, first, he's a great person, and I think he's going to have a lot of success at Nevada over the next couple years. Even though we've only known each other for less than two months, I already feel a really good connection with him and I'm really excited to play for him."
Millen has a history in the Pac-12, his father, Hugh, is a former quarterback at Washington and his older brother Cale signed with Oregon in 2019.
So he too thought he would continue the Pac-12 legacy, but he said he was happy with his choice to join the Mountain West Pack.
"Personally, I've always pictured myself in the Pac-12 and I know some people are going to be surprised that I turned down the Pac-12, but this is the school I want to go to and my family is happy with my decision," said Millen.
… Continue reading story here …
–
—–
February 2nd 
… CU in a few minutes … 
CU Press release: "Not planning on signing any new recruits on Signing Day"
Email from CU media releations director Dave Plati … At this time, we are not planning to sign any new recruits; thus, we won't hold the usual signing day presser (everyone knows about the two graduate transfers, QB J.T. Shrout (Tennessee) and ILB Robert Barnes (Oklahoma).  We will convene, hopefully either Thursday or Friday, when Karl completes his coaching staff. 
… Translation … CU's defensive line commit Ikechuku Iwunnah signed with Michigan instead … CU linebacker commit T.J. Patu de-committed today (February 2nd) … Former Arizona quarterback commit Clay Millen, thought to be a possible CU commitment, is going to sign with Nevada … CU punter commit Ashton Logan is expected to gray-shirt, meaning he will delay his enrollment until next January, and will be considered to be a part of the CU Recruiting Class of 2022 …
–
—
Report: CU new tight ends coach a promotion from within
… Related … Byran Cook's official University of Colorado bio …
From the Daily Camera … Colorado head football coach Karl Dorrell didn't have to go far to find a new tight ends coach.
According to multiple BuffZone.com sources, CU has promoted quality control coach Bryan Cook to tight ends coach.
Cook, who has been the Buffs' director of quality control for defense the past two years, will replace Taylor Embree, who left the Buffs last month after one season as tight ends coach to take a position coaching running backs with the NFL's New York Jets.
Cook, 44, will return to the offensive side of the ball after being a quality control coach on defense for the past three years, at CU (2019-20) and Georgia Tech (2018).
In 2017, Cook was the offensive coordinator at Georgia Southern. From 2013-16, he coached quarterbacks and B-Backs at Georgia Tech, and he was co-offensive coordinator at Cal Poly from 2009-12, coaching quarterbacks and fullbacks. From 2004-08, he was in the prep ranks, including four years as a head coach.
A graduate of Ithaca College, where he was a starting safety and an all-conference lacrosse player, Cook got his start in coaching with three years as a graduate assistant at Georgia Tech (2001-03). He worked at various times on offense and defense for the Yellow Jackets, including coaching tight ends in 2002.
–
—
Transition to Chris Wilson as defensive coordinator easier with a number of coaches and players returning
From the Daily Camera … Colorado's defense had some good moments in Karl Dorrell's first season as head coach.
To take the next step forward, however, Dorrell felt a change was needed.
Last week, Dorrell promoted defensive line coach Chris Wilson to defensive coordinator, replacing Tyson Summers, who was fired last month after two years of leading the Buffs on that side of the ball. Wilson will continue to coach the defensive linemen.
"Our defense did improve in a number of ways this past fall, and we're going to continue to make those steps forward and being better going into this year," Dorrell said. "Obviously, (Wilson) is a very well seasoned coach on both the college and professional level, so we're really excited about making the next steps of progress defensively."
… CU loses three regular starters from last season. Defensive lineman Mustafa Johnson declared for the NFL Draft, while linebacker Akil Jones and safety Derrion Rakestraw entered their names in the NCAA transfer portal. Rakestraw has since transferred to Tulane.
The Buffs are slated to return 48 of 66 starts (73%) from last year and they've added safety/linebacker Robert Barnes, who had 10 career starts at Oklahoma. Dorrell is confident CU has a defensive staff that can help the group improve.
In addition to Wilson, the Buffs are retaining Brett Maxie (safeties), Demetrice Martin (cornerbacks) and Brian Michalowski (outside linebackers). Although CU hasn't announced it yet, Mark Smith, formerly of Arkansas, has been hired to coach inside linebackers, according to BuffZone.com sources.
"We're going to be able to kind of sit back and try to start to tailor things that fit our personnel," Dorrell said.
–
—–