—
Pac-12 Notes
—
May 13th 
… Foe Pause …
**Video: Kliavkoff's Introductory Press Conference**
–
—
Quotes from the new commissioner
From George Kliavkoff's introductory press conference:
"I want to be very clear about my top three immediate priorities for the conference: first, we will protect and support our student-athletes; second, we will make decisions to optimize revenue for our member institutions, including renegotiating our media distribution deals; and third, we will do everything we can at the conference level to make our teams more competitive and revenue-generating sports, especially football."
… "I want to be clear that I am, with my family, relocating to San Francisco and will be working full-time in San Francisco," he said. "I think the emergence of Las Vegas as a sports capital of the world is significant and I think having our two major championships there is a good first step. I'd like to see us do more with Las Vegas."
… "With respect to the Pac-12 Network, I believe it's part of the future of our media distribution strategy," he said. "Today, the Pac-12 Network has far fewer subscribers than any other comparable network and we have to fix that. I think there's a way to fix that through structuring and relationships."
"But we have to get the Pac-12 Network distributed every place on every place and our fans want to be able to consume that content."
–
—
Sports Business Journal: Three reasons why Kliavkoff was hired
From Sports Business Journal … Three reasons why Kliavkoff was hired by the Pac-12:
He brings a rich background in media, especially digital. At MLBAM, he was at the forefront of bringing all of the teams together into a single digital entity and then monetizing it. He was part of the team that launched Hulu. He helped move the "TV Everywhere" concept forward at NBCUniversal by putting 2,200 hours of Olympic programming online and on mobile phones in 2008. The conference will be quick to point out that Kliavkoff is not just a "media guy," but many of his strengths are rooted there.
Kliavkoff's experience running a massive live events business at MGM Resorts Int'l positions him well because running live events is at the heart of what conferences do. He's undoubtedly evolved his thinking on the fan experience as well after three years in Las Vegas.
Most everywhere Kliavkoff has been, he's encountered longtime legacy brands, sometimes stodgy brands, in need of change, and he has taken on those challenges. NBC, MLBAM, MGM, they all fall into that category. College athletics, which often are slow to change, fit that same description. With athlete compensation, ongoing legal battles and more change coming, perhaps from Congress, the Pac-12's leadership found Kliavkoff's experience in managing change to be a supreme asset.
One more thing on Kliavkoff: For someone with such a deep past in digital media, Kliavkoff had an interesting answer when asked about his fantasy job. He said he'd like to start a magazine. Of course, that was in 2006.
–
—
Pac-12 Commissioner named: MGM President George Kliavkoff (Pac-12 Press Release)
From the Pac-12 … The Pac-12 Conference announced today that, following a comprehensive global search led by its governing executive committee and TurnkeyZRG, accomplished sports business executive George Kliavkoff has been appointed Pac-12 Commissioner.
Kliavkoff (Klēē-ãv-cough), 54, brings unparalleled expertise and leadership in live sports and entertainment, fan experience, content creation and distribution, and navigating complicated environments. He comes to the Pac-12 Conference from MGM Resorts International, where he was president of entertainment and sports.
Kliavkoff's appointment was supported by a unanimous vote of all Pac-12 presidents and chancellors. His five-year contract begins July 1.
"At each step of his career, George has navigated complex, quickly changing environments and has been a successful consensus builder. George is a visionary leader with an extraordinary background as a pioneering sports, entertainment and digital media executive, and we are delighted and honored that he has agreed to become our next Pac-12 Commissioner," said University of Oregon President Michael H. Schill, chair of the five-member search committee. "He is the new prototype for a sports commissioner. While George has deep sports experience, his biggest asset is his ability to listen, connect with diverse groups, find common ground, collaborate and navigate an evolving landscape. We believe George's overall skills and experience will become even more prevalent in college sports leadership."
"I am thrilled to be the Pac-12 Commissioner. This is a challenging time for intercollegiate athletics, but I believe these challenges also create significant opportunities," Kliavkoff said. "I loved being a student-athlete, and I'm passionate about the doors that college sports and higher education open for young women and men. My job at the Pac-12 will be to help manage the balance between continued academic excellence, student-athlete well-being and an even higher level of athletic achievement."
In the coming weeks and months, Kliavkoff said he will meet with the athletic directors, coaches from a wide variety of men's and women's sports, faculty athletic representatives, and a diverse set of student-athletes to learn more about the conference and begin building relationships at each of the Pac-12 institutions.
"The athletic directors in the Pac-12 look forward to working with George and supporting his success. As a student-athlete himself, George understands the challenges at all levels, including first and foremost from the student-athlete perspective," said Bernard Muir, the Jaquish & Kenninger director of athletics at Stanford University.
An Accomplished Sports and Entertainment Executive
During his tenure at MGM Resorts International, Kliavkoff managed one of the largest live entertainment and sports businesses in the world and also oversaw the company's sponsorship spend with professional and college sports leagues, conferences—including the Pac-12 Men's and Women's Basketball Tournaments and the Pac-12 Football Championship Game—and teams. Additionally, he led the company's global sponsorship sales efforts and sat on the board of BetMGM, one of the three largest U.S. sports betting companies.
A proponent of women's sports, he served as a member of the Board of Governors of the WNBA and managed the Las Vegas Aces WNBA franchise prior to selling the team earlier this year to Las Vegas Raiders Owner Mark Davis.
In the media and entertainment space, Kliavkoff co-led the largest and most profitable division at Hearst Entertainment & Syndication, overseeing Hearst's interests in cable television networks, including ESPN, A&E, Lifetime and HISTORY. He drove significant financial returns for Hearst by managing the purchase of a 50% stake in Mark Burnett Productions, which included signature programming such as Survivor, The Apprentice, Shark Tank, The Voice and The Bible, and then later negotiating a sale to MGM Studios.
Kliavkoff was the first chief digital officer at NBCUniversal, where he set corporate digital media strategy and developed new business models and markets. At NBCU, Kliavkoff partnered with News Corp to incubate and launch Hulu, which became a top five U.S. video site within six months of launch. Kliavkoff served as the interim CEO of Hulu until the first full-time CEO was hired, and he served on the joint venture's board.
"One of the best hires I ever made," said Beth Comstock, NIKE board member, the first female vice chair of General Electric and the former president of Integrated Media at NBCUniversal. "George is an inclusive team builder, consensus builder, thought leader and world-class collaborator. He's brilliant at solving complex puzzles, again and again finding solutions that work for everybody."
Prior to NBCU, Kliavkoff was executive vice president of business for Major League Baseball Advanced Media and managed corporate development, business development, and baseball's digital media subscription and licensing businesses.
Kliavkoff started his career as an attorney at prominent law firms in Los Angeles and Seattle and holds a bachelor's degree in journalism from Boston University and a Juris Doctorate from the University of Virginia School of Law.
About the Selection Process
The search committee included the Pac-12 executive committee, led by Schill as chair; Kirk H. Schulz, Washington State University president; and Ana Mari Cauce, president of the University of Washington. They were joined by University of Colorado Boulder Chancellor Phil DiStefano and University of Southern California President Carol Folt, forming a five-person search committee to reflect the diversity of the Conference.
The committee was assisted by TurnkeyZRG, which has placed more than 25 directors of athletics and recently placed the new Commissioner of the ACC. TurnkeyZRG and the search committee considered a global pool of more than 200 highly qualified and diverse candidates for the job, including traditional college sports, entertainment and media executives.
Outgoing Commissioner Larry Scott said, "It has been an honor to serve as Commissioner of the Pac-12 for the past 11 years, and I believe the Conference is well-positioned for continued success and growth. I look forward to working with George and ensuring a smooth transition."
—
Tweet from Jon Wilner … BREAKING The next #Pac12 commissioner is MGM president George Kliavkoff, per source. He took BAM and generated billions for them; did a big deal with HULU. "He's proven he knows how to get shit done. He's not Larry Scott. He's gonna listen, collaborate and build trust with ADs."
—
Tweet from Eric Fisher (Editor, Sports Business Group) … George K has been a big deal in the sports industry for a long time. Worked closely with Bob Bowman years ago at MLB Advanced Media, went on to big roles at NBCUniversal, Hulu, Hearst and then MGM, and spent lots of time in the startup/VC world … Kliavkoff is not a traditional college sports administrator, but he's spent a long time, to great success, seeing around the next corners in the business, and that's something the Pac-12 definitely needs.
Tweet from Dennis Dodd (CBS Sports) … CBS Sports has confirmed AP report. (AP reported first). The new Pac-12 commissioner is MGM executive George Kliavkoff. He has been in that position for 2 1/2 years. Previously CEO of augmented reality start up Jaunt. Boston College grad. Virginia law
Tad Boyle and the Buffs pose with then-MGM prez and rumored new Pac-12 commissioner George Kliavkoff following a November, 26, 2019 win over Clemson in Las Vegas to win the MGM Resorts Main Event tourney.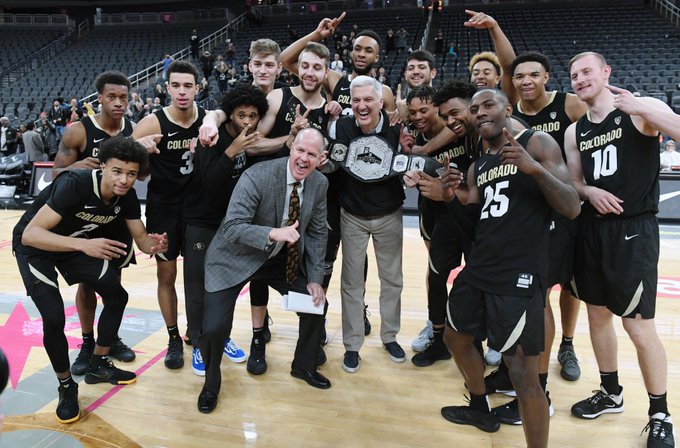 —
Tweet from Jon Wilner … I have figured out the ID of the next #Pac12 commissioner but am so shocked that quadruple confirmation is required to make sure I'm not being set up.
Tweet from Brian Howell from the Daily Camera … The Pac-12 will introduce its new commissioner to the media at Noon MT …
Tweet from Jon Wilner at the San Jose Mercury News … Source: There is a 99% percent that nobody in college sports has ever heard of the next #Pac12 commissioner … #Pac12 fans better hope the presidents put as much energy into making the smart decision as they have into keeping this quiet …
Tweet from SportsPac12 … The Pac-12 Conference has sent out a media advisory for the announcement of its new commissioner at 11 a.m., PT today. No leaks or any other indications so far as to who it might be…
–
—
Stanford students suing over school eliminating 11 sports 
From the San Jose Mercury News … A group of Stanford athletes sued the university Wednesday over plans to cut 11 non-revenue sports programs at the end of the current school year for budgetary reasons made worse by the COVID-19 pandemic.
Athletes from eight of the teams filed a suit in U.S. District Court in San Jose while women athletes from fencing, field hockey, rowing, squash and synchronized swimming alleged sex discrimination in a separate complaint in the same court.
The complaint said university officials misled students about their opportunities to participate at Stanford, home to the country's most successful intercollegiate athletics program, thereby denying them a chance to pursue their sports at other colleges.
The first complaint alleges fraud, intentional misrepresentation and breach of contract.
In the parallel suit, women athletes said the planned cuts will eliminate more than 100 athletic participation opportunities for female athletes, leaving Stanford in violation of Title IX, the 1972 law that prohibits discrimination based on sex in education programs.
The complaint said that the women would have to give up their Olympic dreams in favor of completing their Stanford educations if their five sports are not reinstated.
Rebecca Peterson-Fisher, the women's attorney, said as much as Title IX has done for female athletes, the law is violated all the time.
"People need to look past the rhetoric and look at how schools are really treating female athletes and that's what we're seeing here," she said.
A university spokesman wrote in a prepared statement that Stanford was surprised and disappointed to learn about the suits.
… Continue reading story here …
–
—–
May 12th
… Foe Pause … 
Will the NFL's $100 billion deal hurt the Pac-12's future deal? (Only so many dollars available)
From the San Jose Mercury News … In a year of momentous economic and legislative change for major college sports, one of the most significant developments unfolded not in Indianapolis or Washington, D.C. but on Park Avenue.
Two months ago, the NFL announced a mammoth new media rights contract reportedly worth more than $100 billion over time — a price tag guaranteed to ripple through the sports world and impact the Power Five for years, if not decades, to come.
"The NFL deal will cause problems for other properties because of all the rights oxygen it consumes,'' said Patrick Crakes, owner of Crakes Media Consulting and former Fox Sports senior vice president for programming, research and content strategy.
"It's a huge deal. A group of sports will continue to do really well: Major League Baseball, the NHL. The Power Fives are on deck. They fit in the box, and distributors really want that."
The SEC has already gorged at the media rights trough. In December, the conference moved the 'Game of the Week' package from CBS, its longtime home, to ESPN/ABC for approximately $300 million annually.
The deal created an exclusive partnership between the SEC and Disney that already included ownership of the SEC Network and a package of ESPN games.
Other conferences are waiting for their turn at the negotiating table: The Big Ten's current media rights expire in 2023; the Pac-12's contracts with Fox and ESPN are up in 2024; and the Big 12's deals conclude in 2025.
All three are counting on massive paydays to keep pace with the SEC and support athletic department budgets that are certain to come under greater stress in the post-pandemic world.
Except their current and future broadcast partners have billions less to spend after locking up deals with the NFL that begin in 2023.
ESPN is on the hook for $2.7 billion annually. CBS, Fox and NBC are paying in the $2 billion range (individually), and Amazon agreed to spend $1 billion for the Thursday night game.
The deals total $10 billion annually and more than $100 billion over the 11-year duration of the agreements.
In all, the NFL is reportedly doubling the value of its media rights.
"In a sense, a rising tide lifts all boats, and the NFL is the Queen Mary: It established a benchmark for what premier, highly-coveted properties can generate,'' said Ed Desser, president of Desser Media Inc. and the former head of NBA TV and the league's strategic planning operation.
"If you're a college conference and you're the next most attractive football product after the NFL — which the conferences are, collectively — then you've upped the ante. The deals signed eight or 10 years ago are dated and don't reflect the value of your underlying rights.
"The flip side is that every major media company is involved with the NFL, and the money has to come from somewhere."
… Continue reading story here …
–
—–
May 11th
… Foe Pause … 
Former CU quarterback (and record-setter at Hawai'i) Colt Brennan dead at 37
From the Daily Camera … Colt Brennan, a star quarterback at the University of Hawaii who finished third in the 2007 Heisman Trophy balloting, died early Tuesday, his father said. He was 37.
Brennan, who has had public struggles with alcohol, died at a hospital in California, his father, Terry Brennan, told The Associated Press.
"He just spent one too many times on the dark side of life, and it caught up with him," Terry Brennan said of his son.
Brennan transferred to Hawaii after stints at Colorado and Saddleback College in California. A certain pro prospect, he bypassed the NFL draft in order to play his senior year for Hawaii coach June Jones.
Brennan led the Warriors to its finest season ever, going 12-0 in the regular season.
In 2008, Georgia ended Hawaii's hopes for an unblemished record, defeating the Warriors 41-10 in the Sugar Bowl.
… Brennan had been living at an addiction treatment center in Costa Mesa, California. His father said he took him to a hospital emergency room on Sunday because his son had been drinking. "I could tell he was not well and needed help," Terry Brennan said.
But the detox facility was full, so without his family realizing it, Colt Brennan was released. He was unconscious when he was taken back to the hospital, where he later died, his father said.
"They released him out on the street and either he made a call or he got Uber or something," Terry Brennan said. "And now this is what we're dealing with."
He was surrounded by family members when he died.
"His sisters made sure he had the Bob Marley music going by his side," Terry Brennan said of the reggae his son was fond of from his time in Hawaii. "They had a lei around his chest."
Hawaii was important to him. "He had all the respect in the world for Hawaii," his father said. "It was his home."
His family hopes that toxicology results and an autopsy — including tests on his brain to determine if there was degeneration from repeated head trauma — will give them answers.
–
—–
May 10th
… Foe Pause … 
ESPN: Nate Landman one of the "old-school" linebackers adjusting to newer game
From ESPN … The increased awareness of the toll football's brutality takes on players' bodies has curbed the public's fascination with the gory details, and the rulebook has legislated away many of the game's biggest hits. Meanwhile, offenses are dominated by run-pass option schemes and mobile QBs, making the blue-collar, inside-the-box linebacker something of an anachronism. Faster, smaller guys have largely supplanted bruisers.
"It's a different world," Clemson coach Dabo Swinney said. "You've got to have guys that can cover. Everybody now is looking for a little different [type of] guy."
What's fashionable at linebacker in 2021 is the hybrid player — a guy who can rush off the edge, hold up against the run and cover a slot receiver downfield, all with equal precision. Defensive coaches are looking for the speed of a Corvette and the utility of a Jeep. In comparison, the old-school linebackers feel like taking a spin in the family minivan.
Take a look at the ACC Defensive Player of the Year voting from 2020, in which Wilson, the league's leading tackler, finished fifth. Notre Dame's Jeremiah Owusu-Koramoah, a 215-pound Swiss Army knife, won the award in a landslide despite fewer QB hurries, sacks and tackles for loss and a whopping 46 fewer tackles.
Wilson's coach, Dave Doeren, has a few theories to explain the voting, from Notre Dame's pedigree to COVID-19's impact, but perhaps the most glaring explanation is that Wilson's style of play simply isn't en vogue these days.
"It's changed, even in the last five years, with the speed of the game," said Colorado's Nate Landman, one of the Pac-12's most productive linebackers — averaging nearly 11 tackles per game — despite his more traditional skill set. "I'm not a 4.4 kid, and players in my position who rack up tackles have to adjust. My strength is definitely being in the box and plugging those A- and B-gaps, but as the game changes, you have to change, too."
Landman said the "old-school" moniker is still a compliment, even if it occasionally is employed as shorthand for bigger, slower and meaner. Although it's not fashionable to be the in-the-box bruiser, he still embraces the legacy of the hard hitters who came before him and wants to live up to their standards as much as meet the modern NFL prototype.
When you watch Landman, Wilson or some of the country's other "old-school" linebackers play, it's easy to picture them fitting in alongside the ferocious Pittsburgh Steelers' defenses of the 1970s, boasting toothless grins or horrifying scowls to complete the image. But that's no longer what coaches picture in an ideal linebacker.
In last month's NFL draft, Owusu-Koramoah was considered a prized prospect, and he was selected in the second round. Penn State's Micah Parsons and Tulsa's Zaven Collins — two more do-it-all hybrids — went in the first round. Northwestern's Paddy Fisher, an old-school player who's been among the Big Ten's most prolific tacklers for four straight years, went undrafted.
"The position has more on its plate than ever before," said Pat Fitzgerald, Fisher's coach at Northwestern. "It's got to be a ridiculous athlete because offenses have a lot to their advantage right now."
Here's the rub: There simply aren't that many ridiculous athletes out there.
… Continue reading story here …
–
—–
May 9th
… Foe Pause … 
NCAA President: Action on NIL needed by July 1st (before all Hell breaks loose)
From ESPN … NCAA president Mark Emmert said he recommends the association's board members approve new rules allowing athletes to make money from their name, image and likeness rights this summer.
Emmert told The New York Times on Friday that he's pushing for approval of NIL guidance "before, or as close to, July 1."
That date coincides with when new laws in Alabama, Florida, Georgia, Mississippi and New Mexico are set to take effect that will allow NCAA athletes to in some way profit off their name, image or likeness for the first time. Arizona has a law that will go into practice on July 23. Another half dozen states have laws that will open similar opportunities starting as early as 2022.
A working group appointed by the NCAA to modernize the organization's approach to NIL deals presented a package of proposed rule changes to association leaders late in 2020. The association was scheduled to vote on the changes this past January but decided to indefinitely postpone any action, citing uncertainty about how federal lawyers would view the change. Members of that group also told ESPN they were interested in seeing how the NCAA's pending appeal in front of the Supreme Court will play out before moving forward with any rule changes. The Supreme Court is expected to issue a decision on that case at some point in the next two months.
Emmert said in January that the NCAA remained committed to changing its rules in the near future.
"We need to get a vote on these rules that are in front of the members now," Emmert told The New York Times.
Current NCAA rules do not allow athletes to sign endorsement deals while in school. The NCAA's proposed changes would still be more restrictive than most of the state laws scheduled to go into effect this summer, which could lead to legal conflicts where schools would have to ignore some NCAA bylaws in order to follow their state's law even if the NCAA is successful in instituting rule changes.
Emmert and other college sports leaders have asked Congress to help create a national, uniform rule that supersedes state laws and includes enough restrictions to maintain a clear line between college athletes and professionals. Emmert has previously said federal lawmakers would likely have to take action before the NCAA can move forward with its new rules. It's not clear whether his comments to the Times this week represent a change in that approach.
… Continue reading story here …
–
—–
May 8th
… Foe Pause … 
Five-star USC linebacker transferring to Texas
From thespun.com … A few years ago, the USC football program got some great news when they landed five-star linebacker recruit Palaie Gaoteote IV. Now, after three seasons with the Trojans, the former No. 1 ranked LB will be taking his talents elsewhere.
Five months after his entrance into the NCAA transfer portal back in December, it appears Gaoteote will likely be joining the Texas Longhorns in 2021.
According to college football insider Matt Zenitz, the Longhorns are the clear frontrunners in the race to land the star LB.
The expectation is that former USC linebacker Palaie Gaoteote will transfer to Texas, per sources. Former five-star recruit who was a starter at USC last year before suffering a season-ending injury. Had 58 tackles in eight games in 2019.
Coming into the USC program as the No. 1 ranked linebacker and No. 15 overall recruit in the nation (per 247Sports), Gaoteote had an immediate impact as a freshman — logging 96 tackles and two sacks through his first two seasons in LA.
Unfortunately for the Trojans, Gaoteote suffered a down year in 2020. Paired with a notably-shortened PAC-12 COVID-19 campaign, a season-ending concussion saw the star defender play in just two games this past season.
–
—
Pac-12 NFL Free Agent signings includes three former Buffs 
From SportsPac-12.com … 2021 Pac-12 NFL Free Agent Deal Tracker
It isn't easy to keep track of all the NFL free agent deals that take place during the offseason, so we're doing it for you.In the table below, you'll find a listing of of the signings we've tracked, including each players NFL team, former Pac-12 team, position, terms, and deal (where known) …
| Player | Deal | Terms | NFL Team | Program | Position |
| --- | --- | --- | --- | --- | --- |
| Easop Winston | ? | ? | Saints | WSU | WR |
| Will Parks | $1.23M | 1-year | Chiefs | Arizona | S |
| Danny Shelton | $1.13M | 1-year | Giants | Washington | DT |
| Fabian Moreau | $1.13M | 1-year | Falcons | UCLA | CB |
| Kevin King | $6.0M | 1-year | Packers | Washington | CB |
| DeSean Jackson | $4.5M | 1-year | Rams | Cal | WR |
| Sam Tevi | $2.5M | 1-year | Colts | Utah | OT |
| Adoree' Jackson | $39.0M | 3-year | Giants | USC | CB |
| JuJu Smith-Schuster | $8.0M | 1-year | Steelers | USC | WR |
| Phillip Lindsay | $3.25M | 1-year | Texans | Colorado | RB |
| Desmond Trufant | $1.0M | 1-year | Bears | Washington | CB |
| Nick Folk | $1.63M | 1-year | Patriots | Arizona | K |
| Troy Hill | $24.0M | 4-year | Browns | Oregon | CB |
| Kyle Long | $5.0M | 1-year | Chiefs | Oregon | G |
| Jayon Brown | $5.25M | 1-year | Titans | UCLA | LB |
| Alex Mack | $14.9M | 3-years | 49ers | Cal | C |
| Pharaoh Brown | $2.2M | 1-year | Texans | Oregon | TE |
| Terrance Mitchell | $7.5M | 2-year | Texans | Oregon | CB |
| Ahkello Witherspoon | $4.0M | 1-year | Seahawks | Colorado | CB |
| John Ross | $2.5M | 1-year | Giants | UW | WR |
| Devontae Booker | $6.0M | 2-year | Giants | Utah | RB |
| Rob Gronkowski | $10.0M | 1-year | Buccaneers | Arizona | TE |
| Leonard Williams | $63.0M | 3-year | Giants | USC | DE |
| Chidobe Awuzie | $22.5M | 3-year | Bengals | Colorado | CB |
| Nelson Agholor | $26.0M | 2-year | Patriots | USC | WR |
| Henry Anderson | $7.0M | 2-year | Patriots | Stanford | DE |
| Takkarist McKinley | $4.0M | 1-year | Browns | UCLA | DE |
| Zach Banner | $9.5M | 2-year | Steelers | USC | OT |
| Tyson Alualu | $5.5M | 2-year | Steelers | Cal | DE |
| Sidney Jones | $1.75M | 1-year | Jaguars | UW | CB |
| Ty Montgomery | $1.13 | 1-year | Saints | Stanford | RB |
| Marcus Williams | $10.6M | 1-year | Saints | Utah | FS |
| Marvin Jones | $14.5M | 2-year | Jaguars | Cal | WR |
| Matt Haack | $5.48M | 3-year | Bills | ASU | P |
–
—–
May 6th
… Foe Pause … 
Arizona coach Jedd Fisch hoping antics will make fans forget 12-game losing streak
From CBS Sports … More than 50 minutes after Arizona's spring game ended last month, Rob Gronkowski was still signing autographs, still posing for pictures, and yes, catching touchdown passes from former Wildcats teammate Willie Tuitama.
The question on that hot, desert day: Why? His duty was fulfilled just by showing up as an honorary coach to help hype the arrival of a new head coach.
"Because that's what I do," Gronk explained with some goofy bravado, "catch touchdown passes."
The question was meant to go deeper than that. What is happening in Tucson is beyond a Super Bowl champion coming back home to glad-hand at the spring game.
… The plan at Jedd Fisch's Arizona is that style will eventually lead to substance. The wacky will lead to winning. Stunts will precede (winning) streaks. You can almost sense the sneers coming from the sport's conservative base. Fisch, a first-time coach hired to replace Kevin Sumlin, doesn't care.
Asked to break down that spring game, he literally hadn't seen enough of it to offer a cogent analysis.
"I feel like I was a little too busy spraying the student section with a hose and water balloons halfway through the game," he told reporters. "We had a bunch of trick plays in, not a lot of stuff we're going to use in the fall."
Fisch, 44, is fulfilling a lifelong dream with a Whoopee Cushion as one of his coaching tools. Before Arizona, he was a well-known, well-traveled assistant in college and the NFL who had made 14 stops at jobs since leaving the New Jersey Red Dogs of the old Arena Football League in 1997.
… He wanted this — actually any — job, bad. An assistant coach lifer landed in a place where the Wildcats have seen one winning season since 2015. Last year, they went winless (0-5) for the first time in program history. Arizona has lost 12 games in a row.
The 2021 season can't start fast enough with the last of those 12 defeats being a 70-7 loss to rival Arizona State in the Territorial Cup.
"We made a decision we were going to look at it differently, not the old traditional way. 'Let's kind of follow these steps,'" Arizona athletic director David Heeke said.
… Continue reading story here …
–
—
Coaches' reactions to changes in fall practices vary: "It's a huge challenge"
… Related … "Division I Football Oversight Committee recommends preseason changes" … from NCAA.com
From Sports Illustrated … As technology and head trauma studies improve, college administrators and medical experts feel like they're moving closer to an answer, even if it rankles coaches who are both entrenched in their beliefs and skeptical of emerging data.
In the last five years alone, college sports has stripped the teeth from fall camp in the name of safety, softening one of the more grueling, traditional rights of passage for NCAA football players. Officials have eliminated two-a-days, slashed practice days, added mandatory off days and reduced camp rosters.
The fifth change to fall camp in six years is expected to happen this month, as Sports Illustrated reported two weeks ago. Officials are poised to abolish long-standing collision drills, such as the Oklahoma Drill, and reduce the number of full-padded, contact practices and scrimmages that coaches can conduct in camp.
On Thursday, a subgroup of the NCAA Division I Football Oversight Committee is expected to recommend the changes to the Division I Council, which must okay the new rules at its May 19 meeting. Over the last two weeks, committee members have socialized the camp modifications across FBS and FCS conferences for feedback from hundreds of coaches.
Opinions vary greatly. For some, the changes present no real deviation from their normal camp regimen, needing only slight adjustments to meet the new requirements. For others, the modifications mean a significant overhaul to their camp schedules, and they claim the changes will further expose players to injury and impact the on-field product, such as Navy's example last year.
"I understand what the Oversight and NCAA are shooting for—to make our game safer," says West Virginia coach Neal Brown, a member of the American Football Coaches Association Board of Trustees. "I don't think you'll find a single coach against making it safer. The one aspect we have to keep in mind is, are we preparing the guys enough in this model for games?"
College football is indeed walking a tightrope, balancing between making practices safer and allowing enough physicality to ensure that players, especially freshmen, are prepared for a live game—a top concern among coaches. In fact, Niumatalolo believes one of his players last year sustained an injury because he was not prepared for the physical nature of the game.
At an Oversight subgroup meeting on Wednesday afternoon, committee members are expected to finalize the modifications. While the new rules keep the number of preseason practices (25) over the same amount of days (29), they regulate the type of practices coaches can hold.
In the committee's original working model, coaches would be required to have at least nine helmet-only, paddless practices, up from the current requirement of two. Also, they could hold no more than eight full-padded practices, of which no more than 90 minutes could feature full contact (e.g., tackling to the ground). The other eight practices could be held in shoulder pads and helmets, referred to as "shells," in which tackling to the ground is not allowed.
… Continue reading story here …
–
—–
May 5th
… Foe Pause … 
Arizona State getting (surprising) love from the Vegas oddsmakers
From SunDevilSource.com … Several months ahead of the college football season, Las Vegas oddsmakers have started releasing lines for team and individual futures bets in preparation for the fall. DraftKings, BetMGM and William Hill recently released national title odds while DraftKings has also released conference title odds, division winner odds and Heisman Trophy winner odds.
Entering its fourth season under head coach Herm Edwards, Arizona State is expected to be in the mix for the Pac-12 South title and potentially the conference title, according to the DraftKings odds, and could even make a run at the national title based on the program's placement on all three sportsbooks' rankings.
The Sun Devils are tied for the 19th best odds to win the College Football Playoff at +10000 (a $100 bet stands to win $10,000). ASU's national championship odds are the third-highest among Pac-12 programs behind Oregon (+4000) and USC (+3300). ASU's odds to win it all this year are markedly better than its DraftKings preseason odds in the same category a year ago when the Sun Devils checked at +50000, the 63rd highest mark in the country and the ninth-best in the Pac-12.
The improved odds are relatively consistent across all three betting platforms. At +6600 (No. 20 in the country and third in the Pac-12), BetMGM gives the Sun Devils their best odds in the national title category. William Hill gives them +10000 odds (No. 24 nationally, No. 3 Pac-12). Alabama (+225), Clemson (+300), Ohio State (+400) and Georgia (+600) have the best odds in the country.
ASU has never won a national championship, though it finished second in the final Associated Press poll following an undefeated 1975 season.
According to DraftKings, ASU is the second-most likely team to win the Pac-12 South at +175 (a $100 bet stands to win $175). Only USC (+125) has better odds to win the division.
Even so, the Sun Devils are tied with the Trojans at +400 (a $100 bet stands to win $400) to win the Pac-12, trailing Oregon (+225).
The Sun Devils have won 17 total conference championships. However, seven came as members of the Border Conference, seven in the WAC and three as a member of the Pac-10, including one that was shared.
… Continue reading story here …
–
—
CFP Executive Director: "People need to know" that playoff expansion is coming 
From Sports Illustrated … Bill Hancock has been here before.
It's not exactly déjà vu, but it's close enough. To him, talk of expansion is old hat.
As the director of the NCAA Final Four, he experienced it. When will the men's NCAA tournament grow to more teams?! It expanded, of course, rising by one to 65 when he was director and then, years later, to 68.
As the executive director of the BCS, he found himself at the center of an annual expansion conversation. When will we have a playoff!? It expanded, of course, to the current four-team model.
Even dating back to his days at the Big Eight, Hancock has been around the topic (the Big Eight became, as you probably know, the Big 12).
And now, here in the spring of 2021, he's back talking about—you guessed it—expansion. This time, there is no speculation or conspiracy theories. In fact, he himself sparked the latest expansion discussion, setting the college football world ablaze by releasing in a statement on April 23 that College Football Playoff decision-makers were exploring expansion models—a public unveiling of what many presumed is the logical next step.
"Did we take a risk by opening the curtain? I don't think so," says Hancock, the executive director of the CFP. "People need to know."
Hancock only gave the people a taste of the ongoing discussion through three bits of information: (1) that a CFP working group is exploring models; (2) that those models range from a six- to a 16-team playoff; and (3) that the playoff will remain at four for at least the next two seasons.
There is much more, of course.
In fact, the playoff working group, made up of four members of the CFP Management Committee (the 10 FBS commissioners and Notre Dame AD Jack Swarbrick), has been exploring a new model for two years. The group, including commissioners Greg Sankey (SEC), Bob Bowlsby (Big 12) and Craig Thompson (Mountain West), as well as Swarbrick, was formed in January 2019 but paused to handle matters related to COVID-19 this past calendar year.
That said, the group is far enough along that several commissioners expect a presentation from the foursome at their next meeting in June, the first true step in the process of changing the model.
… Continue reading story here …
–
—–
May 4th
… Foe Pause … 
Pac-12 meetings: Intra-conference transfer restrictions to be lifted (David Shaw: "Hold onto your butts")
From the San Jose Mercury News … The law of the land could become the policy of the Pac-12 this month if, as expected, the conference takes a momentous step and eliminates restrictions governing intra-conference transfers.
As the search for a new commissioner plays out at the presidential level, athletic department administrators and conference officials will gather (remotely) this week for the Pac-12's annual spring meetings.
Atop their agenda: The fate of underclassmen in football and basketball who desire a change of scenery but wish to remain in the conference.
Current Pac-12 regulations require undergraduate, intra-conference transfers to sit out one season as redshirts upon arrival at their new school.
But last week, in a long-awaited move, the NCAA Board of Directors ratified legislation granting immediate eligibility for athletes the first time they transfer. (The rule also applies to baseball and hockey.)
The Pac-12 could continue to enforce the redshirt year — leagues aren't required to set policies that mirror the NCAA's position.
But multiple sources believe the conference will lift the redshirt restriction and align with NCAA policy, thereby allowing players to be eligible next season if they transfer from one Pac-12 school to another by July 1.
The new rule, which would be permanent, only applies the first time an undergraduate transfers schools.
It also would take roster turnover to the next level.
"Hold onto your butts," Stanford coach David Shaw said last week when asked about the pending change.
… Continue reading story here …
–
—
CBS: CU to face seven first round 2022 NFL Draft picks this fall (including the No. 1 overall pick)
From CBS Sports … It's never too early to put out a mock draft, right? (The other side of that argument, of course, is that it's always too early because, invariably, they're wrong — but that's not the point. Look at this this way: how else would you spend all those hours reserved for anger-tweeting at us?)
Maybe a better way to look at this is not as a mock draft — "Here's who your team will take 51 weeks from now having no idea how the current roster and subsequent season unfolds" — but as a guide to the college players you should keep an eye on in 2021 for the 2022 NFL Draft. And unlike the last few classes, there is no clearcut No. 1, no Trevor Lawrence or Chase Young or Nick Bosa, but in some ways that makes it more intriguing because there's room for guys to explode onto the scene, like Joe Burrow and Zach Wilson did (here's a closer look at our early No. 1 pick Kayvon Thibodeaux).
Projected First Round NFL Draft picks from the Pac-12 (and CU's September 11th opponent, Texas A&M) …
No. 1 … Kayvon Thibodeaux, DL, Oregon
No. 9 … Kedon Slovis, QB, USC
No. 11 … Drake Jackson, LB, USC
No. 14 … Isaiah Spiller, RB, Texas A&M
No. 25 … Kenyon Green, OL, Texas A&M
No. 27 … Jalen Wydermyer, TE, Texas A&M
No. 31 … DeMarvin Leal, DL, Texas A&M
–
—–
May 3rd
… Foe Pause … 
Draft Notes: Michigan State shut out (first time ever); Missouri Valley has more picks than Mountain West
From ESPN … For the first time in history, the Big 12 went without a first-round draft selection. For the 10th straight year, the conference (which has 10 schools, the fewest of any Power 5) had the fewest amount of draft picks.
Along with the Big 12's woes, there were six other Power 5 schools without draft picks in the 2021 NFL draft: Kansas, Utah, Washington State, Michigan State, Rutgers and Virginia.
The most notable of that list is Michigan State, which had previously gone 80 straight drafts with a player selected, the third-longest streak in NFL draft history. USC, Michigan and Florida are now the only schools to have a player selected in every draft of the common draft era.
… Remember when BYU and Coastal Carolina gave us one of the best games of the college football season? Well it turns out that the Cougars had a solid amount of NFL talent on their side of the football, despite coming up short in that game.
Including No. 2 overall pick Zach Wilson to the New York Jets, BYU had five picks in the 2021 draft, its most since the Cougars also had five taken in 2002.
Between 2014 and 2020, BYU had five total players selected
…  A couple of Georgia could-have-beens were taken back-to-back. DeVonta Smith, who was committed to Georgia during his junior season of high school and eventually scored the game-winning touchdown against the Dawgs in the 2018 national championship for Alabama, was selected at No. 10 overall by the Eagles. At No. 11, Justin Fields (who spent his freshman season at Georgia) was selected by the Chicago Bears.
… The Missouri Valley Football Conference (FCS) finished with more draft picks (four) than the FBS' Mountain West Conference.
–
—–
May 2nd
Pac-12 Draft Day Winners and Losers (CU a "winner"?)
From the San Jose Mercury News … The Pac-12 produced fewer NFL Draft selections than it has in eight years and less than half as many as the SEC. It trailed the Big Ten and ACC by large margins, as well.
On the surface, the weekend couldn't have gone much worse.
But in the year of COVID, the surface is a fraught place to be. To cast final judgment on the Pac-12's overall performance in Cleveland, a hefty dose of context is required.
The 28 total selections represent the fewest since the 2013 draft and a 12.5 percent year-over-year decrease.
… Our verdict on the Pac-12's draft performance favors nuance.
The total number of players selected was perfectly reasonable, if not impressive, given the reduced prospect pool, but the quality at the top was lacking: The conference had just three first-round picks — the upperclassmen who returned to school were not likely to be Day One selections — and only 11 selections in the top 100.
In other words, the draft reflects the broader state of the Pac-12 football. There's quality depth, but the top is a bit thin.
To the winners and losers …
Winners: Oregon, Stanford and USC. Each program produced five draft picks, creating a three-way tie for conference bragging rights on the recruiting trail. Add Washington (four selections), and one-third of the conference accounted for two-thirds of the selections.
Loser: Pac-12 skill position talent. No receivers, tight ends or running backs were selected until USC wideout Amon-Ra St. Brown went to the Lions in the fourth round. It's the first time this century the Pac-12 hasn't produced a draft pick at those positions in the first three rounds.
Winner: Arizona. Defensive tackle Roy Lopez and running back Gary Brightwell went back-to-back in the sixth round (to the Texans and Giants, respectively), giving the Wildcats multiple draft picks for the first time since 2016.
Loser: Arizona. The program's streak of not producing a top-three-round pick is nine years and counting.
Winners: Arizona State and Utah. The former had one pick (receiver Frank Darby), while the latter had none. So why are they winners? Both depth charts should be loaded in 2021.
… (So … Under this theory, CU, with one pick, can also be counted as a "winner" as being "loaded" for 2021) … 
… Continue reading story here (subscription required) …
–
—
Wilner to Pac-12 presidents: "You solve the problem with football"
From the San Jose Mercury News … An issue the presidents don't seem to understand is that long-haul revenue potential is inexorably tied to one thing and one thing only: The value of the Pac-12 brand.
And football accounts for about 90 percent of that brand value.
If football is working, if football is right, everything else flows from there, including the money.
If football isn't right, problems arise.
You don't solve the problems by patching the cracks. You solve the problem with football.
Which is why the commissioner must be your football lead.
Place someone atop the conference who doesn't understand college football, and you're walking into a knife fight with a popsicle stick, because guess what:
College football is about to undergo massive, multi-level change, and if the Pac-12 cannot keep up, the consequences will make the current situation look minor by comparison.
If the ultimate authority on football isn't the ultimate authority in the conference, you're asking for trouble.
In every other Power Five conference, the commissioner is the football lead.
Jim Delany and Kevin Warren? Big Ten football leads.
Mike Slive and Greg Sankey? SEC football leads.
Bob Bowlsby? Big 12 football lead.
Jim Phillips? The ACC's new boss is the football lead.
But to be the football lead, to strengthen and support the football brand and earn the respect of coaches and athletic directors, you need to understand … football!
Imagine media opportunities in which the Pac-12 commissioner cannot answer key football questions? That hurts the brand.
Imagine behind-the-scenes conversations with other commissioners in which the fate of the sport is determined, and the Pac-12 boss is dazed, confused and unable to position the conference to thrive? That hurts the brand.
Imagine scheduling teams to play Friday road games after Saturday road games? That hurts the brand.
Imagine letting your general counsel participate in instant replay reviews? Hurts the brand.
Imagine having a North division champ and a South division champ and neither of them is the conference champ? Hurts the brand.
Imagine having an equipment truck waiting for instructions by the side of the road? Hurts the brand.
The Pac-12 should not make this more complicated than it needs to be.
Occam's Razor, folks. Occam's Razor.
… Read full story here (subscription required) …
–
—–
April 28th
… Foe Pause … 
NCAA Transfer rule clears final hurdle (allowing J.T. Shrout to play this fall)
From ESPN … The NCAA Division I Board of Directors ratified a rule change Wednesday that will allow all athletes who have not yet transferred the ability to do so one time in a college career and be immediately eligible to play.
The Division I Council adopted the proposed legislation earlier this month. The board took the last step to make the historic rule change official and the NCAA clarified some of the details in a news release.
The one-time exception had been previously available to some athletes, just not those in football, basketball, baseball and men's ice hockey. Now it will be available to all athletes who have not yet transferred, starting with the 2021-22 academic year.
This year, the date for all athletes to notify their current schools that they intend to transfer is July 1. Those dates will shift to May 1 for fall and winter sport athletes and July 1 for spring sport athletes in subsequent years.
The one-time exception will count for athletes who transfer after graduating. Previously, NCAA rules permitted athletes who had graduated to transfer and be immediately eligible.
Now, if an athlete has already use a one-time exception for a transfer as an undergraduate, the athlete is not automatically eligible as a graduate transfer. Athletes can still apply for a waiver to become eligible under certain circumstances.
–
—–
April 27th
… Foe Pause … 
Bi-partisan NIL legislation introduced in Congress (which might actually pass)
From ESPN … Rep. Anthony Gonzalez, a former Ohio State football player, reintroduced on Monday a bipartisan bill that would give college athletes the right to earn money through endorsements and sponsorship deals.
Gonzalez, R-Ohio, and Emanuel Cleaver, D-Mo., co-sponsored the Student Athlete Level Playing Field Act, which would give college athletes the right to be paid for the use of their name, image and likeness.
In a statement, the NCAA said it valued the bipartisanship of the bill.
"Their House bill will strengthen the college athlete experience and support the NCAA and its members to modernize name, image and likeness rules but not pay student-athletes or turn them into employees of their college or university," the NCAA said.
It is the third bill related to NIL compensation in college sports to be introduced during this Congress, but the first with support from Democrats and Republicans. Six other lawmakers have signed onto the bill, three from each party.
Sen. Jerry Moran, R-Kan., introduced the Amateur Athletes Protection and Compensation Act in February. Earlier that month, Sen. Chris Murphy, D-Conn., and Rep. Lori Trahan, D-Mass., introduced the College Athlete Economic Freedom Act.
Going back to December, Democratic Sens. Cory Booker of New Jersey and Richard Blumenthal of Connecticut introduced the College Athlete Bill of Rights, which would regulate college sports well beyond NIL compensation and force some schools to share sports-generated revenues with athletes.
Republican Sen. Roger Wicker of Mississippi also introduced a bill in December that some critics said was too NCAA-friendly.
The NCAA's attempts to reform its bylaws and permit college athletes to capitalize on their names, images and likenesses have stalled, but several states have NIL laws scheduled to take effect July 1, including Florida and Mississippi.
… Continue reading story here …
–
—
New candidate emerges in search for new Pac-12 commissioner
From the San Jose Mercury News … Struggling to find commissioner candidates who fit their competing priorities, the Pac-12 presidents are considering a governance structure unprecedented in college athletics by which the job would be effectively split into two roles, according to sources with knowledge of the process.
Exactly who would fill those positions remains unclear as the search enters its fourth month. However, one name being actively discussed, per sources, is Amy Brooks, a former Stanford basketball player who current serves as the NBA's president for business operations and Chief Innovation Officer.
The degree to which Brooks has interest in joining the conference isn't known. (Attempts to reach her were unsuccessful.) But TurnkeyZRG, the search firm assisting the Pac-12, has deep connections in the professional sports world and years of experience working with the NBA.
Brooks has never worked in college sports and has no background in football operations. Her expertise is on the business side: Prior to joining the NBA, she worked for Bain and Co., the global management consulting company.
That Brooks has emerged as a potential candidate lends clarity to the competing dynamics at the heart of the Pac-12's search to replace outgoing commissioner Larry Scott, whose tenure ends in June.
The presidents and chancellors are deeply interested in hiring someone from the sports business world who can maximize revenue opportunities, starting with the media rights negotiations that are expected to begin in 18-to-24 months.
But they also recognize the importance of finding a leader who understands the challenges and needs of the campuses.
To date, sources said, the presidents haven't identified a single candidate who meets their standards for both criteria. As a result, they're mulling what would effectively be a package deal.
… Continue reading story here (subscription required) …
–
—–
April 26th
… Foe Pause … 
Paul Finebaum: Nebraska fans "delusional" – "Say a prayer to this program and put it to bed because it's not coming back"
From The Spun … Nebraska football's fan base is as passionate as it gets, but according to some, the Huskers' supporters are not realistic.
ESPN college football analyst Paul Finebaum had a harsh message for the supporters of Scott Frost's program on Monday.
Finebaum used one word to describe Nebraska fans: "Delusional."
The ESPN college football analyst does not see the Huskers returning to glory days.
"I don't think they can (get back to what they once were). I did when (Frost) got there because, to me, he was the coach of the future," Finebaum explained on WJOX. "Sometimes you just have missed your moment. Nebraska is like a lot of these software companies or computer companies of the 90s. They just never change. Or the entertainment companies of the last 10 years that said 'streaming? Nobody cares about that.'"
Finebaum also took a shot at the Huskers' fan base.
"The problem with Nebraska, too, is the fan base," Finebaum explained. "You would have heard Keith (Jackson) and Frank (Broyles) talking about how there's nobody more loyal. That's true. They are a loyal fan base, but they're also a delusional fan base, guys. They still think it's 1980. They still think it's 1990. They still think it's 2000. Go back and look at the first coach after Tom Osborne. They fired the guy because he was winning 10 games a year. They've had pockets of success since then. Every time I talk about Nebraska, I get the big-red machine coming after me. But I think you might as well say a prayer to this program and put it to bed because it's not coming back."
–
—
NFL Draft preview: SEC may double the number of Pac-12 selections
From the San Jose Mercury News … If the mock drafts are correct — and they occasionally are — Alabama will have more first-round picks than USC, Oregon and Washington combined, the SEC will double the number of Pac-12 selections, and the conference on the West Coast will once again be left behind on one of the grandest stages in sports.
If the head coaches, recruiting directors and reams of anecdotal evidence are correct — and they often are — then what happens in Cleveland this week won't stay in Cleveland.
The results of the NFL Draft will zip through the college football talent pipeline to the eyes, ears, hearts and minds of the top high school prospects across the country.
The results will be blasted out through social media channels, splattered all over school websites and made crystal clear in phone calls and text messages with recruits.
… At the moment, the Pac-12's pipeline needs a plumber.
Too many elite prospects are leaving the West Coast for programs that produce the most College Football Playoff berths and NFL Draft picks, from Alabama and Clemson to Oklahoma and Ohio State.
The Pac-12 hasn't sent a team to the CFP in five years and claims just two of the 28 total berths over time.
Its success at the mouth of the talent pipeline is lagging, as well"
First round draft picks 2018-20:
SEC: 34
ACC: 16
Big Ten: 16
Pac-12: 10
Big 12: 9
Total draft picks 2018-20:
SEC: 180
Big 10: 121
ACC: 100
Pac-12: 95
Big 12: 67
The Pac-12's draft production has been remarkably consistent, with no more than 36 and no fewer than 30 selections in each of the past five years.
… Continue reading story here …
–
—
Pac-12 Commissioner Search Update: Rick George not considered a candidate
From the San Jose Mercury News … As the process enters its fourth month, here's what we know:
(Note: All information has been confirmed by multiple sources familiar with the process.)
— The search firm, TurnkeyZRG, is currently vetting as many as eight or 10 candidates, with interviews expected to start in the next week or two.
"No decision (is) imminent," one source explained.
Pac-12 presidents were hoping to name a replacement in time for Scott, whose tenure ends in June, to help with the transition.
But as one source said: "How often in any profession do the outgoing and incoming executives really work together? That stuff never happens."
— Four college sports veterans with ties to the Pac-12 are not candidates: Ohio State athletic director Gene Smith, Alabama athletic director Greg Byrne, Big 12 commissioner Bob Bowlsby and Nevarez.
What about Oliver Luck?
The former West Virginia athletic director, NCAA executive vice president and commissioner of the XFL is believed by some to possess the skill set that would appeal to the broadest sweep of presidents.
The Hotline has been unable to confirm that Luck is involved … or that he has been eliminated from consideration.
Turnkey has lived up to its reputation for secrecy, with help from the tip-lipped Pac-12 presidents. If the process has identified a few preferred candidates at this stage, their names have remained private.
"They have been pretty hush-hush," a source said.
— The presidents have ruled out hiring someone from within the conference (e.g., a current athletic director).
Said one source: "No one connected to the Pac-12 or Larry" is under consideration.
However, there is no consensus on the candidate model; not all the presidents believe that a background in college sports, and college football specifically, is of paramount importance.
In fact, four sources briefed on the process told the Hotline that strong consideration is being given to executives from the sports business world — either professional sports leagues or the sports media industry.
In every case, the emphasis is on candidates with expertise in revenue generation.
… Continue reading story here (subscription required) …
–
—–
April 25th
… Foe Pause … 
USC loses two defensive starters for the season
From USCFootball.com … Senior defensive tackle Brandon Pili suffered a torn Achilles in last Saturday's spring practice, USC head coach Clay Helton confirmed on Saturday. The injury will end his season. Surgery was performed on Tuesday and it was a success Helton added.
USCFootball.com reported in Friday's War Room the nature of Pili's injury.
The Alaska native was injured during a team period portion of practice on Howard Jones Field. Pili went down during the play and stayed down for a couple minutes with team trainers. When he stood up he was unable to put any weight on his left leg and needed to be helped off the field. He was seen on the training table on his stomach and getting the back of leg examined.
Pili is the second key defensive player to suffer a season-ending injury in the last week. Breakout 2020 safety Max Williams suffered a torn ACL in Tuesday's practice and is also out for the season. Pili was projected to compete for a starting job in the middle of the defensive line to replace three-year starter Marlon Tuipulotu, who left for the 2021 NFL Draft.
USC is getting thin on the interior with Pili's injury, also losing redshirt freshman Kobe Pepe to a shoulder injury on Tuesday. Pepe's status moving forward is unclear. USC is also down redshirt senior Caleb Tremblay, who has missed time with an undisclosed injury. The Trojans landed a major defensive tackle transfer in Ishmael Sopsher this offseason, but Sopsher underwent compartment leg syndrome surgery and is out for spring.
Former four-star Grace Brethren (Calif.) 2021 signee and early enrollee freshman Jay Toia figures to be given a lot more time moving forward. Toia replaced Pili with the first-team defense for the rest of practice.
The 6-foot-4, 325-pound Pili was entering 2021 as USC's most experienced defensive lineman with 38 game appearances and five starts to his name. He has 49 tackles, including 7.5 for losses (with 2.5 sacks), three deflections, a forced fumble and a blocked field goal in his career. The former three-star prospect was rated the No. 497 overall prospect in the 2017 class. He was also the No. 40 defensive tackle and the No. 7 prospect in Oregon.
–
—–
April 24th
… Foe Pause … 
Playoff Expansion Debate: Six; Eight; Ten or 12 teams? 
From The Athletic … The College Football Playoff management committee wrapped up its spring meetings with an update that stirred up speculation about Playoff expansion anew.
A working group of four committee members presented an analysis of potential options if the CFP is ever prepared to expand beyond its current four-team format. The CFP hinted at the existence of 63 possibilities for change, involving playoffs with six, eight, 10, 12 or 16 teams.
Although change is not imminent and may still be a long way off, the fact that CFP leaders say they're at least discussing such a wide range of options raises many questions. Max Olson, Matt Fortuna, Scott Dochterman and Christian Caple are diving into the ideas, issues, hurdles and hopes of expansion in this roundtable.
The committee says six-, eight-, 10-, 12- and 16-team formats are under discussion by the working group. Which number makes the most sense right now?
Christian Caple: Much as I'd love to see the eight-team format, I'm starting to think a six-team playoff might be the most politically palatable. It would grant automatic bids to each Power 5 conference champion and, presuming byes for the No. 1 and No. 2 seeds, would allow those top teams to avoid playing an extra game relative to the current format. A six-team format still likely would exclude the Group of 5 because there is no chance the SEC would go for any format that would eliminate Power 5 at-large bids, which a guaranteed G5 spot in a six-team format would require (to say nothing of Notre Dame). But it would at least inject some amount of hope into the Pac-12 fan bases and would give fans another two games to watch. Oh, hell. Eight. Just make it eight.
Fortuna: It's important to remember that the four-team Playoff was initially devised with six power conferences in mind, back when the Big East existed. The Big East collapsed, the Playoff arrived, and suddenly you had five conferences fighting for four spots, which is a lot tougher to swallow when you're a member of the only conference that gets left out. Eight would make the most sense, but that likely would require scrapping the TV money grabs that are the conference title games, and good luck getting any conference to part ways with those.
Olson: Let me start by offering up a stunning revelation: Did you guys know a college football playoff already exists at the FCS level? You've always been told a four-team playoff is the only viable option and anything more than that is unthinkable, but I'm here to tell you that's not totally true. The FCS teams even have done it with 24 teams! North Dakota State played 16 games to win it all in 2019, four of them playoff games. At that level, the top eight seeds got first-round byes in 2019. They're playing a 16-team playoff this spring with 10 automatic qualifiers and on-campus games all the way until the championship. I just want to bring that up as a starting point in this conversation, since it actually exists and actually works.
I'm open to the idea of six teams, but that feels more like a careful compromise that doesn't do much to change this postseason. I've long been content with the idea of an eight-team playoff with the five Power 5 conference champions and three at-large spots, one of them belonging to the highest-ranked Group of 5 team in the final CFP rankings. Knowing how wary so many parties must be about the risks and unintended consequences of expansion, this still feels like a safer move than going to 10 or more teams, turning this into a four-round postseason and significantly shaking up the status quo. Do you guys feel strongly about where these extra games should be played?
Dochterman: I'm intrigued by all the possibilities. If it's six teams, it can be an easy selection process. Conference champions only from the five families, then the best Group of 5 team qualifies, too. Conferences won't feel pressured to schedule a certain number of conference games. Hell, maybe a few conferences would consider going to a 10-game conference season and get more money from media rights deals and fewer buy games.
With a six-team playoff, the top two teams get byes and the bottom four compete on campuses. That saves on costs with only one team traveling, and it opens up new college football cultures to teams from all over the country. That would leave the potential for a Big Ten team to see LSU's Death Valley at night or an SEC team to participate in the Kinnick Wave. Nothing against neutral sites, but college football's best experiences are on campus. No matter the future number, all Playoff games should be on campus until the national semifinals.
… Continue reading story here (subscription required) …
–
—–
April 23rd
… Foe Pause … 
The parable which led Washington's Chris Petersen to give up coaching
From FootballScoop.com … When he walked away in December of 2019, Chris Petersen said he wasn't closing the door on coaching again, but also that he actively hoped his next phase in life was away from the football field. "I'm not ready to do nothing. I've just got to figure out where all this passion, energy and inspiration goes," he said then.
Eighteen months later, Petersen sounds farther away from the grind than he did back then.
In an interview with Sirius XM College, Petersen recalled a passage from The Way to Love by Anthony de Mello, given to him by a friend shortly after he stepped away from Washington.
"Here's a parable of life for you to ponder on. A group of tourists sits on a bus that is passing through gorgeously beautiful country," he reads. "Lakes, mountains and green fields and rivers, but the shades of the bus are pulled down. They do not have the slightest idea what lies beyond the windows of the bus, and all of their time on the journey is spent squabbling over who will have the seat of honor in the bus, who will be well-applauded and who will be will-considered. And so they remain until the journey's end.
"And I'm like, 'That was it.' I'm in this tunnel and I'm missing life and I know it."
That passage echoes a quote Petersen said when he first stepped away.
"To quote an Eastern philosopher," Petersen said then, "we have two lives, and the second begins when we realize we only have one."
… Continue reading story here …
–
—–
April 22nd
… Foe Pause … 
NCAA changes overtime rules – get ready for two-point shootouts
From CBS Sports … The NCAA Playing Rules Oversight Panel on Thursday approved four college football rule changes that will go into effect at the start of the 2021 season. Chief among those rule changes is an adjustment to overtime that is sure to ruffle some feathers.
Teams will now be forced to go for a 2-point conversion starting in the second overtime period. If a game is still tied after the second overtime, teams will engaged in a 2-point conversion shootout, similar to how hockey games are decided with penalty shots.
This is the latest in a series of overtime tweaks have have taken place over the last two seasons. Rules adjusted last year forced teams into the 2-point conversion shootout starting with the fifth overtime. Teams were previously required to go for 2-point conversions following touchdowns starting in the third overtime period.
Overtime rules have come under scrutiny in recent years after several multi-overtime games put players in positions where they were more likely to be injured. The most notable among those came in the final game of the 2018 regular season when Texas A&M topped LSU 74-72 in seven overtimes.
… Continue reading story here …
–
—
NCAA looking to significantly alter Fall Camp structure (full-padded practices down from 21 to eight)
From CBS Sports … The 2021 college football spring practice season is wrapping up, and some significant changes could be coming to how coaches conduct practices once fall camp rolls around. Recommendations from an NCAA working group regarding how to conduct practices are expected to be presented to and forwarded by the NCAA's Football Oversight Committee on Thursday, sources tell CBS Sports' Dennis Dodd.
Recommendations expected to be forwarded by the FOC include the reduction of full-padded practices from 21 to eight, limiting each team to two full scrimmages and banning full-speed collision drills like the "Oklahoma Drill" in which two players fire off the line of scrimmage and hit each other while surrounding by a circle of teammates.
Legislation would formalize what has largely occurred organically in FBS football in the ongoing player-safety movement. Injury statistics have long proved most injuries — especially brain trauma — occur during practices. This comes on the heels of a five-year study that concluded half of the concussions suffered by players took place in preseason camp and nearly three-quarters of them happened outside of actual games.
"The data is the data," West Virginia athletic director and FOC chair Shane Lyons said, according to Sports Illustrated, which first reported the forthcoming recommendations. "We're going to have to make changes. We have to reduce the exposure that we're having with concussions in the preseason practice time period."
These changes, which have yet to be approved, have been in the works for a long time. Dodd reported in June 2019 that SEC coaches specifically discussed the future of the "Oklahoma Drill" after NFL coaches suggested that its teams stop using it in camp. Atlanta Falcons president and CEO Rich McKay, who also serves as the chair of the NFL's competition committee, previously discussed said making that change would reduce injuries and send a message to the football world as a whole.
… Continue reading story here …
–
—
Oregon loses four-star running back to "significant" leg injury
From the San Jose Mercury News … Some college football fans might not be familiar with Sean Dollars.
Other might know him only as the reserve tailback who unleashed several impressive runs in the Pac-12 championship game.
But Dollars is one of the most talented young backs in the conference, a former four-star recruit from prep powerhouse Mater Dei.
And following the departure of Cyrus Habibi-Likio, who transferred to Boise State, he was poised to play an important role in the Oregon backfield next season.
That plan is now on hold.
Dollars suffered what coach Mario Cristobal called a "significant" leg injury during offseason workouts and isn't scheduled to return until some point in the fall.
Details were lacking and injury speculation is tricky, but we took Cristobal's comments to mean Dollars could return in the second half of the season, not the first.
By no means does his absence fully derail Oregon's running game, not with returnees CJ Verdell and Travis Dye.
But it does undercut the depth — substantially — if either of the veterans is injured.
–
—–
April 21st
… Foe Pause … 
Washington star linebacker (Pac-12's returning sack leader) likely out for the season
… Of course, CU plays Washington in mid-November, so watch him work his way back onto the field just in time to face the Buffs … 
From CBS Sports … One of Washington's star players — and one of the Pac-12's best as well — is out for the foreseeable future with a significant injury. Huskies coach Jimmy Lake announced on Wednesday that linebacker Zion Tupuola-Fetui suffered a torn Achilles during a scrimmage the previous week. The injury requires surgery and Tupuola-Fetui will miss anywhere between six and 10 months. Though Lake sounded optimistic that his top defender could return at some point for the upcoming season, it's possible he could miss the entirety of it depending on his rehab.
"He's got a smile on his face, and he told me he's going to be back and ready to go at some point during the 2021 season," Lake said, per the Seattle Times. "I believe he will, with the way he's going to attack rehab."
Tupuola-Fetui led the Pac-12 with seven sacks in four games last season. His 1.75 sacks per game were the most by an FBS player. As a result, he was named a first-team all-conference selection. He also played in 12 games as a redshirt freshman in 2019, notching nine tackles.
His loss is significant, as he's not only one of the best returning players for the Huskies, but for the Pac-12 in general. He could have declared for the NFL draft after the 2020 season, but instead elected to return. Sav'ell Smalls, who saw action in all four games a season ago, could be asked to step up even more as a sophomore. The former five-star recruit and crown jewel of the Huskies' 2020 class had seven tackles last year, including five in a win over Utah.
–
—–
April 20th
… Foe Pause … 
How to Save the Pac-12: A Five-Point Plan
From Stewart Mandel at The Athletic …  Yogi Roth was curious.
Two summers ago, the Pac-12 Network analyst was aboard a Los Angeles-bound flight from The Opening, a showcase event for the nation's top prospects in Frisco, Texas, with several highly ranked West Coast recruits — all of whom had committed to schools in other parts of the country.
"Why are you guys leaving (the Pac-12)?" Roth, a former USC staffer under Pete Carroll, recalls asking. "They were very quick to respond with, 'Hey, I want to play in the Playoff and go to the NFL.'"
It was a symbolic slap in the face for a proud conference that, for decades, produced no shortage of nationally relevant teams — John McKay's powerhouse USC teams in the 1960s and '70s, Don James' Washington juggernaut in the '80s and early '90s or Carroll's 2000s Trojans dynasty. As recently as 2014, Oregon played in the first College Football Playoff national championship game behind Heisman winner Marcus Mariota.
To 17-year-olds, that's essentially ancient history. "Recruits only know what just happened," Roth said. "It's 'what is scrolling on my Instagram feed today?'"
This fall will mark five years since the last Pac-12 team, Washington, reached the College Football Playoff, the second of just two teams in the league to make the CFP in its seven-year history. The SEC and ACC each have had eight; the Big Ten five; the Big 12 four.
Perhaps most telling, the expected starting quarterbacks this season for CFP favorites Alabama (Bryce Young), Clemson (DJ Uiagalelei), Oklahoma (Spencer Rattler), Georgia (JT Daniels) and Ohio State (C.J. Stroud) all hail from Pac-12 states.
… Over the past month, The Athletic spoke with more than two dozen figures — current and former Pac-12 coaches, players and administrators, recruiting analysts, television experts and others — to better understand the biggest issues plaguing Pac-12 football. Several common themes emerged. What follows is a set of suggestions that, taken together, could restore the level of national respect the conference enjoyed back when USC was still considered a national power, Chip Kelly-era Oregon was must-see TV and Stanford QB Andrew Luck was the biggest star in the sport.
The Five-Point Plan … 
1. Admit that football is important
2. Sell recruits on the advantages of the West Coast
3. Lead the push to expand the College Football Playoff
4. Pac-12 TV rights should embrace the streaming market
5. Make the LA schools great again
… Read full story here (subscription required – and highly recommended) …
–
—
USC under Clay Helton: "An afterthought on the national stage at best, a laughing stock at worst"
From CBS Sports … The college football coaching industry is as pressure-packed as any in the American sports world. Whether it's the pressure to build a national championship-caliber program, bring a team back from the abyss or clean up a program marred by scandal, the business can be (and often is) a 24/7/365 grind that demands more than any other coaching job in American sports.
The 2021 season brings plenty of pressure to college football coaches and programs around the country.
Sure, there are several veteran coaches who need to win big in order to keep their jobs, but that isn't the only kind of pressure that exists. Several teams on the brink of greatness need to break through that glass ceiling in order to appease increasingly frustrated fan bases that have dealt with heartbreak over the last few years.
Clay Helton, USC
Helton has been on the hot seat for the last three offseasons, so it should come as no surprise that he finds himself listed here. The Trojans have become an afterthought on the national stage at best, a laughing stock at worst. But here's the thing — an argument can be made that they shouldn't be thought of in that manner. Remember, USC entered championship weekend last year with an unblemished record before losing to Oregon, which actually finished second in the Pac-12 North.
That has put pressure on Helton two-fold. His program's continued struggles are some of the primary reasons that the Pac-12 has become a joke, which is exactly why that unblemished record was ignored by the majority of the country. Helton also needs to win the keep his job. The definition of "big" is different than it is for coaches who lead down-trodden programs. For Helton, it is contending for the CFP in November.
… and, just for fun … 
Scott Frost, Nebraska
The pressure on Frost is similar to the pressure on Harbaugh. He's a legendary quarterback coaching at his alma mater who came in with a ton of hype and hasn't lived up to it. OK, so it's exactly the same. He has a 12-20 record in three seasons, hasn't finished .500 or better in a single campaign, and has placed fifth in the Big Ten West — not exactly a gauntlet — in all three of his seasons back in Lincoln. That won't cut it — not by a long shot.
–
—–
April 19th
… Foe Pause … 
Two Pac-12 AD's in the running for open Big Ten slot
From the San Jose Mercury News … Two athletic directors in the Pac-12, Cal's Jim Knowlton and Washington State's Pat Chun, have interviewed for the Northwestern vacancy, according to a source with knowledge of the search process.
The Wildcats are replacing Jim Phillips, who was named commissioner of the ACC in December.
A decision could come in the next week or 10 days, the source said; other candidates are believed to be involved.
In response to an inquiry from the Hotline, Cal issued the following statement from Knowlton:
"We have a great thing going here at Cal with a bright future ahead. I'm proud of what we have accomplished over my first three years and am looking forward to building on what he have started."
Chun could not be reached, while a Washington State spokesperson declined to comment.
Northwestern could be considered a premier AD job for some candidates — roughly comparable to Stanford, Duke and Vanderbilt — in several respects:
— The $50+ million in annual payouts from the Big Ten.
— The qualify of life in Evanston.
— The less-than-insane pressure to win in football.
There is at least one drawback, however:
Northwestern president Morton Schapiro is stepping down in 2022, meaning the new AD will have a different boss in 18 months.
The Wildcats' interest in both Pac-12 athletic directors makes sense.
… Continue reading story here …
–
—–
April 18th
… Foe Pause … 
Pac-12 Coaches Hot Seat Rankings (Karl Dorrell 2nd "coolest" seat)
From Coaches Hot Seat Rankings …
On the "Hot Seat" …
No. 2 … Clay Helton, USC … six years: 45-23
No. 4 … Scott Frost, Nebraska … three years: 12-20
No. 26 … Chip Kelly, UCLA … three years: 10-21
No. 27 … Steve Addazio, Colorado State … one year: 1-3
No. 28 … Jonathan Smith, Oregon State … three years: 9-22
No. 29 … Mel Tucker, Michigan State … one year: 2-5
Safe for Now …
No. 44 … Jedd Fisch, Arizona … first year
No. 56 … Herm Edwards, Arizona State … three years: 17-13
No. 57 … Nick Rolovich, Washington State … one year: 1-3
No. 62 … Justin Wilcox, California … four years: 21-21
No. 63 … David Shaw, Stanford … ten years: 90-36
No. 84 … Mario Cristobal, Oregon … three years: 25-9
No. 92 … Jimmy Lake, Washington … one year: 3-1
No. 106 … Karl Dorrell, Colorado … one year: 4-2
No. 113 … Kyle Whittingham, Utah … 17 years: 134-66
–
—–
April 17th
… Foe Pause … 
Pac-12 crowds this fall: Prospects "encouraging"
From the San Jose Mercury News … We fully believe crowds of substantial size will be permitted in Pac-12 stadiums this fall, but remember: The conference office has no control over stadium capacity; that's a state/local health issue.
Not surprisingly, the West Coast states are taking a more conservative approach than the other three.
But as of now, the prospects are encouraging:
— California is allowing fans to attend sporting events this spring, with capacity tied to the amount of COVID spread locally.
For instance, counties operating in the so-called orange tier, which includes Los Angeles and most of the Bay Area, can allow 33 percent capacity.
If they move into the yellow tier (least restrictive) by the fall, stadiums can fill to 67 percent.
Currently, there is no option for 100 percent.
— Oregon is using a similar approach, with capacity tied to community spread.
As of today, Lane County (Eugene) is operating in the least restrictive level, meaning the Ducks could fill Autzen Stadium to 50 percent capacity.
But Benton County (Corvallis) is in the highest risk tier, limiting the Beavers to 15 percent.
— Washington is allowing 25 percent capacity for outdoor sporting events.
However, the county-by-county plan could result in different restrictions for the Huskies (King County) and Cougars (Whitman County) come the fall.
— In Salt Lake County, entertainment and recreational venues can operate at full capacity.
The Utes are permitting 6,500 fans for their spring game and are seemingly on track for full capacity at Rice-Eccles Stadium in the fall.
— The situation brightened for Arizona State and Arizona late last month when Gov. Doug Ducey loosened restrictions, allowing the Diamondbacks to fill Chase Field to about 50 percent capacity.
— In Colorado, the current variance limits the Rockies to less than 50 percent capacity, but Gov. Jared Polis recently indicated Coors Field would be "fully packed" for the MLB All-Star Game in July.
That suggests CU could have a capacity crowd at Mile High for the Week Two showdown against Texas A&M.
Bottom line for the Pac-12:
There will be spectators in every stadium, but the crowd sizes likely will vary widely — as will the resulting revenue from ticket sales and concessions.
–
—–
April 15th
… Foe Pause … 
It's on: Regular recruiting calendars to resume on June 1st 
From ESPN … The DI Council approved all Division I sports to return to their regular recruiting calendars beginning on June 1, the NCAA announced on Thursday.
The Council acknowledged schools in different areas of the country could be limited based on regulations set by campus, city and state requirements, but the schools are no longer restricted by the created dead period that had been enacted since March 13, 2020.
"We are delighted to announce that as of June 1, all sports will return to their normal recruiting calendars," said Council chair M. Grace Calhoun, athletics director at Pennsylvania. "We want to thank all prospective student-athletes, their families, coaches and current student-athletes for their patience as we determined the best way to move forward safely with recruiting in Division I."
Men's basketball will start a quiet period on June 1, which allows in-person visits on campus, along with an evaluation period towards the end of the month. Women's basketball will also now be allowed to conduct the quiet period that runs through the entire month of June and will allow the schools to participate in the evaluation period July 6 through July 12.
Football recruiting will have separate waivers and allowances as the Council is permitting on-campus evaluations during unofficial visits during the days football camps, and clinics are allowed in June and July 2021.
For FBS programs, there will be a quiet period allowing camps and on-campus visits from June 1 through June 27, a dead period from June 28 through July 24 and a return to a quiet period July 25 through July 31.
That waiver will allow coaches to work players out individually while on unofficial visits to help make up for time lost with missed evaluation periods over the last year.
… Continue reading story here …
–
—–
April 14th
… Foe Pause … 
Arizona hires Gonzaga assistant coach Tommy Lloyd 
From CBS Sports … Tommy Lloyd, the longtime top assistant to Mark Few at Gonzaga, is slated to be Arizona's next men's basketball coach, sources told CBS Sports. An official announcement is expected soon.
Lloyd beat out three former Arizona players/current coaches in varying capacities: Pacific head coach Damon Stoudamire, Arizona assistant Jason Terry and Lakers assistant Miles Simon. Arizona alum Josh Pastner also interviewed for the job, sources told CBS Sports.
Gonzaga has had an agreement with Lloyd for years to be Few's successor whenever Few retires, but Arizona is regarded as a top-10 job in college basketball and this opportunity is too good to pass up. For Lloyd, 46, it's a chance he's been waiting for and one he's earned. Alongside Few, he helped build Gonzaga's program into one of the best in the sport.
Lloyd landed the job after interviewing with Arizona president Bobby Robbins on Saturday. Discussions slowed for a few days while Arizona circled back on candidates before taking next steps. Things accelerated Wednesday, when Lloyd became the clear choice. This will be his first job as a head coach.
–
—
Stanford alumni continuing fight to try and keep school from dropping 11 sports
From ESPN … Within minutes of the coaches and athletes finding out their sports would be cut last July, Stanford sent out a press release, dressing it up as an open letter from president Marc Tessier-Lavigne, provost Persis Drell and Muir, to announce the elimination of men's and women's fencing, field hockey, lightweight rowing, men's rowing, co-ed and women's sailing, squash, synchronized swimming, men's volleyball and wrestling.
"We were still on the zoom call when I started getting texts from people about it," Stanford wrestler Shane Griffith said. "How could they release this to the public before even some of [the athletes] knew what was happening? That was heartbreaking."
Athletes were informed that their scholarships would be honored should they choose to remain at Stanford to finish their degrees, but the sports would no longer be sponsored after the 2020-21 academic year. Griffith wasn't the lone athlete with the potential to one day compete for an Olympic spot to see their world turned upside down.
"These 11 programs consist of more than 240 incredible student-athletes and 22 dedicated coaches," the release said. "They were built by more than 4,000 alumni whose contributions led to 20 national championships, 27 Olympic medals, and an untold number of academic and professional achievements."
In an attached FAQ, the school said the decision was "considered a last resort, only to be undertaken if all other viable avenues had been exhausted" and "comes down primarily to finances and competitive excellence."
Those lines rang hollow for people associated with Stanford athletics — including Olympians, current and former pro athletes, Stanford athletics hall of famers, current students, coaches and staff members. The idea that all viable avenues were exhausted despite keeping the overwhelming majority of the stakeholders in the dark was easy to dismiss out of hand, while independent fundraising efforts and athletic performances since, like Griffith winning a national championship in March, have exposed major holes in the logic presented in the original announcement.
After the news broke, a group of alumni that calls itself 36 Sports Strong formed to attempt to reverse the university's decision. The group counts Andrew Luck (football), Julie Foudy (soccer), Kerri Walsh Jennings (volleyball), Josh Childress (basketball), Janet Evans (swimming) and Michelle Wie (golf) among a large list of high-profile advocates for the cause.
In an interview with ESPN on Friday, leaders from the group said they have received more than $50 million in pledges to save the sports, are close to fully endowing four and are optimistic they will be able to raise the remaining money needed to allow the 11 sports to become financially self-sustaining in the near future.
"I'm looking at the numbers and we believe that we are between 55 and 60% of the way there based on what we have," said spokesman Jeremy Jacobs, a former Stanford volleyball player. "And this is in six months. So give us a couple of years and we think we can get there."
One of the main sources of frustration for the 36 Sports Strong group, along with the impacted student-athletes and coaches, has been a steadfast refusal by the administration to discuss possible solutions. On Tuesday, however, the group is set to virtually meet with university leadership, at the request of Tessier-Lavigne, to discuss the group's petition.
Stanford declined ESPN's request for an interview with someone familiar with the university's decision-making process, but issued a statement in which it disagreed with 36 Sports Strong's financial evaluation.
"Discontinuing sports was an extremely painful decision, and it was driven by the financial challenges of supporting twice as many varsity teams as the Division I average at the level we believe is essential for our student-athletes to excel," according to a Stanford spokesperson. "The fundraising numbers cited by groups that have organized to reinstate individual sports and all 11 sports have significantly underestimated the total amount of funding required to support the programs they wish to reinstate and, in most cases, do not appear to be accounting for the need to adhere to Title IX gender equity requirements.
"President Tessier-Lavigne looks forward to meeting with the leaders behind the petition to ensure their perspectives are thoroughly heard."
The alumni group doesn't just want to be heard — it expects a substantive discussion about how to save the sports and work on implementing a model that will allow them to thrive long-term.
"I don't think we need a meeting just to be placated and soothed and be told that we've been heard," said former NBA player Adam Keefe, a 2000 induction into the school's athletic hall of fame who now works as a financial advisor. "We've had that meeting before. So the fact that [Tessier-Lavigne] reached out lends us to believe that they're actually trying to figure out how to right this wrong, and how to restore the institutional credibility that they've lost to this process.
"I think after digging, really deep diving into the finances, it is very clear that this is not a financial decision. Cutting the 11 Sports will not eliminate the deficit in the athletic department."
… Continue reading story here …
–
—–
April 13th
… Foe Pause … 
USC conducting an actual spring game – and are allowing in 5,000 fans
… Dare to dream! … As noted previously, a number of Pac-12 schools, most recently Arizona and Washington, have opened up practices to fans … and every other Pac-12 school is playing its Spring game on a Saturday. CU's April 30th "Spring Showcase", which currently isn't open to the public (thanks, Boulder County!), will not be a Spring game, but drills followed by a scrimmage (Even if there were an actual Spring Game planned, it would likely be limited due to the lack of healthy offensive linemen), and will be conducted at 9:00 a.m. on a Friday … 
From Reign of Troy … Well, would you look at this? Not only will USC football fans be welcomed back to the Coliseum on Saturday, but they'll be treated to a proper Spring Game.
After years of the Trojans holding a glorified (and not-so glorified) spring practice in the form of a Spring Showcase, this year the Spring Game concept will return.
In a press release, USC confirmed the Spring Game "will feature four 12-minute quarters of live contact play, with the Trojan roster split into Cardinal and Gold squads."
That means real life football at the Coliseum.
Best of all, friends and family of players as well as 5,000 Trojan fans will be in attendance. Season ticket holders will have to first crack at buying tickets.
Those who can't make it out to the Coliseum will be able to watch on Pac-12 Network at 1 p.m. PT.
… Continue reading story here …
–
—–
April 12th
… Foe Pause … 
Anticipated record payout by Pac-12 Networks in FY '22 still not up to baseline projections from 2012
From the San Jose Mercury News … It has been a difficult year for the Pac-12 Networks, which lost its football inventory, tens of millions in revenue and dozens of staff members. But the other side of the pandemic could bring unexpected success in one aspect of the core mission.
Assuming college sports return to normal in the fall, the conference's wholly-owned media company is projected to produce a record surplus in the 2022 fiscal year.
Current estimates call for a net surplus of $45 million, resulting in distributions of $3.75 million per campus, according to a Hotline source familiar with budget projections.
That figure is approximately $1 million more per campus than the last publicly reported payout, of approximately $2.8 million per school, from the 2019 fiscal year.
The FY20 payouts are expected to have increased slightly from that point and will be reported by the conference this spring with the release of its 990 tax filings.
The FY21 payouts are in flux and will feel the full impact of the pandemic — particularly the loss of the entire football season, which generates the majority of revenue for the networks.
When asked to explain the expected surge in both net surplus and campus distributions in FY22, Pac-12 Networks president Mark Shuken said via email:
"The Pac-12 Networks has been able to significantly increase distributions to members during the period 2019 – 2022 (projected) through a combination of diversification of revenue streams and efficiencies realized through new and innovative production technologies."
Notably, the post-pandemic payouts will mark the first time the networks have reached the baseline revenue goals laid out by commissioner Larry Scott prior to the launch of the networks in 2012.
… Continue reading story here …
–
—
Without playing a game, UNC parts ways with offensive coordinator
From FootballScoop.com … The University of Northern Colorado did not get to play any football games in the fall due to the COVID-19 pandemic and had scheduled only a couple of closed scrimmages this spring.
Nonetheless, coach Ed McCaffery is making major changes on the offensive side of the football, sources tell FootballScoop.
McCaffery is parting ways with offensive coordinator Dave Baldwin and running backs coach Lyle Moevao, per sources.
Baldwin arrived at UNC with deep ties already to McCaffery as well as the Elway football family. Baldwin had served as McCaffery's wide receivers coach at Stanford.
He also had a bevy of other stops around college football, including most recently serving on the Oregon State staff for three seasons from 2015-17. After a couple years away from the game, Baldwin returned to help McCaffery atop the Bears program.
Like Baldwin, Moevao had previously served on the staff at his alma mater, Oregon State. He had coached with Mike Riley, the Beavers' former long-time head coach, in the Alliance of American Football.
Moevao also served as the Bears' recruiting coordinator.
Named head coach in December 2019, McCaffery is yet to officially coach his first game for the Bears.
Northern Colorado is set to open its 2021 season at Colorado Sept. 3.
–
—–