—
Colorado Daily
—
April 15th
… CU in a few minutes … 
Cornerback Mekhi Blackmon practicing at nickel: "I feel like it's gonna boost my game"
From the Daily Camera … This spring, CU has completed eight of 15 practices, and the experienced Blackmon is showing up as a leader in the secondary.
"Mekhi has taken a leadership role," Martin said. "He's trying to push guys along, obviously, showing them that, 'Hey man, hard work is gonna pay off and put yourself in a good position to be able to make plays during the season.' He's working on that end and he's making a conscious effort, which is good to see. When you've got a guy that wants the guys to follow him, it forces him to work harder and be a leader by example, too."
After playing exclusively at outside corner last year, Blackmon said he's been working at nickel this spring.
"We have a few newcomers this spring, early enrollees, so right now they're trying to get those guys caught up to speed," he said. "I've told (the coaches) I wanted to go into the nickel, I wanted to play in the slot, which will help me more when I do go back to corner in the fall. I just had to understand different leverages and stuff like that. So I feel like it's gonna boost my game."
Martin said the move isn't necessarily permanent but is another example of CU coaches cross-training defensive backs so they can fill various roles when needed.
"We want guys to be able to play different positions and be true defensive backs," Martin said. "Moving guys around and getting familiar with the defense, within playing different spots that way, they can better master their spots that they hone in on later on in the season."
… Continue reading story here …
–
—
J.T. Shrout making a good impression – Langsdorf: "I feel really good about his progress"
From the Daily Camera … Although he's played in games at the college level, JT Shrout had some catching up to do this spring when he joined the Colorado football team.
As the Buffaloes crossed the mid-point of spring practice on Wednesday, however, Shrout is making a good impression.
"For a newcomer, he's behind the eight ball a little bit but he's done a great job, studying, really putting in the time in the offseason to be comfortable at this point in spring ball," CU quarterbacks coach Danny Langsdorf said Wednesday after the Buffs' eighth practice of spring.
A transfer from Tennessee, Shrout enrolled at CU in January. On Wednesday, the Division I council reportedly approved a one-time transfer exemption, making Shrout eligible to play this fall. While that was expected, it boosts the CU quarterback room to know Shrout will be available.
… Continue reading story here …
–
—–
April 14th
… CU in a few minutes … 
Will Matt Lynch be one of the tight ends to make the cut? 
From the Daily Camera … Matt Lynch made the transition from quarterback to tight end while at UCLA in 2019 and now feels comfortable there. A graduate transfer from UCLA, Lynch is heading into his second season as a walk-on with the Buffs.
"Going to this past season, my second year (at tight end), it was just tight end everything," the Legacy High School graduate said. "Going into it now, I've got a tight end brain, but I still think a little bit like the quarterback; getting a little bit more physical, just working on my game as a tight end."
Lynch played sparingly at UCLA, but caught one pass in 2019. Last season, despite battling an injury that cost him two games, he played 157 snaps, caught two passes and got his first career start in the Alamo Bowl.
Because of the COVID-19 pandemic leading the NCAA to grant players an extra year of eligibility, Lynch is taking advantage of the opportunity to extend his college career.
"It's been good, being around the guys for a whole other year," he said. "I wasn't expecting it, but I'll take it. Any chance that I can get better, an opportunity to develop myself as a tight end I'm all about, so it's been fun."
… But who will make the cut at tight end? … 
From the Daily Camera … CU has 12 tight ends this spring, including five walk-ons, but likely won't have that many in the fall.
"I've never had 12," Dorrell said. "That's a lot, I get it, but it's pretty competitive.
"I like that group. It has a lot of different types of players; guys that are more just in the run game and some guys that are just new to the position. It's a luxury right now, I guess, having 12. The problem is I don't think we're going to be able to carry that many going into training camp."
CU can bring 120 players into fall camp, and Dorrell said the Buffs will have to figure out how to reduce their numbers at tight end.
"I don't know what that number will adjust to yet but it probably won't be 12," he said.
–
—–
April 13th
… CU in a few minutes … 
They're Baaaack! Six games added to the Rocky Mountain Showdown
Press release from CUBuffs.com … SIX MORE GAMES SCHEDULED IN ROCKY MOUNTAIN SHOWDOWN SERIES
CU, Colorado State to play on the gridiron eight times over the next 18 years
BOULDER – The Rocky Mountain Showdown might be on temporary hiatus for the next two years, but the series will go on as the University of Colorado and Colorado State University jointly announced Tuesday a six-game series that will have the schools play in a two-on, two-off format beginning in 2029 through 2038.
The contract, finalized and signed over the last couple of weeks, adds three home-and-home meetings to one already on the books, bringing the total to eight games over the next 18 seasons.
In addition to games already scheduled in 2023 (Boulder) and 2024 (Fort Collins), three games at Folsom Field are scheduled for 2030, 2033 and 2037, with three at CSU's new Canvas Stadium in 2029, 2034 and 2038, the latter of which stands to be the 99th meeting (barring a postseason match-up) between the two rivals located roughly 45 miles apart.
Colorado has won five in a row and leads the all-time series by a 67-22-2 count: 31-9-1 in Boulder, 23-7-1 in Fort Collins and 13-6 in Denver, where 19 of the last 22 games in the series were played.  The Buffaloes have played the Rams more than any other school in its history, as the series dates back to a "challenge" game played on February 11, 1893.  CSU has played Wyoming in what has become known as the "Border War" 111 times, with CU its next most common opponent.
"This has been a great series for the state, and we wanted to be sure we had games locked in moving forward," CU athletic director Rick George said.  "The two-on, two-off format we've adopted provides both schools some flexibility to schedule other non-conference opponents in other parts of the country, which play a role in several factors, including alumni engagement and recruiting.  We have some exciting series coming up this decade, but also felt it was prudent to secure CSU deep into the 2030s."
The 2020 meeting scheduled for Fort Collins, the last in a contract that covered 11 games beginning in 2010, was canceled due to the COVID-19 pandemic.
Colorado's schedules are nearly complete through the 2028 season with a few other games scheduled beyond that year.  Those include home-and-home affairs with Minnesota (2021-22), TCU (2022-23), Nebraska (2023-24), Georgia Tech (2025-26), Houston (2025-26), Northwestern (2026-27), Kansas State (2027-28), Florida (2028-29) and Missouri (2030-31).
The four games with CSU in the 2030s decade are the first ones finalized for the Buffs; school officials are working on several other potential series they hope to finalize in the coming months, as many schools nationwide have already announced games as far out as 2040.
FUTURE ROCKY MOUNTAIN SHOWDOWN DATES
Sept. 16, 2023 Boulder (Folsom Field)
Sept. 14, 2024 Fort Collins (Canvas Stadium)
Sept. 15, 2029 Fort Collins (Canvas Stadium)
Sept. 14, 2030 Boulder (Folsom Field)
Sept. 17, 2033 Boulder (Folsom Field)
Sept. 16, 2034 Fort Collins (Canvas Stadium)
Sept. 19, 2037 Boulder (Folsom Field)
Sept. 11, 2038 Fort Collins Canvas Stadium)
–
—
Ashaad Clayton: "My time is coming – Darian Hagan is a legend and I listen"
From CUBuffs.com … Colorado freshman running back Ashaad Clayton admits his first year with the Buffaloes didn't always go smoothly.
"It was a humbling experience," the four-star recruit from Louisiana told the media Monday. "The transition from being the top guy to basically starting from square one … I kind of got down a little but I just stayed the course and worked my tail off, learned the playbook and just developed."
Clayton's first season in Boulder — his "Covid freshman year" — no doubt presented a long list of obstacles. There were the normal transition issues faced by many college freshmen, including a dose of homesickness, as well as the postponed/canceled/delayed season that played havoc with the entire CU team.
But through it all, Clayton had his mother and grandmother as a support system — as well as CU running backs coach Darian Hagan, who could identify with many of the issues Clayton faced.
"Hagan's like a father figure I never had," Clayton said. "He always says we grew up a lot alike. We've developed a relationship … Every time he talks I take in his knowledge."
Hagan can indeed identify with Clayton's circumstances. A highly recruited quarterback from California in the Bill McCartney era, he played sparingly as a freshman before bursting onto the scene as a sophomore.
"He was always telling me, 'Your time is coming,'" Clayton said. "Sooner or later, my time did come in the Arizona game."
Thanks in large part to an outstanding season from Jarek Broussard, Clayton's playing time was limited in CU's five-game regular season schedule last fall. He appeared in just three games and registered just seven carries for 31 yards — but four of those carries came against Arizona, when he ran for 24 yards and two touchdowns.
 "That kind of boosted my confidence," Clayton said. "Hagan is a legend and I Iisten."
… Continue reading story here …
–
—–
April 12th
… CU in a few minutes … 
Jonathan Van Diest: "Still a long ways to go, but I feel like I can run again"
From the Daily Camera … Jonathan Van Diest's ankles haven't felt good the past two years.
It was watching himself on film, though, that really led him to do something about it.
After a winter of speed training, the Colorado junior linebacker is feeling good as the Buffaloes go through spring practices.
"I think I feel a difference, personally, and what prompted that was just watching film the last two years," Van Diest said. "I'm a hard worker, I work my butt off, but just getting frustrated watching on film from having ankle issues. I just felt like my running form got stiff, and I just feel like I kind of lost what it felt like to be the athlete I was. I can see it on film."
An all-state selection at Cherry Creek High School, Van Diest joined the Buffs in the fall of 2017 and earned a spot in the starting lineup going into the 2019 season. He started the first five games, but has been in a reserve role ever since — aside from two spot starts in 2020.
Although Van Diest has compiled 30 regular season tackles in only 255 defense snaps the past two years — plus five tackles in the Alamo Bowl in December — he never felt right, so he spent the offseason working with a speed coach.
"I knew what was wrong; I just didn't know how to fix it on my own," he said. "So I had to find someone and get that work in. I personally think it's gotten better. Still a long ways to go, but I feel like I can run again. I feel athletic, which is great. It makes the sport fun."
… Continue reading story here …
–
—
Landmark one-time transfer legislation expected this week
From CBS Sports … It is expected that significant headway will be made toward instituting one-time transfer legislation during NCAA Council meetings scheduled for this week, multiple sources told CBS Sports. The long-awaited, landmark statute would allow athletes who qualify to transfer once during their five-year eligibility window without having to sit out a year in residence.
"I would expect action on that [this week]," a source close to the NCAA Council said.
The expectation is that athletes in fall sports will have until July 1 to notify their schools they are transferring to take advantage of new rule. It is expected that college football and basketball athletes who have already transferred this academic year — as well as those currently in the transfer portal — would be immediately eligible in the 2021-22 academic year.
The year-in-residence restriction has existed in some form for at least a portion of sports sponsored by the NCAA since 1964. Athletes in only five of the 24 sports sponsored by the NCAA – the so-called "revenue sports" of football, men's and women's basketball, baseball and hockey — currently have to sit out a year in residence when transferring.
The measure would then have to be approved by the NCAA Board of Directors at its April 28 meeting to become official legislation.
A special NCAA Council meeting was called on April 1 to iron out details.
However, discussion and debate on the issue is expected, and the Board of Directors could intervene. In November 2019, the board imposed a moratorium on transfer legislation for the 2019-20 academic year.
Shortly before that date, the Big Ten quietly proposed one-time transfer legislation. That created recent momentum to consider dropping the rule that had been around for parts of seven decades.
To qualify, athletes have to be in good academic standing and not have faced disciplinary issues. A league's intraconference rules will still supersede any NCAA legislation, but those walls appear to be coming down, too. The ACC, for example, recently did away with intraconference transfer restrictions, while the Pac-12 seems to be headed that way.
–
—–
April 11th
… CU in a few minutes … 
New Diversity, Equity and Inclusion Director DaWon Baker: "It's going to make us better"
From the Daily Camera … The racially-tinged shooting that occurred near his hometown forever changed the life direction of DaWon Baker.
The unrest that followed at his school, the University of Missouri, helped set Baker on the path that has led him to Colorado.
This week, CU named Baker its first Associate Athletic Director of Diversity, Equity and Inclusion (DEI). During a time of reckoning for equal treatment and opportunities for student-athletes of all genders and racial backgrounds on campuses across the nation, Baker's drive to make the Boulder campus a more inclusive and welcoming place comes from a place of angst.
Baker, a native of St. Louis, was a senior at Missouri when police in Ferguson, a St. Louis suburb, killed 18-year old Black man Michael Brown. A year later, protests rocked the Mizzu campus, with students calling out the administration for its lack of effort in addressing racial attacks on campus. The Tigers football team even threatened a boycott, leading to the resignation of campus president Michael Wolfe and chancellor R. Bowen Loftin.
In light of those emotional events, Baker underwent his own personal reckoning.
"I get back to campus, and this is the beginning of the school year, and there are friends of mine who are holding candlelight vigils," Baker said. "Friends of mine who are talking to the psychologists on campus, who are asking administration, 'Hey, this is happening two hours away down the street and we have a lot of students from that area. Is there any resources you can provide or is there anything you can say from a statement perspective or really just try to understand where we're coming from?' I would say a lot of my friends thought that stuff kind of fell on deaf ears.
"I loved my experience at Mizzou. But to me it was pretty apparent they weren't equipped to handle it. Seeing that in real time, and seeing the disconnect and how what happened literally rocked campus, that was my first time understanding there is an actual strategy that is at play here. It's not just about OK, we posted a statement and we condemn it and we're all good. People were asking for a real legitimate strategy and answers how we're going to deal with this from a student body perspective. How we're going to help our faculty talk about this. That was my first time seeing that in real time and I was fascinated. I said I need to pay attention to this. There is a right way and wrong way, and I wanted to make sure if this happens again I can be in on the right way."
… Continue reading story here …
–
—–
April 10th
… CU in a few minutes … 
Rick George on past year: "I haven't had anybody tell me it wasn't (worth it)"
From the Daily Camera … Despite significant challenges and difficult days, George said there is one main reason he's motivated to work every day.
"The young people," he said. "Just being able to see them go out there and compete. … That's what makes it all worth it."
One of the best moments of the year for George was when the toe of UCLA's kicker hit the ball to get the football season underway on Nov. 7 at Folsom Field.
"I can remember just taking a deep breath when that happened and just being thrilled that we were at that point," George said.
The football team reached a bowl game for the first time since 2016. Dorrell – hired less than a month before the COVID-19 shutdown – earned Pac-12 coach of the year honors, while running back Jarek Broussard was named Pac-12 offensive player of the year.
Since the return to play, student-athletes have gone through daily testing, a life adjustment with remote learning and tutoring and wholesale changes in their social routines. Still, some have had to deal with getting the virus or quarantine time, while having the occasional practice or game canceled.
Through Saturday, however, CU teams had competed in 163 events since November 7. Seven teams have completed their seasons and six others are still going.
So far this school year, CU has produced:
The best football season since 2016
One of the best men's basketball seasons in 50 years
The best women's basketball season since 2013
Two national champions in skiing (Magus Boee sweeping two men's Nordic races and Cassidy Gray in women's giant slalom)
A Pac-12 cross country champion (Eduardo Hererra)
A soccer team still in the hunt for a postseason berth
Record-breaking performances in track and field
The best GPA in CU athletics history in the fall
The grind has been difficult, but George said, "I haven't had anybody tell me it wasn't (worth it).
"I hope they don't have any regrets because I don't. And all the hard work that our staff put in, I mean we've probably never worked more hours than we've worked this year; I'm talking about our entire staff that's been here on site has been pretty incredible."
… Continue reading story here …
–
—
Karl Dorrell after first two weeks of spring practices: "I like where the defense is with what they're doing there"
From CUBuffs.com … Colorado's first scrimmage of the spring was an abbreviated affair Friday, with Karl Dorrell's Buffaloes getting in about 25 full-contact plays.
Dorrell and his staff are having to create a delicate balance this spring because of a lack of depth on both sides of the line, particularly on the offensive side. While it means plenty of reps for the linemen who are available, CU coaches must also be prudent when it comes to full-contact work.
"We're really thin up front right now," Dorrell said. "That's been our biggest challenge. That hurts a lot of the productivity from an offensive standpoint … We'll get a few more pieces back and we'll be a little more efficient offensively. We just have to be smart with the number of snaps we're doing and teaching them and letting our young people grow in our systems."
Still, despite the limited scrimmage work, Dorrell has a good grasp of where his team stands after its sixth practice of the spring.
Right now, it means the defense might be a step or two ahead of the offense.
"I feel our defense is really making some positive strides and coming together and getting better," Dorrell said. "They're challenging the offense on every single snap."
The Buffs are in the process of installing a new defensive scheme. While some of the concepts are the same as in recent years, the terminology, calls and assignments are different.
To see the defense adapt so quickly to the changes is a good sign.
"In the spring the defense is usually ahead," Dorrell said. "Then when training camp occurs,  toward the end of training camp you start to see the progress the offense has made. I'm actually more encouraged that our defense is ahead of our offense."
… Continue reading story here …
–
—–
April 9th
… CU in a few minutes … 
Carson Wells: "This defense is really designed for us to make plays"
From stayaliveinpowerfive.com … Colorado's star defender is ready to pick up where he left off after leading the FBS in tackles for loss last season.
Having no spring ball last year and a new Defensive Coordinator in place, has made practice intense for the linebackers. Pads are popping, guys are in each others' faces, all while learning new terminology. With Nate Landman recovering from a torn Achilles, Carson Wells is the veteran of the unit and embraces the responsibility.
Leading and guiding the younger linebackers has Wells energized for every practice. He believes the group is getting better and healthier every day. Devin Grant has looked up to par so far, with a couple of sacks in practice last week. Not to mention Jamar Montgomery and Joshua Gustav have both impressed Wells.
Chris Wilson is laying down the foundation he wants to build for Colorado's defense, and the linebackers will be on the frontline. It all has been a seamless transition for Wells and his teammates are right behind him on the learning curve.
"It's pretty easy for me, you take a concept approach and you try to group things together," Wells said. "You have to break it down into similar topics, because there's only so many ways to play defense."
The six-foot-four, 250-pounder is confident he can excel in cover three, cover four and man to man. The linebackers are going to be able to pin their ears back instead of having to think too much, which in return should allow them to thrive.
"It definitely opens it up for us to make more plays, you have to have that dog mindset," he said. "This defense is really designed for us to make plays and we just got to go out there and execute."
… Continue reading story here …
–
—
**Video – "Discovering Dorrell" – an in-depth interview with CU's head coach** 
From BuffsTV … Voice of the Buffs Mark Johnson goes on a deep dive to learn more about CU football coach Karl Dorrell. Also included are former players interviewing current players. Former Thorpe Award winner Chris Hudson interviews Mekhi Blackmon, Alonzo Barrett talks with Terrance Lang, Mike Pritchard interviews Dimitri Stanley and Butkus Award Winner Matt Russell interviews Nate Landman.
Karl Dorrell: 1:17​–15:12​ 25:00​–37:35​ 46:07​–50:06​ 56:15​–1:02:00​
Mekhi Blackmon & Chris Hudson: 14:53​–24:57​
Terrance Lang & Alonzo Barrett 37:36​–46:04​
Dimitri Stanley & Mike Pritchard 50:08​–56:07​
Nate Landman & Matt Russell 1:02:00​–1:11:22
–
—–
April 8th
… CU in a few minutes … 
First spring scrimmage: Position battles to be the highlights
From CUBuffs.com … Karl Dorrell's Colorado Buffaloes will conduct their first scrimmage of the spring Friday, a workout that should provide at least a glimpse of some of the changes on both sides of the ball.
The Buffs are installing a new defensive scheme under new coordinator Chris Wilson, and they're making some offensive changes as well to incorporate some new looks on coordinator Darrin Chiaverini's side of the ball.
Dorrell has said he hopes to get the basic installation of the new playbook completed on both sides by the end of the spring. He also indicated he will "stress" his players just a little and challenge them to absorb as much as possible in the 15 allotted practices (Friday's scrimmage will be No. 6).
But along with changes to the playbook, spring is equally important when it comes to giving young players a chance to compete. Dorrell has said he hopes to have a depth chart formulated at the end of the spring session, and there are a number of positions where up-and-comers are getting their chances to show they deserve a long look when fall camp rolls around.
Five positions that are shaping up as spots that will be fun to watch right up until the Sept. 3 season opener:
… Continue reading story here …
–
—
Today is CU Athletics Giving Day! ($168,673 raised so far!)
From CUBuffs.com … Our CU Athletics Giving Day is a day that we are being called together as ONE community, with ONE goal and ONE purpose—to support the nearly 350 student-athletes of CU Athletics. We are ONE Buffs Nation and we are going to need each and every ONE of you as we look to gain donors from every state in the nation!
How funds will be used … Our student-athletes have continued to prevail under the unfortunate circumstances that have altered their athletic careers, their daily schedules and lifestyle, and the overall college experience of a D-I student-athlete. Our staff has continued working hard to help develop and support our student-athletes in reaching all their goals–in the classroom and on the competitive playing surface. Your support of CU Athletics is instrumental in helping to provide a holistic experience for our student-athletes throughout these difficult times.
Money raised from the ONE Campaign will offset associated costs of the pandemic such as an extra year of eligibility for scholarships and other COVID expenditures.
$189,014 of $100,000 goal raised … 577 donors of 1,000 goal …
… Donate here …
–
—
Darrin Chiaverini: "We've been able to do a lot of self-scout evaluation"
From the Daily Camera … With no spring ball, a delayed fall camp and season, and new starters at several key positions – including quarterback – the Colorado Buffaloes didn't have a lot of time to get their offense ready for the 2020 football season.
This year, the Buffaloes have that time and offensive coordinator/receivers coach Darrin Chiaverini is eager to see what they can do with a full offseason.
"What we've been able to do as an offensive staff is do a lot of self-scout evaluation," Chiaverini said Wednesday after the Buffs' fifth practice of spring. "That's what's good about having spring ball. We have a chance to truly evaluate and last year we didn't really get that."
Now entering his sixth season on the CU coaching staff, Chiaverini knows the personnel, and recruited many of the players on offense, but said the limitations of the 2020 season, due to the COVID-19 pandemic, made it tougher for first-year head coach Karl Dorrell and other new staff members to get a feel for the roster.
Going through the 2020 season, although it was short, gave Dorrell and the staff an opportunity to get better prepared.
"We've had a lot of time since going through that six-game schedule to kind of self-scout evaluate and see how we can improve the offense," Chiaverini said. "At the end of the day, it's about scoring points and winning football games. I like where we're going with this thing."
… Continue reading story here …
–
—–
April 7th
… CU in a few minutes …
Dorrell on Terrance Lang: "He runs like a deer … We think he's going to be fantastic"
From the Daily Camera … Junior defensive end Terrance Lang was also a part of Tuesday's virtual event, as he was interviewed by former CU defensive lineman Alonzo Barrett (2004-07).
Asked about his goals, Lang, who has eight career quarterback sacks, said, "On my mirror in my room I have two goals written out. It's to get a sack a game and the other one is, as far as school, to get a higher GPA than I got last semester. I've got those two goals written on my mirror in my room and I see them every day."
Lang is not participating in team workouts this spring because of offseason shoulder surgery, but Dorrell said the 6-foot-7, 290-pound Lang is doing well in conditioning.
"He's lapping the defensive lineman," Dorrell told Johnson. "He runs like a deer. … It's an impressive thing to see because he's a fabulous athlete. We're hoping he obviously gets recovered from the shoulder surgery and gets ready to go for the fall. We think he's going to be fantastic."
Dorrell added that Lang had his best academic semester in the fall. Last season, Lang had 14 tackles, one sack, and five tackles for loss.
–
—
Center Colby Pursell healthy and happy to be practicing: "Right now I'm feeling pretty good"
From the Daily Camera … As a freshman in 2018, Colby Pursell became a fixture in the Colorado Buffaloes' lineup and seemed poised to anchor the offensive line for several years.
Injuries and illness have limited him to 10 games the past two years, but the 6-foot-4, 305-pound junior is feeling good this spring.
"It was kind of a weird little trip I've been on since I've been here, as far as injuries, but right now I'm feeling pretty good," Pursell said Monday after the Buffs' fourth practice of spring.
In 2018, Pursell became just the third freshman to start a season opener at center at CU. He wound up starting all 12 games and played more snaps (830) than anyone on the line.
In 2019, he moved to right guard but was limited to seven games (five starts) after having his gallbladder removed in the middle of the season.
Last season, Pursell was back at center and started three of the Buffs' six games, but missed three games in the middle of the season because of an injury.
This spring, Pursell is working at center – but said he could shift to guard if needed – and is feeling good physically. He gives some of the credit to new director of strength and conditioning Shannon Turley, who was hired on Jan. 29th.
… Continue reading story here …
–
—–
April 6th 
… CU in a few minutes … 
CU names DaWon Baker as first-ever Associate Athletic Director for Diversity, Equity and Inclusion (DEI)
Press Release from CUBuffs.com … DaWon Baker has been named the University of Colorado's first-ever Associate Athletic Director for Diversity, Equity and Inclusion (DEI), Athletic Director Rick George announced Tuesday.
Baker joins the Colorado staff from the University of Nebraska, where he has served in a similar role as the Huskers' Diversity & Inclusion Director in Life Skills and Enrichment since September 2018.  He will begin his new position on May 1.
At Nebraska, he was responsible for diversity and inclusion initiatives for all staff, coaches and student-athletes. He provided oversight and direction on the annual Diversity and Inclusion Summit, Next Steps outreach, N-Vest Mentoring Program, direction of the campus-wide Husker Athletics Diversity & Inclusion Committee (HADIC) and Husker Inclusion Council (HIC). He also served as a Life Skills coach for three varsity programs (football, rifle and men's gymnastics), where he worked with almost 200 athletes on leadership, career and personal development.
"I am excited to get to Boulder with my family and contribute my all to CU Athletics," Baker said.  "My interest in CU grew much before the role, as I attended the Inclusive Sports Summit and came away impressed in the vision, detail and commitment to inclusion that was on display.  I saw this role as a natural progression to not just be a more inclusive athletic department and campus, but to be a national leader in this space.  What excites me most is the opportunity to build on the foundation that has been laid, with the creativity to build this into a premier leader in college athletics."
Though only at Nebraska for two-and-a-half years, he was heavily involved from practically the start in representing the athletic department in numerous campus partnerships, including the Diversity Engagement Team, comprised of a group of administrative professionals whose primary responsibilities are keenly focused on promoting diversity, equity, and/or inclusion across the UNL campus.
In August 2019, Baker co-founded the Diversity, Inclusion and Equity Council of Excellence (DIECE), a membership organization that provides support and resources for diversity officers who work in athletics.  He is also an advisory board member for Return On Inclusion (ROI) and an advisory committee member for the Winning Edge Leadership Academy.
"I am excited that someone with the qualifications and experience that DaWon has will be leading our diversity, equity and inclusion efforts for our department," George said.  "I am impressed with what he has accomplished in something that has become a growing profession nationally.  He has really invested himself in it and will bring a lot of passion to this role.  I am looking forward to what he will accomplish at CU."
A native of St. Louis, Baker is a 2015 graduate of the University of Missouri, where he earned his bachelor's degree in Parks, Recreation and Tourism and also participated in track and field (long jump).  It is also where he received his first experience working in intercollegiate athletics as a marketing intern for the volleyball team and as a student customer service representative for the ticket office.
His passion for DEI started while he was attending Missouri; born and raised in St. Louis, an event that drew national attention prompted his initial interest.
"My senior year of college was 2014, and the shooting of Michael Brown served as a major turning point in my career and personal life," Baker said.  "I saw how the tragic event of Michael's death affected the world, and I saw how it affected my own campus and saw that the need for an inclusive environment was a necessity to create the best environment for staff, faculty and students on campus and beyond. For the first time, I saw that there was a strategy to creating inclusive cultures, and that drove me to learn about diversity and inclusion in sport."
Baker earned his Master's degree in Business Administration and a Master's in Sport Business Management from the University of Central Florida in 2016.  While attending UCF, he served as an academic mentor and game day intern in the athletic department, as well as a student assistant in the Office of Student-Athlete Welfare and Development.  In addition, he was also a graduate research assistant for The Institute for Diversity and Ethics in Sport (TIDES), where he was under the tutelage of Dr. Richard Lapchick, the well-respected national expert in diversity management, race relations, academics, sports and social issues.
"My graduate school program, the UCF DeVos Sport Business Management program, has core values of diversity and ethics in sport, and that both increased and sharpened my knowledge of diversity and inclusion work in athletics," Baker noted.  "The curriculum and program set me up for a career as an administrator that looked at how sport could be a catalyst for social change, and how sport could be a leader in cultivating an inclusive world."
After he earned his graduate degrees, he worked at the NCAA as a postgraduate intern in the Leadership Development department from June 2017 through June 2018.  In that role, he worked on career, professional and personal development programs, which was designed to help student-athletes, coaches and administrators enhance their skills.  He also worked closely with administrators to coordinate programs for minority administrators throughout the NCAA membership, and served as a member of the project team for the NCAA Inclusion Forum.
He is also an accomplished writer, as he spent three years as a contributor to FrontOfficeSports.com, writing features and contributing content about professional development opportunities and specific business professions in the world of sports.
–
—
Christian Gonzalez embracing the challenge of becoming a "lock down" cornerback
From the Daily Camera … Last fall, Colorado coaches saw enough potential in Christian Gonzalez to throw him into the fire at cornerback.
This spring, Gonzalez is still just 18 years old but is benefitting from the experience he got last season.
… Despite his youth, Gonzalez asserted himself during the brief season for the Buffs (4-2, 3-1 Pac-12). He started all six games and played nearly 90% of the defensive snaps, showing improvement from the start of the season to the end.
"He's a good young player," CU head coach Karl Dorrell said. "I won't say (he played) outstanding, but I will say better than average job for a first-year player to come in here and play."
"I think his confidence is very good, very strong right now," Dorrell said. "He's had a very good offseason up into spring practice and he looks the part physically. He's put on a few pounds. His body is getting more defined. He's being more aggressive in coverage and you can feel his presence out there on the field a little bit more. Players out there actually see it, too. He's on the right path.
"We're hoping somewhere down the line, he's going to be one of those corners that can handle his own and not really have much safety help. … I think he's embraced that challenge that we presented for him, and he's working pretty hard at becoming that type of player. He's really off to a good start."
… Continue reading story here …
–
—–
April 5th
… CU in a few minutes … 
CU Press Release: Synchronicity becomes a multi-year corporate sponsor
Press Release from CUBuffs.com …  Synchronicity Full-Spectrum Hemp Oil, a leading health and wellness company in the hemp/CBD space, has inked a multi-year corporate sponsorship agreement with Buffalo Sports Properties (BSP), the multimedia rights holder of University of Colorado Athletics, that makes Synchronicity a proud partner of the Colorado Buffaloes.
The Synchronicity-BSP deal will help ensure CU Athletics can continue to provide a holistic, world-class experience for student-athletes in all sports. CU Athletics' WHOLE (Wellness Health Optimal Life Experience) student-athlete approach aims to support and develop student-athletes in the areas of academics, sports nutrition, athletic training, medical services, mental health, and leadership and career development.
Superior-based Synchronicity has spent over 20 years perfecting and hand-pressing a patent-pending hemp plant in order to provide the highest-quality, Full-Spectrum Hemp Oil plant-to-body products on the market, helping consumers achieve balanced wellness. Synchronicity's products are all-natural, sustainably grown, and produced and bottled in Colorado.
"We're excited to partner with a company like Synchronicity whose commitment to health and wellness are very much aligned with our athletic department," CU Athletic Director Rick George said. "Synchronicity's support will help to enable the experience we strive to provide our student-athletes, and we're excited to partner with an innovative company based right here in Boulder County."
Buffalo Sports Properties (BSP) is the locally based Learfield IMG College team that manages all broadcast operations and corporate partnerships for CU as part of the overall multimedia rights relationship between the company and the athletic department.
"As a Colorado-based company on a mission to advance wellness, we're thrilled to partner with CU Athletics," said Synchronicity CEO Andrew Campbell. "Teaming up with an organization that shares our values and passion for innovation and leadership is of utmost importance to us."
The Synchronicity partnership will give the company visibility at Folsom Field and the CU Events Center through gameday promotions and advertising space, as well as placement on CU Buffs radio broadcasts and other media channels.
Synchronicity's flagship line of full-spectrum hemp oil products utilize the entire hemp plant to maximize effectiveness. Because Synchronicity products are derived from fully legal industrial hemp, they do not cause the high sensation associated with marijuana products.
… Synchronicity is the highest-quality, Full-Spectrum Hemp Oil plant-to-body products on the market. We've spent over 20 years perfecting and hand-pressing our patent-pending Hemp plants to make Synchronicity — the most phytonutrient-dense Hemp Oil available, helping consumers achieve balanced wellness. We're passionate about your health, which is why we have a hand in every aspect of production from the farm to your body. We're a leader in purity and safety and are committed to sustainable and transparent farming practices while consistently testing our Hemp Oils through third-party labs
–
—
La'Vontae Shenault "growing up" this off-season: "It's an ongoing process"
From BuffStampede.com … Despite missing two games during the 2020 season due to two separate suspensions, La'Vontae Shenault led Colorado in receptions. The Lone Star State native is working his way back into the good graces of the program, and he recently won a weekly team award for his performance in the classroom.
"It's an ongoing process, but he's getting so much better," Buffs head coach Karl Dorrell said when asked about Shenault. "He's growing up. Vontae is a very passionate kid, and he's doing a lot of really positive things right now. He's doing great in school, having his best semester he has had since he has been here, so that is a big positive.
"He is doing a great job this off-season, training, and he looks great and he's practicing great. There's a positive vibe that going on with him right now. We're hoping there is a consistency that he can develop and maintain for the rest of his career because if he does that, he's got a chance to be special."
… Continue reading story here …
–
—–
April 4th
… CU in a few minutes … 
CU picks up an in-state defensive end preferred walk-on commitment
Blake Weiher is coming to Boulder as a preferred walk-on commitment. Weiher is a 6'4″, 245-pound defensive end from Cherokee Trail high school in Aurora, Colorado. Weiher runs a 5.2 in the 40, and will have some work to do in the weight room to get on the field, but is a SixZeroAcademy student, and is a smart addition to the roster – great upside; low risk.
Here is a link to Weiher's Hudl.com highlights.
Weiher's tweet announcing his commitment …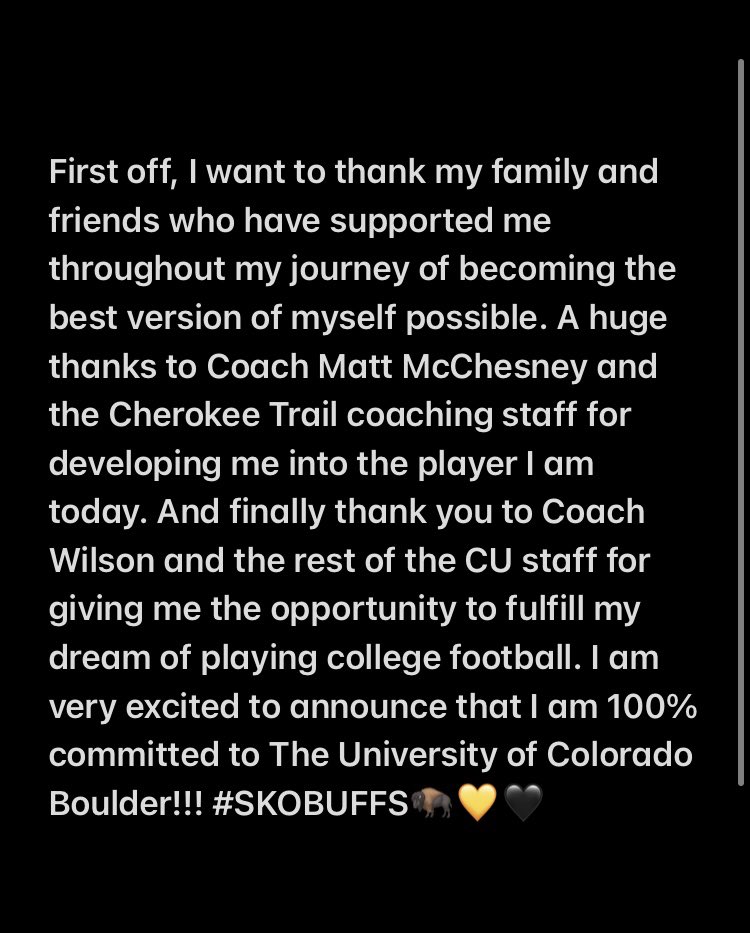 –
—
Dimitri Stanley: "I feel a lot better … I feel faster, stronger, quicker"
From the Daily Camera … In the past two seasons, Dimitri Stanley has become one of Colorado's best receivers.
The sophomore doesn't believe, however, he's reached his full potential.
"I want to improve upon my blocking," Stanley said after the Buffs' third practice of spring on Friday. "I think I could have been a lot more efficient in the blocking game and in the run game. And then pretty much yards after catch – I think I can do a lot more from that standpoint.
"Even on punt return, I think I can be one of the best returners in the (Pac-12). Just going into the season with that kind of confidence is going to take my game to the next level."
… "Dimitri is one of those guys that he's trying to step up and fill the void (left by Nixon), but it's … a very talkative group anyway," Dorrell said. "They get after each other to try to get them all hyped up and going, but I would say those two guys particularly have done a nice job of really starting the process. Hopefully, that'll continue for the rest of the group."
–
—-
April 2nd
… CU in a few minutes … 
Overtime Heroics posts CU Spring Questions
From Overtime Heroics … The 2020 Colorado Buffaloes surprised a lot of people. Spring practices are starting and there are a lot of questions going into the Colorado Buffaloes roster. With having new transfers and coming off a great season, it will be interesting to see how Coach Dorrell handles these situations. Here are the biggest questions heading into Colorado's spring practices.
Colorado Buffaloes: Roster Questions … 
Colorado Buffaloes: WRs without KD Nixon
K.D. Nixon transferring to Pac-12 rival USC opens up the question of how well the wide receivers will play in 2021 for the Buffaloes. Nixon was hurt in 2020 and some younger wideouts had to step up. This year we need to see production from Dimitri Stanley who can be a number one in Boulder. Some other players that need to step up their solid season from last year are Brenden Rice and Vontae Shenault. The two have made a solid start last year and need to build on that going into 2021.
Colorado Buffaloes: Who will win the QB spot
Brendon Lewis had a good showing in the Alamo Bowl. He had 95 yards passing, 73 rushing yards, and a touchdown on the ground. He may have a year to compete for some more playing time. Sam Noyer is out for the spring so Lewis and J.T. Shrout will compete for the backup and maybe even playing time (depending on how Noyer's shoulder surgery goes).
… Continue reading story here …
–
—
ESPN: Jarek Broussard one of college football's most "explosive" players 
From ESPN … Explosiveness is fun. It creates crowd pops (when there are crowds). It wins games. When an explosive player is on the college football field, keep your eye on him at all times.
Of course, "explosive" means many things. Maybe it's a terrifying return man, or a beautiful deep ball thrower (or catcher!), or a pass-rusher who explodes into the backfield, or a one-cut-and-go running back.
A lot of college football's most explosive players from 2020 are now preparing to find out where they're getting drafted, but a lot are returning to school this fall. No matter the definition of choice, here are the most explosive players in college football (based on both specific rankings criteria and my own creative liberties).
Best risk-free explosiveness
There is a general assumption that big plays require risk. Teams establish a good run game or quick passing game to lull the defense to sleep, then try to catch them over the top, right? Well, some players can take those risk-free short balls — handoffs or super short passes — and take them a very long way. Call this category "College Football's New Travis Etiennes."
Rankings criteria: We'll call a risk-free big play either a rush of 15+ yards or a reception of 15+ yards with air yardage of three or fewer yards. Short passes and handoffs. To make the list, players need at least one of each. Players are ranked on both frequency and magnitude of these big plays.
5. Brittain Brown, UCLA
Stat line: 14 big plays for 353 yards, 16% frequency
The Duke transfer helped make Chip Kelly's third UCLA offense by far his scariest. It should be equally dangerous in 2021.
4. Jarek Broussard, Colorado
Stat line: 16 big plays for 480 yards, 10% frequency
Broussard isn't the most efficient back in the country, but he's a lit firecracker. And he does a lot of his best work after a tackle attempt — he averaged 3.7 yards after carry per rush in 2020.
… Continue reading story here …
–
—–
April 1st
… CU in a few minutes … 
Rick George "cautiously optimistic" about a full Folsom Field this fall
From BuffStamepede.com … Throughout the pandemic, Colorado's athletic department has conducted 14,395 COVID-19 tests with just 0.64 percent coming back positive. Buffaloes athletic director Rick George said he is proud of CU's student-athletes for the discipline they've shown, despite the fact they had a couple bumps in the road.
With no fans in the stands in Boulder throughout the pandemic, there was no escaping a major financial hit. George said CU's athletic department will be somewhere between $18 and $20 million in the red for the fiscal year, which concludes on June 30. The Buffaloes will take out a loan through a program the Pac-12 signed up for last August.
… "We've got a great home schedule in football and men's basketball (coming up), so the optimistic side of me thinks we could fill it, if we have the opportunity to do that," George said. "But we'll work closely with our county and our state on what they will allow. We'll adhere to their guidelines.
"I'm hopeful that we can learn a lot from what the Rockies are doing and what the professional sports are doing right now. It gives us a lot of optimism, but cautious optimism for what the fall will look like. Our desire would be to put as many people as we can safely put into our stadium and our Events Center."
–
—–
March 19th
… CU in a few minutes … 
CU spring schedule released: Pro-Timing Day Monday; Spring "Showcase" set for April 30th
Schools are allowed 15 practices over 34 days per NCAA rules (not including spring break); sessions break down as follows, tentatively listed below on the column on the right: three in shorts (no contact), four in pads (no tackling, or pads-NT below), five in pads (tackling allowed 50 percent or less of the time), three in pads (tackling allowed throughout, as in extended scrimmages). The primary location at this time will be the practice field south of the Indoor Practice Facility (where sessions will be during inclement weather).
Calendar (dates, times approximate and subject to change)
MARCH 22— PRO TIMING DAY (11:00 a.m., Indoor Practice Facility; 2020 seniors: assorted sprints and drills)
MARCH 29— Practice # 1 (2:15 p.m. meetings, 4:00-6:00 p.m. practice) shorts/helmets
MARCH 31— Practice # 2 (2:15 p.m. meetings, 4:00-6:00 p.m. practice) shorts/helmets
APRIL 2— Practice # 3 (2:15 p.m. meetings, 4:00-6:00 p.m. practice) pads-NT (uppers)
APRIL 5— Practice # 4 (2:15 p.m. meetings, 4:00-6:00 p.m. practice) pads-NT (uppers)
APRIL 7— Practice # 5 (2:15 p.m. meetings, 4:00-6:00 p.m. practice) full pads
APRIL 9— Practice # 6 (2:15 p.m. meetings, 4:00 p.m. approx. scrimmage) full pads
APRIL 12— Practice # 7 (2:15 p.m. meetings, 4:00-6:00 p.m. practice) pads-NT (uppers)
APRIL 14— Practice # 8 (2:15 p.m. meetings, 4:00-6:00 p.m. practice) full pads
APRIL 16— Practice # 9 (2:15 p.m. meetings, 4:00 p.m. approx. scrimmage) full pads
APRIL 19— Practice #10 (2:15 p.m. meetings, 4:00-6:00 p.m. practice) pads-NT (uppers)
APRIL 21— Practice #11 (2:15 p.m. meetings, 4:00-6:00 p.m. practice) full pads
APRIL 23— Practice #12 (2:15 p.m. meetings, 4:00 p.m. approx. scrimmage) full pads
APRIL 26— Practice #13 (2:15 p.m. meetings, 4:00-6:00 p.m. practice) pads-NT (uppers)
APRIL 28— Practice #14 (2:15 p.m. meetings, 4:00-6:00 p.m. practice) full pads
APRIL 30— SPRING SHOWCASE/SCRIMMAGE (Practice #15; 9:00 a.m. Folsom Field / Pac 12 Network) full pads
TBA — ANNUAL COACHES CLINIC
(NO SPRING BREAK at the university of Colorado this year.)
— PRO-TIMING DAY: Due to COVID restrictions, only CU staff and NFL scouts will be permitted to attend in person; There will be a 1:00 p.m. Zoom conference with Coach Karl Dorrell followed by CU's two participating players (Mustafa Johnson and Will Sherman). We will provide video highlights courtesy BuffVision.
— PRACTICES: All continued to be closed per mandate by county health officials; thus, no on-site media availability until further notice due to COVID19 precautions (access for the spring showcase/scrimmage should be similar to last fall's press box seating and photography/videography. Both will still likely be limited at this time).
— SCRIMMAGES: The first scrimmage (April 9) and possibly the second (April 16) will be open to a limited number of media (press box) and a limited number of photographers (in the stands, no field access due to COVID restrictions).
–
—–
March 18th
… CU in a few minutes … 
CU picks up a three-star transfer defensive end from Arkansas, Blayne Toll
Blayne Toll – DE
Just the facts … Committed March 18th … Toll is a 6'5″, 245-pound athlete from Hazen, Arkansas … Rivals bio … 247 Sports bio …
What others say about Toll … Toll was rated as a three-star prospect by both Rivals and Scout as a member of the Recruiting Class of 2020.  At Rivals, Toll was considered to be the No. 37 athlete in the nation, and the No. 4 overall prospect out of the state of Arkansas. At 247 Sports, Toll was listed as the No. 16 strongside defensive end in the country, the No. 3 overall prospect out of Arkansas, and the No. 447 overall prospect in the nation. (For comparison's sake, had Toll been a part of CU's Recruiting Class of 2020 – the No. 36 Class in the country – Toll would have been the 6th-highest rated player in CU's Class).
Toll enrolled early at Arkansas and saw action in seven games last season on special teams while moving back-and-forth from tight end to defensive end. He is expected to factor in as a defensive end for the Buffaloes, the position he prefers to play.
Since eligibility did not count against college football players in 2020, Toll will arrive in Boulder with five years to play four.
Out of high school, Toll had other offers from … over two dozen schools, including six SEC schools (Arkansas, Auburn, LSU, Ole Miss, Tennessee, and Vanderbilt), Baylor, Illinois, Kansas, Louisville, Nebraska, Oklahoma, Oklahoma State, Penn State, TCU and West Virginia.
Toll's Arkansas bio … Four-star prospect by ESPN … Rated as the No. 20 strongside defensive end in the country and third overall player in the state of Arkansas by ESPN … Lands in ESPN's Top 300 ranking at 268 … Four-year varsity letter-winner at Hazen High School in Hazen, Arkansas … Also lettered in baseball every year since freshman season … Played on both sides of the ball for the Hornets, also lining up at receiver … Recorded 45 total tackles as of Nov. 8, with 26 tackles for loss and 10 sacks … Hauled in 14 passes for 170 yards, scoring twice through the air, while also rushing the ball six times for 67 yards & a score and passing once, connecting on a 51-yard touchdown pass … Helped the Hornets to a 10-2 overall record and a quarterfinal appearance in the 2019 Arkansas state 2A playoffs on Nov. 29 … Propelled the Hornets to the state championship game in 2018, falling just short of the 2A crown … Tallied 42 total stops, 24 TFLs, nine sacks and three forced fumbles in 2017, running for 465 yards & six TDs and throwing for 715 yards & eight scores.
–
—
Phillip Lindsay becomes an unrestricted free agent
From CBS Sports … Another running back is entering NFL free agency in 2021, and it's one no one expected. Phillip Lindsay and the Denver Broncos have mutually decided to part ways, his agent Mike McCartney announced on Thursday, thrusting him into the open market on the second day of the new league year. Lindsay joined the Broncos as a undrafted free agent in 2018 and, as such, wasn't yet eligible for unrestricted free agency. He was a restricted free agent, and one the Broncos had already tendered ahead of March 17.
Lindsay will be on his way, joining an already robust market of running backs looking to secure new deals in 2021. McCartney issued the following statement on Lindsay's behalf:
"After great conversations with the Broncos, it's been mutually decided that rescinding the RFA Tender is best for both Phillip Lindsay and the team. It's been a great 3 years in Denver for [Lindsay]. Nothing beats seeing Empower Field rocking as it did when No. 30 broke a long run."
Despite going undrafted, Lindsay burst onto the NFL scene as a rookie. He ran for more than 1,000 rushing yards in both of his first two seasons, landing honors as a Pro Bowler and a seat on the PFWA All-Rookie Team — both in Year 1. Even more impressive was the fact he accomplished those feats with only eight starts as a rookie, before taking over the role full-time in 2019. He saw a downturn in production last season due to a bout with injury that eventually landed him on injured reserve in late December, finishing what would turn out to be his final year in Denver with 502 rushing yards and a touchdown.
Absent Lindsay, the Broncos will lean more heavily on Melvin Gordon — assuming he isn't suspended following a recently dismissed DUI charge the league is still investigating — along with Royce Freeman and others, but Lindsay will be missed if Gordon is forced to miss time (or if he's ultimately released).
In all, Lindsay amassed 3,015 yards from scrimmage and 18 touchdowns in 32 starts as a Bronco, which is what led them to initially place the Right of First Refusal tender on him in 2021 — the tender now being rescinded. He'll undoubtedly have a market for his services, and now gets his first-ever shot at attempting to dictate the terms of an NFL contract.
–
—–