—
CU at the NFL Draft
—
May 9th 
David Shaw on Pac-12's showing in NFL Draft: "This COVID thing really impacted our conference more than any other conference"
From ESPN …The Pac-12's quest for greater exposure took a new twist during the draft. The league's delayed start to the 2020 season, many notable opt-outs, teams limited to as few as four games and only two postseason entries (Oregon and Colorado) prevented the NFL from getting complete on-field evaluations.
"This COVID thing really impacted our conference more than any other conference," Shaw said. "Take a guy like [Stanford quarterback] Davis Mills. 'Gosh, why did he come out? Not enough football.' Well, if he plays six more games on the pace that he was, that's 3,600 yards conservatively. … It would have helped to have more opportunities, more film."
Mills is among the Pac-12 players who coaches thought could have been drafted higher. He started only 11 total games for the Cardinal but averaged 301.6 passing yards in 2020 and completed two-thirds of his attempts in his final two seasons.
Seven quarterbacks went before Mills, selected by the Houston Texans early in the third round.
"He didn't have a ton of games under his belt, but I think he's pretty damn good," a Pac-12 coach said. "He can make all the throws: quick game, intermediate in-breaks, intermediate out-breaks, and he can throw it down the field. He's got size, touch, a talented guy."
Washington safety Elijah Molden became the defensive version of Mills on draft weekend. Coaches couldn't believe Molden was still available at the end of the third round, when the Tennessee Titans drafted him No. 100 overall.
A three-time All-Pac-12 selection, Molden had four interceptions and three forced fumbles in 2019 and played well during Washington's four-game season last fall.
"I would have pegged him second [round] or higher," a Pac-12 offensive coordinator said. "He was the most impressive player on a defense [with] a bunch of really good players."
Another offensive coordinator who faced Molden added: "I don't think we completed a pass on him. He made so many tackles in the run game, he was a good blitzer, he had the measurables. No idea why he dropped."
Coaches felt similarly about Stanford's Paulson Adebo, another Pac-12 defensive back drafted in the third round. Shaw said Adebo and Stanford offensive tackle Walker Little (second round to Jacksonville) might have been first-round picks if they hadn't opted out of the 2020 season.
Other Pac-12 players drafted later than expected included USC defensive tackle Jay Tufele (fourth round, Jaguars), Stanford wide receiver Simi Fehoko (fifth, Dallas Cowboys), UCLA wide receiver Demetric Felton (sixth, Browns), USC defensive tackle Marlon Tuipulotu (sixth, Eagles), Oregon cornerback Thomas Graham Jr. (sixth, Bears) and Oregon State running back Jermar Jefferson (seventh, Detroit Lions).
A Pac-12 coach called Tufele "a second-round guy, but he went in the fourth," while adding that Felton is "a steal in the sixth round," especially if he can complement elite speed with better hands. Jefferson had 15 100-yard rushing games for the Beavers and finished with 2,923 yards and 27 touchdowns in 27 games.
"He can be a more productive back than guys who were drafted ahead of him," a Pac-12 defensive coordinator said.
"He'll find a way to stick," a Pac-12 head coach added.
There were some Pac-12 selections who met or even exceeded draft forecasts. A Pac-12 coordinator said Oregon safety Jevon Holland (second round, Dolphins) and USC wide receiver Amon-Ra St. Brown (fourth round, Lions) went where he expected. Oregon State cornerback Nahshon Wright (third round, Cowboys) was a surprise Day 2 pick.
"The physical traits created a lot of interest," a Pac-12 coach said of 6-4 Wright. "It's hard to teach that type of length."
–
—–
May 3rd
Colorado one 12 states which did not produce a single NFL Draft pick in 2021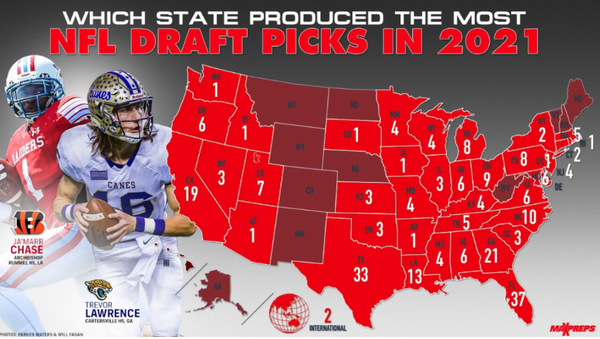 May 2nd
William Sherman: "I'm fired up … I'm very thankful that they picked me up"
From the Daily Camera … Surrounded by a few family and friends at a home in North Carolina, Sherman is the latest in a long line of CU offensive linemen to be drafted and he goes to a team that has made a habit of turning late-round picks into starters or stars.
Last year, offensive linemen Michael Onwenu from Michigan and Justin Herron from Wake Forest were sixth round picks by the Patriots. Onwenu started all 16 games and earned all-rookie team honors, while Herron started six games. Ted Karras, a sixth-round pick from Illinois in 2016, has been a part-time starter with the Patriots.
"Even in the past couple of drafts, they've had guys in the sixth round who have started all year and started a handful of games," Sherman said. "The plan for me is to definitely do the same and be able to see the field after I get some great coaching. I'm fired up. It's such a great organization and I'm very blessed and thankful that they picked me."
At CU, the 6-foot-3, 310-pound Sherman started at left tackle in 2018 and 2020 and right tackle in 2019. He has spent the offseason practicing at guard and center, believing that he would likely move to one of those spots in the NFL.
"He has played both left and right tackle and also has some experience at guard," Patriots head coach Bill Belichick said during a virtual press conference on Saturday. "We'll see how that goes. Certainly has some versatility. Maybe also suited to play guard."
… Continue reading story here …
–
—
Valuation of Will Sherman: "His veteran experience is easy to spot"
From MassLive.com … The New England Patriots selected Colorado offensive lineman William Sherman in Round 6 with pick No. 197 during the NFL Draft on Saturday.
A three-year starter at Colorado, Sherman manned the left tackle position in offensive coordinator Darrin Chiaverini's offense. After earning All-Pac 12 honors as a freshman left tackle, he moved to right tackle in 2019 before returning to the left side in 2020, where he looked much more comfortable.
The Athletic's Dane Brugler had Sherman projected to be selected in the sixth round and as the No. 16 offensive guard in the draft.
In his evaluation of Sherman, Brugler thinks his flexibility and awareness give him upside.
"Sherman is an active player with trained eyes and movements, but his footwork and balance after contact need continued work," Brugler wrote. "His lack of core strength and control at the point of attack will be tougher to mask at the NFL level.
Overall, Sherman has workable traits with his lower-body flexibility and awareness, but his balance issues and wandering hands must improve for him to earn steady work in the NFL. He is a tackle-to-guard projection with some upside at center."
Sherman has over 2,000 career college snaps under his belt, 26 starts and has experience at left and right tackle in addition to time practicing at center.
Brugler also notes Sherman's above-average knee bend and hip flexibility in his pass sets and adequate quickness out of his stance.
"His eyes stay vigilant and his veteran experience is easy to spot," Brugler wrote in his evaluation. "Pairs his wide base with solid thickness in his rear and legs…physical run blocker and flashes drive power…played in every game the last three seasons."
–
—
SEC sets a new record with 65 picks (over twice as many as the Pac-12)
From ESPN … NFL teams selected a record 65 players from SEC schools during the 2021 NFL draft, continuing the conference's dominance over the three-day event.
The previous mark also was set by the SEC, with 64 in 2019. In fact, the four highest totals of drafted players from one conference belong to the SEC; it had 63 in both 2020 and 2013.
This year's SEC haul included six of the first 10 picks and 12 of the 32 players selected in the first round.
With 10 picks in 2021, Alabama has had 51 players selected over the past five drafts. That ties USC (1973-77) for the most NFL draft picks over any five-year span in the common draft era (since 1967), according to Elias Sports Bureau research.
The next-closest conference in this year's draft was the ACC, with 51 players drafted, including the No. 1 overall pick, quarterback Trevor Lawrence (Jacksonville Jaguars). The Big 10 had 44 draftees, the Pac-12 had 28 and the Big 12 had 22.
–
—–
May 1st
Pac-12 Draft picks 
2021 NFL Draft Picks from Programs in the West:
BYU – 5
Oregon – 5
USC – 5
Stanford – 5
Washington – 4
UCLA – 2
Oregon State – 2
Boise State – 2
Arizona – 2
Colorado – 1
Arizona State – 1
Cal – 1
San Diego State – 1
Washington State – 0
Utah – 0
–
—
A perfect 11-for-11! – Will Sherman goes to the Patriots in the seventh round
From CUBuffs.com … Colorado tackle William Sherman, who declared for the NFL Draft after his junior season with the Buffaloes, was taken in the sixth round Saturday by the New England Patriots.
Sherman, a 6-foot-4, 310-pounder, is expected to play guard in the NFL. He is the 11th Buff in CU history to declare for the draft early, and all 11 of those players have been drafted.
Taken with the 13th pick in the sixth round (197th overall), Sherman could become the next in a healthy list of Buffaloes offensive linemen who have found a home with the Patriots. The list includes Mike Montler, Pete Brock, Heath Irwin, Tom Ashworth and Nate Solder.
Overall, 23 Buffs have played for the Patriots over the years.
Sherman appeared in 30 games in his career at CU with 27 straight starts (including last season's Alamo Bowl) over three years. He was Colorado's highest-graded offensive lineman in all three seasons and was regularly among the team leaders in total offensive snaps played. Last season, he had a team-high 14 "cutdown" blocks (taking an opponent all the way to the ground) and nine touchdown blocks in five regular season games.
Sherman continued to take classes this spring at CU while preparing for the draft and is on target to graduate next week.
He becomes CU's 276th all-time NFL Draft pick and it marks the fifth straight season the Buffs have had at least one player drafted.
Buffs who have played for the Patriots:
Mike Montler, OL 1969-1972
Bill Harris, TE/DE 1971
John Tarver, RB 1972-1974
Bobby Anderson, RB 1975
Pete Brock, OL/TE 1976-1987
Don Hasselbeck, TE 1977-1983
Walter Stanley, WR 1992
Ted Johnson, ILB 1995-2004
Heath Irwin, OG 1996-1999
Ron Merkerson, ILB 1998-1999
Lamont Warren, RB 1999
Marcus Washington, DB 1999
Tom Ashworth, OT 2001
Charles Johnson, WR 2001
Ben Kelly, CB 2001-2002
Tom Ashworth, OT 2001-2005
Christian Fauria, TE 2002-2005
Daniel Graham, TE 2002-2006
Chad Brown, LB 2005, 2007
Tyson DeVree, TE 2008
Terrence Wheatley, CB 2008-2010
Nate Solder, OT 2011-2017
Devin Ross, WR 2020
–
—–
April 29th 
Mustafa Johnson and Will Sherman sitting back, hoping for a call this weekend
From the Daily Camera … After months of doing all he can to impress scouts in the National Football League, Will Sherman has been in North Carolina this week, trying to speed up what has been a long week already.
"Just trying to keep busy," he said. "Finishing up school, work out – everything to keep me busy."
Sherman is one of two former Colorado Buffaloes hoping to hear their names called during the NFL Draft this weekend. The first round is Thursday, with rounds 2-3 on Friday, and rounds 4-7 on Saturday. Sherman, an offensive lineman, and Mustafa Johnson, a defensive lineman, are projected as potential late-round picks.
Despite an unusual draft process because of the COVID-19 pandemic, Sherman went into this week feeling good about what he has shown to scouts.
"It's been a really good draft process, especially for the circumstances that have been given," said Sherman, who played right and left tackle at CU. "Unfortunately, we weren't able to actually get in front of teams this year, go to their facilities and get on the board with their coaches and work out in front of them, but I still felt like I did really good on Zoom, virtually. I think that helped me a lot."
… Continue reading story here …
–
—
Colorado holds onto No. 23 on the all-time list of NFL draftees
From DraftHistory.com … With three draft picks in 2020, Colorado has had a total 275 players drafted into the NFL, good enough to stay in 23rd place on the all-time list. The Buffs lost ground to former No. 22, Auburn last April, which jumped over Purdue. The other schools around CU remained pretty stagnant on the list, with the exception of Minnesota, which moved into a tie with Florida State for No. 25 all-time …
The list (with 2020 NFL Draft picks in parentheses) …
No. 21 – Auburn (6) … 285
No. 22 – Purdue (2) … 282
No. 23 – Colorado (3) … 275
No. 24 – Arkansas (2) … 273
No. 25t – Florida State (2) … 271
No. 25t – Minnesota (5) … 271
No. 27 – Stanford (2) … 267
–
—-
April 28th 
Mustafa Johnson Draft Profile 
From ProFootballNetwork.com …
Tony Pauline's Mustafa Johnson Scouting Report
Positives: Junior-college transfer who started for Colorado the three years he was on the team. Intense, hard-working defensive lineman who gets the most from his ability. Fires off the snap with a terrific first step, plays with proper pad level, and easily changes direction.
Intense, goes hard after the action, and displays a closing burst in a straight line as well as laterally. Moves well to the action, and shows ability in pursuit and to the flanks making plays. The opponents' focus, yet tough to stop with his tremendous first step.
Negatives: Lacks bulk and gets engulfed at the point of attack. Out-positioned by larger blockers.
Analysis: Johnson was a hard-charging defensive lineman for Colorado and got the most from his ability. He has the attributes to line up as a three-technique tackle on Sundays.
Mustafa Johnson Player Profile
Johnson is no stranger to making the journey out of Colorado to strive for football success. Born and raised in Aurora, he journeyed to California ahead of his first year in high school. A formidable athlete, Johnson found early success in both football and basketball. On top of his ability on the court, he excelled on the field. Even as a sophomore at Turlock High School, he racked up 76 tackles and 2.5 sacks.
Over the next two seasons, he would become dominant. He earned All-District honors as a junior and senior while twice named to the Central California Conference Defensive Player of the Year. As a senior, his total tackle numbers dipped down, but he proved disruptive with 8 sacks.
Despite his success, he wasn't ranked by major recruiting sites. As a result, he had to travel the junior college route. Johnson enrolled at Modesto Junior College, where he quickly established himself as one of the best players in the Valley League. As part of a season where he put up 58 tackles and 6.5 sacks, he had a standout game against American River, where he registered 13 tackles and 2 tackles for loss.
After earning first-team All-California Community College Region I recognition, his JUCO recruitment caught fire. Although he received interest from multiple college programs, the three-star recruit opted to return home to Colorado and committed to the Buffaloes.
Mustafa Johnson's best fits in the 2021 NFL Draft
As alluded to earlier, despite arriving at Colorado as a defensive end, Johnson will be considered a defensive tackle in the 2021 NFL Draft. He presents a difficult evaluation as he is slightly undersized for an average defensive tackle while being oversized as a defensive end. His experience of playing on the edge is apparent in his movement, with good change of direction ability.
Some team fits for the Colorado defensive lineman include the Dallas Cowboys, Jacksonville Jaguars, and the Seattle Seahawks.
–
—
Quirky CU Draft Facts 
— On two occasions, CU Buffs have been "Mr. Irrelevant", the last choice in the NFL Draft. In 1977, the Minnesota Vikings selected fullback Jim Kelleher, while in 1984 the Los Angeles Raiders selected quarterback Randy Essington. CU was the only school with two players earning this distinction until South Carolina had the final players of the 2009 and 2013 drafts;
— Ten times in Colorado history, an undergraduate has declared for the NFL Draft, (the most recent two before this year being Isaiah Oliver for the 2018 Draft and Laviska Shenault for the 2020 Draft), and all ten players have been drafted. Offensive lineman Will Sherman is looking to keep the streak alive, and make CU a perfect 11-for-11 on CU undergraduates being drafted;
— CU has never had the No. 1 overall draft pick, but has had the No. 2 overall pick, with fullback Bo Matthews going No. 2 to San Diego in the 1974 NFL Draft;
— Overall, Colorado has had six top ten picks, including Matthews, HB Byron "Whizzer" White (No. 4 to Pittsburgh in 1938); WR Michael Westbrook (No. 4 to Washington in 1995); TE J.V. Cain (No. 7 to St. Louis in 1974); CB Mark Haynes (No. 8 to N.Y. Giants in 1980); and OG Chris Naeole (No. 10 to New Orleans in 1997);
— Starting in 1994, the NFL limited the draft to seven rounds. Since then, only 13 teams have had double digit draftees in the same draft, including the 1995 draft, when the 1994 Buffs had ten players drafted. In that draft, CU had seven players taken in the first 71 picks, the first time that one school had as many as seven players taken in the first 75 picks;
— In the 1977 draft, five Buffs were selected in the second round, with all five taken within 18 picks of each other;
— In the 1996 draft, CU had only seven seniors available, with five of those players being drafted (and a sixth player signing as a free agent). The five players drafted were: OG Heath Irwin (4th round; New England); DE Daryl Price (4th round; San Francisco); C Bryan Stoltenberg (6th round; San Diego); CB T.J. Cunningham (6th round; Seattle); and DT Kerry Hicks (7th round; Carolina);
— In the decade between 1991 and 2000, Colorado had 58 players drafted, second in the nation. In the most recent decade, 2010 to 2019, Colorado had … 15.
–
—
CU NFL Draftees – It's been pretty quiet decade for Buffs
CU finished the 2020 NFL draft with three selections. The 2019 draft, though, represented the sixth draft in the past 11 years in which Colorado had fewer than two players selected, including three seasons (2010, 2015, and 2016) in which no Buffs were taken.
The past decade of CU players selected in the NFL draft:
2010 (0)
2011 (4)
17. Nate Solder, OT, New England (1)
27. Jimmy Smith, CB, Baltimore (1)
118. Jalil Brown, CB, Kansas City (4)
227. Scotty McKnight, WR, N.Y. Jets (7)
2012 (2)
160. Ryan Miller, OG, Cleveland (5)
231. Tony Clemons, WR, Pittsburgh (7)
2013 (2)
109. David Bakhtiari, OT, Green Bay (4)
172. Nick Kasa, TE, Oakland (6)
2014 (1)
45. Paul Richardson, WR, Seattle (2)
2015 (0)
2016 (0)
2017 (4)
60. Chidobe Awuzie, CB, Dallas (2)
66. Ahkello Witherspoon, CB, San Francisco (3)
111. Tedric Thompson, SS, Seattle (4)
246. Jordan Carrell, DT, Dallas (7)
2018 (1)
58. Isaiah Oliver, CB, Atlanta (2)
2019 (1)
187. Juwann Winfree, WR, Denver (6)
2020 (3)
42. Laviska Shenault, WR, Jacksonville (2)
103. Davion Taylor, LB, Philadelphia (3)
226. Arlington Hambright, OL, Chicago (7)
–
—
NFL First Round history for the Pac-12 … 
Colorado has had 24 first round draft picks in its history, 28th in the country, seventh in the Pac-12. The Buffs are just behind Cal (with 27), Washington  and Arizona State (with 26), and Stanford (with 25). Oregon State, with the fewest, celebrated just its sixth first round pick in 2014 with Brandin Cooks.
Washington State broke a long Pac-12 drought without a first round pick, dating back to 2003, when Deone Bucannon went to Arizona with the 27th pick in 2015. The longest drought without a first round pick now belongs to Arizona, which last had a first round pick in 2008.
The Pac-12 conference and the first round of the NFL draft (rank nationally, number of all-time first round picks, and each school's most recent first round picks – Source: Winsipedia):
Updated to include three 2021 first round picks …
No. 2 – USC – 83 … Most recent: 2021 – Alijah Vera-Tucker, OT, 14th pick, New York Jets
No. 15t – UCLA – 36 … Most recent: 2018 – Josh Rosen, QB, 10th pick, Arizona; Kolton Miller, OT, Oakland
No. 22t – California – 27 … Most recent: 2016 – Jared Goff, QB, 1st pick, Los Angeles Rams
No. 22t – Washington – 27 … Most recent: 2021 – Joe Tryon, LB, 32nd pick, Tampa Bay Buccaneers
No. 23t – Arizona State – 26 … Most recent: 2020 – Brandon Aiyuk, WR, 25th pick, San Francisco 49ers
No. 25t – Stanford – 25 … Most recent: 2017 – Solomon Thomas, DT, 3rd pick, San Francisco 49ers; Christian McCaffrey, RB, 8th pick, Carolina Panthers
No. 28 – Colorado – 24 … Most recent: 2011 – Nate Solder, OT, 17th pick, New England; and Jimmy Smith, CB, 27th pick, Baltimore
No. 39 – Oregon – 20 … Most recent: 2021 – Penei Sewell, OT, 7th pick, Detroit Lions
No. 47t – Washington State – 14 … Most recent: 2019 – Andre Dillard, OL, 22nd pick, Philadelphia
No. 55 – Arizona – 10 … Most recent: 2008 – Antoine Cason, CB, 27th pick, San Diego
No. 60t – Utah – 8 …  Most recent: 2017 – Garrett Bolles, OT, 20th pick, Denver
No. 66t – Oregon State – 6 … Most recent: 2014 – Brandin Cooks, WR, 20th pick, New Orleans
(And, in case you are wondering … No. 68t – Colorado State – 5 … Most recent: 1987 – Kelly Stouffer, QB, 6th pick, St. Louis)
–
—–