—
Colorado at No. 4 Michigan – "T.I.P.S" for the Buffs' trip to the Big House
—
Should the Buff Nation be happy about Colorado heading to Ann Arbor to play No. 4 Michigan before a crowd of over 100,000 maize-and-blue faithful?
Glass half empty … Colorado is taking on one of the top teams in the country, on the road, just when the program was gaining some momentum. A thumping by the Wolverines could set the program back, sending the Buffs into Pac-12 play on a down note. The $1.4 million paycheck just isn't worth the overall cost to the 2016 season.
Glass half full … The Buffs are heading to Michigan with confidence, and have absolutely nothing to lose. It's a great opportunity to show the nation that the #TheRiseIsReal.
Whether we like it or not, come 1:30 p.m., MT, Saturday (Big Ten Networks), Colorado will try to defeat a top five team on the road for the first time since 1994 (yes, it's true. The last time the Buffs beat a top five team on the road was when No. 7 Colorado took down No. 4 Michigan, 27-26).
Would make a nice set of bookend of victories, wouldn't it?
Here are this week's "T.I.P.S." for the Buffs' trip to the Big House …
—
T – Talent
Colorado is a 19.5-point underdog to Michigan. As bad as that sounds, it's not as bad as the spreads the Wolverines had over Hawai'i and Central Florida, as the Wolverines were five touchdown favorites for both games.
Michigan dispatched Hawai'i, 63-3, and Central Florida, 51-14, with ease. The 114 points were the most for the Wolverines in the opening two games of the season … since 1914.
Much of the production can be attributed to the reigning Big Ten Offensive Player-of-the-Week, quarterback Wilton Speight. The redshirt sophomore looked as sharp last Saturday against Central Florida as he did in the season-opening win over Hawaii. Speight lasted into the fourth quarter, finishing with impressive stats in his second start: 25-for-37 passing for 312 yards and four touchdowns.
Speight completed passes of 35, 32 and 45 yards on Michigan's first three scoring drives to open up a comfortable lead against UCF.
If there was a criticism of the offensive production, it was that Michigan only rushed for 119 yards on 41 carries It was a major drop-off from the Hawai'i game, where the Wolverines dominated with 306 rushing yards on 39 carries.
"Sometimes they can take something away, a defense can do that and then you go to the (other option)," Harbaugh said on the "Inside Michigan Football" television show. "That's why in baseball sometimes they throw a fastball, sometimes they throw a curve. Sometimes you hand it off and sometimes you fake the handoff and throw it over their heads and I think we took advantage of that."
Many of Michigan's offensive numbers are just as impressive as those of Colorado, with the Wolverines coming into the contest 5th in the nation in scoring offense, at 57.0 points per game.
A bigger problem than stopping an offense averaging eight touchdowns per game?
A defense which is better than its offense.
While there were question marks heading into the season about the Michigan offense, no one questioned that the defense would be stout.
Last season, Michigan was fourth in the nation in total defense, and sixth in the nation in scoring defense. The Wolverines bring back most of its impact players, and have added the No. 1 overall recruit in the nation from this past February, defensive lineman Rashan Gary.
Oh, and the special teams are great, too.
Last week, the Wolverines blocked two Central Florida punts and two field goal attempts … in the first half.
"I feel very confident in our protection," Mike MacIntyre said. "(Michigan) did a good job of attacking. I feel good about our protection and we'll see when we get out there."
So, to sum up … there are three good reasons why Michigan is ranked the No. 4 team in the nation:
Offense … Defense … and Special Teams.
—
I – Intangibles
Both teams have enjoyed ridiculous amounts of success in the first two weeks of the season.
Pick a category, and both teams have been dominant.
Colorado leads the nation in total defense, is seventh in total offense and sixth in scoring defense.
Michigan is fifth in scoring offense, ninth in scoring defense, and is third in the nation in third down conversion defense (allowing a microscopic 12% conversion rate).
Colorado has out-scored its first two opponents in the first half by a total score of 80-0.
Michigan has out-scored its first two opponents in the first half by a total score of 69-7.
Suffice it to say that this weekend one – or both – of these teams will struggle more than they have the first two weeks. The pundits believe it will be Colorado which will struggle the most, with ESPN's Football Power Index gives Michigan a 90% chance of winning (actually down from 95% this time last week).
Here's the thing … this is situation normal (or, at least as expected) this season for the Wolverines.
For the Buffs, however, this is uncharted waters.
How will the Buffs react to the inevitable adversity Saturday afternoon?
I'll let senior safety Tedric Thompson speak for the team:
"Each week is a different challenge. Obviously going against a great team like this is a different challenge but we're ready for it," said Thompson at Tuesday's press conference. "I think the entire team, as long as we keep focusing on ourselves and practicing for each other and playing for each other and loving each other, we'll be great. We're ready for every challenge. It doesn't matter who we're playing against. We always have the mindset that we're going to come out with the win. I feel like that's how the rest of the season is going to be. We're ready for every little moment. Since I've been here, we've been through a lot. I've played in double overtimes, I've been hurt. A lot of players who have been here with Coach MacIntyre for all four years, we've been through a lot with him so that's why I feel like we're ready for any challenge.""
Adversity is no stranger to the Buffs.
So, the real question is: How will the Wolverines react to adversity if (when) it comes on Saturday?
Colorado has nothing to lose, and has been looking forward to this game as a chance to make a national statement.
Michigan just wants to get through Saturday and move on to the next victim.
Mental advantage?
Colorado.
—
P – Preparation / Schedule
The Michigan faithful were expecting an unobstructed run into October. The Wolverines only leave the state of Michigan once before November … and that is to take on Big Ten bottom-feeder Rutgers. Michigan's schedule is back-loaded, with road games at No. 12 Michigan State (10/29), No. 13 Iowa (11/12), and No. 3 Ohio State (11/26) likely to decide Michigan's bowl fate.
Colorado was supposed to be just another easy hurdle as Michigan eased through September.
Now? Not so much.
Colorado, meanwhile, has already faced – and overcome – a tough game. True enough, Colorado State may prove to be a weak Mountain West team, but that was not a given when the Rocky Mountain Showdown kicked off.
What did the Buffs do with a "must-win" pressure game?
They came out with purpose and focus, and dominated from the opening gun.
Playing out-manned Hawai'i and Central Florida teams, there was no real mystery about the outcome of the Wolverines' first two games. Michigan has yet to face a challenge in 2016.
The Buffs were not supposed to give be the Wolverines first test. At home next week against Penn State (which lost to Pitt last weekend)? Not really. Wisconsin (which will be coming to Ann Arbor in two weeks)? Perhaps.
Colorado … an after thought. Just the most respectable of a trio of non-conference patsies.
I'm not saying the the Buffs will "sneak up" on the Wolverines … but I am saying that just three weeks ago this game was not on Michigan's radar.
—
S – Statistics
This just in … Colorado is not going to finish the 2016 season ranked No. 1 in total defense.
This could be a great season for Jim Leavitt's charges, but going from 85th to 1st in one season isn't going to happen.
But, for just one more week, let's enjoy some of these numbers:
Rushing offense – 20th … last season: 86th
Passing offense – 17th … last season: 49th
Total offense – 7th … last season: 67th
Scoring offense – 11th … last season: 97th
—
Rushing defense – 30th … last season: 99th
Passing defense – 2nd … last season: 59th
Total defense – 1st … last season: 85th
Scoring defense – 6th … last season: 70th
It's just so nice to be back in the national discussion. We'll see, now that the schedule has grown significantly more difficult, how the Buffs fare.
—
Prediction …
Some sobering numbers:
— Colorado has lost 22 straight games to ranked teams (last win: 2009 v. No. 17 Kansas);
— Colorado has lost all 11 games it has played against ranked teams under Mike MacIntyre (including his stint at San Jose State, MacIntyre is 0-18 against ranked teams);
— Colorado last defeated a top five team in 2007 (No. 3 Oklahoma, 27-24);
— Colorado hasn't defeated a top five team on the road since the 1994 "Miracle in Michigan".
Think about that last one for a bit.
Since 1994, Colorado has had four ten-win teams, four Big 12 North division winners, and a Big 12 championship.
None of those teams defeated a top five team on the road.
Perhaps Michigan is not truly a top ten team. Perhaps the Buffs will expose weaknesses in the Wolverine juggernaut.
Perhaps.
Colorado has taken its fans on a great ride the first two weeks of the season. The Buffs have us dreaming again about bowl games and competing for championships.
I do believe the Buffs will defeat a ranked team this season … just not this week.
No. 4 Michigan 27, Colorado 13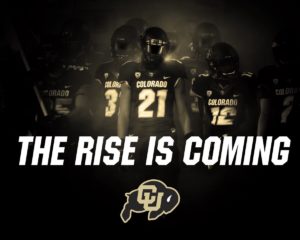 —–