—
September 10th – Boulder          Colorado 56, Idaho State 7
—
Sefo Liufau passed for 204 yards and two touchdowns and rushed for 54 yards and another score in less than a half as Colorado routed Idaho State, 56-7.
Phillip Lindsay ran for two scores as the Buffs built a 49-0 halftime lead on its way to a second straight blowout win.
Liufau, who had 384 yards of offense in the 44-7 win over Colorado State in the 2016 opener to earn Pac-12 Player of the Week honors, had another big game with touchdown passes of 15 and 4 yards. He ended his day with a 19-yard touchdown run late in Colorado's 35-point second quarter that made it 42-0.
Liufau's backup Steven Montez connected with Kabion Ento for two more touchdown passes.
Jakori Ford scored for the Bengals (1-1), who had just seven first downs and 96 yards total offense.
"I was very impressed with what our staff did with our guys, I liked how focused they were", said CU coach Mike MacIntyre. "Our upperclassmen did a good job of staying focused in practice and they kept working.  That's what we talk about all the time, it's to worry about Colorado and nothing else.  I'm seeing that in this group of guys".
—
The home opener against Idaho State did not start out as well as the season opener against Colorado State … but it was close.
The Buffs held the Rams to six straight three-and-outs to open the Rocky Mountain Showdown, but the Bengals opened their game against the Buffs with a first down on their first two plays …
… but after that it went all CU's way.
Idaho State was forced to punt after four plays and 11 yards, with the Colorado offense taking over at their 23-yard line. Eight plays later, the Buffs had the lead for good. A 28-yard completion from quarterback Sefo Liufau to receiver Jay MacIntyre took the ball into Bengal territory, with Liufau hitting Devin Ross for a 15-yard score three plays later.
The CU defense allowed Idaho State five plays (and another first down) before getting the ball back for the offense. The second drive for the CU offense was a three-and-out … and had the Buff fans wondering if this might actually turn into a contested game.
Not so much.
After the Buff defense forced its first three-and-out of the game, the Buff offense went 61 yards in just five plays. Once again, a long completion featuring Liufau and Jay MacIntyre – this time for 23 yards – set the Buffs up at the Idaho State six yard line. On the next play, Phillip Lindsay took it in, and it was 14-0, Colorado, late in the first quarter.
Another three-and-out from the ISU offense set the Buffs up at the Bengal 48. Three straight runs by Sefo Liufau during the drive, going for a combined 28 yards, again set the Buffs up deep in ISU territory. Two plays later, Phillip Lindsay had his second score – this time on a two-yarder – and the rout was on.
The next four series from each team ended any drama about the final outcome.
In each series, the Idaho State offense went three-and-out.
In each series, the Colorado offense marched down the field for a score.
Touchdown drive No. 4 took only four plays. A 36-yard completion to Shay Fields set the Buffs up at the one, with running back Kyle Evans taking it in three plays later.
Touchdown drive No. 5 took eight plays to cover 66 yards. Another long completion to Shay Fields, this one covering 42 yards, again set the Buffs up in the Bengal red zone. Four plays later, on a fourth-and-one, Liufau hit tight end Chris Hill for a four-yard score.
Touchdown drive No. 6 went 62 yards in five plays. Aided by one of a series of pass interference penalties called on the Bengal secondary, the Buffs didn't have to work very hard to score. A quartet of Donovan Lee plays – three carries for 18 yards and a reception for ten more – preceded an 18-yard touchdown run by Sefo Liufau.
Touchdown drive No. 7 wasn't supposed to result in a touchdown. Taking over at the 18 with less than two minutes before halftime, backup quarterback Steven Montez made his Folsom Field debut. After three plays netted 13 yards and a first down, Montez connected with wide receiver Kabion Ento on a short pass … a short pass that Ento turned into a 69-yard score with 35 seconds to play before the break.
Halftime score: Colorado 49, Idaho State 0
The second half played out as games of this nature usually do … with some sloppy play and the opportunity for backups to get some quality playing time.
The teams traded punts to open the third quarter before true freshman cornerback Tony Julmisse provided a spark, intercepting a Tanner Gueller offering at the Idaho State 38-yard line. Five plays later, Steven Montez and Kabion Ento had their second connection of the night, this time from 19 yards out, to make it 56-0 midway through the third quarter.
The Colorado defense forced yet another three-and-out from the Idaho State offense on its next possession, but a fumble by true freshman Beau Bisharat gave the Bengals the ball back deep in CU's territory.
Taking over at the Buff 27 yard line, the Bengal covered the yardage in six plays (aided by two penalties against the Buffs). With less than two minutes remaining in the third quarter, Idaho State got on the board, scoring on a three-yard run by Jakori Ford.
The Buffs had two scoring opportunities in the fourth quarter, but failed on both. Backup kicker Chris Graham hit the left upright on a 40-yard field goal attempt to end one threat, while the Buffs went for – and failed – on a fourth-and-five run up the middle at the Idaho State six yard line with under two minutes remaining.
The failure in the final minutes was the first missed opportunity to score in the redzone in the the first two games … but it hardly mattered.
The game had been over since late in the first quarter.
Final score: Colorado 56, Idaho State 7.
—
"All the first two games say is that we're 2-0", said MacIntyre, who also won the first two games in his first season, 2013. "Those games are history now and we need to get ready for the next one.  We're going to get ready for it starting tomorrow.  We'll let our guys enjoy this tonight and relax a little. I'll go get some Sweet Cow ice cream tonight, then I'll start working tomorrow morning."
"I think that there is a misconception with everyone that we just want to get to a bowl game," said Sefo Liufau, who went 15-for-18 for 204 yards and a touchdown, while also leading the Buffs in rushing with 54 yards and another score. "We are shooting for much higher than that. We are all competitors on our team and we want to go for a win every week and ultimately that correlates to a Pac-12 Championship. So we want to go out every week and be ready to play."
Here's the YouTube video of the game … 
—
Game Notes …
— CU opened the season 2-0 for the first time since 2013, and only the second time since 2008;
— Scoring records: Colorado tied its school records for the most points in the second quarter (35; the record for most points in any quarter is 38), first half and either half (49); the 49-point halftime lead set a new mark, topping the 42-point edge CU had versus NE Louisiana on Sept. 16, 1995 (a 49-7 lead); and the 49-point win was CU's largest since a 66-14 verdict over NE Louisiana on Sept. 16, 1995 … The last time CU won back-to-back games by 35-plus points was in 1994 when the Buffs opened with wins over NE Louisiana (48-13) and No. 10 Wisconsin (55-17) … Colorado has scored 100 points in its first two games, its most since 103, also in 1994;
— Colorado went over 500 yards in total offense (578 v. CSU; 598 v. ISU) in back-to-back games for the first time since Nov. 9-16, 2002 (575 at Missouri in a 42-35 OT win and 518 vs. Iowa State in a 41-27 win in Boulder); it marked the first time in back-to-back games to open a season since 1993 (when CU had 500+ in three straight versus Texas, Baylor and Stanford);
— Colorado allowed just 14 points in the first two games, its low since 1978, when the Buffs allowed 7 points in each of the first five games … CU allowed just 124 passing yards in two opening games (63 by CSU; 61 by Idaho State);
— Kabion Ento became the 14th known player in CU history to score on his first collegiate touch, with the 69-yards it covered the second-longest from scrimmage (Scott Fernandez scored on a 71-yarder against Arizona in 2012);
— Tony Julmisse's interception extended CU's nation-leading streak of consecutive games forcing a turnover to 15;
— Idaho State's offensive production was poor … but consistent. In the first and third quarters, the Bengals managed 35 yards, while in the second and fourth quarters, the Bengals managed to post only 13 total yards in each stanza.
—–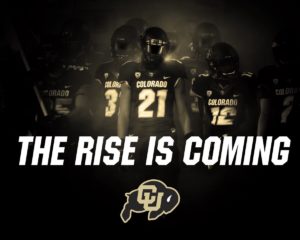 —–