—
Friday Fast Facts
—
— This Saturday is CU's designated game for the National Football Foundation-sponsored "Extra Yard for Teacher's Week." The promotion is to rally support to further the cause of elevating the teaching profession by inspiring and empowering quality teachers. Area teaching professionals (K-8) have been invited to this week's game for free and will be recognized during the game. The coaches are wearing a special patch acknowledging the promotion. For more information, contact Rachel Ripken (Rachel.Ripken@colorado.edu).
—
— The C-Unit has send out the word that in the second quarter of the Idaho State game, they will be performing the "Viking War chant", made famous this summer by the Iceland men's soccer team as they made an unlikely run to the finals of the European Cup.
To help you get ready …
— Against Colorado State, the Buffs started 19 upperclassmen, including nine seniors. It was the highest total since 2002, when the Buffs also started 19 upperclassmen;
— The injury report remains the same as last week, with three players out for the season: defensive back Jaisen Sanchez; linebacker Trent Headley; and wide receiver Juwann Winfree. Two other players – wide receiver Jaleel Awini (back) and offensive tackle Isaac Miller (knee) remain "out/indefinitely".  Safety Ryan Moeller has had ankle issues, preventing from starting last weekend, but is reportedly on the mend;
— With Moeller out, junior Afolabi Laguda earned his first career start. The other player earning his first career start was red-shirt freshman guard Tim Lynott;
— The 578 yards of total offense against the Rams was the highest for the Buffs since 1994 (649 yards v. Northeast Louisiana). Of course, the 1994 team went on to an 11-1 record and a No. 3 final ranking …
— The 37-point margin of victory over Colorado State was the third-largest since World War II. The two larger margins: 61 (61-0 over Drake; 1954); and 42 (45-3 over Drake; 1988);
— Sefo Liufau was named the Pac-12 Offensive Player-of-the-Week. Liufau became the seventh Buff to earn the honor, the first since last year's game against CSU, when Kenneth Olugbode was named the Pac-12 Defensive Player-of-the-Week;
— Three true freshmen saw action against Colorado State: tailback Beau Bisharat; wide receiver Johnny Huntley; and cornerback Tony Julmisse (for comparison's sake, UCLA had eight true freshmen take the field against Texas A&M);
—
— Buffs v. Bengals
— Colorado has never played Idaho State … or any other team from the state of Idaho;
— The Buffs are 3-0 against the Bengals in men's basketball, however, with the most recent game being played in 2010;
— Idaho State is 0-12 all-time against members of the Pac-12, with seven of those games coming against Utah;
— The ESPN Football Power Index gives CU a 99.2% chance of winning the game (enjoy it, Buff fans. We'll see what the FPI has to say about the Buffs next weekend when Colorado faces Michigan);
— Colorado is only 4-2 all-time against teams from the FCS. After being one of the final holdouts against playing such teams (1978-2006), the Buffs first game against a 1-AA team was a 19-10 loss to Montana State (in case you haven't heard it yet, the Bobcats were coached by Mike Kramer, the present coach of Idaho State). The Buffs are 1-2 against teams from the Big Sky Conference, with a (come-from-behind) win over Eastern Washington in 2008, and a loss to Sacramento State in 2012;
— National rankings
— In a sharp departure from previous seasons, Colorado is currently ranked 100th or worse in only one statistical category. Last weekend, Diego Gonzalez hit eight of nine kickoffs through the end zone. The one kickoff which was returned was brought back 35 yards … leaving CU ranked 124th in the nation (out of 127 teams) in that category;
— Meanwhile, Colorado is tied for first in the nation in at least three categories: fourth-down conversion defense (100%); turnovers gained (4); and red zone scoring percentage offense (100%);
— The Buffs are also in the top ten nationally in passing defense (7th); turnover margin (10th); and interceptions (10th);
— Colorado is tied with Georgia State and North Carolina with the longest current streak of forcing at least one turnover in a game. The Buffs, after forcing four turnovers against the Rams, have forced a turnover in 14 straight games;
— Pac-12 
— Six Pac-12 teams (including CU) were flagged for four or fewer times during the first week of play. Last season, only one team was flagged for an average of fewer than five penalties per game (Arizona State … CU was flagged for an average of 6.1 per game last year);
— Ten Pac-12 teams are in action this weekend (Stanford and Oregon State are idle). In those ten games, Pac-12 teams are underdogs in just two (according to 5Dimes): California, a 7-point underdog on the road against San Diego State; and Washington State, a 10.5-point underdog on the road against Boise State. In the other eight games, only a handful are predicted to be close, with Utah a three-point favorite over BYU, and Arizona State a 2.5-point favorite over Texas Tech. The other six games (USC over Utah State; Colorado over Idaho State; Arizona over Grambling State; UCLA over UNLV; Washington over Idaho; and Oregon over Virginia) are all expected to be routs for the home-standing Pac-12 squad;
— Utah has won five straight against BYU, including last year's meeting in the Las Vegas Bowl;
— Arizona State has won 18 straight home games, the third-longest such streak in the nation;
— Oregon failed to sellout its home opener against UC-Davis, ending a 110-game streak of sellouts dating back to the 1999 season;
— There were five Pac-12 receivers who had over 100 yards in Week One, but only two running backs cracked the 100-yard barrier (CU had two receivers close, with Bryce Bobo going for 99 yards and Devin Ross for 97. The Buffs' leading rusher was Phillip Lindsay, who had 95 yards on 20 carries);
— Six Pac-12 teams gave up 20 or fewer points in their openers, with four from the Pac-12 South. In 2015, only one team in the conference (Washington, with 18.8 ppg.) gave up fewer than 20 points per game.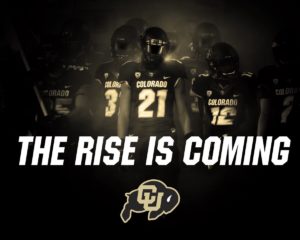 ---