—
"We have good guys who want to win. Must work harder – smarter"
—
The bar has definitely been raised.
Colorado hasn't beaten a ranked team on the road since 2002.
Colorado hasn't beaten a ranked team of any kind since 2009.
The only two times that the Buffs have taken out a top five team, on the road, in school history (Nebraska, 1990; Michigan, 1994), Colorado was also ranked in the top ten.
And yet, after the Buffs succumbed to No. 4 Michigan, on the road, 45-28, the Buff Nation was up in arms. "Special teams were an embarrassment". "CU's play calling was a joke". "Mike MacIntyre failed his players".
Love the passion … can't completely agree with the arguments.
It was tough to watch the second half, no question about it. After generating 28 points in 31 minutes against the No. 9 scoring defense in the nation, the Colorado offense lost starting quarterback Sefo Liufau. Over the next 29 minutes, the Buff offense was held to 18 total yards on 24 plays. A 28-24 lead quickly turned into a 45-28 loss.
What to take from the Buffs' first loss of the 2016 season, in order of priority:
— What is the extent of Sefo Liufau's injury?
Sefo Liufau went out early in the third quarter in what was described as a "high ankle sprain".
Liufau tried to come back after suffering the injury, but the Buffs went three-and-out, including a sack to conclude the drive. ""I just couldn't plant and throw," Liufau said. "I couldn't push off of it."
After the game, coach Mike MacIntyre had little information to share as to Liufau's prognosis. "We'll know how severe it is after we get through tonight and take a look at it tomorrow". With the Buffs having an off-day on Sunday, it will likely be Monday at the earliest before the Buff Nation learns whether Liufau will return next week … or if the wait will take weeks.
In the meantime, Buff fans were left with the reality that the likely starter for the road game against Oregon would likely be red-shirt freshman Steven Montez.
Montez made a splash against Idaho State, with the first pass of his career turning into a 69-yard touchdown pass to Kabion Ento.
Against Michigan, however, Montez suffered mightily, going 0-for-7 passing. The Buffs generated only two first downs after Liufau went down, with one coming on a Michigan penalty; the other in the final minute as the clock was winding down to a merciful end.
… Adding insult to injury, the quarterback the Buff Nation thought would be their primary backup, if not their starter, Davis Webb, threw for four touchdowns Saturday night to lead Cal to a 50-43 upset win over No. 11 Texas …
Perhaps Liufau's injury will not be a season-long issue. Perhaps Montez, with a full week of preparation as the No. 1 starter, will prove to be the quarterback Buff fans drooled over two years ago when Montez became a Buff on Signing Day.
But today, the question of Liufau's ankle looms like a dark cloud over the rest of the Buffs' season.
—
— Far from "special" teams
History will record that Michigan scored 45 points against a Colorado team which had only surrendered 14 total points in its first two games.
But the Colorado defense acquitted itself quite well, thank you very much.
Two of the Michigan touchdowns – a blocked punt for a score and a returned punt for a score – took place with the defense on the sideline. Of the four other touchdown drives generated by the Wolverine offense, three started inside Colorado territory. Only once, in the third quarter, did the Michigan offense put together a sustained drive, going 80 yards in ten plays.
Simple reality … the Colorado defense played all afternoon with its back against the wall, with the Buff special teams units contributing mightily to that problem.
Colorado punted ten times on the afternoon. With the blocked punt, another punt "blocked" by a CU up-man, and a punt return for a score, the net return for the Buffs on ten attempts … 17.9 yards per punt.
Mike MacIntyre was tight-lipped after the game about his punt team. "Yeah we had some issues", said MacIntyre. "I'll go see it on film, we'll fix it and move on", adding, "I think it hurt the game for sure, there is no doubt about it. It was a big part of the game for us not coming out on top".
No arguments, there.
Still, the bigger loss going forward was not the punting game, but in the kicking game. Senior kicker Diego Gonzalez was lost for the season with a torn Achilles suffered in the third quarter against Michigan. While Gonzalez did miss a 36-yard field goal attempt in the second quarter, he was arguably off to his best season as a Buff. He made the first three field goal attempts of the year, along with all of his extra point tries.
But where Gonzalez had made the greatest strides was in his kickoffs. In all of 2015, he had a total of 17 touchbacks on kickoffs (in 51 attempts). In the first two-and-a-half games of the 2016 season, Gonzalez had 16 touchbacks (in 19 attempts).
The place-kicking job and kickoff duties now fall to junior Chris Graham, who hit the upright in his only attempt this season, a 40-yarder against Idaho State.
The attention this week will be on the injury to Sefo Liufau, but there may come a time this season, when, in a close game, the loss of Gonzalez will hurt just as much.
—
— So, Where do we go from here?
If you go back in time three weeks, you will find most Buff fans predicting a 2-1 non-conference campaign. Wins over Colorado State and Idaho State were anticipated, as was a loss to Michigan.
But, after dominating wins over the Rams and Bengals, and an outstanding start against the 4th-ranked team in the nation, 2-1 doesn't have as great a feel as it might have otherwise.
If Liufau is lost for a considerable chunk of the Pac-12 season, all bets are off. The Buffs enter Pac-12 play where they thought they would be, needing to go 4-5 to secure a bowl berth, but may have to do it without their four-year starter at quarterback.
If Liufau can make a speedy recovery, however, the future looks bright.
Take a look at the next four weeks of play:
– Oregon, while still Oregon, is not the (ranked) team it used to be;
– Oregon State still looks like the most likely team to go 0-9 in conference play;
– USC is 1-2, after having been out-scored, 79-16, by Alabama and Stanford;
– Arizona State had to rally from a 28-12 deficit to defeat Texas-San Antonio (a Roadrunner team which had lost, 23-14, to Colorado State the week before).
Nothing is certain, but, by almost any objective measure, the 2016 Colorado football team is more prepared to take on the Pac-12 conference as an equal than at any time since joining the conference.
One note caught my eye on the day before the game. Neill Woelk penned his "Friday Fast Five Keys to the Game", out-lining CU's game plan for Michigan. There you will find this observation, from someone who is around the program on a daily basis: "But the Buffs haven't shown even the slightest hint of being intimidated. Rather, they have exuded a quiet confidence throughout the week, approaching every practice with a business-like attitude and sharp attention to detail".
Quiet confidence … from a team which had yet to defeat a ranked team, at home or on the road, under Mike MacIntyre. A team which was a 20-point underdog to the No. 4 team in the nation.
This team has work to do. No question about it.
Special teams will undoubtedly take up more than one-third of practice time this week, as the Buffs prepare for one of the fastest teams in football.
But the Buffs are in good hands.
Check out these tweets from two of the newest members of the staff:
— From co-offensive coordinator Darrin Chiaverini: "Proud of the way our team fought today! No one likes losing and together we will get back to work and get better"; and
— From defensive coordinator Jim Leavitt: "4:00 a.m. (Sunday) Couldn't sleep. At office watching film. It burns inside me. We have good guys who want to win. Must work harder – smarter. Go Buffs"
It remains an uphill battle.
Colorado coaches and players will be hearing all week about how Mike MacIntyre is 2-25 against the Pac-12 since becoming the CU head coach. How the Buffs are 0-5 against Oregon since joining the conference, losing by an average score of 51-13.
But the Buff fans expect more from this team.
The Buff players and coaches expect more from this team.
"We lost and that burns my behind," Leavitt said as he stood outside of Michigan Stadium after the game. "I didn't come here to play close. I came here to beat Michigan. That was all my mindset and we didn't get it done, so it burns my behind. That's all there is to it."
… We have good guys who want to win …
—–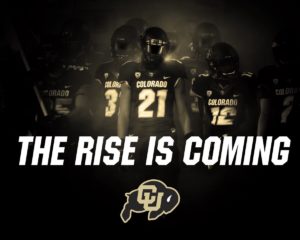 —–