March 30th
Recruiting Needs – Pac-12
Sports Illustrated has an article outlining the needs of all of the Pac-12 teams when it comes to recruiting the Class of 2014.
Here is a link to the full article – and here's what they had to say about CU:
Colorado
• What it needs in '14: In terms of raw numbers, new head coach Mike MacIntyre did an admirable job addressing Colorado's depth issues with his class of 2013. However, after not signing any tight ends and only one stout defensive tackle, the Buffaloes will need to address both positions as they pursue their 2014 recruiting haul.
• Can it be done? Colorado is not a deep state for talent, and the program is hitting the bottom of a bad cycle right now. MacIntyre will have his work cut out for him if he hopes to bring in the talent necessary to spark a turnaround in Boulder. If the Buffs can land name-brand center Trenton Noeller out of Windsor (Colo.) High, it could be a promising sign of things to come. Otherwise, Colorado might have to load up on two- and three-star prospects in most areas of need.
… Here is a link to the Rivals bio on Trenton Noller (It is Noller, not "Noeller", as reported in the story above). While listed as a four-star prospect, to date Rivals is only showing offers for Noller from Arizona, Northern Colorado, and Wyoming …
March 28th
Four bowl sites bid for playoff semifinal openings
From ESPN … Four bowls bid for three openings to be part of the semifinal rotation in college football's upcoming new playoff, sources told ESPN.
The Tostitos Fiesta Bowl (Glendale, Ariz.), AT&T Cotton Bowl (Arlington, Texas), Chick-fil-A Bowl (Atlanta) and Bridgeport Education Holiday Bowl (San Diego) met Wednesday's deadline to bid on the semifinal sites.
Only three of the four bowl sites will be selected when the BCS commissioners meet April 23-25 in Pasadena, Calif.
Sources told ESPN, the Fiesta, Cotton and Chick-fil-A are the "overwhelming favorites" to join the Rose, Sugar and Orange bowls in the six-bowl semifinal rotation.
On Tuesday, ESPN reported that Cowboys Stadium was a "virtual lock" to host the first championship game in the new playoff format on Jan. 12, 2015. Arlington and Tampa, Fla., were the only two cities to bid for the national title game.
The six semifinal bowls will rotate during the 12-year contract. The Rose and Sugar bowls will host the semifinals after the 2014, 2017, 2020 and 2023 seasons; and the Orange Bowl after the 2015, 2018, 2021 and 2024 seasons.
One of the other three bowls will host the same years as the Orange Bowl, with the remaining two bowls hosting the semifinals after the 2016, 2019, 2022 and 2025 seasons.
March 27th
Arizona head coach Rich Rodriguez: "I have been too nice"
From azcentral.com … The Arizona Wildcats are halfway through spring football practice, and coach Rich Rodriguez realizes he made a mistake.
"I have been too nice," he said.
Rodriguez dressed down his team after Monday's practice, his voice carrying across the Kindall/Sancet practice facility, and he was still agitated when he met with a small group of reporters.
Did you take a closer look at the scrimmage from Saturday?
"Oh yeah. We evaluated it, in all its ugliness. Wasn't pretty."
Was it effort or technique?
"Yep."
You don't seem particularly happy with the team right now.
"Nope. It's all right. They might not be happy with me either, so the feeling's probably mutual."
Perhaps a good mid-spring venting is good for the soul. Rodriguez didn't get into specific areas of needed improvement — all of them, suffice to say — and neither did he call out anyone by name. It's mostly that he knows the standards it takes to win at the highest level, and if he's not seeing it, he'll do something about it.
Which gets back to his point about not being too nice (if anybody has ever accused Rodriguez of being that on the field).
"I have nobody to blame but myself," he said.
—
UCLA starting safety dismissed from team
From LATimes.com … UCLA safety Tevin McDonald has been released from the team after violating team policy.
"It's disappointing to me and disappointing for Tevin," Coach Jim Mora said. "I have known him since he was a young boy. On a personal level, it's disappointing. I hope everything turns out well for him."
McDonald, a starter the last two seasons, was suspended for the Holiday Bowl in December after a third positive test drug test.
Under UCLA policy, a player loses his scholarship after a fourth positive test.
… McDonald was the Bruins' starting safety the past two seasons. He finished third on the team with 79 tackles last season while starting 13 games.
March 26th
Cowboys Stadium a "lock" to host national championship game
From ESPN.com … Cowboys Stadium in Arlington, Texas, is a "virtual lock" to host the first championship game in college football's new four-team playoff, sources said.
Wednesday was the deadline to submit bids to host the championship on Jan. 12, 2015, and only the North Texas and Tampa Bay, Fla., communities submitted bids, sources said.
The BCS commissioners will meet April 23-25 in Pasadena, Calif., to officially announce the first championship site and other details about the upcoming playoff.
In January, sources told ESPN that Cowboys Stadium was the "prohibitive favorite" to host the game. Because Cowboys Stadium, which hosts the AT&T Cotton Bowl, is such an overwhelming favorite for the inaugural championship, several communities opted not to bid, sources said.
"It's pretty clear to everyone that it's headed to Cowboys Stadium," an industry source said.
March 25th
Washington State players fighting with neighbors from Idaho
Guess eight miles ain't far enough apart …
From the Daily Evergreen … A WSU football player was taken to the hospital after a party turned sour, allegedly ending in a fight involving the University of Idaho and WSU football teams at about 1 a.m. Sunday morning.
According to officers on scene, Mansel Simmons, a redshirt sophomore wide receiver, was taken to Pullman Regional Hospital then transported to Spokane after someone allegedly punched him in the face at a party near the corner of Ash and Maple streets, according to Pullman police.
The suspect allegedly pulled a knife prior to punching him. Police believe the suspect is either a member of the UI or WSU football team.
March 24th
Cal spring game altered due to injuries / No decision made on starting quarterback
Cal had to adjust its Spring game format due to having too many players on defense out with injury … and a three-way race to name a new starting quarterback ended in a "no-decision".
Sound familiar, Buff fans?
From the San Jose Mercury-News …  The best-looking play in Cal's spring football game Saturday was a 22-yard run around right end by a big, fast tailback who jogged into the Memorial Stadium end zone untouched.
But as it turned out, the ball carrier wasn't supposed to be touched. He was a ringer — former Cal star Marshawn Lynch — who entered the game on a third-down play as a surprise to the approximately 5,000 fans who showed up to get a sneak preview of the Sonny Dykes spread offense.
"We told the guys if anybody tackled him, it was going to be a $25 million fine," Dykes said of Lynch's play. "I didn't want to be getting a call from Pete (Carroll, Lynch's coach with the Seattle Seahawks)."
Lynch apparently approached Cal community relations director Kevin Parker and asked if he could do something at the spring game.
"We kind of brainstormed and figured out a way for him to do something with our team and catch people's attention," Dykes said.
As for the real game — such as it was — there were at least a few things that may have grabbed people's attention.
The defense outpointed the offense 28-24 in a bizarre affair that saw just one regulation quarter followed by two more in running time.
March 22nd
First Pac-12 spring game set for this Saturday.
Bracket busted? Ready to move on from college basketball?
Well, the first Pac-12 spring game is already on tap, with Cal's spring game being aired this Saturday (5:00 p.m., Pac-12 Networks).
Cal's will be the first spring game to be on television, but it won't be the last. In fact, every Pac-12 spring game will be on television this spring.
On Saturday, April 13th, the Buffs will play their spring game, and will be on the Pac-12 Networks from 10:30 – 12:00, MT. Four other Pac-12 teams – Arizona; Arizona State; USC; and Stanford – will also play their spring games.
On Saturday, April 20th, three more teams – Utah; Washington; and Washington State – will play their spring games.
On Friday, April 26th, Oregon State will play a night spring game, with Oregon and UCLA finishing things up that Saturday.
Here is a complete listing of all of the Pac-12 spring games on the Pac-12 Networks.
March 21st
Pac-12 goes 3-0 in first full day of NCAA tournament
Two No. 12 seeds knocked off two No. 5 seeds in the NCAA tournament … and both teams were Pac-12 teams.
No. 12 Oregon took out No. 5 Oklahoma State, 68-55, while No. 12 Cal – after trying to lose the game by missing seven out of 12 free throws in the final minute – hung on to take out No. 5 UNLV, 64-61.
Meanwhile, the only Pac-12 favorite on the day, No. 6 Arizona, had little trouble with No. 11 Belmont, 81-64.
Up next on Friday … No. 6 UCLA will take on No. 11 Minnesota in the last game on Friday, after No. 10 Colorado takes its chances against No. 7 Illinois … with both games to be played in Austin.
Come Saturday … No. 12 Oregon will takes on No. 4 St. Louis, while No. 12 Cal will take on the winner of the Syracuse/Montana game, with both games to be played in San Jose. Meanwhile, No. 6 Arizona will play the winner of the New Mexico/Harvard contest, with that game being played in Salt Lake City.
Arizona State advances in NIT
The Pac-12 moved its NIT record to 2-1, with Arizona State's win over Detroit Wednesday night.
Jahii Carson had 22 points, 10 rebounds and six assists and Carrick Felix added 21 points and seven rebounds as No. 3 Arizona State got past No. 6 Detroit 83-68 Wednesday in the first round of the NIT.
The Sun Devils (22-12) play at No. 2 seed Baylor Friday night in the second round. The Bears beat Long Beach State in their opening round game Wednesday 112-66.
Stanford is also still alive in the NIT, while Washington lost its first round game to BYU.
In the NCAA tournament … No. 12 Oregon will be the first team to play from the Pac-12, taking on No. 5 Oklahoma State at 2:40 p.m. (MT) on TNT. No. 6 Arizona will play No. 11 Belmont at 5:20 p.m. MT, also on TNT, with No. 12 Cal tipping off a few minutes later in their game against No. 5 UNLV (on TruTV).
The other two Pac-12 teams in the tournament, Colorado and UCLA, will play their first games on Friday.
March 20th
Arizona State ditches new "Sparky" mascot
From azcentral.com … The new Sparky is out already. Instead, Arizona State University's costumed mascot will get a Mr. Potato Head-style makeover.
An online program is being developed to allow fans to choose features for the new Sparky head and face. They will be able to pick from a variety of eyes, face shapes, mustaches and goatees. They will get to select maroon or black horns.
Then, they can see how the individual features mesh — just like kids have done for generations with the popular toy.
ASU plans to tally the votes and reveal the winning costume at the first football game of the season on Sept. 5.
The decision to scrap the new costumed mascot and use an online vote instead comes less than a month after ASU unveiled a modern version of Sparky. The backlash began immediately over the bulging eyes and beefed-up muscles. Some compared him to the Honey Nut Cheerios bee crossed with Buzz Lightyear.
Here is a link showing what the new/now old Sparky looks like …
Stanford opens defense of NIT title with close win
The Pac-12 went 1-1 in the first round of the men's NIT, with Stanford, a No. 4 seed, holding off Stephen F. Austin, 58-57, in Palo Alto, while Washington, a No. 6 seed, lost on the road to BYU, 90-79.
Stanford moves on to play No. 1 seed Alabama in the second round, while Washington ends its season with an 18-15 record (9-9 in Pac-12 play).
Arizona State, a No. 3 seed, will play its first round game at home against Detroit Wednesday night.
—
March 19th
Big Ten a threat to revert to Division III if "play-for-pay" lawsuit prevails?
From Sports Illustrated … Ohio State versus Mount Union in a regular-season football game? Wisconsin against Wisconsin-Whitewater in a regular-season basketball game?
This isn't an outreach program between Big Ten schools and their Division III neighbors. It's one possible future Big Ten commissioner Jim Delany envisions if the plaintiffs prevail in Ed O'Bannon vs. the NCAA. In a declaration filed last week in federal court in support of the NCAA's motion against class certification, Delany threatened that any outcome that results in athletes getting a piece of the schools' television revenue could force the schools of the Big Ten to de-emphasize athletics as the Ivy League's schools did decades ago.
"…it has been my longstanding belief that The Big Ten's schools would forgo the revenues in those circumstances and instead take steps to downsize the scope, breadth and activity of their athletic programs," Delany wrote. "Several alternatives to a 'pay for play' model exist, such as the Division III model, which does not offer any athletics-based grants-in-aid, and, among others, a need-based financial model. These alternatives would, in my view, be more consistent with The Big Ten's philosophy that the educational and lifetime economic benefits associated with a university education are the appropriate quid pro quo for its student athletes."
… Okay, so the Big Ten going to Division III ain't gonna happen, but Delany's posturing does speak to the significance of the lawsuit pending against the NCAA …
March 18th
Pac-12 / DirecTV remain at an impasse
From the Oregonian … Pac-12 commissioner Larry Scott touched on a number of subjects in a short news conference at the MGM Grand Friday before the semifinal games of the Pac-12 Conference tournament.
— Scott said talks with DirecTV remain at an impasse. The cable service provider and some cable companies do not carry the Pac-12 Networks, a source of frustration for many fans in Oregon and elsewhere.
"We are ready to make an agreement with DirecTV," Scott said. "We're eager to do so. We've offered them the same terms essentially as to the other 55 distributors that are carrying us. Unfortunately, they've refused to take it at this point in time. The offer is far. It's serious. And, again, it's consistent with what the other 55 are taking."
March 16th
USC leading rusher to have surgery, will miss the rest of spring practices
From ESPN … USC senior running back Silas Redd will miss the rest of spring ball with a torn meniscus in his left knee, coach Lane Kiffin announced on Saturday.
"Silas Redd — torn meniscus. Out for the rest of spring. Surgery next week on Tuesday — expected to return in the fall with no problems," Kiffin said immediately following the team's morning practice.
Redd, who appeared to suffer the injury in Thursday's practice, had been one of the spring standouts for the Trojans. After transferring to USC from Penn State prior to the 2012 season, Redd made an immediate impact, leading the team with 905 rushing yards and nine touchdowns.
With the absence of Redd — along with freshman Justin Davis (broken finger) and Tre Madden (recovering from last spring's knee injury) — D.J. Morgan and Javorious Allen took the majority of the reps at tailback in the team's scrimmage on Saturday.
March 15th
Oregon State player gets chance to suit up against Buffs September 28th
From BeaverNation.com … Oregon State senior safety Steven Christian has been granted a sixth season of eligibility by the NCAA.
The native of Sacramento, Calif., missed the 2009 and '11 seasons while at the University of Hawai'i due to hip injuries. OSU officials submitted a waiver to the NCAA demonstrating that Christian lost both those seasons due to circumstances beyond his control. He transferred to OSU from Hawai'i prior to last season.
"The last year was an amazing experience for me," Christian said. "To be a part of a wonderful program with coaches such as Coach (Mike) Riley and Coach (Rod) Perry is an honor to have. Over these past eight months I have learned so much as a player and a person from both of them."
Christian played in seven games last season, making five tackles with one interceptions and a forced fumble.
March 12th
The Playoff Championship game will not have a title sponsor
From ESPN … The conference commissioners and college administrators who oversee college football's new championship format, which will begin in 2014, expect to unveil its name and logo at their meeting in Pasadena, Calif., next month, executive director Bill Hancock said.
That title, Hancock said, will not include a sponsor.
"It won't be 'The Vizio Championship Tournament,'" Hancock said, using the Rose Bowl title sponsor as an example. "The Final Four doesn't have one. The Masters doesn't. The Super Bowl. That's the kind of event we have."
The group has narrowed the candidates for the name to a "small number," Hancock said. It will be simple, straightforward and, as he described it, "not cutesy."
March 11th
Washington star tight end arrested for DUI
From the Seattle Times … Washington tight end Austin Seferian-Jenkins remains under investigation for driving under the influence after a one-car accident Saturday night in the University District.
A Seattle City Attorney's office spokeswoman said Monday charges from the incident are pending until toxicology results come in on blood taken from Seferian-Jenkins early Sunday morning.
Seferian-Jenkins was cited after the car he was driving was found in an open catch basin at the southern end of Ravenna City Park after leaving the roadway and driving over a small planted tree and the sidewalk.
The report of the incident states an officer "came across a traffic collision" at 22nd Avenue NE and Ravenna Avenue NE at 11:29 p.m., where the driver was found with a bloody nose. The injury, the police report states, "was consistent with hitting his face on the windshield of the crashed vehicle."
There was apparently no other car involved. The vehicle was found to have "a star-shaped fracture to the windshield on the driver's side." The driver was found to have "a bloody nose and what appeared to be dried blood on his face and shirt."
—
Bo Pelini calls his team "mentally weak"
From the Lincoln Journal Star … (Okay, so we don't play Nebraska for another four seasons, but hey, it's never off-season for loathing the Huskers)
… A week ago, there was dancing after a Husker football practice. Um, no such thing this Saturday.
Just a ticked-off coach.
"What I watched was a mentally weak football team, a bad football team, especially on the defensive side of the football," Husker coach Bo Pelini said. "Call it what it is. We have a long, long, long way to go."
It was Nebraska's fifth practice of the spring, and first on back-to-back days.
There was some scrimmaging. Pelini apparently saw nothing he really liked.
The struggles weren't about youth and experience, the coach said. Just about a team not being strong enough to show fight.
"It's a mentally weak football team," Pelini said. "Guys gave in and didn't feel like practicing. I'm ashamed of what I just watched on that practice field."
—
March 10th
USC Biletnikoff winner suffers knee injury; potential starting quarterback also out
From CBSSPortsline.com … On Saturday USC scrimmaged with live tackling for the first time this season, and the Trojans did not emerge from the practice session unscathed.
According to the school's website, neither receiver Marqise Lee nor quarterback Mat Wittek played in the scrimmage, as both suffered knee injuries.
QB Max Wittek and WR Marqise Lee both suffered knee injuries during practice and sat out the scrimmage. Lane Kiffin announced that both will have further testing before a diagnosis is announced. Lee stood and cheered his teammates throughout the scrimmage, while Wittek rested on the trainer's table with ice on his knee.
The good news for USC is that with Lee standing around and cheering his teammates on during the scrimmage, it doesn't sound like the knee injury he suffered was very serious. So odds are the Biletnikoff Award winner who finished with the 2012 season with 1,721 receiving yards and 14 touchdowns won't be missing a lot of time.
The question is how serious Wittek's injury is, as he's expected to be Matt Barkley's replacement at quarterback for the Trojans next season.
March 8th
Cal's most experienced quarterback leaving team
From the San Jose Mercury News … Senior Allan Bridgford, Cal's most experienced quarterback, has left the team to decide if he wants to remain part of the program after being told his spring practice opportunities would diminish.
"He kind of got some news from us that he was going to get some reduced reps. Decided he's going to take a day or two to kind of assess things some things," coach Sonny Dykes said.
Dykes said Bridgford will discuss his options with his family over the weekend and report back to the coaching staff by Monday.
Dykes said Bridgford would be welcome to return. "It wouldn't be a big deal," Dykes said.
ESPN and Mountain West close to a new television deal
From ESPN … The Mountain West Conference and ESPN are finalizing a seven-year media rights deal for the network to televise up to 22 football games and 25 men's basketball games annually, sources said Thursday.
The deal brings the total value of the Mountain West's media rights deal, including its existing deal with CBS Sports Network, up to about $116 million, or $18 million annually, sources said.
Of the 22 football games to be televised on ESPN, all six of Boise State's home games will be included. The conference still has to negotiate the rights to its conference championship football game, which would bring more revenue to the league.
The Mountain West's overall media rights deal from CBS Sports Network and ESPN through the 2019-20 academic year is comparable to a seven-year deal struck between ESPN and the Big East, which will be paid $20 million annually from 2014-15 through 2019-20.
… So, even with the added revenue from the championship game, the per team revenue from the new contracts, for the 12 members of the Mountain West, would be less than $2 million annually … or about 1/10th of what each of the Pac-12 teams will be expecting to bring in from television revenue over that same period time.
March 6th
Oregon State fans weigh in on new logo
Oregon State has unveiled its new logo and uniforms (see March 4th story, below).
The Beavers' fans are weighing in on the changes. The full story is here, but here are some of the comments:
– Three cheers for Nike! They have done well with our Beaver theme and colors! I like the color schemes and the new Beaver logo. … The new Beaver looks CONFIDENT and denotes SPEED, or a Beaver that is FAST. … If we have this first impression on the new Beaver face and the color schemes, then I hope that is the impression felt by our opponents: Confident, fast, with alot of team "speed."
– I know it is difficult to break with the olde traditional Benny and the "fighting Beaver," but we gotta move on. Players want a modern Nintendo look. Our new Beaver looks [is] just that.
– The uniforms are alright, but what matters most is the logo since that is what people will associate with OSU, and the new logo is AWFUL. Given a blank slate and [they] come up with [this] mess? Ugly, ugly logo that does not look like a Beaver to me. Very disappointing!
– The logo is not good. At all. It looks nothing like a real Beaver, nothing like a cartoon Beaver … And what's the deal with the off-colored orange helmet? … Nothing about this "rebranding" is iconic, nor does it establish OSU with a unique look. It's certainly not Michigan's sunburst helmets, or Notre Dame's Golden Domes, or Alabama's Solid Crimson helmet with a single white stripe. If anything, this gives OSU a lack of identity.
—
March 5th
McCartney and Bieniemy again on College Football Hall of Fame Ballot
The National Football Foundation released its Hall of Fame Ballot list today. On the list of the 77 players and coaches was former CU head coach Bill McCartney and former All-American running back Eric Bieniemy.
Here are the brief bios listed for McCartney and Bieniemy on the NFF website:
Bill McCartney … Led Buffs to 1990 National Championship and three Big Eight Conference titles…Three-time Big Eight Coach of the Year and 1989 National Coach of the Year…Helped CU to nine bowl games in 13 seasons…Coached 18 First Team All-America players, including Heisman Trophy winner Rashaan Salaam.
Eric Bieniemy … Played in two national championships, leading Buffs to 1990 national title…Unanimous First Team All-America and finished third in 1990 Heisman voting… Two-time All-Big Eight pick, still holding eight CU records.
The ballot was mailed this week to the more than 12,000 NFF members and current Hall of Famers whose votes will be tabulated and submitted to the NFF's Honors Court, which deliberates and selects the class. Chaired by Gene Corrigan, a former ACC Commissioner and NCAA president, the 14-member NFF Honors Court includes an elite and geographically diverse pool of athletics directors, conference commissioners, Hall of Famers and members of the media.
"It's an enormous honor to just be on the ballot when you think that more than 4.92 million people have played college football," said NFF President & CEO Steven J. Hatchell. "The Hall's requirement of being a First-Team All-American creates a much smaller pool of only 1,500 individuals who are even eligible to be on the ballot, so being in today's group of 77 names means an individual is truly among the greatest to ever have played the game, and we are proud to announce their names today."
Here is the entire list of candidates.
From the Pac-12 …
Bob Berry, QB, Oregon, 1962-63
Tony Boselli, OT, USC, 1992-94
Bob Breunig, LB, Arizona State, 1972-74
Ted Bruschi, DE, Arizona, 1993-95
Mark Carrier, S, USC, 1988-89
John Didion, C, Oregon State, 1966-68
Al Harris, DE, Arizona State, 1976-78
Greg Lewis, RB, Washington, 1988-90
Jess Lewis, DT, Oregon State, 1967-70
Duncan McColl, DE, Stanford, 1974-76
Cade McNown, QB, UCLA, 1997-98
Darrin Nelson, RB, Stanford, 1978-81
Ken Norton, Jr., LB, UCLA, 1985-87
Ron Rivera, LB, Cal, 1981-83
Clarence Williams, RB, Washington State, 1962-64
Other names of note:
Trev Alberts, LB, Nebraska, 1990-93
Brian Bosworth, LB, Oklahoma, 1984-86
Eric Crouch, QB, Nebraska, 1998-2001
Ron Dayne, RB, Wisconsin, 1996-99
Eric Dickerson, RB, SMU, 1980-82
D.J. Dozier, RB, Penn State, 1984-86
Tommie Frazier, QB, Nebraska, 1993-95
Raghib Ismail, WR/KR, Notre Dame, 1988-90
Sterling Sharpe, WR, South Carolina, 1985-87
Percy Snow, LB, Michigan State, 1987-89
Vinny Testaverde, QB, Miami, 1986-87
Derrick Thomas, LB, Alabama, 1985-88
Lorenzo White, RB, Michigan State, 1984-87
Danny Wuerffel, QB, Florida, 1994-96
—
March 4th
Oregon State has a new logo and uniforms
In a word … yuck …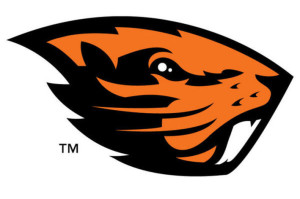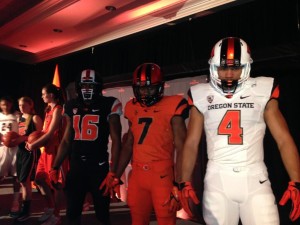 Four fewer Trojans with the team
From CBSSportsline.com … Lane Kiffin will have four fewer players to work with this spring.
Tight ends Junior Pomee and Christian Thomas and defensive linemen Christian Heyward and DaVante Wilson are no longer with the USC program, the school confirmed on Friday.
Pomee's omission from the roster is due to his arrest in early February. He has been removed from all team activities in the meantime. It is unclear why Heyward, Thomas and Wilson have departed.
None of the four received significant playing time in their careers, but losing them will definitely hurt USC's depth. The Trojans are already limited to 75 scholarship players due to NCAA sanctions, and coach Lane Kiffin has exacerbated that issue by signing under the yearly limit in his last two recruiting classes.
All four of these players were from the 30-man recruiting class of 2011, which was supposed to bolster USC's depth heading into sanctions. However, that class is now missing eight players, and several others have either been injured or haven't lived up to expectations.
ASU unveils new mascot design
Here is the new and improved Arizona State "Sparky" …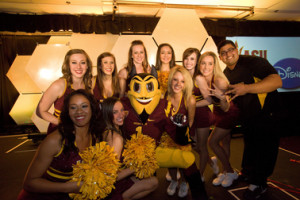 The newly designed mascot will now be used in a variety of applications that appeal to younger audiences, including comic books, children's books and animated productions. Throughout the process, ASU students have learned from and collaborated with some of Disney's best artists, illustrators, designers and business executives. Additionally, students in The Design School will also have the opportunity to develop future style guides for ASU-licensed apparel and merchandise that feature Sparky.
The new mascot costume will make its first appearance at the spring football game in April 2013, and its first regular season appearance at the start of fall football. Apparel and merchandise bearing the new Sparky character is available now at a limited number of retail outlets, including Sparky's Stadium Shop and the Sun Devil Campus Stores.
—
March 3rd
Cal new head coach to make less than Mike MacIntyre
… though Sonny Dykes might make more in incentives …
From ESPN … California has announced the details of new coach Sonny Dykes' contract: a $9.7 million, five-year deal that lasts through the 2017 season.
The terms released by the university Friday contain several performance and academic bonuses. Dykes also received a $594,000 signing bonus, which is approximately the buyout from his contract at Louisiana Tech.
The coach's average annual salary is $1.94 million.
"Sonny Dykes is the right person to lead our football program, and I'm pleased to say that we have concluded this process, so we can focus on `winning everywhere' in our football program." Cal athletic director Sandy Barbour said in a statement.
Cal hired Dykes on Dec. 5 to replace Jeff Tedford, the school's career wins leader with an 82-57 record. Tedford was fired in November after going 3-9 last season. Tedford and the university agreed to a $5.55 million buyout for the final three seasons of his contract on Feb. 4.
The 43-year-old Dykes had a 22-15 record with the Bulldogs, improving their win total each year. At Berkeley, he will receive a raise each year as the Golden Bears hope each season brings more wins — and more ticket sales — at remodeled Memorial Stadium.
Dykes' annual base salary is $250,000, plus additional talent fees, which are customary. In all, his annual salary before bonuses will be $1.8 million this season and in 2014, $2 million in 2015 and 2016, and $2.1 million in 2017.
Among his performance bonuses for his first three seasons: $25,000 for seven regular-season wins, $30,000 for eight, $35,000 for nine, $40,000 for 10, and $45,000 for 11.
Those numbers decline in the last three years of his deal to $10,000 for seven-regular season wins, $20,000 for eight and $30,000 for nine. He would still earn $40,000 for 10 regular-season wins and $45,000 for 11.
If Cal makes the Rose Bowl, Dykes earns a $60,000 bonus. He gets $50,000 for taking the Bears to any other BCS bowl. Dykes also would receive a 40,000 bonus for making the Alamo Bowl and $30,000 for the Holiday Bowl. He gets $25,000 for getting to any bowl game.
Compare Mike MacIntyre's contract … CU's new head coach will make slightly more than Dykes, with a five-year, $10 million contract, or $2 million per year.
MacIntyre's incentives … MacIntyre can earn an additional $300,000 annually in incentives based on the off-field performance of his players.
He can earn up to $100,000 each for academic progress, welfare and development of the student-athletes and outreach, culture and reputation of his players on campus.
Additional bonuses that MacIntyre can earn include:
–  $200,000 if CU plays in a non-BCS bowl game.
– $100,000 if CU plays in the Pac-12 title game.
–  $250,000 if the Buffs play in a BCS bowl game.
– $750,000 if they win national championship.
– $50,000 if the Buffs win seven regular games; $25,000 more if they win eight regular season games.
– $25,000 for being named Pac-12 coach of the year.
So, both new coaches have plenty of incentives to make more money each season. Sonny Dykes, though, may reach some of his incentives earlier. The Bears, though only 3-9 in 2012, are seen as having a better opportunity to get better faster than do the Buffs.
—
March 1st
Arizona State head coach Todd Graham fires offensive line coach
And we thought the Buffs were having a hard time getting a staff together …
From azcentral.com … Arizona State coach Todd Graham has dismissed offensive line coach Bob Connelly.
Chris Thomsen — recently hired to replace departed running backs coach Larry Porter — likely will slide over to replace Connelly on the offensive line, but it depends on Graham's next hire. He is looking at both offensive line and running backs coaches. Thomsen coached the offensive line last season at Texas Tech.
Connelly joined ASU's staff as an assistant head coach shortly after Graham was hired in December, 2011. In his only season, the Sun Devils rushed for 205.4 yards per game, 25th-best in the nation. But they also gave up 2.92 sacks, which ranked 102nd.
With three starters returning, the offensive line is expected to be a strength next season. The Sun Devils have young talent in sophomores Mo Latu, Vi Teofilo and Evan Goodman. They also received a boost in December with the transfer of Auburn lineman Christian Westerman.
Connelly is the third assistant to leave after one season. In addition to Porter, who left for Texas, co-defensive coordinator/linebackers coach Ron West left for North Carolina.