Spring Practice Report
May 8th
Post-Spring Depth Chart
Three weeks after the final practices of the spring, the CU Post-Spring Depth Chart has been released.
As it is, if the CSU game was next week, the starting lineup might look like this:
Offense
QB – Connor Wood (Jr.)
RB – Christian Powell (So.)
FB – Jordan Murphy (So.)
WR – Paul Richardson (Jr.)
WR – Nelson Spruce (Jr.)
LT – Jack Harris (Sr.)
LG – Kaiwi Crabb (Jr.)
C – Gus Handler (Sr.)
RG – Alex Kelley (R-Fr.)
RT – Stephane Nembot (So.)
TE – Kyle Slavin (Jr.)
A few notes on the offense … The interior of the offensive line will likely look considerably different in September. Out for much, if not all, of fhe spring were LG Alexander Lewis (Jr.) and C Daniel Munyer (Jr.). Both will likely return to their starting roles this fall … While the depth chart lists two wide receivers, a tight end, and a fullback, there will likely be three wide receivers and perhaps two running backs in the game when the Buffs are playing for real. As a result, it's important to note that the players listed as second at wide receiver – Tyler McCulloch (Jr.) and D.D. Goodson (Jr.) – and at running back – Tony Jones (Jr.) and Josh Ford (Sr.) – will also be on the field often … One or both of the Thomases – Jeff (Fr.) and Gerald (So.) – may still have an impact at wide receiver this fall … The tight end depth chart does not list Vincent Hobbs, who missed the spring while taking care of family issues (father injured). There remains optimism that he will be back this fall …
Defense
DE – Samson Kafovalu (So.)
DT – Tyler Henington (So.)
DT – Josh Tupou (So.)
DE – Chidera Uzo-Diribe (Sr.)
LB – Addison Gillam (Fr.)
LB – Derrick Webb (Sr.)
LB – Woodson Greer (Jr.)
CB – Kenneth Crawley (So.)
FS – Jered Bell (Jr.)
SS – Parker Orms (Sr.)
CB – Greg Henderson (Jr.)
A few notes on the defense … Grayshirt freshman linebacker Addison Gillam continues to impress. Slotted in at starter in the "pencil" depth chart put out in the middle os spring practices, it was widely asssumed that when Brady Daigh (Jr.) returned to practice, Daigh would be elevated back to starter. At least for now, though, Gillam, who was a San Jose commit before following his coaches to Boulder, remains as the starter … Defensive end Juda Parker (Jr.) was injured during the spring, and figures to battle Samson Kafovalu for the starting job come August … Despite better reviews during the second half of spring practices, Yuri Wright (So.) remains third on the depth chart at cornerback … CU will have to play with five defensive backs for much of the season, with nickel back Terrel Smith (Sr.) probably being in the starting lineup more often than not …
—
April 17th
Post-Practice Quotes from the final spring practice
On goals set for the players during the summer … "We have certain weights we have set for them to come back at – gaining and losing. We have strength goals we set, conditioning goals we set. At each position, coaches will meet with each player, talk to them about the things they have done well, things they need to work on, things to improve on during the summer, specific drills and that kind of thing. And then the players will come together for their player led practices is gigantic on us improving. You can really improve during the summer if you do that correctly."
On the importance of this off-season, coming off of a 1-11 season … "Extremely important. (The off-season workout schedule) also leads to camaraderie and leadership, and coming together as a team, when they are working together as a team. We're preparing for that. We're trying to teach them how to do it, and hopefully they will be able to do it during the summer, and we'll really improve."
On how many players are expected to participate in summer workouts … "Every one of them".
On evaluating the talent level of the team … "I think there is good talent. I think there are guys who can make plays. We've got some speed. I think there are some guys who can run the football. Offensively, I think there are some linemen who are athletic. There are some things that they can do, they can pull, they can move, so I've been pleased with that. Defensively, I think we got better as the spring went along. We started tackling better, they started understanding leverage, where their support was coming from. I think we've got some linebackers who can run and hit. I think we've got some D-linemen, as they keep improving, who are going to be good players. We've got a little bit better pass rush".
On whether CU can win games in the Pac-12 … "We'd better. Yeah, we can win games. We've just got to find a way to use all of our players, with everybody buying (into) their role, being in phenomenal shape and being united".
—
April 16th
Final Spring Practice Tuesday – "They improved every day"
From cubuffs.com …  With his first spring in the rear view mirror and his first fall now taking priority, Colorado football coach Mike MacIntyre ended the on-field portion of the Buffaloes' April work on Tuesday with as much of a look ahead as back.
Based on 15 spring practices with his new team, MacIntyre expects the Buffs to enter the 2013 season a more competitive, cohesive and generally glad-to-be-together group.
That might be a small step elsewhere in college football, but at CU it could be a giant leap.
"To outside eyes it's a small thing, but from the inside it's very big," MacIntyre said Tuesday before the Buffs embarked on practice No. 15. "The way we practiced and the way we scrimmaged as the spring went on, it seemed like the young men enjoyed playing more. They were excited for each other, with each other, they were happy when other people made plays.
"They competed like crazy. The team was enjoying the work process (and) if they're enjoying their work process, they can get better. If they're not enjoying it, I don't think they can get better. I think it's a mental state and I think that's true in any business."
The Buffs' ended 2012 in a mental state that was close to total darkness, finishing 1-11 and losing by landslides. Anything that buoys their mental condition and rekindles lost energy can't be all bad, and players pointed to MacIntyre and his coaching staff as having accomplished that.
Back to full speed (and then some) after last season's knee rehabilitation, junior receiver Paul Richardson said he witnessed a daily increase of energy at his position during spring work. He credited position coach Troy Walters' handling of his "organizational chart" for the surge.
"He doesn't like to call it a depth chart; he calls it an organizational chart," Richardson said with a chuckle. "But a few of us have been around the block a couple of times; we know it's a depth chart. He shakes it up . . . we all got a better feel for each other and learned our roles in the receiving corps. We need to perfect those and we'll be a better, more potent and productive offense."
… Overall offensively, he said through spring drills that unit said "picked up things pretty quick and executed them pretty well . . . but there's still a long way to go."
Offensive personnel that made him take notice over the past month included his quarterbacks – "They improved every day" – several of his running backs who "can make some plays" and a receiving corps that he believes goes at least five deep. He said the offensive line, which was missing projected starters Alex Lewis (guard) and Daniel Munyer (guard/center) due to injury, grasped schematic changes "pretty well" but needed to play more consistently.
Defensively, MacIntyre said as the spring progressed, "especially the last week, we were running to the ball better, tackling better and learning where our leverage angles were, where our help was. We have to really keep improving on that."
Defensive players who caught his eye included end Chidera Uzo-Diribe, linebacker Woodson Greer III, and backs Jered Bell, Kenneth Crawley and Greg Henderson. Once Bell, who has battled knee problems, was about four practices into spring work, MacIntyre said the junior "was flying around a little quicker and faster (in comparison) with the film I watched from last year."
Another area of importance before August camp begins is conditioning, and MacIntyre believes his players "understand the work ethic they have to get to." Conditioning from player to player – be it weight gain or loss, strength/speed needs, etc. – has been explained to all who need to hear it.
Said MacIntyre: "They've got the time, ability and resources to do that this summer, and that's critical."
Tuesday's practice, conducted in the team's indoor practice bubble, consisted mainly of MacIntyre and his staff laying the groundwork for the Buffs' player-conducted summer workouts. Players on offense, defense and special teams were given detailed instruction for position as well as team work, then told to run a "summer" workout.
In his final two seasons at San Jose State, MacIntyre saved the 15th spring practice for a similar purpose, getting the idea from a coaching acquaintance who left the college game for the NFL. "It was a huge benefit and helped us tremendously," MacIntyre said.
He and his staff are permitted to meet with the team three more times before the start of summer break – this Thursday, then Tuesday and Thursday of next week.
"We'll keep learning, teaching, going over spring practice," MacIntyre said. "It's a very critical aspect of our program to help us this summer."
PERSONNEL MATTERS: While tight end Vincent Hobbs and receiver Gerald Thomas did not participate in Saturday's spring game, MacIntyre said both "are on the team."
He added that each had "family issues" that kept them out of all or most of spring work. However, MacIntyre expects both sophomores-to-be to return in August if they meet requirements he has set for them.
MacIntyre also said he would wait until after spring semester finals to comment on the status of any other players: "We have a few that have to do things to make sure they stay on . . . we'll know after exams."
Spring Awards
Eddie Crowder Award (Outstanding Leadership) – QB Connor Wood
Fred Casotti Award (Most Improved Offensive Back) – D.D. Goodson
Joe Romig Award (Most Improved Offensive Lineman) – Alex Kelley
Hale Irwin Award (Most Improved Defensive Back) – Harrison Hunter
Greg Biekert Award (Most Improved Linebacker) – Woodson Greer III
Dan Stavely Award (Most Improved Defensive Lineman) – Tyler Henington
Bill McCartney Award (Most Improved Special Teams Player) – Isaac Archuleta
John Wooten Award (Outstanding Work Ethic) – OL Vincent Arvia
Dick Anderson Award (Outstanding Toughness) – ILB Brady Daigh
Jim Hansen Award (Outstanding Academics) – DE Derek McCartney
2013 Iron Buffaloes (Weight Room)
Defensive Line – Juda Parker
Linebackers – Lowell Williams
Defensive Backs – Greg Henderson
Offensive Line – Stephane Nembot
Running Backs – Josh Ford
Tight Ends – Alex Wood
Wide Receivers – Nelson Spruce
Quarterbacks – Jordan Webb
Specialists – Ryan Iverson
April 10th
Quarterback Jordan Webb tears ACL; out for 2013 season
From cubuffs.com … University of Colorado senior quarterback Jordan Webb has been diagnosed with a torn anterior cruciate ligament in his right knee and is out for the 2013 season.
Webb suffered the injury early in Tuesday's practice in a non-contact drill, making an ordinary cut when he collapsed on the field. An MRI in the evening revealed the damage, though it was limited to the ACL as other ligaments and cartilage were fine, according to CU trainer Miguel Rueda.
"This is very sad for Jordan," head coach Mike MacIntyre said. "We all feel for him. He was doing well in practice, competing again for the starting job, and for this to happen and to lose him for the season is just a shame.
"Jordan is a great young man, one who represents our program well, both on the field and off it as a graduate student in a tough major field of study (Educational Equity and Cultural Diversity)."
Webb completed 144-of-265 passes for 1,434 yards last season, with eight touchdown passes and eight interceptions. His best game was in CU's lone win in 2012, a 35-34 verdict at Washington State, when he threw for 345 yards and two touchdowns along with a game winning 4-yard touchdown run on fourth-and-goal with 9 seconds remaining.
"It's another obstacle that I have to overcome," Webb said. "I've rebounded from adversity before so this is just another challenge I have to face."
He was named CU's starting quarterback last August 15, just ahead of the first major scrimmage of fall camp; he joined the CU program in July after completing all his degree requirements at the University of Kansas. He took advantage of an NCAA rule which allows a player to continue his career, provided if he has time remaining on his 5-year eligibility clock, and the school he transfers to has a program that is not offered at his previous university. He started 19 games for the Jayhawks.
A fifth-year senior, Webb will work with CU's compliance office to determine if he can earn a sixth year of eligibility; his freshman year at Kansas (2009) he was redshirted, in part due to the fact that he had torn an abdominal muscle in camp and couldn't return to practice again until well into the season.
The irony is that Webb suffered the same exact injury that wide receiver Paul Richardson did one year to the day; Richardson tore his ACL on April 9, 2012, and eventually was able to practice on a limited basis toward the end of the season, taking a medical redshirt season he had available to him. It's much too early to know if Webb has the same kind of improvement during the rehab process if he could be available later in the year should the NCAA deem him not eligible for a sixth year of competition.
—
From the Daily Camera … Jordan Webb just can't catch a break.
Colorado's senior quarterback returned to the practice field briefly Tuesday and suffered another injury, the severity of which is unknown. Coach Mike MacIntyre said Webb was undergoing an MRI on his knee after leaving Tuesday's practice when he made a cut while running and fell to the ground.
"It was his first day back and he was pushing it," MacIntyre said. "He made a good run and made a cut and nobody touched him. Hopefully he'll be alright."
One year ago Tuesday, Colorado receiver Paul Richardson tore his ACL. The junior missed the entire 2012 season, but has since returned to spring drills.
If Webb's injury is serious, it could end his college career. He will be a fifth year senior in the fall and he used a redshirt year in 2009 when he was a true freshman at Kansas. He was allowed to transfer to Colorado last year without having to sit out because he earned his degree at Kansas in three years.
Post-Practice Quotes
Opening remarks … "I think it went well, I really did.  We flew around, we got a lot accomplished again. Guys are starting to make more and more plays. I thought the defense improved a little bit today, over some of the things we saw in the scrimmage on Friday. Guys getting more comfortable when we put them into some new places".
On shifting personnel … "We've moved some guys around, made some changes. Between first and second team, moving people from side to side, things like that. We'll see how they look this week, and keep going from there".
On what he saw on the film of Friday's scrimmage … "I thought that they played well. Connor Wood was very accurate, made a lot of good reads. Nick Hirschman made a lot of really good throws. Shane (Dillon) is getting better, but he's still not as comfortable in it as the other guys, probably because he hasn't played as much – but I think that's true with everybody, so hopefully we'll keep seeing improvement. (Dillon) did some good things, he just wasn't as sharp as the other guys yet … Since I've seen (Dillon), he's always been sort of a three-quarter's arm thrower. Bernie Kosar did that, there have been a lot of really good players. Sometimes his footwork keeps him from being as accurate – that's just being young, I think. He's showing more and more improvement every day".
On running back Josh Ford … "He's running well. He had some good runs the other day. I was impressed with the way Josh ran. He did a good job".
On Jordan's Webb's status … "I have no idea. He hurt his knee out here. Hopefully, it's nothing serious, but he's going to get an MRI. He was just running, he was cutting, so I hope he's okay … Good kid. It was his first day back and he was pushing it. He made a good run and made a cut and nobody touched him. Hopefully he'll be alright."
—
April 9th
Garage Sale part of Spring Game festivities
From cubuffs.com … The University of Colorado Athletic Department will host a garage sale in Balch Fieldhouse on Friday, April 12 from Noon to 5 p.m. and Saturday, April 13 from 9 a.m. until the conclusion of the spring game.
This is the fourth time the department has held the sale in conjunction with the annual football spring game.  The sale offers unused athletic equipment inventory from past years to fans at discounted prices, some of which features the official CU Athletics logo.  There are no guarantees on what sizes or product will be available.
This year, CU will also have a limited number of game-worn jerseys, as well as for the first time, game-worn gold helmets.  The helmets will only be available on Saturday.
Fans will need to enter the garage sale through the south side (or plaza side) of Balch Fieldhouse. The north end will not be accessible.
The spring game will kickoff at 10:30 a.m. on Saturday.  Gates open at 9 a.m. and admission is free.  The Club Level will not be available as it is reserved for season ticket holders and a private event.
Type of new items available:
Shoes
Polo-style shirts
Sweatshirts
Jackets
Sweats
Socks
Sports Bras
T-shirts
Shorts
Hats
Golf bags
Men's Basketball 2012 Pac-12 Championship Apparel
Game Worn Items:
A limited number of game-worn jerseys
Gold helmets; (Saturday only)
—
April 8th
"Tough Love" offensive line coach consistent with last year's coach
Full story at cubuffs.com … Colorado offensive line coach Gary Bernardi is not one to sugarcoat his words.
Bernardi, who made the move from San Jose State University alongside new head coach Mike MacIntyre and will enter his first season at CU this fall, sees no need for the fluff.
"He'll give it to you how it is," said senior center Gus Handler on his first impressions of Bernardi. "He's not going to beat around the bush, so if you're doing it right he'll tell you, but if you're doing it wrong he'll definitely tell you the same way."
The CU offensive linemen, though, are used to being coached with "tough love." Steve Marshall, the former O-line coach from 2010-12 under Jon Embree, operated under a similar outlook.
In fact, Marshall and Bernardi have been friends for years. The two met shortly before working on the same coaching staff at UCLA in the '90s; Marshall was the offensive line coach there in 1996, and Bernardi coached the tight ends and worked with the offensive line from 1993-2003. The two have remained close ever since.
At ages 56 (Marshall) and 58 (Bernardi), both have a wealth of coaching experience. Marshall entered his 33rd season of coaching at the collegiate and professional ranks last year with Colorado, and Bernardi enters his 32nd season in the FBS this fall, having spent his past three seasons on MacIntyre's staff at SJSU.
Junior offensive guard Daniel Munyer had even described the two as "pretty much the same person," and Bernardi agreed that the similarities were there.
"We're probably similar in age and somewhat demanding," Bernardi said. "I call it 'enthusiastically demanding' or 'enthusiastically intense.' Steve was trying to get the best out of them, too, and that's what I'm trying to do. I'm fortunate that they're probably going to be a year older now."
Bernardi's group returns probable starters in Handler, Munyer, senior tackle Jack Harris, sophomore tackle Stephane Nembot and junior left guard Alex Lewis.
Munyer and Lewis are both sidelined for the spring, recovering from lower leg (Munyer) and shoulder (Lewis) injuries. Bernardi recruited both and is familiar with their play, but he said it was a challenge to have them sidelined for spring drills.
The Buffs also enter the spring without standout left tackle David Bakhtiari, who declared early to the NFL draft after his junior season.
Both Bernardi and Handler mentioned Jack Harris as the most likely to start in Bakhtiari's spot. "I think that Jack has played the most, and you can tell he's played the most," Bernardi said. "He's a solid guy."
Bernardi also noted the improvement of junior Kaiwi Crabb, who did not play last season due to a strained lower back. Handler named Stephane Nembot as another possible candidate as he continues to learn the nuances of the position.
"Stephane, being the younger guy, has really picked it up quickly," Handler said. "This spring he's hit a lot of strides, so that's very promising."
… "We've got another three of four days to get better and to keep working," Bernardi said. "It's not a matter of adding a lot of things, it's a matter of growing on things that we're doing and just trying to get better at that . . . There's still a lot to be done."
– Here's hoping that Bernardi can keep all ten lineman participating this spring healthy this week, so Buff fans can see an actual spring game, instead of a spring scrimmage. Now that would be a step in the right direction! …
April 6th
Quarterbacks gaining in confidence
From cubuffs.com … Wood and Hirschman both said they believe the position as a whole has improved this spring, and each rated their Friday performance as satisfactory.
Said Hirschman: "I thought I played well; I mean I had four drives that ended in one play." Entering spring drills, Hirschman said his goals were to "manage stress" better and "improve ball security. That's a major issue I had last year. When you take care of the ball everything else should work itself out . . . they say if you're not getting better you're getting worse. So every day (all the QBs) have tried to improve on something small in our game."
Wood called MacIntyre's modified pistol scheme "a great offense to play in. It not only works well with quarterbacks but the simplification of what we're doing is helping the younger guys and all the veterans . . . I'm playing much more confidently and having more fun out there."
Part of that, he said, comes from "trying to be process focused about this. This is my fourth offense and my fourth coaching staff. You can't champ at the bit too much . . . you have to take one install at a time, one day at a time. I think I've done a good job with that. I think I had a real good day (Friday), and I just want to build on it."
Both quarterbacks said the return of Richardson from last season's knee rehabilitation, Thomas from personal issues and the switch of Goodson from tailback to receiver have injected downfield speed into the offense. Plus, Canty's quickness and what Hirschman called the deceptive speed of Spruce and McCulloch make this a more formidable group.
"A lot of the concepts we run are similar (to last year), but we have guys this year who can stretch the field with D.D. converting from running back, Jeff being back and Paul being back," Hirschman said. "But again, we've got a lot of West Coast-type plays in our offense and Tyler McCulloch and Nelson Spruce and those guys are outstanding at running those concepts and catching the ball and ducking up and getting what they can. Both of those guys are deceptively fast; they don't get enough credit for that."
—
Notes from Friday's scrimmage from cubuffs.com … Friday's lengthy (98 minutes) scrimmage covered what MacIntyre termed "every situation imaginable, which is good. And we were able to get through some things on the kicking game." . . . . Will Oliver and Justin Castor shared placement duties, each making six PATs (Castor missed a seventh attempt). Oliver kicked three field goals, Castor one . . . . Receiver Gerald Thomas did not participate in the scrimmage. MacIntyre said the reason was between him and Thomas . . . . The Buffs' biggest improvement from the first spring scrimmage to this one: "I think we're a little more accurate in the passing game," MacIntyre said. "Defensively we didn't tackle as well as I'd like, but that's a good sign that some of the guys were making them miss, too." . . . . Goodson, said MacIntyre, played Friday despite a finger dislocated in Thursday's practice . . . . Derrick Webb's overview of the defense: "We're all still learning. We've started to do some things good, but we're still working on turnovers. Effort-wise, it's just getting everyone to the ball, getting everybody to run and have great effort. We're still in the learning stages of the defense. As we continue to get our minds around the defense, we've got to play hard while we're learning. We're not there yet." . . . . No surprise given Friday's air show, but before the spring game (Saturday, April 13, 10:30 a.m.), MacIntyre wants the defense to "cover the deep ball better and tackle better." Offensively, the goal is to "run the ball more consistently."
April 5th
Offense comes through in third scrimmage (post-scrimmage quotes from Mike MacIntyre below)
The first two scrimmages of the Mike MacIntyre era were dominated by the defenses.
Friday, though, the offense had its day in the sun.
In all, 11 touchdowns were scored (three in red zone drills). In 103 total plays (about a game and a half worth of stats), the Buffs scored 73 points, going for 761 yards of total offense (7.4 yards per play average … the 2012 average per offensive play was 4.38). The Buff offense went eight-for-eight in the red zone (of course, what is good news for the offense is bad news for the defense).
Offensive stars included quarterback Connor Wood, who threw for 269 yards on 18-for-21 passing. The leading rusher was Josh Ford, who burst out with 136 yards on only eight carries. The Buffs had two 100-yard receivers, with Paul Richardson going for 125 yards on only three catches, with Nelson Spruce catching five passes for 115 yards.
—
Quarterbacks … With Jordan Webb still out with a thumb injury, the four quarterbacks atop the depth chart were three for Friday's scrimmage. Shane Dillon had the most drives (10), while Connor Wood was the most productive. Dillon completed half of his passes (11-for-22), going for only 77 yards. Dillon did throw two touchdown passes but was also sacked four times. Wood, conversely, hit on 81% of his 22 passes (18), going for 269 yards and three touchdowns, being sacked twice. Nick Hirschman had only six drives, but made the most of them, going 10-for-12 for 171 yards and four touchdowns. Hirschman was not sacked, and had a ridiculous quarterback rating of 313.0. John Schrock and Stevie Joe Dorman, the odd men out so far this spring, did get some limited work, Schrock led one drive, culminating in a field goal. Schrock missed on both of this pass attempts, while Dorman did not attempt a pass in the scrimmage.
Running backs … Josh Ford was listed third in the first "pencil" depth chart at running back, but used Friday to try and make a statement for moving up. Ford had only eight carries, but posted 136 total yards, including a 52-yard run. Christian Powell, listed first on this week's depth chart, also had eight carries, with his total adding up to 52 yards, including a 25-yard touchdown run. In between Powell and Ford on the depth chart is Tony Jones. The junior tailback had seven carries for 46 yards in the scrimmage, including one run for 24 yards. The only other rushing touchdown other than Powell's came from quarterback Connor Wood, who scored from 32 yards out. Fellow quarterback Shane Dillon had four total carries, netting 20 yards. Malcolm Creer, last on the depth chart at tailback, had eight carries for only five total yards.
Wide receivers … The first touchdown of the afternoon was a 75-yard touchdown pass from Hirschman to Paul Richardson. The junior wide receiver also had a two-yard touchdown reception and a third catch (from Connor Wood) which went for 48 yards. Nelson Spruce didn't have any touchdown receptions, but did have five catches for 115 yards overall. D.D. Goodson had two touchdowns as part of his five catches for 64 yards – a 44-yarder from Connor Wood and a seven-yarder, also from Connor Wood. Tyler McCulloch also had a touchdown reception, a 38-yard pass from Nick Hirschman, making up most of his 62 yards on four reception day. Jeff Thomas, trying to make an impression after missing most of the first three weeks of practices with a hamstring injury, had three catches for 52 yards. Thomas connected well with Shane Dillon, connecting on one 33-yard play, and also collecting a 12-yard touchdown catch. Other touchdowns were scored by tight end Scott Fernandez (a two-yarder from Wood) and Keenan Canty (an 11-yarder from Dillon).  Tight end Kyle Slavin had five catches Friday, going for 37 total yards.
Defense … When the offense is going for 761 yards, there are not going to be many highlights on defense. The defense did not post an interception in 58 pass attempts, and collected only one fumble (forced and recovered by linebacker Brady Daigh). The defense did have seven sacks on the afternoon, with three by sophomore defensive end Samson Kafovalu. The other starting defensive end, senior Chidera Uzo-Diribe, had two sacks amongst his five tackles (four being tackles for loss overall). The two first team inside linebackers had the most tackles, with senior Derrick Webb collecting eight, and surprising gray-shirt freshman Addison Gillam posting seven.
Special teams … The two kickers continued to rack up impressive numbers, hitting on 12-of-13 field goal attempts. However, it must be noted that Will Oliver and Justin Castor between them had nine of their 12 attempts come from 20 yards out (essentially an extra point – and Castor missed one of those). Of kicks of consequence, Oliver hit his attempts from 42 and 39 yards, while Castor made one from 32 yards out. Both punters also had good days, with incumbent Darragh O'Neill and walk-on junior D.J. Wilhelm each getting two attempts. O'Neill averaged 53 yards on his two attempts, while Wilhelm went for 46.5 yards on his two attempts.
For the first time this spring, the Buffs tried their hand at the return game. There was only one punt return, with Keenan Canty going for two yards. There were four kickoff returns, however, spread out over four players. Keenan Canty went the longest with his return, 48 yards, while Josh Ford went for 34, Nelson Spruce 20, and D.D. Goodson 16.
Quotes from Mike MacIntyre after third scrimmage
On the deep passing success of the offense … "We had the highest passing percentage offense in the country last year, with a bunch, bunch, bunch of deep plays. So we're going to be able to throw the ball deep, and to do that we're going have to be able to throw the ball underneath if we have to".
On what area the team has improved on from the first scrimmage to the third … "I'd have to see it on film, but I think we're a bit more accurate in the passing game (note: the Buffs' quarterbacks had a 67% completion percentage in the third scrimmage. 53% combined in the first two scrimmages).  We didn't tackle as well as I would like, but that can be a good sign – if people are making them miss".
On any quarterback separation … "I'll have to look at the film. Sometimes, we're playing a bunch of different people in the secondary, and sometimes there is a busted coverage that anybody – that I could throw and complete. I don't know if that's a fact or not, but you can tell that when you watch it on tape. I thought there were some good throws today, and some good plays made today by the quarterbacks … We had three guys (Wood, Hirschman and Dillon) who were working a lot today. You know, Jordan (Webb) is still hurt, but these scrimmages here, after you evaluate them, end up separating them as you go".
On what he likes about D.D. Goodson's move to wide receiver … "His quickness, his ability to run after catch, and I've been pleased with the way he's caught the ball. He even had a dislocated finger that he put back into place after Thursday's practice, so I thought that was good."
On Paul Richardson being the Buffs' primary deep threat … "He's fast. He's fast. But I think we've got a few kids who can get behind (the secondary). I didn't really see him in person on the field before since high school … but he looks fast to me".
—
Post-Practice Quotes after Thursday's practice
Opening remarks …. "It was a gorgeous day, and the kids really flew around today. I thought we had a good practice. I think this was our best practice of the spring in terms of the flow. We finished it three minutes ahead of time, so that was good."
On freshman wide receiver Jeff Thomas (who was out for much of the first half of spring practices with a hamstring injury) … "The first day I've seen him … He made a lot of plays today. He's tall and athletic. We'll go in and look at the film, but I would definitely say I was pleased with what I saw today."
On the format of the scrimmage Friday afternoon (in the stadium around 4:00 p.m.) … "We're going to have a little bit of individual (drills) and some special teams – kickoffs and that type of thing, and then we're going to go into the scrimmage, and put the ball in play. If we don't certain phases during that time, I'll put the ball down in the red zone or at the goal line … and then the two-minute (drill). We practiced a lot of 'last plays of the game' (Thursday), which we'll do, so we'll know exactly what to do in those types of situations, so there is no panic in it. So, we'll do some of those types of things … It's going to be full live – just don't hit the quarterback."
On the format for the Spring Game (10:30 a.m., Saturday, April 13th, Pac-12 Networks) … "What we want to do right now is to choose sides and play a Spring game, but here's the deal. I've got ten (offensive) linemen right now, so if one of them gets hurt before then we might have to change the format. I think that (a regular game) is the best format. You get to see competition. You see people competing and playing hard, and it's a lot of fun for them. They stay involved the whole time, unlike a scrimmage … The way we do it is that we'll have the seniors pick the teams".
On incoming freshman quarterback Sefo Liufau being in Boulder during his spring break … "Well, he's able to see the area. He's able to come to practice. It's been good for him. He's been hanging around the kids. He and his dad have been to different restaurants, just get comfortable with it. It's been really good to have him out here, watching everyday".
April 3rd
Post-Practice Quotes from Tuesday
Opening remarks … "Some of the players came back with better tans (from Spring break). I thought (the first practice in 11 days) went well. It started a little bit sluggish, then they started going, which I kind of expected. But they did a good job. We got everything in today. We put a few new things in as well, which also makes it sluggish as well".
On putting together the first depth chart … "It took us a good two days. We looked at every kid. We watched a lot of film over again. We emphasized to the young men that it's all in their attitude now. It is in pencil. If they are where they want to be on the depth chart, they need to keep pushing, and if they are not where they want to be on the depth chart, they had better keep pushing. I thought the attitude today was good. I didn't see anyone moping around … I was pleased with that".
On grayshirt freshman Addison Gillam being placed atop the depth chart at linebacker … "He's just big and athletic. In the first eight days of practice he has done really well. Brady Daigh wasn't out here, he was able to go today (so the situation remains fluid). We've been really impressed with Addison in the first eight days. It's still really early, but his body – he's 228-pounds, he's 6′ 3 1/4″, he's athletic – so we felt he really looked good at that spot".
On Josh Moten … "We moved him over to safety. In today's football, one of your safeties had better be able to cover like a corner, because there is so much spread (offense), so many vertical routes. He's 198-pounds, he's a big corner, so we figured he's big enough to be a safety. That gives us some versatility. He can play safety, corner, nickel back".
On the four quarterbacks listed as first on the depth chart … "We just watched everything, talked about it, and we felt that right now, those are the four who have separated themselves a little bit. We're still getting the other guys (Schrock and Dorman) in there a little bit, but the other four are getting most of the team reps. With Jordan Webb down – his thumb wasn't 100%, even when we started, so he just hasn't been able to be himself. And then he hit it again. He wasn't able to go the last couple of days (before spring break). So, when we get him back, we'll get him some repetitions … but I imagine it won't be 100% again until the end of May".
First Impressions of the "pencil" depth chart
The first "pencil" depth chart of the Mike MacIntyre era has been issued (story below).
Here are my first impressions – with a huge disclaimer. There is about as much chance of this depth chart holding until September as I have of ever correctly picking the Final Four. There are no fewer than ten current roster players who are not participating in spring drills due to injury, and there is a large freshman class coming in this summer. As a result, the "pencil" depth chart will require many erasures and rearrangements over the coming months.
Still, it's April, and this is the first depth chart of the spring. So why not speculate?
Quarterbacks … Nothing to see here. With the six quarterbacks in camp, and at least one (and perhaps two) coming in August, it would be nice to have the field narrowed some. We are down two – John Schrock and Stevie Joe Dorman – which isn't a huge surprise. Still, there is no reported separation amongst the remaining four in camp. All we can hope is that at least one more is pared from the list after the Spring game. Buff fans hoping for any resolution this spring will be disappointed. It will be mid-August before we – and the CSU Rams – know who will take the first snap from center on August 31st.
Running backs … Christian Powell and Tony Jones are atop the depth chart, which sounds about right. The pair combined for 1,011 of CU's 1323 rushing yards last season (76%), so this isn't a real surprise. Interesting, though, that Josh Ford hasn't been able to make more a move.
Fullbacks … This isn't a bright spot. Clay Norgard has moved to linebacker, leaving Alex Wood atop the depth chart. Wood had no carries and seven catches last season. Other than blocking backs, there doesn't seem like there is going to much production from this position this fall.
Wide receivers … Junior D.D. Goodson, the former defensive back/running back, is the biggest surprise here. He has moved up the depth chart to co-starter position with Paul Richardson, and may be the Buffs' third receiver come September. Last season's top receivers, Nelson Spruce and Tyler McCulloch are atop the other wideout position, but one might well have hoped that one of the Thomases – Jeff or Gerald – would be ranked higher by now. That senior Jarrod Darden and junior Keenan Canty have not made an impression is telling.
Tight ends … See fullbacks, above. If the tight end position is to make a contribution this fall, there is some work to be done – and perhaps another body to be found. In the absence of Vincent Hobbs, who is home in Dallas this spring (his father was paralyzed after an accident last fall. It is unknown when Hobbs will return to the program) , junior Kyle Slavin is atop the depth chart. Last season, Slavin had 14 catches for 109 yards. Not much going on here.
Offensive line … This group is waaaaay too fluid to draw any conclusions. Guards Alexander Lewis and Daniel Munyer, two likely starters, are out this spring with injuries, as is another possible contributor, Gerrad Kough. It is nice that Jack Harris and Stephane Nembot seem to be set at tackle, and Gus Handler, who started at center last season (when he wasn't injured – which was about half the year) is back at center.
Defensive line … A group to keep an eye on over the next few weeks, and into the summer. Two seniors (Nate Bonsu and Chidera Uzo-Diribe) and two sophomores (Samson Kafovalu and Josh Tupou) are listed as starters, but keep in mind Juda Parker is out with a shoulder injury. Coach MacIntyre said before spring practices started that he wanted his linemen to lose weight. Josh Tupou is presently tipping the scales at 330 pounds, with Justin Solis at 320 and Nate Bonsu at 295. Numbers to remember once Fall Camp opens …
Linebacker … How good is grayshirt freshman Addison Gillam? We'll see. True, Brady Daigh has been injured, and Clay Norgard is (re)learning the position, but it is impressive that the former San Jose commit is listed first at one of the outside linebacker positions. At one of the outside linebacker positions, it will be interesting to see whether Woodson Greer can continue to hold off Paul Vigo as the starter.
Secondary … The starters – Kenneth Crawley and Greg Henderson at corner, Terrel Smith and Josh Moten at safety – are not huge surprises, though Moten moving past Parker Orms was unexpected (though Orms has been battling a seemingly endless series of injuries). What is interesting here is the bottom of the depth chart, where Yuri Wright (yes, he's been injured, too) is listed behind walk-on junior Harrison Hunter at one corner, while sophomore Jeffrey Hall is listed behind two walk-ons at the other corner. Other than quarterback, the greatest speculation about possible transfers come June have involved defensive backs. Read into the depth chart what you will. (Update: Hall has been asked, and has agreed, to switch to wide receiver).
Special teams … Juniors Will Oliver and Darragh O'Neill, both two year starters, return at kicker and punter, respectively. Not a shock, though Justin Castor is having as good a spring kicking field goals to date as is Oliver. What I noticed was the new holder on kicks … Darragh O'Neill. No, it's not unusual for a punter to also be the holder on field goal attempts, but, with the plethora of quarterbacks on the roster, I was thinking that one of the odd men out in the quarterback race might try and find a place for themselves on the roster here.
Also of interest (at least to me) is the battle for the long-snapper position. Three-year starter Ryan Iverson returns, and will continue to hold down the job. The intrigue here is who will be the long-snapper next fall. No fewer than four – four! – walk-on players are auditioning for the part, with a sophomore trying to hold off three freshmen. Now, that's a battle worth keeping an eye on!
That's my two cents … what are your thoughts? Post your comments (link at the top of the page), and we'll compare notes …
April 2nd
"Pencil" Depth Chart issued
Here is a link to the cubuffs.com website, wherein the first depth chart of the Mike MacIntyre era has been issued.
Four quarterbacks made the first cut. As expected, the list includes senior Jordan Webb, juniors Connor Wood and Nick Hirschman, and red-shirt freshman Shane Dillon. Not making the first cut were sophomores Stevie Joe Dorman and John Schrock.
From cubuffs.com … "There's no pecking order – no first, second or third string at quarterback right now," coach Mike MacIntyre said, adding that the elevation of that foursome represents "just an opportunity to get more reps. When we come out of spring ball and go into the fall, we won't have a definite starter then either. We'll look at the freshman (Sefo Liufau) coming in, too, to see if he's ready to get in the mix. We'll have to get the mix down very quickly to probably three guys and then rotate and see where they sit."
CU's top four QB candidates "all have different strengths and weaknesses," MacIntyre said. "You wouldn't say 'these two guys are exactly alike' or 'these two are exactly alike.' What we've got to do is find out, as they get more repetitions, get a feel for what they do best and start letting them do some of the offense they do best. Then we'll see who can move the offense the best and who's making the most plays in their comfort zone."
MacIntyre offered the following synopses of his QB contenders:
Jordan Webb: While Webb, who started 10 games last season for the 1-11 Buffs, has picked up the offense well, an injured right thumb has prevented him from passing in most of the first eight spring practices. He remains out indefinitely because of the thumb injury. Webb's 2012 passing stats: 144-of-265 for 1,434 yard, 8 TDs, 8 interceptions.
Connor Wood: Wood appeared in seven 2012 games and completed 50 percent (21-of-42) of his passes (265 yards, one TD, four interceptions). MacIntyre said Wood has "made some very good throws and had a couple of good two-minute drives" this spring.
Nick Hirschman: Hirschman's toughness and running ability has impressed MacIntyre: "He's been physical and made some plays . . . he's done a good job." Hirschman played in eight games last season, completed 55 of 93 passes (589 yards, 2 TDs, 7 interceptions).
Shane Dillon: The redshirt freshman, said MacIntyre, has "shown ability to move around and kind of make plays. He's still very young and raw in some aspects, but getting him some more repetitions and more live action will help him keep maturing."
—
The remainder of the depth chart …
Running backs … Christian Powell and Tony Jones are listed as co-starters at running back. Powell's size (6-0, 240) and Jones' shiftiness offer what could be a beneficial change of pace at the position. Behind that pair, Josh Ford and Donta Abron share the No. 3 RB slot.
"You need four guys that can play going into the season," MacIntyre said. "Then going into the game you usually have two guys you're going to rely on, then you have certain things the other guys can do."
Wide receivers … The early spring drills' offensive surprise has been converted receiver D.D. Goodson, who spent his first two seasons at running back. MacIntyre said if Goodson's progress continues, he could be a starting slot receiver in a three-wide formation – "and we'll use three wides quite a bit . . . his ability to run after the catch has been impressive. My only question was how well he would catch the ball. He's caught it well; his hands are better than I thought they would be."
Receiver Paul Richardson was kept mostly out of full contact for the first half of spring drills, but he's scheduled to be "live" for the last half. Also, the offensive staff hopes to get its first extended look at receiver Jeff Thomas (hamstring) in the final seven practices. And receiver Jarrod Darden (hand) now should be full-go. MacIntyre also said Nelson Spruce, Tyler McCulloch, Keenan Canty and Wesley Christensen had made plays at the position.
Tight ends … Kyle Slavin is listed as the first tight end, followed by Scott Fernandez, Sean Irwin, Austin Ray and Vincent Hobbs, who is dealing with family issues at home (Dallas) and has not practiced this spring.
Offensive line … Down to ten healthy players when spring drills opened, the offensive line is missing a pair of probable 2013 starters – left guard Alex Lewis (shoulder), right guard/center Daniel Munyer (who broke his leg two weeks ago). But MacIntyre said their absences offered spring opportunities for several players, including Alex Kelley at guard/center, Jeromy Irwin at tackle/guard, Kaiwi Crabb at guard and walk-ons Vincent Arvia at guard and James Carr at tackle.
Projected starting tackles Stephane Nembot and Jack Harris, said MacIntyre, have practiced well on both sides (left/right). Also, Marc Mustoe was to be cleared for full practice work in the final seven drills, giving the staff its first look at him.
Gus Handler and Brad Cotner are listed as the starting and backup centers, respectively.
Defensive line … Defensive end Chidera Uzo-Diribe quickly caught MacIntyre's attention with his pass rushing abilities. "He can really be an excellent pass rusher," MacIntyre said. "He'll only get better as coach (Jim) Jeffcoat works with him". Sophomore Samson Kafovalu is listed as a starter at left defensive end, with Chidera Uzo-Diribe listed at the other defensive end position. The defensive tackles offer another sophomore/senior combo, with Josh Tupou and Nate Bonsu listed as starters. In the interior D-line, the emphasis before August camp opens will be on slimming down. "We've got to get in better shape; we're too heavy," MacIntyre said. "You can whip the guy (in front of you), but if you can't get off and tackle the running back you're not making the plays you need to make. That's a big deal; tackles for losses are extremely important for us."
Linebackers … CU's linebacker corps lost starters Jon Majors and Doug Rippy, but MacIntyre believes able, though young, replacements already are on board. Freshman Addison Gillam is penciled in as the No. 1 "mike" (inside) linebacker alongside senior Derrick Webb. On the outside (sam), junior Woodson Greer is listed ahead of Paul Vigo and Markeis Reid. Mike linebacker Brady Daigh has been slowed by injury.
Secondary … Kenneth Crawley and Greg Henderson are listed first at cornerbacks, with Terrel Smith and Josh Moten the early leaders at safety. Moten is ahead of Parker Orms, who is battling a recurring knee ailment. Corner Yuri Wright is due to return to full contact for the last half of spring work.
Moten and Henderson were being eyed as nickel backs, and MacIntyre said John Walker – he missed last season with a hand injury – has practiced well at corner.
Kickers … Darragh O'Neill (punter) and Will Oliver (placekicker) are incumbents at their positions, with O'Neill also breaking in as Oliver's holder. Justin Castor is listed as a co-No. 1 with Oliver for kickoffs.
—
April 1st
"Proving Grounds – Episode II"
The CU Video crew has done it again.
"Proving Grounds – Episode II" is out, and can be found here. It's 19 minutes long, but it's well worth it, as this episode focuses in on the assistant coaches and operating staff. There are good interviews with most, if not all, of the assistant coaches, and good footage from the second week of practices.
It's videos like this which remind us of how much we love CU football!
A shout out to Jamie Guy, John Snelson, and Connor Cassidy, who put the video together.
March 28th
Linebacker Derrick Webb being counted on as a leader
Full story at cubuffs.com … In everything he has done, Derrick Webb has always been a leader.
Whether he's serving as a team captain and vocal leader on the field or working for one of the many community programs he is a part of off it, Webb's leadership skills have always been as evident as the athletic talent that has made him a standout linebacker in the Pac-12.
"I think being a good leader is about doing the right thing," said Webb, a 6-0, 230-pound product from Memphis' Whitehaven High School. "You have to set a good example first then you can be more vocal."
Almost from the moment his career as a Buff began, Webb has excelled in setting an example for his teammates to follow. As a redshirt freshman in 2009, Webb's hustle and hard work earned him the coveted Special Teams Scout Award. After serving as the team's best special teams performer for two seasons, Webb evolved into Colorado's leading tackler in 2012 and heads into his senior season as arguably the unit's best player.
"I've come along way but I'm still improving," said Webb. "I'm getting better because I never let myself feel satisfied. I just try to keep working. I definitely think I'm going to play my best football this season."
Webb tied for the second most snaps played on defense last year (601), recording 88 tackles, 61 of the solo variety, with 12 stops at or behind the line of scrimmage (seven for zero, five for losses with a quarterback sack), along with a team-best nine third down stops.
—
March 27th
The next CU quarterback??
Here's a YouTube video of quarterback Nelson Fishback, currently of Butte College in California (where, for what it's worth, future Cal and Green Bay Packers quarterback Aaron Rodgers got his start) …
March 26th
Buffs to bring in yet another quarterback?
Stop me if you have heard this before …
Remember when Stevie Joe Dorman was the hope for the future, he of the Detmer bloodlines?
Remember when we were all excited about the rave reviews Connor Wood was getting as the scout team quarterback?
Remember how we were concerned last spring, when, despite all of the quarterbacks on the roster, Jon Embree brought in Jordan Webb, a transfer from Kansas?
Remember how well all of that worked out …?
Enter quarterback No. 8 …
Full story at the Daily Camera … Colorado football coach Mike MacIntyre is considering adding yet another quarterback to the swollen numbers he already has at the position.
Nelson Fishback, a 6-foot-2, 215-pound, product of Durham, Calif., visited CU last week as the Buffs wrapped up the first half of spring football and could join the program this summer. Fishback played last season at Butte College in California, where he helped lead his team to a 10-1 record.
Fishback confirmed his visit on his Twitter account, which features a picture of him standing on a bridge above Boulder Creek.
MacIntyre recruited Fishback out of high school when he was still the coach at San Jose State in 2011, but Fishback did not end up with the Spartans. Fishback chose to attend Butte for a year, despite being a full qualifier out of high school, hoping to improve his options after playing for a year.
If he comes to CU, he will have four years to complete three years of eligibility.
Fishback completed 108 of 201 passes for 1, 482 yards and 12 touchdowns with seven interceptions last season, according to stats reported by the California Community College Athletic Association. Fishback played an offense with similar concepts and designs to what the Buffs have been installing the spring.
—
A member of the recruiting Class of 2011, Fishback (Rivals bio) was listed as an unrated 6'1″, 185-pound pro-style quarterback. Fishback is listed as having a 4.8 in the 40, and had no scholarship offers.
… As Astro said to George Jetson … "Rut roh" …
March 24th
Quarterback race still far from decided
One of the most – if not the most – watched position races this spring at the University of Colorado involves the race for starting quarterback.
For most teams with an incumbent returning starter, the spring is used to determine the starter's primary backup. But at CU, coming off of the worst season in school history, the incumbent returning starter, Jordan Webb, is anything but entrenched at the position.
New head coach Mike MacIntyre stated that all positions were open, and that there would be no predetermined depth chart heading into the spring. Coach MacIntyre also said, however, that he hoped to have the six man race for starting quarterback whittled down to three by spring break.
Well, it's spring break.
Halfway through the spring practices, are we any closer to determining which of the six quarterbacks in camp will make the first cut?
Let's start with the numbers.
The Buffs have conducted two scrimmages, with five of the six quarterbacks competing in both (Jordan Webb was held out of the second scrimmage due to an injury to the thumb on his throwing hand, the same injury for which he had off-season surgery).
The raw numbers:
Stevie Joe Dorman had by far the most passing opportunities. The sophomore quarterback had 14 attempts in each practice, completing seven (for 58 yards) in the first scrimmage, and ten (for 79 yards) in the second scrimmage. Dorman threw one interception in his 28 attempts, and was sacked once.
Sophomore Connor Wood threw for the most yards, 124, of any of the quarterbacks in the first half of spring practices. Wood hit on seven of 20 passes overall, with one touchdown, a 42-yarder to Tyler McCulloch.
Red-shirt freshman Shane Dillon, expected by many to emerge as the leader for the starting position, had only 11 pass attempts over the two scrimmages. Dillon completed five of those attempts, going for 70 yards. Dillon also threw one interception.
Another red-shirt freshman, John Schrock, had more pass attempts than did Dillon, 16, and more completions, 11, and more yards, 111. The walk-on was, however, sacked three times over the course of the two scrimmages, and had two interceptions – including the pick returned 103 yards for a score by safety Terrel Smith.
Junior Nick Hirschman, who was second on the team in passing last season behind Jordan Webb, was also limited in his attempts in the first two scrimmages. Like Dillon, Hirschman attempted only 11 passes, completing six for 70 yards. And, just like Dillon, Hirschman threw one interception (he was also sacked once). But for the 46-yard touchdown pass to D.D. Goodson, though, Hirschman's numbers were 5-0f-10 for 24 yards.
As noted, senior Jordan Webb participated in only the first scrimmage, sitting out the second. In the first scrimmage, Webb went 5-for-11 for 98 yards and a touchdown (a ten-yarder to Gerald Thomas). Webb did not throw an interception in his one scrimmage, and was not sacked.
So … can you pick out three winners?
Or, more precisely, can you find three quarterbacks to cut from the race?
It's hard to do just from the scrimmage numbers, and the coaches have tape from not only the scrimmages,  but six other practices to go by. Coach MacIntyre has stated that every play of every practice is graded, so MacIntyre and offensive coordinator Brian Lindgren have more to work with than just the scrimmages.
Still, it's hard to predict which players have emerged in the coaches' eyes as the top contenders for the 2013 starting quarterback position.
But, if MacIntyre's timetable is maintained … we'll know this week who those contenders will be.
March 23rd
Second scrimmage stats favor defense
If you are looking for the CU offense in 2013 to match the production of the 2012 San Jose Spartans … you won't find those numbers in the statistics from the second scrimmage.
The good news? That the scrimmage was mostly situational, with the offense either backed up or given a short field.
The better news? The defense is looking better.
Quarterbacks … Overall, CU's quarterbacks went 18-for-40 for only 196 yards, with one touchdown and three interceptions – numbers not dissimilar from game stats last season. There were 14 "drives", with four quarterbacks getting three opportunities, and red-shirt freshman Shane Dillon two (Jordan Webb reinjured his thumb on his throwing hand, the same one on which he had offseason surgery, but was hopeful to return to action after CU's spring break). Connor Wood passed for the most yards, 65, but, after taking out a 42-yard touchdown pass to Tyler McCulloch, Wood went 3-for-11 for 23 yards. Stevie Joe Dorman threw the most passes, 14, and had the most completions, seven, going for 58 yards with one interception. John Schrock had the longest completion of the day, a 43-yarder to Alex Turbow, but otherwise was 3-of-6 for 7 yards and an interception. Nick Hirschman and Shane Dillon did not have much opportunity to throw the ball, with the two players completing half of their six combined passes for 23 yards, with Hirschman throwing one of the three interceptions on the day.
Running backs … Colorado running backs had 25 carries in the 88 play scrimmage (40 passes; 25 rushes; 23 special teams), going for all of 70 yards. The math? That's all of 2.8 yards per carry, lower than even the 3.11 yards per carry average for the 1-11 Buffs of 2012. Tony Jones had the only rushing touchdown, a six yard run, as part of his five carries for 26 yards day. Donta Abron had the most carries, seven, going for all of 17 yards. Josh Ford and Malcolm Creer each had 13 yards rushing, while Christian Powell made the most of his one carry, gaining ten yards.
Wide receivers … With only 18 completions on the afternoon, it's not surprising that there were few highlights amongst the receivers. About half of the 196 total yards were gained on the two previously mentioned plays – a 43-yarder from Schrock to Alex Turbow, and a 42-yard touchdown from Wood to Tyler McCulloch. D.D. Goodson had the most catches, three, but they went for only 18 yards total. Other than Goodson, the only players with multiple catches were McCulloch, Keenan Canty (two for 38 yards), Wes Christensen (two for 10), and Malcolm Creer (two for 4).
Defense … The offense was credited with 20 points on the afternoon, while the defense had seven of its own. Safety Terrel Smith had a 100-yard (actually 103) interception return of a John Schrock pass. "That was a great play by Terrel, and he made a great run after the catch," Mike MacIntyre said. "It was fun to watch and I was happy for him". Greg Henderson and Kenneth Crawley also had interceptions on the afternoon. Three players led the defense with five tackles apiece – linebacker Lowell Williams; defensive back John Walker; and defensive lineman Justin Solis. Solis, along with defensive lineman John Tuso, had the only two sacks during the scrimmage.
Special teams … The second scrimmage took place in the bubble, so the punters had the afternoon off. The Buff kickers were put to work however, and remained almost perfect. In the first scrimmage, Will Oliver and Justin Castor went a combined 23-for-23 in field goal attempts (with 11 of those kicks coming from 20 yards out – essentially extra points), with no kick longer than 38 yards. In the second scrimmage, Oliver and Castor went a combined 11-for-12 in field goal attempts. Again, most of the attempts were from 20 yards out, with the pair hitting all seven. Will Oliver missed from 37 yards out, but also made the first kick of over 40 yards this spring, connecting on a 47-yarder during the scrimmage.
—
Buffs conduct second spring scrimmage
Full story at cubuffs.com … The University of Colorado football team went through an 88-play scrimmage here Friday afternoon, the eighth of 15 spring practices, with the team reaching the midway point of spring drills ahead of CU's spring break.
Due to inclement weather, the scrimmage originally planned to be held in Folsom Field was moved to the team's practice bubble. The Buffs still got most of their planned work done, other than no live punting or kickoff drills.
Much of the scrimmage was situational, featuring red zone drives and its polar opposite, starting deep in CU territory, meaning the aim was to move the ball out of trouble. There were also 2-minute drill simulations; all three situations accounted for 35 out of the 67 plays run on the afternoon by the offense.
"The tempo was good, even though we did a lot of situational stuff that slowed things down a little bit," head coach Mike MacIntyre said. "We ran a lot of plays in the two-minute drill, and overall, I thought the tempo was better than last week."
A week ago, the Buffs ran 120 plays, including 29 on special teams, in just 79 minutes; Friday, the 88 plays took 73 minutes to complete.
The two plays that stood out the most were a 42-yard touchdown pass from Connor Wood to Tyler McCulloch, which came on a 4th-and-2 call, and a 100-yard interception return for a score by safety Terrel Smith. He actually picked off quarterback John Schrock's pass three yards deep in the end zone and raced untouched down the right sideline.
"That was a great play by Terrel, and he made a great run after the catch," MacIntyre said. "It was fun to watch and I was happy for him. I think the defense caught up a little bit this week compared to last. Terrel's play was one of many good ones by the 'D' and that was very good to see."
MacIntyre noted that the effort was better in the second scrimmage, and the players have started enjoying things more as they adjust to CU's new coaching staff.
"Overall, the attitude of the guys has improved every day," he said. "The kids are really starting to enjoy it, and that's a part of getting better. There was a lot of excitement out there, which we as coaches like. The effort was better, much improved. We had fun and that's good."
—
March 21st
Coach Mac – Post-Practice quotes
On the defensive line … "They did really well today. They're starting to learn how to rush off the edge. Chidera (Uzo-Diribe) and Samson (Kafovalu) did a really good job. They sacked the quarterback four of five times. They hadn't been getting near him. They were rushing too far inside, going too head up on the (offensive) tackle. They're just starting to understand. Jim Jeffcoat does a great job of teaching them how to read a tackle, and how to rush. I think they're starting to see that".
Any differences between scrimmage No. 2 (Friday), compared to scrimmage No. 1 (last Friday) … "No. We'll do a few more situations, situations like backed up, a little more red zone."
On Paul Richardson … "Really quick and fast, and catching the ball well. He hasn't had any issues with the knee. He's done everything we've asked of him, and worked really hard at it."
On creating "families" on the team … "It comes from Carson-Newman College, up in east Tennessee. (Coach) Ken Sparks has been there for thirty years, and won multiple national championships. He started the family groups, and I thought it was a great idea, building camaraderie, building family, so we've started it here. There are a lot of community service projects we are going to do with each 'family' group as soon as spring practices are over. There will be about 10 to 12 players per family. There will be positive peer pressure for class (where each family member is accountable for another family member missing class), plus just getting to know each other".
On having open practices … "I think they've been going pretty well. Mr. (Dave) Plati is my sergeant of arms and touring everything. One of those things we've been talking about happened the other day. A dad and his kids showed up, and they wrote us an email just thanking us. That's what I like to do … I think it's going well".
—
March 19th
Coach Mac – Post-Practice quotes
Opening remarks … "It went well. Had a good practice, got a lot done".
On depth chart starting to take shape … "I'm looking at some stuff, but we won't make any decisions until after these next two practices (Thursday and Friday, including a scrimmage on Friday). We'll take a look at everything, discuss all the grades (from practices), kind of like you do war room in the NFL. We'll spend day and night for two days (during spring break), then I'll give (the assistant coaches) a little down time to get into their houses and those types of things … We grade every practice every day. We grade effort, we grade execution, we grade on a plus/minus percentage-wise, and then add in for great plays, big plays."
On adding more of the playbook to practice … "On offense we put a little bit more in today (Tuesday), and then we'll put in a little bit more on Thursday for the scrimmage on Friday".
On having high school coaches in for last Friday's practice and scrimmage … "I thought it went real well, and I also think we are being received real well. I got a lot of compliments, a lot of 'thank you's', and a lot of people are coming back. I got some emails with positive feedback, so that's been nice."
On cornerback Kenneth Crawley, who played a great deal as a freshman last season (and was clearly frustrated) … "He can run. He's athletic. He's done some good things. I think he's a very good athlete. (The difference from high school) everyone is now as fast as you, the quarterback is always accurate, so you have to mind your P's and Q's, and I think that some young guys don't realize that they have got to be exact, and they have got to practice exact. So I think being in the fire (last year) will help keep a fire in him, help him in practice, and then realize that in the game, he's got to concentrate the entire time".
On cornerback Yuri Wright, who has been out with groin injury suffered during winter conditioning … "He was out here today, doing some individual workouts. He's out here everyday, and hopefully he will continue to work his way back."
—
March 19th
Austin Vincent comeback ends abruptly
From the Daily Camera … Austin Vincent made a mistake 16 months ago that ultimately forced him to leave the University of Colorado. He also made a few trying to work his way back.
Coach Mike MacIntyre welcomed back Vincent to the Colorado football team this spring because he believes in second chances and he saw a 6-foot-2 wide receiver who might one day be able to help the program win games.
But Vincent won't be playing for MacIntyre any time soon. He is ineligible to participate in 2013 under NCAA transfer rules.
Vincent enrolled at two colleges in the year he spent away from CU. He went to Cisco College in Texas last spring and Sam Houston State last fall. If he would have attended both schools part time and not practiced with either football program, he could have returned to CU without having to sit out the mandatory transfer year under NCAA rules. But CU has been informed by both schools that Vincent attended both institutions full time and practiced with both football teams.
The earliest Vincent will be able to play at CU will be the season opener in 2014 as a fourth-year junior, and that will only happen if he is able to remain academically eligible and meet the required benchmarks for progress toward a degree.
Vincent said he thinks twice before doing anything these days and a relentlessly positive attitude fuels him to continue trying to succeed here in Boulder when he could have transferred to other schools and probably had an easier time proving himself. He is determined to write a better ending with the Buffs.
"It was some unfinished business that I didn't get to take care of," Vincent said. "I feel like I came in with these guys. I owe these guys my dedication on the football field. I owe these guys my company because they're not only my friends, they're not only my brothers, but they're my family. I care about these guys a lot.
"A lot of the freshmen that are here now, I was hosting them when they came to visit. I want to be a positive role model, and, really, I want to say, clear my name in the community and let them know that I have moved on and I have accepted what I've done. I just want to get a second chance."
… A disappointment, for both Vincent and CU fans. Hopefully, Vincent will stick with the program, and be on the field for the season opener in 2014 …
March 16th
Scrimmage stats of note
Here is a pdf link to the stats sheet, but here are some stats which stuck out to me:
Quarterbacks … Shane Dillon led the most drives (4) of the six quarterbacks, but had (by far) the lowest rating. Dillon went 4-for-9 for 56 yards and on interception. Outside of a 32-yard completion to Austin Ray, Dillon went 3-for-8 for 24 yards … Former starting quarterback Jordan Webb, meanwhile, had the highest rating amongst the quarterbacks, despite hitting only five-of-11 passes. Webb's passes went for 98 total yards, with one touchdown completion to Gerald Thomas … Stevie Joe Dorman (10-of-14, 79 yards) and John Schrock (7-of-9, 61 yards), two quarterbacks not likely to make the cut to the second half of spring practices, had the highest completion percentages in the first scrimmage … Other than Webb's touchdown pass to Gerald Thomas, the only other passing touchdown went from Nick Hirschman (4-of-7, 61 yards) to D.D. Goodson, covering 46 yards … The sixth quarterback, last year's presumptive starter during spring drills, Connor Wood, completed three-of-six passes for 59 yards … Overall, the quarterbacks went 33-of-56 (.589) for 414 yards, with two touchdowns and two interceptions. The quarterbacks were also sacked five times.
Running backs … On a day with 56 passing attempts, there were only 30 total rushing attempts, going for 131 yards. A 4.4 yards per carry average (CU averaged 3.11 yards per carry in 2012), with only one touchdown. Josh Ford had the most yards, 42, coming on only four carries (Ford also had the only touchdown run, a one yard carry). Four other Buffs had at least four carries, with Donta Abraon getting the most chances, six, good for 24 yards. Tony Jones (18 yards) and Malcolm Creer (16 yards) both had five carries, while last season's leading rusher, Christian Powell, had four carries for 12 yards.
Wide receivers … A total of 15 receivers had at least one catch in Friday's scrimmage, with seven players collecting at least three. In terms of numbers, Keenan Canty (33 yards) and Austin Vincent (29) had the most catches, with four apiece. The yardage leaders, though, had three catches apiece, with Gerald Thomas going for 66 yards, Tyler McCulloch for 62, and Austin Ray (TE) for 59.
Defense … The offense ran 86 plays, but scored only three touchdowns – advantage, defense. Linebacker Lowell Williams led the defensive effort, with eight tackles, including two tackles for loss. Defensive lineman Samson Kafovalu had five tackles, including two sacks, with linebacker Derrick Webb also contributing five tackles and a tackle for loss. Defensive lineman Tyler Henington contributed two sacks, with red-shirt freshman defensive lineman John Stuart picking up the fifth sack. Parker Orms and Greg Henderson had interceptions, with Orms returning his pick 31 yards for a touchdown.
Special teams … Want perfection? Look no further than the CU kickers, who went … wait for it … a collective 27-for-27 on the day. Only two of the field goals (and the four PAT attempts) were during the scrimmage itself, but Will Oliver (11-for-11) and Justin Castor (12-for-12) were perfect in their field goal attempts on the afternoon. Granted, nine of the 23 field goal attempts were basically extra points (from 20 yards out), and none of the field goal attempts were from longer than 38 yards, but, perfection is perfection … The punters also had a good day, with returning starter Darragh O'Neill going for a 46.5 yard average in four punts, with walk-on D.J. Wilhelm going for a 47.5 yard average on two punts (a 58-yarder and a 37-yarder).
Miscellaneous … With all of the plays run (86 on offense, 29 on special teams), there were only three penalties called on the afternoon (one on offense, two on defense) … The scrimmage, with all of the above activity, came off in just over an hour (1:09) on the field … 150 Buff fans were on hand on the 70-degree spring day … Despite only scoring three touchdowns, the offense did move the ball, going for 515 yards overall (414 passing, 101 rushing), a 5.7 yards per play average (CU averaged 4.38 yards per play in 2012).
—
Coach Mac – "Our quarterbacks made some plays" in 120-play scrimmage
From cubuffs.com … The Colorado Buffaloes had their first full scrimmage under new head coach Mike MacIntyre Friday afternoon, the crisp pace matching that of the 70 degree weather here at Folsom Field.
The coaches put the team through 120 plays, 91 from scrimmage and 29 special teams, in just under 80 minutes.
"I thought the effort was good, a lot of people making plays," MacIntyre said. "We played at a good speed. Both sides did some good things, I think we just need a little more enthusiasm, but that will come.
"We did a good job with the tempo. It was a little bit harder for the defense at first, but they picked it up later. We will play eight teams with a fast tempo offense this season, so we have to be ready."
There wasn't a lot of scoring Friday, but when the Buffs did score, they were on impressive drives.
Justin Castor opened the scoring with a 38-yard field goal, which followed a 45-yard pass from Connor Wood to Gerald Thomas before the defense stiffened; Will Oliver closed it with a 28-yard effort that came in the two-minute drill. The two combined made all 19 field goal attempts, 17 of which came prior to the scrimmage starting, as well as all four PAT kicks. Darragh O'Neill (46.5 average for four punts) and D.J. Wilhelm (47.5 for two) also got some work in.
Jordan Webb led the offense to two scores, the first with completions to Nelson Spruce and Tyler McCulloch that covered 15 and 14 yards, respectively; Josh Ford then took over from there, with runs of 26 and 11 yards before scoring from a yard out. On Webb's other possession, he completed passes to tight end Austin Ray (22 yards), McCulloch (which covered 37) before hitting Thomas on a 10-yard TD throw.
The offense's other touchdown came on a lightning quick play that covered 46 yards, Nick Hirschman hitting converted tailback to receiver D.D. Goodson in stride after he snuck behind the defense.
"Our quarterbacks made some plays," MacIntyre said. "We have a very quarterback friendly offense. We had a couple of picks, but overall, we made a lot of plays. They played well. D.D. and Gerald made some big plays. Gerald did a good job, he has a lot of talent, he just has to do it every day."
Webb completed 5-of-11 passes for 98 yards and the two touchdowns, while Hirschman was 4-of-7 for 61 and the one TD. Wood was 3-of-6 for 59 yards, Dillon was 4-of-9 for 56 (one interception), Stevie Joe Dorman was 10-of-14 for 79 yards, running an efficient two-minute drill, and John Schrock was 7-of-9 for 54 yards and a pick.
Keenan Canty and Austin Vincent caught four passes, with Thomas snaring three for a team-best 66 yards, while McCulloch (3-62) and Ray (3-59) also piled up the yards. There were just 30 rushing plays, with Ford leading the way (4-42) followed by Donta Abron (6-24).
Parker Orms highlighted several defensive plays with a 31-yard interception return for a touchdown; linebacker Lowell Williams led the way with eight tackles, while tackles Tyler Henington and Samson Kafovalu each recorded two quarterback sacks. Greg Henderson also had an interception, snaring a Shane Dillon pass in the end zone to end what otherwise had been an impressive drive.
March 15th
First scrimmage of the spring
The CU football team moved into the stadium for the first scrimmage of spring ball this afternoon, with "reps" the word of the day. In order to get as many players and as many plays in as possible, the Buffs divided the field in half, going in different directions with split squads. With only a week to go before coach MacIntyre's self-imposed deadline to get the Buff quarterback battle cut in half, getting as many plays on film as possible seems like a good idea.
Those looking for stories of jarring hits, though, were destined to be disappointed, as the quarterbacks were off limits for tackling. By Mac's own admission, the scrimmage was vanilla and basic.
…
Full story can be found at the Daily Camera … The Buffs scrimmaged for the first time with that Friday evening in Folsom Field and MacIntyre liked most of what he saw.
"I think they did a good job today," he said. "I think it got the defense a little bit early. We've been practicing with them, but the defense, it's a little bit different sometimes because they're all having to run to the ball every snap.
"Then I thought the defense started picking it up and looking around and started understanding."
The tempo is the most obvious difference between spring practices at Colorado under MacIntyre and spring practices of the past two years under former coach Jon Embree. MacIntyre says his team will ultimately be able to play at any tempo when the season arrives.
"Getting the playbook down is not that bad because they're kind of taking it slower than usual, but the tempo takes a lot to get used to," center Gus Handler said. "…A lot less standing around and more just go, go, go, go, go. Always doing something."
…
"I think there is a lot of teaching going on, but we're still moving at a fast pace," linebacker Paul Vigo said. " What I've noticed with this staff is definitely preparation and then intensity. We're always going, always going and I think everybody feels it. They plan on having us be one of the best conditioned teams in the Pac-12 and I definitely understand why San Jose State was a well-conditioned team."
March 14th
CU's Pro Timing Day
From cubuffs.com … Eight former Buffs participated in the University of Colorado's Pro Football Timing Day on Wednesday. Showcasing their talent in front of numerous NFL scouts and assistant coaches, players in attendance included offensive linemen David Bakhtiari and Eric Richter, tight ends Nick Kasa and Ryan Deehan, linebackers Doug Rippy and Jon Major, defensive tackle Will Pericak and safety Ray Polk.
The day's events started in the Dal Ward Athletic Center weight room, where players weighed in and participated in a vertical jump test. Polk put up the highest number with a vertical jump measuring 39 inches. The players then followed with the bench press, where Richter put up 48 reps of 225 pounds.
It was on to the practice bubble where the group participated in the 40-yard dash, the short shuttle, the 3-cone drill and the 60-yard shuttle. Polk turned in the day's fastest 40 time, running the drill in 4.43 seconds. Kasa and Bakhtiari, the two CU players invited to the 2013 NFL Combine, opted to use their 40-yard results from the combine.
The players then participated in various position drills for the scouts. Kasa and Deehan ran a number of receiving routes with former CU quarterback Tyler Hansen throwing. Rippy, Polk and Major performed a series of agility drills, while Bakhtiari and Richter did a combination of drive blocking and punch drills.
A total of 27 representatives, scouts and assistant coaches were present from 23 NFL teams, including: Arizona, Baltimore, Buffalo, Chicago, Cincinnati, Denver, Detroit, Green Bay, Indianapolis, Kansas City, Miami, Minnesota, New England, New Orleans, New York Giants, New York Jets, Oakland, San Diego, San Francisco, Seattle, Tampa Bay, Tennessee and Washington.
The 2013 NFL Draft will take place Thursday, April 25, through Saturday, April 27, at Radio City Music Hall in New York City. Coverage of the 78th NFL Draft will be provided by the NFL Network.
Wide receivers coach Troy Walters: "You have to be willing to work to become great"
From cubuffs.com … An ideal coach would be one who has done it before and succeeded at it; a coach who knows what it takes to become a champion because he himself has reached the pinnacle of success.
After nearly two decades of honing his craft as both a player and an instructor, new Colorado wide receivers coach, Troy Walters has proven that he is that coach.
During his remarkable four year career as a wide receiver at Stanford, Walters' resume included a litany of accolades and honors. After an eight-year NFL career, Walters returned to the college ranks as an assistant coach and with two decades worth of expertise in tow, has overseen the maturation of a number of receivers who saw tremendous signs of improvement under his tutelage.
"You have to be willing to work to become great," said Walters. "You have to outwork your opponent. We weren't all blessed with great ability so you have to do the little things well."
As the receivers coach at Texas A&M from 2010-11, Walters took a young and inexperienced group of receivers and molded them into a group that included record setters and all conference performers.
Then, after one season at North Carolina State Walters' top three receivers went from a combined 60 catches and seven touchdowns in 2011 to 149 catches and 18 touchdowns in 2012.
In January, he agreed to join the coaching staff of newly-hired head coach Mike MacIntyre, inheriting a receiving corps in which only three players recorded a reception last season. Despite a plethora of inexperience, Walters believes this unit has a chance to be just as good as his previous groups.
"I think we can (be as good)," said Walters. "They have the potential. They come in and work hard every day. This is a good group."
The full story from cubuffs.com can be found here
March 13th
Coach Mac Tuesday press conference quotes
In general … "Today was one of those padded, non-contact days … It went real well. We got a lot done. Putting everything together, getting the pads on, we had a few missed snaps, a few offsides, some things we've got to correct. But nobody got hurt, so it was a good day".
On practicing in the bubble … "I like it. It works good. It's better than slopping around in the snow right now, or being in a gym … I love this field turf. I'm glad it's field turf and not astro-turf, that's for sure."
On players picking up the system … "I felt today we were not quite as sharp as we were on Friday, but that's because of the pads and the movement, and all of that. As practice went on, we got better. We've got a ways to go, but we're in pretty good shape so far."
On linebacker depth … "We've got the two greyshirt freshman, Markeis Reed and Addison Gillam. They're both playing, and they are doing well. It's thin in that we haven't got a lot of guys who have played a whole lot, but I feel like we've got some guys who can run around. Coach (Kent) Baer does a great job with the linebackers. When we were at San Jose State, he started two true freshman the first year, and one of them made WAC Freshman of the Year, and last year both of them made All-Conference as juniors … We've got a few good linebackers who can play, we just have to get them running in the right direction".
On Sherrard Harrington leaving the team due to medical issues … "He's going to do a medical redshirt. Ever since he got here, he's had medical issues. He's had a bad hip, he's had a bunch of other things, and just has never been able to go. Now, he's got to go through all of the paperwork, but a (medical redshirt), that's what it looks like he is going to do."
On identifying leaders for the team … "Number one I'm looking for efffort. Number two I'm looking for young men that listen. And Number three I'm looking for tough guys."
—
March 12th
Defensive line coach Jim Jeffcoat: "It won't happen overnight, but they're working hard"
From cubuffs.com … Traditionally, spring brings a certain sense of optimism and reprisal and perhaps no place in college football needed it more than Colorado.
After a 1-11 record in 2012 the Buffaloes made a change in coaching staff. Looking for a fresh start, Colorado hired Mike MacIntyre from San Jose State as head coach. A one-win season usually signifies that all facets of a team were misfiring but among the most glaring needs was fixing a defense that in certain areas was statistically the worst in school history in 2012.
As a result, the program focused on making key changes on that side of the ball. One of MacIntyre's first moves was to bring in 15-year NFL defensive end Jim Jeffcoat to coach a defensive line that was at or near the bottom of the Pac-12 Conference in rush defense and quarterback sacks last season, two statistical categories Jeffcoat believes can be directly attributed to the defensive line.
"We have a lot of work to do," Jeffcoat said. "We have to improve against the run first. That will make teams one dimensional and then we can get better at rushing the quarterback. It won't happen overnight but they're working hard and taking notes and trying to get better."
Jeffcoat's task to improve a unit that gave up 5.9 yards per carry last season, the program's worst on record, and had just 19 sacks may seem like a monumental one but he is no stranger to drastic turnarounds.
While playing at Arizona State, Jeffcoat was an integral part of a defense that went from 67th nationally in scoring defense in 1980 to second in scoring defense and first in total defense just two years later.
Prior to his arrival in Boulder, Jeffcoat also served as MacIntyre's defensive line coach at San Jose State where he oversaw a unit that went from just 16 sacks in 2011 to 42 in 2012, fifth best in the country.
"(At San Jose State) we first had to work on playing much better run defense then we could work on other things," Jeffcoat said. "I just tried to teach them to be relentless and keep at it and good things will happen. We are trying to do the same things here."
This fall, Jeffcoat will lead a group of 15 defensive lineman, only five of which are upperclassmen, and with the graduation of tackle Will Pericak, an already relatively inexperienced unit will have to improve without the exploits of its most experienced player and last season's leading tackler among all defensive lineman. His exit means a group of underclassmen will be asked to step up and fill a void up the middle.
"I like this group," said Jeffcoat. "It's not to be expected that we'll fix things overnight but as long as we keep at it we'll be ok. (Tackles) Nate Bonsu, Tyler Henington, and Samson Kafovalu are aggressive, tough guys who we think will step up and play well."
While the tackle position will see an infusion of raw youth and minimal experience, the end position will welcome a little more continuity and stability. The projected starters at defensive end, Chidera Uzo-Diribe and Kirk Poston, both saw significant time last year and although they finished the season 1-2 on the team in sacks, Jeffcoat is most excited about the leaps both players could potentially take next season.
"They're relentless," said Jeffcoat. "They are working on understanding better how to rush the passer and that you have to play the run first before you can go after the quarterback. In baseball, you're a great hitter if you hit .350 but how many times did you fail? You won't always get there but you just have to be relentless and keep at it and that's what makes a good defensive end."
More at cubuffs.com …
March 11th
Sherrard Harrington leaving the Buffs – medically related
Defensive back Sherrard Harrington has left the team, according to a tweet from the sophomore-to-be:
"never thought I would be announcing my retirement so soon. I want to thank Buffnation!"
"Injuries smh. However, I am happy to still be breathing, walking and able to thank you guys for supporting me throughout my career."
Harrington was a red-shirt in 2011, and did not see action as a red-shirt freshman in 2012. As one of the "D.C. Three" from the recruiting Class of 2011, Harrington was a sought after recruit. As a senior, he earned SuperPrep All-Mid-Atlantic honors, as the publication ranked him as the No. 36 player in the region and the seventh best cornerback and 11th best overall player from the Washington D.C. area. He was also selected as a first-team Pigskin All-Metro team member at cornerback and was the first-team All-Metro Return Specialist of the Year. ESPN ranked him as the No. 40 cornerback and the No. 7 player from Washington D.C. and was the second cornerback on that list. As a senior, he was in on 55 tackles, five for losses including two quarterback sacks. He had three interceptions, returning two for touchdowns, and 13 passes broken up. He averaged around 20 yards per punt return, including two for touchdowns, one that covered 93 yards.
His career in Boulder, though, was riddled with injuries. In 2011, he suffered a stress fracture in one of his hips (on June 1,2011) and underwent rehabilitation throughout the season, so he was limited in what he could do in and around practice. Harrington was injured again last spring, suffering a bruised knee midway through spring drills.
Harrington also indicated on Twitter that he was staying in school, and would continue to be around to support his teammates. Here's wishing Sherrard a bright future … and our thanks for his time and efforts in being a Buff!
iPad Mini's to serve as the CU playbooks
Times, they have changed …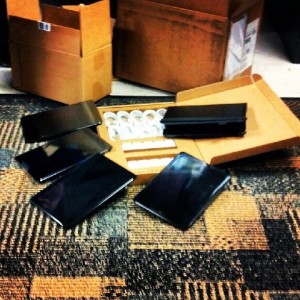 March 9th
Post-Practice quotes
In general … "They're listening and getting better. I was pleased with how they did today, I really was".
On D.D. Goodson switching to wide receiver from tailback (after being recruited as a defensive back … "When I met with him individually, he said, 'Coach, I think I would be a better slot receiver in college football', and I said, 'We'll go with it'. He's doing real well the first two days. He's a quick guy, and hopefully he'll be able to help us".
On switching other players around … "Nothing these first two days. Mainly, we're just playing where they are, and evaluating as we go along."
On what he is looking for in the first few days with the players on the field … "I'm looking for effort. I'm looking for kids who will listen and pay attention. We're just trying to set the tempo for everything we're trying to do. It's more of an overall team thing. Of course, you are still looking at positions and all of that, but they are still in their 'pajamas' (helmets and shorts). Real football will start on Tuesday (with the donning of pads)."
On whether the players are listening … "They're doing very well. They are taking notes in meetings, they are listening out here. They are taking coaching very well. To me that's a part of discipline – that they listen."
On reducing the quarterback competition from six to three after Spring Break (and after the first eight practices) … "All the stats, everything that we are doing out here every day. That's what we're going to do. We've got to whittle it some by (Spring Break). Our goal is to try and get it to three, but if it has to be four then it has to be four, but hopefully we will whittle it down to three. We'll get even more reps Tuesday (the next practice) than we did today (Friday). After we get a little more installed (in the offense), we'll be able to go a little bit quicker".
March 8th
Spring Practice Primer (CBSSportsline edition)
Full article here … Not much in the way of new information, but always interesting to see how the outside world perceives CU …
The Least You Need To Know About Colorado This Spring
— Change the culture. What do you do with a program that hasn't had a winning record since 2005? MacIntyre will get to work at changing the mentality of his team, which is coming off of one of the worst seasons in conference history. His motto heading into the spring is: Knowledge=Confidence=Playing Fast. It might take a while until the first part of that sets in, but this spring will be essential to getting started.
— Find some athletes. MacIntyre believes the Buffs need more team speed given the number of spread offenses they'll be facing. To that end, he focused on signing fast, athletic linebackers in his first recruiting class. One potential bright spot is receiver Paul Richardson, who is rehabbing after missing last season with a knee injury. If he can get healthy in time, he'll give Colorado a big boost on offense.
— Decide on a quarterback. This position is wide open, with six players competing in the spring. Shane Dillon, Stevie Joe Dorman, Nick Hirschman, John Schrock, Jordan Webb and Connor Wood will all take snaps, with freshman Sefo Liufau coming in the fall. The ideal, according to MacIntyre, is for two quarterbacks to step up. Of this bunch, Dillon might be the most intriguing, while Wood is a highly touted transfer from Texas.
— Get to know one another. MacIntyre and the new array of coaches will use spring drills to evaluate the talent, and the players will have to quickly absorb new schemes on both sides of the ball. One focus in the offseason has been various team-building exercises designed to build unity on the roster. MacIntyre says they have gone well and hopes they carry over into the spring. His goals coming out of spring are to stay healthy and develop a two-deep, but team unity and a change in culture are his No. 1 priorities.
March 7th
Post-practice quotes from Coach MacIntyre:
Opening statement – "I thought they ran around hard, competed, and tried to do what we're telling them to do. A great effort day. That's what you want to see, when you're running around out here in "pajamas", I thought they did a really good job."
On understanding concepts – "For the first day, they did really good. They flew around. We didn't have a lot in, of course, but they were trying to play fast, and were working hard".
On looking at certain position battles – "We're looking at everything, and that isn't a coachism. I'm just out here trying to remember everybody's name, and watching. We're watching every position closely, and letting them all compete. Everybody's getting a lot of reps, and that's helping them. We started with seniority and went on down, but everybody got the same amount of reps."
On grayshirt linebackers Addison Gillam and Markeis Reed – "I saw them moving around, I thought that they moved around well. They didn't look out of place. They're both 225 pounds, they're both 6'3″ or taller, and they can run. They didn't look out of place at all to me."
On wide receiver Paul Richardson returning to practice at full speed – "I've seen him on film before, and of course saw him in high school (Richardson played for Serra high school in Los Angeles). He looked really quick out there today for me. I didn't see him favoring (his injured knee), so that was very encouraging for me. He caught a deep ball and outran everybody … that's good and bad when you are the head coach."
On the play of the quarterbacks – "I thought that they picked up the offense well. They were getting the signals, they were getting them lined up. They got the snap count, we didn't have a lot of miscues on the snap count. I thought they did well."
On it being a priority to name a starting quarterback after spring practices – "No. Last year, David Fales (the starting quarterback at San Jose State last season) wasn't named until five days before the first game, and everybody was saying 'you're crazy', and he set every record there was. All the guys get a ton of reps, if you watch our practices, so the more repetitions they get, the more pressure they are under, the better they get. Now, I'd like to have a quarterback quicker than five days before the opener, but we had a good battle going on there (with the Spartans)."
—
"We want to win every game we play, be in every game we're in. We want to make sure our kids get better every week, keep improving, keep fighting. We look at every game as a season within itself. So we want to be competitive in every game and give ourselves a chance to win every one of them."
On the Four F's – "Foundation means the type of person you are. Family means how close we are as a team, and how we care for each other. Future is their academics, and then Football is what we're going to do. I think that if you have all three of those, have a good foundation, and know what you're about, you care about the guys on your team, and you are doing well academically, when you come to football practice, you are freed up, you are focused, and can be the best player that you want to be, and I think that carries over to the game. That's what we are trying to instill in these young men, and they are buying into it."
Chidera Uzo-Diribe – "My goal is to try and carry this team to a bowl game, anything I can do to help contribute to that. Our goals are to listen, compete, and finish – those are the three main goals that the coaches have told us to focus on this winter and spring."
Paul Richardson – "I appreciate just being out here. I'm reinventing myself as a player. I have to step into a new leadership role . The players, as well as the coaches, they expect a lot out of me. I'm making sure I fill those shoes, making sure I continue to set the bar higher every day. The first level of competition begins in our meeting rooms, making sure we learn the plays, making sure we learn the concepts. We have a good secondary, and I appreciate going against those guys everyday, making each other better, and just getting ready for Colorado State."
Buff coaches welcome 101 to the first day of practice
From cubuffs.com … The Mike MacIntyre Era at the University of Colorado officially hit the ground Thursday … well, the practice fields would be more accurate … as 101 players ushered in the start of spring football drills, the first practice for CU's 25th full-time head football coach.
MacIntyre was named head coach last December 10 and hired a complete new staff, and they put their new players through a productive first session where no doubt they learned a lot from finally seeing the players practice, and in return, the players learned what the coaches expected from them.
"A good first day, we got a lot of good work in," MacIntyre said. "They were running, no, flying around out there. I thought the players had a good grasp, a good understanding of what we wanted them to do."
MacIntyre on many occasions has said what he learned from his four years he spent as an assistant to the legendary Bill Parcells, first and foremost how to organize and run a practice. That was evident on paper (see attached PDF of the practice schedule) as well as on the field.
Junior wide receiver Paul Richardson is almost all the way from a torn ACL he suffered in spring practice almost 11 months to the day. Though he participated on a limited basis toward the end of last season and even flirted with trying to come back at one point, Thursday was the first day he was doing just about everything he could, from running deep routes and making over the shoulder catches to fielding punts.
"It was fun," he said with a big grin on his face. "It was a great practice. Of course we had some issues here and there being the first one, and being the first with all the new coaches, but you work off that rust and get yourself into synch. It was pretty smooth overall."
"It was exciting to get out with the new coaches to see what they were like on the field," senior linebacker Derrick Webb said. "We've been working with them for two months in a lot of other ways, but the way you really get to know your coach is to see how they coach you in practice.
"Today went well," he continued. "We were able to start learning some of the new concepts, and also polishing up on some things we already knew." Webb estimated at least half of what they were practicing was all new material and schemes.
NOTES: Several area coaches were in attendance, including the staff from CSU-Pueblo, many of whom are former Buffs: head coach John Wristen (one time assistant coach), Donnell Leomiti, Paul Creighton and Bernard Jackson, all former players who are now Wristen assistants … Former defensive end Josh Hartigan (class of '11) also dropped by to introduce himself to MacIntyre; he has designs on trying to play in the Canadian Football League, and has already spoken with former CU head coach Dan Hawkins, who last month was named head coach of the Montreal Alouettes … Redshirt freshman tailback Davien Payne has been suspended from all football-related team activities. MacIntyre said the indefinite suspension was for violating team and university policy but did indicate it had nothing to do with law enforcement … The coaching staff took timeout for a quick dinner but then met as a group Thursday evening to evaluate their first practice … Spring practice No. 2 will be Friday, roughly 3:45-6:15 at the lower practice fields just north of Boulder Creek; it is open to the public.
Marc Mustoe injured in bike accident
From the Daily Camera … There is a big hole to fill on the left side of the Colorado offense for the second time in three years and few options to evaluate as spring football began Thursday afternoon.
The two most likely candidates to replace David Bakhtiari at left tackle are out with injuries this spring.
Last season Alexander Lewis played left guard next to Bakhtiari, a two-time, second-team All-Pac-12 Conference selection who chose to turn pro instead of returning for his senior season. But Lewis won't be fully recovered from shoulder surgery until sometime in May.
Sophomore Marc Mustoe earned a handful of snaps as a redshirt freshman backup in 2012, but he will miss most of the work this spring with concussion symptoms lingering after being hit by a truck while riding his bike in January. He wasn't wearing a helmet.
The 6-foot-7, 290-pound product of Arvada West High School was riding his mountain bike home from a workout on campus at about 7 p.m., on Jan. 21 when he was hit by a Chevy Tahoe on Baseline Avenue. He never saw the SUV coming and the driver didn't see him. He was on his bike one minute and in an ambulance the next.
"I left a huge dent in that thing," Mustoe joked Thursday afternoon before meetings and practice.
No timetable has been set for Mustoe to be cleared to participate fully in practices this spring. He said he believes he will be able to join the competition to replace Bakhtiari at some point this spring.
March 6th
Spring Practices almost here
Schedule … There are only two practices this week, with the Buffs practicing in shorts and helmets from 3:30 – 5:00 p.m. on Thursday and Friday. The Buffs will be practicing in the fields north of Boulder Creek and are – at least for now – open to the public. Dates of note: March 13th – Pro-timing day (not open to the public); March 15th – first scrimmage; April 5th – second scrimmage; April 13th – Spring Game (10:30 a.m., Pac-12 Networks, KOA-Radio).
Injury Report … Players out for spring practices: Terrence Crowder, RB, Fr-RS (knee); Colin Johnson, WR; Fr-RS (knee); Alexander Lewis, OL, Jr. (shoulder); and Juda Parker, DB, Jr. (shoulder)
Spring walk-on candidates … Wesley Christiansen, WR, Jr.; James Carr, OL, Soph.; Tim McLaughlin, LB, Fr.; Blake Allen, SN, Fr; John Finch, SN, Fr.; and Kevin Murphy, SN, Fr.
Roster break-down … CU has 63 lettermen returning – 29 on offense, 30 on defense, and four specialists … The Buffs lost 11 lettermen from last year's team – six on offense; four on defense; one specialist … Colorado returns 18 starters (9 offense; 9 defense).
Base Spring Roster … 97 players/71 scholarship … 17 seniors, 29 juniors, 28 sophomores, 23 freshmen (18 red-shirt/5 true).
—
Great CU video on Buffs' Conditioning program
There may be better video staffs than the one at the University of Colorado … but there aren't going to be many.
CU Video has put out a great video entitled "Proving Grounds – Episode 1". The link to the video can be found here.
The 14-minute video features several Buffs – DB Paul Vigo, WR Paul Richardson and OL Daniel Munyer, and also has an interview with new strengthening and conditioning coach – or as the new title goes, Director of Sports Performance – Dave Forman.
Forman discusses his philosophy … Protection – talking about injury prevention, trying to reduce the number and severity of injuries; Preparation – bigger, stronger, faster; what you think of when you think about a weight room and conditioning; and Perception – getting the results desired.
The video is 14 minutes long, but definitely worth your time …
March 5th
Coach Mac to start slow in first half of spring practices
Spring practices get underway this week, with the first practice coming 3:30 on Thursday. Head coach Mike MacIntyre met with the media Tuesday morning, and outlined some of what he expects from the allotted 15 spring practices.
From the Daily Camera …
Goals for the spring: 1) Come out completely healthy; 2) Form a two-deep depth chart; 3) Have good idea of where incoming freshmen will have to impact depth chart; and 4) Continue building the culture he envisions.
Depth chart: "We have no depth chart. We'll likely go by seniority at first, and then just go. They are all basically going to get the same amount of reps the first eight practices. After spring break, we'll have some semblance of a depth chart, and be able to attack things better."
On keeping it simple for the first eight practices, which will run through to the start of spring break at CU:  "You don't want to paralyze them and then you can't see and you're thinking, 'Well, god, that guy is not very good. Well, it's because he's thinking so much,'" MacIntyre said. "The second half we'll be putting in more and more, but we will not have the whole offense or the entire defense in by the end of spring.
"They will have all the major concepts in though, which to me learning anything is learning the concepts. If you learn the concepts and you can add wrinkles to it, you're fine."
On open having practices open to the public: MacIntyre said he doesn't want any details of what goes on at practice published by fans on Internet message boards or blogs or he will be forced to close practices. It's unclear how CU plans to police the policy with at least a half-dozen fan sites and several newspapers who cover the team offering fans the ability to comment anonymously on their sites.
"Zero, I don't want anything out there," MacIntyre said when asked what his expectations are for things fans shouldn't be discussing on the Internet. "If we do and I can't stop it, then we'll have to close practice and I do not want to do that.
"I want a dad who is home on an afternoon and his 8-year-old boy looks at him and says, 'Dad, I want to go watch practice.' I want him to be able to take him to practice and experience that. I want him to fall in love with Colorado football or even fall in love with football because I love this game. So I do not want that to hinder it."
What information should be allowed out of CU's practices?
On Coach Mac's last point, above, I'm still trying – along with several other websites – to interpret what Coach Mac is trying to allow to be reported out of CU's open practices, and what he is trying to keep from being posted.
To say you want fans there, but then to say that they are not to talk about what they saw while at practice, is defeating the point of having fans there in the first place. If your goal is to increase interest in CU football, you can't do it with the handful of fans who can take an afternoon off to go and watch a practice, then having them be placed on a gag order as to what they witnessed. You want fans, both local and throughout the country, to have a day-to-day interest in your program. You do that by having a dialogue about what is going on in the lineup and depth chart. You do it by having notations made about spectacular plays, and positive efforts being made by third- and fourth-stringers. If you take the time to go to a practice, but then don't get to tell your friends about the exploits of your favorite players, then what's the point in going?
The last two seasons, with practices closed to the public, fan interest waned. Most of the indifference stemmed from poor performance on the field, but the lack of information off the field didn't help. Most days during spring and fall practices, there was nothing other than coach-speak being reported out of Boulder. "The kids are working hard, and they're starting to get it", can only be repeated so many times before it dissolves into white noise.
Do I understand that coaches don't want specific formations, and specific details on players being reported? Sure.
Do I understand that reporting that "Quarterback X went 2-for-13 in passing" might have nothing to do with the quarterback's efforts, but those of the receivers or offensive line? Definitely.
Do I concede that I would much rather have more information about the team out there in the Internet than less? No question.
There has to be a middle ground out there. One which will allow die-hard Buff fans to read up on their team, while not betraying team secrets or fraying the egos of players or coaches.
I just hope that middle ground can be found before practices are once again closed to the public …
Your thoughts? Post your comments below …
—
March 3rd
Paul Richardson: "Everyone is starting with a clean slate; there's no depth chart"
From B.G. Brooks at cubuffs.com … Much has happened in CU football since "P-Rich" ran his last Saturday route and caught his last pass. When spring ball opens Thursday, he will be playing for his third head coach (Mike MacIntyre) and third position coach (Troy Walters). Richardson is listed as probable for spring participation, although he believes his status could be upgraded. He says he's functioning at "99 percent."
But this coaching staff, like its predecessors, doesn't want to gamble with "P-Rich." If he regains his early 2011 form – which he expects to surpass – he will be a proven playmaker at a position that should be much improved in MacIntyre's revamped offense.
Richardson missed four games in 2011, but finished with 39 catches for 555 yards and five touchdowns. He set a single-game school record for receiving yards (284) and tied the single-game reception mark (11) in Game 2 against California. He has six career plays that have gone for over 50 yards, all receptions and five of them for TDs.
But as Richardson concedes, those are old numbers. He's ready to begin working toward a new set, but most of all he's simply eager "for the competition," he said. "The coaches have emphasized that everyone is starting off with a clean slate; there's no depth chart. Guys can earn a first spot, a second spot, a third spot.
"I feel like the level of competition is going to be high and the people who have put in the extra work this off-season and have challenged themselves are going to stand out this spring. We've had a handful of guys who have been putting in the extra work, and I know for sure they've been out there with me. I can't wait to see them excel this spring when they finally get the opportunities they didn't get in the past."
Coming out of a different winter conditioning program, Richardson believes the Buffs were more mentally challenged this off-season than last. "The demand is still high and requires hard work and a high-level work ethic," he said. "We were put through different things to prepare us for how we're going to practice. By each position, your workout is a little different. You got to be able to think on what you've got to do then execute . . . once you get tired, that's when the physical and mental aspects pick up. It's mind over matter; you have to work through being tired."
Richardson said MacIntyre and his staff "for the most part" have been embraced by the returning players. "I've been here through three coaches and I feel there's some type of resilience that has to go on in rebuilding when you're going to play for someone who didn't recruit you. There's always a little of that, there's always a little of guys being scared, not being sure. But I think as a team we've grown to accept these coaches and they've grown to accept us. We've been working together. In my group, we've embraced our new coach and our head coach. We're anxious to get after it with each other this spring."
In addition to Richardson, receivers returning who saw extensive playing time last season are juniors Tyler McCulloch and Keenan Canty, sophomores Nelson Spruce and Gerald Thomas. Among that foursome, Spruce's 44 receptions for 446 yards and three TDs were team highs. And from what he's seen in winter work, Richardson expects January enrollee Jeff Thomas, a 2012 signee, to quickly become a presence at the position. Thomas, 6-3 and 195 pounds, was doing that last August before he went home (Dallas) for personal reasons and delayed his enrollment.
I asked Richardson if he would be surprised if CU is picked to finish last in the Pac-12 this fall. He answered, "No . . . and if there was a spot worse than last I figure we'd get that. You never know about the Pac-12. There were a couple of teams in the Pac-12 that people thought would compete for the national championship last year.
"Teams lost games they thought they should have won . . . teams won games they maybe shouldn't have. With us, we have everything to gain. We have less pressure on us to go out and compete than some teams that think they have to live up to expectations. There's not much expectation (outside) if you're picked to finish last in your conference."
But Richardson says his expectations and those of his teammates aren't aligned with outsiders' or anyone's who will cast a preseason vote on the order of the Pac-12 finish.
"I think we're going to be more than ready to compete this fall," he said. "I think we're going to do more than compete; we're going to win games. I expect nothing less than a bowl game this year. I'm sure we'll be above .500 – and that's just how confident I am in my group and my offense. I think we're going to be strong.
"I'm not with the defense, but the attitude and energy our defensive coaches have brought in, I can't wait to go against those guys this spring. I know ultimately we're working to get each other better. I'm more than confident we're going to turn a lot of heads, close a lot of mouths and some jaws are going to drop at the same time. And I'm going to be happy to be a part of it."
That's easy enough to say in early March, especially coming from a guy who didn't go through the beat-downs in 2012. But maybe that's why Richardson believes it. "I feel like it's true," he said. "I'm not saying it because I'm an older guy. I'm not saying it because I'm going to be here or what I think I can bring to the table.
"I'm saying it because I'm in the locker room with these guys, the weight room with these guys . . . I have that much confidence, that much faith in our team and coaches and our community."
Not being a part of the horrific 2012 season, not being able to do contribute something when everything was falling apart impacted Richardson. In one way, he said, "It just built some expectations for next season . . . I was able to watch and experience the bad. I had to grow up and mature. I know I'm going to have a better season this year than I would have had last year."
Richardson, who turns 21 on the day of CU's spring game (Saturday, April 13), stands 6-1 and said last spring he weighed 177 pounds. He says he has "put on a little weight," but grinned and graciously declined to offer his poundage. He also says he is "a lot stronger and faster" and that he further motivated himself by watching high school friends such as Robert Woods (Southern California receiver) compete in the NFL Combine.
"That added a little fuel to my fire," Richardson said. "I congratulated all those guys, especially Robert. He said the combine wasn't as hard as he thought it would be and that I would 'kill it' and he couldn't wait to see me perform. That let me know I'm where I'm supposed to be right now. Guys like him are where they are now because they're blessed to have that opportunity."
March 1st
Kent Baer to take it slow with CU defense
Full story can be found in the Daily Camera …
"I have a great deal of respect for this place, No. 1," Kent Baer said. "I grew up in northern Utah. My dad's first cousin's wife used to work here in the football office. So I used to hear about Colorado a lot. I know it can be a special place. It's amazing to me how many people I run into who are involved with Colorado football or want to be involved."
Baer said he hadn't even made his first trip to Boulder after being hired when he went on the road to recruit in the San Diego area. A fellow passenger on a plane recognized him and asked him if he was the new defensive coordinator at CU. He said he has had a lot of those moments already and he hasn't even been on the field for a single practice.
That will change next week when the Buffs begin learning new schemes and playbooks in their first practice under the new coaching staff Thursday. Practices will be open to the public and figure to attract sizable crowds with so much interest in the new coaches and a handful of new players.
Baer runs a 4-3 base defense that he describes as being different from what CU had been doing the past two years under former coach Jon Embree and defensive coordinator Greg Brown. But Baer said it won't be a massive change for players.
CU coaches have worked with players in winter conditioning a handful of times and have been able to get an idea of the capabilities of the athletes on the roster. Baer said he has looked at video of last season but like head coach Mike MacIntyre, he doesn't like forming a lot of opinions about the players he is inheriting based on film. He's eager to size up the Buffs for himself once practices begin.
Baer said he plans to take it slow with the Buffs in the spring. He will start from scratch and teach them to do everything the way he wants it done.
He is happy to be joined in Boulder by defensive line coach Jim Jeffcoat, cornerbacks coach Andy LaRussa and safeties coach Charles Clark, all of whom coached alongside him the past two years in San Jose.
"It makes it a lot easier for us," Baer said. "… That is critical because we don't have to sit and go through every little detail in a meeting with another coach that you're trying to teach what you want defensively.
"We're going back and teaching it from Day One as a staff together. You just do. We're going to start teaching it from the ground up with the kids. I'm not going to assume they know it. We're going to teach it and be very detailed and coach the little things that end up being big things all the time."