Colorado Daily
March 29th
Strength of Schedule rankings
Simply reviewing the won/loss records from the previous season is not necessarily the best measure for how difficult a team's schedule will actually be.
For example, Buff fans are not anticipating a win over USC, despite the Trojans' 7-6 record. Conversely, the Buffs are expecting a win over Central Arkansas, despite the Bears' 9-3 record in 2012.
That being said, it is worth noting that the schedule for Colorado is not as favorable – at least in terms of the NCAA's method – as it was a year ago.
The Buffs will be facing a schedule against teams with a combined record of 90-63, the 14th-most difficult in the nation in 2013.
Last season, the Buffs' opponents' record ws 79-73 heading into the season, the 62nd-most difficult in the nation.
Here is a link to the entire list, published by Phil Steele.
The Pac-12 … based solely on opponents' 2012 records:
9th – Cal (includes non-conference games against Northwestern and Ohio State)
14th – Colorado (every game looks hard when you are coming off of a 1-11 season)
18th – Utah (Utes don't leave the state until mid-October – BYU, Utah State and Weber State in non-conference)
27th – Stanford (usual games against Notre Dame and San Jose State balanced by laugher against Army)
39th – Arizona State (Buff beater Sacramento State the easy game in non-conference – Wisconsin and Notre Dame also on the list)
63rd – Washington State (playing Southern Utah and Idaho will help make up for opening against Auburn and USC)
65th – Oregon State (Eastern Washington, Hawai'i, and San Diego State en route to Pac-12 opener against CU)
66th – UCLA (will take on Nebraska in Lincoln in September)
70th – USC (in addition to Notre Dame, non-conference includes Hawai'i, Boston College, and Utah State)
73rd – Washington (will open with 2012 bowl opponent, Boise State)
91st – Arizona (Non-conference schedule: Northern Arizona; UNLV; Texas-San Antonio)
113th – Oregon (Non-conference schedule: Nicholls State, Virginia, and Tennessee. Ducks miss USC and Arizona State in the South)
March 28th
Jeremy Bloom joins Pac-12 Networks
From the Pac-12 … Former CU Buffs wide receiver and punt returner Jeremy Bloom is the latest to join the Pac-12 Networks on-air roster as a football analyst, contributing to both in-studio and game broadcast coverage.
Bloom will make his broadcast booth debut with Pac-12 Networks at his alma mater, Colorado, on Sept. 8 when the Buffs face Sacramento State. Following that, he will be in-studio on football Saturdays on a rotating basis, contributing to pre, half and postgame shows.
March 25th
Pac-12 cashing from March Madness success
Here's to Oregon's and Arizona's continued success in the NCAA men's basketball tournament.
From Matt's College Sports Media blog …  Its not always about TV.
Earned through games ending 3/24 and matchups set for 3/28 & 3/29.
A conference or independent school earns a unit for each game they participate in for the entire tournament except the national championship game. A unit earned this year will be worth approximately $245.5K.
Conferences in bold have reached their maximum in available units to earn.
ACC = 9
Atlantic 10 = 12
Atlantic Sun = 3
Big 12 = 8
Big East = 14
Big Ten = 17
CAA = 2
C-USA = 2
Ivy League = 2
MEAC = 2
MVC = 5
MWC = 7
Pac-12 = 10
SEC = 6
Sun Belt = 2
WCC = 4
All conferences not listed each earned one unit.
So … with ten units earned so far, the Pac-12 has earned $2.45 million, with more dollars available if Arizona or Oregon can advance beyond the Sweet Sixteen.
March 24th
SEC may go to 16 teams if an "ace jewel" comes calling
From cbssportsline.com … The Southeastern Conference is a calculated bunch. If the league stayed at 14 teams in the coming years, even if future conference expansion swirled around it, that wouldn't exactly shock.
If the allure of more inventory for the looming SEC channel or the clumsiness of scheduling for 14 teams pushed the league to increase, perhaps that shouldn't surprise either. Whatever happens, the league will consider options in a thoughtful manner.
Apparently there's only one factor that would trigger expansion in the South, according to the SEC's chairman of the board of directors.
Florida's president, Bernie Machen, told CBSSports.com the league will eschew the 16-team superconference model unless "some ace jewel called us and said, 'Can you help us?'"
"We haven't had any calls like that," Machen said. "We haven't made any calls."
—
March 21st
Bill McCartney's wife, Lyndi, passes away at the age of 70
From cubuffs.com … Lyndi McCartney, the wife of former University of Colorado football coach Bill McCartney, passed away Tuesday afternoon after a lengthy, hard-fought battle with emphysema. She was 70.
"We have four children and 10 grandchildren and we all loved her very much," Bill McCartney said of his wife for a half century; the two celebrated their 50th wedding anniversary last Dec. 29.
Lyndi spent her last days in Hospice care and was surrounded by family when she finally succumbed after decade-plus long battle against the disease.
Grandsons, the sons of daughter Kristy, T.C., a CU graduate assistant coach, and Derek, a freshman on the football team, were among those present when she passed.
The eldest McCartney son, Mike, announced his mother's passing on his Facebook page with simply, "RIP Mom. I am who I am because of you. Love you." He works as a player's representative with Priority Sports out of Chicago. The youngest son, Marc, posted this on Facebook: "Today I mourn, but my mom suffers no more. She is forever in heaven now and that gives me a great peace that surpasses all understanding. Thank you to all of the people who loved my mom and have been praying for her. Your thoughts and prayers have been a great encouragement and comfort to me and my family."
Marc is the vice president for special events with RightNow, a non-profit ministry in Rockwall, Texas. The couples' other son, Tom, is the football coach at Fairview High School in Boulder.
Services are pending
March 20th
ESPN reaches deal with Mountain West Conference
… As you read this, think about how much this deal was dependent upon Boise State coming back to the Mountain West …
From ESPN … ESPN, Inc. has reached an agreement in principle with the Mountain West for rights to televise select conference football and basketball games from 2013-14 through the 2019-20 season. ESPN will acquire exclusive worldwide rights to televise up to 16 Mountain West football games, plus every Boise State home game, as well as up to 31 conference-controlled men's basketball games annually. ESPN will have the right to make every game available to video subscribers via WatchESPN.
As part of the deal, ESPN, ESPN2 or ABC will televise a minimum of three Boise State football home games nationally. The Broncos' remaining home contests will either be made available on either ESPN, ESPN2, ESPNU, ESPNEWS, ESPN3 or ABC. Up to 16 conference-controlled football games per season will be available on either ESPN, ESPN2, ESPNU, ESPNEWS, ABC or ESPN3.
For men's basketball, up to 31 conference-controlled games will air on either ESPN, ESPN2, ESPNU, ESPNEWS or ESPN3.
Former Buff Lynn Katoa facing 3-6 years in prison
From the Daily Camera … Former University of Colorado linebacker Lynn Katoa pleaded guilty to third-degree assault and felony menacing this morning in a 2011 incident that landed the onetime star recruit on Boulder police's "most wanted" list.
In exchange for the plea, prosecutors dropped two counts of second-degree assault, one count of third-degree assault, criminal mischief and false reporting to authorities.
According to prosecutors, on Jan. 9, 2011, a group of friends were at a residence in the 900 block of Broadway when they heard Katoa yelling outside about his lost phone. One of the men went outside to try to help him, but came back in, unable to find the phone.
A short while later, those in the residence said several objects were thrown at their window, breaking the glass. The group then went outside to see who had thrown the objects.
According to a police report, when the group encountered Katoa, witnesses said he was "acting crazy" and "flipped out." He punched a woman in the jaw and began fighting with several of the other people in the group, then fled the scene. Several of the people suffered broken noses and others suffered bruises and cuts, police said.
Because Katoa was on probation during the assault, he faces the aggravated sentencing range for the felony menacing and third-degree assault charges and faces a mandatory three to six years in prison when he is sentenced on May 10.
Katoa remains in custody in the Boulder County Jail on $20,000 bond.
… Katoa was the second-highest rated prospect (behind running back Darrell Scott) of what was the highest ranked recruiting Class of the Dan Hawkins era, the Class of 2008. Katoa, out of Salt Lake City, was the No. 2 ranked inside linebacker in the nation. Here is Katoa's Rivals bio.
March 18th
ESPN's Ivan Maisel – "Colorado first and foremost the toughest coaching job in college football"
From ESPN … It's too bad that the Discovery Channel cancelled the show "Dirty Jobs" last season. Host Mike Rowe would have felt right at home in the coaching shoes of Mike MacIntyre.
On "Dirty Jobs," Rowe tested shark repellent, cleaned septic tanks and took on a lot of other tasks so difficult to stomach that viewers tuned in for eight seasons. By college football standards, MacIntyre took on one of those gigs last December when he left San Jose State to try to rehabilitate the Colorado Buffaloes.
The program that shared the 1990 national championship and won the Big 12 North Division as recently as 2005, has fallen off the edge of the world. In the seven seasons since that 2005 title, Colorado has won 25 games.
Last season, the second under head coach Jon Embree, the Buffaloes started as many as six true freshmen. They finished in the bottom five in the FBS in eight different categories, including total offense, total defense, scoring offense and scoring defense — the complete set. It may be redundant to say Colorado went 1-11.
MacIntyre may be Southern by background — his father George was the head coach at Vanderbilt (1979 to 1985), and MacIntyre coached at Ole Miss and Duke for David Cutcliffe — but what he has found on the Front Range of the Rockies looks familiar. MacIntyre took over a San Jose State team that went 2-10 in 2009. Last season, the Spartans went 11-2.
"Every person, when I told them I was thinking about taking the job," MacIntyre said of San Jose State, "there wasn't one person, not one person out of the 100 I asked, who told me I should take the job. And then when we were successful, I had people call me and tell me, 'I thought we'd never hear of you again. I thought your career would be over as a head coach when you took that job.'"
There are different kinds of tough jobs in college football. MacIntyre is starting from the bottom up. But his biggest problems are within the football building. There is no outside pressure — Colorado fans shed contempt a long time ago for the relative comfort of apathy. The minute that Colorado shows any life, the fans may come back.
March 14th
Paul Richardson to ESPN: "Don't sleep on Colorado football"
A positive, fairly upbeat article about the Buffs and junior wide receiver Paul Richardson by ESPN's Ted Miller has been posted.
The article can be found here. Some exercepts:
"I expect nothing less than for people to sell us short or pick us to finish last," Richardson said. "I even joked before in another interview that if there was a spot below last they'd pick us there as well. But you never know what will happen in the Pac-12."
That last part is true. Still, there is a high degree of confidence out there that Colorado will again inhabit the Pac-12 basement. Sure, it should be improved compared to 2012, but that's largely based on the belief the Buffaloes were one of the worst teams in conference history last fall. It feels like things can't get any worse. So there's that.
And yet … maybe there's a little more than that.
The Buffaloes welcome back 18 starters from an absurdly young team. They played 22 freshmen, including 13 true freshmen last fall. Some teams played more, such as Texas, LSU and Ohio State, but those teams are recruiting different sorts of players, elite prospects with no assembly required. Colorado was forced to play guys who were not physically ready for Pac-12 play. And it showed.
…"I don't think Coach MacIntyre is in a bad position at all," he said. "I think he was given an opportunity to move up to this coaching job at a really good time. We're going to have some key players back and our young guys are going to have experience. To me, he came at a perfect time."
… Richardson's career has been star-crossed thus far. But if his luck changes, so might the Buffs' fortunes.
"I think we'll be .500 or above," he said. "The best thing I can say is don't sleep on Colorado football. We're a work in progress, but it is progressing over here."
March 11th
CU's Mike Bohn at the bottom of the Pac-12 athletic director food chain
The USA Today has published an article listing the pay for athletic directors around the nation.  Around the Pac-12, Colorado's Mike Bohn comes in dead last in compensation (USC and Stanford are not in the chart, below, as they are private institutions, but rest assured, those athletic directors are as high, or higher, than any of the athletic directors at the state institutions.
Pac-12 Athletic Director Salaries
School
AD
School Pay
Other Pay
Total Pay
Max Bonus
UCLA
Dan Guerrero
$715,211
$0
$715,211
$75,000
Cal
Sandy Barbour
$576,931
$25,000
$601,931
$271,004
Arizona
Greg Byrne
$600,000
$0
$600,000
$338,462
Oregon State
Bob De Carolis
$562,376
$0
$562,376
$50,000
Washington
Scott Woodward
$553,000
$0
$553,000
$0
Oregon
Rob Mullens
$500,000
$0
$500,000
$150,000
WSU
Bill Moos
$455,000
$2,000
$457,000
$107,501
Utah
Chris Hill
$450,000
$0
$450,000
$0
ASU
Steve Patterson
$365,000
$0
$365,000
$182,500
Colorado
Mike Bohn
$306,640
$3,500
$310,140
$154,000
Source: USA Today
March 9th
NATIONAL CHAMPIONS!!!!
Colorado trailed defending national champions Vermont  by 54 points heading into the final day of competition, but used a strong showing in the nordic (cross country) events Saturday to post national championship No. 19 for the ski team (and No. 25 for the University of Colorado overall).
A 1-2 finish by Joanne Reid and Eliska Hajkova in the 15K race this morning erased the Vermont lead, with the men, lead by Rune Oedegaard's 2nd place finish in the 20K event (Oedegaard won the 10K event on Thursday) was enough to hold off Vermont, as well as fast closing Utah (which had racers finishing 1st, 3rd, and 5th in the 20K race) to win the national title.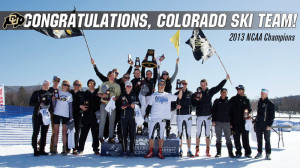 From cubuffs.com … The plan worked to perfection.
In Friday's slalom, the University of Colorado ski team played it conservative, knowing its strong suit lay ahead in Saturday's Nordic freestyle races. And with a first place and two runner-up efforts, the Buffaloes rallied to comeback from a 54-point deficit to win its 19th national championship in skiing, its seventh coed to go with 11 men's and one women's.
The largest final day rally in NCAA championship history gave Colorado the school's 25th overall national title, when combining three in men's cross country, two in women's XC and one in football. It is CU's second ski crown in three years, having won in 2011 in Stowe, and of the 19 total, nine have now been won in the east.
Since the sport went coed in 1983, this marked just the fifth time the third day or six-event leader did not hold on for the win, but the third time in the last six years. Vermont rallied from 10 points down to New Mexico to win in 1992, and did so again in 1994 when trailing Utah by 31 points, previously the biggest comeback on the final day. Denver rallied in both 2008 and 2009, overtaking a 17.5-point CU advantage and a two-point margin by UVM, respectively.
Colorado tallied 708 team points, with Utah taking over second after the last event with 665 points; Vermont, which had led after each of the first three days, finished in a distant third with 653, while Denver was fourth (629). The leader at the midway point had won six straight and 10 of the last 12 times, and schools leading after three days (six events) had won 16 of the last 18.
NCAA Championship Team Scores (Final, 8 events)- 1. Colorado 708; 2. Utah 665; 3. Vermont 653; 4. Denver 629; 5. Dartmouth 594; 6. New Mexico 576; 7. Alaska-Anchorage 493.5; 8. New Hampshire 461.5; 9. Montana State 422; 10. Middlebury 357; 11. Northern Michigan 278; 12. Williams 143; 13. Colby 132; 14. Alaska-Fairbanks 103.5; 15. St. Lawrence 89; 16. Bates 57.5; 17. Harvard 39; 18. Maine-Presque Isle 38; 19. St. Scholastica 35; 20. St. Michael's 24; 21. Bowdoin 1.5.
March 8th
Vermont extends lead against Colorado after third day at NCAA championships
The University of Colorado ski team remained in second place here Friday but dropped further back of the lead with just two events remaining in the 60th Annual NCAA Skiing Championships.
Defending champion Vermont has now led after all three days, and owns a 54-point edge over the Buffaloes. After Friday's always-risky slalom races, the Catamounts ended the day with 564 points, followed by Colorado (510), Denver (484) and Utah (481). Those four schools remain in the hunt for the title, as fifth place New Mexico (449) and sixth place Dartmouth (405) are likely too far back of UVM to make up that much ground.
Vermont has recent history on its side, as the leader at the midway point has won six straight and 10 of the last 12 times, and schools leading after three days (six events) have won 16 of the last 18. Two of the last three champions, Denver (2010) and Colorado (2011) both led wire-to-wire.
UVM's 54-point lead is the smallest heading into the final two events since 2009, when it led DU by two points, but the Pioneers overhauled them and won by 56.5 points. The only other school to rally on the final day in the last 20 years was Vermont in 1994, as the Catamounts started in third place and down by 49 points before rallying for a 21-point win.
"It was a tough day, as tough as slalom can be," CU head coach Richard Rokos said. "There are two approaches, go out and give everything like Utah and Denver did, or ski conservatively and hope that everybody else will have bad luck or ski the same way. UVM knows this place well and they took advantage. With us being just behind them, our kids finished six runs diligently, it's part of the deal. Unfortunately we didn't catch enough points to catch up or even maintain with Vermont, so they're still ahead of us."
March 7th
Buffs gain ground on Vermont at NCAA championships
From cubuffs.com … The University of Colorado ski team, led by an individual title in the classical race from sophomore Rune Oedegaard, moved into second place here Thursday at the midway point of the 60th Annual NCAA Skiing Championships.
Defending champion Vermont maintained its first day lead, extending it by five points as the Catamounts have 389 points through four of the eight events. The Buffaloes are next with 368.5 points, making up 31 points on UNM thanks to a 193-point day Thursday, the best by any school in the 21-team field. UVM's 20.5-point lead is the seventh smallest at the halfway mark in the last 21 national championship meets.
Utah is in third (350) and Denver fourth (328), but a 48-point gap exists between the top four and the rest of the field as some separation has started to take place.
March 6th
CU in third after first day at NCAA championships
From cubuffs.com … The University of Colorado ski team survived its weakest event here Wednesday at the Middlebury Snow Bowl, as after the giant slalom races, the Buffaloes are in third place in the 60th Annual NCAA Skiing Championships.
Defending champion Vermont owns the first day lead with 227 points, with Denver next with 210½. The Buffaloes scored 175½, followed by New Hampshire (165½) and Utah (164½) to round out the top five. The standings are a bit skewed, as one of Utah's alpine men suffered a nasty fall and had to take a DNF (did not finish), likely costing the Utes around 25 points. All six western schools are in the top eight through two events.
"It wasn't exactly our goal, but we survived our worst event today with flying colors," CU head coach Richard Rokos said. "All we were asking was to finish in good standing, finish all six runs and that's what happened. We had very few mistakes overall, and this is a hill that is prone for you to make them."
The women's giant slalom opened these championships, and the participants had to deal with gusting winds and some blowing snow, particularly in the first part of each run.
All three CU performers were freshmen and despite the usual nerves before everyone's first NCAA race, all responded well and didn't appear to have the pressure get to them as all finished well above where they were seeded.
Team scores (through one event): Vermont, 112 points; Denver, 112 points; Colorado, 100.5 points; Utah, 97 points.
March 5th
CU ski team poised to compete for national championship this weekend
The Buffs look very good heading into the NCAA titles this weekend, but are very young. Seven of the 12 Buffs in Vermont for the championships, which begin Wednesday, are freshmen. And in the Alpine events, a missed gate or a caught edge … and a favorite becomes a DNF.
Keep your fingers crossed. I'll be posting results Wednesday through Saturday …
Here's the schedule for this weekend … The giant slalom races will open the NCAA Championships on Wednesday, March 6, with the women's first up at 7:30 a.m. MST; the second run will follow and then the men's race will commence at 11:00 a.m., with the second run to follow.
The classical races open the Nordic events on Thursday, March 7, with the women's 5-kilometer race at 8:00 a.m. MST, and the men's 10k version at 10:00 a.m.
The slalom races are set for Friday, March 8, with the women's first run at 7:30 a.m., followed by the men's first run at 8:15 a.m.; the second runs will follow at 10:15 a.m. and 11:15 a.m., respectively.
The freestyle races will finish off the NCAA meet on Saturday, March 9: the women's 15-kilometer mass start is set for 8:00 a.m., with the men's 20k race following at 10:00 a.m. Flower ceremonies follow each event, and the awards presentation is set for about 1:30 p.m. on Saturday. (All times listed are mountain.)
—
From the Daily Camera … After winning every single competition they've entered this year, the Colorado ski team has plenty of reason to believe it'll win another this week.
From Wednesday through Saturday, the Buffaloes will compete at the NCAA championships in Middlebury, Vermont. Their goal is simple: Win the title.
"Isn't that always how you're supposed to go into a national championship?," said freshman Brooke Wales, one of the Buffs' top Alpine skiers. "Just having the results we've had this year to back that up really gives us team confidence, both on the Alpine and the Nordic side, men's and women's.
"All-around, I think that we have the capabilities and the talent to for sure get it done."
Of course, nothing is in the bag at this point. But, CU has had a great season, sweeping the four regular season meets and then taking the Rocky Mountain Intercollegiate Skiing Association (RMISA) title on Feb. 24 in Bozeman, Mont.
"We've been good and strong all season and have won all the meets in the West," junior Nordic racer Rune Oedegaard said. "Now we have to show that we're also able to be best in the country."
In addition to CU, Utah and Denver bring strong teams from the West. Vermont, the defending national champion and East regional champ, will be in the hunt, as will Dartmouth, which finished second to Vermont in the regionals.
"We know that there's a lot of competitors here in the West who are really strong," Oedegaard said. "Now we have those and we have the East people, so it'll be exciting."
On the Alpine side of things, the Buffs are led by their young women's squad. Wales, Thea Grosvold and Jessica Honkonen are all freshmen, but have recorded exceptional results throughout the season. Wales has been top 10 in seven of her 12 races this season and top 13 in nine of the 12.