Colorado Daily
April 30th
(Boring) College Football Playoff logo announced
From USA Today … The College Football Playoff checked another item off its to-do list Monday, as fan voting chose the "golden football" as the official logo for the new event that will crown the Football Bowl Subdivision champion beginning in 2014.
The golden football logo earned 38% of a fan vote, besting choice No. 3 (a v-shaped golden logo that resembled an inverted wishbone that earned 25% of the vote) and choice No. 1, which featured a U.S. flag-inspired look but bore some resemblance to the NFL shield. Choice No. 1 got 24%.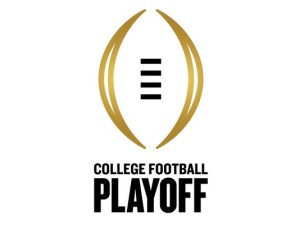 April 29th
Three CU basketball players make a surprise appearance at 5th grade basketball game
Looking for a Monday pick-me-up?
Or just a positive story to get you past the disappointment of Andre Roberson not returning for his senior season?
Then look no further.
Here is a link to a story from cubuffs.com, describing how CU men's basketball players Sabatino Chen, Spencer Dinwiddie and Ben Mills made a surprise appearance at a year-end basketball game at Whittier International school in Boulder between the 5th graders at the school and their teachers.
From the story … The student-athletes' visit was a "top-secret" event, a surprise to both the fifth-graders and the students from other grades who had come to the gym to spectate. The students were understandably shocked and star-struck when the CU Fight Song started playing on the loudspeaker at the halfway point of the game, and three of their local idols came running through the gym door and onto the court.
"Some of our kids started crying, they were so excited," Escamilla said. "At first I think they were so surprised and dazzled by real CU basketball players, and how tall they were compared to a fifth-grader."
Dinwiddie said the energy level, in that small gym with hundreds of screaming kids, rivaled that of the Coors Events Center during a home CU basketball game …
… Good P.R., good for the kids, and good for the CU players …
April 26th
Rocky Mountain Showdown to be a late afternoon affair
The Buffs and Rams will kickoff the 2013 season Labor Day weekend … and be about the last in the country to do so.
It had already been announced that the first game of the Mike MacIntyre era at Colorado had been moved to Sunday, September 1st.
And now we now the time of the game … 4:00 p.m., MT, with the game to air on the CBS Sports Networks.
—
April 25th
Jarrod Darden to graduate and transfer
Senior wide receiver Jarrod Darden will play his senior season elsewhere.
Darden, who will graduate in four years, came to CU from Keller, Texas, with good credentials. He earned placement on the PrepStar All-Midlands Region and the SuperPrep All-Southwest Region squads despite missing his entire senior season with an ankle injury he sustained on the day before the year's first scrimmage. On the strength of his junior year, he was still the No. 37 player overall on the Dallas Morning News Top 100 list, the fifth receiver, and was ranked the No. 71 wide receiver in the nation by Scout.com and the No. 74 by Rivals.com.
Darden red-shirted in 2009. Darden played, but did not have any receptions in six games as a red-shirt freshman in 2010. In 2011, Darden dressed for six games, but did not get onto the playing field. Last season, Darden again did not record any statistics.
In what remains a very fluid depth chart, CU now stands at 87 scholarship players (85 are allowed to be on the roster come August 1st). There may be more graduations, transfers, or medical red-shirts which will serve to bring the roster under the required 85 … and even make room for one or two potential junior college transfers.
—
Nick Hirschman – "It was my time to go"
From the Daily Camera (originally from the Denver Post, but I hate the Post) … Nick Hirschman said Wednesday he left Colorado's program because he made a commitment before spring practice that he'd leave if he wasn't named the No. 1 quarterback.
"I made the decision (before) spring that I'd come in this spring and work my (rear) off to try and become the starter and I said if a decision wasn't made by the end of spring, it was my time to go," Hirschman said in a phone interview with The Denver Post. "The coaching staff didn't force me out. I wasn't forced out by anybody. It was a decision I made, and it's the way it turned out."
Fellow junior Connor Wood was listed as co-No. 1 with Hirschman when spring practice ended April 16. Hirschman, however, said he felt he outplayed him.
In four spring scrimmages, Hirschman was 32-of-52 for 433 yards, seven touchdowns and one interception with a passer rating of 178.9. Wood was 36-of-56 for 589 with five touchdowns and no interceptions for a rating of 182.1.
"Of course I did," he said. "I'm sure he felt he outplayed me and I'm sure (redshirt freshman) Shane Dillon thought he outplayed both of us. That's the way we're wired as athletes. We do what the head coach calls and says and we're good soldiers about it.
"I believe I was No. 1. That's the coach's call and it's more about the commitment I made to myself before spring started. If that decision wasn't made, I was going to move on."
April 24th
Mountain West wants a closer connection to the Pac-12
From CBSSportsline.com … Mountain West commissioner Craig Thompson said his conference has approached the Pac-12 about what he calls a "best practices" connection — sort of a West Coast alliance for nonconference scheduling, sharing of officials, and bowl matchups.
Thompson said there's nothing official but thinks the Pac-12 is receptive to the idea. The 24 teams in the Mountain West and Pac-12 comprise most of the West Coast college football landscape. Idaho and New Mexico State are Sun Belt-bound. BYU is an independent.
The power conferences usually stick together, but this could be a way for both leagues to cut travel costs. The Mountain West and Pac-12 currently share New Mexico and Las Vegas Bowl tie-ins. The ACC and Big 12 also are exploring an alliance.
The Mountain West feels solidified after renegotiating television rights with CBS and corralling Boise State and San Diego State back to the league.
"They were writing the obituary" a year ago, Thompson said at the BCS meetings in Pasadena.
…
First reaction … Anything which gets Colorado State closer to the level of the University of Colorado – I'm opposed. CU will be getting ten times the revenue from media than little brother to the north. The disparity between the two schools is only going to grow over time, and as long as we are stuck with the Rocky Mountain Showdown contract (through 2020), I'd like to keep the schools – and their conferences as far apart as possible.
Second reaction … If the Pac-12 and the Mountain West partner up for non-conference games and bowl tie-ins, won't that lead to some games in September being repeated in December?
April 23rd
David Bakhtiari likely to be the first Buff picked in this weekend's NFL Draft
Note … When a Buff is picked in the draft, I will post information not only on the player, but that Buff's place in CU history in the NFL draft, and other players who have been drafted by that NFL team … If you would like draft info more quickly, remember you can follow CU at the Game on twitter …
From cubuffs.com … Teams with which David Bakhtiari or his representative have spoken believe he will be a second- or third-round selection, making Friday his "D-Day." Rounds four through seven will be on Saturday.
Bakhtiari and former CU tight end Nick Kasa appear to be CU's best bets to receive draft calls this weekend. Among others, defensive lineman Will Pericak, safety Ray Polk and linebackers Doug Rippy and Jon Major might receive opportunities to play in the NFL through free agency.
Whatever route opens for Bakhtiari, "I'm really excited about it," he said Monday in a telephone interview from the Thousand Oaks, Calif., area. "It's kind of funny; I've been anticipating it for so long but it hasn't hit me because I've been taking care of business.
"I've really been kind of nonchalant waiting for it to happen. But once I get the phone call it'll all come together."
He participated earlier this year in the NFL Combine, had maybe half a dozen workouts for teams in Colorado, made visits to Baltimore and Philadelphia, and spoke with "numerous teams" on the telephone. Being an underclassman, he believed he needed more of an introduction to NFL teams and their directors of player personnel than maybe some other prospects.
Embree and former CU O-line coach Steve Marshall – both ex-NFL coaches – helped him with his decision, offering evaluations that fell in line with what he was given elsewhere. "I was getting the same kind of feedback pretty much everywhere I went and I was comfortable with that," Bakhtiari said.
Most pre-draft evaluations from outlets such as NFLDraftScout.com, ESPN.com and NFL.com rate the 6-41/4, 299-pound (he's been as high as 306 when he visited Philly) Bakhtiari as a left tackle prospect who likely will find his way inside as his pro career progresses. Wherever he lands and whatever position he eventually plays suits him; the biggest step always is the first one.
—
Several teams interested in CU's Nick Kasa
Note: The NFL draft opens Thursday, April 25th, and will continue through Saturday, April 27th …
From DraftInsider.net … Colorado's Nick Kasa has developed into the contingency plan for teams looking to draft a tight end outside the initial three rounds of the draft. Unlike the higher rated players at the position, Kasa does not offer immediate starting possibilities but is a sensational developmental prospect expected to be plucked off the board in round four. The New York Giants, Seattle Seahawks, Cleveland Browns and Miami Dolphins have displayed heavy interest in Kasa.
—
Jon Embree firing rehashed in USA Today article
The USA Today is running a story entitled "Firing a Coach is not that easy for FBS schools".
Here is the portion of the story dealing with the Jon Embree firing by the University of Colorado …
On Oct. 25, the message coming out of Colorado's athletics department was clear: Despite a 1-6 record, Embree would not be fired. It would take more than two seasons to become competitive in the Pac-12.
That was the idea circulated as part of a detailed communications strategy put forth by the university and athletics department.
A month later, Embree was fired after going 4-21.
Seeking to control the damage, Colorado's newest communications strategy included reaching out to black alumni and fans and the Black Coaches & Administrators (BCA).
It was apt considering the BCA and legendary Colorado coach Bill McCartney said Embree's race played a role in his firing after his predecessor, Dan Hawkins, had a 19-39 record in five seasons.
"We wanted to make sure we maintained the reputation of trust, transparency and outreach," athletics director Mike Bohn told USA TODAY Sports. "I'm proud of the fact we have built our enterprise on collaboration and partnership."
Even as e-mails from fans and alumni remained split on the firing, a lack of confidence in the university leadership was a recurring theme.
In an e-mail to Bohn, chancellor Philip DiStefano and President Bruce Benson that was sent the day after Embree's firing, one fan wrote, "I would have hoped the three of you would have seen to it that we make a long-term commitment to growing a program with the Buff you supposedly hired to help do that — and you expected it to be done in two years? Shame on you."
Some of the names of fans and alumni quoted in the article were redacted by the universities, while others were not included by USA TODAY Sports.
As early as September, communications staffers from athletics, alumni and the university were meeting to discuss talking points for top officials. With the team at 1-3, coming off a win at Washington State, support remained for Embree.
"Building toward a conference championship in the Pac-12 is going to take time, and this is Coach Embree's second year on the job," said one talking point sent in an e-mail by Bronson Hilliard, Colorado's director of media relations, on Sept. 23.
By late October, the team had fallen to 1-6 with embarrassing losses to UCLA, Arizona State and Southern California. But the strategy was clearly stated: "Make clear our outcome from the outset: we're not firing our coach," an October e-mail instructed.
Detailed in the 10-page e-mail from October are plans to contact alumni, students, ticketholders and fans. It included football players reaching out on social media to spread the message, including more impromptu interactions such as players leading the fight song in the cafeteria.
Central to concerns among fans and administrators was damage to Colorado's brand.
"The CU brand is getting destroyed weekly," a fan wrote Nov. 20. "No, CU isn't USC. But it shouldn't be the worst program in America either. Which it is."
In the final week of the season, DiStefano noted, "Because of the poor performance of the football team, the athletics department has experienced a $2.6 million deficit from projected revenues."
After Embree's firing, administrators acknowledged that was part of their decision.
"It was important to understand the long-term impact on the program, not just the short term within the season," Bohn said.
Still, it was a decision that required outreach, including targeting, "The African American (sic) Community/Faculty and Staff of Color/BCA" in its list of key audiences.
Bohn said outreach was important, in part, because the BCA grades institutions on their search process. When Colorado hired Hawkins in 2006, it received a D from the BCA. It got an A in the search that resulted in Embree's hiring.
"We recognized that's something that's important to us," Bohn said.
Embree, now an assistant with the Cleveland Browns, declined to comment to USA TODAY Sports through a team spokesman. During his final news conference at Colorado, Embree said he had been led to believe he'd be back for a third season.
Asked if someone else could come in and rebuild the program, Embree said, "How long does he have?"
—
April 22nd
ACC imposes a harsh penaltiy to try and prevent teams from leaving for other conferences
The wave of the future – Grant of Rights. The goal: Make it waaaay to hard to leave a conference (which is good news for Colorado, which is happily set in the Pac-12, with little interest in a Pac-14 or Pac-16).
From CBSSportsline.com … Goodbye $50 million exit fee.
The ACC on Monday announced a Grant of Rights agreement among its 15 members.
CBSSports.com reported earlier Monday the ACC presidents were in the process of clearing the Grant of Rights with their departments. The agreement will go to 2026-27, the duration of the league's contract with ESPN.
Unless a league member decides to go to litigation to escape this down the road, the ACC believes a Grant of Rights will protect it from conference realignment poachers. Starting July 1, the ACC's annual media rights intake per school will surpass $20 million, according to a league source.
A Grant of Rights, in basic form, is written permission from league members to relinquish control of television rights to the league for the duration of the deal. If a school leaves, it forfeits those earnings to be spread among the rest of the conference.
—
April 21st
Nelson Fishback will not be coming to Boulder
From Toppatime.com … The Western Kentucky football program received a verbal commitment Sunday from Nelson Fishback.
Fishback is a 6-foot-2, 210-pound quarterback who played the 2012 season at Butte College in Oroville, Calif., where he threw for 1,482 yards and 12 touchdowns in 11 games.
Originally from Durham High in Durham, Calif., Fishback had interest from Fresno State and San Diego State in 2011. He currently has offers from WKU and Western Illinois and visited Colorado at the end of March before coming to Bowling Green last week.
… The end of the Fishback saga leaves Colorado with four quarterbacks available for the fall: junior Connor Wood, sophomores Stevie Joe Dorman and John Schrock, and red-shirt freshman Shane Dillon. The Buffs will add a true freshman, Sefo Liufau, to the mix come August.
April 19th
CU press release – RE: Nick Hirschman
From cubuffs.com … University of Colorado junior quarterback Nick Hirschman informed head coach Mike MacIntyre Friday morning that he was foregoing his final two years of eligibility as a Buffalo and would transfer to another school to continue his football career.
Hirschman, who stands 6-foot-4, weighs 230 pounds and hails from Los Gatos, Calif., will graduate next month in just three years (and three summers of coursework) with a B.A. degree in Communication. He would then be eligible to compete immediately this fall at another school per NCAA rules.
"I felt at this time that it has been three years, a great three years, but with no decision made at the end of spring ball, it was personal choice that it was time for me to move on," Hirschman said.
"I am hoping for the best for each and every teammate, and each and every coach. It's been a wonderful experience here, I'm still really happy about my choice to come to Colorado and I made a lot of good friends here. I will never regret my decision coming out of high school to become a Buff and I'm hoping everything will work out for everyone."
Hirschman, who announced his decision to transfer midday Friday on Twitter, also said, "I am definitely looking to continue my football career where I can earn my graduate degree." He said he is at looking at something else in the communications field or in business and marketing.
Hirschman ended the spring tied atop the depth chart with Connor Wood. In the four main spring scrimmages including the spring game, he completed 32-of-50 passes for 433 yards, with seven touchdowns and one interception, a passer rating of 178.9; Wood was 36-of-56 for 589 yards, with five TDs and no picks, a rating of 182.1.
MacIntyre said Hirschman and Wood, "were tied at number one on the depth chart and were set to continue their competition into fall drills. "Nick's a phenomenal young man, a great team player, and I was looking forward to watching him mature this fall and to see how he would do in the battle for starting quarterback job.
"We hate to lose him, but we do wish him the best." MacIntyre granted him a release from his scholarship to all schools other than any other Pac-12 Conference school or an opponent on CU's 2013 or 2014 schedules.
He played in eight games, including two starts, as a sophomore in 2012, completing 55-of-93 passes for 589 yards, with two touchdowns and seven interceptions. His best game came in the season finale against Utah, when he was 30-of-51 for 306 yards (1 TD, 4 interceptions) in a 42-35 loss. Overall, he engineered 40 drives, leading CU to 10 touchdowns and a field goal in 227 plays from scrimmage.
The Buffs started the spring with six quarterbacks, but are now down to four with the departure of Hirschman and the season-ending knee injury to senior Jordan Webb, who suffered a torn ACL in the last week of spring drills and underwent surgery on Thursday. The others on the roster are sophomores Stevie Joe Dorman and John Schrock and redshirt freshman Shane Dillon. They will be joined in the fall by freshman recruit Sefo Liufau.
—
Nick Hirschman to graduate; transfer
Okay, all those who saw this coming, raise your hand …
… yeah, me, neither.
Tweets from junior quarterback Nick Hirschman, who will be graduating in May, and transferring to play his senior season elsewhere:
"Wednesday I decided to move on from CU and continue my graduate education and football career elsewhere".
"Part of me will always be a Buff and thank you to Buffnation for all the support".
"I loved my time here and the relationships I've had with my fellow teammates I wouldn't trade for anything".
More from the Daily Camera … Hirschman and fellow junior-to-be Connor Wood were essentially tied atop the depth chart at quarterback at the end of spring ball on Tuesday. Sports information director Dave Plati confirmed coaches have not established a post-spring depth chart and there was no change in Hirschman's status as a co-starter.
Coach Mike MacIntyre and his staff were scheduled to review the roster this week and begin working on a depth chart. Plati said MacIntyre told him Hirschman was still considered a strong candidate to earn the starting job.
Hirschman has twice lost quarterback battles in August camp. He was beaten out by Tyler Hansen in 2011 and Jordan Webb last year. Webb transferred to CU last summer after starting for two seasons at Kansas.
Hirschman started two games last season and was prevented from starting a third when he suffered a concussion. He played in eight games and completed 55 of 93 passes for 589 yards. He threw two touchdowns and seven interceptions. All of those statistics came in a completely different offensive system than the one he had been practicing in this spring.
MacIntyre and offensive coordinator Brian Lingren each said at different points this spring that they wouldn't be surprised if one or more quarterbacks decided to transfer after the spring. Practices began in March with six quarterbacks sharing equal repetitions in practice. The program is adding a seventh quarterback this summer and has been actively recruiting a junior college quarterback, Nelson Fishback, who could join the program.
Initial reactions
– The timing doesn't make any sense. If Hirschman didn't feel he was going to be named the starter, why did he wait until the end of spring practices to make the announcement? If the coaches weren't going to give him a shot at being the starter come fall practices, why have him as one of the starters in the spring game?
– The only logical explanation would be that Hirschman talked with the coaches since the spring game, and was told he was not likely to remain atop the depth chart come fall.  The Camera story above, however, discredits that theory, saying that there had been no change in Hirschman's status since he was named as the co-starter in the mid-spring depth chart.
– The loss of Hirschman means that neither of the starters from last season – Jordan Webb and Nick Hirschman – will be on the active roster come fall.
– What was a six man race a month ago is now down to … one? Stevie Joe Dorman and John Schrock were demoted after the first eight practices, then Webb was lost for the season, and now Hirschman is transferring. That leaves Connor Wood as the presumptive favorite heading into summer off-season workouts.
– Of course, Sefo Liufau will be coming to Boulder this fall, and the discussion about junior college quarterback Nelson Fishback is certain to heat up again. Fishback, as you will recall, is a quarterback at Butte College in California (stats from 2012 season can be found here). Originally from Durham, California, Fishback was a member of the recruiting Class of 2011 (Rivals bio). He had no Division 1-A scholarship offers out of high school …
– Best bet – we're not done with the quarterback shuffle this spring. It wouldn't be a surprise if either Schrock or Dorman (or both) were in different locales next fall, leaving the Buffs, who had six quarterbacks on the roster when Spring practices began, down to two – Connor Wood and Shane Dillon.
—
April 18th
Chidera Uzo-Diribe interviewed by ESPN
From ESPN … Colorado defensive end Chidera Uzo-Diribe doesn't want to be like Felix Hernandez or Brandon Jennings. Or Barry Sanders or Dick Butkus. He doesn't want to be a good player on a bad team. He doesn't want folks to feel sorry for him. He'd just like to win a few games before his career in Boulder is over.
Uzo-Diribe, cousin of former New York Giants star and new Atlanta Falcon Osi Umenyiora, probably has an NFL future, but you may know little about him because he played on the nation's worst defense in 2012. That defense was attached to probably the worst AQ conference program.
He labored in anonymity, recording seven of his team's 19 sacks and 10 tackles for a loss, for a defense that yielded 5.9 yards per rush, the worst run defense in program history. He will be a three-year starter for a team that won nine games during that span, including just one last year.
A good player getting lost in that miserable shuffle, which included the firing of coach Jon Embree after just two seasons? Yep. But a competitor can't think that way.
"I definitely felt that, but I've never had it affect my game," the 6-foot-3, 254 pounder said. "I always came out and did my best regardless of what the outcome was. My film is my résumé and I want to put my best things on film."
The remainder of the interview can be found here …
Proving Grounds – Episode III
Amazing stuff … again.
Enjoy!!
http://vimeo.com/64261338?hq_e=el&hq_m=460034&hq_l=37&hq_v=27a6f1a700
April 17th
Junior linebacker Kyle Washington retires
Full story at the Daily Camera … Colorado spring football practices ended Tuesday with another goodbye from a player who has decided to give up the sport rather than risking another concussion.
Linebacker Kyle Washington saw some of his teammates for the first time in weeks at the Dal Ward Center before the last practice of spring. Washington did not participate in spring drills this year because of the lingering effects of concussions he suffered last fall and also because of several other difficult developments in his life.
Washington's mother, Tammy, suffered a heart attack three weeks ago and underwent open heart surgery. Also, one of Washington's friends recently died of overdose.
All of those events have taken a toll on him academically this semester in addition to his medical problems. He is leaning toward medically withdrawing from school this spring to avoid any bad marks on his record.
"It's real hard," Washington said of the realization that his football career is over. "Everybody comes in with the thought of possibly going to the league and having that taken away from you kind of makes things a lot harder. You kind of sit back and wonder who you are. You kind of lose some status, you lose everything that you thought you had really."
Washington played in 15 games during his career and made a total of 27 tackles on defense. He also contributed on special teams earning a total of 21 special teams points. He returned six kickoffs for 89 yards during his freshman year.
April 12th
Endzone advertising (thankfully) temporary
From cubuffs.com … The end zones for the annual University of Colorado Spring Football Game will feature social media, the school announced Friday.
This is the first time CU has painted the end zones for the spring game (see photos, below), as they are usually blank. The north end zone has the official twitter handle for the athletic department, @CUBUFFS while the south end zone will feature the official hashtag for the Buffaloes, #GOBUFFS.
"We decided since we have a nationally televised audience and the end zones are not traditionally painted for the Spring Game, it would be a opportunity to promote our social media and engage our fans through our digital platforms," said Matt Biggers, the athletic department's Chief Marketing Officer.
The traditional end zone artwork of BUFFALOES will not change for regular season games, but Biggers said there will be a heightened awareness around CU's digital assets moving forward inside Folsom Field.
—
April 11th
Rocky Mountain Showdown moved to Sunday, September 1st
From cubuffs.com … The Mountain West Conference came out with its schedules for all teams this past Thursday and included was the fact that the CU-Colorado State game in Denver, previously scheduled for Saturday, August 31, is moving to the next day (Sunday, September 1). No kickoff time or television arrangements are known at this time for what has become known as the Cinch Jeans Rocky Mountain Showdown.
It will be the 85th meeting between the two state rivals (CU leads, 61-21-2); it will be the 13th meeting in Denver (CU holds a 7-5 edge in the previous dozen meetings). The first three were at the old Mile High Stadium (1998-2000), with the last 10 at Sports Authority Field at Mile High.
The Buffaloes and Rams have played on a Sunday two previous times, during the 2008 and 2009 seasons (the schools split those games).The Buffaloes and Rams have played on a Sunday twice previously, on Sept. 6, 2009 in Boulder (a 23-17 CSU win).
April 8th
Folsom Field endzone shots
Tacky, tacky, tacky …
(Thanks to "FLounder" at AllBuffs for posting these pictures)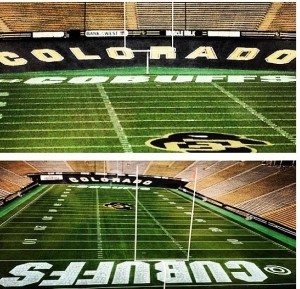 More praise for Coach Mac-2
Last week, Athlon ranked CU head coach Mike MacIntyre as the No. 6 coach in the Pac-12 (see April 4th story, below).
This week, College Football News ranked MacIntyre as the No. 4 coach in the Pac-12 in terms of coaches you would want to build a team around.
The full list can be found here, but this is what they had to say about Mac-2:
4. Mike MacIntyre, Colorado
Career Record: 16-21
Who turns around San Jose State? MacIntyre didn't just make the Spartans good, in three years he came up with a whopper of a 10-2 season, pushing Stanford hard early and showing off a tremendously efficient passing offense despite the lack of big-time talent to work with. Is turning around Colorado harder? The 48-year-old not only got the offense moving, but a defensive coach by nature, he cranked up the defensive pressure with one of the best pass rushes in college football. It's going to be a process and it's going to take a little while, but this should a piece of cake compared to making the Spartans relevant.
Hot Seat Status: None. He went 1-11 in his first season at San Jose State, and he's going to get at least two years to figure out what he needs to do in Boulder. Recruiting is going to be the key; can he go toe-to-toe with UCLA, USC and Arizona, not to mention the Pac-12 North? He needs the players.
The Coaching Change Will Come …in over five years. It's going to be a long process, but he should take to the job. Colorado can be an elite gig, but MacIntyre has to make it that way.
—
April 6th
Nebraska gets it right … cancer patient scores touchdown in Spring game
Got to give it to the Bugeaters on this one …
April 4th
Athlon rates Mike MacIntyre the No. 6 coach in the Pac-12
Considering the rankings for Jon Embree (11th or 12th) the past few seasons, it comes as a pleasant surprise that Athlon rates CU head coach Mike MacIntyre as the No. 6 coach in the Pac-12.
Here is a link to the full rankings, while this is what they had to say about Mac-2:
MacIntyre has a tough job ahead of him at Colorado, but his previous stint at San Jose State shows he is up for the task. In three years with the Spartans, MacIntyre recorded a 16-21 overall mark and led the program to a top-25 finish in the Associated Press poll at the conclusion of 2012. San Jose State was not in great shape when MacIntyre arrived in 2010, as the program went 8-16 in Dick Tomey's last two years and had just one winning season from 2001-09. After a 1-12 record in 2010, MacIntyre's team showed steady improvement by winning five games in '11 and 11 last fall. The Spartans' only losses in 2012 came to Pac-12 and Rose Bowl champion Stanford and a very good Utah State team in mid-October. The Buffaloes are in need of major repair after seven consecutive losing seasons. It may take some time for MacIntyre to get Colorado in contention for a bowl game, but expect the Buffaloes to show marked improvement in 2013.
Not bad …
April 3rd
Scouting Central Arkansas …
This would have been a great April Fool's Day posting, but it's true …
There are some Buff fans who are already wringing their hands about Colorado taking on Central Arkansas in the 2013 home opener.
After all, CU's record against 1-AA – FCS – schools is far from impeccable. Dan Hawkins lost the first-ever game against an FCS school, falling to Montana State in 2006. The Buffs needed two late touchdowns to take down Eastern Washington a few years later, and, last year, the Buffs lost to Sacramento State.
Enter Central Arkansas, the Buffs' FCS opponent on September 7th.
The Bears went 9-3 last season, losing only to FCS playoff teams and Ole Miss. Most of the team will be back this fall.
So, in checking out Central Arkansas, I wanted to see who the Bears were playing before coming to Boulder.
Central Arkansas does have a warm up game, against …
… wait for it …
The University of the Incarnate Word.
I kid you not.
The University of the Incarnate Word Cardinals, according to their website, are making the move to the NCAA Division I Football Championship Subdivision and the Southland Conference in 2013. They will not play a full Southland Conference schedule until 2014, but will have five Southland schools on the schedule in 2013. UIW (as we will come to know it) is the fourth-largest private University in the state of Texas, and will officially join Division 1 on June 1st.
So, look for Central Arkansas to roll into Boulder on September 7th with some verrrry impressive statistics.
April 2nd
Chuck Fairbanks dead at the age of 79
Former CU head coach Chuck Fairbanks has died, a victim of brain cancer. He was 79.
Fairbanks coached the University of Colorado from 1978-81. Fairbanks compiled a 7-26 record before leaving CU in May of 1982 for the New Jersey Generals of the United States Football League. Previously, Fairbanks coached at Oklahoma from 1967-72, posting a 52-15-1 record, before leaving for the New England Patriots of the NFL.
The CU at the Game archives begins in 1980, but if you are interested in Chuck Fairbanks' tenure at CU, there are writeups on every game from the 1980 and '81 seasons, including the Indiana game in 1980, which includes quotes from the infamous Sports Illustrated article on Fairbanks' desk from September, 1980.
The story from that week, which included a 49-7 home loss to Indiana (with the Hoosiers coached by Lee Corso, no less!), and the Douglas Looney article, "There Ain't No More Gold in Them Thar Hills", can be found here.
—
Pac-12 not concerned by "inappropriate comments" by officials coordinator Ed Rush
From ESPN … Pac-12 commissioner Larry Scott, responding to a CBSSports.com report that basketball coordinator of officiating Ed Rush made inappropriate statements targeting Arizona coach Sean Miller, acknowledged Monday that the conference has investigated Rush and found that the statements were made with no ill will intended.
"Based on the review, we have concluded that while Rush made inappropriate comments that he now regrets during internal meetings that referenced rewards, he made the comments in jest and the officials in the room realized they were not serious offers," Scott said in a statement.
CBSSports.com reported that before the Pac-12 tournament in Las Vegas, Rush told a group of referees that he would pay $5,000 or a trip to Cancun if they either "rang him up" or "ran him," meaning hit Miller with a technical or toss him out of the game. An unnamed source identified as a referee told CBSSports.com that Rush "was emphatic about not dealing with (Miller). He made that perfectly clear."
During Arizona's 66-64 loss to UCLA in the conference tournament semifinal, referee Michael Irving called a controversial technical foul on Miller after the coach argued a double dribble call on Wildcats guard Mark Lyons. The CBSSports.com report identified Irving as one of the referees present when Rush offered the incentive. Miller was later fined $25,000 for confronting an official and inappropriate behavior toward a Pac-12 staff member in an area hallway after the game.
"The reason I got the technical foul is because I said, 'He touched the ball. He touched the ball,'" Miller said after the Pac-12 tournament loss, repeating the phrase three more times.
"They don't talk to me," Miller said of the referees. "If I cuss and I'm out of control and I've been warned, shame on me. When I say, 'He touched the ball, he touched the ball,' because I thought the two of them could have maybe gotten together and explained that, in fact, he did touch the ball."
—
April 1st
USC's Pat Haden – "What do we do if we lost?" O'Bannon lawsuit
From Sports Illustrated … NCAA leaders will converge on Atlanta this weekend for the Final Four, the organization's annual celebratory event of not only basketball, but of college athletics as a whole. Mark Emmert and his brass aren't likely to let the hovering cloud of an industry-threatening lawsuit dampen the party, but at least one prominent athletic official thinks it's time to start bracing for the worst.
USC athletic director Pat Haden says he's concerned the NCAA may lose the pending Ed O'Bannon antitrust suit regarding the commercialization of college athletes. He is encouraging conference and national colleagues to start discussing contingency plans.
"We ought to be kept abreast of it at all times, and we ought to prepare for it in case we lose," said Haden, a former practicing attorney and businessman who became an athletic director in 2010. "I haven't followed the case closely, but what I read from legal scholars, it's not a slam dunk for the NCAA."
The case, filed by former UCLA basketball star O'Bannon in 2009 and eventually expanded to include high-profile co-plaintiffs like Oscar Robertson and Bill Russell, initially focused solely on the use of former athletes' likeness in products such as EA Sports' NCAA video games, for which the individuals are not compensated. (EA Sports is a co-defendant.) However, in a motion for class certification filed last August, the plaintiffs contended that both current and former athletes should be included in the case and argued they are entitled to 50 percent of revenue generated by NCAA and conference television contracts.
In other words, it has become a pay-for-play case.
"The context of the lawsuit has changed. What do we do if we lost?" Haden said of the NCAA's side. "All of a sudden your television revenue — let's say it's $20 million a year [for a school]. Now if they win, it's $10 million a year. How do you make your 21 sports work on half the revenue?"
In January, the judge in the case denied an NCAA motion to strike the plaintiffs from pursuing their class-action claim, with the NCAA arguing that the plaintiffs had radically changed the case midstream. A hearing before Judge Claudia Wilken of the U.S. District Court in Northern California is scheduled for June 20. The trial would not take place until July 2014.
"This is the most threatening lawsuit the NCAA has ever faced," said SI.com legal expert Michael McCann, a University of New Hampshire sports law professor. "If O'Bannon prevails, it would radically change the economics of college sports. More specifically, it would, like Pat Haden said, require schools to operate a sports program with substantially less money."