Pac-12 Notes – June/July, 2012
July 31st
Penn State running back transferring to USC
The highest profile Nittany Lion to date has defected, choosing USC.
From ESPN … Penn State running back Silas Redd reportedly met with Penn State head coach Bill O'Brien this afternoon, letting his head coach know he was heading to Los Angeles.
Redd is eligible to transfer immediately without sitting out a season after Penn State was hit with unprecedented sanctions two weeks ago, including a four-year bowl ban. Several Penn State players, including linebacker Michael Mauti and defensive lineman Jordan Hill, said last week they are staying. Redd was not among that group.
Redd has two seasons of eligibility remaining. He ran for 1,241 yards and seven touchdowns last season, and ran for more than 100 yards in five straight games in mid-October. He was a second-team All-Big Ten pick. Earlier this year, he was named to the Walter Camp and Doak Walker awards watch lists.
USC coach Lane Kiffin had been pursuing Redd aggressively since the NCAA sanctioned Penn State and allowed its players to transfer without having to sit out a season. The Trojans lack depth at running back because of injuries and transfers. Redd rushed for 1,241 yards and seven touchdowns as a sophomore last season.
What about the 75-scholarship limit?
The Orange County Register looked into it …
One possible solution to the problem is asking a former walk-on now on scholarship to surrender said scholarship for the 2012-13 academic year.
I recently spoke to one of those candidates. I will not reveal his identity because our discussion took place off the record. But here's the gist of what he had to say regarding the possibility of losing his scholarship:
The player said he would be "heartbroken" if it came to that because he had worked so hard to earn the scholarship. However, when the player initially received it, Kiffin explained that it was a year-to-year deal and that the player might have to give it back if USC's roster limitations left no other recourse.
Although losing his scholarship would be a source of frustration, the player said he would remain with the squad. "I love this team," he said.
The player said he understood the current situation regarding Redd and how his addition would improve the team's chances to win the national championship. While hopeful of keeping his scholarship, the player would be willing to sacrifice it if absolutely necessary. I found his team-first approach to a potentially unpleasant situation admirable.
—
And the rich get richer.
What's worse … A star running back will now be facing the Colorado defense for the next two seasons, when he should have been taking aim at the Nebraska defense …
July 30th
Pac-12 picks up seven medals in first three days of Olympic competition
The Pac-12, the Conference of Champions, has already picked up seven medals at the 2012 London Olympics.
Highlights include … Former California standout Dana Vollmer claimed the Pac-12's first gold medal, setting a world record in the 100 meter butterfly. She became the first woman to break 56 seconds in the event, winning with a time of 55.98 seconds.
Also a former Golden Bear, Nathan Adrian swam the first leg of the 4×100 meter men's freestyle for the silver-medal winning United States squad. With Michael Phelps, Cullen Jones and Ryan Lochte, Adrian and the team finished in a time of 3:10.38, just .45 seconds behind gold-medal winning France.
USC's Rebecca Soni earned silver Monday in the 100-meter breaststroke, duplicating the silver medal she won in Beijing.  Also on Monday, Arizona's Nick Thoman won a silver medal in the men's 100 meter backstroke in his first-ever individual Olympic event.
On Sunday, Clement Lefert (USC) and the French 4×100 meter relay team took gold, defeating the field with a time of 3:09.93. With the win, it keeps USC's streak of at least one Trojan winning a gold medal at every Summer Olympics since 1912.
The Pac-12's medal total would tie the conference for fifth in the overall medal race, tied with France, who also has won seven medals to date.
Colorado has a total of five present and former Buffs in London for the games. None have yet to take the field, awaiting the track and field events in the second week of competition.
Oregon's non-conference schedule a little easier than before
If the preseason magazines are correct, the Oregon Ducks will not have to work up much of a sweat in the first two months of the 2012 regular season. Oregon does not leave its home stadium until the fifth game of the campaign, playing all of its non-conference games in Eugene.
The opener, against Arkansas State, got a little bit easier over the weekend, as former Auburn running back Michael Dyer was dismissed from the Arkansas State squad for violating team rules.
Arkansas State coach Gus Malzahn announced the decision Saturday, saying: "I am truly disappointed that it didn't work out here at ASU for Mike. I wish Mike nothing but the best in the future."
The offensive MVP as a freshman in Auburn's victory over Oregon in the 2011 national championship game, Dyer was the first Tigers tailback to rush for more than 1,000 yards in each of his first two seasons, including a 1,093-yard performance as a freshman that broke Bo Jackson's school record of 892 yards set in 1982. Dyer rushed for 1,242 yards and 10 touchdowns last season.
Malzahn, who was Dyer's offensive coordinator at Auburn, helped recruit Dyer to the Tigers before being hired by the Red Wolves after last season.
(Buff fans will recall that Gus Malzahn was a name being bandied about as a possible replacement for Dan Hawkins before Jon Embree was hired).
July 29th
Rule changes for 2012
As preparations for the 2012 season get underway in earnest, it is a good time to remember that there are some significant rule changes for the 2012 season. The major ones involve kickoffs:
– Teams will return to kicking off at the 35-yard line instead of the 30 (this was last in effect in 2006). Also, players on the kicking team can't line up for the play behind the 30-yard line, which is intended to limit the running start kicking teams used to have during the play.
– Touchbacks on free kicks will be moved to the 25-yard line instead of the 20 to encourage more touchbacks. Touchbacks on other plays (for example,punts that go into the end zone, or fumbles that go out of the end zone) will remain at the 20-yard line.
– If a player loses his helmet (other than as the result of a foul by the opponent, such as a facemask), it will be treated like an injury and the player must leave the game and is not allowed to participate for the next play. Current injury timeout rules guard against using this rule to gain an advantage from stopping the clock. Additionally, if a player loses his helmet, he must not continue to participate in the play, in order to protect him from injury.
– Players are now prohibited from leaping over blockers in an attempt to block a punt. Receiving-team players trying to jump over a shield-blocking scheme has become popular for teams in punt formation. Receiving-team players try to defeat this scheme by rushing into the backfield to block a punt. In some cases, these players are contacted and end up flipping in the air and landing on their head or shoulders.
July 27th
Washington State loses key senior defensive lineman
Like USC, Washington State has just lost the services of a defensive line star.
Unlike the Trojans, though, it is much more difficult for the Cougars to reload.
Anthony Laurenzi, Washington State's most experienced defensive lineman, was dismissed from the team by head coach Mike Leach following a short meeting on Thursday afternoon, according to Cougfan.com.
Laurenzi was arrested on Sunday on suspicion of third-degree theft at an area Walmart according to the Pullman police log. He was not immediately available for comment.
In Leach's book, Swing Your Sword, he wrote there were three cardinal rules that if broken, result in a player's dismissal — drugs, violence against women and stealing.
Last season, Laurenzi started all 12 games, with 6.5 tackles for loss.
Leach has now dismissed three returning starters since arriving in Pullman. Sophomore linebacker Sekope Kaufusi, who logged 19 tackles and two tackles for loss as a red-shirt freshman last fall, was dismissed from the team in May for two charges involving marijuana (Kaufusi would have also been academically ineligible). Junior linebacker C.J. Mizell was dismissed in February after being charged with assault and trespassing charges. Mizell was a top five linebacker recruit for Florida State in 2010, but had issues there. At Washington State, Mizell had injury issues in 2011, but still finished fourth on the team in tackles, with 55. A fourth player, red-shirt freshman defensive lineman T.J. Poloai was dismissed in January for undisclosed violations of team rules.
Satellite provider for Pac-12 Networks likely to be Direct TV
According to Jon Wilner at the San Jose Mercury News…  I spoke to numerous league/school officials during the day, and all they seemed cautiously optimistic about a deal with DirecTV — more optimistic than anyone has been in months.
(Many of those same officials have been, and remain, skeptical about a carriage agreement with Dish Network.)
I mentioned the general level of optimism to Stevenson. He gave no indication that the conference was on the brink of a deal with DirecTV — not that I expected he would, even if it was — but addressed the sentiment:
"To anyone who knows Pac-12 football, Pac-12 basketball and DirecTV's distribution model," he said, "it makes sense."
…
There has been some confusion about the level of service in various geographic areas. Think of the situation in terms of zones:
Zone 1 (home markets) will have the Pac12Net on a basic tier.
Zone 2 (within the league's footprint) will have the Pac12Net on a digital tier, which can be more expensive than basic.
Zone 3 (outside the footprint) will have the Pac12Net on a sports tier.
Portland and Denver count as Zone 1, but San Diego and Sacramento are Zone 2 … Las Vegas is Zone 3.
So, if you have your cable, or Direct TV, start getting ready for the launch of the Pac-12 Networks on August 15th. For the rest of us …
USC loses starter – defensive line depth now an issue
The main issue facing USC this season is whether, with a 75-man scholarship, the Trojans will be hurt by a lack of depth at certain positions.
One of those positions is along the defensive line, which took a hit Thursday. Devon Kennard, a senior expected to start this fall, suffered a tear of his pectoral muscle and is slated to undergo surgery next week, a source close to the player said Thursday night.
Kennard is expected to be out at least 2-3 months and could miss the entire 2012 season, depending on the severity of the tear, which will be determined next week.
Defensive line coach Ed Orgeron said in spring that there was a "big difference" between first-team ends Kennard and Wes Hortonand everyone else. Kennard seemed to be finding his groove at defensive end after bouncing between end and linebacker earlier in his career.
USC has a number of candidates to fill Kennard's spot, but none has any substantial experience. They include redshirt junior Kevin Greene, junior-college transfer Morgan Breslin, redshirt freshman Greg Townsend Jr. and incoming freshman Leonard Williams.
Okay, so no one is crying for the Trojans, who have four-star players backing up  their five-star players. Still, if USC is to make a run for the national championship, there cannot be many reports like the one received Thursday.
July b26th
Washington leads the nation in Class of 2017
Take that, USC!
ESPN is reporting that Washington has picked up its first commitment … from the Class of 2017.
It's highly unlikely a single Washington player still will be on the roster by the time Tate Martell makes an appearance in purple and gold, but after receiving a scholarship offer from the Huskies three weeks ago, the soon-to-be eighth-grade quarterback committed to coach Steve Sarkisian on Wednesday, Martell's father, Al, confirmed to ESPN.com.
"Coach Sarkisian has such a good record with quarterbacks that it felt like it was a good spot," Tate Martell said. "Finally meeting with coach Sarkisian, it was really cool. He's a player's coach. He's a guy that, if you really needed to go talk to him about something, you can talk to him."
Martell attended Innovations Academy Charter School in San Diego last year — he will be home-schooled this year — and earned attention from several college programs with his performance in quarterback guru Steve Clarkson's Throwback Football League as the signal-caller for the Mira Mesa Chargers.
Clarkson said Tate Martell was thrilled when the offer was extended nearly one month ago, when the quarterback was on campus for an unofficial visit. On Wednesday, he had thought enough about the possibility of playing for the Huskies.
"This wasn't a knee-jerk reaction to an offer," Clarkson said. "After getting over the initial shock of it and talking about it at length, he decided to commit today. It's a chance to go to school where one of his idols played."
… Check back in five years – we'll see how this works out.
July 25th
Boise State overwhelming pick in Mountain West; Colorado State picked eighth
For the second time in two seasons, the Boise State Bronco football team has been selected as the pre-season favorite to win the Mountain West Conference title.
Boise State received 27 of 30 overall first-place votes in the league's annual media days poll on Tuesday.
Fresno State collected two votes, while San Diego State garnered just one.
Last season, the Broncos finished second in the MWC, with a 6-1 record in conference play. Their only loss was to first-place TCU, 36-35.
2012 Mountain West Conference predicted order of finish:
1. Boise State (27)
2. Nevada
3. Fresno State (2)
4. Wyoming
5. San Diego State (1)
6. Air Force
7. Hawai'i
8. Colorado State
9. UNLV
10. New Mexico
"We've got a ways to go. It's not going to be built overnight,'' McElwain said Tuesday, not the least bit surprised that his first Colorado State University team was picked to finish eighth in the 10-team MW in a preseason media poll. Four CSU players – running back Chris Nwoke, center Weston Richburg, linebacker Shaquil Barrett and punter Pete Kontodiakos – were named to the preseason all-conference team.
CSU, winner of two conference titles in the Mountain West's first four seasons, hasn't finished in the top half of the league standings since going 4-3 in league play and 7-6 overall in 2003.
Fresno State quarterback Derek Carr, the younger brother of former Bulldogs' quarterback and the NFL's No. 1 draft pick in 2002, David Carr, was selected as the preseason favorite for offensive player of the yea
July 24th
Colorado picked last in Pac-12 South
Not a surprise …
USC is the favorite to win the 2012 Pac-12 Conference football title in a preseason poll of media members who cover the league. The Trojans were listed in the top spot in the South Division by 117 of the 123 voters participating in the poll, collecting 729 points. 102 of those pollsters tabbed the Trojans to come out on top in the Pac-12 Championship Game. Utah was picked to finish second in the South Division, collecting one first-place vote in the balloting for the division race. Arizona State claimed three of the other five first-place votes, with each of those members of the media casting a vote for the Sun Devils to capture the Pac-12 title.
Oregon was picked to win the North Division, garnering 732 points and 117 first place votes, while Stanford, which tallied five of the other six first place votes, was pegged to finish second in this year's poll. California, predicted by the voters to finish fourth in the North Division, claimed the remaining first place vote.
The media poll has correctly selected the Conference Champion in 28 of 51 previous polls, including 11 of the last 12. Following are the results of the preseason media poll (points 6-5-4-3-2-1, first-place votes in parentheses):
NORTH DIVISION
1. Oregon (117) 732
2. Stanford (5) 533
3. Washington 502
4. California (1) 382
5. Washington State 228
6. Oregon State 205
SOUTH DIVISION
1. USC (117) 729
2. Utah (1) 514
3. UCLA (2) 435
4. Arizona 385
5. Arizona State (3) 353
6. Colorado 164
PAC-12 TITLE GAME CHAMPION: USC (102 votes)
Others receiving votes: Oregon (18), Arizona State (3)
Notes and Quotes from Larry Scott and Gary Stevenson
Before Jon Embree, David Bakhtiari and Ray Polk took the stage at the Pac-12 Media Days, Pac-12 commissioner and Pac-12 Enterprises President Gary Stevenson took the stage.
Larry Scott …
– Notes Pac-12's nine NCAA championships in 2011-12 — most in country — 451 total in history of conference. Also most in nation.
– 239 former Pac-12 athletes headed to Olympic games
– Pac-12 won 89 medals in 2008 Olympics.
– Pac-12 will be part of U.S.-China sports week.
Scott on four-team playoff: "a very positive step for our sport" … "I believe we crafted a very artful balance, giving fans what they want… while also preserving regular season and bowl tradition."
Scott on new TV deals, Pac-12 Networks: "Our programs will receive unprecedented national exposure."
Scott calls Pac-12 "Strongest and deepest conference in many years."
Gary Stevenson …
Stevenson: "It is one year since [Scott] announced invention of our networks."
Stevenson: "We don't think about just a television network, we're creating a content company… Delivering to any screen, when they want it."
Stevenson: "Pac-12 now will be available at launch."
Stevenson: Pac-12 Network will televise 35 games, including all teams at least once in first four weeks.
Stevenson: Will televise six games on opening weekend.
Stevenson: 30 minute preview shows on each team, and one hour conference-wide show during preseason.
Stevenson: Replay all 79 2011 games in 60-minute format during preseason.
Stevenson: Pac-12 rewind, Pac-12 playbook… several studio shows.
Stevenson: "We are ready to flip the switch at Aug. 15 at 6 p.m. PT"
No new word on Dish Network and Direct TV negotiations
Dish Network / Direct TV no closer to deal with Pac-12 Networks
From paidContent.com … With the Pac-12 collegiate athletic conference set to launch a national cable TV network, along with six regional channels, on Aug. 15, satellite services DirecTV and Dish Network — the Nos. 2 and 3 pay TV operators in the U.S. — have yet to sign a deal to carry the new programmer.
A representative for DirecTV, which just resolved a significant program licensing dispute with Viacom on Friday, said talks with Pac-12 Network officials are ongoing, but no announcement is expected until "closer to the school year."
July 23rd
Penn State hit with four-year bowl ban; loss of scholarships
From ESPN, USA Today, and CBSSPortsline … The NCAA has hit Penn State with a $60 million sanction, a four-year football postseason ban and a vacation of all wins dating to 1998, the NCAA said Monday morning.
"These funds must be paid into an endowment for external programs preventing child sexual abuse or assisting victims and may not be used to fund such programs at the university," the NCAA said in statement.
The career record of former head football coach Joe Paterno will reflect these vacated records, the statement continued. As a result, Paterno no longer, at least on paper, is the all-time winningest coach, with his 409 victories reduced by the 112 wins over the period in question.
Penn State must also reduce 10 initial and 20 total scholarships each year for a four-year period, the release said. The NCAA said the $60 million was equivalent to the average annual revenue of the football program.
Under NCAA rules covering postseason bans, players are allowed to transfer without sitting out a season as long as their remaining eligibility is shorter than or equal to the length of the ban. Only seniors could transfer and play immediately under a one-year ban, but a two-year ban would mean seniors and juniors could both transfer without penalty. Because of the length of the punishment, all current Penn State players and incoming freshman will be free to transfer to another school without penalty.
"There is incredible interest in what will happen to Penn State football," said Ed Ray from the NCAA executive committee. "But the fundamental chapter of this horrific story should focus on the innocent children and and the powerful people who let them down."
The NCAA's announcement followed a day after Penn State removed Joe Paterno's statue outside Beaver Stadium, a decision that came 10 days after a scathing report by former FBI director Louis J. Freeh found that Paterno, with three other top Penn State administrators, had concealed allegations of child sexual abuse made against Sandusky.
(Here is a link to the video announcing the sanctions)
—
While not truly a football story, there are football ramifications.
USC, as Buff fans have seen, has not only survived the loss of scholarships, but has prospered (the current recruiting Class if ranked No. 1 in the nation, despite only being 15 strong). The Trojans have also managed to maintain their elite status in college football while enduring a two-year bowl ban.
Penn State, though, is not USC. The loss of scholarships is greater, the bowl ban twice as long, and the stigma is far worse than what USC endured.
The Nittany Lions will certainly circle the wagons (this past year was the second-highest ever in terms of donations to the school), but recruits – and their parents –  will be taking a second look at the program (Penn State has already lost one recruit, and has its No. 1 quarterback recruit mulling his options).
In the short term, 2012 has to be the easiest season Wisconsin will ever encounter. In the Leaders division, Penn State joins Ohio State in bowl bans, leaving the Badgers to compete with Purdue, Illinois and Indiana (a combined 15-23 last season) for league honors.
So, will the NCAA penalties hit Penn State like it did USC (a mere nuisance)? Or like it did SMU (which, it can be argued, never has recovered from its late 1980's "death penalty")? Probably somewhere in between.
There are some certainties, however. Joe Paterno's legacy is forever tarnished. I don't see any future stories about "the greatest coaches in NCAA history" going without an inclusion of Paterno. But every story will also come with a reference to the sanctions passed down today.
It will also be very hard to overcome looking at the Penn State uniforms and not believing that the lily-white representation of the program which the uniforms represented – basic blue-and-white, no logos, no names – is not now a quiet mockery of what the progrma has become.
Big Ten piles on
While Penn State officials contemplate what the NCAA penalties will mean long term, and anticipate the truckload of civil lawsuits which are sure to come, the Big Ten added to the Nittany Lion's list of penalties to overcome:
Penn State received four more sanctions by the Big Ten after the football powerhouse was potentially crippled for the next decade by the NCAA:
The school receives censure from the league, which amounts to an official condemnation of the actions of its adminstrators since 1998.
The athletic department will be on probation for five years.
The football team is ineligible for the Big Ten championship game for the next four years.
The school is ineligible to share in the conference's bowl game revenue for the next four years, amounting to an estimated $13 million.
"What occurred at Penn State University is a consequence of the concentration of power that can result from a successful athletic program and the failure of institutional leadership to maintain institutional control," the league said in a statement.
July 22nd
Penn State penalties to be severe
According to ESPN … NCAA president Mark Emmert has decided to punish Penn State with severe penalties likely to include a significant loss of scholarships and loss of multiple bowls, a source close to the decision told ESPN's Joe Schad on Sunday morning.
But Penn State will not receive the so-called "death penalty" that would have suspended the program for at least one year, the source said.
The penalties, however, are considered to be so harsh that the death penalty may have been preferable, the source said.
The NCAA will announce "corrective and punitive measures" for Penn State on Monday morning, it said in a statement Sunday. Emmert will reveal the sanctions at 9 a.m. ET in Indianapolis at the organization's headquarters along with Ed Ray, the chairman of the NCAA's executive committee and Oregon State's president, the news release said.
According to CBSSportsline … NCAA president Mark Emmert's tough talk regarding the Jerry Sandusky scandal has led to swift NCAA action.
A source told CBS News correspondent Armen Keteyian that Penn State will face "unprecedented" penalties when the NCAA announces what it called "corrective and punitive measures for The Pennsylvania State University" at a press conference at 9 a.m. Monday.
"I've never seen anything like it," the source told Keteyian, indicating that both the football program and the school itself would face sanctions.
A source confirmed for CBSSports.com that there are indications the penalties could be so unique and severe they would be different than any previously applied by the NCAA. CBSSports.com has learned that the penalties could last beyond one season
July 21st
Big Ten mulling giving commissioner authority to punish schools
UPDATE … From ESPN … The Big Ten says it won't give its commissioner the power to fire coaches.
In a statement released Friday, the conference says "giving emergency powers to the commissioner to fire personnel is not under consideration" by its 12 school presidents and chancellors.
The Chronicle of Higher Education reported this week that the conference was considering giving its commissioner the power to punish schools with financial sanctions, suspensions and the ability to fire coaches in the wake of the Penn State scandal.
—
From the Camera … In the wake of the scandal at Penn State, the Big Ten Conference is considering a plan to give its commissioner the power to punish schools with financial sanctions, suspensions and even the ability to fire coaches.
An 18-page plan being circulated among Big Ten leadership raises the possibility of giving Commissioner Jim Delany such authority, the Chronicle of Higher Education reported Thursday. The plan, which the Chronicle posted online, suggests that in certain circumstances requiring "immediate and decisive action," the commissioner would have unilateral authority to "take any and all actions" in the best interest of the Big Ten.
The league declined comment when contacted by The Associated Press for comment on the plan titled "Standards and Procedures for Safeguarding Institutional Control of Intercollegiate Athletics."
"It is a working document intended to generate ideas, not draw conclusions," according to an email sent from Big Ten headquarters to people in the league. "One provision in the document addresses 'emergency authority of the commissioner' — it is just one of many ideas."
July 20th
Pac-12 Enterprises making new deals … but online access restrictions may not be well received
Pac-12 Enterprises, which translates into the Pac-12 Networks for you and me, has reached a long term agreement with the National Cable Television Cooperative (NCTC) for carriage of the Pac-12 Networks. Financial terms of the deal were not disclosed.
The NCTC includes hundreds of smaller cable companies — Wave/Astound, Frontier, Cable One, Bend and Strata are all NCTC members, for example — that serve millions of households. The NCTC counts more than 900 cable operators in the United States as members and serves millions of cable subscribers across the U.S. These operators and other NCTC members will be able to carry Pac-12 Networks and its six regional channels. Here is the full press release from the Pac-12.
Okay, but there is more … According to Jon Wilner at the San Jose Mercury News … In order to watch games online, you must have both broadband and cable subscriptions with one of the league's partners (Comcast, Time Warner, Cox, Bright House and counting).
In other words: Let's say you have Comcast internet but subscribe to Dish/DirecTV … and let's say the conference does not reach a carriage agreement with Dish/DirecTV … then you won't have online access to games.
The best way for me to frame it is this: Your subscription level must match the provider's service level.
For broadband access through Comcast, for example, you must have Comcast cable.
And if the Pac12Net is on a sports tier in your area, then you must subscribe to that sports tier in order to have online access to the network.
Sounds more and more like I am going to making some frantic phone calls come the second week of August, when this all finally gets sorted out …
July 19th
Oregon football palace has all the amenities (but not a hot tub next to Chip Kelly's office)
The Eugene RegisterGuard created a stir this week with an article about the new $68 million "football palace" going up in Eugene.
Blueprints submitted by the builders to the city of Eugene show that the new complex will continue the trend of jaw-dropping, donor-funded opulence set by previous Duck athletics construction projects. The new center will, for example, feature nine dedicated classrooms, each for a single key position on the football team, from quarterback to inside linebacker.
The new football complex is the latest in a 14-year UO athletics building binge that brought: One, the West Coast's first collegiate indoor practice football field, according to the UO; two, a stadium upgrade with lavish skyboxes; three, an athletic medical center with submerged treadmills and a trendy nutrition bar; four, a $227 million basketball arena; and five, an exclusive academic study building for athletes erected at the gateway to campus.
The new football building will be top-of-the-line "pro or college, in the U.S.," according to the UO's official athletics website. The addition will push UO facilities to "outrageously impressive," according to ESPN's ranking of college facilities.
For the football center, ZGF Architects devised two black-metal-and-glass buildings — a "teaching box" and an "office bar" — totalling 130,000 square feet, compared with the 101,000 square feet of the existing Casanova Center.
The office block will be mounted on top of a new 25,000-square-foot building housing a weight lifting center. The office block will protrude in the air four stories high. It'll be attached to the teaching block with a double-decker sky bridge.
The complex will offer an array of stunning facilities: two movie theaters; an advanced video editing and distribution center; a players hall; a Duck football museum; defense and offense conference rooms; and a war room set up like the one at the White House, with a long conference table, 17 executive seats and a buffet, perhaps, for long strategy sessions, according to blueprints submitted to the city. On the top floor will be a 2,285-square-foot players lounge and deck, the blueprints show. On a lower floor will be an industrial-sized kitchen, 150-seat dining hall and a 50-seat private dining room.
The project is solely in the hands of Knight and his team of architects and project managers. University officials leased the land near Autzen Stadium to Knight and then stepped aside. His development company pledged to build and furnish the operations center and return it to the university as a gift, according to the contract, with mandates on how the UO must staff and run it.
There was also this, which sparked controversy … Football coaches will have a private hot tub and steam room, each with a waterproofed video center, next to their locker room, so they can watch games while taking a soak.
"ERRONEOUS " wrote sports information director Dave Williford. "In fact there is not so much as a bathroom in, or next to, Chip's office."
Which led to this correction from the Register-Guard… The private hot tub for Coach Chip Kelly and other Duck football coaches in the under-construction football operations center is located off the coaches' locker room in the project's so-called teaching box, not next to Kelly's office, according to plans submitted to the city.
An article in Tuesday's Register-Guard inaccurately reported that the hot tub was next to Kelly's office. The error stemmed from a misreading of the blueprint.
The plans dated Jan. 16, 2012, call for a "jacuzzi" and a waterproofed video enclosure in the coaches' "wet area." A steam room, also with a waterproofed video enclosure, also is depicted in the wet area.
University of Oregon spokesman Dave Williford said the video enclosures on the blueprints actually will be flat-screen televisions. "They're not necessarily going to be watching film," he said.
And to steam or soak while watching, Kelly would have to leave his office, cross a sky bridge and descend one floor.
Darn.
So much for this image (you're on your own to insert a mental image of head coach Chip Kelly):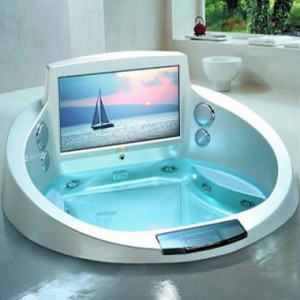 July 18th
Pac-12 Network schedules released
Now, if they would jsut decide on a satellite provider …
Less than a month away from the launch of the Pac-12 Networks, programming is already on the schedule. The national network will take to the air at 7:00 p.m., MT, on Wednesday, August 15th.
What will be on the schedule? Here what will be airing between August 15th and September 2nd.  The first live event in Pac-12 Network history will be a women's soccer game between Stanford and Santa Clara.
The first football telecasts in Network history will air on Thursday, August 30th. The Pac-12 Networks will open with a double-header, with Utah warming up against a Northern Colorado team looking for its first victory since November, 2010, followed by Arizona State against another Big Sky Conference opponent, Northern Arizona. Other first weekend games which will be shown live include San Jose State at Stanford on Friday, August 31st, and Nevada at California and San Diego State at Washington on Saturday, September 1st.
July 17th
Colorado fall practices closed to the public
In a move which should surprise no one, Kyle Ringo today got confirmation that the Colorado fall practices will be closed to the public. Colorado head coach Jon Embree closed practices this spring, and had already indicated that the very large incoming freshmen class will be off-limit for interviews until after the opener against Colorado State.
Media will be allowed on the practice fields for the first twenty minutes of practices, when the team is warming up and running through basic drills.
As a result, the sound bites from Jon Embree and selected upperclassmen will be all the Buff Nation will have to go on once fall camp opens August 5th.
CU/CSU rivalry "not what it should be"
Sounds good, now let's see you make it happen …
In an article in the Daily Camera … Colorado State athletic director Jack Graham has been working with Colorado athletic director Mike Bohn on strategies to curtail some of the ugly behavior he says he has witnessed when the schools' meet in football, men's basketball and other sports.
"I think it's poor. I don't think it's what it should be," Graham said when asked about the state of the relationship between the two schools. "I think the level of sportsmanship that exists between the University of Colorado and Colorado State is not good and it has to change. I think the level of venom that gets expressed between CU fans and CSU fans at basketball games and football games is inappropriate and it's mean spirited.
"I think it's really important that we all grow up and understand that we're going to a football game, we're going to a basketball game and it's time for us to have a very, very strong sense of competitiveness and rivalry and let our football teams and our basketball teams go to war with another on the field and on the court and respect and appreciate each other in the stands."
Bohn said he personally addresses students about the issue numerous times each year and CU coaches do as well. He said improving sportsmanship is an ongoing process but it's one he believes CU has made progress with no matter the opponent.
"I'm cognizant of the challenges associated with our game-day pageantry any time we play Colorado State," Bohn said. "We have made significant improvement collectively and we are committed to continuing to make progress in conjunction with Colorado State. We will continue to spend a great deal of time and energy in helping our students, our fans and our community be more welcoming for all of our huge, marquee games.
"It was wonderful to have praise from Georgia fans and Oregon fans and members of the Pac-12 Conference recognizing how phenomenal CU and Boulder are as a community and a place to visit. We'll keep working to make progress on that, but it certainly doesn't stop with just one game. So as the University of Colorado continues to play major marquee games against marquee opponents year in and year out we will continue to focus on that as much as the unique aspects of playing in Denver."
Okay, we all want to make the relationships better.
So what does the CSU athletic director have in mind to improve relations, and put an end to some of the mean-spiritedness of the rivalry?
Again, from the Camera article … While the two athletic directors have spent plenty of time talking about strategies for toning down the rhetoric and behavior when their teams get together, they haven't developed a plan for change. Graham said he hopes to have more to say when September approaches.
Yawn.
July 16th
Rose Bowl payout up 167%
From CBSSportsline.com… ESPN has agreed to pay an average of $80 million per year for Rose Bowl broadcast rights from 2015 through 2026. The value, as reported by The Sports Business Journal, represents a 167 percent jump from the $30 million deal currently in place.
The revenue goes exclusively to the Big Ten and Pac-12 except in years when the Rose Bowl is played as a national championship semifinal game. Divided amongst the 23 schools (it's not equal, as the participants get more, but to give you an idea), the payout will be going from roughly $1.3 million per school to roughly $3.47 million per school. An extra $2 million for the Buffs … every year.
The price tag adds to speculation that a four-team playoff might drive media rights over the estimated $500 million cost experts suggested to SBJ last month in Washington, D.C.
While the playoff money will be divided amongst all of the FBS conferences, the former BCS conferences will certainly command a lion's share.
It's a good time to be the University of Colorado, and be entrenched as a member of the new Pac-12 …
July 14th
Pac-12 Networks still unresolved
In one month, on August 15th, there will be seven Pac-12 Networks, with a national network and six regional networks.
Just who will be able to tune in and watch … remains undetermined.
Gary Stevenson, President of Pac-12 Enterprises, gave interviews to both the Orange County Register and the Seattle Times.
See if you can figure out if we are any closer to a resolution … especially for those of us with satellite dishes.
Question: You guys are scheduled to launch in a little over a month. Where do things stand?
Answer: We have just under 100 employees at this point and will have 120 when we launch Aug. 15. We have moved into the Pac-12 Networks studios (in San Francisco). The set for our studio is being built as we speak. Our production and programming teams have programmed 850 live events for the next school year: 35 football games, 135 men's basketball games, and the rest will be our Olympic sports. We'll have every sport covered on the network. … We're also launching a re-skinned website for the conference, which will give our fans the opportunity, if they're an authenticated subscriber to one of our distribution affiliates, to watch all our programming on their PC or iPad. (Apps for the iPhone and Android devices are expected soon after.)
Q: Why start out with seven networks? That seems awfully ambitious. The Big Ten did just one.
A: Our model's very different from the Big Ten. Theirs is a partnership with FOX; ours is wholly owned by the conference and universities. … Originally there was talk about just one. But they (the Pac-12 Networks' current cable distributors) said we like the idea of your network, but we also would like to figure out a way to produce content that is of interest locally and nationally. Then if you look at the way our schools are geographically located, the stars aligned perfectly.
Q: So will there typically be two channels available in a given region, the national network and a local one?
A: Every cable operator, every distributor will have their own choices there. It's likely that most within our footprint would carry the (regional) network where you are, then if you're interested in (other) regional programming, you would be able to authenticate and see the other six regionals and the national network on your devices. … Generally, when you think about "TV everywhere," watching live sports and live content on any device, that's where the industry's going. We're being responsive to what consumers want. It used to be that television companies would dictate to consumers when they were going to watch something, and more importantly where. But with advancements in technology and the ability to transmit video with great quality, we have the ability to (do more). Say you're an Oregon Duck fan and you're traveling to Boston — you can still see the game.
Q: Let's say I had Time-Warner Cable here in the L.A. area. Will the Pac-12 Networks be part of the basic package?
A: In L.A., if you are a basic-cable subscriber, it will be part of your basic-cable package. If you're outside of the major market where the school is, it would be on what's called digital basic. If it's outside the geographical footprint of the conference — let's say you're in Cincinnati — it is likely to be on your sports tier. That's what the four cable companies that were our initial partners (planned to do). Where it ends up with the new partners, that will be part of the negotiation.
Q: Speaking of those new partners, where do things stand with DirecTV and the other companies you aren't affiliated with yet?
A: We are in active negotiations. For those fans who are subscribers to DirecTV or DISH or U-verse or FiOS or Charter or any other company, one of the things that actually is helpful is to know that people want this service. We have the ability to do that (at www.Pac.12.org). There's a place to put your zip code in and a place to put who your provider is. If they're not scheduled to launch us now, there's a place where you can send them an e-mail and tell them you want it. It's important for those providers to understand how rabid our fans are.
Q: The slow pace of negotiations – would you say it's typically challenging for new networks trying to gain distribution?
A: In our case, it's really not challenging. There's a lot of detail to be discussed. … I would categorize our negotiations as ongoing and positive. We haven't found anybody who says they don't want our content. I am cautiously optimistic. At the end of the day, what fans want, fans get, especially when it comes to television.
Exercepts from the Seattle Times column by Bob Condotta:
The Networks will go live on Aug. 15 and he said he remains confident deals will be completed by then — it's common for such deals to go down to the last minute. "We are hoping it doesn't come to that," he said. "And that's why we are working so hard with all of them. … everyone we have spoken to likes our content and at the end of the day, great content carries the day. I think everyone we have spoken to understands that our fans are very interested in our content, and in today's world, if a fan wants content, they find it.
"Nobody has said to us 'we don't want you. We are not going to carry you.' It's more about can we figure out an agreement that is fair to both parties."
Stevenson noted that the four deals the Pac-12 has at the moment cover 40 percent of the 100 million homes in America that have cable.
The Networks are a centerpiece of the conference's new 12-year TV deal that is expected to earn the conference roughly $3 billion.
The conference recently announced a first wave of TV picks for the 2012 season and held some key games for its own Networks, aimed at helping gain a wide distribution.
Stevenson said the conference "made a conscious decision" to give regular partners ESPN and Fox "the value they are paying for" in its selection of games, but that "we felt there was a way we could do that and still provide the Pac-12 Networks with the kind of programming that would be of interest to consumers and fans." (He also said basketball programming will include eight of the 11 games in the men's tournament on the Pac-12 Network, including one semi-final game).
What's also a key question for fans is the on-line availability of games.
Stevenson said again that only fans who have a subscription to a distributor carrying the Networks will be able to access live games on-line (games on ESPN and Fox would be subject to the on-line guidelines of those networks).
Stevenson said games will "not be aired (on-line) on any systems that we don't have a system-wide agreement with." It'll work similar to that of ESPN, where you'd have to put in your authentication number to get on-line access.
He said there will be replays of games shown on the Pac-12 Networks and others throughout the week on the Pac-12 Networks and there will be Video on Demand highlights of games on-line (though not complete replays on-line).
He said there will be what he called an "uber-schedule" on the conference's website that will allow consumers to easily check which games will be available on which networks.
For the first year, he said the Pac-12 Networks will be "very event-centered" with more than 450 events scheduled. In future years, he said there will be more studio programming, as well. There will also be preview shows as well as replays of games of past years.
The conference already announced Rick Neuheisel and Ronnie Lott as color commentators for football and said there could be more announcements in the next 7-10 days.
With the growing trend of conference's handling their own production of game broadcasts, some have questioned how the tone of those broadcasts will evolve. Stevenson said the Pac-12 will strive to keep its broadcasts as objective as those on the mainstream networks.
"What we talk about is honest reporting," he said. "We don't see ourselves as a house organ for Pac-12 schools, but what we do is hire the best announcers we can with the most knowledge and ask them to be good storytellers. From a philosophy standpoint, what we would like to do right from the start is give fans a deeper experience with Pac-12 sports and if there is an interesting story to tell, to tell those stories."
Stay tuned …
July 13th
Pac-12/Big Ten call of partnership
So much for that trip to West Lafayette …
From ESPN … The scheduling partnership between the Pac-12 and Big Ten won't happen after all.
The conferences said Friday that their agreement, announced in December and set to begin in 2017, has been called off because of football scheduling issues involving several Pac-12 schools. A round-robin football schedule, featuring 12 games per year between Big Ten and Pac-12 teams, had been the cornerstone of the pact, although it also included elements involving other sports and the two leagues' television networks.
NBC Sports calls for the death penalty for Penn State
A 267-page report has been released by the firm of Freeh, Sporkin & Sullivan, LLP, with regards to its investigation of Penn State's handling of the Gerry Sandusky case.
The Freeh report (which can you look at in its entirety here) concluded that Hall of Fame coach Joe Paterno, President Graham Spanier, athletic director Tim Curley and vice president Gary Schultz "failed to protect against a child sexual predator harming children for over a decade."
Freeh called the officials' disregard for child victims "callous and shocking."
"In order to avoid the consequences of bad publicity, the most powerful leaders at the university — Spanier, Schultz, Paterno and Curley — repeatedly concealed critical facts relating to Sandusky's child abuse," the report said.
Paterno "was an integral part of this active decision to conceal," Freeh said at a news conference.
Asked directly if Paterno's firing last fall was justified, Freeh answered, "Yes."
School leaders "empowered Sandusky to attract potential victims to the campus and football events by allowing him to have continued, unrestricted and unsupervised access" to campus and his affiliation with the football program, the report said. The access, the report states, "provided Sandusky with the very currency that enabled him to attract his victims."
Where do we go from here?
The NCAA said that it will decide on whether to take action at the "appropriate time" in connection with its inquiry into Penn State and the child sexual abuse scandal that led to the ouster of Hall of Fame coach Joe Paterno.
Penn State Trustee Anthony Lubrano, a critic of the board's dismissal of Paterno in November, said Thursday that the board was still formulating a response.
A columnist for NBC Sports, however, has an answer … the death penalty.
Michael Ventre writes … When this scandal broke, it appeared to fit squarely in the domain of law enforcement and the criminal justice system. It didn't feel as if the NCAA had any business in it. The NCAA has enough on its plate trying to nail assistant coaches for buying a hamburger for an athlete.
I always felt the NCAA should restrict itself to competition-based offenses. But this Penn State calamity IS a competition-based offense.
If the worst is true, then Paterno and other officials at Penn State covered up Sandusky's crimes because they wanted to protect the sanctity of the football program and make sure it continued unfettered, winning games and raking in cash.
If the reports are correct, Paterno's strongman tactics were applied to doling out penalties to players who got involved in off-campus fights, and they also were used to sweep Sandusky's horrible deeds under the rug. The coach's iron-fisted reign over the football program apparently included overseeing his players while turning a blind eye toward his former defensive coordinator.
Why would he have done all that? Football. What is the NCAA in charge of regulating? Among other sports, football.
The NCAA surely never has seen anything quite like this. A sexual predator not only being protected from detection by one of its member institutions, but allowed to continue his abhorrent behavior? It sounds like some storyline concocted for an episode of a network procedural. The fact that it was real is beyond chilling.
Again, the NCAA doesn't yet know all the facts. But it can prepare in case all the facts add up to the worst possible outcome. Since it has been determined that Penn State knew a lot more than it let on — including possible involvement by its late football coach in keeping silent about Sandusky's actions — then the NCAA should prepare to hand down its death penalty to a Division I football program for only the second time in its history, after Southern Methodist University received it in 1987.
This one time the public should welcome the NCAA's heavy hand.
July 10th
Who are the Pac-12's Breakout Stars?
The Saturday Edge asked several bloggers several questions about the upcoming season in the Pac-12.
One of the questions: Who are the Pac-12's Breakout Stars? Here is a link to the answers given.
My response: If you are talking Colorado, I would pen the names of running back Tony Jones and linebacker Douglas Rippy. Jones is a sophomore who filled in ably for Rodney Stewart last fall when the Buffs' leading rusher was injured. With the quarterback situation still unresolved, and star wide receiver Paul Richardson likely out for the season with a knee injury, it will fall upon the Buffs' decent offensive line to make Jones the focus of the offense.
On defense, Douglas Rippy was leading the team in tackles when he was injured against Washington in game seven. He is back 100%, and will need to be a force for Colorado to be successful.
If you are looking for players outside of Boulder, I would say the tandem of quarterback Jeff Tuel and wide receiver Marques Wilson. Tuel was a decent starter before he was injured, and Wilson would be a legitimate Heisman candidate if played somewhere other than Pullman. WIth the Mad Scientist Mike Leach taking over the offense, the Cougars could be very entertaining, and the Tuel/Wilson duo could put up some impressive numbers.
Another question: Who can challenge USC and Oregon?
Here is a link to the responses, including mine.
And another question: Which teams in the Pac-12 are overrated/underrated?
Here is a link to the responses, including mine.
July 9th
CSU stadium: "No good choice but to build"
Colorado State will announce next month that it will be building an on-campus stadium.
According to Terry Frei in the Denver Post, there is no other option – the CSU administrators have crossed the Rubicon.
"Alea iacta est".*
July 8th
SEC and nine game conference schedule – "something that will be looked at"
The FBS commissioners have given us a four-team playoff. One of the remaining sticky issues to be resolved, though, is how the selection committee will choose a final four.
"Strength of schedule" is a factor which will be on the list, but how "strength of schedule" is weighted is an important factor. This is especially true for conferences like the Pac-12, which has a nine game conference schedule. With each Pac-12 team playing an extra conference game, the league is guaranteed a 6-6 weekend late in November. Meanwhile, teams which play for conferences which have an eight game conference schedule, like the SEC, get an extra non-conference weekend (likely a 10-2 or 11-1 weekend in September).
An even playing field?
Aware that conference scheduling may play a role in the selection committee's decisions, the SEC is at least looking into converting to a nine-game conference schedule.
The SEC approved a 6-1-1 rotation for football in June, meaning teams will play its six divisional opponents along with a permanent rival and one rotating team from the opposite division.
The SEC is "fine tuning" the rotation for the next six years for the 14 teams, Larry Templeton, a former athletic director at Mississippi State, told the Jackson, Mississippi, Clarion-Ledger, but the recent adoption of a four-team national playoff has prompted questions about the importance of strengthening SEC schedules – especially with a committee selecting the playoff teams in 2014.
What could result is a nine-game conference schedule beyond the 2014 season, resulting in the deletion of one non-conference game for each SEC team.
"I think it's something that will be looked at because of the new playoff," said Templeton, "but right now we're staying with the eight. There's time to explore and do some stuff."
The issue is protecting non-conference rivalries such as Florida-Florida State, Georgia-Georgia Tech and South Carolina-Clemson. Most schools have scheduled four non-conference games through 2014 and the SEC would rather not force schools to break contracts.
Still, the Pac-12 has non-conference rivalries – USC/Notre Dame; Stanford/Notre Dame; and yes, Colorado/Colorado State – which make scheduling difficult. So no sympathy for the SEC here.
It's time for the rest of the country to join the Pac-12 … or for the Pac-12 to go to an eight game conference schedule.
July 7th
Oklahoma State expansion on hold
Apparently $165 million isn't enough …
From the Wall Street Journal … T. Boone Pickens had outsize ambitions when he donated $165 million to transform athletics at his alma mater, Oklahoma State University, which had long played second string in football to the rival University of Oklahoma Sooners.
The colorful oil man led excited school officials on a spending spree that included gussying up the redbrick football stadium with luxury suites and razing 200 homes near campus to make way for an athletic village that was to feature a baseball stadium, indoor track and tennis complex.
While the Oklahoma State Cowboys are now a football power, with one of the most lavish stadiums in college athletics, there is a 100-acre dirt tract where a neighborhood used to stand in this leafy college town northeast of Oklahoma City. The baseball, tennis, track and soccer facilities Mr. Pickens envisioned when he made his donation seven years ago haven't even been started because Cowboy Athletics, the endowment that was supposed to fund the projects, is essentially broke.
Cowboy Athletics invested all the gift money and more in Mr. Pickens's hedge fund, BP Capital. It was late 2005 and markets were still booming. The endowment expected to garner 20% annual returns because of the high returns it had gotten on other athletic money in the hedge fund. Mike Holder, Oklahoma State's athletic director and the president of Cowboy Athletics, said in an interview that putting it into the fund had been his idea, and that Mr. Pickens and the oil man's lawyer, as Cowboy Athletics board members, had approved the decision.
Separately, Mr. Pickens concocted an unusual plan to supercharge returns for Cowboy Athletics. He sold school officials on a program to generate up to $250 million for the endowment by taking out multimillion-dollar insurance policies on the lives of older Oklahoma State alumni. The expectation was that the death payouts would exceed the premiums.
Both investments turned into big losers.
The hedge fund's energy bets paid off at first. Then the global financial crisis hit and they lost much of their value between mid-2008 and late 2009—and so did the Cowboy Athletics endowment. The endowment's $202 million investment in the fund, which had grown in value to about $400 million, plunged to $125 million by the time the money was withdrawn.
The insurance plan was abandoned before the alumni died and Cowboy Athletics could collect the insurance payouts because the endowment didn't have the money to cover the annual premiums. Mr. Pickens and Cowboy Athletics concluded that the program was flawed and wasn't worth continuing.
The endowment wound up spending $33 million on premiums and getting nothing in return.
By the end of 2010, the liabilities of the Cowboy Athletics endowment exceeded its assets by $15 million, financial records show. Officials have not released records for 2011 because their accountants are still reviewing them, a school spokesman said.
Mr. Pickens has ponied up a lot more money to help the school overcome the problems. He is paying off the endowment's $84 million in loan obligations as they come due—$3 million per quarter. Also, he gave Cowboy Athletics a $35 million life-insurance policy on his own life, which wasn't part of the alumni-insurance plan. The endowment cashed it in for between $10 million and $11 million.
July 6th
Utah/BYU rivalry may end this September
Last week, it was announced that Utah would be playing a home-and-home series with Michigan, while Colorado settled for a "pay-for-play" road game due to scheduling issues. Utah fans have been gloating about how the Utes are being treated as more of a "big-time" school, while the Buffs are not worthy of a return trip.
Part of the answer, though, as to do with Colorado sticking with (or being stuck with) its rivalry with Colorado State, while Utah may be abandoning its rivalry with BYU.
The teams are scheduled to play this September, but do not have any games planned beyond that.
Two former Utes don't like the idea.
"To me, that's a major mistake", said former head coach Urban Meyer, now head coach at Ohio State.
Added Alex Smith, now the San Francisco 49ers quarterback: "Same thing as coach said … It is weird enough that the game is not at the end of the season anymore … to not play at all would be a mistake."
So, Utah, in dropping BYU, had openings in its schedule to allow for a home-and-home, while Colorado did not. "We had a window for a road game in 2016 with six home games plus CSU in Denver," wrote Dave Plati in his Plati-tudes, when asked about the Michigan road game.  "It's a delicate balance, as do you want an eight-game package for your season ticket holders?  Some schools can pull that off, but you have to be smart especially in this economy.  We will receive $1,450,000 for the trip in and out of Ann Arbor, quite possibly the most for a one-and-done series in college football history."
It's also worthy of note that, while Utah can't find room for long-time rival BYU in its future schedules, it did find room for Utah State in its schedule for 2013, and 2014, and 2015 …
Scholarship math in Westwood
It's no secret that Jim Mora has done well in his first six months as the UCLA head coach. Mora took over upon the firing of head coach Rick Neuheisel, and promptly turned a disappointing 2012 recruiting Class into a very good one. Since then, Mora has made great strides towards making the recruiting Class of 2013 a top 15 contender.
In order to make this work, though, Mora has had to cut away some of the dead wood from the program.
One man's dead wood, however, is another man's list of disappointed young men.
UCLA dropped seven players from its roster this week, a necessary move in order to get down to the NCAA mandated 85 scholarship players.
Safety Alex Mascarenas and offensive lineman Wade Yandall have taken medical retirements, safety Anthony Thompson and linebacker Jared Koster are transferring and defensive lineman Wesley Flowers is leaving because of a coaches decision. Those players are no longer listed on the official UCLA football roster.
In addition, incoming freshmen Lacy Westbrook and Eli Ankou did not enroll in school along with the rest of the freshmen class last week and will greyshirt this season to help the Bruins get the scholarship count down.
UCLA ended spring practice with 69 players on scholarship and expecting 23 incoming scholarship freshmen, which would have put the Bruins at 92 scholarships — seven over the NCAA limit. With five players leaving the team and two greyshirts, they are at 85 on the nose.
July 5th
Latest on Pac-12 Networks
Less than two months before the opening of the 2012 football season.
Less than six weeks until the launch of the Pac-12 Networks.
And I still don't know whether I will be able to watch CU football on my dish.
With apologies to those who have Comcast or Time Warner cable, and who are in good shape for the fall, many of us are still wondering when the Pac-12 will make its dish deals, and how the national network and six regional networks will be presented.
As usual, Jon Wilner at the San Jose Mercury News has the latest.
Some questions and answers:
Landon: I'm curious as to what "an authenticated subscriber to one of the league's cable/internet partners" exactly means. If I'm on the East Coast and have Comcast for my internet, but NOT my cable (I have Dish instead). I'm curious if I'll be authorized to log in and watch online.
* That is my understanding but something you should confirm with the conference.
Pyperkub: 1. Comcast Pac12 Networks in the Bay Area – will they be HD channels? If so, which ones? I'm a Bruin fan, and want those games in HD, so will the LA regional network be HD in the Bay Area as well?
2. Comcast Bay Area has a habit of pre-empting Pac12 (HD) Basketball with the Sharks and Warriors – will this still happen? Will the HD channels be part time only?
* HD should be available and channel assignments will be made public on/around Aug. 1. Comcast may make out-of-region feeds available in the Bay Area (and elsewhere), but that has not been determined. (If they are available, it will be on a sports tier — that much I can assure you.) There will be no pre-empting because the Pac12Net will have its own dedicated channel in the Bay Area.
SpectreFCO: if I have DirecTV, and they decide not to carry Pac-12 Network, I appear to be doubly screwed. Since my satellite company doesn't carry the network, I can't subscribe to the "TV anywhere" option. Correct?
* You may have several options, depending on your internet provider. (Check with the league's help desk.) And if you can get games on your computer, you may be able to hook that up to your TV.
Tom McNamara: What the schedule hints at is that the regional networks will be available in other markets on the sports tier.
* That's a possibility, yes, but hardly a given. And out-of-region feeds — for instance: whether Pac-12/Washington is available in Portland — will be made available on a provider-by-provider basis.
Chris: if I recall at the time of the announcement there never was any mention of being required to have a participating cable company subscription to get access to the TC Anywhere concept.
* It has always been my understanding that the Pac-12 TV Network would be a subscription-based service, and nowhere on the Hotline has it ever been written that the network would be available everywhere for free.

JMod: I'm confused. If you are in the footprint (Portland), don't you have two channels P12 National and P12 Oregon? Cal-Nevada on P12 National and OSU-Nicholls on P12 Oregon.
*  If you subscribe to one of the league's partners, then you are guaranteed to have your home region's feed. Whether you would also get the national feed — or an alternate regional feed, like Pac-12/Washington — is a provider-by-provider decision.
MostWanted: How much are these games with MWC teams (including San Jose) worth to the P12?
* Not sure I understand what you mean by "worth." I don't know the dollar value of each individual game, if that's what you're asking.
Harold: Even if DirecTV finally strikes a deal with the Pac-12 Network, it's only going to be for the national feed.
* Your point about DirecTV and sports bars (not copied above) is extremely well taken and a very big deal. I wouldn't rule out the possibility of DirecTV making some regional feeds available to subscribers who are outside the league's footprint. Another option would be to have an overflow channel. For instance: If you have DirecTV and live in New York, you'd get Pacv-12 National 24/7 and, in instances when there are concurrent kickoffs/regional telecasts, DirecTV would make that regional game available somewhere on its sports tier.
spin: my questions is simple will there be an option for me to pick up all six regional networks or is this up to the local carrier?
* That is entirely up to the carrier, but it is hard for me to imagine anyone making all six available. Remember, though: They will all be available live on your mobile device/tablet/computer. If you are a subscriber to one of the league's partner providers you'd get access to all of them. Whether they would all be on your TV, again, is the big question.

Want more? The Pac-12 Network has a Frequently Asked Questions page
July 3rd
Mountain West Conference … including Colorado State … left out of BCS
Lost in the playoff announcement last week (at least I missed it) … At the same time the playoff was announced, the Mountain West was quietly denied BCS status for the 2012 and 2013 seasons. The conference's appeal was the Mountain West Conference's last hope after riding TCU's and Boise State's success close to BCS status.
To see it made official hammered the point that a playoff doesn't necessarily make things equal. It makes them richer. On the same day the commissioners were crowing about more access at the top, they were also denying it below to the MWC.
"It seems like the Big Four have kind of dominated," one bowl executive told www.cbssportsline.com. "You don't have 11 [conferences] anymore, you have four commissioners. Is that gap bigger between the haves and have-nots?"
The answer is yes, except that — officially — there are no more haves and have-nots. That was the first bit of news to sneak out of the playoff process when Brett McMurphy from cbssportsline reported it in December. The elimination of automatic qualifying status was supposed to end the sport's revenue segregation. In the future, it will do anything but that.
Removing labels doesn't remove the reality. A playoff probably lessens access for the sport's unwashed. At least makes it more uncertain. That selection committee? Its composition will have to reflect that the Big East is no longer considered a BCS-level conference. The Big Four — Pac-12, Big Ten, SEC, Big 12 — are calling the shots. To be precise, the commissioners of those leagues are calling the shots.
There might be not a thing wrong with that. Those 46 schools predominantly play the best football, win the most championships, make the most money. They have the most invested in this playoff. In the coming age, there are more of the have-nots who will matter less, if that makes any sense. And it should. The incredible windfall from a playoff — estimated at $500 million per year on the high end — essentially means those have-nots will trade money for access.
Hush money in shoulder pads.
Going forward, there will be six bowls in the playoff rotation. None of them will be particularly anxious to take an unbeaten Marshall or Tulane or Central Florida (for example) when those bowls aren't playing host to national semifinals.
Or Colorado State.
ACC deal with Orange Bowl further seals the fate of the "Have Nots"
The ACC and Orange Bowl Committee announced a 12-year agreement sending the conference champion to the Orange Bowl, which will be held on New Years Day at 1:00 p.m. beginning after the 2014 season.
According to the official release, it is "anticipated" by the committee that the Orange Bowl will host at least four semifinal games in the new semifinal rotation beginning after 2014. In years the Orange Bowl is hosting a national semifinal, the ACC Champion would then play in "one of the three host bowls that will be established as per the direction of the BCS Presidential Oversight Committee."
Good news for the ACC, which was losing traction in the new world of college football.
Bad news for the Big East, left without a big bowl tie-in, as well as the "have-not" conferences, with one more slot in the big time bowls sewn up by a team from one of the major conferences.
July 1st
Boise State sticking with decision to bolt to Big East
The Boise State Broncos are heading east.
Still.
Boise State beat the midnight deadline Saturday to withdraw from the Mountain West Conference, officially keeping the Broncos on the path toward Big East affiliation in college football for the fall of 2013.
The Idaho Statesman and the Las Vegas Review Journal reported the news earlier Saturday night with the Review Journal quoting UNLV president Neal Smatresk that he receive Boise State's withdrawal letter.
A Mountain West Conference source confirmed Boise State's withdrawal to ESPN.com via text message.
Boise State had to beat the deadline to avoid playing a $5 million penalty that would have been incurred if the school failed to notify the MWC of its intentions past June 30. Boise State is already going to lose an estimated $2.5 million of revenue, according to the Statesman and Review Journal.
But the future of the Broncos' remaining sports is still in limbo as Boise State makes an attempt to get out of the depleted Western Athletic Conference and enter into the Big West.
Big West commissioner Dennis Farrell told ESPN.com on Saturday afternoon that the Broncos hadn't joined the conference yet and no decision was made on Boise State's status. Boise State men's basketball coach Leon Rice still had no idea, either, what conference the Broncos would be playing in for 2013-14 after their final year in the Mountain West in 2012-13.
Boise State is attempting to do what fellow MWC member San Diego State has done: be in the Big East in football and the Big West in all other sports.
Boise State decided in December to leave the MWC but unlike San Diego State, didn't officially withdraw from the MWC well before the deadline.
June 29th
Playoff details raise new issues
Remember the good old days, when January 1st meant something? When you couldn't wait for the silly parade coverage to end, and the early east coast bowl games kicked off 12 hours of couch-potato bliss?
Well, in two years, it will be coming back.
June 28th
Time for a little Jeopardy:
The Answer is: By fielding the NCAA minimum of 16 sports.
The Question: How is it that the University of Colorado finished 57th nationally (and 9th in the Pac-12) in the The Learfield Sports Directors' Cup standings?
The Pac-12 was well represented in the Directors' Cup standings, as the "League of Champions" continued to strut its stuff. Stanford won the Directors' Cup for the 18th consecutive season, with UCLA finishing 3rd and USC 7th.
Also in the top 25 from the conference were: California, 11th; Arizona, 19th; and Oregon, 24th.
The rest of the Pac-12 teams finished as follows: Arizona State, 30th; Washington, 31st; Colorado, 57th; Oregon State 66th; Utah, 74th; and Washington State, 106th.
In case you are wondering, here is how the points are calculated.
One need look no further than the spring sports list to see why Colorado has a hard time competing in the Directors'  Cup. Of the 13 spring sports which are allotted points, Colorado fields just five. This number will jump to six in two years when CU adds women's lacrosse to its arsenal, but it is clear that CU has a long way to go before a top 25 ranking can become a reality.
The Directors' Cup does try to mitigate some of the discrepancies when it comes to point allocation, only allowing a school to count ten men's teams and ten women's teams toward its total. Still, while Stanford can cherry pick the sports it wants to include in any given year, Colorado has no choice but to count the results from all of its sixteen teams.
Well, make that 15.
Colorado is a national power in skiing, with 18 national championships. The Buffs boast over 80 individual NCAA skiing champions, over 50 Olympians, and seven Hall of Fame inductees. Due to the comparatively low number of schools participating, though, team results are not considered as part of the Directors' Cup standings (though the Buffs do get some credit for individual champions).
Until the Buffs can restore some dismantled programs – men's tennis; men's baseball; women's softball; wrestling; etc. – Colorado will not be a player in the Directors' Cup. Until that time, Buff fans have to rely on its existing sports to perform well, and perhaps raise the school into the top half of the Pac-12.
Other notes of note:
– The highest rated non-BCS school on the list was Princeton from the Ivy League, in at No. 39;
– Leaders from other BCS conferences: SEC – Florida (No. 2); Big Ten – Ohio State (No. 4); ACC – Florida State (No. 5); Big 12 – Texas (No. 6); Big East – Notre Dame (No. 17);
– Colorado State finished in a tie for 160th place. Sharing the No. 160 ranking were … Norfolk State and Tennessee-Chattanooga.
June 26th
Presidential Oversight committee approves playoff system
According to ESPN … A four-team playoff for college football has been formally approved by a presidential oversight committee, a dramatic change for the sport that will begin in 2014. The four teams will be chosen by a selection committee, the semifinals will be held at current bowl sites and the national championship game will be awarded to the highest bidder.
The 12-year deal is through the 2025 season.
The 11 conference commissioners and Notre Dame athletic director Jack Swarbrick presented their proposal to a board of 12 university presidents at the Dupont Circle Hotel. In less than three hours, the group agreed upon a postseason that college football fans have been clamoring for years.
The group of presidents also endorsed a rotation of the semifinal games among six bowl sites and rotation of the championship game among neutral sites. The championship game will be managed by the conferences and will not be branded as a bowl game. The group also announced the creation of a selection committee that will rank the teams to play in the playoff, "giving all the teams an equal opportunity to participate." The committee will consider win-loss record, strength of schedule, head-to-head results and whether a team is a conference champion.
"A four-team playoff doesn't go too far; it goes just the right amount," said Virginia Tech president Charles Sterger. "We are very pleased with this arrangement, even though some issues … remain to be finalized."
What's next?
Two main topics that need further discussion are how teams will be selected and how revenue will be distributed. The commissioners have agreed in principle as to how the revenue will be divided, according to Big Ten commissioner Jim Delany, but that has not been made public yet. Look for significant discussion – and perhaps a healthy debate – as to the makeup of the selection committee, and the marching orders they are given to how to select the Final Four of Football.
Members of the BCS presidential oversight committee, which met Tuesday in Washington to adopt the conference commissioners' college football playoff proposal:
June 25th
Boise State still mulling staying in Mountain West Conference?
D-Day for Boise State is July 1st.
Formally submit its decision to play in the Big East by July 1st, the Broncos owe the Mountain West Conference $2.5 million.
Leave the conference after July 1st, the bill, according to an article in for CBSSPortsline, could go as high as $24 million.
Boise State spokesman Max Corbet said Friday the school "is aware of the upcoming deadline and continuing to work hard on getting everything completed."
One reason Boise State hasn't formally withdrawn from the Mountain West is the Broncos don't know where they will place their Olympic, or non-football, sports. They have an agreement with the Western Athletic Conference, but the WAC has been gutted by defections and will be down to only five members in 2013 — Idaho, New Mexico State, Denver, Seattle and Boise State.
WAC interim commissioner Jeff Hurd told CBSSports.com last week that Boise State remains a member of the WAC, but the league needs to add at least two new members to remain a Division I conference. Hurd wouldn't comment on specific candidates, but sources said the most likely schools were Utah Valley State, Cal State Bakersfield and possibly Texas-Pan American.
"Boise has been up front," Hurd said. "They're looking at every option it can. Realistically we have to show Boise State we can be viable in 2013-14." Boise State also has looked into putting its Olympic sports in the Big West, but that league — at least for now — is not receptive to adding the Broncos.
If Boise State decides not to join the Big East, the Broncos would owe the Big East $5 million, an amount the Mountain West, most likely, would assist in paying.
Last month, CBSSports.com reported Boise State and MWC officials had discussions about Boise State remaining in the league. On May 21, Boise State athletic director Mark Coyle denied the discussions took place, but Thompson and Colorado State athletic director Jack Graham later both confirmed a May 9 meeting was held with Boise State's officials on Boise State's campus.
Nearly six weeks since that meeting, Boise State and the MWC have continued discussions while the Broncos remain undecided on if they should stay in the MW or go to the Big East.
At the Big East meetings in Ponte Vedra Beach, Fla., on May 21, Coyle discussed Boise State's future plans.
"We continue to talk with everybody and try to find the best long-term solution for our institution," Coyle said.
The clock is winding down. Boise State must make a decision by June 30 to stay in the Mountain West or withdraw and join the Big East. Either decision is somewhat of a gamble, with ultimately millions of dollars riding on it.
June 22nd
Questions remain on finalization of BCS playoff system
While the consensus of the FBS commissioners to go with a four-team playoff has answered many out-standing questions, the devil, as they say, lies in the details.
Many details as to how the playoff system will be implemented remain, and will be discussed over the next few days, weeks, and months.
Mark Schlabach of ESPN has put together a terrific synopsis of where we are … and what still is left to be resolved:
Here's a closer look at what's left on the table:
1. How will the four teams be selected?
Sources told ESPN.com on Wednesday that the commissioners are leaning heavily toward using a committee to select the four teams. The commissioners must still decide who will serve on the committee — former college football coaches or current athletic directors and commissioners from the FBS conferences. Sources said the commissioners will charge the committee with using set criteria, such as preference for conference champions and teams that played difficult schedules, in choosing the four teams. While there might be some data used to rank the teams (like the RPI ratings the men's basketball tournament committee uses in selecting at-large teams and seeding the 68-team field), it appears the coaches' poll, Harris Poll and computer rankings that are a part of the BCS formula won't carry as much weight, if any, in the future. The commissioners want the selection process to be as transparent and objective as possible.
2. Where will the semifinals and championship game be played?
Sources told ESPN.com that the semifinal games will probably be played within the current BCS bowl games (Fiesta, Orange, Rose and Sugar) on a rotating basis. The commissioners currently favor having sites that would be designated before a particular season begins.
The commissioners considered using an anchor system, which would have placed the top two seeded teams at the BCS bowl games with traditional associations with their respective conferences (i.e. an SEC team at the Sugar Bowl or Big Ten or Pac-12 teams at the Rose Bowl). But the commissioners felt there were too many logistical problems associated with the plan, like fans having to wait to book travel and buy tickets for a semifinal game only a few weeks in advance.
"When you know where the game is going to be played, it allows certainty for fans and for ticket distribution and for television sponsorship, all those things," Big Ten commissioner Jim Delany said. "The more you know that in advance, the more stable the system is."
The committee will still have the authority to send a Pac-12 team to the Rose Bowl or an ACC team to the Orange Bowl for semifinal games if they're ranked in the top two. Traditional matchups and geography will still be considered while seeding the teams and placing them in semifinal games.
The commissioners have agreed to offer the national championship game to the highest bidding city on an annual basis, like the NFL does with the Super Bowl. The host cities of the current BCS bowl games — Miami, New Orleans, Pasadena, Calif., and Glendale, Ariz. — would be eligible to bid on the championship game. It isn't immediately clear whether those bowls would be allowed to double-host semifinal and championship games. Cities that have been left out of the BCS system until this point, such as Atlanta, Dallas, Detroit, Indianapolis and St. Louis, also would be allowed to bid on the championship game.
3. How will the money be divided?
The commissioners are still in the early stages of determining revenue sharing, but Delany and ACC commissioner John Swofford said they've agreed on the principals of how the money will be divided. Industry sources have predicted the four-team playoff could be worth as much as $400 million to $500 million annually. (ESPN currently pays about $160 million to broadcast five BCS games — Fiesta, Orange, Rose, Sugar and title game.)
The top five conferences — ACC, Big Ten, Big 12, Pac-12 and SEC — will undoubtedly receive the largest share of the purse. The Big East, which lost TCU and West Virginia to the Big 12 this year and will lose Pittsburgh and Syracuse to the ACC in 2014, will probably receive a much smaller share than what it earns in the current BCS system. The commissioners are considering a revenue sharing model that would reward revenue based on a league's past performance in the BCS standings since 1998. Delany said this week he would like academic performance to be a consideration in how the money is divided.
"It's a sensitive area, and it's an area where you have to listen closely," Delany said. "People want fair access, people want fair revenue sharing. Access, revenue sharing, contributions to the marketplace, some respect for the fact that these programs are sponsored by collegiate institutions. … In principle, we probably are agreed. But you never know until you know the model exactly what you're going to deal with. We worked it out last time. I'm sure we'll work it out this time."
4. Who serves on the Presidential Oversight Committee?
The presidents' committee will ultimately decide whether the sport moves forward with a four-team playoff. The committee is chaired by Virginia Tech president Charles W. Steger and includes representatives from each of the 11 FBS conferences and Notre Dame. Here are the chancellors and presidents who serve on the committee (in addition to Steger): Scott Cowen (Tulane), Rev. John Jenkins (Notre Dame), Bernie Machen (Florida), Max Nikias (Southern California), Duane Nellis (Idaho), Harvey Perlman (Nebraska), John G. Peters (Northern Illinois), Bill Powers (Texas), James Ramsey (Louisville), Gary Ransdell (Western Kentucky) and John Welty (Fresno State).
5. Will the presidents consider any other plans?
Perlman and other presidents from the Big Ten and Pac-12 seemed to favor the status quo, or at least nothing more than a plus-one system, which would pit the top two teams in a championship game after existing BCS bowl games are played. While the commissioners and Swarbrick have recommended a four-team playoff, the presidents will be presented with at least the plus-one model as another option. But since the commissioners have unanimously endorsed the seeded, four-team plan, it's expected to be adopted. The presidents could ask the commissioners to finalize the remaining details before approving a four-team playoff, but there's a sense of urgency to get it done with TV contract negotiations scheduled to begin this fall.
6. Where does Notre Dame fit into the playoff?
Swarbrick said he was comfortable with the four-team playoff because it ensured Notre Dame would at least have access to playing in it. If the Fighting Irish are one of the country's best teams, they'll get as much consideration as teams from the Big Ten and SEC. The proposed playoff would allow Notre Dame to remain an independent and still be eligible to compete in a national playoff.
"Our interest was ensuring we had an opportunity to play ourselves into any championship model, and we do," Swarbrick said. "There's no obstacle to that for us. If we earn it, we can play in it."
7. What about teams from outside the big conferences?
The commissioners were very diligent in making sure each of the 11 FBS conferences would have access to playing in the semifinals and other BCS games. They eliminated "AQ" and "non-AQ" status at a meeting in April, so teams from any of the 11 conferences would be eligible to be selected for the playoffs by the committee. The commissioners are also considering adding at least one more BCS bowl (and possibly two) to create more at-large berths for teams from outside the bigger conferences. It's believed the new Champions Bowl, which would pit a Big 12 team against an SEC team, might be part of the BCS rotation.
June 21st
Four-team playoff model endorsed
With many issues looming as to how (or even if) a playoff system would be implemented (see June 20th story, below), the BCS commissioners emerged from their Wednesday meeting in Chicago all smiles.
The BCS commissioners and Notre Dame athletic director Jack Swarbrick on Wednesday endorsed a seeded four-team playoff model for college football that would begin for the 2014 season.
The commissioners' consensus must be approved by the BCS presidential oversight committee, which meets June 26 in Washington, D.C. If approved (which is reported to be just a formality), the four-team playoff would replace the current BCS system, which has been in place since 1998.
Sources told ESPN.com that under the recommended model, four participating teams would be selected by a committee, which would consider certain criteria such as conference championships and strength of schedule.
The two national semifinal games would be played within the existing BCS bowl games (Fiesta, Orange, Rose and Sugar) on a rotating basis, with the host sites being predetermined before each season. The national championship game would be offered to the highest bidding city.
Pac 12 commissioner Larry Scott said the recommendation was the product of a lot of negotiating and cooperation among the commissioners.
"I'm sure it won't satisfy everyone," Scott said. "Until you have an eight-team or 16-team seeded playoff, there will be folks out there that aren't completely satisfied. We get that. But we're trying to balance other important parties, like the value of the regular season, the bowls, the academic calendar."
June 20th
BCS Playoff decision looming?
Will it actually happen next week?
Will the powers that be actually make a decision about how a four-team playoff will be implemented come the 2014 season?
Where we're at …
The timetable:
The 11 FBS conference commissioners and Notre Dame athletic director Jack Swarbrick agreed to move forward with a four-team playoff at an April meeting in Hollywood, Fla. They've spent much of the past two months negotiating the details of a playoff, which would replace the existing BCS structure in 2014.
This week, in Chicago, these same 12 men are meeting in Chicago, hopefully to hammer out details for a final agreement.
Next week, the commissioners will (hopefully) be able to present a four-team playoff scenario to the BCS Presidential Oversight Committee in Washington, D.C. The presidents' committee, which is chaired by Virginia Tech's Charles W. Steger and includes 12 university presidents, will ultimately decide where college football's postseason is headed.
The issues:
Among the details left to be determined: when and where two semifinals and a national championship game will be played; how the four teams will be selected; what will become of the existing BCS bowl games; and how the conferences will divide as much as $400 million to $500 million in annual TV revenue.
The status:
According to ESPN, the commissioners are leaning toward incorporating the semifinals into the existing BCS bowl games (Fiesta, Orange, Rose and Sugar). At this point, according to sources, the commissioners are leaning toward having predetermined semifinal sites — which would be designated before a particular season begins — and rotating them among the BCS bowls.
The commissioners considered having the two highest-rated teams host semifinal games at the BCS bowls that are traditionally associated with their respective conferences, like an SEC team playing in the Sugar Bowl or a Big Ten or Pac-12 team playing in the Rose Bowl. But the commissioners realized such an anchor system might create too many potential logistical problems.
ACC commissioner John Swofford said the ACC preferred to play the semifinals at existing BCS bowl games, which seems to be the growing consensus among commissioners. Commissioners have all but decided to offer the BCS National Championship Game to the highest bidding city.
Our preference is that the semifinals be incorporated into the bowl system, which seems to be in good shape," Swofford said. "We're comfortable with the championship game being bid out."
Along with deciding how to divide the increased revenue, team selection is the other pressing issue. SEC commissioner Mike Slive has repeatedly said he wants the top four teams selected, regardless if they won their conference championships. Last season, SEC West runner-up Alabama defeated SEC West champion LSU 21-0 in the BCS National Championship Game.
But Swofford, Big Ten commissioner Jim Delany, Pac-12 commissioner Larry Scott and acting Big 12 commissioner Chuck Neinas have said they preferred giving at least some preferential treatment to teams that win their leagues.
"In terms of the selection process, we'd be comfortable with a compromise, and I think there's going to have to be a compromise on it," Swofford said. "I think you can mix those two (selection proposals) and come out with something that's sensible and that people can agree on."
The latest:
BCS officials met for two-plus hours on Tuesday night to get a jump-start on Wednesday's postseason-format talks in Chicago.
The first to exit the proceedings, Big Ten commissioner Jim Delany said the meeting was "positive." ACC commissioner John Swofford, for his part, said it was "a good start."
Privately, however, some commissioners expressed real concern about whether a complete recommendation for a playoff system can be achieved by next week, although they are aware of the pressures created by a perceived deadline of the end of this month in the face of media and public anticipation. One commissioner said "it will be a real challenge." Another said: "I'm not sure it's realistic."
And so it goes … Stay tuned.
June 19th
Has Mike Leach found his quarterback of the future?
Washington State has picked up a four-star quarterback recruit, Tyler Bruggman. An Arizona product, Bruggman spurned Arizona State in favor of the Cougars under the reins of the mad scientist, Mike Leach.
"It really was a tough decision," the 6-foot-2, 195-pound Bruggman told the Arizona Republic. "I just think today my gut was telling me Washington State. I've been going back and forth for the last several days.
"I know both schools were close to getting a quarterback commit. I know the time is here and I need to do it."
Bruggman, who threw 37 touchdowns passes and was intercepted only two times, leading the Broncos to an unbeaten regular season his junior year, spent several days in Pullman during an unofficial visit this spring, one day shadowing head coach Mike Leach, whose spread offense was a huge hit at Texas Tech.
"He's just a real humble guy, someone I can see myself getting along with well for the next several years," Bruggman said. "He's offensive minded. He's had a lot of success with his offense. The small-town atmosphere, everyone seemed to like it there."
Bruggman is rated by Rivals to be the No. 13 pro-style quarterback in the nation, and the No. 243 player overall.
For those of you scoring at home, CU Class of 2013 commit Sefo Liufau is considered by Rivals to be the No. 22 pro-style quarterback in the nation (though Liufau was rated No. 12 in April when he committed to Colorado). Of the top 25 pro-style quarterbacks who have committed, the Pac-12 has obtained verbal commitments from six of them, including: Max Browne (No. 1; USC);  Ryan Burns (No. 3; Stanford); Bruggman; Jared Goff (No. 15; Cal); Liufau; and Eddie Printz (No. 23; UCLA).
June 17th
Arizona star not going to play in 2012
The nation's leading returning tackler won't be suiting up for Rich Rodriguez's Arizona Wildcats after all.
Brian Wagner collected a whopping 147 tackles for Akron in 2011, which made his per-game average in 11 games second only to Boston College's Luke Kuechly. So it wasn't a surprise when Wagner asserted himself as Arizona's starting middle linebacker during spring practice, having transferred to Tucson this past offseason.
"I don't have love for the game anymore," Wagner told TucsonCitizen.com on Friday.
"I told Coach that, and that was it. It was something I was thinking about for a long time. That's kind of where I'm at right now."
Wagner was expected to be one of the top newcomers for first-year Arizona coach Rich Rodriguez, giving the Cats experience in a thin linebacker corps. Wagner worked as the first-string middle linebacker in UA's new 3-3-5 scheme for most of spring practice.
June 14th
Colorado v. Colorado State moved back to Saturday
You know we're getting closer to actual football when … television schedules start to make the news.
The CU-CSU game at Sports Authority Field in Denver, also known as the Cinch Jeans Rocky Mountain Showdown, was scheduled for Sunday (Sept. 2) last winter in an attempt to position it for maximum exposure on an NFL-free Sunday and a different twist on marketing the game locally.  Once ESPN, FOX and the Pac-12 Networks convened to place all games on TV as per all conference contracts, FOX selected the game for Saturday broadcast on its national FX outlet.  Kickoff will be at 2:00 p.m. mountain time.
"We originally partnered with CSU in moving the game to Sunday in an effort to pursue some different game day elements, and were working together to try and create an optimum experience for our fans and for the growth of the game," said CU athletic director Mike Bohn.  "This is a unique development with the advent of the Pac-12 Networks and the conference's new television contracts.  We are pleased to have been able to work through a difficult event with our colleagues at CSU.
"The kickoff time set for Saturday afternoon is the most traditional one for college football and we believe will be attractive to fans of both programs across the state, especially for those who plan to drive over from the Western Slope or up from the south," Bohn continued.  "Both institutions are honored that FOX selected this game as its first college broadcast of the 2012 season, and the game will now be featured in over 100 million homes and reach fans of both the Buffaloes and the Rams nationwide."
"We have been in discussions for the past six months on how to provide a quality fan experience and both institutions want to also reflect support and sportsmanship for the fans, student-athletes and coaches," CSU athletic director Jack Graham said.  "We're going to work extremely hard the rest of the summer to market the game on a local, regional and national basis."
With FX broadcasting the 84th meeting between the Buffaloes and Rams, it will mark the 18th straight year the game will be televised on either a national or regional basis.
As for other CU non-conference games …
The conference announced that the CU-Sacramento State game at Folsom Field on Sept. 8 will kickoff at 1 p.m. MDT and will be televised by the Pac-12 Networks.  Previously announced was Colorado's Sept. 15 game at Fresno State, with the CBS Sports Network handling the broadcast with a 6 p.m. MST kickoff.
The Buffaloes now know the details of two Pac-12 Conference games: ESPN will nationally televise the Arizona State game from Folsom Field on Thursday, Oct. 11 with kickoff set for 7 p.m. MST, and the regular season finale against Utah on Friday, Nov. 23, also in Boulder, will kickoff at 1 p.m. MST with FOX to decide a week or two before whether the game will air on FOX or FX.
All remaining television game selections and start times, starting with week four (Saturday, Sept. 22) and running through the final week of the regular season will be made 12- or six-days in advance.
June 12th
Colorado ups the ante in recruiting spending
According to a report at ESPN.com, the University of Colorado spent $470,355.00 in recruiting in 2011. That figure was up from $438,239.00 in 2010, and good enough to rank 19th nationally last year.
This year, the Buffs' estimated budget for recruiting will be $550,000.00, which would have been good enough to rank 13th nationally. Colorado's total was good enough for second amongst reporting schools from the Pac-12. Oregon – surprise! – led the league with $590,000.00. USC and Stanford, being private schools, do not have to publicly report, but it is a safe bet that they too, likely out-spent Colorado. Still, that means that CU out-spent the other eight schools in the conference, with the lowest budget – again, not a surprise – going to Washington State, at $202,000.00.
So, is CU not getting much bang for its bucks?
Well, yes and no.
The truth of the matter is that the state of Colorado does not produce enough Division 1-A high school talent a year to sustain a BCS conference program, so CU coaches must travel the country in search of recruits. That's why you can't really compare Colorado's budget per recruits to say, the University of Texas, which doesn't have to often travel out of state to pick up its recruiting class.
This year, according Cory Hilliard, Colorado's associate athletic director for business operations, Colorado's increase in budget had little to do with the Pac-12 move. In fact, Hilliard said he hoped the Buffs' new league affiliation would allow it to reduce recruiting costs as CU focuses more heavily on the same markets that it recruited as a member of the Big 12.
"Now we're in San Diego, Los Angeles and Phoenix with a bigger bat," Hilliard said, "So, we have a better ability to grab five prospects from one area. Before we were pecking at certain areas and hoping to land one particular player."
Embree and his assistants slimmed the roster in the months after taking over, a common practice. In February, CU announced a signing class of 27 new players, not including two grayshirts left over from the 2011 group.
"The biggest factor in shaping a budget is the number of scholarships that we expect to offer over a two-year cycle," Hilliard said. "The budget ebbs and flows based on that information."
At Colorado and many programs of its size, assistant coaches often know little about the recruiting budget.
"They could care less," said Darian Hagan, a former Colorado assistant who now works to shape the recruiting budget as Embree's director of player personnel. "All they want to do is get to the next city and get to the next kid."
Programs spend money to save money, too. Travel time and costs invested during the spring evaluation period — April and May of a prospect's junior year — pay off months later. Coaches learn of academic risks and personal issues that halt the process.
"You don't want to be out there chasing ghosts," Hagan said.
One oversight might cost a program thousands of dollars in recruiting costs if a signed or committed prospects goes astray.
The construction of a budget extends beyond travel and scholarship projections. On-campus visits and mailings eat chunks of the budget. How much depends on the wants of the coaching staff.
Schools get creative with their mailings. Design and distribution costs money.
"When our stuff is on the floor in a [prospect's] room next to Michigan's and Oklahoma's," Hilliard said, "we want CU to stand out within the tight restrictions of the NCAA. You've got to play that game and determine how best we can get their attention. We try to be unique."
Colorado now has seven commitments for the Class of 2013. This, for a Class which is likely to be only 16-20 strong.
Last year at this time, for a Class which would grow to 27 (plus two grayshirts), Colorado only had four commitments.
More bang for the buck, indeed.
Washington top recruit to play baseball for the Boston Red Sox
A Boston radio station is reporting that one of the University of Washington's top recruits is close to signing a contract with the Boston Red Sox.
Red Sox 18th-round draft pick Shaq Thompson, an outfielder out of Grant High School in California, is expected to join the Red Sox to begin his pro baseball career.
However, Thompson is better known as one on the most celebrated football recruits in the country. Later this summer, he will start his football career as a defensive back at the University of Washington, a school that Thompson decided to attend after initially committing to Cal. Thompson is rated by Rivals as being the No. 1 safety prospect in the nation, and the No. 4 overall prospect from the Class of 2012.
The reason for Thompson's decision to attend Washington was of particular interest to the Red Sox: The Washington Athletic Department said that it was fine having Thompson play football while also pursuing a professional baseball career. And so, the Red Sox were comfortable drafting him with the knowledge that, by signing him, they'll get the chance to work with Thompson outside of the football season, with the hope that he can develop despite playing on a compressed baseball schedule.
Stay tuned …
June 9th
Two more CSU players facing criminal charges
From the Coloradoan and the Camera … The same student-conduct review process that led to three Colorado State University football players being expelled last month is now examining a March 31 incident in which another player was charged with unlawful sexual contact during a sorority house visit.
Two players were charged with three misdemeanors apiece May 4 after an investigation by Fort Collins police and are due in court later this month, their attorney said Friday. One player, freshman defensive back DeAndre Elliott, was charged with one count of unlawful sexual contact and two counts of second-degree criminal trespass, a class 2 misdemeanor. The other player, freshman linebacker Cory James, was charged with three counts of second-degree criminal trespass.
Rita Davis of the Ft. Collins police department said all the charges but one — the unlawful sexual contact — were Class 3 misdemeanors. The contact charge is a Class 1, which is of a more serious nature.
"We were made aware of an alleged incident on Mar. 31 and the following day we immediately referred it to the CSU Office of Conflict Resolution and Student Conduct Services," CSU athletic director Jack Graham said in a release.
"We, as well as the student-athletes who are alleged to have been involved in this incident, have cooperated fully with our Office of Conflict Resolution and Student Conduct Services, as well as the Fort Collins Police Department. Between the time we learned of the alleged incident and today, the athletic department conducted interviews of the student-athletes to understand, to the best of our ability, the alleged event. Based on what we learned, it was our conclusion that no action was warranted until a complete report from the Police Department was released. The report was released this morning.
"We will continue to work with the Office of Conflict Resolution and Student Conduct Services to determine an appropriate course of action. We take the misdemeanor allegation very seriously. Until this process is completed, we are unable to respond further to this matter."
DeAndre Elliott was a two-star cornerback recruit from the Class of 2011, with his only other known offer coming from North Texas. Cory James was a two-star linebacker recruit, also from the Class of 2011, with no other known offers. Both players red-shirted in 2011.
June 7th
Stadium upgrade brings interesting comments from Camera readers
The Daily Camera has an posted an article on the scoreboard replacements. (Link, including video).
While the video is an upgrade from some of the photos which have been posted, the real story is in the comments section. Posted orginally under the "CU News" section of the Camera, instead of the sports section, the comments have been, well, interesting.
Those that believe that CU has recently turned a corner with respect to its relationship with the Boulder community, or think that the undercurrent of resentment concerning the athletic department has been calmed since the departure of Gary Barnett in 2005 … I invite you to read the comments.
June 5th
DirectTV CEO not willing to make concessions to Pac-12
UPDATE: For those who would like to let their provider know that they would like to have the Pac-12 Networks, the Pac-12 has this link to send your provider an email.
From SBNation … The Pac-12 Network is set to launch on Aug. 15 and as of now only Comcast, Cox, Time Warner and Brighthouse cable are scheduled to carry the network. Negotiations have been going on behind the scenes to get other cable and satellite providers on board to carry the network, but so far there has been no new provider to say that they will carry the channels.
DirectTV CEO Michael White talked about how their service is pushing back against rising content fees and that they are not afraid to go dark on certain channels in order to achieve their goal.
As to the seven Pac-12 Networks … In looking to rein in content fees, White said DirecTV isn't sure what it will do with the Pac-12 Network group. "We're not going to have seven channels — I can assure you of that," he said.
Seeing all seven networks on a basic tier is likely not going to happen, but it may make sense to have the national feed of the Pac-12 Network be on a tier that does not require the sports package, and then have the regional networks set up where each one — such as the Utah/Colorado channel — would be available as a regional sports network similar to ROOT Sports. The other regional networks could be available on the sports package tier, but the way White is talking that seems unlikely since they are not sure what to do with the group of channels.
For those with DirecTV get ready to find an alternate way to watch games on the Pac-12 Network somewhere else than the comfort of your home.
—
Jon Wilner from the San Jose Mercury News has warned us that the deals with the satellite providers might not come until late July, but, for those of us with satellite coverage (and no access to the cable channels which presently have contracts), it's going to be a nervous two months of waiting ….
USC quarterback to transfer
How do you get down to an NCAA-mandated 75 scholarship players on your roster?
You throw off some dead weight.
In USC's case, though, its a trickier question, as any dead weight you throw off will have some value to it.
Still required by NCAA sanctions to limit its roster to 75 scholarship players (instead of the usual 85), the USC Trojans have had to get creative in adjusting its list of scholarship players. One scholarship opened up Monday when it was announced that third-year sophomore quarterback Jesse Scroggins would be transferring.
We're just doing what's in the best interest of my son," Scroggins' father, Jesse Sr., told the LA Times.  "He wanted more control of the situation and this seemed like an opportune time."
The 6-foot-2, 210-pound Scroggins, who starred at Lakewood High before enrolling at USC, is planning to transfer to a junior college with goals of playing this season and earning an Associate of Arts degree before transferring to a four-year school with two years of eligibility remaining, his father said.
"He'll be a free agent," Jesse Sr., said.
USC Coach Lane Kiffin said in a statement that he had met with Scroggins and his father and that Scroggins had "a very strong spring semester in the classroom" and that he was academically eligible.
A four-star recruit from the Class of 2010, Scroggins was rated by Rivals to be the No. 5 pro-style quarterback in the country, and the No. 124 overall player nationally. Even though Scroggins committed early (during the summer of 2009), he still carried offers from dozens of schools, including most of the Pac-10, as well as teams like Nebraska, Florida, LSU, and Tennessee. At the Elite 11 camp in the summer of 2009, Scroggins rated above other quarterback recruits of note including Austin Hinder, Nick Montana, and Jake Heaps.
And now he is a casualty of USC's recruiting restrictions.
A footnote in USC world …
… but it would have been an announcement of Darrell Scott proportions had it happened in Boulder.
Yes, the Buffs still have a ways to go in catching up, talent-wise, in the Pac-12.
June 4th
Pac-12 revenues from 2010-11 show how far the league has come
Jon Wilner has put out the revenues for the Pac-10 for 2010-11, the last year before Colorado and Utah joined the league to form the Pac-12.
Of note: 1) The Pac-10 brought in over $111 million, which doesn't sound bad … but that figure is still less than half of what the SEC brought in last year;
2) The discrepancy in income is largely due to the uneven distribution of television revenue which was part of the previous television contract. The new Pac-12 television contracts will not only make the dollars distribution much higher (over $200 million from television revenue alone), but will also be more evenly distributed.
Fiscal Year 2010-11 Pac-10 income and distributions
Conference income
TV rights fees: $59,539,702
Bowl revenue: $33,408,339
NCAA tourney revenue: $17,242,330
Other: $1,166,386 (sponsorships, licensing, etc)
Total: $111,356,757 (includes investment income)
Distributions
Stanford: $12,419,677
Oregon: $11,427,445
Arizona: $10,785,875
Washington: $9,899,430
USC: $9,366,973
UCLA: $9,258,100
Oregon State: $7,633,219
Cal: $7,609,154
ASU: $7,362,087
WSU: $6,765,558
No wonder almost every school in the conference has announced major plans for upgrades. Compared to the final year of the Pac-10, the second year of the Pac-12 (2012-13, starting next month) will seem like each team in the conference has won the lottery … and will again every year for the next 11 years.
June 3rd
Pac-12 concludes summer meetings with no set proposals on playoff
From CBSSportsline … Unlike other conferences around the country, the Pac-12 wrapped up summer meetings on Sunday without voting or taking a firm stance on what form of a college football postseason it will support beyond making conference champions a key component once the BCS contract ends after the 2013-14 season.
"Today we just confirmed what our values and principles are for working with others to move the BCS forward," Oregon State president and Pac-12 CEO chair Ed Ray said. "No one is talking about the status quo; I just don't hear anyone talking about business as usual."
"What I left with is a very clear direction that we need to not just preserve, but actually enhance the meaning of being in a conference," commissioner Larry Scott said. "We want competing in our conference and winning our conference to mean no less than it does today and maybe even more."
"We're looking for a model that being a conference champion matters to determine who the ultimate national champion is," Ray said. "There are a couple of models that do have that element to them and we're quite open to having a discussion about them."
If the conference champion requirement was in place last season, national champion Alabama would not have been allowed to play for the title. Scott took the scenario one step further to illustrate that while the SEC may have been excited about sending a non-division winner to the BCS national championship game, the Pac-12 would not be.
"Our conference would not have been comfortable, had there been a playoff system last year, accepting that Stanford is in the playoff and not Oregon," he said. "Stanford was ranked fourth and Oregon was ranked fifth. Oregon beat Stanford, had to play an extra game, was conference champion and subsequently Oregon went on to win the Rose Bowl.
"That's crystal clear to us. If Oregon wins our championship, they deserve to be in a playoff ahead of one of our other teams."
Three-and-one a potential compromise for playoff debate
In one camp of the playoff debate, you have the conferences who believe in the "top four teams must be conference champions" philosophy. In this camp, you find the Pac-12, the Big Ten, the ACC and the Big East.
In the other camp of the playoff debate, you have the conferences who believe in the "top four teams must be the top four teams – as chosen by a selection committee" philosophy. In this camp, you find the SEC and the Big 12.
Not a real surprise here. Alabama is the defending national champion. Yet the Crimson Tide (not unlike Nebraska in 2001) not only did not win its conference title, the Tide did not even win its own division, the SEC West.
June 1st
Playoff rhetoric heats up
Welcome to June, 2012 – the month which will alter the future landscape of college football.
By the end of this month, there is likely to be a scenario in place which alters the means by which a college football national champion is selected.
The discussions heated up again this week as the Big Ten and Big 12 presidents and chancellors got together for their respective spring meetings. (Program note: the Pac-12 conference meetings are this weekend, so look for numerous updates this weekend as to what Larry Scott and the Pac-12 administrators have to say).
Jon Wilner, as usual, has put together a great synopsis of the current situation. Wilner's article states his belief that the 24 Pac-12 and the Big Ten presidents and chancellors will ultimately decide how close college football will come to a playoff in its latest revision of the national champion selection process.
Wilner: I'm not convinced the Pac-12/Big Ten power brokers are ready for a full-blown, four-team playoff outside, or even inside, the existing bowl structure.
They sure as heck aren't ready for a full-blown, four-team playoff that significantly diminishes the stature of the Rose Bowl.
(Right now, the Rose is the kingpin of the four non-national championship games. That would not be the case in years it didn't host a semifinal.)
Two comments in recent weeks have struck me as particularly telling when it comes to the position we can expect to see from the B1G and Pac-12 CEOs.
The first came courtesy of Nebraska chancellor Harvey Perlman, who told ESPN.com:
"It is clear the presidents will still make the final decision. We've had some informal meetings, the Big Ten presidents and the Pac-12 presidents, and I think we're largely aligned in thinking a plus-one with a different ranking after the bowl games to select No. 1 and 2 would be acceptable. Our second choice would probably be a four-team playoff inside the bowls. Our highest priority is to preserve the status of the Rose Bowl and our connection to it." 
Then, after the Big 12 and SEC unveiled a plan in mid-May to create their so-called "Champions Bowl" — their version of the Rose Bowl — Pac-12 commissioner Larry Scott told the Wall Street Journal:
"I'd say before Friday that idea of a plus-one didn't have much traction, but I think the announcement on Friday's a game-changer. We're pretty far down the path on four-team playoff options, but given the very positive reaction to what the SEC and Big 12 have done, it's possible that (a plus-one) could get some traction."
After the SEC/Big 12 announcement, CBSSports' Dennis Dodd smartly noted that it furthered the division between the four leagues with prestigious postseason games (Pac-12, B1G, SEC and Big 12) and the two leagues without prestigious postseason games (ACC and Big East).
But I believe the SEC/Big 12 announcement created — or, perhaps more accurately, exacerbated — the differences in opinion between the longtime partners (Pac-12 and B1G) and the new couple on the block (SEC and Big 12).
… There's no way Larry Scott would mention reprising the Plus-One model if he thought it was off the table for his presidents/chancellors and those in the B1G.
Instead … and this is just my reading, based on Scott's comment and conversations with league officials over time … I believe the Pac-12 CEOs favor of incremental change to the postseason — change that has minimal impact on the Rose Bowl. In their view, that's best delivered by the Plus-One.
Scott's comment, especially when read in conjunction with Perlman's, was a way of saying (again: my interpretation):
"My CEOs are not necessarily ready to move in lockstep with the SEC and Big 12 on the playoff model, and they can't get there without us."
—
Meanwhile, at the Big 12 meetings this week, the Big 12 administrators said that they support a four-team playoff model in which participants are chosen by a selection committee, rather than a complicated formula such as the BCS standings, which are based on computer rankings and polls.
The Big 12 also has said it favors playoff semifinals occurring outside of the current bowl structure, even though some conferences prefer to keep intact some of its historic relationships between bowls and leagues.
June, 2012, will be an interesting – and historic – month in the annals of college football … stay tuned.
May 31st
CSU stadium update
Ready for a new CSU Stadium?
Well, here it is …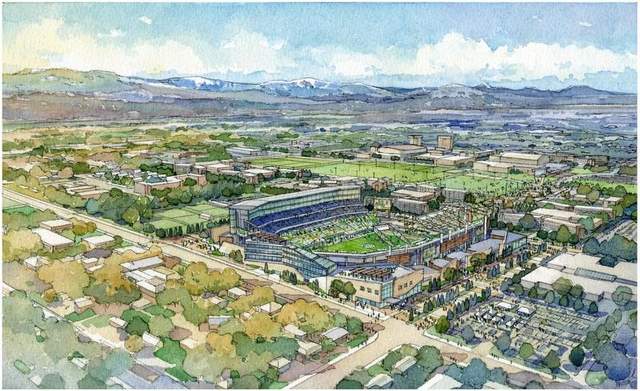 From the Coloradoan … Though CSU President Tony Frank won't make a decision about whether to build an on-campus stadium until August, the university has preliminarily budgeted to spend about $246 million on the proposed project.
While the figure comes in above athletic director Jack Graham's early projections of $100 million to $200 million, the university athletic director has no qualms about moving forward. He takes solace in the fact that donor support and other potential funding for the stadium could range from a "conservative" $212 million to almost $500 million, according to findings by a subset of the Stadium Advisory Committee.
"We have confidence we can raise the money," Graham said.
Graham has said that building an on-campus stadium would unify the CSU community, positively impact the Fort Collins economy and attract more quality coaches, players and in- and out-of-state students. These together could help CSU to become "financially independent and self-sustaining" at a time when the land-grant institution has adapted to significant cuts in state funding and shifted more burden onto the shoulders of students in the form of increased tuition.
Opponents of the project, unified largely under the group known as Save Our Stadium, Hughes, argue that Hughes Stadium is a great and historic facility that could attract even more attendants after a series of improvements that include adding more seats in the end-zone, a restaurant and picnic structures alumni could purchase. And after hearing the most-recent updates, they are more skeptical than ever.
"It's going to be the nicest stadium we don't need," said Bob Vangermeersch of SOSH.
…
We'll see. Pat Stryker donated $20 million to CSU in 2004, largely for the football team. That hasn't seemed to made much of an impact on the overall status of the program.
In order for CSU to retire the debt, the Rams are forecasting attendance of 35,000 – 37,000 per season.
Pretty ambitions for a program which has averaged the following warm bodies in the stands over the past  ten seasons:
2002 – 30,461
2003 – 30,631
2004 – 27,296
2005 – 29,347
2006 – 24,183
2007 – 21,794
2008 – 21,008
2009 – 23,643
2010 – 22,400
2011 – 21,867
Last season, Colorado State finished the season with home games against rivals Air Force and Wyoming. The attendance for those two games? Air Force: 14,107; Wyoming: 17,207.
So now, with BYU, Utah, TCU and Boise State (after this season) gone from the league, the Rams are ready for the big time. It's easy to see how they can reasonably expect to bring in 35,000+ for games against … Fresno State, San Jose State, and Utah State.