Colorado Daily – May
May 30th
CU loans $10 million to athletic department
Got to get back to even before you can get to back to black …
From the Daily Camera… The University of Colorado athletic department received a $10 million bridge loan from the campus and the CU System this school year to help cover a $16 million budget shortfall created by switching from the Big 12 Conference to the Pac-12.
In addition to the loan, the Boulder campus and the CU system each gave the athletic department $3 million that doesn't need to be paid back to help cover the cost of the move because it benefited the entire CU community, affiliating the school with esteemed academic peers such as Stanford, Cal and UCLA.
Frances Draper, CU vice chancellor for strategic relations, said the loan is scheduled to be paid back in six years at 2 percent interest. Draper said the loan did not have to be approved by the Board of Regents because eight years ago that panel gave schools the discretion to make internal loans without regent approval.
Draper said no tuition dollars were used for the loan or the $6 million in gifts. She said the funds come from interest earnings. Draper said faculty groups were made aware of the assistance the campus and system gave to the athletic department and they raised no objections to it because there was widespread approval by the faculty for the switch in conference affiliation.
"The campus and system saw the overall value of going to the Pac-12 because it is much more consistent with our alumni footprint and with our research collaborations," Draper said. "We do a lot with Cal. We do a lot with UCLA and Washington. We were already in joint research agreements with a lot of them. …
"The faculty overall were pretty darn supportive of moving over to the Pac-12."
…
Pause to let that one sink in a little … "The faculty overall were pretty darn supportive of moving over to the Pac-12."
Let's keep that phrase in mind when the new athletic department facility improvements are announced …
As for the creation of the debt and its future … The shortfall was created over two years. The athletic department forfeited nearly $7 million in conference distributions from the Big 12 in 2010-11 as a penalty for leaving that conference. CU joined the Pac-12 for the 2011-12 school year but only received its share of revenue from the conference championship game in football. It is scheduled to begin receiving Pac-12 money this coming school year.That means CU went from averaging about $9.5 million in conference money over its final few years in the Big 12, to not having that revenue in the budget for its first year in the Pac-12, thus creating the need for the loan and gifts.
While the conference switch initially created a shortfall, it should prove to be a huge boost to the athletic department's bottom line over the long haul. Pac-12 commissioner Larry Scott announced last spring a landmark $3 billion media rights deal that will pay each school more than $20 million each year over the life of the 12-year agreement.
The conference is also starting its own national television network as well as six regional networks in August and those endeavors are expected to add millions more to the total revenue distributions the Pac-12 doles out to its schools each year.
Short term pain, long term gain …
… sort of like what the Buff Nation is enduring right now with the Buffs under Jon Embree and Co.
May 29th
CU Scoreboard work underway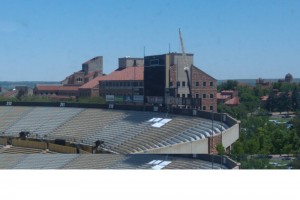 With the Bolder Boulder in the books for another year, work on the new scoreboards at Folsom Field can finally now begin earnest. The $7 million project is going to significantly upgrade the scoreboards on both ends of
Folsom Field, and should be done well in advance of the CU home opener on September 8th.
Thanks to our friends at AllBuffs.com for these pictures showing the crane taking starting work on tearing down the old scoreboard at the South end of Folsom Field (note to Creatini, the photo needs to be 2MB or smaller for me to steal it!)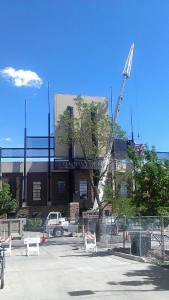 Colorado near the bottom nationally in returning lettermen
Want confirmation that the Colorado Buffaloes will be one of the youngest teams in the BCS this fall?
Then your search is over.
Phil Steele has compiled a list of returning lettermen by school (thanks to Ron Ward at BuffStampede.com for finding the link), and Colorado is ranked 119th out of 124 schools in percentage of returning lettermen compared to lettermen lost.
As for the Pac-12, the breakdown is as follows:
4. Stanford – 79.22%
4. Oregon – 79.22%
8. Utah – 78.38%
20. Arizona – 75.34%
25. UCLA – 73.91%
46. Washington St – 70.97%
51. Oregon St – 70.27%
67. California – 67.57%
74. Arizona St – 66.67%
99. Washington – 64.62%
119. Colorado – 58.67%
123. USC – 56.25%
According to Steele, Colorado lost 44 lettermen, and has 31 returning. Since some schools hand out letters more easily than others (CU's 75 letters is a little higher than average), Steele figures the percentage of returning lettermen is a better measurement than just the total number of lettermen returning.
It's worthy of noting the top and bottom teams on the Pac-12 list.
Much has been made about Stanford trying to get by without Andrew Luck this fall, but, if the returning lettermen percentage is any indication, head coach David Shaw will still have plenty of horses in his stable.
At the other end of the spectrum is USC, which is second to last in the nation in returning lettermen percentage. The Trojans lost 26 lettermen this past fall, but are still predicted to be the No. 1 team in the nation when the polls come out this August.
Guess it's better to be young … with a bunch of five-star recruits …
May 26th
Senators looking to name bison the national mammal
The city of Boulder may not want to have bison along the "Buffalo Highway", but buffaloes everywhere may be getting some new recognition.
From CBS  … Western lawmakers want to elevate the Plains bison to a status similar to that of the iconic bald eagle with legislation to declare the burly beasts America's "national mammal."
Bison advocates launched a "vote bison" public relations campaign Friday to coincide with the bill.
The National Bison Legacy Act introduced in the Senate is backed by lawmakers from Wyoming, Colorado, Nebraska, Kansas, New Mexico, North Dakota, South Dakota and Rhode Island.
The largely symbolic measure would provide no added protections for the estimated 20,000 wild bison in North America. And the bald eagle would still hold a somewhat loftier role as the national emblem, as declared by the Second Continental Congress in 1782.
But supporters said the bison legacy bill would afford overdue recognition to a species that has sweeping cultural and ecological significance. Bison — North America's largest land animal — already appear on two state flags and the official seal of the U.S. Department of Interior.
Okay, everyone together … "Go Buffs!!"
May 25th
Gus Handler makes Remington list
Colorado center Gus Handler was named to the Rimington Trophy preseason watch list on Thursday. The award is given annually to the best center in college football.
Handler, a junior from Barrington, Ill., started the Buffs' final 10 games last year after sharing time at center in the first three games with Daniel Munyer. He is one of four returning starters on the CU offensive line this year. No Buff has ever won the Rimington Trophy, named for the former Nebraska offensive lineman. The closest any Buff has come was in 2005, when Mark Fenton was one of six finalists.
Handler is one of 50 players from around the nation to be named to the list, including five from the Pac-12 Conferernce. Other candidates of note … Hronis (Oregon); Khalhed Holmes (USC); Sam Schwartzstein (Stanford); Tevita Stevens (Utah); and Weston Richburg (Colorado State).
The trophy will enter the season with a clear and heavy favorite: Alabama's Barrett Jones, the unanimous All-American, 2011 Outland Trophy winner, and two-time first-team All-SEC honoree at right guard and then left tackle. Jones was expected to enter the 2011 NFL Draft and become a first-round selection, but elected instead to return for his senior season.
No Buffalo along the "Buffalo Highway"
This past winter, the portion of U.S. Hwy. 36 from Denver to Boulder, known for two generations as the "Boulder Turnpike", was officially renamed "The Buffalo Highway".
For a short time thereafter, it looked like there might be actual buffalo along the Buffalo Highway, but now it does not appear that this will happen.
According to the Daily Camera … Boulder's Open Space and Mountain Parks Department has recommended against putting a buffalo herd next to U.S. 36, saying the high cost and impacts of the herd outweigh any aesthetic or tourist value it would provide to the city.
Open Space staff outlined its recommendation in a memo to the Open Space Board of Trustees, which will discuss the issue before making its recommendation to the City Council.
The memo indicated that city staffers will look into other possible locations in Boulder where the herd could be placed.
Ted Turner, the founder of CNN, announced during an October visit to his bison-serving restaurant — Ted's Montana Grill — that he wanted to donate a buffalo herd to the city for viewing along U.S. 36 between Davidson Mesa and Boulder.
"Because of the high cost, the need to dedicate a large area of OSMP lands to a single purpose and because of substantial public/neighbor opposition, staff is recommending that the North and South areas be removed from further consideration as locations for a bison ranching operation as part of the proposed bison donation," the department's memo reads.
The study found the herd would cost the city between $450,000 and $650,000 up front and $100,000 annually. The city added that the herd would require several full-time staff members dedicated to monitoring the buffalo.
Proponents of the herd argued seeing a herd of buffalo on the drive into Boulder would provide a memorable image for those entering the city as well as possibly serve as a tourist attraction and economic boost.
But the city noted there were several large areas in the proposed habitats where the herd would not be visible from U.S. 36.
According to the report, "There is no guarantee that the bison would congregate near US 36, or even in areas visible from the highway."
So, no buffalo along the Buffalo Highway … sigh.
May 24th
Larry Scott and the "plus-one"
Just when you thought it was safe to think about a four-team playoff …
The Southeastern and Big 12 conferences' announcement Friday of a bowl game between their champions revived the possibility of a "plus-one" title game after the bowls, Pac-12 commissioner Larry Scott told The Wall Street Journal. Scott called Friday's announcement of the new postseason pairing a "game-changer".
The so-called Big 12/SEC "Champions Bowl," to start after the 2014 season, is similar to the Rose Bowl, which traditionally has paired the Big Ten and Pac-12 champions. A national-title game that matched the Champions Bowl and Rose Bowl winners could work as long as there was a way to include teams not in those four conferences, Scott said.
"I'd say before Friday that idea of a plus-one didn't have much traction, but I think the announcement on Friday's a game-changer," Scott said. "We're pretty far down the path on four-team playoff options, but given the very positive reaction to what the SEC and Big 12 have done, it's possible that (a plus-one) could get some traction."
Scott's comment, though, was met with swift – and uncomplimentary – responses.
"I think it's beneficial to go to the four-team playoff," Big 12 commissioner Chuck Neinas said. "The public expects a four-team playoff and also to be able to provide the access possibilities and everything else, we need to look at a four-team format.
"The problem is identifying the four-team format that seems to satisfy everyone. That should still be our goal."
ACC commissioner John Swofford also said he remains in favor of the four-team model.
"The momentum continues to be in that direction [a four-team playoff]," Swofford said. "The key is being able to build a consensus how to do it. That expectation [of a four-team playoff from the public] is there, but it doesn't mean it will happen."
Stay tuned … a final decision is expected by the end of June.
May 23rd
The USA Today has a database of all of the salaries for all of the athletic directors across the country.
Colorado athletic director Mike Bohn has a salary of just over $250,000 per year, with incentives which can raise the salary up to $350,000.
Even if Bohn met all of his incentives, he would still be the lowest paid athletic director in the Pac-12 … and by a wide margin.
Here is a listing of all of the known salaries. Let's just assume that USC and Stanford paid top dollar for Pat Haden and Bob Bowlsby (who was recently named as the new Big 12 Commissioner). The numbers speak for themselves …
Arizona
Greg Byrne
PAC-12
$600,000
$2,000
$602,000
$663,435
Arizona State
Lisa Love
PAC-12
$435,000
$13,000
$448,000
$170,500
California
Sandy Barbour
PAC-12
$432,997
$28,000
$460,997
$255,450
Colorado
Mike Bohn
PAC-12
$250,000
$3,500
$253,500
$100,000
Oregon
Rob Mullens
PAC-12
$500,000
NA
$500,000
$150,000
Oregon State
Bob
De Carolis
PAC-12
$540,356
NA
$540,356
$50,000
Southern California
Pat Haden
PAC-12
NA
NA
NA
NA
Stanford
Bob Bowlsby
PAC-12
NA
NA
NA
NA
UCLA
Dan Guerrero
PAC-12
$688,296
$0
$688,296
$75,000
Utah
Chris Hill
PAC-12
$375,000
$25,000
$400,000
$0
Washington
Scott Woodward
PAC-12
$553,000
$0
$553,000
$0
Washington State
Bill Moos
PAC-12
$455,000
$0
$455,000
$121,250
Even Utah's athletic director, heading a program which a year ago was a member of the Mountain West Conference, is pulling down more than Mike Bohn.
While many can take issue with some of Mike Bohn's moves (hiring Dan Hawkins certainly seemed like a good move in 2006), Bohn has also done many good things for the university. The recent basketball hires seem to be working out well, and most Buff fans have faith that Jon Embree will turn things around in football. Plus, whatever else may happen, Bohn was at the helm when conference expansion was at its hottest, and the University of Colorado landed in a sweet situation. That, in and of itself, is a fine legacy.
Here's hoping that, when the Pac-12 television money starts to roll in, and funds are procured for facilities expansion, that the athletic department will find a way to keep its top coaches and administrators, and at least keep their pay competitive with the rest of the Pac-12 conference.
May 22nd
Speedy sidelined during first NFL practice
From the Daily Camera … Rodney Stewart realized his dream of playing football for an NFL franchise for all of 15 minutes earlier this month before his nightmare began to unfold.
Fifteen minutes into his first practice of rookie mini camp with the Cincinnati Bengals, Stewart fell to the ground during a non-contact blocking drill. He felt his knee buckle in an all too familiar way and it wasn't long before team trainers told him what he already knew. He suffered a torn anterior cruciate ligament in the same knee where he had previously endured the injury in high school.
"It's just another obstacle I've got to get through," Stewart said Tuesday in a phone interview from his home in Columbus, Ohio.
Stewart will undergo surgery on June 6 and will be on injured reserve with the Bengals through the season.
He will do all his rehabilitation in Cincinnati at the team training complex.
Ohio State team physician Chris Kaeding will perform the surgery. He also repaired Stewart's knee in high school.
Stewart said he trusts Kaeding, whose work the last time around endured four years at Colorado where Stewart was a workhorse in the CU offense, becoming the program's second leading rusher in career yardage.
"A lot of people see me and wonder why I'm always smiling," Stewart said. "I'll tell you why. I'm always smiling because I've done dealt with tougher situations. I'm very fearless.
"I don't let things get me down. I can turn from being in a sad situation to being very happy very quickly. I don't hold grudges or nothing."
Best of luck, Speedy, for a, well, Speedy recovery!
Class of 2012 recruit to grayshirt
Gerrad Kough, when he visited Boulder last December, thought he would be in Boulder to stay this June.  "We had a position meeting with Coach Marshall," Kough told BuffStampede.com after his official visit. "They're talking most likely guard or maybe center for me. There is a good chance I can play early."
Now, Kough will have to wait another seven months before he can even enroll at the University of Colorado.
"I was kind of bummed about it," Kough told Adam at Rivals.com when asked about getting the news from Colorado offensive coordinator Eric Bieniemy this week that he was being asked to greyshirt, delaying his enrollment until January. "But from what coach EB was telling me, I will get an opportunity to mature a little bit more and get a bit stronger in the weight room, so it has pros and cons. I am getting an extra six months to build my body up. When I get out there (in time for 2013 spring practice), I am going to be hungry."
Kough, whose biography is posted below, joins defensive lineman Derek McCartney on the grayshirt list for the Class of 2013.
GERRAD KOUGH – OL
Just the facts … Committed July 1st … Kough is an offensive line prospect from Pomona, California. Kough is 6'4″, 265-pounds. Rivals bio  Scout bio YouTube highlights ESPN bio
What others had to say about Kough… Kough is considered a two-star prospect by both Rivals and Scout. Kough played tackle for Pomona, but is being recruited by Colorado to play guard, and is considered by Scout to be the No. 102 offensive guard prosect in the nation.
Offensive coordinator and running backs coach Eric Bieniemy was responsible for Kough's recruitment from the Buffaloes' staff. Kough had also been in contact with head coach Jon Embree and offensive line coach Steve Marshall. Here is what an ESPN analyst had to say about Kough: "Kough is a tough run blocker who displays the upper body playing strength to dominate his present level of opponent. Has the size and athleticism for the offensive tackle position at the major level of competition. Will need to work on initial quickness and explosion as well as adding body mass to his frame. Playing out of a three point stance we detect some hip and ankle stiffness however it does not appear to affect his ability to play on his feet in space; comes off the ball aggressively but too high when establishing initial contact; does tend to narrow his base but is able to get movement and sustain due to his persistent leg drive. Flashes good pull around ability; we see the potential to set the edge and maintain leverage on "5″ technique defenders. With improved initial quickness and pad level we see the potential to consistently get a hat on active 1st and 2nd level defenders. Additional body mass along with the nasty finishing attitude this guy plays with, we see a lineman capable of making the necessary run blocks at the next level. Flashes nimble feet and along with his arm length and quick hands he should be an effective pass pro blocker. Shows the ability to quick set but must work on bend and balance; plays too high and gets caught up on his toes at times. Demonstrates good initial punch and placement, working to re-locate the hands inside the frame. Kough does not appear to be an immediate starter at the BCS level of play, rather a prospect in need of some time and perhaps a red shirt year to grow physically, improve his athleticism while polishing his technical skills."
Kough had other offers from … only Army and Portland State. However, Kough was drawing interest from Arizona State, UCLA, Washington and Fresno State. "Since I committed (in July), it has just been Colorado that I have been talking to," Kough told BuffStampede.com. "Colorado said they like me because I am a good run blocker and I have good feet. They want me to come in and compete at (offensive) guard."
In his own words… "Colorado said they like me because I finish, I play through the whistle," said Kough. As to his official visit last December, Kough told Scout.com. "It was real nice and real pretty out there. All the facilities were real nice and it's just a real nice school and the best one I've been to." Kough was hosted on his visit by Alex Lewis but also spent a lot of time with Jered Bell, his former teammate at Colony high school in Ontario.
May 21st
Boise State sticking with Big East commitment … for now
The engagement is back on …
The marriage between the Big East Conference and west coast teams Boise State and San Diego State seems to make about as much sense as that of Julia Roberts and Lyle Lovett.
But it appears that the parties are determined to go ahead with the nuptials in 2013.
According to ESPN… Boise State athletic director Mark Coyle and San Diego State athletic director Jim Sterk both said their schools were committed to joining in 2013 as football-only schools.
"Nothing's changed. We're here at the conference meetings (in Ponte Vedra, Florida)," Coyle said of the Big East. "It's great to learn a great deal about the conference and the direction and all that."
He said there have been no discussions about staying in the Mountain West. As for a home for the other sports programs, Coyle said there have been continuing talks with the WAC and other leagues.
"We're trying to gather information," Coyle said. "It's changing for everybody. We're in a unique spot because of the WAC and what they've gone through with some of the transformation they've had. We continue to talk with everybody and try to find the best long-term decision for our institution."
San Diego State is trying to assist. The Aztecs have their other sports in the Big West beginning in 2013.
"I think we're a partner with them out in the West, so our president and (Boise State) president (Bob) Kustra are talking in how that might occur," Sterk said. "They have options. Boise is in a position of strength. People say, 'Oh they're in trouble. No, they're in a position of strength here. They have opportunities and they'll settle on the best decision for their institution."
The Big East continues to sell the idea that it is a national conference because it has football members spanning East to West.
"There was a lot of very positive feedback about the strength of the league and the teams that are coming into the league, what this league is going to be comprised of the next five years," USF coach Skip Holtz said. "I think that's one of the positive things, that's why I said a lot of the coaches are taking positive things out of the meetings."
Television negotiations begin in September, with an eye toward at least matching the recent deal the ACC struck with ESPN. Those TV negotiations were chief on the agenda among the league athletic directors. The hope is that a new TV deal will lend more stability to the conference.
…
"More stability"? In the Big East?
Hard to imagine using both of those phrases in the same sentence anytime soon …
May 19th
Colorado to face Purdue in first Pac-12/Big Ten agreement?
The Lafayette Journal and Courier is reporting that when the Pac-12 and the Big Ten open play in 2016, that the first match-up for Colorado will be the Purdue Boilermakers.
"Although nothing is in writing, Purdue's first Pac-12 opponent in the series most likely will be Colorado. Athletic director Morgan Burke said earlier this week that Colorado would visit Ross-Ade Stadium in 2016 and the Boilermakers would travel to Boulder, Colo., the next season.
" 'We're still going through the details, but we have a handshake agreement but it's not in writing yet,' Burke said. 'We're trying to work through it. People have schedules in place for years. It's not as easy as getting people around the table and figuring out who's going to play. We've held a couple of dates.' "
Colorado has never played Purdue before. In fact, the Boilermakers are the only Big Ten team the Buffs have never faced.
CU's all-time record against the Big Ten:
Illinois     1-1
Indiana    3-1
Iowa     2-0
Michigan     1-3
Michigan State     0-3
Minnesota     3-0
Nebraska     18-49-2
Northwestern     1-1
Ohio State     1-3
Penn State     1-1
Purdue     0-0
Wisconsin     4-1-1
Totals      35-63-3 (excluding Nebraska, the Buffs' record against the Big Ten – 17-14-1)
If the Colorado/Purdue matchup proves to be true, most of the Buffs' non-conference schedule for the next six seasons is set:
2012 … v. CSU (Denver); Sacramento State; at Fresno State
2013 … v. CSU (Denver); Central Arkansas; Fresno State
2014 … v. CSU (Denver); at UMass; Hawai'i
2015 … v. CSU (Denver); at Hawai'i; UMass; likely home TBD
2016 … v. CSU (Denver); at Purdue; San Jose State
2017 … v. CSU (Denver); Purdue; TBD (fbschedules is reporting that CU will travel to San Jose State in 2017, but, with CU only having four Pac-12 home games, a road non-conference games would give the Buffs only five games in Folsom Field, creating the same issues Buff administrators faced in 2011).
Of course, if the Pac-12 decides to go with only eight conference games (other conferences, notably the SEC, Big Ten and Big 12, are sticking with eight, putting the Pac-12 at a competitive disadvantage as the new playoff system is implemented), future TBD's may be filled with BCS non-conference opponents.
May 18th
ESPN pegs Washington State game as the most important of the season
Kevin Gemmell of ESPN has been rating the most important game for each team this fall.
"The most important game: Colorado" is … Washington State.
Writes Gemmell: "This game could be the most pivotal of Colorado's season. If the Buffaloes start off 3-0, then get a victory in Pullman, they'll head home to face a still-uncertain UCLA team before the bye week. It's not out of the realm of possibility for Colorado to be — wait for it — 5-0 heading into the bye week. Of course, a lot of things have to fall into place for all of this to come together. And it might be a stretch — but it's not a big stretch.
"If the Buffaloes can take care of business in the first three games, they'll have plenty of motivation for revenge against Washington State, and a ton of confidence as they look to the second half of the season and the very real possibility of achieving a bowl game."
While I would agree with Gemmell if the Buffs do complete a 3-0 non-conference slate, but I'm not ready to give the Buffs, with three wins in thirteen games in 2011, three wins in a row in early September.
So, for my money, the most important game of the season is Fresno State.
The CSU game is a default "must win" game each season, and a loss to the Rams this September would be a disaster. The Rams are coming off of three consecutive 3-9 seasons, have lost, suspended, or expelled much of their defensive talent, and have as many questions at quarterback as does Colorado.
If the Buffs can get their act together against the Rams, and take care of business against Sacramento State, then a game-changer for the 2012 sesaon could come against Fresno State. The game is on the road, which, until the upset of Utah last November, was the albatross which hung around the neck of the CU football program for four years.
While it is true that the Buffs currently own a one-game road winning streak, the record-shattering road losing streak will still be a topic of conversation leading up to the September 15th game in Fresno. The Bulldogs have a new coach and their own set of problems coming off of a 4-9 campaign in 2011. Fresno State will likely enter the game against Colorado with a 1-1 record, but will still be a mystery. The Bulldogs open with a warmup game against Weber State from the Big Sky Conference before heading off to Eugene to be a sacrificial lamb for Oregon.
The true test of whether Colorado for the 2012 season may well come against Fresno State. Wins against Colorado State and Sacramento State will give hope for better things to come, but a win against Fresno State – a mediocre non-BCS team on the road (not unlike Hawai'i last fall, which handed the Buffs their hats in the 2011 season opener), could make a win against Washington State in Pullman a real possibility.
Then we can start talking about taking out UCLA on September 29th … and a 5-0 September.
May 17th
Jordan Webb  any closer to becoming a Buff?
Back on March 26th, Adam at BuffStampede.com broke the story back that former Kansas quarterback Jordan Webb would be transferring to Colorado. Since then, though, the transfer has not been officially confirmed by the university, as Webb had to complete his spring semester in Lawrence before a transfer could be finalized.
Now, with classes winding down for the spring, the news of Colorado having a sixth quarterback on the roster come August is becoming more and more accepted fact.
Which rekindles the question – is adding Webb a good move … or a desperate one?
In separate articles for the Daily Camera, beat writers Kyle Ringo and Ryan Thornburn argue the addition of Webb is a positive step.
Ringo: It remains to be seen if Embree's program will have to rely on Webb and his experience this fall or if he will simply serve as a nice security blanket backing up either Connor Wood or Nick Hirschman, both of whom are third-year sophomores.
It's a wise move on Embree's part to nab a player with Webb's experience going into a season when only one of the quarterbacks currently on the roster has any experience at all playing at the college level and that experience amounts to mop-up duty in several games and one very shaky start in which he was pulled in the first quarter.
But the reality of the situation CU coaches are facing is that is all they really have to work with right now — players with solid potential. And the simple fact of the matter is, that makes coaches nervous.
Webb has nearly 20 starts under his belt playing for a Big 12 Conference program the past two years. He played in 12 games last fall and completed 64 percent of his passes. He threw for 1,884 yards and 13 touchdowns with 12 interceptions.  Those statistics could be described as average at best. They wouldn't even get him a look with some programs, but at CU they are considerably more than anyone else has to offer.
And it's not really those statistics that have Embree and his staff excited about adding Webb to the roster. It's knowing that Webb has been in the fray on Saturday afternoons in front of 70,000 fans. He has faced myriad situations and they know if they need him, they can put him in a game and not have to worry that he freezes up or freaks out or simply won't perform.
Thorburn: The good — Webb, who was listed at 6-0 and 195 pounds last season, has almost two full seasons of starting experience and has competed against Big 12 athletes.
The bad — Nine of Webb's 13 touchdown passes last season came against McNeese State, Northern Illinois and Texas Tech. Against Baylor, Missouri, Oklahoma and Texas he was a combined 46-for-88 passing for 324 yards with one touchdown and six interceptions.
The ugly — With Webb under center for all 12 games in 2011, the Jayhawks were 2-10 overall and 0-9 in the Big 12. That performance cost Turner Gill his job and led to Charlie Weis cleaning house in Lawrence.
Embree will allow the best man to win, and the Buffs will be in good shape when that starter emerges.
Which makes this a much better situation than the bizarre days when the previous head coach went back and forth between Hansen and Cody Hawkins.
At least quarterbacks want to come to Boulder now, understanding that they are at least guaranteed the chance to compete.
"That's the main reason I'm leaving Kansas because I want playing time, or at least an opportunity for it," Webb told the Buffzone's Kyle Ringo earlier this year. "And if I go in and work hard at learning the offense and things like that, I could have a good shot."
Thorburn does also point out the old football cliche: "If you have two quarterbacks, you really have none".
Does the courting of Jordan Webb indicate a lack of faith in the existing roster?
How will the coaches be able to adequately evaluate six quarterbacks during fall practices?
Can the Buffs post a winning record with a quarterback who isn't named as the starter until mid- to late-August?
We'll find out soon enough.
May 16th
Consensus on playoff system getting closer
In the next six weeks or so, there will be an announcement as to a new college football playoff system (though it likely won't be called a "playoff"). While the consensus as to where the teams will play and how they will be selected hasn't been finalized, some options have been taken off the table.
An eight or sixteen team playoff? Only Washington State's head coach Mike Leach seems to still believe this is a viable option. In another decade or so? Perhaps. But not in 2014.
Guaranteed slots for "automatic qualifiers"? Dead. Getting into an AQ conference was one of the main reasons Boise State was willing to travel to New Jersey to play football. With the AQ status no longer an issue, Boise is looking at staying closer to home.
A "Plus-one" option? Not being discussed. The thought of taking the top two teams after the end of the bowl season seemed like a stepping-stone option at one point, but the conference presidents and athletic directors are now warm to the four-team playoff, a step better than "plus-one".
What's left to be determined is where the four teams will play, and how they will be selected.
Where will the four teams play?
The latest option to lose favor in this area is the "home-site" semi-finals. Big Ten commissioner Jim Delany long championed the notion, envisioning Ohio State or Wisconsin hosting a national semi-final game in the frigid midwest, rather than having to send its conference champion south every year for a defacto road game against an SEC team.
The Big Ten commissioner, though, isn't even winning support in his own conference. In a report at cbssports.com, three Big Ten athletic directors have stated their preference to travel to Pasadena, even over staying home.
Michigan State athletic director Mark Hollis told the Lansing State-Journal that a plan to hold the coming four-team playoff semifinals on campus sites, was no longer on the BCS negotiating table. He said that maintaining the value of the Rose Bowl, however, was "critical."
Those sentiments were echoed by Ohio State athletic director Gene Smith, who said his opinion had "shifted"on the idea of playing the semifinals at bowl venues rather than on-campus sites, with the Rose Bowl presumably one of those two semifinal hosts. He added that the rest of the league's A.D.'s had been similarly convinced.
Likewise, Nebraska's Tom Osborne left no doubt as to where his opinions stood. "There was a pretty strong consensus among the A.D.s that we'd like to have the playoff within the bowl system," he said. "It would be a competitive advantage to have semifinal games at home fields … But the bowls have been good to us. If you took them out of the playoff, it would pretty much destroy the bowl system."
Still left to be determined … Will the four teams play as part of the bowl system? The most popular model right now has the top two teams playing in their "home" bowls – e.g., Ohio State from the Big Ten or USC from the Pac-12 would play in the Rose Bowl; an Alabama would play in the Sugar Bowl; a Clemson would play in the Orange Bowl, with a championship game to be played at a neutral site, including NFL domes in places like Indianapolis or Detroit.
How will the top four teams be selected?
This remains a thorny issue. Many point to this past season as a concern. Many schools don't like the idea of having two teams from the same conference qualify (LSU v. Alabama), while others don't like using the current model (which would have taken a 11-1 Stanford team over an 11-2 Oregon team – even though the Ducks thumped the Cardinal, 53-30, in Palo Alto.
A good option has been put forth by Stewart Mandel of Sports Illustrated, as summarized in an article by Andy Staples, points out that a selection committee, a la the NCAA basketball selection committee, would be most appropriate:
The playoff needs a selection committee. Whether schools choose to make the playoff open to the top four regardless of conference title or whether they place some stipulations on non-conference champions, they shouldn't leave the selection of the teams to the following three groups:
• Coaches whose jobs prevent them from watching enough games to make informed choices and who usually pass off the voting to a sports information director or operations director.
• Harris Interactive Poll voters who can't find the games on their televisions.
• Computer programmers who refuse to reveal the formulas that determine their rankings. Wes Colley is the only one of the creators of the six rankings currently in use in the BCS
Clemson coach Dabo Swinney, who has not voted in the coaches poll before, was brutally honest Tuesday. "Most of the head coaches, if they have a vote, the SID is probably more involved just because we just don't see them all," Swinney said. "That's a little bit of an issue from time to time. I wouldn't be very comfortable outside of my region with some of these teams because I just don't see them, don't study them enough."
Committee members would be forced to study teams because their reputations would rely on their selections. Choose athletic directors, conference commissioners and other assorted muckety-mucks to populate the committee and use the same conflict-of-interest rules that govern basketball selection, and it limits the possibility for chicanery. Yes, an AD or commissioner might have an incentive — financial or otherwise — to choose a certain program, but the negative financial incentive of being fired from a prestigious, high-paying job if caught should eliminate most temptation.
Besides being the fairest option, a committee that operates with transparency would produce a rather pleasant side effect: Better regular-season games. Because committee members wouldn't track one loss and would evaluate the entire body of work, schools will be more apt to schedule quality out-of-conference opponents. If I'm Oregon coach Chip Kelly, I don't authorize my athletic director to schedule another out-of-conference power for fear of getting jobbed by the current system. But if I knew the selection committee would reward the teams that played more challenging schedules, I'd tell my AD to load up. When that happens, the viewers win.
Sounds like a decent plan to me … what do you think?
May 15th
Former Buff John Wooten Elected to College Football Hall of Fame
From ESPN … One of the first two African-American football players at Colorado (with Frank Clarke), John Wooten lettered three years as a left guard in Dal Ward's Wing-T/Single-Wing offense, earning All-America honors in 1958 and All Big-Seven in 1956 and 1957. Most known as a 6-foot-2, 230-pound guard who was agile and powerful, he also played tackle on defense.
His impact was immediate. In 1956, he helped the Buffs to an 8-2-1 record and the school's first ever bowl victory — a 27-21 win in the Orange Bowl. The next year Colorado led the nation in rushing with 322.3 yards per game and they were second in total offense (415.2) — and a lot of that had to do with the holes Wooten was opening up. Then in 1958, Colorado achieved its first ever Top 10 ranking, climbing to No. 9 nationally after a 5-0 start.
In 1959 he was a fifth-round draft pick of the Cleveland Browns, where he went on to play nine seasons, earning All-Pro status, before closing out his career with one season in Washington. He went on to have a decorated career in NFL administration, streamlining programs centered on continuing education and financial planning for players. After working in Dallas, Philadelphia and Baltimore, he retired from the NFL in 2003.
In 1989 he was named as a first-team member of Colorado's All-Century Team. To honor him, the Buffs hand out the John Wooten Award annually, which goes to the team's most improved player.
From cubuffs.com … Wooten will become the sixth Buffalo enshrined in the Hall, joining Byron White (inducted in 1952), Joe Romig (1984), Dick Anderson (1993), Bobby Anderson (2006) and Alfred Williams (2010).  Like White and Romig, Wooten played in the platoon era of the sport and excelled at offensive guard along with playing defensive tackle.
"I always felt that I made a great decision to go to Colorado, I had a great time, and forged many relationships which still exist today," Wooten said.  When an honor like this comes, it makes you reflect on all things that have happened across your life, and it makes you happy.  I just smile at how great the good Lord has blessed me.  My wife told me this is 'Your great birthday present for number 76'."
"This is something I never dreamed of," he continued.  "I can truthfully say that it never really entered my mind that someday it could happen.  I looked every year when it the new inductees were announced to see who made it, and had such a great feeling for the guys who I played against and knew of their great careers.  It is difficult to believe that I am privileged to receive such an honor, but I am totally thrilled."
"We had some real fine players and some really good teams," Wooten said of the CU squads in the mid-to-late 1950s.  So many outstanding players and leaders – Boyd Dowler, Bob Stransky, Wally Merz, Bob Salerno, the Stapp (Dick and Bob) brothers, John Bayuk, Bill Mondt – I could go on and on.  I just played hard, did all I could to help us win.  I felt very good about my career."
Nicknamed the "Sun Devil" early in his CU career ("I like the sun and I try to be a regular devil out there on the football field," he said at the time), Wooten earned the starting spot at left guard for his very first varsity game in the late Dal Ward's single-wing offense.  Considered big in size for the day, he was a 6-foot-2, 230-pound bulldozer on offense and a fierce hitter on defense.  Reporters wrote not to worry about the left side of the offensive line, Wooten is there, while teams often geared their offensive attack away from Wooten's side of the defense.
May 14th
Paul Richardson's injury rated the most damaging of the spring
ESPN.com blogger Ted Miller has compiled his "Best of Pac-12 Spring". Included on the list:
"Worst injury: Colorado losing wide receiver Paul Richardson for the season is an absolute back-breaker. There might be other guys who step up — but Richardson was a proven playmaker on a team desperate for them. He would have made life a lot easier for whoever wins the starting job."
Then, the best line of the spring: "Whatever football god shuffles the deck, he keeps dealing out 2-7 to Jon Embree & Co."
May 13th
Toney Clemons happy to be back home in Pittsburgh
Former Buff Toney Clemons has come full circle.
Growing up in New Kensington, Pennsylvania, twenty minutes from downtown Pittsburgh, Clemons, a seventh round draft pick of the Pittsburgh Steelers, took a circuitous route home.
In an article in for  Ohio Valley Athletics(thanks for finding it, Buffnik!), Clemons talks about being a high school star (No. 10 wide receiver in the nation) -"I'd say it was about seventh or eighth grade that I knew I wanted to play football," Clemons said.  "Football was something that helped me escape the surroundings that I grew up around and it helped me in school too.  I put all of my time and effort into sports, and I knew if I wanted to play, I had to keep my grades up.  School and sports became my main focuses."
Clemons signed with Michigan in 2006, and would have stayed with the Wolverines had Lloyd Carr be retained as coach – "If I could do it over again, I would definitely still go play for Coach Carr with no hesitation," Clemons said.  "He sat in my living room and my library at school to tell me how he saw me fitting in with the program.  I would do it again with no hesitation."
Still, when Rich Rodriguez replaced Carr, Clemons went looking for a new home – "Colorado used to be a powerhouse in the 1990′s and they have a lot of tradition there," Clemons said.  "They needed help on special teams and at receiver where I knew I could fill that need.  I knew I would play against the top talent that they play against every year, but I also knew they had a great education there and that I would be able to graduate."
Clemons hauled in 86 catches for 1,162 yards and 11 touchdowns over two season in Boulder. Good numbers, but not good enough to be invited to the NFL Combine. Despite not being invited to the NFL combine, Clemons put on a show at his pro day by running a 4.36 40-yard-dash.  According to Clemons, only the New York Giants and New England Patriots didn't show interest in him leading up to the draft.
Clemons was finally chosen in the seventh round of the draft, and, as luck would have it, the call came from his hometown Steelers. "Being selected by the best organization in the business is the highest compliment I ever got in a sport," Clemons said.  "They liked and had confidence in my talents that they wanted me to be a Steeler.  They pick great talent each year in the late rounds and do it with class.  For me to be a project for this team is just indescribable."
While putting on his Steelers jersey was one of the biggest moments of his life, there was another piece of black and gold attire that meant just a little bit more to him.
"Ah man, there is only one black and gold uniform that I was more proud to wear than my Steelers jersey," Clemons said.  "That was my graduation uniform at Colorado.  My main plan was to succeed.  I came all that way doing a lot of different things, so getting my degree was the biggest thing for me."
Yet another Buff wearing the black-and-gold of Pittsburgh.
Yet another Buff to cheer for on Sundays this fall.
May 12th
Former Buff defensive end Alex Ligon diagnosed with cancer
Alex Ligon, a defensive end for CU from 2002-06, has been diagnosed with APL (known as Acute Promyelocytic Leukemia).
The good news is that APL, while rare, has a much higher remission rate than other forms of Leukemia. APL Leukemia is a subtype of AML much easier to fight, according to Ligon's doctors.
If you would like to track Ligon's progress, or pass along good wishes, he has set up a blog, Alex Ligon's Fight.
Ligon is undergoing chemotheraphy, battling what he now jokes with his doctors as "good cancer."
Best wishes for a speedy recovery, Alex!!
Alex's career at Colorado …
Ligon came to Boulder from Torrance, California in 2002. As a senior in high school, he earned SuperPrep all-Far West and PrepStar all-West honors, along with first-team all-state (Cal-Hi Sports), all-CIF, all-area (L.A. Daily Breeze) and all-Ocean League honors, and was second-team all-CIF for all divisions.
After red-shirting in 2002, Ligon saw action in 11 games as a red-shirt freshman in 2003, including one start (at Texas Tech), while missing the Baylor game for precautionary reasons recovering from a concussion. In 250 snaps from scrimmage, he registered 15 tackles, which included nine solo stops, four for losses and three quarterback sacks.
As a sophomore in 2004, Ligon played in all 13 games, with 10 starts including the Houston Bowl, as he earned honorable mention all-Big 12 honors from the Associated Press. In playing the fourth most snaps on defense (695), he posted 34 tackles, including 21 solo, 11 for losses and four-and-a-half quarterback sacks. He added five third down stops, three quarterback hurries, two passes broken up, two forced fumbles and a recovery. He had a monster game at Washington State, and was rewarded for it by being named the Big 12 Defensive Player of the Week (as well as CU's lineman of the week): he was in on a career-high seven tackles, six solo, with four for losses including three quarterback sacks, and forced a fumble.
In 2005, Ligon saw action in 11 games including the Champs Sports Bowl, making five regular season starts as he missed two games (Kansas State, Missouri) due to a severe knee sprain. He earned honorable mention all-Big 12 honors from the Associated Press as he played 383 snaps on defense in racking up 18 tackles (10 solo), with five quarterback pressures, three passes broken up two third down stops and a tackle for loss.
Ligon's senior year was the disappointing 2-10 season, and it was a disappointment for Ligon as well. Ligon played in six games, including starts in the final three, as assorted injuries limited his participation. He had 11 tackles on the year (seven solo) in 109 snaps from scrimmage.
The end of the 2006 season, though, did have a happy ending, as in December of that year, Ligon graduated with a bachelor's degree in sociology.
May 11th
Forbes magazine: ACC deal "pales in comparison" to Pac-12 deal
Can we give Pac-12 commissioner Larry Scott a contract extension now, please?
Forbes magazine is the latest to take note of what a great set of contracts the Pac-12 put together over the past year, both with the networks (ESPN and Fox) as well as the retention of rights for the Pac-12 Networks.
In an article entitled, "ACC's New $3.6 Billion Television Deal Still Pales in Comparison to Pac-12's Deal",  Forbes writer Patrick Rishe notes that the ACC recently reached an agreement with ESPN. The contract goes for 15 years, and is worth $3.6 billion, which works out to a tidy $17.14 million per team in the ACC.
Not bad. In fact, the new deal, which runs through 2027, is a 32% increase from the existing contract. However, as Rishe points out, the Pac-12 deal is 12 years and $3 billion.  So not only is that more money annually for the Pac-12 conference ($250 million) compared to the ACC deal, but with only 12 conference members that yields more money per school ($20.83 million to be exact) than what the ACC just secured for its soon-to-be 14 conference members.
Moreover, as noted by the Pac-12′s VP of Business Affairs Woodie Dixon, the Pac-12 owns 100% of its own equity.  They have much greater control of their brand management and sponsorships than the ACC will have.
Finally, the ACC is now locked in until 2027. The SEC, Big 12, Big Ten and Pac-12 have contracts which do not go out as long (the Pac-12 contract is for 12 years), meaning that by the time a new contract comes along for the ACC in 2027, the $240 million per year will look like a paltry sum.
All this, and the Pac-12 hasn't even opened the Pac-12 Networks for business. With the league retaining rights to a significant number of football games – 35 each season – and most of the men's basketball games, the Networks will likely, in a few short years, become a significant revenue stream for the conference.
The Big East, Mountain West, Conference USA and Western Athletic Conference remain in flux … but, starting August 1st, the Pac-12 can sit back in quiet stability … and count all the money coming into its coffers.
May 10th
Looking for a mid-May pick-me-up?
Below is a YouTube highlight video of CU senior linebacker Jon Major. Last fall, Major led the team in tackles, with 85. Major also had three sacks, four tackles for loss, six third down stops, and three passes broken up.
Without further ado … Jon Major "Buffalo Warrior":
YouTube video highlights of Jon Major
May 8th
Ray Polk makes Lott Award Watch list
With the relative youth of the 2012 Colorado Buffs, combined with the low expectations for the team as a whole, there will be very few mentions of CU players when award lists are posted. Possible nominees: linebackers Jon Major and Doug Rippy; offensive lineman David Bakhtiari; defensive lineman Will Pericak; and …
safety Ray Polk.
Polk was the first to have his name posted on an award's Watch list, being named to the ninth annual Lott IMPACT Trophy,
The award is presented to an individual who, as college football's defensive player of the year, demonstrates excellence in the field of athletics and who best exemplifies Integrity, Maturity, Performance, Academics, Community and Tenacity.
"Each year we are proud to present a list of college football players who exemplify the things we believe in," said Ronnie Lott.  "This group is no exception.  These young men are terrific players and great role models, both on and off the field."
Polk, a 6-1, 205-pound free safety from Scottsdale, Ariz., has logged over 70 hours of community service at Upward Foundation that helps mentally challenged kids.  He had 80 tackles last fall, including a team-best 59 unassisted stops.
The Big Ten leads the way with nine nominees, followed by the Pac-12 with eight, the ACC and Big-12 with seven each and the SEC with five.
There are 18 linebackers, 13 defensive backs and 11 defensive linemen on the list.
Voting for the Lott IMPACT Trophy will take place throughout the season with the winner announced at the annual black-tie awards banquet Dec. 9 at the Pacific Club in Newport Beach.
May 6th
Former Buff Ryan Miller to Browns: "I'll give you my all"
When the 2011 All-Pac-12 teams were announced, Colorado offensive lineman Ryan Miller was not listed on the first team …
… or the second.
A fifth round pick of the Cleveland Browns in the 2012 NFL draft, Miller has promised Brown fans that he will "play to the whistle".
In an interview with CantonRep.com, Miller endeared himself to Browns fans when he said, after they picked him in Round 5, that he plays that way no matter the weather. "I try to play nasty … vicious … until the whistle blows," he said. "I might not be the most technically sound, but I'll give you my all and I'll bleed, bite, crawl and scratch to get the job done."
As one draft website put it: "Miller was a lone bright spot on an abysmal Colorado offense." According to SI.com, Miller gave up just five sacks in 3,320 career snaps. Browns scouts pegged him as a fighter who never gave up on his team.
"To play for the black and gold, it means a lot," Miller told the Denver Post the week of that final game against Utah. "I've really grown up as a person.
"You understand priorities, what holds more value. That goes for football, as a college student, in life.
"This is where I wanted to play since I started watching college football. I'd do it again.
"The record hasn't shown the fun we have had as a team. It's been a blast playing college football."
And Buff fans now have a reason to check in on the Cleveland Browns this fall.
Good luck, Ryan!
May 4th
CSU football players expelled
Three Colorado State football players, though only charged with misdemeanors by the police, have nonetheless been expelled from school.
According to the Coloradoan … Nordly Capi, Mike Orakpo and Colton Paulhus are expelled from the university, effective Monday, May 7, a university spokesman said in a statement. All three were members of the football team at Colorado State University.
CSU's Office of Conflict Resolution & Student Conduct Services made the decision to expel those students. Although there is an appeals process, and the deadline to request an appeal is May 15, expulsion in the Student Conduct Code means a permanent removal from the university. A notification of the expulsion will be on each former student's transcript, which cannot be removed.
In a statement, CSU Athletic Director Jack Graham said the reports about the fight were "disturbing and unacceptable," and publicly vowed to run an above-board department.
"Virtually every student-athlete and coach is horrified, angry and embarrassed by the actions of these few. With me, our student-athletes and coaches have accepted responsibility for these actions and for doing all we can to root out this behavior to the extent it may still exist," Graham said in a statement distributed by the president's office. "As AD, I want to make it absolutely clear that we have zero tolerance for this kind of behavior by our student athletes."
So … the Ft. Collins police department wouldn't charge the players with more than a misdemeanor … the athletic department refused to be proactive … but the school wasn't about to let the status of the players affect the resolution of their status.
The resolution allows new head coach Jim McElwain to avoid having to make a tough choice – but it also leaves a big hole in his defense.
From CSU website:
Nordly Capi … Talented true sophomore, played in 12 games with seven starts…Garnered Sports Illustrated honorable-mention All-America honors, as the first CSU All-American since Kyle Bell and Jimmie Kaylor in 2005…Also earned first-team all-conference accolades (MW media, Phil Steele), becoming the youngest CSU player with that distinction since All-American Greg Myers in 1993…Became the first CSU player to lead the Mountain West in sacks, ranking ninth in the nation with 0.83 per game…Also paced the league with 0.58 forced fumbles per contest (second in the country behind Illinois' Mercilus Whitney),and ranked seventh with 0.96 tackles for loss…Had 34 tackles (25 solo) and led the Rams in tackles for loss (11½), sacks (10) and forced fumbles (7)…His 10 sacks tied for No. 5 on the Rams' all-time single-season list, the most in 13 years, since future Super Bowl champions Joey Porter (14) and Clark Haggans (10) in 1998.
Mike Orakpo … A key cog in the CSU defense, played in all 12 games, with 11 starts…A third-team all-conference choice (Phil Steele), finished ninth in the conference with 7.2 tackles per game…Ranked third on the team with 87 tackles (49 solo), including three tackles for loss…Also broke up a pass and picked off another…Made his first career appearance in the starting lineup in season-opening win at New Mexico (Sept. 3), and on CSU's first 2011 snap, threw QB Tarean Austin for a 3-yard loss.
Colton Paulhus … After transferring to CSU over the winter, worked his way into the defensive-line rotation; wound up playing in 12 games, primarily on special teams…Served as a key protector on the punt-protection unit…Played in his first Division I contest in season-opening win at New Mexico (Sept. 3)…Saw action at defensive end in the home-opening win over Northern Colorado (Sept. 10), sharing a tackle for loss…Saw action at defensive end in losses vs. No. 5 Boise State (Oct. 15), at UTEP (Oct. 22) and at UNLV (Oct. 29).
May 1st
Way paved for CU's "Transformational" project?
On April 17th, Colorado athletic director Mike Bohn acknowledged the university's plans for the largest athletics facilities upgrade in history in and around Folsom Field.
Bohn said he plans a formal announcement of the "transformational" project in September.
Now it may be a step closer to reality …
On Tuesday, Denver based Cordillera Energy Partners III, LLC announced the closing of its merger into Apache Corporation of Houston, Texas. Incorporating additional acreage and drilling since the merger was announced, Apache paid Cordillera $3.1 Billion comprised of $600 Million in common shares and $2.5 Billion in cash. With this closing, the shareholders of Cordillera will hold approximately 1.6% of Apache's outstanding common shares.
What does that announcement have to do with the facilities upgrade?
Read on.
Cordillera III was the third enterprise formed by George H. Solich, President and CEO, and his senior management team.
Solich, as many of you know, is the CU donor the Buff Nation is hoping will be the multi-million dollar contributor to the facilities upgrade.
And George Solich just had a very good May Day …
April 30th
Vote in CU poll to name Top 12 Buffs
To commemorate the 75th anniversary of the University of Colorado's first All-American in football, Byron "Whizzer" White, KOA and CUBuffs.com are conducting a fan competition to select 12 of the best players since White to wear the Buffalo uniform.
CUBuffs.com has broken down the candidates into six groups, and fans will select two from each to "share the spotlight." Thus two players from the following areas will be voted on to come up with a dozen Buffaloes since 1937 who have excelled at their positions: offensive skill (quarterback, tailback and receiver), offensive line (tackle, guard, center and tight end), defensive line (end, tackle, nose guard), linebacker (inside/outside), defensive back and specialists.
For a player to be listed in a group, he must have been named a first- or second team All-American, earned multiple first-team All-Conference honors, had a distinguished NFL career, or be at or very near the top on CU's all-time statistical lists.
Here is how I voted (you can vote for two in each category). Feel free to completely disagree:
Offensive skill: Kordell Stewart; Eric Bieniemy
Offensive line: Andre Gurode; Jay Leeuwenburg (Joe Garten would be a very close third)
Defensive line: Joel Steed: Tyler Brayton
Linebacker (impossibly hard category): Alfred Williams; Matt Russell
Secondary (almost as difficult): Deon Figures; Dick Anderson (though I didn't see Anderson play. Of players I've seen play, I would put in Victor Scott)
Specialists: Mason Crosby; Barry Helton
What do you think?
Oregon quarterback without an NFL contract
Darron Thomas, who gave up his final season of eligibility at Oregon to go pro, remains unsigned.
He left Eugene as UO's all-time leader in touchdown passes (66). He was also sixth in total offense (6,633 yards) and seventh in passing yards (5,910).
Thomas went undrafted, and did not sign a free-agent contract with any NFL team. Thomas has been offered the opportunity to mini-camps by the Pittsburgh Steelers and the Arizona Cardinals, with a chance to try out for those teams.
April 28th
Ryan Miller and Toney Clemons drafted … Other Buffs sign as free agents
Ryan Miller
"With the 25th pick of the 5th round of the 2012 NFL draft, the Cleveland Browns select … Ryan Miller, offensive lineman, Colorado".
The Browns took Miller with the 160th overall pick, in a selection acquired from the Denver Broncos. Miller said earlier this week that he believed he was able to change some opinions about his ability in February at the NFL Scouting Combine. He was the only Buff invited there this year. "People knew I was a big body, but they weren't sure I could move," he said. "I think I really proved a lot of that at the combine. … I'm thankful for wherever this opportunity is. It's not one that many people get and I'm trying to make the most of it."
Miller's selection marks the seventh consecutive year that at least one CU Buff has been taken in the NFL draft. Since Colorado was last shut out of the draft, in 2005,  at least two Buffs have been taken in every draft except for the 2009 draft, when linebacker Brad Jones (seventh round, Green Bay) was the only Buff chosen.
"I'm thankful for it . . . I'm a Brown now and I couldn't be happier," Miller said. "It's a dream come true; every kid whoever puts on a helmet wants to play in the NFL."
Miller's first look from the Browns will come at right tackle, then on the left side, then possibly at either guard. He reports to Cleveland on May 10 for rookie orientation, then minicamp.
"I'm an offensive lineman," Miller said. "l'll play wherever I need to play, wherever they need me."
Colorado has a long history with the Cleveland, with Miller becoming the 15th Buff to be selected by the Browns. In the past 20 seasons, five other Buffs have been late round selections by Cleveland: Rico Smith, wide receiver (6th round, 1992); Darrin Chiaverini, wide receiver (5th round, 1999); Brad Bedell, guard (6th round, 2000); Rashidi Barnes, safety (seventh round, 2000); and Lawrence Vickers, running back (6th round, 2006).
The highest round of any CU player chosen by the Cleveland Browns? None other than Dave Logan, chosen in the third round by the Browns in 1976.
Toney Clemons
"With the 24th pick in the 7th round of the 2012 NFL draft, the Pittsburgh Steelers select … Toney Clemons, wide receiver, Colorado".
The Steelers took Clemons with the 231st overall pick. Clemons, a Pennsylvania prep star (heading home!), came to Colorado as a transfer from Michigan, but did not initially live up to expectations. Still, Clemons finished strong, completing his CU career 17th in all-time receiving yards (1,162) and tied for 18th in all-time receptions (86), with his 11 touchdown receptions tied for the ninth most.  When he reached the 1,000-yard plateau, he became the 22nd player in school annals to do so.  His 11 touchdown catches covered 284 total yards, or 25.8 per score.  He became the first player to play in the Big 10, Big 12 and Pac-12 conferences in his career with CU's switch to the latter in 2011.  At the conclusion of the 2011 season, Clemons was named by the coaches as the co-recipient (with QB Tyler Hansen) of CU's John Mack Award as the team's most outstanding offensive player.
Clemons ended his senior season with a flourish, making 25 receptions in the final give games for 476 yards (19 yards per catch) and five touchdowns.
Clemons, a Pittsburgh native, grew up "loving the Steelers" and called being drafted by them "a complete shock . . . this is such a blessing." He was told Pittsburgh was contemplating taking him in the fifth round, but selected another player. Then, without a sixth round pick, the Steelers came back to him in round seven.
He said the final month and a half of his college career opened Saturday's door: "It didn't matter what I tested, what my measurables were . . . making plays against the teams I did, that was huge for me. (Pittsburgh) said, 'Let's put tape on him against great competition' – and I had that run of six of seven games. And then coach (Jon) Embree, coach (Eric) Bieniemy and coach (Rip) Scherer took a stand for me. I wouldn't be in this position without them."
Clemons said he plans to "go in with the same positive attitude and get on as many (special) teams as I can . . . they've got a lot of great guys there. But I plan on working and doing whatever I can to stay."
Clemons becomes the 12th Buff selected by Pittsburgh, but there was a time in the 1990's when the black-and-gold lineup of the Steelers was filled with the black-and-gold of Colorado. Between 1991 and 1998, six Buffs were selected by Pittsburgh, including four in the first two rounds. The 1990's Buffs who were drafted by Pittsburgh: Ariel Solomon, offensive tackle (10th round, 1991); Joel Steed, defensive lineman, (third round, 1992); Deon Figures, cornerback (first round, 1993); Chad Brown, linebacker (third round, 1993); Charles E. Johnson, wide receiver (first round, 1994); Kordell Stewart, quarterback (second round, 1995); Ryan Olson, defensive lineman, (sixth round, 1998).
Of the 24 all-time first-round draft picks in CU history, three of them were chosen by the Pittsburgh Steelers. In addition to Deon Figures and Charles E. Johnson, above, the Steelers chose one Byron "Whizzer" White with the fourth overall pick of the 1938 NFL draft.
Free Agent Buffs
Colorado graduated 28 players this past season. Only two were drafted, leaving others to try and catch on with other teams as free agents. Below is a list of CU seniors who are reporting to have signed with NFL teams:
Quarterback Tyler Hansen – Cincinnati Bengals
Running back Rodney Stewart – Cincinnati Bengals
Defensive lineman Conrad Obi – Arizona Cardinals
Others …
Former CU running back Darrell Scott – Dallas Cowboys
UCLA wide receiver Tyler Embree – San Diego Chargers
Infamous Oregon speedster Cliff Harris – Philadelphia Eagles
Washington running back Chris Polk – Philadelphia Eagles
Boise State quarterback Kellen Moore (50-3 in his collegiate career) – Detroit Lions
Colorado State offensive lineman Paul Madsen – Buffalo Bills
Colorado State running back Raymond Carter – Jacksonville Jaguars
Arizona State linebacker Vontaze Burfict – Cincinnati Bengals