Colorado Daily – June
June 30th
Jordan Webb a Buff
The story which Adam at Rivals broke back in March has finally become a reality – former Kansas quarterback Jordan Webb is a Colorado Buffalo.
From KUSports.com… Webb confirmed Friday various recent reports that stated he will be transferring to Colorado. Once admitted to the school — something Webb expects to happen as early as Monday — his relocation will be official.
The future Buffaloes QB expects to have a shot at winning the starting job once he arrives in Boulder, Colo.
"That's the whole reason I wanted to transfer," Webb said. "I wanted to go somewhere where I felt like I had that opportunity."
When Charlie Weis took over as KU head coach this past December, Webb soon learned he wouldn't be a part of the program's plans. Quarterbacks Dayne Crist (from Notre Dame) and Jake Heaps (from BYU) transferred in, and in January, Weis announced Webb would be leaving Kansas.
Because Webb continued taking classes at KU and graduated after leaving the team, he will be able to take advantage of an NCAA transfer rule and be eligible immediately at Colorado. He visited the campus and met with CU coach Jon Embree this past spring.
"I think it's a good fit. They're an up-and-coming team and coach," Webb said. "I really enjoyed my time there, so we'll see how it goes."
Webb, who has two years of eligibility remaining, played in all 12 games for the Jayhawks in 2011, completing 179 of his 281 pass attempts for 1,884 yards, with 13 touchdowns and 12 interceptions.
He plans to move to Boulder this coming week and begin workouts with the Buffaloes soon after.
The Kansas transfer will have two season of eligibility left when he joins the Buffs after choosing Colorado over Wisconsin (who took yet another east coast transfer at quaterback), North Texas and Murray State. Webb's track record at Kansas wasn't too impressive but he does have more starting experience than any of the other Buff quarterbacks. He was 179-of-281 for 1,884 yards, with 13 touchdowns and 12 interceptions in 2011, but was only 4-12 overall as a starter for the Jayhawks.
While at least one blogger sees Webb as the favorite to win the starting quarterback position, it will be interesting to see if Webb can master the Colorado offense in what will be, in essence, a three-week audition in August.
June 29th
Choosing the top 12 CU players of all time
On a slow news day, it's not a bad idea for college football fans to look back at past glories.
This summer, to commemorate the 75th anniversary of the All-American season of Byron "Whizzer" White, the CU athletic department is running a competition to select the top 12 players in Colorado history. If you haven't already voted, here is the link to the fan poll.
Of course, you can always peruse the CU at the Game archives, where you can find write-ups and videos for Colorado games played since 1980. Click here for the Archived Seasons.
June 28th
New turf being installed at the CU practice fields (courtesy Colorado Buffaloes Football)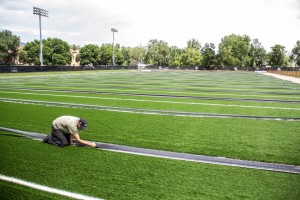 June 27th
Colorado resumes rivalry with Michigan in 2016
Discussions are continuing as to how the Pac 12/Big Ten agreement to play non-conference games will be affected by the new playoff system (see June 26th story, below). Will there be enough emphasis on strength of schedule to justify playing tough non-conference games? Will the Pac-12 stick to a nine-game conference schedule, or go to eight in order to be more competitive for playoff openings?
While these issues are unresolved, the University of Colorado is moving forward with its scheduling, adding Michigan as a non-conference opponent in 2016.
The game is a single game contract, much like the CU trip to Ohio State last fall. This, in and of itself, is disturbing. Colorado should not have to play anymore "money" games. The Buffs, with the losses of revenue associated with the transition from the Big 12 to the Pac-12, were justified in taking the check from the Buckeyes and running in 2011. It is hard to make an argument, though, that Colorado should not be entitled to a home-and-home agreement with a school like Michigan come the 2016 season, when the CU coffers will be filled as never before with Pac-12 revenue.
Perhaps – and this is just a perhaps – the Buffs will get credit for the Michigan road game once the Pac-12/Big Ten agreements are finalized. Perhaps the Buffs' first official opponent in the series, which is set to start in 2017, will be Michigan, and it will be a home game for Colorado. That would make a de facto home-and-home with the Wolverines.
Otherwise, as exciting as it will be to have another trip to the "Big House" in 2016, it's hard to justify how Colorado has fallen so low in the pecking order of college football as to not insist any contract with a fellow BCS conference school not come as a home-and-home agreement.
Want to feel worse? … Utah gets a home-and-home with Michigan, while Colorado does not … As reported at ESPN.com: The Utah Utes will play host to Michigan in Rice-Eccles Stadium in the 2015 season opener as a part of a home-and-home series that begins with a 2014 game in Ann Arbor. Michigan will make its first Salt Lake City appearance on Sept. 3, 2015 in a rare weekday game for the Wolverines, who have never played on a Thursday. The first game of the series is scheduled for Sept. 20, 2014 in Michigan Stadium.
"A home-and-home series with Michigan is the kind of opportunity that comes with membership in the Pac-12 Conference," Utah athletic director Chris Hill said in a statement.
Ouch.
Oh well, at least the Oregon State Beavers also agreed to an away game with no return. From the OSU website … The Oregon State University football team will travel to the University of Michigan to play during the 2015 season, Beaver Director of Athletics Bob De Carolis announced Wednesday.
The game will be played at Michigan Stadium, the largest college football venue (109,901 capacity) in the nation Sept. 19, 2015. It will signify OSU's fifth meeting with the Wolverines. Three of the previous games have been played in Ann Arbor, including the most recent Sept. 20, 1986. OSU and Michigan also met in the 1964 Rose Bowl.
So, CU has at least been able to get Michigan to come to Boulder once, one more time than Oregon State has done (Even that, though, was part of a two-for-one deal, with Colorado going out on the road twice – 1994 and 1997 – in exchange for one home game in 1996).
Grambling State also added to CU schedule
Colorado and Grambling State are finalizing a contract that will bring the Tigers and their legendary marching band to Boulder on Sept. 26, 2015.  The two have reached an agreement in principle for the first-ever meeting in football between the two schools, though they have played once each, both in Boulder and in the last five years, in men's and women's basketball.  The contract calls for the football team to be accompanied by the school's legendary marching band.
This will mark the first time Grambling State will play a game in Colorado, and only the second time its football team will play a game in the Mountain Time Zone – the only previous visit to the Rocky Mountain region came in 1980 when the Tigers lost 14-9 in a Division I-AA semifinal playoff game at Boise State.
 "Both of these games will feature the best of college football pageantry," CU athletic director Mike Bohn said in a press release.  "Michigan was looking for a home game, we had an opening for a road game and it affords us the opportunity to travel back to the Midwest and play in one of college football's great venues.   We're also excited about creating something unique here in Boulder with Grambling's football tradition and world famous marching band.  It will join our own band during the game and the night before in the Pearl Street Stampede that will create an extra special treat for our fans."
CU's future schedules through 2016 are now set:

2013
Aug. 31
Colorado State (Denver)
Sept. 7
CENTRAL ARKANSAS
Sept. 14
FRESNO STATE
PAC-12 HOME (4): ARIZONA-CALIFORNIA-OREGON-USC
PAC-12 ROAD (5): ARIZONA STATE-OREGON STATE-UCLA-UTAH-WASHINGTON
 
2014
Aug. 30
Colorado State (Denver)
Sept. 6
at Massachusetts
Sept. 20
HAWAI'I
PAC-12 HOME (5): ARIZONA STATE-OREGON STATE-UCLA-UTAH-WASHINGTON
PAC-12 ROAD (4): ARIZONA-CALIFORNIA-OREGON-USC
 
2015
Sept. 5
at Hawai'i
Sept. 12
MASSACHUSETTS
Sept. 19
Colorado State (Denver)
Sept. 26
GRAMBLING STATE
PAC-12 HOME (4): ARIZONA-STANFORD-OREGON-USC
PAC-12 ROAD (5): ARIZONA STATE-OREGON STATE-UCLA-UTAH-WASHINGTON STATE
 
2016
Sept. 3
Colorado State (Denver)
Sept. 10
SAN JOSE STATE
Sept. 17
at Michigan
PAC-12 HOME (5): ARIZONA STATE-OREGON STATE-UCLA-UTAH-WASHINGTON STATE
PAC-12 ROAD (4): ARIZONA-STANFORD-OREGON-USC
June 26th
Will Pac 12 / Big Ten agreement be affected by new playoff system?
The devil, as always, is in the details.
While there is celebration over the adoption of a four-team playoff system, there are still issues which need to be resolved.
One of those is the marching orders which the selection committee will be given for determining the playoff participants.
According to Jon Wilner at the San Jose Mercury News … Multiple league sources have reported in recent weeks that several Pac-12 schools are less than enthusiastic about the partnership, set to take effect in 2017.
However, the schools are reserving final judgment until they see whether a strength-of-schedule component is  included in the formula that determines which teams participate in the four-team playoff.
If SOS is given serious weight … if it's a tangible part of the formula … then Pac-12 schools may be willing to consider a partnership in which the top programs draw B1G heavyweights every few years, sources said.
But if SOS is not included in the formula, then a full-blown Pac-12/B1G partnership could be in jeopardy.
Sources have declined to name the names of the reluctant schools. But why would USC, as a logical example, agree to face a top-tier B1G opponent in 2017 when it already has Notre Dame and Texas on the schedule?
And the Trojans aren't the only ones with difficult non-conference lineups in 2017 and beyond.
Oregon has a series with Texas A&M scheduled for 2018-19; Stanford is playing Virginia and Notre Dame in 2017-18; Arizona State has Notre Dame scheduled … and that's in addition to the Pac-12 teams playing nine league games (as opposed to eight for SEC teams).
Then you're going to add a game with Wisconsin/Nebraska/Ohio State/Michigan, all while asking the teams to compete with SEC counterparts for a berth in a four-team playoff that doesn't consider SOS in any tangible form?
Good luck with that.
Wilner is not suggesting the Pac-12/B1G partnership will be canceled if SOS isn't part of the playoff selection formula.
But it could very well be an underwhelming alliance, with some schools joining the party later than 2017 — that would allow time to craft/manipulate future schedules — and some not participating on a regular basis.
Stay tuned …
June 23rd
CU Chancellor more conservative concerning Folsom upgrades
In an article in the Camera, CU Chancellor Phil DiStefano sounds as if he is pooring cold water on the enthusiasm generated this spring when Buff athletic director Mike Bohn indicated that a "transformational" project was in the works for the CU athletic department come September.
"We're in the very preliminary stages of taking a look at Folsom and trying to make some sort of decision in the fall about whether or not we should try to move forward on some type of a renovation, but I'm not sure what that would be," DiStefano told the Camera.
DiStefano also said unequivocally that any facilities upgrades in athletics will have to be paid for by private funding, increased ticket sales and money the athletic department receives from the Pac-12 television contracts. He said his office will not contribute to athletics facilities projects.
Bohn acknowledged in the spring that the project will include a permanent indoor practice facility and an underground parking garage. That building would be attached to the Dal Ward Center and Folsom Field on the northeast corner of the stadium, adding a significant amount of space that could be used for classrooms and offices in addition to an expanded weight room.
Bohn also would like to bring athletic department staffers — except for those dedicated to men's and women's basketball and volleyball — under one roof in the expanded Dal Ward Center. Currently, the athletic department uses office space in Balch Fieldhouse and at most gates to Folsom Field.
In addition to the practice facility, parking garage and expanding the Dal Ward Center, Bohn's plan would enclose the north end of the stadium, adding several thousand seats and making it possible for fans to walk around the entire stadium on one concourse.
CU football coaches have been sharing the major details of the plan with football recruits making unofficial visits to campus this spring and summer.
What it means … Does this indicate a step back from what Mike Bohn told the Buff Nation this spring? Not really. The idea that the new upgrades would have to pay for themselves, from private funding and increased Pac-12 television revenue, is not news. Plus, as DiStefano points out, the school is already chipping in $6 million to offset the $16 million shortfall the athletic department is enduring as a result of leaving the Big 12 and foregoing Pac-12 revenue this past season.
What is disconcerting, in this age of "whatever you can expand, I can expand better", is that we are not hearing reports, official or unofficial, of big time CU supporters stepping up with large donations. While CU fans do not have to worry, long term, about little brother CSU and the Rams attempts to build a new stadium (CU's Pac-12 revenue by the end of the decade will rival the entire current CSU athletic department budget), it is sad that there are not a number of CU alums with large checkbooks rushing to have their names associated with the new era in CU football.
(I saw "Book of Mormon" in New York this week. The hilarious play, which won nine Tony awards, has been a smash hit for South Park creators Trey Parker and Matt Stone, and will continue to generate millions for the Buff alumni for years to come. Anyone up for "Folsom Field at South Park Stadium"?).
June 20th
Colorado reports highest APR rates for second consecutive year
From cubuffs.com … The University of Colorado Academic Progress Rate (APR) report based on information for the four year period between 2007-08 and 2010-11 was released by the NCAA Wednesday with those of all other Division I schools, with CU reporting good news for all 16 of its intercollegiate athletic programs.
For the second consecutive year, the APR rates are the highest in school history since the program was created eight years ago. In this latest report, the scores of CU's teams are unparalleled over the history of the APR program.
"The credit is where credit is due, to our student-athletes," said Dr. David Clough, CU's Faculty Athletics Representative after examining the APR scores released for the 2010-11 academic year. "Of course, these student-athletes also receive strong support from their coaches, the athletics academic support staff, university faculty and advisors, and their friends and family. But who does the work, takes the exams, balances their academic and athletic schedules, etc.?"
Clough is widely considered one of the nation's experts on the NCAA's APR program and its intricacies.
Two years ago, there were questions raised because both the football and men's basketball teams were penalized scholarships based on low multiyear APR scores. Both were declared back in good standing in the 2009-10 report, and the each has continued upward improvement in turning the corner. In particular, men's basketball, under the leadership of Coach Tad Boyle , has achieved two years of perfect 1000 annual scores, and, consequently, the multiyear score has risen from a low of 897 (in 2008-09) to 962 in the latest report. In the same time period, football's score improved from 919 to 938; CU officials anticipate continued improvement in APR for these two programs.
Overall, a school record eight programs earned perfect 1000 scores for the 2010-11 annual report, easily passing the previous mark of six in the 2007-08 and 2009-10 filings. In addition to men's basketball, men's golf and women's tennis, men's and women's cross country, women's golf, men's skiing and soccer all achieved perfection. Women's tennis earned the perfect score for the fifth straight year, men's golf for a third and men's basketball and men's and women's cross country for the second consecutive report.
That brings the total to 36 times that CU programs have earned a perfect score since the APR came into being. All one-year scores for all 16 of Colorado's programs were 930 or above (15 above 971), with women's golf showing the largest increase, jumping 36 points from 964 to 1000, followed by women's indoor and outdoor track (24 points, 966 to 990), men's skiing (21 points, 979 to 1000) and soccer (20 points, 980 to 1000).
… The news was not greeted with universal enthusiasm, however. While head coach Jon Embree embraces the concept of the APR, he does not necessarily believe it is fairly structured.
"I like the concept, it's just they've got to clean up some things that are blatant inequities in it to make it fit right," Embree told the Daily Camera.
The NCAA is in the first year of instituting higher standards and tougher punishments for failing programs. The three-step penalty process starts with the loss of practice time and scholarships and moves to bans from postseason play in addition to the other penalties.
While head basketball coach Tad Boyle believes in judging coaches and programs based on whether they graduate players, Embree said he didn't mind the previous punishment structure that cut the number of scholarships a program was able to offer if it reported failing grades.
"That's hard since it's not real time situations and issues, I think that makes it hard," Embree said. "That why when they were doing scholarships it was probably a little more fair from the standpoint of it just affected what you could bring in the next year or the next couple years."
Embree said he views the APR as another tool to help him communicate with and motivate his players.
"I think that helps coaches trying to get kids to understand they are there to graduate and get their degree," Embree said. "When you have something like that, sometimes players need a reason why they're supposed to what they're supposed to do. When a kid knows he has an impact on the program, not just on the field, but what can happen if a team doesn't do what he's supposed to do or if a group of them don't do what they're supposed to do that is can have a negative effect on the program. I think that's good, and I think it's good, too, that some coaches have to take a more active role in what their students are doing and making sure they are doing what they need to do to graduate."
June 19th
Colorado's strongest position group …
ESPN's Ted Miller has been rating the Pac-12 teams, listing what he sees as the strongest position group for each team.
For Colorado, Miller chose the linebackers, noting:
Colorado has a lot of questions and will be young in many areas next fall, but linebacker is a spot where it won't be inexperienced and will have some solid talent. Rippy led the Buffs in tackles before going down with a knee injury after seven games, yet he still earned honorable mention All-Pac-12 honors. Major seemed to find himself over the final third of the 2011 season, and he was outstanding in the upset win at Utah in the season finale. They are both seniors, with Rippy expected to man the middle linebacker spot and Major on the strong side. Webb, a junior, had a strong spring session and may be ready to take his play up a notch. Daigh, a sophomore, has seen significant action — he ran with the first-team defense this spring with Rippy still out. Sophomore Woodson Greer had a good spring game and is an up-and-comer. This is solid unit that could look pretty good if some guys step up on the defensive line.
It's hard to argue with the analysis, or the ranking. As far as the unit goes, much of the Buffs' season relies on the injured knee of Doug Rippy. If Rippy is healthy (and he says he'll be 100% come fall drills), then the CU linebackers can help make up for some holes and inexperience in the defensive line and secondary. If Rippy isn't able to perform at a high level, then opposing offenses will be able to pick apart the Colorado defense … much like they did for much of the 2012 season.
June 18th
Pac-12 Networks – Coming (expensively?) to a computer/television near you
As usual, it is up to Jon Wilner at the San Jose Mercury News to keep us updated as to the status of the future Pac-12 Networks. Now less than two months from the August 15th launch date, there are still many issues to be resovled.
Wilner's latest take:
Ultimately, the satisfaction level of every fan depends on expectations and interpretation.
My expectations were framed last summer, when commissioner Larry Scott announced the formation of the national network and six regional networks and said:
"With this arrangement, every (Pac-12) football game and  every men's basketball game will be available to a national audience on television."
Maybe I misread him … Or maybe Scott was speaking from a TV Everywhere point of view … But I interpreted his comment to mean that Pac-12 fans across the country (assuming they subscribed to one of the league's cable/satellite partners) could plop down on the couch, flip on the big screen and watch every game live.
Turns out, that may not … I repeat: may not … be the case.
(Stay with me here. Like so much about the Pac12Net, the situation is confusing and, at this point, lacks many definitive answers.)
As many fans no doubt realized upon seeing the Pac12Net broadcast schedule for the first few weeks of the season, there are several instances in which more than one game kicks off at the same time.
That situation doesn't exactly mesh with the founding principle of every game being available to everyone.
Consider the situation in Week 1, in which Nevada-Cal and Nicholls State-Oregon State both start at noon on the Pac12Net.
If you're a Cal fan living in Portland — where the Pac-12/Oregon regional network will undoubtedly be showing the OSU game — you may not be able to plop on the couch, flip on the big screen and watch your Bears live.
Another example:
If you're an Arizona fan living in San Francisco and watching on the Pac-12/Northern California regional network, then you have two potential conflicts: The Oklahoma State game in Week 2 is up against Duke-Stanford, and the South Carolina State game in Week 3 is up against Houston-UCLA (which you'd think would be preferred on the national and NoCal networks).
Reading that, you might think: Yikes! This Pac12Net setup isn't even a solo home run, much less a grand slam.
But it's important — no, it's critical — to realize a few things:
1) Every football and men's basketball game will be available live on your computer or mobile device so long as you subscribe to one of the league's distribution partners. The league has taken a long-term approach to distribution (i.e., TV Everywhere).
2) Some cable/satellite companies, inside or outside the footprint, may carry more than one feed. For example: In Portland, Comcast could show not only the Oregon regional network on basic but also Pac-12 National on a sports tier, thus giving fans access to two games at the same time. (Stevenson said the cable companies are "sorting through" that option.)
3) With the right equipment and a little know-how, your TV can be hooked up to your computer, thus making your big screen and your computer screen one in the same … and as noted in 1), all the games are available online to authenticated subscribers. Again: TV Everywhere.
4) As I have written previously, it's possible that an overflow channel will be made available in certain regions so that multiple games will be available at the same time. But that's up to the distributors, not the conference.
5) The number of conflicts represents a small percentage of the total number of games and is presumably limited to the first few Saturdays, when there are 10-12 games per week. (Expect some conflicts for men's basketball, as well.)
Again, it's confusing, the conference doesn't have all the answers, I sure as heck don't have all the answers and, even now, two months before the Pac12Net launch, it's a highly fluid situation.
It may seem less than ideal to fans — less than the grand slam Pac-12 fans have become accustomed to seeing Scott and Co. deliver.
But the presence of items 1-5 above elevates the Pac12Net broadcast model to a 2- or 3-run shot.
June 14th
Colorado in the middle of the conference in overall facilities
While many in the Buff Nation are concerned that the lack of upgrades to facilities (when exactly is that promised September announcement going to take place?), one neutral observer, Ted Miller from ESPN, rates Colorado in the middle of the league in terms of the overal CU facilities experience.
Using the following general methodology: 1. Stadium gets first priority; 2. This projects forward most renovations; 3. Yes, for better or worse, bigger — and fancier — is better, Miller found Colorado to have the 7th best facilities overall:
"Colorado: Great stadium and solid overall facilities. Still, things are a bit cramped and the Buffs could use an indoor facility."
In his rankings, Miller places first- and this will come as no surprise to anyone – Oregon: "The Ducks' football facilities are among the best in the nation. And a new football operations building will make things even more outrageously impressive."
No. 2 on the list is also a no-brainer … USC.
After that, it gets interesting. Washington, the Bay area schools, and UCLA all rate above Colorado, with Arizona State, Utah, Arizona, Oregon State and Washington State all falling in line behind the Buffs.
If – and when – the $240 million upgrade is announced this fall, Colorado will have an even better home with which to impress recruits and their families. Colorado will never be able to match Oregon, USC, and Stanford in terms of resources, and I'm looking forward to seeing the new Husky Stadium (already one of my favorite road venuues) when it opens. Still, the Buffs should be able to upgrade – or at least maintain – its position in the latest facilities arms race.
Toward that end, here is the latest photo of the north endzone scoreboard (Courtesy of AllBuffs.com)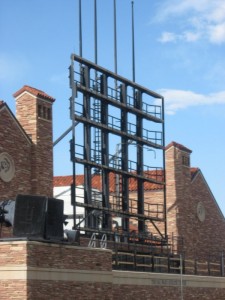 June 13th
Jon Wilner on Pac-12 Networks
Step back from the ledge, Jon Wilner of the San Jose Mercury News, tells us.
All will be fine with the Pac-12 Networks.
DirecTV CEO Michael White recently downplayed the need for his company to provide the Pac-12 Network to its subscribers, telling MediaPost in a much-quoted statement: "We're not going to have seven channels – I can assure you of that."
The comment caused some angst among fans hoping the conference will strike a deal with DirecTV before the Pac-12 Network(s) launch in August.
But take a step back from the edge, says Wilner, and look at it this way: What else is White going to say? He's going to start serious negotiations with the Pac-12 this summer and has zero reason to show his hand.
There's probably some truth to his comment: DirecTV very well may not have seven Pac12Net channels (the national network and the six regionals).
In fact, there is no clear evidence that the Pac-12 expects DirecTV to pick up the full slate of networks in the first place. As long as DirecTV picks up the Pac-12′s national network, the vast majority of fans will be satisfied.
Remember, the national network will carry 350 live events, including all football and men's basketball games not shown on ESPN or Fox, plus hundreds of women's basketball and top-tier Olympic sports events.
Still, there remains cause for concern for those of us with satellite dishes …
A source told Wilner last week that talks won't heat up until August and that it could be the week of the season openers before a deal gets done.
Good thing I'm planning on attending the first two games of the season …
June 12th
North scoreboard coming down!
YouTube video (from BuffVision) of the North scoreboard coming down:
 http://www.youtube.com/watch?v=hzSDV7UDJrQ&feature=em-subs_digest
June 11th
Scoreboard update
The latest look at the North scoreboard at Folsom Field (photos courtesy Kimbirly Orr)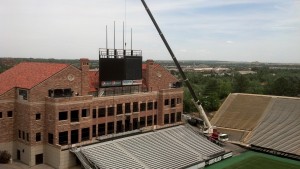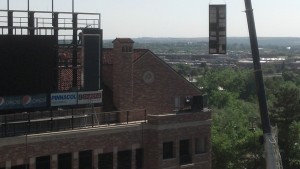 Report: Jagne does not clear NCAA Clearinghouse
According to a post purportedly from the Jagne family, 2012 defensive lineman recruit Kisima Jagne did not make it through the NCAA Clearinghouse.
From a thread posted at AllBuffs.com:  According to the NCAA……KJ44 was THISCLOSE, to being cleared….. It was a blow that although painful to the young warrior…..He continued to find a way and press on. To him, all was not lost….Although the consequences and repercussions regarding the decision, hurt KJ44 deeply…The TEAMKISIMA organization (TKO) went into PLAN B, to move forward.
We have spoke to our contacts and coaches from the team, as to the decision and have collectively decided to move forward with the quest to have KJ44 join the University Of Colorado Buffaloes…After review, it was determined that there may be way to get him to Boulder, after all.
We cannot say right now, because we are looking into all options, all POSITIVE and ACHIEVABLE…..But make no mistake, KJ44 will:
NOT BE GOING TO ANY JUNIOR COLLEGE……….HE WILL BE A COLORADO BUFFALO……..AND HE WILL GET THERE AND FINISH OFF WHAT OUR BUFFALOES WILL BRING TO THE TABLE BEGGINING IN 2012……
STAY TUNED….YOU HEARD IT HEAR FROM THE ONE AND ONLY SOURCE REGARDING KJ44……
—
Here's hoping "Plan B" works out, and that Jagne, a three-star prospect from Chandler, Arizona, who was rated by Rivals as the No. 28 strongside defensive end in the nation this past February, can still find his way to Boulder this fall.
June 9th
Cordary Allen eighth member of Class of 2010 to leave team
Running back turned tight end turned defensive lineman Cordary Allen has left the Colorado football program, head coach Jon Embree has confirmed.
This spring, Allen was listed fourth on the depth chart at right defensive end. In 2011, Allen entered, fall practices listed fifth on the depth chart at tailback.  He rushed 10 times for 34 yards and a touchdown in the three main spring scrimmages before practicing in the fall at tight end.
Allen, a member of the 2010 recruiting class — the final class of former coach Dan Hawkins' tenure — never quite found a spot to fit into in the CU program. In high school, Allen earned All-District honors while gathering a second-team All-Bi-City nod from the Phenix City Ledger-Examiner as a senior under coach Ron Nelson.  A three-year letterman, a senior he helped lead his team to a 10-2 record, a second place finish in the Class 6A Region 3 final standings and an appearance in the second round of the state playoffs.
Allen came to Boulder from Phenix City, Ala., where he was a standout at Central High School. He chose CU late in the recruiting process over offers from schools such as Western Kentucky, Tulsa and Army.
June 8th
Rocky Mountain Showdown not on list of ESPN games
The 2012 season opener between Colorado and Colorado State was moved from Saturday, September 1st, to Sunday, September 2nd, in hopes of attracting television coverage.
It appears that you can scratch ESPN from the list of possibilities.
ESPN has announced its fall lineup of games to be shown on ABC, ESPN, ESPN2, ESPNU, ESPN Classic and ESPN3. While the list of games will be updated throughout the summer, the 2012 Rocky Mountain Showdown did not make the list. The only ESPN game listed for Sunday, September 2nd is another intra-state rivalry, Kentucky v. Louisville.
Some Pac-12 teams will have some non-conference games shown on the ESPN family of networks:
– Washington State will kick off its season early, with the Cougars from Pullman taking on the Cougars of BYU on Thursday, August 30th;
– On Friday, September 7th, Utah will travel up the road from Salt Lake City to Logan to take on Utah State;
– USC will play in MetLife Stadium in East Rutherford, New Jersey, on Saturday, September 8th, taking on Syracuse; and
– Washington State will again be on national television on Friday, September 14th, as Mike Leach patrols the sidelines on the road against UNLV.
We know that every Pac-12 game will be televised, so the Colorado/Colorado State game will make someone's list. The issues which remain: Which network will show the game, and when will the game kickoff?
Stay tuned …
June 7th
Peyton Williams might become third CU grayshirt
Since February, Buff fans have been aware that two members of the CU recruiting Class of 2013 would grayshirt.
Offensive lineman Gerrad Kough and defensive lineman Derek McCartney have been asked to delay their enrollment until January, 2013, making them a part of the undersized Class of 2013.
Now, according to Colorado head coach Jon Embree, a third name, wide receiver Peyton Williams, might be added to the list.
Williams figured to be a candidate for a grayshirt because he suffered a torn anterior cruciate ligament in his knee during a state semifinal game in the Texas high school playoffs in December.
Williams has said in interviews this spring that he is feeling good and is determined to play this year, but Embree said doctors won't know for sure if Williams is ready until the start of training camp or later.
Embree said instead of having Williams miss a lot of practice time during a redshirt season or play too soon and possibly re-injure himself, he is inclined to have Williams grayshirt. Embree said a final determination will be made just before fall camp begins in August.
Two other potential Buffs in limbo
Kisima Jagne
The good news … Almost all of the very large (28 strong) CU recruiting Class of 2012 is expected to qualify academically.
The bad news … It's still "almost" all. Defensive lineman Kisima Jagne, a player Embree said on national signing day could be a big contributor as a freshman, is in jeopardy of not qualifying.
Jagne is a 6-foot-5, 240-pound product of Chandler, Ariz. If he does not qualify, he would likely enroll in a junior college and CU would hope to bring him to Boulder in the future.
For his part, Jagne remains cautiously optimistic. "[The spring semester] went better. I did better than I did the first semester," Jagne told BuffStampede.com this past week in regards to his scholastic progress. "Whatever I ended up with, we're waiting to hear [from admissions] on all the paperwork from my classes."
Jordan Webb
Will former Kansas quarterback Jordan Webb become a Buffalo?
Webb is finishing up his degree at Kansas and will be allowed to play right away under NCAA rules as long as he has his degree.
He will have two years of eligibility remaining. He is not expected to be in Boulder until July or early August.
June 5th
SEC teams all but guaranteed bowl games each season
Recipe for success: 1) Play in a conference which allows for four non-conference games; 2) play in a conference in which you are not penalized for scheduling directional schools; and 3) play in a conference in which over 70% of the teams are guaranteed a bowl bid.
The SEC this week agreed to a tie-in with the Independence Bowl, the giving the league a record tenth such bowl agreement.
The listing of agreements for the 14 team league: the Sugar Bowl, Cotton Bowl, Capital One Bowl, Outback Bowl, Chick-fil-A Bowl, Gator Bowl, Liberty Bowl, BBVA Compass Bowl, Music City Bowl and Independence Bowl.
The SEC previously had a tie-in with the Independence Bowl, located in Shreveport, La., from 1995-2009 (recall the last CU bowl game was in the Independence Bowl, against Alabama from the SEC). The SEC team would face the No. 7 team from the ACC. Those same two conferences are also represented in the Chick-fil-A and Music City bowls.
The Independence Bowl became available when the Mountain West Conference formed a tie-in with the Armed Forces Bowl. That bowl had a tie-in with BYU but the Cougars have moved on to connect with the Poinsettia Bowl in 2012 and the Kraft Fight Hunger Bowl in 2013.
The Pac-12, meanwhile, has seven bowl tie-ins:
The Bowl Championship Series, with the winner of the Pac-12 Championship gaining an automatic berth to a BCS bowl game, preferentially the Rose Bowl or the National Championship Game
The Alamo Bowl receives the second choice of Pac-12 teams.
The Holiday Bowl receives the third choice of Pac-12 teams.
The Sun Bowl receives the fourth choice of Pac-12 teams.
The Maaco Bowl receives the fifth choice of Pac-12 teams
The Kraft Fight Hunger Bowl receives the sixth choice of Pac-12 teams
The Gildan New Mexico Bowl receives the seventh choice of Pac-12 teams
June 4th
Latest scoreboard picture
Here is the latest scoreboard picture. The old scoreboard is almost gone for good (photo by David Zimmerman)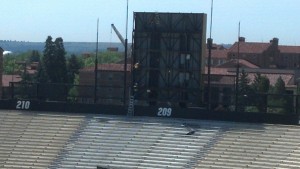 Paul Richardson … back this season?
When CU wide receiver Paul Richardson was injured in a non-contact drill during spring practices, the prognosis was that the Buffs' leading receiver would be lost for the 2012 season.
And now … ?
The CBS affiliate in Denver ran a story on Sunday that Richardson is already walking without a brace, had started some running drills, and would possibly be available to play this fall.
While there is rampant speculation as to Richardson's status, availability, and the risk of having him return too soon, it is worthy of mentioning that, at this point, there is no confirmation from the University as to this story.
So, for now … we'll just wait an see. I will post again if there is any confirmation or quotes from Richardson or the athletic department.
June 2nd
CU Class of 2012 starts to arrive
Summer school in Boulder starts on Monday, June 4th. For many members of the CU Recruiting Class of 2012, that means it's time to move to Boulder and enroll for summer classes.
The Ralphie Report has compiled a list of the members of this year's recruits, along with the status of each:
| | | | | | | | | | |
| --- | --- | --- | --- | --- | --- | --- | --- | --- | --- |
| Name | Pos | Location | High School | Ht | Wt | 40 | Stars | Rating | Arrival Date |
| Shane Dillon | QB | El Cajon, CA | Christian | 6'5″ | 185 | 4.6 | 3 stars | 5.7 | This week |
| Clay Norgard | RB | Highlands Ranch, CO | Mountain Vista | 6'2″ | 240 | 4.8 | 3 stars | 5.6 | Enrolled |
| Donta Abron | RB | Upland, CA | Upland | 5'9″ | 187 |   | 2 stars | 5.4 | June 9 |
| Terrence Crowder | RB | Galena Park, TX | Galena Park | 5'10" | 212 | 4.5 | 2 stars | 5.2 | This week |
| Davien Payne | RB | Perris, CA | Citrus Hill | 5'11" | 213 | 4.6 | 3 stars | 5.6 | This week |
| Peyton Williams | WR | Southlake, TX | Carroll | 6'1″ | 185 | 4.5 | 3 stars | 5.6 | This week |
| Gerald Thomas | WR | The Colony, TX | The Colony | 5'10" | 170 | 4.4 | 3 stars | 5.5 | June 8 |
| Jeffrey Thomas | WR | Duncanville, TX | Duncanville | 6'3″ | 180 | 4.7 | 3 stars | 5.6 | This week |
| Vincent Hobbs | TE | Mesquite, TX | Horn | 6'3″ | 230 | 4.7 | 3 stars | 5.6 | This week |
| Sean Irwin | TE | Cypress, TX | Cy-Fair | 6'4″ | 220 |   | 3 stars | 5.5 | This week |
| Austin Ray | TE | Columbia, MO | Rock Bridge | 6'6″ | 235 |   | 3 stars | 5.5 | This week |
| Jeromy Irwin | OL | Cypress, TX | Cy-Fair | 6'5″ | 289 |   | 3 stars | 5.6 | This week |
| Gerrad Kough | OL | Pomona, CA | Pomona | 6'5″ | 270 |   | 2 stars | 5.4 | Greyshirt |
| Tyler Henington | DT | Denver, CO | Mullen | 6'3″ | 265 |   | 3 stars | 5.6 | This week |
| Kory Rasmussen | DT | Honolulu, HI | Kamehameha School | 6'3″ | 255 |   | 2 stars | 5.4 | Unknown |
| Justin Solis | DT | Westlake Village, CA | Westlake | 6'3″ | 287 | 4.9 | 3 stars | 5.6 | June 9 |
| Josh Tupou | DT | Buena Park, CA | Buena Park | 6'4″ | 302 |   | 3 stars | 5.5 | June 12 |
| Kisima Jagne | DE | Chandler, AZ | Chandler | 6'5″ | 235 | 4.5 | 3 stars | 5.7 | Unknown |
| Samson Kafovalu | DE | Riverside, CA | Arlington | 6'3″ | 253 |   | 3 stars | 5.5 | June 12 |
| Derek McCartney | DE | Arvada, CO | Faith Christian | 6'4″ | 220 |   |   |   | Greyshirt |
| John Stuart | DE | Westlake Village, CA | Westlake | 6'4″ | 230 | 4.7 | 2 stars | 5.4 | Late June |
| De'Jon Wilson | DE | Washington, DC | H. D. Woodson | 6'3″ | 240 | 4.7 | 3 stars | 5.5 | June 12 |
| Kenneth Crawley | DB | Washington, DC | H. D. Woodson | 6'1″ | 170 |   | 4 stars | 5.8 | June 12 |
| Yuri Wright | DB | Ramsey, NJ | Don Bosco Prep | 6'2″ | 180 |   | 4 stars | 5.9 | Arrived |
| John Walker | DB | Washington, DC | H. D. Woodson | 6'0″ | 175 |   | 3 stars | 5.5 | June 12 |
| Jeffrey Hall | DB | LaPlace, LA | St. Charles Catholic | 5'11" | 180 |   | 3 stars | 5.5 | This week |
| Marques Mosley | ATH | Upland, CA | Upland | 6'1″ | 174 |   | 3 stars | 5.5 | June 9 |
| Christian Powell | ATH | Upland, CA | Upland | 5'11" | 250 |   | 3 stars | 5.6 | June 9 |
The great "unknown" on the list is defensive end Kisima Jagne. The much-desired – and much-needed – defensive end from Chandler, Arizona, is still waiting to find out if he will qualify academically.
"[The spring semester] went better," Jagne told BuffStampede.com. "I did better than I did the first semester. Whatever I ended up with, we're waiting to hear [from admissions] on all the paperwork from my classes."
Jagne said that he is "guardedly optimistic" about his qualifying status and acceptance through admissions, but he couldn't keep a hint of enthusiasm from creeping into his voice when he delivered a message for the CU fans, "I can't wait to come down to Colorado!"
Keep your fingers crossed …