Colorado Daily – July
July 30th
Mike Moschetti puts out a call to Buff fans
Former Buff quarterback, and present California high school coach Mike Moschetti has given a shout out to the Buff Nation.
Posted at NetBuffs.com, Moschetti, head coach at La Mirada high in California, wants your help … "We at La Mirada just started a football fan page, If you have a facebook account, find La Mirada football in the search on Facebook, and 'like' us.. We are trying to build a huge following and the more Buff fans we have on our site, the more it helps the BUFFS and my players to see first hand the passion of the Colorado football fans.. The SEC schools fans are all over my players, would love to see my Boys come out of that tunnel wearing the Black and gold someday …".
Here is a link to the La Mirada Facebook page. "Like" La Mirada, and help Mike Moschetti bring new stars to Boulder!
Single game tickets on sale Tuesday
Single game tickets will go on sale to the general public on Wednesday, August 1st. You can get in on the sale a day early if you subscribe to one of the CU email lists, or follow the Buffs on Facebook or Twitter.
Details on how to get in on the early-bird sale on Tuesday can be found at the cubuffs.com website.
It is also worthy of note that the season ticket sale has been continued "indefinitely". Buff fans can be a season ticket holder for as low as $20/game ($140 for the six home games and the CSU game in Denver). The CU athletic department has acknowledged that season ticket sales are running behind last year's totals, which should not come as a huge surprise. Last season, the Buffs had the benefit of the buzz of a new head coach, and the tickets were cheaper (only five home games). Gone also are the draws USC and Oregon, though the UCLA, Arizona State and Utah games should draw well, and Stanford is the Homecoming opponent.
July 29th
Ray Polk ESPN interview
At the Pac-12 media days in Los Angeles last week, senior safety Ray Polk did a one-on-one interview with ESPN Pac-12 blogger Ted Miller.
Here is a link to that interview.
CU schedule poster out …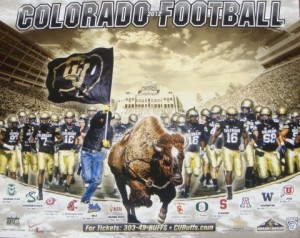 July 28th
B.G. Brooks discusses his top ten questions for 2012
B.G. Brooks, who writes for cubuffs.com, had some excellent insights into the season. Brooks will have access during fall camp which 99% of the Buff Nation will not have. His thoughts concerning bear recounting here:
1.    What might be Embree's chief concern in his second season?
This team's youth. But in his grand scheme, it also could be a blessing. He's been around young CU teams in the past and cites former coach Rick Neuheisel's last Buffs squad (1998) and its future achievement (2001 Big 12 championship). Regardless of their age/class, Embree doesn't want his best players on the sidelines. Given their druthers, all coaches would rather start experienced upperclassmen and have experienced backups behind them. But in a formative program like CU's, Embree will go with what he has – and that likely will mean a lineup littered with young players.
2.    At what positions might freshmen makes themselves seen (and heard) early?
There are several. This is a large freshman class and Embree won't be reluctant to get his newbies on the field – provided they prove themselves in camp. Asked that question at last week's Pac-12 media day, he first mentioned the secondary, where five newcomers will join the competition. If any of the fivesome opens like corner Greg Henderson did last summer, Embree will be pleased. The D-line, which loses starters Curtis Cunningham, Josh Hartigan and David Goldberg, also gets a large infusion (seven) of fresh faces. (Nine defensive linemen were among last February's 28 signees, but CU is awaiting word on the status of Kisima Jagne, and Derek McCartney is scheduled to be a January enrollee.) Tight end, receiver and running back also could be positions that see freshmen make significant moves in camp.
3.    Will receiver Paul Richardson play this season?
The guess (repeat: guess) here is yes. But the bigger question is when. His ACL rehab has gone at warp speed and "P-Rich" has absolutely no comfort zone as a spectator. Granted, the Buffs desperately need their most experienced, most explosive playmaker, but Embree has made it clear that a decision won't be rushed and it will involve Richardson, his family, CU's medical staff and the coaching staff. Richardson's future is at stake and the approach to it will not be made on anyone's whim.
4.    What position competitions likely will draw the most attention in camp?
The obvious answer is the quarterback battle involving Nick Hirschman, Connor Wood, Jordan Webb and possibly Shane Dillon. But with 12 starters lost (seven offense, five defense) this camp also promises a bunch of other knockdown duels. Freshmen and redshirt freshmen are expected to compete for starting (or at least depth chart) positions at a handful of other critical spots. Still, Embree had better be primed to answer daily questions about the progress of his QBs and who among them is on the move.
5.    What's the health status of Hirschman (foot) and Dillon (shoulder), and how quickly can Webb get up to speed?
Hirschman, whose early March misstep cost him all of last spring's drills, is listed as "full go" while Dillon, who underwent surgery on his right (throwing) shoulder, is listed as "day-to-day." But Embree appears optimistic about Dillon's camp participation. As for Hirschman making up for his lost time, Embree believes having to focus on the mental part of his position last spring might have been a boon for Hirschman. By all accounts, Webb is a quick study, and his starting experience at Kansas gives him something his competitors lack.
6.    Who steps into Rodney "Speedy" Stewart's vacated spot at tailback?
The first look goes to sophomore Tony Jones, whose 297 rushing yards in 2011 included 72 in Stewart's absence in CU's 17-14 win at Utah. Josh Ford returns for his junior season after submitting another eye-opening spring, and sophomore Malcolm Creer is classified as "full go" after in-season 2011 knee surgery. Three incoming freshmen RBs also will be given close looks.
7.    Embree and offensive coordinator Eric Bieniemy have emphasized the need for a strong running game. Will the Buffs have one this season?
CU averaged 108.7 rushing yards a game in 2011. That was about one quarter's worth of ground productivity in Bieniemy's day. That paltry figure left the Buffs ninth in the Pac-12 and 106th nationally. Nobody's happy with that number and improving on it will be one of this season's priorities. Tony Jones is listed as a 190-pounder, but both Embree and Bieniemy have cited a need for bigger backs and they've snagged four in Creer (205 pounds) and incoming freshmen Terrence Crowder (210), Davien Payne (225) and Donta Abron (190). Plus, January enrollee Clay Norgard is a 240-pound fullback.
8.    Despite losing starting guards Ryan Miller and Ethan Adkins, can the O-line be fairly solid?
Coach Steve Marshall believes so. He's got his starting center (Gus Handler) and both tackles (David Bakhtiari, Ryan Dannewitz) back, plus a pair of players (Alexander Lewis, Daniel Munyer) who saw considerable duty in 2011. The return of tackle Jack Harris, the 2011 right-side starter before an early season injury, could allow Dannewitz to move to guard. Marshall is still developing depth and is hopeful Kaiwi Crabb, Alex Kelley and Stephane Nembot, the physical monster who switched from defense last season, can provide it.
9.    Should the coaching staff feel any more secure about the kicking game this season?
Yes – provided several capable punt/kickoff returners step up early. If/when he returns, Richardson has the ability but the coaches likely will think long and hard about using him in either role and exposing him to further injury. The Buffs used a pair of freshmen (Darragh O'Neill, Will Oliver) in 2011 as their respective punter and kicking specialist, and both performed well. O'Neill averaged 38.8 yards per punt last season while Oliver made 11-of-16 field goals and 29-of-31 PAT attempts. That said, special teams coach J.D. Brookhart will be looking for O'Neill to sharpen his rugby-style punting and Oliver to focus more on getting the ball higher faster. Reliable snapper Ryan Iverson returns and versatile athlete Justin Gorman looks solid as a holder.
10.     Will Embree's second camp be structured any differently than his first?
Not significantly. Physical play will be emphasized, as it was last summer. But here's one difference: Last August, the CU staff had to be cognizant of a 13-game schedule with no open week, no built-in healing time. Not so this season; the first week in October brings a bye. That's not to say Embree and his coaches believe they can get away with not "practicing smart" in this camp, but a schedule like last season's definitely demands adjustments. This camp's practice schedule shows the first day in pads on Aug. 10 (four days in) and the players' first day off not coming until Aug. 26. That could be readjusted depending on progress and performance. The camp schedule is liberally sprinkled with "walk-throughs," teaching and review periods designed to bring everyone up to speed. Only two major scrimmages are set. All practices are closed to the media and public, and Embree has made his incoming freshmen off-limits to interviews until after the opener (Sept. 1 vs. Colorado State).
July 25th
Penn State players sticking with the Nittany Lions … for now
Day three into the Penn State sanctions, and all of the current Nittany Lions have remained Nittany Lions, at least for now.
One possible defection which has received a great deal of attention is running back Silas Redd, who met with USC head coach Lane Kiffin for three hours in Connecticut on Thursday.
A source told ESPN.com that the meeting "went really well." Redd may travel to California for a visit Saturday and decide by Monday. Redd, Penn State's leading rusher last season, is intrigued by the chance to compete for a national championship and that could overwhelm the emotional part of him wanting to stay for his teammates, the source said.
Redd has two years of eligibility remaining; he would plan to play at USC for both seasons, but could turn pro after this year if he was judged to be a first-rounder. USC laid out an extensive presentation on how Redd would fit with the team, including Power Point presentation and video clips.
As Kiffin was returning to California, Penn State coach Bill O'Brien was at the podium at Big Ten media days in Chicago. Asked if he had an update on Redd, O'Brien said, "No."
While its hard to miss the irony of USC head coach Lane Kiffin swooping in to take a Penn State starter – two years after complaining bitterly about other schools doing the same to USC when the Trojans were put on a two-year bowl ban – other coaches have taken other tacts.
[Note: How would USC, with a 75-man scholarship limit, add another player? A spot would have to open up for Redd to transfer to the school. USC believes at least one player will be academically ineligible, opening up a spot for Redd. The backup plan would have a walk-on giving up a scholarship.]
Wisconsin coach Bret Bielema said he has no plans to recruit the players at Penn State, suggesting it would violate what he calls a Big Ten coaching brotherhood.
Other members of the brotherhood weren't so sure about that.
"We're going to follow the rules and the rules allow you to recruit," said Purdue coach Danny Hope, who acknowledged contact between his staff and some PSU players. "For us not to compete would be a disadvantage for our football program. Whether anything materializes out of it, I don't know. If they're available, we're interested."
Ohio State coach Urban Meyer said he had a "problem" with recruiting at Penn State.
"I don't know enough about the rules," he said. "If a player reaches out, says, 'I want to leave here, I'm out of here, I'm gone,' and reaches out to someone, the player has a right to choose, especially by the rules, to go where he wants. To actively go get a player on a team, I'm not sure. … I don't really understand the rule, I'm going to look into it."
Bielema has already decided. "I made the decision as a head coach we would not reach out to any Penn State players," he said. "I think one of the things that I've loved and appreciated about being in this conference is there is a genuine respect for everybody in our league that you are a Big Ten brother and … we're a group of coaches that have a network that's beyond anybody's expectations and helping us in recruiting."
Illinois coaches were in State College, Pa., on Wednesday and other coaches have said they've been in contact with players. Preseason practice starts at Penn State on Aug. 6. At least 13 top players and as many as 30 affirmed their commitment to Penn State on Wednesday, including Mauti and senior quarterback Matt McGloin.
New Illinois coach Tim Beckman said coaches seeking Penn State players have nothing to apologize for. He said the Illini sent a list of names to Penn State before doing anything else.
"We're just following the rules of the NCAA," he said. "We were in State College but we did not go on campus. We went to establishments outside campus and called some individuals. If they wanted to come by, it was their opportunity to come by."
Michigan coach Brady Hoke said he glanced at the Nittany Lions' roster but was not going after Nittany Lions players. Northwestern coach Pat Fitzgerald said there was no way the Wildcats would pursue Penn State players.
And Michigan State coach Mark Dantonio said the Spartans would respond only if they were contacted. He did not give names.
It's a touchy issue, especially for rivals within the Big Ten.
July 24th
Media Day – Colorado Buffaloes
Representing the University of Colorado at the Pac-12 Media days were head coach Jon Embree, junior offensive tackle David Bakhtiari, and senior safety Ray Polk.
Below are some of the comments made this morning:
Jon Embree
On goals for the season… With the road losing streak over, "our goal this year is to get to a bowl game"
On Paul Richardson … "A lot more optimistic" about his return this fall; "He's been progressing rapidly"; "I don't think it's out of the question" that Richardson will play this fall
On the hardest part of his first season … "It takes time to create a culture … we had five suspensions before the Stanford game … You've got to look at the long term … We didn't get to as much football as I would have liked", noting that he got to teach a lot more "football" this spring
On quarterback battle … It will be a three-man race … "Connor Wood and Nick Hirschman were supposed to start the battle this spring, but Hirschman broke his foot … this may have actually worked out better for Hirschman, as he was able to work on the mental aspect of the game" … Connor Wood had a good spring … Jordan Webb will be the third contestant for the job … Would like (incoming freshman) Shane Dillon to be a part of it, but may not be ready this year.
On "keeping up with the talent in the Pac-12" … Even though CU lost 28 players, "I feel good about what we have coming in" … Nick Kasa doing well at tight end … some wide receivers and running backs are doing well … "We've upgraded our team speed. It's just a question of whether they go in the right direction".
On freshman impact players … "We signed five very good players" … tight ends and wide receivers have "a couple of kids who will be difference makers"
David Bakhtiari
On Utah being a rival … "A little of a media creation" … but would not commit to calling Utah the main rival, "to be the best you have to beat the best" 
On summer workouts … "Nick Kasa is working out very well" at tight end … Will Pericak is "killing it" … also singled out Chidera Uzo-Diribe and Gus Handler
On playing in the Pac-12 … Big 12 players are bigger; Pac-12 players are faster … "still have big, strong, fast guys at the end of the day" in both leagues
Ray Polk
On Utah being a rival … With Colorado still new to the league, CU is still looking "to find somebody who we want to be our rival" … "to look at the best" (the inference was that it was not Utah)
On summer workouts … Buff players "holding player run meetings" which are going well … "excited to have Greg Henderson back" … seniors Doug Rippy, Will Pericak, Jon Major "will make a huge difference this fall"
On playing in the Pac-12 … "a different ball game" than the Big 12 … In the Big 12, Buffs would face "one great receiver" every week, in the Pac-12, you see "two or three every week".
Here is a link to a transcript of the entire press conference.
July 23rd
CU media day primer
The Pac-12 media days kick off Tuesday morning with the University of Colorado being represented by head coach Jon Embree, junior offensive tackle David Bakhtiari, and senior safety Ray Polk (it was previously reported that senior linebacker Doug Rippy would be attending, but the CU website has Polk).
If you would like to take in the CU press conference, it will air live at the Pac-12 website, as well as the conference' YouTube channel.
David Bakhtiari will be the Buffs' starter at left tackle this fall. Bakhtiari has already been named to the watch lists for the Outland Trophy (one of 18 offensive tackles; one of 71 players overall) and the Lombardi Award (one of 128 players so honored). Bakhtiari is on the first-team All-Pac-12 teams of Phil Steele's, Athlon's Blue Ribbon Yearbook and Lindy's.
Ray Polk is back at starter at free safety, fully recovered from off-season wrist surgery. Polk is the sole remaining running back of the star-crossed recruiting Class which brought in Darrell Scott as the nation's No. 1 running back, and Rodney Stewart as a Signing Day after-thought. Polk has been playing safety for the Buffs since his red-shirt freshman season, and has 26 career starts to his credit. Polk is a third-team preseason All-Pac-12 performer in the eyes of Phil Steele's, and has been named to the Ronnie Lott IMPACT trophy watch list, which is based upon community service and leadership along with prowess on the football field.
July 22nd
Embree on the return of Paul Richardson: "It's been on my mind since April 30th"
Buff fans are not the only ones who are wondering whether star wide receiver Paul Richardson will make a faster-than-expected return from knee surgery.
According to cubuffs.com … On June 5, Embree called a staff meeting to discuss Richardson's possible return for the 2012 season.
The Buffs staff pondered different scenarios regarding Richardson, with Embree moderating and asking each of his assistants, "What do you do?" while also reminding them, "If he continues to do what he's doing he's going to put us in a difficult situation. I say it's a difficult situation from the standpoint of I know what the fans want, but I went through the staff and said, 'What would you do?'"
When his assistant coaches had offered their answers on playing Richardson immediately if he receives medical clearance or redshirting for 2012, Embree revisited each and asked another question: "What would they do if (Richardson) was your son? I told them I'm going to look at this from the standpoint of that's Taylor and Connor Embree and as a dad what would I do?
"I've had five knee surgeries – all on the same knee. It's easy sometimes when people aren't in it, when they haven't gone through the other side of it, for them to say do this or don't do that. Anybody can make a decision when it's not them or their son. I tease him and (Doug) Rippy and tell them until they can beat me in a race, you're not cleared anyway.
"When we get to that stage, ultimately it will be his family's decision. They're the ones at the end of the day will have to live with the consequences. We all hope it's a Cinderella story, but if it isn't . . . I don't want to jeopardize his career. Yet if he's cleared and the family feels great and he feels great . . .".
Embree on former Kansas quarterback Jordan Webb
On a trip to Lawrence this spring to watch son Connor in the Jayhawks spring drills, Embree said new Kansas coach Charlie Weis spoke glowingly about Webb. On the one hand, that's not difficult to imagine since Weis knew Webb was transferring and probably had an idea he was headed to Boulder. But even though he was on his way out, Webb apparently made a positive impression on Weis.
"Charlie couldn't say enough good things about the kid, how great he's been in still being around the program and doing stuff," Embree recalled. "He wasn't one of these bitter kids who was trying to be a cancer . . . I think that speaks volumes to his character.
"(Weis) tells you in January that with what I do you're not going to fit . . . to A, understand that, and B, be professional about it, then to do what he did, take 28 or 31 hours to get here, that says a lot about him."
Beginning this season, Webb has two years of eligibility remaining. Embree is impressed by the route Webb followed to Boulder and doesn't believe the overall transition – even from a spread to a pro-style offense – will be overly difficult.
"I would imagine with him being an upperclassman, with him playing the football he has, it won't be too great a transition for him," Embree said. "He's a bright, smart kid. He graduated high school early so he could go to Kansas; he graduated from Kansas in 31/2 years so he could come to Colorado.
"This shows his commitment, his passion about the game. Anyone who does that, forsakes basically their senior year – prom and all that other stuff – to give all that up and basically be the low man on the pole . . . you know this is important to him."
July 21st
CU transfer amongst those in Aurora theater
Jordan Murphy, a tranfer from Colorado State, was another lucky survivor of the shootings in Aurora.
"He was pausing in-between rounds and we could hear people screaming," Murphy told BuffStampede.com. "When we felt he had his attention away from us to the top row, we all crawled and then ran and as I ran, a bullet hit the wall right next to me and the drywall hit me in the face. It was pretty crazy."
Murphy, a walk-on fullback at Colorado State, was told this spring that he would not fit into the new spread offense being installed by the new coaching staff. Murphy, a 6'1″, 225-pound sophomore, will come to Boulder in August as a preferred walk-on. He will sit out the 2012 season, and have the opportunity to earn a scholarship in 2013.
"It shows you that life is precious," Murphy said. "Every day you live is a gift, it is something you can't take for granted. I learned a lot last night. … As tragic as it was, it is really cool to see the community, all these people that really care, show their support."
July 17th
Scheduling conflict … ?
With the end of the Pac-12/Big Ten partnership agreement, Colorado now has, presumably, some games to fill in come 2017 and beyond. Nine Pac-12 games remain on the calendar, as does the CSU game (at least until 2020). Without a Big Ten game to schedule, the Buffs will have two open slots each season.
Except for 2016, when the Buffs have, at least in theory, scheduled 13 opponents.
According to the CU website, Colorado has 12 games scheduled: nine Pac-12 conference games; Colorado State (Denver); San Jose State; and at Michigan (in the $1.45 million "hey, ain't it great we get another big check! Who needs home-and-home games against BCS teams when we can get home-and-homes with Fresno State?" game).
However, according to jconline.com, a Purdue website, Colorado has a 13th game planned for 2016, against the Boilermakers. In an article discussing the loss of the Pac-12/Big Ten contract, you find this sentence: "Purdue's handshake agreement to face Colorado in 2016 and 2017 remains intact, associate athletic director for communication Tom Schott said (on July 13th)."
So, if Purdue is still in the mix for 2016, what other game will go to get CU back to a 12-game schedule?
A Pac-12 game? Zero chance of that happening.
Colorado State? In your dreams.
At Michigan? After the annoucement of "quite possibly the most ($$) for a one-and-done series in college football history"? Unlikely.
Which would leave the San Jose State game as the only 2016 game which can be moved to another year. Already a home game, and already part of a contract to play several times in the late 2010's, this game could potentially be pushed back if the Purdue game were to become a reality.
If this were to be the case, Colorado would have two Big Ten teams on the schedule, making for 11 BCS conference schools and CSU in Denver.
It gets worse.
The 2016 schedule already calls for road games against (read this slowly, to let it sink in): Oregon, Stanford, USC and Arizona. Then add a game in Ann Arbor to that list.
Yikes.
While Purdue has not been a dominant Big Ten team, the Boilermakers would likely be, all things being equal, a much tougher opponent than San Jose State.
We'll just have to wait and see how this plays out …
CU South Scoreboard with ribbons – photo credits: David Zimmerman (click on photos to enlarge)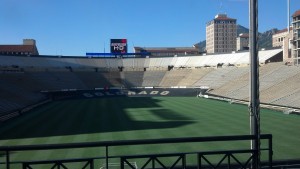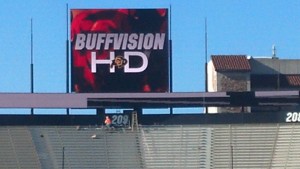 And the North Scoreboard …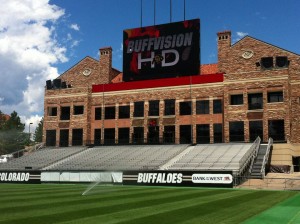 And the field level scoreboard …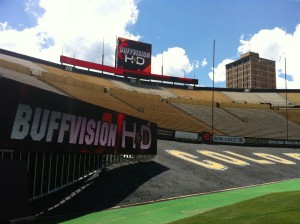 July 16th
Doug Rippy added to Butkus watch list; David Bakhtiari picks up second nomination
And then there were five …
From cubuffs.com … Another Buff was added to national award watch list on Monday, with senior linebacker Doug Rippy being named to the watch list for the Butkus Award. Meanwhile, junior offensive tackle David Bakhtiari received nomination No. 2, being named to the watch list of the Rotary Lombardi Award, given to the best lineman or linebacker. Both trophies will be awarded in December.
Rippy led the team with 62 tackles (19 solo) in the first seven games last season before suffering a season ending injury. He had three games with 10 or more tackles and averaged 8.9 tackles per game – tied for the most on the team with Anthony Perkins. The Columbus, Ohio native also finished with three sacks and had two more tackles for a loss. He sacked or assisted with a sack of the quarterback in each of the first four games of 2012.
Colorado has had five players be finalists for the Butkus: Alfred Williams, Ted Johnson, Matt Russell and Jordan Dizon. Williams (1990) and Russell (1996) both won the award while Johnson (1994) and Dizon (2007) were runner-ups.
In all, seven players from the Pac-12 were nominated for the Butkus Award … including three players from Stanford alone.
The Lombardi watch list is the second major national award list that Bakhtiari has been named to, as he was also mentioned on the Outland Trophy (best interior lineman) watch list on July 12.
Colorado has never had a player win the Lombardi, but Bryan Stoltenberg was close, as he was one of 10 semifinalists in 1995. Head coaches from all Division I schools, sports media personnel and former winners and finalists of the Rotary Lombardi Award vote on the trophy, which will be presented on Dec. 5 in Houston, Texas.
Bakhtiari was injured in the first contest last year after just seven plays but missed just two games. After he came back in the Ohio State game, he played in all 623 of the remaining offensive plays over the last 10 games of the season, grading out to 84.4 percent. He had 21 great effort blocks, two touchdown blocks, and gave up just two sacks and three quarterback pressures while committing just one penalty all season long. His best game was his initial return against Ohio State where he graded out at over 90 percent.
Overall, a total of 17 players from the Pac-12 were nominated for the Lombardi trophy, including four each from USC and Stanford. Arizona had one nominee, Brian Wagner, a transfer from Akron. Why notable? Wagner isn't with Arizona any longer, having quit the game in June. I don't have love for the game anymore," Wagner told TucsonCitizen.com a month ago. "I told Coach that, and that was it. It was something I was thinking about for a long time. That's kind of where I'm at right now."
Rippy joins Bakhtiari, Darragh O'Neill, Gus Handler and Ray Polk as current CU players added to an official watch list for a major postseason award. Polk was added to the watch list for the Ronnie Lott Impact Trophy on May 8, Handler to the Rimington Trophy watch list on July 10 and O'Neill to the Ray Guy watch list on July 11.
Overall, seven CU players have won nine national football trophies with Williams (1990 Butkus), Russell 1996 Butkus), Deon Figures (1992 Thorpe), Chris Hudson (1994 Thorpe), Rashaan Salaam (1994 Heisman, Walter Camp, and Doak Walter), Dan Graham (2001 Mackey) and Mark Mariscal (Ray Guy 2002) picking up hardware.
July 13th
South scoreboard "on"
Photo credit: GoldenBuff at www.allbuffs.com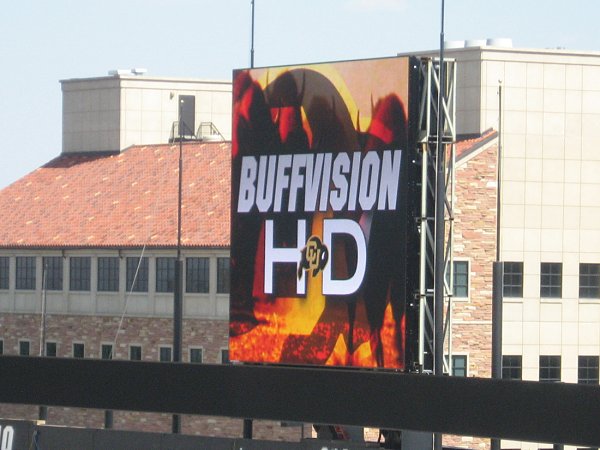 "Transformational" project pushed back yet again?
Happy Friday the 13th!
While the Buff Nation steels itself for the triumphant announcement next month by Colorado State University that it is bringing a $450 million stadium to its campus, it appears that the University of Colorado rebuttal announcement has hit some snags.
According to cubuffs.com… The formal announcement of a major University of Colorado facilities upgrade that was targeted for this fall might or might not hit that mark. But the proposed multi-million dollar project remains an athletic department priority.
After specifying a timetable at an informal media gathering in April, CU Athletic Director Mike Bohn said Thursday that a late September unveiling of what he termed a "transformational" project in his department "is yet to be determined."
Speaking at a media briefing following the athletic department's annual summer golf outing – the Casotti Classic – Bohn said he was unsure if "we're on pace" to make the announcement at that time.
"I know that we are working extremely hard to be in a position to talk about that," he continued. "There's a lot of moving pieces in that project and there's a lot of different things that are coming together on that.
"But I think that (a late September announcement) is yet to be determined. So I'm not saying yes and I'm not saying no. But I'm thrilled with the collaboration with the campus and all the moving pieces that have been put together. It's an extremely complicated process, but yet it's one we're spending a great deal of time on. We're pleased with our progress but we'll see about that exact timing."
Reading the tea leaves … Either CU has encountered difficulty in the planning process (permits, approvals), or, more likely, is not yet confident it can raise the funds necessary to build what the athletic department envisions. Since I am a small fish in the donations department (my "priority ranking", for what it's worth, is 1,032 out of 10,355), I am not in a position to criticize others who do not make six figure donations to the athletic department. Still, it's frustrating as a Buff fan, witnessing all that is going on in the facilities "arms race", both locally and nationally, and wonder why Colorado doesn't get to be a part of that parade.
Other topics of note discussed by CU athletic director Mike Bohn:
Season ticket sales …last season approached 25,000-plus – the most since 2003. "We're working our tail off to try and reach that number again," Bohn said.
The current count is approaching 21,000, according to Bohn, "So we recognize that we have some room to go." He said traditionally the opening of Broncos training camp seems to generate football interest in general and can lead to an increase in CU season ticket sales.
Although about 4,000 season tickets need to be sold to reach last year's total, Bohn said that was "not abnormal for us. We generally have attrition each year in that range, which is one way is very, very frustrating. But on the other hand it's an opportunity for us to continue to work and try to put that together.
"We'd like to get to a situation where our attrition is not in that range. I don't have answer for exactly why that is, but it's certainly something we continue to scratch at and put together."
New video boards in Folsom Field … are "fully installed" but have not yet been tested. However, he said a "premiere event" for the media that will demonstrate the "spectacular impact" the new boards will have is scheduled for Aug. 10. The event is titled "Your Name In Lights."
"It's going to have a huge impact on our fan experience and we're very, very excited and proud of that," Bohn added.
The football program, he agreed, still needs to create an "intensity of interest" among fans who will come to watch the Buffs "whether we're a 20-point underdog or a 20-point favorite, and know that Folsom Field is the place to be and be a part of that.
"That's what's we've got to sell and that's some of the expectations I have. I take that on personally and I think our new CMO brings a part of that. I believe our senior staff embraces that as well and that's what we're working on."
July 12th
Colorado 2012 Hall of Fame Class includes four football players; Announcer Larry Zimmer
The University of Colorado has announced its Hall of Fame Class of 2012. Included on the list were four former football stars, along with longtime KOA announcer Larry Zimmer.
From cubuffs.com, here are the official bios of the new honorees:
Bowd Dowler, Football (1956-58)
Playing in the famed single-wing offense under Dal Ward, Dowler earned honorable mention All-American and first-team All-Big 7 honors as a senior in 1958. He caught 41 passes for 628 yards and 6 touchdowns in his CU career, big numbers for a primarily rushing offense at the time; in 1989, he was selected as a member of CU's All-Century Football Team. Green Bay selected him in the third round in the 1959 NFL Draft, and he went on to be named the Rookie-of-the-Year and to the league's all-decade team for the 1960s as he played a major role in Green Bay's 1960s dynasty, leading the team in receiving seven seasons as the Packers won five NFL titles and posted victories in Super Bowls I and II.
Joe Garten, Football (1987-90)
An offensive guard, he was one of the first three unanimous All-Americans in CU history as a senior in 1990, along with tailback Eric Bieniemy and outside linebacker Alfred Williams that same year, both of whom are already in the Hall. He was also a consensus first-team All-American as a junior and a two-time, unanimous first-team All-Big Eight performer as a junior and senior. He was the runner-up for the Outland Trophy as a senior and still shares the school record for the most starts by an offensive player in school history with 44 from 1987-90.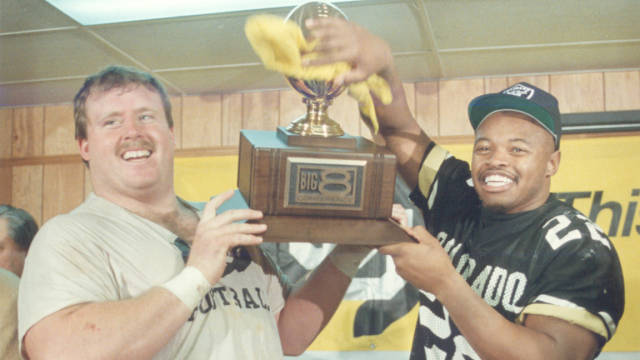 Matt Russell, Football (1993-96)
He won the Butkus Award as the nation's top linebacker as a senior in 1996, when he was a consensus first-team All-American; also a two-time, first-team all-conference selection (All-Big Eight as a junior in '95; All-Big 12 as a senior in '96). He finished his career as the second all-time leading tackler in Colorado history (446), with his 282 unassisted tackles setting a school record that still stands, and played in 44 career games, including starts in the last 40. He helped coach the secondary at Colorado in 2000 while assistant coach Tom McMahon was battling cancer; in 2009, he joined the Denver Broncos as their director of college scouting and in 2012 was named their director of player personnel.
Matt Russell seals Butkus Award with 16 tackle (12 solo), two third down quarterback sack and two fumble recovery game against Nebraska
Rashaan Salaam, Football (1992-94)
He was just the fourth player in college football history at the time to rush for over 2,000 yards in a season, and did so in an 11-game campaign in 1994 that included six ranked opponents. He led the nation in rushing (2,055 yards), scoring (144 points) and all-purpose yards (213.6 per game) in leading CU to an 11-1 record and winning the Heisman Trophy, the school's first and only, the Doak Walker Award (nation's top running back) and the Walter Camp Trophy (national player of the year).
Salaam's run to 2,055 fitting end to great 1994 season
Larry Zimmer, Announcer (1971-present)
He is the first inductee into the Hall who is not a former athlete, coach or administrator; but he's been a part of more football and men's basketball games than perhaps anyone else in school history, calling 481 for football and 525 in basketball, or 1,006 total, through the 2011 season. He was awarded an Honorary "C" in 1992, and was honored as the 15th recipient of the Chris Schenkel Award by the National Football Foundation in 2009, which recognizes those who have enjoyed a long and distinguished career broadcasting college football at a single institution.
Another former Buff, who also played football and will be inducted this November 15th:
Frank Bernardi, Football/Baseball (1952-55)
He was selected not only for his football and baseball accomplishments, but for his heavy involvement in the Alumni C-Club for over 50 years.  He rushed for 1,235 yards in his career, fifth-most by a Buff at the time, with his 6.33 average per carry still the fifth-best number by any of the school's 49 players who have gained 1,000 career yards.
—-
David Bakhtiari joins list of honored Buffs
From cubuffs.com … Junior OT David Bakhtiariwas one of 71 players nationally Thursday to be named to the watch list for the 2012 Outland Trophy, as selected by the Football Writers Association of America.
The Outland Trophy winner is chosen from three finalists who are part of the FWAA All-America Team. The FWAA All-America Committee, after voting input from the entire membership, selects the 25-man team and eventually the three Outland finalists to be named on Nov. 19. Committee members, then by individual ballot, select the winner.
Bakhtiari is a preseason All-Pac-12 selection by several outlets after last season being named second-team All-Pac-12 by the Pac-12 Coaches, Phil Steele's College Football and collegesportsmadness.com.  Bakhtiari was injured in the first game last year after just seven plays but missed just two games.  After he came back in the Ohio State game, he played in all 623 of the remaining offensive plays over the last 10 games of the season, grading out to 84.4 percent.
He had 21 great effort blocks, two touchdown blocks, and gave up just two sacks and three quarterback pressures while committing just one penalty all season long.  His best game was his initial return against Ohio State where he graded out at over 90 percent.
Bakhtiari joins Darrah O'Neill, Gus Handler and Ray Polk as current CU players added to an official watch list for a major postseason award.  On May 8, Polk was added to the watch list for the Ronnie Lott Impact Trophy while Handler was named to the Rimington Trophy watch list on Tuesday and O'Neill on the Ray Guy watch list Wednesday.
CU's Joe Garten was the runner-up for the trophy, given to the nation's top interior lineman, in 1990 and Nate Solder was one of three semifinalists in 2010.
July 11th
Darragh O'Neill named to Ray Guy Award watch list
Speaking of walk-ons … Sophomore punter Darragh O'Neill was named today to the preseason Ray Guy Award watch list. O'Neill joined the team as a walk-on last spring, having never before played organized football (he did letter three times in basketball and soccer in high school at Boulder Fairview).
The Boulder native played in all 13 games last season and had the second best punting average among freshmen in college football, averaging 42.6 yards on 74 punts. He had 21 punts land inside-the-20 and 17 punts that were booted over 50 yards. His longest punt, of 57 yards, came against Washington State on Oct. 1 – a game in which he averaged 49 yards in his three kicks.
On Oct. 22 versus Oregon, O'Neill had six punts land inside-the-20 and four punts inside-the-10, setting single-game school records in both categories. He also set school records during the season for most punting yards (3,152 yards) and highest net punting average by a freshman (38.8 yards).  Overall, O'Neill ranked 31st in the nation in punting last season.
O'Neill was one of four punters from the Pac-12 named to the preseason Ray Guy Award watch list.
Colorado adds former walk-on fullback/linebacker
The headline in the Coloradoan proclaims: "Walk-on accepts scholarship offer with CU after being let go by CSU football team".
First reaction: Wait a minute. The Buffs are offering a scholarship … to a player who was only a walk-on at CSU … at a position where CU is already stocked with young talent?
Second reaction: Not so fast.
The article: Jordan Murphy, a 6-foot-1, 225 pound freshman walk-on fullback/linebacker for the Colorado State University football team, was let go from the program, the school confirmed Tuesday. Fortunately for the 2011 Lutheran High School grad, he was able to land on his feet.
Unlike most walk-ons, who either give up football or take their talents to a small school after being cut, Murphy is the latest addition to head coach Jon Embree's roster at the University of Colorado-Boulder. Even better, he's been promised a scholarship once eligible to play in 2013.
"I'm on the team. I'm part of the 105-man roster for the fall," Murphy said. "I'm a preferred walk-on this year, but once I'm eligible, the coaches said they'll give me a scholarship as soon as I step on the field."
Murphy's and the Coloradoan's interpretation of events: Transfer to Boulder, sit out a year, and become a scholarship player in 2013.
A more reasonable interpretation of events: Transfer to Boulder, sit out a year, earn your way onto the playing field, and become a scholarship player in 2013 or beyond.
That's the pitch made to all preferred walk-ons: work hard, impress the coaches, and there may be a scholarship waiting for you down the road.
No promises. No guarantees.
Upsides … Murphy joins the team as a walk-on, so no scholarship issues (at least not in 2012, as Murphy sits out his transfer season) … We know more about the CSU offense of the future, as fullbacks are being eliminated from the roster in Ft. Collins … Murphy went through spring practices with the Rams, so he can assist his new teammates in preparation for September 1st … and, well, at least he looks the part: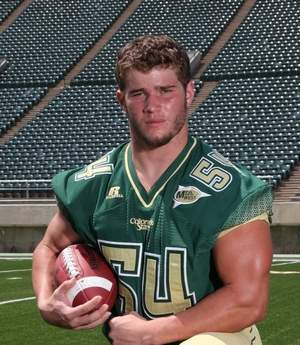 July 10th
Center Gus Handler named to Rimington Award watch list
From cubuffs.com … Junior Gus Handerwas one of 51 players nationally named to the Rimington Trophy watch list Tuesday, an award presented to the country's best center at season's end.  Handler is one of five Pac-12 players on the list.
Handler saw spot duty in the first three games last year before taking over at center in the Ohio State game and from that point on, he saw action in all but 48 offensive plays over the last 10 games of the season.  In all, he played in 613 plays and was graded out at 81.6 percent with 500 plus plays.  He had 14 great effort blocks, four touchdown blocks and allowed just one sack and two quarterback pressures.  His best game was the Arizona game, when he graded out at over 90 percent.
The Rimington Trophy is in its 13th season and is overseen by the Boomer Esiason Foundation.
Several Buffs have been on the watch list for the Rimington, and in 2005, Mark Fenton was one of six finalists for the award.  Seven CU players have won nine national football trophies: Alfred Williams, 1990 (Butkus), Deon Figures, 1992 (Thorpe), Chris Hudson, 1994 (Thorpe), Rashaan Salaam, 1994 (Heisman, Walter Camp, Doak Walter), Matt Russell, 1996 (Butkus), Dan Graham, 2001 (Mackey) and Mark Mariscal, 2002 (Ray Guy).
Handler joins Ray Polk as CU players added to an official watch list for a major postseason award.  On May 8, Polk was added to the watch list for the Ronnie Lott Impact Trophy.
—
Paul Richardson: "If my team needs me and I can do it, I will do it"
Three months after his ACL surgery, Paul Richardson is eyeing his return to play, perhaps as early as the season opener against Colorado State.
"Pretty much right now I'm just building my strength back," Richardson told the Daily Camera. "Since I'm healing so fast, they have me doing things slower so they're making sure my mental aspect is there. I really respect that and I appreciate that, but ability wise, I'm not missing a step right now.
"Everything they have given me to do, I've been able to do it fairly easily as far as running, jumping, running with resistance, jumping with resistance, lateral movement. Nothing has set me back so far."
While Richardson sounds bullish about his prospects for returning this season, he says he keeps himself grounded and realistic "by reading stories about people who came back too soon and then re-injuring the same leg or hurting the other leg because they were overcompensating," he said. "Getting those stories and talking to my friends in the NFL that have suffered the same injury pretty much have done it for me."
Richardson said he won't participate in fall camp in August but he isn't ready to rule out playing in the first game of the season against Colorado State if he continues to progress at the same pace with the same success. He said coaches and trainers have told him the decision to play or not to play will ultimately be his once he is medically cleared.
He said the decision he makes will depend largely on when he receives that clearance.
Richardson said he badly wants to play a full season, but if his teammates get off to a good start without him and he feels like he could help get the team to a bowl game, he would be happy to add another partial season to his résumé.
"I would love to see, and my family would love to see, just how good it would be as far as film and as far as statistics for me to able to put together a full season," Richardson said. "So right now, I'm not in favor of missing a big chunk of the season just because of like how my career has went so far. I would love for myself and for my own confidence to be able to compete for 12 games and then a bowl game and see how those things add up."
The next breath.
"It will also go by how much my team needs me," Richardson said. "If my team needs me and I can do it, I will do it. But if my team is doing well and to a certain extent they don't need me, I would just take that time to get better. Coming back in say 17 months is better than coming back in five."
So if your team needs you and October arrives and you're feeling strong and you are cleared to play?
"I will play," he said. "That's my word. I will play, Definite. Especially if they are starting off strong and it would be just like smart to play. Like say we get out of September with a really strong record. It would behoove me to play. I would definitely play and do just whatever I can to help me team win."
—
There's always a risk when a player takes the field. After all, Richardson tore his ACL in a non-contact drill in spring practice. Still, you would like to see this potential All-Pac-12 player be able to perform at 100%. Would it be great to see him be able to play – and contribute – in 2012?. Sure. Is it great to see an athlete who is all about team, and is willing to give up a potential monster senior season in 2014 in order to play half a season in 2012 if it will help his team win? Absolutely.
We'll just have to trust Richardson and his trainers that he will not be out competing until he is a "full go" … and not a day before.
July 9th
Colorado picks up  a new assistant coach?
UPDATE: Albert Young still hasn't been introduced by the CU athletic department, but when he is, it will likely be as a graduate assistant or an intern.
There are reports at AllBuffs and SBNation that Colorado has picked up a new assistant coach, Albert Young.
Young is reportedly coming on board to assist with running backs. Young played collegiately at Iowa, joining the Minnesota Vikings as an undrafted free agent in 2008. Young played for the Vikings in 2009 and 2010 (under Eric Bieniemy) before taking on brief stints with the Jacksonville Jaguars and the Pittsburgh Steelers.
The hiring of Young has yet to be confirmed by the CU athletic department, but it does appear that Young is joining the Buffs.
Welcome, Albert Young!
July 8th
Nkemdiche update: "I didn't give an ultimatum"
An update from the Robert Nkemdiche story, below.
"I didn't give Coach Swinney an ultimatum about anything," Nkemdiche told the New York Times in a Sunday phone interview. "I hope he doesn't feel obligated to offer anybody a scholarship because of my commitment."
Nkemdiche didn't back down from his hopes that Carter would eventually join him at Clemson, but said that whatever Swinney's decision proved to be, it wasn't going to affect his college plans.
"Of course I would want to play with him," Nkemdiche said of his teammate. "But if it doesn't work out, I'll still go to Clemson."
On some level, Nkemdiche is correct that he never presented Carter's offer as a requirement for his Clemson signature. But as much sympathy as we have for a teenager who hasn't even begun his senior year of high school and is trying to do his best for a friend with the glare of the national media squarely on him, that doesn't mean he didn't issue Swinney an ultimatum.
"If Clemson doesn't offer Ryan, it would make me look at Ole Miss a little more, it would," Nkemdiche told the AJC. "It's very important that I have my boys with me."
July 7th
Different CU … but an interesting issue
Clemson is in line to land the overall No. 1 recruit from the Class of 2013, linebacker Robert Nkemdiche.
There's only one catch … Nkemdiche wants Clemson to offer one of his teammates, safety Ryan Carter, a scholarship.
"I am waiting on Clemson to offer Ryan; when that happens, it's locked … it's a done deal … it's over," Robert Nkemdiche told the Atlanta Journal Constitution.
Nkemdiche says the primary reason he picked Clemson over LSU and Alabama, among others, was because the Tigers already had commitments from his two his Grayson teammates, RB Wayne Gallman and DB David Kamara.
Who is Ryan Carter? He's a 5-foot-10, 175-pound defensive back who already has early football scholarship offers from Ole Miss, Georgia State, Tulane, Arkansas State and Southern Miss. He remains, however, an unrated player by Rivals.
"He's so hard-nosed," Nkemdiche said. "He comes up and hits anybody. It doesn't matter how big you are. He will come and hit you. That's what I like about him. He plays with a high motor and is a great football player … Of course, I'm surprised he doesn't have more offers. I'm waiting on him to get that offer from Clemson so he can come join the family."
Carter said he's had limited contact with Clemson but would probably commit rather quickly if they offered a scholarship. "Yes, because that's all I've ever wanted to do, to play with Robert in college. I've been best friends with David and Robert since the eighth grade. We're like family."
This is where it gets interesting: What if Clemson does not offer Ryan Carter?
Nkemdiche did not say he would de-commit  or make any demands — other than to say it will make him look at perhaps the only school left in the high-stakes race at this point, Ole Miss, where Nkemdiche's older brother plays college football.
Coincidentally, Ole Miss offered Ryan Carter a scholarship the day after Nkemdiche committed to Clemson. "If Clemson doesn't offer Ryan, it would make me look at Ole Miss a little more, it would," Nkemdiche said. "It's very important that I have my boys with me."
Said Carter, "Yes sir, we've all talked about going to Ole Miss together if that doesn't work out with Clemson. Robert's brother is there, and he's definitely trying to get us to go there."
So, do you take a safety which does not hold any BCS conference scholarship offers other than that recruit's brother's school?
Do you take that safety if it will firm up the commitment of the No. 1 player in the country?
Interesting questions …
July 6th
Scoreboards complete
Here are pictures of the new Folsom Field scoreboards, complete with "ribbons" (photo credit: Darian3Hagan at www.allbuffs.com).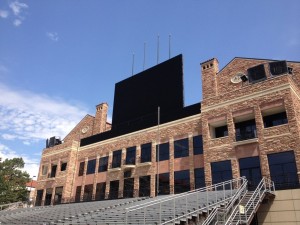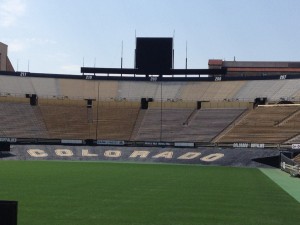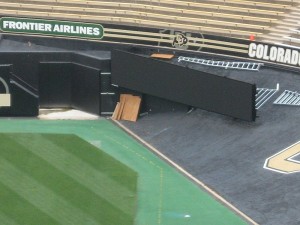 July 5th
Jordan Webb – "I'm really confident in my ability"
In an interview with cubuffs.com, the newest Buff stated that he has no illusions that his game experience will be the deciding factor in choosing the Colorado starting quarterback on September 1st. Jordan Webb said Colorado's coaches were "up front and honest with me. They told me they couldn't guarantee anything, that the best player was going to play. I respect coaches that have that mentality."
The key for Webb will be how quickly he can absorb quarterback Rip Scherer's system and apply it. He is coming from a primarily spread offense used at Kansas, and moving into a pro-style, quarterback-under-center scheme at Colorado.
"I'm really confident in my ability to pick it up," he said. "I think I can do it pretty fast . . . I've learned a few offenses in my career and a lot of it's the same stuff – just switching terminology and maybe some different responsibilities at the quarterback position."
He conceded his game experience could be beneficial, but added the emergence of a starter is "going to come down to who plays the best in practice and who has the best grasp of the playbook and who has the best handle on the team and the most respect from his teammates."
That might be where his grit enters the equation. "I think that's really important, especially at the quarterback position," Webb said. "It's easy for guys to look at the quarterback and say they're not always taking the hits like they are (at other positions). When you bounce right back up I think you earn the respect of your teammates.
"I pride myself on being tough, but I also try to be a leader. I'm not the loudest or most talkative guy during workouts or practice, but I try to lead by example. I played in over 20 ball games against some pretty good competition, so the experience is there."
Fall camp opens August 7th …
July 4th
Quarterback Shane Dillon "oozes with upside"
The Colorado quarterback race this August …
There is sophomore Nick Hirschman, the only candidate to take a snap in a CU uniform.
Then there is sophomore transfer Connor Wood, who was all-world in high school, but left Texas, and failed to assert his superiority this past spring, when he took the majority of reps with the first team with Hirschman out with a foot injury.
Now there is Kansas transfer Jordan Webb, the only candidate with much actual playing time … though often in a losing cause for the Jayhawks.
But there is also the possibility that incoming true freshman Shane Dillon might impress.
At least one writer thinks so …
Avinash Kunnath writes for the "Pacific Takes" blog that Shane Dillon "oozes with upside", going on to report … "He's probably not ready yet, but he's showing all the flashes of being a quarterback you can count on to do his thing up top.
"If there's anything that really stood out to the Buff scouts, it was probably how quick Dillon gets that football out of his hands. To me, Dillon's release is what really stands out. That thing is a laser. That ball gets out of his hand and into the receiver's arms in quick time. He does a good job of anticipating where his receiver is going to be and making the throw.
"At least in his tape, Dillon is mostly doing one read stuff, but at least the throws here are delivered with confidence, giving him the ability to feel comfortable targeting the ball in small spaces to blanketed receivers. The quick release does help optimize his throws, but that ability to move the football quick will be his greatest ally from where he starts off. Dillon has proven he can move through multiple reads, but there are concerns he does tend to lock onto his favorite target, leading to miscues offensively."
So don't completely count out Shane Dillon from the CU quarterback race this fall.
Unless, of course, you have your out bet placed one of the red-shirt freshmen, John Schrock or Stevie Joe Dorman …
July 3rd
Paul Richardson getting better … but how much better?
The internet is a flutter with a Paul Richardson tweet today, "I was cleared by my doctor and trainers to start running today and I'm not even 3 months out of surgery yet".
Sounds great … but don't pencil Richardson into the September 1st starting lineup just yet.
Running is not cutting, and it may be weeks, if not months, before Richardson is allowed to run routes.
CU trainer Miguel Rueda also had tweets on the subject:
"Paul was cleared for straight-ahead jogging and running. He's not to the point where he can make cuts."
"He is progressing nicely and faster than expected, but it's too early to predict what his status will be for 2012."
"We will monitor his progress but whether or not he can play this fall can't be determined for some time yet."
So, congratulations to Richardson and the CU medical and training staff … but let's take this (literally) one step at a time.
North Scoreboard update
Thanks to GoldenBuff at www.allbuffs.com, we have been able to keep track of the upgrades to the scoreboards.
Here is a video of work being done on the north scoreboards:
July 2nd
Jon Embree bars interviews with incoming freshmen
From the Daily Camera … Coach Jon Embree has decided freshmen won't be allowed to do interviews with members of the media until after the first game of the season Sept. 1 against Colorado State. Embree was undecided about whether there would be unfettered access to freshmen at that point or if they would only be allowed to do interviews after games throughout the season.
Embree signed 28 players to national letters of intent back in February. Since then, he has announced that three of them will grayshirt, delaying their enrollment until January. Though no official announcement has come yet, it's looking like defensive end Kisima Jagne, a product of Chandler, Ariz., may not qualify academically and might have to start his college career at a junior college.
That means there will be 24 true freshmen scholarship players on this year's roster, assuming the grayshirt plans haven't changed.
Fall camp stories were already destined to be in shorter supply come August, as it is likely that the public – as was the case with spring practices – will be barred from practices. Stories will still be circulated concerning the incoming freshmen, but we will be limited to third-hand raves from coaches and upperclassmen.
While access to stories involving the development of Yuri Wright, Kenneth Crawley and Shane Dillion would be nice, most Buff fans would be more than willing to trade a little access for a little less drama … and a fast start to the 2012 season.
July 1st
Latest pictures of the new CU scoreboards (photo credit: GoldenBuff at www.allbuffs.com)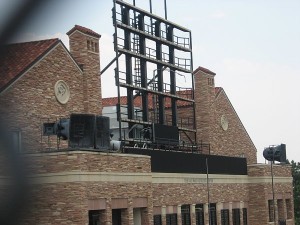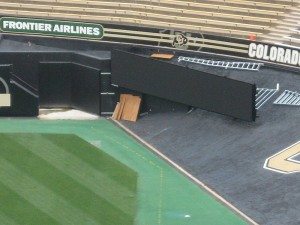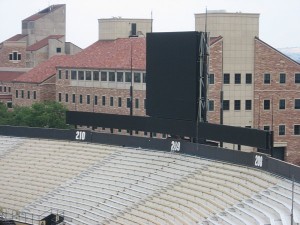 June 30th
Jordan Webb a Buff
The story which Adam at Rivals broke back in March has finally become a reality – former Kansas quarterback Jordan Webb is a Colorado Buffalo.
From KUSports.com… Webb confirmed Friday various recent reports that stated he will be transferring to Colorado. Once admitted to the school — something Webb expects to happen as early as Monday — his relocation will be official.
The future Buffaloes QB expects to have a shot at winning the starting job once he arrives in Boulder, Colo.
"That's the whole reason I wanted to transfer," Webb said. "I wanted to go somewhere where I felt like I had that opportunity."
When Charlie Weis took over as KU head coach this past December, Webb soon learned he wouldn't be a part of the program's plans. Quarterbacks Dayne Crist (from Notre Dame) and Jake Heaps (from BYU) transferred in, and in January, Weis announced Webb would be leaving Kansas.
Because Webb continued taking classes at KU and graduated after leaving the team, he will be able to take advantage of an NCAA transfer rule and be eligible immediately at Colorado. He visited the campus and met with CU coach Jon Embree this past spring.
"I think it's a good fit. They're an up-and-coming team and coach," Webb said. "I really enjoyed my time there, so we'll see how it goes."
Webb, who has two years of eligibility remaining, played in all 12 games for the Jayhawks in 2011, completing 179 of his 281 pass attempts for 1,884 yards, with 13 touchdowns and 12 interceptions.
He plans to move to Boulder this coming week and begin workouts with the Buffaloes soon after.
The Kansas transfer will have two season of eligibility left when he joins the Buffs after choosing Colorado over Wisconsin (who took yet another east coast transfer at quaterback), North Texas and Murray State. Webb's track record at Kansas wasn't too impressive but he does have more starting experience than any of the other Buff quarterbacks. He was 179-of-281 for 1,884 yards, with 13 touchdowns and 12 interceptions in 2011, but was only 4-12 overall as a starter for the Jayhawks.
While at least one blogger sees Webb as the favorite to win the starting quarterback position, it will be interesting to see if Webb can master the Colorado offense in what will be, in essence, a three-week audition in August.
June 29th
Choosing the top 12 CU players of all time
On a slow news day, it's not a bad idea for college football fans to look back at past glories.
This summer, to commemorate the 75th anniversary of the All-American season of Byron "Whizzer" White, the CU athletic department is running a competition to select the top 12 players in Colorado history. If you haven't already voted, here is the link to the fan poll.
Of course, you can always peruse the CU at the Game archives, where you can find write-ups and videos for Colorado games played since 1980. Click here for the Archived Seasons.
June 28th
New turf being installed at the CU practice fields (courtesy Colorado Buffaloes Football)
June 27th
Colorado resumes rivalry with Michigan in 2016
Discussions are continuing as to how the Pac 12/Big Ten agreement to play non-conference games will be affected by the new playoff system (see June 26th story, below). Will there be enough emphasis on strength of schedule to justify playing tough non-conference games? Will the Pac-12 stick to a nine-game conference schedule, or go to eight in order to be more competitive for playoff openings?
While these issues are unresolved, the University of Colorado is moving forward with its scheduling, adding Michigan as a non-conference opponent in 2016.
The game is a single game contract, much like the CU trip to Ohio State last fall. This, in and of itself, is disturbing. Colorado should not have to play anymore "money" games. The Buffs, with the losses of revenue associated with the transition from the Big 12 to the Pac-12, were justified in taking the check from the Buckeyes and running in 2011. It is hard to make an argument, though, that Colorado should not be entitled to a home-and-home agreement with a school like Michigan come the 2016 season, when the CU coffers will be filled as never before with Pac-12 revenue.
Perhaps – and this is just a perhaps – the Buffs will get credit for the Michigan road game once the Pac-12/Big Ten agreements are finalized. Perhaps the Buffs' first official opponent in the series, which is set to start in 2017, will be Michigan, and it will be a home game for Colorado. That would make a de facto home-and-home with the Wolverines.
Otherwise, as exciting as it will be to have another trip to the "Big House" in 2016, it's hard to justify how Colorado has fallen so low in the pecking order of college football as to not insist any contract with a fellow BCS conference school not come as a home-and-home agreement.
Want to feel worse? … Utah gets a home-and-home with Michigan, while Colorado does not … As reported at ESPN.com: The Utah Utes will play host to Michigan in Rice-Eccles Stadium in the 2015 season opener as a part of a home-and-home series that begins with a 2014 game in Ann Arbor. Michigan will make its first Salt Lake City appearance on Sept. 3, 2015 in a rare weekday game for the Wolverines, who have never played on a Thursday. The first game of the series is scheduled for Sept. 20, 2014 in Michigan Stadium.
"A home-and-home series with Michigan is the kind of opportunity that comes with membership in the Pac-12 Conference," Utah athletic director Chris Hill said in a statement.
Ouch.
Oh well, at least the Oregon State Beavers also agreed to an away game with no return. From the OSU website … The Oregon State University football team will travel to the University of Michigan to play during the 2015 season, Beaver Director of Athletics Bob De Carolis announced Wednesday.
The game will be played at Michigan Stadium, the largest college football venue (109,901 capacity) in the nation Sept. 19, 2015. It will signify OSU's fifth meeting with the Wolverines. Three of the previous games have been played in Ann Arbor, including the most recent Sept. 20, 1986. OSU and Michigan also met in the 1964 Rose Bowl.
So, CU has at least been able to get Michigan to come to Boulder once, one more time than Oregon State has done (Even that, though, was part of a two-for-one deal, with Colorado going out on the road twice – 1994 and 1997 – in exchange for one home game in 1996).
Grambling State also added to CU schedule
Colorado and Grambling State are finalizing a contract that will bring the Tigers and their legendary marching band to Boulder on Sept. 26, 2015.  The two have reached an agreement in principle for the first-ever meeting in football between the two schools, though they have played once each, both in Boulder and in the last five years, in men's and women's basketball.  The contract calls for the football team to be accompanied by the school's legendary marching band.
This will mark the first time Grambling State will play a game in Colorado, and only the second time its football team will play a game in the Mountain Time Zone – the only previous visit to the Rocky Mountain region came in 1980 when the Tigers lost 14-9 in a Division I-AA semifinal playoff game at Boise State.
 "Both of these games will feature the best of college football pageantry," CU athletic director Mike Bohn said in a press release.  "Michigan was looking for a home game, we had an opening for a road game and it affords us the opportunity to travel back to the Midwest and play in one of college football's great venues.   We're also excited about creating something unique here in Boulder with Grambling's football tradition and world famous marching band.  It will join our own band during the game and the night before in the Pearl Street Stampede that will create an extra special treat for our fans."
CU's future schedules through 2016 are now set:

2013
Aug. 31
Colorado State (Denver)
Sept. 7
CENTRAL ARKANSAS
Sept. 14
FRESNO STATE
PAC-12 HOME (4): ARIZONA-CALIFORNIA-OREGON-USC
PAC-12 ROAD (5): ARIZONA STATE-OREGON STATE-UCLA-UTAH-WASHINGTON
 
2014
Aug. 30
Colorado State (Denver)
Sept. 6
at Massachusetts
Sept. 20
HAWAI'I
PAC-12 HOME (5): ARIZONA STATE-OREGON STATE-UCLA-UTAH-WASHINGTON
PAC-12 ROAD (4): ARIZONA-CALIFORNIA-OREGON-USC
 
2015
Sept. 5
at Hawai'i
Sept. 12
MASSACHUSETTS
Sept. 19
Colorado State (Denver)
Sept. 26
GRAMBLING STATE
PAC-12 HOME (4): ARIZONA-STANFORD-OREGON-USC
PAC-12 ROAD (5): ARIZONA STATE-OREGON STATE-UCLA-UTAH-WASHINGTON STATE
 
2016
Sept. 3
Colorado State (Denver)
Sept. 10
SAN JOSE STATE
Sept. 17
at Michigan
PAC-12 HOME (5): ARIZONA STATE-OREGON STATE-UCLA-UTAH-WASHINGTON STATE
PAC-12 ROAD (4): ARIZONA-STANFORD-OREGON-USC