—
Colorado Daily
—
January 21st 
… CU in a few minutes … 
Defensive back Evan White finds his way back onto the CU roster
Remember Evan White? Well, he's back on the CU roster for the spring.
An All-Colorado cornerback for Cherokee Trail high (Aurora) in 2013, Evan White looked primed for a great career at Colorado. The state's best defender (Denver Post) and best cornerback (Mile High Sports), White, a cousin of former CU star J.J. Billingsley, came to Boulder with great credentials.
As a freshman in 2014, White played in 11 games, including three starts He was in for 232 snaps on defense and recorded 31 tackles (24 solo), with five touchdowns saves, and two third down stops.
In 2015, White played in 11 of 13 games, mostly on special teams. He missed the final two games, with a suspension due to a violation of team rules. White, along with quarterback Cade Apsay, were later caught again violating team rules. Both were dismissed from the team.
Apsay opted to return to California to go the junior college route. White, meanwhile, decided to stay in Colorado and try to work his way back onto the team. "It's definitely an eye opener, but it's just something to learn off of," White told the Daily Camera last summer. "It was something that made me learn from my mistakes and just to get stronger from it. It was disappointing at first, but after time passed, it just made me realize I have to take this as a positive."
White took classes at CU-Denver this past fall, while working out at Six Zero Strength & Fitness, which is run by former CU lineman Matt McChesney.
White has two years of eligibility remaining.
–
—
Five Buffs in Florida for the East/West Shrine game
The 92nd annual East-West Shrine Game will kick off at 1:00 p.m. MT on Saturday from Tropicana Field in St. Petersburg, Florida and be televised live on NFL Network.
Five Buff defenders were selected to participate, though one – cornerback Ahkello Witherspoon – will sit out the game due to injury.
The other four Buffs who will suit up for the West squad:
Defensive Tackle Josh Tupou
Linebacker Kenneth Olugbode
Linebacker Jimmie Gilbert
Safety Tedric Thompson
There are 14 other Pac-12 participants on the West team, with three from Utah, three from Oregon State, three from USC, two from UCLA, two from Arizona, and one from Washington State
For more than 90 years, some of football's greatest athletes and coaches have contributed to the tradition of the East-West Shrine Game. Players like Gale Sayers, Tom Brady, John Elway, Allan Page, Dick Butkus, Brett Favre, Gino Marchetti and Walter Payton, along with coaches Don Shula, Dick Vermeil, Paul "Bear" Bryant and Jerry Glanville, to name a few, have supported the East-West Shrine Game.
–
—–
January 20th 
… CU in a few minutes … 
Attrition – Five players who will not be returning for the 2017 season
The Colorado depth chart will be in flux from now until the end of the spring semester. Early enrollees have joined the team for the spring, with another large group joining the team on Signing Day, Wednesday, February 1st.
To get the roster down to 85 scholarship players by the end of May, there will be, by necessity, some attrition. Five players from the 2016 roster have been confirmed as moving on (class designations are from the 2016 season) …
Red-shirt freshman running back Dino Gordon … Gordon was suspended from the team for violating team rules near the end of the spring semester last year, but was reinstated early in fall camp after completing all the requirements he needed to be added back to the active roster (his suspension was lifted after the first five weeks of the season). He did not see game action. In the spring game he rushed for 32 yards, including a 17-yard touchdown, on four carries.
Junior offensive lineman Collin Sutton … Appeared in four games last fall, seeing 54 snaps on the offensive line, with 44 of those coming in the week two victory over Idaho State. He was credited with one perfect play on a passing touchdown. Sutton is set to graduate, and will be foregoing his fifth year of eligibility.
Sophomore offensive lineman John Lisella … Lisella missed the entire 2016 season dealing with a hypertension issue that started in fall camp.  In 2015, as a red-shirt freshman, Lisella played in 10 games, including five starts (all at right offensive tackle, after perennial starter Stephane Nembot moved over to the left side).  He was in for 361 snaps from scrimmage, owning a plus-play percentage of 52.9 and an overall grade of 75.1 percent.
Junior linebacker Christian Shaver … Played in 10 games in 2016 and started at outside linebacker in week two against Idaho State, helping CU set a new school record for largest halftime lead (49-0) when he and the Buff defense held the Bengals to just 48 yards in the first half and 96 total for the game. He recorded seven tackles on the season, On Nov. 3 against UCLA he recorded the first sack of his career, which came on a third-down inside of six minutes remaining in the fourth quarter when CU at the time held a 13-10 lead. Shaver was suspended for the final four games of the 2016 season for violations of team rules.
Red-shirt freshman wide receiver Justin Jan … Played in 11-of-13 games this past season. He did not record any offensive statistics, but was a special teams contributor. Jan was on academic suspension when he decided not to return to the team for the 2017 season.
–
—
Strength and conditioning: "You have to start the process over … There are no guarantees"
From CUBuffs.com … Colorado football coach Mike MacIntyre had one overriding theme when he welcomed the 2017 Buffaloes back to campus for the spring semester earlier this week.
Last year is done. Finished. In the books. Those 10 wins, the Pac-12 South title and the Alamo Bowl bid will not put a single point on the board next fall.
Now it starts all over — and it begins in the weight room and on the conditioning field, the place where the 2016 Buffs may have made the biggest strides of all a year ago.
CU strength and conditioning coordinator Drew Wilson will be there to make sure the Buffs have every opportunity to do the same in 2017.
"It's like Coach Mac said in the team meeting — teams that were successful the year prior who are successful the following year do so because they understand they have to start all over," Wilson said. "You don't pick up from where you left off. You have to start the process over and climb the mountain for 2017. Just because we were good this past season doesn't mean it's automatically going to happen again. There are no guarantees."
The Buffs hit the weight room on Tuesday to begin five weeks of strength and conditioning workouts. They will then begin spring football practices on Feb. 22, with the annual CU Spring Game set for March 18. Then comes more conditioning work, a summer program and — finally — fall camp.
… Continue reading story here …
–
—
MacIntyre to the AFCA: "Every day in life is a fight. You can embrace it or let it run over you"
From FootballScoop.com … Mike MacIntyre asked for a show of hands. "Who thought Washington State and Colorado would be playing in November for the Pac-12 championship?" Roughly 6,000 hands remained in place. Including his.
MacIntyre is 35-52 in seven seasons as a head coach, a record that's about as misleading as a full head of golden blonde hair on your grandfather's head. He took over at San Jose State in 2010, a program with one winning season since 2001 at that time, and went 1-12 in his first season, 5-7 in his second and 10-2 in 2012, recording the first top-25 five ranking in program history.
He left for Colorado after that, inheriting a program fresh off a 1-11 season and riding a streak of seven consecutive losing seasons. The Buffs won 10 games in their first three years and entered 2016 picked to finish last in the Pac-12 South.
That, as we all know, didn't happen.
"If there's no conflict, no adversity, there's no story," he said, speaking to thousands of football coaches at the AFCA Convention in Nashville last week. "You guys stare adversity in the face that's either going to make you or break you."
To illustrate this point, and the success of Colorado's 2016 team, MacIntyre told the story of that Washington State game. The Buffaloes, ranked 10th in the country at the time, hosted No. 22 Washington State. Each was among the season's best stories, and the winner would claim the title of the biggest surprise of 2016 — and, more importantly, remain in the hunt for the Pac-12 championship.
But the Buffs lost one safety to injury and another to a targeting flag, a potentially fatal sentence against the nation's No. 3 passing offense. Colorado survived, though, limiting Luke Falk to one of his worst games of the season — a completion percentage 20 points below his season average, with a yards per attempt average one yard below his full-season mark in a 38-24 win.
… Continue reading story here …
—–
January 19th
… CU in a few minutes … 
CU opens as a touchdown favorite over Colorado State 
The 2017 Rocky Mountain Showdown has been moved from Saturday, September 2nd, to Friday, September 1st, and is, at this point, the only non-Saturday game on CU's schedule.
The betting website, 5Dimes, already has a line on the game, listing CU as a 6.5-point favorite over Colorado State.
Other first weekend lines of note:
— Stanford – a 32.5-point favorite over Rice (game to be played in Sydney, Australia)
— Washington – a 29.5-point favorite on the road against Rutgers
— UCLA – a 2.5-point favorite at home against Texas A&M
— California – a 10.0-point underdog on the road against North Carolina
— Alabama – a 3.5-point favorite over Florida State (game to be played in Atlanta)
—
January 18th
… CU in a few minutes … 
Football Scoop reporting Kentucky defensive coordinator heading to Colorado
From a tweet from FootballScoop.com … "Sources tell FootballScoop Kentucky DC DJ Eliot is headed to Colorado in a similar capacity … DJ Eliot has some big shoes to fill stepping into Jim Leavitt's role at CU… he'll bring the energy that's for sure"
… Related … From the Daily Camera … According to several reports on Wednesday, the Colorado Buffaloes are close to hiring Kentucky's D.J. Eliot as their new defensive coordinator.
A source at CU confirmed to BuffZone.com that the school is talking with Eliot, but that a deal has not been finalized.
FootballScoop.com was the first to report Eliot's move to CU from Kentucky, where he has been the defensive coordinator the past four seasons. He has also coached the Wildcats' outside linebackers.
This past season, Eliot, 40, helped the Wildcats (7-6) to their first bowl appearance since 2010 and their first winning season since 2009. They lost to Georgia Tech, 33-18, in the Taxslayer Bowl.
According to the Louisville Courier-Journal, Kentucky head coach Mark Stoops took over defensive play-calling duties after the Wildcats gave up 1,084 yards and 89 points in a 0-2 start to the 2016 season, losing to Southern Mississippi and Florida.
Overall, Kentucky ranked 86th nationally in scoring defense (31.3 points per game) and 85th in total defense (434.2 yards per game). The Wildcats ranked 92nd in sacks, with 21.
Eliot's best season at Kentucky came in 2015, when the Wildcats ranked 68th in scoring defense (allowing 27.4 points per game) and 59th in total defense (394.2 yards per game).
In 2014, the Wildcats had a school-record for defensive touchdowns, scoring on six of the 23 turnovers they forced.
—
… Related … From SEC Country … Kentucky defensive coordinator D.J. Eliot has left the program for Colorado, a source confirmed to SEC Country on Wednesday.
Eliot had been with Mark Stoops throughout his tenure in Lexington. The two had worked together at Florida State before Stoops was hired at Kentucky.
For context on the move, Stoops took over defensive play calling duties in Week 3 after Kentucky surrendered 89 points in its first two games.
It's unclear what role Eliot has accepted at Colorado.
—
… Related … From the Kentucky Wildcats website (does not include 2016 season) … D.J. Eliot is in his fourth year as the defensive coordinator. He will also serve as the outside linebackers coach.
Last season, the Wildcats ranked in the top half of the Southeastern Conference in passing yards allowed and touchdown passes allowed, while Kentucky's 2014 defense created 23 turnovers, including a school-record six returned for TDs. The Wildcats finished second in the SEC in turnover margin and made significant improvements in yards allowed per play. UK jumped 45 places in the rankings from 2013 to 2014, finishing in the top half of the nation in that statistic. The Cats also improved to sixth in the SEC in quarterback sacks.
In his first three years with UK, Eliot has seen eight of his defensive players earn All-SEC recognition and four have become NFL draft choices. In 2016, linebacker Josh Forrest was drafted in the sixth round by the Los Angeles Rams, while Alvin "Bud" Dupree was taken in the first round by Pittsburgh and Za'Darius Smith was a fourth-round pick by Baltimore in the 2015 draft.
Eliot's top linebackers, Avery Williamson in 2013 and Forrest in 2014, each totaled more than 100 tackles, finished among the SEC's top-five tacklers and earned All-SEC honors.
Prior to UK, Eliot helped Mark Stoops orchestrate a magnificent revival of the defense at Florida State, where Eliot coached defensive ends from 2010-12. In 2012, he helped lead FSU to one of the best defensive campaigns in school history en route to a 12-2 record, the Atlantic Coast Conference championship and a 2013 Orange Bowl victory.
The year before Eliot and Stoops arrived in Tallahassee, the Seminoles ranked 108th in total defense and rushing defense. But in 2012, FSU ranked second nationally in total defense (254.1 yards per game) and sixth in scoring defense (14.7 points per game). FSU also allowed only 3.86 yards per play, leading the nation in that category. In each of Eliot's first two years on the job, FSU ranked among the nation's top-10 teams in sacks and the top 25 in tackles for loss. Eliot's players also had outstanding individual achievements.
Coaching career:
| | |
| --- | --- |
| 1999 | Wyoming (GA) |
| 2000–2001 | Houston (GA) |
| 2002 | Miami (FL) (GA) |
| 2003 | Texas State (DB) |
| 2004–2005 | Texas State (LB) |
| 2006 | Tulsa (LB) |
| 2007–2009 | Rice (DL/RC) |
| 2010–2012 | Florida State (DE) |
| 2013–present | Kentucky (DC/LB) |
—
CU 2017 Pac-12 schedule released
… Related … Printable 2017 schedule
… Related … Composite 2017 schedule for all of the Pac-12
From FBSchedules … The 2017 Pac-12 Football Schedule has been officially announced. Conference play begins on Sept. 9 with Stanford at USC.
All games played at Pac-12 sites will be televised by either an ESPN network, ABC, FOX, FOX Sports 1 or the Pac-12 Networks.
Prominent non-conference games in 2017 include Houston at Arizona, Arizona State at Texas Tech, Ole Miss at California, Colorado vs. Colorado State, Nebraska at Oregon, Minnesota at Oregon State, Notre Dame at Stanford, Texas A&M at UCLA, Texas at USC, Utah at BYU, Washington at Rutgers, and Boise State at Washington State.
The 2017 Pac-12 Championship Game will be played on Friday, Dec. 1 or Saturday, Dec. 2 at Levi's Stadium in Santa Clara, CA.
Colorado 2017 non-conference schedule:
— September 1st (Friday) – Colorado State (Denver)
— September 9th – Texas State
— September 16th – Northern Colorado
Pac-12 conference schedule:
— September 23rd – Washington
— September 30th – at UCLA
— October 7th – Arizona
— October 14th – at Oregon State
— October 21st – at Washington State
— October 28th – California
— November 4th – at Arizona State
— November 11th – USC
— November 18th – Bye
— November 25th – at Utah
… First blush reactions … Buffs play the first four games of the season in the state of Colorado … The bye week, coming after 12 straight games and with only one regular season game to be played, isn't very helpful … That being said, if CU wanted to have an easy game before the conference opener against Washington, a home game against Northern Colorado fits the bill … The Trojans have to come to Boulder for Veterans Day. Here's hoping that it's cold enough to slow down the Trojans' offense, but not so cold as to keep the fans away … Not shown, above, but Arizona has a bye week before facing the Buffs. Utah does not have a bye before facing Colorado (the Utes have to play Washington in Seattle the weekend before facing the Buffs) … Personally kind of disappointed that Oregon State and Washington State road games are back-to-back. Had thoughts of attending both, but will now likely miss out on the exciting trip to Pullman …
—–
January 17th
… CU in a few minutes …
Grant Polley spurns last minute push by Texas to stay with his commitment to Colorado
Three-star offensive lineman Grant Polley has been committed to Colorado since July, but Texas offered Polley recently, and Polley took an official visit to Austin last weekend, fueling speculation that Polley would flip to the Longhorns. Tuesday, however, Polley made it clear he was all in with the Buffs.
Tweet of the Day … From Grant Polley: "First of all I'd like to thank my family friends and coaches for everything they have done for me. Thanks to all of the schools that have take the time to get to know my family and I, and those who that have extended me offers. It is with great pleasure that I am officially shutting down my recruitment. Again thanks to everyone that's been a part of my life through this process #gobuffs"
Below is an updated bio for Polley (… Note … There will be updated posts for all of CU's commitments on the offensive side of the ball this Friday. Updated posts for the defensive players will be posted next Friday. Signing Day is Wednesday, February 1st … ).
–
Grant Polley – OL
Just the facts … Committed July 11th … Polley is a 6'5″, 275-pound offensive lineman from Denton, Texas  Rivals bio  Scout bio 247Sports bio
What others have to say about Polley … Polley is rated as a three-star prospect by Rivals, Scout and 247Sports. Rivals considers Polley to be the No. 46 offensive tackle in the nation, and the No. 58 overall prospect out of the state of Texas. 247Sports ranks Polley as the No. 49 offensive tackle, and the No. 62 overall prospect out fo the state of Texas. In Scout's view, Polley is the No. 29 guard in the country, and the No. 5 guard out of Texas this year.
From Gabe Brooks at Scout.com … Grant Polley is a potentially position-versatile offensive linemen who thrives in the run game and plays through the whistle. Plays left tackle for his high school squad and could possibly play outside in college, or move inside to a guard position. Light on his feet, especially running straight line to block at the second level. High-intensity, high-motor player who doesn't stop blocking until he's put his opponent on the ground.
Polley had other offers from … over a dozen Power-Five conference schools. Included on the list of suitors was Michigan, Arizona State, Baylor, TCU, California, North Carolina, Indiana, Kansas State, Minnesota, Kansas, Texas Tech, Mississippi State, Purdue, and Missouri.
Polley originally committed to Kansas in January, but re-opened his recruitment in May. Polley participated in the prestigious Under Armour All-American game in December.
Here is a link to the Hudl.com highlights from Polley's career at Denton.
—
—–
January 16th
… CU in a few minutes …
Seven Colorado seniors participating in college All-Star games
From CUBuffs.com … Seven Colorado Buffaloes who just completed their eligibility will be competing in college all-star games at the end of the month as they continue to point to the April 27-29 NFL Draft.
Two Buffs, cornerback Chidobe Awuzie and quarterback Sefo Liufau, will play in the Jan. 28 Senior Bowl in Mobile, Ala. Five more — nose tackle Josh Tupou, linebackers Kenneth Olugbode and Jimmie Gilbert, safety Tedric Thompson and cornerback Ahkello Witherspoon — will play in the Jan. 21 East-West Shrine Game in St. Petersburg, Fla.
All are expected to get their chances in an NFL training camp, with as many as seven projected as possible draft picks by one or more national websites.
Since the end of the season, Thompson's stock has risen considerably after he led the Pac-12 in interceptions this season with seven while also tying with Witherspoon for the league lead in passes defended (23).
While the early draft projections serve as a baseline, the true evaluations will begin in the all-star games, at the Feb. 28-March 6 NFL Combine and at individual and team workouts around the nation.
Here's a quick look at how some of the Buffs are projected in the early rankings by some national websites:
Chidobe Awuzie — Ranked as the No. 10 cornerback in the nation by Sports Illustrated. … Ranked as the No. 13 corner by CBS (77th best player overall) and projected to go in the second or third round. …  Projected in the third round by Bleacher Report.
Sefo Liufau — Ranked as the ninth-best quarterback in this year's class by Sports Illustrated and the No. 254th player overall. Projected as a seventh-round pick by SI.
Josh Tupou — Ranked as the No. 26 defensive tackle by CBS Sports and projected to go in rounds 6 or 7.
Tedric Thompson — CBS Sports ranks him as the No. 8 strong safety and 199th player overall. … CBS projects him going in the fifth or sixth round; Bleacher Report has him as a possible third rounder.
Ahkello Witherspoon — Ranked as the No. 21 corner by CBS Sports and the 170th player in draft. Projected as a fifth-rounder by CBS and a fourth-rounder by Bleacher Report.
Jimmie Gilbert — CBS has him as the No. 24 outside linebacker and 290th player overall. Projected as a seventh-round pick or free agent signee.
Other players ranked by CBS at their position (but not projected in the draft) are linebacker Kenneth Olugbode (24th ILB), center Alex Kelley (15th), defensive tackle Jordan Carrell (41st) and defensive tackle Samson Kafovalu (65th).
—
CU home games against Washington and USC two of the top games of 2017
From Athlon Sports … Next season will bring us no shortage of interesting inter-conference matchups, but four of our top five games to watch will be between familiar faces. And if 2016 was any indication — especially in the Big Ten — you just never know which game may end up mattering than most.
— 1. Alabama v. Florida State – September 2nd – Atlanta
— 2. Ohio State at Michigan – November 25th
— 18. Washington at Stanford – Think David Shaw will have his guys ready after a 44-6 loss last year?
— 23. Oregon at Washington – It's Willie Taggart's first test vs. new Pac-12 chief Chris Petersen.
–– 26. Washington at Colorado
— 30. Stanford at USC
— 32. USC at Notre Dame
— 35. USC at Colorado
— 43. Oregon at Stanford
— 44. Utah at BYU
— 45. Nebraska at Oregon
— 47. Notre Dame at Stanford
—–
January 13th
… CU in a few minutes …
Tweet of the Day … from CU co-offensive coordinator Darrin Chiaverini: "2017 will be the year of the Buffalo! Come be a part of the Black and Gold! There will be doubters but we believe in each other! #Legacy"
—
CU ticket sale income jumped 18% in 2016
From the Daily Camera … With a lack of marquee opponents on the home schedule, Colorado expected a down year in football ticket sales this past season.
As it turned out, the Buffaloes were the marquee team fans wanted to see.
The football team enjoyed its best season in years on the field, and it resulted in a significant jump in ticket revenue. CU produced $10,834,936 in football ticket revenue, it's best number in five years and about $1.6 million more than the athletic department budgeted.
"We are excited about the momentum that the season brought, as evidenced by the great crowds the last couple of games," said Matt Biggers, associate athletic director of external affairs and chief marketing officer.
… CU's average attendance at Folsom this season (46,609) was an 18-percent jump from 2015, and its highest average since 2011. The regular season finale, on Nov. 26 against Utah, was CU's first sellout at home since 2008.
… Continue reading story here …
CU football ticket revenue
2009 $11,874,980
2010 $11,520,210
2011 $11,970,232
2012 $9,948,424
2013 $9,726,080
2014 $9,075,419
2015 $9,746,717
2016 $10,834,936
—
Boulder, Colorado the No. 1 college town in America 
From the American Institute for Economic Research … Boulder takes the prize for top college town this year. The city boasts first place in demographics, quality of life, and economic conditions. The weather is perfect and the surrounding creeks, trails, and mountains attract those with a mad love of the outdoors. In fact, Boulder became the first U.S. city to tax itself specifically to preserve open space. The result? Great urban outdoor space for those who love the outdoors. In addition, it is one of the most accessible college towns in the country, with over 20 percent of commuters choosing public transportation or cycling up and down the Boulder Creek Corridor. The educated, relatively diverse, and fit populace enjoys a great bar and restaurant scene with the best fair-trade coffee and microbreweries in the Rockies. If this is not enough, Boulder also brags favorable labor markets and high innovation levels, in thanks partly to the University of Colorado's flagship campus.
2 Champaign-Urbana, Ill. >
7 College Station, Texas >
11 Charlottesville, Va. >
—
—–
January 12th
… CU in a few minutes … 
Colorado No. 10 in national Learfield Directors' Cup rankings
… but only fifth in the Pac-12 … 
From CUBuffs.com … Colorado placed 10th in the final fall Division I Learfield Directors' Cup standings by totaling 268.50 points.
Stanford leads the final standings with 504.50 points and is the current reigning champion.
Women's cross country, men's cross country, women's soccer, and football all contributed to CU's scoring.
The Pac-12 leads all conferences with five top 10 schools including Stanford, UCLA (second), USC (eighth), Washington (ninth), and Colorado.
The Buffs also placed 10th in the final fall standings of 2013-2014, tying CU's best finish in the past decade. It also ties CU's 10th best fall in the 24 years of the program and ties for the sixth best without a fall national championship.
Other top 10 schools include North Carolina at No. 3, Wisconsin at four, BYU at five, Michigan at six, and Penn State at seven.
The Learfield Directors' Cup was developed as a joint effort between the National Association of Collegiate Directors of Athletics (NACDA) and USA Today.  Points are awarded based on each institution's finish in NCAA Championships. The Directors' Cup Committee is reviewing the scoring structure for 2016-17 which will be finalized prior to the winter sports standings.
—
Wide receiver Justin Jan leaving Buffs
… If you add up all of the current scholarship players, early enrollees, and Class of 2017 recruits, you get to around 90 Buffs. With an 85-scholarship limit (which the Buffs will have to get down to by May), there will be some attrition this spring. Wide receiver is one of the top-heavy units, so the transfer by Jan is a good move for both the player and the team … 
From azcentral.com … Former Chandler wide receiver Justin Jan, who made azcentral sports' All-Arizona team in 2014, said in an electronic message that he is leaving Colorado and is planning on attending Mesa Community College.
Jan played in 11 games last season for Colorado, mainly on special teams.
Jan's only offer his senior season came from Colorado. He had a breakout year as a senior, catching 48 passes for 918 yards and 13 touchdowns on a 13-1 state championship team.
Jan, 6-foot-3, 205 pounds, didn't announce his transfer on Twitter. But Colorado sports information director David Plati confirmed that Jan has left the team. He was a redshirt freshman this year at Colorado.
—–
January 11th
… CU in a few minutes … 
Vance Joseph first Buff player/coach to be named an NFL head coach
… Related … "Vance Joseph's rise from player at Colorado to coach of Broncos" … From ESPN
From the Daily Camera … John Elway was hopeful he could get one of those "bright young guys" as the Broncos' next head coach – one who could revamp the offense, improve an already elite defense and be the leader the team needed to get back to the playoffs.
The hints were dropped, the checklist made and, on Wednesday, the deal reached: Vance Joseph was named the Broncos' next head coach after agreeing to a four-year contract.
"Becoming head coach of the Denver Broncos is a dream job for many reasons," Joseph said in a statement. "The Broncos have an unbelievable winning tradition and great fan support. But what makes this even more special is it's a place that's ready to win."
… Joseph's résumé can be deceiving. His earlier years were spent on the offensive side, as a backup quarterback and running back at CU, where signs of his coaching potential were laid bare.
"He played behind Kordell (Stewart), but V.J. was always, always the smarter one," said Michael Westbrook Joseph's CU teammate and a former NFL receiver. "Even when Koy (Detmer) was there – and I'm not calling Kordell dumb at all – we all know that Koy comes from a football family and V.J. was basically Koy's coach, too. He just knew the game and he's always known the game. For him to end up being a head coach, it just seems like that was supposed to happen."
Added fellow CU teammate and former NFL linebacker, Chad Brown: "Not only was he serious about his job, but he was also serious about being a leader. Even if it was just on scout team."
… Continue reading story here …
—–
January 9th
… CU in a few minutes … 
"The Rise – Episode 6"
… The final installment of the six part history of the Buffs' 2016 season. If you felt you wouldn't want to see the final episode, as it covers the final two games of the season, please reconsider (the two post-game speeches by head coach Mike MacIntyre … well, you just have to see them for yourself) …
From YouTube, courtesy of the Emmy-award winning crew at CU Video:
—
CU assistant coach Joe Tumpkin suspended with pay pending investigation
From the Daily Camera … The Broomfield Police Department confirmed Tuesday that it has opened a criminal investigation into domestic violence allegations made against University of Colorado assistant coach Joe Tumpkin.
CU's athletic director also said Tuesday that Tumpkin has been suspended with pay indefinitely pending completion of the criminal investigation.
Broomfield police spokeswoman Joleen Reefe said the department has an open and active investigation against Tumpkin, though no arrest has been made at this time.
The allegations against Tumpkin were made by his ex-girlfriend in a temporary restraining order last month. She claimed Tumpkin physically assaulted her multiple times over the course of their three-year relationship.
Tumpkin's ex-girlfriend filed the complaint with Boulder County courts on Dec. 20 and a judge granted a temporary restraining order, according to the court filing. A hearing to determine whether it will be made a permanent restraining order is scheduled for Jan. 31.
… Continue reading story here …
—
Mike MacIntyre receives contract extension
From CUBuffs.com … University of Colorado football coach Mike MacIntyre, the near unanimous national coach of the year, has signed a contract extension through the 2021 season, CU athletic director Rick George announced Monday.
The proposed new contract, which as always is subject to the approval by CU's Board of Regents, will extend his agreement three years, as his previous deal was through 2018.  The value of the contract over its five-year length is $16.25 million, beginning with a salary of $3.1 million for the 2017 season with modest increases annually.
He recently completed his fourth season as the school's 25th football coach, having guided the Buffaloes to a 10-4 record this past fall, including an 8-1 mark in the Pac-12 Conference and the South Division championship.
MacIntyre, 51, is now 20-31 overall at CU, and this fall's eight Pac-12 league wins was one more in conference play than the Buffaloes had the 2010 through 2015 seasons, which includes the schools' last year in the Big 12.
"I am ecstatic that we will be at University of Colorado for the foreseeable future, there's no place my family and I would rather be," MacIntyre said. "We absolutely love it here, the people have been great and I truly believe this is just the beginning."
"I am blessed to be entrusted with such an incredible group of young men and a staff who have fought to lay a foundation for this football program," MacIntyre added.  "The support from the administration has been tremendous, as has the enthusiasm from the fans. Together we have come together to accomplish something special. The future is bright for Colorado football."
CU was 10-27 in his first three seasons, but MacIntyre, who had reversed the fortunes of the San Jose State program prior to taking the Colorado position, had a plan from the start to return the program to national prominence.  After enduring records of 4-8, 2-10 and 4-9 his first three seasons, the Buffs tied for the most improved team in the nation in 2016 (a plus-5½ game improvement).  After going 2-25 in Pac-12 league games, including a 1-8 mark in 2015, the seven-game improvement was the largest in the conference's 101-year history, besting the 1940 Stanford team that went 7-0 after an 0-6-1 record the year before.
"I am happy to present this contract extension to the Board of the Regents," said CU Boulder Chancellor Philip P. DiStefano. "I am delighted that Coach MacIntyre wants to lead our football team for many years to come. He has brought our program back to national prominence and that exposure has benefited the entire university. Coach MacIntyre has motivated our student-athletes to perform at their best both on the field and in the classroom with record levels for team grade point averages."
"We're really happy about extending Mike's contract out through 2021," George said.  "Continuity and consistency are the most important factors for us as continue to build our program.  So we're obviously excited that he we will continue to serve in that leadership role."
MacIntyre has won seven of the eight national coach of the year awards, all but one at this point, having been afforded honors from Walter Camp, the Associated Press, ESPN/Home Depot, SB Nation and Scout.com, in addition to winning the Eddie Robinson and Bobby Dodd trophies.  He is a finalist for both the American Football Coaches Association's (AFCA) coach of the year and comeback coach of the year awards which will be presented Tuesday in Nashville; he was selected as the AFCA's Region coach of the year.  Alabama's Nick Saban was honored with the ninth, the Maxwell Club Award.
He also was honored with Pac-12 Conference coach of the year honors, the first CU coach to be so honored since Gary Barnett won the Big 12 nod in 2004.  MacIntyre joins Bill McCartney as Buff coaches who have won the national award.
In 2016, Colorado enjoyed its first 10-win season since 2001 and saw its attendance grow from game-to-game this year until the season finale, when the Buffs had their first sellout since 2008.
—
Other salaries for Pac-12 coaches
From USA Today:
— Stanford – David Shaw – $4,067,219
— USC – Clay Helton – $3,800,000 (estimated – USC, as a private school, does not have to disclose salaries)
— Utah – Kyle Whittingham – $3,650,000
— Washington – Chris Petersen – $3,600,000
— Oregon – Willie Taggart – $3,500,000 (new – Mark Helfrich received $3,300,000)
— Colorado – Mike MacIntyre – $3,100,000 – (for 2017 – average of $3,250,000 for life of contract)
— Arizona State – Todd Graham – $3,100,000
— Washington State – Mike Leach – $2,950,000
— California – Sonny Dykes – $2,900,000 (for 2016 – will change with hiring of new coach)
— Oregon State – Gary Andersen – $2,650,000 (for 2017 – raised from $2,550,000 in 2016)
— Arizona – Rich Rodriguez – $2,500,000
—
Assistant coaches salary pool to be increased
From the Daily Camera … CU has been in the lower half of the Pac-12 in terms of assistant coaches' salary pool. As the Buffs make new hires and evaluate their returning coaches, the salary pool will increase.
"It'll obviously be increased," CU athletic director Rick George said, "but we're going to look at what's best for Colorado."
… George said MacIntyre's new contract is not a reaction to one great season, but a reward for four years of success on and off the field.
"We evaluate everything that we're doing, and we just don't evaluate current success," George said. "We look at it over a four-year term and we look at the progress that we're making, the coaching staff that we have on board and the recruiting class. We look at all those things. There's a lot to being the head coach that's sometimes out of football. We take all of those things together and we look at it.
"The timing is right and Mike deserves it."
—–
January 8th
… CU in a few minutes …
MacIntyre recalls meeting Eddie Robinson while accepting Coach-of-the-Year Award
From CUBuffs.com … University of Colorado coach Mike MacIntyre told the audience here Saturday night about a neat little flashback he had after he was informed he had won the Eddie Robinson Award for the national coach of the year, which is presented by the Football Writers Association of America (FWAA).
"I had an 'ah ha' moment when I got the call," he told the invited audience of about 100 special guests and FWAA members.  "I literally flashed back to when I was 19.  My dad called me and told me to come down to the practice field.  He wanted to introduce me to Eddie Robinson."
His father, George MacIntyre, was head coach at Vanderbilt at the time.  Grambling, Robinson's school, used to play Tennessee State in Nashville in Vandy' stadium because it was bigger, and if the Commodores were at home on a Saturday, Grambling and TSU would play on Friday night.
The elder MacIntyre and Robinson had become good friends because of the arrangement, and he wanted his son, a player for him at the time, to meet the legendary coach and understand what he was all about.
Robinson's grandson, Eddie III, presented MacIntyre with the award, a large bust of his father's head which the family has come to call, "The Eddie."   He said he did some research on CU's Coach Mac and cited many similarities he thought he had with his late grandfather, most notably his love for his players and his desire to serve as a mentor to teach lessons in life as opposed to just making it all about wins and losses.
"The thing that Coach Robinson represents to me is the fact that young people today are still influenced by him," MacIntyre said.  "Wins are nice and obviously important, but you want to hear from them well after they're playing days are over and that you had an impact on them.
"You hear it all the time, but I really mean it – this is a team award," he added.  "Our assistant coaches and support staff did a wonderful job, and it still goes back to the 15th day of practice (in August).  I realized that day that I knew we were going to be a very good football team.  I put it out there to the media that our goal was to win the Pac-12 Championship, because if they could see it, they could achieve it."
—–
January 7th
… CU in a few minutes … 
Former Buff Paul Richardson posts NFL Catch of the Year in playoff game against Detroit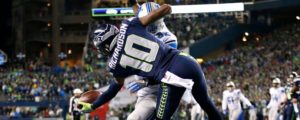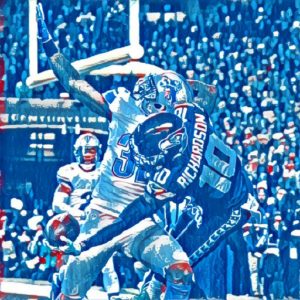 Here is a link to the video of the catch
—
The Rise – Episode 6 to make its debut Saturday night
Tweet from Colorado Video … "The Rise | Episode 6 will debut tonight (Sat.) at 8:30pm PT / 9:30pm MT on Pac-12 Mountain AND on Pac-12 Network Monday evening 7pm PT / 8pm MT"
—–
January 6th
… CU in a few minutes … 
Assistant coach Joe Tumpkin named in domestic violence complaint
From the Daily Camera … The ex-girlfriend of University of Colorado assistant coach Joe Tumpkin has obtained a restraining order against Tumpkin, claiming he physically assaulted her multiple times over the course of their three-year relationship — most recently on the nights before and after a CU football game.
Tumpkin, 45, has been the safeties coach at CU for the past two years.
He assumed defensive play-calling duties in the Buffs' bowl game last month after defensive coordinator Jim Leavitt left for a job at Oregon, and is one of the candidates to replace Leavitt.
CU Athletic Director Rick George released a statement Friday afternoon saying he was looking into the claims against Tumpkin.
"We are still gathering details about the very serious allegations in this filing," George said. "Once I've reviewed it, I will get together with Coach (Mike) MacIntyre and we will take whatever action is appropriate and necessary.
"I expect all our student-athletes and employees to conduct themselves appropriately on and off the field."
Tumpkin's ex-girlfriend filed the complaint with Boulder County courts on Dec. 20 and a judge granted a temporary restraining order, according to the court filing. A hearing to determine whether it will be made a permanent restraining order is scheduled for Jan. 31.
… While the report indicates that the woman did call police, at this time, Tumpkin has not been arrested in connection with any of the allegations, according to court records.
Tumpkin has no criminal record in Colorado, according to records.
Attorneys for both Tumpkin and the woman did not return requests for comment on Friday.
… Continue reading story here …
—
Mike MacIntyre to be a part of ESPN's coverage of the national championship game
From CUBuffs.com … ESPN's coverage of Monday night's national championship game between Alabama and Clemson will have some Colorado flavor.
CU head coach Mike MacIntyre will be part of the popular "Coaches Film Room" on ESPNEWS during the game. Throughout the game, MacIntyre will join other coaches and analysts in a film room equipped with multiple camera angles, clicker technology and telestration, as they will be ready to offer immediate commentary and breakdown of big plays throughout the game.
The show was a popular addition to last year's national championship coverage, and will return this year with a new wrinkle: there will be limited commercial breaks, meaning when other networks break, the coaches will be offering their analysis.
Coaches scheduled to join MacIntyre are Dino Babers of Syracuse, newly hired Minnesota head coach PJ Fleck (formerly of Western Michigan), former Oregon head coach Mark Helfrich and new Baylor head coach Matt Rhule. Joining the coaches will be former Michigan and Denver Broncos quarterback Brian Griese
Of course, the main coverage on ESPN will also have a CU connection, as ESPN lead and CU alum Chris Fowler will handle the call, along with Kirk Herbstreit, Samantha Ponder and Tom Rinaldi. Coverage from other networks during the game will include the "Homers Telecast" on ESPN2 and "ESPN Voices" with Bill Walton and Keyshawn Johnson on ESPNU.
—–
January 5th
… CU in a few minutes …
Mike MacIntyre on picking new coaches: "We're note going to rush it"
From CUBuffs.com … MacIntyre is in the process of replacing two departed assistant coaches, including a defensive coordinator. MacIntyre said there has been great interest from across the nation in the positions.
But, he added, he has no specific timeline.
"We'll make the hire when we find the right guys," MacIntyre said. "It could be tomorrow; it could be three weeks from now. We're not going to rush it. We'll do like we've done in the past and get the right guys."
Over the last two years, MacIntyre has added five coaches to the CU staff. In early 2015, he brought defensive coordinator Jim Leavitt and safeties coach Joe Tumpkin aboard. Last year, he added Chiaverini as co-coordinator and wide receivers coach; Darian Hagan as running backs coach; and Drew Wilson as strength and conditioning coordinator.
—–
January 4th
… CU in a few minutes … 
… Your feel good story of the day … 
From The Athlete's Guide, "You Need to Earn It," written by CU running back Kyle Evans … Every accomplishment in my career I have had to work for. Whether it was playing through two broken hands to lead my high school team to a championship, calling every football coach in the nation to be asked to join their team, or outworking everyone to finally receive a scholarship offer: it was all earned.
My high school career was always one that I never felt like I quite peaked. After my junior year, I really felt like I wanted to play at the next level but didn't know what level I was capable of playing at. Over the spring of my junior year, I emailed over 100 college coaches from division 1 schools that I thought were reaches at the time, to division 3 schools that were great academically but weren't known for their football.
I felt as if I had to do the majority of my recruiting by myself, as I didn't have the resources others did. My offensive coordinator at the time, Coach Heinrich, would help me the most as he would call coaches during his free time at work and sell them on why they should offer me.
Over that summer I attended camps for many different schools, from UCLA to Cal Poly, working as hard as possible to impress coaches. Although I didn't receive an offer before my senior campaign, I gained confidence and a drive to show all the schools who did not offer me what they were missing.
Football at my high school had had a lot of great players, but few that went on to play at the collegiate level. I wanted to be one of the few that did. I was heavily being recruited by D3 schools like Puget Sound, Occidental, Redlands, Johns Hopkins, etc. but I felt in my heart that I could do better.
My senior campaign was bittersweet. I was excited about the season but had to battle through two broken hands and missed a few games. Our team had great success in winning a league championship, but I lost all interest from D1 schools waiting to receive my mid-season highlights as I simply did not have enough games.
I continued to email schools, around 20 per day, knowing one would eventually be the right fit.
During my spring break, I decided to go tour schools, visiting Colorado State, Utah State, and the University of Colorado Boulder.
It was a difficult journey, as Colorado State didn't give me the time of day and Utah State said they had too many running backs already, but there was a great part: Colorado Boulder.
I took a tour on campus and fell in love with it and the coaching staff seemed so nice and open. The head coach then asked me to be a part of the 105 man team for Fall Camp and I knew it was the right fit.
I was sold. I canceled my trip to my number one, Syracuse, and decided CU was the place for me.
… Continue reading story here …
… Spoiler alert … the YouTube video of Evans being awarded a scholarship …
—–
January 3rd 
… CU in a few minutes …
New Year's Resolution to become a Buff? Tryouts for walk-ons set for January 13th
From CUBuffs.com … The University of Colorado football program is holding walk-on tryouts in January that are open to any CU student in good academic standing currently enrolled full-time on the Boulder campus.
The initial meeting will be held on Friday, Jan. 13, at 10 a.m. in CU's Champions Center Conference Room (third floor, room 319).  Enter though the Northeast entrance of the Champions Center and proceed to level 3 on the elevator.
All candidates must be enrolled in at least 12 or more credit hours for the spring semester and are required to bring:
·         Paperwork from a physical exam by their doctor within the last 6 months;
·         Sickle Cell Blood Test result (NCAA requirement);
·         A copy of their current Spring 2017 class schedule;
·         A copy of current cumulative grade point average at CU;
·         A copy of Medical Insurance Information.
At that point, those cleared will engage in a tryout on a day and time to be determined at a later date.
Those interested need to contact Adam Toyama, Director of Recruiting, to be placed on a list to go through the procedures to try out for the team.  Please E-mail Toyama at Adam.Toyama@colorado.edu with the subject line: 2017 SPRING WALK-ON TRYOUT.  In your E-mail, please be sure to include the following information:
·         Position (list just one)
·         Date of Birth
·         Contact Number (cell preferred)
·         Your high school (and the year) from which you graduated (e.g., Boulder High School, 2014)
·         Term and year of first full-time semester in college – 12 or more credits in one semester; (e.g., Fall 2015)
—–
January 2nd
… CU in a few minutes …
Early 2017 NFL Mock Drafts include Buffs
From Bleacher Report … Chidobe Awuzie and Tedric Thompson in the third round; Ahkello Witherspoon in the fourth round
From Draft Site … Chidobe Awuzie in the second round; Tedric Thompson in the compensatory seventh round (as Mr. Irrelevant)
—
Former Buff Vance Joseph mentioned for numerous NFL head coaching positions
… Vance Joseph was a quarterback and a running back for the Buffs from 1991-95. He finished his career completing 34 of 61 passes for 454 yards and four touchdowns with no interceptions. He also had 237 rushing yards on 50 carries and a touchdown … Joseph began his coaching career as a graduate assistant under Gary Barnett (1999-2001), returning (after a year at Wyoming) to coach defensive backs (2002-03) for the Buffs.
From the Orlando Sun Sentinel … Vance Joseph has drawn interest from multiple NFL teams that will have to wait to interview the Miami Dolphins defensive coordinator for their vacant head coach position.
Dolphins head coach Adam Gase acknowledged that a couple teams have requested permission to interview Joseph, who is in his first year as a defensive coordinator in Miami.
Gase wouldn't identify the teams, but Joseph's name has been linked to the Denver Broncos, San Francisco 49ers and Los Angeles Rams openings. The Broncos, 49ers and Rams are three of six teams shopping for new head coaches. The Buffalo Bills, Jacksonville Jaguars and San Diego Chargers are also looking for new head coaches.
"He's put those guys in the right positions. From where we've started and how we've grown through the years, guys being in and out, losing some key players, he's done a good job," Gase said when asked to evaluate Joseph's performance, which includes Miami overcoming injuries to key starters Reshad Jones, Koa Misi, Jelani Jenkins, Earl Mitchell and Isa Abdul-Quddus. "It's a great experience to be able to go through. You have an opportunity to do something that is one of 32 jobs. These are going to be great opportunities for him".
NFL rules prohibit teams from interviewing coaches whose teams are playing in the first round of the playoffs, so all interested teams will have to wait to speak to Joseph until at leat after the Dolphins play Sunday's 1 p.m. game against the Pittsburgh Steelers.
… Continue reading story here …
—–