—
Colorado Daily – Pre-Bowl Game
—
December 17th
… CU in a few minutes … 
CU defense looks to move on after the loss of Leavitt
From CUBuffs.com … With the sudden departure of former defensive coordinator Jim Leavitt now in the rearview mirror, MacIntyre has made some minor adjustments to the Buffs' bowl preparations. After Friday's practice, MacIntyre said safeties coach Joe Tumpkin will call the defense in the bowl game and will also take over coaching linebackers for the next two weeks. Cornerbacks coach Charles Clark will oversee the entire secondary and MacIntyre — who cut his coaching teeth in the secondary — will add an extra set of eyes wherever needed.
The end result, MacIntyre said, will be CU's defensive staff preparing a game plan much as it has done all season.
"It's seamless because the staff works so closely together," he said. "They met together, they watched together, they talked and game planned. Some people think the defensive coordinator goes in a room and gurus it all up and then comes and tells everybody. That's not what happens. … It has to be one voice. Our staff is really close and they've got one voice. It definitely should go seamless. Our kids are very bright and they understand what we want to do in our scheme."
Tumpkin, who served as defensive coordinator at Central Michigan for five seasons before coming to Colorado two years ago, said the game planning process and gameday play calling won't be any different.
"We're all in the same room together, we're all doing the same thing, it's just going to be a different guy calling it," Tumpkin said. "We know what we're going to play, we know what we're going to call, we know how we're going to run it. Nothing's going to change. We're going to run 3-4, we're going to get after people, we're going to try to be aggressive and play good Colorado football."
Making the job easier for the CU staff will be a defense that is dominated by experienced upperclassmen. They have all spent two years in the scheme and are familiar with all the nuances.
… Continue reading story here …
—–
December 16th
… CU in a few minutes … 
Tweet of the Day … From CU co-offensive coordinator Darrin Chiaverini: "There will be doubters and non believers but the Heart of a Buffalo will not be stopped! Shoulder to Shoulder we will fight! #CUin17"
—
Joe Tumpkin to make defensive calls at the Alamo Bowl
From the Daily Camera … On Friday, CU head coach Mike MacIntyre announced that Joe Tumpkin, who has coached the safeties for the past two years, will call the defensive plays and coach linebackers when the Buffs (10-3) take on Oklahoma State (9-3) on Dec. 29 in the Alamo Bowl.
"The defensive staff did a phenomenal job this year with the defense and it won't change anything for our game here," MacIntyre said. "We'll be fine and our guys are excited about playing."
… Losing Leavitt was not a surprise to the Buffs, but athletic director Rick George said, "I'm somewhat surprised that he went to Oregon."
CU learned of Leavitt's deal with Oregon like most people did, through a Fox Sports report on Wednesday afternoon.
Leavitt was the highest paid assistant coach in CU history, at roughly $512,000 per year, but will reportedly make over $1 million per season at Oregon.
George said CU did make an offer to Leavitt to extend his contract and give him a raise, but was nowhere close to offering what Leavitt will make at Oregon.
"I wasn't going to touch that money," George said. "I want people that want to be in Colorado and we want to pay them fairly, no question about that; but we don't want to overpay and overreact because somebody is throwing a ton of money at him."
The Buffs are prepared to pay more for coaches' salaries this next year, however.
MacIntyre has two years left on a contract that pays him roughly $2 million per season, and he and the school are in initial talks about an extension and raise.
"We're having discussions about the future," said George, who added there is no timetable to get that extension completed.
"We think we pay our coaches fairly and we'll continue to do that," he said. "We'll make some adjustments to some salaries this year, I'm sure of that."
… Continue reading story here …
—–
Mike MacIntyre post-practice talk with media
From YouTube, courtesy of CUSportsNation:
— Coach Tumpkin is coaching the defense and linebackers, Coach Clark is taking the whole secondary and Jeffcoat will have the defensive line for the bowl game. Practice video to come.
— Coach MacIntyre is taking the whole team to see the new Star Wars this afternoon to reward them for helping him win all his Coach of the year awards.
—–
December 15th 
… CU in a few minutes … 
Mike MacIntyre addresses Leavitt departure in a brief statement
From the CU athletic department … MacIntyre provided this statement Thursday morning concerning the departure of defensive coordinator Jim Leavitt: "Jim and our defensive staff did an excellent job with our defense the last two years. Jim brought a lot of expertise and energy to our defense. I wish him the best in his move to the University of Oregon and thank him for all the hard work, time and energy he gave to the Colorado Buffaloes."
—–
December 14th
… CU in a few minutes … 
Tweet of the Day … From former CU defensive coordinator Jim Leavitt: "I love CU, players, Boulder and all alum! Been great to me! Couldn't pass up opportunity for family! South Champs! Been a great ride!!"
—
CU defensive coordinator Jim Leavitt leaves Buffs for Oregon
… Related: "This is big news for Oregon, and a big blow to Colorado" … from CBS Sports
From the Daily Camera … Leavitt, at over $500,000.00, is the highest paid assistant coach in CU history.
Leavitt has one year remaining on the three-year contract he signed when hired in February of 2015. Per the terms of the contract, Leavitt would owe CU $50,000 in liquidated damages for terminating his deal prior to Dec. 31.
If Leavitt does leave, it's unclear who would coach the CU defense during the Alamo Bowl. Safeties coach Joe Tumpkin would seem to be the natural choice to do so. Tumpkin was hired at CU in February of 2015 after spending the previous five years as the defensive coordinator at Central Michigan.
As for the future, the Buffs have a stellar list of recruits commit ted to sign in February, including several top-notch defenders.
One of those, linebacker Jonathan Van Diest from Cherry Creek High School, said he has only seen the reports and has not heard from CU or Leavitt, but will be disappointed if Leavitt leaves.
"Honestly, a little disappointment to lose a coach like that," Van Diest said. "I know a lot of us that are going in were really excited to work with coach Leavitt and be part of his program and defense.
"It sucks for us a lot, but that's part of the business. Sometimes there's good parts and sometime there's not. (The recruits) understand this happens, and we're ready to play and ready to put our work in and play at the same level and even better than the team played this year."
Van Diest said Leavitt leaving would not impact his decision to sign with the Buffs.
"I'm with the Buffs 100 percent and that doesn't change how I think or feel about the school or the program whatsoever," he said.
… Continue reading story here …
—
Tweets:
— Offensive coordinator Darrin Chiaverini: ""The Pride and Tradition of the Colorado Buffaloes will not be entrusted to the timid or the weak" The Rise will continue!! #CUin17 #CUin18"
— Wide receiver Bryce Bobo: "can't wait to play Oregon again" (Note: CU won't play Oregon in the regular season again until 2019. If Bobo is to get his shot at Oregon, it would be in a Pac-12 title game)
— Linebacker Addison Gillam: "Hate this business"
— Defensive back Afodabi Laguda: "I'm a dog and you can't coach that! Best believe we gone get to it. #CUin17"
— Quarterback Sefo Liufau: "Surprised by the announcement, but thankful for what @CoachJimLeavitt has done for the program. Good luck in the future coach"
—
The perspective from Oregon 
From the Oregonian … Jim Leavitt will be paid the highest salary for an assistant in Pac-12 history, according to Fox Sports' Bruce Feldman, though the terms of the reported four-year deal have yet to be disclosed. Leavitt was paid $511,900 this season by Colorado.
Leavitt, like Taggart, is a former South Florida head coach who was fired in 2010 before coaching in the NFL with the San Francisco 49ers before his return to the college level at Colorado. He was a finalist this year for the Broyles Award, given to the top assistant in college football.
Taggart and Leavitt have another connection besides past stints coaching the USF Bulls: Both have worked for Jim Harbaugh, the Michigan coach whom Taggart counts as a close friend and mentor.
Oregon's defense has ranked among the country's worst each of the past two seasons to the point that UO president Michael Schill, in introducing Taggart as coach Dec. 14, quipped of outgoing coordinator Brady Hoke: "One bit of advice, which probably everybody in the state of Oregon can give him, is, 'Go find a great defensive coordinator.'"
… Continue reading story here …
—
Here is the Twitter world account from when the story broke (Bruce Feldman at Fox):
BREAKING #CU defensive coordinator Jim Leavitt is going to #Oregon as the Ducks new DC gets a 4-year deal, source tells @FoxSports.
HUGE hire for #Oregon & Willie Taggart. The deal Jim Leavitt gets will make him the highest-paid coordinator in Pac-12 history, per source.
How great a job did Jim Leavitt do at CU? Buffs ranked No. 8 in fewest yds per play. 2 years ago, before Leavitt arrived, CU ranked No. 120.
Background on #Oregon news: Jim Harbaugh was Willie Taggart's best man..Jim Leavitt worked for Harbaugh w 49ers & has great respect for JH.
—–
ESPN takes a look at the Alamo Bowl 
… Related … "Colorado 2016 Season Review" … from ESPN
From ESPN … Former Big 12 foes Colorado, ranked No. 10, and No. 12 Oklahoma State meet in the Valero Alamo Bowl on Dec. 29 (9 p.m. ET, ESPN) at the Alamodome in San Antonio. Here is a look at what to watch in their first matchup since 2009:
… A sampling …
How to beat Oklahoma State: Well, find a way to get officials to mistakenly award an untimed final down, then heave a Hail Mary-and-lateral touchdown. Too soon to make light of that? OK, Baylor, before its meltdown, and Oklahoma beat the Cowboys with big offensive performances directed by QBs Seth Russelland Baker Mayfield. Mayfield completed just 13 passes in the Bedlam victory, but the Sooners averaged 22.2 yards per catch. Same story with Russell, who averaged 21.5 yards per completion in the Bears' Week 4 win in Waco. An explosive passing game can bury Oklahoma State, which proved susceptible to big plays at inopportune moments in its three defeats, including the Central Michigan mess in Week 2.
Bold predictions: Hill, the true freshman who topped 1,000 yards in the regular season, goes out with a bang in 2016. While Colorado clamps down on the Cowboys' passing game better than any Big 12 foe, it won't have a good answer for Hill, who goes over 150 yards rushing for the third time in five games. — Mitch Sherman
After a frustrating performance in the Pac-12 title game, Leavitt's defense comes out and holds Oklahoma State to a season low in offensive output. After turning the ball over just 14 times in the regular season, the Cowboys will commit three turnovers, their most since Week 9 against West Virginia. — Chantel Jennings
… Continue reading story here …
—–
December 13th
… CU in a few minutes … 
Tweet of the Day … From Ryan Koenigsberg at BSNDenver … "Mike MacIntyre reached out to his former players today, following through on a promise to buy their ticket to the bowl when CU made it back"
—
CU practice schedule for Alamo Bowl released
Date
Fri., Dec.         9  —    Meetings & Practice (9:15-11:00 a.m.)
Sat., Dec.       10  —    Meetings & Practice (10:00 a.m. – noon)
Sun., Dec.      11  —    Meetings & Practice (Noon-2:00 p.m.)
Fri., Dec.       16  —    Meetings & Practice (10:40 a.m. – Noon)
Sat., Dec.       17  —    Meetings & Practice (10:15 a.m. – Noon)
Sun., Dec.      18  —    Meetings & Practice (12:15-2:00 p.m.)
Mon., Dec.    19  —    Valero Alamo Bowl Media Day (11:00 a.m., Champions Center)
Tues., Dec.   20  —    Meetings & Practice (10:15 a.m. – Noon)
Wed., Dec.    21  —    Meetings & Practice (10:15 a.m. – Noon)
Thurs., Dec. 22  —    Meetings & Practice (10:15 a.m. – Noon)
Fri., Dec.       23  —    No Practice
Sat., Dec.       24  —    Depart for San Antonio (p.m.)
Final exams started Dec. 10 and conclude Dec. 15.
—
Signing Day Celebration details released
From CUBuffs.com … The University of Colorado athletic department will host the Colorado Football Signing Day Celebration at the Sheraton Denver Downtown Hotel on Thursday, Feb. 2.
Former CU quarterback and current Fox Sports analyst Joel Klatt will host the luncheon that will highlight the exciting class of student-athletes who sign National Letters of Intent with the Buffs on Feb. 1.
Guests will enjoy a look back at the memorable 2016 football season and an in-depth look forward at what has been described as THE RISE. Head coach Mike MacIntyre and the entire Colorado football coaching staff will give insight on the impressive class of signees and the future of the Buffs.
Tickets for the event are $60 for individuals, $550 for a reserved table of 10 and $800 for a corporate table (preferred seating, program recognition, table sign and VIP guest option). Pre-registration is required and is available at cubuffs.com/events or by calling 303-492-5497.
—
Jon Wilner's Best and Worst of the 2016 Pac-12 season
From the San Jose Mercury News … The Hotline has already covered its selections for the Pac-12's best players (John Ross and Hunter Dimick), best coaching performance (Mike MacIntyre) and selections for the all-conference team.
But there's plenty more to review … (a sampling):
Worst game: Colorado 20, UCLA 10.
Only two offensive touchdowns, five turnovers (four by CU) and 25 combined penalties, many of them of the 15-yard variety. (There were more penalty yards than UCLA yards.)
And as a Thursday game with no competition, the ugliness had nowhere to hide.
Best rise: Colorado.
The Buffaloes' seven-game improvement in conference record is unmatched in the history of the Pac-8/10-12. Real, indeed.
Best play (offense): Colorado WR Bryce Bobo.
We should have known it would be a special year for the Buffs when he corralled this TD catch in Autzen.
Best half: Colorado's second vs. Washington State.
In a late-season duel matching title contenders, the Buffs outscored WSU 24-7 over the final 30 minutes, handing the Cougars their first conference loss.
—–
December 12th
… CU in a few minutes …
Finals week … players hit the books while coaches begin to game plan for Oklahoma State
From CUBuffs.com … The 10-3 Buffs (No. 10 CFP rankings) will take a break for finals this week, then reconvene next Friday to continue preparations for their Dec. 29 matchup against No. 12 Oklahoma State in the Valero Alamo Bowl (7 p.m., ESPN).
But while the players have the next few days off to wrap up their semester schoolwork, CU's coaches will begin breaking down Oklahoma State film. The Colorado staff spent much of last week on the road recruiting and has not yet had time to delve into the particulars of Mike Gundy's 9-3 team.
"We'll be working on Oklahoma State," MacIntyre said of the CU coaching staff's schedule this week. "Then we have junior college (recruit) signing day, that's on Wednesday. We'll still be busy."
CU hosted a number of recruits and their families in Boulder over the weekend, and they had a chance to watch Saturday's practice in the Champions Center Indoor Practice Facility. Overall, the Buffs are compiling what many recruiting services are calling a top-25 class.
"It's gone well," MacIntyre said. "We had a good jump start this summer. All the kids that came in the summer for camps and everything got to see our facilities, and that excited them. As the season's progressed and gone well, that's helped a lot. So it's going real well."
… Continue reading story here …
—–
December 11th
… CU in a few minutes … 
Tweet of the Day … from co-offensive coordinator Darrin Chiaverini: "It's an honor coaching at my alma mater! The future is very bright at Colorado and excited for our future Buffaloes joining us soon! #CUin17"
—
Mike MacIntyre post-practice talk with media (Sunday)
From YouTube, courtesy of CUSportsNation:
—–
December 10th
… CU in a few minutes … 
Mike MacIntyre post-practice talk with media
From YouTube, courtesy of CUSportsNation:
—
Tedric Thompson: "I'm just proud of the senior class and proud of our coaches"
From CUBuffs.com … Tedric Thompson has no doubt made his senior year one to remember, both from an individual as well as a team standpoint. He led the Pac-12 in interceptions this season with seven and tied for the conference lead with teammate Ahkello Witherspoon in passes defended (22). He was named first team all-conference by the Associated Press, second team All-Pac-12 by the league's coaches and second team all-conference by Pro Football Focus.
Tie it all in with CU's first bowl game appearance since 2007, a 10-3 record and a top-10 ranking and it has made the last three years all worthwhile.
"We've definitely come a long way," Thompson said. "I'm just proud of the senior class and proud of our coaches, how we stuck together and fought together and believed in each other. We put ourselves in this position and it's something none of us will forget."
Thompson arrived in Boulder as part of head coach Mike MacIntyre's first recruiting class. He remembers being mentored by some of CU's upperclassmen then, and has done his best to pass on that kind of guidance to current Colorado youngsters.
"(Former safety) Jered Bell was one person who always talked to me, told me there would be ups and downs," Thompson said. "He helped me keep my head up. My freshman year, he told me that he felt like before I leave, I had the opportunity to do something great.
"Now, I just tell the young guys like Anthony Julmisse, Johnny Huntley, Rick Gamboa — I tell all those guys to enjoy the moment because when it comes, it's going to go by in the blink of an eye."
… Continue reading story here …
—
Over 500 attend Rashaan Salaam funeral
From the Daily Camera … When he got the call earlier this week that his friend and former teammate has passed away, Chris Naeole didn't hesitate to make plans to get to Boulder.
"I came to pay respects to my brother," Naeole said.
Many others did the same on Friday, as former Colorado football star and 1994 Heisman Trophy winner Rashaan Salaam was honored and laid to rest.
Salaam was found dead in a Boulder park on Monday night in what is suspected to be suicide. He was 42.
An estimated 500 people gathered at the Islamic Center of Boulder, including members of Salaam's family, legendary CU head coach Bill McCartney, dozens of former CU players and current administrators.
Many of Salaam's CU teammates, including Naeole, Derek West, Michael Westbrook, T. J. Cunningham and Matt Russell were on hand. CU athletic director Rick George, associate athletic director Lance Carl, chancellor Phil DiStefano and sports information director David Plati were also in attendance.
"It's sad to come here to see everybody like this," said Naeole, who currently coaches the offensive line at Hawai'i. "But whatever I could do to come see my brother before they laid him to rest.
"There's a lot of good memories. I sat down with my wife the other day and just went back and looked at pictures and reminisced about some great days and just our good friends."
… Continue reading story here …
—–
December 9th
… CU in a few minutes … 
Mike MacIntyre post-practice talk with media
CU's first bowl practice on Friday, from YouTube, courtesy of CUSportsNation:
—
It's been a busy week for CU head coach Mike MacIntyre
… Related … "Rewards Of 2016 Success More Than Just Alamo Bowl" … from CUBuffs.com
From the Daily Camera … Between recruiting, a bowl game press conference and a college football awards show, Colorado head football coach Mike MacIntyre has been a busy man this week.
It might be rough on his sleep schedule, but it's been great for the Buffaloes, as he travels around the country talking about the resurgent football program.
"It's extremely important," MacIntyre said Thursday during an Alamo Bowl press conference in San Antonio. "It's a lot better than sitting home, for sure. It's exciting for our program and does get our name out there."
MacIntyre and his CU assistants have been on the road recruiting this week. He then went to San Antonio for Thursday's press conference, and had to be in Atlanta for The Home Depot College Football Awards show on Thursday night to the accept the Home Depot Coach of the Year award.
By this weekend, the Buffs will get back on the practice field.
… Continue reading story here …
—–
December 8th
… CU in a few minutes … 
Practice schedule released
From CUBuffs.com … Here is CU's bowl practice schedule in Colorado, prior to departing to San Antonio for the Alamo Bowl on Christmas Eve:
This weekend—in the Indoor Practice Facility (off Stadium Drive):
FRI., DEC.   9— 9:15-11:00 a.m.
SAT, DEC. 10—10:00-Noon
SUN., DEC. 11—Noon-2:00 p.m.
Interviews after; photo period about 30 minutes in each day for 25-30 minutes.
(Finals—off Dec. 12-15)
FRI., DEC. 16—Time TBA (morning)
SAT., DEC. 17—Time TBA (morning)
SUN., DEC. 18—Time TBA (morning)
TUES., DEC. 20—Time TBA (morning)
WED., DEC. 21—Time TBA (morning)
THURS., DEC. 22—Time TBA (morning)
SAT., DEC. 24 – Time TBA (morning/depart for San Antonio p.m.)
—–
Funeral services set for Rashaan Salaam 
… Related … "Plati-'Tudes: The Heisman Weekend With Rashaan" … from CUBuffs.com
… Related … "Brooks: Remembering A Special Saturday With Rashaan Salaam" … from CUBuffs.com
From the CU athletic department … The funeral service for former Colorado running back Rashaan Salaam has been set for Friday, Dec. 9. The service will be held at the Islamic Center of Boulder, which is located at 5495 Baseline Road. The public is welcome to attend.
The service will begin at noon, but all those planning to attend are asked to arrive no later than 11:45 a.m. to be seated before the service begins.
Following the service, the public is welcome to follow the funeral procession to Mountain View Memorial Park, located at 3016 Kalmia Ave in Boulder.
—–
December 7th
… CU in a few minutes … 
Tweet of the Day … From CU defensive coordinator Jim Leavitt: "On the road again! Working it! Houston and Florida then back to Denver! 2 Pepsi's and a chocolate cookie! Breakfast of South Champions!"
—
CU has the lowest paid assistant coaches in the Pac-12
From USA Today …
Defensive coordinator Jim Leavitt is the highest-paid CU assistant coach, at $511,900.00. That's only 89th nationally, but 8th in the Pac-12 (among the ten state schools which report. USC and Stanford are private schools). According to USA Today, no Pac-12 assistant coaches are in the top 25 nationally in pay.
Overall, CU assistants are 45th in the nation in total pay (10th out of 10 among Pac-12 state schools).
The CU list after Jim Leavitt:
Brian Lindgren – $481,125
Gary Bernardi – $311,625
Darrin Chiaverini – $265,625
Jim Jeffcoat – $263,332
Klayton Adams – $260,625
Joe Tumpkin – $204,625
Charles Clark – $184,519
Drew Wilson – $180,625
Darian Hagan – $175,625
—–
December 6th
… CU in a few minutes … 
Rashaan Salaam found dead in Boulder park
… Related … "What They Are Saying: Teammates, Coaches Remember Rashaan Salaam" … from CUBuffs.com
The CU Athletic Department will open CU's Football Legacy Hall in the Champions Center on Wednesday from 11 a.m. to 2 p.m. The public is invited to stop by and pay respects to Buffs legend Salaam and the Heisman Trophy. Paid public parking is available on Level 1 of the parking garage at the corner of Stadium Drive and Folsom Street. Visitors may gain access to Legacy Hall through the lobby adjacent to the CU ticket office and Team Store.
We encourage you to share your favorite story or memory about Rashaan on our Facebook page.
—
Here is a YouTube video of Salaam's highlights:
—
Press release from CUBuffs.com … "The Buff Family has lost an outstanding young man and a great Buff today," Athletic Director Rick George said. "We are heartbroken for Rashaan and his family and our thoughts and prayers are with them at this very difficult time."
As a junior, Salaam led Bill McCartney's 1994 Buffaloes to one of the best seasons in CU history, an 11-1 finish that included a 41-24 win over Notre Dame in the Fiesta Bowl and a No. 3 ranking in the final polls — still the second-best finish ever by a CU team.
"He was very coachable," McCartney said. "He had a happy heart. I loved being around him. He didn't take himself too seriously, and he always credited those around him, especially his offensive line. What I liked about him is that he had a sparkle in his eye. He was upbeat and positive."
Salaam was a runaway winner in the 1994 Heisman voting after rushing for 2,055 yards to become just the fourth player in college football history at the time to surpass the 2,000-yard mark. He won the Heisman by 248 votes and 842 points and was also a landslide winner in the voting for the Doak Walker Award, given to the nation's top running back.
He also became the fifth player in CU history to earn unanimous All-America honors.
"This is a sad day for the entire university community as we mourn Rashaan's death," CU Chancellor Philip P. DiStefano said. "Rashaan will be remembered as one of the greatest football players to ever wear a Buffs uniform, and his 1994 Heisman Trophy brought great prestige and honor to the university. We send our deepest condolences to his family and friends."
… Continue reading story here …
—
Release from Denver KUSA 9News website … Rashaan Salaam, who rushed for more than 2,000 yards for the University of Colorado on the way to winning the 1994 Heisman Trophy, died at a park in Boulder, the county coroner's office confirmed Tuesday afternoon.
Salaam, 42, was found at Eben G. Fine Park on Monday evening. A determination on how he died was not announced, pending an autopsy.
"The Buff Family has lost an outstanding young man and a great Buff today," Athletic Director Rick George said in a statement released by the university. "We are heartbroken for Rashaan and his family and our thoughts and prayers are with them at this very difficult time."
Boulder police spokeswoman Shannon Cordingly said someone called 911 just before 9 p.m. Monday and reported a body in the park, which is located on the west side of town near the entrance to Boulder Canyon.
In 1994, Salaam rushed for 2,055 yards and 24 touchdowns as he led the Buffalos to an 11-1 record and a win over Notre Dame in the Fiesta Bowl. CU finished that season ranked No. 3 in the nation, the second-best ever finish for a Colorado team.
—
Clemson defensive coordinator wins Broyles Award for best assistant coach; Jim Leavitt a finalist
From the Broyles Award … The Frank & Barbara Broyles Foundation is pleased to announce Brent Venables is the winner of the 2016 Broyles Award. Venables, defensive coordinator and linebackers coach at Clemson, is the 21st recipient of the Broyles Award, given annually to the top assistant coach in college football. Coach Venables was honored, along with his fellow finalists, at a Tuesday luncheon at the Marriott Hotel in downtown Little Rock.
The 2016 Broyles Award finalists:
Alabama – Jeremy Pruitt, Defensive Coordinator/Linebackers
Clemson – Brent Venables, Defensive Coordinator/Linebackers
Colorado – Jim Leavitt, Defensive Coordinator/Linebackers
Michigan – Don Brown, Defensive Coordinator/Linebackers
Pittsburgh – Matt Canada, Offensive Coordinator/Quarterbacks
—–
December 5th
… CU in a few minutes … 
CU partners with PrimeSport for travel and hospitality provider
From CUBuffs.com … The University of Colorado has selected PrimeSport, the leader in collegiate fan travel, hospitality and ticketing, as the Official Fan Travel and Hospitality Provider for Colorado Athletics. PrimeSport will work with CU Athletics to build travel options for fans following CU teams on the road.
"PrimeSport has extensive experience managing and implementing collegiate fan travel and we are excited to launch our joint partnership. They provide a one-stop shop for our fans to follow Colorado teams wherever we play," said Colorado Director of Athletics, Rick George.  "Fans will be able to make one call and have all the details taken care of for them while cheering on the Buffs."
While the partnership has officially began, the first travel options will be offered for the CU bowl game. Additionally, "bucket list" type events such as the Kentucky Derby and Masters will soon be made available. Travel packages can include roundtrip airfare, hotel accommodations, the official CU pregame tailgate party, game and airport transfers, game tickets, souvenirs, and much more.
"We are thrilled about our partnership with the Colorado Buffaloes," said Jon Lavalee, COO of PrimeSport. "Our priority is to help deliver a great value and product for CU fans, and we are looking forward to working with CU Athletics to create those great experiences."
For more information on official Colorado packages, visit PrimeSport.com.
—
CU has ten players on the current roster who hail from Texas
From CUBuffs.com … Colorado has always made the state of Texas a recruiting priority, and playing a bowl game there will no doubt help. CU currently has 10 players from Texas on its roster: OLB Jimmie Gilbert, OL Jonathan Huckins, DB Uryan Hudson, OL Jeromy Irwin, TE Sean Irwin, OL Sam Kronshage, DT Eddy Lopez, QB Steven Montez, LS Austin Shaw and LB Jacob Stoltenberg.
Overall, Colorado has had 133 lettermen from Texas in its history. Some of the more famous include PK Mason Crosby, WR Cliff Branch, TE J.V. Cain, TB Hugh Charles, TB Charlie Davis, QB Koy Detmer, CB Chris Hudson, C Andre Gurode, TE Matt Lepsis, S Michael Lewis, OLB Kanavis McGhee, C Bryan Stoltenberg, DT Art Walker and OLB Alfred Williams
"I'm really excited," said CU tackle Jeromy Irwin. "I haven't been back to Texas and played a game there since high school. I always play on the West Coast in the Pac-12, so it's pretty nice to go home."
—–
December 4th
… CU in a few minutes … 
Mike MacIntyre bowl game press conference
From YouTube, courtesy of CUSportsNation:
—
CU … at the Alamo Bowl v. No. 12 Oklahoma State
When … Thursday, December 29th, 7:00 p.m., MT, ESPN
Who … No. 12 Oklahoma State Cowboys … Colorado owns a 26-19-1 lead in the all-time series, with Oklahoma State winning the last two games played between the two teams, in 2008-09. CU's last win in the series came in 2005 – the last year the Buffs posted a winning record – with CU posting a 34-0 victory in Boulder.
Getting to Know the Cowboys … We'll be talking a great deal about Oklahoma State over the next few weeks, but here is a snapshot of the 2016 Cowboys:
Oklahoma State finished the regular season with a 9-3 record. The Cowboys were 7-2 in Big 12 play, tied with West Virginia for second place.
Like the Buffs, Oklahoma State is coming off of a conference title game loss. While the Big 12 conference does not have a conference title game, the Bedlam rivalry game against Oklahoma was a battle for the Big 12 title and a berth in the Sugar Bowl. Oklahoma won on Saturday, 38-20, to take the title.
Oklahoma State lost a controversial decision to Central Michigan back in September. "Central Michigan stuns No. 22 Oklahoma State on controversial finish" can be found here.
The Cowboys' other loss was to then No. 16 Baylor, 35-24.
After falling to Baylor, Oklahoma State ran off seven straight victories, including a 49-31 win over then No. 22 Texas and a 37-20 win over then No. 10 West Virginia.
—
ESPN's take on Colorado v. Oklahoma State 
From ESPN …
Oklahoma State:
Key player: Mason Rudolph quietly ranked among the top quarterbacks nationally over the final two months of the season. Rudolph improved upon his first season as the starter a year ago to grow into the Cowboys' offensive leader and primary source of production during a six-game midseason stretch in which OSU averaged 42.7 points.
Motivation level: A 10-win season remains within reach, but Oklahoma State enters the postseason still feeling the sting of disappointment that Oklahoma delivered in taking a Big 12 title from the Cowboys' grasp. Rudolph and many of the top weapons, offensively and defensively, return next year, so there's incentive to gain a head of steam for 2017.
Colorado:
Key player: Liufau. Steven Montez is a capable backup with a bright future, but perhaps no one in the Pac-12 meant more to his team this year than Colorado's senior quarterback.
Motivation level: High. This is a program that hasn't won a bowl game since 2004 or played in a bowl since 2007. That should tell you everything you need to know about what it means to Colorado.
—–
December 3rd 
… CU in a few minutes … 
Buffs await bowl bid … with Texas the most likely destination
From CUBuffs.com … There is still more history for the 2016 Colorado Buffaloes to write.
It means they will have to put the sting of Friday night's 41-10 loss to Washington in the Pac-12 Championship game behind them as soon as possible.
It won't be easy. The Buffs played all season with a stated goal of winning a Pac-12 title. The devastation of coming up short was painfully evident on the faces of the players in the postgame postgame locker room at Levi's Stadium.
… The Buffs will learn their bowl destination Sunday. The College Football Playoffs selection show begins at 10 a.m. on ESPN, with the semifinal pairings scheduled to be announced at approximately 10:30 a.m. The pairings for the remaining "New Year's Six" bowls — Rose, Sugar, Orange and Cotton — will be be announced at approximately 12:30 p.m., with the rest of the bowls then working to fill their spots with their contracted conferences.
Colorado's chances of the the program's first-ever Rose Bowl berth no doubt took a hit Friday, but the possibility still exists. Other possibilities are the Cotton, Alamo and Holiday bowls.
A number of factors will be in play.
One is whether 12-1 Washington is awarded a spot in the CFP semifinals. In the unlikely event the Huskies don't remain in the CFP's top four, Washington would automatically go to the Jan. 2 Rose Bowl as the conference champion and play a Big Ten team.
But if the Huskies do advance to the playoffs, the Rose will have the ability to choose between Colorado, which was No. 8 in last week's rankings, and USC, which was No. 11. Those rankings, however, are likely to change, particularly given the fact that both the Buffs and Trojans now have three losses and the Trojans own a win over Colorado this season.
If Colorado isn't selected by the Rose Bowl but does remain in the CFP's top 11, the Buffs could be a candidate for the Jan. 2 Cotton Bowl, where they would face Western Michigan.
Next on the list would be the Dec. 29 Alamo Bowl in San Antontio, where CU would likely see old Big Eight and Big 12 foe Oklahoma State. There also remains a possibility that the Buffs could slip to the Dec. 27 Holiday Bowl in San Diego.
—
Mike MacIntyre: "We'll have a very good football team next year"
… Related … Neill Woelk: "One Game Won't Define Buffs' Season Of Accomplishments" … from CUBuffs.com
Press release from the Pac-12 … The 2016 Pac-12 Football Championship Game didn't go how Colorado wanted it to, but anyone who expected a downtrodden Mike MacIntyre at Friday's postgame press conference would have been in for a surprise. The Colorado head coach arrived with a list of accomplishments, and read each bullet point.
"First team in 101 years of Pac-10, Pac-12 football, biggest turnaround ever. Only one of four teams to go from last to first since 1959. Seventh ten-win season in school history," MacIntyre said after the game. "Pretty impressive."
The Buffs, 1-8 in conference play in 2015, flipped the ledger to 8-1 this season. That feat helped Coach MacIntyre earn Pac-12 Football Coach of the Year and Walter Camp National Coach of the Year honors.
On Friday night, Coach Mac credited his players for the turnaround on the field, and in the stands.
"With what they've done for the university, how they've kind of reunited Buff Nation, we can't say enough about that, where they've come from. We'll build on it. They'll leave a great culture and we'll have a very good football team next year."
Was the loss to Washington in the Championship Game disappointing? Of course it was. MacIntyre didn't sugarcoat it.
"Yeah, we hurt. We lost. We lost to a good team and made some mistakes that kind of gave them a chance to pull away from us."
But this year was about more than just one game. And this loss doesn't detract from that.
"There are a million other things I could say. Number one, I love them. I love the staff, I love the team, I love their fight…Tonight was tough, there is no doubt about it. Can't put a damper on the whole season, and we'll bounce back and go play in a Bowl game."
The final game of the regular 2016 season against Utah was the first sellout at Folsom Field since 2008. The future looks bright in Boulder, and the University is ready to rally around their Buffs. And Coach Mac is ready.
"Place is rocking now. These guys brought Folsom's magic back, these young men."
—–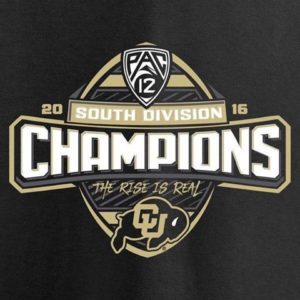 —–