—
Musings on the Loss of Jim Leavitt
—
The loss of Jim Leavitt to another program is a blow to the ego of the Buff Nation …
The rumors of Jim Leavitt leaving Colorado for another coaching position had been swirling around the Buff program all season … and not without good reason.
In 2014, the year before Leavitt arrived, the Buff defense gave up 39.0 points per game. In 2015, the first year under Leavitt & Co., the Buff defense dropping that total to 27.5 point per game. This season, the points allowed dropped to 20.5 points per game.
For those scoring at home, that's a drop from 116th in the nation in points allowed to 18th in the nation in points allowed.
In just two seasons.
With mostly the same personnel.
It's not surprising that the nation took notice of what has transpired under Leavitt's tenure in Boulder.
What was surprising was that Leavitt wound up at Oregon.
It was assumed (and pretty well accepted by Buff fans) that if Jim Leavitt were to be offered a head coaching position, that he would leave Boulder. Leavitt had been a head coach at South Florida, and, if given another chance to lead a program, few Buff fans would begrudge him for seizing the opportunity.
When no head coaching offers materialized, however, a lateral move to the SEC (specifically Mississippi) became a possibility, as the money made by assistant coaches in the South is significantly higher than that made anywhere else in the country. The idea of Leavitt leaving Boulder for a similar position at another school upset many Buff fans, but most understood that money talks.
And nowhere else is money thrown around like candy as it is in the SEC.
Except in Eugene.
Phil Knight University has more money to spend on its athletic department than almost any other school. Now that the rest of the Pac-12 has caught up with Oregon in terms of facilities, the Ducks are turning to coaching salaries to try and again separate themselves from the rest of the conference.
Jim Leavitt was the highest paid assistant coach in CU history, at roughly $512,000 per year, but will reportedly make over $1 million per season at Oregon.
Colorado athletic director Rick George said CU did make an offer to Leavitt to extend his contract and give him a raise, but was nowhere close to offering what Leavitt will make at Oregon.
"I wasn't going to touch that money," George told the Daily Camera. "I want people that want to be in Colorado and we want to pay them fairly, no question about that; but we don't want to overpay and overreact because somebody is throwing a ton of money at him."
We've talked before about the "have's" and the "have nots" of the college football world, with a further distinction between the "have have's" and the "have not have's".
Colorado, in a Power Five conference, is a "have".
Colorado State, in a Group of Five conference, is a "have not".
Oregon, which has bought its way into the upper echelon of college football over the past two decades, is a "have have".
Colorado, which does not have, and will not have, equivalent resources, is a "have not have".
Yes, the Buffs won the Pac-12 South conference this year, while the Ducks finished last in the Pac-12 North.
Yes, the Buffs posted ten wins this season; the Ducks four.
But one season does not a seismic shift make. Oregon will be back … no matter how many millions of dollars it takes to get there.
… but it's not like it hasn't happened before …
While the Buff Nation is wringing its collective hands over Oregon buying their defensive coordinator, it's important to recall that this is far from an unprecedented occurrence.
In fact, it's commonplace.
Teams lose coaches to other schools ever season. Every year, the most successful coach among the Group of Five schools (this season being Houston's Tom Herman and Western Michigan's P.J. Fleck) are always on the top of the list for Power Five schools looking for a fresh start.
(Not to mention the fact that CU plucked two recent head coaches – Dan Hawkins from Boise State and Mike MacIntyre from San Jose State – from successful Group of Five conference schools).
Still, it does hurt more when your coach leaves you to make a lateral move to another school.
But Buff fans have endured that feeling before.
Recall the final week of 1998.
Colorado had just defeated (ironically enough) Oregon in the Aloha Bowl on Christmas Day to conclude an 8-4 season. CU head coach Rick Neuheisel had just completed his fourth season as the head coach for the Buffs, accumulating a 33-14 overall record.
Colorado was enjoying its most successful decade in the history of the school. In the first 100 years of Colorado football, there had been exactly one ten-win season (in 1971). In the previous decade concluding with the Aloha Bowl win, however, the Buffs posted five ten-win seasons (1989, 1990, 1994, 1995, and 1996 … the latter two under Rick Neuheisel).
All was in place for continued success, with Neuheisel having recruited many of the players who would lead the Buffs to the Big 12 championship in 2001.
In short, if there was ever a time in the history of the program when Colorado was a "have have", it was the 1990's.
And yet, upon returning home to Boulder after defeating Oregon in the Aloha Bowl, Neuheisel left Colorado for Washington … and a $1 million payday.
Colorado … even at the zenith of success … was still a "have not have".
… and can even be spun as a positive … 
Successful programs don't become successful without quality assistants coaches.
And quality assistants move on.
Exhibit "A" is the Bill McCartney coaching tree. The first coach Mac produced – and lost to other programs – a number of quality assistants, many of whom went on to become head coaches in their own right.
Here is the list of assistant coaches under Bill McCartney who became college head coaches:
Gary Barnett … Northwestern, Colorado
Jim Caldwell … Wake Forest, Indianapolis Colts, Detroit Lions
Ron Dickerson … Temple
Gerry DiNardo … LSU, Indiana
Karl Dorrell … UCLA
Jon Embree … Colorado
Mike Hankwitz … Arizona, Colorado
Steve Logan … East Carolina
Les Miles … Oklahoma State, LSU
Rick Neuheisel … Colorado, Washington, UCLA
Bob Simmons …  Oklahoma State
Lou Tepper … Illinois
Ron Vanderlinden … Maryland
John Wristen …  CSU–Pueblo
… Not a bad list.
If Mike MacIntyre can turn Colorado back into a program which breeds coaches who are successful elsewhere, well, bring it on!
—
It was certainly a disappointment to hear the news that Jim Leavitt was leaving. He brought an energy and a passion (not to mention a love of Pepsi) to the Champions Center. He was certainly a leader, and an inspiration to his young charges.
The disappointment of his leaving turned into a body blow, though, when the Buffs not only lost Leavitt, but lost him to a conference rival.
Colorado will not play Oregon in 2017 or 2018 regular season. By the time the 2019 season rolls around, the landscape of the two programs may well shift, and Jim Leavitt may not even be on the opposing sideline when the two teams meet again.
By then, resentments will have eased. Anger will have subsided.
That being the case, Buff fans should thank Jim Leavitt for what he brought to Boulder. It can be debated how much credit he deserves for #TheRise, but it cannot be debated that Colorado was brought back from the abyss, particularly on the defensive side of the ball, during his tenure as the defensive coordinator.
And it shouldn't be as difficult this time around for Mike MacIntyre to fill the vacancy created by Leavitt's departure.
Wanted: Defensive coordinator to lead a defense which in 2016 was 18th in the nation in scoring defense; 17th in the nation in total defense. Plenty of talent departing, but plenty of talent remaining. Apply at the beautiful new Champions Center, Boulder, Colorado.
CU should have plenty of quality applicants.
Am I upset that Jim Leavitt left? Yes.
Am I upset that Oregon was able to lure him away with an offer the Colorado athletic department could not match? Yes.
Am I upset to be reminded – yet again – that CU is a "have not have" in the world of college football? Yes.
But it is what it is.
Thank you, coach Leavitt, for all you brought to the Colorado program.
But we're moving on  … we have a bowl game against Oklahoma State to win.
—–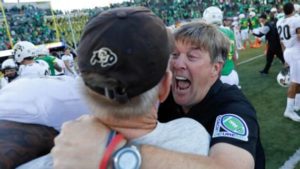 —–