—
Pac-12 Notes
—
April 26th
… Foe Pause … 
ESPN: Top NFL prospects for every Way-Too-Early Top-25 team
From ESPN … Is the best player on each team in Mark Schlabach's 2017 Way-Too-Early Top 25 also that team's best NFL prospect? Get ready for a few surprises.
From the Pac-12 …
No. 3 USC … QB Sam Darnold: It's fair to wonder if Darnold would have been the first quarterback selected if he were eligible for this year's draft. That's how impressive he was in his 10 starts for the Trojans last season. His combination of size, athleticism, arm talent and playmaking ability is rare, and he could leave Los Angeles with two years of college eligibility remaining. He could be the No. 1 overall pick in 2018.
No. 7 Washington … LB Azeem Victor: Before Victor's 2016 season ended prematurely because of a broken leg, one Pac-12 coordinator said he was without question the best linebacker in the conference. There are no arguments here. Victor enters the 2017 season as the Pac-12's best defensive prospect for the 2017 draft and could play himself into the first round.
No. 15 Stanford … OLB Peter Kalambayi: Though his numbers dipped in 2016, Kalambayi has the potential to become an effective pass-rusher in the NFL. He has 14.5 sacks and 21 tackles for loss in his three seasons for the Cardinal and will be one of the most feared edge rushers in the Pac-12 in 2017.
No. 19 Colorado … WR Bryce Bobo: The Buffaloes have a talented group of receivers with Bobo playing alongside Shay Fields and Devin Ross, but for now, Bobo is considered the top NFL prospect. At 6-2, he's a little bigger than the other two and was a Pac-12 honorable mention selection in 2016 after catching 41 passes for 523 yards.
No. 21 Washington State … QB Luke Falk: He had valid reasons for leaving following the 2016 season, but ultimately decided for another year on the Palouse, where he will again be among the nation's top quarterbacks. There is a stigma around Mike Leach quarterbacks in the NFL, but Falk, a former walk-on, has all the tools to be successful at the next level.
–
—–
Employment lawsuit against NCAA and Pac-12 dismissed
From ESPN … A lawsuit filed against the NCAA and Pac-12 by former USC football player Lamar Dawson was dismissed by a federal judge in California on Tuesday.
The class-action lawsuit, filed in September, sought minimum wage and overtime payments among other compensation under the premise that the NCAA and Pac-12 violated the Fair Labor Standards Act and the California Labor Code.
Judge Richard Seeborg's decision to dismiss the case was similar to that of a three-judge panel in the 7th U.S. Circuit Court of Appeals last year, which ruled former student-athletes at NCAA Division I schools are not considered employees under the FLSA. That case involved former track and field athletes at the University of Pennsylvania.
Dawson argued that his case was different because football, unlike track, is a revenue-generating sport, but Seeborg wrote "the premise that revenue generation is determinative of employment status is not supported by the case law."
"Leaving aside the policy question of whether and how Division I FBS college football players should be compensated," Seeborg added, "there is simply no legal basis for finding them to be 'employees' under the FLSA."
… Continue reading story here …
–
—–
April 24th
… Foe Pause … 
Colorado State concludes spring practices with Spring Game on 45-yard field
From the Denver Post … The Colorado State offense never crossed the 50-yard line in the Green vs. Gold spring game Saturday.
That's because there was no 50-yard line on the intimate Lagoon Field setting, just north of the nearly completed new on-campus stadium. Midfield was the 45 because of the limited space. Yet the setting served its purpose, enabling the program to bring fans back to campus — with seating in temporary bleachers and on grass berms — as a bit of a preview, and also was suitable for what amounted to the extended scrimmage that closed out spring drills.
"I thought it was a great day, a great turnout for our fans," CSU coach Mike Bobo said after the Green (offense) came from behind to beat the Gold (defense) 43-40 under the intricate scoring format.
The Rams' offense struggled early. Nick Stevens finished 19-of-35 for 247 yards and two touchdowns, but he threw three interceptions. Backup J.C. Robles threw a fourth and 24 of the defense's points came from the interceptions.
… "The concern of mine is depth on this football team," Bobo said. "We don't have a lot of depth. I think we're decent with the 1s, so we have to improve our depth with the guys we have here in summer conditioning and fall camp. Our freshmen that we signed, I think will play a big part in our season next year."
Bobo said his message to the coaching staff "was to get every freshman ready to play. I've already limited vacation for our coaches this summer. I said, 'We better get those guys ready to play.' They can't be week four, week five, we have to get them ready to play week one. So we're going to try to get everybody ready to play. O-line sometimes and quarterback, but every other position, I want to get them ready to play immediately."
… Continue reading story here …
–
—
Texas President "cannot comprehend" paying athletes
From Hook'em.com … His football program is installing new football lockers that cost an eye-popping $10,500 each, but Texas President Gregory L. Fenves "cannot comprehend" paying UT athletes.
That's the main takeaway from an interview Fenves gave for a class-action antitrust lawsuit filed against the NCAA. The lawsuit seeks to challenge what schools can give to athletes playing football and men's and women's basketball.
The notes from the interview, first discovered by USA Today, were taken during an interview on Feb. 22 and attached to a legal filing. Fenves was one of five current or former university administrators interviewed by Kenneth Elzinga, an expert for the defense.
Kentucky athletic director Mitch Barnhart and former Purdue athletic director Morgan Burke were also interviewed. A UT spokesman declined to comment on Wednesday.
Fenves told Elzinga that he "cannot comprehend how athletics could be a part of university life" if athletes were paid like professionals. The UT president related an anecdote of going to a men's basketball game this season and watching freshman Jarrett Allen, although his name is mentioned specifically.
Allen, described in general terms, was a "a very good basketball player, but he also makes mistakes 'like a freshman,'" according to Elzinga's notes. If Allen was paid like a professional, fans may watch him make "stupid turnovers" and may choose not to come watch him play.
Allen has announced he is turning professional and will enter this summer's NBA draft.
Fenves said during the interview that "students go to games to watch their fellow students compete, and that they would not be as interested in attending if the players were professional."
… Continue reading story here …
… Related … "Some of us cannot comprehend how schools could decide spending $10,500 on a locker makes more sense than giving the players a larger share of the revenue pie" … from CBS Sports 
–
—–
April 23rd
… Foe Pause … 
A look at the Pac-12 quarterbacks
From the Daily Camera … With the start of the football season a little more four months away, here's a look at the quarterback situations for each team in the Pac-12 (with their 2016 record):
Arizona Wildcats (3-9, 1-8 Pac-12)
Projected starter: Brandon Dawkins, R-Jr., 6-foot-3, 210 pounds
Outlook: The primary starter a year ago, Dawkins was much more dangerous as a runner (944 yards, 10 TD) than he was as a passer (1,348 yards, 8 TD, 6 INT). Sophomore Khalil Tate, a talented dual threat, is very much in the running for the job, however. Both exceptional athletes, but whoever starts needs to step up their game.
Arizona State Sun Devils (5-7, 2-7)
Projected starter: Manny Wilkins, R-Jr., 6-3, 197
Outlook: Wilkins had some great moments last year, but was hobbled by an ankle injury during the second half of the season. Alabama transfer Blake Barnett, a former five-star recruit, will push Wilkins for the starting job. No question, better QB play is needed for the Sun Devils to improve.
… Continue reading story here …
–
—–
April 22nd
… Foe Pause … 
Jon Wilner – Jim Leavitt's signing with Oregon tips the scales of power within the Pac-12
From the San Jose Mercury News … We're one week removed from the news of Chris Petersen's momentous (by Pac-12 standards) contract extension, which increases his average annual pay to $4.875 million.
That make Petersen, who's fresh off a playoff appearance and works for a school with significant football resources, the highest-paid head coach in the conference.
He's the first Pac-12 coach to crack the top 10 nationally, based on the current numbers in USA Today's awesome salary database.
… In the week since news of Petersen's new deal, I've been mulling the salary landscape in the conference. Each time, the train of thought leads to the same station:
The most significant contract in the conference belongs not to Petersen but Oregon defensive coordinator Jim Leavitt.
Hired away from Colorado by Willie Taggart, Oregon's first-year head coach, Leavitt is set to earn $1.15 million annually.
That, folks, is the Pac-12's market buster, its landscape changer — the deal that must make other coordinators celebrate and athletic directors wince.
Best I can ascertain, Leavitt's salary is 50 percent greater than that of any coordinator/assistant coach in the conference.
Heck, Leavitt's deal is equivalent to more than one-third of the staff salary pool at six different public schools.
Arizona, Utah, Colorado, Cal, Oregon State and Washington State all have staff salary pools under $3 million, per the USAT database.
… Continue reading story here …
–
—–
April 19th
… Foe Pause … 
ESPN: Recruits to Watch for Every Top 25 team (including CU)
From ESPN … Every team in Mark Schlabach's 2017 Way-Too-Early Top 25 is also looking toward the future for the next star or the player who can fill a big need. Here is the recruit worth watching for every Top-25 team.
From the Pac-12 … 
No. 3 – USC … The Trojans are after several top-10 prospects in this class, but there likely won't be a more important addition than inside linebacker Palaie Gaoteote, who committed to USC in February. The Trojans need to add multiple linebackers in this 2018 class, so a commitment from the nation's No. 2 inside linebacker, No. 41 overall player and a prospect capable of seeing immediate playing time is an important asset for USC coaches as they continue building this class.
No. 7 – Washington … While most programs will take just one quarterback in each recruiting class, Washington has the luxury of holding commitment from two ESPN Junior 300 signal-callers, and that could be an important part of this class. The Huskies have not signed an ESPN 300 quarterback since Jake Browning in the 2015 class, and this could be Browning's last year in Seattle. If Washington loses Jacob Sirmon and holds on to ESPN Junior 300 quarterback Colson Yankoff in this class, it certainly wouldn't be considered a failure at the position, but Sirmon is the No. 2 pocket passer in the country, the nation's No. 16 overall recruit and a potential five-star quarterback. He was also the first commitment for Washington in this class and could have an opportunity to take over for Browning as a true freshman. The Huskies have done extremely well recruiting Washington under head coach Chris Petersen, but they missed the No. 1 pocket passer in the 2016 class, Jacob Eason, and they couldn't reel in five-star offensive tackle Foster Sarell in the 2017 class.
No. 15 – Stanford … Stanford has its sight set on wide receiver Amon-Ra St. Brown after having signed his brother Osiris in the 2017 class. (Oldest brother Equanimeous is a wide receiver at Notre Dame). Amon-Ra could wind up as the most heavily recruited of the three, as the nation's No. 72 overall prospect holds offers from elite programs across the country. While the Cardinal will always be in the mix for talented offensive linemen and a potential quarterback of the future is already committed in Jack West, St. Brown is the kind of electric playmaker on the outside who could make an instant impact.
No. 19 – Colorado … Early on it looks as though outside linebacker Adrian Jackson could head out of the state for college — Ohio State and USC are a couple of schools in the mix — but the same could have been said last year for Jake Moretti, who committed to Ohio State early in the process before flipping to the Buffaloes in November. Colorado took a significant step forward on the recruiting trail with the 2017 class and landing the state's lone ESPN Junior 300 prospect in Jackson — the nation's No. 208 recruit overall — would make another strong statement.
No. 21 – Washington State … It all starts with the quarterback for a Mike Leach offense, so even after signing ESPN 300 signal-caller Connor Neville in the 2017 class, the Cougars are looking for another quarterback in this one. Tyler Shough has been hot this spring, grabbing offers from Ivy League programs as well as Michigan, Missouri and a recent one from Washington State. With Luke Falk likely off to the NFL following this season, Shough could join a quarterback competition where the reward is throwing the ball almost as much as humanly possible. With the recent offer, it will be interesting to see how quickly the Cougars can get in the mix and if they, as his only Pac-12 offer to this point, can keep him relatively closer to home rather than letting him escape to the Wolverines, Tigers or another program.
–
—–
April 17th
… Foe Pause …
Oregon Ducks to "tone down" uniforms in 2017
… The end of the world as we know it …
From the Oregonian … Between a 4-8 record and uniforms that incorporated blue and orange, Oregon football didn't look much like itself in 2016.
The Ducks' record this fall under new coach Willie Taggart is anyone's guess. Yet their uniforms they'll be wearing, while still considered top secret by Oregon and Nike and described only in general terms, are said to be veering into more traditional territory after the varying hues worn last season drew praise, but also criticism.
"We're going to try to stick to more traditional colors this year," Kenny Farr, UO's football equipment administrator, said last week after a spring football practice. "Trying to kind of simplify a few things but still keep it modern and keep it looking really good."
At Oregon, "traditional" could mean anything from silver and highlighter green to kelly green and yellow. The Ducks wore silver and white in the 2015 College Football Playoff national championship game, and for years, fans have cheered as Oregon zigged when other programs zagged.
… Continue reading story here …
–
—–
April 16th
… Foe Pause …
Athlon rates the Top 25 toughest schedules
From Athlon.com … The question for national title-aspiring programs remains: Do you schedule down in the non-conference and hope to pile wins ahead of league play, or do you test yourself against the best the nation has to offer?
The 25 teams with the nation's toughest schedules, ranked below, seem to adhere to the latter philosophy.
From the Pac-12 … 
No. 7 – USC … Timing of games can be as taxing on a team as the quality of opponent. Such is the case for USC. The Trojans face an unusual slate in 2017 on two fronts: First, they play 11 games against Power Five opponents. The only deviation is Week 1 foe Western Michigan, which won 13 games a season ago. And while USC avoids defending Pac-12 champion Washington in league play, the Trojans have no bye week. That means 11 straight weeks of Power Five games for the presumptive preseason favorite in the Conference of Champions.
No. 11 – California … First-year (and first-time) head coach Justin Wilcox won't exactly ease into his new job. Cal travels across the continent to North Carolina Week 1, the first of 11 games against Power Five competition on the Golden Bears' slate. FCS Weber State is the lone deviation, with Ole Miss making a rare SEC-to-Pac-12 trip in Week 3. From there, Cal juggles a conference schedule that includes USC, Washington and Oregon in consecutive weeks, with the latter two on the road. The Golden Bears also finish on the road with back-to-back away games vs. Stanford and UCLA.
No. 18 – UCLA … One of just three FBS programs to have never played an FCS opponent, UCLA has a longstanding tradition of challenging itself both in and out of conference. The latter slate this season includes Texas A&M's visit to the Rose Bowl, the return half of a Week 1 date last year that ended in overtime. The Bruins also travel to Memphis for a high upset-alert contest.  In the Pac-12, the Bruins see Stanford and Colorado early on in the schedule. Back-to-back road games at Washington and Utah highlight the post-bye week slate.
No. 20 – Stanford … Stanford will have no shortage of frequent flyer miles racked up before September ends. The Cardinal open 2017 in Australia to face Rice. Two weeks later, they see USC in Los Angeles and San Diego State on Montezuma Mesa. Keep an eye on that trip to America's Finest City for a possible upset. Stanford won't play on the Farm until Sept. 23, when UCLA comes to town. The Bruins join defending Pac-12 champions Washington and Notre Dame as the Cardinal's marquee home games, with road contests at Utah and Washington State highlighting the rest of the slate.
–
—–
April 15th
… Foe Pause … 
ESPN: Scariest stat for every Top 25 team
From ESPN … Every team in Mark Schlabach's 2017 Way-Too-Early Top 25 is projected to win, and win big. But every team also has one number that could derail the best laid plans and biggest dreams. Here is the scariest stat for every top 25 team.
The Pac-12 … 
3. USC … Offensive linemen Damien Mama (30), Chad Wheeler (38) and Zach Banner (45) combined for 113 starts during their USC careers. The Trojans have a lot of size and experience to replace on the offensive line, and that's not great news for quarterback Sam Darnold, who enters the 2017 season as a Heisman frontrunner.
7. Washington … The Huskies lose 123 career starts with the departures of safety Budda Baker, and cornerbacks Sidney Jones and Kevin King (Jones and Baker over the past three years, King over the last four). Now the most experienced unit on Washington's team becomes its most youthful.
15. Stanford … Christian McCaffrey averaged 211.5 all-purpose yards per game last season. Even with as impressive that is, it was a step down from the 276 all-purpose yards per game that he averaged in 2015. That's a lot of yardage to replace, even if coach David Shaw is turning toward multiple players to do so.
19. Colorado … The Colorado defense was a senior-laden group on every level and loses eight starters. Up front, the Buffs need to replace all three defensive linemen. At linebacker, they lost Kenneth Olugbode and Jimmie Gilbert. And on the back end, Colorado loses three of its four starters. On top of that, the Buffs lost defensive coordinator Jim Leavitt to Oregon.
21. Washington State … Wide receiver Gabe Marks' contributions to the passing game as the Cougs' leading receiver over the past two seasons — 13 touchdowns, 89 receptions, 894 receiving yards — has been impressive. But, most importantly — and less measurable — is the fact that he has been a go-to guy for QB Luke Falk over those two seasons. With Marks' departure, so goes Falk's security blanket.
–
—–
April 14th
… Foe Pause … 
NCAA Council approves early Signing Day
… Related … "CU's MacIntyre Praises NCAA Go-Ahead For Early Signing Date" … from CUBuffs.com
From The USA Today … National Signing Day — which in some quarters has become something akin to a national holiday — might never be the same. In a vote Friday, the NCAA's Division I Council gave the go-ahead for an early signing date in college football.
The addition of the December signing date, which will join the traditional early February date, was part of a comprehensive reform package to the sport's recruiting model that included everything from the addition of a 10th assistant coach for FBS programs to significant changes to the summer camp model and the recruiting calendar.
During its annual meeting last January, members of the American Football Coaches Association voted to support the package. Earlier this week, Todd Berry, the AFCA's executive director and the former coach at Louisiana-Monroe, called it "by far the most sweeping legislative package we've had since I've been in coaching."
"There's been nothing that's come as close to moving the needle as this," Berry said. "This isn't perfect but it's a big step. We've been so caught up in the past with perfection that what happens is nothing ever happens."
–
—
NCAA approves 10th assistant coach
… So … No special teams coach for CU until 2018 … 
From CBS Sports … When the 2017 season comes to a close, every FBS college football team will begin a coaching search as the NCAA Division I Council announced on Friday that it has approved a 10th on-field assistant coach to be hired nationwide.
The additional position will be available effective Jan. 9, 2018. This decision will be final on April 26 at the conclusion of the Division I Board of Directors meeting.
Florida coach Jim McElwain recently explained why adding an extra assistant will be helpful, noting that the ratio of coaches to players in college football is drastically different than, say, college basketball.
"You think about it, your roster, we'll travel 100 people, players," he told Thomas Goldkamp of 247Sports. "And there's some sports that have one guy for every two people or maybe one of them."
For most, the 10th assistant coach will likely be a promotion for either a team analyst or someone working in quality control with the program.
… Continue reading story here …
–
—
Two-a-day practices a thing of the past
From CBS Sports … Two-a-day practices are officially done.
The NCAA Division I Council voted this week to disband the multiple practices in one day allowed to programs while still allowing them to have 29 practices before their first game of the season.
"The council's action reinforces our commitment to the health and safety of our student-athletes," council chair and Northwestern athletic director Jim Phillips said. "We continue to be guided by the recommendations from medical professionals, coaches and administrators and the strong support for discontinuing two contact practices in the same day."
Teams will be allowed to practice up to a week earlier than before to get those same amount of reps in. The decision, which will go into effect immediately, was part of a plan endorsed by the NCAA Sport Science Institute as a way to reduce injuries and keep athletes healthy.
… Continue reading story here …
–
Here is the new legislation approved Friday as provided by an NCAA press release:
·        It changes the recruiting calendar to allow for an early signing period in December (effective Aug. 1). Only the Collegiate Commissioners Association can create new National Letter of Intent signing periods.
·        It adds a period for official visits that begins April 1 of the junior year and ends the Sunday before the last Wednesday in June of that year. Official visits can't occur in conjunction with a prospect's participation in a school's camp or clinic (effective Aug. 1).
·        It prevents Football Bowl Subdivision schools from hiring people close to a prospective student-athlete for a two-year period before and after the student's anticipated and actual enrollment at the school. This provision was adopted in men's basketball in 2010 (effective immediately, though schools may honor contracts signed before Jan. 18, 2017).
·        Football Bowl Subdivision schools are limited to signing 25 prospective and current student-athletes to a first-time financial aid agreement or a National Letter of Intent. Exceptions exclude current student-athletes who have been enrolled full-time at the school for at least two years and prospective or current student-athletes who suffer an incapacitating injury (effective for recruits who sign after Aug. 1, 2017).
·        It limits the time for Football Bowl Subdivision coaches to participate in camps and clinics to 10 days in June and July and requires that the camps take place on a school's campus or in facilities regularly used by the school for practice or competition. Staff members with football-specific responsibilities are subject to the same restrictions. The Football Championship Subdivision can conduct and participate in camps during the months of June and July (effective immediately, though schools may honor contracts signed before Jan. 18, 2017).
·        It allows coaches employed at a camp or clinic to have recruiting conversations with prospects participating in camps and clinics and requires educational sessions at all camps and clinics detailing initial eligibility standards, gambling rules, agent rules and drug regulations (effective immediately).
·        It allows Football Bowl Subdivision schools to hire a 10th assistant coach (effective Jan. 9, 2018).
–
—–
April 12th
… Foe Pause … 
College Football Coaches ranked
From CBS Sports … College football is a players' sport. Recruiting matters, especially when it comes to competing for a playoff run.
But that doesn't mean coaching isn't important.
Coaches can turn entire programs around (hello, Bill Snyder) and bring home rare national titles (hello, Dabo Swinney). It's the coaches who bring the Jimmy's and Joe's to campus and develop them. On the flip side, a bad coaching hire — or, heaven forbid, two bad coaching hires — can set a program back for years.
... The Pac-12 … 
Elite Coaches … The Bear Bryant Tier: First ballot Hall of Famers
None.
The Steve Spurrier Tier … Blue-blood winners
None.
Proven Winners … The Barry Alvarez Tier: Success at the Power Five level
Chris Peteren – Washington
David Shaw – Stanford
Kyle Whittingham – Utah
Mike Leach – Washington State
Todd Graham – Arizona State
The Howard Schnellenberger Tier: Program builders
Mike MacIntyre – Colorado
Willie Taggart – Oregon
Gary Andersen – Oregon State
This tier basically exists in its own universe away from everything else because building a program from the studs on up is a different type of job altogether that yields different results. And there are usually a lot of losing efforts in the process. The best example is Snyder, who orchestrated the best coaching job of all time given where K-State was historically when he took over compared to where it is now. However, he isn't coaching for the same things as Saban or Fisher. 
The LaVell Edwards Tier: Getting it done outside the Power Five
None.
The Hal Mumme Tier: All over the place
Rich Rodriguez – Arizona
The Greg Schiano Tier: Coaches considered to be on the rise 
None.
The Houston Nutt Tier: Jury's still out
Jim Mora – UCLA
–
… not listed … USC head coach Clay Helton … Cal head coach Justin Wilcox …
–
—
Early Signing Day could be voted on by NCAA Council this week
From CBS Sports … The adoption of an early signing period has quietly become one of the most significant moments in recent college football history.
"If it goes through," Big 12 commissioner Bob Bowlsby said, "it will be the most impactful piece of football recruiting legislation in 25 years."
That contentious early signing period is part of a bundled package of wide-ranging changes to the game that will be taken up either Thursday or Friday by the NCAA Council in Indianapolis.
The intent is to keep college football from becoming the recruiting backwater college basketball has devolved into. It relieves pressure on recruits, lessens third-party influence and curbs excess.
If, that is, it all passes. The early signing period is the centerpiece. For years — perhaps decades — there has been little consensus on that early period, which essentially relieves the pressure on recruits.
… Continue reading story here …
–
—–
April 11th
… Foe Pause … 
Washington's Chris Petersen now the highest-paid coach in the Pac-12
… and yes, CU's Mike MacIntyre's contract extension remains on hold …
From Sports Illustrated … Washington has extended the contract of head coach Chris Petersen through the 2023 season, according to a source. The new deal gives Petersen what is believed to be the richest contract in the Pac-12.
Petersen's new deal extends him three additional seasons and has an average compensation of $4.875 million throughout the deal. That marks a significant raise, as Petersen was slated to make $4.0 million in the final two years of his previous deal. Petersen hasn't shown any interest in other collegiate or NFL jobs, but this latest extension further solidifies that his preference is to stay in Seattle for the long haul.
… Continue reading story here …
–
—–
April 10th
… Foe Pause … 
ESPN Football Power Index … CU predicted to have a winning record (but just barely)
From ESPN … The Football Power Index (FPI) is a measure of team strength that is meant to be the best predictor of a team's performance going forward for the rest of the season. FPI represents how many points above or below average a team is. Projected results are based on 10,000 simulations of the rest of the season using FPI, results to date, and the remaining schedule. Ratings and projections update daily.
The Pac-12 … W/L projection … Conference winning percentage
6. Washington … 10.1 – 2.3 … 30.2%
12. USC … 9.2 – 3.6 … 34.0%
14. Stanford … 9.0 – 3.3 … 17.8%
25. Oregon … 8.3 – 3.9 … 4.9%
28. Washington State … 8.1 – 4.0 … 4.0%
42. UCLA … 7.5 – 4.7 … 7.2%
62. Colorado … 6.4 – 5.7 … 0.6%
75. Arizona State … 5.7 – 6.3 … 0.9%
80. Arizona … 5.6 – 6.5 … 0.1%
88. Utah … 5.2 – 6.8 … 0.2%
102. Oregon State … 4.8 – 7.2 … 0.0%
–
—
Three of the top eight Heisman trophy contenders are Pac-12 quarterbacks
From ESPN … USC quarterback Sam Darnold's dazzling finish to his freshman season has earned him the role of Heisman Trophy favorite at multiple Las Vegas sportsbooks.
The Westgate SuperBook on Sunday opened Darnold at 5-1 to win the Heisman. The Trojans sophomore is followed by Oklahoma senior quarterback Baker Mayfield (7-1) and last year's Heisman winner, Louisville quarterback Lamar Jackson (8-1).
The top eight contenders are quarterbacks, including Ohio State's J.T. Barrett (10-1), Washington's Jake Browning (12-1), Florida State's Deondre Francois (12-1), Oklahoma State's Mason Rudolph (15-1) and UCLA's Josh Rosen (15-1).
–
—
Artificial turf field at new Colorado State stadium being installed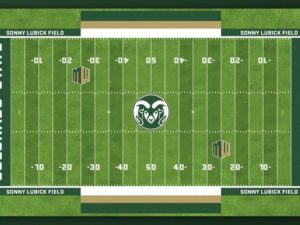 From the Coloradoan … CSU's new football field is going to start looking like one later this week when workers begin installing the artificial turf playing surface.
School officials unveiled the design of the stadium Monday, showing the school's classic Rams' head logo in green and white at the center of the field, green and gold Mountain West logos at the 25-yard lines and the words "Colorado State" spelled out in white lettering on a green background in both end zones. The green in the end zones will be several shades darker than the green on the playing field itself, which will alternate between two similar shades every five yards to give the appearance of a natural grass field mowed in opposite directions.
The entire field will be bordered by a thick stripe in the darker green color, with the words "Sonny Lubick Field" in white lettering along each sideline from just inside the end zone to about the 20-yard lines. An anonymous donor gave the university $20 million last spring to keep the legendary coach's name on the playing field of the new stadium. Lubick's name had been on the playing field at Hughes Stadium, the Rams' former home 3 miles west of the school's main campus, since 2004 under terms of a $15.2 million donation from Fort Collins billionaire philanthropist Pat Stryker and the Bohemian Foundation she oversees to renovate that facility. A spokeswoman for the Bohemian Foundation said Stryker was not the donor this time around, but "is happy that Sonny's legacy will be remembered this way."
CSU is still negotiating with potential sponsors for overall stadium naming rights, athletic director Joe Parker said.
… Continue reading story here …
–
—–
April 8th
… Foe Pause … 
How many Pac-12 players will be taken in the first round of the NFL draft?
There are varying opinions as to how many Pac-12 players will be taken in the first round of the NFL draft, with CU's Chidobe Awuzie in the mix.
… The NFL Network has seven Pac-12 alumni going in the first round … Stanford's Solomon Thomas and Christian McCaffrey, UCLA's Tak McKinley, Colorado's Chidobe Awuzie (to Tampa Bay with the 19th overall pick), Washington's John Ross and Kevin King, and Utah's Garett Bolles.
… Brad Gagnon of the Bleacher Report has five Pac-12 players listed … Stanford's Solomon Thomas, Washington's John Ross, Utah's Garrett Bolles, Stanford's Christian McCaffrey, and UCLA's Tak McKinley (no Awuzie or Kevin King from Washington).
… NFL Draft analyst Rob Rang has six first-rounders from the Pac-12 … Stanford's Solomon Thomas and Christian McCaffrey, Washington's John Ross, Utah's Garrett Bolles, Washington's Budda Baker and UCLA'a Tak McKinley (no Awuzie or Kevin King from Washington)
–
—–
April 7th
… Foe Pause … 
CBS – Most tortured fan bases in college football includes … Oregon
From CBS Sports … What defines tortured?
Well, it means different things to different people in the context of sports. To come up with this list, I had a few parameters I tried to follow. The biggest thing for me was that you're a fan of a team that has some success, but only so much to make you crave more, and it never quite comes. Like, if you're a fan of a team that's awful year in and year out, you become a bit numb to it over time. But if you're a fan of a team that just can't get over the hump, the wound stays real.
… 5. Oregon … I understand Oregon played in a BCS title game in 2010 and it was in the College Football Playoff in 2014, but both of those bids ended in disappointment. I also know that it's basketball program has had recent success. That's why it only climbs as high as No. 5 on the list. I also know that before these recent events, there isn't much of anything to be too proud of. In recent years, Oregon has poured money into its football program, and while it was enough to eventually get it to the CFP, it wasn't enough to win a national title, and now the program seems to be sliding back down the mountain to that place where it's still good, but not good enough.
… 4. Oklahoma State
… 3. Miami
… 2. Texas A&M
… 1. Georgia
–
—–
April 5th
… Foe Pause …
ESPN: Best numbers to know for each Way-Too-Early Top 25 football team
From ESPN … There's a reason each of these teams earned a spot in Mark Schlabach's 2017 Way-Too-Early Top 25. Here is the best number or stat to know for each as we get deeper into spring practices.
3. USC: 86.8 … As a redshirt freshman, Sam Darnold finished second nationally with a Total QBR of 86.8, better than that of Clemson's (national champion) Deshaun Watson, Louisville's (Heisman Trophy winner) Lamar Jackson and Washington's (Pac-12 champion) Jake Browning. The Trojans lost three starting offensive linemen, but they return Darnold, who had a full offseason as the undisputed starter.
7. Washington: 6.8 … The Huskies bring back starting quarterback Jake Browning, starting running back Myles Gaskin, four offensive line starters and two starting wide receivers on an offense that averaged 6.8 yards per down in 2016 (third among Power 5 teams). With a defense that has been proven to reload and an offense that returns this much firepower, the Huskies will be in the College Football Playoff conversation again in 2017.
15. Stanford: 779 … The Cardinal have the unenviable task of replacing Christian McCaffrey, but at least in terms of his rushing yardage, Stanford is in a good position with Bryce Love. Last season, as a sophomore, Love rushed for 779 on 112 carries, including 115 yards as the starter in the bowl game. With more touches in 2017, he'll be able to show off some top-end speed.
19. Colorado: 6 … The Buffs return their top six receivers from a season ago (every receiver who scored at least one touchdown) as well as four offensive linemen and running back Phillip Lindsay. They must replace quarterback Sefo Liufau, but his replacement, Steven Montez, played well in Liufau's absence last season.
21. Washington State: 89 … Falk decided to return to Pullman for his senior year, giving the Cougars' offense a huge boost. He'll be without his favorite receiver, Gabe Marks, but Falk has thrown for 89 touchdowns and 10,888 yards during his career.
–
—
ESPN: CU's defensive "triplets" fifth-best grouping in the Pac-12
From ESPN … These are our annual Pac-12 triplet rankings. We've selected a trio of players from each team in the conference.
The rules: Each player comes from a different position group, so the defensive version of this series features a defensive lineman, a linebacker and a defensive back. Each program's troika is ranked against the others in the Pac-12, and we'll be unveiling and writing about each in reverse-countdown order.
We continue our defensive rankings with No. 5 Colorado.
… players discussed: DL Leo Jackson; LB Rick Gamboa; CB Isaiah Oliver
… Verdict: Although the Buffs' defense is losing so much entering 2017 — no other unit in the Pac-12 must contend with replacing eight starters — there's still established talent at the top of each position group. That's why Colorado maintains a solid spot in these triplet rankings. Jackson is a trusted commodity, Gamboa is as consistent as they come, and Oliver has the tools to be the Buffs' next star cornerback. Fresh off an excellent defensive season, Colorado's trio has earned the benefit of the doubt.
… Full story can be found here …
(Previously ranked on defense … No. 6 Utah … No. 7 California … No. 8 Oregon … No. 9 Arizona State … No. 10 UCLA … No. 11 Oregon State … No. 12 Arizona)
–
—–
April 4th
… Foe Pause … 
ESPN: CU's offensive "triplets" sixth-best grouping in the Pac-12
From ESPN … These are our annual Pac-12 triplet rankings. We've selected a trio of skill players from each team in the conference.
The rules: Each player comes from a different position group, so the offensive version of this series features a quarterback, a running back, and a wide receiver. Each program's troika is ranked against the others in the Pac-12, and we'll be unveiling and writing about each in reverse-countdown order. Remember that this is not an all-inclusive offensive ranking, but rather only one of each team's triplets.
We continue our offensive rankings with No. 6 Colorado …
… players discussed: QB Steven Montez; RB Phillip Lindsay; WR Shay Fields
… Verdict: Lindsay and Fields are both solid. The only question here is Montez, and he's already shown immense potential with that athletic, 6-foot-5, 225-pound frame. Colorado just needs more consistency from the quarterback position, so working to attain that should be a top offensive priority this offseason. But the raw talent is here for this trio to be competitive with the Pac-12's other representatives.
… Full story can be read here …
(Previously ranked on offense … No. 7 UCLA … No. 8 Stanford … No. 9 Oregon State … No. 10 California … No. 11 Arizona … No. 12 Utah)
… ESPN is also counting down defensive "triplets". Teams ranked No. 12 to No. 7 have been listed, with no Colorado, so the Buffs' defensive "triplets" will be ranked no worse than No. 6 as well …
–
—
ESPN: Utah will remain a capable force in the 2017 Pac-12 South race
From ESPN … Utes' role in the division race: Utah has been a serious contender in the Pac-12 South title chase for the past three seasons, winning at least nine games each year. The Utes peaked with a 10-win 2015 campaign, one which fell short of a division crown only because of a late 17-9 home loss to UCLA.
The bottom line is that Utah has established itself as a force to be reckoned with in the Pac-12 while also demonstrating consistency. There are certainly flaws to be addressed here — the offense, in particular, has gone MIA at some critical junctures — but the Utes undoubtedly bring one of the league's hardest hitting and most physical presences.
Last year, Utah finished three games off the Pac-12 South pace. But it's vital to examine the Utes' record more closely. All four of their losses came by a touchdown or less, and one of their wins was over USC. To this point, that's the only game the Trojans have ever lost with Sam Darnold as their starting quarterback.
So while the Utes are replacing many key pieces — four starting offensive linemen, star running back Joe Williams, and seven quality defense starters are gone — they must still be considered a legitimate threat. USC is the favorite in the South, but recent history tells us Utah will remain a capable force.
… Continue reading story here …
–
—–
April 3rd
… Foe Pause … 
College Football News rates football/basketball combos – 1-130
From the College Football News … Welcome to the ranking of all 130 of them and where they stand after the 2016 football and 2016–2017 basketball seasons.
The football/basketball combination ranking ground rules …
1. Football is bigger than basketball. Sorry, but in terms of budgets and prestige, it just is. Success on the football field trumps almost anything that happens in basketball.
2. With the exception of a few teams that rocked this football season, the top tier is made up of schools that got teams into both a bowl game and the NCAA Tournament.
3. The second-tier is mostly made up of schools that got into the NCAA Tournament but didn't get into a bowl game. And several that went bowling and finished with a winning basketball record, but didn't go to the NCAAs.
4. The next tier is primarily full of schools that went to a bowl game, but finished with a losing basketball season.
5. Winning a football conference title means more than winning a regular season conference or league tournament championship in basketball. Since regular season basketball accomplishments mean jack squat, the Final Four – and deep NCAA runs – receive more love in the rankings.
Like Oregon, South Carolina and North Carolina fans care that their teams didn't win their respective conference tournaments.
6. And then there are the dregs. The bottom of the rankings are made up mostly of teams that finished with losing records in both major sports.
7. Finally, yeah, accomplishments and disasters in the Power 5 leagues mean more – to a point. Of course it's harder to have success in the big conferences, but part of these rankings are based on fun for the fan bases. These rankings are more about the seasons, rather than the talent on the teams.
The Pac-12:
No. 6 – USC
No. 18 – Washington
No. 30 – Utah
No. 33 – Oregon
34. Colorado Buffaloes
– Football Spring Analysis & Ranking
Football: 10-4 overall, 8-1 in conference, 1st in Pac-12 North
Basketball: 19-15 overall, 8-10 in conference, 7th in Pac-12
How Was The Football/Basketball Season? It stunk that the basketball team got knocked out of the NIT before the thing could get going, but the football team made up for it with a shocker of a season. Forget how ugly the Pac-12 Championship and bowl losses were – it was a breakthrough season for Buff football.
No. 47 – Colorado State
No. 59 – Arizona
No. 60 – UCLA
No. 71 – Stanford
No. 72 – Washington State
No. 99 – California
No. 112 – Arizona State
No. 126 – Oregon State
–
—–
April 2nd
… Foe Pause … 
Texas A&M at UCLA game time moved to Sunday of Labor Day weekend
From FootballScoop.com … The 2017 Texas A&M at UCLA football game has been moved to Sunday, Sept. 3, the two schools announced on Wednesday.
The game, previously scheduled for Saturday, Sept. 2, will be nationally televised at either 7:30 or 8:00pm ET from the Rose Bowl in Pasadena.
Texas A&M and UCLA have met five times on the gridiron. The Aggies beat the Bruins 31-24 in overtime last season in College Station to take a 3-2 lead in the overall series.
The date change means each team will have a short week prior to their next contest on September 9. That Saturday, Texas A&M is scheduled to host Nicholls State while UCLA is slated to host Hawaii.
–
—
Oregon falls to North Carolina in national semi-finals
From the Oregonian … The game ended and Oregon's guard Dylan Ennis sprinted off the court and darted through the University of Phoenix Stadium tunnel into the first moment of the rest of his life.
I wanted him to stop, turn around, go back, and finish what he'd started.
Coach Dana Altman wasn't far behind his sixth-year senior, staring at his shoe tops as he walked toward the locker room. A few minutes earlier, on the court, Altman turned to a Ducks assistant and said, "Too many bad decisions. Too many stupid plays."
North Carolina beat Oregon 77-76 in a game that was lost as much as it was won. The Ducks' season ended a point shy, and with the Tar Heels missing four consecutive free throws in the final five seconds. As a reward for the effort, UNC gets a shot at Gonzaga for the national title.
Simple thing: block out.
… Continue reading story here …
–
—
CSU offense outplays defense in first spring scrimmage
From the Coloradoan … CSU's offense clearly outplayed the defense in the first scrimmage of spring football practice, particularly in the passing game, coach Mike Bobo said.
Senior quarterback Nick Stevens, he said, was efficient and hit his targets consistently and receivers Michael Gallup, Bisi Johnson and Detrich Clark all made some big plays, as did Preston Williams, a transfer from Tennessee who can't play for the Rams until 2018.
The 59-play scrimmage, on a 70-yard field in the school's Indoor Practice Facility, was closed to the public and media. Statistics kept by the school's sports information staff were posted afterward on Twitter.
Stevens completed 25 of 35 passes for 411 yards and seven touchdowns in the situational scrimmage, which included a significant amount of work in the red zone. Gallup, a senior, caught eight passes for 158 yards and three touchdowns, while Johnson and Clark caught six passes apiece. Clark and Williams each had two TD catches, and Johnson had one.
… Continue reading story here …
–
—–
March 31st
… Foe Pause … 
New Las Vegas stadium and its effect on Las Vegas Bowl and, perhaps, on Pac-12 title game
From ESPN … The Pac-12's current bowl contracts run for another three seasons, which means the Las Vegas Bowl could move up for the debut season of the new stadium. For this to happen, it would also likely require another Power 5 conference to be paired with the Pac-12 — again, much like what happened with the Foster Farms Bowl, when it started pairing the Big Ten with the Pac-12 in 2014.
This all, of course, is still speculation as it's much too early to have a good sense of how the quickly-changing bowl world will look in 2020.
One thing that feels easier to predict, however, is a different postseason game: the Pac-12 championship. The game has been played at Levi's Stadium the last three seasons and is under contract with the venue for one more. There isn't expected to be an announcement about future sites until the completion of this year's game, but the conference has been considering its options.
There are a few different ways it could go. The game could return to a home-hosting model, it could remain at Levi's Stadium, find a new neutral-site venue like the new NFL stadium in Los Angeles (slated to open in 2019) or, eventually, go to Las Vegas.
… Continue reading story here …
–
—–