—
Pac-12 Notes
—
September 4th
… Foe Pause … 
Colorado into the rankings … but just at Bleacher Report
… Note … With one Week One game still to be played on Monday (No. 25 Tennessee v. Georgia Tech), the AP and USA Today Coaches poll won't come out until Tuesday … 
From the Bleacher Report … Alabama stayed atop Bleacher Report's Top 25 thanks to a marquee victory over Florida State on Saturday, but the poll underwent a considerable shakeup because of some uneven performances from other highly ranked teams.
Beyond the losers in clashes between ranked programs, only one preseason Top 25 squad fell in Week 1. One other team dipped out of the poll, though it was due to a surge from a previously unranked school.
From the Pac-12:
USC – No. 7; down from No. 3
Washington – No. 10t – down from No. 8
Stanford – No. 10t – up from No. 12
Washington State – No. 21 – up from No. 23
Colorado – No. 24 – up from being unranked
–
—
UCLA sets records in comeback win over Texas A&M
… Note … This may turn out to be an asterisk (*) game in the annals of UCLA football, Jim Mora's coaching career, and the immediate future of the Pac-12 South. Every other team in the Pac-12 won their games this weekend, and UCLA was down 44-10 in the third quarter against Texas A&M … and looking bad doing it. The Aggies rushed for almost 300 yards … before halftime, with many of the Bruin faithful heading home at the break (and missing the historic comeback).
Had the second half continued like the first, UCLA would be the only team in the conference with a losing record heading into Week Two, would have a coach clearly on the hot seat, and plenty of stories about how Josh Rosen never lives up to the hype. Instead, UCLA is the talk of the college football world, Texas A&M's Kevin Sumlin is clearly on the hot seat, and Josh Rosen is in the discussion again for the Heisman trophy. What a difference a few plays at the end of a game can make …
… Stat of the Game … Texas A&M had more yards rushing (382) against UCLA than any back for UCLA had in all of 2016 (leading rusher: Soso Jamabo, 321 yards in '16) …
From ESPN … Jedd Fisch wanted to take a chance. His team was in the process of erasing a monumental 44-10 third-quarter deficit, so Fisch, in his first game as UCLA's offensive coordinator, decided to roll the dice on third-and-5 from the Texas A&M 10-yard line.
Forget that there were 48 seconds left in Sunday's game at the Rose Bowl and history was on the line. Fisch figured that in that moment, the best answer was to get cute. He was about to ask his superstar quarterback to fake a spike and heave a prayer on a fade to the end zone to pull off the unthinkable.
It's a chance that typically ends in ecstasy or calls for a job search in the morning.
Seconds later, that chance turned into triumph. Josh Rosen's split-second hesitation at the line froze A&M's already exhausted defense and gave him enough time to look up, set and float a perfectly lofted pass to Jordan Lasley's back shoulder, giving out-of-position defensive back Myles Jones no shot to make a play.
As Lasley tip-toed into the corner of the end zone and later collapsed into the padded wall behind him from sheer exhaustion and elation, Rosen ripped his helmet off and jumped into the arms of teammates galloping toward him. Later, he did the same on the sideline with head coach Jim Mora, who for most of that game looked like a dead man walking, thanks to the gargantuan hole his Bruins had found themselves in.
But they managed to climb out, completing the biggest comeback in school history for a 45-44 victory.
"Breaking in a new offense, took a little time to get rolling. It's a unique way to start off with a new OC and a new relationship, but I'm happy how it went," said Rosen, who finished the game with 491 passing yards (third most in school history) and four touchdowns on 35-for-59 passing.
"The chips just fell in our favor tonight."
Boy, did they.
… Continue reading story here …
–
—–
September 2nd
… Foe Pause … 
Pac-12 goes undefeated on Saturday
… "No. 4 USC holds off W Michigan 49-31 with big 4th quarter" … from ESPN
… "Falk lifts No. 24 Washington St. over Montana St. 31-0" … from ESPN 
… "Freeman runs for 4 TDs and Oregon beats Southern Utah 77-21" … from ESPN
… "Arizona rolls over Northern Arizona 62-24" … From ESPN
–
—
Late score lifts Oregon State to 35-32 win over Portland State
From ESPN …  Isaiah Hodgins caught a 17-yard touchdown pass from Jake Luton with about a minute left as Oregon State came back to defeat FCS-member Portland State 35-32 on Saturday.
Luton threw for 235 yards, one TD and one interception and had six completions in a row on the last drive for the Beavers (1-1), who bounced back from a season-opening loss at Colorado State.
Fellow signal-caller Darell Garretson ran for 29 yards and a TD as Oregon State used two quarterbacks, sometimes changing multiple times on the same drive.
Portland State backup quarterback Josh Kraght came in during the fourth quarter and scored on a one-yard run with 2:43 left to give Portland State to a 32-28 lead.
He led the Vikings to within field goal range on a final drive, but a 46-yard attempt was wide right to end the game.
Kraght also had 82 yards receiving and two receiving TDs before starting QB Jalani Eason departed the game.
Eason threw for 164 yards, two touchdowns and two interceptions and zig-zagged his way to 95 yards rushing and two TDs for the Vikings (0-2).
The Vikings outgained the Beavers 515 yards to 389 yards, but the lack of a quality kicker proved costly.
Portland State has missed all three PATs this season, including two on Saturday. The team made one of three two-point conversions against Oregon State.
–
—
Cal upsets North Carolina in debut of head coach Justin Wilcox
From ESPN … Ross Bowers threw for 363 yards and four touchdowns in his first college start, helping California beat North Carolina 35-30 on Saturday in the Golden Bears' first game under Justin Wilcox.
Bowers, a sophomore, had never thrown a pass in a college game and had to win a preseason battle for the starting job. But he shook off two interceptions and came up with several good throws to help Cal (1-0) win its first East Coast day game since 2012.
Vic Wharton III had five catches for 156 yards for Cal, which trailed 17-7 in the second quarter. But a targeting penalty on UNC's Jalen Dalton extended a drive to set up Wharton's 67-yard score just before halftime, a game-changing sequence that helped Cal outscore UNC 28-7.
Michael Carter scored twice for UNC (0-1), which started LSU graduate transfer Brandon Harris at quarterback but leaned more on redshirt freshman Chazz Surratt.
–
—–
September 1st
… Foe Pause … 
Washington sluggish early, pulls away from Rutgers for 30-14 win
From ESPN …  Dante Pettis woke up No. 8 Washington just before halftime with his sixth career punt return for a touchdown and Jake Browning threw two second-half touchdown passes in a tougher-than-expected 30-14 victory over rebuilding Rutgers on Friday night.
Pettis' blistering 61-yard return gave the Huskies their first lead at 10-7 with 3:50 left in the half. He tied former California star DeSean Jackson's Pac-12 career record for punt returns for scores.
A senior receiver, Pettis actually set up the Huskies' first three scores this season. His 51-yard catch set up the first of three field goals by Tristan Vizcaino and his catches of 10 and 24 yards ignited an early third-quarter drive that Browning capped with a 7-yard swing pass to halfback Lavon Coleman for a 17-7 lead.
Browning was 17 of 30 for 284 yards. He also found halfback Kyle Gaskin on an 18-yard TD pass on the first play of the fourth quarter for a 27-7 lead.
Louisville transfer Kyle Bolin threw a 3-yard touchdown pass to Janarion Granton Rutgers' first possession for a 7-0 lead and a 34-yarder to Dacoven Bailey with the game pretty much decided. Bolin finished 24 of 34 for 178 yards and had two passes intercepted by Byron Murphy.
The Scarlet Knights have lost 10 straight under second-year coach Chris Ash, but Rutgers showed a lot of improvement, especially against Washington. The Huskies, who were returning a big chunk of their team, beat Rutgers 48-13 last year in the opener in Seattle en route to a 12-2 record that included a Pac-12 title and a trip to the college football playoffs.
–
—
ESPN Pac-12 Power Rankings 
… CU was ranked as low as 11th at one point last year, and then as high as first, so you never know …
From ESPN …
1. USC … 2. Washington … 3. Stanford … 4. Washington State
5. Colorado: The defending Pac-12 South champs might have the best collection of offensive skill players in the conference with running back Phillip Lindsay and receivers Shay Fields, Devin Ross and Bryce Bobo all coming back. They have a lot to replace on defense, but for now, Mike MacIntyre — the reigning national coach of the year — gets the benefit of the doubt.
6. Utah … 7. UCLA … 8. Oregon … 9. Arizona State … 10. Oregon State … 11. Arizona … 12. Cal
–
—
–
—–
Arizona State holds off New Mexico State, 37-31
… Related … "ASU underwhelms in opening 37-31 win over New Mexico State" … From the Arizona Republic
From ESPN … Arizona State stumbled on offense in the second quarter and its defense gave up three late touchdowns.
The Sun Devils were pretty good the rest of the night, leading to another home-opening win.
Manny Wilkins threw for 300 yards and two touchdowns, Kalen Ballage had two scoring runs and Arizona State opened the season with a 37-31 victory over New Mexico State on Thursday night.
Arizona State jumped out to a quick 14-0 lead, allowed the Aggies back in it, then pulled away in the second half to win its 19th straight home opener.
"Lots of good things, lots of positive things on both sides of the ball," Arizona State coach Todd Graham said. "The biggest thing was we were rolling, probably should have been up 21-0. But (the Aggies) did a good job, had some good things they were doing."
Wilkins showed off his strong arm on a 60-yard scoring strike to John Humphrey and finished 22 for 27. Ballage had scoring runs of 7 and 20 yards, carrying most of the load with Demario Richard on the sideline with a right-knee injury.
New Mexico State's Tyler Rogers threw for 398 yards and three touchdowns on 40-of-57 passing. He also had two interceptions, including one returned for a 49-yard touchdown by Kobe Williams.
… Continue reading story here …
–
—
Utah pulls away from North Dakota, 37-16
… Related … "Utes show inexperience, explosiveness in 37-16 win over North Dakota" … from the Salt Lake City Tribune
From ESPN …  Zack Moss has seen this before.
The sophomore running back started in the Utah backfield alongside sophomore quarterback Tyler Huntley, his Hallandale (Fla.) high school teammate, and the pair shined in the Utes' season opener on Thursday night.
Huntley threw for 227 yards, rushed for 70 and accounted for three touchdowns as the Utes overwhelmed FCS North Dakota 37-16.
"It was great, bringing back some memories," Moss said. "We've been doing it since high school, so it was kind of familiar to me."
Utah debuted its new fast-paced, pass-first, spread offense with first-year offensive coordinator Troy Taylor and the difference was apparent from the start.
"Oh no, no nerves," Huntley said with a smile. "We all just had to adjust at the beginning and then we started playing from there.
"During practice (Darren Carrington and I) had a lot of plays set up where we were connecting together. We just came out and performed today."
Huntley had his mistakes with some bad decisions and some errant throws, but he repeatedly made plays with his arms and legs and posted career-highs in passing and rushing yards. Moss finished with a career-high 128 yards rushing and a touchdown on 22 carries. Oregon transfer Darren Carrington had 10 receptions for 127 yards and a touchdown.
… Continue reading story here …
–
—–
August 31st
… Foe Pause … 
CBS: CU v. CSU "one of the more underrated games of Week One"
From CBS Sports …
Colorado: Can Mike MacIntyre keep this incredible turnaround going? After years of futility, the Buffs scored a 10-win season in 2016. There are a few big names to replace on both sides of the ball, but stalwart running back Phillip Lindsay returns to anchor the offense and the defense, one of the Pac-12's best last year, still has some veterans on it. MacIntyre did a remarkable job building this thing up from the college football cellar. Now in Year 5, is the program at the place where it can reload with greater ease?
Colorado State: Yo, did you see the Rams take it to Oregon State in Week 0? The Beavers still have a ways to go before they're ready to compete with upper echelon teams, but Colorado State pulled away in convincing style from a team that could still be bowl-bound by the end of the year. It was certainly a strong first impression and now the Rams have a chance to add to that by upending their most hated rival. Going 2-0 against the Pac-12 would be a statement. If this team is going to make a run towards a New Year's Six bowl appearance, these are the types of games they have to win.
Prediction: The offensive potential in this one makes it fun. Colorado State has a deep and capable group of players … but so does Colorado, and Steven Montez will try to step into a starting role at quarterback without missing a beat. But in a potentially tight rivalry game, making key stops matters. Colorado State can hit with the hardest of them, but a few lapses against Oregon State leave some room for pause. Colorado should have the edge in that category. Pick: Colorado State +4.5 (Colorado 34, Colorado State 30)
–
—
Arizona State unveils Pat Tillman statue 
From the NCAA … The walls around Sun Devil Stadium and the new football complex are lined with photos of Pat Tillman. Images of the former player and Army Ranger can be found across the campus and around town, too.
Now there's a bronze likeness of perhaps the greatest Sun Devil in school history.
Arizona State unveiled a bronze statue of Tillman during a ceremony at Sun Devil Stadium on Wednesday, a monument designed as a tribute to the man who gave so much and as inspiration to the players trying to follow his footsteps.
"Pat spent his whole life trying to be the best person he could possibly be," Tillman's brother, Kevin, said before the drape was dropped. "He didn't focus on money, he didn't focus on fame, he didn't focus on a pretty statue. It was how can I make myself better person in all these different facets of my life, and ASU gave him an opportunity to do that."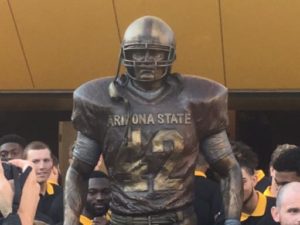 –
—–
August 30th
… Foe Pause … 
ESPN predicts CU will have a winning season … but will lose to the Rams
From ESPN …
2017 Pac-12 North
1. Stanford – 10-2, 7-2
2. Washington – 10-2, 7-2
3. Washington State – 8-4, 5-4
4. Oregon – 8-4, 5-4
5. Oregon State – 4-8, 3-6
6. California – 2-10, 1-8
–
2017 Pac-12 South
1. USC – 11-1, 8-1
2. UCLA – 8-4, 5-4
3. Utah – 8-4, 5-4
4. Colorado – 7-5, 5-4 … (by giving CU a 2-1 non-conference record, ESPN is predicting a CSU win over the Buffs)
5. Arizona State -4-8, 3-6
6. Arizona – 4-8, 1-8
1. Stanford will be king of the North: The Cardinal will suffer two losses in the first half of the season, falling at USC on Sept. 9 and at Utah on Oct. 7. But Stanford will recover to win its last six games, including back-to-back victories over Washington State (road) and Washington (home) to win the Pac-12. The Cardinal's head-to-head win over the Huskies will give them a Pac-12 North title.
2. Every Pac-12 South team except USC will have at least four losses: Behind Heisman Trophy-winning quarterback Sam Darnold and an improved defense, the Trojans will live up their preseason hype and cruise through the Pac-12 South. The Trojans will lose only once (at Washington State on Sept. 29) and win what proves to be a very cannibalistic division. The Trojans will defeat Stanford for a second time in the Pac-12 championship to make the CFP.
3. Both Arizona schools will be looking for head coaches in November: Both Arizona and Arizona State will get off to good starts in non-conference play, but then the wheels will come off during conference play. Thanks to the new early signing period, both the Sun Devils and Wildcats will fire their coaches in early November to start their searches for replacements.
–
—
Yahoo.com has CU tied for second in the Pac-12 South
From Yahoo.com Sports … The Pac-12 looks a little lopsided to us this year.
USC quarterback Sam Darnold is the league's preseason darling. But after the Trojans in the South division, it's a bit of a toss-up. Colorado won the division a year ago and returns a hefty amount of its offense. Utah is one of those teams that is always better than people expect. But is this a look to the future year for the Utes?
And there's UCLA. The Bruins went 4-8 in 2016. Is a bounce-back season in the cards?
Meanwhile, the North is stacked. Four of the five best teams in the conference may reside there. Let's take a look at how the conference could play out.
Colorado (8-4, 5-4)
How does Colorado follow up a surprise Pac-12 South title? The Buffaloes' offense will be even better in 2017. QB Steven Montez will step in seamlessly for Sefo Liufau and running back Phillip Lindsay is back. He ran for 1,252 yards and 16 touchdowns in 2016. Including Lindsay, the top five pass-catchers from 2016 are back too. Colorado should average over 30 points a game for the second-straight season.
The Colorado defense was a big reason for the Buffs' success last season and there's a lot of work to be done rebuilding it. Defensive coordinator D.J. Elliot takes over for Leavitt and inherits a unit that returns three starters. His biggest task is finding a pass rush. Literally, no one who had more than a single sack in 2016 returns in 2017.
Colorado hosts Washington on Sept. 23 in a rematch of last season's Pac-12 title game. If CU wins that game, then maybe a second-straight South crown is possible.
… Continue reading story here …
–
—–
August 29th
… Foe Pause ..
Mike Bobo: "Just because we had five turnovers last week doesn't mean we're going to go out and create any turnovers this week"
From CUBuffs.com … CSU's secondary was by no means dominant in Colorado State's 58-27 opening win over Oregon State. The Beavers finished with 304 yards and two touchdown passing — but the Rams also picked off three OSU passes, including one that linebacker Tre Thomas returned for a touchdown.
That performance was enough to earn a warning from Colorado State head coach Mike Bobo, who noted that Oregon State left some big plays on the field when quarterback Jake Luton overthrew some wide open receivers.
"There are a lot of bad things from the field where they didn't hit open receivers," Bobo said. "Colorado's looking at it and is like,  'We're going to have a chance to hit this pass here, work this seam here, work this coverage here.' We've got to get it corrected. Just because we had five turnovers last week doesn't mean we're going to go out and create any turnovers this week. We have to correct some things defensively, offensively and special teams, because they're going to take advantage of that."
… Continue reading story here …
–
—
Jon Wilner makes his Pac-12 final record projections
From the San Jose Mercury News … It's Game Week, finally, and that means projections for the division races.
(No offense to Stanford and Oregon State, which experienced Game Week last week, although the Beavers probably would have preferred more practice to their experience at Colorado State, which coach Gary Andersen deemed embarrassing.)
… If you tracked the Hotline's 12-part series, in which I picked the outcome of every game for every team, the projections below will look familiar. (Here's the final installment, which includes links to the picks for all the teams.).
South
1. USC (10-2/7-2): Loads of talent and quarterback Sam Darnold give the Trojans plenty of cushion. September is rugged, but if the offensive line coalesces quickly, then a playoff berth comes into focus.
2. UCLA (9-3/6-3): Expecting a bounce-back season with Josh Rosen healthy, the running game revived and enough returning defensive talent to counteract the attrition on the front seven.
3. Colorado (7-5/4-5): Everything broke right for the Buffs last year, and they were very good. (Both were true.) This fall, not as much goes right, and they're not quite as good.
4. Arizona State (6-6/4-5): One of the Arizona schools will jump back into the middle of the South, and I'm leaning to the Sun Devils. Better defense, better options at quarterback.
5. Utah (5-7/3-6): The move to Tyler Huntley will benefit the program over the long haul, but now there's a rookie QB playing behind a rebuilt line. Tough to see the Utes contending for the division's upper half.
6. Arizona (4-8/1-8): Not sure the issues that surfaced last season are solvable in one recruiting cycle … and yes, that assumes the quarterback play is better. Better, but not good enough.
… Continue reading story here …
–
—–
August 27th
… Foe Pause … 
Washington suspends star linebacker … for laugher against Rutgers
From ESPN … No. 8 Washington has suspended linebacker Azeem Victor for its season opener at Rutgers on Friday due to a violation of team rules, coach Chris Petersen announced Monday.
A preseason ESPN.com and Associated Press All-American, Victor made 67 tackles last year in 10 games before suffering a broken leg that sidelined him for the final four games of the season. He was a first-team All-Pac-12 selection.
Petersen said Victor is a "good guy" and that people make mistakes. No further specifics about his suspension were made available.
"Guys make mistakes. Nobody is perfect," Petersen said. "It's a mistake. The hard thing is you're in a public eye. It's tough. Azeem is a good guy, he is, but guys make mistakes and we have team standards and we live by them."
Petersen also announced that sophomore defensive back Austin Joyner would be suspended (violation of team rules) for the first two games. Joyner was in the mix to start at cornerback, where the Huskies are trying to replace two starters.
… Continue reading story here …
–
—
CU defensive coordinator D.J. Eliot: "We have to be ready to play"
From CUBuffs.com … The old cliche in football is "film doesn't lie."
Truth is, the Colorado Buffaloes have seen plenty of the Colorado State offense this week — and the consensus is the Rams are a high-powered, multi-dimensional group that will pose a major test for the Buffs in their Friday night opener in Denver (6 p.m., Pac-12 Networks).
What is beyond dispute is that CSU is not the same team that struggled to score a touchdown in last year's 44-7 CU win in the opener for both teams. Rather, this is a Rams attack that slapped 58 points and 525 yards on Oregon State in their season opener Saturday.
That's enough to get anyone's attention.
"I saw a veteran group," said Buffs defensive coordinator D.J. Eliot. "I saw (wide receiver) Michael Gallup make a lot of plays. I thought (quarterback) Nick Stevens led the team well and I saw an offensive line that blocked the run game well. I was impressed with them. They played hard, they seemed to execute and they're doing a good job in a lot of areas."
Much of what CU's coaches and players saw from the Oregon State game was simply an extension of the end of last season, when the CSU offense went on a tear that saw them win four of their last six while averaging nearly 48 points per game.
But the Buffs coaching staff also saw a new wrinkle in the Colorado State attack — the ability to ramp up the tempo.
"They are a well-balanced offense," Eliot said. "They run enough pro-style plays, enough spread plays that you have to be ready to defend a lot of different things. It's a veteran group and they know what they're doing. They're playing fast and we have to be ready to play."
… Continue reading story here …
–
—
Afodabi Laguda and CSU's star receiver were teammates in junior college
From the Daily Camera … A year ago near the 50-yard line at Sports Authority Field at Mile High, University of Colorado safety Afolabi Laguda and Colorado State wide receiver Michael Gallup exchanged high-fives and hugs while their conversation intensified. It was a mixture of "Love you, man" and "We're going to kick your tail tonight."
The Rocky Mountain Showdown was a reunion for the Georgia natives who became teammates in 2014 at Butler Community College in El Dorado, Kan., and who were making their first career starts in the Football Bowl Subdivision. They texted on the way to the stadium and met at midfield to soak in the pregame moment together.
"Mike's going to get an invitation to my wedding one day and I plan on getting an invitation to his," Laguda — a.k.a. Fo — said of Gallup, who goes by MG3. "That's how strong our bond is."
Laguda, a 22-year-old senior team captain and CU's most experienced defensive back, is in his third season in Boulder after playing at Butler in 2014. Gallup, 21, who played two years at Butler, enters his senior season after a junior season with the Rams in which he was named a first-team all-Mountain West selection.
… Continue reading story here …
–
—–
August 26th
… Foe Pause … 
Stanford mauls Rice in Australia, 62-7
From ESPN … Running back Bryce Love didn't take long to prove that he's a very competent replacement for Christian McCaffrey at Stanford.
Love scored a touchdown and finished with 180 yards rushing to lead the No.14 Cardinal to a 62-7 victory over Rice on Sunday in the Sydney College Football Cup.
Love, installed as the No. 1 player in the backfield after McCaffrey was drafted in the first round by the Carolina Panthers, had 13 carries, including a 62-yard burst through the Rice line on Stanford's opening play from scrimmage. He didn't play much after the middle of the third quarter.
"Bryce is going to be our lead dog," Stanford coach David Shaw said. "But it's nice to know we've got some guys who can back him up. I'm excited about where Bryce is heading into this season. We don't want to wear Bryce out in any one game, so those guys have got to come out and make plays like they did today."
Cameron Scarlett was one of those guys.
Scarlett, a redshirt freshman who also moved up in the Stanford pecking order, had three touchdowns, all rushing, and finished with 68 yards on nine carries. He also had one 56-yard pass reception.
The Cardinal were 31-point favorites. They led 38-0 at halftime and scored touchdowns on their first four possessions.
Rice, trailing 55-0, finally broke its scoreless drought with 6 minutes remaining on running back Austin Walker's 23-yard touchdown run.
–
—
Oregon State routed by Colorado State … from the OSU perspective
… Related … "Oregon State football lost its identity in opener" … from the Oregonian
… Related … "Colorado St. opens new stadium by beating Oregon St 58-27" … from ESPN
From the Oregonian … Jake Luton's third-down pass over the middle bounced off Isaiah Hodgins' hand and into the grasp of Colorado State linebacker Tre Thomas.
Forty-four yards later, Thomas was in the end zone to give the Rams a double-digit lead. It was the momentum-swinging play, as Colorado State used an overpowering second half to win 58-27 Saturday afternoon at CSU Stadium.
The Rams (1-0) outscored the Beavers 34-7 in the second half and outgained them 279-123. Four of OSU's second-half drives ended in a turnover, including the second and third interceptions by Luton and a fumble by tight end Noah Togiai.
OSU standout running back Ryan Nall tallied 115 yards, including a 75-yard score to put OSU (0-1) up 17-14 in the second quarter.
But Colorado State responded with a 23-yard field goal by Wyatt Bryan and a 3-yard touchdown run by Dalyn Dawkins to take a 24-20 lead into the locker room. The Beavers looked poised to tie the game in the dwindling seconds of the half, but a controversial replay call ruled a potential touchdown catch by Togiai was incomplete.
The loss extended the Beavers' road losing skid to 14 games, dating back to the 2014 season. The contest was the first in Colorado State's new on-campus stadium, with the announced attendance of 37,583 ranking as the third-largest crowd in school history.
–
—
CSU Athletic director: Deal in place for CU/CSU for 2023-'24
From the Daily Camera … Although the Colorado and Colorado State football teams aren't scheduled to play after 2020, it may not be long before future games are announced.
CSU athletic director Joe Parker said Saturday and he and CU athletic director Rick George "have talked very, very seriously and really have a strong verbal commitment" for a home-and-home set in 2023 and 2024.
Parker and George have talked about the Rocky Mountain Showdown being played in Boulder in 2023 and in Fort Collins in 2024. The rivalry will not be played in 2021 or 2022, because CU's schedule is filled up for those years.
The verbal agreement for 2023 and 2024 has been in place for a while, but just hasn't been finalized. Parker said it's just a matter of drawing up the contract and signing it, and he didn't rule out that getting done as early as next week.
"I'm confident it's going to happen (at some point)," he said. "I don't have any doubt in my mind that it will. I'm patient. We've talked about it. I would expect that we'll get something done pretty soon and have it on paper and be able to formally announce it."
… Continue reading story here …
–
—–
August 25th
… Foe Pause … 
Oregon State at Colorado State – A Preview
From madduxsports.com … Oregon State Beavers at Colorado State Rams
Saturday, August 26, 2017, 12:30 pm MT – TV: CBS Sports Network
Hughes Stadium – Fort Collins, Colorado
Opening Line: Colorado State -3 1/2
Current Line: Colorado State -4
Opening Total: 62 1/2
Current Total: 58 1/2
This year, college football starts a few days early with five games this weekend. The first game of the season matches the Oregon State Beavers of the Pac 12 against the Colorado State Rams of the Mountain West Saturday in Fort Collins, Colorado. The series is tied 1-1 but the teams haven't played since 1975. Colorado State makes the return trip to Corvallis in 2020 to complete the home and home.
Oregon State went 4-8 under coach Gary Andersen last year. The Beavers went 3-6 in the Pac 12. Oregon State was 9-3 ATS and the total was 5-7 last year. Colorado State was 7-6 last year and 5-3 in the Mountain West last year under coach Mike Bobo. The Rams lost to Idaho in the Idaho Potato Bowl 61-50. Colorado State was 10-3 ATS and the total was 7-6 last year.
… Colorado State averaged 463 yards per game on offense including 218 rushing yards and 245 passing yards, plus 35 points a game. The Rams allowed 419 total yards per game including 214 rushing yards and 205 passing along with 30 points a game. CSU was -1 in turnovers and forced 14 turnovers. The Rams averaged 54 penalty yards per game. Colorado State was 86/195 on third and fourth down conversions and opponents were 105/216. The Rams were 50/53 scoring in the red zone with 42 touchdowns and opponents were 44/47 with 36 touchdowns.
Quarterback Nick Stevens lost his job to to true freshman Collin Hill at the start of last season. Hill tore his ACL midway through last season and Stevens regained the job. Stevens will start in 2017 but Hill could see some snaps. Stevens threw for 1,936 yards with 19 touchdowns and 5 interceptions, and had 2 rushing touchdowns. Hill threw for 1,096 yards with 8 touchdowns and 2 interceptions, plus a rushing touchdown.
The top three running backs are back for the Rams. Dalyn Dawkins had 161 carries for 919 yards and 4 touchdowns, plus 20 catches for 162 yards and a touchdown. Izzy Matthews had 153 carries for 734 yards and 13 touchdowns. Marvin Kinsey, Jr. had 93 carries for 546 yards and 7 touchdowns. He suffered a torn ACL late last season and is questionable for the start of the season.
Receiver Michael Gallup is back. He had 76 catches for 1,276 yards and 14 touchdowns. Olabisi Johnson had 28 catches for 613 yards and 4 touchdowns. Dietrich Clark will also start at receiver. Dalton Fackrell takes over as the tight end.
… Oregon State struggled on offense last year, and need to improve if they want to avoid another losing season. The Rams were one of the most balanced teams in the country last year.Neither defense was that great. The total has dropped four points and I like the over. I also think Colorado State wins a close game.
–
—
USA Today  – Ten Best College Football Traditions (includes Ralphie's Run)
From USA Today … We love college football for the rivalries, the smack-talk among conferences, the bigger-than-life coaches and the arguments about who has the best team. But most of all, we love traditions.
Fans tailgate in the same spot, they wear the same clothing, they say the same things, they sing the same songs and they do all of it because, well, they've done it for as long as anyone can remember.
So as we near the opening of college football, we decided to take a look at 10 great college traditions.
… Ralphie's Run …
The first time a buffalo made an appearance on the football field before a Colorado game was in 1934, just a few weeks after Buffaloes was picked as the nickname. Although there were sporadic appearances, the tradition of Ralphie running across the field didn't begin until the homecoming game against Oklahoma State on Oct. 28, 1967.
At first, the buffalo's name was Ralph. Then, when it was pointed out that Ralph was a she, the name was changed to Ralphie (there have been five Ralphies, all have been female). Five handlers run with Ralphie before opening and second-half kickoffs. She is so popular that in 1971, she was named homecoming queen.
–
—
Oregon to wear "stomp out cancer" uniforms v. Nebraska
From Bleacher Report … Well known for their innovative attire, the Oregon Ducks will don special "Stomp Out Cancer" uniforms for their Week 2 game against Nebraska.
Per ESPN.com's Jake Trotter, cancer patients Joe MacDonald, Sophia Malinoski and Ethan Frank from Doernbecher Children's Hospital in Portland, Oregon, designed the uniforms.
"We will do everything in our power to play with the same tenacity exemplified by Sophia, Ethan, Joe, and wearing this uniform is a great chance to honor them and their spirit and efforts," Oregon head coach Willie Taggart said during Thursday's unveiling, per Trotter.
Oregon will wear this gear Sept. 9 to commemorate Childhood Cancer Awareness Month. Three years ago, they sported pink uniforms in October in honor of Breast Cancer Awareness Month.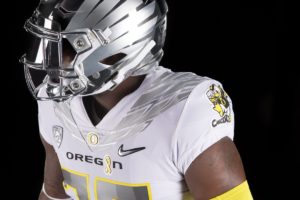 –
—
Jon Wilner: Pac-12 Networks and the inside story of the DirecTV impasse
From the San Jose Mercury News … You can blame one side or the other — you can curse DTV or rail against Scott and the Pac-12 — but ultimately, both sides made decisions that served their best interests … and led them down paths that would never intersect.
The story begins long before the stalemate appeared on the public radar. It begins in the early months of 2011, a full year-and-a-half before the expiration of the Pac-12's media rights deal with ESPN and Fox.
"We didn't have a specific model for a TV network predetermined,'' Scott recalled. "We were the conference of champions. We felt we should have a platform for the student athletes. From a brand perspective and a DNA perspective, if we were the best in the country, we ought to show it.
"But the RSNs (Fox's array of Regional Sports Networks) were a mixed bag. A lot of games were not available regionally. There was a tremendous deficit of coverage of football and basketball. And outside of sports, we felt it would be great if we could create an asset for the conference — having control, not just licensor rights, had appeal.
"So we hired media advisors and tried to find the optimal balance between maximum revenue and maximum national exposure, but also create our own network. We went to the marketplace, and most people tried to dissuade us — they told us not to start our own network. But we were determined."
… Continue reading story here …
–
—–
August 24th
… Foe Pause … 
Oregon Nike brand born out of Cotton Bowl loss to Colorado
… One more reason to lament Rick Neuheisel's decision for a late fake punt … 
From ESPN … The birth of Oregon cool happened 2,000 miles from campus in the corner of a Dallas hotel lounge.
Colorado had just smashed the Ducks 38-6 in the 1996 Cotton Bowl. Later that night, the greatest marketing campaign in college football history was conceived.
Ducks' supporters and power brokers gathered for what was supposed to be a victory party but turned into what then-Oregon coach Mike Bellotti describes as "a wake."
Yet out of sorrow came hope.
First for the Ducks. Then for those aspiring to be them.
Huddled together as they drowned their sorrows, Bellotti, Nike chairman Phil Knight, a couple key donors and assistant athletic director Jim Bartko hatched a plan.
"We needed some flash. We needed to rebrand our program," Bartko said. "Phil Knight said, 'I'm in.' Everyone else said, 'We're in, too.' That's where it all started."
Next came alternate uniforms, skyscraper-sized billboards, shiny facilities, breakneck offense and, with Knight and Nike backing it, the coolest brand in college football.
"I'm at USC, and my [three] boys want Oregon stuff," said LSU coach Ed Orgeron, previously an assistant and interim head coach with the rival Trojans. "They wanted to wear the gear and look cool."
Orgeron's sons weren't alone.
The Oregon cool caught the eyes of blue-chip recruits across the country, who came flocking to remote Eugene, giving the upstart Ducks the ammunition they needed to pierce the stranglehold the traditional powers had on the game.
… Continue reading story here …
–
—
Jon Wilner takes Colorado State over Oregon State; Stanford over Rice
From the San Jose Mercury News …
Oregon State (plus-2) at Colorado State: So much tougher than it might look with OSU breaking in a new quarterback (Jake Luton) on the road against a veteran team with a senior quarterback and new stadium. The Beavers are winless on the road since Week Six of the 2014 season (13 consecutive losses). That streak continues. Pick: Colorado State.
Rice (plus-38) vs. Stanford (in Sydney): Cardinal ended the 2016 regular season with a 24-point victory over Rice and should start the 2017 regular season with a 24ish-point victory over Rice. (The line has dropped to 30.5, which doesn't seem quite steep enough.) Worth watching not for potential drama but because 1) it's on and we're desperate, and 2) Stanford quarterback Keller Chryst and his surgically-repair knee have one game to get ready for USC. Pick: Rice.
… Continue reading story here …
–
—–
August 23rd
… Foe Pause … 
Oregon State: Little to be gained by playing Colorado State
... Note to Beaver Nation: Welcome to our world …
From the Oregonian … For Oregon State, games like Saturday's season-opener at Colorado State are dangerous and have little upside.
Not only are the Beavers on the road, but they are playing a team from one of the Group of Five conferences.
All variables being equal, a top-tier Pac-12 team should beat a Mountain West team. But in this case, the variables are not equal.
— The Rams are well-coached, have a top-shelf offense with a NFL prospect at quarterback.
— Speaking of the coach, CSU's Mike Bobo has an SEC pedigree and an over-the-top competitive streak.
— Saturday's game with OSU will be the first for the Rams inside their new, on-campus stadium. Excitement for both players and fans has been ramped way up.
— Elevation in Fort Collins is 5,003 feet, or nearly a mile high.
This won't be an easy place for OSU to break in a new quarterback or test a suspect defense.
… Continue reading story here …
–
—–
August 20th 
… Foe Pause … 
Utah names sophomore to start at quarterback
From the Salt Lake City Tribune … The Utah football coaching staff named sophomore Tyler Huntley its starting quarterback on Monday, about a week and a half before the season opener against the University of North Dakota.
Huntley beat out returning starter and senior captain Troy Williams, who started all 13 games for the Utes last season. The Utes went into camp with an open competition for the starting job with Huntley, Williams and graduate transfer Cooper Bateman all named as candidates. Williams and Huntley separated themselves as the top two during camp.
Last week, the Utes selected the 6-foot-2, 208-pound Williams a team captain for the second consecutive season. However, the Utah staff seemed to become enamored with Huntley's athleticism and the strides he made in his second offseason in the program, the first under new offensive coordinator Troy Taylor.
–
—–
August 19th
… Foe Pause … 
Arizona coach Rich Rodriguez sued
From ESPN … Arizona football coach Rich Rodriguez is being sued for breach of contract by the agency that used to represent him.
Creative Artists Agency filed a lawsuit Wednesday in federal court seeking $230,250 it says it is owed for completed work on Rodriguez's behalf.
The lawsuit says Rodriguez entered into an oral agreement with CAA in 2011, after which the agency negotiated his contracts for an on-air analyst role at CBS Sports Network and as the coach at Arizona. CAA claims Rodriguez agreed to pay 10 percent of his earnings from his CBS deal and 4 percent from his contract at Arizona, which totaled more than $300,000 until sometime in the fall of 2015, when Rodriguez ended his relationship with CAA.
CAA contends that even though it is no longer representing Rodriguez, it is still owed money from the contract it negotiated before their separation. The lawsuit says CAA attempted to resolve the dispute with Rodriguez's attorney, who refused to negotiate.
Bennett Speyer, Rodriguez's attorney, said Friday they plan to fight the allegations vigorously.
… Continue reading story here …
–
—
Arizona could play "as many as 20 freshmen" in 2017
From the Arizona Republic … Rich Rodriguez first floated the idea of a full-blown youth movement at last month's Pac-12 media days. He was especially high on his class of newcomers, saying that "there's probably 20 of them that will play this year."
Even though the Wildcats dealt with a wave of de-commitments leading up to national signing day, Rodriguez still labeled this 2017 class as, potentially, the best since he was hired at Arizona five years ago.
Whether that part of it comes to fruition won't be decided for a while, and probably not even this season.
That part about the 20 players playing right away? Rodriguez might not have been too far off, if the early days of training camp are any indication. Most of those 20 newcomers are true freshmen; others include transfers like junior college defensive lineman Dereck Boles.
Rodriguez says his team includes 50 newcomers. That he thinks 20 could play is notable.
Consider: Just 25 freshmen have recorded statistics in Rodriguez's first five years as Arizona's coach. The Wildcats flopped a year ago, going 3-9, and still only played six freshmen.
… Continue reading story here …
–
—–
August 18th
… Foe Pause …
CBS ranks conferences … Pac-12 the lowest of the Power-Five conferences
From CBS Sports … There is always a lot of crowing about conference supremacy during media days. Whichever league finished the previous season with the most trophies puts them on display and has the chance to use its time at the microphone to fill the empty July news cycle with flattering stories and headlines.
The final years of the pre-College Football Playoff era were owned by the SEC. Not only did the SEC run off seven straight national titles, but it also recruited Missouri and Texas A&M from the Big 12 and inked a 20-year deal for a cable network. When Florida State bested Auburn in the final BCS Championship Game and Ohio State bounced Alabama from the first CFP, the perception of conference power shifted ever so slightly to entertain, for the first time since the early 2000s, that maybe another league could claim to be the best in college football.
With the top spot up for grabs, the ACC's coaches were more than happy to claim it for themselves after Clemson's national championship, Florida State's Orange Bowl win and Lamar Jackson's Heisman Trophy run headlined the most successful college football season in league history.
| | | |
| --- | --- | --- |
| 5 | Pac-12 | The years of parity are over — we think — as USC has reasserted itself as a position of dominance in the Pac-12 South and Washington and Stanford are in control in the Pac-12 North. To have a nine-game conference schedule with 12 conference teams means no one really escapes with an "easy draw" and the rest of the league ends up beating each other up. The result is a crowded middle pack where the fifth best team isn't all that distinguishable from the 10th best, forcing an even heavier reliance on nonconference wins to showcase the conference's strength on a national stage. |
… Continue reading story here …
–
—–
August 17th
… Foe Pause … 
Pac-12 men's basketball teams near site of Barcelona attack
From the Associated Press … Men's basketball teams from Oregon State, Clemson and Arizona were staying at a hotel in Barcelona, Spain, near where a van drove into pedestrians on Thursday, but team officials said everyone was safe.
Spanish police have confirmed they are investigating the bloodshed in Barcelona's historic Las Ramblas district as a terror attack. The area is a popular summer tourist spot.
Tulane also was playing in Barcelona, but it was unclear if they were staying in the same hotel as the other teams.
Oregon State assistant coach Gregg Gottlieb posted to Facebook: "We are all luckily ok. Our hotel/restaurant is located right on Las Ramblas. This tragedy happened right in front of us as our team just sat down for pregame meal. Thoughts and prayers for all those that are were hurt."
The Beavers' game Thursday night was canceled. It was supposed to be the first of a five-game tour.
Clemson was scheduled to play Thursday night against a Spanish All-Star team.
"We've been in contact with our men's basketball program currently in Barcelona and the entire travel party is safe and secure. Their exhibition game for tonight has been cancelled and the team will return to Clemson as previously scheduled tomorrow morning. Our thoughts are with the people of Barcelona," the South Carolina school said in a statement.
… Continue reading story here …
–
—–
August 16th
… Foe Pause … 
UCLA coach Jim Mora: Josh Rosen will not leave for NFL after this year
From CBS Sports … From the moment UCLA quarterback Josh Rosen arrived on campus, he seemed destined for a three-year plan. The former blue-chip recruit started as a freshman and threw for a nice 3,669 yards and 23 touchdowns vs. 11 picks. And though his follow-up effort was cut short due to a shoulder injury, he still enters the 2017 season as one of college football's top quarterbacks. Add in his critiques about the college athletics system in general and it's almost a foregone conclusion that Rosen will leave early.
His coach, Jim Mora, disagrees.
"My firm belief is that he will not leave," Mora told Yahoo Sports. "I don't think he'll leave."
"I want a disclaimer, I have an option to change my opinion," Mora continued. "But as we sit here right now, I can really honestly say I don't think he's going to leave."
… Continue reading story here …
–
—
Pac-12 Network on-air talent includes former Buffs Jeremy Bloom and Chad Brown
Press release from the Pac-12 … Pac-12 Networks today announced its on-air broadcasters for live event, original programming, and studio coverage, as well as specific talent assignments for the Networks' coverage of 15 Pac-12 football games over the first three weeks of the season. Coming off Pac-12 Networks' most watched football season ever in 2016, the Networks will once again bring Pac-12 fans the most dedicated expert analysis and insight into Pac-12 football, in addition to live broadcasts of 35 games throughout the 2017 season.
The team of experts providing play-by-play for football on Pac-12 Networks this year will include returning veterans Roxy Bernstein, Guy Haberman, J.B. Long, Ted Robinson and Jim Watson along with Kate Scott who will become the first woman to do regular season football play-by-play for the Pac-12 Networks when she calls Arizona's home opener on Saturday, Sept. 2.
Game analysts for the Networks' coverage of Pac-12 football this season will include returners Anthony Herron, Glenn Parker and Yogi Roth along with Chad Brown and Jeremy Bloom. Providing sideline reports this year will be returners Cindy Brunson, Lewis Johnson and Jill Savage along with Camryn Irwin.
Analysts for studio programming will include a rotating cast of Nick Aliotti, Eric Allen, Nigel Burton, Curtis Conway, Lincoln Kennedy, Ronnie Lott and Evan Moore, along with hosts Ashley Adamson and Mike Yam. Original programming of each Pac-12 Networks football broadcast will again include "Pac-12 Football Pregame Show" and "Pac-12 Football Postgame Report" along with "Pac-12 Football Gamebreak," "Inside Pac-12 Football" and "Pac-12 Final Score." The Networks flagship program, "Pac-12 Sports Report," will surround each week's coverage of Pac-12 football with regular Sunday evening episodes in addition to expanded coverage in a multiplatform format that will see several "Sports Report Updates" produced throughout each week of the season, delivering Pac-12 fans more news, highlights, and expert analysis as it happens.
Pac-12 Networks will be home to the most and best Pac-12 football coverage for the first week of the season. A total of seven games will air on Pac-12 Networks in week one, followed by five in week two and three in week three.
Special elements for week one's coverage will include the Networks' broadcast of the "Rocky Mountain Showdown" between Colorado and Colorado State at Sports Authority Field at Mile High on Friday, Sept. 1, with Ted Robinson and Chad Brown on the call and Cindy Brunson providing sideline reports. In addition, Pac-12 Networks will travel its "Pac-12 Football Pregame Show" and "Pac-12 Football Postgame Report" for live shows from Mile High, with Ashley Adamson hosting and Yogi Roth providing analysis.
Providing wall-to-wall coverage for the Networks' week one slate of seven Pac-12 football games will include several Pac-12 Networks talent with multiple assignments. In the booth, Roxy Bernstein, Anthony Herron and Yogi Roth will each call multiple games with Lewis Johnson and Jill Savage also providing sideline reports for two games each.
Specific game assignments for talent during the first three weeks will be as followed below:
Date Time (PT/MT) Game (Home vs. Away) Play-by-Play Analyst Reporter:
Thurs, Aug. 31 4:30pm/5:30pm Utah vs. North Dakota Guy Haberman Yogi Roth Jill Savage
7:30pm/8:30pm Arizona State vs. New Mexico State Roxy Bernstein Anthony Herron Lewis Johnson
Friday, Sept. 1 5pm/6pm Colorado vs. Colorado State* Ted Robinson Chad Brown Cindy Brunson 
Sat, Sept. 2 11am/12pm Oregon State vs. Portland State Jim Watson Jeremy Bloom Camryn Irwin
2:15pm/3:15pm USC vs. Western Michigan Roxy Bernstein Anthony Herron Lewis Johnson
5:15pm/6:15pm Oregon vs. Southern Utah J.B. Long Yogi Roth Jill Savage
8pm/9pm Arizona vs. Northern Arizona Kate Scott Glenn Parker
Sat, Sept. 9 11am/12pm Colorado vs. Texas State Jim Watson Jeremy Bloom Camryn Irwin 
2pm/3pm UCLA vs. Hawaii J.B. Long Yogi Roth Jill Savage
2pm/3pm California vs. Weber State** Ted Robinson Glenn Parker
5pm/6pm Washington vs. Montana Guy Haberman Chad Brown Cindy Brunson
8pm/9pm Arizona State vs. San Diego State Roxy Bernstein Anthony Herron Lewis Johnson
Sat, Sept. 16 11am/12pm Colorado vs. Northern Colorado J.B. Long Chad Brown Cindy Brunson 
2:30pm/3:30pm Washington State vs. Oregon State Roxy Bernstein Anthony Herron Lewis Johnson
6:30pm/7:30pm Washington vs. Fresno State Ted Robinson Yogi Roth Jill Savage
* Friday, Sept. 1 Colorado vs. Colorado State game to be played at Sports Authority Field at Mile High
** Sat, Sept. 9 Cal vs. Weber State game to air live locally on Pac-12 Bay Area
–
—–
August 15th
… Foe Pause … 
Athlon No. 1 Pac-12 upset … Colorado over Washington
From Athlon Sports … Pac-12 football never fails to surprise. Don't be caught off guard if the most shocking upset out of the conference comes not from this list – but considering the following a good starting point in projecting some of what's in store out west in 2017.
… No. 5 … Oregon State over Colorado … 
1. Colorado over Washington, Sept. 23
Last December's Pac-12 Championship Game served as an interesting example for just how dramatically a game can shift on a handful of plays. The Colorado defense performed superbly much of the night, limiting the multifaceted Huskies offense.
However, a few turnovers turned a competitive affair into an all-out romp. Washington's lopsided victory may well be a case of just a handful of plays suggesting a much greater gap than actually exists.
Despite being picked to finish fourth in the South in the preseason media poll, the defending divisional champion returns an outstanding offensive core, including multi-dimensional running back Phillip Lindsay and one of the best wide receiving corps in the nation. Washington is undergoing considerable change in the secondary, so seeing that unit early in the season should be a boon for the Buffs.
So, too, is drawing the Huskies at home. This game bears several significant similarities to Washington's early-season trip to Arizona a season ago, when the Wildcats took the Huskies to overtime. The difference? This Colorado bunch is significantly better than 2016 Arizona.
–
—
Pac-12 Networks celebrate five year anniversary
From the San Jose Mercury News … Five years ago today, the Pac-12 launched a TV network that was groundbreaking in scope:
Structured for cable, digital and satellite delivery, it had seven feeds (one national and six regional) designed to super-serve fans … to fill the gaps in football and men's basketball exposure … to generate unprecedented attention for Olympic sports athletes … to help spread the conference brand worldwide … and to make a few bucks.
As they currently stand, the Pac-12 Networks are a point of pride for many within the conference and a source of frustration for legions of fans.
They are fabulous and awful, remarkably innovative and grossly mismanaged — a raging success and abject failure. They are all of that, and none of it.
… Continue reading story here …
–
—–
August 14th
… Foe Pause …
Utah loses projected starter at running back
… This after losing the starting safety and starting center (see August 3rd stories, below) … Utah named No. 25 team in the nation despite bringing back only three starters on offense and four on defense … 
From ESPN …  Sophomore Zack Moss is officially the No. 1 running back for the Utah Utes after a tight camp competition with Armand Shyne that ended with a long-term injury to Shyne.
The junior went down during a team period on Saturday in what coach Kyle Whittingham called a fluke. Utah does not typically disclose details of injuries that are not season-ending.
That leaves the 5-foot-10, 210-pound Moss of Hialeah Gardens, Florida, as the successor to last year's 1,400-yard rusher, Joe Williams.
… Utah's run game will look much different in 2017 with the hiring of new offensive coordinator Troy Taylor. He brings a pass-first spread scheme that should keep defenses from loading up against the run. The changes, however, might keep the Utes from having a 1,200-yard rusher for the first time since 2013. Utah has been a run-heavy team under Whittingham and has had just one season without a 1,000-yard rusher since joining the Pac-12 in 2011.
… Junior college transfer Josh Nurse will play safety after being tested on both sides of the ball during camp. Whittingham said the decision ultimately came down to good depth at wide receiver versus little at safety. Strong safety Chase Hansen, 2016's leading tackler, is out indefinitely with an undisclosed injury and Utah only has four scholarship safeties on the roster. Nurse, the 6-foot-4, 195-pound transfer from Blinn College, was a highly anticipated recruit due to his length and athleticism. … Utah announced junior Alani Havili-Katoa has moved from defensive tackle to the offensive line and sophomore Jake Jackson has switched from linebacker to tight end.
–
—
Pac-12 Networks name new President
Press release from the Pac-12 … The Pac-12 Conference announced today the appointment of widely-respected sports media executive Mark Shuken as the new President of the Pac-12 Networks. Shuken, who will lead the next phase of growth for Pac-12 Networks, brings a track record of success in driving growth and value for sports networks to the new position, including having run sports networks for major media companies Time Warner Cable, DirecTV, Liberty Media and Fox Sports. Shuken is set to join the Pac-12 officially on September 6, 2017.
"Mark Shuken has consistently delivered growth across all areas of the sports media business and his track record of success and effective leadership makes him the right choice to take our Pac-12 Networks to the next level," said Pac-12 Commissioner Larry Scott. "In a rapidly changing media landscape, Pac-12 Networks is well positioned to take advantage of new technologies, platforms and consumer habits, and Mark's creative leadership skills and expertise will enable us to continue to best serve our fans and University members."
"I am thrilled to join the Pac-12 Networks, which I believe have a great opportunity to reach new audiences and deliver even more value for our universities and student-athletes," said Shuken. "The athletic departments in the Pac-12 and student-athletes deliver incredible sporting moments and championships year in and year out. I'm really excited to work with them to further the Pac-12 Networks' best-in-class media platforms for our fans. The Pac-12 Networks wholly-owned model gives us a unique ability to innovate across digital and linear content, production, programming and distribution, and I'm looking forward to working closely with our Networks management team to explore new ways to do so."
Prior to joining the Pac-12 Networks, Shuken served in a number of sports media leadership roles at major media companies, including having worked directly with many Pac-12 universities. At Time Warner Cable Sports Networks, Mark led the creation and branding of three regional sports networks for the Los Angeles Lakers, LA Dodgers and LA Galaxy. As President and CEO of DirecTV Sports Networks, he led branding, content, cross-promotional and acquisition strategies to increase asset value and subscriber acquisition. As President and CEO of Liberty Sports Group, Mark created and led the stand-alone division of regional sports networks and doubled revenues. Prior to that at Fox Sports Net Northwest, he was responsible for a significant increase in distribution, ratings and brand presence, including through innovative programming strategies and partnership agreements with both professional and collegiate teams. Previously, Shuken also served as President of Rivals Networks, a leading digital network of over 600 sports websites, where he increased gross revenues by 400% and entered into distribution deals with major digital media companies.
Since it's launch in 2012, the Pac-12 Networks has delivered innovative and significantly increased national exposure for Pac-12 sports and student-athletes. The Pac-12 Networks serves as a showcase for Pac-12 Universities and supports efforts to attract the very best student-athletes to the conference, and field winning teams that win championships.
–
—–
August 13th
… Foe Pause … 
The Sporting News: Steven Montez a potential "breakout candidate" 
From The Sporting News … Last year, Mitch Trubisky rose from a somewhat obscure first-year starting quarterback replacing Marquise Williams at North Carolina to a quarterback NFL teams couldn't get enough of. Trubisky was college football's most surprising star a season ago, and catapulted into a top-five choice in the NFL draft.
Anticipating the next quarterback to emerge from minimal media attention to become a household name name is difficult, but these 10 quarterbacks have the stage set to have a similar rise as Trubisky's.
10. Steven Montez, Colorado
Montez replaces graduated Sefo Liufau, but already made a remarkable impression in the Pac-12 from just three games in 2016. He went 2-1, showcasing tremendous velocity and a smooth release to drive the ball on the perimeter and on mid-range passes. He even showed running upside, as demonstrated in his game against Oregon, when he rushed for 135 yards on top of his 333 passing yards.
The redshirt sophomore is certainly a project, and will need to make major strides in his first full offseason as the team's starting quarterback. But his arm talent has caught the eyes of NFL evaluators, and he could emerge as one of the most productive Pac-12 quarterbacks in a conference that includes Sam Darnold, Josh Rosen and Jake Browning.
… Also on the list … No. 7 Nick Stevens, Colorado State … No. 5 Blake Barnett, Arizona State …
… Continue reading story here …
–
—–
August 11th
… Foe Pause … 
Top 10 Pac-12 Heisman Trophy Candidates for 2017
From Athlon Sports … In total and throughout its various incarnations, the Pac-12 claims 11 Heisman winners; Pac-12 programs make for 12, with recent newcomer Colorado boasting a 1994 recipient in the late Rashaan Salaam.
And the Pac-12 is loaded with contenders to make it Lucky No. 13. Heading up the Pac's cast of candidates is arguably the most hyped prospect of the 2017 season, Sam Darnold. And while USC has had a historic edge on the Heisman in comparison to its conference brethren, don't sleep on some of the league's other names – especially considering the last five Pac-12 Heisman finalists all came from Stanford (Toby Gerhart, Andrew Luck, Christian McCaffrey) and Oregon (LaMichael James and Mariota).
4. Phillip Lindsay, RB, Colorado
Colorado's 2016 season was a big surprise. One of the key reasons was the Buffaloes' smallest first-string player.
The 5-foot-8, 180-pound Lindsay was a dynamo in 2016, racking up 1,252 rushing yards with 16 touchdowns. His impact in the ground attack was sizable, but there may not be a running back in college football who packs as much of a punch in the receiving game as Lindsay. He was good for nearly 500 receiving yards and a score last season.
Operating behind a solid, veteran offensive line, and coupled with one of the best wide receiving corps in the nation, Lindsay has the personnel around him to improve his numbers further. Should Colorado again surprise pundits and return to the Pac-12 title hunt, Lindsay has a big chance to get to New York.
… Read other top ten candidates here …
–
—–
August 10th
… Foe Pause … 
CBS Bowl projections … Buffs heading to Las Vegas
From CBS Sports … With the CFP semifinals in the Rose and Sugar Bowls this year, three of the other four New Year's Six matchups are simply at-large vs. at-large. That provides the greatest opportunity to have games filled with the most highly ranked teams. The best-case scenario for that to happen is for the semifinals to be games between conference champions with either the ACC, Big Ten or SEC left out. That would put the excluded team in the Orange Bowl, which is committed to an ACC versus Big Ten/SEC/Notre Dame matchup. The Group of Five champion will likely get one of those six other at-large spots, regardless of ranking, but the remaining five would go to the highest-rated teams left in the CFP Rankings.
Below are my first set of projections for the College Football Playoff and the entire 2017-18 bowl schedule ahead of the start of the season:
The Pac-12 …
Jan. 1
Rose Bowl
Pasadena, Calif.
5 p.m.
ESPN
Semifinal
(2) Ohio State vs. (3) USC
Dec. 30
Fiesta
Glendale, Ariz.
4 p.m.
ESPN
At-large vs. At-large
Wisconsin vs. Washington
Dec. 29
Sun (Pac-12 No. 6)
El Paso, Texas
2 p.m.
CBS
Pac-12 vs. ACC/ND
Utah vs. Pittsburgh
Dec. 28
Holiday (Pac-12 No. 4)
San Diego
6 p.m.
FS1
Big Ten vs. Pac-12
Michigan vs. Oregon
Dec. 28
Alamo (Pac-12 No. 3)
San Antonio

9 p.m.
ESPN
Big 12 vs. Pac-12
Oklahoma vs. Stanford
Dec. 27
Foster Farms (Pac-12 No. 5)
Santa Clara, Calif.
8:30 p.m.
Fox
Big Ten vs. Pac-12
Minnesota vs. UCLA
Dec. 26
Cactus (Pac-12 No. 8)
Phoenix
TBA
ESPN
Big 12 vs. Pac-12
West Virginia vs. Washington St.
Dec. 16
Las Vegas (Pac-12 No. 7)
Las Vegas
3:30 p.m.
ABC
Pac-12 vs. MWC
Colorado vs. San Diego State
–
—–
August 9th
… Foe Pause … 
Forbes: Schools which dominate athletically and academically
From Forbes … When deciding on a college, most high schoolers and their families think about academics first and foremost. But for many others, a college tradition rooted in athletic prowess is equally important.
Nearly 70% of this list of schools that shine in the classroom and on the field is made up of large state universities. This should not come as a total surprise, given larger schools reputation for athletic success and ability to spend lavishly on athletics. In the latest data released by the U.S. Department of Education, 22 of the 25 colleges and universities with the highest athletic expenses are public schools – the three highest spenders were University of Texas at Austin at $155 million, The Ohio State University at $151 million and University of Michigan at $140 million.
Two of the three exceptions – Stanford University and University of Southern California – sit atop this list, spending $112 million and $106 million.
… The metric used to determine which schools historically "dominate" athletically was based on total Division I Team NCAA championships and football national championships. For a school to qualify, they must fall in the top 1% of the all-time total number of NCAA championships – which according to NCAA records, there have been 1,949 total national titles won (NCAA and football), meaning a minimum of 20 championships were required to be considered for this list.
As a result, notable schools such as Duke University (16 titles) didn't make the cut.
The athletic dominance scale was then compared to the FORBES America's Top Colleges list. The top school on this academic/athletic dominance ranking is Stanford, which is the No. 2 school overall. Louisiana State University came in at No. 20 of this list while ranking lowest in the college ranking at No. 219 overall.
The 25 schools on the list below all excel both academically and in sports:
1. Stanford University
2. University of California, Los Angeles
3. University of Southern California
4. University of Texas at Austin
5. University of Michigan
6. University of California, Berkeley
7. University of North Carolina, Chapel Hill
8. Yale University
9. Princeton University
10. Pennsylvania State University
11. University of Notre Dame
12. University of Florida
13. University of Virginia
14. University of Maryland
15. University of Wisconsin
16. Ohio State University
17. University of Georgia
18. University of Denver
19. Villanova University
20. Louisiana State University
21. University of Minnesota
22. University of Connecticut
23. University of Oklahoma, Norman
24. University of Colorado
25. Indiana University, Bloomington
–
—–
August 8th
… Foe Pause … 
CBS releases its 1-130 rankings
From CBS Sports … No preseason poll is as inclusive or expansive as the CBS Sports 130, the only longtime weekly college football rankings you will find with all 130 FBS teams represented and sorted in order against their peers.
Just because the CBS Sports 130 has 105 more places than your normal rankings doesn't mean we've got wildly different opinions on the No. 1 team in college football entering 2017. Just like the Coaches Poll and presumably the AP Top 25 (not released yet), we've got Alabama on top.
… See, that's the thing about the CBS Sports 130. College football doesn't exist in a 25-team league. That little number next to a team's name, while a method of bragging for fans on Saturday, doesn't ultimately mean that much. Depending on the season, there really might not be that big of a difference between No. 13 and No. 30 or No. 14 and No. 41. By viewing the college football landscape through a 130-team lens — with the addition of Coastal Carolina and return of UAB this season — we can get a more accurate view of the movement and distribution of strength in the sport.
The Pac-12 … 
4. USC
7. Washington
14. Stanford
24. Washington State
28. Utah
33. Oregon
38. UCLA
43. Colorado
70. Arizona State
72. Arizona
74. Oregon State
90. California
… also … 53. Colorado State … 128. Texas State
–
—
Athlon – Top Receiver Groups in the Nation: CU No. 3
From Athlon Sports … The 2017 season features a significant amount of turnover at wide receiver, opening the door for new stars and breakout players to emerge this fall. However, despite some big names moving onto the NFL, there is a clear No. 1 receiver group returning this season. Oklahoma State is loaded with talent, including first-team All-American James Washington, LSU transfer Tyron Johnson and senior Marcell Ateman. With quarterback Mason Rudolph also returning, the Cowboys will rank among the nation's best through the air. Clemson, Colorado, Penn State and Florida round out the projected top five, with Alabama, South Carolina and Ole Miss also making an appearance in the top 10.
3. Colorado
The Buffaloes return their top six statistical wide receivers from last season, which should ease the transition for new quarterback Steven Montez. Shay Fields led the team with 883 yards and nine scores, but Devin Ross (69 catches) and Bryce Bobo (44) are also All-Pac-12 candidates. Jay McIntyre and Kabion Ento return after combining for 40 catches last year, while Juwann Winfree — a top junior college recruit in 2016 — adds depth after sitting out 2016 due to injury. Four-star prospect K.D. Nixon ranked as the No. 2 recruit in Colorado's 2017 signing class by the 247Sports Composite and could push for snaps in a deep rotation this fall.
From the Pac-12 … 
14. Washington
15. USC
23. California
30. Washington State
31. UCLA
35. Arizona State
… Also … 38. Colorado State …
… Not ranked … Arizona … Utah … Oregon … Stanford … Oregon State …
–
—
New Rules for 2017 Season
From SaturdayTradition.com … Rule changes are always a big topic of conversation before the start of any college football season. And heading into the 2017 campaign, there are some key alterations to keep an eye on this fall.
Probably the most significant change is the get-back rule for coaches.
Coaches stepping on the field to argue with officials – a longtime college football tradition – will now come with some consequences. A 15-yard unsportsmanlike penalty will be assessed for coaches who storm onto the field solely to argue with an official.
Horse-collar tackle
Yanking down a ball-carrier by grabbing the inside of his jersey or shoulder pads has been barred from the college game for a few years now. But the nameplate area will also be off limits to tacklers when a ball-carrier is outside of the tackle box. This could make a difference on potential open-field tackles.
Equipment
Players must have pants and knee pads that actually cover their knees. If the pants aren't long enough or knee pads aren't covering the knees while on the field, a player will be forced to leave the game for at least one play until the equipment is fixed.
… Continue reading story here …
–
—–
August 7th
… Foe Pause … 
Athlon: College Football's Top 50 running back group
From Athlon Sports … While every college football team would prefer to have an established, superstar No. 1 running back, using a committee of options is the preferred approach to save wear and tear on the starter. Some teams prefer to split the carry workload close to a 50-50 split or use certain players in situational roles. Regardless of the usage, more teams are looking to a committee of players to establish a rushing attack. And with that in mind, it's not easy to rank the best backfields in college football for the 2017 season. Weighing a team with a clear superstar but little depth, as opposed to a team with three proven options and no standout No. 1 option is a tough assignment.
From the Pac-12 … 
7. Washington
8. Oregon
9. USC
20. Stanford
23. Arizona State
28. Colorado
29. Oregon State
31. Washington State
48. Arizona State
… unranked … Arizona … Cal … Utah …
–
—
Jon Wilner: "Pac-12 South preview: Best case, worst case for each team"
From the San Jose Mercury News …
COLORADO
Best case: 9-3. The Buffaloes play with the same urgency they showed last year, charge through non-conference schedule and let their veteran playmakers (Phillip Lindsay and the receivers) lead the way. The rebuilt defense quickly finds its footing and fellow contenders in the South fade away. CU remains on USC's tail until the final weeks to further validate the '16 breakthrough.
Worst case: 4-8. Colorado fails to build on its success as injuries and lethargy take root. Quarterback Steven Montez struggles in his first year as the starter, the defense takes too much time to solidify, especially on the back line, and the Buffs plod through the second half with a lower-tier bowl berth, not a division title, as the goal.
… Read other Pac-12 South scenarios here …
–
—–
August 3rd
… Foe Pause … 
Utah down two starters
From Salt Lake City Tribune … University of Utah star strong safety Chase Hansen, the most experienced player in what will be an almost entirely new defensive backfield, will be out indefinitely.
The Utes athletic department announced Monday morning via email that Hansen would not be available to practice "until further notice." Coach Kyle Whittingham said after practice that Hansen, who did participate in offseason workouts, would sit out due to a lingering injury that required downtime.
Hansen, a hard-hitting 6-foot-3, 220-pound junior, went into camp as the lone returning starter in a five-man Utes secondary (two cornerbacks and a nickleback along with two safeties).
Hansen came to Utah as a state championship-winning quarterback from Lone Peak High School, the Utah Gatorade Player of the Year and a Parade All-American. Hansen played in two games as a quarterback in 2015 as well as seven at strong safety (one start) before sustaining a season-ending ankle injury.
Last year in his first full season on defense, Hansen led the Utes in tackles and started all 13 games, including one at linebacker.
–
From ESPN …  Utah starting center Lo Falemaka was carried off the field by teammates with an injury at Thursday's practice.
Coach Kyle Whittingham declined to detail the injury, but was "hoping for the best" immediately after practice and was expecting to talk to doctors once he finished his media obligations. Utah does not typically publicize injury specifics unless they are season-ending.
The 6-foot-5, 287-pound senior was slated to start at center after backing up the graduated J.J. Dielman last season. He played 10 games in 2016.
Sophomore Johnny Capra (6-6, 296 pounds) or sophomore Paul Toala (6-4, 317 pounds) are next in line to step in with the No. 1 unit.
–
—–
August 2nd
… Foe Pause …
Jon Wilner: Pac-12 training camp preview: What to watch for each team
From the San Jose Mercury News … Some teams have been on the field for more than a week, some for a few days. But in each case, it's far too early to draw conclusions.
In place of conclusions, this training camp preview will pose questions and highlight issues, with an attempt to avoid too much attention on the quarterbacks.
… Colorado: Significant attrition at every level of the defense leaves CU with a slew of personnel issues to resolve, particularly in the secondary. But recent off-the-field developments — the dismissal of linebacker N.J. Falo (violation of team rules) and suspension of cornerback Anthony Julmisse (allegations of domestic violence) — places as much August attention on the Buffaloes' conduct as on-the-field competition, at least until the situation settles.
… Continue reading story here …
–
—
Athlon rates the Pac-12 quarterbacks 
From Athlon Sports … The Pac-12 boasts a strong collection of signal-callers for 2017. Washington's Jake Browning, Washington State's Luke Falk and USC's Sam Darnold clearly have a place among the nation's best, while Oregon's Justin Herbert and Colorado's Steven Montez look to build off promising freshman campaigns. Josh Rosen's return to full strength should be a huge boost for UCLA after a disappointing 4-8 record in 2016.
To help compile the rankings, there was some projection involved for 2017. This was not a ranking of quarterbacks only based on accomplishments so far or pro potential. All factors – pure talent, supporting cast, previous production, 2017 projection and scheme changes (just to name a few) – were considered and projected to rank the quarterbacks in the Pac-12 for 2017.
6. Steven Montez, Colorado
Montez is one of Athlon's top breakout candidates at quarterback for 2017. He impressed in his first opportunity for playing time as a redshirt freshman last year, which included 10 appearances and three starts for an injured Sefo Liufau. Montez threw for 1,078 yards and nine scores and added 231 yards and one touchdown on the ground. He's surrounded by a strong supporting cast, including the Pac-12's top receiving corps.
–
—–