—
Colorado Daily – Colorado State
—
September 2nd
… CU in a few minutes … 
Phillip Lindsay out-running the CSU defense
A great photo from Tony Harman at CUBuffs.com …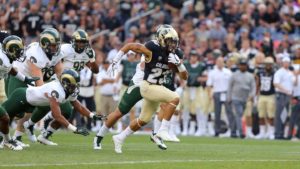 –
Phillip Lindsay – It's about wins, not records
From CUBuffs.com … Colorado senior running back Phillip Lindsay produced the seventh 100-yard rushing game of his career in Friday night's 17-3 Buffs win over Colorado State, but the most important thing for Lindsay was the win.
"I'm not a selfish person like that, I don't really look at the stuff like that," Lindsay said. "I'm happy we won the game, anything I can do to help win the game, that's what I'm going to do. I'm happy that my offensive line did what they did, to help me get to where I got today."
Lindsay tallied 140 yards on 19 carries in his final collegiate game at Sports Authority Field, including a 45-yard touchdown run that gave the Buffs a 7-0 lead midway through the first quarter. His first quarter touchdown gave him some juice for the rest of the game, as he averaged 7.4 yards per carry.
"The offensive line handled its business, I was patient, followed it and it hit how it always does in practice," Lindsay said of his long touchdown. "Understanding scoring is going to help my team and it's all about the team. I'm glad I was able to do that."
… Continue reading story here …
–
—
Two team captains suspended for opener against Colorado State
From the Daily Camera … Sixth-year senior left tackle Jeromy Irwin and fifth-year senior tight end/defensive end George Frazier were both in uniform, but did not play.
The two captains were both suspended for making mistakes off the field.
"We chose the words 'choose discipline' as our slogan this year, and they made a mistake and so we chose discipline, and they didn't play this game," MacIntyre said.
Sophomore defensive lineman Frank Umu was also suspended for a violation of team rules. His suspension was announced earlier this week.
–
—–
September 1st
… CU in a few minutes … 
Unknowns for CU on the defensive end
From CUBuffs.com … The unknowns for Colorado are on the defensive side. CU lost eight defensive starters and three assistant coaches from last year's team, one that finished in the top 20 in the nation in team defense. Head coach Mike MacIntyre believes the Buffs have retooled and reloaded, but he is also anxious to see how the new players respond when the lights go on.
"We've got guys out there that I know can make plays," MacIntyre said. "(But) what happens when a guy comes back and makes a play on you? Are you going to compete or are you going to push back and not fight as hard? That's what I want to see out of those guys, because they're going to make some plays on us. … When they get a play made on them, which everybody does, how are they going to respond? That's what I'm interested to see. I think I know what's going to happen, but they've got to go do it in the heat of the battle."
Defensively, the Buffs will have their eyes on CSU quarterback Nick Stevens, wide receiver Michael Gallup and a potent CSU running game. It will be a big test for the Buffs defensive line, beginning with newcomers Javier Edwards and Chris Mulumba; as well as a CU secondary that includes redshirt freshman Trey Udoffia at cornerback.
Offensively, the Buffs will take their best shots at a CSU defense that gave up more than 400 yards to OSU last week, but also forced five turnovers. Colorado State head coach Mike Bobo admitted it is an area the Rams must shore up this week; CU's Montez said it is an area the Buffs hope to exploit.
"I think every year you try to figure out as a head coach what's best way your team can win," MacIntyre said. "You always want to work on your strengths and make them positives, minimize your weaknesses, and attack the other team's weaknesses. … As we looked at this game, we have a strategy that we want to do and we'll go with that. Our main strength going in – I think everybody in the country would know – is our offense and our experience there. I think we have a good defense, but we'll see how that works out."
… Continue reading story here …
–
—
Never Stop Rising poster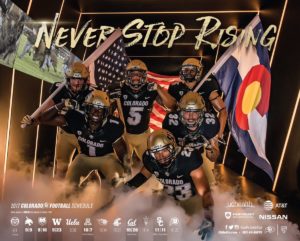 –
—
CSU game result often an indicator of what's to come for CU's season
From the Daily Camera … On Friday night, CU will face rival Colorado State (1-0) at Sports Authority Field at Mile High in Denver. The game against the Rams will have no bearing on the Pac-12 title, but it is a massive game for a CU team loaded with question marks.
"It's about that time," Lindsay said this week. "It's been a long camp and we're ready to go out there and showcase what we've got and put on a show."
The show, at least on offense, should be a good one. Lindsay is one of several explosive playmakers returning, and the offense is led by talented quarterback Steven Montez, who gets his first chance to be the full-time starter.
Montez's confidence matches his talent. He said this week he expects the Buffs "can do some stuff with our receivers and our run game that can hurt the Rams defense a lot."
Defensively, the Buffs are brimming with confidence, as well, but have a lot to prove after losing three assistant coaches, eight starters and 10 major contributors from a year ago.
"We're just going to rebuild and revamp and retool," senior safety Afolabi Laguda said.
… Continue reading story here …
–
—
Never Stop Rising – Episode 1
From YouTube, courtesy of the talented minds at CU Video. Enjoy!
… Mike Pritchard interviewed, Derek McCartney interviewed, … Some quotes: "Start fast, finish strong!" … "We know that we've got each other's backs" … "We play faster than anyone in this conference. Understand that" … "Understand why we do what we do" … "I don't who is going to be able to stop us, to be honest with you" … "You only achieve your dreams and goals through the grind" … "I can't wait to prove people wrong again" … "No more talking. It's all about action" …
–
—–
August 31st 
… CU in a few minutes … 
Parking information for Rocky Mountain Showdown
Press release from CUBuffs.com … Fans attending the Rocky Mountain Showdown between the University of Colorado and Colorado State University on Friday, Sept. 1, at Sports Authority Field at Mile High are encouraged to pay attention to traffic and parking information.
Kickoff is scheduled for 6 p.m. MDT, and fans are encouraged to plan ahead due to the significant number of events in the Denver area surrounding Labor Day weekend.
PARKING AND STADIUM ENTRY INFORMATION: Parking lots will open at 2 p.m. A detailed parking map with CU and CSU lots information can be found here.  Premium gates will open at 4 p.m. All other gates will open at 4:30 p.m. (CU students with tickets in the student section will enter Gate 9; CSU students will enter Gate 5). The stadium's clear bag policy and metal detectors will be in effect. Fans without a pre-purchased permit will be advised to park at the Pepsi Center or Auraria Campus.
PUBLIC TRANSPORTATION INFORMATION: RTD will provide bus and rail service to and from Sports Authority Field at Mile High for the Rocky Mountain showdown with more transit options than ever. Fans will have direct service to and from the game with bus service from several locations in the metro area, the Federal Shuttle or the C, E and W rail lines.
For those heading downtown before the game, new services to Union Station are available on the Flatiron Flyer, the University of Colorado A Line and the B Line. From there, it is a quick transfer and trip to the stadium via the C, E and W Lines.
Visit http://www.rtd-denver.com/CUvsCSU.shtml for more information or call 303-299-6000.
STREET PARKING: Denver Public Works Right of Way Enforcement Agents will enforce posted parking regulations in the area, including surrounding neighborhoods during stadium events.
Posted signs in the stadium area restrict parking to vehicles with the correct residential parking permit posted in the window from 12-9 p.m. on Saturday. Fans are prohibited from parking in the neighborhoods as vehicles without appropriate permits will be cited and towed.
–
—
Steven Montez on offensive coordinator Brian Lindgren: "He's been a ton of help"
From CUBuffs.com … while the Buffs did lose a four-year starter to graduation, they are by no means putting the reins of their offense into the hands of an untested rookie.
"I definitely feel like we're going in with a new quarterback, because Sefo was our starter for so long," head coach Mike MacIntyre said. "But, I'm not going in with an inexperienced, new starting quarterback. I think there's a difference there. I definitely believe that he's a lot farther along than he was this time last year. I know he's in better shape and he's more comfortable with the offense. As far as that goes, I feel really excited seeing Steven out there playing."
Montez's ability was put on full display with his "300-100" game in the win at Oregon, a week that began with Buffs fans wringing their hands because Liufau had suffered an injury in Michigan and one that finished with fans throwing their hands in the air in celebration.
But he has grown by leaps and bounds since the end of last season. He has retooled his body ("I was fat," he says) to a leaner, more efficient version, and equally importantly, he has greatly improved his understanding of CU's offense as well as his ability to read and react to opposing defenses.
Those last factors are a direct result of working closely with CU co-offensive coordinator and quarterbacks coach Brian Lindgren.
"He's been a ton of help," Montez said. "He changed my base. When I first got here I was standing up tall, balls were sailing on me, balls were just going into the ground —  I wasn't throwing very well. He tweaked a lot of stuff in my base, a lot on my release. (Now) The ball's been coming out very well, it's been coming out with a lot of pace on it, so it looks good."
… Continue reading story here …
–
—
Long-snapper J.T. Bale awarded scholarship
From CUBuffs.com … Mike MacIntyre awarded sophomore J.T. Bale a scholarship on Wednesday. Bale, a long snapper from La Mirada, Calif., made every long snap last season for the Buffs as a redshirt freshman.
"I'm really excited about J.T.," MacIntyre said. "He's done an excellent job here, he's done well in school. Last year he made every long snap for us and did really well. He's earned it and he'll use it well, I know."
–
—–
August 30th
… CU in a few minutes … 
Injury report
Three Buffs who were potential contributors are out for the season:
— Linebacker Shamar Hamilton – knee; surgery in August
— Wide receiver Jaylon Jackson – ankle; surgery in August
— Defensive back Jaisen Sanchez – shoulder
Other injuries:
— Tailback Kyle Evans – hip dislocation in March; rehab well ahead of schedule … Probable
— Tight end Dylan Keeney – back spasms since spring; limited to non-practice rehab … Out
–
—
Two sophomores – Tim Lynott, Jr. and Aaron Haigler – asked to hold up right side of the offensive line
From the Daily Camera … There are times when Colorado linemen Tim Lynott and Aaron Haigler jog to the line of scrimmage and don't even need to say anything.
"Between us, we can see it, we know what each other is thinking and OK, let's block it that way," Haigler said. "Of course in the games, we'll say it, but it's kind of understood that we both know what's going on."
The bond between Lynott and Haigler, both redshirt sophomores, has been a key to the overall development of the offensive line.
Lynott started every game for the Buffs at right guard last year, while Haigler split starts with graduated senior Sam Kronshage at right tackle. This offseason, they've been next to each other more frequently.
"We've been practicing together all camp," Lynott said. "It's been really nice to get used to each other."
With three seniors on the starting line — left tackle Jeromy Irwin, left guard Gerrad Kough and center Jonathan Huckins — Lynott and Haigler are being counted on to man the right side.
… Continue reading story here …
–
—
Juwann Winfree excited for first Division 1-A game since 2014
From the Daily Camera … The last time Colorado receiver Juwann Winfree played in a Division I college football game, he was a true freshman at Maryland, catching a pass in the Foster Farms Bowl on Dec. 30, 2014.
"I was just looking forward to the future," said Winfree, who seemed to be a potential star for the Terrapins at that time.
"I never knew what I was going to go through, the path that God had for me. Everything is scripted through Him. I'm just following the script and just going to continue to praise Him and see wherever he leads me and do what I can do. You can't control everything. Just control what you can control and just think positive."
On Friday, Winfree will make his return to Division I football and make his much-anticipated debut with CU, when the Buffaloes take on rival Colorado State at Sports Authority Field at Mile High.
"The excitement level is off the charts right now, to be honest," Winfree said Tuesday. "I couldn't wait to start this week and just get into it. Anytime there's a game, my level of everything goes up: excitement, attention, focus – all of that is going up. I'm just ready to prove and show what I can do."
… Continue reading story here …
–
—
CU has sold 33,656 tickets so far to Rocky Mountain Showdown
From the Daily Camera … As of Tuesday afternoon, CU and CSU had sold more than 64,000 tickets between them for Friday's game.
CU reported it has sold 33,656 tickets (9,141 of those to students), while CSU had sold 30,472 (8,001 to students). Both teams are well ahead of their sales pace of a year ago.
In addition to tickets sold by the teams, the Broncos have a portion of tickets to sell, as well.
Last year's attendance was 69,850, the most since 2003, and this is likely to be the first time over 70,000 in sales since that 2003 game (76,219).
–
—–
August 29th
… CU in a few minutes …
Mike MacIntyre: "I've said for a long time, it's a 365-day rivalry"
From CUBuffs.com … CU head coach Mike MacIntyre stressed that the Buffs have never taken the Rams lightly, and have been preparing throughout the summer for a quality team.
"Our guys have been watching the film," MacIntyre said. "They saw the plays they made last year at the end of the year. We watched our game and then watched how they improved as the year went along. That just put a stamp on it that they are a good football team, they can make plays and they're really powerful offensively. Defensively, it looks like they improved there also. Our guys understand how good they are. In no shape or form will they take CSU lightly, even if they wouldn't have had that game. It's such a good rivalry game with a lot of intensity involved in it. You've always got to come ready to play."
… Every year, MacIntyre is asked whether he thinks the game is a true "rivalry." Every year, he has basically the same answer.
Yes. It's a rivalry.
"I've said for a long time, it's a 365-day rivalry," MacIntyre said. "I saw a guy the other night and he showed me a picture of an outfit that he had to wear to work and he said, 'Coach, I don't want to have to wear this outfit again. I had to wear it in 2014.' You have little things like that, little ribbings. I even had one person who lived in Fort Collins and every time CSU beat CU, they'd get letters about going to a funeral from a bunch of friends. It's one of those things that reverberates throughout the state. You've got side things like that that make it more of a rivalry. I think it makes it cool and fun. That's why there'll be 75,000 people there. They're excited about watching it happen."
… Continue reading story here …
–
—
Link to video of Mike MacIntyre's Tuesday press conference
Mike MacIntyre discusses the Rocky Mountain Showdown at the weekly press luncheon
–
Uniform combinations for Rocky Mountain Showdown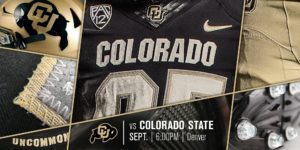 –
—
Isaiah Oliver post-practice interview
From YouTube, courtesy of BuffsTV:
–
—–
August 28th
… CU in a few minutes … 
Daily Camera columnist: A 7-5 record a reasonable goal for 2017 season
From Pat Rooney at the Daily Camera … Finally, to the relief of long-starved Colorado football fans everywhere, the Buffaloes turned the corner at last in 2016. This season, however, Buffs will learn staying on that upward trajectory, becoming a perennial contender instead of a one-year wonder, is an equally daunting challenge.
The Buffs enter 2017 saddled with the weight of expectation on their collective shoulders for the first time in more than a decade. Whether that burden proves motivating or cumbersome remains to be seen.
Granted this is a refrain that echoed at this stage last season, but the Buffs are unlikely to be a 10-win team that earns a berth in the Pac-12 Conference championship game. Too many "ifs" hover around a team retooling its lineup at too many critical positions. If the new starters on the defensive front can replicate the havoc wrecked by last year's group. If opposing offenses aren't too greedy in taking advantage of the Buffs' youth at inside linebacker. If the inevitable growing pains for quarterback Steven Montez don't prove too costly. If the special teams become a factor and if the offensive line continues to improve and if, if, if.
… Continue reading story here …
–
—
Mike MacIntyre post-practice talk with media
From YouTube, courtesy of BuffStampede.com:
–
—
Defensive lineman Frank Umu suspended
It has been announced that defensive lineman Frank Umu has been suspended for violation of team rules. While it was confirmed that the suspension is not related to any legal issues, the length of the suspension was not released.
Umu, a 6'4″, 305-pound sophomore, has been working at defensive end, and was expected to be a contributor in the Buffs' defensive line rotation.
–
—
Buffs impressed with Rams – "It's going to be a tough game"
From CUBuffs.com … After four long weeks of camp, the Colorado Buffaloes hit the practice field Sunday afternoon with a little extra pep in their step.
It's Game Week. The Buffs began full-scale preparations Sunday for their Friday night season opener against Colorado State at Sports Authority Field in Denver (6 p.m., Pac-12 Networks), and there was no doubt the Rams have the Buffs' full and undivided attention.
"They're good," said Colorado running back Phillip Lindsay, who watched Saturday's 58-27 CSU win over Oregon State. "They're going to be a tough team. Definitely tough. They've definitely improved on the offensive side and on defense. It's going to be a tough game. We know that."
The Rams were indeed impressive in their opener, particularly on offense. Playing at a new, up-tempo pace that took its toll on the Beavers, Colorado State rolled up 525 yards of offense that included a 26-for-39, 334-yard, three touchdown day from quarterback Nick Stevens. Stevens' favorite target was wideout Michael Gallup, who hauled in 11 catches for 134 yards; and the Rams also pounded out 191 yards on the ground.
"CSU was dominant in the game," said Colorado coach Mike MacIntyre, who has said CSU having the chance to open a week early gives the Rams an advantage in their matchup. "I was really impressed with their athleticism. Their quarterback played phenomenal and their defense was flying around everywhere. It was interesting to watch on tape — they looked really good."
… Continue reading story here …
–
—–
August 27th
… CU in a few minutes … 
Practice No. 25 … Meetings: 1:15 p.m. … Practice: 4:05 – 5:15 p.m. … AD Welcome Back picnic (students only)
–
CU wide receiver corps: No dropoff when second-string enters the game
From CUBuffs.com … Heading into fall camp, there was no position group on the Colorado roster that held more potential, more promise — and perhaps more intrigue — than wide receiver.
Now, four weeks later, expectations have only increased. The group that last year played a major role in helping the Buffs become the sixth-most productive offense in CU history (446.3 yards per game) has by all accounts had an outstanding camp in every regard. The four returning starters — seniors Shay Fields, Bryce Bobo, Devin Ross and junior Jay MacIntyre — all seemed to take their games up a notch, taking full advantage of their second year in CU's up-tempo offense as well as developing even better chemistry with quarterback Steven Montez.
As for the intrigue … the starters made sure it was kept to a minimum. While camp began with the possibility of one of a host of other wideouts breaking into the starting lineup, there was no movement on the depth chart four weeks later. Backups Juwann Winfree, Kabion Ento, Lee Walker and Johnny Huntley III all had solid camps, as did true freshmen Laviska Shenault Jr. and K.D. Nixon — but none made enough of a jump to squeeze past the returning starters.
But what those receivers did do is add even more depth to the position. Now, says co-offensive coordinator and wide receivers coach Darrin Chiaverini, the Buffs can send in fresh wideouts without worrying about a significant drop in ability.
"If our starters get tired and the next group goes in, I'm not worried about putting them in the game," Chiaverini said. "It shouldn't be a big dropoff."
… Continue reading story here …
–
—
Drew Litton … From the Daily Camera …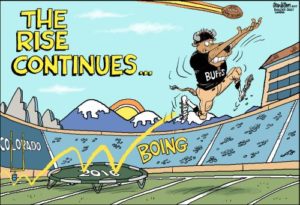 –
—
Buffs know they have work to do in preparing for Colorado State
From CUBuffs.com … Guaranteed, the Colorado Buffaloes will be seeing plenty of film this week on Colorado State.
If the Buffs weren't already impressed with the CSU offense, the Rams' 58-point, 525-yard performance against Oregon State in Saturday's 58-27 win no doubt did the trick. Every Colorado player who watched Saturday's game — and it's a safe bet that most Buffs were watching — now knows what they'll be facing when CU opens its season Friday against CSU in a 6 p.m. matchup at Sports Authority Field.
The opener will no doubt be a test for both sides of the ball for the Buffs — but it is a defense that will be putting a host of new starters on the field that presents the biggest unknown for Colorado.
There are clearlyt a handful of veterans on whom the Buffs know they can rely. Players such as linebacker Rick Gamboa, safeties Afolabi Laguda and Ryan Moeller, defensive back Evan Worthington, outside linebacker Derek McCartney, defensive end Leo Jackson III and cornerback Isaiah Oliver are all proven players.
But the Buffs will also need some untested players to step up. That list includes redshirt freshman cornerback Trey Udoffia, who will be seeing his first collegiate action; and junior defensive lineman Jase Franke, a player who has seen some spot playing time in the last couple of years but will likely see that playing time increase in a big way this season.
… Continue reading story here …
–
—
Colorado State feels better prepared to face Colorado
From the Daily Camera … Colorado State could not have asked for a better way to open its brand new, on campus stadium.
Playing in front of a sell-out crowd of 37,583, CSU thumped Oregon State, 58-27 and then celebrated with students and fans in their new home.
"It was an awesome day to be a Ram," head coach Mike Bobo said. "It was a test and it was a good test against a Pac-12 opponent in an opening of a new stadium, under pressure. Not just an opponent you were playing, but the pressure of having to win this ball game for your fan base and your community and for each other; that was a test. Within that test, you had multiple different tests.
"That was good for our team."
This was more than just a good win for the Rams, however. This was a statement and a warning to their future opponents — starting with the rival Colorado Buffaloes — that they can't be taken lightly.
… Continue reading story here …
–
—–