—
Linebackers
—
Previous previews … Quarterbacks … Running Backs … Wide Receivers … Offensive Linemen … Defensive Linemen
—
Roster:
— Seniors: Derek McCartney; Trent Headley; Brian Meek
— Juniors: Rick Gamboa; Drew Lewis; Terran Hasselbach; Michael Mathewes; Shamar Hamilton (JC)
— Sophomores: Darrion Pyos
— Red-shirt freshman: Sam Bennion; Pookie Maka; Akil Jones; Jacob Stoltenberg; Ethan Todd
— True freshman: Chase Newman; Jacob Callier; Jon Van Diest; Nate Landman; Carson Wells; Nick Edridge
— bold (returning starter) … italicized (walk-on)
… Note … In Colorado's defensive alignment, the outside linebacker / rush defensive end are almost interchangeable positions. For the sake of simplicity, I am going with the positions for each player as found on the CU roster provided by the school …
–
—
By the Numbers (2016 statistics):
— Rick Gamboa … 13 games … 13 starts … 499 plays … 79 tackles (third on team) … three tackles for loss … eight third down stops
— N.J. Falo … 9 games … 257 plays … 12 tackles … 1.5 sacks … four third down stops (update … N.J. Falo was dismissed from the team prior to the opening of Fall Camp)
— Drew Lewis … 4 games … 46 plays … 8 tackles … one sack
— Terran Hasselbach … 10 games … 117 plays … three tackles
— Derek McCartney … 3 games … 2 starts … three tackles … one (very important) fumble recovery
— CU Linebacker ranking (Athlon) … 8th in the Pac-12
–
—
Reasons to be excited:
— CU linebackers have a chip on their shoulders
The 2017 season, if you believe what you read, will be tough on the CU defense.
The Buffs' top tackler and leader of the linebackers from last season, Kenneth Olugbode, is gone.
Jimmie Gilbert – gone … Addison Gillam – gone … N.J. Falo – gone.
Jim Leavitt – gone.
Pretty much every writer/blogger/prognosticator who has looked into their 2017 crystal ball has focused on one number when it comes to the Colorado defense … eight.
As in the eight lost starters on defense.
It's easy to jump straight to some negative conclusions about the Buff defense. Based upon CU's record the past decade, it's the safer prediction to make … that the 2016 season was an anomaly. Colorado's 10-4 record was a perfect storm of better coaching (Jim Leavitt), senior leadership, and a few lucky bounces.
In 2017, the logic goes, a step back for the Colorado defense is, in the words of Athlon, "inevitable".
Not so, says senior captain Rick Gamboa.
"We've been hearing it all spring and all summer," Gamboa said. "All the guys we lost, we're going to take a big fall, and the offense is going to have to carry us this year. Everyone on defense hears it every single day. That's just motivation for us, knowing where we have to be."
One wouldn't have thought that a defense which was ranked in the top 20 in the nation in total defense and scoring defense would be able to come into the next season with a chip on its shoulder.
But these Buffs are still in search of national respect.
And such motivation could be a real positive come September.
—
— The return of Derek McCartney
Yes, Rick Gamboa is only returning linebacker who started most of the games in 2016.
Gamboa has played in 27 games in his CU career, with 25 starts.
Gamboa is a captain and a leader.
But he's not the only Buff in the lineup with experience.
Derek McCartney has played in 26 games in his CU career, with 24 starts … numbers almost identical to those of Gamboa.
Before being sidelined with a knee injury against Michigan, McCartney was being counted upon to be a mainstay in the CU starting lineup. In 2015, McCartney was fifth on the team in tackles, with 70, and his five sacks were the second-most on the defense.
A star on and off the field (McCartney was named to the AllState AFCA Good Works team last fall, and is on the Lott IMPACT Trophy Watch list this fall), McCartney is back and ready to take his place in the starting lineup.
In naming McCartney to its "Most important Pac-12 players returning from injury in 2017", Pacific Takes put it this way:
Derek McCartney Sr. LB Colorado – Like a lot of Buffs in 2016, it looked like McCartney was ready to become a star, but had his season cut short against Michigan. He has first-team All-Pac-12 written all over him and could fill Jimmie Gilbert's shoes if he comes back healthy.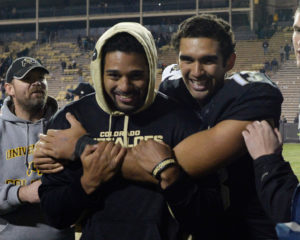 For a defense which often plays with two linebackers on the field (to go with five defensive backs), having Gamboa and McCartney as your starters is not a bad way to face an opposing offense.
–
—
Reasons for concern:
— Colorado lost its defensive coordinator/linebackers coach
Only one of CU's defensive coaches (defensive line coach Jim Jeffcoat) returns this fall. While the loss of defensive backs coach Joe Tumpkin caused more than its fair share of hand-wringing, it is the loss of Jim Leavitt which has created the greatest trepidation.
Also the linebackers' coach, Leavitt has been given the lion's share of the credit for bringing CU's defense back to national prominence.
In the four years before Leavitt came to Colorado, the Buffs finished 100th or worse nationally in total defense in each of those seasons.
In Leavitt's second year in Boulder, the Buffs finished 19th in the nation in total defense.
In the four years before Leavitt came to Colorado, the Buffs finished 100th or worse nationally in scoring defense in each of those seasons.
In Leavitt's second year in Boulder, the Buffs finished 20th in scoring defense.
Those numbers were enough for Oregon, which doubled Leavitt's salary in order to lure him to Eugene. With the move, the Ducks, 4-8 and 126th in the nation in total defense in 2016, are expected to instantly improve. Meanwhile, the Buffs, without Leavitt to lead the charge, are also projected to slide well back in defensive production.
Was it all Leavitt?
Was Leavitt able to get more out of CU's two- and three-star recruits than previous coaches?
Or was he just the benefactor of the recruiting prowess and player development of those who came before him?
Mike MacIntyre worked his way through the ranks as a defensive coach.
How the Buff defense fares in 2017 may be a referendum on his defensive coaching abilities.
–
—
Leavitt's replacement was an underwhelming hire
The loss of Jim Leavitt stung.
Not just because Leavitt left for a $1 million salary that CU couldn't match.
What really hurt was that he left for a Pac-12 rival, and the Buffs may have to face him if Leavitt is still in Eugene come 2019 (if CU does play Oregon in the next two seasons, it would have to be for the Pac-12 championship … a scenario Buff fans could live with).
Leavitt came to Boulder with a strong resume. He had helped to resurrect a moribund Kansas State program. He built South Florida up from scratch. He came to Colorado from the San Francisco 49ers.
Leavitt's replacement, both as defensive coordinator and as linebackers coach, is D.J. Eliot. The past four seasons, Eloit was the defensive coordinator and linebackers coach at Kentucky.
In 2016, Kentucky went 7-6, finishing 85th in the nation in total defense, giving up 434.2 yards per game.
In 2016, Kentucky finished 86th in the nation in scoring defense, giving up 31.3 points per game.
The 2016 TaxSlayer Bowl – a 33-18 loss to Georgia Tech – was the only bowl Kentucky went to in Eliot's four years in Lexington.
"I'm excited about having D.J. Eliot as our defensive coordinator, he brings a lot of expertise and energy to our defense," CU coach Mike MacIntyre said in a statement when Eliot was hired in January. "Also he is one of the great, young defensive minds in the game of college football today."
Mike MacIntyre made a "splash" hire when he snatched up Leavitt in 2015.
The jury is out how well the Eliot hire will play out.
–
—
Bottom Line:
If Rick Gamboa has another good season, and Derek McCartney comes back and plays to the potential seen in 2015 and early 2016, the Buffs are not that bad off at linebacker.
The Buffs have a bevy of juniors – Drew Lewis; Terran Hasselbach; Michael Mathewes; and junior college transfer Shamar Hamilton – ready to step into the lineup.
The Buffs also have a host of young talent – eight red-shirt or true freshmen – who could have an immediate impact upon the roster.
Until the season starts, however, the linebacker corps will remain an unknown.
For those who predict a decline from the Buff defense, senior captain Rick Gamboa has some advice:
"Everyone can think what they want," said Gamboa. "Everyone's going to find out Sept. 1."
—
—–