—
Signing Day II
—
Alabama offensive line transfer Tommy Brown: "He's going to be a great addition up front for us"
From 247 Sports … Colorado used the transfer portal to add some depth at offensive line this offseason, and one of the key additions for the Buffaloes is former Alabama offensive lineman Tommy Brown. A multi-year contributor for the Crimson Tide, Brown brings a versatile skillset in the trenches, and Buffaloes head coach Karl Dorrell anticipates the Alabama transfer to make a substantial impact as Colorado looks to work its way back to contention status after a string of down-years.
"We feel the Tommy is going to be able to provide some really quality depth for us and maybe even impact us as a starter if he gets a chance to get in there for any of the positions that he's going to be competitive with," Dorrell said Wednesday during Colorado's National Signing Day press conference. "He's played — he's a natural born tackle — but he played guard a lot for Alabama. We're going to play him in both of those spots this spring and get him a role that is going to impact us in the fall. But he's going to be a great addition up front for us with some experience and he's ready to do some really good things for us."
A blue-chip recruit coming out of Santa Ana (Calif.) Mater Dei, Brown was ranked No. 4 nationally among offensive guard prospects according to the 247Sports Composite. After redshirting at Alabama in 2018, the 6-foot-7, 320-pound Brown saw action in 28 games over the past three seasons and played a total of 227 offensive snaps with the Crimson Tide. He won a national title with Alabama during the 2020 season and later helped guide the Crimson Tide to another SEC title and back to the national championship game in 2021, though Alabama fell to Georgia in the championship contest.
Brown announced the decision to take his talents to Colorado Jan. 20 after previously entering the NCAA Transfer Portal earlier in the month. He was able to get his paperwork in to Colorado in time to join the Buffaloes this spring, with two years of eligibility remaining. He also took an official visit to Virginia after entering the transfer portal, but Colorado ultimately won that battle as Brown opted to head closer to home.
… Continue reading story here …
–
—
Rating CU's 2022 Recruiting Class – Third-best since joining the Pac-12 
From a poster at BuffStampede.com using the moniker treeclimber08 … a much appreciated effort to show how CU's Class of 2022 under Karl Dorrell rates historically compared to other CU Classes since 2010 …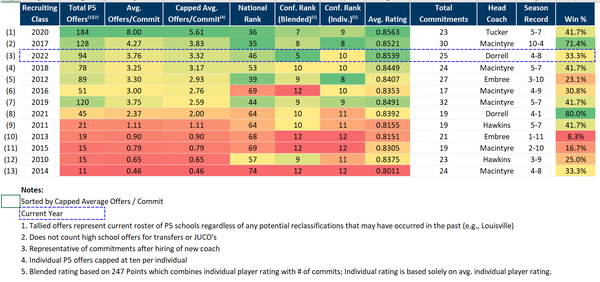 —
**Video – Signing Day press conference – Karl Dorrell and assistant coaches**
From BuffsTV …
–
—
Official CU bios for new Buffs (Junior college and Transfer Portal transfers) … 
Alex Harkey … Junior college transfer … Offensive lineman … 6'6″, 300 pounds … Sophomore … Played one season at Tyler Junior College for coach Thomas Rocco … Tyler went 7-5 overall and 5-3 in conference play in 2021 … Harkey anchored an offensive line that averaged 490.1 yards per game, 321.3 passing and 168.8 rushing and scoring at a 30.9 points per game clip … Tyler led their conference in total offense and passing yards … Top offensve game was against Navarro in a 69-57 win, Tyler put up 870 yards of  offense, 528 passing and 342 rushing … Had over 500 yards of offense five times.
Isaac Hurtado … Junior college transfer … Inside linebacker … 6'3″, 220-pounds … Sophomore … Played one season at Fullerton Community College, helping the
Hornets to the SCFA Southern Conference Championship game and appearance in the SCFA Pacific Bowl under coach Garrett Campbell … Finished his only season there with 45 tackles, nine tackles for loss, five sacks, three pass breakups, two forced fumbles and a fumble recovery playing linebacker … Top games included nine tackles, a tackle for loss and force fumble against El Camino … Had two tackles for loss including a sack, and a forced fumble against Allen Hancock … Had two sacks
and a pass breakup against San Bernardino Valley … Originally signed with Army as part of the 2020 recruiting class.
Jeremy Mack, Jr. … Junior college transfer … Safety … 6'0″, 190-pounds … Sophomore … Played one season at East Mississippi Community College in Scooba, Miss.
… Helped EMCC to a 9-1 record and an appearance in the MACCC Semifinals where the team lost by a single point … Named first-team All-MACCC … Finished his only season there with 40 tackles, including 22 solo and 2.5 tackles for loss with one sack … Added four interceptions for 66 yards, two pass breakups and one fumble recovery … His four interceptions ranked fourth nationally in the junior college ranks.
Tommy Brown … Transfer from Alabama … Offensive tackle … 6'7″, 320-pounds … Graduate transfer (two years to play two) … At Alabama (2018-21) – Redshirted his true freshman season in 2018 and then played in 29 games from 2019-21 with one start at Alabama … Played in four CFP Playoff games for the Crimson Tide including two CFP Championship Games, winning a national championship in 2020 when Alabama went 13-0 … Started against New Mexico State in 2021 at left guard and played 44 snaps and allowed one sack while the Crimson Tide picked up 587 yards of offense; 247 yards rushing and 340 yards passing … Played in and won both the Rose Bowl in 2020 and Cotton Bowl in 2021 in first-round playoff games.
Ramon Jefferson … Transfer from Sam Houston State … Running back … 5'10", 215-pounds … Graduate transfer (one year to play one) … At Sam Houston State (2020-21) – Played for two seasons at Sam Houston State, helping the Bearkats to a 21-1 record and FCS Championship in 2020 … Had 299 rushes for 1,907 yards and 20 touchdowns … A consensus second-team All-American in 2021, earning the honor from the AP, AFCA, Phil Steele, Stats Perform and HERO Sports … Named first-team All-Western Athletic Conference … In 2021 he rushed 173 times for 1,155 yards and 13 touchdowns … Had six 100-yard rushing games … Season best was 23 rushes for 173 yards at Tarleton … Ran for two rushing touchdowns four times … Had 22 rushes for 166 yards and two touchdowns against Incarnate Word in the second round of the FCS Playoffs … In the delayed 2020 season, he rushed 126 times for 752 yards and seven touchdowns, helping Sam Houston State to the FCS National Championship with a perfect 10-0 season … Finished sixth in the FCS in rushing yards … In four playoff games, he ran 53 times for 277 yards and four touchdowns … Rushed 16 times for 96 yards in the FCS Championship Game against South Dakota State.
Maddox Kopp … Transfer from Houston … 6'5″, 225-pounds … Quarterback … Freshman (four years to play four) … Redshirted in 2021 … High School – A three-star prospect by the recruiting services … 247 Composite listed him as the No. 53 quarterback in the class, the No. 105 player from Texas and No. 747 player in the nation … Rivals ranked him as the No. 23 pro-style quarterback in the class and No. 69 player from Texas … ESPN ranked him the No. 47 pocket passing quarterback in the class, the No. 163 player from Texas and No. 218 player in the region … On3 Sports listed him as the No. 48 quarterback in the class, No. 101 prospect from Texas and No. 682 player in the nation … 247 Sports listed him as the No. 31 pro-style quarterback and No. 106 player from Texas … Named a Sports Illustrated All-American and Elite 11 finalist … Played four years of varsity at St. Thomas High School in Houston under coach Rich McGuire, starting as a junior and senior … Led St. Thomas to a 10-0 league record in the past two seasons as the starting quarterback and 16-7 overall … In his career, he completed 431-of-752 passes for 6,334 yards with 59 touchdowns and 18 interceptions … Added 109 rushes for 303 yards and three touchdowns and one reception for a seven-yard touchdown … Totaled 6,671 total yards and 63 touchdowns.
Chance Main … Transfer from Incarnate Word … Defensive end … 6'4″, 255-pounds … Graduate transfer (one year to play one) …  At Incarnate Word (2019-20) – Played two seasons at Incarnate Word, the 2019 season and then an abbreviated 2020 season in the Spring of 2021, and did not play the 2021 season due to injury … He played 15 games with 10 starts in those two seasons … In the abbreviated 2020 season, he was named third-team All-Southland Conference and appeared in five games and had 22  tackles and led the team with four sacks and 4.5 tackles or loss … In 2019 he played in 10 games with five starts and had 28 tackles and a team-high 11.5 tackles for loss including 2.5 sacks … Also had five pass breakups and one quarterback hurry … had 3.5 tackles for loss in two games, against Lamar and SFA.
R.J. Sneed … Transfer from Baylor …  Wide receiver … 6'1″, 205 pounds … Graduate transfer (one year to play one) … At Baylor (2017-21) – Played five seasons at Baylor … In his career, he caught 133 receptions for 1,564 yards and eight touchdowns … As a freshman in 2017, he played in seven games and had five receptions for 53 yards and started against Oklahoma, catching two passes for 11 yards … First career catch of 11 yards came at Duke … In 2018, he played three games before sustaining an injury and redshirting … Had one reception for four yards and a punt return … Started nine of 14 games as a sophomore in 2019, catching 42 passes for 437 yards and three touchdowns … Had five receptions for 57 yrds and two touchdowns against SFA … In 2020, named second-team All-Big 12 by the coaches, Waco Tribune-Herald and Phil Steele, starting all nine games and led Baylor with 39 receptions for 497 yards … Also named second-team Academic All-Big 12 … Had six receptions for 93 yards and a touchdowns against Iowa State … In 2021 he had 46 receptions for 573 yards and two  touchdowns … Had six receptions for 128 yards and a touchdown at Kansas … Caught eight passes for 94 yards and a touchdown against Texas.
–
It wasn't all that long ago that the first Wednesday in February was the day for recruits in college football. Now, with the Early Signing Day (third Wednesday in December) and the Transfer Portal, the traditional Signing Day has less import than it once did. Still, in the past week, CU has added a number of commitments – some are for the Recruiting Class of 2022, some are junior college transfers, some are through the Transfer Portal … and there has been at least one (and perhaps two) names added to the Recruiting Class of 2023.
There is enough going on that CU head coach Karl Dorrell will be appearing on the Pac-12 Networks at 9:15 a.m., MT. In addition, there will be press conferences this afternoon, with Dorrell and all of the assistant coaches meeting the press (for some of the new assistants, this will be their first public appearance since being hired).
12:00         p.m. — Head Coach Karl Dorrell
12:15         p.m. — Offensive Coordinator Mike Sanford
12:30         p.m. — Offensive Line Coach Kyle DeVan
12:45         p.m. — Tight End Coach Clay Patterson
  1:00         p.m. — Wide Receivers Coach Phil McGeoghan
  1:15         p.m. — Chris Wilson, Defensive Coordinator (taking over OLBs)
  1:30         p.m. — Cornerbacks Coach Rod Chance
  1:45         p.m. — Defensive Line Coach Vic So'oto
—
There are at least three players expected to sign Letters of Intent today (with at least one more announcement expected). The new members of the CU Recruiting Class of 2022 are:
Jason Oliver, defensive back … enrolled for spring semester
Van Wells, offensive lineman … will enroll this summer
Anthony Hankerson, running back (may grey-shirt, and enroll in January, 2023)
Bios for these players are currently up under the The CU Recruiting Class of 2022 banner, and will be supplemented with CUBuffs.com bios as commitments are finalized.
In addition, there are these names which are being added through the Transfer Portal Tracker:
Ramon Jefferson, running back, Sam Houston State … will enroll this summer
Chance Main, defensive lineman, Incarnate Word … enrolled for spring semester
Tommy Brown, offensive lineman, Alabama … enrolled for spring semester
RJ Sneed, wide receiver, Baylor … enrolled for spring semester
Maddox Kopp, quarterback, Houston … enrolled for spring semester
Jeremy Mack, defensive back, East Mississippi Community College … will enroll this summer
Alex Harkey, offensive lineman, Tyler Junior College … will enroll this summer
Oh, and there was also an addition to The CU Recruiting Class of 2023:
—
So, where does that leave the roster? 
Your guess is as good as mine right now. We know that CU will have to be down to 85 scholarship players by August 1st, but, between now and then, getting a clear picture on the roster is like nailing Jell-O to the wall. Best guess? CU is a few players over the limit right now, with more attrition coming after spring practices.
A stab at the current roster … 
Returning starters in bold … Additions to the roster since December Signing Day in bold italics …
2022 Scholarship breakdown

(* has used redshirt year)

Pos.
Sch
Seniors
Juniors
Sophomores
R-Freshmen
T-Freshmen
QB
6
JT Shrout*
Drew Carter
Brendon Lewis
Maddox Kopp*
Owen McCown
Oakie Salave'a
RB
5
Alex Fontenot*

Ramon Jefferson*

Deion Smith*
Jayle Stacks
Victor Venn

Anthony Hankerson (may grey-shirt)

TE
6
Brady Russell*
Caleb Fauria*
Erik Olsen*
Louis Passarello*
Austin Smith*
Zach Courtney
WR
10
Daniel Arias
Maurice Bell*
Jaylon Jackson*RJ Sneed II*
Montana Lemonious-Craig
Chase Penry
Ty Robinson
Grant Page
Chase Sowell
Jordan Tyson
OL
15
Frank Fillip*
Josh Jynes*
Casey Roddick*Tommy Brown*
Gerad Christian-Lichtenhan
Noah Fenske*
Austin Johnson*
Carson LeeJake Wiley*

Alex Harkey

Edgar Amaya*
Jackson Anderson*
Carter Edwards
Travis GrayVan Wells
DL
10
Jeremiah Doss*
Justin Jackson
Janaz Jordan*
Terrance Lang*
Na'im Rodman
Jalen Sami*
Allan Baugh*
Tyas Martin*
Ryan Williams*
Aaron Austin
OLB
10
Chance Main*
Jamar Montgomery*
Guy Thomas*
Joshka Gustav*
Alvin Williams
Devin Grant*
Zion Magalei*
Eoghan Kerry
Shakaun Bowser
Kaden Ludwick
ILB
7
Robert Barnes*
Quinn Perry*
Jack Lamb*
Marvin Ham II*
Isaac Hurtado
Mister Williams*
Aubrey Smith
CB
8
Nigel Bethel*
Jaylen Striker*
Kaylin Moore
Nikko Reed
Simeon Harris
Keyshon Mills
Jason Oliver
Joshua Wiggins
S
7
Isaiah Lewis*
Toren Pittman
Tyrin Taylor
Trevor WoodsJeremy Mack
Dylan Dixson
Xavier Smith
K/P
2
Cole Becker
Ashton Logan
Scholarships
86
17
11
22
14
22
–
—
—–