—
Colorado Daily – Washington Week
—
November 19th – Game Day!
… CU in a few minutes … 
Representing CU at ESPN GameDay in Bozeman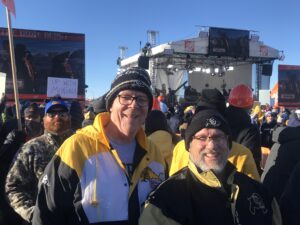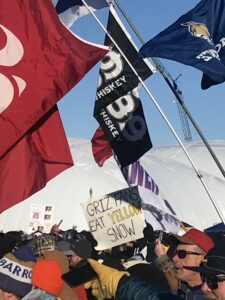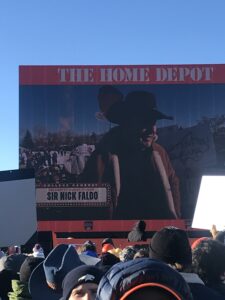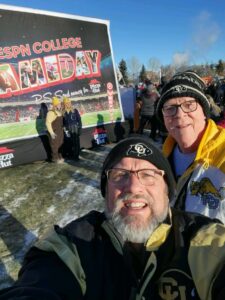 –
—
Neill Woelk's Keys to the Washington Game
From CUBuffs.com … It's a familiar refrain for the Colorado Buffaloes: a third straight game against a top 15 team led by an elite quarterback.
The latest version for the Buffs is Saturday's 7 p.m. game at Washington, where Colorado will face the No. 15 Huskies and quarterback Michael Penix Jr., who has thrown for a nation-leading 3,640 yards thus far this season.
"It's a monumental task for our football team," CU coach Mike Sanford said earlier in the week. "And we're excited for that task."
The Buffs (1-9 overall, 1-6 Pac-12) are huge underdogs against the Huskies (8-2, 5-2), who are coming off a big win over Oregon and still have a chance to earn a berth in the Pac-12 championship game.
So how do the Buffs stay in this one and give themselves a chance to pull off the upset?
1. Pressure Penix from the get-go. In Washington's two losses — at UCLA and at Arizona State — UW's quarterback has shown a tendency to be pressured into mistakes.
Against the Bruins, Penix threw two interceptions and was sacked twice. Against ASU, he threw one pick, was sacked once — and did not have a touchdown pass, the only game this year he's been blanked in that category.
The Buffs are coming off a game when they had a season-high three quarterback sacks against USC and also recorded an interception. Colorado needs to get pressure on Penix early, force a mistake or two and give the Buffs' offense a chance to generate some momentum.
2. Run the ball and shorten the game. The best way to make sure Penix can't do some damage is to keep him on the sidelines.
That means establishing a ground game, moving the sticks and keeping the clock moving.
Colorado's run game had a decent outing last week, finishing with 135 yards on the ground against USC, including a 108-yard effort from Alex Fontenot. The Buffs should also get Deion Smith back this week, which could give CU a good tandem attack.
The Huskies gave up 184 yards on the ground in the loss to UCLA and 156 to ASU. Colorado needs to attack UW on the ground, establish some rhythm and shorten the game.
… Continue reading story here …
–
—
November 18th 
… CU in a few minutes … 
Graduation Success Rate at the University of Colorado hits an All-Time High
From CUBuffs.com … The NCAA released its annual report for the Graduation Success Rate (GSR) and Federal Graduation Rate (FGR) data for the 2015-16 freshman cohorts this week, and University of Colorado student-athletes recorded a record-setting performance.
Colorado's GSR logged in at 96 percent, topping the previous best of 93 percent in the 2013 report.  The FGR, which has long penalized schools for losing transfers but not counting those who enroll at CU and graduate, was 78 percent, besting the old high of 70 percent for those who were admitted to CU in 2013.  It was also higher than the overall rate for the CU campus (74 percent) for the same time period.
Both the GSR and FGR allow students six years to graduate.
"That is a great number, and I believe serves as a reminder in this current state of college athletics that a degree is still an important priority," CU athletic director Rick George said.  "It's also a total team effort, starting with the student-athletes who take their education seriously, our coaches for creating the culture of academic success and our Herbst Center staff who support their efforts year-round."
Ten programs scored a perfect 100 percent in the GSR tabulation: women's basketball, women's cross country and track, men's and women's golf, women's lacrosse, men's skiing, women's soccer, women's tennis and women's volleyball.  Other programs: men's basketball (92 percent), women's skiing (90 percent), men's cross country and track (89 percent) and football (77 percent).
Women's cross country and track had the high number in the FGR calculations at 89 percent, with women's golf next at 88 percent and lacrosse at 85 percent.
Our student-athletes graduating at this rate is a testament to their character," said Kris Livingston, CU's Executive Senior Associate AD/Student Success.  "They spend a lot of time representing the university in a CU uniform in the public eye.  What others don't see, is the time spent in classes, on assignments, working with fellow students for group projects and in tutor sessions.  Much of this happens in early mornings and late evenings, on busses, vans and planes.  The staff in the Herbst Academic Center work tirelessly to provide the structure and the plan, and the student-athletes commit to making it to the finish line."
–
—
Daily Camera – Five Washington Players to Watch; Husky Notables
From the Daily Camera …
5 Players to Watch
• Edge Jeremiah Martin: So far this season, he's racked up 35 tackles, eight tackles for loss and 6.5 sacks. He's second on the team in TFLs and sacks. He also has three QB hurries and a forced fumble.
• WR Rome Odunze: He's caught 63 passes for 914 yards and six touchdowns — leading Washington in all three categories. Averaging 101.6 receiving yards per game, which leads the Pac-12 and ranks eighth nationally. He's got five 100-yard games, the first Husky with that many in a season since Reggie Williams in 2003.
• QB Michael Penix Jr.: The nation's leading passer with 3,640 yards. He has completed 67.1% of his passes, with 25 touchdowns and six interceptions. In his career, he has a 20-7 record as a starter (12-5 at Indiana, 8-2 at Washington).
• RB Wayne Taulapapa: Leads the Huskies with 546 rushing yards, averaging 5.4 yards per carry and scoring seven touchdowns. A transfer from Virginia, he has just one career 100-yard game (120 yards vs. Stanford on Sept. 24), but has five games over 50 yards this year.
• LB Bralen Trice: This season, he leads Washington with 10 tackles for loss and seven sacks, ranking top five in the Pac-12 in both categories. He's got 28 total tackles, in addition to three QB hurries.
How Washington can win
It's becoming a common theme for CU opponents down the stretch, but the Huskies simply need to show up and play to their capabilities to win this game. They haven't had trouble putting points on the board this season (38.4 per game, 13th nationally). So, as long as they are productive on offense and play solid defensively, they'll coast past the Buffs.
Huskies notables
• At 8-2, Washington is enjoying its best 10-game start to a season since 2017 (also 8-2). The last two times the Huskies started 8-2 (2016, 2017), they went on to win at least 10 games.
• The Huskies are 6-0 at home this season. With a win against CU, they would finish with a perfect home record for the third time in the Pac-12 era (also 2017 and 2018).
• Washington tends to get off to a strong start. The Huskies have scored on their first possession in nine of 10 games, including eight touchdowns. They've also scored on the opening drive of the second half eight times in 10 games.
• Michael Penix Jr. has nine games with at least 300 passing yards this season, which is the most in the FBS. He threw for 408 in last week's win at Oregon. The only time he didn't throw for 300 yards was in a 24-21 win against Oregon State, when he finished with 298 yards.
• Prior to coming to Washington, DeBoer went 12-6 in two seasons at Fresno State. In his other stop as a head coach, he went 67-3 in five seasons (2005-09) at Sioux Falls, winning three NAIA championships.
–
—–
November 17th
… CU in a few minutes … 
Tight end Brady Russell: "Football has been on my mind for my whole life"
From the Daily Camera … As a kindergarten student many years ago, Brady Russell and the rest of his classmates were given an assignment to make Valentine's Day cards.
Russell wasn't cooperative.
"My kindergarten teacher called my mom at home," Russell said, "and she said, 'Brady says that he can't cut hearts out. He said he's made for football and nothing else.'
"So, (football) has been on my mind for my whole life."
Russell, now a senior tight end with the Colorado Buffaloes, has grown to become a more respectful young man than he was that day, but the love of football hasn't gone away. In fact, as Russell nears the end of his career at CU, his life-long dream could be just around the corner.
CU (1-9, 1-6 Pac-12) has two games remaining in a dismal season, including a trip to Seattle to take on the No. 15 Washington Huskies (8-2, 5-2) on Saturday (7:14 p.m., Pac-12 Network).
For Russell, it's an opportunity to play two more games for the team he grew up loving, but it's also another opportunity to showcase his skills for NFL scouts – and they are paying attention. He was invited this week to play in the NFLPA Collegiate Bowl in January.
"(Playing in the NFL) has been a goal of mine forever and I've always, in my head, known I've been capable of it, even when I had to come walk-on here," Russell said. "A lot of people have asked, 'Oh, when did you start thinking you can make it to the NFL?' Since I was six years old, five years old, four years old. That's been what I was gonna do in my life, forever.
"It's never been something that I'd sell myself short of just because other people didn't see it in me. But, it's really encouraging to have the validation of other people seeing it now too, instead of just myself."
… Continue reading story here …
–
November 16th
… CU in a few minutes … 
Fr. LB Eoghan Kerry has already been through a great deal: "I feel like I've gotten to learn from two different families, which is nice"
From the Daily Camera … Freshman linebacker Eoghan Kerry was a star at Mater Dei (Calif.) High School and came to CU to play for head coach Karl Dorrell and defensive coordinator Chris Wilson. Both were fired on Oct. 2, however, after a 0-5 start. Mike Sanford took over as interim head coach and Gerald Chatman as defensive coordinator.
Despite the adversity, Kerry has rolled with the punches, learning from each experience as the Buffs go through the final two weeks of the season. CU visits No. 15 Washington (8-2, 5-2) on Saturday in Seattle (7:14 p.m., Pac-12 Network).
"Being a freshman, signing myself over to these coaches, and then having to change is definitely difficult," he said. "I'm grateful for Dorrell and Wilson and what they did, but I'm grateful for Chatman and Sanford and (linebackers coach Jeff) Smart and what they've done. too. I feel like I've gotten to learn from two different families, which is nice. I feel like that's kind of doubled my growth from being here."
Although Kerry has yet to get on the field on defense, he's been a key special teams player and could be an important part of the defense in the future. Since arriving in January, he's often been praised by coaches and teammates.
"Going against Eoghan has made me a lot better this year," fifth-year junior guard Tommy Brown, who is also a Mater Dei alum, said this week. "I think Eoghan is smart, physical and tough. He's gonna be a great player for Colorado and I think the background at Mater Dei helps. But, when it comes down to it, it's Eoghan's character and he goes out there and works hard every day."
… Continue reading story here …
–
—
CU rushing attack showing marginal improvement
From the Daily Camera … CU's offensive line has bonded to the point that several different running backs, including Smith and senior Alex Fontenot, have excelled.
"The offensive line takes a lot of pride in our work and we know that when it comes down to it, the offensive line needs to be the backbone of the offense," guard Tommy Brown said. "So we just go out there trying to do our job."
CU hasn't posted eye-popping rushing totals, but that's in part because the games don't allow for that. The Buffs have routinely faced 20-plus point deficits this season, and they've been blown out the last two weeks. That has forced them to try to throw the ball to get back into games.
"At times, that's been kind of our season," Sanford said after Friday's 55-17 loss to USC. "You want to continue to run the football, you want to continue to play to your strengths. But at times, if you're down two, three scores, you also have to be able to mix in some explosive pass game. … That's a challenge because I do think that was something that overall we did a good job of running the football."
Smith finished with 111 yards — his first career 100-yard game — in a 42-34 loss to Arizona State on Oct. 29. He was then injured during the first series the next week against Oregon.
Fontenot has picked up the slack, however. He rushed for 108 yards at USC, posting his first 100-yard game in nearly three years.
Since returning from his injury two weeks ago, Fontenot has averaged 5.5 yards per carry (149 yards on 27 carries). Freshman Anthony Hankerson has also done well, with 75 yards on 16 carries (4.7 per carry) the last two weeks.
Smith is averaging 5.1 yards on the season, while Fontenot is at 5.0 and Hankerson at 4.0.
"Most of the time I have no clue who's behind us until they go past," Brown said. "So it's cool; they all have their own unique running style and I think they bring positives in their styles. So either way, I know we're gonna be good with whichever back is back there."
… Continue reading story here …
–
—–
November 15th
… CU in a few minutes … 
*Video: Mike Sanford* – A candid discussion about acquiring and retaining talent: "You don't want to be a farm system for someone else" 
From YouTube, courtesy of BuffsTV … OL Tommy Brown and CB Nikko Reed are also interviewed …
Tommy Brown up first, then interim head coach Mike Sanford starting at about 11:15 of the video (Nikko Reed at the 29:00 mark) … Coach Sanford … Condolences for the University of Virginia program, with a discussion of how the coaching staff is dealing with the tragedy within the program … RB Deion Smith and DB Trevor Woods back at practices at "full speed" … Washington might be the best team in the conference … Watched Michael Penix when he was at Minnesota and Penix was at Indiana … Wide receiver one of the top units in the country (Oregon throws short and relies on speed; Washington throws deep) … CU's special teams made almost entirely of freshman due to 23 players lost to Transfer Portal … WR Daniel Arias and TE Brady Russell invited to participate in NFLPA Collegiate Bowl … Scouts: You would never know what CU's record is based upon how the players participate in practice … Hard for players to see players like Christian Gonzalez, Mehki Blackmon and Brenden Rice play for Top 25 teams … "That's hard for the players. They have thoughts. They have feelings … When you are looking at retention on the roster, you have to be cognizant of that fact … If we just turn a blind eye to it, we're just going to live the same story again … You don't want to be a farm system for someone else" … When asked about teams like Washington and USC (both 4-8 in 2021, just like CU) turning things around quickly, his response: "Michael Penix, Bo Nix, Caleb Williams – We can say that these are great jobs of coaching, and they are – they have great coaches, but this is a players' game … Oregon State is a different example. They added pieces, but what you saw there was retention … It's usually going to be about talent acquisition. That the name of the game in football … You have to have things in place at your institution for that talent acquisition to take place" …
–
—
For the CU coaching staff, there are two games – and an uncertain future: "Staying in the present is really hard"
From the Daily Camera … With less than two weeks remaining in the season, the reality of an uncertain future is hitting home for the CU coaching staff. CU will visit No. 15 Washington on Saturday (7 p.m., Pac-12 Network) before wrapping up the season at Folsom Field on Nov. 26 against No. 10 Utah.
For Sanford and the rest of the coaches, that could be it for their time in Boulder, because there is no guarantee the next coach will retain them.
"We're living in the present, we're making everything about the players," Sanford said of how he and the staff are handling the situation. "But obviously, you get down towards the end of it and all of a sudden, it's obviously very clear that we're not in the postseason – there's no bowl opportunities – and you have to really wake up every day and even as a staff, even myself as the head coach, you've got to really stay truly in the present."
Sanford moved his family from Minnesota to Colorado in December after signing a three-year contract to be the Buffaloes' offensive coordinator. Despite being under contract through the 2024 season, Sanford knows he could be out of a job in a couple of weeks.
There are seven other full-time assistants under contract through the 2023 season, but they also might be looking for work soon, along with support staff members who aren't under contract.
"(Staying in the present) is really hard because we have wives, we have kids," Sanford said. "They're scared about the future and we have to be great fathers and great husbands first and foremost. But we also have a job that we're tasked with doing and that's ultimately to come to work every day, just continue to find the joy in the work we do."
… Continue reading story here …
–
—–
November 14th
… CU in a few minutes … 
CU/Utah kickoff time put on six-day hold
From CUBuffs.com …  We are on a six-day notification for the kickoff time and TV network for the Utah at Colorado football game on Nov. 26.  Same goes for:
Oregon at Oregon State
Washington at Washington State
These are the options for those three games that day:
1:30pm MST (ABC or ESPN)
2:00pm MST (Pac-12 Network)
8:00 or 8:30pm MST (ESPN)
… Based upon the other two games having relevance in the Pac-12 title race and bowl positioning, you would think CU/Utah would end up on the Pac-12 Network … 
–
—
Buffs not quitting – Alex Fontenot: "Everybody wants to win and we still have belief that we can win"
From the Daily Camera … Losing – and losing big – week in and week out certainly isn't easy for anyone to take.
Yet, as the Colorado football team limps to the finish line of this disastrous season, it continues to put forth a spirited effort each game.
"Oh, yeah, that's one thing about this team that really, out of the six years I've been here I've never really experienced," running back Alex Fontenot said after Friday's 55-17 loss at No. 7 USC. "Like, us losing but we keep that same energy. Nobody's getting down on themselves. Everybody's still locked in. Everybody wants to win and we still have belief that we can win."
CU (1-9, 1-6 Pac-12) faces a difficult task in trying to get another win heading into the final two games. The Buffs visit No. 15 Washington (8-2, 5-2) on Saturday and then host No. 10 Utah (8-2, 6-1) on Nov. 26 to finish the season.
Already, the Buffs have lost eight times by 23 points or more, and they've been outscored 104-27 in the last two games. So, what keeps them going?
"That's a good question," defensive lineman Jalen Sami said. "Overall, it's team heart. (This) is not what we wanted, but we're out here working every day. We're trying to compete. For me personally these are just opportunities for me to get better to elevate my game and hopefully reach my dreams of going professional.
"We're just trying to work on (fixing mistakes), trying to get better. And so I took a pretty much personal job to try to get us motivated. We come in everyday to practice, and just trying to get better, even though the season hasn't gone (how we wanted)."
… Continue reading story here …
–
—–
November 13th
… CU in a few minutes … 
Neill Woelk's Takeaways from the USC Game – Missed Opportunities Haunt Buffs
From CUBuffs.com … While virtually nobody expected Colorado to produce an upset of No. 8 USC on Friday — and virtually everybody was right — the Buffaloes nevertheless missed an opportunity to make the game much closer than the final 55-17 score.
That's been the story for the Buffs too many times this season. Missed opportunities and mistakes have led to a long list of lopsided losses.
Now, the 1-9 Buffaloes have two games remaining, meaning two chances to get to at least two wins and escape joining the 1980, 1984 and 2012 teams as the only Buffs squads in modern history to win just one game in a season.
What we learned from Friday night's loss in the Coliseum:
1. CU's coaches have produced some good defensive scheme tweaks.  For a quarter, at least, the Buffaloes befuddled USC's high-powered offense and quarterback Caleb Williams.
The Buffs forced two three-and-outs and recorded an interception in the first quarter, limiting the Trojans to just 8 yards total offense. Colorado rushed just three players, dropped eight into coverage and kept Williams in check for a quarter. Nikko Reed came up with an interception — just the second thrown by Williams this year — and CU also collected a big sack from linebacker Quinn Perry on a delayed blitz.
The Buffs had a chance to extend their edge into the second quarter — but allowed USC to convert a third-and-19, a third-and-23, a third-and-2 and a third-and-9 (on a penalty) to produce the Trojans' first touchdown of the night.
Still, CU received some solid performances from Reed and a handful of other young players. Freshman DB Simeon Harris played 70 snaps and had the highest Pro Football Focus grade of any CU defender in the game. DBs Kaylin Moore, Reed and Jason Oliver also graded out reasonably well.
Colorado also had a season-high three sacks after not having any in the last two games.
… Continue reading story here …
–
—
November 12th 
… CU in a few minutes … 
Transcript: Mike Sanford's Post-Game Comments: "We're going to come back to work and find resolve to go play two more really good football teams"
Opening statement
"I thought it was a good start, particularly on defense. I was really pleased with how we prepared. We came out and gave some different looks. Obviously, Caleb Williams is one of those guys where if you give him a chance to pick you apart, he's going to pick you apart. I think some of the drop-eight stuff we did helped us be able to present different looks. We started slowly offensively. I was pleased with how we ran the football against a top-10 team in the country, but ultimately the turnovers and the intentional grounding and safety was too much to overcome against a team with the firepower they have. We're going to keep on fighting. We're going to keep on finding a way to put ourselves in a position to win games. I thought we did that, but it got away from us today. There's no rest for the weary. We're going to come back to work and find resolve to go play two more really good football teams."
On USC's adjustments
"Outside of the fourth quarter and some of the screen game, it was a lot of those second plays we talked about. Play-design was, there wasn't a lot that was really open. They did a nice job of running the football and sustaining drives and really holding on to the ball. I thought they did a nice job. You could say that was an adjustment versus a drop-eight look. I still thought we had some stops here and then, but on third down, Caleb moves around and finds some type of small crease and checks the ball down and it's enough to get a first down. The third-and-longs, particularly in the hits quarter, those stood out. That was really Caleb Williams and their receivers making plays when the play broke down."
On USC capitalizing on CU's mistakes
"The thing that's frustrating is our defense is playing as well as they are, particularly in the first half, and giving USC a short field with a combination of what ended up being a safety where you're kicking the ball off at the 20-yard line and you immediately give up field position. The fumble really, really was a huge piece of the game. It was a self-inflicted wound. Obviously, it's frustrating, but there's nothing else we can do but continue to go back to work."
On Alex Fontenot
"Alex ran really hard. You could see it last week with a couple of his runs that he had. Deion was a bit of a game-time decision. We want to have everybody ready to go these last two games. Deion wasn't quite 100% in warmups and we made the decision in warmups. I thought Alex really competed at a high level and ran hard. I thought our offensive line did some good things. Tuli [Tuipulotu] is as advertised. I think he's probably the best pass-rusher we've seen all year. But overall, outside of Tuli's individual performance, I thought we matched up fairly well, both in the run game and in the pass-protection game. I was pleased with that unit in particular. Obviously, we've had some attrition at the receiver position, some guys banged up. Quarterback-wise, I thought we did some good things at times, but it wasn't consistent enough, particularly on third down in the first half. I think we were 0 for 7 in the first half. Obviously, the second half, we converted third downs better."
On having to move away from the run when the game got lopsided
"At times, that's kind of been our season, right? You want to continue to run the football and you want to continue to play to your strengths, but at times, if you're down two or three scores, you also have to be able to mix in some explosive pass game. I think that's where you saw the second-half interception – really kind of playing catch-up. That's a challenge. Overall, I think we did a good job of running the football."
On Nikko Reed's penalty for celebrating after his interception
"That's such an emotional play, right? That's his former teammate and he goes up and actually Mosses the ball from his former teammate. We all know those types of things happen all the time in college football. I didn't think it was anything completely egregious. I thought Nikko was just playing inspired football. It's disappointing because we knew we were going to inherit the ball at a decent spot and all of a sudden, we're playing backed up."
On red zone offensive struggles
"That first drive, yes, and we didn't run the ball well in the red zone as the game progressed. You've got to try to get seven at that point. We had some decent runs, but when you're in that position and the defense is playing the way it is, you want points on the board. At the time, it led to us being in the ballgame and possessing the ball and moving the ball down the field. I think seven there makes it a little bit different. Continuing to address that and finding the playmakers in the pass game, that's going to be important for us these last two weeks."
On Trevor Woods' absence
"He traveled. He was here. Trevor was probably a little bit further along than Deion was. They had very similar statuses going into the game, but I fully believe he'll be back up these last two games. I'll tell you this – I was pleased with the play of J Mack and Striker. I thought they filled in adequately. That just shows a lot of growth from earlier in the year, where we felt like we had to have Trevor Woods in the game. Down the stretch, they start finding their way, but I was pleased with how J Mack and Striker played today."
On the defense being more active
"If you look at the last two weeks in particular, there's all the reason in the world to hang your head and not start fast defensively. It shows the resolve and the fight and the belief those players have. I think you're starting to see some great individual efforts. Jamar is doing some really good things. Guy is doing some really good things, even Robert Barnes. You're seeing some good individual efforts. Aaron Austin stood out to me, just rushing the passer. He's a guy I wanted to see more of. He has been a contributor on special teams all year. I think some of this young talent is starting to emerge and some of those fifth- and sixth-year seniors that probably haven't had the success, they're starting to believe in themselves. As we all know, it's just piecing it all together. It's super challenging when you're not playing perfect football against these kinds of teams. That's really where we're at. We've got to execute at a very high level for four quarters. The margin for error is small when you're playing against SC, with the athletes they have and the quarterback they have and even the defensive athletes they have. They move the front a lot. They have a lot of different pieces and arguably one of the best pass-rushers in college football."