—
Colorado Daily – UCLA Week
—
September 24th – Game Day
… CU in a few minutes … 
Buffs remain confident: "We all know what we can do. We've just got to execute"
From the Daily Camera … Despite a nonconference schedule that proved to be a disaster and speculation about the future of their head coach, the Colorado football players haven't shown that they are ready to pack their bags and give up on the season.
The energy and spirit from the practice field this week was greater than it's been all fall. The players haven't expressed a lack of confidence.
It remains to be seen how the Buffs (0-3) will perform against UCLA (3-0) on Saturday at Folsom Field, but the players are at least fighting as they open Pac-12 play.
"(Offensive lineman Tommy Brown) told the team that this is the most fun he's had playing football, even amongst the challenges of what we're going through in these first three weeks," offensive coordinator Mike Sanford said. "He just says, 'I love going to work every day.' And I feel the same way. I love coming to work with these guys. I love going to see a guy like Brady Russell every day and Tommy Brown and Casey Roddick and Daniel Arias – guys that are just wanting to turn this corner. And they believe that we're right on the precipice of doing it. We've just got to go to it."
… Inside the walls, CU is clinging to the hope that comes from being 0-0 in the conference. It is a fresh start in some ways and there is genuine belief that they can gain some positive momentum.
"(The confidence) is actually not low," safety Trevor Woods said. "We've come together, we've talked. We've had plenty of talks and we're all good together. We're still confident. Obviously I'm around the defense more and we're all extremely confident. We all know what we can do. We've just got to execute.
"We can't get down. Everyone has things go bad. You look at the best teams in the country, NFL teams, all of them have things go wrong. It's just how you fight the adversity, really. You can't let it affect you, whether it's good or bad."
–
—–
September 23rd
… CU in a few minutes … 
Neill Woelk's Five Keys to the UCLA Game
From CUBuffs.com … Technically, Karl Dorrell's Colorado Buffaloes are one-fourth of the way through their season, with an 0-3 record thus far.
But Saturday's game against UCLA at Folsom Field still offers the Buffs a chance for a fresh start — the beginning of Pac-12 play and an opportunity for CU to open the conference schedule on the right foot.
The Bruins have been an interesting matchup for the Buffs over the last six seasons. The two squads have evenly split the series 3-3 in that stretch and the home team has been the winner all six times.
UCLA coach Chip Kelly is in his fifth season with the Bruins, while quarterback Dorian Thompson-Robinson is also in season No. 5 with UCLA. Meanwhile, former CU assistant coach Darrin Chiaverini is now an offensive analyst for the Bruins, and Jerry Neuheisel, son of former CU head coach Rick Neuheisel, is the wide receivers coach.
There are also some strong UCLA ties on the Buffaloes sidelines. CU's Dorrell played his college ball with the Bruins and returned to Westwood to become UCLA's coach from 2003 through 2007.
 But what matters to both teams isn't the past, it's Saturday's game. If the Buffs are indeed going to hit the reset button on their season, they will need to make some significant improvement in a number of areas against a Bruins team that has shown plenty of offensive firepower in opening 3-0.
Our Fast Five keys for the Buffaloes:
1. Eliminate self-inflicted wounds. Two weeks in a row, the Buffs have handed the ball to the opponent deep in their own territory on their first possession of the game. Both have resulted in opponent touchdowns, putting Colorado in a big hole early.
Meanwhile, while the Buffs have committed just 13 penalties in three games, they have drawn some untimely flags that have halted a handful of several potential big drives.
Those are mistakes Colorado simply can't afford. The Buffs' margin for error is razor thin. If the Buffs are going to claw their way back, they must eliminate committing those momentum-shifting errors.
2. Flip the big play script. In three games thus far, the Buffaloes have recorded just eight offensive plays of 20 yards or more, including just one last week at Minnesota.
In comparison, opponents have posted 17 plays of at least 20 yards — and last week, Minnesota added an additional 13 plays of at least 10 yards.
… Continue reading story here …
–
—
DiStefano: "I'm very confident about where we're going to end up with media rights"
From the Daily Camera … "I'm very confident in CU's position," Colorado chancellor Phil DiStefano said in an interview with BuffZone.com this week. "When UCLA and USC left, people were talking about, 'There's not going to be a Pac-12 anymore; other schools will leave and go to the Big 12, go to the Big Ten, go to the ACC.'
"The 10 schools are sticking together and I believe we'll end up with a very favorable media rights (deal) coming up."
DiStefano's confidence is shared by Pac-12 commissioner George Kliavkoff, who spoke this week on the Canzano & Wilner podcast. Kliavkoff is confident that if other schools were going to leave for the Big Ten, it would have happened already and he maintains belief that no Pac-12 schools will leave for the Big 12.
Earlier this month, the College Football Playoff's board of managers voted to expand the playoff from four teams to 12 in 2026. That is viewed by Kliavkoff as a win for the Pac-12 because it opens the door for more CFP opportunities, and increases the value of the regular season because more games will have CFP implications.
The Pac-12's current 12-year media rights deal with ESPN and Fox expires in the summer of 2024, but the conference is in the midst of negotiating its next deal. DiStefano is optimistic that the Pac-12 and CU will land on their feet.
"I'm very confident about where we're going to end up with media rights," DiStefano said. "We have enormous confidence in George Kliavkoff to work through our media rights and get the best deal for us. I'm extremely pleased with the work that George has been doing, given his background in entertainment sports at MGM, and his work with Major League Baseball and other areas. I believe he's definitely the right person at this point to lead us into the future. I see a very positive outcome for media rights negotiations for the Pac-12."
… Continue reading story here …
–
—–
September 22nd 
… CU in a few minutes … 
CU offering free tickets for teachers
From CUBuffs.com … Extra Yards for Teachers, the College Football Playoff Foundation's primary platform, will be celebrated at this week's football game between the Colorado Buffaloes and UCLA Bruins at Folsom Field.  Kickoff is set for Saturday at 12 p.m.
In celebration of teachers, the Buffs are offering a ticket promotion where teachers can claim a free ticket to the football game and additional tickets can be purchased at a discounted rate.
Saturday the Buffs will recognize teacher Carolina Fassora from Louisville Elementary School.  The school has a group of students who for a variety of reasons don't qualify for bussing services through Boulder Valley School District.  Louisville Elementary is partnering with Impact on Education to provide these services for those students which has improved attendance by as much as 10 percent.
In conjunction with this, through the Extra Yards for Teachers, Nicole Duster, who works to provide mental health services to students at Louisville Elementary, will receive a $1,000 Donors Choose gift card.
Extra Yards for Teachers has helped more than 50,000 schools since its inception, benefiting more than 450,000 teachers and 9.2 million students by donating more than $57 million in support of education.
–
—
Rooney: Clock Ticking for Dorrell – Win or Else
From the Daily Camera … If you're the glass-half-full type of Colorado football fan, presumably with a glass half-full of something strong enough to distort reality, the start of Pac-12 play represents a chance to wipe the slate and start over.
If the Buffaloes' pervasive ineptitude continues over the next nine days, at most, then athletic director Rick George will have no choice but to do the same with the Colorado football program.
The plot lines abound this week as the Buffs' fruitless quest to get on track continues at Folsom Field on Saturday in the Pac-12 opener against UCLA. The Bruins, of course, gave CU's Karl Dorrell his first shot at a head coaching gig nearly two decades ago. He was fired after going 35-27 in five seasons (24-18 in the Pac-10) with five bowl berths, which seems like a gluttony of riches compared to the current state of the Buffs.
On the opposite sideline, of course, will be former Buffs receiver/recruiting coordinator/offensive coordinator Darrin Chiaverini, who no doubt has suppressed a few telling grins as the Bruins put together a 3-0 start, no matter how tenuously, while the Buffs' offense continues to flounder.
… This was not a season surrounded by high expectations, so the galling part isn't the 0-3 start. It's that the Buffs have been outscored 128-30 and have been thoroughly outclassed. CU has scored just three touchdowns but only one of consequence, with the other two arriving firmly within garbage time. The last two games have featured Buffs turnovers right out of the gate that pretty much squashed hopes of upset bids within minutes of kickoff. The defense has been repeatedly worn down and gashed.
Clearly, the Buffs have regressed under Dorrell, whose program has gone 4-13 since the unexpected 4-0 start to the 2020 pandemic season. The next two weeks — first against UCLA, then at Arizona — present two of the best opportunities, and perhaps the last, for the Buffs to display some fight. If not? It's difficult to foresee George letting Dorrell's misery continue beyond the bye week following the trip to Arizona.
… Continue reading story here …
–
—
Rashaan Salaam's CFB Hall of Fame Induction to be Celebrated on Saturday
Press release from CUBuffs.com … Rashaan Salaam, Colorado's 1994 Heisman Trophy winner, will be posthumously honored at Saturday's CU-UCLA game at Folsom Field with a National Football Foundation On-Campus Salute.
The game at Folsom Field begins at noon and will be televised by the Pac-12 Networks.
"If Rashaan was here, I think he would enjoy this honor and celebration of him being inducted into the National Football College Football of Fame," said his mother, Khalada Salaam-Alaji.
The NFF Hall of Fame On-Campus Salute program, which began with the inaugural College Football Hall of Fame Class in 1951, has become a hallowed tradition, and to this day the singular events remain the first of numerous activities in the Hall of Fame experience.
The 2022 College Football Hall of Fame Class will be officially inducted during the 64th NFF Annual Awards Dinner Presented by Las Vegas on Dec. 6 at Bellagio Resort & Casino in Las Vegas. (Click here for more information on the awards dinner, including options to purchase tickets online and special travel rates.)
Saturday's ceremony will take place between the first and second quarter. A commemorative logo will grace the field and a highlight video will be shown on the scoreboard. NFF president and CEO Steve Hatches, a CU graduate, will present Salaam's mother and his brother, Kabali, with a commemorative plaque that will be an exact replica of the plaque that will be permanently enshrined in the Hall of Fame.
Joining his mother and brother on the field will be former Buffs teammates Michael Westbrook, Chris Hudson, Derek West and Tony Berti, along with CU Athletic Director Rick George.
"Rashaan Salaam was a legendary running back at Colorado, and he put together a sensational 1994 season when he won the Heisman Trophy," Hatchell said. "He is truly missed. We are thrilled to pay tribute to his legacy at Folsom Field."
The winner of the 1994 Heisman Trophy — and still CU's only Heisman winner — Salaam was just the fourth player in NCAA history to run for 2,000 yards in a season. A unanimous First Team All-American in 1994, Salaam also claimed the Walter Camp and Doak Walker awards.
That season, the 1994 Big Eight Offensive Player of the Year led the nation in rushing yards (2,055), scoring (144) and all-purpose yards (2,349), all while not playing in the fourth quarter in five games. Salaam led the 1994 Buffs to an 11-1 record and the No. 3 final ranking after a win over Notre Dame in the 1995 Fiesta Bowl.
He led Colorado to two other bowl berths, including a win in the 1993 Aloha Bowl, where he was named MVP, and two other top 20 finishes in 1992 (No. 13) and 1993 (No. 16).
Salaam was a two-time First Team All-Big Eight selection, including unanimous recognition in 1994, and he led the Buffs to second place finishes in the conference all three seasons. He still owns 42 school records, including many single-season marks for rushing yards (2,055), touchdowns (24), points (144) and all-purpose yards (2,349), all set during his 1994 Heisman campaign.
Also in 1994, Salaam set Colorado single-season records with 10 games of 100 yards rushing, four games of 200 yards rushing and nine consecutive games with 100 yards rushing. He finished his career with 3,057 rushing yards, which rank fourth all-time at Colorado. During his time in Boulder, Salaam played for College Football Hall of Fame Coach Bill McCartney and alongside Hall of Famer Michael Westbrook.
A first-round pick in the 1995 NFL Draft by the Chicago Bears, Salaam played three seasons with the Bears (1995-97), and he was named the NFC Rookie of the Year in 1995. He spent the 1999 season with the Cleveland Browns and Green Bay Packers before playing with the XFL's Memphis Maniax in 2001.
A member of both the CU Athletic and the State of Colorado Sports halls of fame, Salaam's No. 19 jersey was retired by the university in 2017. He died Dec. 5, 2016, at the age of 42.
Salaam becomes the ninth Buff player in the College Football Hall of Fame, joining Dick Anderson (1965-67), Bobby Anderson (1967-69), Herb Orvis (1969-71), Joe Romig (1959-61), Michael Westbrook (1991-94), Byron "Whizzer" White (1935-37), Alfred Williams (1987-90) and John Wooten (1956-58). Coach Bill McCartney, who guided Colorado from 1982-94, is also in the Hall.
The 2022 College Football Hall of Fame Class includes LaVar Arrington (Penn State), Champ Bailey (Georgia), Michael Crabtree (Texas Tech), Sylvester Croom (Alabama), Mike Doss (Ohio State), Chuck Ealey (Toledo), Kevin Faulk (LSU), Moe Gardner (Illinois), Boomer Grigsby (Illinois State), Mike Hass (Oregon State), Marvin Jones (Florida State), Andrew Luck (Stanford), Mark Messner (Michigan), Terry Miller (Oklahoma State), Rashaan Salaam (Colorado), Dennis Thomas (Alcorn State), Zach Wiegert (Nebraska), Roy Williams (Oklahoma) and coaches John Luckhardt (Washington & Jefferson [PA], California [PA]), Billy Jack Murphy (Memphis) and Gary Pinkel (Toledo, Missouri).
The accomplishments of the 2022 Class will be forever immortalized at the Chick-fil-A College Football Hall of Fame in Atlanta, and each inductee will receive a custom ring created by Jostens, the official and exclusive supplier of NFF rings.
Including the 2022 Hall of Fame Class, only 1,056 players and 226 coaches have been inducted into the College Football Hall of Fame from the nearly 5.62 million who have played or coached the game during the past 153 years. In other words, less than two one-hundredths of a percent (.02%) of the individuals who have played the game have earned this distinction.
–
—–
September 21st 
… CU in a few minutes … 
Alex Fontenot has lingering chest injury: "He's walking normal now"
From the Daily Camera … Colorado will enter Pac-12 play without its most experienced running back.
Senior Alex Fontenot is expected to miss his second consecutive game when the Buffaloes (0-3) host UCLA (3-0) on Saturday at Folsom Field (noon, Pac-12 Network).
Fontenot, who is second on the team with 84 yards on 20 carries, injured his chest during a 41-10 loss at Air Force on Sept. 10.
"He's feeling better," head coach Karl Dorrell said. "He's got this chest injury that is very challenging for him breathing. That was the thing a week ago. Now he's standing up straight, he's not (hunched over) anymore. So it's going through that process. He's actually walking normal now."
Fontenot hasn't started running, though, and because of that Dorrell said Fontenot "won't be ready" for Saturday's game.
"We were hoping that he would start running this week, but when he tried he's still having a lot of discomfort," Dorrell said.
In Saturday's 49-7 loss at Minnesota, CU was without Fontenot and true freshmen Anthony Hankerson and Victor Venn, who have been injured and unable to play this year.
That left the Buffs with only two scholarship running backs: junior Deion Smith and sophomore Jayle Stacks. Walk-ons Dominick Mastro and Charlie Offerdahl were also on the trip. Smith led the Buffs with 70 yards, while Offerdahl had 55.
… Continue reading story here …
–
—
Video: Karl Dorrell post-practice: "There's still a lot of football left; they're staying together"
From YouTube, courtesy of CUSportsNation …
–
—
Chidobe Awuzie; Mason Crosby lead NFL Buffs in Week Two
From CUBuffs.com … Week two of the NFL season saw Colorado Buffalo alumni playing across the league. While the Bengals fell to the Cowboys in Dallas, Chidobe Awuzie's five tackles in the game were tied for the team high as he continues to be a leader on the Cincinnati defense.
Here is What happened with all other former Buffs across the NFL:
•    Chidobe Awuzie: Started at Cornerback for the Bengals and saw every defensive snap but one against the Cowboys. His five total tackles were tied for the most on the team in Cincinnati's 20-17 loss in Dallas.
•    Mason Crosby: Crosby made both of his field goal attempts and all three of his extra point attempts to help the Packers beat the Chicago Bears 27-10 under the lights at Lambeau Field.
•    Nate Landman: Played in his second consecutive game for the Atlanta Falcons, getting 11 special teams snaps as the Falcons lost to the Los Angeles Rams 31-27.
•    Josh Topou: Had one unassisted tackle on 28 defensive snaps as the Bengals lost to the Cowboys 20-17.
•    Ahkello Witherspoon: Played in all 68 defensive plays and added two unassisted tackles for the Steelers as Pittsburgh lost a close game to the New England Patriots 20-17.
Laviska Shenault (Panthers) was a healthy scratch in week two after getting signed to Carolina in late August. David Bakhtiari (Packers) and Isaiah Oliver (Falcons) remained on the sidelines in week two due to injury.
Arlington Hambright (Colts), Phillip Lindsey (Colts), Will Sherman (Broncos), Davion Taylor (Eagles), and Juwann Winfree (Packers) are all on their team's practice squads.
–
—–
September 20th
… CU in a few minutes … 
Safety Trevor Woods on targeting calls: "I can't change, mentality-wise"
From the Daily Camera … Late in the fourth quarter on Saturday, Colorado's Trevor Woods hit Minnesota backup quarterback Athan Kaliakmanis, turned to the official and dropped his head.
A starting safety for the Buffaloes, Woods had to sit out during the first half because of a targeting foul against him a week earlier. Just a quarter-and-a-half into his return, he was flagged for targeting again.
"I was nervous when it happened for sure," Woods said.
Luckily for Woods and CU, the targeting call was reversed – although he did get tagged with a late-hit penalty. As Woods and the Buffs (0-3) prepare for the Pac-12 opener against UCLA (3-0) on Saturday at Folsom Field (12 p.m., Pac-12 Network), he said he has to be careful, but can't worry too much about potential targeting penalties.
"(The plays) were kind of both just weird situations," he said. "I can't change how I'm tackling. That's the last thing you want to do, go in there timid and getting run over and they fall forward. I just have to make sure my head stays up. I can't change, mentality-wise."
Woods' aggressive style contributes to him being one of CU's better defenders.
He missed nearly four full quarters because of his targeting penalty against Air Force, so he's played the equivalent of about two games. He has 19 tackles in 100 snaps, a ratio of one tackle per 5.26 snaps, which ranks second on the team to linebacker Quinn Perry (4.72).
… Continue reading story here …
–
—
Dorrell remains confident: "We know we have the ability to be successful"
From CUBuffs.com … Colorado coach Karl Dorrell offered up no silver bullet or magic potion that will automatically reverse his team's fortunes Monday.
But at his weekly press conference, Dorrell continued to voice confidence in the abilities of his team and coaching staff, while also allowing that there is "a tension and an urgency that we have in our program right now with our coaches and with our players about getting things addressed and shored up as quickly as possible."
Dorrell's Buffs wrapped up an 0-3 non-conference portion of their schedule over the weekend with a 49-7 loss at Minnesota.
Now they have at least the semblance of an opportunity of a fresh start, as they open Pac-12 play Saturday with a noon game against 3-0 UCLA at Folsom Field (Pac-12 Network).
Dorrell knows his team has not looked efficient or effective on either side of the ball in its first three games. The Buffs are near the bottom of the nation on both offense (245 yards per game, 127th) and defense (452 yards per game, 119th). They are averaging just 10 points per game (tied for 129th in the nation) while yielding nearly 43 points per game (127th).
They face a UCLA team that has enjoyed a confidence-building schedule against three non-Power Five teams (Bowling Green, Alabama State and South Alabama), with only the South Alabama contest even remotely close. The Bruins had to rally Saturday from an eight-point deficit in the fourth quarter to kick a game-winning field goal as time expired for a 32-31 victory.
But the biggest concern for Dorrell and his staff right now is finding a way to build some small successes, then string those together.
That means everything from not turning the ball over to the opponent on the first possession — something CU has done twice in a row — to improving tackling and slowing down the big plays from opposing offenses.
"There's a number of issues, as we all know," Dorrell said. "We feel we have the time to get those things done, but we need to really lock in … we need to transform that work into Saturday opportunities. There's an urgency about getting things addressed, getting things fixed."
Dorrell joked that he may run on a quarterback sneak on Colorado's first play this week to guarantee the Buffs won't suffer a turnover.
But he did stress that CU will place special emphasis this week on getting a fast start and not digging an early hole.
"We know we have to play better from the start of a game to the finish," Dorrell said. "We know we have the ability to do that. The action is what's needed. That needs to be shown this Saturday in the first quarter."
Since the beginning of fall camp, Dorrell and his staff have insisted that they have seen solid progress each week in practice. But when Saturdays arrive, that progress has not manifested itself in productive play.
Monday, he remained confident that his team can turn the corner and put together a solid performance, beginning Saturday against the Bruins.
"We know we have a lot of work to do," he said. "We know that we can do it. We know we have the capability of really having a successful offense and defense and really doing things well. So our attention to detail and the standard of what we're expecting is moving forward."
… Continue reading story here …
–
—
September 19th
… CU in a few minutes … 
Dorrell Buyout: $300,000 per game the remainder of the 2022 season
… Note … Dorrell will receive $300,000 per game for the remainder of the 2022 season, whether he is coaching or not. The only extra cost for his dismissal would be if CU offered additional pay to other coaches for assuming additional roles during the remainder of the season … 
From FootballScoop.com … Three weeks into the season, the FBS level is at two firings and, now, two votes of confidence. Nebraska and Arizona State are in the former category, and on Sunday Colorado joined West Virginia in the latter.
AD Rick George's statement was essentially to acknowledge the fan base's anger at the Buffaloes start without much in the ways of niceties for head coach Karl Dorrell.
"I recognize and understand your disappointment and frustration and perhaps, even anger," George said. "Regardless of your feelings right now on Colorado Football, I encourage you to continue to support our tremendous football student-athletes, who need your cheers, encouragement and support now, more than ever."
Effectively, the statement informs the CU faithful that Dorrell will continue as head coach for the time being.
Dorrell was hired in February 2020, just before the covid pandemic. After a 4-2 showing and an Alamo Bowl appearance in 2020, CU slipped to 4-8 in 2021.
This season, Colorado is 0-3, with a 38-13 loss to TCU, a 41-10 loss to Air Force and a 49-7 loss to Minnesota to show for their non-conference season. As of Sunday, Colorado ranks 129th in scoring offense and 127th in scoring defense.
Of note: George signed Dorrell, an NFL position coach at the time whose only head coaching experience was a 35-27 stint at UCLA that ended in 2007, to a 5-year, $18 million contract. Even worse, if CU were to terminate him before the end of the calendar year, his buyout is equal to 100 percent of the remaining contract.
Upon conclusion of the regular season, Dorrell will be owed $7.8 million for the 2023 and '24 seasons, the final two years remaining on the contract. Dorrell's contract is, essentially, fully guaranteed. (A previous version of this article incorrectly listed Dorrell's buyout at $5 million.) The contract states he would be owed his full '23 and '24 salary if released in the 2023 calendar year and, if fired before that, he would be owed his '23 and '24 salaries plus whatever is left from his 2022 salary.
–
—
Karl Dorrell Weekly Press Conference: "Obviously, there is a tension, an urgency in our program"
From YouTube, courtesy of CUSportsNation
–
—
Game time set for CU at Arizona next weekend (7:30 p.m., MT, Pac-12 Networks)
From CUBuffs.com …
The Colorado at Arizona football game on Saturday, Oct. 1 will kickoff at 7:30 p.m. MDT (6:30 p.m. PT) and will be televised by the Pac-12 Network.
Other games for week five:
Friday, September 30, 2022
7:30pm MDT – Washington at UCLA (ESPN) – previously announced
Saturday, October 1, 2022
12:00pm MDT – Oregon State at Utah Pac-12 Network)
3:30pm MDT – Cal at Washington State (Pac-12 Network)
8:30pm MDT – Arizona State at USC (ESPN)
9:00pm MDT – Stanford at Oregon (FS1)
–
—
Three weeks in, still no answers at quarterback
From CUBuffs.com … Colorado's third game of the season — a 49-7 loss to Minnesota on Saturday — left Karl Dorrell's Buffaloes still with no clear answer on CU's quarterback situation.
The Buffs rotated their signal callers Saturday, with J.T. Shrout getting the start and Brendon Lewis then coming in for the next series, a rotation that continued throughout the game. Neither managed to produce any kind of consistency with their turns at the helm, although Shrout did manage to direct CU's only scoring drive, a 10-play, 75-yard march late in the fourth quarter that helped the Buffs avoid being shut out.
Shrout finished the game 4-for-11 for 24 yards and a touchdown, a four-yard toss to tight end Austin Smith. He was also sacked twice and lost a fumble on CU's first play of the game, the second week in a row he lost a fumble on Colorado's opening possession.
Lewis finished 2-for-6 for 14 yards and had 1 yard rushing.
"We gave both of them chances and both of them did a few good things here and there, but really nothing to just put it together in a series," Dorrell said. "Our best series was in the fourth quarter, but that's too little too late. We need that efficiency in the first quarter, so we have a lot to do."
Strictly in terms of statistics, Colorado's most-productive quarterback of the day was true freshman Owen McCown, who made his first appearance as a Buff on CU's last possession of the game. McCown completed four of seven attempts for 52 yards, including a 28-yard throw to Jaylon Jackson — CU's longest play from scrimmage of the day — and he also ran three times for 9 yards.
But his appearance came against Minnesota's backup defense, and at a time when the Gophers were simply running out the clock.
Still, Dorrell hinted that he might consider giving McCown more time in the future.
"That  is something to consider when you're in the position we're in right now," he said. "We're 0-3. We have to find something that's going to give us a spark. So we're going to turn every corner, turn over every stone to try to figure out as a staff what can give us a spark that we need."
… Continue reading story here …
–
—–
September 18th 
… CU in a few minutes … 
Statement from Rick George: "I want you to know that I hear you"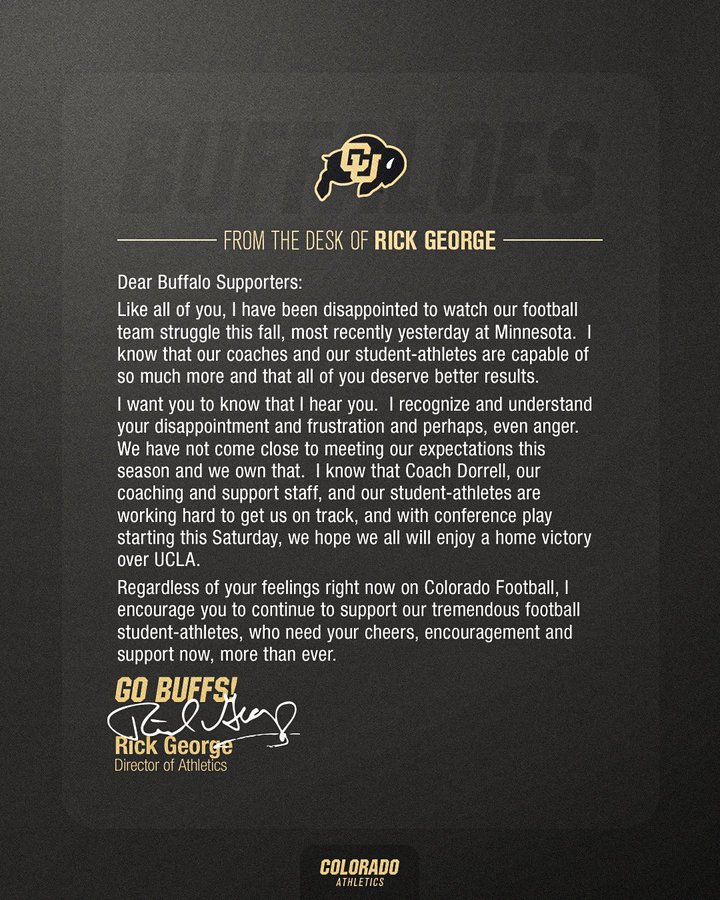 –
—
Neill Woelk Takeaways from the Minnesota debacle
From CUBuffs.com … Somehow, some way, Karl Dorrell's Colorado Buffaloes need to find the reset button.
The non-conference schedule is finished. Three games and three losses, none of them anything resembling a close game.
But still ahead are nine Pac-12 games, representing a chance to start anew. Dorrell and his staff must find a way to turn these Buffs back in the right direction and experience some success.
Saturday's 49-7 loss at Minnesota certainly wasn't a step in the right direction. From Dorrell on down, the Buffs insisted they were ready to put forth an improved performance, but instead Colorado regressed in virtually every area.
Now, the Buffs have to find a way to manufacture some small, sustainable successes and build on those.
Our takeaways from the Minnesota game:
1. Self-inflicted wounds are an issue. Nobody is saying the last two games turn out differently if the Buffs don't fumble the ball away deep in their territory on their first possession of the game.
But those plays no doubt put the Buffs in a big hole early and set the tone for the rest of the game. Those are mistakes the Buffs can't afford.
Other critical errors? While the Buffs haven't committed an inordinate amount of penalties — 13 in three games — they have had a handful of drive-killing flags that put the offense behind the sticks and halted what had the potential to become scoring drives. For an offense that has had trouble developing any consistency, those flags have been an issue CU can ill-afford.
… Continue reading story here …
–
—
Rooney: This is a Program Going in Reverse
From the Daily Camera … If Dorrell's bunch truly is putting in the effort every day at practice, kudos to them. It can't be easy to do so when you're getting rolled every Saturday. But the idea this simply is a young team that hasn't learned how to translate its practice habits to the game field is laughable. The results on Saturdays clearly say otherwise.
At least Dorrell has overseen a little history. No other Buffs team in the 132-year history of the program has started 0-3 while losing all three games by at least 25 points. Yet these lows sink even lower. Between last year's shutout loss against the Gophers in Boulder and Saturday's blowout, it took CU 111 minutes, 5 seconds to get on the board against Minnesota. Minnesota. Certainly a rugged, physical, veteran team likely headed to a bowl game, but we're not talking about Michigan or Ohio State. Nevertheless, CU had been outscored 79-0 by the mighty Gophers in the home-and-home series until the late score.
About that score. CU now has all of three touchdowns this season. The same total Minnesota recorded within the game's first 21 minutes. Two of the Buffs' three touchdowns were squarely entrenched in garbage time, meaning CU has produced exactly one touchdown drive of consequence through 12 quarters.
Where this program goes from here, besides the bottom of the Pac-12 Conference standings, might provide the only drama in a 2022 season quickly going down the tubes. It's been said previously from this corner that this season, with the offseason roster overhaul and coaching staff shakeup, has the feel of the first year of a coaching regime, not year three. Yet exactly how much patience can athletic director Rick George afford, given the embarrassing product on the field? This isn't about a young team taking its lumps before it ultimately, someday, gets on track. This is a program going in reverse.
… Continue reading story here …
–
—
Post-Game Quotes – Karl Dorrell; RB Deion Smith; S Isaiah Lewis 
From CUBuffs.com …
Head coach Karl Dorrell … 
Opening statement 
"I wasn't expecting that type of performance, given a week we had last week. We have a lot of extremely hard work to do, both mentally, physically everything we have to really try to figure out what's going to be the best things to do both offensively and defensively as we move forward. It was it was challenging the whole day. Poor start again, in the in terms of what how the game started. We're just not doing those things in a positive way early for us to be as good as we can be. And it's unfortunate, you know, it's unfortunate and it's frustrating. They're frustrated, we're frustrated. So we got to get back into work; there's nothing more that we can do right now, quite frankly, then to just get back to hard work and trying to get this to come out of our players, you know, try to get production, efficiency, execution. We got to get all those things done correctly, for us to be as good as we can be. But right now, we're, we're far away from that."
On Rotating QBs
"I felt it was gonna give them a chance to get in rhythm be honest with you. It's how practices have been, you know, so we gave both of them chances. Both of them did a few good things here and there, but nothing really nothing really just put it together in a series. And that was the unfortunate thing. Our best series was in in the fourth quarter, we get one long series and we score but that's too long or too little too late. We need that efficiency in the first quarter. So we have a lot of work to do. We do this got a ton of work to do. I know"
On Team Not Performing To Expectations
"It's surprising, but you know, a part of it is we have to continue as coaches to stress the fundamentals, the factors that are important for us to be successful. Sometimes it takes a little longer than my expectations. And evidently that is the case right now, but we got to continue to work. Continue to coach them well to get them to improve and play better football."
On Challenges Of Mounting Losses
"I didn't feel any quit out there. I don't know if you guys saw that. I didn't see that at all. So I feel good about our attitude about playing the game. We're just not very good at really playing it effectively and proficiently. That's where we have to be better."
On Feeling Heat About His Job
"No I'm more frustrated; with the players because I know that they want it but they we just don't know how. We don't know the how yet. So we just got to keep pushing the envelope to keep those guys moving forward about finding the how."
Running back Deion Smith … 
In General … "Kind of lost for words right now. I don't really know how to digest this or kind of process this because I mean, we talked during the week but, you know, just we were just focusing on doing the small things right you know, to make those big improvements. But the frustration comes in whenever we get out here on game day, and it doesn't quite happen the way it goes the way we want it to. And even on top of that, it's just not a good showing, you know, just because the scoreboard doesn't represent the type of team that we have, which I mean, I know that's easy to say. But, I mean, that's something that we all know in our hearts and even in our work ethic."
On Surprising Start … "So weird to me just because I feel like everything looks different on the inside out. And then when we get out here, we do everything well, for six days. We get out here on Saturday, and instead of it being like an easy thing and like something to where everything's was on all four cylinders, just like this is like, feels like the hardest day of the week for us."
Safety Isaiah Lewis … 
On the Mood of the Team … "You know, we have heart. So we're hungry team. We're not where we want to be, and that's obvious, but I will say that we feel like a brotherhood, no matter what happens. So we're continuing to fight and we know that we're always looking forward and we're gonna fight in the moment, but we, you know, we're not going to dwell, we make our corrections and then we move forward."
On Results Not Translating onto the Field … "We just need a little more heart. I'll be honest, we just need to you know, when we get punched in the mouth, we need to punch right back when we're missing that right now. So my message to the team around locker room was heart.
On What Wend Wrong on Defense … "Execution. Coaches did a great job scouting the looks. We were prepared for the looks and it just came down to players making the plays."
On if Fan Support Would Dwindle … "We're all we got; that's what we say. We need the support, and we appreciate the support but if it's not there and that's all right we're going to rely on ourselves and you know be rely on our brothers."
–
—-