—
Pac-12 Notes – UCLA Week
—
September 24th – Game Day!
… Foe Pause … 
UCLA Preview: Five Players to Watch
From the Daily Camera … 5 Players to Watch:
• DB Stephan Blaylock, Sr.: He has started 34 consecutive games and was All-Pac-12 honorable mention in the preseason. In his career, he has 141 tackles, 6.5 tackles for loss and two interceptions. Tied his career high with 11 tackles against CU in 2021.
• WR Jake Bobo, Sr.: A transfer from Duke, where he caught 74 passes in 2021. This year, he's caught 11 passes for 168 yards and a touchdown. In his career, he has caught 137 passes.
• RB Zach Charbonnet, Sr.: Former Michigan transfer had a breakout season with the Bruins last year, rushing for 1,137 yards and 13 touchdowns. He's played in only two games this year, but had 191 yards and a touchdown.
• LB Darius Mausau, Sr.: He was first-team All-Mountain West with Hawaii in 2020 and 2021. So far this year, he's had 15 tackles, giving him 184 for his career.
• QB Dorian  Thompson-Robinson, Sr.: In his fifth season as the starter, he has completed 72.6% of his passes this year for 662 yards, six TDs and an interception. He's also rushed for 114 yards. In his career, he's thrown for 8,203 yards and 67 touchdowns and rushed for 1,295 yards and 18 touchdowns.
… Read full preview article here …
–
—–
September 23rd
… Foe Pause … 
UC Regents meet: No public action taken on UCLA
From the San Jose Mercury News … UCLA chancellor Gene Block appeared before the University of California's Board of Regents during an open session on Thursday, but not for the reason fans of the Bruins and the Pac12 might have expected.
Block handed out an academic award — one of many bestowed during the meeting at UC San Diego — but didn't utter a public peep about UCLA's move to the Big Ten.
Nor did the regents, who discussed the issue in a closed session but offered no public statement afterward.
Two-and-a-half months after UCLA and USC formally accepted membership in the Big Ten starting in 2024, the matter remains unresolved.
— Will the regents, irked by the manner in which UCLA exited the Pac-12 and concerned about the collateral damage to Cal's athletic finances, attempt to block the move?
— Will they require the Bruins to subsidize Cal for revenue lost? (Without a presence in the Los Angeles market, the Pac-12 stands to lose millions of dollars per year in media rights income.)
— Will they attempt to strong-arm the Big Ten into inviting Cal, as well?
— Or will the regents continue to discuss the issue until it loses all political steam and vanishes into the bureaucratic ether?
"If they had tried to reverse it in July or August, it might be different," a source said. "It's less likely now because of the TV deal."
In mid-August, the Big Ten announced a media rights agreement with Fox, CBS and NBC that eventually will pay the 16 schools, including the Bruins and Trojans, in excess of $70 million annually.
When might the regents take action or walk away from the issue altogether?
The Hotline reached out to the UC Office of the President for comment about the meeting or clarity on the next step and was told to watch the open session for any remarks on the Big Ten. But the regents did not discuss the matter on the livestream available to the public.
The L.A. Times reported that Richard Leib, chair of the regents, has previously said he "hoped the matter could be wrapped up in the next few months."
–
—
Bettors jumping on Oregon State after USC initially listed as a two-touchdown favorite
From ESPN … An outlier opening line on USC-Oregon State prompted a flood of bets on the underdog Beavers this week and left one sportsbook with more money at stake on the Pac-12 tilt than any of the week's NFL games.
Caesars Sportsbook on Sunday opened USC as a 13.5-point favorite over Oregon State. Minutes later, oddsmakers at Circa Sports put up the Trojans as only a 5-point favorite. Bettors pounced on the discrepancy, causing the line to drop significantly at Caesars and tick up slightly at other sportsbooks, before settling at consensus number of USC -6 on Sunday night.
"We had a high opinion on [USC]," said Joey Feazel, lead college football trader for Caesars Sportsbook. "So we put out a number to kind of attract Oregon State money. And it worked."
Action from influential bettors came in on the Beavers immediately at Caesars, and Feazel moved the line down aggressively. Line archives from odds provider Don Best Sports show Caesars went from USC -13.5 to -9 within 30 minutes and was down to -7 less than two hours after posting the opening number.
On Thursday, Caesars reported that 88.2% of the money wagered on the USC-Oregon State point spread was on the underdog Beavers, including a $110,000 bet on Oregon State +7 placed Tuesday in Nevada.
Meanwhile, sportsbooks that opened USC as less than a touchdown favorite were reporting lopsided action on the Trojans. At DraftKings, 79% of the money bet on the game's spread was on USC, and at the SuperBook at Westgate Las Vegas, there were seven bets on the Trojans for every one on the Beavers.
"I'm sure we will need the Beavers huge at kickoff," said John Murray, executive director of the SuperBook. "The Trojans are public darlings again."
… Continue reading story here …
–
—–
September 22nd
Northwest Pac-12 teams 11-1; all four are Pac-12 contenders
From The Athletic … Say this for Rick Neuheisel's "Northwest Championship": It might have been a simple motivational ploy with no trophy and no formal honor conferred upon the winner, but it does have a Wikipedia page.
If you're unfamiliar with this relatively deep Pacific Northwest football cut, you probably have company. The gist: In 2002, Washington was reeling at 4-5 as it entered the final three weeks of the season, with regional rivals Oregon State, Oregon and Washington State rounding out the schedule. The Huskies couldn't win the Pac-10, but Neuheisel attempted to rally them by embracing the opportunity to finish with three wins over their PNW foes. They pulled it off, capped by a triple-overtime Apple Cup victory over the No. 3-ranked Cougars.
"It had to be enough," quarterback Cody Pickett told ESPN at the time. "Everybody left us for dead. We had to rally around something."
Twenty years later, the distinction of Northwest Champion (yes, uppercase, why not?) might have real significance, if the season's first three weeks are any indication. The four Pacific Northwest schools are a combined 11-1, the only loss Oregon's 49-3 blitzing by No. 1 Georgia in Week 1. Three of the schools — Oregon, Washington and Washington State — have a top-25 nonconference victory. Two are currently ranked in the Associated Press top-25 poll — Oregon at No. 15 and Washington at No. 18 — and the other two, unbeaten Washington State and Oregon State, each are receiving votes.
With some assistance from Matt Brown, The Athletic's resident AP top-25 historian, we discovered there has never been a single day on which all four Pacific Northwest programs played games as ranked teams. There is, however, precedent for each being ranked in the same poll. It has happened precisely one time, on Sept. 22, 2002: Oregon at No. 9, Washington at No. 13, Washington State at No. 16 and Oregon State at No. 23. But the Ducks didn't play that weekend, the Beavers lost to USC, and OSU never made it back into the top-25.
Point is, the stars rarely align for all four programs to excel at once.
"Good football is being played, and it tells us that we've got to be at our best," UW coach Kalen DeBoer said. "That's why we've got to keep improving, because those games down the road are going to be really big ones, and they're going to be against good football teams. … We represent each other, in a way, especially when we're playing these nonconference games. The Pac-12 is very strong. Speaking out of both sides of my mouth here, it's great to see, but it's also an understanding that we're going to have our hands full throughout the entire 12-game season."
You may have to wait a while to actually see all four PNW teams ranked at the same time, because Oregon and WSU play each other in Pullman this weekend. Forget for a moment about the rankings, though. Through three weeks, there is no reason to write off any of the Pacific Northwest programs as potential Pac-12 contenders.
… Continue reading story here …
–
—–
September 21st
Amazon will play a role in Pac-12 media rights; possible realignments
From CBS Sports … Amazon has emerged as a significant party in college football media rights talks and therefore may become a player in further conference realignment, CBS Sports has learned. The technology giant has been linked to all three conferences that figure to come to resolutions on conference composition in the coming months given its interest in the Big Ten, Big 12 and Pac-12, according to industry sources.
The issue is quality of available content. While Big Ten commissioner Kevin Warren remains interested in adding Pac-12 teams, his top games have already been distributed elsewhere after the league signed a new media rights deal with CBS, Fox and NBC last month.
Amazon finds itself in a situation where it is likely weighing whether to buy top-tier games from the Big 12 and/or Pac-12 compared to lower-profile options from the Big Ten. The Big 12 and Pac-12 are already in competition seeking new media rights deals with Fox and ESPN believed to be the primary bidders.
How many games would Amazon want and at what expense? There is still skepticism within the industry about the viability of major live sports events that are only made available through streaming services.
"Streaming is going to continue to grow," one industry source told CBS Sports, "but there is a reason why the NFL is still [largely] on network television."
Another industry source surmised that, in further expansion, there would be no Big Ten games available for Amazon involving the most attractive teams (think Michigan, Ohio State, Penn State). That reality would have to be considered against top Big 12 games such as Oklahoma State-Cincinnati and Houston-Texas Tech. Are those games more desirable than downstream Big Ten content?
In a historic deal finalized last month, the Big Ten's entire package of football games — approximately 112 per year — is now spoken for across CBS, Fox and NBC beginning in 2023. Games will also air on FS1, Big Ten Network and Peacock with CBS games simulcast on Paramount+.
However, Amazon getting involved with college football could change the paradigm. The platform would surely use its NFL "Thursday Night Football" package to promote college games on Saturday and vice versa. Warren was known to be previously interested in getting a major streamer involved in that existing Big Ten deal.
If Amazon wants to join the Big Ten party, doing so would require the conference to expand beyond its forthcoming additions of USC and UCLA. California, Oregon, Stanford and Washington would create more inventory, but at what cost? The Big Ten's decision makers — and its new rightsholders — have shown little interest in expanding the league beyond 16 teams as any additional programs would not hold equal value.
The likes of Indiana, Maryland, Minnesota, Purdue and Rutgers would be unlikely to support expansion. It's some of their games that would largely be placed on Amazon if the conference grows further.
… Continue reading story here …
–
—
… Foe Pause … 
Pac-12 Commissioner George Kliavkoff expects no defections: "Everyone is committed"
From ESPN … Pac-12 commissioner George Kliavkoff does not anticipate any more teams exiting for the Big Ten or the Big 12, as his league continues to negotiate its next media rights deal.
Speaking on "Canzano & Wilner: The Podcast," Kliavkoff said the Pac-12 remains unified despite rumors of additional Big Ten expansion and the Big 12's aggressive pursuit of Pac-12 members.
USC and UCLA announced in June that they were leaving the Pac-12 for the Big Ten in 2024, leading to speculation that other schools, namely Washington and Oregon, could soon follow.
"Listen, I think if schools would have left for the Big Ten, they would have left for the Big Ten already," Kliavkoff told reporters John Canzano and Jon Wilner. "Also, I'm very focused on things that are in my control."
Kliavkoff also doubled down on his guarantee from July that no Pac-12 schools would depart for the Big 12, which reportedly has been targeting Arizona, Arizona State, Colorado and Utah. Several administrators from those schools have reiterated their commitment to the Pac-12.
"I talk to our presidents and chancellors and athletic directors all the time; we have conversations about this," Kliavkoff said. "Everyone is committed to working together to get a great grant of rights, following a good media rights deal, and I take people at their word."
The Pac-12 opened its media rights negotiations earlier than anticipated because of the USC and UCLA departures. Kliavkoff said that the process is complex but that a deal would happen "in the near future," also saying he's confident the 10 remaining members will sign a grant of rights agreement "if we put the right agreement in front of them."
The league's current media deal expires in 2024.
"The media rights deal … has always been a balance," Kliavkoff said. "Certainly revenue is at the top of the priority list, but we also have to balance that against distribution. We really want our content to be available to any of our fans who want to see it. I've set a goal that our content should be available on any piece of glass connected to the internet."
… Continue reading story here …
–
—–
September 20th
… Foe Pause … 
Arizona State "sleeping giant" moniker again raised: "A very coveted job"
From CBS Sports … Calling Arizona State a sleeping giant did a disservice to snoozing Shreks everywhere. For decades, ASU has been among the most underachieving programs considering … the climate, the campus (45,000 undergraduates), the demographics (Phoenix is the fifth-largest U.S. city), the conference (a major one in the Pac-12) … heck, even the hiking.
But the Arizona State job that suddenly came open Sunday also got a lot more attractive. That's usually not the case when a coach departs, particularly one whose arrival was questioned in the first place.
When Herm Edwards agreed to "relinquish his role" at ASU, the arrow immediately began pointing up. Just not for the reasons you might think.
No matter who coaches Arizona State, it is going to be a lot easier to win the Pac-12. USC and UCLA are gone. San Diego State and Fresno State might be replacing them. Even if they don't, the Pac-12 is a diminished league that, at least, will be all but guaranteed a spot in the expanded College Football Playoff.
That is assuming the Pac-12 stays together. Arizona State seems like a chess piece in a tug-of-war between the Pac-12 and Big 12 in realignment. That's not necessarily a bad thing. With the right guy, Arizona State will have a good shot at a playoff spot.
Edwards' departure did nothing but enhance the chances of the Sun Devils avoiding major penalties in their current NCAA investigation. According to the NCAA, Edwards oversaw a program — and perhaps had direct involvement – in welcoming prospects during the COVID-19 recruiting dead period.
The assistant coaches deemed responsible are already gone. Now, so is the coach. Meanwhile, the NCAA is in the process of redefining its enforcement process. The association is on record saying it doesn't want to punish innocent players. The NCAA has options short of a postseason ban. And really, that's all anyone cares about in a major case. It now seems to be only a matter of timing whether Arizona State will escape a postseason ban.
As Arizona State begins pursuing coaches, being able to avoid that postseason ban would exponentially expand the scope of the search.
"There are a lot of folks who think this a very coveted job," said Ray Anderson, ASU's vice president of athletics.
… Continue reading story here …
–
—
"The Rise" continues: CU "up" to No. 3 in CBS Bottom 25
From CBS Sports … Back in 2008, Washington and Washington State played what had to go down as the worst in-state rivalry game of all time. The matchup featured two teams with zero combined FBS wins, a mark so embarrassing that heady viewers took to calling the "Crapple Cup." It's a real shame Colorado and Colorado State aren't playing their semi-annual rivalry game this season because The Centennial Catastrophe could be a battle of futility for the ages.
Things are off to a brutal start for Jay Norvell at Colorado State as the Rams lost a third straight game to open his tenure. Losing to Michigan and Washington State is fine, but dropping to Middle Tennessee by multiple scores? Yuck! That'll earn you the No. 1 spot. On the other side, perhaps in an even deeper hole, Karl Dorrell's Colorado is aimless and pointless. The Buffaloes lost by 31 points to Air Force, gave up a combined 87 to TCU and Minnesota and now have nine consecutive Pac-12 games to break out of the No. 3 slot.
"I feel good about our attitude playing the game, we're just not very good at really playing it effectively," Dorrell said after the loss to Minnesota, one of the saddest football quotes of all time.
The state of Colorado boasts the No. 127 and No. 129 offenses in college football. The scoring defenses aren't much better: No. 125 and 127. Colorado does not have a receiver with 10 catches. Colorado State averages 1.0 yards per carry. The best quarterback in the state — by a mile — plays for Air Force, an option offense. This is legendary stuff.
As you may have noticed, Tom is out this week, but don't fret. As a fellow college football sicko, feel confident that I'm more than prepared for the challenge. Let's get started.
No. 15 … Georgia Tech (the only other Power Five conference school on the list) … Pack watch is officially descending upon Atlanta after the Yellow Jackets were blanked 42-0 by Ole Miss. The Rebs posted twice as many yards, first downs, yards per pass attempt and triple the yards per carry. A nonconference slate featuring Ole Miss, UCF and Georgia is certainly a decision. (NR)
No. 3 … Colorado … We've officially reached ominous vote of confidence time in Boulder, Colorado, and not a second too soon. The Buffs are the worst team in the Power Five by a country mile, and probably won't win a game. (5)
No. 1 … Colorado State … Last place in the country feels a little unfair, but numbers don't lie. The Rams have lost their three games by a combined 123-33. Up next is Sacramento State. (2)
–
—–
September 19th
… Foe Pause … 
Colorado a 21.0-point underdog (four of six Pac-12 home teams underdogs this weekend)
From VegasInsider.com …
Pac-12 games … 
UCLA at Colorado … 12:00 p.m., MT, Pac-12 Networks … Colorado is a 21.0-point home underdog 
Oregon at Washington State … 2:00 p.m., MT, Fox … Washington State is a 6.5-point home underdog 
Arizona at California … 3:30 p.m., MT, Pac-12 Networks … Cal is a 4.5-point home favorite
USC at Oregon State … 7:30 p.m., MT, Pac-12 Networks … Oregon State is a 6.0-point home underdog
Stanford at Washington … 7:30 p.m., MT, FS1 … Washington is a 9.5-point home favorite
Utah at Arizona State … 8:30 p.m., MT, ESPN … Arizona State is a 15.5-point home underdog (was 5.0 before the announcement of Herm Edwards' firing)
–
—
ASU names Shaun Aguano as interim coach
From Yahoo Sports … Arizona State football fired Herm Edwards as coach on Sunday after the team's 30-21 loss to Eastern Michigan on Saturday night and named running backs coach Shaun Aguano as the interim coach.
Who is Shaun Aguano?
Aguano was hired by Herm Edwards in January 2019 as Arizona State's running backs coach after an impressive stint as the head coach at Chandler High School in Chandler, Arizona.
At Chandler, Aguano led the Wolves to four 6A state titles in five years, including three in a row before going to ASU.
He spent 18 years at Chandler, the last eight being the team's head coach, where he posted an 88-19 record.
An offensive mind, Aguano sent numerous players to Division I college football including 2,000 yard rushers T.J. Green, Drake Anderson and DeCarlos Brooks.
Aguano was Chandler's offensive coordinator when Paul Perkins was a standout running back.
He also was known for helping some elite Arizona high school quarterbacks including Brett Hundley, Darell Garretson, Mason Moran, Bryce Perkins and Jacob Conover.
Former ASU wide receiver N'Keal Harry also played for Aguano, as did Chase Lucas, who became a cornerback at ASU after playing running back and receiver at Chandler.
–
—
List of potential candidates to replace Herm Edwards 
From CBS Sports … Herm Edwards was fired Sunday just three games into his fifth season at Arizona State. The missteps that got Edwards to that point remain almost too laughable to note.
When he was hired, Edwards was perceived an experienced honorable alternative to inexperienced cheaters. But he hadn't coached in college in 29 years. No problem, said athletic director Ray Anderson, Edwards' former agent. This would be an NFL model where Herm could serve as the CEO-coach. Someone else would take of the details like, you know, recruiting.
Critics were told not to worry about Edwards as a recruiter. Even though he hadn't coached in college in 29 years, Edwards would be at ASU as a figurehead. That's fine if you're Bobby Bowden and you've built a program from scratch. It's another thing to inherit a middle-of-the road Pac-12 that really didn't have a plan until this.
Edwards wasn't bad (26-20). He probably has a standing offer to return to ESPN as the thoughtful, grandfatherly analyst type. But he wasn't right for a program in an embattled conference that eventually found itself in a massive recruiting scandal of its own making.
Now, as an Arizona State fan, you have to trust Anderson to lead the coaching search. He's already 0-1. You also have to trust president Michael Crow, who flipped on Edwards quicker than an up-tempo offense.
I've always said it's hard to screw up Arizona State. The weather. The West Coast. The city of Tempe. You should be able to find 85 skilled guys who would kill to play there. Yeah, well, ASU's last Rose Bowl was 1997.
Here are the best candidates to lead Arizona State out of the, well, desert:
1. Matt Rhule, Carolina Panthers coach: The leader in the clubhouse if he's interested. Anderson loves NFL guys (obviously). If Rhule leaves the Panthers and isn't snatched up by Nebraska, it shouldn't be a tough decision for Arizona State. Dave Aranda at Baylor is still using players Rhule left behind who helped him win the Big 12 last season. The consummate program builder would be at home in the desert.
2. Byron Leftwich, Tampa Bay Buccaneers offensive coordinator: The former Marshall star quarterback is in his fourth year as the Bucs' offensive boss. Tom Brady loves him. Leftwich already has a Super Bowl ring. Bruce Arians said he wouldn't have come back to the Bucs if it wasn't for Leftwich. An underrated talent who you better believe Anderson has on his radar. NFL teams may be interested, too.
3. Dan Mullen, ESPN analyst: Mullen needs to rebound after the Florida experience. He's on the typical TV analyst rehab tour for a year to keep his name out there. Not that he needed it. Arizona State needs an identity. Mullen, with his offensive chops, would be that identity. Yes, he's quirky. Maybe more than that. But as currently structured, Mullen could win the Pac-12. Soon.
4. Todd Monken, Georgia offensive coordinator: Monken needs a head coaching job — now. If for no other reason than he's taken quarterback Stetson Bennett and made him one of the best offensive players in the country. He has a national championship ring. Monken has tons of NFL experience — recently, unlike Herm, who hadn't coached at all since 2008 before taking ASU. Head coaching experience as well in a brief, unsuccessful run at Southern Miss.
… Continue reading story here …
–
—–
September 18th
… Foe Pause …
BREAKING NEWS: Pac-12 coach fired (and it's not Karl Dorrell)
From ESPN … Arizona State and Herm Edwards came to a mutual agreement to end his coaching tenure on Sunday, with athletic director Ray Anderson announcing the decision in a social media post.
Sun Devils players were brought together earlier in the day to be informed of the school's decision, sources told ESPN's Pete Thamel on Sunday. Running backs coach Shaun Aguano will be the interim coach.
"We have made the decision to make a change in the leadership of our football program, effective immediately. By mutual agreement, coach Edwards and I have determined that he will relinquish duties as our head coach," Anderson wrote. "At the core of this is doing what is best for our current team, staff and university. I understand the frustrations out there. We must do better and that starts with our decision today."
Arizona State lost at home to Eastern Michigan, 30-21, Saturday night and is in the middle of a significant NCAA investigation. The Sun Devils are 1-2 and have lost consecutive games. Last week, Arizona State fell at Oklahoma State 34-17.
Edwards managed to hold on to his job after an up-and-down 2021, but his status all season has been shaky. Arizona State is still awaiting word on possible NCAA sanctions for allegedly hosting recruits on campus during an NCAA-mandated COVID-19 dead period in 2020.
Edwards, a former NFL coach, was considered an unconventional hire when he was tapped by Crow and Anderson to lead the middling program. A former NFL agent, Anderson represented Edwards during his coaching days with the New York Jets.
Edwards spent the nine previous years as an NFL TV analyst and had not been a college coach since serving as San Jose State's defensive backs coach from 1987-89.
The loquacious coach changed the narrative his first few seasons in Tempe, proving to be an adept recruiter while leading the Sun Devils to two straight bowl appearances. The goodwill didn't last.
Arizona State was hit hard by COVID-19 during the delayed 2020 season, finishing 2-2. The Sun Devils opened the 2021 season 5-1 before suffering consecutive ugly losses, giving up 56 straight points to Utah and Washington State.
Edwards was thought to be on the hot seat at the end of the season, but Anderson said he would remain as coach following a lopsided win over rival Arizona.
Arizona State had an exodus of players and coaches during the offseason, losing five assistant coaches, 11 players drafted or signed by NFL teams and numerous key players to the transfer portal. Edwards rebuilt the Sun Devils mainly through the transfer portal, adding 43 new players to the roster.
On Saturday night, in Arizona State's second home game of the season, Eastern Michigan (2-1), of the Mid-American Conference, never trailed. It was the Eagles' first victory over a Pac-12 team.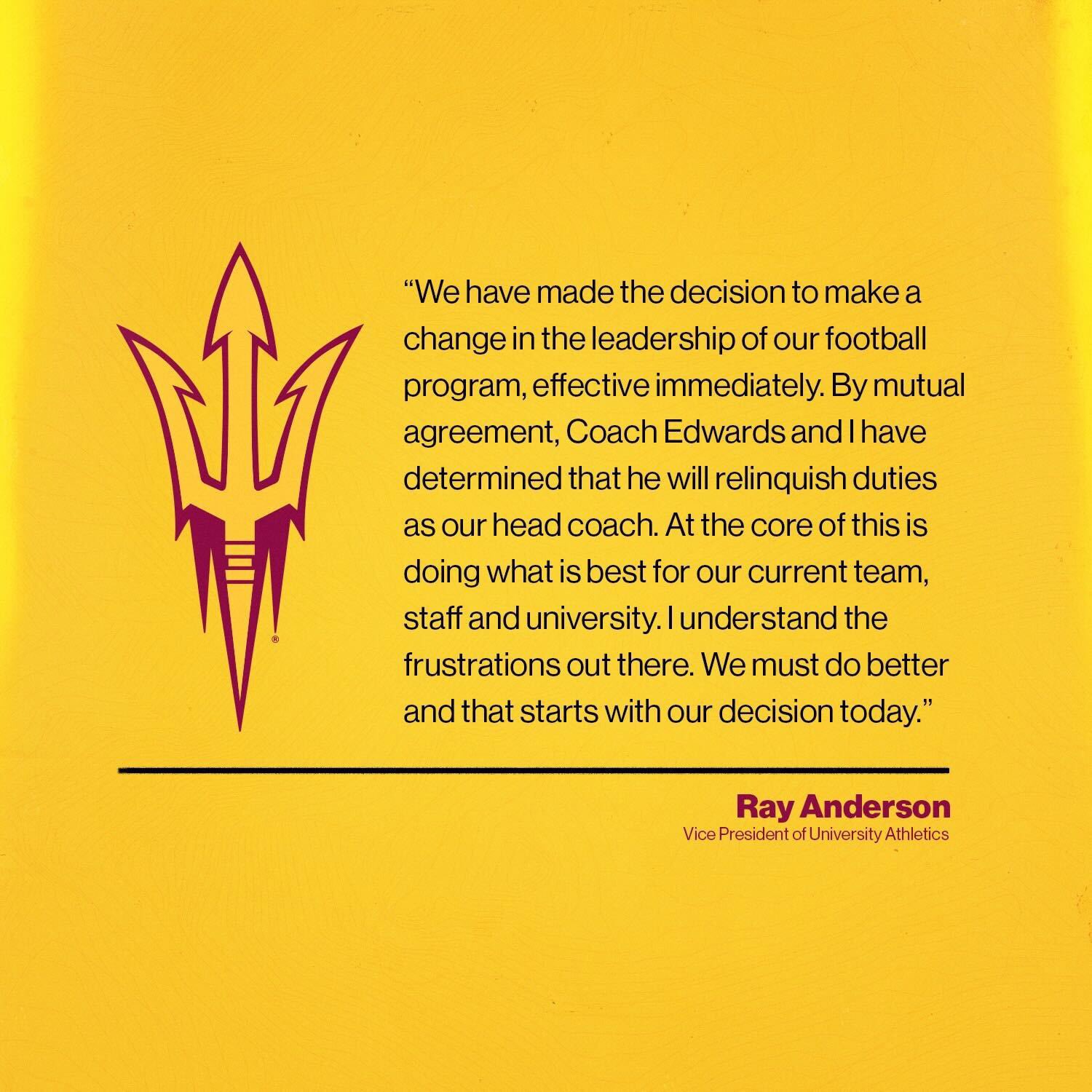 –
—
Troy Aikman: Attendance at UCLA games "an embarrassment"
Note … UCLA announced attendance for the first three games of the 2022 season … Bowling Green: 27, 143 (all-time Rose Bowl low) … Alabama State: 33,272 … South Alabama: 29,344 … Average for three games: 29,919, or 33.7% of the Rose Bowl's 88,565 capacity … 
From The Comeback … While they were given an upset scare, the UCLA Bruins prevailed 32-31 over South Alabama with a last-second field goal from Nicholas Barr-Mira. Not many people saw the dramatic win in person, though. That irked one of the greatest players in UCLA history, Troy Aikman.
During the game, Sports Illustrated's Ross Dellenger shared a photo (below) that was taken and posted to Twitter by Jonathan Adams. The photo showed a sparse crowd, with several empty rows of seats with Dellinger's caption "This is a pic from the Rose Bowl today from @JonathanAdams…Woof."
Aikman did not like what he saw and made his frustrations known.
This is an embarrassment but we couldn't fill the Rose Bowl in 1988 when we were the #1 team in the country. Anyone else at UCLA think it's time for an on-campus 30,000 seat stadium? Of course, if we can't play better than we did today, it would be half-empty too.
–
—
September 17th 
… Foe Pause … 
UCLA (a 15.5-point favorite) escapes with a 32-31 home win over South Alabama
From ESPN … Nicholas Barr-Mira kicked a 24-yard field goal on the final play of the game and UCLA escaped South Alabama's upset bid with a 32-31 victory Saturday.
The Jaguars looked to be in control of becoming the fourth Sun Belt Conference team in two weeks to beat a Power Five team, but were done in when a trick play went awry. The Jaguars tried a fake field goal with 2:52 remaining but Tanner McGee was sacked by Carl Jones Jr., giving the Bruins the ball at the 33.
UCLA drove 61 yards in 10 plays, culminating in Barr-Mira's second field goal of the day.
Dorian Thompson-Robinson completed 20 of 30 passes for 263 yards and three touchdowns as the Bruins start 3-0 for the first time since 2015.
La'Damian Webb rushed for 124 yards and a touchdown and Carter Bradley passed for 237 yards and two scores for South Alabama (2-1), which was looking to join Marshall, Appalachian State and Georgia Southern in the Sun Belt's hit parade. Last Saturday, Marshall and Appalachian State posted upsets against ranked teams Notre Dame and Texas A&M and Georgia Southern's win over Nebraska got Scott Frost fired.
Webb and Bradley transferred to South Alabama this season. Webb, who spent the past two seasons at Jones Community College in Mississippi, had his first 100-yard game.
Bradley was at Toledo the last four years and nearly led the Rockets to a road upset at Notre Dame last season. He completed 26 of 36 passes, including a 4-yard TD to Caullin Lacy late in the third quarter to put the Jaguars up 31-23 late in the third quarter.
South Alabama led 20-17 at halftime, but UCLA took its first lead on the opening drive of the second half when Thompson-Robinson connected with Kam Brown for an 11-yard touchdown. Barr-Mira's 28-yard field goal extended the lead to 23-17 before South Alabama responded.
Marco Lee's 1-yard run up the middle for his second TD put the Jaguars up by one with 1:43 remaining in the third. South Alabama got the ball back when Thompson-Robinson fumbled on the first play of the ensuing drive and it was recovered by Ed Smith IV at the UCLA 6. Two plays later, Lacy's score extended the Jaguars lead to eight.
… Continue reading story here …
–
—
Arizona State becomes first Pac-12 school to lose to a team from the Mid-American Conference
… Note … CU was a member of the Big 12 when the Buffs were humbled by Toledo in 2009 … 
From ESPN … Samson Evans had never run for 100 yards in a game at Eastern Michigan. He went way beyond that Saturday night.
"Two years ago, if you had told me I'd have a game like this I don't know if I would have believed you," Evans said after carrying 35 times for 257 yards to lift the Eagles past Arizona State 30-21.
"The O-line blocked phenomenally, there was a play where the receivers were blocking really well, the quarterback, everybody doing their job and I just capitalized on it."
Evans had 96 yards by halftime — as the Eagles (2-1) never trailed in posting the Mid-American Conference's first victory over a Pac-12 team.
"Samson's the real deal, he runs really hard. We really believe in him," Eastern Michigan coach Chris Creighton said. "We didn't run the ball particularly well in the first couple weeks and I think our guys wanted to prove that we can."
Eastern Michigan scored on four of its five first-half possessions, with only an interception stopping the Eastern offense. Arizona State (1-2), meanwhile, didn't get a first down until late in the first quarter, when they were already behind 10-0.
Xazavian Valladay's 44-yard touchdown run with 10:48 to play cut Eastern Michigan's lead to 27-21 early in the fourth quarter. But Evans ran 32 yards on third-and-1 to give the Eagles a first down at the ASU 34. Evans carried on seven consecutive plays on the drive, which led to Jesus Gomez's third field goal, a 20-yarder to make it 30-21 with 4:24 to go. A fumble on ASU's next drive finished it off.
Taylor Powell started at quarterback for the Eagles and completed 10 of 14 before being replaced by Austin Smith in the second quarter.
The Eagles scored on their opening drive on Gomez's 27-yard field goal. Jaylon Jackson's 4-yard touchdown run capped an 11-play, 80-yard drive. Meanwhile, the Sun Devils went three-and-out in their first two series.
The Sun Devils defense stepped in to help. Kejuan Markham intercepted Powell's pass at midfield and returned it to the Eagles' 22.
A personal foul on the first play gave ASU its initial first down of the game at the EMU 7 as time ran down in the first quarter. The Sun Devils scored on the first play of the second period when Emory Jones connected with Andre Johnson for a 3-yard touchdown.
But the Eagles went on another long drive, capped by Smith's 6-yard TD pass to Hassan Beydoun. ASU responded with its best drive of the half, going 75 yards in 11 play and Jones, finding no one open, scrambled 3 yards for the score to make it 17-14.
Smith stayed in at QB, completing a third-down pass for 42 yards to Tanner Knue. That set up Evans' 3-yard TD run.
The Eagles ran for 154 yards and threw for 153 before halftime and had 47 plays to Arizona State's 23. They converted nine times in 10 third-down chances in the first half — 10 of 15 for the game — and did not punt until early in the fourth quarter.
Sun Devils coach Herm Edwards was as usual direct after the game.
"It boiled down to one thing — we couldn't stop them from running the football," Edwards said. "They physically got after us, on both sides of the ball.
"We gotta find a way to fix it."
–
—–