—
Colorado Daily – TCU Week
—
September 3rd
… CU in a few minutes … 
Dorrell on quarterbacks: "We'll watch the tape and assess both of them"
From CUBuffs.com … While there are plenty of issues Karl Dorrell's Colorado Buffaloes will need to address in the upcoming week, foremost on most people's minds is what the Buffs will do with their quarterback position.
Brendon Lewis got the starting call in Friday night's 38-13 loss to Texas Christian while backup J.T. Shrout played one series in the first half, then several in the fourth quarter.
Lewis finished 13-for-18 for 78 yards and led CU to a pair of field goals. Shrout finished 13-for-23 for 157 yards and produced Colorado's only touchdown of the night, a 23-yard scoring pass to Jordyn Tyson with 1:13 left in the game.
"We'll continue to work through it," Dorrell said after the game. "We're going to get some film evaluation on both and see what we do from this point forward."
Dorrell said both quarterbacks had good moments and both made mistakes. Lewis also finished as CU's leading rusher, picking up 42 yards on eight carries, with his long pass of the night a 25-yard completion to Daniel Arias on CU's opening drive. That march ended at the TCU 15-yard line when Colorado came up short on a fourth-and-1 try.
Shrout's long pass of the night was a 35-yard toss to Arias that helped the Buffs move from deep in their own territory late in the first half. He then moved Colorado into what could have been scoring position before a holding penalty pushed the Buffs back into their own territory.
"We'll do what's best moving forward," Dorrell said. "I don't think Brendon played poorly. He made a few plays. He did some things with his legs. He had some throws. He wasn't perfect, though, and neither was J.T. We'll watch the tape and assess both of them."
–
From the press conference … On how he addresses criticism of his belief that Lewis is different and better this season: "Well, I think he's different and better. We didn't have an idea of what he would look like today, but everything he has shown in the offseason up to this point, he looked really well. He did really good things. We'll evaluate the quarterback thing now that we have a healthier room. We'll do what's best moving forward, but I didn't think Brendon played poorly. He made a few plays. He did some things with his legs. He had some throws. He wasn't perfect, though, and neither was J.T. We'll watch the tape. We'll assess. We'll get a chance to fix and address some things and get ourselves ready to play this week. But I will say for our fans, there's jitters in everybody in that first game coming back. Maybe it was too much pressure on him. Who knows? But I'm confident that he's a better player. I still feel that he's a better player than last year. So I still will tell that to my fans, or lack of fans."
On where they go from here with the quarterback situation: "We'll continue to work through it. We'll continue to work through it. I think we're going to have to get some film evaluation on both and to see what we do from this point forward. I don't have an answer right now, right after the game, but we're gonna definitely have some discussion on that."
–
—
*Video: Karl Dorrell Post-Game press conference*
–
—–
September 2nd – Game Day!
… CU in a few minutes … 
Dave Plati to step down as CU Sports Information Director
Press release from CUBuffs.com … Longtime University of Colorado associate athletic director and sports information director, David Plati, will be taking semi-retirement this January 1, athletic director Rick George announced Friday.
Plati will reach 40 years of full-time service for the university on January 9, 2023; he will then step back a bit, serve as SID-Emeritus and Program Historian, the latter which he has essentially done since 2001, when Fred Casotti, CU's longtime SID and associate AD passed away.
Curtis Snyder, who worked in the SID office as a student in the mid-1990s, served as an assistant in the office and most recently as an assistant AD, has been named interim SID by George.
"David has been an icon at CU and in this industry for over 40 years," said CU athletic director Rick George. "He is nationally recognized, was inducted into the CoSIDA Hall of Fame and given the Lifetime Achievement Award by the football writers.  He has had a distinguished career and we look forward to reading his future columns and book in Plati-'Tudes."
Plati first walked through the door into CU's sports information office as a freshman on August 30, 1978, "I want to say six days before my first class," he recalled.  Then SID, the late Mike Moran, gave him the team's football roster to retype – no computer in those days.
He worked as a student assistant, mainly on the football and basketball stat crews and updating stats briefly under Moran, who left in December that year for the U.S. Olympic Committee.  He was then under interim SID Mike Bialas for four months until Tim Simmons was named to head the department in April 1979.  When Simmons left for Coors in 1981, graduate assistant John Clagett took over the office, and he literally was the assistant SID as a junior.  After he graduated from CU in December 1982, he was named assistant SID, and when Clagett departed in May 1984 for the auto racing world, Plati became the very last hire by CU's late athletic director, Eddie Crowder.  He was named SID on July 24, 1984.
His only time away from CU was four months during the summer of his senior year, when he served as the publicity director for the Denver Bears (he's still proud that he was the PR man for what is still the largest crowd in minor league baseball history – 65,666 at the Bears' annual Fireworks Night).  Along the way, he was a member of the Denver Broncos statistics crew for 40 years, served as an official scorer for the Colorado Rockies for 17 seasons, has worked race week for the BolderBoulder for 35 years, and was a talent statistician for numerous NFL and NBA games among a long list of side jobs that also helped make CU visible to the media with whom he interacted.
Plati will actually work his 500th Colorado football game tonight against TCU.  Only the late Frank Potts was a longer full-time athletic department employee, as he coached the cross country and track teams for 41 years (1927-68).
"I've had several mentors in my career, but the special shout outs really go to Tim Simmons, Jim Saccomano of the Denver Broncos, the Count (Fred Casotti) and Irv Brown," Plati said.  "And if it wasn't for corresponding with Mike (Moran) as a senior in high school back in New York – he offered me a student position through the mail – who knows what path I might have taken.  I came to college wanting to be an accountant because of my love for numbers; after miserably earning an "F" in beginning computer (which will come as a surprise to no one), I switched from Accounting to Journalism.
"Tim loaded me up with unbelievable responsibility as a student assistant and convinced the Rocky Mountain Athletic Conference to hire me to do its PR on the side; Sacco agreed to add me to the Broncos stat crew in 1980 and gave me the freedom to create whatever stat I could think of, not to mention the chance to observe who many consider the best PR director in NFL history; Fred showed me that you could utilize humor in your notes; and Irv told me to do whatever I could in college to build a resume, whether it paid or not.
"And I have to credit my two favorite professors in the Journalism School – Mal Deans and Sam Kuczun – my writing wasn't the best until I took their classes," he added.  "And my peers in the profession – we all learn a lot from each other, sharing (and stealing) ideas.  Some of my best friendships in the business through the years were with SID's from schools who are our biggest rivals – CSU, Nebraska, USC among them."
"The time is about right, yet I can remain involved with the program I've spent my entire adult life with," he said.  "I need to address some health concerns, would like to travel more, and spend more time with my five nieces and nephews.  I'll still do some SID duties for the foreseeable future, continue to coordinate some special projects and be available to Rick, Curtis and really anyone he could use the 'department dinosaur' in any way I can help."
"I've been fortunate to work at the alma mater I've loved since I first saw the campus as a 12-year old," he added.  "And the start of every football season, I still get goose pimples watching Ralphie's first run of the year.  That's always reassured me that I made the right career decision."
… Continue reading story here …
–
–—
Buffs out to prove the naysayers wrong: "We're happy to be in the position we're in right now"
From the Daily Camera … Those within the Colorado football program have heard the noise for nine months.
After a disappointing 4-8 season in 2021, CU lost 22 players to the transfer portal, including six starters. The Buffs changed 60 percent of the assistant coaching staff.
The consensus from prognosticators is that this will be a rough season for the Buffaloes, who are widely projected to finish in the Pac-12 basement.
Through it all, head coach Karl Dorrell, his assistants and the players still in the program have maintained that they've bonded through adversity, improved the leadership and are now ready to prove the naysayers wrong.
"We're happy to be in a position we're in right now," CU head coach Karl Dorrell said this week. "Sometimes you have to go through the fire to really refine yourself to being the type of program (you want) and meet those expectations. I think that's where we are right now. It just took some time to weed out (some players) and get some guys that are committed to playing for this great university."
On Friday night, the Buffs aim to focus on the noise in Folsom Field – enhanced by a brand-new sound system – as they put their offseason work to the test in the season opener against TCU.
Under the direction of new coordinator Mike Sanford, Dorrell believes the Buffs have fixed an offense that was one of the worst in the country a year ago. Under the direction of returning coordinator Chris Wilson, he believes the Buffs have tweaked the defense to improve upon their performance in 2021.
… Continue reading story here …
–
—–
September 1st
… CU in a few minutes … 
Neill Woelk's Five Keys to the TCU Game
From CUBuffs.com … If you're aching to see the Colorado Buffaloes muscle their way back to relevancy, you couldn't ask for a better season opener than Friday night's kickoff against Texas Christian.
This is not the time for cupcakes.
This is an opportunity for Colorado, a game against a well-respected program from a Power 5 conference and a chance to build some critical early season confidence and momentum.
No doubt, the cards have been dealt in the Buffs' favor: at home, under the lights, national television, and what will surely be a raucous Folsom Field crowd. It should be the perfect atmosphere.
Meanwhile, the Horned Frogs bring plenty of question marks into the affair. They will be playing their first game under new coach Sonny Dykes, hired after last year's 5-7 finish. They are confident in their offense — one that was one of the best in the Big 12 last year — but have no idea what to expect from a defense that took a pounding last season.
Karl Dorrell's Buffs need to take advantage of the opportunity and deliver a message.
Here are the keys to making that happen:
1. Deliver some big plays early. It doesn't matter if it's offense, defense or special teams. The crucial part is simply administering a big blow early, getting the crowd completely into the game and putting the Horned Frogs on their heels.
Early momentum could be a major factor, especially against an opponent that is still feeling its way around a new coaching staff. If the Buffs can create some havoc and cause some doubts to filter through the TCU sideline, it could provide a wave of confidence Colorado can ride throughout the night.
2. Get the Buffs QB into an early rhythm. 
3. Get to the quarterback early and often.
4. Run the football with authority and control the clock.
5. Play as if the season is on the line.
–
—
CU to wear all-black uniforms with 70s helmets 
A nice look … and a nice tribute to Cliff Branch …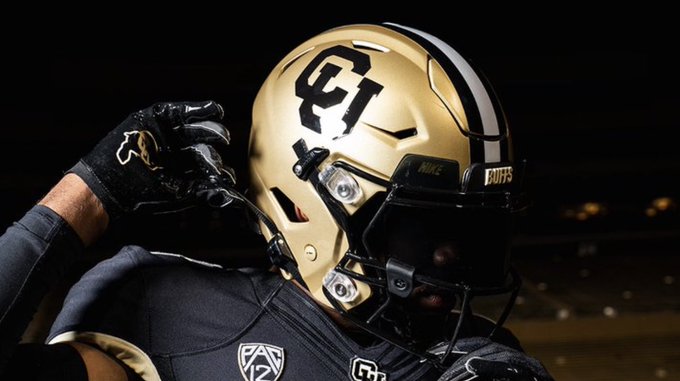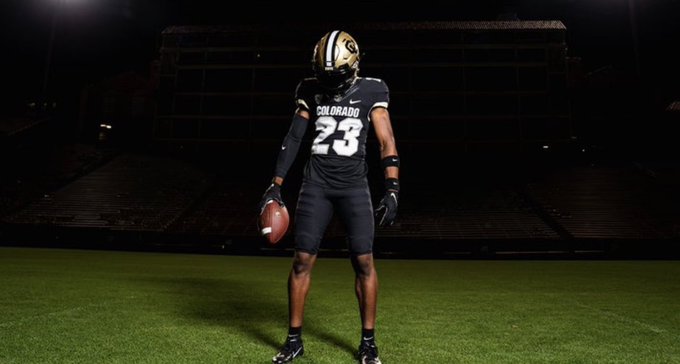 –
—
*Video: Karl Dorrell and Mark Johnson – Primetime radio Coaches Show*
From YouTube, courtesy of BuffsTV … CU head coach Karl Dorrell … Buffs chomping at the bit to get to actually play a game … His concern is really about "us", getting prepared. There will be "un-scouted looks" which will need to be sorted through, but hopefully they will be able to make adjustments … A better offseason should correlate to better play this fall … The players have adjusted well to all of the new offensive coaches … They are having more fun than the past two years …
Offense … Mike Sanford is an offensive coordinator who can fit the offense to match the skills of his quarterbacks … The new offensive coaches have collaborated well … The offensive line "looks the part" thanks to Shannon Turley and the strength and conditioning staff … "We have better depth, and can sustain a high level of play along the offensive line" … Casey Roddick and Frank Fillip work well together, and helped make the decision easier to move them from the right side to the left side of the line … "We have eight guys who are starter quality" along the line … There is plenty of quality talent in the wide receiver room … Jordan Tyson, Chase Sowell, Jack Hestera – three names that no one really knows about, but who will make names for themselves this season" … The quarterback competition "has been a great benefit for us" … What has made it work is that every member of the offense "believes wholeheartedly" in both Brendon Lewis and J.T. Shrout … "It's a good situation for us" … On Brendon Lewis: "He grew a lot … It was a tough year on him, and he knows he can play better … Brendon is a completely different player. He is very confident … On J.T. Shrout: "He had to check some boxes, in returning from injury … He was in a different process than was Brendon" … TCU's 3-3-5 defense is similar to what San Diego State ran in 2020 …
Defense … Preparing for three different quarterbacks presents a unique situation … We have to bank on their system not changing, despite who is at quarterback … Sonny Dykes is a well-established coach … A strong offensive guy, and that will be a challenge for us … Quentin Johnston will challenge them … The defensive backs will have to earn the respect from their opponents … They will make mistakes, but they will learn from them … The freshmen from last year are the "vets" now …
… Also interviewed on the program (below) … Running backs coach Darian Hagan (at 24:25 on the video) and running back Deion Smith (at 35:06) …
–
—
NFL Hall of Fame Inductee Cliff Branch to be Honored During TCU Game: "He literally changed the game"
Press Release from CUBuffs.com … "He literally changed the game."
If you need one sentence to describe former Colorado great and NFL Hall of Famer Cliff Branch's impact on the game, there couldn't be a better choice.
The speaker?
Try former San Francisco 49ers great Ronnie Lott, another Hall of Famer, who had the task of covering Branch when Lott was breaking into the NFL and Branch was breaking big plays for the Los Angeles Raiders.
"For the Raiders, he was the perfect weapon," Lott told ESPN earlier this year. "(Raiders owner) Al Davis recognized that to win games, you've got to have people to make big plays. Al Davis pioneered that element and it was dangerous. (Branch) literally changed the game. When he got that extra step, you paid for it."
Branch, who played for CU in 1970 and '71, passed away in 2019. An inductee into the CU Sports Hall of Fame in 2010, he was inducted posthumously into the Pro Football Hall of Fame earlier this year, becoming the first Buff ever to be honored in Canton.
Branch will be honored at Friday night's Colorado-TCU game at Folsom Field. A number of his former teammates will be on hand, as will his son, Brent, and granddaughter, Brentney. A highlight video of his career at CU and in the NFL will be shown between the first and second quarters, and a commemorative logo will grace the Folsom Field turf.
Branch proved to be an electrifying athlete from the moment he stepped onto the CU campus in 1970 to join Eddie Crowder's program after two years at Wharton County JC in Texas.
In his two years with the Buffs, Branch set CU and NCAA records for career touchdowns scored on kick returns, finishing with eight in those two seasons (six punts and two kickoffs) — an NCAA record that stood for three decades.
Branch was a threat to go the distance every time he touched the ball. He had four returns for scores in each of his two years with the Buffs, still single-season records for CU, as are his six career punt returns for scores.
He also caught 36 passes in his two years in Boulder — not big numbers by any means, but he produced those numbers in an era when Colorado was almost exclusively a power running team. Branch even contributed to that effort, finishing his career with 31 carries for 354 yards and five touchdowns while averaging an astounding 11.4 yards per carry.
And, he put an exclamation point on his versatility by completing two passes for 88 yards and a touchdown in his senior season.
But Branch's efforts weren't confined to the football field. At Colorado, he set numerous records on the track, including a blazing 10.0 in the 100-meter dash at the 1972 NCAA Championships — still a school record. He was also part of a 4×100 relay team that at one point had one of the fastest times in the world and he was part of 4×400 and mile relay teams that still hold CU school records — 50 years later.
Branch also set school records in the 60 and 300-yard dashes and was a two-time Big Eight indoor champ in the 60.
He was, quite simply, a once-in-a-generation athlete who is still regarded as perhaps the best sprinter in CU track and field history, and one of the most electrifying football players in Colorado annals.
How important was Branch to CU's success?
In 1971, when Colorado finished third in the nation, the Buffaloes' roster was peppered with stars like Charlie Davis, John Stearns, Bud Magrum, John Tarver, Bo Matthews and John Stavely.
But it was Branch who was named the team's winner of the Zach Jordan Award, given annually to the program's most valuable player.
"On a team, everybody needs to be on the same page," Branch said. "Playing on a team is more gratifying than an individual sport because it's about a group of guys trying to achieve the same goal. You have to be unselfish."
Had Branch decided to devote his attention to track on a full-time basis, he quite likely could have been a U.S. Olympian in 1972 or 1976.
But he decided to stay with football and became a fourth-round draft pick of the Raiders in 1972. There, after a relatively slow start in his first couple of years, his career took off. Working under the tutelage of another former Raiders great, Fred Biletnikoff, he became one of the most dangerous receivers in the NFL.
From 1974-80, his 6,047 receiving yards were the most in the NFL over that span. When he retired in 1985, he had more postseason catches (73) and yards (1,289) than any receiver in NFL history.
Branch's speed made it almost impossible for any cornerback to cover him man-to-man and he changed defensive philosophies in that era.  Despite playing in a time when the running game was dominant and the rules favored defensive backs in the passing game (remember the bump and run?), Branch put up Hall of Fame statistics. He finished his career with 501 catches for 8,685 yards and 67 touchdowns — and three Super Bowl Rings, three All-Pro selections and four Pro Bowl berths to accompany those catches.
Tom Flores served as Branch's position coach with the Raiders early in his career before becoming the team's head coach in 1979. According to ESPN, Flores said opposing coaches regularly told him Branch was the player they feared most when preparing for the Raiders.
"There was fast and there was really fast," Flores said. "(Branch) was really fast and he caught the tough balls. They were going to have to adapt to him to keep him from running by them. He was a game changer."
In 2010, Branch was inducted into the CU Sports Hall of Fame. The honor definitely touched him.
"It's a very special honor to be recognized by your alma-mater," Branch said at the time. "I feel truly blessed. I'm a Buff all the way."
–
—–
August 31st 
… CU in a few minutes … 
"Veteran" sophomores expected to lead CU's secondary
From the Daily Camera … For a group of young men that don't really know one another, playing video games can be the ultimate ice breaker.
Before arriving at Colorado a year ago, Kaylin Moore, Nikko Reed and Tyrin Taylor didn't know each other, but they quickly bonded through Madden NFL games.
"We play Madden a lot," Reed said. "We're close friends now."
Although all three came to Boulder from different parts of the country, they have built a connection not just through video games, but through playing similar positions and having a common role on the football team.
The talented trio came to CU as true freshmen cornerback recruits in 2021 and will now, as sophomores, be counted on as integral parts of a very young secondary as the Buffaloes prepare for the season opener against TCU on Friday (8 p.m., TV: ESPN) at Folsom Field.
"Off the field, I feel like these two are the closest people that I have on the team," said Moore, from Westlake Village, Calif. "I feel like that'll help us in the game, our chemistry on the field. I feel like that'll carry over, so that could be good."
Last year, Taylor, who is from Huntersville, N.C., shifted to a safety/nickel role. Moore and Reed, who is from Oakland, Calif., are the Buffs' top cornerbacks.
While they aren't technically all in the same position, they are all going to be relied on heavily to lead a secondary lacking experience. All three have true freshmen behind them on the depth chart.
… Continue reading story here …
–
—–
90% of student season passes sold – 100% expected before Friday
Tweet from Brian Howell at the Daily Camera … I was told today the Buffs anticipate being sold out of student passes by tomorrow
"Grab a student sports pass before it's too late: http://buffs.me/2M21DxR"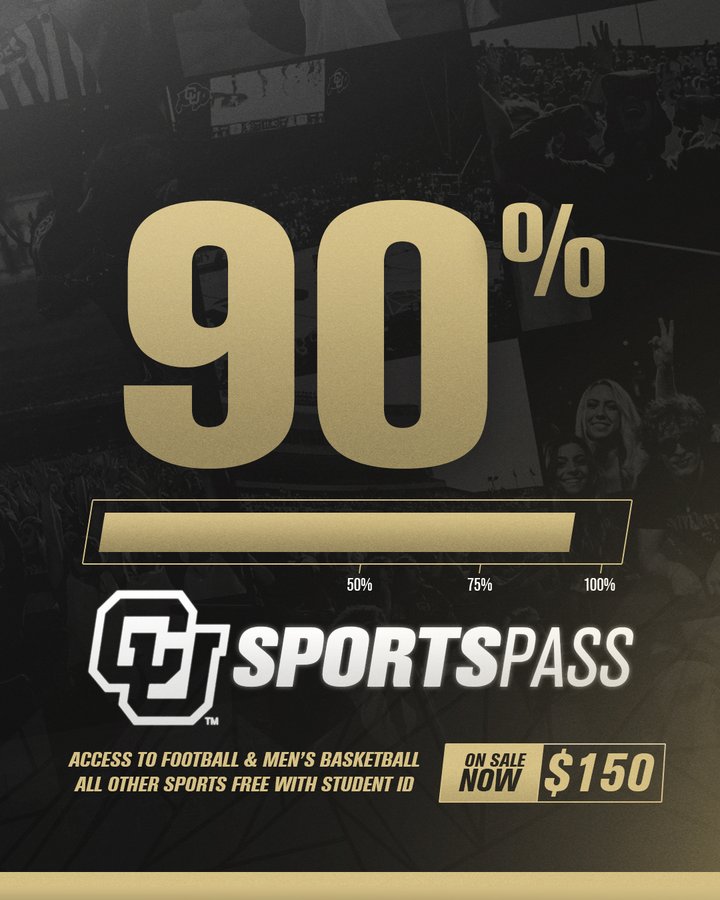 –
—
Dorrell on TCU offense: "Our challenge is to keep a lid on their skill and not let them create too many big plays"
From CUBuffs.com … The Horned Frogs offer an interesting matchup. Dykes brings with him his freewheeling offensive style that should take little time in building a head of steam. TCU returns a pair of quarterbacks, starter Max Duggan and backup Chandler Morris, who have big arms and have proven themselves more than capable. The Frogs also have an interesting third option in Sam Jackson, a dual-threat player who has also lined up as a receiver and running back in TCU's fall practices.
The Frogs also have their top four receivers returning from last year, including Quentin Johnson, a pair of capable running backs and an experienced offensive line.
On defense, the Buffs will counter with a group that is entering its second season under coordinator Chris Wilson and one that boasts a solid front seven. CU has a deep, experienced group in the trenches, led by defensive end Terrance Lang, and a versatile corps of linebackers that includes Robert Barnes, Quinn Perry and transfer Josh Chandler-Semedo.
The question mark is Colorado's young secondary. While CU does have a veteran at free safety in Isaiah Lewis, the other starters — corners Kaylin Moore and Nikko Reed, strong safety Trevor Woods and nickel Tyrin Taylor — have a combined six career starts between them.
"They're going to play with two or three quarterbacks and they're all distinctive types and they're all pretty athletic," Dorrell said. "They have some skill on the outside, some guys that run really well. And they have a running back who's a really dynamic player out of the backfield. They do a really good job of creating space and we're going to have to do a great job of minimizing some of that space."
One big key, Dorrell said, will be for the Buffs to execute one of the most basic fundamentals of the game — tackling.
"That's always the biggest challenge of the first game," Dorrell said. "You see it in the NFL preseason, where there's a lot of missed tackles in that first preseason game. The same kind of thing happens in college … Our challenge is to keep a lid on their skill and not let them create too many big plays."
… Continue reading story here …
–
—–
August 30th
… CU in a few minutes … 
*Video: Karl Dorrell's Final Post-Practice talk with media before Friday"
From YouTube, courtesy of BuffStampede.com … It's game week, so there is a step in focus … The biggest thing right now is trying to get players to visualize their roles, and understanding the expectations … Casey Roddick has had the best camp of all of the offensive linemen … On picking four captains (Roddick, Russell, Lang, and Perry) for the season: "They've shown the way this offseason. They understand what their responsibilities are" … The team is close – closer than the teams in Year One and Year Two … Sometimes you have to go through the fire to get to where you want to be … Both quarterbacks have been playing well all through camp … It's a good situation to have … Either one of these guys might take off and take over …
–
—
Game Day Notes for CU/TCU Attendees
From CUBuffs.com …
BUFFS MOBILE APP—The comprehensive app from the Buffs and our partner SideArm is your one-stop shop on your device for all things CU Buffs.  This app is the best way to purchase and manage tickets and get them in your wallet for entry into Folsom Field.  On top of ticketing, the app also features our latest news, rosters, live stats, videos and much more.  Fans are encouraged to download the app before heading to the stadium and getting their tickets in their wallet ahead of time.
MOBILE TICKETING—All CU home events are completely mobile ticketed.  After purchasing tickets, you will be emailed your mobile tickets to add to your wallet or they will be available in the Buffs Mobile App.  Check out our step-by-step process to manage your mobile tickets.
TRANSFER TICKETS—Can't make the game and want to send seats to a friend? This is easiest to do in the Buffs Mobile App by selecting the tickets tab, clicking manage tickets, clicking transfer tickets and selecting the season and game you'd like to transfer. Enter the recipients email address or mobile phone number and you're all set. Prefer the website? Click here to learn how.
STUBHUB—Colorado Athletics is proud to partner with StubHub, the Official Fan to Fan Ticket Marketplace of the Colorado Buffaloes. This exciting partnership with StubHub allows you more freedom in pricing, number of ticket listings and lets you reach more ticket buyers than ever before. Can't make a game? Season ticket holders can login to their account, and under "My Tickets" select Sell on StubHub to get started.
CASHLESS TRANSACTIONS – All transactions at the ticket office, concession stands and merchandise areas will be cashless.
PARKING – Parking lots for the TCU game will open at 3 p.m.  Donor parking permits have already been mailed out, and those fans wishing to purchase on campus single game parking can do so here.
CLEAR BAG POLICY – Folsom Field has a clear bag policy in place.  Please review the website for reminders on what bags are permitted in the stadium.
PEARL STREET STAMPEDE– Don't miss one of the best traditions in college football. Join us for the Pearl Street Stampede on Thursday night, with the Golden Buffalo Marching Band, CU Spirit and Dance teams as well as Chip the Buffalo as we celebrate gameday with the team in a parade that starts at 7 p.m. in front of the courthouse on Pearl Street.
TO DO ON GAME DAY
WEAR BLACK—Fans are encouraged to wear their black Buffs Gear for the TCU game.
NEW VENDOR SPOTLIGHT—Now available throughout the stadium, alongside our many amazing vendors, will be GQue BBQ.
CHIP'S KIDS CLUB AREA – The Indoor Practice Facility will be open for Chip's Kids Club Area again this season. This indoor space opens 2 hours prior to the game closes after halftime. Will include games, inflatables and a football toss.
RALPHIE'S CORRAL – Located on Duane Field, Ralphie's Corral is the official tailgate of the CU Alumni Association and is open to everyone.  Ralphie's Corral will be open at 5 p.m. on Friday and there will be cashless concessions and merchandise available.
BUFF WALK – The Buff Walk is Back!  Welcome the team to the stadium along the Buff Walk, located on the east side of Folsom Field between the stadium and Franklin Field.  Head over to the Buff Walk about 5:30 p.m. so you don't miss the arrival of the team.
CLIFF BRANCH HONORED—The late Cliff Branch will be honored this game as the first Buff enshrined into the Pro Football Hall of Fame.  Branch played for the Buffs in the 1970s and some special surprised will be announced in relation to Branch.  Branch held the NCAA record for most kick return touchdowns (eight) for almost 30 years and he still holds the CU record for running a 10.0 100-meters at the NCAA Championships.
NEW SOUND SYSTEM—The long-awaited new sound system has been installed over the summer and is ready for action for the TCU game.  Read more about this new enhancement to the stadium here.
–
—
Dorrell on TCU's defense: "It's built not to give you a big play and it's built to make offenses take the long road"
From the Daily Camera … CU began preparing for TCU last week and Dorrell said the Horned Frogs, led by first-year coach Sonny Dykes, will present some challenges.
"What's challenging for us, particularly defensively, is they're going to play with two or three quarterbacks, and they're all distinctive types," Dorrell said. "They're all pretty athletic … so, they have an athlete at that position which is a challenge. They've got some skill on the outside with some guys that run really well. And they've got a runner (Kendre Miller) that I think is a really dynamic player."
Dorrell added that the defense does some "very unique things." TCU defensive coordinator Joe Gillespie uses a 3-3-5 scheme.
"It's challenging in terms of passing the ball because there's not a lot of air," Dorrell said. "It's built not to give you a big play and it's built to make offenses take the long road and sometimes offenses aren't patient enough to take the long road."
In addition to being patient on offense, Dorrell said the Buffs have to be sound tacklers on defense.
"I think that's always the biggest challenge the first game," he said. "You see it in the NFL preseason, where there's a lot of missed tackles in that first preseason game. It's kind of the same thing that happens in college. First games are a little bit rough about getting used to tackling full speed all the time when you go through camp not doing that all the time."
–
—–
August 29th
… CU in a few minutes … 
Laviska Shenault traded to Carolina
From ESPN … The Carolina Panthers on Monday acquired another playmaker for quarterback Baker Mayfield, trading with Jacksonville for wide receiver Laviska Shenault Jr., the teams announced.
The Panthers will send undisclosed draft compensation to Jacksonville. Shenault carries a $1,309,643 cap hit in 2022 and $1,659,464 hit in '23.
The trade was made 24 hours before NFL teams are required to get their rosters to 53 players. Carolina's was down to 80 on Monday.
The Panthers appear set with their top four receivers in DJ Moore, Robbie Anderson, Terrace Marshall Jr. and Shi Smith, although injuries have been an issue for Marshall since he was selected in the second round last season.
Marshall did practice fully Monday, and made a big-time catch down the sideline that showed his speed.
The Panthers made the trade in part because offensive coordinator Ben McAdoo has a history with Shenault from his 2020 season in Jacksonville as the quarterbacks coach. Shenault also brings a different skill set from the other receivers in terms of his size (6-foot-1, 227 pounds), physicality and ability to run block.
The Jaguars drafted Shenault 42nd overall in 2020. He has 121 catches for 1,219 yards and five touchdowns in two seasons.
… Continue reading story here …
–
—
A (finally) healthy Caleb Fauria ready to contribute: "I'm just really excited to get out there"
From the Daily Camera … "I've been banged up since I got here in 2020," said red-shirt freshman tight end Caleb Fauria, who turned 21 on Sunday. "I played a little last year but I got hurt with my shoulder so I missed spring. But now I'm finally back and ready to go."
Fauria was nursing a leg injury when he got to CU in 2020 and has also had meniscus and shoulder injuries. He missed most of the spring practices in April after shoulder surgery.
Although he got some playing time, mostly on special teams, in four games last year, Fauria hasn't had significant playing time since his senior year at Bishop Feehan (Mass.) High School in 2019.
Russell, a sixth-year senior, is the clear leader of CU's tight end group, but Fauria enters the season No. 2 on the depth chart and he is more than ready to get rolling.
"I'm pumped," he said. "I haven't played a full season since junior year of high school. I'm just really excited to get out there with the boys."
Mainly a receiver in high school, Fauria caught 70 passes for 1,227 yards and 17 touchdowns during his prep career but is looking forward to seeing what he can do on this level.
"I think everyone kind of wants to know, but for me, I'm just worried about what I can do to help the team, whether it be run game or pass game," he said.
Patterson is already the third position coach Fauria has had at CU and he's learned a lot from him. But, the constant has been Russell, who has mentored Fauria from the beginning.
"I learn a lot every day," Fauria said. "He was my roommate in camp, so just being around and seeing how he carries himself, what he does and how he prepares his body and everything, I'm just taking mental notes from that and just trying to apply it to myself."
… Continue reading story here …
–
—
CU announces team captains for TCU game
CU be having different team captains announced for each game. For the season opener, it's four seniors: tight end Brady Russell; offensive lineman Casey Roddick; defensive lineman Terrance Lang; and linebacker Quinn Perry …
Your 2022 Team Captains 🔥
#GoBuffs | #CUlture 🦬 pic.twitter.com/c2zMeNDLlV

— Colorado Buffaloes Football (@CUBuffsFootball) August 29, 2022
–
—
CU to debut new "state of the art" sound system for the 2022 season
Press release from CUBuffs.com … The University of Colorado has installed a new sound system at Folsom Field that will be operational at the Buffaloes' season opener against TCU on Friday, Sept. 2.
The new, state-of-the-art system replaces the old one that was installed in 1996.  The main advantages of the new system, which cost approximately $1.8 million, will be:
Significant increase in clarity and definition of voice and music;
Substantial uniformity improvement throughout the stadium;
Addition of Subwoofers for increased bass;
System is designed to operate down to minus-4 degrees Fahrenheit (CU's only had two home games in its history where the temperature was 10 degrees or colder, one in 1911 and the other in 1931).
"We are extremely excited to introduce our new sound system to our fans for the home opener Friday night versus TCU," said CU's deputy athletic director, Jason DePaepe.  "We are proud to take this major leap forward in sound quality at Folsom Field for our fans and their overall game day experience."
"The team of AVI Systems, Populous Design, WJHW, CU Planning Design and Construction and our Athletic Department Construction Management staff did an incredible job of overcoming obstacles to get this system up and running before our first football game," DePaepe added.  "I would personally like to recognize the leadership and tireless efforts of Russell Allen, our technical director who coordinated the project for athletics and will be operating the system during home games."
The old system was powered by 13 dual channel amplifiers (26 channels total) delivering 14,100 watts; the new system is powered by 24 Dynacord IPX series 4 channel amplifiers (96 channels total) delivering 250,000 watts of power.
The eighteen JBL VLA (Very Large Array) speakers are mounted on either side of the BuffVision north videoboard to increase the height of the system and to improve coverage and uniformity; two additional VLA's cover the 200 level seating on the east side.  Sixteen JBL Subwoofers provide the bass.
The remaining portion of the project will be making the 29 small format speakers in the Bryon White Club premium seating area operational.  They have been installed, but due to global supply chain issues, the amplifiers to power the speakers have not yet been delivered.  They are scheduled to be functional before CU's second home game (Sept. 24 against UCLA).
Other Facts:
The system was designed by WJHW Sound Consultants;
Populous, which helped design the Champions Center, provided logistical support;
AVI Systems is the system integrator;
EMD Corp is the electrical contractor;
Production Rigging manufactured the speaker frames and provided rigging support;
Whitestone Construction, Mountain Man Welding and JK Welding provided steel and welding services;
Duffy Crane did all the heavy lifting and speaker placement.
–
—–
August 28th
… CU in a few minutes … 
DC Chris Wilson: 'We're going to be a smarter defense; we're going to be more physical"
From the Daily Camera … There may not be as many household names, but defensive coordinator Chris Wilson has been impressed with the makeup of his group.
"One thing that we look forward to this season is this: one of the things we kind of hold our hat on, we're a smarter team," he said. "Not only for players, but coaches. We're very well prepared. We've executed at a really, really high level. What they've done is they've invested in one another and that's been fun to see.
"So, we're going to be a smarter defense. Number two, they're going to be more physical. We like to use the saying, toughness is great preparation. We're really excited about the preparation. It's just going to make an even more physical football team than we were a year ago. That's how you have to play defense: smart and physical."
Sami, for one, is looking to be more physical this season and he feels better prepared because of the coaching he's received from Chatman, who was hired in March.
"We had a great offseason of training," he said. "Coach Chatman, he's getting us right with techniques, so you should be able to see it on the field."
Sami said he's confident in the veterans he's playing with, but also eager to see how the young players perform. The team philosophy of being smart and prepared is helping that young group.
"Coach Chatman has told them from the beginning that he doesn't care if you're a freshman or a senior or vet," Sami said. "If you're willing to play and you're out there busting your butt and just going out there competing every day he'll play you. That's been our mentality for this fall is competing against each other and trying to play.
"Our depth is going to be our strongest suit."
… Continue reading story here …
–
—
Rooney: The TCU opener could dictate the course of the season
From the Daily Camera … Will Colorado, the owner of just one winning record over the past 15 full seasons, finally "do it" this year? If by "do it" one means doing just enough for Dorrell to see a fourth season in Boulder, the answer is a rock-solid probably. Beyond that, however, Buffs fans can expect to see the sort of discouraging final record that has become all too familiar over the past two decades.
Dorrell has touted CU's youngsters throughout the preseason. The revamped staff has the potential to be the best in years in Boulder, and certainly is an upgrade over Dorrell's first two seasons. But these are the pillars of programs looking to build over the long haul. This is year three for Dorrell. Do Buffs fans have the patience for another multi-year rebuild? They may not have a choice.
Dorrell noted he often measures the strength of a team by the strength of the quarterback room. With incumbent starter Brendon Lewis, a healthy JT Shrout, Drew Carter, Houston transfer Maddox Kopp, and intriguing freshman Owen McCown, that room is far more promising than a QB room that last year featured two freshmen (Lewis, Carter) and Shrout on crutches. Dorrell also has described the offense as far ahead of the pace the past two years.
All positive developments, no doubt. But really, there was nowhere for the offense to go but up. And the reality is the Buffs are probably a year away, at best, from legitimate bowl contention.
However, it may not seem like that early this season. The guess here is 4-8 for the Buffs, though CU could get tantalizingly close to bowl eligibility by Halloween before a crushing late-season gauntlet. Looking through the schedule, I'm penciling in wins against Cal and Arizona State at home, plus Arizona on the road. I'm putting marks in the "L" column for the season-ending four-game run — Oregon, at USC, at Washington, Utah — as well as the early nonconference road games, Air Force and Minnesota.
That leaves CU at 3-6 with three games I consider up for grabs in TCU, UCLA, and at Oregon State. I expect the Buffs to get one of those. The best bet, of course, is opening night against TCU. There are countless reasons why coaches don't ever want to put too much emphasis on one game. Yet the TCU opener could dictate the course of the season.
… Continue reading story here …
–
—-
August 27th
… CU in a few minutes … 
**CU Depth Chart released (no resolution at quarterback or tailback)**
CU v. TCU "Preliminary" Depth Chart
From CUBuffs.com … Colorado's first depth chart of the season sports plenty of experience at the top, with at least eight — and possibly as many as 10 — of the starting positions held by seniors or graduate transfers.
But overall, the Buffs are once again loaded with more underclassmen than upperclassmen. Of the 81 players listed on the depth chart for CU's Sept. 2 opener at home against TCU (8 p.m., ESPN), there are 33 freshmen, 23 sophomores, eight juniors, 12 seniors and six grad transfers. The breakdown marks the seventh time in the last nine seasons that CU has had more underclassmen than upperclassmen listed.
Still, the two-deep boasts a healthy dose of players with plenty of collegiate snaps under their belts. That includes at least 10 positions manned by players who have started at least six games in a season — and possibly several more, depending upon who makes the start at positions where the top spot is still listed as a tie between two players.
Maybe the most experienced spot in terms of starters will be the defensive line, where the three players atop the depth chart — Terrance Lang, Na'im Rodman and Jalen Sami — have combined for 60 starts in their careers.
On the flip side, three of CU's starters in the secondary — corners Kaylin Moore and Nikko Reed and safety Trevor Woods — have a combined four career starts between them.
The positions with the starter still to be determined include quarterback, running back, center, right guard, one of the inside linebacker spots and the edge rusher. CU head coach Karl Dorrell indicated earlier this week that he may not reveal his starting quarterback until game day, and the same could go for the other spots still up in the air.
The positions still with two possible starters are a sign of the depth Dorrell is building in Boulder, especially when it is taken into consideration that several of those spots have returning starters or players with ample experience as one of the possibilities.
… Continue reading story here …
–
Two-deep CU depth chart … 
Wide receiver – X
Daniel Arias, Sr.
Ty Robinson, So.
Wide receiver – Z
Montana Lemonious-Craig, So.
Chase Penry, So.
Wide receiver – Slot
Maurice Bell, Sr.
R.J. Sneed, Gr.
Left tackle
Frank Fillip, Jr.
Travis Gray, Fr.
Left guard
Casey Roddick, Jr.
Luke Eckhardt, Fr.-Tr.
Center
Austin Johnson, So.    … OR …
Noah Fenske, So.
Right guard
Tommy Brown, Gr.    … OR …
Austin Johnson, So.
Right tackle
Jake Wiley, So.
Gerad Christian-Lichtenhan, So.
Quarterback
Brendon Lewis, So.     …. OR …
J.T. Shrout, Jr.
Tailback
Alex Fontenot, Sr.      … OR …
Deion Smith, Jr.
—
Defensive end
Terrance Lang, Sr.
Chance Main, Gr.
Defensive tackle
Na'im Rodman, Jr.
Tyas Martin, Fr.
Defensive tackle
Jalen Sami, Jr.
Justin Jackson, Sr.
Edge
Guy Thomas, Sr       … OR …
Jamar Montgomery, Sr.
Inside linebacker (Sam)
Marvin Ham, So.
Aubrey Smith, Fr.
Inside linebacker (Mike)
Josh Chandler-Semedo, Gr.     … OR …
Quinn Perry, Sr.
Inside linebacker (Mo)
Robert Barnes, Gr.
Eoghan Kerry, R-Fr.
Left cornerback
Nikko Reed, So.
Jason Oliver, Fr.
Free safety
Isaiah Lewis, Sr.
Jeremy Mack, Jr., So.
Nickel
Tyrin Taylor, So.
Simeon Harris, Fr.
Strong safety
Trevor Woods, So.
Jaylen Striker, Jr.
Right cornerback
Kaylin Moore, So.
Joshua Wiggins, Fr.
—
Punter – Ashton Logan, Fr.
Kicker – Cole Becker, So.
Punt returner – Chase Penry, So.
Kick returner – Nikko Reed, So.
Holder – Ashton Logan, Fr.
Snapper – Derek Bedell, So.
–
INJURED – Out for an extended time
–
—–