—
Pac-12 Notes – UNC Week
—
September 3rd – GameDay!
… Foe Pause … 
Cautionary Tales? Utah; Arizona State struggle against Big Sky teams early before pulling away
… No. 24 Utah 40, Weber State 17 … "We just need to get better" … 
From the Salt Lake City Tribune … Kyle Whittingham had insisted that he wouldn't know exactly what he had in his 24th-ranked University of Utah football team until it played a game.
After a 90-minute lightning delay on Thursday evening, the Utes' head coach got a baseline to work with following his team's 40-17 win over preseason FCS No. 6 Weber State in front of a Rice-Eccles Stadium record crowd of 51,511.
To be sure, there was plenty of good to glean from Utah's opening effort, but also enough bad that Whittingham was at least mildly displeased during his postgame press conference following the win.
… The statistics will show that Utah finished 7-for-8 in the red zone, meaning it scored seven times in eight trips inside the 20-yard line. Those numbers do not tell the whole story.
On third-and-goal from the 7, Brewer hit running back TJ Pledger right in the chest at around the 2, only to have Pledger drop the ball. Utah settled for a Jadon Redding 25-yard field goal to open the scoring.
Later in the first quarter, Brewer went to the end zone looking to hit an over-the-shoulder throw to tight end Cole Fotheringham, but the ball went off his hands. A 31-yard field goal from Redding gave the Utes a 13-7 lead.
Brewer said postgame he felt like they left 14 points on the field, while Whittingham noted that his team does not count field goals as wins in the red zone.
"It's not for a lack of work on it, I can tell you that," Whittingham said. "We pay a lot of attention to it in practice and work on it a high percentage of the time, we just have to execute better. We just need to get better."
To cap off the red zone struggles, the Utes had first-and-goal at the 5. Micah Bernard was stuffed for a two-yard loss, then Brewer hit Britain Covey on a couple of short passes to set up fourth-and-goal at the 1. The ball went to Chris Curry, who was promptly stuffed after the offensive line didn't hold up.
… Continue reading story here …
—
… No. 25 Arizona State 41, Southern Utah 14 … "It was bad football" 
From azcentralcom … Arizona State might have been in trouble Thursday night at Sun Devil Stadium had they played someone better than Southern Utah in the opening game of the football season.
But then that's the point of scheduling Southern Utah in the opening game of the football season.
It gives you an opportunity to look bad, win and then learn.
If Arizona State is as good as it thinks it is, then its performance Thursday will be good in the long term for the Sun Devils. They won, 41-14, but did so in a manner so sloppy that coach Herm Edwards will have no trouble getting his players' attention.
The game was full of teachable moments for the Sun Devils, including some that made you think corporal punishment should make a comeback.
There's a tendency to attach too much significance to these types of games. Good teams can look bad early in the season. ASU didn't play well and might return to practice next week with the proper attitude adjustment.
"It was bad football," Edwards said, and no one who watched would disagree.
Edwards blamed it on his team being too excited, too amped up for the first game of the year. He said could see it coming during the week, but kids being kids, the 67-year-old coach couldn't do much about it.
"You just have this gut feeling of, 'what is this going to look like?'" Edwards said. "Because you don't know. You kind of think you know but you don't know. It was bad."
Edwards blamed the seven penalties in the first quarter and the numerous mistakes on special teams on over-exuberance. If he's right, then the Sun Devils can work with that. That can be coached, and Edwards and his staff should have an attentive audience this week as they prepare for UNLV.
… Continue reading story here …
–
—
Game Three Opponent Minnesota gives No 4 Ohio State a Scare; Ibrahim Injured
From ESPN … C.J. Stroud's mind was not right as he sparred with first-game jitters, feeling "kind of all over the place" in his debut as Ohio State's starting quarterback.
Playing for the Buckeyes comes with plenty of pressure. It also brings plenty of help.
Stroud passed for 294 yards and four touchdowns, and the fourth-ranked Buckeyes kept coach Ryan Day unbeaten in Big Ten play with a 45-31 victory over Minnesota on a rainy Thursday night.
Ohio State trailed at halftime (14-10) for the first time in a regular season game under Day, but time in the locker room was all Stroud needed to settle in. He passed for 246 yards in the second half.
"Everybody was encouraging me, telling me I can do it. My teammates all have belief in me," said Stroud, who went 13 for 22 with one interception.
Said Day, who is 24-2 overall and 16-0 in conference games starting his third full year on the job: "We weren't going to play it close to the vest. That's not how we do it here."
The Buckeyes flashed their five-star speed with two 70-plus-yard scores in the opener, one early on a run off right end by Miyan Williams and one late on a third-down screen to true freshman TreVeyon Henderson.
Chris Olave had touchdown catches of 38 and 61 yards, and Garrett Wilson scored on a 56-yard reception that gave Ohio State the lead for good at 24-21 midway through the third quarter. Less than three minutes later, Haskell Garrett grabbed a fumble from a strip-sack that Zach Harrison delivered on Tanner Morgan and ran it in for a 32-yard touchdown.
"I have great teammates, but I feel like I'm a great player, too," Stroud said. "Maybe the first half didn't show that, but I did my best in the second."
More painful for the Gophers than their fade down the stretch was the loss of star running back Mo Ibrahim, who hurt his lower left leg late in the third quarter and left the field in a walking boot.
The second team preseason Associated Press All-American had 30 carries for 163 yards and two scores, both giving the Gophers the lead and the first one after Terell Smith intercepted an off-target pass by Stroud that hit Olave's hand.
Coach P.J. Fleck had no update on Ibrahim's status afterward but said the bruising fifth-year running back from Baltimore, who moved into a tie for fourth place on the program's all-time list with his 33rd career touchdown, was in good spirits.
"Hopefully it's nothing major, but we don't know that just yet," Fleck said.
… Continue reading story here …
–
—–
September 2nd
… Foe Pause … 
Wilner picks: Pac-12 to go 12-0 this weekend (including UCLA over LSU)
From the San Jose Mercury News … The most important Pac-12 football season in ages begins in force this week with three games against Power Five opponents and five against the Group of Five.
In other words, there's more risk than reward.
Multiple losses to Group of Five teams could offset victories in other games — unless one of those victories comes in the Rose Bowl.
If UCLA beats LSU in prime time, little else will matter.
The Pac-12 desperately needs big wins … wins over blue bloods … wins that resonate nationally … wins that change the narrative of a conference left behind.
There are a handful of chances in the opening weeks, with UCLA the first to take center stage.
We like the Bruins this week, both against the spread and to win outright.
Pac-12 underdogs …
Stanford +2.5 vs. Kansas State (in Arlington, Texas)
Kickoff: 9 a.m. on FS1
Comment: Tough assignment for the Cardinal with the travel, the early kickoff and a new quarterback (Jack West or Tanner McKee). But Stanford thrived as nomads last season and the against-all-odds mentality should carry through the opener. Mistakes, or lack thereof, will be the difference. Pick: Stanford
Oregon State +7 at Purdue
Kickoff: 4 p.m. on FS1
Comment: Leave it to the Beavers to plant the Pac-12 banner in Big Ten country. (No, West Lafayette isn't Columbus, but it still counts as Big Ten country.) We are bullish on their offensive line and would have leaned to OSU with a much lower point spread. The touchdown makes this a no-brainer. Pick: Oregon State
UCLA +3.5 vs. LSU
Kickoff: 5:30 p.m. on FOX
Comment: The Hotline picked the Bruins to win outright in our season preview, and their performance against Hawaii certainly didn't provide fuel for second-guessing. However, LSU's difficult situation this week — uprooted for practice, playing for a hurricane-ravaged state — does change the dynamic. We'll take UCLA and the points, but with some trepidation. Pick: UCLA
Arizona +11.5 vs. Brigham Young (in Las Vegas)
Kickoff: 7:30 p.m. on ESPN
Comment: The Wildcats have (slightly) more talent than they displayed last year, will be highly motivated to change the narrative and should look more competent than expected. Meanwhile, the Cougars aren't as good as they were following the departure of star quarterback Zach Wilson. Those colliding dynamics should result in a thrilling debut to the Pac-12 presence in Allegiant Stadium. Pick: Arizona
Straight-up winners: Stanford, Oregon, USC, Oregon State, UCLA, Cal, Arizona and WSU.
… Continue reading story here …
–
—
Kliavkoff looking to improve Pac-12 Networks distribution: "I like the NFL model"
From the San Jose Mercury News … George Kliavkoff was named commissioner in the middle of May and assumed command on July 1. He's well aware of the frustration over night games, six-day selection windows and Pac-12 Networks distribution. The conference's wholly-owned media company has approximately 14 million subscribers — about one-fourth the total of the SEC and Big Ten networks.
But Kliavkoff also believes the Pac-12 Networks are judged unfairly when it comes to content and production.
"There's a distinction between the quality and quantity of programming and the distribution of that programming,'' he said.
"In my opinion, the Pac-12 Networks produce as fine of college content as anyone, and the amount of programming we produce is far beyond the amount that any other college network is producing.
"We are producing 850 live events a year. The next nearest competitor is 517. So we're lapping the competition in the production of that content and, I believe, in the quality of that content.
"Where we are falling short is the distribution."
There is one escape hatch, but prying it open might require a miracle: Kliavkoff could ask the Pac-12's broadcast partners to revise the terms of the distribution contracts before they expire in the spring of 2024.
And ESPN and Fox might very well agree. After all, they own exclusive negotiating rights and could, in theory, use the opportunity to secure Pac-12 inventory at below-market rates for a decade to come.
But there's a catch in that request: Kliavkoff wants no part of below-market rates.
He wants the opposite: An open-market, multi-bid feeding frenzy for Pac-12 content.
His vision is based on the NFL's broadcast model, which features five partners: FOX owns the NFC games; CBS has the AFC games; and separate packages exist for NBC (Sunday night) and ESPN (Monday night) and Amazon (Thursday night, with FOX).
Kliavkoff wants something comparable for the Pac-12. But in order for the conference to enter into negotiations with any potential new partners before the current contracts expire, ESPN and Fox must be willing to relinquish their exclusive rights.
"I like the NFL model, where you have more than two distribution companies invested in all of your sports and distributing your sports,'' Kliavkoff said.
"And today, for our biggest sports, we have ESPN and Fox. They have been great partners, and I'm sure we're going to continue to have them as partners. But renegotiating early would have to be under the rubric of having the ability to add more partners to our distribution palate."
Never say never … except maybe in this case.
"I can't discuss what ESPN and Fox would have to agree to,'' he added.
… Continue reading story here …
–
—–
September 1st
… Foe Pause …
Former Washington State WR Kassidy Woods sues head coach Nick Rolovich
From USA Today … Former Washington State football receiver Kassidy Woods has filed a federal lawsuit against WSU and its head coach, Nick Rolovich, accusing them of breach of contract, violating his civil rights and covering up COVID-19 cases in athletics.
Woods, who recently transferred from WSU to Northern Colorado, left the team last year after a public spat with Rolovich stemming from his decision to opt out of the 2020 season because of health concerns related to the pandemic, according to the lawsuit.
When Rolovich and Woods had a conversation about this in August 2020, the lawsuit said Rolovich "responded not to Woods' health concerns, but by asking if Woods was a part of the #WeAreUnited group," a group of players that was advocating for social and racial justice issues, including pandemic safety protocols.
After Woods confirmed his involvement, he said Rolovich asked him to clear out his locker because his involvement with that group would send "mixed messages to the team."
"Rolovich's message is clear and further demonstrates Defendants' actions under the color of state law to chill public discourse on matters of social and racial justice," Woods' lawsuit states. "To Defendants, if a player is on social media and posts regarding players who have opted out, or is supportive of #WeAreUnited and then opts out of playing for any reason, that player's athletic services contract funds will be terminated unless that  player expressly and publicly takes a stance in opposition of the  #WeAreUnited movement."
… Continue reading story here …
–
—
ESPN Pac-12 Predictions: Conference gets a Playoff team, but CU finishes 4-8
… The very last prediction story – I promise! I'm tired of reading about the upcoming season … let's get it going!! … 
From ESPN … After a 2020 season and then an offseason like no other, college football is finally back.
As much as things might have changed off the field with name, image and likeness, talk of an expanded College Football Playoff (we think), and Oklahoma and Texas jumping from the Big 12 to the SEC sometime in the near future, not a lot should change on the field. Once again, there's still plenty of distance between the haves and have-nots in the upper echelon of the FBS.
Defending national champion Alabama, Clemson, Ohio State and Oklahoma will be right back in the CFP mix, with Georgia, Texas A&M, Oregon and others trying to chase them down.
Here are my predictions for each of the Power 5 leagues:
Pac-12
North
Oregon 10-2, 8-1
Washington 9-3, 6-3
Stanford 7-5, 5-4
California 6-6, 4-5
Oregon State 4-8, 2-7
Washington State 3-9, 1-8
South
USC 10-2, 7-2
Utah 9-3, 7-2
Arizona State 8-4, 5-4
UCLA 8-4, 5-4
Colorado 4-8, 3-6
Arizona 2-10, 1-8
Pac-12 champion: Oregon
Offensive player of the year: Kedon Slovis, QB, USC
Defensive player of the year: Kayvon Thibodeaux, DE, Oregon
Freshman of the year: Korey Foreman, DE, USC
Impact transfer: Charlie Brewer, QB, Utah
Coach of the year: Mario Cristobal, Oregon
Coach on the hot seat: Clay Helton, USC
Coordinator that will be a head coach: Graham Harrell, offensive coordinator, USC
Nonconference game of the year: Oregon at Ohio State, Sept. 11
Conference game of the year: Oregon at Washington, Nov. 6
Upset of the year: Colorado over Washington, Nov. 20
Three bold predictions for the Pac-12
A Pac-12 team makes the CFP: Pac-12 teams have grabbed only two of the 28 spots that were available in the first seven editions of the CFP. A Pac-12 team hasn't been selected to compete in the CFP since Washington was trounced by Alabama 24-7 in a semifinal at the Chick-fil-A Peach Bowl in 2016. Pac-12 football, which seemed to be on life support at times the past few years, finally gets a much-needed jolt this season. Any one of five Pac-12 teams — Arizona State, Oregon, USC, Utah or Washington — will catch lightning in a bottle, finish 12-1 and be the No. 4 seed, after a few of the CFP favorites lose a couple of times.
Hey, remember Chip Kelly: It has been 11 years since Kelly guided Oregon and its high-flying offense to the national championship game, where the Ducks lost to Auburn 22-19 on Wes Bynum's 19-yard field goal as time expired. Kelly spent two more seasons at Oregon, bolted for the NFL and then came back to the league at UCLA in 2018. So far, we hardly knew he was there. The Bruins went a combined 10-21 in his first three seasons, 10-15 in the Pac-12. In Kelly's defense, he inherited a mess of a roster from Jim Mora Jr., but the 2021 team is loaded with super seniors and more talented players. If the Bruins get more consistent quarterback play, they could be a legitimate sleeper. They'll give the Pac-12 a jolt of much-needed credibility when they stun LSU at the Rose Bowl on Saturday night.
Arizona State falls apart: The Sun Devils have been largely mediocre in Herm Edwards' tenure so far. It's hard to take away much from last season's 2-2 record because the season was derailed by COVID-19. Arizona State has been a popular choice to be the league's breakout team in 2021, but it's difficult to imagine that actually happening with a looming NCAA investigation into alleged recruiting violations hanging over the program. Three of the team's top recruiters — defensive backs coach Chris Hawkins, wide receivers coach Prentice Gill and tight ends coach Adam Breneman — are on administrative leave. Edwards compared the situation to his inability to hit curveballs as a kid. This time, it must feel like Sandy Koufax is throwing them.
… Read full national prediction thread here …
–
—–
August 31st
… Foe Pause … 
Pac-12 Networks announce a NIL licensing program; partners up with Veritone
Press Release from the Pac-12 … Pac-12 Networks has announced the launch of a new initiative that will pave the way for current Pac-12 student-athletes and their name, image and likeness (NIL) partners to license Pac-12 Networks footage and highlights. The Pac-12 Networks NIL Licensing Program, launched in partnership with Veritone, provides a pathway for student-athletes and their brand partners to access Pac-12 Networks footage and highlights as they navigate the new NIL opportunities available to them and ensures adherence to all relevant state and institutional NIL policies.
The Pac-12 Networks NIL Licensing Program is one of the first of its kind and is reflective of the Pac-12's commitment to supporting student-athletes as they explore the evolution of the NIL landscape. Through Pac-12 Networks' exclusive licensing partner, Veritone, current student-athletes and their brand partners are able to license Pac-12 Networks footage and highlights for use in conjunction with their NIL opportunities.
"As part of a network built to showcase the Pac-12 Conference, its student-athletes and programs, the Pac-12 Networks NIL Licensing Program is an important step in recognizing and celebrating the new opportunities available to student-athletes," said Pac-12 Networks President Mark Shuken. 
"We are proud to provide this new, streamlined process for student-athletes and their NIL partners to easily access and make the most of Pac-12 Networks footage in this new landscape."
"At the forefront of advancing technology and as subject matter experts, Veritone strives to make content more accessible to licensees and create a smooth process for our library partners," said Mike Arthur, Senior Vice President and General Manager, Veritone Licensing. "Through the Pac-12 Networks NIL Licensing Program, we are excited to make this content available for the first time to current Pac-12 student-athletes and the brands with which they will work."
–
—
For the Pac-12, AQI (Air Quality Index) almost as much a concern as COVID numbers
From the San Jose Mercury News … Once again, the greatest threat to Pac-12 football is airborne, attacks the respiratory system and can shut down cities.
But unlike COVID, the likeliest source of disruption this season can been seen, smelled and tracked in real time.
"Let me show you what I have on my phone," Pac-12 commissioner George Kliavkoff said to a recent visitor.
A few touches later, Kliavkoff's phone screen displayed an app showing the air quality levels for locales across the conference.
Each day, he checks for smoke.
"It's a real concern," he said.
The pandemic could prompt the Pac-12 to cancel or postpone games. But given the high vaccination rates for players and coaches — most teams are above 90% — COVID has been dethroned, at least for the moment, as the chief threat to competition.
But the perils posed by wildfires, and the suffocating smoke that can spread for thousands of miles, are substantial.
Last fall, Pac-12 teams waited anxiously for PCR results.
This fall, it's about AQI levels.
"It's probably going to be pretty bad based on how things are already,'' said John Balmes, a professor of medicine at the University of California-San Francisco and member of the California Air Resources Board.
"Until we get some rain, it's not going to get any better. And then we get those crazy fall winds."
Normally, winds from the Pacific Ocean blow easterly and take the smoke with them. (Salt Lake City was recently slammed with bad air from the massive Dixie Fire in Northern California.) But in the fall, the direction shifts and winds blow west off the mountains, threatening the campuses close to the coast.
"If the air quality is like it was last August, it's going to be problematic," Balmes said.
… Continue reading story here …
–
—
Freshman (non-starting) Ohio State QB gets $1.4 million NIL Deal
From ESPN … Ohio State quarterback Quinn Ewers has signed a name, image and likeness deal with GT Sports Marketing for $1.4 million, a source told ESPN on Tuesday.
The contract with GT Sports Marketing is for three years and is in exchange for autographs. The deal, according to a source, was negotiated by Ewers' agents at Sportstars and Rubicon, and is Ewers' third NIL deal overall.
Ewers is cashing in on the new opportunities that have emerged with NIL deals being granted to college athletes only a few months ago. Once the ruling was passed, Ewers, who was the No. 1 ranked prospect in the 2022 class, decided to skip his senior season, reclassify to the 2021 class and enroll early at Ohio State. He joined the team in August.
The 6-foot-3, 205-pound Ewers had offers from nearly every major program in the country. He was originally supposed to stay at Carroll High School (Southlake, Texas) until January, but Texas is one of just three states that have a law prohibiting high school athletes from profiting off NIL.
Illinois and Mississippi are the other two states that prohibit high school athletes from profiting off NIL.
Ewers had initially committed to the Longhorns, but decommitted in October 2020.
–
—–
August 30th
… Foe Pause … 
Sam Noyer named Oregon State starting quarterback 
From buildingthedam.com … After a tough camp battle with Tristan Gebbia, Chance Nolan & Sam Vidlak. Sam Noyer has been named the starter for week one.Jonathan Smith announced the news Monday during his press conference. Tristan Gebbia is said to still be on the mend with hamstring soreness.
Sam Noyer started every game for Colorado last season, before transferring to Corvallis this offseason. In his last season down in Boulder, Noyer had a 55% completion rate, with 1101 yards passing and 6 touchdowns. Noyer is very much a dual threat quarterback, and added 208 rushing yards and 5 rushing touchdowns.
The Beavers' season kicks off at 4 PM Pacific Time this Saturday in Indiana against Purdue.
–
—
Will the Nebraska sell-out streak come to an end? Trev Alberts: "I'm not interested in perception. I'm interested in reality"
From The Athletic … Welcome back to reality, Nebraska fans.
For those born in this century, it probably doesn't feel all that out of whack to wake up on a Monday after the Huskers sunk to a new low in another avoidable defeat. For those old enough to have legally drowned their sorrows Saturday night after a stunningly poor performance at Illinois, this feeling will never become routine.
Before the Illini beat Nebraska 30-22, maybe some bought into the narrative trumpeted from Memorial Stadium that the parade of self-inflicted mishaps had left town. Or perhaps not.
Either way, it doesn't matter now. This is reality. And it's not just one game, as I heard from a couple of purveyors of admirably high levels of optimism. It's 33 games.
Coach Scott Frost's 12 wins with the Huskers include one against Bethune Cookman of the FCS, the subdivision to be represented again Saturday as Fordham is set to visit Lincoln.
Let's talk about this upcoming Saturday. Tickets remained available, as of late last week, for Nebraska's home opener, the first game in Lincoln with fans in seats since Black Friday 2019.
The irony on display this week would be lost on no one if the NCAA-record 375-game sellout streak ends on the afternoon that the Huskers welcome the return of fans after the dismal 2020 experience of playing in front of nearly 90,000 empty seats.
Should it end? I'm not alone in thinking that might not be the worst thing. Nebraska is going to do what it can to sell every ticket, as it should. The streak is important to many fans. And it matters to the school as its most notable connection to a bygone era of glory.
But athletic director Trev Alberts is a realist.
He understands the diminishing returns in play if Nebraska staffers are required to invest energy to foster an unnatural extension of the streak through support from donors. Better use of their time exists to help the Huskers look to the future, not stay connected to the past.
The streak is barely hanging on for a variety of reasons that include the continuing impact of COVID-19 and the increased conveniences of watching from home. Mostly, though, Nebraska is in jeopardy of failing to sell every ticket in the stadium for the first time since 1962 because of the product on the field.
It's subpar, as the Huskers made painfully clear against Illinois. Alberts said last week that he felt good about the bid to sell out the stadium this year.
Did the punch delivered by Illinois rob Nebraska of the momentum needed to sell its remaining seats? Were there donors and fans waiting to see what happened in the opener before helping push Nebraska over the top?
If the Huskers announce a sellout Saturday, it represents another show of incredible loyalty from a fan base unrivaled in its dedication over the past six decades.
But nothing lasts forever. If it ends soon, Nebraska, as a state and a school, can move on as the proud owner of a record unlikely to be eclipsed in college football, free of another tie to its weighty past.
–
—
UCLA getting more attention for sparse attendance than win over Hawai'i
From CBS Sports … Listen, I get it: Saturday was hotter than hell, we're still getting through a pandemic and traffic can be a nightmare in Los Angeles. But if there's a better image to show one of the biggest problems the Pac-12 and new commissioner George Kliavkoff are facing, I don't know where to find it.
This is not the kind of crowd you're hoping to see for a season opener, and while those excuses listed above have some validity, it was hot all over the country on Saturday. Temperatures were in the 90s in Champaign, Illinois, yet roughly 40,000 fans showed for the game. In Fresno, California, it was so hot that teams brought extra cleats in case the ones they wore melted. The official attendance there was over 26,000. Even if that many people didn't show up — and certainly didn't stay for the entire 45-0 blowout — it's a lot more than showed up at the Rose Bowl.
It's a shame, too, because UCLA not only played well in its 44-10 win over Hawaii, but it looks like a team poised to have its best season since early in the Jim Mora era. Maybe Chip Kelly is turning the Bruins around after all.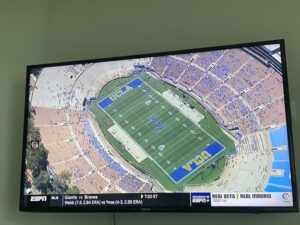 –
—–
August 29th
… Foe Pause … 
Suspended Oregon DB's to be reinstated (wait for it!) for the Ohio State game
From Duckswire.com … After declaring secondary starters DJ James and Jamal Hill were suspended indefinitely, Oregon Ducks head coach Mario Cristobal says the two players will miss the Fresno State game, but that's it.
Both Hill and James were involved in an alleged incident with an airsoft gun that injured a few bystanders. The players are still facing three charges of reckless endangering, assault, unlawful discharge of a firearm, and disorderly conduct.
With this decision, it seems as Oregon will go into the Ohio State game with all of their defensive pieces in place. But whether or not James and Hill will be able to just assume their starting dutied remain to be seen.
The Ducks have had several freshmen step up in fall camp, such as Twikweze Bridges and Dontae Manning, who have the pure talent to fill in and not have Oregon miss much of a beat.
Oregon is scheduled to open the 2021 season Sept. 4 with the Bulldogs for an 11 a.m. (PT) kickoff on the Pac-12 Network.
–
—
It's come to this: Nebraska fan wearing bag over his head
… Not that CU has had much to brag about over the past 15 years, but it does feel good to have the Cornhuskers mired in mediocrity …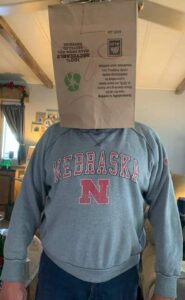 –
—
UCLA plays before a two-thirds empty Rose Bowl
From the San Jose Mercury News … Impressive as UCLA looked on the field (a 44-10 win over Hawai'i), we cannot ignore the empty seats in the Rose Bowl. Certainly, the ESPN cameras and social media commentators did not ignore them.
Yes, the visuals were bad — bad for the Bruins and, frankly, bad for the conference. (Rose Bowl capacity for UCLA games: 88,865; reported attendance for Hawai'i game: 32,982 … or 37% of capacity)
But context is required:
It was 95 degrees in the stadium with an uninspiring opponent and a pandemic, and fans were informed ahead of time they would be required to wear masks (except when eating and drinking).
That combination would have impacted attendance under any circumstances.
If you're assigning responsibility, the circumstances (heat, opponent, COVID, masks) probably account for 50% of the small turnout.
The other half is abject apathy, for which the Bruins have nothing and nobody else to blame. And that's the portion they must solve.
Next weekend would be a fine time to start.
–
—
Pac-12 Networks back (at least until 2024, so we may as well get used to it) 
From the San Jose Mercury News … We couldn't help but recall the plague-cart scene from the funniest movie ever made, Monty Python and the Holy Grail, when the Pac-12 Networks recently released their programming plan for the fall.
After their near-comatose 2020 season, the networks are up and running with a full slate of football games and studio/remote programming.
There's even a new show, "Tailgate," which focuses more on festivities than football. It joins a lineup that features the return of the "Pregame" (live from the campuses), the "Gamebreak" updates throughout the day, and the late-night wrap-up show, "Pac-12 After Dark".
Some fans might wonder, Why even bother?
Well, here's why: The Pac-12 Networks aren't going anywhere, at least not anytime soon. The distribution contracts don't  expire until the spring of 2024.
Given that reality, it only makes sense for the conference to do everything possible to promote the schools and their chief export, football, to the greatest extent possible.
–
—–