—
Colorado Daily – Northern Colorado Week
—
September 3rd – GameDay!
… CU in a few minutes … 
Expecting the unexpected v. UNC: "We need to focus on our job"
From the Daily Camera … Although CU has had this game on the schedule for a while, the Buffs really don't know much about the Bears. With a new head coach – who has no college experience – and a roster filled with newcomers, UNC will be somewhat of a mystery to CU.
CU head coach Karl Dorrell said his team can draw upon a recent experience, however. Last year, the Buffs wound up playing San Diego State on Nov. 28. That game was officially on the schedule less than 48 hours earlier, because COVID-19 issues at Southern California caused the Buffs' game in Los Angeles to be canceled. CU had one day to prepare for SDSU and didn't know much about the Aztecs when the game kicked off.
The unknown this week will be somewhat similar.
"I've mentioned that to the team a time or two," Dorrell said. "Just for them to know that (the Bears) are going to do some things that we haven't practiced. I'm sure of it. So we have to just be ready to make the adjustments when needed and take advantage of our opportunities when we get it."
Much of CU's focus this week is on itself and playing good, sound football.
"I want to make sure we function well in terms of I don't want pre-snap penalties," Dorrell said. "I don't want guys jumping offsides, alignments offsides; that's stuff that is losing their focus. So they need to focus on their job and executing what they're supposed to do and make every play happen that gives us a chance to make a play."
… Continue reading story here …
–
—
Buffs ready to take the field – Nate Landman: "I love this team" 
From the Daily Camera .. CU will host Northern Colorado at Folsom Field on Friday night, carrying hopes that it can duplicate what it did in 2020 by exceeding expectations in the delayed and COVID-19 pandemic-shortened season.
Like last year, the Buffs are projected to finish near the bottom of the Pac-12 South division but feel ready to hit the stage after what they believe was a strong offseason.
"I love this team," Landman said. "It's one of my favorite teams I've been a part of. I think we're one of the most mentally strong teams I've been a part of and super close."
Aside from the natural excitement that comes from an opener, CU players are eager to feel the energy in the stands again.
The general public hasn't seen a game at Folsom Field since Nov. 23, 2019. As of Thursday afternoon, CU had sold roughly 37,000 tickets for Friday's game, including 11,800 student passes
"I'm super excited," receiver Dimitri Stanley said. "It doesn't feel like football without the fans and they just bring a different kind of energy to all the games so it'll be fun."
On Wednesday, CU announced that Ralphie VI will make her debut and she'll be the first buffalo to lead the team onto the field since Ralphie V's finale on Oct. 5, 2019. Players are excited about her debut, but Landman echoed Stanley's sentiment about the fans.
… Continue reading story here …
–
—
Scouting Report: UNC Players to Watch
From the Daily Camera …
Bears scouting report
Head coach: Ed McCaffrey, 1st season
2019 Record: 2-10, 2-6 Big Sky (did not play in 2020)
5 Players to Watch
ILB Jace Bobo, Jr.: In 2019, he racked up 54 tackles, two sacks and two interceptions for the Bears.
QB Dylan McCaffrey, Sr.: A transfer from Michigan, he makes his UNC debut on Friday. He's a good athlete who averaged 7.2 yards per rush with the Wolverines.
WR Jaren Mitchell, So.: The Bears' leading receiver from 2019, he caught 48 passes for 740 yards and two touchdowns that season.
OLB R.J. Potts, Jr.: A transfer from Cincinnati, he didn't play in 2020, but appeared in 22 games as a reserve from 2018-19.
RB Tru Wilson, Sr.: Another Michigan transfer, he gained 586 yards and two touchdowns on 107 attempts during his time with the Wolverines.
UNC offense: Although the Bears' system is a mystery, it's a good bet the offense will go as Dylan McCaffrey goes. The former Michigan QB transferred to Greeley to play for his father and he's not likely to spend a lot of his time handing the ball off to running backs. The Bears also loaded up on transfers at receiver, including Jonah Morris (Akron), Dylan Thomas (TCU) and Kassidy Woods (Washington State). The Bears' top receiver from 2019, Jaren Mitchell, is also back. On the ground, the Bears are led by Michigan transfer Tru Wilson, as well as McCaffrey, who is a dual-threat.
UNC defense: The Bears' depth chart shows a 3-4 base defense, and it is a mix of returners and transfers. Nine of the 22 players from the first and second teams are first-year transfers from other schools. In 2019, the Bears gave up 37.8 points and 507.6 yards per game, so they need those transfers to step in and make an immediate impact. Inside linebacker RJ Potts (Cincinnati) and outside linebacker Xander Gagnon (Duke) are two of the top transfers, while the defensive line has several players returning from the 2019 squad. The secondary has been overhauled, with five of the top eight players all coming from other schools.
UNC special teams: Junior Caleb Brickhouse is listed as the Bears' top kicker and punter. He came to UNC from Hutchinson Community College, where he was an All-NJCAA honorable mention punter. Freshman Devin Bale is the only other kicker/punter on the depth chart. Receivers Dylan Thomas and Sam Flowers are listed as returners.
… Continue reading story here …
–
—–
September 2nd
… CU in a few minutes … 
Ticket sales for UNC game inching up
From a tweet this afternoon from Brian Howell at the Daily Camera …
As of this afternoon, Colorado has sold roughly 37,000 tickets for Friday's game against UNC. Student passes are almost sold out at 11,800 … 
For the A&M game in Denver on Sept. 11, about 52,300 tickets have been sold … 
–
—
CU names captains for UNC game
… Junior center Colby Pursell … Senior linebacker Nate Landman … Freshman quarterback Brendon Lewis … Junior defensive end Terrence Lang …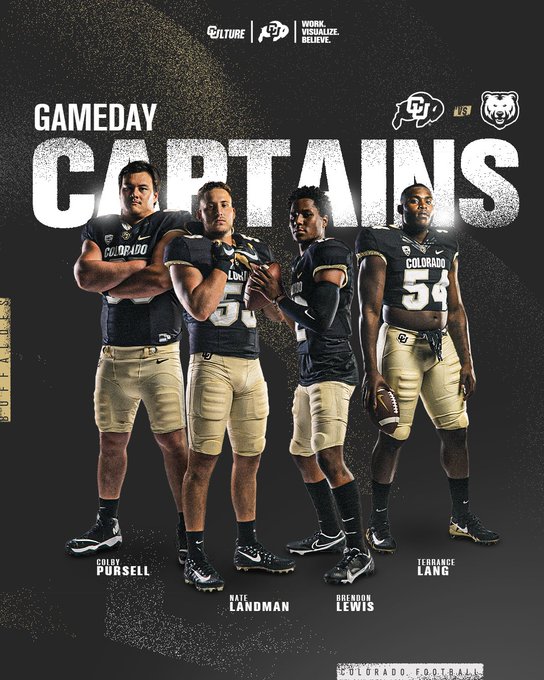 –
—
CU Twitter account throws some shade on CSU; Nebraska
Tweet from the Colorado Buffaloes account … note the ear of corn in the bottom corner …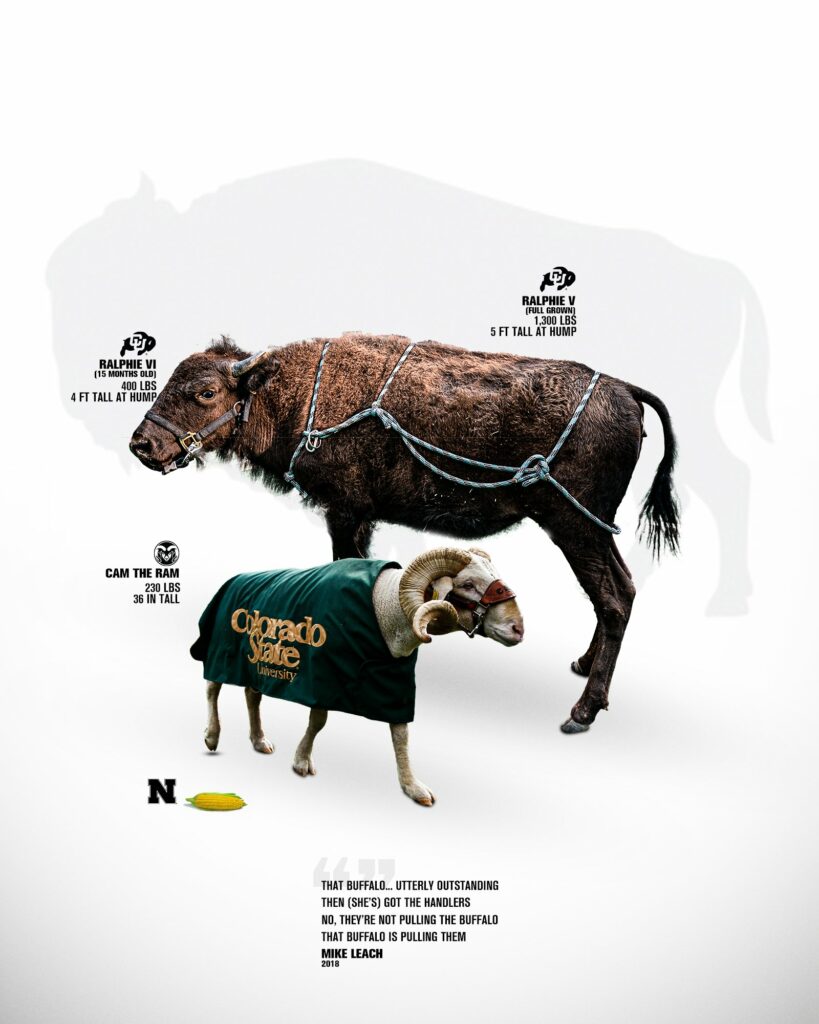 –
—
Neill Woelk posts Fast Five Keys to UNC Game
From CUBuffs.com … Finally, "normal" college football makes its return to Boulder this week.
That means Friday night lights, a sizable Folsom Field crowd, cheerleaders, a band, and Ralphie on the run.
It's been too long.
Yes, Karl Dorrell's Colorado Buffaloes did play three home games last year in an abbreviated 2020 season, Dorrell's first as CU's head coach.
But Dorrell freely admitted earlier this week that Friday's season opener against Northern Colorado (7 p.m., Pac-12 Networks) will very much have the feel of his first game at the Buffaloes' helm.
"It will absolutely," Dorrell said. "I'm not going to lie about that. (Last season) we took the field with no one in the stands and it was like a scrimmage on a Saturday. It's definitely going to feel like it's a college game experience with young Ralphie running and fans in the stands. This really is going to feel like it's my first game."
"Young Ralphie," of course, is Ralphie VI, who will be making her college debut as well Friday. But while it might be reasonable to expect some first-game jitters from the CU mascot, that's not what Dorrell wants to see from the Buffaloes wearing helmets.
Rather, Dorrell expects his team to be focused, ready to execute and prepared to build some momentum for what's coming next — a matchup with Texas A&M, the preseason No. 6 team in the nation, on Sept. 11 in Denver.
The Buffaloes are heavy favorites to defeat the Bears, an FCS team that hasn't played a game in 650 days, is playing under a new head coach and has more than 60 players on its roster who have yet to suit up in a UNC uniform.
But there's no doubt Dorrell is looking for more than "just" a win in the opener. He wants to shake off every bit of rust as early as possible and have his team firing on all cylinders as quickly as possible.
"We feel it's important for us to get started on the right foot and hopefully create some momentum," Dorrell said. "I don't want pre-snap penalties, guys jumping offsides … They need to focus on their job and executing what they're supposed to do."
So what will the Buffs be aiming to accomplish Friday? Our weekly Fast Five returns for another season:
1. Establish some offensive rhythm and get QB Brendon Lewis comfortable in a hurry. While there are returning veterans sprinkled up and down the starting lineup on the offensive side, the Buffs will have a freshman quarterback making his first-ever college start (and only his second college appearance).
CU needs to make sure Lewis is supremely comfortable in his new role. That means limiting precarious situations, giving him time to throw and the opportunity to get into the flow. Lewis looked terrific in his first college appearance (the Alamo Bowl), and he certainly won't be seeing the same type of defense he faced when he made a relief appearance against Texas.
But you can bet that UNC will do everything possible to make him uncomfortable and force some early mistakes.
How do the Buffs limit the opportunity for those mistakes to occur? Glad you asked.
… Continue reading story here …
–
—–
September 1st
… CU in a few minutes … 
**Ralphie VI to make her debut Friday night (great video!)**
Press Release from CUBuffs.com … The University of Colorado has anointed its newest live Buffalo mascot – Ralphie VI – and she is set to make her debut this Friday night at the Buffaloes' season opener against Northern Colorado, Ralphie Program Manager Taylor Stratton announced Wednesday.
The newest Ralphie is a shade over 15 months old, as she was born on May 27, 2020 on a ranch in western Nebraska.  An orphan rejected by her mother at birth, she was adopted and raised in part by a beef cow.  She now tips the scales at just under 500 pounds; the previous quintet of buffalo mascots eventually weighed around 1,300 pounds, but it is hard to predict just how big VI will grow.
Ralphie V was retired after the 2019 season after serving the university for 12 years, matching the tenures of both Ralphies I and IV.  She is in good health and is enjoying "retirement."
Stratton was the assistant coach and took over the Ralphie program on April 1, 2020; she was involved from the get-go with former head coach John Graves to identify a new mascot.  The search for her successor started immediately, but the process was put on hold and then delayed due to the COVID-19 pandemic.   The newest Ralphie was donated to the program in November 2020, and after months of training, evaluation and getting to know the fast-growing calf, Stratton felt confident over the course of this past summer that she had secured the candidate for VI.
"I couldn't be more excited to introduce Ralphie VI this Friday night," athletic director Rick George said.  "This will be a really special moment in our Ralphie history as Ralphie VI makes her first appearance to open our 2021 season.  Colorado football is synonymous with Ralphie and I'm ecstatic to continue this tradition with Ralphie VI as the best tradition in college athletics."
"We're very excited for the opportunity to continue the Ralphie live mascot program," Stratton said.  "We understand how much Ralphie means to everyone in Buff Nation.  Throughout the entire process, we have always prioritized the care and safety of the buffalo and her handlers above all else.
"All of Ralphie's training is completed with positive reinforcement, and ultimately the decision on whether or not she runs will always depend on her safety and that of her handlers."
Head coach – meet Ralphie / Ralphie – meet coach …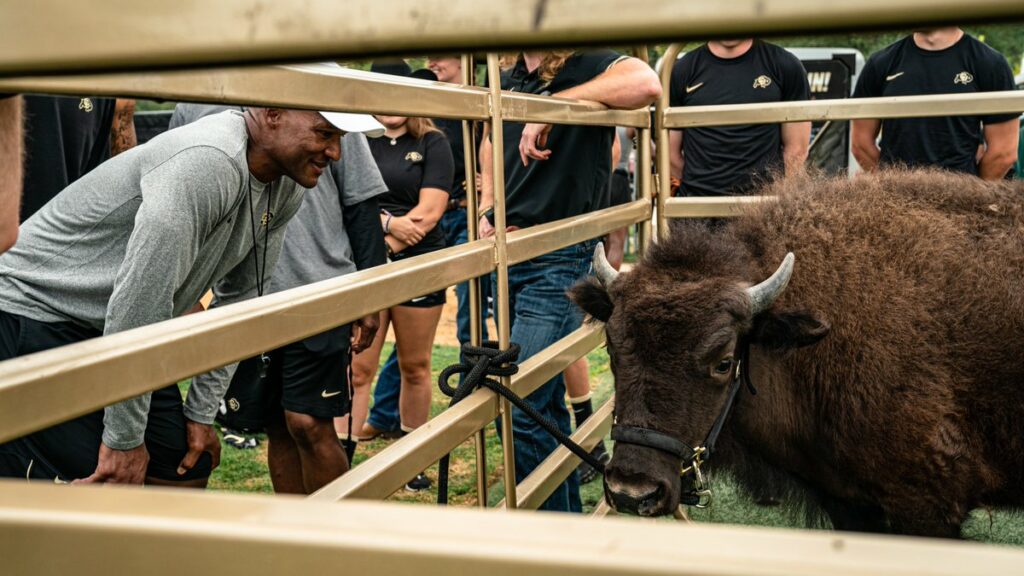 Meet Ralphie VI …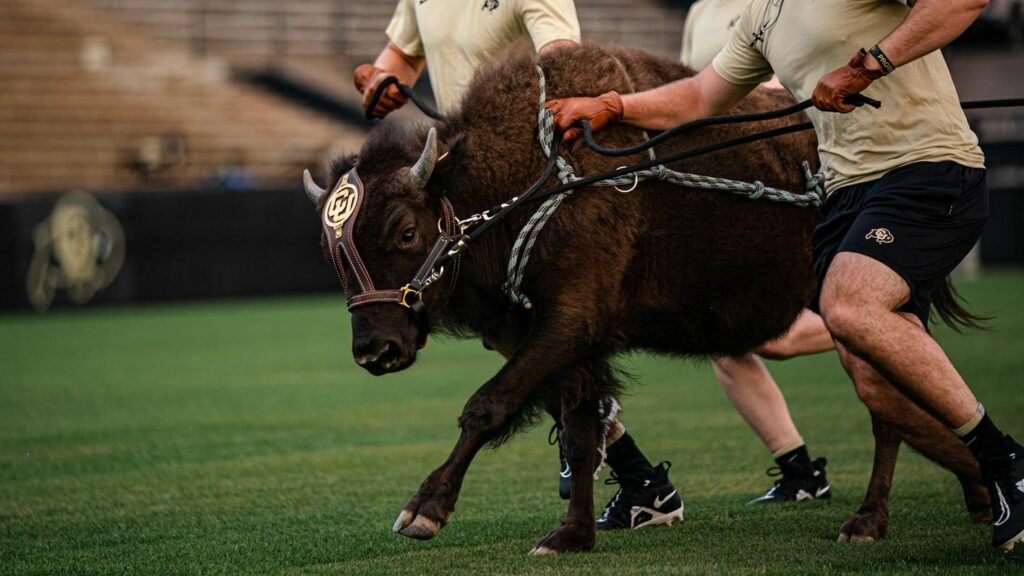 –
—
**Mustafa Johnson allowed to return to CU for 2021 season**
From the Daily Camera … One of Colorado's best defensive linemen in recent years is coming back.
Mustafa Johnson, who elected in January to skip his final season of eligibility and enter the NFL draft, has been granted a waiver to return to CU. He was reinstated to the roster on Wednesday but is not yet eligible to play.
According to a BuffZone source, Johnson must serve a suspension and CU has a few hurdles to clear in order to get him eligible. It's possible, according to a source, that Johnson could make his season debut on Oct. 2 against Southern California at Folsom Field. CU opens its season  Friday at Folsom Field against Northern Colorado (7 p.m., TV: Pac-12 Networks).
After declaring for the draft, Johnson signed with an agent, but went undrafted and was unable to land a free-agent contract with an NFL team. He did receive a tryout with the New York Jets but was not signed.
—
From Tweets from Brian Howell at the Daily Camera …  Big news for Colorado: DL Mustafa Johnson, who declared for the NFL Draft in January but wasn't selected, has been granted an NCAA waiver to return to CU, per a source. It's unclear when Johnson, who was 2nd-team All-Pac-12 in 2020, could be eligible to play
Johnson wasn't drafted and never signed a free agent deal with a pro team. According to a source, he must serve a suspension and CU has other hurdles to clear to get him eligible
Johnson has been CU's most dominant DL in the past 3 years, with 15 sacks, 29 TFLs. This will be his final season of eligibility
Although it's unclear when Mustafa Johnson would make his season debut, I've heard from multiple people that Oct. 2 against USC at Folsom Field could be the day. I would not expect him to play before then
Johnson's case is fairly similar to that of former ASU punter Michael Turk, who entered the 2020 draft, signed with an agent and was not drafted or signed as a FA. NCAA allowed him to return to ASU. Turk was first-team All-Pac-12 in 2020 and has since transferred to Oklahoma.
–
—
Nate Landman: "I'm definitely not the same player. I think I'm a better player"
From the Daily Camera … For any athlete returning from a ruptured Achilles' tendon, the main question is not necessarily whether they'll play again, but if they'll be able to play at the same level they were at before the injury.
That's the task in front of Colorado linebacker Nate Landman, who ruptured his right Achilles' during a Dec. 12 game against Utah.
The All-American candidate is slated to make his return on Friday when the Buffaloes host Northern Colorado at Folsom Field (7 p.m., TV: Pac-12 Network) and he can't wait.
"I'm definitely not the same player," Landman said Tuesday. "I think I'm a better player."
CU's leading tackler the past three years aggressively attacked his rehab this year and said he's gone through preseason practices without any setbacks and with an eye towards leading the defense once again.
"One (way of being better), being in the film room and studying and learning a new defense," he said. "I learn new keys and things every day from my staff. So on the mental side, I'm way smarter than I was last year. And on the physical side, I feel faster and more explosive. I was even talking to (head coach Karl) Dorrell today and he thought the same thing."
… Continue reading story here …
–
—–
August 31st
… CU in a few minutes … 
**Video: Karl Dorrell's last meeting with media before kickoff – Buffs wary of "un-scouted looks" **
From YouTube, courtesy of CUSportsNation …
… Karl Dorrell … "It's going to be a tremendous challenge for us … You're going to see some un-scouted looks … We'll have to get that taken care on the sidelines and problem solve … There will be some things we haven't practiced. I'm sure of it … I want to make sure we function well … I don't pre-snap penalties, I don't want us to jump offside … J.T. Shrout surgery successful, but he will out for the season … UNC should give us multiple looks … It was a lot of fun to coach Ed McCaffrey – He kept me on my toes … Brendon Lewis didn't change his demeanor in the Texas game, so not expected to now … That's his personality. He has a great deal of confidence in himself. He has some unique qualities which makes him a special player … You'll see him settle in and play well … I'm very confident in him. He's put together a good week of practice … I know he will play hard and try and make good decisions … Friday will feel like his first game. Playing with no fans last year felt like a scrimmage … It's an important game. It's important for us to start right … I won't say it's a trap game, it's an important game … ".
–
—
Senior LG Kary Kutsch hoping to bring stability to the left side of the line: "I can be a rock on that left side"
From the Daily Camera … Like many college athletes around the country, Kary Kutsch went into 2020 believing it was his last season.
It hardly went as planned, of course, but the Colorado offensive lineman jumped at the chance to return when the NCAA granted all student-athletes an extra year of eligibility because of the COVID-19 pandemic.
"One of the biggest things (in the decision to return) was my senior season was kind of messed up," Kutsch said after a recent practice. "I got two games at guard at either end of the season and played two at center. And then missed three weeks with COVID. So I didn't really even get a senior season last year. So that was a big factor."
Kutsch now steps into a leadership role for the Buffs as one of their most experienced players. A transfer from Butte (Calif.) College in 2018, Kutsch has started 16 of the Buffs' last 18 games, with 14 of those starts at left guard. Only three players on the current roster have played in more games at CU than Kutsch's 28.
"It's kind of on me to be the older guy, the veteran," he said. "I'm a fan of it. I feel like I'm doing a pretty good job, I hope. I feel like I'm leading the O-line pretty well."
Kutsch and center Colby Pursell, a fifth-year junior, are the anchors of a line that has good potential when healthy.
"He's just so smart, you listen to Colby on any call he makes," Kutsch said. "I'm hopefully playing well enough to earn the respect of others."
… Continue reading story here …
–
—
Brendon Lewis ready for first start: "I feel like I know the playbook like the back of my hand"
From the Daily Camera … For eight months, Brendon Lewis has been working on his game in anticipation of taking over as the starting quarterback for the Colorado Buffaloes.
His time is almost here and the second-year freshman is ready to roll.
"I'm super excited for this game," he said. "I've been looking forward to it all summer, getting prepared for it. I'm super excited."
On Friday night, the Buffaloes will host Northern Colorado at Folsom Field (7 p.m., TV: Pac-12 Networks).
For Lewis, it will be his first start since Nov. 29, 2019, when he led Melissa (Texas) High School into a Class 4A Division I regional playoff. The Cardinals lost a thriller that night, 45-42, when La Vega hit a field goal on the last play.
By all accounts, Lewis is a better and more mature quarterback than he was then and many of his coaches and teammates have seen him progress.
"He's going to be ready," receiver Dimitri Stanley said. "He's a game player anyway, and he's been looking great in practice. So I'm not worried about it. I know he's gonna ball out."
Lewis spent most of the offseason battling sophomore JT Shrout for the job, but Shrout injured his knee on Aug. 14. Lewis has taken all of the first-team reps over the past two weeks.
"It was very beneficial," he said of the extra reps. "I feel like I've learned more from getting all of them, not just half, so I feel like I've done a pretty good job with it.
… Continue reading story here …
–
—
Depth chart released 
The CU Depth Chart for the Northern Colorado game has been released. A few notes (after taking all of this with a grain of salt) …
The fact that Brenden Rice and Dimitri Stanley are listed as No. 1 wide receivers was expected, but it's a slight surprise that Daniel Arias is listed as a co-starter at the X wide receiver slot, along with LaVontae Shenault; It's also a little strange to see the two starting wide receivers returning kicks, with Stanley listed as the No. 1 punt returner and Rice the No. 1 kick returner;
At the all-important left tackle position, freshman Jake Wiley is listed ahead of Ohio State transfer Max Wray;
The rest of the offensive line: LG Kary Kutsch; C Colby Pursell; RG Kanan Ray; RT Chance Lytle;
Two other transfers will not be in the starting lineup, with Oklahoma transfer Robert Barnes starting behind junior Quinn Perry at one Will linebacker position, with Notre Dame transfer Jack Lamb will be behind freshman Marvin Ham at the Sam linebacker position;
Colorado's latest depth chart shows a 4-3 base defense (previous charts have shown 3-4), with Jalen Sami and Na'im Rodman as first-team tackles; Terrance Lang and Carson Wells at end; and Nate Landman, Marvin Ham II and Quinn Perry at the inside linebacker spot;
True freshman Cole Becker beat out incumbent Evan Price as the No. 1 place-kicker;
Two players were listed as being out of the season – wide receiver Maurice Bell and defensive tackle Jeremiah Doss – names which were known for some time. Two other players – quarterback J.T. Shrout and offensive tackle Frank Filip – are listed as "out for an extended time". Shrout has also been lost for the season (announced Tuesday), but Filip is expected back in three or four games.
— Northern Colorado's starters on the depth chart for the opener include a quarterback and running back transfer from Michigan; wide receiver transfers from TCU, Washington State and Akron; linebacker transfers from Cincinnati and Duke; and a cornerback transfer from New Mexico State.
Here is a link to the CU/Northern Colorado Game Notes (depth chart is on page 60) … CUF21–Game 1 ( Northern Colorado)
–
—–
August 30th
… CU in a few minutes … 
Folsom Field at 70% of capacity for Northern Colorado game 
Tweet from Brian Howell at the Daily Camera … As of this afternoon, Colorado has sold about 35,000 tickets for Friday's game against UNC, with 9,200 being student passes. A little more than 51,000 have been sold for the Sept. 11 game against Texas A&M in Denver.
–
—
**Monday post-practice interviews: QB Brendon Lewis and WR Dimitri Stanley**
From YouTube, courtesy of CUSportsNation …
–
—
Second-team All-Pac-12 special teams performer Jaylon Jackson: "I found my way onto the bus"
From the Daily Camera … It didn't take long for Jaylon Jackson to figure out that simply being a member of the Colorado football team didn't guarantee him a spot on the travel squad.
"A lot of people don't understand, you're only taking four or five receivers on the travel squad," Jackson said. "If you ain't in that four or five, you've got to find a way to get on the bus."
Now a junior, the 5-foot-10, 180-pound Jackson doesn't get much attention because he's not a kicker or a returner, but he is of the most valuable members of the Buffaloes' special teams unit.
"I found my way on (the bus) and said, 'I'm getting on special teams. I'll make something work,'" he said.
Jackson, in his fifth season with the Buffs, takes his role on the team seriously, but he isn't on the bus only because of his special teams play. He's also a part of the rotation at receiver and a team leader. He was named a captain for three of CU's six games in 2020.
"I think the thing that I'm impressed with more than anything is how big a leader he's become on this football team," head coach Karl Dorrell said. "He does things the right way. It's good to have a good veteran player like that that has some notches in his belt to share some of that experience. We're excited for him that he's back and that he's got a chance to have another solid year like he did a year ago."
… Continue reading story here …
–
—
Christian Gonzalez confident, "and I'm super excited to unleash it"
From the Daily Camera … As an 18-year-old in 2020, Christian Gonzalez was thrown into the Colorado Buffaloes' starting lineup.
There were some bumps along the way, but the 6-foot-2, 200-pound cornerback showed enough promise that his own teammate, junior cornerback Mekhi Blackmon said, "He's gonna run the conference. There's no doubt, he's gonna run the conference."
Gonzalez, who turned 19 over the summer, smiled when he heard about that comment, but knows he can't get caught up in potential or expectations as he prepares for Friday's season opener at Folsom Field against Northern Colorado (7 p.m., TV: Pac-12 Networks).
"It's just an everyday thing," he said of maintaining his focus. "I've got to come in and obviously … it's a goal (to be the best in the Pac-12). I just tell myself, that I'm working for my family and working for everybody back home. And that's just what drives me to keep going every day."
Following a stellar career at The Colony (Texas) High School, where he starred on offense and defense, Gonzalez came into CU loaded with confidence. Earning – and keeping – a starting role last year only enhanced it.
"That definitely boosted it a lot," said Gonzalez, who had 19 tackles and a pass breakup during the five-game regular season. "It was hard transitioning, but not as hard as I thought. Just playing last year and going through the spring, it gave me so much confidence and I'm super excited to unleash it."
Gonzalez has matured physically since last season but has also developed his mental game.
… Continue reading story here …
–
—–
August 29th 
… CU in a few minutes … 
Neill Woelk's List of "Youngsters and Newcomers" Who Could Contribute
From CUBuffs.com … As the Colorado Buffaloes head into their second season under the direction of Karl Dorrell, there's a solid group of veterans who will be expected to be significant contributors.
You know the names: linebackers Carson Wells and Nate Landman; running back Jarek Broussard; defensive lineman Terrance Lang; tight end Brady Russell; O-linemen Colby Pursell and Kary Kutsch; defensive backs Isaiah Lewis, Christian Gonzalez and Mekhi Blackmon; wide receiver Dimitri Stanley.
This is, of course, not a complete list. There are other returning vets who will be counted upon to make plays.
But there are also a number of youngsters and newcomers who will need to step into the role of regular contributors if the Buffs are going to contend for a Pac-12 South title.
Again, this list is by no means complete, and every player here won't be taking on a major role. But if the Buffs can get some consistency from some of these players, it will be a big step forward:
— QB Brendon Lewis. OK, this is painfully obvious, but the Buffs do need their freshman quarterback to be an impact guy.
Lewis has never started a college game. As Dorrell has noted, they expect him to have some freshman moments. But the Buffs do need him to make plays when the opportunity arises, make good decisions and manage the game carefully. If he does those things, he will give CU's offense a chance to succeed.
— RBs Alex Fontenot and Ashaad Clayton. This might be a little strange, given that Fontenot was a regular starter two seasons ago and led the Buffs in rushing.
But after spending a season on the sidelines with an injury while teammate Broussard earned Pac-12 Offensive Player of the Year honors, Fontenot is focused on regaining his share. He had an excellent camp, he's healthy and he's hungry.
Clayton, meanwhile, is the ultra-talented freshman who had some moments last year, but now needs to take the next step and take advantage of every opportunity that comes his way.
While a three-running back rotation is rare, the Buffs do need at least one of these players to step up and provide a regular boost for a CU run game that can't afford to lean on Broussard for 25 carries a game over a 12-game season.
— WRs Brenden Rice, Daniel Arias and La'Vontae Shenault. We saw Rice's potential last year when he had a long TD reception and a punt return for a score against Utah. Shenault has also shown flashes of big-play potential, as has Arias over the last three seasons.
Now, all three will be given more opportunity to make more plays this year. All have big ceilings, but consistency will be the key. It's not hard to imagine one or two of these guys having a breakout season.
… Continue reading story here …
–
—
Six Power Five transfers looking to make their mark: "They've met expectations" 
From the Daily Camera … During the offseason, Colorado's coaching staff found transfers that have competed for starting roles at quarterback, offensive line, linebacker and defensive end.
It is a group that figures to make an impact on the field, but it's no coincidence that head coach Karl Dorrell and his staff also found winners.
Six transfers from other Power 5 schools joined the Buffs this year, including linebackers Robert Barnes (from Oklahoma) and Jack Lamb (Notre Dame); offensive linemen Max Wray (Ohio State) and Noah Fenske (Iowa); defensive end Blayne Toll (Arkansas); and quarterback J.T. Shrout (Tennessee).
"They've met the expectations that we were hoping to have, which was building our depth and having some guys with some experience that have played Division I football," Dorrell said. "All of those guys are really instrumental pieces for us to be successful this year."
Winning experience could be one of the most important ingredients they add to the Buffs.
In four seasons at Oklahoma, Barnes helped the Sooners go 45-8 with four Big 12 titles and three appearances in the College Football Playoff semifinals. Lamb helped Notre Dame go 33-5 with two CFP appearances in three seasons with the Fighting Irish. And Wray was a part of an Ohio State team that went 33-3 with three Big Ten titles and two CFP appearances in three years.
… Continue reading story here …
–
—
Jarek Broussard ready to improve on POTY honors: "Oh, he's better. He's way better"
From the Daily Camera … Darian Hagan didn't hesitate when asked if Jarek Broussard is possibly better than he was a year ago.
"Oh, he's better," Colorado's running backs coach said. "He's way better."
Although he got to play in only six games because of the COVID-19 pandemic in 2020, Broussard put together a remarkable season. Including the Alamo Bowl – which CU doesn't count for season statistics – Broussard rushed for 895 yards and five touchdowns on 156 attempts and earned Pac-12 offensive player of the year honors.
This, however, is a new season.
"Last year was a big year for me and I'll never take that away from myself," he said. "But I think ahead. Yeah, I did all those things, but that's the past. Who really cares? People are looking forward to what I'm going to do this year to see if it's a hoax or not. I'm just looking forward to going out and playing."
Broussard is also looking forward to being a more dynamic threat than he was last year when he posted four 100-yard games, including a 301-yard effort against Arizona.
"He's taken his game up to a point where he's really, really detailed compared to last year," Hagan said. "Last year, at times he would ad-lib. He's not doing that now. He's got a good foundation in our offense. And in pass protection, he's lights out from where he was. He's really, really sound in protection.
"I think he's a special talent. A lot of people see it when he's carrying the ball, but overall he's gotten better at all phases."
What could make Broussard even more dangerous is that he's got help this year.
… Continue reading story here …
–
—
Pat Rooney: "It's difficult for this crystal ball to see beyond a 5-7 record for CU in Year Two of the Dorrell Era"
From the Daily Camera … The 2021 Buffs should be entertaining to watch on both sides of the ball. Defensively, the Buffs are expecting linebacker Nate Landman to be back at 100% following the torn Achilles that cut his season short by a game and a half at the end of 2020, but even a Landman back to 80 to 90% of his former self would give the Buffs a solid front seven. Add a secondary riddled with players looking to use their experience to take the next step — Chris Miller, Christian Gonzalez, Isaiah Lewis, Mark Perry, Mekhi Blackmon — and certainly the unit has potential.
Offensively, the Buffs boast the personnel that, if there was an experienced quarterback leading the huddle, would automatically be ticketed with high expectations. Lewis and his backups are anything but, and whatever the Buffs hope to achieve will be dependent on Lewis staying healthy and absorbing the playbook smoothly (Dorrell recently estimated the Buffs used only about "30 to 40 percent" of the playbook after having no spring practices ahead of the 2020 pandemic season).
On the plus side, Lewis impressed during his relief performance in the Buffs' Alamo Bowl loss against Texas. He is the unquestioned No. 1 and shouldn't have to worry about looking over his shoulder when he makes his first career start against Northern Colorado. He has one of the top running backs in the Pac-12 in Jarek Broussard, a talented group of receivers, and a tight end in Brady Russell who proved to be a reliable target last season. There also will be a veteran offensive line in front of Lewis.
Working in the Buffs' favor this season is the Pac-12 will be riddled with a mediocre middle pack, from which any team could emerge as a bowl contender. Yet it's difficult for this crystal ball to see beyond a 5-7 record for CU in Year Two of the Dorrell Era.
… Continue reading story here …
–
—–