—
Pac-12 Notes – Fall Camp
—
October 31st
… Foe Pause … 
LA County: No fans in Rose Bowl/Coliseum – UCLA family members coming to Boulder 
From YahooSports.com … A joint proposal from UCLA athletic director Martin Jarmond and USC counterpart Mike Bohn to allow family members of their respective football teams to attend games at the Rose Bowl and Coliseum this season has been declined by California and Los Angeles County health officials, according to sources with knowledge of the situation who asked not to be identified because they are not allowed to speak publicly on the matter.
The officials cited rising community spread of COVID-19 as the primary factor in their decision, two people with knowledge of the situation said, even after Jarmond and Bohn laid out protocols that would have allowed them inside the massive stadiums as safely as possible. The Rose Bowl seats 80,000 and the renovated Coliseum seats 78,000.
Parents had started an online petition to be allowed to attend home games in Los Angeles County after the Pac-12 Conference had said it would not stand in the way of family members showing up amid the pandemic even as fans were barred. Now it appears those family members will be shut out, at least in Los Angeles and Pasadena.
Melva Thompson-Robinson, the mother of UCLA starting quarterback Dorian Thompson-Robinson, said she planned to attend the Bruins' opener against Colorado on Nov. 7 at Folsom Field in Boulder, Colo., where local health officials are permitting as many as 920 family members of players and staff to watch the game.
"This is huge!" Melva Thompson-Robinson said after learning she would be allowed to go to the game. "I'm so excited that I get to watch him in person. I have friends who are going to see their sons play. I just want to see him in person on the field doing his thing."
According to a person with knowledge of the protocols that will be enforced for the Colorado-UCLA game, players must provide the Boulder County health department with the names and contact information of family expected to attend in the event contact tracing becomes necessary.
Family cannot have contact with players before or after the game, only speaking with them from a distance at a designated time.
Should a UCLA player test positive on game day, a rapid PCR test would be given to confirm the positive antigen test. If the follow-up test is positive, that player as well as anyone who had been in close contact with him would be separated from the team.
–
—–
October 30th
… Foe Pause … 
Nebraska (labeled one of the "worse teams") called out for trying to injure Buckeye quarterback Justin Fields
… Remember when Colorado was accused of trying to injure Nebraska quarterback Adrian Martinez? … 
… From CBS Sports (From September 10, 2018) … Nebraska starting quarterback Adrian Martinez was knocked out of the game with an apparent injury to his right knee on Saturday near the end of the Cornhuskers' 33-28 loss to Colorado.
… One angle of the play, circulating on social media, alleges a Colorado defender tried to twist Martinez's leg at the bottom of the pile after the hit that knocked him out of the game. Frost did not comment specifically on what he saw that "didn't look good" but clearly felt like Martinez might have been put at further risk for injury because of what he saw.
"Careful how I answer that," Frost said. "You never want to think anybody on a football would intentionally try to hurt someone else. And nobody except someone who does that knows what the intentions were. I will tell you, we have an angle that doesn't look very good."
… Now, compare that to a discussion by Justin Fields about how he was treated in the pile by Nebraska defenders … 
From CBS Sports … Ohio State quarterback Justin Fields considers Saturday's game (against Penn State) to be somewhat of a respite. He took a veiled shot at Nebraska — and others like the underdog Cornhuskers — for taking advantage of him in a pile.
"It definitely happened a little bit last game," Fields said, "in terms of getting tackled and guys trying to twist my ankle and what not. It happens more so when we play — I don't want to say worse teams — but teams that, I guess, that don't have that good of a chance of winning. …  When we play teams that are more well coached and better teams, it tends to happen less. That might come with respect."
… Tough these days to be a Husker fan … 
–
—
In a battle between CU's first two (scheduled) opponents, Fresno State dominates CSU, 38-17
From the Coloradoan … A reality check.
That's what Colorado State's football program and its fans got Thursday night at Fresno State.
A 38-17 loss that showcased all that had gone wrong for the Rams in former coach Mike Bobo's final two seasons – a 3-9 campaign in 2018 and a 4-8 mark in 2019.
The Rams couldn't score touchdowns in the red zone, couldn't stop their opponent on third-down plays, made critical mistakes at the most inopportune time and committed costly penalties that killed scoring drives and any momentum they might have had.
Sure, Mike Bobo wasn't on the sidelines anymore overseeing the demise of a once-decent football program. Steve Addazio, the coach Boston College fired 10 days before he was hired last December by CSU, is calling the shots now.
Not that it really seemed to make a difference.
CSU football in 2020 looks a lot like CSU football in 2018 and 2019 did, other than the masks officials are wearing on the field and coaches are trying to keep over their mouths and noses on the sidelines to comply with protocols to prevent the spread of the novel coronavirus that causes COVID-19.
… Continue reading story here …
—
Game story From ESPN … Jake Haener set career highs with 311 yards passing and three touchdowns, Ronnie Rivers tied his career best with three scores, and Fresno State scored 31 unanswered points in a 38-17 victory over Colorado State on Thursday night.
Rivers carried it 23 times for 95 yards and two touchdowns and he caught five passes for 69 yards and a score for Fresno State (1-1, 1-1 Mountain West). Rivers, who has scored in 10 straight games, broke two tackles and raced down the sideline for 32-yard touchdown, and he added a 1-yard score for his 31st career rushing TD.
Haener was 14-of-17 passing for 210 yards and two touchdowns in the first half. Jordan Mims came out of the backfield and went untouched for a 15-yard receiving touchdown to extend Fresno State's lead to 24-10 just before halftime.
Todd Centeio completed just 10 of 23 passes for 141 yards for Colorado State (0-1). He carried it 12 times for 89 yards. Trey McBride caught eight passes for 130 yards and a TD.
–
—–
October 29th
... Foe Pause … 
While CU fans wait – how other Pac-12 teams are handling QB announcements
Washington … From Sports Illustrated … It's been the best-kept secret in Seattle for a month — the University of Washington quarterback competition.
Total news blackout by Jimmy Lake.
Continual tap dance by all of his assistant coaches and players.
Nobody connected to the program has dared venture forth with an observation, an opinion or even a prediction regarding QB1.
Everyone has been under strict orders to be as vague as possible when quizzed about the most important position on this football team.
With 12 days remaining until the UW-California opener, Lake still hasn't publicly tipped his hand.
–
Utah … From the Deseret News …Following a spirited quarterback battle, Utah's coaching staff has settled on a starter.
Jake Bentley, Drew Lisk and Cam Rising have been competing for starting snaps since camp began.
While coach Kyle Whittingham has informed his team of the decision, he is hoping to maintain an element of surprise at that position before the Utes kick off the season at home against Arizona on Nov. 7.
The public will likely find out who the starting QB is on game day, when he takes the field.
–
Washington State … From CougFan.com … Nick Rolovich told KJR-AM radio Tuesday that the decision has effectively been made on the starting quarterback for the opener at Oregon State. The first-year Cougar head coach told KJR's Jason Puckett "(the QB) knows that they might be taking the first snap," but Rolovich didn't rule out playing the backup if the starter struggles.
After Saturday's scrimmage, the timeline of naming a starter began to shrink, and now seems complete between Jayden de Laura,  Cammon Cooper and Gunner Cruz.
But don't count on that information becoming public anytime soon. Rolovich said he is "not going to announce that for a while," in an effort to keep Oregon State guessing. It wouldn't be a surprise if he kept it under wraps all the way until game day on Nov. 7.
–
—–
October 28th
… Foe Pause … 
Wisconsin/Nebraska game canceled
… Guess we won't get to see if Scott Frost's bunch can beat a team playing its fourth-string quarterback … 
From ESPN … Wisconsin's football team has paused all team-related activities for at least seven days because of an increased number of COVID-19 cases, causing the No. 9 Badgers' game against Nebraska on Saturday to be canceled.
The game will not be rescheduled.
As of Wednesday morning, 12 people within the program had tested positive for the coronavirus in the past five days. That total includes six student-athletes and six staff members, including head coach Paul Chryst.
"This morning I received the news that I had tested positive via a PCR test I took yesterday," Chryst said in a statement released by the university on Wednesday. "I informed my staff and the team this morning and am currently isolating at home. I had not been experiencing any symptoms and feel good as of this morning.
"I am disappointed for our players and coaching staff who put so much into preparing to play each week. But the safety of everyone in our program has to be our top priority and I support the decision made to pause our team activities."
The university said the decision to pause team activities was made jointly by athletics director Barry Alvarez and chancellor Rebecca Blank.
"We have said from the beginning that the health and safety of our student-athletes, coaches and staff members comes first," Alvarez said in a statement. "Over the past several days, we have seen a rising number of student-athletes and staff contract the virus. The responsible thing for us to do is to pause football-related activities for at least seven days."
Earlier this week, sources told ESPN that Badgers quarterback Graham Mertz had his COVID-19 positive test confirmed and would be out a minimum of 21 days.
Mertz, who starred in Wisconsin's season-opening win over Illinois last Friday, had an antigen test come back positive for the coronavirus over the weekend. He had a polymerase chain reaction (PCR) test that confirmed the result Monday.
Big Ten policy requires any player who tests positive for COVID-19 to miss at least 21 days and undergo cardiac screening before being cleared to return.
Third-string quarterback Chase Wolf also tested positive, according to sources, confirming a report by the Milwaukee Journal Sentinel. If Wolf's positive test was confirmed, he also would miss a minimum of 21 days before returning to action.
… Continue reading story here …
–
—
Why UCLA is a dangerous opener: This is not a mulligan year for Chip Kelly
From The Bruin Report … There is a sentiment in the college football community that the abbreviated 2020 season really won't be considered seriously as a season.  That it's a mulligan year.
Heck, the NCAA itself granted college football players an extra year of eligibility, giving players a do-over for the season.
The season could be added to the history books with an asterisk, since it's under very unique circumstances.  And coaches, of course, want any excuse to not count a bad season against their own personal record. Well, more accurately: count the season if the team does well and don't count it if it doesn't.
That very well might be true for some coaches. Some athletic departments could give its football coach a mulligan for 2020.
UCLA's Chip Kelly, though, shouldn't be one of those coaches.
Kelly has lost historically at UCLA in his first two seasons. With Kelly going 3-9 in 2018 and 4-8 in 2019, his total of 7 wins in his first two years is the worst winning percentage for a coach's first two seasons at UCLA since James Cline went 2-10 in 1923 and 1924.
It's just not that difficult to win at UCLA, and history bears that out. So Kelly's lack of success in his first two seasons focuses the spotlight on him unlike other college coaches.  If he had just, say, won 7 games last season, the spotlight wouldn't be trained on him so brightly.  Yes, there is an expectation of winning at UCLA, but the UCLA community might be one of the most forgiving of any traditionally winning program in the country. If Kelly had just won 7 games last season, there wouldn't even be a slight consideration that he'd be on the hot seat if he didn't turn it around soon. Heck, perhaps 4 wins the first season and 6 the second season might have have made him avoid the hot seat in everyone's minds.
But with just 7 wins in two years, he shouldn't be off it.  The 2020 season very much needs to be on the record — not a mulligan — for Kelly. No hall passes. Kelly needs to be fully accountable for the 2020 season.
… Continue reading story here …
–
—–
October 27th
… Foe Pause … 
CU announces multi-year partnership with Pacific Seafood
From the Pac-12 … Today the Pac-12 announced a multi-year partnership with Pacific Seafood, a family-owned and operated company dedicated to providing the healthiest protein on the planet. One of the largest seafood companies in the country, Pacific Seafood will now serve as the Official Meat and Seafood Provider of the Pac-12 Conference.  The partnership begins with the upcoming 2020 season and will see Pacific Seafood involved as an official partner of the 2020 Pac-12 Football Championship Game, presented by 76®, as well as the 2021 Pac-12 Men's Basketball Tournament, presented by New York Life.
"As a company founded and operated here on the West Coast, we are excited to officially welcome Pacific Seafood into the Pac-12 family and look forward to growing this partnership together in the years to come," said Steve Tseng, executive vice president of sales for Pac-12 Networks.
Founded and operated in the state of Oregon, Pacific Seafood will also receive event signage rights to the Pac-12 Football Championship Game and Pac-12 Men's Basketball Tournament, as well as marketing rights across Pac-12 Networks digital platforms. In addition, as a company intently focused on environmental sustainability, Pacific Seafood will also serve as official partner of 
Pac-12 Team Green
, the Conference's sustainability platform.
–
—
UCLA defensive line: "Improvement will be expected"
From the Los Angeles Daily News … The UCLA football team's defensive line made some strides in 2019, but with a new position coach and defensive scheme, more improvement will be expected.
Defensive line coach Johnny Nansen will be responsible for teaching the 4-2-5 scheme, which features four defensive linemen on the field.
Head coach Chip Kelly has shown enough confidence in the depth available along the defensive line that he was willing to move nose tackle Atonio Mafi to the offensive line this offseason. Mafi was an offensive linemen at Junipero Serra High in San Mateo.
Kelly made a similar move in 2018 when he moved Boss Tagaloa over to center and was a proven success as Tagaloa helped block for Joshua Kelley, who rushed for 1,000 yards in back-to-back seasons.
Here's a breakdown of where UCLA stands at defensive line:
Key returnees: Osa Odighizuwa (DE, sr.), Odua Isibor (DE, jr.), Otito Ogbonnia (NT, jr.), Tyler Manoa (DT, jr.)
Key losses: Atonio Mafi (NT)
Newcomers: Mitchell Agude (WDE/LB), Kenny Mestidor (WDE/LB), Jay Max Jacobsen (SDE/LB)
Biggest unanswered question: How will the defensive line adjust to the new 4-2-5 scheme? The Bruins were preparing for the defensive scheme before the pandemic, now it's just a matter of how much of it they retained during the down time and how much more they can learn during a short fall camp to tie up any loose ends ahead of Pac-12 play.
Why 2020 production could be worse: The Bruins did not lose a key players along the line due to graduation but shifting Mafi to offensive line could be a step back for the defense. Mafi had remained healthy and played in all 12 games, including five starts, last season. His size – 6-foot-4, 355 pounds – will be missed in the middle of the defensive line.
–
—–
October 26th 
… Foe Pause … 
With bowl games being canceled; how's about a Big Ten/Pac-12 bowl weekend?
From John Canzano of The Oregonian … The Holiday Bowl is off. It won't be played due to the COVID-19 pandemic. The organizers made the announcement on Thursday. It was the fourth college football bowl game to cancel.
The Redbox Bowl is off, too. So is the Hawaii Bowl and Bahamas Bowl. And the inaugural Fenway Bowl won't be played this season either, per Brett McMurphy of Stadium.
That's five bowl games — and counting.
Most of the bowl games operate with thin margins to begin. State and county guidelines aren't going to allow the operators to pack stadiums in a traditional way. Sponsors are cash-strapped and backing out anyway. Punting the bowl games to next season are officially about to be a thing. Which leads me to wonder if the Pac-12 and Big Ten might get proactive and plan to marry their postseasons to each other.
The College Football Playoff won't be canceled. There's roughly $600 million in television revenue at stake. But I'm left wondering if the two Power Five conferences that walked hand-in-hand to begin the pandemic might think about doing the same thing at the end.
Obviously, a playoff-selected team (i.e. Ohio State/Wisconsin/Penn State or Oregon/USC/ASU) would go to the playoff. But what about a postseason series that matched up the remaining seeds from each conference (1-10 or so) in head-to-head postseason matchups? Not the usual bowl games, per se. Those are about to be canceled in droves. But a simple, fun, televised cross-conference head-to-head series between the Big Ten and Pac-12.
A "granddaddy" series.
Like a Rose Bowl on PEDs.
… Continue reading story here …
–
—
Arizona opener at Utah threatened by surge in cases in Salt Lake City
From the ArizonaDesertSwarm.com … A swift increase in coronavirus cases in Utah could potentially impact the Arizona Wildcats' 2020 football season opener.
Arizona is set to open play Nov. 7 in Salt Lake City, the capital of a state that has seen an 11.1 percent increase in new COVID-19 cases over the past week, according to the COVD Tracking Project. Utah's number of residents hospitalized due to COVID complications, as well as those in intensive care units, are also at or near all-time highs.
It's expected to get worse in the very near future, according to the Salt Lake Tribune, which on Sunday reported that "Utah's hospitals are expected to begin rationing care in a week or two" to help navigate the surge.
What does that have to do with football, particularly when the Pac-12 is not allowing fans—other than players' family members—at games? Local hospitals' capacity is one of several criteria the conference has established as a reason to cancel a game.
Per the Pac-12's updated cancellation policies, a game "should be rescheduled or declared a no contest" if "local public health officials of the home team state that there is an inability for the hospital infrastructure to accommodate a surge."
The Pac-12's condensed 2020 schedule doesn't leave any room for games to be rescheduled, other than possibly on Dec. 19, when the teams that don't make the league title game are set to be matched up with a team from the opposite division. Utah was picked to finish third in the South Division but received four first-place votes, so there's a decent shot the Utes would already be playing that weekend.
If Utah isn't allowed to host that first game, could Arizona? The cancellation policies don't mention the idea of moving games, but the SEC recently shifted a contest between LSU and Missouri from Baton Rouge to Columbia due to a hurricane so anything's possible.
–
—
USC up three more spots in AP poll; half of Pac-12 now receiving votes 
From CBS Sports … When the AP voters were asked to put together their preseason college football rankings, they were instructed to include the conferences teams that, at the time, had postponed their 2020 season. In that balloting, Ohio State checked in at No. 2 with 21 first-place votes, just behind Clemson at No. 1 (38 first-place votes) and ahead of Alabama at No. 3.
The Buckeyes were removed from the top 25 once the AP poll started running midseason updates, and when the Big Ten announced its return, those teams who had initially postponed the season were once again made available for the voters to consider for their top 25 ballots. But when Ohio State returned to the AP poll, it was as if it had lost its place in line. After just one week of SEC play, the trio of Alabama, Florida and Georgia had jumped ahead of the Buckeyes, along with a two-win Notre Dame squad, and those 21 first-place votes had diminished to just two. In the weeks since, even those two first-place votes went elsewhere, with last week's balloting showing a clear-cut top tier with just Clemson and Alabama.
Credit the AP voters for course-correcting now that Ohio State has put together four quarters of evidence showing that it very much belongs in the debate for best team in the country. After throttling Nebraska in its 2020 opener, the Buckeyes jumped ahead of Georgia and Notre Dame to land at No. 3 in the new AP Top 25.
The AP voters also put together ranking improvements for Wisconsin, from No. 14 to No. 9, and Michigan, from No. 18 to No. 13, after opening weekend wins in the Big Ten. Though neither of those teams saw the same kind of inexplicable drop in the rankings from the removal and addition process like the Buckeyes.
One team that did see a drop after Week 8 action was Penn State, though it came not as a result of voter behavior but from losing in its season opener. Perhaps the dramatic overtime defeat at Indiana cushioned some of the blow in the rankings as the Nittany Lions fell from No. 8 to No. 18, and clearly the voters think highly of the Hoosiers after the win with a jump from being unranked to No. 17.
The Top 25 … 
Clemson (52 first-place votes)
Alabama (10)
Ohio State
Notre Dame
Georgia
Oklahoma State
Cincinnati
Texas A&M
Wisconsin
Florida
BYU
Miami
Michigan
Oregon – down one spot from last week 
North Carolina
Kansas State
Indiana
Penn State
Marshall
Coastal Carolina
USC – up three spots from last week 
SMU
Iowa State
Oklahoma
Boise State
Dropped from the rankings: No. 19 Virginia Tech, No. 21 Minnesota, No. 23 NC State
Others receiving votes: Memphis 105, Liberty 85, Tulsa 80, Louisiana-Lafayette 50, Army 44, Auburn 41, Minnesota 40, Utah 36, Northwestern 20, Washington 15, Arkansas 15, Purdue 8, Arizona State 7, Appalachian State 6, California 4, Boston College 2, Texas 2, San Diego State 1
–
—–
October 24th
… Foe Pause … 
Michigan State loses to Rutgers in opener: "that'll go down as one of the low points in program history"
… Related: "Rooney: Mel Tucker's ugly debut at Michigan State reiterates opportunity for Karl Dorrell with CU Buffs" … from the Daily Camera …
From the Lansing State Journal … Nobody thought Michigan State was going to plow through the Big Ten this season. But the depths of the struggle Saturday were unquestionably jarring.
Seven turnovers, an offensive line that doesn't look built for the Big Ten, and a 38-27 loss to Rutgers that'll go down as one of the low points in program history.
This wasn't the debut Mel Tucker wanted. Nor the one you wanted for him. Nor is it entirely Mark Dantonio's fault. His teams never turned the ball over seven times against Rutgers. They never did once in his 13 seasons. But this is his roster. The offensive line clearly isn't an issue to be quickly fixed by a new voice.
Any angst toward Tucker's staff should come with the same perspective as a day ago — with the idea that this season is largely a free pass for Tucker and Co., a chance to set a tone and evaluate amid less-than-ideal circumstances. Losing to Rutgers, which had lost 21 straight in the Big Ten, isn't the tone you want to set. It makes it hard to keep that perspective, especially when MSU too often looked clumsy or undisciplined, and simply not ready for the moment.
–
—–
October 23rd
… Foe Pause … 
Arizona Defense in 2020: "Mission Impossible"
From the Tucson.com … In its 42 seasons in the Pac-12, Arizona has never entered training camp with so many unknowns and uncertainties. Players, coaches, all of it.
Part of it can be traced to the interruption of spring practice to make way for the coronavirus pandemic. There was no true introduction of Arizona's 2020 football team, either to the fans or to four new coaches. Part of it is that Arizona lost seven consecutive games to end the 2019 season, the longest losing streak to end a season in school history. And part of it is that the Wildcats of 2020 are without anyone who qualifies as the face of the franchise.
The most well-known player among the 100 who worked out Tuesday evening? Probably sophomore quarterback Grant Gunnell, who has three career starts.
Even coach Kevin Sumlin was difficult to pick out of the crowd. He looks as if he has lost 20 pounds, limping on a bad left knee, blending into a mix of first-year defensive coaches so unlike past UA training camps when a Duane Akina or a Homer Smith or a Sonny Dykes had as high a profile as an All-Pac-12 tackle.
… After Tuesday's practice, the UA made new outside linebackers coach Andy Buh available for a Zoom media conference. Buh is one of four new defensive coaches, a staff totally rebuilt after the in-season firing of Marcel Yates and his partners.
Initially, I suspected hiring Buh, defensive coordinator Paul Rhoads and defensive line coach Stan Eggen was a hopeless exercise, part of the inevitable delay leading to another coaching search and another rebuilding process.
But after listening to Buh I was struck that hiring him, Rhoads and Eggen might've been a wiser course than persuading a younger and eager rising star to introduce his flashy "system" to an undermanned defensive roster.
I doubt there are three crisis managers in college football more familiar with college football's version of "Mission Impossible" — the task awaiting Arizona's defense in 2020 — than Buh, Rhoads and Eggen.
Since 1990, Buh, Eggen and Rhoads have combined to coach 12 seasons in which their head coach was fired. They have combined to coach 13 seasons which were the first for a new coach and his staff.
Since 2011, Buh spent just one season on coaching staffs at Kentucky, Rutgers, Cal and Wisconsin. That is surely an NCAA record. It is football's less glamorous version of college basketball's one-and-done. Another year, 2014, he didn't coach at all, collecting a payout after being fired at Cal.
–
—
USC loses a third defensive lineman for the season
From USCFootball.com … USC head coach Clay Helton announced in his Thursday morning presser that redshirt sophomore defensive tackle Trevor Trout will not play in 2020 due to a lingering back issue.
"Yeah, Trevor right now has really dealt with a back injury. And it's something that has plagued him for awhile now and won't be with us this season," he said. "And moving forward (it) could be a medical situation for us. But Trevor has been an unbelievable teammate for us and student for us. We'll see where the future holds for him. But right now, he won't be with us this season. He sees focusing on his academics and trying to get his back well."
Helton did not clarify if the "medical situation" mean a medical redshirt or a medical retirement.
The former four-star prospect Trout missed spring camp in 2019 with a torn bicep. He also underwent post-season surgery on his wrist. Trout has only played in two games, both in 2019. He did not make a tackle.
The redshirt sophomore is the third defensive line loss for the defense along with two-years starter Jay Tufele (declared for NFL) and Jacob Lichtenstein (opt out). USC signed three defensive linemen in the 2020 class, Tuli Tuipulotu, Jamar Sekona and Kobe Pepe, an early enrollee. Helton recently praised Tuipulotu and Pepe for their stand out play in camp. 
… Continue reading story here …
–
—–
October 22nd
… Foe Pause … 
Holiday Bowl canceled; Pac-12 down to six bowl bids
From Sports Illustrated … The 2020 Holiday Bowl will not take place this December due to concerns over the coronavirus pandemic, bowl game officials announced Thursday. 
"This absolutely kills me," Mark Neville, the executive director of the Holiday Bowl, said, per the San Diego Union-Tribune. "It's so hard, because this is what we do.
"We have such a passionate group, our board and our volunteers They do it because it's such a great thing for the community and it's college football and it's fun."
The Pac-12, which has had a conference tie-in to the game since 1997, said in a statement it "shares in the Holiday Bowl's disappointment that the current COVID-19 pandemic has resulted in the cancellation of this year's game. The Holiday Bowl is a premier and historic post-season game love by fans across the country, and we look forward to the 2021 and future editions of the game."
The bowl game is the fourth bowl game this season that has been canceled this year, joining the Bahamas Bowl, the Hawaii Bowl and the RedBox Bowl.
–
That leaves the Pac-12 with six bowl bids (7 spots at most):
Playoff and/or New Year's Six Bowls (Could be more than two but likely not)
Alamo— against Big 12
Sun—against ACC
Independence—against Army
Los Angeles—against MWC
Las Vegas—against SEC
–
—
Jon Wilner's sobering CU predictions: "If (Dorrell) gets to 3-4, it's Coach of the Year time"
From the San Jose Mercury News … A team wins three conference games and loses its starting quarterback, top playmaker and best offensive lineman.
It has just one all-conference performer returning.
It has gone bowling once in the past 13 seasons.
Recruiting has been mediocre, at best, compared to peers within the division.
Our outlook for that team would be bleak even under normal circumstances.
Now add an unexpected coaching change late in the winter and greatly disrupted offseason that prevented the new head coach from conducting a single spring practice.
Our outlook for that team would shift to dark, stormy and unforgiving.
That's Colorado.
That is why we expect so little from the Buffaloes this season.
No team has faced more challenges in 2020.
2019 record: 5-7/3-6
Head coach: Karl Dorrell, first year (record: 0-0 at CU/35-27 overall)
Dorrell's seat temperature: Ice cold
Dorrell is a former CU assistant coach whose honeymoon period will last well into the 2022 season. After coaching changes in consecutive years — Mike MacIntyre was dismissed, and Mel Tucker made a cash grab — the Buffaloes are craving stability like few programs anywhere, ever.
Contract status: Dorrell is signed through 2024 season at an average of $3.6 million per year.
QB clarity level: Poor
The Buffaloes attempted 410 passes last season. Steven Montez threw 405 of them. The search to replace the three-year starter is focused on Sam Noyer, who played safety last season, and Tyler Lytle, who has five career attempts. With the quarterback position as with everything about CU football over the shortened season, uncertainty is high and reasons for optimism are few.
Roster grade: D
Look closely, and you can see the outline of an effective running game if the offensive line coalesces. But combine the unproven quarterbacks with a mediocre cast of receivers, and the Buffs will have trouble stretching the defense and scoring touchdowns. They need to win games 20-17, but the defense doesn't look capable of containment on a weekly basis. It has two high-level players in end Mustafa Johnson and linebacker Nate Landman, but there are holes on every level, especially the secondary. Expect Colorado to play from behind more often than not, elevating the pressure on the quarterbacks.
Program trajectory: Falling
Four years ago today, Colorado clawed its way to a 10-5 victory at Stanford that helped power the improbable run to the South title. In the three seasons since coming out of nowhere, the Buffs have receded to the background with back-to-back-to-back 5-7 seasons and two coaching changes. CU is a difficult place to win consistently, largely because of the  lack of in-state talent compared to the likes of Arizona, Utah and, obviously, California. (The in-state class of 2021, for example, has no five-star prospects and only two four-stars, according to 247sports.) Until there's proof that Dorrell can consistently recruit playmakers and fortify the lines of scrimmage, we're skeptical of CU breaking free of its second-tier status.
… Read game-by-game predictions here …
–
—–
October 21st
… Foe Pause … 
Arizona may be reduced to playing walk-ons at linebacker
… Perhaps regretting the move to a 3-4 defense … 
From ArizonaDesertSwarm.com … When new defensive coordinator Paul Rhoads made the decision to implement a 3-4 front back in the spring, his decision was at least partly influenced by the presence of three returning senior starters at the linebacker position.
Tony Fields II and Colin Schooler would patrol the middle of the field, while Anthony Pandy handling one outside spot and Jalen Harris moving back from defensive end to handle the other. On paper, at least, it seemed like the Arizona Wildcats' biggest strength on that side of the ball.
Now, with less than three weeks until the 2020 opener at Utah, Arizona's linebacker arrangement is still a work in progress.
"What we've done is taken who we have and made the best of it," outside linebackers coach Andy Buh said Tuesday via Zoom. "We're still in the installation phase, we're still installing all the pieces."
There aren't that many pieces when it comes to scholarship athletes. Only six are available to play this season, making it very likely that multiple walk-ons will be part of the LB rotation.
Such was the hand Arizona was dealt when Fields and Schooler, who combined for 192 tackles last year and 599 for their careers, decided to transfer during the summer. That pushed Pandy inside, where last week he said he will be "calling pretty much the shots on defense," but left the Wildcats with nobody on the roster that's ever played anything remotely close to outside linebacker at the college level since they operated mostly out of a 4-2-5 since at least 2017.
The saving grace for Buh figures to be Harris, who led Arizona with four sacks last year but has yet to show consistency on a weekly basis. So far the move back a level has worked out, Buh said.
"He's probably the one guy that looks the most natural in the position, and that's saying a lot since he had his hand in the dirt for most of his career here," Buh said. "He is an incredible talent."
Harris is a lock for one starting spot, but after that things get murky. Redshirt freshman Kwabena Watson could end up starting on the other side, assuming he learns how to play in space after coming to the UA as a defensive end.
"He's got a ways to go," Buh said of Watson. "He's young, he's got a lot of natural gifts, he does have some twitch off the edge. He's going through a process. We're breaking it down for him, we're putting him in positions that he's never been in."
Same goes for redshirt sophomore Issaiah Johnson, who like Watson came in as a defensive end. Buh says Johnson was "the closest guy that would fit that position" among ends and has shown potential so far in the preseason.
After that? Buh indicated as many as four or five walk-ons are getting looked at for meaningful reps, with redshirt junior Rourke Freeburg leading the pack. The 6-foot-1, 204-pound Freeburg has appeared in 15 career games, mostly on special teams, but that's 12 more than Johnson and Watson's combined total.
… Continue reading story here …
–
—–
October 20th
… Foe Pause … 
CSU opener v. New Mexico canceled 
From The Coloradoan … The eight-game football season is now down to seven.
The Mountain West has called off the Colorado State football team's season opener for due to coronavirus concerns in New Mexico. The Rams were scheduled to host New Mexico at 7 p.m. Saturday.
"Due to the prevalence of the COVID-19 virus in Bernalillo County and in accordance with state guidelines, the University of New Mexico is unable to participate in the scheduled football game on Saturday, Oct. 24, at Colorado State University," read a release from the Mountain West.
"Therefore, the Mountain West is canceling the game and declaring it a no contest. There is no plan to reschedule the game."
New Mexico hasn't been able to hold full-team practices since the middle of last week because of COVID-19 cases and concerns. Eight players and one assistant coach tested positive last week.
Rams react: CSU football players, fans react to news of season-opening cancellation
Because of high case counts in Bernalillo County, where the school's main campus in Albuquerque is located, a variance to state and county public-health orders allowing the Lobos and other college sports teams to practice has been rescinded.
The statewide order without a variance limits group gatherings to five people. New Mexico has been practicing the past few days in small groups to comply with the restriction, athletic department spokesman Frank Mercogliano said Monday.
–
—
Early (10:00 a.m., MT) kickoffs will be a (relative) ratings bonanza for Pac-12
From Jon Wilner at the San Jose Mercury News … The 2020 season begins in fitting fashion for the Pac-12, with an opener unlike any other in a year unlike any other.
There are several reasons the 9 a.m. kickoff in the FOX 'Big Noon' broadcast window makes sense for USC and Arizona State (and the conference), none greater than the shelf life:
The highlights will be shown on the ESPN, FOX and CBS studio shows all day, through the primetime telecasts and deep into the night games.
Were the game at night, it would have zero shelf life: Whistle sounds, lights go out, everyone heads to bed and the next morning, the media churn is all about the NFL.
But 10 hours of shelf life isn't the only benefit of an early kickoff.
The viewing audience is also larger at 9 a.m. than it is at 9 p.m.
Exactly how much larger is difficult to determine, but we made the attempt.
The Hotline reached out to Jon Lewis, who operates the fabulous sportsmediawatch.com — the only website we know of that provides TV ratings on dozens of college games each week and, crucially, makes years of data available.
Lewis declined to guess on the ratings for USC-Arizona State, a difficult task in any year but especially 2020.
According to his research, ratings are down across college football.
"This year's weaker schedule has resulted in a wave of declines to start the season,'' Lewis wrote last week. "Thus far, viewership has fallen for 36 of the 48 windows that can be compared to last season."
Several morsels taken from the sportsmediawatch database lend context to the likely viewership for USC-Arizona State:
— The Oklahoma-Texas thriller two weekends ago generated a 2.8 rating and 4.8 million viewers in the Big Noon window.
Those numbers were down about 33 percent from last year's game but are nonetheless higher than all but two Pac-12 games from 2019: The Oregon-Auburn duel on Labor Day weekend, and the conference championship.
— Granted, the USC-Arizona State game doesn't carry nearly the national appeal of Oklahoma-Texas, but it doesn't have to match the Red River numbers in order to improve upon the ratings for a typical Pac-12 night game.
The Kansas State-Arkansas State early-season broadcast on Big Noon produced a 1.1 rating and 1.8 million homes.
Those numbers are double what the Pac-12 typically gets for a late start on FS1 and on the high side of the ratings for a night broadcast on ESPN.
Yep, Kansas State-Arkansas State on Big Noon doubled the ratings for Pac-12 night games on FS1.
The least the Pac-12 can expect from the 9 a.m. kickoff, it seems, is hundreds of thousands of additional eyes on its product.
Naturally, we asked Lewis for his thoughts on the Pac-12's decision to grab the Big Noon window on FOX broadcast.
"The 9 a.m. local start seems a bit gimmicky to me, but when you're a conference that flies under the radar as much as the Pac-12 does, you have to do everything you can,'' he told us via email.
"Ultimately, the reason college games get solid ratings in that Noon ET window has more to do with the quality of the matchup than with the time slot — so once the initial novelty wears off, the Pac-12 still has to provide a compelling on-field product.
"I'd say it's less 'good idea' than 'can't hurt to try.'"
Our thoughts exactly. — Jon Wilner
–
—–
October 19th
… Foe Pause … 
Pac-12 releases details policies for game cancellations and tiebreakers
From ESPN … The Pac-12 on Monday announced its policies for game cancellations and updated tiebreakers for its season, which begins on Nov. 7 and features a seven-game, conference-only schedule and conference championship game.
Teams will need at least 53 available scholarship players in order to play a game, including seven offensive linemen, one quarterback and four defensive linemen. With a truncated schedule made up of the fewest games of any of the Power 5 conferences, the Pac-12 tiebreakers factor in the number of games each team will play — assuming there will be some pandemic-related disruptions and some teams will have unbalanced conference schedules.
According to the news release, in order for teams to be considered in a divisional tiebreak scenario, they must play no less than one game less than the average number of league games played by everyone in the Pac-12. For example, if everyone in the league plays an average of 5.25 games, a team would be eligible to win its division if it plays at least four games.
The winner of each division will be determined by the best winning percentage within the conference. If any team has not played six conference games, and any team is within one conference win from the team with the highest conference winning percentage and has an equal number of losses, those teams will be considered tied.
There are eight tiebreakers, but the conference would first resort to these three in cases of both two-team ties and ties among three teams or more:
Head-to-head results
Record in games played within the division
Record against the next highest-placed team in the division, proceeding through the division
In the event that the average number of conference games falls to four or below, the two teams with the best winning percentage (both divisional and cross-divisional) within the conference will participate in the conference championship game.
The Pac-12 also released specific guidelines to determine when a game should be rescheduled or declared a no-contest in the midst of the coronavirus pandemic.
According to the news release, cancellations or postponements will occur if there is an inability to isolate new positive cases within a team or an athletic department or to quarantine high-risk contacts. A game would also be in jeopardy if tests aren't available, or if there is an inability to perform the tests under conference guidelines. The circumstances surrounding community spread could also impact games, if transmission rates are deemed unsafe by local public health officials, or there is an inability to perform contact tracing consistent with government requirements. If local public health officials of the home team state determine the hospital infrastructure can't accommodate a surge, it could also impact a game.
The Pac-12 conference championship game is scheduled for the weekend of Dec. 18-19, along with a full slate of league games for all teams.
–
—–
Arizona selling personalized stadium cutouts to support the program
… Would you do this if CU offered? I probably would … 
From ArizonaDesertSwarm … Unless you're the parent of an Arizona football player, you won't be allowed to watch the Wildcats in Arizona Stadium this season. The Pac-12 has banned fans at sporting events until January due to the coronavirus pandemic.
But there's good news: You can still be there in cardboard form!
The UA athletic department announced Sunday that fans can purchase personalized cutouts to support the program.
Arizona is charging $40 for a ZonaZoo cutout, $59 for a cutout along the west sideline, and $99 for a cutout along the end zone. You can even keep your cutout after the season if you are willing to pay an additional $25 shipping and handling fee.
Why would someone do this? Just so you can brag to your friends when you/your cutout makes it on TV? I mean, that's one perk, but the main reason is to help the UA weather the coronavirus pandemic.
… Continue reading story here …
–
—
With all ESPN/Fox telecasts, Pac-12 won't lose too much television revenue this year 
From Jon Wilner at the San Jose Mercury News … We haven't seen an answer, anywhere, to a critical question:
How much of its Tier 1 media revenue will the Pac-12 recoup with the shortened season?
Allow us to take a swing …
According to the term sheet, ESPN and Fox would have owed the conference $276 million this year in return for 45 football games, including the championship, and about 70 basketball games.
Rule of thumb when assessing the value of media rights deal: Football is worth 90 cents of every dollar; the rest is men's basketball.
Using that as our guide, the football inventory would account for $248 million of the $276 million this year.
Divide that by 45 games — we'll treat each the same, even though the conference championship has greater value — and we're left with the following:
Each Pac-12 football game is worth $5.5 million.
There are at least 37 scheduled for this season. (Six games per week for six weeks, plus the championship.)
Multiple 37 games times $5.5 million per game, and that's $203 million out of the estimated $248 million.
Hardly ideal, but it could have been much, much worse.
–
—–
October 18th
… Foe Pause … 
AP poll: "Undefeated" USC continues to climb; five Pac-12 teams receiving votes
From CBS Sports … Texas A&M's climb in the Associated Press Top 25 continues as the Aggies have entered the top 10 in the latest rankings. After a comfortable 28-14 win over Mississippi State on Saturday, Texas A&M came in at No. 7 in the AP poll. A&M was previously ranked as low as No. 18 following a blowout loss to Alabama, but two straight wins over the Florida and Mississippi State have made Jimbo Fisher's team one of the hottest in college football. In all, the SEC has four teams in the top 10.
Conversely, North Carolina's time as a top-five team was short-lived. The Tar Heels fell nine spots to No. 14 after their 31-28 loss at Florida State on Saturday. North Carolina had risen quickly up the AP rankings since its season began, ascending from No. 12 to start the year to No. 5 within a matter of weeks. However, after its failed comeback against the Seminoles, Mack Brown's team took a tumble out of the top 10.
Elsewhere, Auburn, Tennessee and Louisiana fell out of the AP poll, just as they did in the Coaches Poll, following Week 7 losses. Marshall, NC State and Coastal Carolina entered the top 25 after big Week 7 wins.
Here's how the rest of the AP Top 25 looks heading into Week 8.
1. Clemson
2. Alabama
3. Notre Dame
4. Georgia
5. Ohio State
6. Oklahoma State
7. Texas A&M
8. Penn State
9. Cincinnati
10. Florida
11. Miami (FL)
12. BYU
13. Oregon (down one spot from last week)
T14. North Carolina
T14. Wisconsin
16. SMU
17. Iowa State
18. Michigan
19. Virginia Tech
20. Kansas State
21. Minnesota
22. Marshall
23. NC State
24. USC (up one spot from last week)
25. Coastal Carolina
Others receiving votes: Memphis 76, Oklahoma 74, Tulsa 58, West Virginia 57, Auburn 48, Iowa 42, Louisiana 40, Liberty 37, Utah 36, UAB 30, Army 29, Arkansas 15, Air Force 14, Kentucky 12, Tennessee 11, Virginia 9, Arizona State 9, Washington 8, South Carolina 8, Indiana 4, Texas 1
–
—–
October 15th
… Foe Pause … 
Pac-12 Recruiting: Is a Top 40 Class best CU can hope for year-in and year-out?
From The Athletic … The Pac-12 has struggled to remain nationally relevant in the College Football Playoff era. The league has sent two teams to the CFP — the fewest of any conference — and none since 2016 when Washington lost to Alabama in the semifinals. It hasn't had more than three teams ranked in the final AP top 25 since 2016 and hasn't had two teams in the final top 10 since 2014.
These results — or lack thereof — aren't surprising when you study the recruiting rankings over the past 10 years. USC had its moments earlier in the decade, and Oregon is surging of late under Mario Cristobal, but no Pac-12 team had an average class ranking better than 13th from 2011-20. There are six SEC teams, two ACC, two Big 12, two Big Ten as well as Notre Dame that rank higher than the top Pac-12 program (USC). As a league, you can't expect to compete for a national championship if you don't have a team recruiting top-10 classes on a consistent basis.
With that in mind, let's take a team-by-team look at recruiting in the Pac-12, focusing on the data of the past 10 years and what the expectations should be going forward.
Colorado
| 5-YR FBS | 10-YR FBS | BEST | WORST | 5-YR PAC | 10-YR PAC |
| --- | --- | --- | --- | --- | --- |
| 47.2 | 55.0 | 35 (2020) | 74 (2014) | 9.2 | |
Reasonable expectations: Top-40 classes
The data: There are 65 teams in the Power 5. From 2013 through 2016, Colorado signed classes ranked 68th, 74th, 69th and 69th. That is inexcusable for a program that has won a national title in the past 30 years. Recruiting been a bit better since, with classes that ranked No. 35 nationally in 2017 and 2020 sandwiched around the No. 53 class in '18 and No. 44 in '19. Colorado has signed three five-stars in the modern recruiting era but none since 2008 (running back Darrell Scott).
The outlook: Mel Tucker was responsible for Colorado's recent improvement in recruiting, but he bolted for Michigan State after only one season in Boulder. Colorado replaced Tucker with Karl Dorrell, who spent some time with the Buffalos as an assistant in the 1990s. Dorrell was last in the college game in 2014 as the offensive coordinator at Vanderbilt, and he was the head coach at UCLA from 2003-07. Colorado is in a tough state in terms of local talent, but the Buffalos could routinely sign classes in the top 40 if they have the right guy running the program.
… Continuing reading story here (subscription required) …
–
—–
October 14th
… Foe Pause … 
Pac-12 to allow families to attend football games …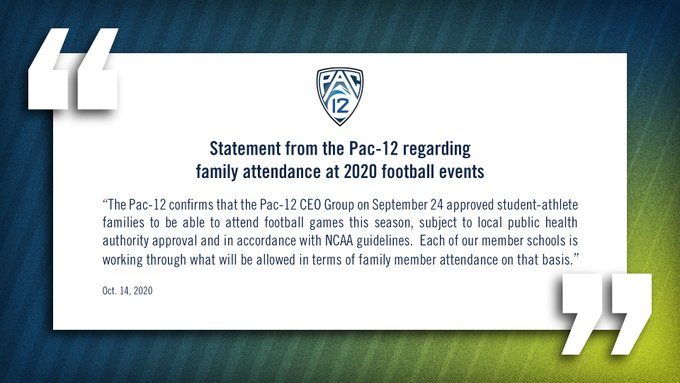 –
—
The return of football does not mean an end to the financial crisis for the Pac-12
From the Associated Press … The return of football isn't likely to make a dramatic dent in the losses athletic departments across the Pac-12 will ultimately incur because of the coronavirus pandemic.
Faced with large budget shortfalls, most schools in the league have already resorted to layoffs, furloughs, and cutting some sports entirely.
At Utah, football coach Kyle Whittingham and basketball coach Larry Krystkowiak took salary cuts to help offset up to $60 million in projected losses. Athletic director Mark Harlan said the Utes are still dealing with "significant financial challenges."
One reason: as of now, none of the Pac-12 football games will have fans in attendance.
That said, any help — like television revenue — is welcomed.
"Obviously, we have a chance to have more revenue than maybe we would have thought of a few weeks ago. So we're going to continue to adhere to our budget and into all the policies that we put in place to manage our way through this, knowing that there could be a light here at the end of the tunnel that we'll have more revenue that we weren't necessarily counting on," Harlan said.
The pandemic shut down sports in March, including the NCAA basketball tournaments. With no March Madness, the NCAA was short $375 million in the money scheduled to be distributed to its member schools, which were already facing questions about enrollment levels and tuition shortfalls.
Following the cancellation of all spring sports, the league decided on Aug. 11 to postpone all fall and winter sports until after the first of next year.
… Arizona athletic director David Heeke insisted that discussions to restart athletics centered around athletes, and not budgets. "Without fans, there is a tremendous challenge. We're glad to be playing, glad to have the opportunity, but we are still significantly short on revenue and that's going to be a challenge for us going forward as an organization," Heeke said.
… Arizona has estimated $60 million to $65 million in revenue losses. The Wildcats are looking at a 10% budget cut for their sports programs and a 15% cut for all administrative programs. The university also has implemented school-wide salary cuts and furloughs.
… At California, the athletic department forecast as much as a $55 million deficit this fiscal year and had mapped out steps to mitigate the losses while still supporting athletes — including hiring and merit-pay freezes; voluntary pay cuts for coaches and administrators, and other budget cuts.
… The most dramatic action was taken by Stanford, which is discontinuing 11 varsity sports programs at the end of the 2020-21 academic year, including men's and women's fencing, field hockey, lightweight rowing, men's rowing, co-ed and women's sailing, squash, synchronized swimming, men's volleyball and wrestling. Stanford officials declined to comment for this story.
… At Oregon State, the athletic department laid off nearly two dozen employees in June because of the hit the school was taking without football. Those employees won't likely be rehired, athletic director Scott Barnes said.
–
—–
October 13th
… Foe Pause … 
Amidst the chaos, NIL legislation moving forward
… It's worthy of note that CU athletic director Rick George is on the NCAA Council working on the NIL issue … 
From CBS Sports … The NCAA Division I Council will begin crafting formal name, image and likeness (NIL) legislation this week that, for the first time in history, would aim to allow athletes to be compensated for such rights. The Federal and State Legislation Working Group, operating under the NCAA Board of Governors, submitted to the council a set of streamlined recommendations that will be taken up at a two-day meeting beginning Tuesday.
That document has been turned into a draft that will act as a starting point for the council's discussion. It is expected to be turned into formal legislation and then be voted on at the NCAA Convention in January.
The recommendations continue to be focused on working through three main issues: recruiting, preenrollment (high school) and third-party oversight.
It's still unclear how the NCAA would regulate NIL inducements offered to athletes during recruiting. One answer: The NCAA has been considering entities that could become a third party to oversee fair-market value for players.
"This will be the most detail given to the council," an NCAA source told CBS Sports regarding the NIL considerations.
Sports Illustrated reported that draft of those recommendations would allow athletes to be compensated for their NIL through such avenues as endorsing products, serving as private coaches and signing autographs with some restrictions, such as their school names, logos and marks not being involved. They could also raise money for charity through crowdfunding. Those were previously identified items in a broad document of recommendations released last year by the working group.
CBS Sports previously published a primer on what to expect as NIL legislation is developed.
During two days of council meetings, the group is expected to develop a document that would then be sent out to the NCAA membership for comment before the convention.
At the same time, the NCAA is seeking help from the U.S. government in crafting federal legislation that would protect the association from lawsuits. Rep. Anthony Gonzalez (R-Ohio) recently submitted a comprehensive bipartisan bill.
… Continue reading story here …
–
—–
October 12th
… Foe Pause … 
Final Pac-12 "opt-out" list – defenses hit the hardest
From the San Jose Mercury News … Training camp is underway across the Pac-12, so we'll presume that rosters are set for the fall and that there will be no more opt-ins.
The players who opted out and haven't reversed course are going to remain opt outs.
The damage to the conference was substantial.
The following is a list of the top talents who opted out to prepare for the NFL Draft or transferred to other Power Five conferences since the spring.
Offense
QB: Stanford's K.J. Costello
QB: USC's JT Daniels
OT: Oregon's Penei Sewell
OT: UCLA's Jake Burton
OT: Stanford's Walker Little
WR: USC's Velus Jones
WR: Oregon's Brenden Schooler (via Arizona)
Defense
DL: Arizona's Kylan Wilborn
DL: USC's Jay Tufele
DL: Washington's Levi Onwuzurike
DL: Cal's Luc Bequette
LB: Arizona's Colin Schooler
LB: Arizona's Tony Fields
LB: Washington's Joe Tryon
CB: Oregon's Thomas Graham
CB: Stanford's Paulson Adebo
NB: Oregon's Jevon Holland
S: Oregon's Brady Breeze
Clearly, the exodus was not equal:
The departures on offense were minor, especially at the skill positions, which reflects the lack of high-level talent in the junior and senior classes.
But the Pac-12 lost what amounts to an all-conference defense.
One could reasonably argue that Tufele and Onwuzurike would have been the best defensive linemen in 2020, that Tryon was one of the top edge players, and that Holland and Adebo were two of the top-three defensive backs.
(The other, UW's Elijah Molden, has returned.)
To the attrition, add the loss of invaluable practice/workout time that's required for chemistry (and conditioning) on the back line.
Then consider the pinball scores were seeing in other conferences.
It's easy to envision a steady stream of Pac-12 games with 100 or more points scored.
–
—–
October 11th
… Foe Pause … 
UCLA to face a "revamped" Bruin defense on November 7th
From YahooSports.com … Amid the one-liners and John Wooden references he unleashed as part of his opening remarks as UCLA's coach, Chip Kelly quietly slipped in a sentence about what might decide his fate.
"I know for this team to be successful," Kelly said on that joyous day in November 2017, "we have to be good on defense and that's gotta be the foundation when you build your football team."
No better explanation might exist for how Kelly's teams have gone 7-17 over the last two seasons.
While UCLA's offense hasn't reminded anyone of the Oregon blur, producing only pockets of productivity, its defense has been historically bad.
UCLA ranked No. 102 out of 130 major college teams in total defense in 2018 before falling to No. 113 last season, when the Bruins gave up 456.2 yards per game and a school-record 3,729 passing yards for the season.
Kelly retained defensive coordinator Jerry Azzinaro but imported two new assistants who could help overhaul the team's weaker half. Defensive backs coach and passing game coordinator Brian Norwood has brought with him the 4-2-5 defense that helped Navy generate a school-record 11 wins in 2019, and defensive line coach Johnny Nansen has brought … the juice?
"His biggest line is, 'Without your juice, you're useless,' " defensive lineman Tyler Manoa said Saturday via Zoom after the Bruins completed their second day of training camp. "Juice, really, man, that's just the main thing I've taken from him so far and him just pushing us to our limit and just encouraging us to get better every day."
Manoa and his fellow defensive linemen have a lot more to squeeze out of themselves after generating only seven of the team's 26 sacks last season. Among the linemen, Osa Odighizuwa led the way with 3½ sacks, followed by Odua Isibor's 2½ and Otito Ogbonnia's one.
… The Bruins' new defensive alignment is designed to confuse opposing quarterbacks while relying more on instinct than play recognition. Defensive fronts and coverages vary, with different defenders rushing the quarterback or dropping into pass coverage on each play.
"If we can displace the line of scrimmage, that's going to help us out up front and just get pressure on the QB," Manoa said, noting that sacks weren't always necessary if the defense could generate batted balls and quarterback hurries.
Helping the Bruins in their pursuit will be Martin Andrus Jr., a redshirt junior defensive lineman who has returned from torn knee ligaments he suffered last season in warmups before UCLA's game against Oregon State. Manoa mentioned freshman linebackers Damian Sellers, Myles Jackson and Choe Bryant-Strother as newcomers who could enhance the team's pass rush.
Any assistance will be much appreciated given what's happened with the defense the last two years.
–
USC – four weeks before its first game – joins the Top 25
From CBS Sports … History has a funny way of repeating itself, and it's done that in this week's AP Top 25 poll. Following a 56-45 win over Virginia Tech on Saturday, North Carolina has moved up to No. 5 in the latest rankings. It's the first time the Tar Heels have been ranked in the top five since the 1997 season.
North Carolina's coach that season was none other than Mack Brown. It was the final season Brown spent in Chapel Hill before leaving to take over at Texas, where he'd spend the next 16 seasons before making his way back to Chapel Hill last year.
Check out the full AP Top 25 poll below:
Clemson
Alabama
Georgia
Notre Dame
North Carolina
Ohio State
Oklahoma State
Cincinnati
Penn State
Florida
Texas A&M
Oregon
Miami
Auburn
BYU
Wisconsin
SMU
Tennessee
Michigan
Iowa State
Louisiana
Kansas State
Virginia Tech
Minnesota
USC
Others receiving votes: Marshall 106, NC State 87, Oklahoma 71, Tulsa 62, UCF 57, Boston College 43, Coastal Carolina 38, Utah 29, UAB 29, Iowa 28, West Virginia 25, Army 21, Air Force 12, Memphis 12, Liberty 8, Arizona State 6, Ole Miss 6, LSU 5, Houston 5, Texas 5, Washington 4, Louisiana Tech 2, TCU 2, Missouri 2, Virginia 2, Indiana 1
–
—–
October 10th
… Foe Pause … 
Two more Arizona players opt out; a third player suspended
From Wildcat Authority … Arizona head coach Kevin Sumlin announced that running back Bam Smith and defensive lineman JB Brown have decided to opt out of the upcoming season.
Smith played in nine games at running back during his redshirt freshman season and rushed 34 times for 203 yards and a touchdown, while adding 181 receiving yards and two touchdowns on 12 catches out of the backfield.
He made his season debut in Arizona's home opener against Northern Arizona with 84 rushing yards and a touchdown on eight carries and eight receiving yards and a touchdown on two catches.
Smith posted 134 all-purpose yards in a home win over UCLA with 99 receiving yards and a touchdown on five catches and six rushes for 35 yards. In that same game, he caught a 75-yard touchdown pass from Grant Gunnell.
Last season, Brown appeared in all 12 games with six starts on the defensive line. He finished the season with 21 total tackles, five tackles-for-loss and three sacks. His best games of the season came with a season-high four tackles against Oregon State. He collected two tackles and a sack at Oregon and finished with two tackles, two tackles-for-loss and one sack in season finale at ASU.
… On Friday night, Arizona head coach Kevin Sumlin announced that wide receiver Jalen Johnson has been suspended indefinitely due to a violation of Covid-19 protocols.
Last season, Johnson played in 10 games as a true freshman, including road starts at USC and Stanford. He finished the season with seven catches for 79 yards and one touchdown an d is expected to play a larger role this upcoming season.
–
—–
October 9th
… Foe Pause … 
Larry Scott: Criticism goes with the territory
From Jon Wilner at the San Jose Mercury News … Problems for Pac-12 commissioner Larry Scott seem to come in waves.
The latest has washed ashore over the past two months, with layoffs and furloughs at the conference office, executive bonuses that were paid before the staff downsizing, the expenses incurred in San Francisco and the absence of football on the Pac-12 Networks.
Earlier this week, Scott appeared on the Bickley and Marotta radio show on Arizona Sports 98.7 for an informative, candid conversation that touched on all the touchy touch points.
I'd encourage everyone to listen to the full 15 minutes — the first half focuses on the football season — but here are a few relevant snippets.
 Whether the Pac-12 is wasteful with executive bonuses and rent paid in San Francisco:
"There's a perception out there that's just incorrect, in my view. What people have a tough time comparing apples to apples is the conferences that also have their own networks, the networks are all run by outside entities. They don't have the head counts. They don't have the rent. They don't have other things. But folks don't seem to be able to make that distinction …
"We're also based in San Francisco. That decision to be in the Bay Area certainly preceded me."
"We have a rigorous process we go through with our finance committee, which is made up of university presidents and university chief financial officers, and I'm very confident that we're pursuing the mission and the mandate on behalf our members at a high level in an efficient way."
 The potential for his tenure to end and whether he has lost the support of the presidents:
"Not at all. There's a lot of rumor and speculation and that just goes with the territory in a very public facing role, and it's true of commissioners in other leagues, as well. It just goes with the territory."
 The Pac-12 Networks:
"It's achieved a lot of what its objectives were … It has not reached its full potential, for sure, in terms of distribution. I know the DirecTV issue has been a huge irritant for fans that have it and weren't willing to switch to the several other networks in every market that have (the Pac-12 Networks)."
"Sure, there are things we could have done differently. We might have made different tradeoffs, but certainly, there have been a lot of benefits our members have gotten by having the network, and what we'll see in 2024″ — when the new media contract begins — "is the wisdom of keeping our rights and owning and controlling it ourselves and being able to adapt to a rapidly changing media landscape."
How he can elevate the conference's reputation:
"The most important is that we have teams that win."
Say what you will about Scott's responses on other topics — for instance: the response involving DirecTV — but his last point is spot on:
The rebuilding of the conference's football reputation starts with winning marquee, non-conference games. — Jon Wilner
–
—–
October 8th
… Foe Pause … 
Jon Wilner: Pac-12 training camp: USC and UCLA are good to go, but Cal and Stanford still haven't been cleared
From the San Jose Mercury News … The revised coronavirus guidance for higher education in California is 37 pages of restrictions, suggestions and, one could argue, obfuscations.
But scroll down-down-down, to the bottom of the 36th page, and you'll find the sentence that matters more than any other for Pac-12 football teams:
"Discontinuation of practice with contact and competition for the rest of the season may be considered by local health departments if more than 10% of athletes on a team test positive within a 14-day period."
The California Four have a path through the seven-game season that begins Nov. 7, but it's hardly free of obstacles or overflowing with clarity. (As an example, note the phrase "may be considered" in sentence above.)
Their journey begins Friday with the start of training camp, at least for the Southern California duo.
USC and UCLA have received approval from state and county health officials for the full-contact, large-cohort practices needed to prepare for the season openers.
But even now — almost a month after California Gov. Gavin Newsom said he would not stand in the way of the quartet returning to play — the Bay Area teams are awaiting approval for training camp.
"We are anticipating getting clearance today or tomorrow," Cal coach Justin Wilcox said Wednesday on a Pac-12 coaches webinar.
A few minutes later, Stanford coach David Shaw said, "We have a lot of 'i's to dot and 't's to cross."
… Continue reading story here …
–
—
Jon Wilner: Pac-12's CFP chances both "rising" and "falling"
From the San Jose Mercury News …
Rising: CFP chances.
The Pac-12's path to the College Football Playoff has expanded ever-so-slightly in recent weeks, all while the conference watches from the sideline.
One month down, and the Big 12 is a giant, stinkin' mess: Three losses to the Sun Belt, two losses for Oklahoma and one loss for Texas.
At this point, its playoff hopes hinge on Oklahoma State — Oklahoma State! — running the table.
With one Power Five essentially eliminating itself from CFP contention, the Pac-12's prospects automatically improve.
With only four berths, it is a zero-sum game.
The Pac-12's path remains narrow, and the amount of help required remains substantial.
But the removal of one conference from the calculation works to the supreme benefit of the others.
---
Falling: CFP chances.
That said, the Pac-12 cannot place a team in the playoff unless 1) it produces an undefeated, dominant champion and 2) the other conferences are forced to forfeit games.
Under no circumstances would a 6-1 Pac-12 champion receive a berth ahead of 10-1 or 9-2 champions or contenders  from other Power Fives.
The data points would work against the Pac-12, and so would the CFP politics.
Last week, commissioner Larry Scott pushed for an expansion of the playoff field, according to ESPN, but his suggestion was rejected.
In our opinion, it was too little, too late from Scott on this matter.
As the Hotline wrote in Sept. '19:
Of all the Power Five conferences, the Pac-12 would seem most in need of an expanded playoff that grants an automatic berth to its champion. While commissioner Larry Scott told the Hotline this week that he's "open to looking at" expansion, he believes the conference's focus should be internal. "The first thing I'd say," Scott said, "is that we have to do better in football. We have to have elite teams break through."
He's right: The conference needs "elite teams." Parity makes for thrilling regular seasons but does nothing for your CFP prospects.
(See: ACC, circa: 2014-19.)
But the Pac-12 also needs … also desperately needs … a playoff structure in which each Power Five champion is guaranteed a a berth.
And Scott needs to push for that.
He needs to push for that publicly and relentlessly.
He cannot let the issue fade to black after the one-time effort last week.
Scott was successful in securing a one-week delay in the release of the first CFP rankings in November, according to a source.
(That should help the Pac-12 by creating an extra data point for the committee to review.)
But expansion must be a priority.
"We've taken some hits by not being in it," he told us last year, "but if I take a step back as a steward of college football and the College Football Playoff, I think it's helped elevate the popularity and interest (of the game). It's been a positive.
"But what's more important than the format, is that we just have to get better."
For the Pac-12, both issues are important.
–
—
Buffs fare well in close games; in the Top Ten nationally in "nail-biter differential"
… Really cool site, with great info (plus, you have to love the YouTube video of the Washington State fan) … 
From BannerSociety.com … Depending on your vantage point, a blowout is cause for celebration (fans of the winner), dejection (fans of the loser), or changing the channel (neutral parties). Wherever you fall in that spectrum, however, a blowout gives you time to process that feeling during the game itself.
Tell me Wazzu Popcorn Guy hasn't moved all the way to acceptance by the time he finishes his snack!
We've already catalogued the numbers on the last 30 years of blowouts, so now it's time to look at its dramatic opposite: the nail-biter. For these purposes, we're applying that term to any game decided by fewer than three points. Games with a higher point differential can still be nail-biters – the final score of the Kick Six was 34-28 – but these are the outcomes that unquestionably deserve the title. While blowouts per season have grown steadily over time, nail-biters are more like a stock you wasted your time investing in.
With data combed from Sports Reference, let's look at the overall team numbers since 1990:
Nail-biters in Aggregate, 1990-2019
| School | Nail-biters Won | Nail-biters Lost | Total Nail-biters | Nail-biter Differential |
| --- | --- | --- | --- | --- |
| Central Michigan | 18 | 6 | 24 | 12 |
| Miami (FL) | 16 | 5 | 21 | 11 |
| Colorado State | 18 | 8 | 26 | 10 |
| Oregon | 17 | 7 | 24 | 10 |
| Arkansas | 19 | 10 | 29 | 9 |
| Texas | 17 | 8 | 25 | 9 |
| Texas Christian | 18 | 10 | 28 | 8 |
| Ohio State | 10 | 2 | 12 | 8 |
| California | 20 | 13 | 33 | 7 |
| Colorado | 14 | 7 | 21 | 7 |
| Northwestern | 21 | 15 | 36 | 6 |
| Wisconsin | 16 | 10 | 26 | 6 |
| Virginia | 15 | 9 | 24 | 6 |
| West Virginia | 15 | 9 | 24 | 6 |
| Cincinnati | 13 | 7 | 20 | 6 |
| Washington State | 11 | 5 | 16 | 6 |
| Tennessee | 17 | 12 | 29 | 5 |
| Brigham Young | 16 | 11 | 27 | 5 |
| Georgia | 16 | 11 | 27 | 5 |
| North Carolina State | 15 | 10 | 25 | 5 |
| Auburn | 14 | 9 | 23 | 5 |
| Wyoming | 14 | 9 | 23 | 5 |
| Western Michigan | 11 | 6 | 17 | 5 |
| Navy | 19 | 15 | 34 | 4 |
| Clemson | 13 | 9 | 22 | 4 |
Showing 1 to 25 of 132 rows
Northwestern's the current leader in close games played, with 36 (21 wins, 15 losses). From 1990 through 2019, the Wildcats played 363 times. Imagine the experience of being a Northwestern fan over that stretch, with ten percent of your games coming down to the thinnest of margins. (This, of course, is why Pat Fitzgerald is known as America's Greatest Showman.)
Arizona's the most agonizing school to be a fan of, however. Those Wildcats lead all schools in nail-biters lost (20) and have the greatest disparity between close losses and close wins (-12). Of the schools on the list who have been FBS members for the entirety of the covered timespan, there's a three-way tie for fewest nail-biters played, with Kent State, Ohio State, and Ole Miss at 12 each. When you think of peer football programs, those three go together perfectly, right?
… Continue reading story here …
–
—–
October 7th
… Foe Pause …
Pac-12 preseason media poll posted: CU picked 5th in South Division
From the Daily Camera … Colorado was picked to finish fifth in the South division by members of the media who cover the Pac-12 Conference.
The preseason media poll, released Wednesday morning, projects Oregon to win the Pac-12 title game.
Oregon received 21 votes to win the title game, with Southern California receiving 15.
The defending champion Ducks are the overwhelming favorite to win the North division, receiving 35 of 38 first-place votes. California is projected for a second-place finish.
In the South division, USC received 32 of 38 first-place votes, with Arizona State projected second and two-time defending champion Utah in third.
CU is coming off a third consecutive 5-7 season, including 3-6 in the Pac-12. The Buffs' conference record in 2019 was its second-best since joining the Pac-12 in 2011 (they went 8-1 in 2016), but they have finished fifth or sixth in the South division eight times in nine seasons.
The preseason poll:
South Division (first place votes in parentheses)
1. USC (32) – 220
2. Arizona State (2) – 181
3. Utah (4) – 168
4. UCLA – 109
5. Colorado – 63
6. Arizona – 57
North Division
1. Oregon (35) – 222
2. California (3) – 176
3. Washington – 161
4. Stanford – 105
5. Oregon State – 76
6. Washington State – 58
Title game winner: Oregon (21 votes), USC (15), ASU (1), Utah (1)
Colorado's yearly projections:
2019 – Sixth place (Actual: 5th)
2018 – Fifth place (6th)
2017 – Fourth place (6th)
2016 – Sixth place (1st)
2015 – Sixth place (6th)
2014 – Sixth place (6th)
2013 – Sixth place (6th)
2012 – Sixth place (6th)
2011 – Sixth place (T-5th)
–
—
Arizona's Kevin Sumlin asymptomatic – date for return not yet set
From ESPN … Arizona coach Kevin Sumlin is asymptomatic after testing positive for COVID-19 and expects to consult with his doctor this week before solidifying a plan for when he can return to in-person coaching duties.
"It's unfortunate, but we'll see where we are at the end of the week," Sumlin said in a video press conference. "From a timeline standpoint, I was tested last week but it wasn't confirmed until this weekend. So, it's about a week into this thing. I don't have symptoms. Neither does my son."
Sumlin continues to lead team meetings over video conferencing, but isn't expected to be present when the team starts training camp Friday. He said he will meet with the coordinators Wednesday to script how preseason practices will be structured.
Sumlin is not sure where he contracted the virus.
"The lesson is this thing is serious and no matter what precautions you have, you have to be extremely aggressive about your protection, about your health and as well as others," he said. "Hey listen, I'm not the only one that this has happened to, even though I've been really vigilant about what's happened. I've been fortunate over the last week about symptoms and being asymptomatic and so is my son.
"So, if there's anything that's good out of it, it's become that. You cannot be too careful. You just can't."
Arizona opens the season Nov. 7 at Utah. In the official media poll released Wednesday, Arizona was predicted to finish last in the Pac-12 South.
–
—–
October 6th
… Foe Pause … 
Sporting News bowl projections: Oregon a playoff team
… Eight Pac-12 teams will earn bowl bids, but not CU … Grain of salt, department: TSN has CSU going to a bowl … 
From The Sporting News … Bowl projections in 2020 are more difficult than ever.
The Football Oversight Committee already recommended waiving requirements for eligibility for postseason games this season. The Bahamas Bowl and Hawaii Bowl were canceled last week, and trying to put together realistic projections for all the bowls at this point is almost impossible.
It's still fun to try. Sporting News started with its College Football Playoff projections and worked from the top to the bottom in its Week 6 bowl projections. Four of the 10 conferences have not started their seasons, so this will change dramatically with each week. The CFP picks remain the same. We're sticking with Alabama, Clemson, Ohio State and Oregon for now.
This season's semifinals are Jan. 1 at the Rose Bowl Game and Allstate Sugar Bowl. The CFP championship game will be Jan. 11 at Hard Rock Stadium in Miami Gardens, Fla.
With that in mind, here are Sporting News' picks for the College Football Playoff and New Year's Day Six heading into Week 6:
Week 6 bowl projections
| | |
| --- | --- |
| BOWL | TEAMS |
| Academy Sports + Outdoors Texas Bowl | TCU vs. Kentucky |
| AutoZone Liberty Bowl | Texas vs. Ole Miss |
| Gasparilla Bowl | BYU vs. Baylor |
| Cactus Bowl | Kansas State vs. Northwestern |
| Cheez-It Bowl | West Virginia vs. Georgia Tech |
| Cheribundi Boca Raton Bowl | UCF vs. FAU |
| Duke's Mayo Bowl | Indiana vs. N.C. State |
| Famous Idaho Potato Bowl | Buffalo vs. San Diego State |
| FBC Mortgage Cure Bowl | Western Kentucky vs. Miami, Ohio |
| Fenway Bowl | Temple vs. Boston College |
| Los Angeles Bowl | USC vs. Boise State |
| Camelia Bowl | Central Michigan vs. Georgia Southern |
| Lockeheed Martin Armed Forces Bowl | SMU vs. Marshall |
| Military Bowl | Navy vs. Virginia |
| Mitsubishi Motors Las Vegas Bowl | Utah vs. Texas A&M |
| Mobile Alabama Lending Tree Bowl | UAB vs. Louisiana |
| Myrtle Beach Bowl | Memphis vs. Appalachian State |
| New Era Pinstripe Bowl | Nebraska vs. Louisville |
| New Mexico Bowl | Wyoming vs. Houston |
| NOVA Home Loans Arizona Bowl | Ohio vs. Air Force |
| Outback Bowl | Mississippi State vs. Minnesota |
| Quick Lane Bowl | Toledo vs. Michigan State |
| R+L Carriers New Orleans Bowl | Louisiana Tech vs. Coastal Carolina |
| Radiance Technologies Independence Bowl | Army vs. Stanford |
| SDCCU Holiday Bowl | Washington vs. Virginia Tech |
| SERVPRO First Responder Bowl | Iowa State vs. Colorado State |
| TaxSlayer Gator Bowl | Auburn vs. North Carolina |
| Ticket Smarter Birmingham Bowl | Tulsa vs. South Carolina |
| Tony the Tiger Sun Bowl | Cal vs. Pitt |
| TransPerfect Music City Bowl | LSU vs. Iowa |
| Tropical Smoothie Café Frisco Bowl | UTSA vs. Nevada |
| Valero Alamo Bowl | Oklahoma vs. Arizona State |
| VRBO Citrus Bowl | Tennessee vs. Michigan |
Week 6 New Year's Day Six projections
| | | |
| --- | --- | --- |
| DATE | BOWL | TEAMS |
| Dec. 30 | Goodyear Cotton Bowl | Oklahoma State vs. Wisconsin |
| Jan. 1 | Chick-Fil-A Peach Bowl | Georgia vs. Miami |
| Jan. 2 | PlayStation Fiesta Bowl | Cincinnati vs. Penn State |
| Jan. 2 | Capital One Orange Bowl | Florida vs. Notre Dame |
Week 6 College Football Playoff projections
| | | |
| --- | --- | --- |
| DATE | BOWL | TEAMS |
| Jan. 1 | Rose Bowl Game (semifinal) | Alabama vs. Ohio State |
| Jan. 1 | Allstate Sugar Bowl (semifinal) | Clemson vs. Oregon |
| Jan. 11 | CFP Championship Game | Ohio State vs. Clemson |
–
—–
October 5th
Pac-12 over/under win totals: Oregon at 6; Arizona at 1
From Betonline.ag ….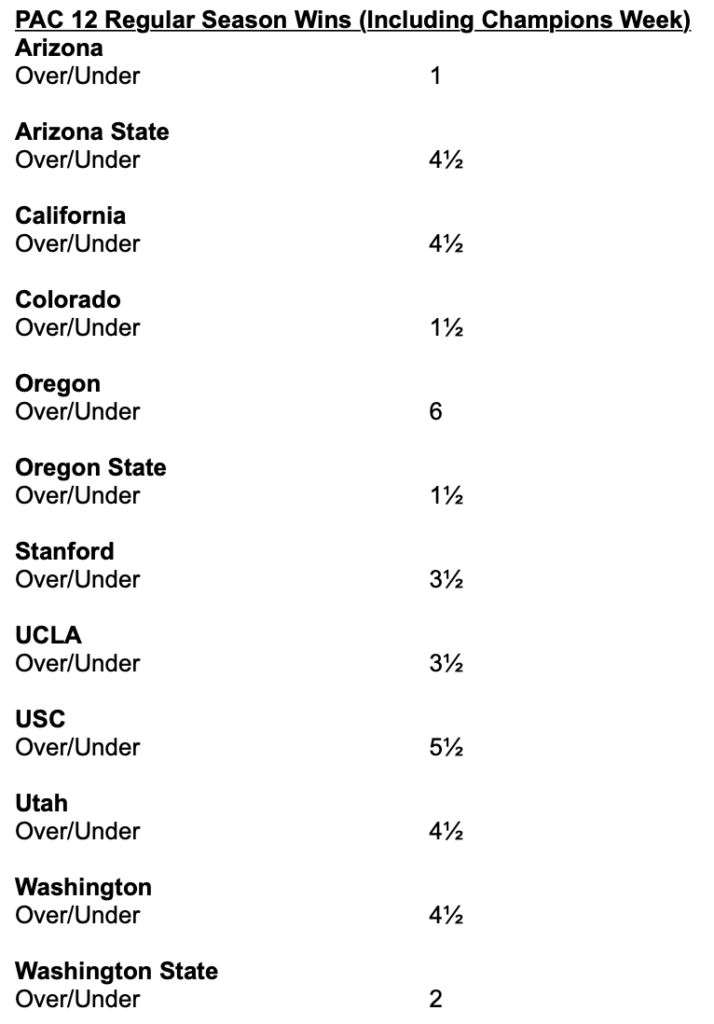 –
—
Arizona head coach Kevin Sumlin tests positive for COVID virus
From BuffStampede.com … Arizona head football coach Kevin Sumlin has tested positive for Covid-19 according to a release by Arizona Athletics on Monday.
"In a recent administration of COVID-19 testing of our staff members, Head Football Coach Kevin Sumlin received a positive test result.  In response to the positive result, our Intercollegiate Athletics Medical team immediately administered follow-up testing for Coach Sumlin to ensure validity and subsequent confirmation of the positive result.  In adherence with all university protocols, Coach Sumlin entered self-isolation immediately, contact tracing began in earnest and he has not experienced any symptoms.
"Contact tracing as well as a thorough analysis of all related team activities and protocols determined the test result is not related to any team activities and no close contacts were identified within the football program."
Arizona will continue ramp-up activities and plans to start Fall Camp this Friday as Sumlin remains in isolation.
"My family and I have been aggressive in our efforts to remain safe and healthy throughout the past seven months," Sumlin said. "My positive test result, while a shock, is a stark reminder of how we must all remain vigilant in our focus on hand washing, physical distancing and face coverings.
"I am feeling well and will be engaged in our ramp-up activities on a virtual basis until I complete the isolation protocol. I look forward to being back on field in time to begin preparing for the season.
"We are all grateful to Dr. Stephen Paul and his entire football medical team who work hard day-in and day-out to ensure our student-athletes and staff are safe and healthy."
Recently, Sumlin discussed how the team's approach would be different this season and that seems to be amplified with Monday's news.
"It's not traditional," Sumlin said. "The thing that I keep talking about with our players and our coaches is 'whatever you've done in the past, how we've put together books, how we've done things from a practice standpoint we've gotta be flexible.'
… Continue reading story here …
–
—
College Football News Pac-12 Bowl Projections: No Playoff Teams
… One Pac-12 affiliated bowl, the RedBox Bowl, has been cancelled … 
From College Football News … The RedBox (Big Ten vs. Pac-12) isn't going on this year, and the SoFi Hawaii (Mountain West vs. AAC or C-USA) and the Bahamas (C-USA vs. MAC) just announced they're not playing their respective bowls due to travel issues.
The NCAA recommendation is that records won't matter for bowl eligibility this year. That means every bowl can fill in their contracted bowl tie-ins, and everyone who gets remotely close can get a bowl appearance.
Pac-12 projections … 
LA Bowl
SoFi Stadium, Inglewood, CA
Normal Bowl Tie-Ins: Pac-12 vs. MWC
Bowl Projection: Stanford vs. Air Force
Mistubishi Motors Las Vegas Bowl
ESPN, Sam Boyd Stadium, Las Vegas, NV
Normal Bowl Tie-Ins: Pac-12 vs. SEC
Bowl Projection: Utah vs. Mississippi State
Radiance Technologies Independence Bowl
ESPN, Independence Stadium, Shreveport, LA
Normal Bowl Tie-Ins: Army vs. Pac-12
Bowl Projection: Army vs. Cal
San Diego County Credit Union Holiday Bowl
FOX, SDCCU Stadium, San Diego, CA
Normal Bowl Tie-Ins: ACC vs. Pac-12
Bowl Projection: Louisville vs. Washington
Tony the Tiger Sun Bowl
CBS, Sun Bowl Stadium, El Paso, TX
Normal Bowl Tie-Ins: ACC vs. Pac-12
Bowl Projection: Syracuse vs. Arizona State
Valero Alamo Bowl
ESPN, Alamodome, San Antonio, TX
Normal Bowl Tie-Ins: Big 12 vs. Pac-12
Bowl Projection: Oklahoma vs. Oregon
PlayStation Fiesta Bowl
ESPN, State Farm Stadium, Glendale, AZ
At-Large vs. At-Large
Bowl Projection: USC vs. Wisconsin
And …
Allstate Sugar Bowl
Friday, January 1, 8:45 ET
ESPN, Mercedes-Benz Superdome, New Orleans, LA
CFP vs. CFP
Bowl Projection: Clemson vs. Florida
Rose Bowl
Friday,, January 1, 5:00 ET
ESPN Rose Bowl, Pasadena, CA
CFP vs. CFP
Bowl Projection: Alabama vs. Ohio State
–
—–
October 4th
… Foe Pause … 
Did the Pac-12 do Oregon a favor with the Ducks' schedule (Oregon fans think so)
From DuckTerritory.com … The Pac-12 Conference flubbed a few aspects of their schedule, but for the Oregon Ducks, they got it right. The Ducks are poised for an exciting run into the month of December and are given a chance to have be must-see TV.
Three of Oregon's first four opponents this season didn't make a bowl game the previous year, and the lone team to make a bowl game – Washington State – saw their head coach leave for another program and must break in new starters across the board. Their combined records? 19-30 last season, and all four had losing records. Oregon opens up the season November 7th against a Stanford football program that failed to make a bowl game last season, and now this offseason has been decimated by transfers and opt-outs. The Cardinal go into the year on paper, a shell of their former selves. Harsh or not, this should be a game the Ducks win and potentially win big.
If the Pac-12 wanted to make sure they had a team or teams in the playoff discussion by December, they needed to stack the deck. They needed to schedule their better teams as many advantages as they could in a fair way.
Home game to open the season, against a team who didn't have a winning record in 2020, check. A first road game against a weaker opponent (Washington State) for week two? Check.
The schedule for the Ducks is set up about as perfectly as it possibly could be. The Ducks have a soft start against opponents who the Ducks should be able to handle and work through their own bumps in the road as they replace departed seniors and opt-out players. But then the schedule gets good, and where Oregon could really push themselves into the College Football Playoff narrative.
Oregon's final three games of the regular season are against Cal, Washington, and then a Pac-12 South opponent. If the Ducks have the year we believe the Ducks should have, Oregon will face off against a Top 25 opponent in week seven. If that seventh game is for the Pac-12 Championship, the Ducks will win the league and will do it by closing out the year with three straight wins against tough, likely ranked competition. That will attract eyeballs on Oregon and on the Pac-12 if the Ducks are winning.
… Continue reading story here …
–
—
With Big 12 imploding, non-playing Oregon moving up in CFP projections
From CBS Sports … Another week, another disaster for the big two in the Big 12 as the conference actively tries to play its way out of College Football Playoff contention. Oklahoma lost its second game in a row to an unranked opponent, this time a 37-30 defeat at the hands of Iowa State that realistically eliminated the Sooners from the CFP. It was Oklahoma's first loss in Ames, Iowa, since 1960 — 60 years!  It is the first time OU has lost first back-to-back regular-season games since 1999, which makes this the first season since 2014 that the Sooners have more than one conference loss.
After a great escape at Texas Tech last week, Texas coughed one up at home to TCU. The Longhorns lost 33-31 to the Horned Frogs, which are now 7-2 against Texas since joining the Big 12. Texas had a chance to grab the lead late, but Keaontay Ingram fumbled it away at the TCU 1-yard-line with 2:32 to go. The Longhorns never saw the ball again. Oklahoma State is the only remaining undefeated team in the Big 12 after a 47-7 win over Kansas. As such, the Cowboys are now the projected league champion and representative in the New Year's Six bowl games.
In the most anticipated matchup of the day, Georgia throttled Auburn 27-6 between the hedges. The Bulldogs have been my projected division champion in the SEC East, and that result did nothing to dissuade me. Their chief competition is Florida, which was also impressive in a 38-24 win over South Carolina. I still have both teams taking a back seat to Alabama, however.  The Crimson Tide were dominant in 52-24 win over Texas A&M.  Alabama will have to face Georgia in the regular season before a possible SEC Championship Game rematch. That first game is set for Oct. 17.
That left no changes to the College Football Playoff this week, though the New Year's Six bowl games did get shaken up with Penn State changing spots and Oklahoma State entering the fold.
College Football Playoff
DATE
GAME / LOC.
MATCHUP
PREDICTION
Jan. 11
National Championship
Miami
Title game
Semifinal winners
Jan. 1
Rose Bowl
Pasadena, Calif.
Semifinal
(2) Ohio State vs. (3) Alabama
Jan. 1
Sugar Bowl
New Orleans
Semifinal
(1) Clemson vs. (4) Oregon
New Year's Six bowl games
DATE
BOWL / LOCATION
MATCHUP
PREDICTION
Jan. 2
Orange
Miami
ACC/ND vs. SEC/Big Ten
Miami (FL) vs. Georgia
Jan. 2
Fiesta
Glendale, Ariz.
At-large vs. At-large
USC vs. Boise State
Jan. 1
Peach
Atlanta
At-large vs. At-large
Florida vs. Penn State
Dec. 30
Cotton
Arlington, Tex.
At-large vs. At-large
Oklahoma State vs. North Carolina
–
—–
One 9:00 a.m. kickoff set; Pac-12 Networks excluded until final weekend
From Jon Wilner at the San Jose Mercury News …
*** The 9 a.m. kickoffs
There is one scheduled thus far: Arizona State at USC, on Nov. 7.
That's right: The first game of the Pac-12 season — featuring two South contenders and the top returning quarterbacks in the conference (USC's Kedon Slovis and ASU's Jayden Daniels) — will start at 12 p.m. ET on the FOX broadcast network, as part of the Big Noon package.
(Smart move by the conference, which will be desperate for exposure after joining the party two weeks later than the Big Ten.)
"That's a tough game to make on Week One," Hanks said. "It's great exposure, but the two institutions stepped to the plate and said, 'We'll take it on."'
Additional 9 a.m. games have not been ruled out, according to a source.
*** About the Pac-12 Networks …
ESPN and Fox will broadcast every game for the first six weeks, plus the conference championship on Dec. 18 (FOX).
"One of our priorities was exposure," said a conference source familiar with the scheduling process. "To ensure all 36 games (through six weeks) were on ESPN and Fox was too good to pass up."
That leaves zero games for the Pac-12 Networks, at least until Dec. 19 (Week Seven), when there will be a full lineup of games not involving the division champions.
The Pac-12 Networks will have a heavy load of basketball games starting Nov. 25, although the conference hasn't ruled out a football game or two on the P12Nets on the final weekend.
The TV assignments for Dec. 19 have not been finalized.
–
—–
October 3rd
… Foe Pause … 
Reality check: Will Pac-12 teams be able to play all seven games?
From The Oregonian … In yet another damn-the-coronavirus, full-speed-ahead moment, the Pac-12 released its 2020 football schedule Saturday morning.
Here is a quick look at the nuts and bolts. For in-state fans, the Oregon-Oregon State game is scheduled for Friday, Nov. 27, three weeks before the end of the season.
Show of hands: Who thinks all of those games will be played? I don't.
The coronavirus pandemic remains ascendent. Games in every team sport at every level are being postponed because of COVID-19 outbreaks.
New England Patriots QB Cam Newton tested positive this week. As USA Today notes, that forced the NFL to postpone Sunday's game between the Patriots and Kansas City. It's the second postponement in the NFL's first month.
The NFL left places in the schedule where postponed games can be moved. The Pac-12 schedule, which calls for seven games in seven weeks, did not.
We're left with the real possibility a Pac-12 team could get to the Dec. 19 end of the regular season having played only six, or even five games.
The situation at Notre Dame is ominous. The Irish have 39 players in either quarantine or isolation. The school president has tested positive for coronavirus.
Writes Pat Forde of Sports Illustrated, Notre Dame's leadership is failing its students.
Forde quotes Notre Dame trainer Rob Hunt when he writes: "One of the places the virus can hide: between the Friday test and Saturday kickoff. Players who tested negative one day might still have COVID incubating in their systems, ready to come to full fruition the next day. "A negative test on Friday does not mean … you're free and clear from the virus at that point," Hunt said.
As I type this, Colorado still doesn't have the go-ahead to begin practice next week with the Pac-12′s other 11 teams.
According to this story in the Boulder Daily Camera, there is hope Colorado's restrictive health order will be lifted Thursday in time for the Buffaloes to take to the practice field on Friday.
This story in the R-G reports virus infection numbers set a one-day record in Lane County, home of the University of Oregon. The school refuses to say how many of the positives are UO athletes.
Oregon did report 23 total cases in the university community, all but one of them students. (Oregon Daily Emerald)
… Continue reading story here …
–
—
CU schedule released – Buffs open at home against UCLA; Stanford the cross-over game
… Related … Here is the Pac-12 Press Release, with the full schedule for every team …
… Related … "CU Buffs football schedule announced" … from the Daily Camera
Press Release from CUBuffs.com … The Pac-12 Conference released its schedules for the shortened but set-to-be resumed 2020 football season Saturday morning, with the 7-game season now set to commence on Saturday, Nov. 7.  The University of Colorado will open at home against UCLA at Folsom Field.
The schedules for all 12 teams were released early Saturday morning (8:30 a.m. MDT) to coincide with the pregame shows ahead of the day's televised games.  CU will play all five of its South Division opponents and Stanford from the North.
In the new schedule, Arizona State and Utah will also visit Boulder, with CU's road games set for Stanford, Southern California and Arizona.  All six games are in the same locations as on the original schedule released last January; the seventh game will be played in the final weekend (Dec. 18-19) with a North Division opponent to be determined the week prior.
The Pac-12 had announced on July 10 that it would only play a conference-games schedule this season, thus canceling all non-league contests due to the Coronavirus pandemic.  Colorado was set to open the season on Sept. 5 at Colorado State, then host Fresno State (Sept. 12) before reuniting with former Big 12 Conference rival Texas A&M in College Station on Sept. 19.  At the time, there were two bye weeks built into the schedule in case any games had to be postponed due to any outbreaks; there are no such weeks in the revised schedule to allow for any make-up games.
Then on August 11, the conference postponed all fall sports, as well as the start of the basketball seasons, until at least Jan. 1; on Sept. 24, the conference CEOs voted to resume the 2020 season after the league medical officials were satisfied with new and improved testing techniques and faster results for the virus.
"We're excited that we finally have something in concrete to look forward to," CU head coach Karl Dorrell said.  "We're all excited, coaches, players.  We're also looking forward to starting the season at home."  Ironically, with the Buffaloes drawing UCLA for their first game, Dorrell will be coaching against the school he served as head coach for five seasons (2003-07).  Another irony – his first game as head coach at UCLA was in Boulder against CU, a game in which the Buffs rallied to win, 16-14.
Dorrell, CU's 27th full-time head coach, will be the first to have his CU opener at home since Dan Hawkins in 2006, and only the second since Bill McCartney had his first career game at Folsom against California in 1982.  In all, 12 of the previous 26 had their openers in Boulder, with six coming in Denver, three against Colorado State with the other three in the early 20th century against assorted opponents.  Only two coaches in CU history opened with conference games – Myron Witham in 1920 at Denver and William Saunders in 1932 at Colorado Mines; Colorado won both games by 31-0 scores.
Four games that were eliminated from the first revised schedule were home games against Oregon State and Washington State, with road contests at Oregon and Washington dropped as well.  One of those may return, should CU make the league's championship game on Dec. 18 or the next day, when the remaining five teams in each division will be cross-matched (a determination of how those will be scheduled will be made at a later date; rematches aren't preferred but could be possible).
Entering its 10th season as a member of the Pac-12, Colorado will still open Pac-12 league play at home for the fifth time in the last seven years in hosting the Bruins, as defending conference champion Oregon was set as the original conference opener, with Washington State to visit Folsom in the first revised schedule.  As is always the case for games this far into the fall calendar, kickoff times will be known after the conference's television partners make their weekly selections either 12, or in some instances, six days in advance.  CU athletic director Rick George has indicated that he is open to the Buffaloes playing a home game at 10 a.m. to be featured in the Noon window in the Eastern Time Zone.
This will be Colorado's latest season opener in 102 years, or since Nov. 16, 1918; that year the start of the season was also delayed to an influenza pandemic at the end of World War I, brought back to the states from returning servicemen.  CU lost that game at home to Colorado State Teachers College (now Northern Colorado), 9-0.  The only other season that started later was CU's first in 1890 (a 20-0 loss at the Denver Athletic Club on Nov. 15).  The last time a conference opponent was the foe in a season opener was in 1961, when CU defeated Oklahoma State in Boulder, 24-0.
And on the other end, with the season finale now set for Dec. 18 or 19, it will be the latest game to ever end the regular schedule.  The 1890 finale was on Dec. 15; three regular seasons ended on Dec. 7 (1918, 1963, when a game against Air Force was delayed two weeks due to the assassination of President John F. Kennedy and in 2002 (Big 12 title game against Oklahoma).  In 1924, CU had a couple of "postseason" games in Hawai'i (Dec. 25-Jan. 1), and in 1893, CSU issued a challenge to CU and two played on Feb. 11; CU's 70-6 win was tacked on to the 1892 schedule.
The last time CU played only seven regular season games was in 1943, when the (Mountain States) conference schedule was limited due to World War II; the Buffs played just two league games that year, with three of the others against teams from Army bases.
Colorado was 5-7 last year, with a 3-6 record in Pac-12 play for fifth place in the South Division.  Karl Dorrell was named head coach on Feb. 23, and his first Buffalo team returns 58 lettermen from that squad, including 15 starters. When all athletic competition and practices ceased last March 12 due to the pandemic, the Buffaloes were four days away from opening their spring football drills.
| | | |
| --- | --- | --- |
| Date | Opponent | Site |
| Nov. 7 | UCLA | Boulder |
| Nov. 14 | at Stanford | Stanford, Calif. |
| Nov. 21 | Arizona State | Boulder |
| Nov. 28 | at Southern California | Los Angeles, Calif. |
| Dec. 5 | at Arizona | Tucson, Ariz. |
| Dec. 11 (Fri.) | Utah | Boulder |
| Dec. 18 | Pac-12 Championship Game | Campus Site |
| (OR) Dec. 19 | North Division Opponent | TBD |
–
–—-
October 2nd
… Foe Pause … 
New Senior Associate Commissioner Merton Hanks charged with rehabilitating Pac-12's image
From ASUDevils.com … It hasn't been too long since Merton Hanks did his signature "chicken dance." celebration. When the now Pac-12 Senior Associate Commissioner for Football Operations was offered the position; Hanks said he celebrated in similar fashion as he did during his nine-year NFL career.
During an introductory press conference Thursday, Hanks expressed a level of excitement for the task at hand: rebuilding the conference's football image.
"The bottom line for me is how can we continue to elevate not only the Pac-12 football but the entirety of Pac-12 sports," Hanks said. "How can we elevate our student-athletes, promote our student-athletes, and protect our conference brand."
"Merton brings instant credibility to the position," said Ray Anderson, Arizona State Vice President for University Athletics. "As important as anything because the coaches, assistant coaches, and the folks who have been in the trenches understand and appreciate where Merton has been."
Hanks, who was hired by the Pac-12 Sept. 8, comes to the conference after previously serving as the Conference USA's Senior Associate Commissioner. He also previously spent time working with the National Football League in an administrative role, during which he worked with Anderson, ASU head coach Herm Edwards and UCLA head coach Chip Kelly among others.
In less than a month since his hiring, Anderson said Hanks' presence has been helpful in the Pac-12's return to play initiative.
"The impact he's already had in our rooms with the ADs, the coaches, the administrators, the personnel has been profound because now there is credibility and respect for the juice he brings," Anderson said. "The intelligence he brings and the leadership he brings when he talks about things folks believe it instantly."
One of Hanks' first tasks in his role with the conference is to organize and solidify the Pac-12's modified football schedule, as the conference prepares to begin its 2020 season Nov. 6. With only six regular-season games to schedule, Hanks said the schedule – which should be released in the next few days – would present a challenge in pleasing each institution.
"Certainly, the time constraint is the principle thing," Hanks said. "Usually, these things take months to align, in regard to the requests and needs of our television partners. As one [Pac-12 athletic director] stated 'if everybody is a little bit mad about the schedule, we probably have a pretty good schedule.'
"We hope to have a schedule out in short order. We're working diligently to get that done. As soon as it was announced by our CEO group… the wheels immediately began in motion to putting together a schedule."
Hanks addressed the challenges presented by the Pac-12's attempt to play seven games in seven weeks, making a note of the interruptions other conferences have made and the change in procedure the College Football Playoff has made as well.
… Continue reading story here …
–
—
How bad is it for CU not to be allowed to practice? Read up on other Pac-12 schools
… Assume that the Buffs will be okay if they are allowed (and that's still a big "if") a full Fall Camp of 25 practices? Read on – CU, which is one of only three schools in the Pac-12 which didn't get in any spring practices (the Washington schools being the other two), is falling further and further behind its brethren with each passing day … 
From The Athletic … In discussing the eagerly awaited Pac-12 fall football schedule, Merton Hanks on Thursday referenced a comment he had heard from a colleague: "If everybody's a little bit mad about the schedule, we probably have a pretty good schedule." He might be right.
Hanks, the Pac-12's new senior associate commissioner for football operations, said the conference's goal is to give every school the opportunity to succeed, which in this case might be a difficult goal to achieve. The Pac-12 is expected to release its seven-game, seven-week schedule Saturday. The conference plans to kick off Nov. 6.
"Certainly the time constraint is the principal thing," Hanks said during a Zoom call with reporters. "Usually, these things take months to kind of align in regard to the requests and needs of our television partners."
With five weeks to go, Pac-12 schools are in varying states of readiness. The California schools are closer to team activity. The Arizona schools, along with Utah, appear to be in good shape. The Washington and Oregon schools promise to be ready. Colorado remains on hold.
After the Pac-12 reinstated the fall season, schools began a 14-day transition period in which players can participate in walkthroughs, meetings and conditioning sessions for up to 20 hours per week. Most target Oct. 9 as the start date of mini camp. Here's a team-by-team look at where each program stands.
… Colorado: Hours before the Pac-12 announced its return, Boulder County health officials banned gatherings for all 18- to 22-year-olds because of a recent spike in COVID-19 cases. That order is in place until at least Oct. 8 — not ideal for a football team trying to fast-track preparation. For now, first-year coach Karl Dorrell and his staff are limited to Zoom instruction. Players can work out individually. If all goes well, the Buffaloes will start regular practice Oct. 8, which would give them a month to get ready.
… Now compare that with some other Pac-12 schools …
… Arizona: In a recent Zoom call with reporters, coach Kevin Sumlin called the initial part of the "ramp up" process just as important as game week. With the Pac-12 on hold, the Wildcats had worked within the weekly 12-hour rule for nearly a month before taking off the week before the conference announced its fall return. During the two-week transition process, Sumlin said Arizona would start with three OTA-style practices per week and then increase to four and five.
"We want to maximize our six weeks, but we also want to make sure that what we're doing is a ramp up, and six-to-eight weeks from now, just because guys are excited right now, we want them still to be excited at that point and healthy enough to play," Sumlin said.
… UCLA: Although state restrictions limited UCLA during the Pac-12 shutdown, many players continued working out. "There's an old saying that if you stay ready, you don't have to get ready," offensive lineman Paul Grattan, Jr., told the Los Angeles Times. The Bruins started the two-week, 20-hour transition period a day after the Pac-12's announcement.
… Utah: The Utes will start the equivalent of fall camp Oct. 9. Coach Kyle Whittingham hopes to have two team scrimmages before the start of the season. "At least we've been on the field and doing skill instruction, fundamentals and technique work," Whittingham told reporters. "I'm confident that our guys will be adequately prepared. How we play is anybody's best guess. But as far as the preparation time, I think it's more than adequate."
… Read full list of stories here (subscription required) …
–
—–