—
Sunday Afternoon Quarterback
—
Bye Week Musings 
— Buff fans spent Saturday afternoon watching their team's strength of schedule take a hit. Nebraska fell to 0-3 for the first time since 1945, suffering a humbling defeat at the hands of Michigan. After the game, Nebraska athletic director Bill Moos (if the name sounds familiar, Moos was the long-time AD for Washington State) was telling reporters that the Cornhusker fans had to be patient.
This is the same Bill Moos who said upon the hire of Scott Frost: "You've got Urban Meyer and Jim Harbaugh thinking, 'We better put a little more into that Nebraska game coming up.' And that's the way we want it. They're running a little bit scared right now. And they won't admit it. We'll leave that at that."
Okey-dokey, Mr. Moos.
— Meanwhile, up at Fort Fun, the Colorado State Rams continue to implode. CSU fell to Illinois State from the Missouri Valley Football Conference (not to be confused with the Missouri Valley basketball conference), 35-19. The Rams fell behind the Redbirds early in the second quarter, and were never in sync the entire game, falling behind 35-13 before scoring a touchdown with 1:36 to play to make the final a little more respectable.
The announced crowd for the CSU game was 26,259. At kickoff, the crowd looked like this: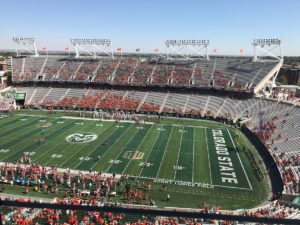 CSU's Power-Five goal of a Power-Five invitation remains alive and well in Ft. Collins. The reality? Not so much …
— Anyone who loves college football got a kick out of Old Dominion's 49-35 win over No. 13 Virginia Tech. A crowd of 20,532 were on hand in Norfolk, Virginia, to watch the Monarchs, a 27.5-point underdog, win their first-ever game against a Power-Five conference school.
The upset also has significance to Colorado fans, albeit a significance most of you don't care about. According to Winsipedia, Colorado has been voted into the Top 25 in the Associated Press poll 302 times in school history (just missing this week, coming in at No. 26). Right behind the Buffs? You guessed it: Virginia Tech. The Hokies were at 301 poll rankings coming into the weekend, were ranked 13th in the nation, and had Old Dominion on the calendar. One huge upset later, and Virginia Tech remains on 301, coming in at No. 28 this week.
(CU needs to get back into the poll this week, as Stanford is at 299 this week, coming in at No. 7 in the latest poll).
—
Pac-12 Power Rankings
—
Note … These are my subjective Power Rankings, which will be updated every Sunday. (Please feel free to post your own rankings in the comments section) …
12. UCLA (0-3, 0-0) … Ranking last weekend: 12
This weekend … Idle.
This past weekend was the best for the Bruins since the season started, as UCLA did not absorb another tough-to-take loss. A month ago, there was optimism a-plenty in Westwood, with Chip Kelly considered to be the best new hire in college football. After losses to Cincinnati, Oklahoma, and Fresno State (with the first and third games at home), the Bruins are off to their worst start since 1971. A bye week gives UCLA a chance to heal (quarterback Wilson Speight, a graduate transfer from Michigan, who was injured in the opener, may be available for the CU game), and a chance to regroup. Buff fans will get a first hand look at how well Kelly & Co. have done …
Up next … at Colorado … Friday, 7:00 p.m., MT, FS1
—
11. Oregon State (1-2, 0-1) … Ranking last weekend: 10
This weekend … The Beavers gave up 594 yards of total offense to Arizona, falling at home to the Wildcats, 35-14. Arizona running back J.J. Taylor rushed for a Reser Stadium-record 284 yards and two touchdowns. The Beavers, meanwhile, had 238 yards of offense as a team. "We never really found some rhythm out there. We really didn't," said Oregon State coach Jonathan Smith.
The Beavers had some moments in non-conference, but the first game in Pac-12 play looked a great deal like last year, when Oregon State went winless in Pac-12 play.
Up next … at Arizona State, 8:00 p.m., MT, Pac-12 Networks
—
10. Utah (2-1, 0-1)… Ranking last weekend: 8
This weekend … Idle.
It's not really fair to drop the Utes two spots when they didn't play, but teams ranked above them played well enough this past weekend to rise above them. The concern in Salt Lake City is the offense, where the Utes are averaging only 21.7 points per game (and that includes the 41 points put up against Weber State in the opener). Up next is a trip to Pullman to play Washington State. The Cougars are also 0-1 in Pac-12 play. The loser of this game will be a significant hole in the conference race before the calendar turns to October.
Up next … at Washington State, 4:00 p.m., MT, Pac-12 Networks
—
9. Arizona State (2-2, 0-1) … Ranking last weekend: 7
This weekend … The Sun Devils lost on the road to No. 10 Washington, 27-20. For a team which was a 17-point underdog to the Huskies, the "better-than-expected" performance will give Arizona State fans optimism going forward.
Arizona State rediscovered its run game that was absent the previous two weeks, with Eno Benjamin rushing for 104 yards. It was a run-heavy game plan that caught Washington by surprise, but was not able to be complemented by the Sun Devils' passing game. Quarterback Manny Wilkins threw for only 104 yards and star wide receiver N'Keal Harry was limited to five catches for 20 yards, unable to find space against Washington's stellar secondary.
Arizona State has its "get healthy" game against Oregon State before heading to Boulder for a showdown with Colorado.
Up next … Oregon State, 8:00 p.m., MT, Pac-12 Networks
—
8. Arizona (2-2, 1-0) … Ranking last weekend: 11
This weekend … The Wildcats looked good in routing Oregon State, 35-14. The Wildcat offensive line opened up big holes for their running backs, who often weren't touched until they were well into the secondary. No one expected Kahlil Tate to match his career-high 349 yards and five touchdowns from last week against Southern Utah, but he was effective enough against the Beavers despite completing 9 of 17 passes.
The litmus test for the Wildcats comes this weekend with USC coming to town. The winner will likely be considered to be the front-runner to win the Pac-12 South race. The loser, meanwhile …
Up next … USC, 8:30 p.m., MT, ESPN2
—
7. Washington State (3-1, 0-1) … Ranking last weekend: 6
This weekend … Washington State traveled to Los Angeles with a 3-0 record to face a 1-2 USC team with issues. The Cougars were hoping to show that their non-conference record was not a fluke, and put the Trojans in an early season hole. Washington State played well, but it was USC which came away with the 39-36 victory. The Cougars had a 24-14 lead in the second quarter, and a 30-17 lead early in the third quarter before the Trojans rallied.
Up next is a home game against Utah. Both teams are 0-1 in Pac-12 play, and will be desperate to avoid an 0-2 start to conference play. Colorado plays both Washington State and Utah at home in November. The outcome of the WSU/Utah game could play a role in the significance of those two home games for the Buffs.
Up next … Utah, 4:00 p.m., MT, Pac-12 Networks
—
6. Colorado (3-0, 0-0) … Ranking last weekend: 4
This weekend … Idle.
Another case of a team which didn't play dropping in the power rankings due to other teams below them playing well … as well as the fact that CU's non-conference wins not looking as good as they did at the time of those games. Colorado State fell to 1-4 after an embarrassing 35-19 home loss to Illinois State, an FCS team from Normal, Illinois. Meanwhile, Nebraska was humiliated in a 56-10 loss to Michigan in a game which wasn't that close.
CU's non-conference opponents have a combined record of 1-10 so far this season. Of course, UCLA is 0-3 and hasn't looked good at all. Colorado could post yet another "unimpressive" win on Friday … but most Buff will take 4-0, regardless of how it came about.
Up next … UCLA, Friday, 7:00 p.m., MT, FS1
—
5. USC (2-2, 1-1) … Ranking last weekend: 9
This weekend … USC came from two scores down to defeat Washington State, 39-36.
Freshman quarterback J.T. Daniels passed for 241 yards and three touchdowns, and Jay Tufele blocked Washington State's attempt at a tying field goal with 1:41 to play in USC's 18th consecutive home victory. After back-to-back road losses to Stanford and Texas put the Trojans in dire September straits, the Trojans fell behind the Cougars early, but made a series of big stops and slick adjustments down the stretch to remain unbeaten at the Coliseum under coach Clay Helton.
If USC can escape the desert with a win over Arizona, the Trojans will again be considered to be the favorites in the Pac-12 South.
Up next … at Arizona, 8:30 p.m., MT, ESPN2
—
4. California (3-0, 0-0) … Ranking last weekend: 3
This weekend … Another idle team to drop, but Cal did not drop far, falling below Oregon in my rankings.
In the eyes of the Associated Press voters, though, the Bears not only did not drop, they rose. Ranked 30th in last week's AP poll, idle Cal moved into the nation's Top 25, coming in at No. 24 (CU moved from No. 29 to No. 26). The rise for Cal was primarily driven by the play of its Week Two opponent, BYU. Cal beat the Cougars in Provo, 21-18, but that has been BYU's only loss. The Cougars are 3-1, which includes road wins over Arizona and No. 8 Wisconsin. CU's non-conference opponents, meanwhile … well, you know.
The Bears have had an extra week to prepare for Oregon, which is coming to Berkeley off of a disappointing home loss to Stanford.
Up next … Oregon, TBA
—
3. Oregon (3-0, 0-1) … Ranking last weekend: 5
This weekend … Oregon suffered a tough home loss to No. 7 Stanford, falling in overtime, 38-31. The Ducks twice had a better-than-98% of winning (according to ESPN's Football Power Index). The Ducks were up, 24-7, late in the third quarter, and had a first-and-goal at the Stanford one-yard line. Instead of going up 31-7, however, a long fumble recovery for a score by Stanford, however, made it a 24-14 game. Later, only needing to take a knee in the final minute with a 31-28 lead late, the Ducks fumbled, allowing the Cardinal to kick a game-tying field goal as time expired.
After a marshmallow soft non-conference schedule, Oregon answered the question as to whether the Ducks are a quality team in their effort against Stanford. With a tough game against Cal on the road this weekend, we'll see how the Ducks respond to adversity.
Up next … at Cal, TBA
—
2. Washington … Ranking last weekend: 1
This weekend … The Huskies defeated Arizona State, 27-20, but nonetheless drop a spot. Washington was a 17-point favorite over the Sun Devils. but the home crowd of 71,200 remained nervous throughout.
Quarterback Jake Browning began the week with the same number of touchdown passes as interceptions. He finished Saturday with three touchdowns and zero turnovers and without any of the shaky moments from the first three games.
Washington still has a path to the College Football Playoffs. The Huskies received an unexpected boost to their schedule strength with the rise of BYU. The Cougars were 4-9 last season, but are 3-1 this season, and ranked 20th nationally.
Up next … BYU, TBA
—
1. Stanford (4-0, 2-0) … Ranking last weekend: 2
This weekend … As noted in the Oregon recap, the Cardinal had a comeback for the ages in Eugene Saturday night, coming from behind to post a 38-31 victory. Long after most of America had gone to bed, the Cardinal came out with its record unblemished, in the driver's seat in the Pac-12 North.
Along with the Washington Huskies, Stanford holds with it the hopes for the Pac-12 in reaching the College Football Playoff. While the Cardinal have already taken out USC and Oregon in conference play, the Cardinal will play its most important non-conference game this weekend, traveling to South Bend to take on No. 8 Notre Dame.
Up next: … at No. 8 Notre Dame, 5:30 p.m., MT, NBC
—
–
… Your thoughts? Post your rankings in the comments section … 
—–