—
Colorado Daily – UCLA
—
September 28th – Game Day!
Game Day Information 
… CU in a few minutes … 
From CUBuffs.com … Colorado is set to host UCLA on Friday night in football as the Buffs look to remain undefeated this season and get closer to bowl eligibility. Fans are encouraged to WEAR BLACK to match the team's uniform combination and create a unified atmosphere at Folsom Field. Friday is also Mental Health Awareness Night.
With the game taking place on a weeknight, there are some changes from a typical Saturday home game. Parking will be limited on campus and if you do not have a donor parking permit, you will need to buy a game day pass online or park on East Campus. Parking lots will open at 3 p.m. and gates open at 5 p.m.
PROMOTIONS
It is also CU's annual Be The Match game to encourage people registering for blood donations. Fans can visit www.BeTheMatch.org/Buffaloes to register to save a life. Former Buffs defensive end Derek McCartney, saved a life in 2016 ahead of his junior season after signing up for Be The Match. He matched with a person battling cancer who needed a blood stem cells transplant.
In addition, this week is the AFCA's Coach to Cure MD in college football. CU's coaching staff will wear a special arm patch to raise awareness of Duchenne muscular dystrophy. Fans are encouraged to donate to the cause by texting "CURE" to 50555 or visiting www.CoachtoCureMD.org.
UPDATE: There is one remaining ticket promotion for the UCLA game, Networking Night in the Flatirons Club. For $80, fans can receive a ticket to the Flatirons Club and unlimited popcorn and hot dogs. Tickets for this area are normally $145 each. Visit www.cubuffs.com/networking for more information.
Friday night is also Aerospace Night at Folsom Field to celebrate CU's engineers, astronauts and future in aerospace. CU astronauts will be honored at halftime, and Colorado-based Sierra Nevada Corporation will hand out 6,000 of their DREAM backpacks to fans. United Launch Alliance, Ball Aerospace, and Lockheed Martin will also be represented. To learn more visit:  https://www.colorado.edu/engineering/aero-night.
IMPORTANT MAPS
Campus Gameday Parking Map for UCLA
East Campus Parking Map for UCLA
Public Parking Details for UCLA
Buff Bus Information
–
—
Injury Report
In addition to the players who have been previously listed as out for the season (OL Isaac Miller, knee; TE Jared Poplawski, shoulder; DL Jalen Sami, knee; S Jaison Sanchez, knee; and LB Jacob Stoltenberg, knee), the official injury report for New Hampshire is as follows (under HIPAA protections, not all injuries are reported. For example, cornerback Chris Miller nursed a hamstring injury suffered in Fall Camp, and did not see the field until the New Hampshire game … but Miller never appeared on the injury report issued by the school):
— WR Jaylon Jackson … foot … suffered injury in practice August 14th; rehabbing … Probable
— P Alex Kinney – collarbone … broke collarbone in first quarter v. Nebraska … Out /3-4 weeks
— LB Akil Jones … ankle … suffered a high ankle sprain in practice August 7th … Day-to-Day
— OG Brett Tonz … ankle … suffered a bruise against Nebraska … Day-to-Day
— WR Juwann Winfree … ankle … suffered during the Nebraska game … Day-to-Day
With this update, from the Daily Camera … A few Buffs that have dealt with injures lately are hoping to be on the field Friday night, including Jaylon Jackson, who has yet to make his CU debut.
A redshirt freshman receiver, Jackson has missed the first three games with a foot injury, but is listed as probable in CU's injury report this week. Since his sophomore year of high school, in 2014, Jackson has played in just one game because of injuries.
Receiver Juwann Winfree (ankle) and left guard Brett Tonz (ankle) are both day-to-day, but appear to be on track to return against the Bruins. Both sat out of CU's Sept. 15 win against New Hampshire.
Reserve inside linebacker Akil Jones has missed the last two games with an ankle injury, but MacIntyre said this week "we expect Akil to be ready Friday."
–
—
MacIntyre: Buffs ready for "best 0-3 team in team in the country"
From CUBuffs.com … Mike MacIntyre made it clear this week — both to the media and to his team — that nobody in black and gold is taking the Bruins lightly. MacIntyre called UCLA the "best 0-3 team in the country," added that the Bruins are "the most athletic team we've played this year," and paid full homage to their schedule thus far, saying, "They've played a tougher schedule than we have at this point."
Kelly has been equally complimentary about the Buffs. But the UCLA coach hasn't divulged who he will start at quarterback. The Bruins opened the year with grad transfer Wilton Speight at the helm, but turned to true freshman Dorian Thompson-Robinson after Speight suffered a back injury in the season-opening loss to Cincinnati.
Media reports this week indicated that while Speight is back at practice, Thompson-Robinson continued to get repetitions with the No. 1 offense.
If that is the case, the Buffs are preparing for a dual-threat quarterback who can throw — he has completed 41 of 75 attempts for 522 yards, two touchdowns and two interceptions — as well as make plays with his legs.
"He's a scrambler," said CU defensive lineman Mustafa Johnson. "A scrambler, you've noticed, we've had a little more trouble with. We're preparing on keeping him in the pocket and closing in."
The Buffs did indeed have some trouble early with Nebraska's mobile quarterback, Adrian Martinez, but they made some halftime adjustments in that game and kept him contained in the second half.
Offensively, the Buffs will see a Bruins defense that has had its share of problems. UCLA is 11th in the conference in scoring defense (37.7 points per game) and 10th in yardage allowed (403.0). Colorado will do its best to establish tempo early and put the Bruins on their heels. CU has scored on its first possession in all three games this year, as well as its first possession of the second half.
"They have played three games, they've had a bye week and I expect them to be much better on defense," MacIntyre said. "I expect them to play well. We are going to have to play really well on offense."
… Continue reading story here …
–
—–
September 27th
… CU in a few minutes … 
CU receives a $3.1 million donation – for sports nutrition
From the Daily Camera … The Colorado athletic department has received one of the largest single donations in its history.
CU announced Thursday a $3.1 million gift from Gordy and Dona Crawford and their family. The Crawfords gave the gift to support CU's sports nutrition program and the sustainable excellence initiative.
Longtime Buffs, the Crawford's support of the program extends to their late son, Brett, who attended CU from 1990-93; their son, Jeff, who is a 1990 CU graduate, and his wife, Orsi, and children, Jack and CJ.
"The Crawford family has been a proud CU family for many years and has always been generous to our mission," athletic director Rick George said in a press release. "With this gift, they are permanently changing how our student-athletes view nutrition and its impact on performance. Their gift will give our student-athletes access to cutting-edge programs to maximize their ability."
This is believed to be one of the five largest single donations to CU athletics.
"We hope this gift will inspire others to give to the university, so that Colorado's student-athletes can compete at the very highest level in collegiate sports," Jeff Crawford said.
The donation by the Crawford family will go to create a hands-on teaching kitchen, add to the fueling stations and provide additional supplement and snack offerings for the student-athletes. It will also go to support analysis of sports nutrition and allow CU to better identify nutritional needs of the athletes.
… Continue reading story here …
–
—
 Buff quarterback Steven Montez showing more poise
From the Daily Camera … On Friday night at Folsom Field, the Buffs (3-0) open Pac-12 Conference play against UCLA (0-3), and they go into the game knowing their quarterback has taken a leap this season in his execution, his command of the offense and his poise.
"It's just fun to watch as a coach," CU quarterbacks coach Kurt Roper said. "He's a really talented player and he's starting to understand the game. Part of that is simply through a ton of reps. Probably what I'm most proud about right now is he's practicing at a high level and that's what you have to do win football games."
Much has been made of what Roper has done to help Montez take his game to a new level. Hired in January, Roper has helped Montez's study habits, getting him to a point where he can read defenses better and be more prepared than ever going into a play and a game.
… Continue reading story here …
–
—
Neill Woelk: Five Keys for Buffs v. Bruins
From CUBuffs.com … If history is any indication, Friday night's Colorado-UCLA matchup under the Folsom Field lights will be a close one.
The last four games between the two Pac-12 South rivals have been decided by a total of 21 points, with the margin of victory hitting double digits just once — a 20-10 Colorado win in 2016 in Boulder. Two others were decided by four points and one by three.
This year, despite the records — Colorado is 3-0 while UCLA is 0-3 — CU coach Mike MacIntyre said he's not expecting anything other than another close game.
"They've played a tougher schedule than we have at this point," MacIntyre said. "They're the most athletic football team that we've played this season. They have speed, athleticism, and it's going to be a really tough test for us."
What must the Buffs do to ensure they start their conference season off on the right foot?
1. Continue their trend of scoring first in each half. In all three games thus far, the Buffs have scored on their first possession to take the lead, and three times they have scored on their first possession of the second half to establish momentum again.
Friday night would be a perfect time to stretch that streak to four and give what is expected to be a raucous crowd something to cheer for early.
It's not that the Buffs have had the ball first in all three games. In fact, they have twice — against Nebraska and New Hampshire — produced a defensive takeaway to start the game. Pair up a defensive takeaway and an early touchdown Friday night,  and it will no doubt get the Folsom Field gathering into the game in a hurry.
… Continue reading story here …
–
—
Sophomore transfer guard Kary Kutsch looking good after earning first start v. New Hampshire
From the Daily Camera … Ideally, the Colorado football team would find five offensive linemen who work well together and start every game, thus solidifying the trenches.
In reality, as the Buffaloes (3-0) prepare to face UCLA (0-3) in the Pac-12 opener on Friday, they have nine linemen battling for playing time, and one of the newest members of the group is quickly rising.
Sophomore Kary Kutsch, a transfer from Butte (Calif.) College, came off the bench to play left guard and right guard at times during the Buffs' 45-14 win against New Hampshire on Sept. 15.
Against the Wildcats, the 6-foot-4, 300-pound Kutsch played 51 snaps. On the season, he's played 59 snaps, with no penalties, no sacks or quarterback pressures allowed and four knock-down blocks. He's also been credited with three blocks that led to touchdowns.
"I thought that Kary went out and competed and that's what you like to see for a guy who's really getting his first meaningful snaps in a game," CU co-offensive coordinator/line coach Klayton Adams said.
… Continue reading story here …
–
—–
September 26th
… CU in a few minutes … 
Buffs using depth to improve pass rush pressure
From CUBuffs.com … Thus far this season, the 3-0 Colorado Buffaloes are keeping their defense fresh with a steady rotation, particularly along the front seven.
In three games this year, 16 different defenders have played at least 30 percent of the Buffs' defensive snaps. Up front — among the linebackers and defensive line — the Buffs are spreading the playing time among roughly a dozen players.
That depth has yielded been an improved pass rush that has been able to exert pressure throughout the game. Along with 10 quarterback sacks, the Buffs have also recorded 24 quarterback "pressures" — plays on which they have forced an early or errant throw.
That quarterback pressure will be a key Friday night when 0-3 UCLA pays a 7 p.m. visit to Folsom Field (FS1). The Bruins have already given up 12 quarterback sacks this year.
Most of CU's sacks thus far have come from their defensive linemen, led by Mustafa Johnson's 3.5. No other Colorado player has more than one sack.
But seven Buffs have at least two pressures, with the majority coming from CU's outside linebackers, where Colorado can bring pressure off the edge with some speed. Outside linebackers Drew Lewis and Davion Taylor each have three, as does Johnson. Other players with at least two include linebackers Jacob Callier and Carson Wells and linemen Terrance Lang and Jase Franke.
"We're able to get a lot of speed on the field," head coach Mike MacIntyre said. "We have guys rotating in. …  Our pass rush hasn't always gotten to the passer, but we've harassed him."
… Continue reading story here …
–
—
CU uniform combination for "Blackout" game against UCLA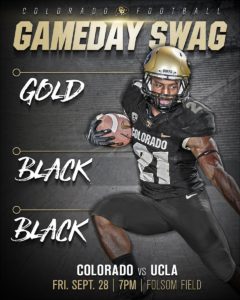 –
—
Laviska Shenault presents matchup issues for opposing defenses
From the Daily Camera … Three games into his sophomore year, Colorado's Laviska Shenault has earned a lot of national attention, with player of the week awards and, on Tuesday, being added to the watch list for the Biletnikoff Award.
So far, however, opposing defenses haven't had a particular player shadowing the star receiver.
"Not yet," Shenault said.
That could change as the Buffaloes (3-0) head into Pac-12 Conference play, beginning Friday night against UCLA (0-3), but it won't be easy to shadow the dynamic Shenault.
The nation's leader in receiving yards (151.7) and catches (8.7) per game, the 6-foot-2, 220-pound Shenault is a matchup problem because of his talent and versatility.
… "I'm not used to (the attention), but I like the pressure, so I'm just going to remain humble and keep playing the way I'm playing," he said. "Hopefully everything keeps playing out right."
Luckily for Shenault, he comes into this week healthy. He injured his shoulder during a Sept. 8 win at Nebraska and played through the pain the next week against New Hampshire. After a bye week, though, he said, "I'm feeling way better and just ready to play."
… Continue reading story here …
–
—
Punter Alex Kinney continues improvement from collarbone injury 
From the Daily Camera … The Buffs are hopeful senior punter Alex Kinney can return this season from a broken collarbone. Kinney was injured against Nebraska, and it was initially believed he would miss the rest of the season.
"Everything is progressing really well," MacIntyre said Tuesday. "He's moving his arms around. We just have to make sure he's OK and cleared to go out."
MacIntyre said Kinney is already catching footballs that are snapped, but he still needs to show he can catch snaps that are high or low or off to the side.
"We're just going to keep meeting with the doctors and see how it goes," MacIntyre said. "He's recovering well and doing well. He has a positive attitude."
Junior Davis Price will continue to fill Kinney's role at punter. Price, who is also the kickoff specialist, has averaged 39.6 yards on nine punts.
… Continue reading story here …
–
—
Buffs preparing to face two quarterbacks against UCLA
From CUBuffs.com … Colorado coach Mike MacIntyre proved beyond a doubt Tuesday that he has a sense of humor — even when it might be a bit painful.
Asked how difficult it is to prepare for two quarterbacks — the Buffs still don't know who UCLA will start in Friday's 7 p.m. matchup at Folsom Field — MacIntyre flashed a wry smile and said, "Every time you say prepare for two quarterbacks, I kind of break out into a cold sweat from the Arizona game a year ago."
CU's coach was, of course, referring to the moment last season when Arizona starter Brandon Dawkins went down with an injury and was replaced by Khalil Tate. Before the night was over, Tate had rushed for 327 yards — an NCAA record for quarterbacks — and four touchdowns in a 45-42 Arizona win.
But it's highly unlikely the Buffs will see anything resembling Tate Part II on Friday because the appearance of either — or both — UCLA quarterbacks won't be a surprise.
The Buffs have film on both graduate transfer Wilton Speight and true freshman Dorian Thompson-Robinson.
Speight, who transferred to UCLA from Michigan (where the Buffs also faced him), started the season opener for the Bruins before suffering a back injury early in the loss to Cincinnati. Since then, Thompson-Robinson has been at the helm, starting in losses to Oklahoma and Fresno State. Speight is clearly the more experienced of the two and is more of a true pocket passer while Thompson-Robinson is more adept at making plays with his legs.
As of Tuesday, there was no hint from Westwood as to who would get the starting nod. But either way, MacIntyre said, the Buffs aren't expecting a huge deviation in the Bruins' game plan.
"I think Chip (UCLA Coach Chip Kelly) is going to run his offense," MacIntyre said. "From what I saw in their first game against Cincinnati, it was basically the same offense (with both quarterbacks). It's hard to prepare two offenses. They'll pick certain plays that a guy is better at, but that's usually hard to find out in one game, you'll hopefully get it as the quarters go along. Hopefully your defense is able to adjust to different things. We teach them that. They understand that. … We'll be ready for either one and hopefully we can adjust."
… Continue reading story here …
–
—–
September 25th
… CU in a few minutes …
Chris Miller reports he is a 100% healthy and ready to play
From the Daily Camera … Knowing he wasn't going to play, yet also understanding any knowledge and improvements he filed away would be critical to his Colorado football career, Chris Miller spent his entire redshirt season last year absorbing information from the sideline.
So when Miller went down with a hamstring injury last month, derailing what to that point had been a stellar preseason camp for the redshirt freshman cornerback, Miller knew the routine. If he was going to be forced to the sideline, he was going to make the best of the situation.
Expected to be a key figure in the Buffaloes' defensive backfield this year, Miller's official CU debut was delayed until his hamstring healed. After getting his first taste of action two weeks ago against New Hampshire, Miller is eager to make a bigger impact as the Buffs open their Pac-12 Conference schedule with a Friday night showdown at home against UCLA (7 p.m., FS-1).
… Continue reading story here …
–
—–
Mike MacIntyre Tuesday press conference 
From YouTube, courtesy of BuffStampede.com …
–
—
Laviska Shenault added to Biletnikoff Award Watch list
Press release from CUBuffs.com … Sophomore WR Laviska Shenault has been added to the 2018 Biletnikoff Awards Pre-Season Watch List, the Tallahassee Quarterback Club Foundation announced Tuesday.  The award is presented to the outstanding FBS receiver in college football regardless of position.
Shenault was one of 11 players added to the list that was originally announced on July 19.  Receivers are periodically added to the watch list as dictated by season performance.
Shenault leads the nation in receptions per game (8.7) and receiving yards per game (151.7) despite sitting out the second half of the New Hampshire game.  He opened the season becoming the fourth player in CU history to record a 200-yard receiving game with 11 catches for 211 yards.  When he connected with QB Steven Montez on an 89-yard touchdown against the Rams, it marked the fourth-longest pass play in CU history and longest since 2002.
Against Nebraska, Shenault recorded 10 catches for 177 yards and the game-winning touchdown with just over a minute left.  He also scored a rushing touchdown on and 4th-and-goal situation earlier in the game.  He became the third player in the Mike MacIntyre era to score a rushing and receiving touchdown in the same game, joining Phillip Lindsay and George Frazier.
In one half of action against New Hampshire, he had five catches for 67 yards and a touchdown.  He became the first CU player to have a receiving touchdown in the first three games since Nelson Spruce in 2014.
–
—–
September 24th
… CU in a few minutes … 
Mike MacIntyre post-practice talk with media (Mon.)
From YouTube, courtesy of BuffStampede.com:
–
—
CU v. Arizona State kickoff time announced
From Dave Plati … The Arizona State at Colorado football game on Saturday, October 6, will kick off at 2:00 p.m. MDT and will be televised nationally on the Pac-12 Network.
–
—
Bruins maintaining positive attitude after "improvement week"
From the Daily Breeze … UCLA's group chat is bursting with messages at all hours of the day. More than 100 players are on it, and of all the messages from all the players, there is a common theme.
"No negativity," long snapper Johnny Den Bleyker said.
Despite an 0-3 record entering conference play, UCLA emerged from the bye week encouraged by its improvements in practice. Head coach Chip Kelly dubbed it "improvement week." Now the Bruins hope to show their improvements in their conference opener at Colorado on Friday.
"Some things haven't swayed our way," safety Adarius Pickett said, "but as long as we continue to stay together and continue to push forward, we will have success in the end."
UCLA's success has been subtle. The Bruins allowed just one special teams return against Fresno State, a minus-2-yard punt return, when they entered the week as one of the worst coverage units on kickoff and punt return in the country. Kelly said he was encouraged by the steady improvement in tackling that resulted in fewer missed tackles.
Until they get their first official victory, the Bruins have to subsist on their small wins as they slog through one of the toughest schedules in the country.
… The Bruins have faced a string of talented receivers, including Oklahoma's Marquise Brown and CeeDee Lamb and Fresno State's KeeSean Johnson. Pickett, whose team-high 40 tackles are nearly twice as many as the next-closest teammate, is taking the team's positive attitude into yet another tough matchup.
"It's nothing too serious," the redshirt senior said. "It's a lot of things in the world that are really serious. It's not that serious, it's just fun."
… Continue reading story here …
–
—
Neill Woelk's Ten Takeaways from CU's Bye Week
From CUBuffs.com … This is usually the space in which we take a second look at the Colorado Buffaloes' most-recent game.
But the Buffs had the weekend off, enjoying a bye week as they continue their preparations for Friday's Pac-12 opener against UCLA under the Folsom Field lights (7 p.m., FS1).
That doesn't, however, mean there aren't some storylines that apply to Mike MacIntyre's 3-0 Buffs. Thus, a modified "10 Takeaways" as we await Friday's visit from Chip Kelly and the Bruins.
1. Inactivity can be a positive. By sitting at home this weekend, the Buffs collected the 26th most votes in the Associated Press poll, leaving them just outside the nation's top 25.
It is certainly nice recognition, but at this point of the season, virtually meaningless. Pollsters are still trying to figure out how good many of these teams actually are, especially after a day when No. 13 Virginia Tech lost to previously winless Old Dominion (who earlier this year was thumped by Liberty) and No. 4 Oklahoma needed overtime to beat Army at home.
The polls will shake themselves out as the season progresses. The only thing the Buffs can control is their next game, which brings us to …
… Continue reading story here …
–
—–
September 23rd 
… CU in a few minutes … 
Redshirt freshman offensive tackle gaining experience: "I'm getting there"
From CUBuffs.com …  It may not have been the optimal time for William Sherman to get his first "critical" snaps as a Division I offensive lineman: on the road, in one of college football's most hostile environments, with the Buffs trailing against a defense determined to get to Colorado quarterback Steven Montez as often as possible.
But that's exactly where Sherman got his initiation with Colorado's No. 1 offense — and down the stretch at Nebraska, the CU redshirt freshman did his job, including throwing a big block on NU linebacker Alex Davis on the Buffs' game-winning touchdown.
"That was a confidence builder," said Sherman, who had 34 snaps in the game in a relief appearance at left tackle. "As soon as my number was called, I told myself, 'If we don't win the game, it's going to be because of me. So lock in and do whatever you can to help us get this win.'"
Sherman did lock in. He had a key role in Colorado's two second-half touchdown drives, and in a game in which the Huskers finished with seven quarterback sacks, he held his own.
"I just tried to get all my technique right, tried to play fast and physical," Sherman said. "Thankfully Steven and Viska made the big play."
His performance against the Huskers earned him more playing time last week against New Hampshire, when he was on the field for 55 offensive snaps. Now, with 102 snaps under his belt, he is the only CU offensive lineman with at least 100 snaps who hasn't given up a sack.
"I'm getting there," Sherman said of his progress. "Getting my first college snaps in those first three games has helped me become a lot more comfortable with the playbook and reading defensive keys. I'm definitely not 100 percent there — I have a lot to work on and improve — but I've progressed."
… Continue reading story here …
–
—
ESPN Power Rankings – CU in at No. 21
From ESPN … On a day when the top four teams in the country each won by two touchdowns or more, Saturday night's contests at least provided us with thrilling entertainment.
Old Dominion, a 29-point underdog that had lost to Liberty, Florida International and Charlotte to start the season, stunned Virginia Tech 49-35. And the Monarchs did it behind their backup quarterback, Blake LaRussa.
Army, which hadn't beaten a top-five opponent in 56 years, nearly knocked off Oklahoma, before falling 28-21 in overtime.
The Hokies weren't the only ranked team to fall on the road on Saturday. Mississippi State, TCU and Boston College also lost away from home, causing a shakeup in ESPN's Power Rankings.
Remember, the Power Rankings are about how you look and who you play each week. Forget the body of work or the brand name. These rankings drip with recency bias.
From the Pac-12 …
No. 5 – Stanford 
Week 4 result: Defeated Oregon 38-31
What's next: at Notre Dame (Saturday, 7:30 p.m. ET, NBC)
The Cardinal came back from 17 points down at the half to stun the Ducks in overtime. It was Stanford's largest comeback under coach David Shaw and the biggest in school history since at least 1996. Stanford trailed 31-21 with 4:39 to go in regulation, but scored 10 points in the final 3:10 to send the game into overtime. The Cardinal will face another stiff road test at Notre Dame next week.
–
No. 13 – Washington 
Week 4 result: Defeated Arizona State 27-20
What's next: vs. BYU (Saturday, TBA)
The Huskies continued to claw back from their season-opening loss to Auburn in Atlanta by knocking off Arizona State for their third straight victory on Saturday night. It seems that nothing is going to come easy for Washington, which picked up a tough road victory at Utah last week. The Huskies will get another challenge from surprising BYU next week.
–
No. 18 – Oregon 
Week 4 result: Lost to Stanford 38-31 (OT)
What's next: at California (Saturday, TBA)
The Ducks blew a 17-point halftime lead and seemed to have the game won until inexplicably losing a fumble in the final minute of regulation. It was their third straight loss to Stanford. Oregon wasted a stellar performance from quarterback Justin Herbert, who completed 26 of 33 passes for 346 yards with one touchdown. He misfired on only two attempts in regulation, then went only 1-for-5 in overtime, including an interception on the final play.
–
No. 21 – Colorado
Week 4 results: Open week
What's next: vs. UCLA (Friday, 9 p.m. ET, FS1)
The Buffaloes, off to a 3-0 start for the second straight season, should have a good chance to go to 4-0 in Friday night's against the Bruins, who are 0-3 under first-year coach Chip Kelly.
–
—
Defensive line play making life easier for Buff safeties
From the Daily Camera … A year ago, two of the biggest playmakers on the Colorado defense were safeties Evan Worthington and Afolabi Laguda.
Three games into this year, the Buffaloes' safeties — Worthington and Nick Fisher — haven't made many impactful plays, but there's a good reason for that.
The Buffaloes (3-0) are getting much more out of their defensive line and linebackers so far than they did a year ago, and that's leaving less for the safeties to do on the back end of the defense.
"Talk about our front, talk about our pressure," safeties coach and defensive passing game coordinator ShaDon Brown said. "How many times do we hit the quarterback? We're hitting the quarterback an awful lot. The quarterbacks don't have three and four seconds to throw the ball down field. That's why you don't see the safeties making as many plays as in the past.
"Last year there wasn't as much pressure, and a lot of deep balls. This year we're applying pressure to the QB, so the ball is not down the field."
… Continue reading story here …
–
—–